Health Innovations Conference Convenes Expats on Digital Technology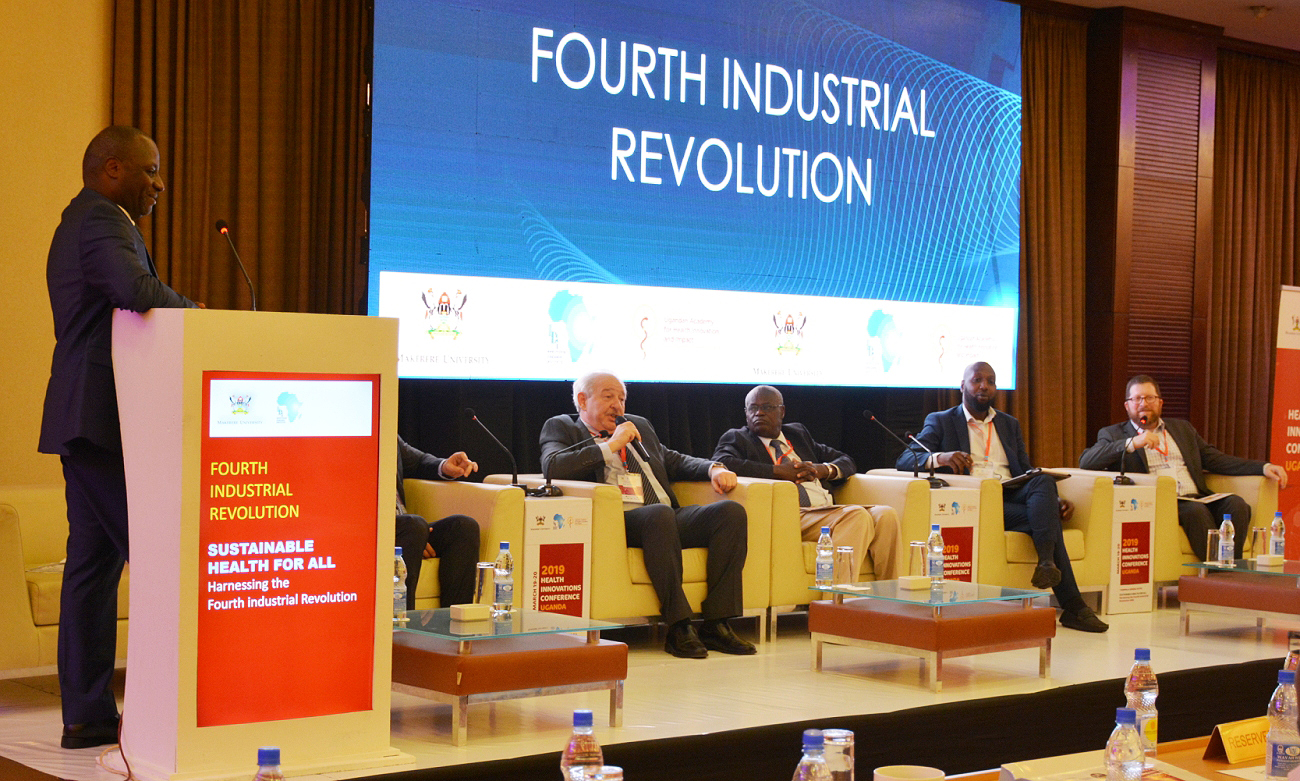 Today, healthcare organizations are facing unprecedented challenges to improve quality and access to health care service packages. As such, innovations in health have become a major focus once again with the goal to reduce health care disparities.
In order to address the above need, The Ugandan Academy for Health Innovations and Impact in March 2019, hosted a successful second edition of the Annual Health Innovations Conference at Serena Kampala hotel. The event was attended by 270 participants, an upsurge from last year's 175 participants.
The two-day event was attended by implementing partners from The National Institute of Allergy and Infectious Diseases (NIAID), Clarke Group, Case Hospital, Centers for Diseases Control and Prevention (CDC), United States Agency for International Development (USAID), Andela Uganda, Innovation Village and Janssen, the Pharmaceutical Companies of Johnson and Johnson among others.
This year's theme "Sustainable Health for all: Harnessing the fourth Industrial revolution" featured presentations and demonstrations aimed at bringing health innovations to the last mile and ensuring that scale up is achieved for start-up innovations.

During the opening ceremony which was led by the Deputy Vice Chancellor for Academic Affairs at Makerere University, Prof. Umar Kakumba appreciated the Ugandan Academy and the Infectious Diseases Institute (IDI) for working towards research and addressing healthcare service delivery needs in Uganda.
"I continue to thank the Infectious Diseases Institute, The Ugandan Academy, National Institutes of Health (NIH) and all the other partners who have been very generous with their support and in turn boosted the image of Makerere University," he said.
The lineup of reputable speakers included Kwame Rugunda (the chief executive officer of Crypto Savannah and head of the Block chain Association of Uganda), a technology entrepreneur, Prof. Elly Katabira (founder of the first HIV clinic and The Ugandan Academy Board co-chair) and Brian Gitta, founder of Matibabu a non-invasive device that detects malaria in less than two minutes.
Also present was Solomon King, the founder of Fundi Bots, who called upon developers to always remember the end user when innovating – "The danger of being a techie, is your infatuation with your product, but you should always remember the end user has to be at the center of your thinking."
Unique to this year's conference was a 17-hour Hack-a-thon spearheaded by Andela Uganda – #AndelaIDIHealthHack. Culminating out of the hack-a-thon were three fan favorite groups which displayed applications to address, breast cancer and sexual reproductive health. Among the three, the overall champion of the health hack was team Cephor who designed a Breast Cancer Glove kit which can be used for breast cancer screening.
As a climax to the conference, David Blair the Chief Technology Officer of Andela handed over awards to the three winning teams with team Cephor receiving six months' worth of technical support from the Innovation Village, to improve their idea and gauge feasibility. Other winners in the abstract presentations, both oral and poster, included Alpha Doctors, whose innovation revolves around tele-medicine, Mbabara University's Neonatal resuscitator designed to reduce deaths in newborns due to failed breathing as well as William Wasswa also of Mbarara who presented on a pap smear automated analysis tool for diagnosis and classification of Cervical cancer from pap-smear Images. The awards included a Hisense television, cash prizes ranging from UGX500,000 to UGX2,000,000.
The conference also featured a live painter Rolands Tibirusya who visualized the proceedings through painting on a canvas. Lastly, for those that missed the HIV history exhibition which was displayed at the Uganda museum in partnership with The AIDS Support Organization (TASO) and Uganda AIDS Commission in December 2018 and January 2019, were able to view an abridged version of it at the conference.
The closing ceremony was presided over by, Prof. Elly Katabira, the Board Co-Chair of the Ugandan Academy who urged young innovators to take heart and continue to incessantly pursue their goals. "I might be skeptical to endorse your idea because am scared it may fail and people say that's the professor who endorsed the failed project so I might discourage you, but I encourage you to politely tell me that am wrong and work hard to see that its completed."
Article by Tracy Ahumuza, Communications Officer, The Uganda Academy for Health Innovation and Impact
Guidelines for printing provisional admission letters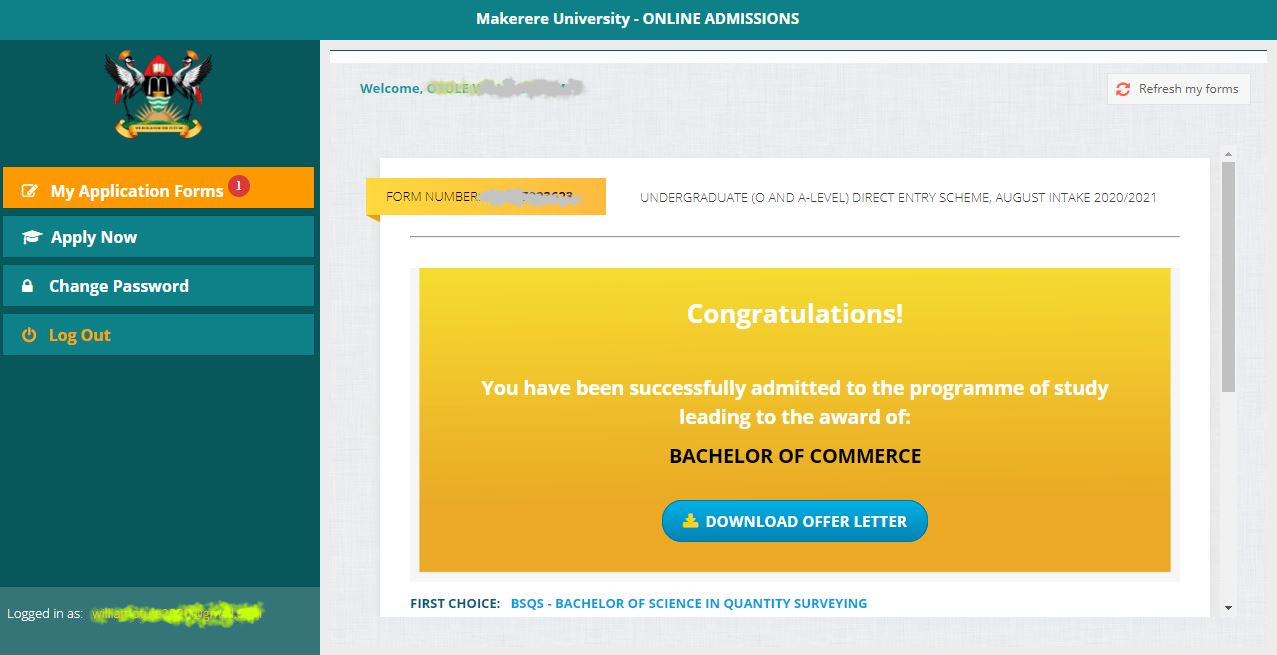 The Office of the Academic Registrar informs undergraduate applicants admitted under the Private Sponsorship Scheme for the 2020/2021 Academic Year that provisional admission letters can be printed from the Admissions Portal following the guidelines below:
Log into the application portal at (https://admissions.mak.ac.ug ) using the same e-mail address and password  you used for application.
This will lead you to a page where you will see a congratulatory message for admission to Makerere University as shown in the screenshot as shown above.
Applicants admitted under the Government Sponsorship Scheme should pick admission letters from their respective Colleges.
Prof. Nawangwe Appointed Director, Worldwide Universities Network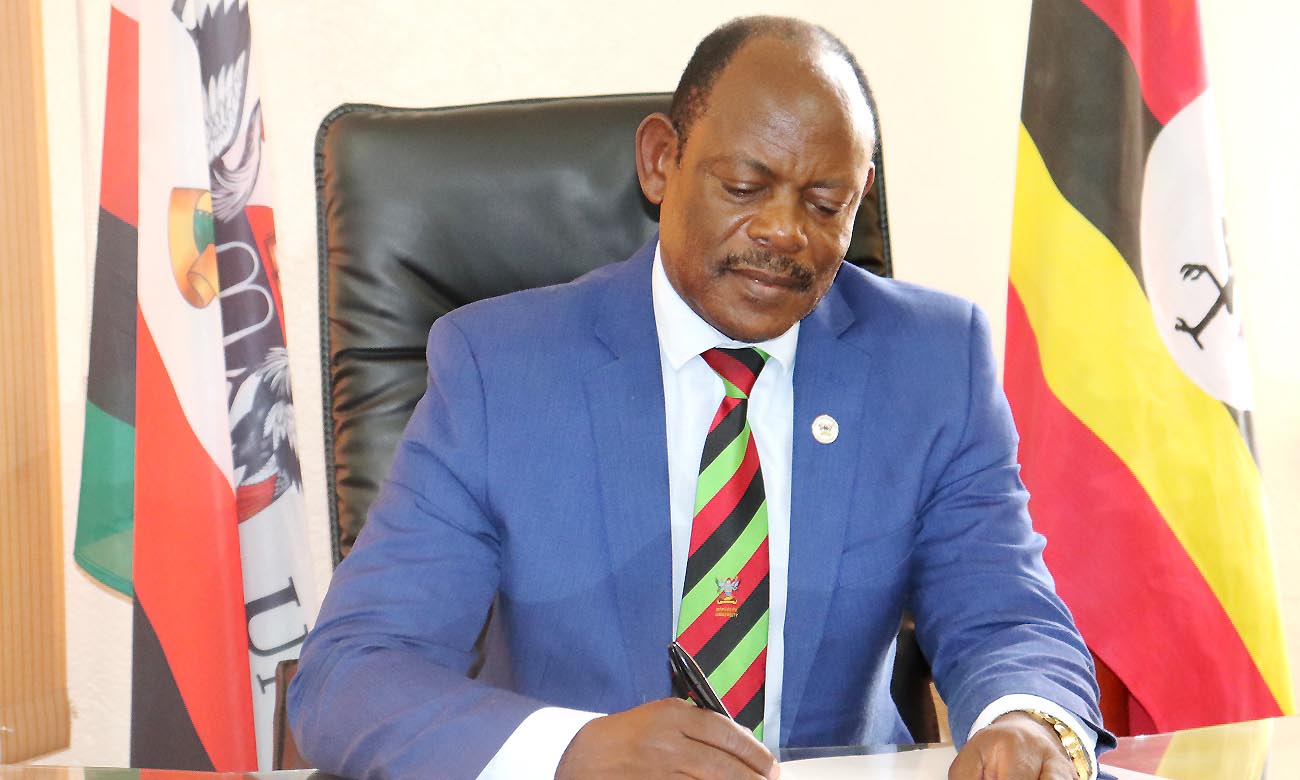 The Vice Chancellor, Prof. Barnabas Nawangwe has effective 19th October 2020 been appointed Director of the UK-based Worldwide Universities Network (WUN). WUN is a not-for-profit association of universities, whose principal activity is the creation of new multilateral opportunities for international collaboration in research and graduate education.
The association is made up of 23 universities, spanning 15 countries on six continents. Makerere University was welcomed into this leading global higher education and research network on 20th September 2020. Other members of the network in alphabetical order are; University of Alberta (Canada), The University of Auckland (New Zealand), University of Bergen (Norway), University of Bristol (UK), University of Cape Town (South Africa), The Chinese University of Hong Kong and University College Dublin (Ireland).
University of Ghana, University of Lausanne (Switzerland), University of Leeds (UK), Maastricht University (Netherlands), University of Massachusetts Amherst (US), National Cheng Kung University (Chinese Taipei), Renmin University of China, University of Rochester (US), The University of Sheffield (UK), University of Southampton (UK), Tecnológico de Monterrey (Mexico), Universidade Federal de Minas Gerais (Brazil), The University of Western Australia, University of York (UK) and Zhejiang University (China) complete the list.
Through its Research Development Fund WUN provides support to establish collaborative research that falls within four globally significant themes:
    Responding to Climate Change
    Public Health
    Global Higher Education and Research
    Understanding Cultures
Commenting on this appointment, the Vice Chancellor said: "This is an important recognition of Makerere University as one of the top research universities in the world and I believe that it will spur innovations."

We congratulate Prof. Nawangwe upon his appointment and wish him a fruitful tenure.
Uganda Military Academy -Kabamba students trained in library resources and information access

On 16th October 2020, Makerere University Main Library conducted a training in library resources
and information access. The orientation was attended by 65 freshers from Uganda Military Academy
Kabamba; enrolled for the Bachelor of Arts in Defense Studies of Makerere University.
In 2017, The Government of Uganda commissioned Kabamba Military Academy into an East African
Military University offering a three years' degree leading to a Bachelor of Arts in Defense Studies.
Affiliated to Makerere University, the institution works hand in hand with the School of Social
Sciences to ensure that the course is well administered.
The Bachelors of Arts in Defense Studies -degree program is run concurrently with a one-year
military program at Kabamba Military Academy. Attended by cadets from the East African countries,
the programme aims at professionalizing the Army through combating both military and academic
skills to tackle the ever growing societal and security challenges in the region.
According to the Dean, School of Social Sciences, College of Humanities and Social Sciences who is
also a member of the committee that oversees the Degree programme Dr. State Andrew Ellias, two
intakes have been so far undertaken. The pioneer class was enrolled in 2019 with 60 cadets drawn
from East Africa and the second intake is expected to start 19 th October 2020 with 65 cadets.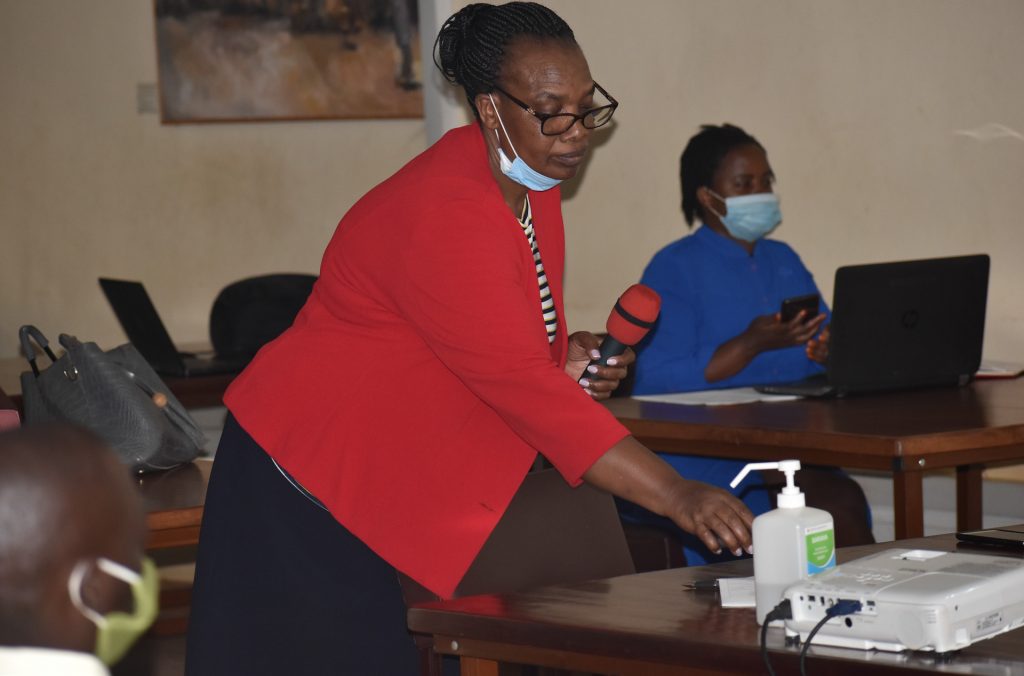 "As the University responsible for the course, we have ensured that the institution receives all the
necessary equipment and services including lecturers, internal and external examiners, tools and
resources to enable the students successfully complete their degree," he said.
Every academic year, enrolled students at Kabamba Military Academy visit Makerere University on
an orientation program that enables them to acquaint themselves with the critical areas and
procedures of the University. Among these include; the Academic Registrar's office, the College of
Humanities and Social Sciences where the degree is administered and the University Library.
On 16 th October 2020, cadets visited the Makerere University to understand the operations of the
library and how they can access both physical and online resources.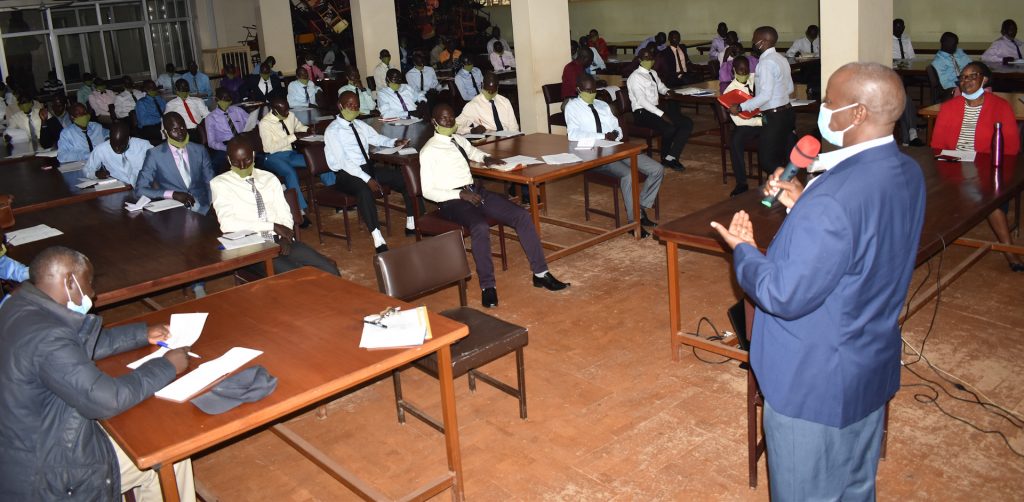 Speaking to cadets, Dr. Helen Byamugisha the University Library urged them to utilize the library
resources for their academic and research development. "We have ensured that you access the
library remotely at your institution. I therefore urge you to fully utilize the resources. The library is
one of the major instruments that help students to a achieve their academic goals, therefore it
should be a place you visit regularly," she emphasized.
During the training, cadets were orientated on;
Searching strategies and searching the library catalogue by Mr. Patick Sekikome
Search library databases (JSTOR, ebooks) and remote access to the library by Ms. Rachael Nabbosa
Using Grammarly and Academic Phrasebank by Ms. Martha Lyaka
Article by: Nabatte Proscovia