Makerere- Nelson Mandela University strengthen ties to find solutions to African challenges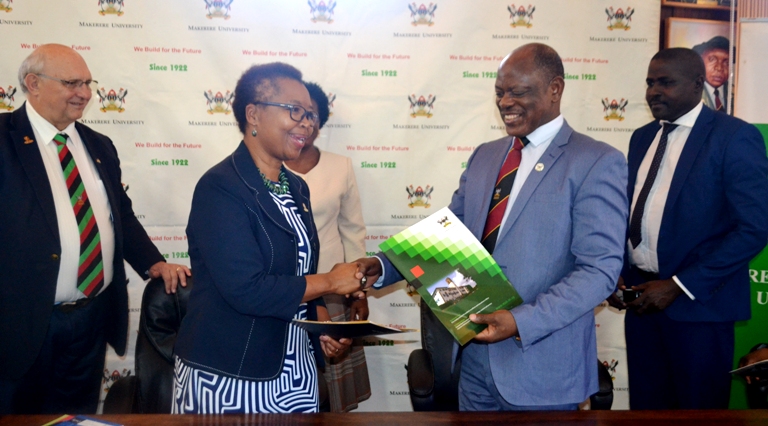 On 30th April 2018, the Vice Chancellor of Makerere University Prof. Barnabas Nawangwe together with the Vice Chancellor of Nelson Mandela University Prof Sibongile Muthwa signed a Memorandum of Understanding (MoU) to strengthen the long term relationship between the two universities. The signing ceremony was held in the Council Room and was witnessed by the High Commissioner of South Africa to Uganda H.E. Prof. Major-General (rtd) Lekoa Solly Mollo, the Senior Director at Nelson Mandela University Prof. Nico Jooste , the Director of Legal Affairs Mr. Henry Mwebe, the International Relations Officer Ms. Martha Muwanguzi, members of Makerere University Management, Alumni from Nelson Mandela University and other delegates.
The Signing of the Memorandum of Understanding stipulates an in depth relationship between the two universities on human resource development, research enhancement, and a joint effort to look for resources with the aim of finding solutions to African problems. Some of areas the Universities agreed to focus on included:
• Oceans and cultural studies
• Sustainable livelihood studies
• Gender studies
• Medicinal science
• Peace and conflict resolutions.
• Information and Communication Technologies
• and Agriculture Sciences
Addressing Makerere University Management team, Prof Sibongile Muthwa said that there is need for African Universities to channel resources to research and other developments that focus on solving African challenges. "Africa for long has been hit by poverty, unemployment, famine, climate change, conflicts, wars, epidemic diseases among others. We cannot hide the fact that we are lagging behind in terms of development yet we have some of the best researchers and academicians. It is high time we solve our own problems because we know them better. Let us join hands, knowledge and information to have long lasting solutions to these problems," she said.
She acknowledged Makerere University for taking the lead in promoting Pan Africanism when she said, "Makerere University is indeed a Pan Africanist University. The institution has groomed several African presidents, notable leaders, renowned academicians and researchers on the African continent and around the world. I therefore believe that this collaboration will meet its intended objectives," she said.
The Vice Chancellor of Makerere University Prof Barnabas Nawangwe, warmly welcomed Prof Sibongile Muthwa and other delegates to Makerere University, the hub of Africa's research. In a special way he welcomed the High Commissioner of South Africa to Uganda, and thanked him for his tremendous support to ensure practical relationships between Makerere University and universities from South Africa.
Speaking about the MoU and its intents, the Vice Chancellor said that Makerere University has for long engaged in activities that are geared towards finding solutions to African problems. The intuitions has engaged in developing human resource capacity that has strongly supported the economic and industrial sector of Uganda and Africa at large. Makerere University is known for having the best tropical medicine school in the whole world where research on tropical medicine is done. According to Prof. Nawangwe, the institution is ranked as one of the best research led University in Africa due its prominent research activities on epidemics and other research areas.
"We have led research on HIV in the whole world, developed one of the best Infectious Disease Institute in the whole world, we have led research on Malaria and Ebola. We have made strong developments in agriculture and natural sciences and we have one of the best laboratories in veterinary medicine. We are strong in humanities and in geographical positions, we take the lead in supporting universities in troubled areas through our Centre on Peace and Conflict Management," said Prof. Nawangwe.
The Vice Chancellor expressed gratitude on behalf of Makerere University for having honoured the late Winnie Madikizela-Mandela during her days.
"Africans, we should wake up and find solutions to our problems. Let us focus on the core production of knowledge and the ability to communicate and disseminate the knowledge. Another area of emphasis is the relevancy of the collaborations. We need to engage in areas that we believe are relevant to our society," said the High Commissioner of South Africa to Uganda H.E. Prof. Major-General (rtd) Lekoa Solly Mollo.
He appreciated Makerere University's move to award Ms. Winnie Madikizela-Mandela with an Honorary Doctorate of Laws of Makerere University in recognition of her outstanding contribution to the liberation struggle of South Africa and Africa at large.
During the meeting, the Senior Director at Nelson Mandela University Prof. Nico Jooste said that there is need to identify new areas such as forestry where both universities can join hands to deepen their relationship. The Director of Research and Graduate Training Prof. Buyinza Mukadasi also noted that universities should work together to improve research incomes to support research activities.
The President of the Nelson Mandela University Alumni Association Dr. Nuwagaba Geoffrey said that the Association is upholding the core values of the University and preserving the long lasting legacy of Nelson Mandela as a person through different activities that are carried out by alumni of the University around the world. Dr Milly Kwagala, an alumnus of Nelson Mandela University, who is currently the Dean of Faculty Business Administration and Management at Ndejje University appreciated Nelson Mandela University for brightening the future of an African child through academic support.
After the informative meeting, the delegates visited Makerere University Library and the College of Computing and information Sciences.
Nelson Mandela University (formerly Nelson Mandela Metropolitan University, NMMU) is a South African university with its main administration in the coastal city of Port Elizabeth. The University was founded through a merger of three institutions in January 2005, but its history dates back to 1882, with the foundation of the Port Elizabeth Art School. Nelson Mandela University is a comprehensive university offering professional and vocational training. The University has seven campuses; six in Port Elizabeth and one in George. The main campus of the university is South Campus.
Article by Proscovia Nabatte, Mak Public Relations Office.

Mak Participates in New Vision Education Expo 2023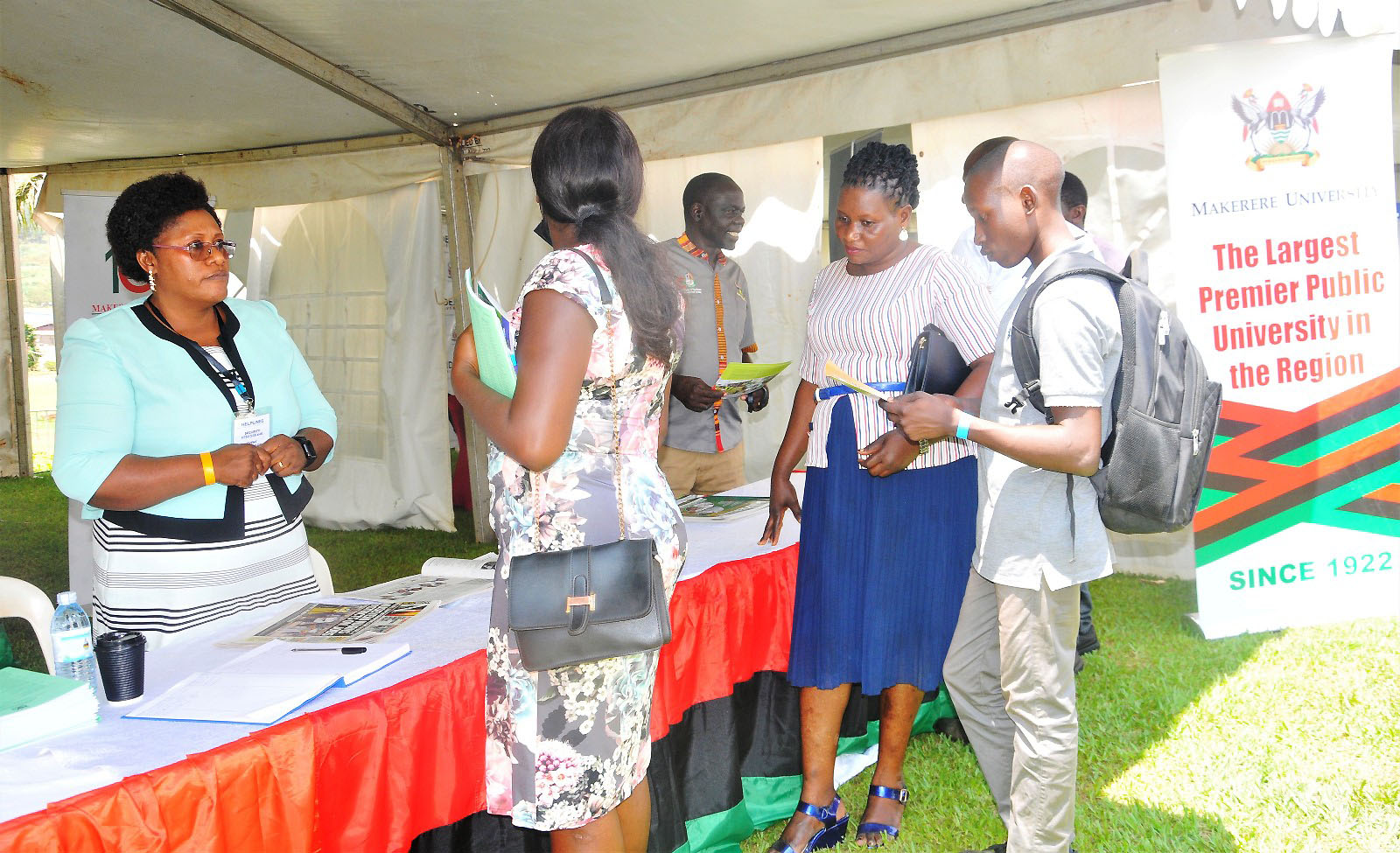 Makerere University is participating in the New Vision Education Expo 2023 to strengthen its niche as the leading provider of education services.
The three-day New Vision Expo (Friday 27th January 2023 to Sunday 29th January 2023) at the Uganda Institute of Information and Communications Technology (UICT) Nakawa brings on board players in the education and business fields to forge partnerships to improve the quality and outcomes of education in Uganda.
Makerere University seeks to maximally utilize the three days to ensure that the participants at the Education Expo gain a deeper understanding of its 100 year journey of providing excellent services to humanity through academic programmes, services offered and ongoing efforts aimed at producing employable graduates as well as entrepreneurs.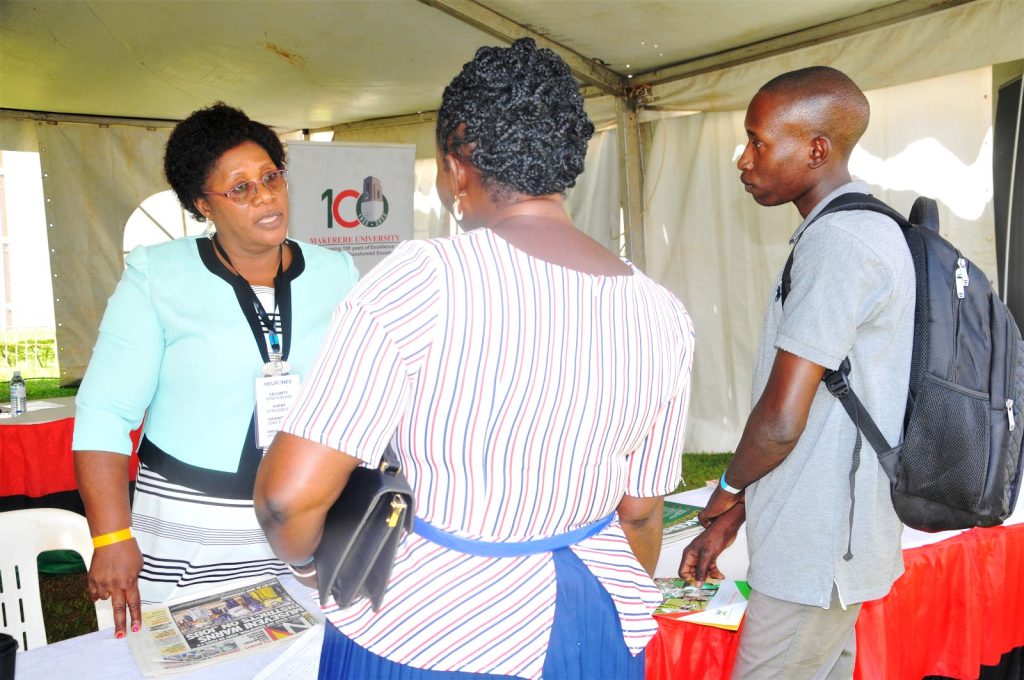 The Vice Chancellor, Prof. Barnabas Nawangwe highlights that Makerere University values stakeholder engagements and partnerships.  "The New Vision Expo 2023 presents Makerere University with an opportunity to enhance stakeholder engagements. It is about consolidating the relationships with schools, prospective students and parents, and partners in the education sector. I applaud the CEO of Vision Group-Mr. Don Wanyama for coming up with the Education Expo."
To respond to the information needs of stakeholders, Makerere University has lined up a team of experienced staff from the Department of the Academic Registrar, the Admissions Office, Public Relations Office, Career Guidance experts as well as the Institute of Open Distance and e-Learning (IODeL) under the College of Education and External Studies (CEES).
According to the Principal PRO of Makerere University Ms. Ritah Namisango, the Education Expo provides a platform to reach out to the clients that Makerere University exists to serve. "You must be in touch with your prospective parents, students as well as schools and partners that continue to recommend you as the leading university in the region. Makerere University has celebrated 100 years of excellent service to humanity (1922-2022). So, as we continue to promote the academic programmes, innovations and services that we offer, we are ready to listen, interact and learn from respective stakeholders about what they expect from the University as we embark on the next 100 years."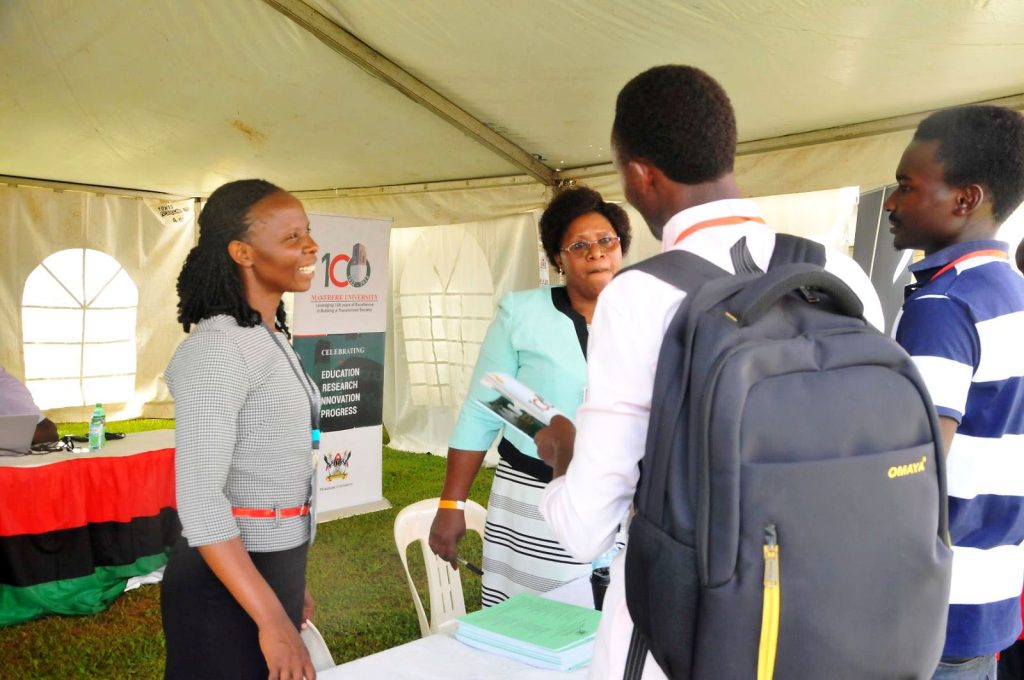 The New Vision Expo 2023 is happening at an opportune (holiday) time, which accords the students, parents and guardians quality time to visit the exhibition and interact with experts in the education sector.
In addition, Makerere University has recently advertised its academic programmes and it is preparing to receive students for the Academic year 2023/2024. Sharing her experience about the interaction with participants who visited the Makerere University exhibition space, Ms Joyce Muhanguzi, Senior Assistant Registrar in the Department of the Academic Registrar noted that most of the prospective students and parents wanted to know about the academic programmes, the subject combinations that students should study to qualify to apply for the respective academic programmes, and the available admission avenues i.e. government sponsorship, private sponsorship, diploma entry, direct entry, national merit, talented sports entry and district quota programme).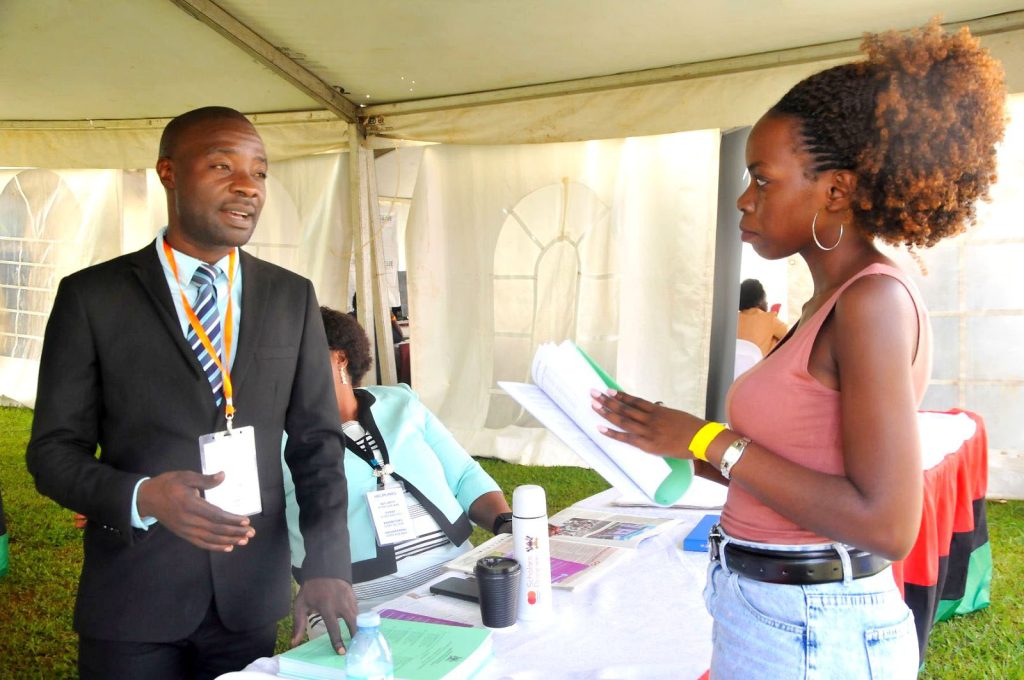 Ms Joyce Muhanguzi and Mr. Dennis Kibuuka's interaction focused on students who expressed their desire to join Makerere University in the coming years, and needed a case by case approach to their information needs, career guidance and linkages to Professors and Administrative staff in the respective Colleges at Makerere University.
The prospective students and parents also disclosed that in addition to the information on the Makerere University website, they welcome interactive and friendly approaches such as the New Vision Education Expo where they are presented with a golden opportunity to interact with Makerere University officials face-to-face.
At the New Vision Education Expo 2023, Makerere University joins other exhibitors that include; Government agencies, NGOs, Telecom companies, Banks, Insurance companies, Kindergartens/Daycare Centres, Primary and Secondary schools, Ugandan and Kenyan Universities, International schools, Study Abroad Agencies, Vocational institutions, Scholastic materials suppliers and SME service providers.
73rd Graduation Highlights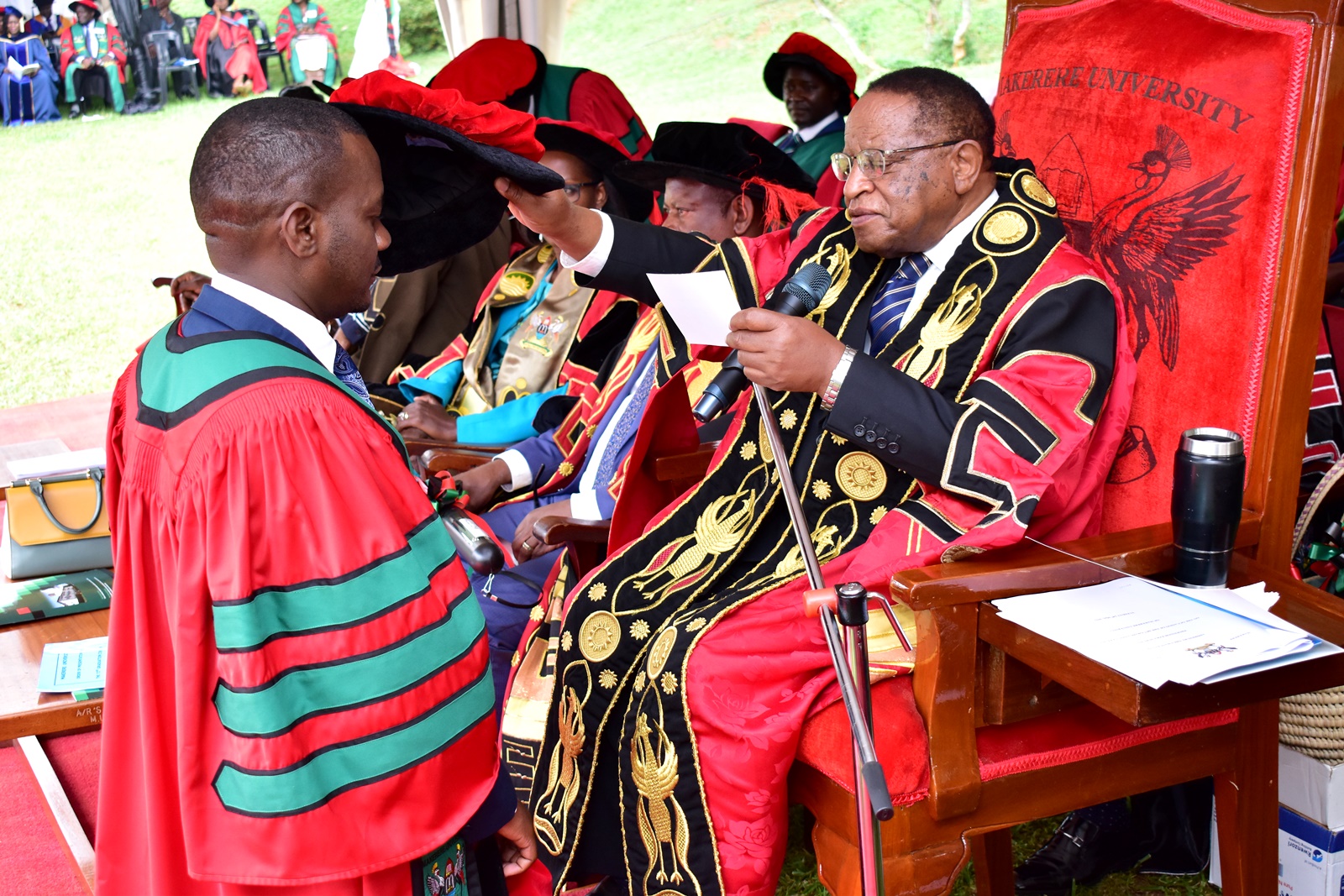 The 73rd Graduation Ceremony of Makerere University will be held from Monday 13th to Friday 17th February 2023 following the schedule below:
Monday, 13th February, 2023
College of Health Sciences (CHS)
College of Natural Sciences (CoNAS)
School of Law (SoL)
Tuesday, 14th February, 2023
College of Agricultural and Environmental Sciences (CAES)
College of Education and External Studies (CEES)
Wednesday, 15th February, 2023
College of Business and Management Sciences (CoBAMS)
College of Computing and Information Sciences (CoCIS)
College of Veterinary Medicine, Animal Resources and Bio-security (CoVAB)
Thursday, 16th February, 2023
Makerere University Business School (MUBS)
Friday, 17th February, 2023
College of Engineering, Design, Art and Technology (CEDAT)
College of Humanities and Social Sciences (CHUSS)
HEST Graduate Programme: Internship Placement Advert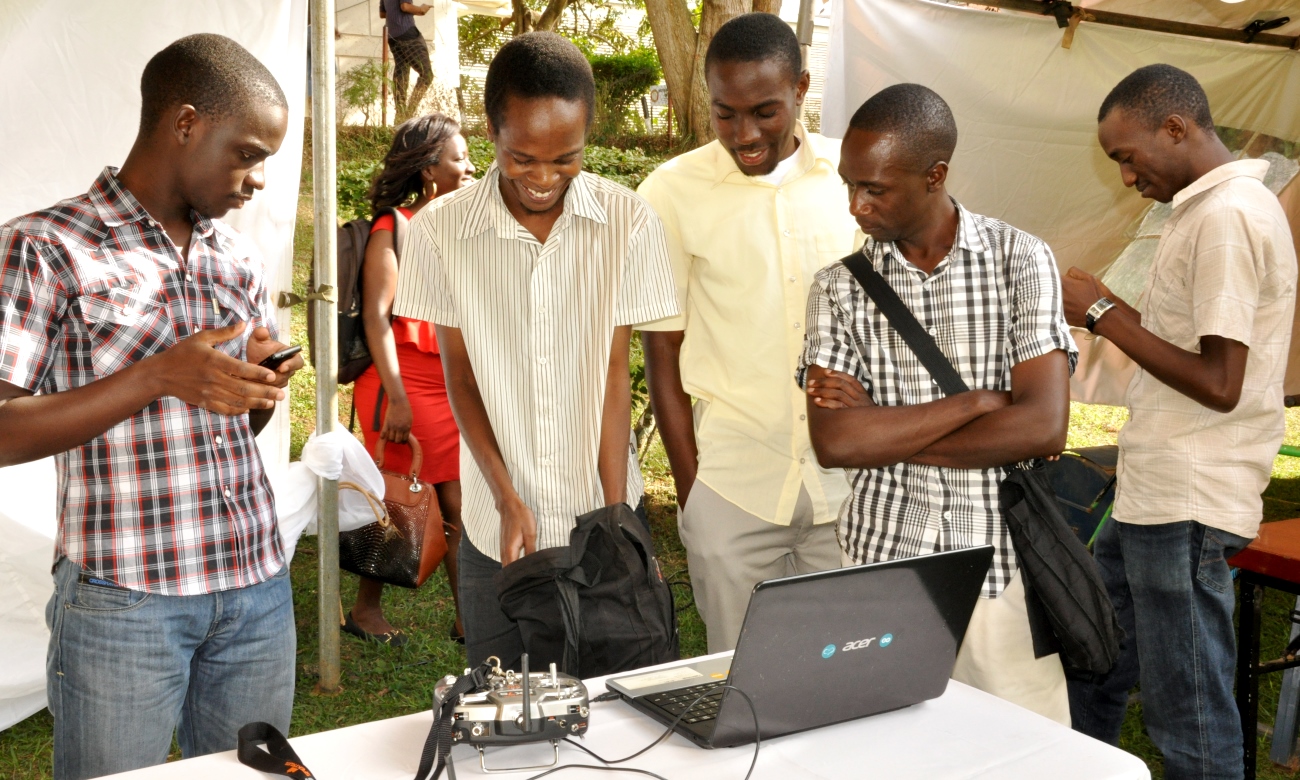 Purpose
The program aims to improve graduates' skills by placing them into selected partner industries for skills gain, facilitating the process and supervising placed interns. Graduates will be placed in their areas of study accordingly.
Time frame
The phased recruitment and placement will start from 1st December 2022 for a period of three months. Recent university graduates and those awaiting graduation should apply for this opportunity.
Eligibility
The project mainly focuses on university graduates from Makerere University (Mak), Makerere University Business School (MUBS) and Kyambogo University (KYU) who have undertaken the following courses
Makerere University and Kyambogo University
Bachelor of Science in Civil Engineering
Bachelor of Science in Electrical Engineering
Bachelor of Science in Computer Engineering
Bachelor of Science in Telecommunication Engineering
Bachelor of Science in Mechanical Engineering
Bachelor of Architecture
Bachelor of Science in Construction Management
Bachelor of Science in Land Economics
Bachelor of Science in Quantity Surveying
Bachelor of Science in Land Surveying and Geomatics
Bachelor of Visual Communication Design
Bachelor of Science in Actuarial Science
Makerere University Business School
Bachelor of Arts in Economics
Bachelor of Science in Business Statistics
Bachelor of Business Administration
Bachelor of Commerce
Bachelor of Real Estate Business Mgt.
Bachelor of Science in Accounting
.Bachelor of Science in Finance
Bachelor of Human Resource Mgt.
Bachelor of Leadership and Governance
Bachelor of Procurement and Supply Chain Mgt.
Bachelor of Transport & Logistics Mgt.
Bachelor of International Business
Bachelor of Catering and Hotel Mgt.
Bachelor of Science in Marketing
Bachelor of Travel and Tourism Mgt.
Bachelor of Entrepreneurship and Small Business Mgt.
Bachelor of Business Computing
Bachelor of Office and Information Mgt.
They should not be employed anywhere and should have gone through the traditional internship placement required by their respective universities.
How Students join
Interested university graduates shall submit an online application and contact the designated university contact or focal persons. Successful applicants will be required to complete the three (3) months internship pgoram uninterrupted to fully benefit from the program. Apply here: https://bit.ly/HEST2022
How companies participate
A company interested in hosting interns under the program can fill out an internship acceptance form and forward it to the internship placement officer.
Contacts of University focal persons
Makerere University (Mak)
Dr. Christine Amito
Tel: +256-771-321384
Email: amitoxtine@gmail.com
Makerere University Business School (MUBS)
Ms. Christine Nantambi
Tel: +256-772-654454/+256-703-878277
Email: cnantambi@mubs.ac.ug
Kyambogo University (KYU)
Ms. Nandugwa Harriet
Tel: +256-786030640
Email: hnandugwa@kyu.ac.ug
Contacts of IEED Project Team
Makerere University School of Public Health (MakSPH)
Ms. Mary Kaakyo,
IEED Project Coordinator
Email: mkaakyo@musph.ac.ug
Tel: +256-706-960075
Makerere University School of Statistics and Planning (MakSSP)
Ms. Afazali Zabibu,
HEST Study Coordinator
Email: zabibu.afazali@gmail.com
Tel: +256-779-912365/+256-705-587072