How Prof. Kyeyune's Gifted hands got him to Pope Francis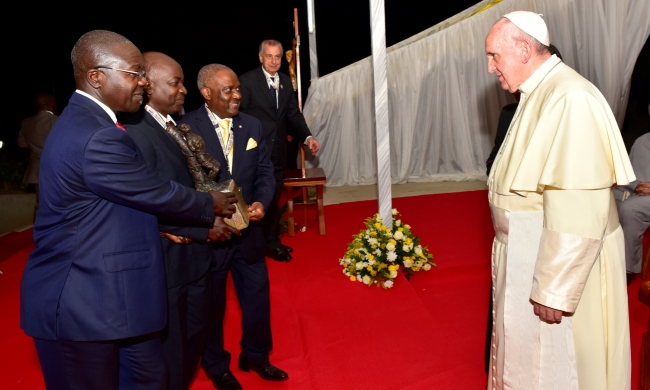 A life changing experience
On 27th November, Pope Francis made his maiden visit to Uganda. Among the particular areas he visited was the Catholic Shrine at Munyonyo and the Uganda martyrs shrine at Namugongo. It is at Munyonyo that Prof. George Kyeyune, a member of Staff of Makerere University met and shook hands with the Pope.
Prof. Kyeyune made the sculpture of Andrea Kaggwa, one of Uganda's martyrs, killed at Munyonyo during the reign of Kabaka Mwanga. We caught up with Prof, Kyeyune, who is still living in the glow of the life changing experience of meeting one of the top religious leaders in the world- Pope Francis.
Getting started
Prof. Kyeyune, a proud Professor of Fine Art in the Margaret Trowell School of Industrial and Fine Art, Makerere University is all smiles after successfully executing the assignment to make a monument of one of Uganda's martyrs, Anderea Kaggwa that Pope Francis blessed and unveiled at Munyonyo. He successfully bided for the project alongside other sculptors."The Polish Priest at Munyonyo, Father Marian Kajubi Golab, wanted a sculpture to commemorate Anderea Kaggwa who was martyred at Munyonyo. Several sculptors were contacted and asked to present marquees, and budgets. I emerged winner of the contract," explains a jovial Prof. Kyeyune.
Throughout the interview, Prof. Kyeyune had a sparkle in the eye and smiled a lot especially when talking about Pope Francis. Prof. Kyeyune is from the catholic faith and dedicatedly wears his Rosary. He was delighted to take on the job, which he says gave him an opportunity to come close, so close to the Pope that he could make out the pores of his (Pope) skin.The sculpture in
question is thus far the biggest piece of work that Prof. Kyeyune has laid his gifted hands on. It was sponsored by two catholic families; the family of Mr. Joseph Yiga- a known business man in town and the family of Rtn. Emmanuel Katongole of Quality Chemicals. It took him two and a half months to finish this work, which he considers to be one of his masterpieces. The seven feet highsculpture depicts a closer to life image of the deceased Kaggwa. It stands tall at Munyonyo for all to see. "I recommended seven feet. I wanted a monument that would not be dwarfed and one that would not be too big for the building, but also something I would manage to do. When it was done, people swarmed it, kissed it and did all sorts of things. I was gratified," he reminisces.
Prof. Kyeyune emphasises that the sculpture is designed to bring out the last moments of this particular martyr who is said to have been tied on a log and his hands cut off moments before his death. "He died a painful death but at the same time he was not resigned. He was hopeful, looking forward to a better afterlife. That kind of resilience is what I wanted to infuse in the monument and maybe this is what people were responding to," Prof. Kyeyune contentedly explains. The monument is made in bronze, a mixture of copper and brass.
Meeting the Pope
"We were made to rehearse and told to walk in a certain way, not too fast, not too slow," Prof. Kyeyune gives a hearty laughter as he recalls the drills. "As a staunch catholic, I was very much part of the entire experience of the Pope's visit and the climax for me was when I was able to get very close to him and shake his hands," he adds.
The Pope was given an explanation of this particular project especially the history on how Anderea Kaggwa met his death because of his commitment to the Christian faith. "What we gave him was a small version of the big sculpture to take home. He asked some questions for clarity especially in relation to the death. One of the sponsors of this sculpture explained to the Pope that Kabaka Mwanga insisted not to have any meals until Anderea's hand had been cut off and brought before him," he narrates. History has it that the King's order was executed by Mukaajanga– the Executor.
It was during this dialogue and explanations that Prof. Kyeyune took a keen look at the Pope. "I had a close look at the Pope because of this extended discussion and it was spiritually uplifting. I was a different person after. He is very ordinary in the human sense, but he has this clout of a Pope which makes the spiritual dimension overwhelming. In this presence, I quietly said a prayer to God, thanking Him for so much," he asserts.
The aftermath

"Some people suggested that I should not wash my hands. Many came to shake my hand to get the first experience of the Pope's blessings. My sister, Catherine Namyalo was the first to call. She was astounded seeing me on television while following the proceedings of the Pope's visit. Other people came to hug me in the days that followed the Pope's visit. It was as if I had carried some attributes of the Pope with me," Prof. Kyeyune recounts amidst laughter. The Pope gave him a Rosary which he has since decided to frame and hang in his house. He is grateful to the project sponsors for considering him for the historic opportunity.
The benefit to Makerere University
"One of the reasons I suffered a lot with this work is because our studios are not well facilitated. We lack a lot of basic equipment. We certainly can do much more with some financial aid. I thank the Presidential initiative, it has given us some materials and tools but we need more," says Prof. Kyeyune. He explains that the project was ambitious, necessitating some components to be done outside Makerere University. He worked with a team of students to accomplish the task and is grateful to Makerere University for allowing him to use the facilities. And as such, Prof. Kyeyune has committed to giving back a percentage of the proceeds towards renovation of the studio at the Margarett Trowell School of Industrial and Fine Art.
The project also presented an opportunity for him to try out a mixture of beeswax, paraffin wax and sap from a tree to mould the sculpture. "I used this combination for the sculpture. It makes the wax softer and easier to mould. This is an ongoing experiment. At the moment I am still trying to establish the right proportions. This is going to be my next level of research," he says.
Other works
Prof. Kyeyune is part of the team that sculpted the CHOGM monument and the monument of 50 years of Uganda's independence. Both these monuments proudly stand at Uganda's Parliamentary gardens. He worked with Maria Naita on these pieces. He was also the overall in-charge of the team that designed the current legal tender in circulation, right from the 1,000/= note to the 50,000/= note. Within Makerere University, some of his works are visible in the monument of the late President Julius Nyerere of Tanzania.
Story by Marion Alina
Innovations using low cost locally available materials for point of use water treatment system unveiled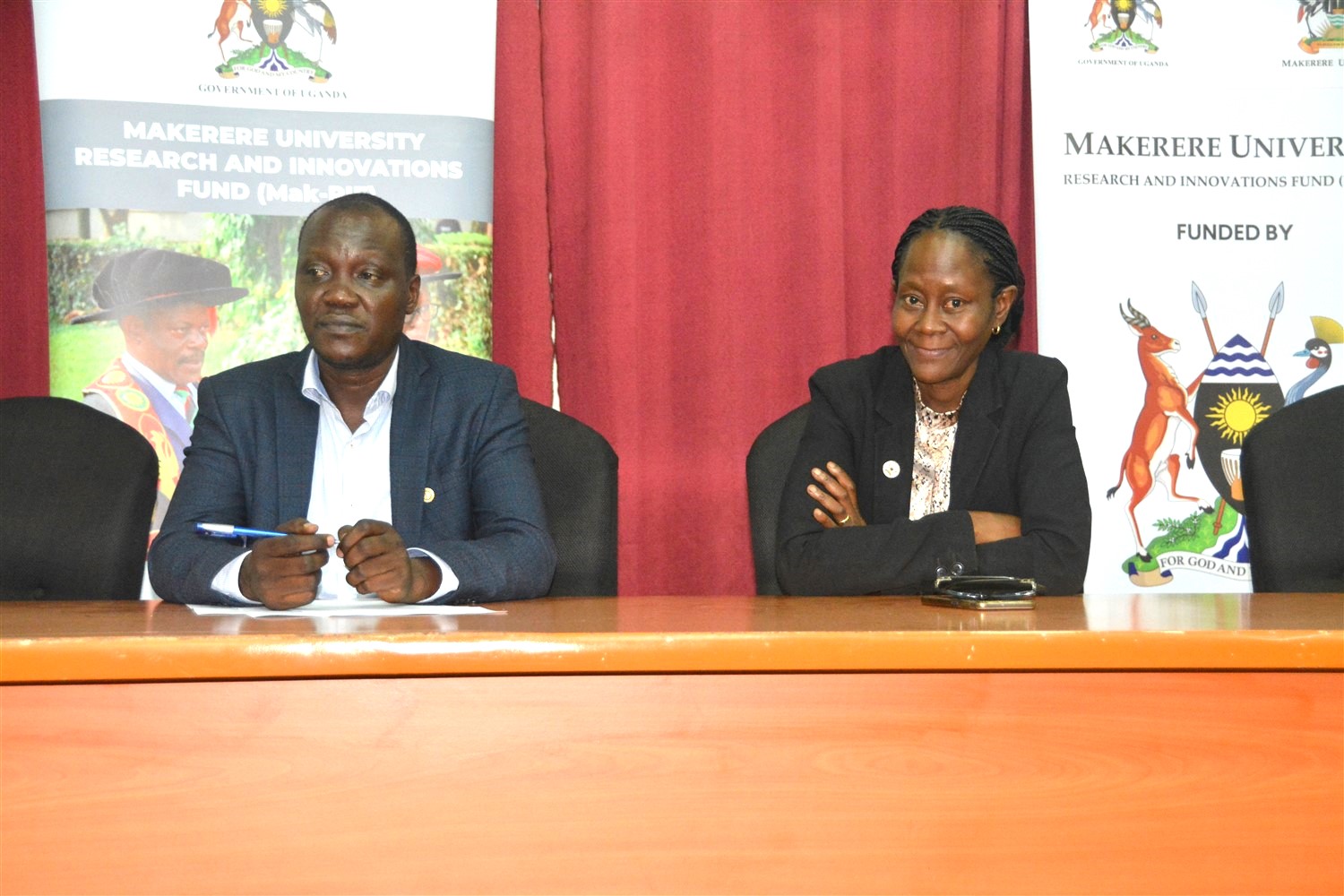 The College of Engineering, Design, Art and Technology (CEDAT) conducted a Research Dissemination of two studies aimed at the Development of Materials for point of use water treatment systems.
The investigations were conducted by a team of researchers comprised of P. W. Olupot, H. M. Kalibbala, E. Menya, G.M. Wangi, J. Jjagwe, J. Wakatuntu, M. Turyasingura, R. Walozi, C. Kanyesigye and R. N. Kulabako.
The dissemination event held on Wednesday 29th November 2023 follows the successful completion of two MakRIF supported Research projects namely; Development of rice husk based granular activated carbon for point-of-use water treatment systems and Development of zeolite-based nanocomposite filters for drinking water treatment.
Apac District gains from CEDAT's Research on Piloting a Rural Broadband Connectivity Model and Efficacious patient management system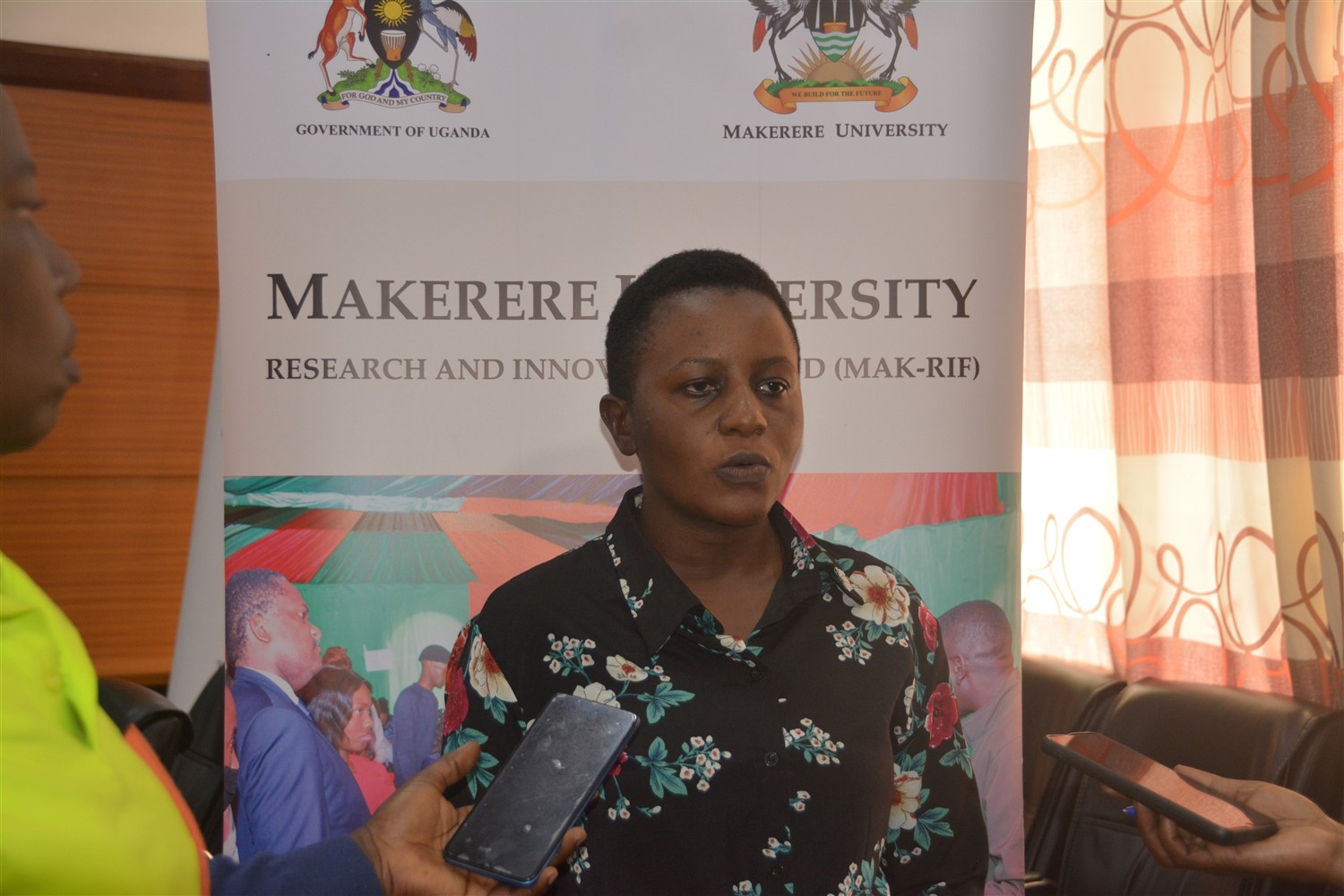 The School of Engineering at the College of Engineering, Design, Art and Technology (CEDAT) shared findings of research that was conducted in Apac Districts through two projects namely Piloting a Rural Broadband Connectivity Model (RCBM) and Efficacious patient management system (EPMS).
The findings of the research sponsored by the Government of Uganda through the Makerere University research and Innovation Fund(MakRIF) were disseminated during a dissemination seminar held in the College on Friday 24th November 2023, where it was revealed that  Apac the host District greatly benefited from the services that not only led to the increased uptake of internet services but also gained through other socio economic areas.
Application Forms for Admission to Public Universities 2024/2025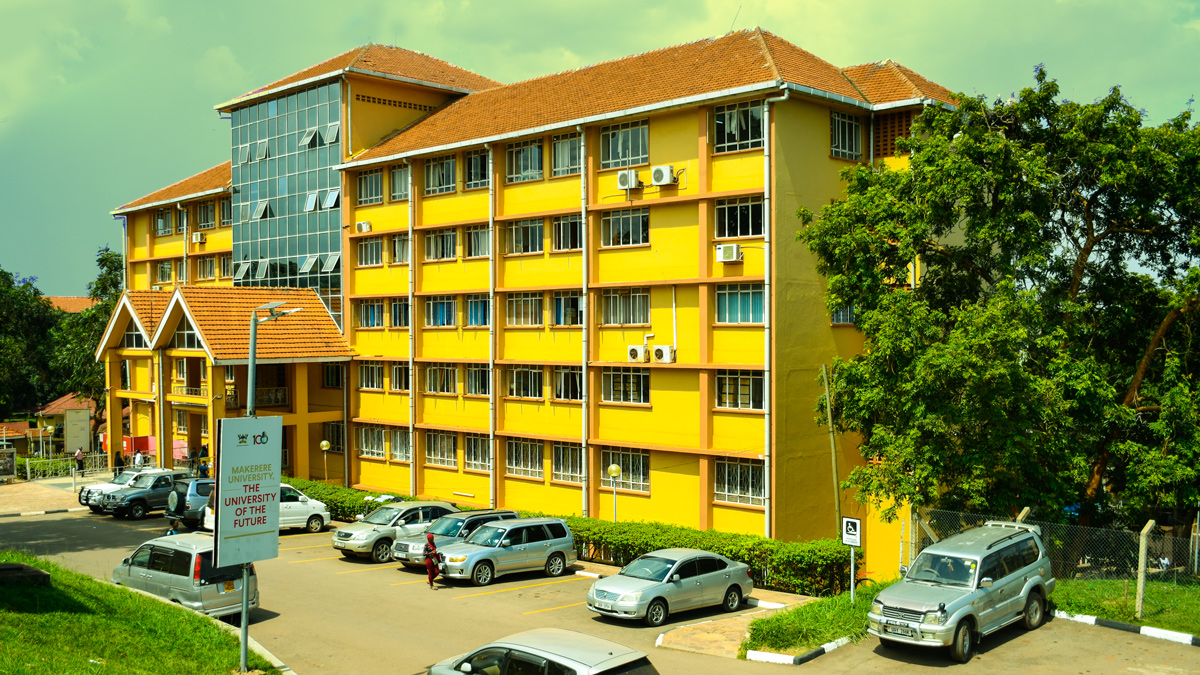 The Academic Registrar, Makerere University informs all Head Teachers of A 'Level schools that application forms for admission to public universities for senior six candidates (UACE 2023) for the 2024/2025 academic year will be ready for collection from the university from Monday 4th December, 2023.
The application forms should be collected from the Office of the Academic Registrar, Senate Building, Level 3, Makerere University.
Issuing of the application forms will start on Monday, 4th December 2023 on payment of a non-refundable application fee of Uganda Shs. 52,000/=(fifty two thousand Uganda shillings only) per application form.
You are advised to get a pay reference number (PRN) using the ACMIS system (http://pay.mak.ac.ug) to enable you pay the application fees in any bank used by Uganda Revenue Authority (URA).
The forms are for Ugandans only.
Please note that only Head Teachers or their authorized representatives will be served.
The closing date for submitting the completed application forms will be Wednesday 31st January, 2024.
Prof. Buyinza Mukadasi
ACADEMIC REGISTRAR