Mak Produces Affordable Multipurpose Tractor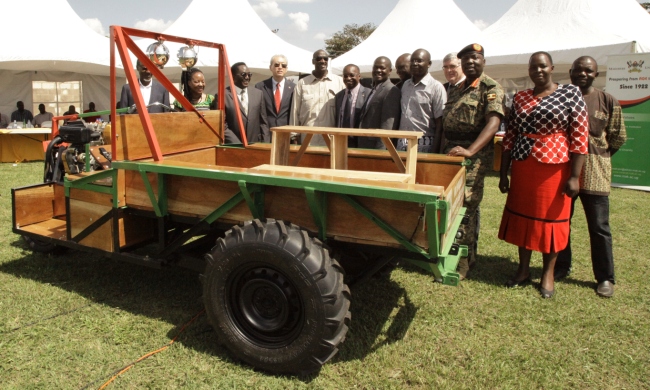 The Head of Operation Wealth Creation, General Salim Saleh on 31st December 2015 officially launched MV Mulimi, the multipurpose tractor developed by the College of Agricultural and Environmental Sciences (CAES), Makerere University, with a challenge that the institution should endeavour to produce even more.
During the launch held at Makerere University Agricultural Research Institute at Kabanyolo (MUARIK), Gen. Saleh said Makerere had proved that it could resolve the farmers' problems with practical solutions.
"I am pleased that Makerere is moving to solve these problems, which tie up the farmers in poverty. We hope that the MV Mulimi will resolve their problems, and therefore demand that several more similar vehicles are produced," he said.
He pledged to hold talks with Makerere University on the feasibility of ordering 20 units of MV Mulimi for field demonstration purposes. Gen. Saleh also indicated that there were other opportunities to be derived from this innovation.
"His Excellency, President Yoweri Kaguta Museveni has pledged to increase the budget for agriculture to over 1 trillion, but there is a concern about the absorption capacity of that money at the grassroots. I hope that research centres like Makerere University and others will be able to join in and help us absorb this new capacity," he said.
The MV Mulimi was developed by a team from CAES, consisting of Prof. Noble Banadda (the Principal Investigator), Prof. John Lumkes (Purdue University), Dr. Ahamada Zziwa, Dr. Nicholas Kiggundu of Makerere as well as Mr. Tyler Anselm (Purdue University), Mr. Ernest Tibaku-Zira, Mr. Samuel Mutesasira and Mr. Denis Nsubuga. Other than Prof. Lumkes and Mr. Anselm, the rest of the team members are from Makerere University.
The idea to develop a low cost multipurpose vehicle suitable for African conditions arose out of a 2013 trip by Prof. Noble Banadda to three Universities in the US, sponsored by the School of Food Technology, Nutrition and Bio-Engineering. Prof. Banadda's trip was aimed at exploring opportunities of collaboration between CAES and Purdue University, University of Georgia and Iowa State University.
In June 2015, the College of Agricultural and Environmental Sciences challenged Prof. Banadda and a team of researchers to develop such a vehicle. The design and development of MV Mulimi took place at MUARIK under the sponsorship of the Presidential Initiative on Science and Technology, from September 1, 2015 for a period of six weeks.
Commenting on the vehicle's abilities, Prof Banadda explained that the vehicle was able to thresh maize, pump water from a depth of 7 metres to a height of 33m, plough gardens, transport 20 adults and their goods over a reasonable distance, as well as charge a mobile phone.
According to Dr. Nicholas Kiggundu, the vehicle's design is the ultimate value addition, as it attempts to solve farmers' problems at the source. This follows a demonstrated need for low cost technologies in farm field and postharvest handling operations.
"The MV Mulimi cost UGX 30million to develop and its optimal cost; including all the elements required to carry out the tasks, would be about UGX 19million on the open market, once it is in production," he said.
The Dean, School of Food Technology, Nutrition and Bio Engineering, Prof John Muyonga, commended the team on a job well done. "The project was designed to add value to agricultural produce. Our research has shown that farm operations like threshing, pumping water and aspects of tilling, which remain a major challenge for farmers, can be resolved at a low cost" he said, further adding "I am pleased that they were able to accomplish this task in a short time."
Prof. Muyonga equally thanked Prof. William Kyamuhangire, the Manager of the Makerere University Food Technology and Business Incubation Centre for championing the cause of adding value to agricultural products.
The Deputy Principal of CAES, Dr. Goretti Nabanoga expressed her pleasure at the latest development. "I am happy that Makerere is participating as the lead researcher in addressing the challenges faced by farmers at the grassroots. This project will link us directly to the farmers," she said.
"The MV Mulimi is made from locally available materials, which indicates that the product can be easily maintained in Uganda, since its spares are easily accessible."
She challenged the researchers to continually improve the product by designing a shelter on top of the vehicle to shield occupants from weather elements such as rain or sunshine, and was optimistic that the vehicle's design would evolve even further in 2016.
"As Gen Salim Saleh once said, the biggest problem facing farmers is not the lack of funding but the availability of logistics. I am positive that in 2016 we will improve this tool further."
Speaking on behalf of the Private Sector, the Director of Peacock Paints, Kaddu Kiberu, commended Makerere University for developing the MV Mulimi, soon after the Kiira EV, was developed by the College of Engineering, Design, Art and Technology (CEDAT).
"I am happy to see what is happening at Makerere. Let us hope that this innovation will not be allowed to fail. Please be prepared for the criticism so that you can improve the product even further," he said.
He shared that the private sector was willing to come in and help develop MV Mulimi. "I don't expect all the parts of the MV Mulimi to come from Makerere. Instead you should partner with others to supply the parts and your job should be to design the final product," he added.
The Vice Chancellor, Prof John Ddumba-Ssentamu said the MV Mulimi had arrived at the right time.
"It is my informed opinion that mechanized farming is a step in the right direction for this country and we as Makerere University are proud to contribute towards this… As Makerere University, we have demonstrated that with seed financing, we can come up with practical innovations that solve real world challenges. I look forward to seeing more units rolled out to our farmers."
The Chinese Ambassador to Uganda, H.E. Zhao Yali also commended the team for producing the multipurpose vehicle for use in agriculture. He urged Makerere to consider working with China to improve the product further.
"I encourage Makerere to cooperate with some of the Chinese firms, which are already here in Uganda and are involved in developing and marketing agricultural implements and vehicles. The Vice Chancellor together with his team has a big role to play here," he said.
He revealed that the Chinese Government would be providing US$60bn to Africa under the Sino-Africa cooperation from 2016 to 2018, for among other uses, developing agriculture in Africa.
"I strongly urge Uganda to take advantage of this. I feel that agricultural development should be at the forefront of this cooperation with China," he concluded.
In the true spirit of friendship and brotherhood from China, the Ambassador presented a New Year (2016) gift comprising two (2) tractors to Makerere University to support farming and practical sessions at MUARIK.
The Director MUARIK, Associate Professor Phinehas Tukamuhabwa said the MV Mulimi is a great achievement for MUARIK and CAES, as it practically addresses issues of agriculture and the environment. He congratulated Prof. Noble Banadda and the team of researchers for the innovation that will contribute to the transformation of agriculture in Uganda.
Article by: Ritah Namisango, Mak Public Relations Office
Photos by: Landmark Media Consultancy Ltd
Ambassador of Sweden to Uganda calls for full involvement of men and boys in achieving Gender Equality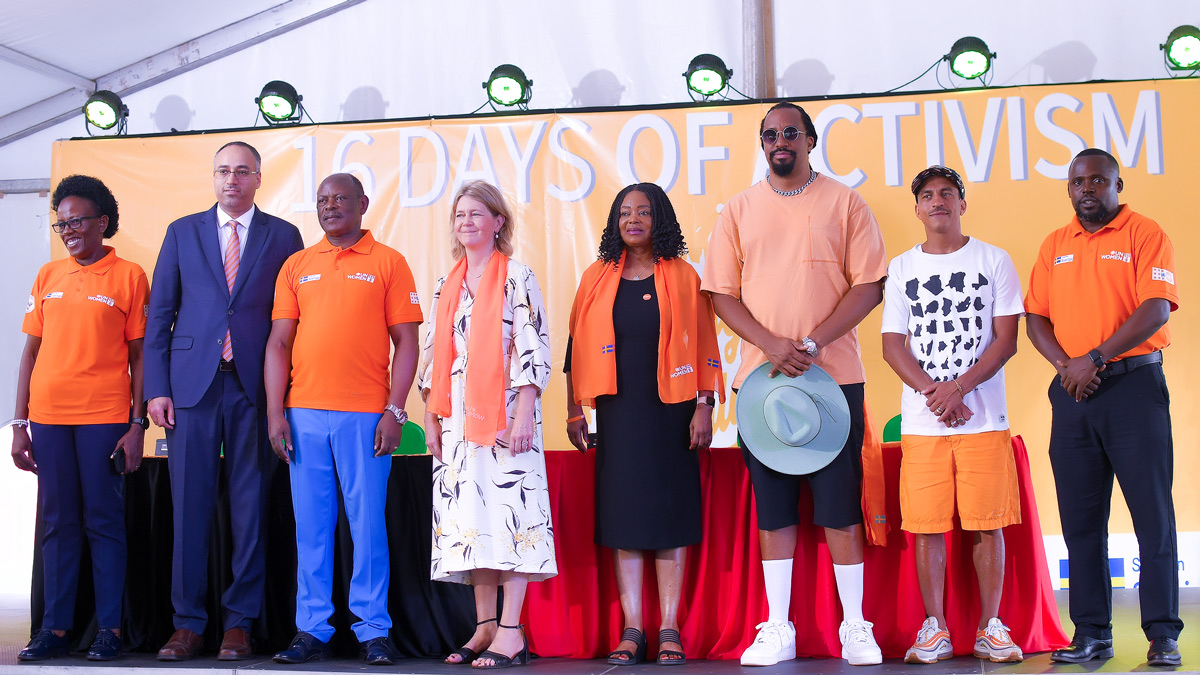 The Ambassador of Sweden to Uganda Her Excellence Maria Håkansson has emphasized the need to fully engage men and boys in all the initiatives geared towards achieving Gender Equality in Uganda and other parts of the world. She said this on 28th November 2023 at a press conference organized by the Embassy of Sweden in close collaboration with Makerere University Gender Mainstreaming Directorate, UN Women and United Nations Population Fund (UNFPA) to unveil the National Orange Pledge campaign and officially launch the 16 Days of Activism against Gender-Based Violence.
The press conference was headlined by a Ugandan rapper and record producer Daniel Lubwama Kigozi, popularly known by his stage name Navio and his fellow from Sweden Jason Michael Bosak Diakité popularly known as Timbuktu. Over 200 students both male and female from Makerere University and other institutions of higher learning attended the press conference at Makerere University Rugby Grounds.
According to Her Excellence Maria Håkansson, Gender Equality cannot be achieved without involving men and boys to take their responsibilities and be the drivers of change. "For real change to happen, we need to change attitudes and norms that might cause Gender Based Violence, one of the social ills in Uganda and an extreme of gender inequality that occurs at all levels of society," she said.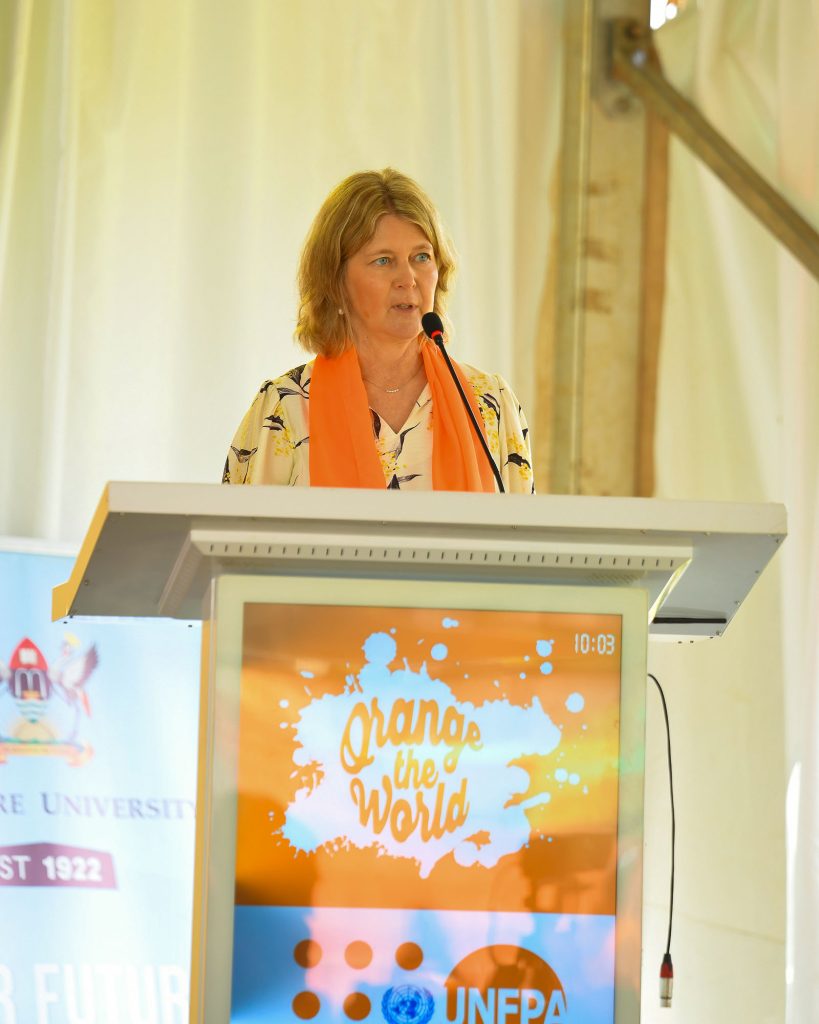 Referring to the national survey conducted in 2020, the Ambassador was concerned about the escalating burden of gender based violence in Uganda when she said, "the Survey highlighted that 95% of women and girls experience physical or sexual violence since the age of 15."
She therefore emphasized the Global 16 Days of Activism as key international movement to increase awareness and advocate for an end to Gender Based Violence. The Ambassador also mentioned that preventing and responding to Gender Based Violence is a cornerstone for Sweden's commitment to promote democracy, human rights and gender equality and this is done as an investment in a society that upholds the principles of equality, dignity and justice.
She acknowledged the full participation of university students in all campaigns and activities geared towards achieving gender equality as well as ending Gender Based Violence when she said, "You are the leaders of tomorrow and you have an opportunity to build a future where everyone can thrive. So please use today to take an active stand against Gender Based Violence."
Every year Uganda joins the rest of the world to enhance the global campaigns on 16 Days of Activism against Gender-Based Violence and also add a voice to the call for an end to violence against women and girls.   These campaigns run from 25th November (the International Day for the Elimination of Violence against Women) until 10th December of the Human Rights Day.
The United Nations Secretary-General's UNiTE by 2030 initiative calls for global action to increase awareness, galvanize advocacy efforts and share knowledge and innovations to help end all types of violence against women and girls.  This year 2023, the UNiTE campaign theme is; Invest to Prevent Violence against Women & Girls.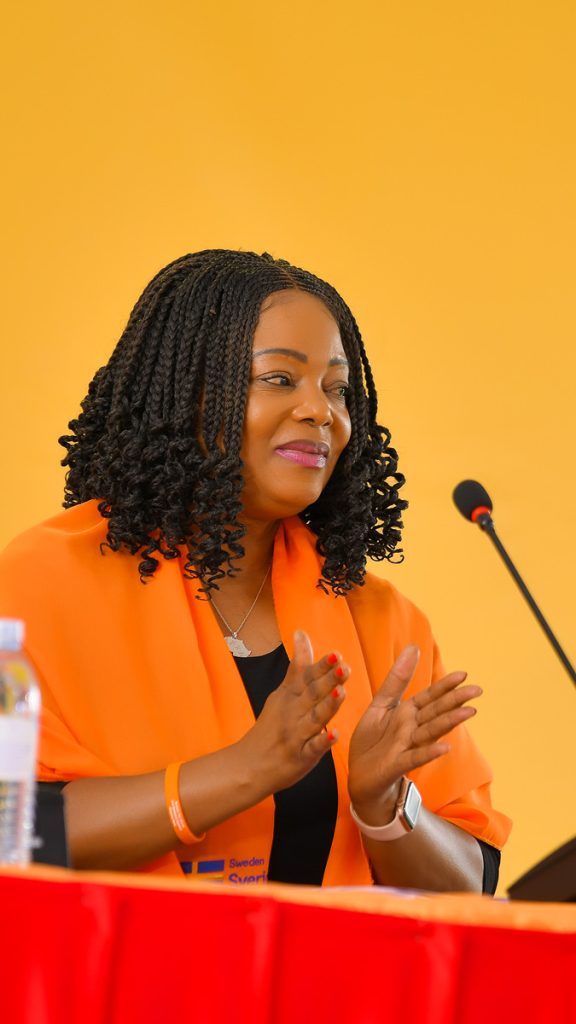 Over the years, Makerere University through its Gender Mainstreaming Directorate and School of Women and Gender in partnership with UN Women and many other partners have been at the fore front to support the campaign on 16 Days of Activism against Gender Based Violence in Uganda. This has been done through debates, theatre forums, student dialogues, thematic artistic presentations, media exposures, drama and music skits presentation, and student peer led discussions and quarterly competitions.
This year 2023, the University in partnership with the Embassy of Sweden, UN Women and United Nations Population Fund (UNFPA) unveiled the Orange Pledge. According to Eric Tumwesigye the Senior Gender Specialist at Makerere University Gender Mainstreaming Directorate, this campaign calls upon government, policymakers, activists, civil societies, academicians, students and all members of community from all parts of the country to make their heartfelt pledges towards ending Gender Based Violence in Uganda and the rest of the world.
The UN Women Country Representative Paulina Chiwangu recognized the investment Makerere University, the Embassy of Sweden and UNFPA have made to end violence against women and girls. "Thanks to our collective efforts, the silence that used to shroud violence against women has now been broken" said.
In the same spirit, she acknowledged the progress Makerere University has made in establishing and implementation of the University's Policy and Regulations against Sexual Harassment to protect students and staff from potential abuses of power and conflict of interest. She also applauded the increased support and training for students and the strengthened mechanisms for investigations that allow students and staff to anonymously report sexual misconduct.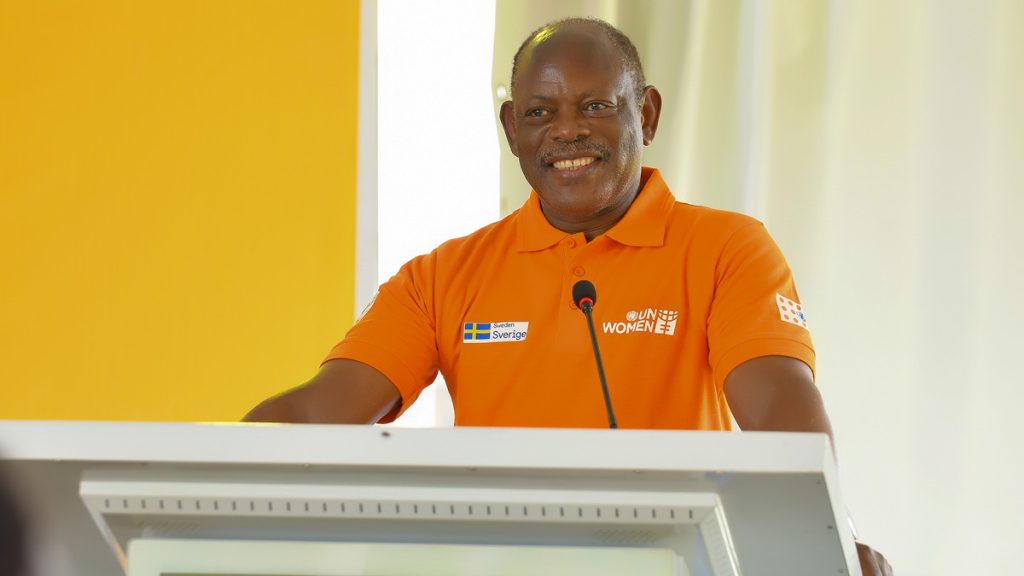 "We are however, aware that despite this, sexual harassment is still happening in the university and that not many students report to the authorities when they experience it. It is therefore, our humble appeal to the university leadership to continue monitoring the implementation of the Policy and Regulations Against Sexual Harassment, take all allegations of sexual harassment and violence seriously, ensure that all personnel have information on available support services and take action to ensure that perpetrators are held accountable."
Reaffirming the University's position in fighting GBV and particularly sexual harassment, the Vice Chancellor of Makerere University Prof. Barnabas Nawangwe was highlighted the various measures Makerere University has put in place to prevent and respond to Gender Based Violence. To him, the Policy and Regulations against Sexual Harassment; the appointment and capacity building for the Vice Chancellor's Roster of 100 eminent people from the various colleges and administrative units; recruitment and training of the Gender Mainstreaming Programme Student Peer Trainers and setting up Sexual Harassment Investigation Committees are bigger milestones to celebrate.
He appreciated the move by the Gender Mainstreaming Directorate and all the partners to embrace entertainment and artistry as a critical advocacy and awareness tool to reach several communities especially the youth.
"We firmly believe in the transformative power of music and the arts in promoting social change. Music and art does serve as a powerful medium to advocate for the world free from violence especially violence against women," said to Mr. Dainel Alemu, the UNFPA Deputy Country Representative.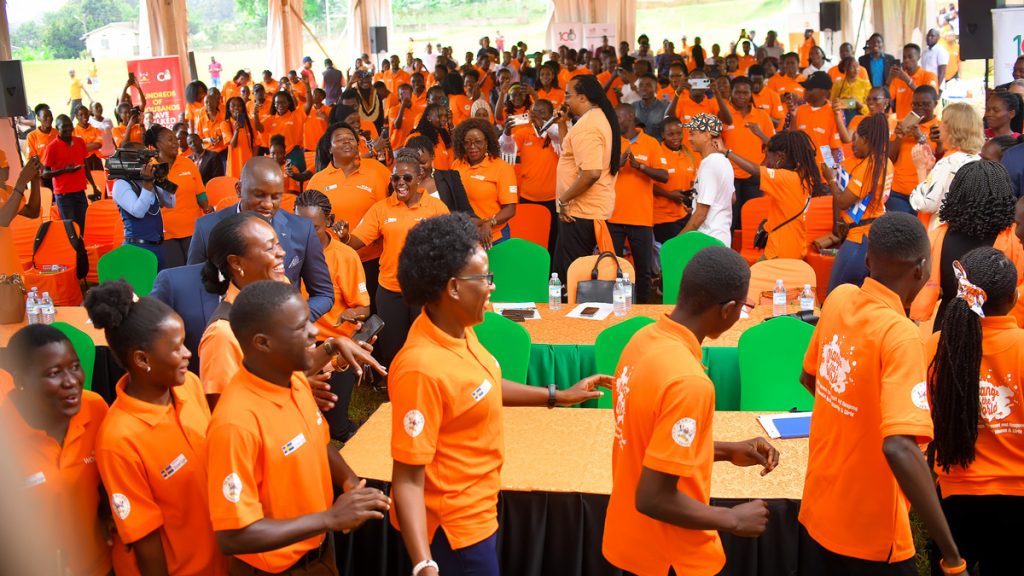 "It is heartening to see artists like Navio taking a stand and using their influence to challenge harmful norms. As we revel in the beats and melodies, let us not forget he underlying message that everyone , regardless of gender, has a role to play in fostering a world where everyone is free from shackles of gender based violence," he added.
Speaking at the Press Conference at Makerere University Rugby Grounds, Navio said that for the 20 years he has been an activist of Gender Based Violence, he has faced the reality of many young girls and women in Uganda being victims of sex and physical abuse. He therefore sent a huge condemnation to men especially artists that who are perpetrators of Gender Based Violence and called for serious government action and clear policies and laws against such injustices.
Navio applauded the women and men who have stood tall over the years to fight against Gender Based Violence in Uganda when he said, " As we launch the 16 days activism in Uganda and through these pledges we are making, let us be accountable for our actions. For long in our cultures, men have considered force and violence as power and protection. They have been tough to their children hence instilling fear to the extent that the children cannot freely interact with them on serious matters such as abuse and torture."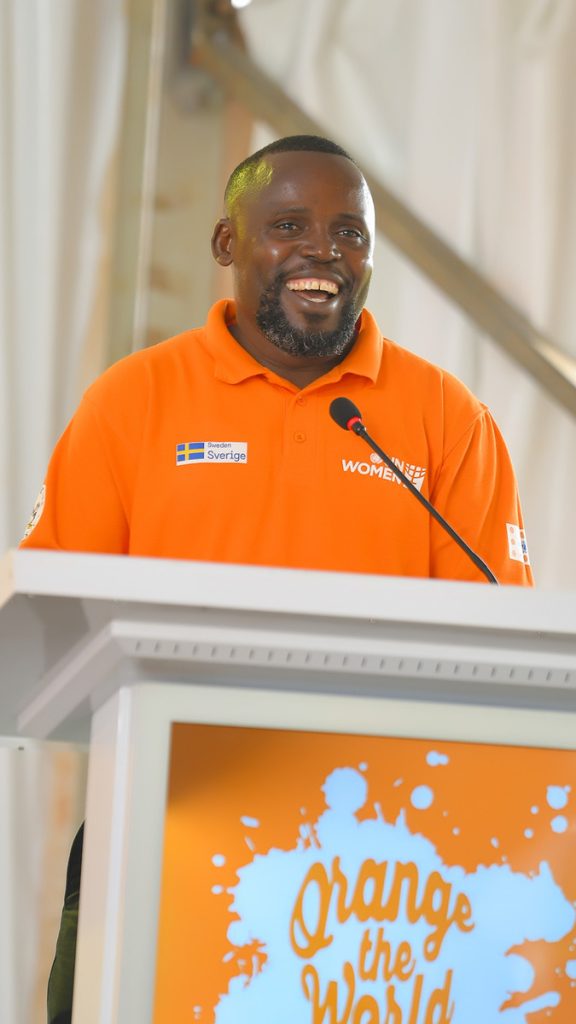 He applauded all families that have adopted the new parenting model of free conversations and interaction hence encouraging children to freely open up whenever they have challenges. Navio also acknowledged the role of his mother Mrs Maggie Kigozi as a human rights activist and a champion in fighting against Gender Based Violence in Uganda.
Jason Michael Bosak Diakité popularly known as Timbuktu from Sweden appreciated the wider platform provided by the music industry globally for artists to act as role models and champion of change. The rapper highlighted the need to respect women for their roles and support towards community development.
"I am a son and it is extremely important for me to respect my mother and all women. Also being a father to a beautiful daughter, I am always eager and looking forward to seeing the best future for her. I want daught to grow up in the world where she is able to feel safe and be allowed to freely associate without being discriminated or threatened because of her gender," he said.
Scholars & Alumni of Mastercard Foundation light up Achukudu Community, Napak District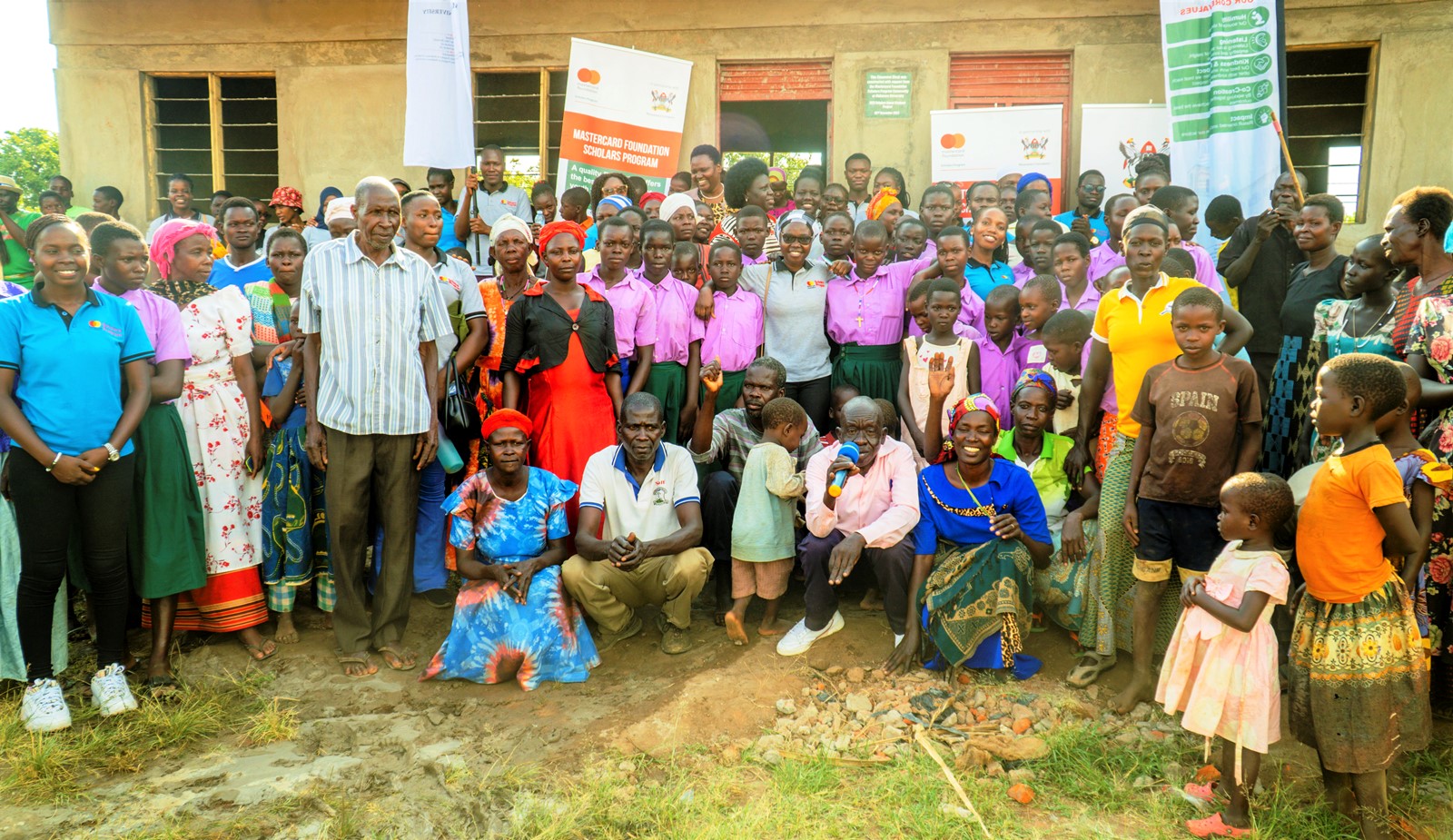 By Bernard Buteera
On Saturday 2nd December 2023, all roads led to Achukudu Community Primary School in Napak District, Karamoja sub-region, as the Scholars and Alumni of Mastercard Foundation at Makerere University commemorated their Scholars' Annual Day of Community Service (Giveback). The 2023 Scholars Annual Day of Community Service was held at Achukudu Community Primary School, Napak District in the Karamoja sub-region. Established in 2013, Achukudu Community School serves two ethnic communities—The Iteso and Karamojong.
With a total population of 1,097 pupils only three government-paid teachers, and nine community-paid teachers, the School faces a plethora of challenges. Key among the challenges is the lack of Classrooms, decent Ventilated Pit Latrines, and Desks. Therefore when the Scholars identified the School as one that deserved to be given a gift of a classroom block, it was a befitting choice!
The Scholars with support from the alumni, the Program Team, Members of the Steering Committee, and partners of the Scholars Program at Makerere University intervened by constructing a two-classroom block, which was supervised by one of the alumni who is an Engineer. Alongside the classroom block, the Scholars also provided 40 desks, helping the school meet UNEB Center eligibility criteria.