Mak Produces Affordable Multipurpose Tractor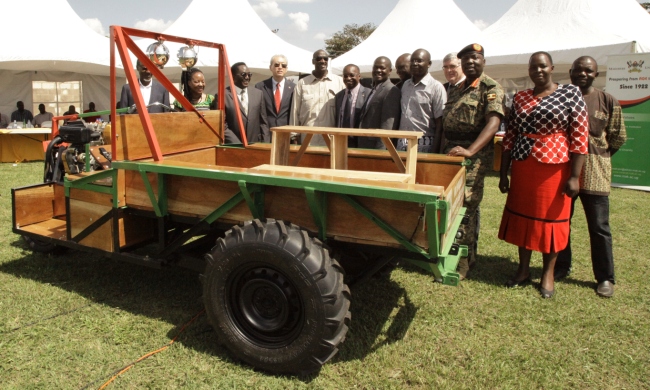 The Head of Operation Wealth Creation, General Salim Saleh on 31st December 2015 officially launched MV Mulimi, the multipurpose tractor developed by the College of Agricultural and Environmental Sciences (CAES), Makerere University, with a challenge that the institution should endeavour to produce even more.
During the launch held at Makerere University Agricultural Research Institute at Kabanyolo (MUARIK), Gen. Saleh said Makerere had proved that it could resolve the farmers' problems with practical solutions.
"I am pleased that Makerere is moving to solve these problems, which tie up the farmers in poverty. We hope that the MV Mulimi will resolve their problems, and therefore demand that several more similar vehicles are produced," he said.
He pledged to hold talks with Makerere University on the feasibility of ordering 20 units of MV Mulimi for field demonstration purposes. Gen. Saleh also indicated that there were other opportunities to be derived from this innovation.
"His Excellency, President Yoweri Kaguta Museveni has pledged to increase the budget for agriculture to over 1 trillion, but there is a concern about the absorption capacity of that money at the grassroots. I hope that research centres like Makerere University and others will be able to join in and help us absorb this new capacity," he said.
The MV Mulimi was developed by a team from CAES, consisting of Prof. Noble Banadda (the Principal Investigator), Prof. John Lumkes (Purdue University), Dr. Ahamada Zziwa, Dr. Nicholas Kiggundu of Makerere as well as Mr. Tyler Anselm (Purdue University), Mr. Ernest Tibaku-Zira, Mr. Samuel Mutesasira and Mr. Denis Nsubuga. Other than Prof. Lumkes and Mr. Anselm, the rest of the team members are from Makerere University.
The idea to develop a low cost multipurpose vehicle suitable for African conditions arose out of a 2013 trip by Prof. Noble Banadda to three Universities in the US, sponsored by the School of Food Technology, Nutrition and Bio-Engineering. Prof. Banadda's trip was aimed at exploring opportunities of collaboration between CAES and Purdue University, University of Georgia and Iowa State University.
In June 2015, the College of Agricultural and Environmental Sciences challenged Prof. Banadda and a team of researchers to develop such a vehicle. The design and development of MV Mulimi took place at MUARIK under the sponsorship of the Presidential Initiative on Science and Technology, from September 1, 2015 for a period of six weeks.
Commenting on the vehicle's abilities, Prof Banadda explained that the vehicle was able to thresh maize, pump water from a depth of 7 metres to a height of 33m, plough gardens, transport 20 adults and their goods over a reasonable distance, as well as charge a mobile phone.
According to Dr. Nicholas Kiggundu, the vehicle's design is the ultimate value addition, as it attempts to solve farmers' problems at the source. This follows a demonstrated need for low cost technologies in farm field and postharvest handling operations.
"The MV Mulimi cost UGX 30million to develop and its optimal cost; including all the elements required to carry out the tasks, would be about UGX 19million on the open market, once it is in production," he said.
The Dean, School of Food Technology, Nutrition and Bio Engineering, Prof John Muyonga, commended the team on a job well done. "The project was designed to add value to agricultural produce. Our research has shown that farm operations like threshing, pumping water and aspects of tilling, which remain a major challenge for farmers, can be resolved at a low cost" he said, further adding "I am pleased that they were able to accomplish this task in a short time."
Prof. Muyonga equally thanked Prof. William Kyamuhangire, the Manager of the Makerere University Food Technology and Business Incubation Centre for championing the cause of adding value to agricultural products.
The Deputy Principal of CAES, Dr. Goretti Nabanoga expressed her pleasure at the latest development. "I am happy that Makerere is participating as the lead researcher in addressing the challenges faced by farmers at the grassroots. This project will link us directly to the farmers," she said.
"The MV Mulimi is made from locally available materials, which indicates that the product can be easily maintained in Uganda, since its spares are easily accessible."
She challenged the researchers to continually improve the product by designing a shelter on top of the vehicle to shield occupants from weather elements such as rain or sunshine, and was optimistic that the vehicle's design would evolve even further in 2016.
"As Gen Salim Saleh once said, the biggest problem facing farmers is not the lack of funding but the availability of logistics. I am positive that in 2016 we will improve this tool further."
Speaking on behalf of the Private Sector, the Director of Peacock Paints, Kaddu Kiberu, commended Makerere University for developing the MV Mulimi, soon after the Kiira EV, was developed by the College of Engineering, Design, Art and Technology (CEDAT).
"I am happy to see what is happening at Makerere. Let us hope that this innovation will not be allowed to fail. Please be prepared for the criticism so that you can improve the product even further," he said.
He shared that the private sector was willing to come in and help develop MV Mulimi. "I don't expect all the parts of the MV Mulimi to come from Makerere. Instead you should partner with others to supply the parts and your job should be to design the final product," he added.
The Vice Chancellor, Prof John Ddumba-Ssentamu said the MV Mulimi had arrived at the right time.
"It is my informed opinion that mechanized farming is a step in the right direction for this country and we as Makerere University are proud to contribute towards this… As Makerere University, we have demonstrated that with seed financing, we can come up with practical innovations that solve real world challenges. I look forward to seeing more units rolled out to our farmers."
The Chinese Ambassador to Uganda, H.E. Zhao Yali also commended the team for producing the multipurpose vehicle for use in agriculture. He urged Makerere to consider working with China to improve the product further.
"I encourage Makerere to cooperate with some of the Chinese firms, which are already here in Uganda and are involved in developing and marketing agricultural implements and vehicles. The Vice Chancellor together with his team has a big role to play here," he said.
He revealed that the Chinese Government would be providing US$60bn to Africa under the Sino-Africa cooperation from 2016 to 2018, for among other uses, developing agriculture in Africa.
"I strongly urge Uganda to take advantage of this. I feel that agricultural development should be at the forefront of this cooperation with China," he concluded.
In the true spirit of friendship and brotherhood from China, the Ambassador presented a New Year (2016) gift comprising two (2) tractors to Makerere University to support farming and practical sessions at MUARIK.
The Director MUARIK, Associate Professor Phinehas Tukamuhabwa said the MV Mulimi is a great achievement for MUARIK and CAES, as it practically addresses issues of agriculture and the environment. He congratulated Prof. Noble Banadda and the team of researchers for the innovation that will contribute to the transformation of agriculture in Uganda.
Article by: Ritah Namisango, Mak Public Relations Office
Photos by: Landmark Media Consultancy Ltd
Mak Participates in New Vision Education Expo 2023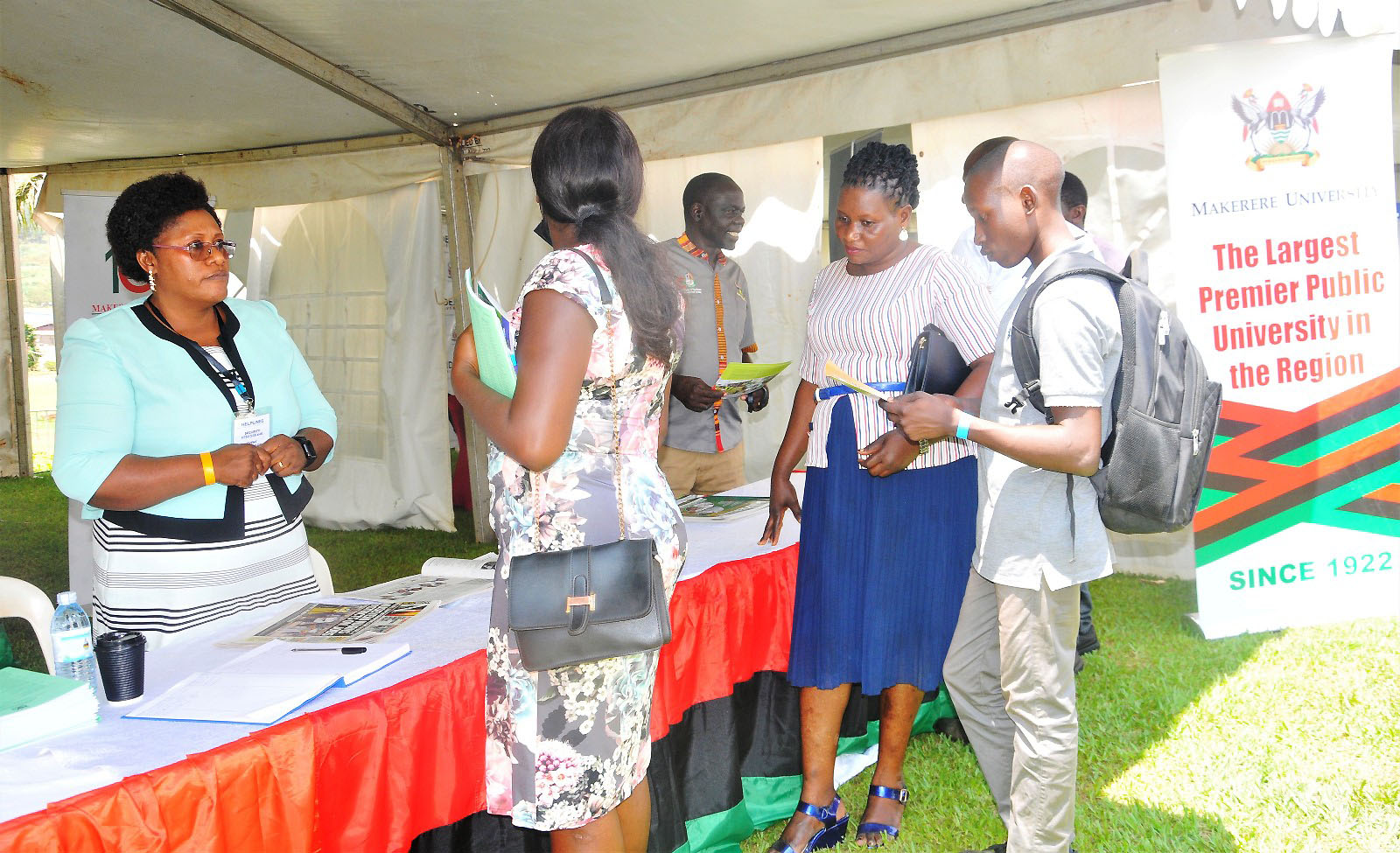 Makerere University is participating in the New Vision Education Expo 2023 to strengthen its niche as the leading provider of education services.
The three-day New Vision Expo (Friday 27th January 2023 to Sunday 29th January 2023) at the Uganda Institute of Information and Communications Technology (UICT) Nakawa brings on board players in the education and business fields to forge partnerships to improve the quality and outcomes of education in Uganda.
Makerere University seeks to maximally utilize the three days to ensure that the participants at the Education Expo gain a deeper understanding of its 100 year journey of providing excellent services to humanity through academic programmes, services offered and ongoing efforts aimed at producing employable graduates as well as entrepreneurs.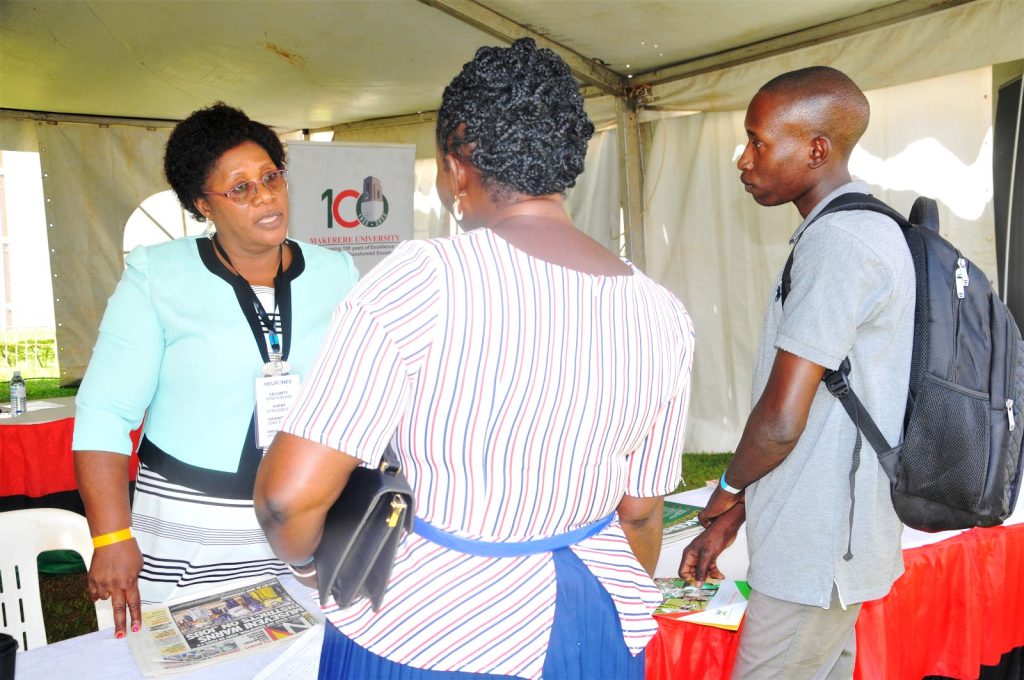 The Vice Chancellor, Prof. Barnabas Nawangwe highlights that Makerere University values stakeholder engagements and partnerships.  "The New Vision Expo 2023 presents Makerere University with an opportunity to enhance stakeholder engagements. It is about consolidating the relationships with schools, prospective students and parents, and partners in the education sector. I applaud the CEO of Vision Group-Mr. Don Wanyama for coming up with the Education Expo."
To respond to the information needs of stakeholders, Makerere University has lined up a team of experienced staff from the Department of the Academic Registrar, the Admissions Office, Public Relations Office, Career Guidance experts as well as the Institute of Open Distance and e-Learning (IODeL) under the College of Education and External Studies (CEES).
According to the Principal PRO of Makerere University Ms. Ritah Namisango, the Education Expo provides a platform to reach out to the clients that Makerere University exists to serve. "You must be in touch with your prospective parents, students as well as schools and partners that continue to recommend you as the leading university in the region. Makerere University has celebrated 100 years of excellent service to humanity (1922-2022). So, as we continue to promote the academic programmes, innovations and services that we offer, we are ready to listen, interact and learn from respective stakeholders about what they expect from the University as we embark on the next 100 years."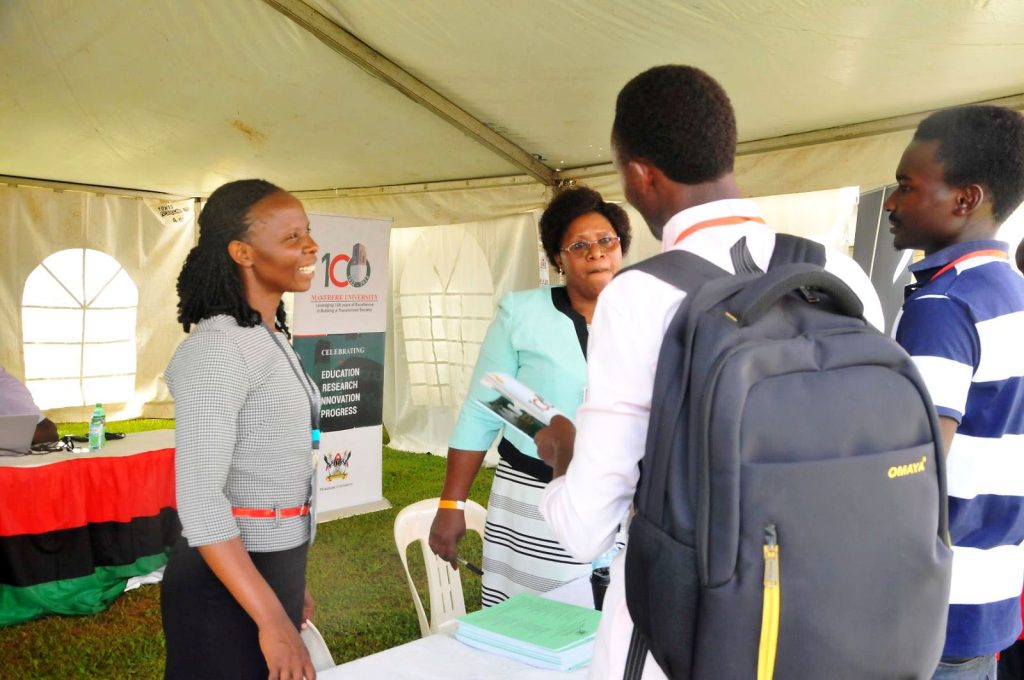 The New Vision Expo 2023 is happening at an opportune (holiday) time, which accords the students, parents and guardians quality time to visit the exhibition and interact with experts in the education sector.
In addition, Makerere University has recently advertised its academic programmes and it is preparing to receive students for the Academic year 2023/2024. Sharing her experience about the interaction with participants who visited the Makerere University exhibition space, Ms Joyce Muhanguzi, Senior Assistant Registrar in the Department of the Academic Registrar noted that most of the prospective students and parents wanted to know about the academic programmes, the subject combinations that students should study to qualify to apply for the respective academic programmes, and the available admission avenues i.e. government sponsorship, private sponsorship, diploma entry, direct entry, national merit, talented sports entry and district quota programme).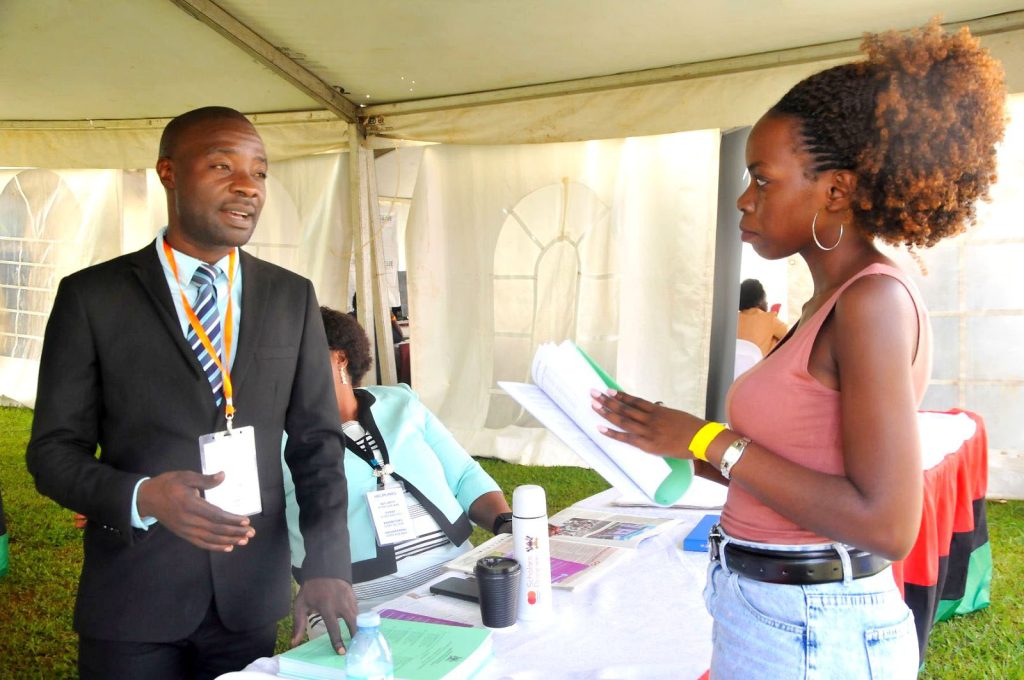 Ms Joyce Muhanguzi and Mr. Dennis Kibuuka's interaction focused on students who expressed their desire to join Makerere University in the coming years, and needed a case by case approach to their information needs, career guidance and linkages to Professors and Administrative staff in the respective Colleges at Makerere University.
The prospective students and parents also disclosed that in addition to the information on the Makerere University website, they welcome interactive and friendly approaches such as the New Vision Education Expo where they are presented with a golden opportunity to interact with Makerere University officials face-to-face.
At the New Vision Education Expo 2023, Makerere University joins other exhibitors that include; Government agencies, NGOs, Telecom companies, Banks, Insurance companies, Kindergartens/Daycare Centres, Primary and Secondary schools, Ugandan and Kenyan Universities, International schools, Study Abroad Agencies, Vocational institutions, Scholastic materials suppliers and SME service providers.
73rd Graduation Highlights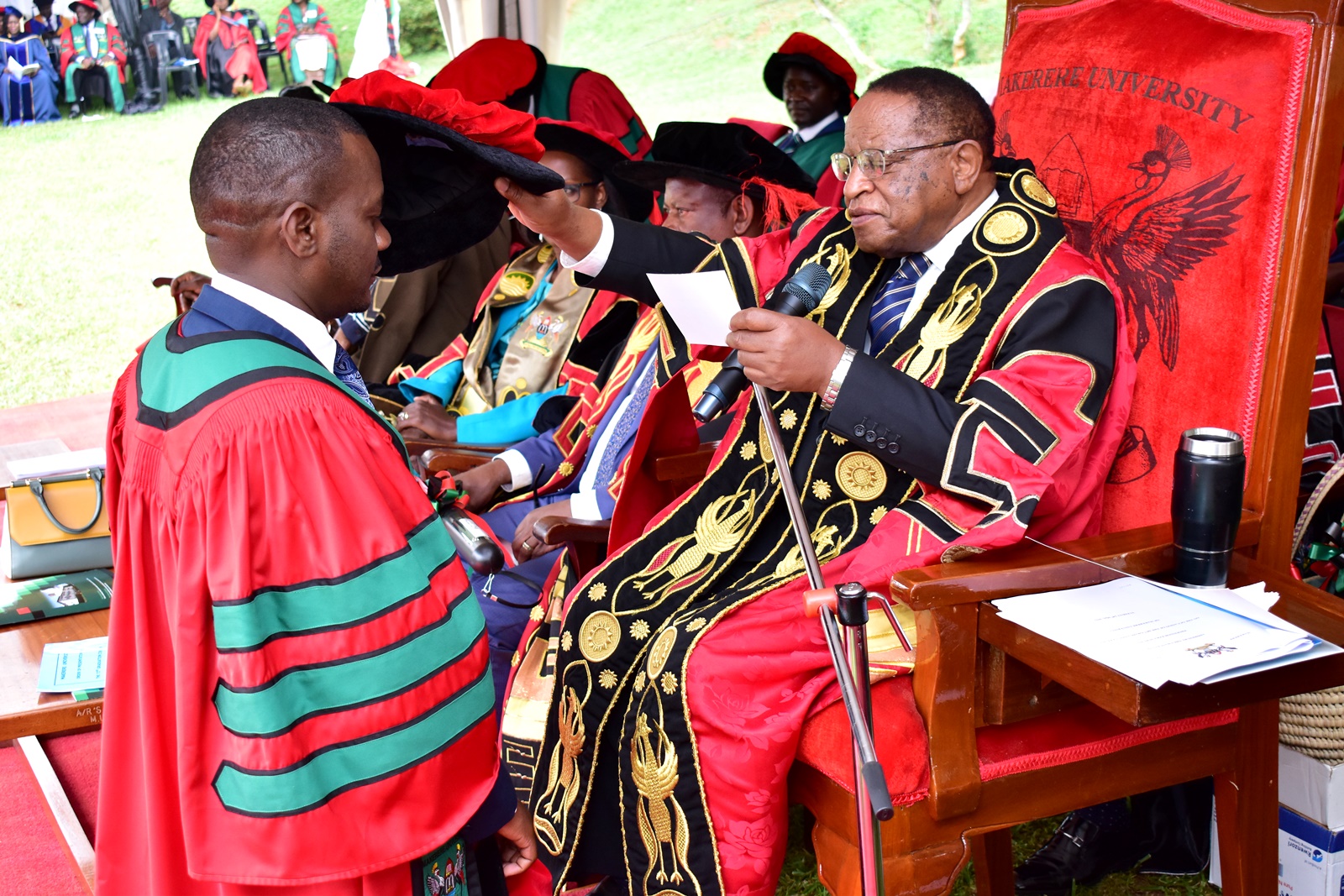 The 73rd Graduation Ceremony of Makerere University will be held from Monday 13th to Friday 17th February 2023 following the schedule below:
Monday, 13th February, 2023
College of Health Sciences (CHS)
College of Natural Sciences (CoNAS)
School of Law (SoL)
Tuesday, 14th February, 2023
College of Agricultural and Environmental Sciences (CAES)
College of Education and External Studies (CEES)
Wednesday, 15th February, 2023
College of Business and Management Sciences (CoBAMS)
College of Computing and Information Sciences (CoCIS)
College of Veterinary Medicine, Animal Resources and Bio-security (CoVAB)
Thursday, 16th February, 2023
Makerere University Business School (MUBS)
Friday, 17th February, 2023
College of Engineering, Design, Art and Technology (CEDAT)
College of Humanities and Social Sciences (CHUSS)
HEST Graduate Programme: Internship Placement Advert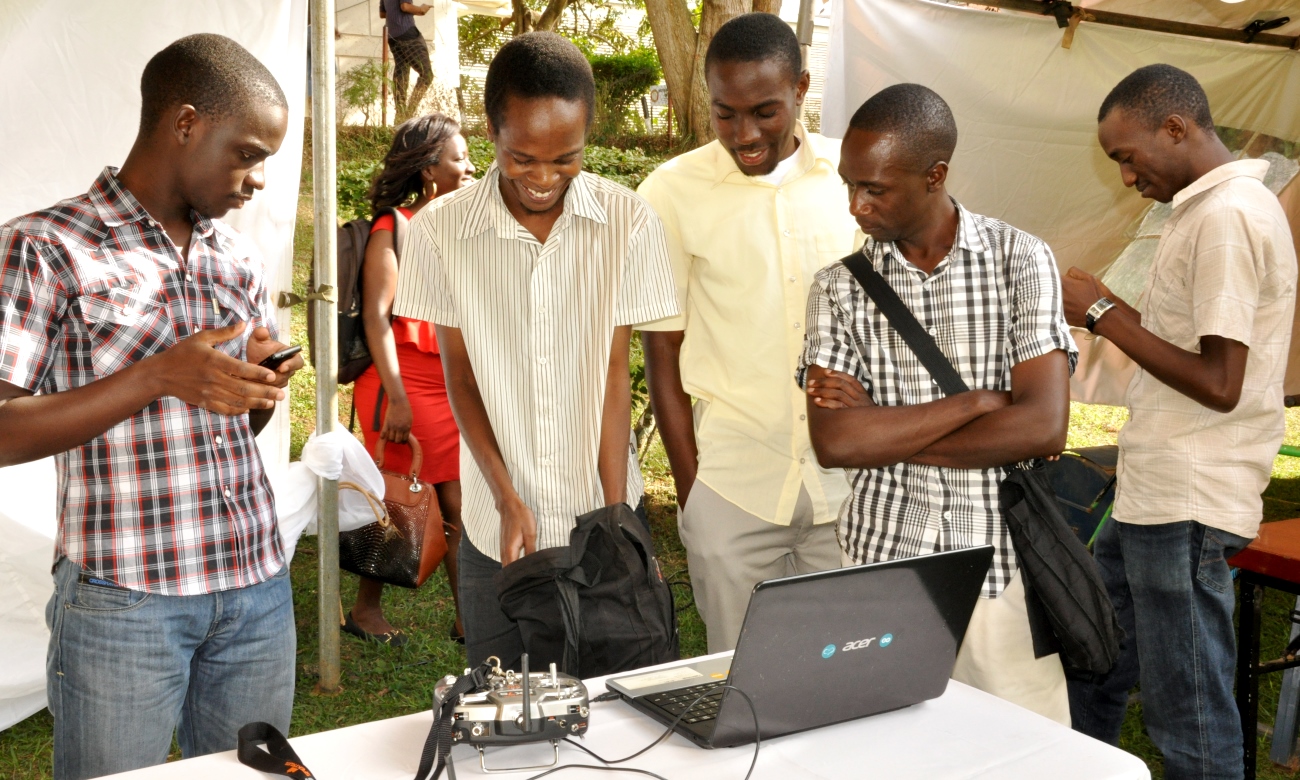 Purpose
The program aims to improve graduates' skills by placing them into selected partner industries for skills gain, facilitating the process and supervising placed interns. Graduates will be placed in their areas of study accordingly.
Time frame
The phased recruitment and placement will start from 1st December 2022 for a period of three months. Recent university graduates and those awaiting graduation should apply for this opportunity.
Eligibility
The project mainly focuses on university graduates from Makerere University (Mak), Makerere University Business School (MUBS) and Kyambogo University (KYU) who have undertaken the following courses
Makerere University and Kyambogo University
Bachelor of Science in Civil Engineering
Bachelor of Science in Electrical Engineering
Bachelor of Science in Computer Engineering
Bachelor of Science in Telecommunication Engineering
Bachelor of Science in Mechanical Engineering
Bachelor of Architecture
Bachelor of Science in Construction Management
Bachelor of Science in Land Economics
Bachelor of Science in Quantity Surveying
Bachelor of Science in Land Surveying and Geomatics
Bachelor of Visual Communication Design
Bachelor of Science in Actuarial Science
Makerere University Business School
Bachelor of Arts in Economics
Bachelor of Science in Business Statistics
Bachelor of Business Administration
Bachelor of Commerce
Bachelor of Real Estate Business Mgt.
Bachelor of Science in Accounting
.Bachelor of Science in Finance
Bachelor of Human Resource Mgt.
Bachelor of Leadership and Governance
Bachelor of Procurement and Supply Chain Mgt.
Bachelor of Transport & Logistics Mgt.
Bachelor of International Business
Bachelor of Catering and Hotel Mgt.
Bachelor of Science in Marketing
Bachelor of Travel and Tourism Mgt.
Bachelor of Entrepreneurship and Small Business Mgt.
Bachelor of Business Computing
Bachelor of Office and Information Mgt.
They should not be employed anywhere and should have gone through the traditional internship placement required by their respective universities.
How Students join
Interested university graduates shall submit an online application and contact the designated university contact or focal persons. Successful applicants will be required to complete the three (3) months internship pgoram uninterrupted to fully benefit from the program. Apply here: https://bit.ly/HEST2022
How companies participate
A company interested in hosting interns under the program can fill out an internship acceptance form and forward it to the internship placement officer.
Contacts of University focal persons
Makerere University (Mak)
Dr. Christine Amito
Tel: +256-771-321384
Email: amitoxtine@gmail.com
Makerere University Business School (MUBS)
Ms. Christine Nantambi
Tel: +256-772-654454/+256-703-878277
Email: cnantambi@mubs.ac.ug
Kyambogo University (KYU)
Ms. Nandugwa Harriet
Tel: +256-786030640
Email: hnandugwa@kyu.ac.ug
Contacts of IEED Project Team
Makerere University School of Public Health (MakSPH)
Ms. Mary Kaakyo,
IEED Project Coordinator
Email: mkaakyo@musph.ac.ug
Tel: +256-706-960075
Makerere University School of Statistics and Planning (MakSSP)
Ms. Afazali Zabibu,
HEST Study Coordinator
Email: zabibu.afazali@gmail.com
Tel: +256-779-912365/+256-705-587072