Royalty and Loyalty at Mak as King Oyo makes Inaugural Visit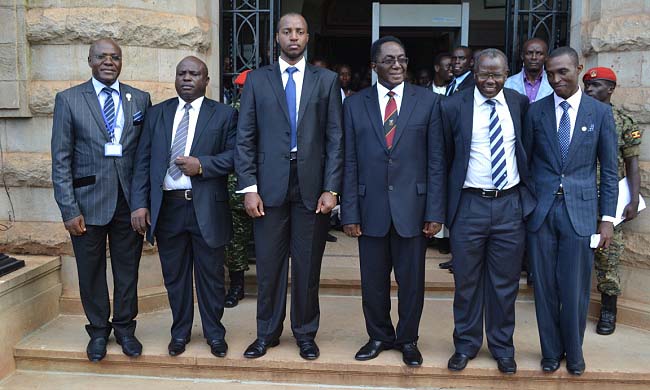 Royalty and Loyalty combined in big volumes on Friday 20th November 2015 as the King of Tooro Kingdom, Omukama Oyo Nyimba Kabamba Iguru Rukidi IV made his maiden entry into the gates of Makerere University. The King's subjects who had patiently waited for his procession at the Main gate, prostrated before him, as a sign of their loyalty. They followed his procession, welcoming him with the tunes of Amakondere and other traditional songs from Tooro Kingdom, in praise of his leadership.
The King, who was in the company of other Royals including his paternal aunt, Princess Elizabeth Bagaya, proceeded to first pay a courtesy call on the Makerere University Vice Chancellor, Prof. John Ddumba-Ssentamu who received him outside the Main building. As this delegation made its way to VC's Office, the King's subjects who were patiently waiting in the Main Hall rose to their feet to celebrate the fact that King Oyo was now in the Main building. He later descended to the Main hall and was received with ululations and uncontrollable praises of 'Hangiriza agutamba. Hangiriza Rukirabashaija. Hangiriza omwebingwa. Hangiriza Entare ya Tooro' as the audience in the Main hall exploded in euphoria.
In his remarks, Omukama Oyo expressed gratitude at the warm reception and thanked Makerere University for opening up to Tooro Kingdom. He was particularly grateful for the Fort Portal campus. "It gives me great pleasure to visit Makerere University, an institution which has existed since 1922. Makerere has remained one of the most prestigious Universities not only in Uganda but the whole of Africa. On behalf of Tooro Kingdom and myself, I wish to appreciate the wonderful reception you have accorded me and my entourage since I set foot at this mighty institution," he said to a thunderous applause.
"I hope this visitation will go a long way to benefit our respective institutions. I thank the Makerere University Administration for creating a western campus in Tooro Kingdom, opened five years ago. This campus has helped our people in Tooro region to access quality education," he added. "Through my time in school and the various walks in life, I have learnt a few lessons I wish to share some with you especially the young people in this room with the hope it will be helpful. The first one, believe in yourself. Even if you don't, pretend you do and at some point you will," he advised as students applauded in agreement.
The King further advised the congregation especially the young people to hold onto their dreams, be disciplined, focus on their destiny, and respect cultural values. He cautioned the youth against engaging in inappropriate activities like drug abuse. King Oyo reached out to the Central Government, calling for support to the University capital fund tailored to support student innovations and business start-ups for fresh graduates.
Tooro Kingdom and Makerere University signed a Memorandum of Understanding, MoU, to cement the relationship. The Vice Chancellor welcomed Tooro Kingdom's initiative to work with Makerere University in skilling Ugandans, adding that the MoU will first be implemented in the College of Agricultural and Environmental Sciences (CAES).
"The main objective of the MoU is to partner with your Kingdom to enhance each other's areas of interest and development in order to stimulate growth of each party and contribute to societal transformation and national development. Makerere University shall execute this partnership through the School of Food Technology, Nutrition and Bio-Engineering to start with. Your Majesty, I have been informed that you would like to come back at a later date and visit more Colleges within Makerere University in order to establish further areas of collaboration. Your Majesty, you are most welcome," he said.
The Vice Chancellor also presented a plaque to Omukama Oyo in recognition of his inspirational and noble leadership of Tooro Kingdom and socio-cultural transformation of society through inculcation of cultural ideals and principles.

The Guild President, H.E. David Bala who spoke on behalf of the Student body sincerely appreciated Omukama Oyo for prioritizing the visit to Makerere University. His visit was partly coordinated by the Makerere University Tooro Students Association (MUTOSA).
After signing the MoU, Omukama Oyo then proceeded to the School of Food Technology, Nutrition and Bio-Engineering where he planted a tree to commemorate his visit and toured both the new and old wings of the Food Technology and Business Incubation Centres. He then held a meeting the College Management to chart the way forward in implementation of the MoU.
Article by Marion Alina, Public Relations Office

Resumption of Teaching and Learning for Final Year Medical Students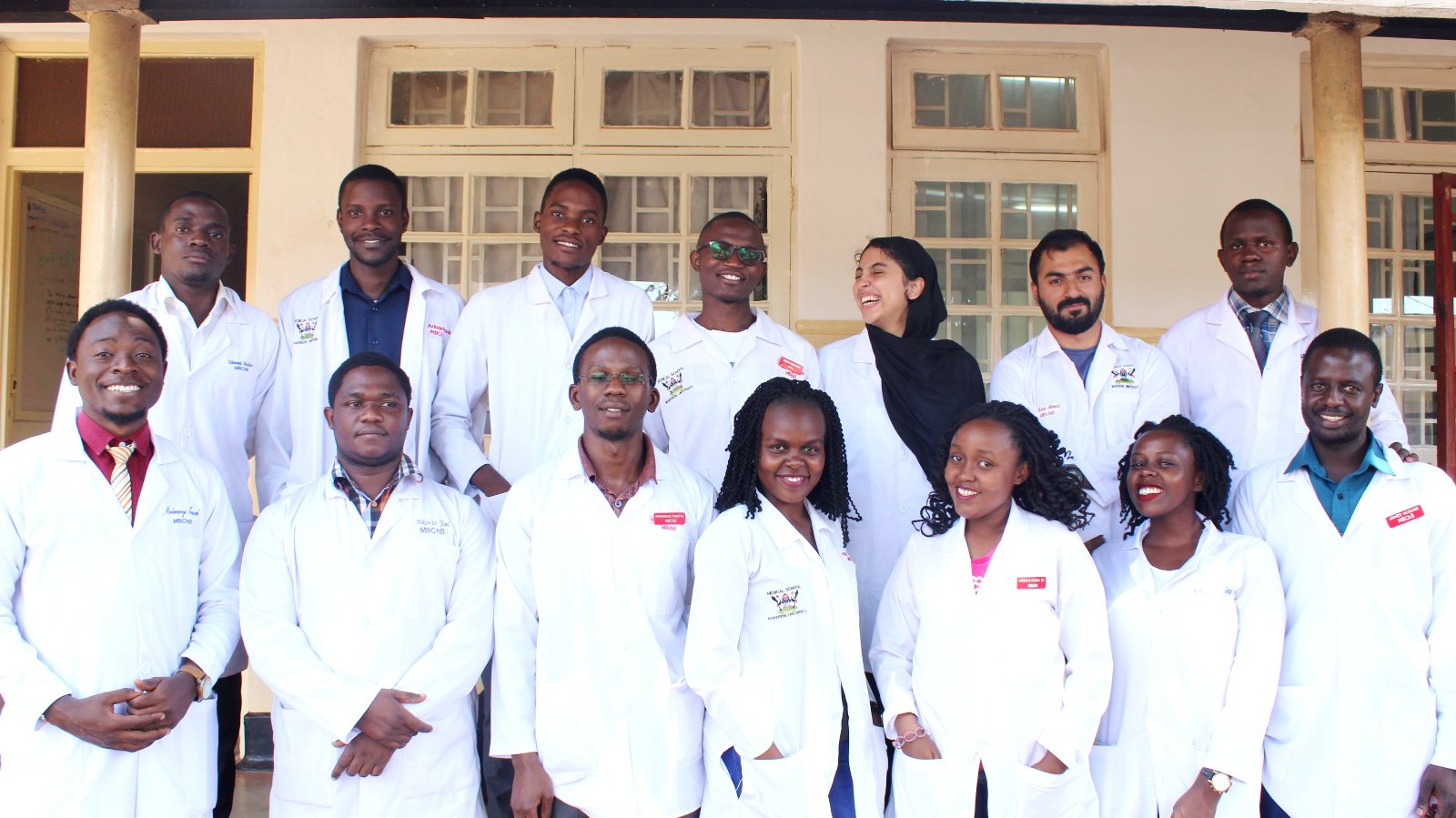 Featured image: Members of the Makerere University College of Health Sciences Students Association (MAKCHSA) pose for a photo ahead of their 1st College Open Day and Alumni Convention held on 1st November 2019.
This is to inform all Final Year Medical Students that teaching and learning activities which were halted following the closure of education institutions in a bid to prevent the spread of COVID-19, will resume on Saturday 3rd October 2020.
You are therefore required to report to your respective Deans in the College of Health Sciences for detailed information.
Note that you must strictly adheare to the Standard Operating Procedures put in place by the Ministry of Health to combat the spread of COVID-19 which include among others:
Mandatory wearing of a clean mask covering the mouth and nose
Social distancing
Washing of hands regularly and/or sanitizing hands
Further note that the schedule of the remaining semester shall cover 8 weeks (5 weeks for teaching and learning and 3 weeks of examinations).
Alfred Masikye-Namoah
ACADEMIC REGISTRAR
17th September 2020
IAEA Marie Sklodowska-Curie Fellowship Programme for Female Students
Featured image: Female graduands pose for the camera in January 2018 after a session of the 68th Graduation Ceremony, Makerere University, Kampala Uganda. Photo credit: GMD
The application process has opened for female students interested in applying for a scholarship from the IAEA Marie Sklodowska-Curie Fellowship Programme (MSCFP) towards their Master's degrees in nuclear science and technology, nuclear safety and security or non-proliferation. The fellowship will provide scholarships for up to 100 selected applicants annually, to help enhance the pool of qualified young women in the nuclear field. It also aims to support an inclusive workforce of both men and women for the future, contributing to global scientific and technological innovation from all over the world as diversity gives opportunity to greater creativity and productivity. Candidates have until midnight on 11 October 2020 to apply for the first 100 scholarships.
RUFORUM Thought Piece on COVID-19: Are we prepared for an integrated Africa?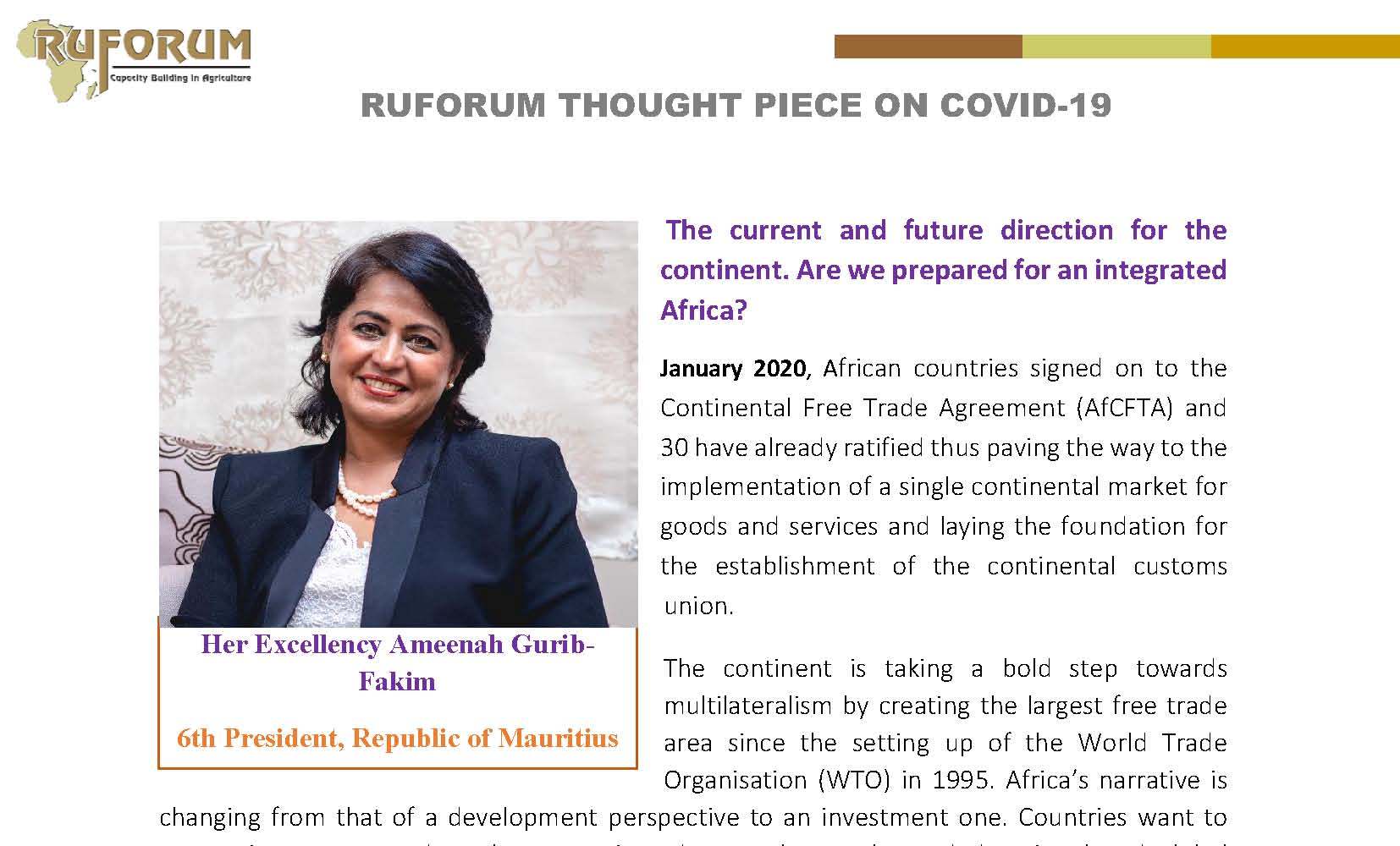 Featured image: RUFORUM Thought Piece on COVID-19 by Her Excellency Ameenah Gurib-Fakim, 6th President of the Republic of Mauritius
The current and future direction for the continent. Are we prepared for an integrated Africa?
January 2020, African countries signed on to the Continental Free Trade Agreement (AfCFTA) and 30 have already ratified thus paving the way to the implementation of a single continental market for goods and services and laying the foundation for the establishment of the continental customs union.
The continent is taking a bold step towards multilateralism by creating the largest free trade area since the setting up of the World Trade Organisation (WTO) in 1995. Africa's narrative is changing from that of a development perspective to an investment one. Countries want to attract investment and at the same time deepen the much needed regional and global engagement especially as we emerge out of the COVID 19 era.
Over the past few years, Africa's annual GDP growth has consistently outpaced the global average and was expected to remain at least 6% until 2023. Even if COVID 19 has changed these projections; it is a fact that by 2050, the continent's population is predicted to be over 2.5 billion, according to the United Nations and the World Economic Forum – more than the combined populations of China and India today. The richest 10% of the African continent will be driving demand for consumer goods and services and this represents at least 200 million people.