Ngugi revitalizes Pan-Africanism as Mak honours Nyerere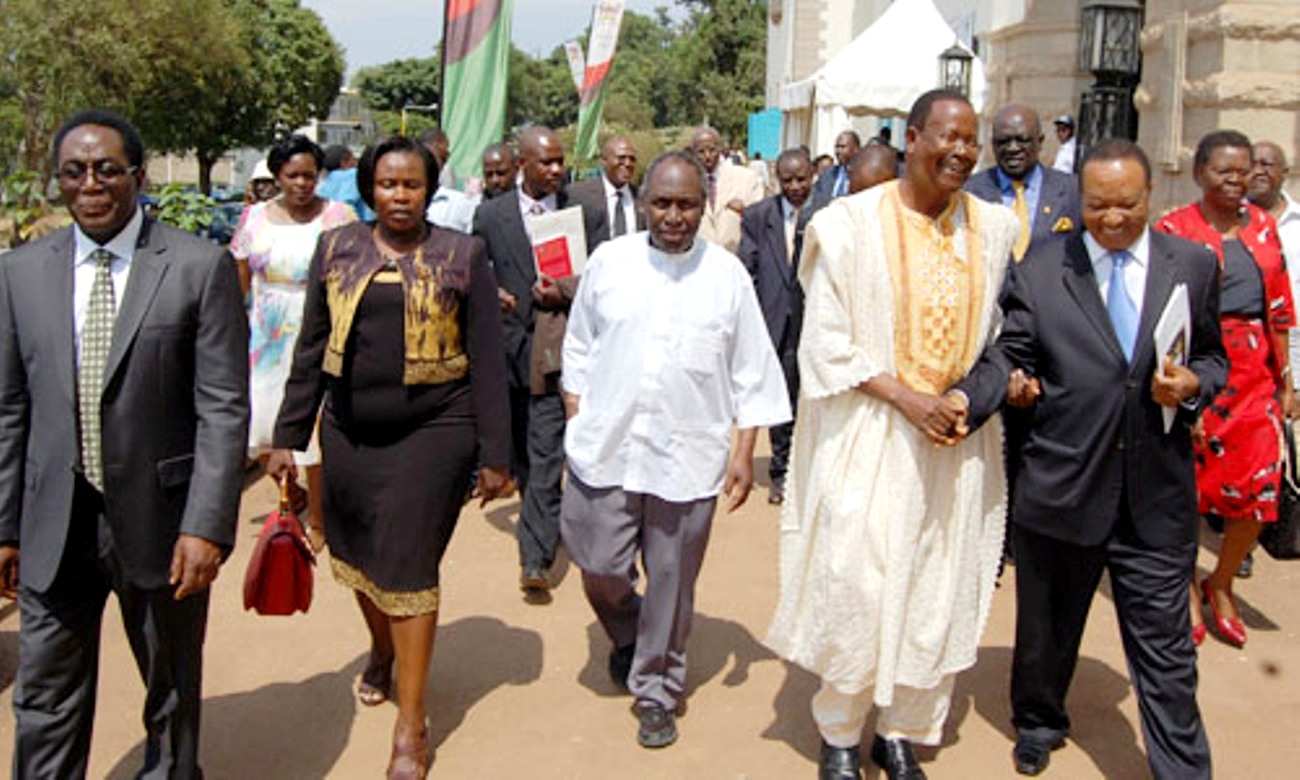 It is the 29th June 2013 at 2:00pm, the Makerere University Main Hall is bustling with activity as alumni, friends, staff members of Makerere University and well wishers stream in to join the historic commemoration of the University of East Africa, UEA, (1963 – 1970). The Main hall is filled with laughter as alumni greet each other with warm passionate hugs and handshakes. It has been years since they last saw each other. It has been years since they last shared a seat in this Main Hall. It has been years since they last returned to Makerere University, where it all started. Some of them have started graying and as they smile, the wrinkles on their faces emphasize the wisdom that only comes with age. All protocol is ignored for now. The alumni of UEA are simply happy to be back home. They walk in and out of the Main Hall to view the exhibitions on the side; as displayed by the three participating universities: Makerere University, University of Nairobi and University of Dar es Salaam. They finally settle in the Main Hall to participate in the other activities of the day.
The University Main Hall is at this moment transformed into what it was in the 1960s, when scholars from the continent and beyond came here to participate in powerful public debate and discourse. It was in this Main Hall that a strong spirit and sense of Pan Africanism was nurtured; a spirit that was to spread throughout the continent and cause major political paradigm shifts and result into independence of some of the African States. To bring this out clearly is the perfect choice of Africa's celebrated writer, Prof. Ngugi wa Thiong'o, who is set to give a keynote address on 'Makerere Dreams: Language and New Frontiers of Knowledge.' Before the Keynote Speaker comes on stage, the Chairperson of Makerere University Council Eng. Wana Etyem welcomes all to Makerere University. 
He reminds the gathering that this commemoration is part of the wider celebrations of 90 years of Makerere University and he is grateful for the initiators of the celebrations including former Acting Vice Chancellor, Prof. Venansius Baryamureeba. He is in the same vein grateful to the Vice Chancellor, Prof. John Ddumba-Ssentamu for steering the commemoration to such a tremendous moment. The Chairperson of Council is particularly grateful to the Government of Uganda for the continued support to higher education in the upcoming student loan scheme.
Amidst a thunderous applause, Eng. Wana Etyem then requests the alumni of the University of London and alumni of the UEA to stand up for recognition. They rise to their feet and wave to the crowd with wide jovial smiles. It is a happy hour.
The Keynote Speaker is introduced by the Makerere University Chancellor, Prof. Mondo Kagonyera.  "I was one of the first students to register for the UEA degrees. I went to the University of Nairobi. UEA must have been an innocent victim of political ignorance. Is it possible to resurrect the UEA in one form or another?" he wonders. "It is now my singular honour and pleasure to invite Prof. Ngugi wa Thiong'o to give the key note address," he adds, as the crowd gives a befitting welcome to this illustrious son of Africa, who confidently walks to the podium clad in a white long sleeved shirt and a smile on his face. The Main Hall is filled to capacity, the gallery overflows. In the audience are Government officials including the former Prime Minister Hon. Apolo Nsibambi, cultural representatives like the former Katikiiro of Buganda Eng. J.B Walusimbi, Political leaders like the UPC President Olara Otunnu, Members of Staff from MUASA, MASA and NUEI, representatives from the diplomatic missions and students from both Makerere University and neighboring Secondary Schools.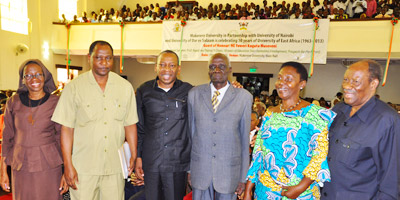 "I find it interesting that people ask me where I was educated every now and then. They hope I will say an American or British University. But I always say I was educated at Makerere University, and I wrote my books in Makerere, Kampala," said Prof. Ngugi in his opening remarks. "I feel truly grateful for the honour of bringing me back to the scene of many incredible memories. It was on this hill that year after year beginning in 1961, we celebrated the realization of a dream fought for in the streets of Dar, Nairobi and Kampala for over sixty years. The Makerere Student's Guild with its tradition of free and fair elections had already undermined the colonial practices but anticipated this moment. I entered Makerere University in July 1959, a colonial subject of white settler state and left in 1964, a citizen of an independent black Republic. In a way, Makerere of my time was a personal paradise. Makerere opened the space of my imagination," he reminisced.
Prof. Ngugi decried the absence of continuous works in native languages. "What we can question is the fact that our various fields of knowledge of Africa are in many ways rooted in the entire colonial tradition of the outsider looking in. Our knowledge of Africa is largely filtered through European languages and their vocabulary. How many historians, Africans and non-Africans alike, have ever written a single document in an African language? How many researchers have even retained the original field notes in words spoken by the primary informant? I have seen prizes being announced for the promotion of African literature but only on condition that the entries are not in an African language. Can you imagine the horror it would raise if someone offered a prize for the promotion of French literature but only on condition that the participants write in Zulu?" he added. He rebuked African governments for turning their backs on African languages by denying them resources.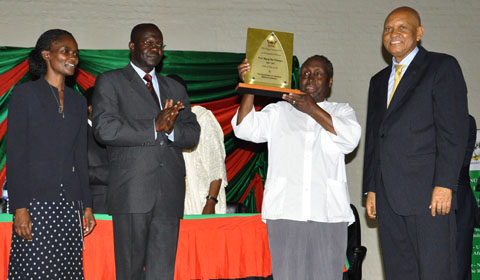 Dr. Okello Ogwang, Dean of School of Languages and Literature and Dr. Susan Kiguli of the same School, presented Prof. Ngugi wa Thiong'o with a plaque for his keynote address and also as a prominent alumni of the school. He had paid a courtesy visit to the School earlier in the morning. The Deputy Vice Chancellor in charge of Academic Affairs. Prof. Lillian Tibatemwa-Ekirikubinza, thanked Prof. Ngugi wa Thiong'o for the address adding that he had indeed sent the congregation into deep thought on the need to generate scholarly material in indigenous languages.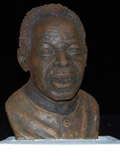 A key highlight of the commemoration was the launch of the Mwalimu Julius Nyerere book, 'Women's Freedom: Women are Eagles, Not Chickens,' and the unveiling of the Mwalimu bust by His Excellency Yoweri Kaguta Museveni, who was represented by Tourism Minister, Hon. Ephraim Kamuntu. The bust stands tall in bronze mounted on a white pedestal in the garden between Edge road and the Makerere University Main Road, overlooking the Freedom Square. From its position, one could rightly say that the late Julius Nyerere, with a smile on his face as seen in this bust, is staring at the historic Freedom Square, to remind all graduating from this Square to stay true to their heritage and carry on the spirit of Pan-Africanism. "With these accolades as the only Chancellor of the University of East Africa which we are celebrating today, it is worthy to have a Mwalimu Julius K. Nyerere Monument on the Main Campus of Makerere University, his proud alma mater. 
Mwalimu Nyerere's efforts perhaps kicked off with his selflessness vision of a united Tanzania. President Nyerere and Sheikh Abeid Karume of Zanzibar were foresighted in uniting Tanganyika and Zanzibar to form Tanzania. The EAC later broke down in 1977 partly because the principled Nyerere was incompatible with Idi Amin," said Hon. Kamuntu. The former Chairperson of Makerere University Council, Hon. Mathew Rukikaire, who doubles as a former Guild President of UEA in 1963, was grateful to President Yoweri Museveni for laboring to realize the dream of an integrated East Africa engineered by Julius Nyerere.
Hon. Charles Makongoro Nyerere, a son to the late Julius Nyerere and a Member of the East African Legislative Assembly, thanked the organizers for honouring his father and emphasized that if Nyerere's book had been written in current times, it would have indeed brought out many more prominent women both at local and international levels, who have raised to high profile positions. He was also grateful that the Gender Mainstreaming Directorate at Makerere University had deemed it fit to dedicate the proceeds from the sale of Mwalimu Nyerere's book to help bright but disadvantaged female students attain education. Hon. Makongoro made a humble appeal that something should be done to change the fact that his late father is still the only Chancellor of UEA. He said his father would not have been pleased to remain the only holder of this position forever. 99-year old Mzee Anania Akera, a former roommate of Nyerere in 1944, attended the function to the delight of all, especially the Nyerere family.
Two prominent alumni of the University of East Africa from each country were awarded for their service over the years. The awards were presented by Dr. Martin Aliker, the Chairperson Council of UEA assisted by David Kahundha Muhwezi, the Makerere University Secretary:
From Makerere University; Prof. Charles Lwanga Mark Olweny, Professor Livingstone Sserwadda Luboobi and Mrs. Geraldine Namirembe Bitamazire, were awarded.
University of Dar es Salaam awarded H.E President Yoweri Kaguta Museveni and Prof. Issa Gulamhussein Shivji.
University of Nairobi awarded Prof. (Mrs) Florida Amakobe Karani and Eng. Austin Salmon Kitololo
The Vice Chancellors of participating universities shared their prospects of higher education: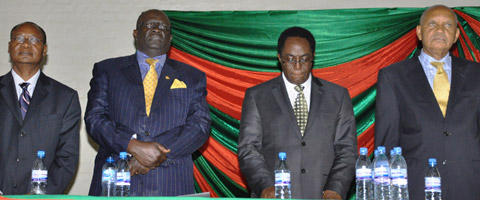 "It has been criminal to keep your child at home for the last 11 years in Kenya. This has been done diligently. A lot of money has been put into this. Kenya has a budget of 1.6 Trillion and education is going to take the biggest part of this budget. Government has invested highly in infrastructure and we now have 33 universities, 14 of which are fully chartered. This has expanded the capacity of the Kenyan students who are currently 370,000; both in private and public universities.  Our greatest challenge is in Science and technology. The number of students doing science and technology is about 25% only," said Prof. George Magoha, the Vice Chancellor of the University of Nairobi. "We have retained our staff because the  government has been listening  to staff unions. We collect six billion annually and are now focusing on training staff to write proposals. 25% of this budget comes from research," he added
"The Uganda Vision 2040 provides plans and strategies to transform the Ugandan society from a peasant to a modern, prosperous and competitive upper middle-income country within 30 years. To attain this projected level of development, the country will have to exploit its enormous opportunities including oil and gas, tourism, minerals, ICT business, abundant youthful labour force, strategic geographical location, fresh water resources, industries and agriculture.
These opportunities can only be harnessed through strengthening the physical infrastructure; Science, Technology, Engineering and Innovation (STEI); and above all through concentration on human capital development," said Prof. John Ddumba-Ssentamu, the Vice Chancellor of Makerere University.

"Some of the interviews for positions in the University of Dar es Salaam were held here. The instruments designed here, so Makerere was the cradle for Dar. Every visit here is an opportunity for us to extend our gratitude. I would like us to focus on the question of whether we still value quality education or we are simply focusing on big numbers of students. The numbers are high of universities, students, lecturers, etc, but we need to ponder on the quality. Do we appreciate the role of education in our emancipation? Yes the three universities are bigger but are they better? Are they universities or simply glorified high schools? Are our universities doing enough, like investing in cooperation amongst ourselves as opposed to cooperation with universities abroad only? Are we spending our meager resources wisely? The resources expended on administrative overheads could be spent in the active involvement of education? I am positive that we will prosper if we provide education in cooperation rather than competition," advised Prof. Mukanadla Rwekaza, the Vice Chancellor of the University of Dar es Salaam.
A souvenir magazine for 90 years of Makerere University, highlighting the strides taken in research and innovations across the nine colleges of Makerere University and the School of Law, was launched by Education Minister, Jessica Alupo, as part of the celebrations. The magazine, Mak@90, is a product of a partnership between the Public Relations Office of Makerere University and The New Vision. The commemoration was sponsored by UNESCO, which was represented by the Secretary General, Mr. Augustine Omare-Okurut, and the Swedish Government represented by the First Secretary Dr. Patri Pohjolainen.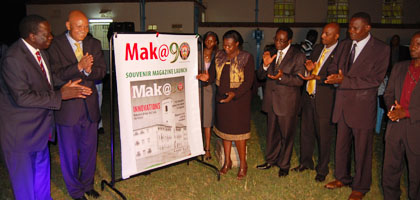 The Guests were treated to a cocktail to wind down the commemoration and entertainment from the Department of Performing Arts and Film (PAF).
Article by Marion Alina
Photo selection by Elias Tuhereze
Call For Nominations for the Position of Chancellor Makerere University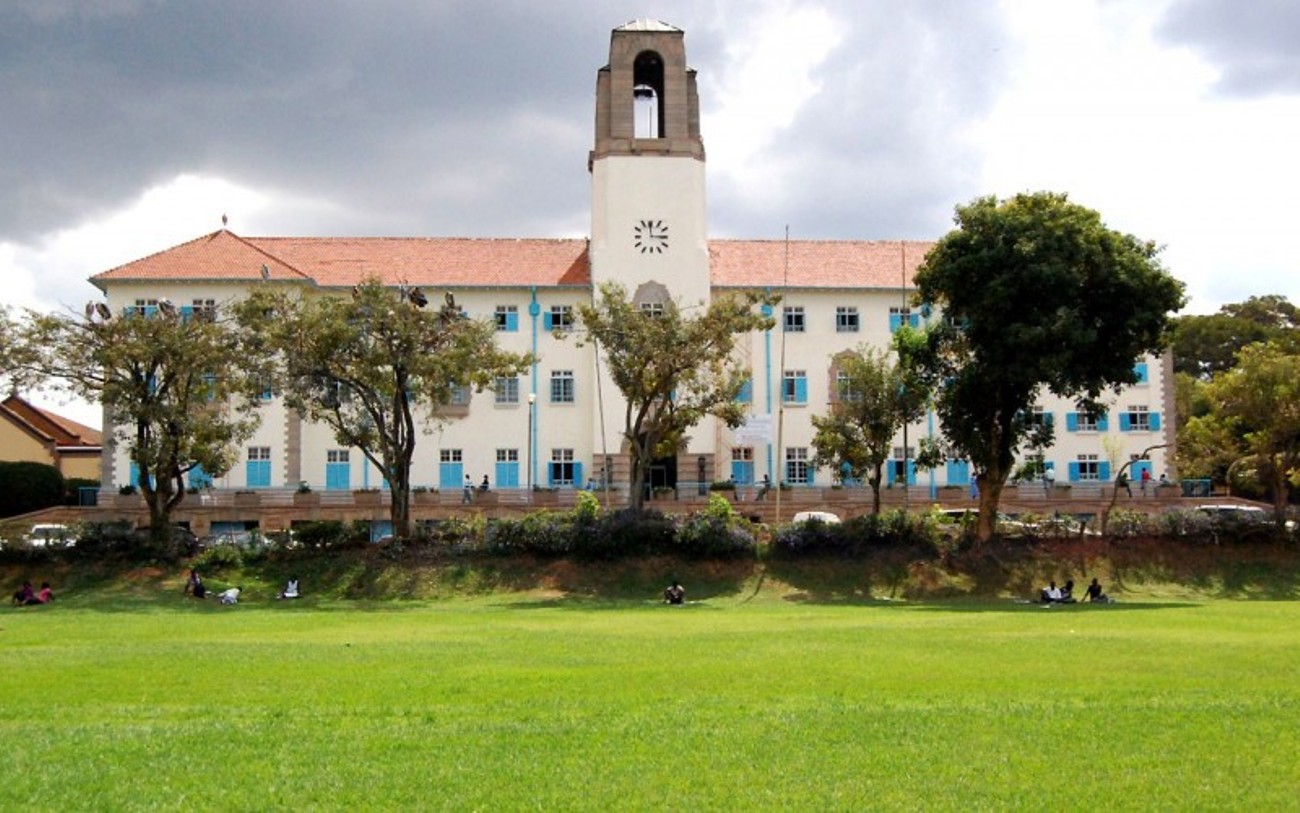 Makerere University invites nominations for the position of Chancellor of the University.
Purpose of the position
The Chancellor is the titular head of the University, presides over all ceremonial assemblies of the University and confers degrees and other academic titles and distinctions of the University.
Please see Download below for details.
The deadline for submission of nominations is 11th January 2024 at 5:00 p.m. East African Time.
Ambassador of Sweden to Uganda calls for full involvement of men and boys in achieving Gender Equality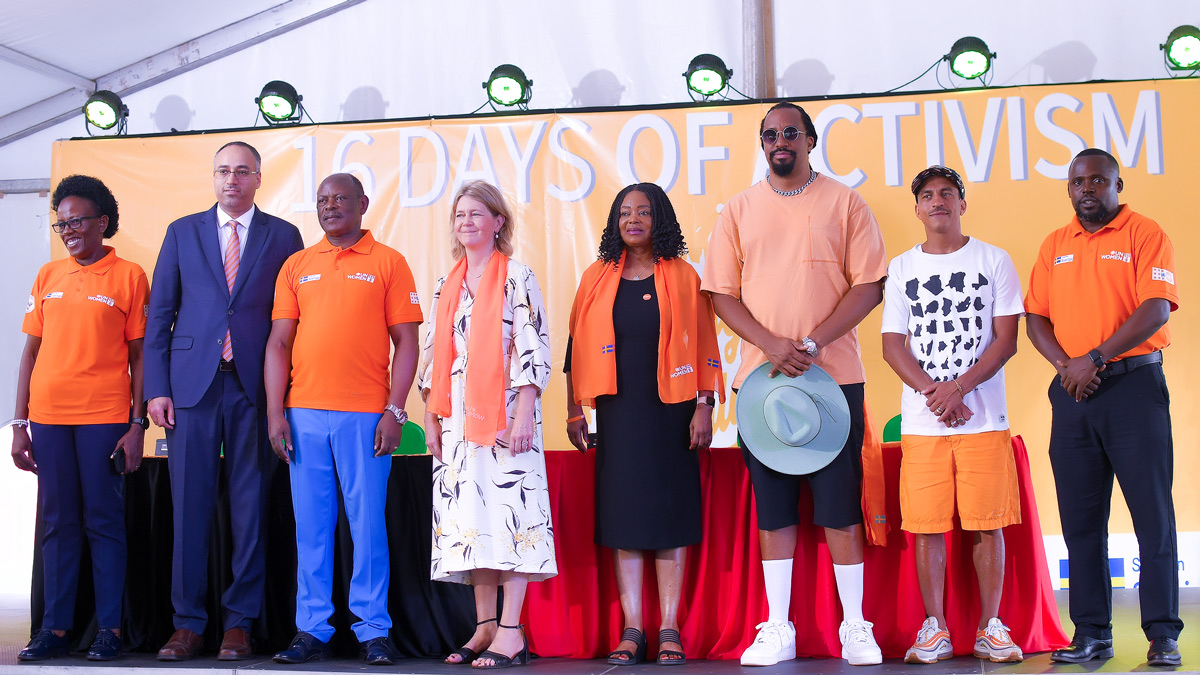 The Ambassador of Sweden to Uganda Her Excellence Maria Håkansson has emphasized the need to fully engage men and boys in all the initiatives geared towards achieving Gender Equality in Uganda and other parts of the world. She said this on 28th November 2023 at a press conference organized by the Embassy of Sweden in close collaboration with Makerere University Gender Mainstreaming Directorate, UN Women and United Nations Population Fund (UNFPA) to unveil the National Orange Pledge campaign and officially launch the 16 Days of Activism against Gender-Based Violence.
The press conference was headlined by a Ugandan rapper and record producer Daniel Lubwama Kigozi, popularly known by his stage name Navio and his fellow from Sweden Jason Michael Bosak Diakité popularly known as Timbuktu. Over 200 students both male and female from Makerere University and other institutions of higher learning attended the press conference at Makerere University Rugby Grounds.
According to Her Excellence Maria Håkansson, Gender Equality cannot be achieved without involving men and boys to take their responsibilities and be the drivers of change. "For real change to happen, we need to change attitudes and norms that might cause Gender Based Violence, one of the social ills in Uganda and an extreme of gender inequality that occurs at all levels of society," she said.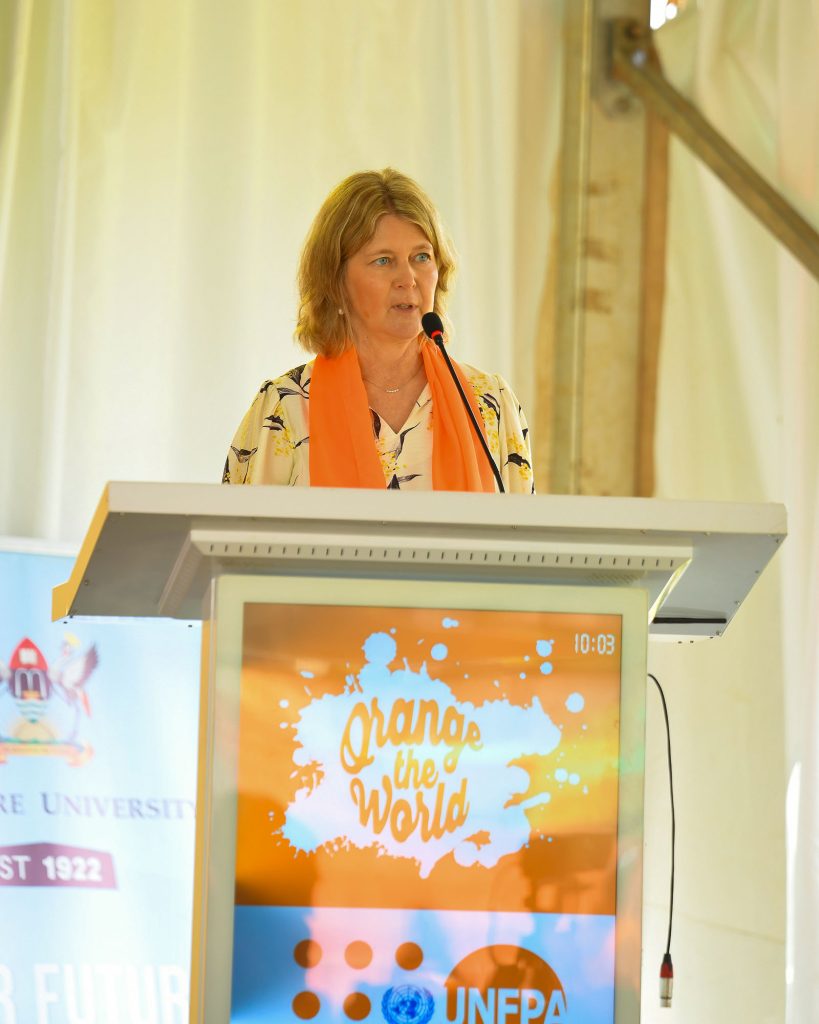 Referring to the national survey conducted in 2020, the Ambassador was concerned about the escalating burden of gender based violence in Uganda when she said, "the Survey highlighted that 95% of women and girls experience physical or sexual violence since the age of 15."
She therefore emphasized the Global 16 Days of Activism as key international movement to increase awareness and advocate for an end to Gender Based Violence. The Ambassador also mentioned that preventing and responding to Gender Based Violence is a cornerstone for Sweden's commitment to promote democracy, human rights and gender equality and this is done as an investment in a society that upholds the principles of equality, dignity and justice.
She acknowledged the full participation of university students in all campaigns and activities geared towards achieving gender equality as well as ending Gender Based Violence when she said, "You are the leaders of tomorrow and you have an opportunity to build a future where everyone can thrive. So please use today to take an active stand against Gender Based Violence."
Every year Uganda joins the rest of the world to enhance the global campaigns on 16 Days of Activism against Gender-Based Violence and also add a voice to the call for an end to violence against women and girls.   These campaigns run from 25th November (the International Day for the Elimination of Violence against Women) until 10th December of the Human Rights Day.
The United Nations Secretary-General's UNiTE by 2030 initiative calls for global action to increase awareness, galvanize advocacy efforts and share knowledge and innovations to help end all types of violence against women and girls.  This year 2023, the UNiTE campaign theme is; Invest to Prevent Violence against Women & Girls.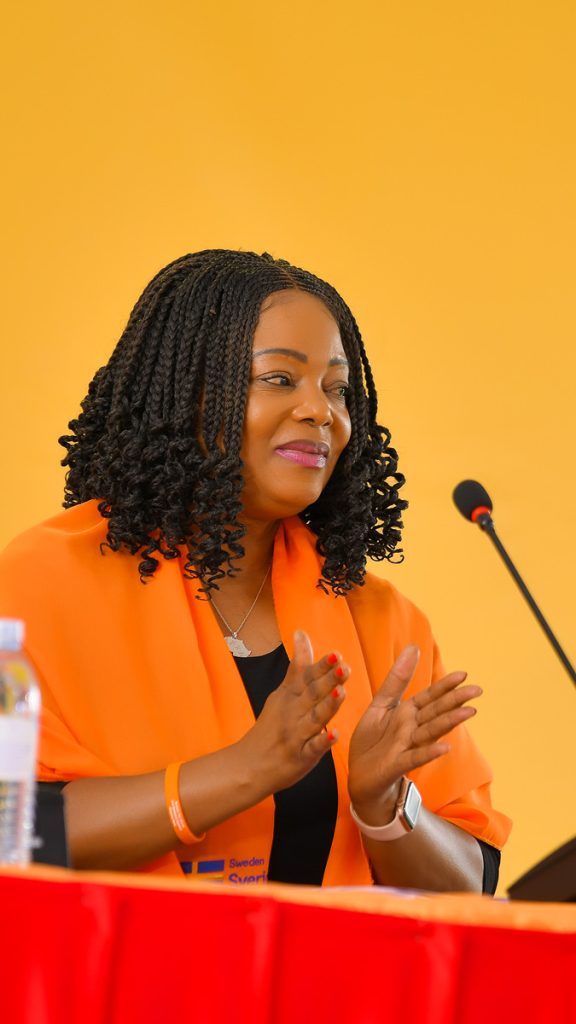 Over the years, Makerere University through its Gender Mainstreaming Directorate and School of Women and Gender in partnership with UN Women and many other partners have been at the fore front to support the campaign on 16 Days of Activism against Gender Based Violence in Uganda. This has been done through debates, theatre forums, student dialogues, thematic artistic presentations, media exposures, drama and music skits presentation, and student peer led discussions and quarterly competitions.
This year 2023, the University in partnership with the Embassy of Sweden, UN Women and United Nations Population Fund (UNFPA) unveiled the Orange Pledge. According to Eric Tumwesigye the Senior Gender Specialist at Makerere University Gender Mainstreaming Directorate, this campaign calls upon government, policymakers, activists, civil societies, academicians, students and all members of community from all parts of the country to make their heartfelt pledges towards ending Gender Based Violence in Uganda and the rest of the world.
The UN Women Country Representative Paulina Chiwangu recognized the investment Makerere University, the Embassy of Sweden and UNFPA have made to end violence against women and girls. "Thanks to our collective efforts, the silence that used to shroud violence against women has now been broken" said.
In the same spirit, she acknowledged the progress Makerere University has made in establishing and implementation of the University's Policy and Regulations against Sexual Harassment to protect students and staff from potential abuses of power and conflict of interest. She also applauded the increased support and training for students and the strengthened mechanisms for investigations that allow students and staff to anonymously report sexual misconduct.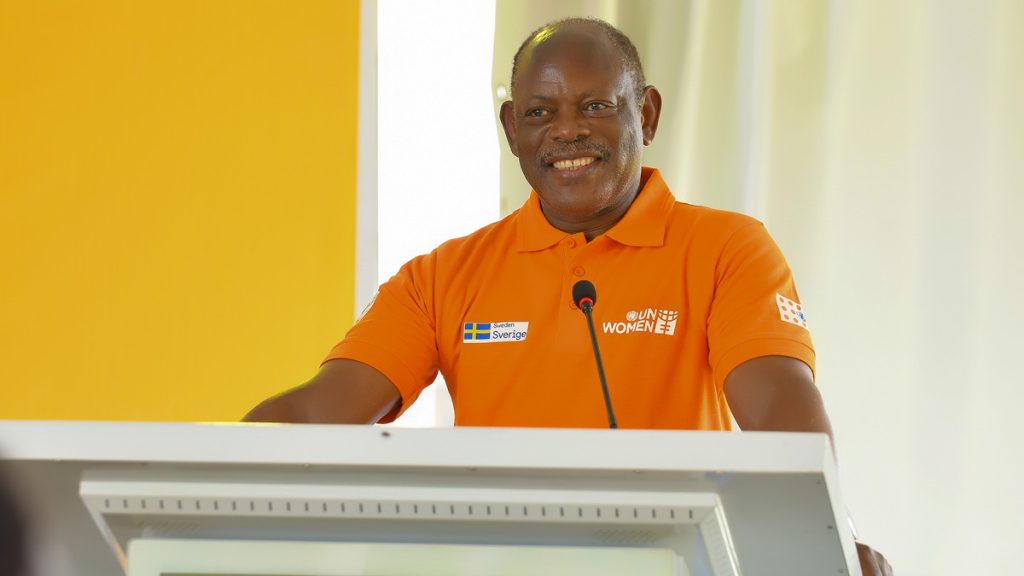 "We are however, aware that despite this, sexual harassment is still happening in the university and that not many students report to the authorities when they experience it. It is therefore, our humble appeal to the university leadership to continue monitoring the implementation of the Policy and Regulations Against Sexual Harassment, take all allegations of sexual harassment and violence seriously, ensure that all personnel have information on available support services and take action to ensure that perpetrators are held accountable."
Reaffirming the University's position in fighting GBV and particularly sexual harassment, the Vice Chancellor of Makerere University Prof. Barnabas Nawangwe was highlighted the various measures Makerere University has put in place to prevent and respond to Gender Based Violence. To him, the Policy and Regulations against Sexual Harassment; the appointment and capacity building for the Vice Chancellor's Roster of 100 eminent people from the various colleges and administrative units; recruitment and training of the Gender Mainstreaming Programme Student Peer Trainers and setting up Sexual Harassment Investigation Committees are bigger milestones to celebrate.
He appreciated the move by the Gender Mainstreaming Directorate and all the partners to embrace entertainment and artistry as a critical advocacy and awareness tool to reach several communities especially the youth.
"We firmly believe in the transformative power of music and the arts in promoting social change. Music and art does serve as a powerful medium to advocate for the world free from violence especially violence against women," said to Mr. Dainel Alemu, the UNFPA Deputy Country Representative.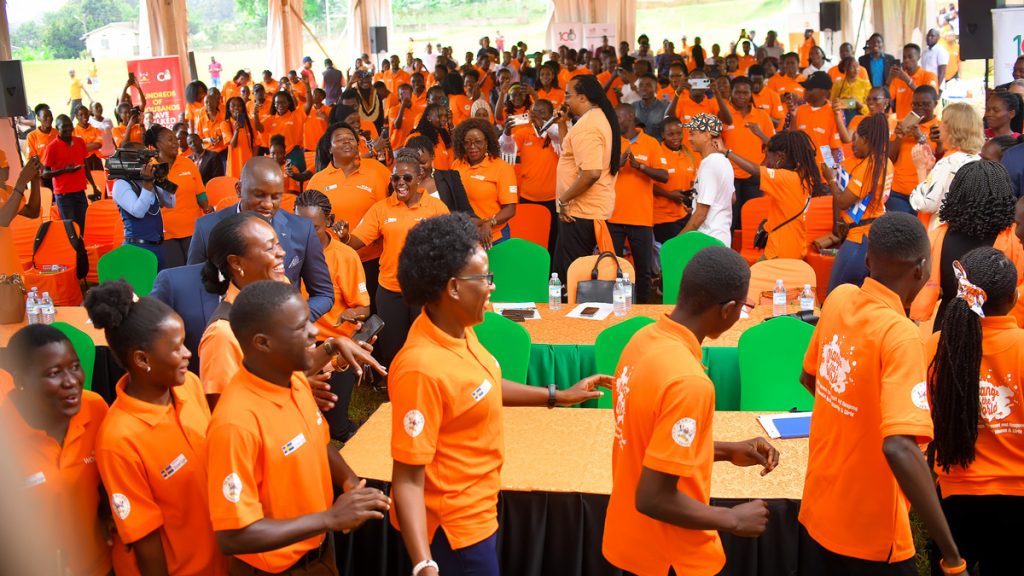 "It is heartening to see artists like Navio taking a stand and using their influence to challenge harmful norms. As we revel in the beats and melodies, let us not forget he underlying message that everyone , regardless of gender, has a role to play in fostering a world where everyone is free from shackles of gender based violence," he added.
Speaking at the Press Conference at Makerere University Rugby Grounds, Navio said that for the 20 years he has been an activist of Gender Based Violence, he has faced the reality of many young girls and women in Uganda being victims of sex and physical abuse. He therefore sent a huge condemnation to men especially artists that who are perpetrators of Gender Based Violence and called for serious government action and clear policies and laws against such injustices.
Navio applauded the women and men who have stood tall over the years to fight against Gender Based Violence in Uganda when he said, " As we launch the 16 days activism in Uganda and through these pledges we are making, let us be accountable for our actions. For long in our cultures, men have considered force and violence as power and protection. They have been tough to their children hence instilling fear to the extent that the children cannot freely interact with them on serious matters such as abuse and torture."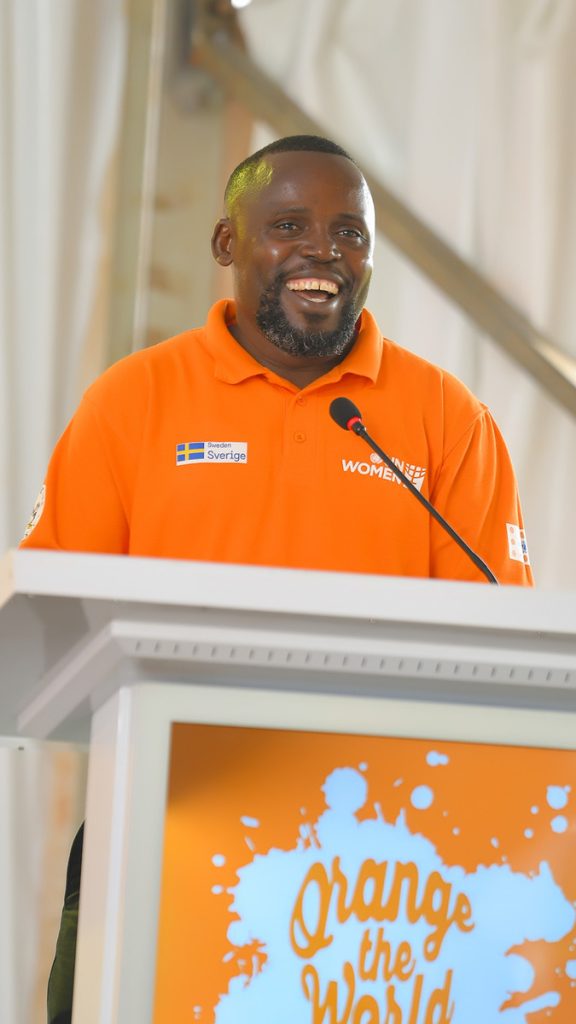 He applauded all families that have adopted the new parenting model of free conversations and interaction hence encouraging children to freely open up whenever they have challenges. Navio also acknowledged the role of his mother Mrs Maggie Kigozi as a human rights activist and a champion in fighting against Gender Based Violence in Uganda.
Jason Michael Bosak Diakité popularly known as Timbuktu from Sweden appreciated the wider platform provided by the music industry globally for artists to act as role models and champion of change. The rapper highlighted the need to respect women for their roles and support towards community development.
"I am a son and it is extremely important for me to respect my mother and all women. Also being a father to a beautiful daughter, I am always eager and looking forward to seeing the best future for her. I want daught to grow up in the world where she is able to feel safe and be allowed to freely associate without being discriminated or threatened because of her gender," he said.
Scholars & Alumni of Mastercard Foundation light up Achukudu Community, Napak District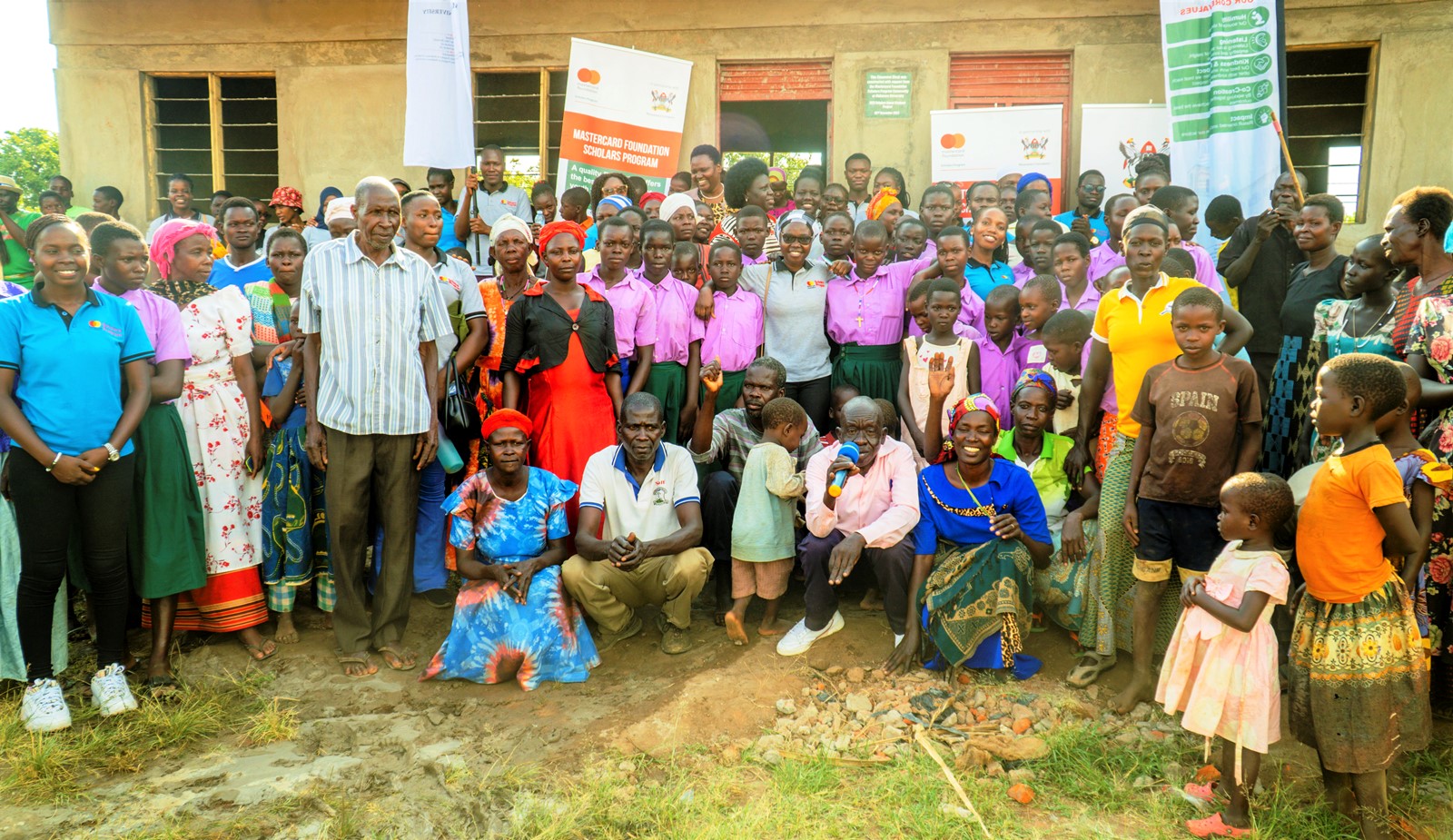 By Bernard Buteera
On Saturday 2nd December 2023, all roads led to Achukudu Community Primary School in Napak District, Karamoja sub-region, as the Scholars and Alumni of Mastercard Foundation at Makerere University commemorated their Scholars' Annual Day of Community Service (Giveback). The 2023 Scholars Annual Day of Community Service was held at Achukudu Community Primary School, Napak District in the Karamoja sub-region. Established in 2013, Achukudu Community School serves two ethnic communities—The Iteso and Karamojong.
With a total population of 1,097 pupils only three government-paid teachers, and nine community-paid teachers, the School faces a plethora of challenges. Key among the challenges is the lack of Classrooms, decent Ventilated Pit Latrines, and Desks. Therefore when the Scholars identified the School as one that deserved to be given a gift of a classroom block, it was a befitting choice!
The Scholars with support from the alumni, the Program Team, Members of the Steering Committee, and partners of the Scholars Program at Makerere University intervened by constructing a two-classroom block, which was supervised by one of the alumni who is an Engineer. Alongside the classroom block, the Scholars also provided 40 desks, helping the school meet UNEB Center eligibility criteria.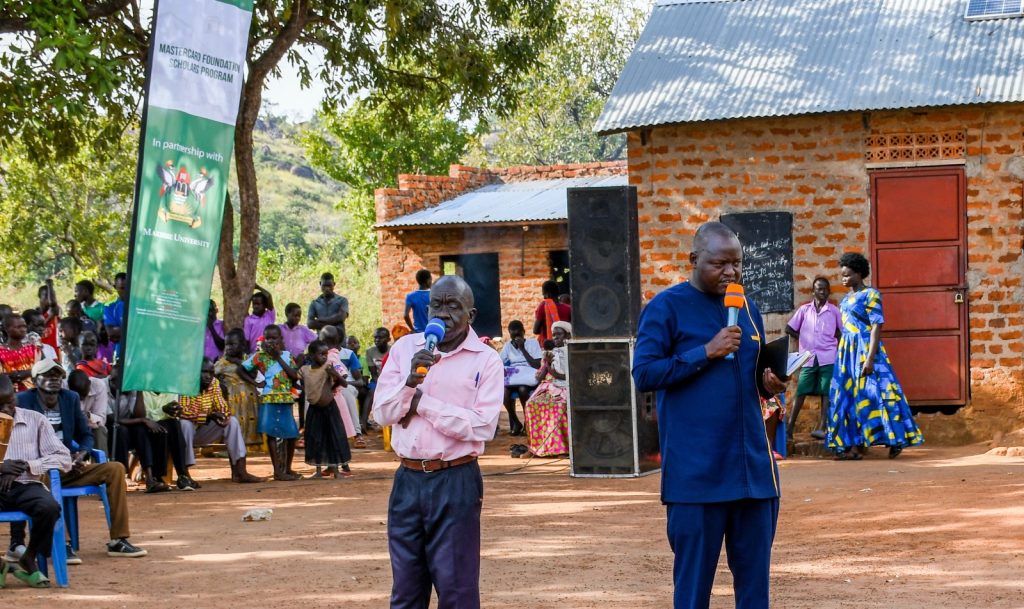 While presiding over the event, the area member of Parliament, Hon. John Bosco Ngoya, thanked the Scholars and alumni community at Makerere University for supporting the young pupils of Achukudu Primary School and the entire community by gifting them with a two-classroom block.
"Thank you Scholars and alumni of Mastercard Foundation at Makerere University for the Christmas gift of a classroom block to the young people and the entire community of Achukudu. This classroom block will go a long way in improving the learning environment of the young children of Achukudu primary school." Hon. Ngoya pointed out.
Hon. Ngoya called upon other people to emulate the Scholars and alumni of the Mastercard Foundation in embracing the spirit of giving back to the vulnerable people in the community. On his part, he donated One Million Five hundred shillings (1,500,000/=) to help the School purchase more desks, and he had earlier contributed One million shillings (1,000,000/=) towards the construction of the classroom block.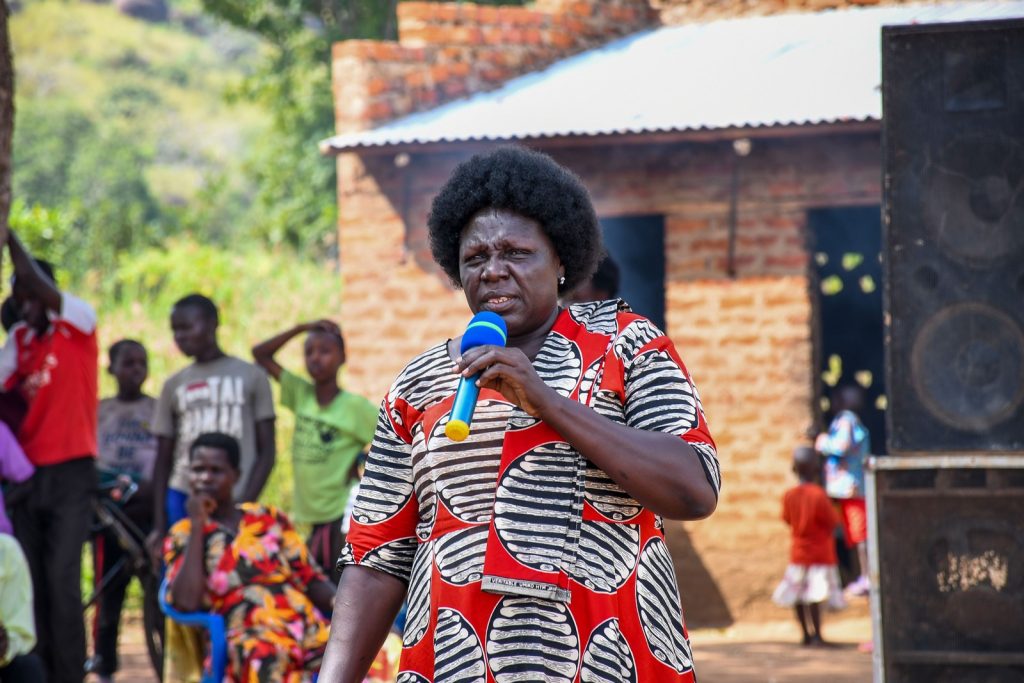 The District Education Officer (DEO) for Napak District, Ms. Joyce Nakoya, praised the Scholars Community for embracing and practicing the spirit of giving back to other people at an early age.
"Thank you Scholars and alumni of the Mastercard Foundation at Makerere for embracing the spirit of giving back to other people at such an early age. If all people gave back to the less privileged in our communities, we would have a better world for everyone." Ms. Nakoya pointed out.
Ms. Nakoya further pointed out every child deserves to study in a decent environment, therefore it was a befitting cause for the Scholars to construct a classroom block for the young pupils of Achukudu community primary school, who were studying in open grass thatched classrooms.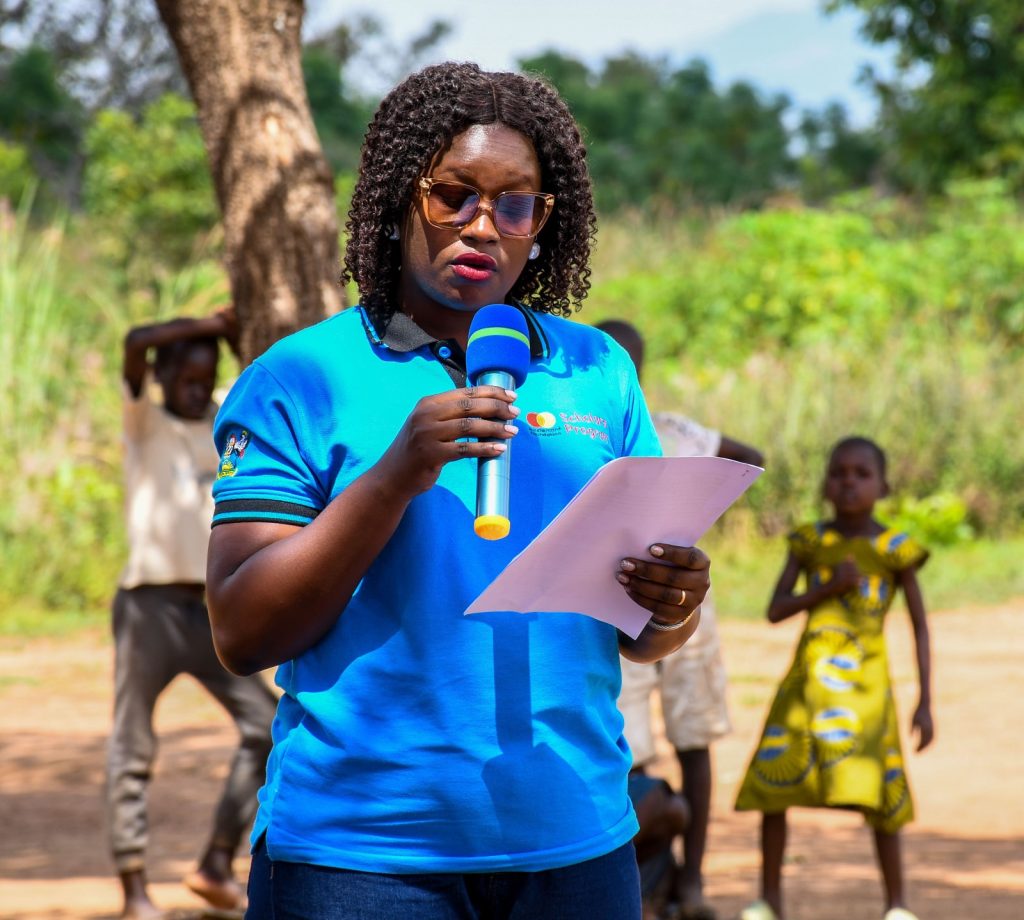 The Program Manager of the Mastercard Foundation Scholars Program at Makerere University, Ms. Jolly Okumu who led the team of Scholars, alumni, and staff to Karamoja thanked the community of Achukudu for supporting the Scholars to deliver the class block by contributing to the construction sand.
"We come here today to join with you as a community driven by a shared commitment to education, empowerment, and ethos of giving back. Today is a historic occasion as we celebrate the completion and commissioning of the classroom block, which is a remarkable testament to the transformative power of education and our unwavering spirit of community service." Ms. Jolly remarked.
The President of the Scholars Association, Mr. Godfrey Okello, thanked all the Scholars and alumni, and all stakeholders who contributed to the construction of the classroom block, which was a dream that became a reality.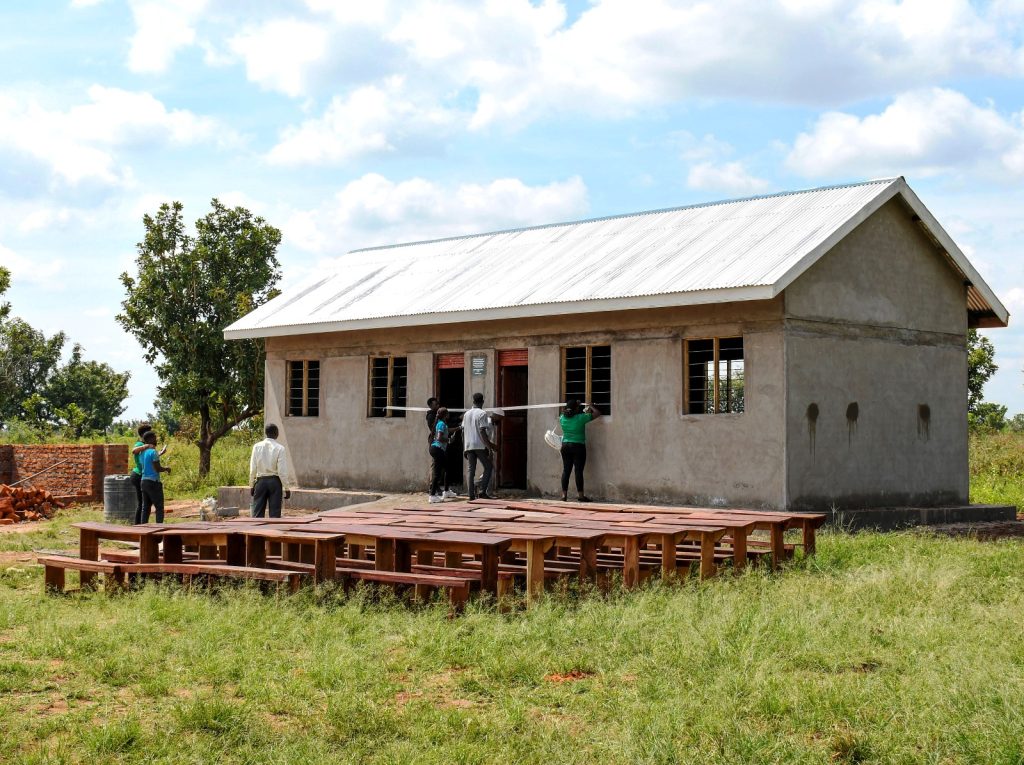 "I would like to thank my colleagues and people of goodwill who supported us to realize our dream of constructing this classroom for our young brothers and sisters of Achukudu Primary School. Together we can make a difference in the lives of our fellow young people in Uganda and Africa as a whole." Mr. Okello remarked.
The Headteacher of the School, Mr. Eryebu Raymond, who was visibly very excited was full of praises for Scholars and alumni of the Mastercard Foundation, for what he termed as an iconic classroom block they had gifted to his School.
"This day is very special to us, we will not see this day again. We are delighted to receive the Scholars and alumni of Mastercard Foundation from Makerere University, thank you for considering supporting our School" Mr. Eryebu excitedly remarked.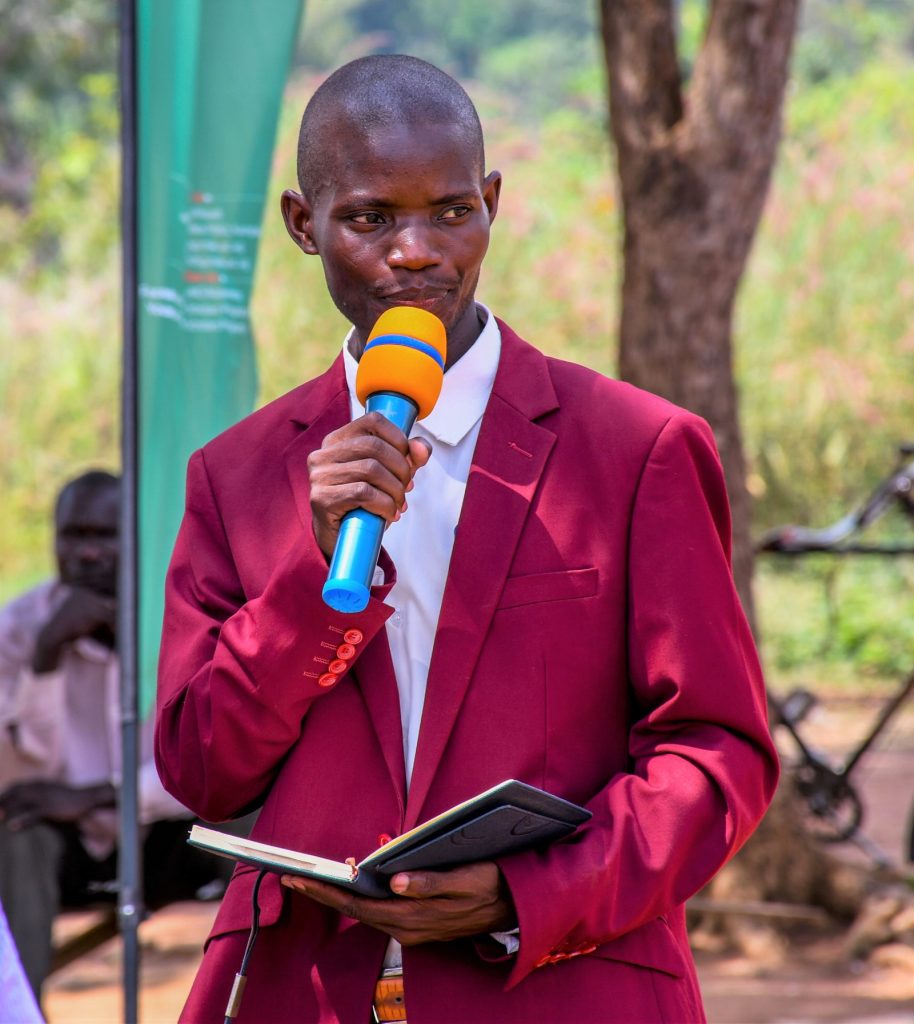 The Headteacher revealed that one of the major challenges the school was facing was an acute shortage of classrooms for his 1,097 pupils. He was therefore grateful to Mastercard Foundation Scholars for choosing to construct a two-class block for the School.
"This donation of a classroom block and Desks is a testament to your commitment to education and empowering the lives of the vulnerable people in the community. This classroom block and desks will go a long way in improving the quality of teaching and learning at our school." Mr. Eryebu further remarked.
The 2023 Scholars Annual Day of Community Service (Giveback) was punctuated with a lot of joy, pomp, and fanfare, as the pupils and the entire community of Achukudu danced and ululated at the commissioning of the classroom block. The construction of the classroom block and purchase of desks for Achukudu Community Primary School was made possible by generous contributions by the Scholars, alumni, the Program Team, and members of the Steering Committee.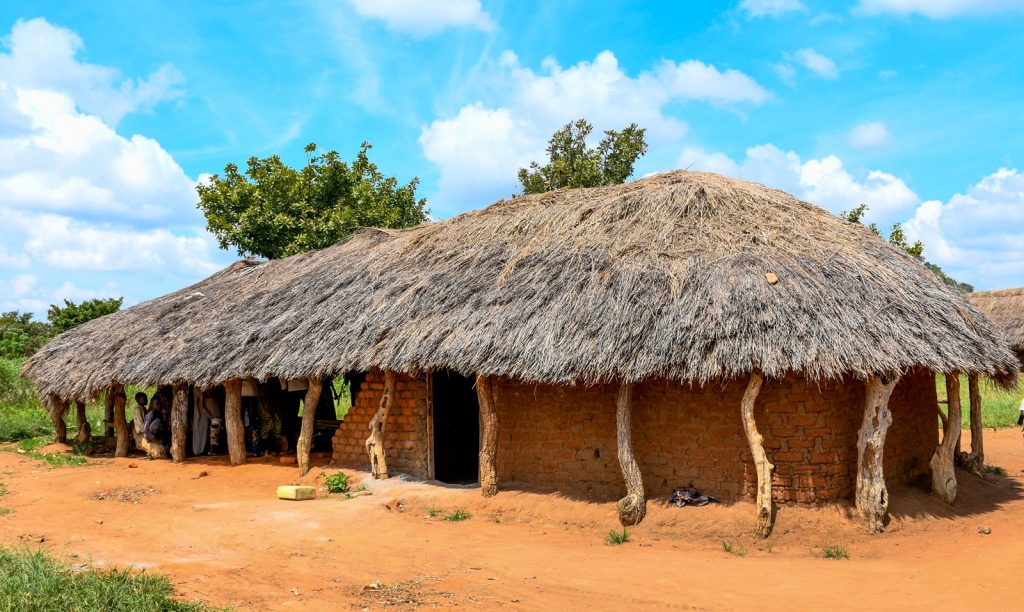 Among the Partners who made financial contributions towards the class block construction included; DFCU Bank, Post Bank, URA, Katumba Estates, Footsteps Furniture Ltd, and Sion Travels Ltd.
The Scholars and Alumni Day of Community Service (Give back) is an annual event, where Scholars and alumni of the Mastercard Foundation go out into the community to give back by providing solutions to challenges that a particular community is facing. Over the years Scholars have given back to the communities in numerous ways that range from offering professional services and erecting major projects like classroom blocks.
Bernard Buteera is the Communications and Public Relations Officer of the Mastercard Foundation Scholars Program at Makerere University.