Emphasis of Values over Virtue eroding Ethics and Integrity in Governance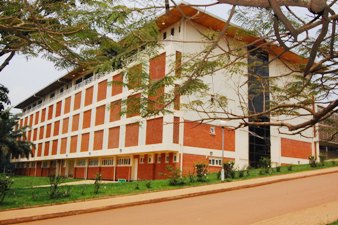 According to a 2 year Sida-funded research project in the Department of Philosophy and Development Studies, School of Liberal and Performing Arts, College of Humanities and Social Sciences (CHUSS), the shift in societal emphasis of values over virtue knowledge has greatly contributed to the erosion of ethics and integrity in Governance.
Just as was the case in the Western world when organizations took over livelihood roles that were hitherto subject to households, accordingly, the ethical baton shifted from normative ethics to institutionalized ethics. Whereas in the former case a self-catering household was solely responsible for providing their own services, in the latter, government-run corporations had the responsibility to provide and account for services delivered, hence the ethical shift.
This trend was disclosed at an evaluation workshop hosted by Department of Philosophy and Development studies on Friday 21st June 2013 for select staff members and students of Makerere University to share findings on the research project and their implications to sustainable livelihoods. The Project titled Ethics and Integrity in Governance for Sustainable Livelihood was conducted in the four Districts of Gulu, Mbale, Masaka and Mbarara to establish what went wrong and at what point did things go wrong. This, it was hoped, would help to pinpoint the source of the today's grave moral and ethical decay as constantly covered by the News media.
In opening the workshop, Prof. George Nasinyama, Deputy Director Research, Directorate of Research and Graduate Training (DRGT) commended the Department for delivering their findings within the stipulated project time. He further thanked the Swedish Government through Sida for immensely contributing to building Makerere's research capacity by training over 250 PhDs since 2001.
Prof. Wamala Edward, the Head, Department of Philosophy and Development Studies in giving an introduction about the research noted that the project was guided by the adage that those who didn't know their history were bound to repeat it. He decried the rise of anonymity and individualism among today's generations that has led to the collapse of the Social Capital and provided a fertile breeding ground for Individual Narcissism. "It has become so desperate that ethical behavior is being taught as propositional knowledge, the same way you would teach Calculus [in Mathematics]," lamented Prof. Wamala.
He further noted that the rise of modern lifestyles had slowly and steadily dissolved traditional ethics and as a result the pervading moral impropriety can no longer be seen for what it truly is; either by its perpetrators or society. Taking an example from Buganda, Prof. Wamala further traced this trend even by the shift in traditional proverbs from Ekyalo ddiba lya mbogo: terizingibwa bwomu (Societal roles can best be achieved through mutual cooperation) to Zirindaba olwange: Tawa musibe mmere (I will face my fate individually). He emphasized the need to create a generation of Rational Agents, who in the practice and fulfillment of national and societal duty, will not regard what the future holds for them as individuals, but will do so for the sake of posterity and permanent good.
In presenting a summary of the findings Dr. Lajul Wilfred, the Sida Project Coordinator-Department of Philosophy and Development Studies, noted a few relationships that had been established as a result of the research;
• Where corruption is higher, human living standard is lower and where corruption is lower, human living standard is higher.
• Where ethics and integrity is practiced, the social services rendered to the people are better, and where ethics and integrity is not practiced, social services rendered to the population are poorer
• Ultimately, people are poor not because of lack of resources, but to a greater extent because of mismanagement of resources.
In his presentation on the Integrity and Livelihood aspect, Dr. Kasozi Ferdinald Mutawe, a lead researcher on the project noted that marginalization by gender in the access to land was a major impediment to the promotion of social livelihood. With regard to integrity in institutions, the research discovered that the appointment and recruitment process was marred by corruption in all four regions sampled.
Dr. Kasozi further noted that as societal values were constantly subject to change, there was a need to emphasize the more intransient human virtues in moral education. This was clearly evidenced by the fact that the issues of integrity affecting the Public institutions were the same ones also affecting Private Institutions. As such there is great need strengthen the teaching of curricula to emphasize forms of learning over forms of reading, the latter being used solely for the purposes of passing exams.
In closing the Workshop Assoc. Prof. A.B. Rukooko, the Dean, School of Liberal and Performing Arts, CHUSS commended the Department of Philosophy and Development Studies for coming up with relationships between ethics, integrity and sustainable livelihood that would help inform policy and guide public debate. He urged the research team to expand the discussion on findings to wider audiences so as to generate more interest in the area of ethics and integrity in governance in Uganda. "All of you present here today are potential experts on Ethics and Integrity in Uganda," said Assoc. Prof. Rukooko. "I urge you to delve further in this debate and publish more papers so as to help the world answer the question, What is wrong with Uganda," he concluded.
Publications from the Research
Lajul W., "Ethics in Public Administration in Uganda; where is the challenge?" in Public Administration in Uganda: Theory and Practice, LAP Lambert Academic Pubilcation, Saarbruken, Germany, 2012, pp.266-292.
Lajul W., "Impact of African traditional ethics on behavior in Uganda" in Mawazo: The Journal of the College of Humanities and Social Sciences, Makerere University, Vol. 10, No. 3 September 2011, pp. 125-139
Lajul W., "Global economic philosophy and challenges to African development" – in Mawazo: The Journal of the College of Humanities and Social Sciences, Makerere University, Vol. 10, No. 1 February 2011, pp. 1-9.
Lajul W., "The Right to Fod in Northern Uganda: Realities in Conflict Prone Areas", in African Journal of Ethics and Human Rights: The Right to Adequate Food, Vol. 2, Law Africa Nairobi, 2010, pp. 335-370
Wamala Edward, "Building an Ethical Public Service for Improved Service" in Philosophia Africana, Vol. 13, No. 2, Fall 2010, Spring 2011
Wamala Edward, "From socialism to Structural Adjustments: African Philosophical Discourses in the Age of Uncertainty" in Philosophia Africana, Vol. 14, No. 2, Dec 2012.
Kasozi F.M., (2011) "Introduction to an African Philosoph – The Ntu'ology of the Baganda", Verlag Karl Alber, Freiburg, Germany
Papers presented at conferences and seminars
Lajul W., Management of African knowledge system and the future of Africa in the world, presented on World's Philosophy Day Workshop, 15th November, 2012, Makerere University
Lajul W., African ethics in the emerging new world order, presented during an International Seminar, 20th November, 2012, Makerere University
Veteran Professor changed Makerere and Higher Education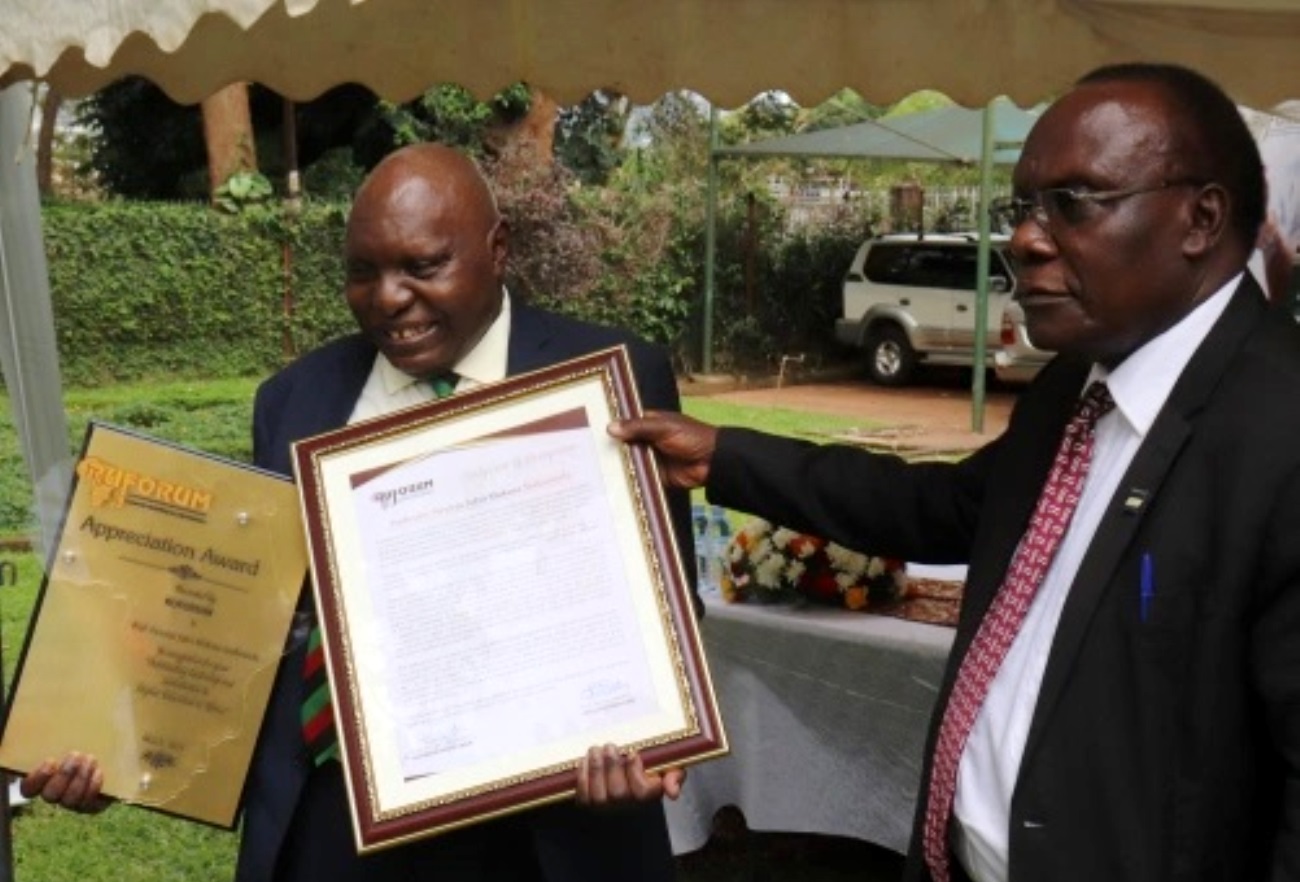 When Professor John Ssebuwufu ambled up to receive a certificate of recognition for his 'exceptional' contribution to higher education from the Regional Universities Forum for Capacity Building in Agriculture (RUFORUM) at Makerere University (MU), he was thinking of many things, such as rewarding staff, that he could have done differently to impact university education more.
But he did what he could have done, under the circumstances.
He presided over MU (in 1993) when student enrolment was 5,000 and left in 2004 when the population was surging to more than 15,000.
He emphasised the use of information communication technologies in almost all the institutions he had been involved in and sent many academic staff on exchanges to boost research and innovation. Now, more African universities engage in ground-breaking research.

So, he proceeded to accept his recognition and make his acceptance speech, which was mostly about gratitude.
Ssebuwufu, 74, who is currently the chancellor at Kyambogo University and the vice-chancellor of the University of Kisubi, is credited for his exemplary leadership and pragmatic methods that have shaped higher education in Uganda and Africa as a whole.
Japan Africa Dream Scholarship (JADS) Program 2021/2022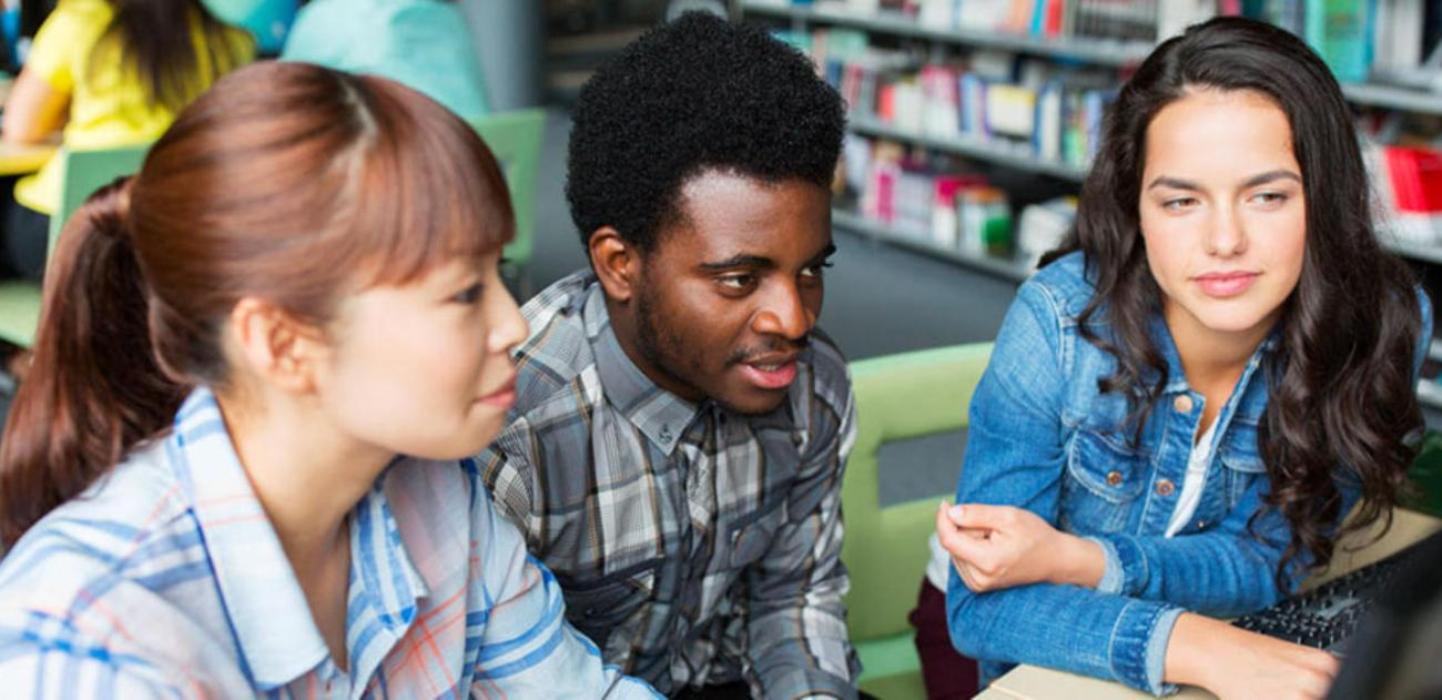 The Japan Africa Dream Scholarship (JADS) Program is a capacity building project by the AfDB and Japan which was initiated in 2017 with the aim of providing two-year scholarship awards to highly achieving African graduate students to enable them to undergo post-graduate studies (i.e. a two-year Master's degree program) in selected priority development areas on the continent and Japan. The overarching goal the AfDB and the Government of Japan seek to attain is to enhance skills and human resources development in Africa in under the Bank's High 5s agenda (i.e. "Feed Africa", "Light up Africa", "Industrialize Africa", "Integrate Africa" and "Improve the quality of life of the people of Africa") and key Japanese development assistance initiatives. JADS core areas of study focus include energy, agriculture, health, environmental sustainability, and engineering. The program also seeks to promote inter-university collaboration and university-industry partnerships between Japan and Africa. Upon completion of their studies, the JADS scholars are expected to return to their home countries to apply and disseminate their newly acquired knowledge and skills in the public and private sectors, and contribute to national and continental socio-economic development.
About the JADS program
The JADS Program is open to applicants from AfDB member countries with relevant professional experience and a history of supporting their countries' development efforts who are applying to a graduate degree program in energy development and related discipline. The program does not provide scholarships to any other graduate degree program.
The scholarship program provides tuition, a monthly living stipend, round-trip airfare, health insurance, and travel allowance.
Upon completion of their studies, the beneficiary scholars are expected to return to their home countries to apply and disseminate their newly acquired knowledge and skills, and contribute to the promotion of sustainable development of their countries.
Who is Eligible to Apply?
The program is open to those who have gained admission to an approved Masters degree course at a Japanese partner university. Candidates should be 35 years old or younger; in good health; with a Bachelor's degree or its equivalent in the energy area or related area; and have a superior academic record. Upon completion of their study programs, scholars are expected to return to their home country to contribute to its economic and social development.
Application Procedures
Applicant requests for information and application forms and procedures from the chosen JADS partner university. For any inquiries, please contact JADS@AFDB.ORG
Applicant completes required documents and sends them to the university.
University evaluates and selects applicants.
University sends selected candidates to the AfDB.
AfDB reviews submissions from universities, prepares and approves the final list.
AfDB contacts selected awardees, and informs the universities.
WHS Regional Meeting Africa 2021: Finance Chairperson's Update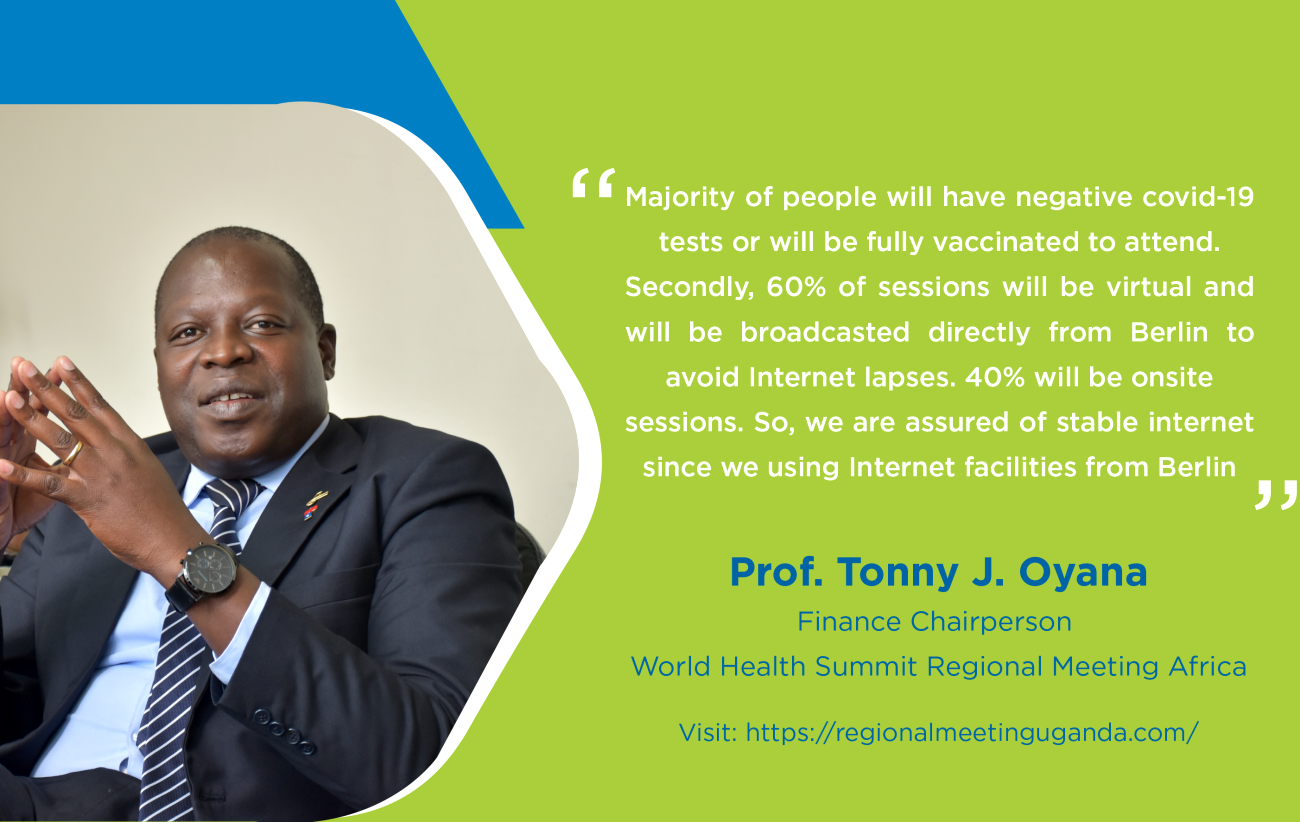 SOPs: Our plan is to have 200 sets of people in different spacious rooms…

Prof. Tonny j. oyana, finance chairperson whs regional meeting africa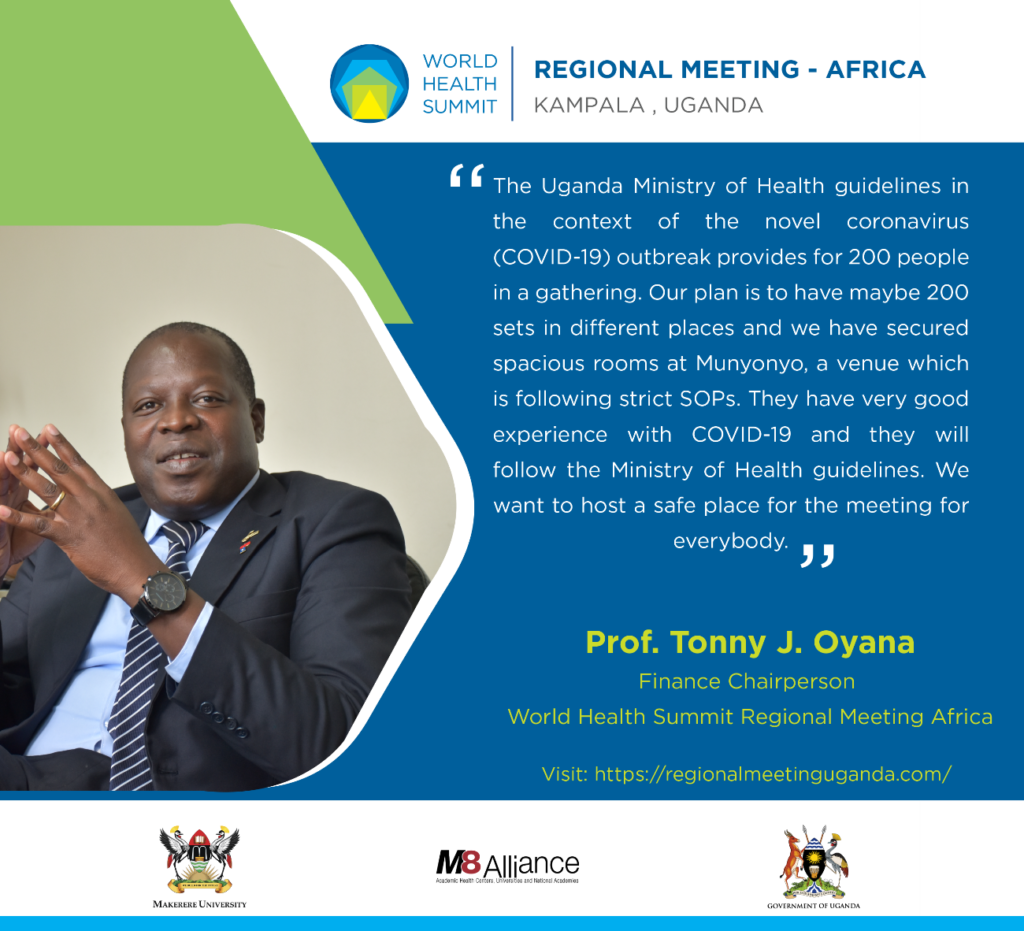 We are sincerely grateful to our sponsors…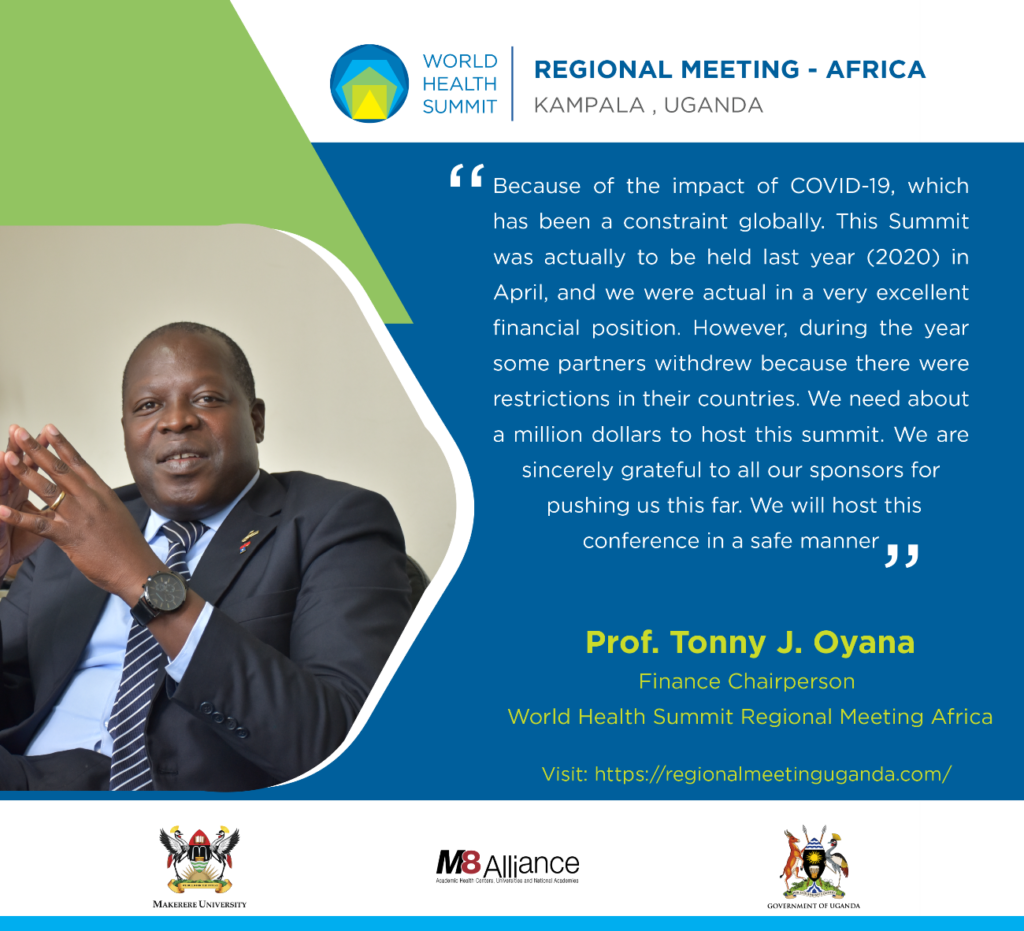 Over 15 core sponsors…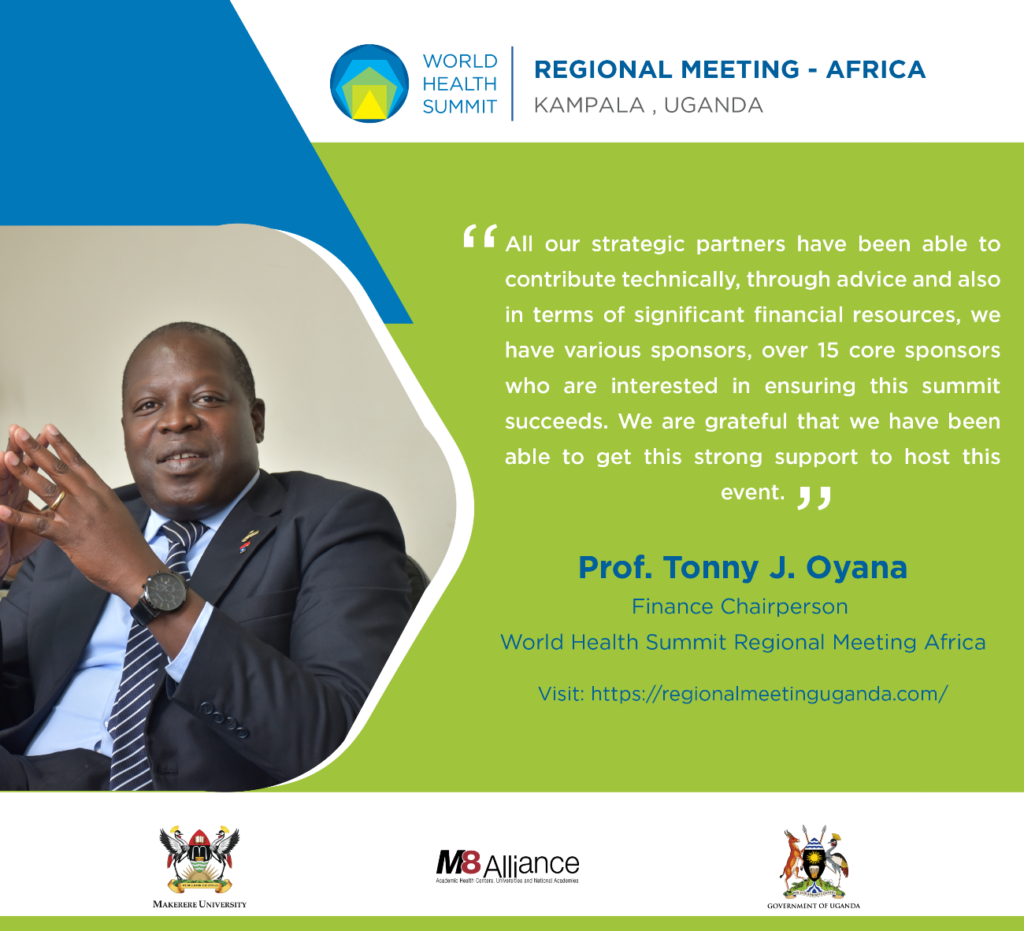 Sessions: 60% Virtual, 40% Onsite…