Mak-RIF Researchers Design a Tool to Monitor the Elderly with Dementia & Cognitive Impairment for Emergency Response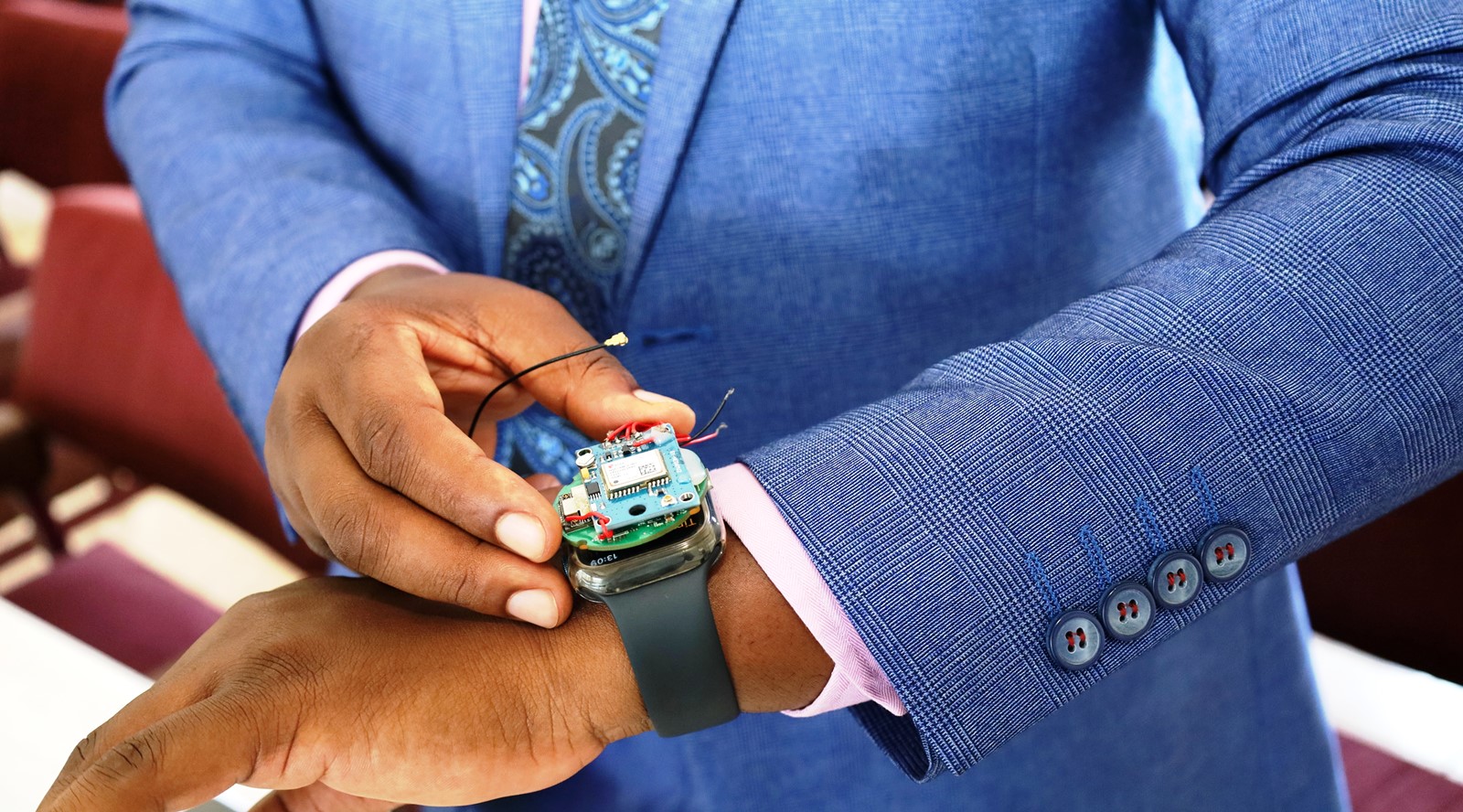 Researchers from Makerere University College of Computing and Information Sciences (CoCIS), led by a second-year PhD student Paddy Junior Asiimwe have designed a device to monitor elderly people with dementia and cognitive impairment in rural Uganda.
The device, wearable by the elderly (on the hand like a wrist watch or placed in the pocket), will monitor the patients' movement and location and then signal the caretaker and the hospital in case of emergencies.
This was disclosed during the research dissemination workshop held on 13th October, 2023 for the Makerere University Research and Innovations Fund (Mak-RIF) project titled, "Advanced Localisation Techniques on Smart Devices for Inclusive Location-based Services: A focus on healthy ageing for the elderly with dementia and mild cognitive impairment in rural communities"
This project relates to the ageing population that wants to live independent of their children or their children work in far away areas.
The Principal Investigator Mr. Paddy Junior Asiimwe noted that the biggest challenge is monitoring the elderly who are living in resource-constrained environments where access to power, internet, network and access to mobile communication is limited. The other challenge is people being not in a position to read and write.
Most available systems on the market according to Asiimwe assume that there is wireless internet everywhere, which is not the case with our local communities, more so in Uganda.

"So we are designing a system that can monitor these elderly people within their homes and still give accurate results with less power consumption, with less cost, within the limited resources that are available in those communities.
The system, Asiimwe explained, basically monitors elderly people remotely using those limited resources that are available in those rural communities.
"Our device uses GPS technology. I would say GNSS or GPS technology because the system we use now has only GPS. This system works in a way that when we first define a safe zone around a user, in technical term, what we are calling a geofence.
When the user or what we are calling an elderly person is within that safe zone, the system does not need to continue tracking him, and then sends an alert to the caretaker or to the hospital in case of emergencies.
But during that time when the user is within the safe zone, we are using what we call a PDR system. In simple terms, we are using accelerometer, gyroscope, and magnetometer to monitor the position of the user within the safe zone.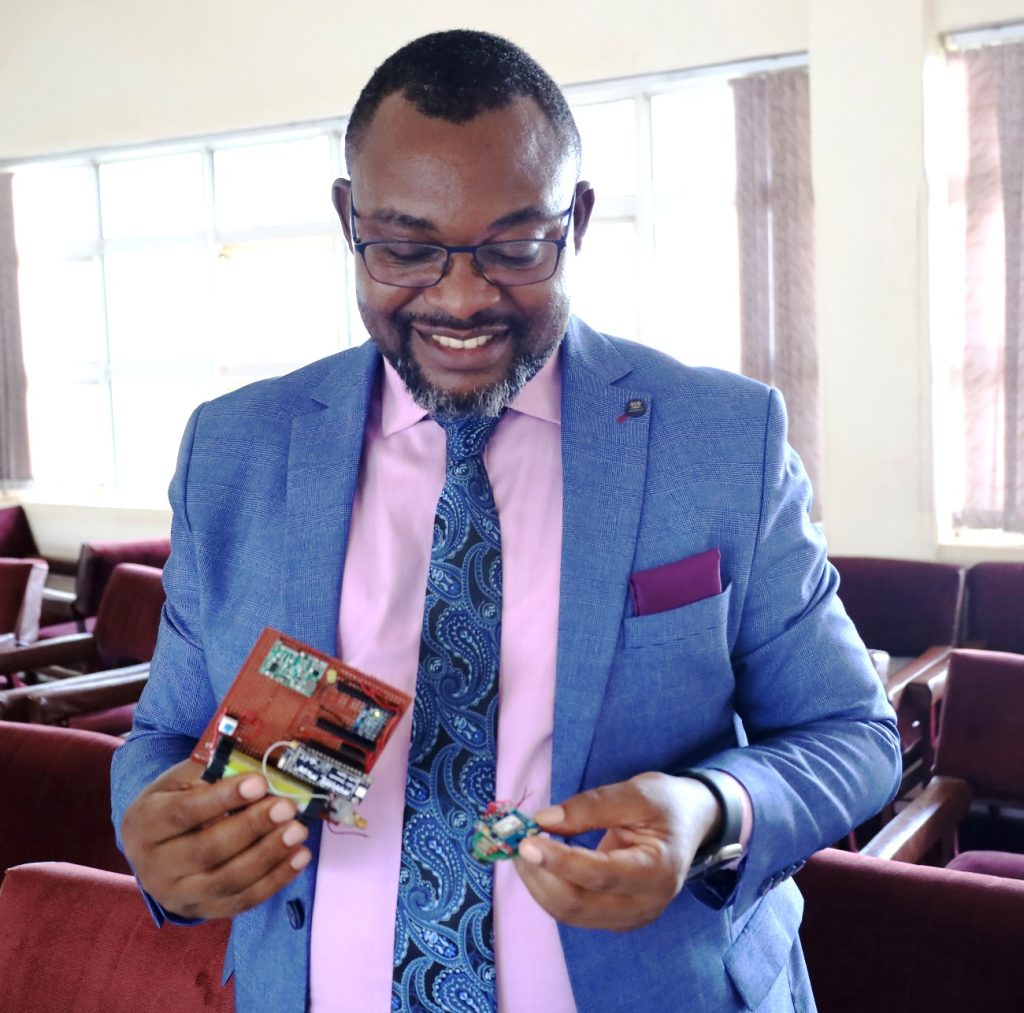 And GPS is only turned on when the user moves out of the safe zone. In the long run, since GPS is the biggest consumer of power, we end up using less energy because most of the time the system is turned off when the user is within the safe zone.", The PI said.
Advantages of the device
This technology according to the PI is better than the systems existing on market and would be best recommended for more resource constrained environments, which is the biggest challenge that we have in Uganda as far as accessing resources is concerned.
"One, our system is going to be cheap. Two, our system is going to operate independent of the user. The users that we have mostly in rural areas cannot read and write, and our system operates independent of them.
Three, one of the biggest challenges in these areas is power consumption, which is an assumption that most of these systems on market make, that power is everywhere. So our system can run on batteries, and these batteries, we don't need to charge them every week, because, for example, from experiments, we tested and the battery can run for 30 days, which is enough time for someone to go and charge," Mr. Asiimwe explained.
The technology was piloted in Apac district that formed the base for everything that was designed.
"We had a pilot study. We visited that area, met some families, also met the district administrators who took us around. We also met the administrators of the hospital, and we assessed the environment. And even after developing the system, we went back to conduct the tests. And most of the tests that we are basing on now to make results, were done in Apac district".Asiimwe said.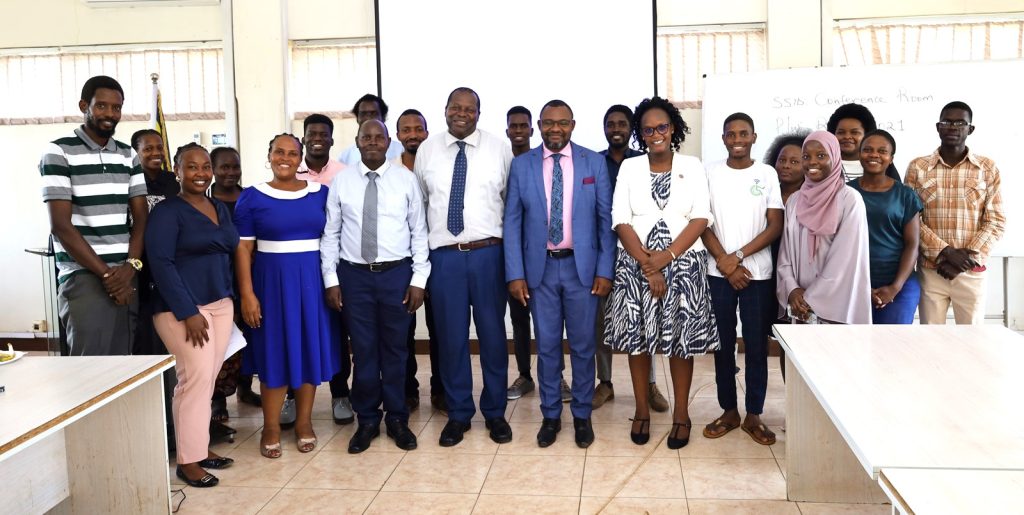 Apac, according to the Principal investigator, is one of those districts in Uganda that are less developed and, with the biggest number of elderly people and more so those with dementia. In addition, the research team could easily access other projects that are already done by Makerere, like CityLab, which is already putting internet in Apac, plus some other projects that are running from Makerere that gave a foundation upon which to build the project.
After perfecting the performance of this prototype and, with more funding, the research team   hopes to add more sensors to these device. For example, elderly people face the challenge of falling down. So, the team would love to add sensors that can detect when a person has fallen down, which is something very challenging, especially in our communities because people have died in bathrooms as a result of these falls.
The team also looks forward to more funding to add in more sensors to monitor more things like temperature, heartbeat, and other body functions, because the network will be in place to send the information to the caretakers.
"And then the other thing that we can also look at, for example, we had this years' challenge of COVID. It can also be used for patients for COVID. For example, we want to know, since we were fearing to be near COVID patients, we would use this technology to monitor them within their homes. And that is one thing that we can easily integrate with this system in case there is another outbreak in the near future, God forbid, our system could be a solution ", Asiimwe said
The system can do a lot more like monitoring children in this era of child trafficking among other challenges.
Scientists must do their best beyond the minimum expectation-Prof. Oyana
Presiding over the workshop, the Principal College of Computing and Information Sciences Prof. Tonny Oyana challenged researchers and staff to go beyond certain university metrics that they are expected to meet like publishing two papers for a PhD.
Oyana cautioned scientists not to be taken up by the two papers or publishing for purpose of promotion saying, what excites a good scientist is harvesting many papers and grants.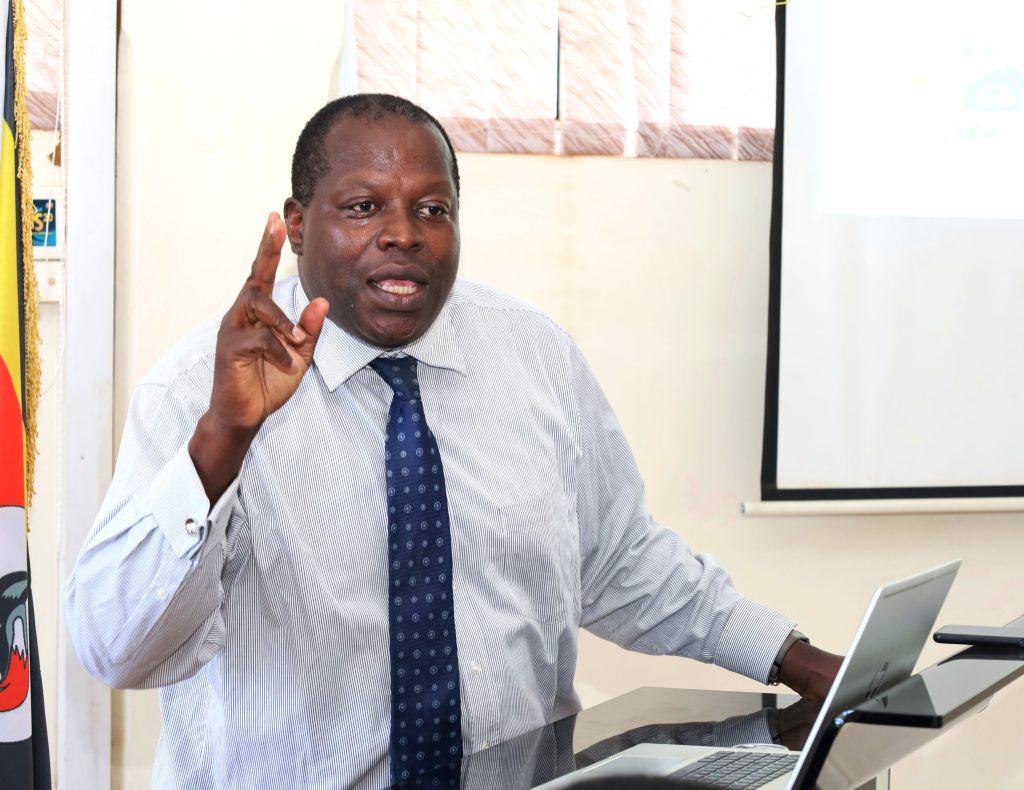 He advised Ugandans to emulate some universities around the world where scientists write five papers per year. With Uganda's population of over 40 million people. Professor Oyana urged scientist to go beyond the standard and, the minimum if they are to remain competetive on the Ugandan and world market.
"So please, the work of a scientist is to do your best to be at your best to be optimum. Do four papers, five papers, why not? Remember that if you decide to become a scientist, you should have more. Be excited. Don't do the minimum. If you set your standard here and you fall here, that's good, but don't set your standard too low." The Principal advised.
Over 1,000 projects funded by Mak-RIF
Representing the Chair Grants Management Committee, the Mak-RIF Engagement Officer Grace Ruto-Cherotich, expressed delight and pride in the fact that the team had been able to reach the dissemination part of the project.
She said the Government of Uganda has taken keen interest in how different institutions of higher learning are contributing to national development.
"So the Mak-RIF was created with the objective of increasing generation of local research and scalable innovations that are specifically meant to impact national development. As Uganda, we have our national development plan. We are committed to the Sustainable Development Goals (SDGs) and so many other international treaties that we have signed as a nation", she said.
Since the birth of the research and Innovation fund at Makerere, Cherotich said, so far over a thousand projects have been funded. She expressed the need for the PI to patent his product.
"We need to protect it so that by the time we introduce it to the stakeholders out there, it is already safeguarded"
She commended the research team for the multidisciplinary approach, bringing on board doctors engineers and the ICT department adding that, it is one of the Mak-RIF core values and principles.
"We want to see the multidisciplinary aspect because now this is an institution that has, or nurtures different skill sets. We have humanities, we have ICT, we have engineering, and we have medicine. So we want to see how we can leverage all those different opportunities we have, all the different colleges we have, to ensure that we build beautiful things that will cause impact to the nation." Cherotich stressed.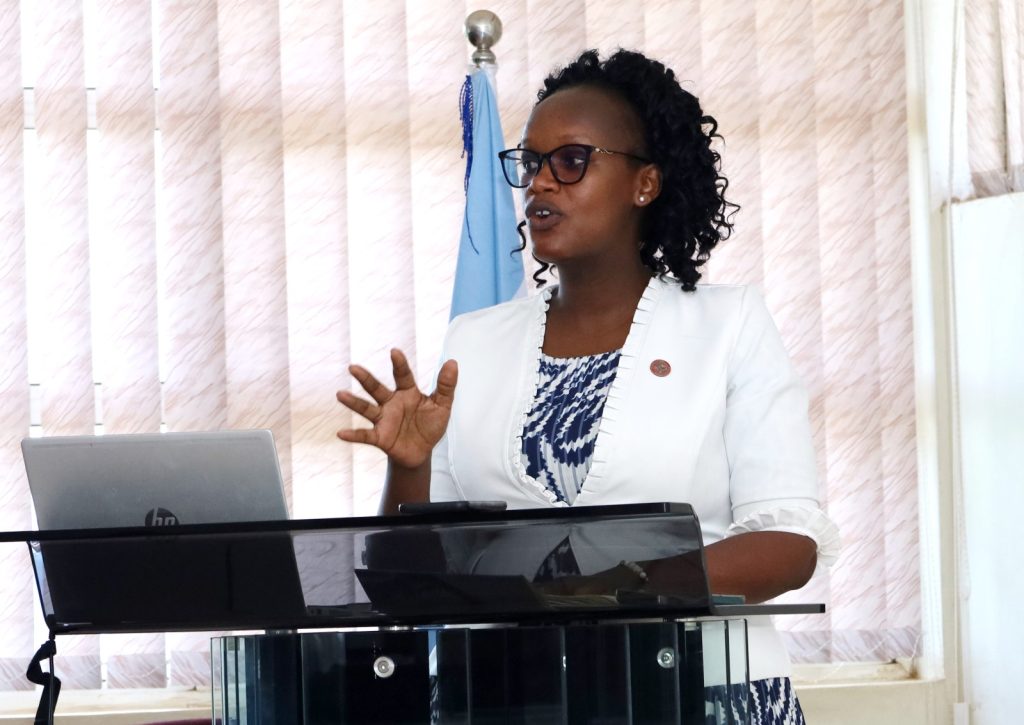 She said that the Mak RIF research agenda is derived from the national development plan and SDGs with its own internal market area strategic plan focusing on the institution being a research-led, meaning that there is need to put a lot of effort in terms of research and innovations.
In that particular research agenda, she said Mak-RIF has 14 thematic areas and recently did an analysis of which areas in those particular themes have not been focused on much.
Cherotich reported that the thematic area that focuses on public service and productivity of public servants has not really been researched, yet recent discussions with Permanent Secretary, Ministry of Public Service revealed that Government has made progress in terms of increasing or raising the salary for scientists. However, the result of that is that people are resigning, leaving their jobs to quickly get their pension and start their private business.
"So you ask yourself, where have we gone wrong in the decisions we make as a nation?
Because now that will mean that there's going to be a very high pension budget, and then you're going to have less productivity in the workplace. You're even going to have reduced numbers of civil servants serving in those particular dockets of increased salaries", she decried.
She implored researchers to do a lot of detailed research and come up with innovations to achieve what is positively impacting the nation.
The engagement officer equally commended the PI for the job well done.
"Paddy has done a lot of work in harnessing ICT to drive development and that is our theme number 11. I want to tell Paddy that we are really, really humbled and at the same time excited that we have a result, we have a product out of the work we have funded at the Research and Innovations Fund.
"And for sure, we currently have the Innovations Hub at the College of Business and Management Sciences (CoBAMS), which is also funded by Mak-RIF, and focused on commercialization and scaling up of projects that we have already, to help us realize returns on investment. So it's a good opportunity for you". She appreciated and said: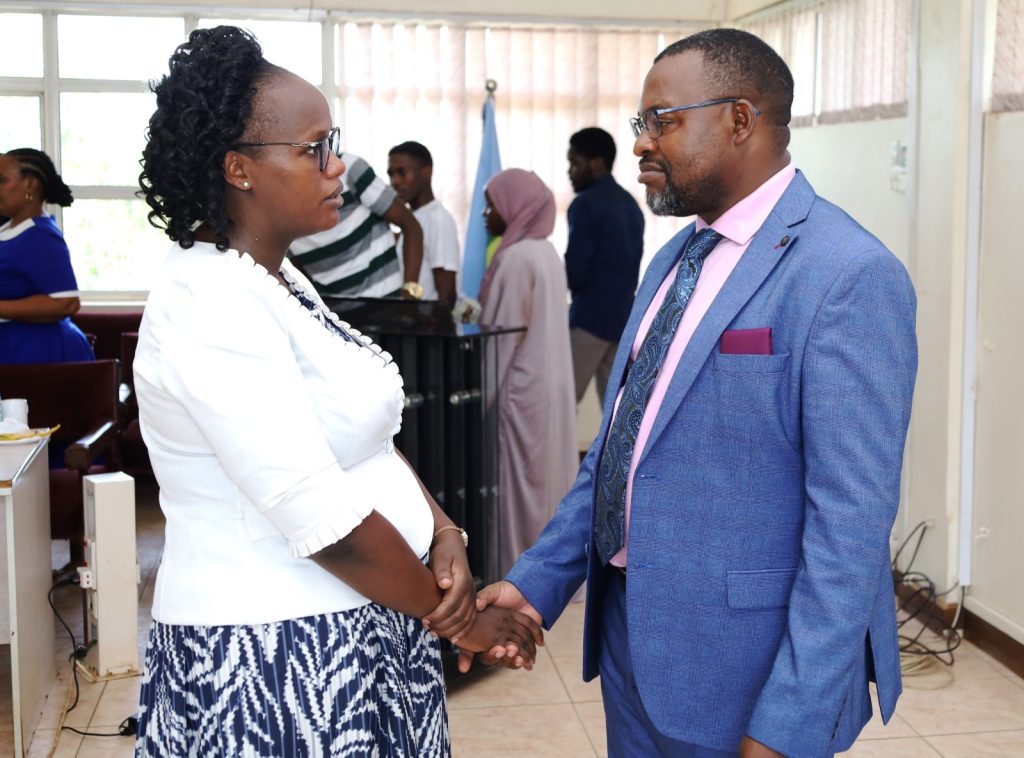 "You know, there's RIF-5 ongoing. So depending on what you would like to do going forward, do you want to focus on IP issues? Do you want to focus on collecting more data to prove that this device actually works? We can monitor and write reports and stories. And I also want to thank you very much for the fact that you have been able to publish. So those are some of the things we can highlight on the Mak-RIF website so that everybody gets to know that there has been good work done out of certain projects."
Cherotich also notified the team of the availability of an Intellectual Property Management Office also funded by Mak-RIF that works with the Uganda Registration Services Bureau (URSB) to ensure that IP issues are catered for, as the only way the university can protect her innovations. She urged the research team to think of how they are going to ensure that their IP is protected.
She explained that Government gives Mak-RIF UGX 30 billion every financial year. In addition she said, Mak RIF has other opportunities on offer including competitive grants, multi-year projects, needs-based track, and the PhD track that have been introduced available for Makere University staff and students.
"We have the research support office that guides you through the processes of what you need to do when you have been awarded, and what happens post-award. They take you through contract signing processes, requisitioning processes, and procurement processes.
"We also support you when it comes to issues to do with report writing. We have quarterly reports, and ultimately the final reports. We also have the station where we are right now. We also support the whole process of dissemination. How would you want your dissemination done? How would you do your slides laid out? etc", she added.
Cherotich advised the research team on the need to involve important stakeholders that can embed their work into the policy environment of the country, or where need be, scale it up beyond the scale of what the Mak-RIF grants facilitate.
Project PIs & Accountants Urged to follow Budget Controls, Approval Structures & Policies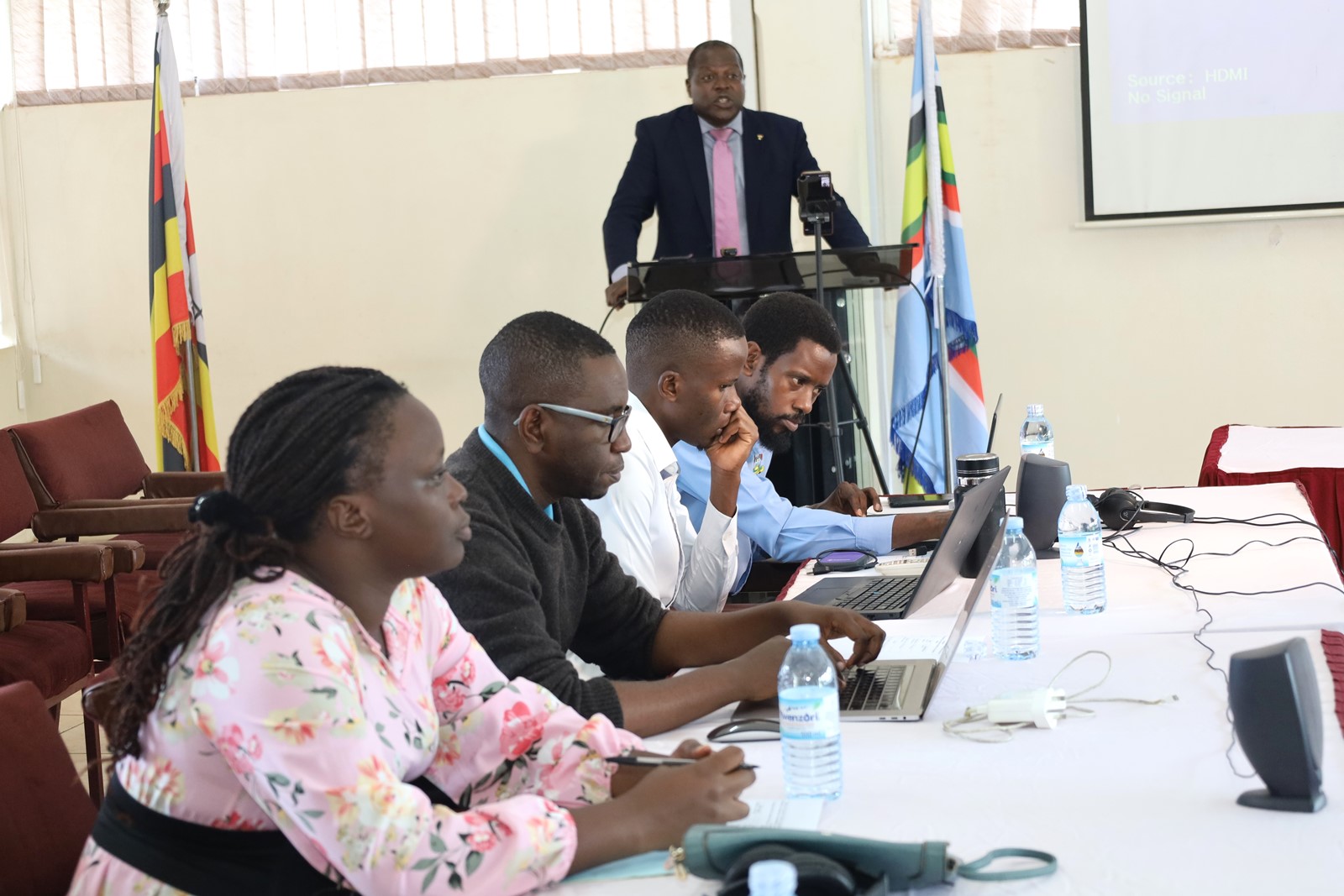 Principal Investigators (PIs), research assistants and accountants in the College of Computing and Information Sciences (CoCIS) on 23rd November 2023 were equipped with knowledge and skills on Accountability protocols to increase their knowledge on managing funds.
The half-day blended Workshop which attracted 30 participants was officially opened by the Principal CoCIS, Prof. Tonny Oyana and facilitated by the Manager Accounts and Reports Makerere University Mr. Lubowa S. Gyaviira and the Team Leader, College of Agricultural and Environmental Sciences (CAES) Mr. Tom Vok Elwana.
The training highlighted the common accountability challenges, accountability procedures and approvals and submission of accountability reports.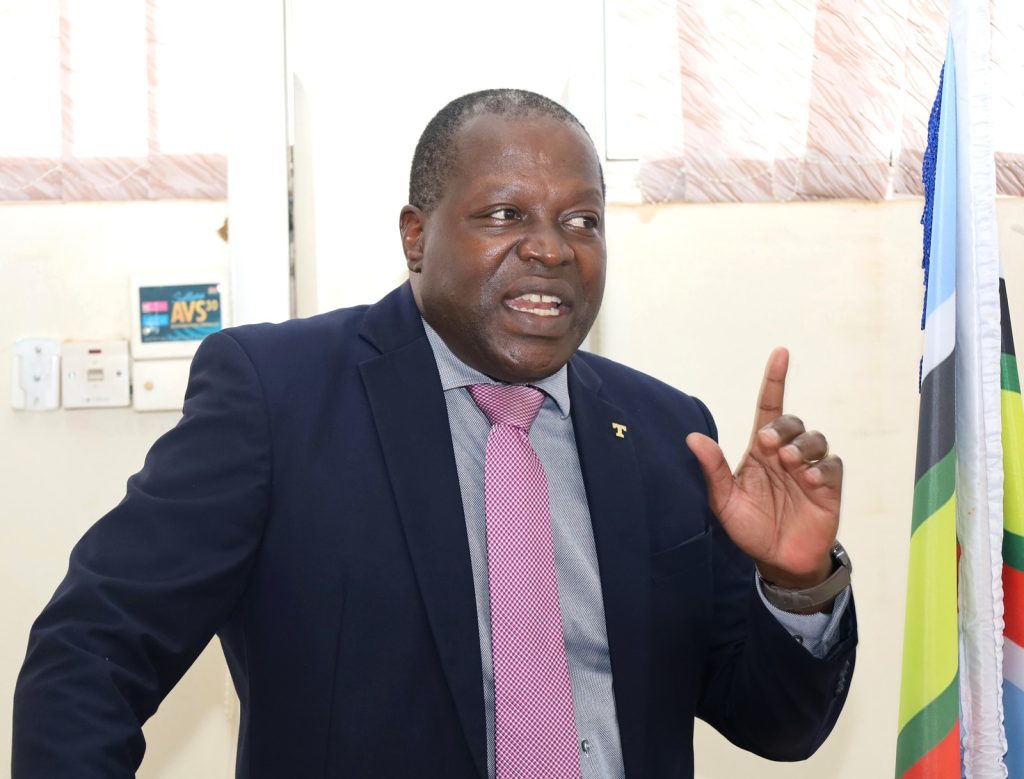 Noting delays in accountabilities, Prof. Oyana said, he would like to see the college conduct research and grow big rather than being blacklisted by development partners and donors.
The Principal said, the college has established itself in four principle areas of research where it draws credibility namely; the Sensing Technology, Artificial Intelligence, Human Computer Interaction research and Information seeking research.
He observed that sometimes researchers under estimate the reasons to be financially knowledgeable and hence the need for the training.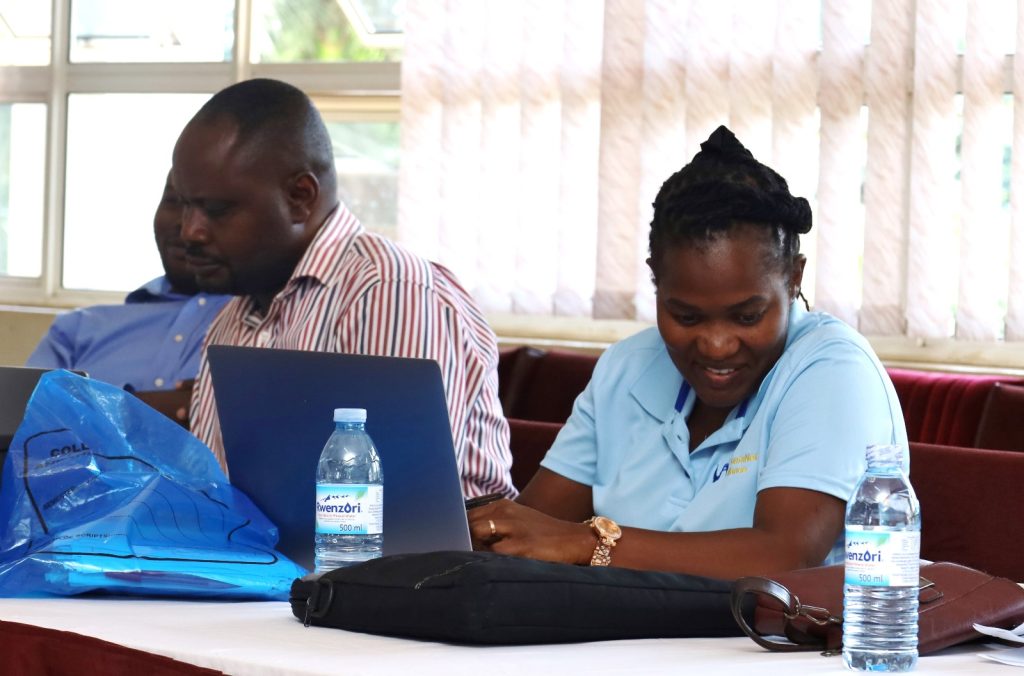 "Everything happens because of money. If you are a poor manager of your money, then, you cannot pursue the activities you set. So, financial responsibilities and discipline are very important if you are to be a good negotiator", He said.
Motivated by the need to build a system that is prudent and robust and building an inclusive place to learn, work and succeed, Prof. Oyana shared his experience of what he has learnt as critical.
"First of all, know your financial status and spend within those limits. Never destroy someone's credibility. I also recommend responsible financial discipline and not to go by peer pressure.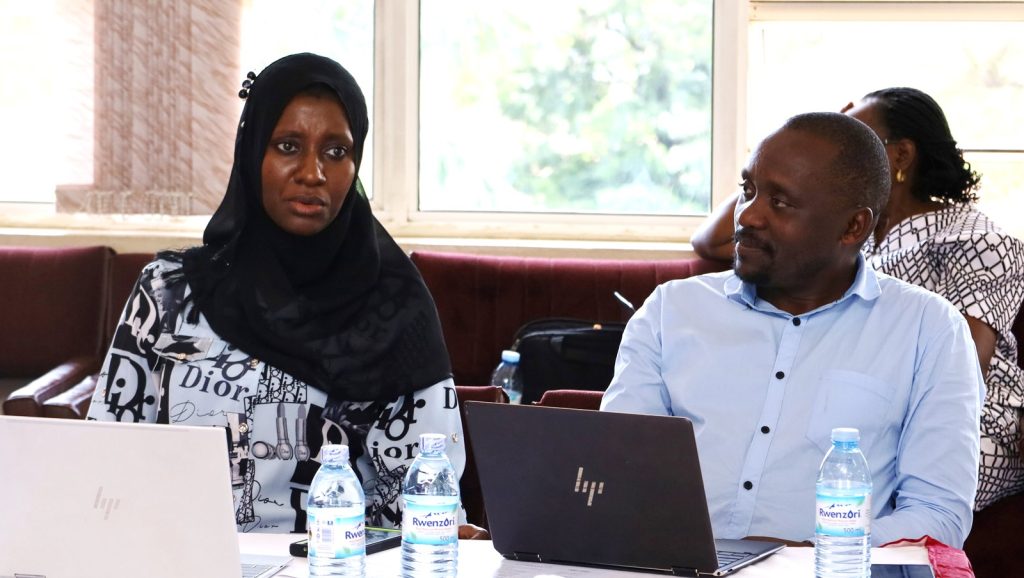 The minute you indicate a budget, you have controls. You don not shift budget items from other controls. If you want to spend and move items that are 10% and above, you need to get permission from the treasury", Oyana advised.
The Principal also advised researchers to learn and follow the approval structures and policies, stick to their values and ethics and, ensure funds are used for intended activities. He advised scientists to strive for excellence and make good returns to those that entrust them with the resources.
Prof. Oyana extended the call for discipline in the laboratories on grounds that laboratories run on ethics and honesty. He stressed that it is good practice to follow scientific evidence because Science does not depend on rumours but on data and evidence.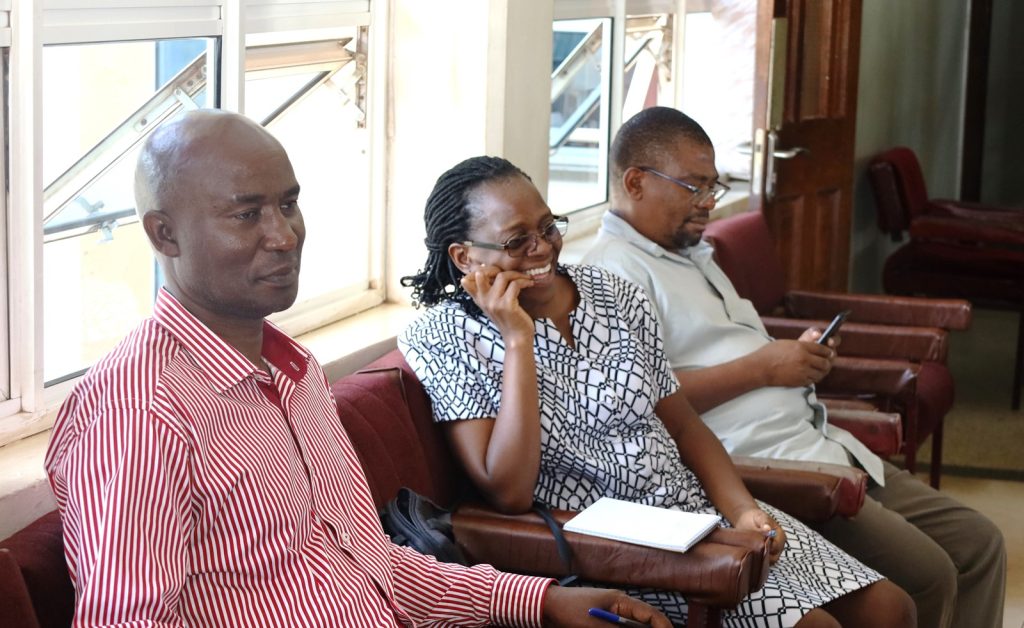 Oyana also urged every researcher to have a research gap, be visionary and ensure laboratories have good practices and procedures and, provide data and scientific evidence to back hypotheses.
He reminded researchers that the primary duty of research is contributing to the body of knowledge and secondly to train and mentor young scientists to contribute to their knowledge.
Accountability procedures and approvals
Giving an overview of Accountability procedures and approvals, Mr. Lubowa Gyaviira represented by Mr. Tom Elwana underscored the need for researchers to know the regulations for accountability when planning.
Key Accountability procedures as extracted from relevant laws, policies and procedures that govern public financial management include but not limited to; Public Finance Management Act 2015; Universities and Other Tertiary Institutions Act; Treasury Instructions 2017 and; Makerere University Financial Manual 2014.
Elwana said accountability helps to establish whether the funds advanced were used for the intended purpose and whether all documentation relating to the accountability was presented for review.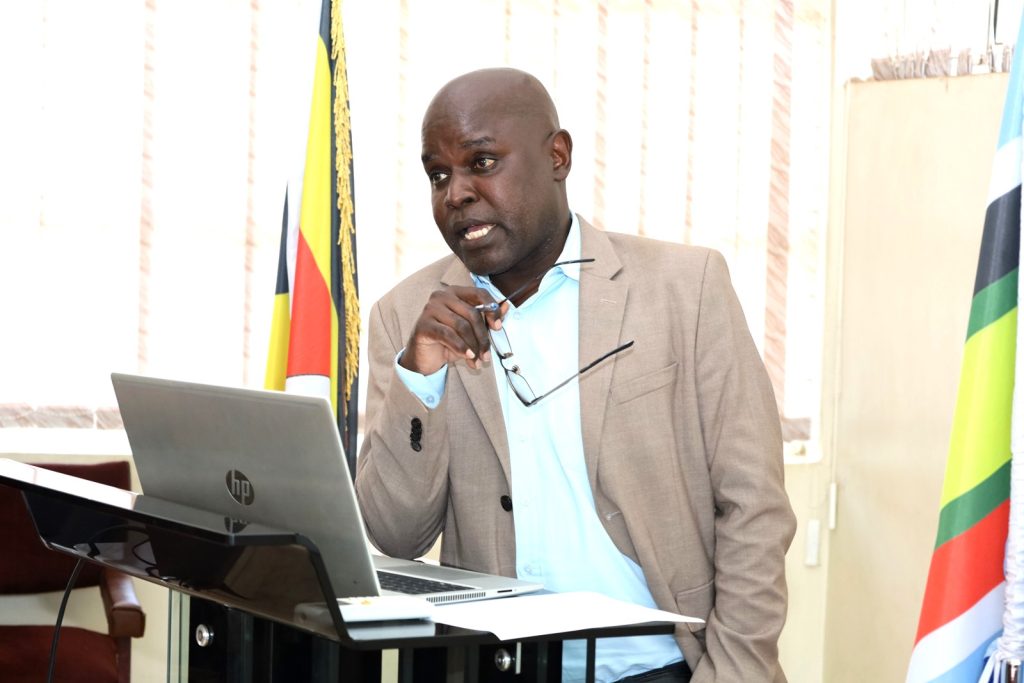 Section 10 paragraph 10.20.11 and 10.20.12 of the Treasury Instructions, 2017, requires all advances to be retired as soon as the necessity for their use ceases to exist or within sixty (60) days upon completion of the activity or by closure of business of the last working day of the financial year in which the advance was issued.
"The Makerere University Financial Procedures Manual 2014 under section 4.6.4 enjoins staff to account for all advances received within 14 days of the completion of the activity and in any case not later than 60 days.
Failure to comply with standing instructions leads to the withholding further advances; Recovery from payroll; and or Disciplinary action in accordance with laid down procedures", he said.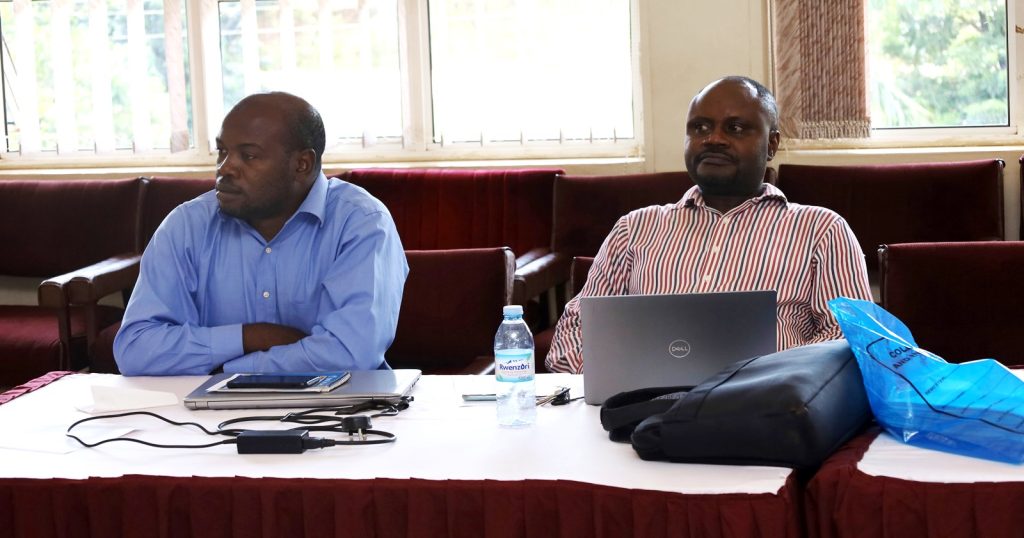 Elwana explained that staff advanced funds should follow the accountability and approval process from the unit accountant to the Internal Audit/examinations and compliance office which delivers to the Secretary Directorate of Internal Audit, who shall ensure it is stamped received, recorded in the register.
He said, a report for accountability must be attached and receipts indicating clearly amount of advance being accounted for while outstanding advances at end of year will be posted to the general ledger to make up the funds balance.
"Balances on advances not utilized at the end of the work/research should be surrendered to the Head of accounts and a receipt should be issued.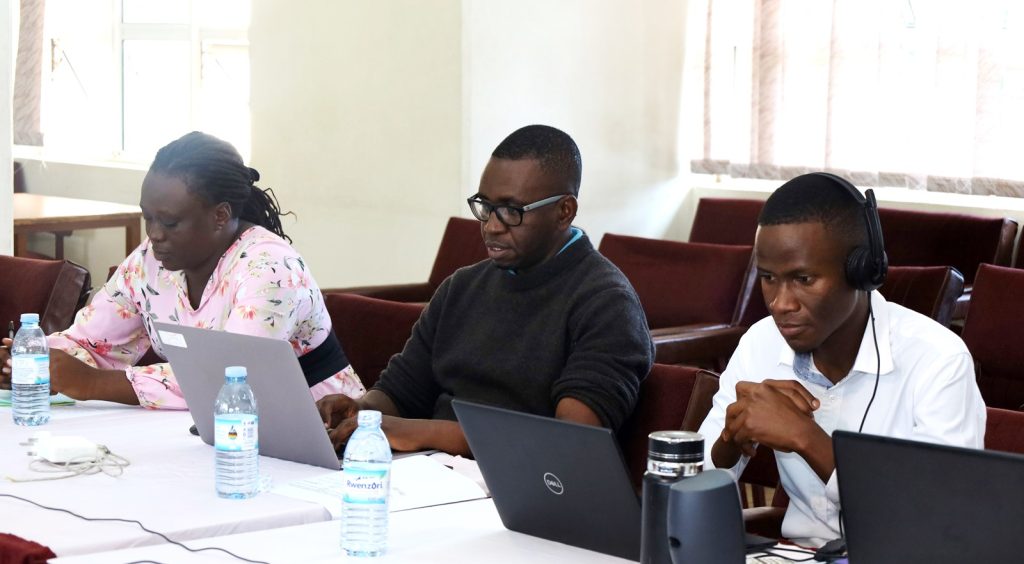 Failure to submit accountability will necessitate refund of all unaccounted for funds by the implementer.
After clearance of all accounted funds, a Journal Voucher (JV) is issued to show clearance of total amount accounted for," Elwana emphasized
Submission of projects to GAMSU, a MUST for implementation of any activity
Elwana told researchers that all project PIs must not only register their projects and budgets with the Makerere University Grant Administration, Management and Support Unit (GAMSU) but also submit quarterly reports to this unit.
"GAMSU has an application and is calling upon PIs to submit their projects for capturing in their data. Failure to be captured, they may not implement their activities", Elwana warned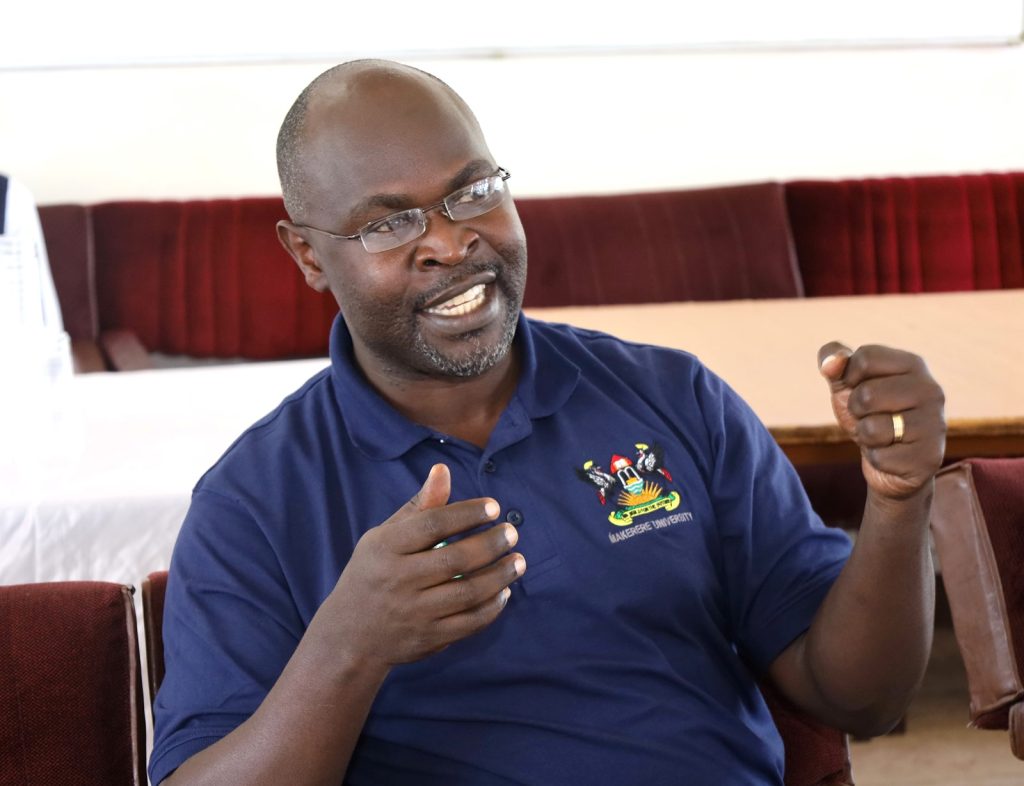 Makerere University established GAMSU, which is tasked with the responsibility of overseeing all projects and grants within the university. This measure, Elwana explained, was an agreement with Government to allow the university oversee and receive the grants instead of the funds going directly to the consolidated fund.
The key responsibility of GAMSU is to ensure that reporting is streamlined within the university. GAMSU requires quarterly accountability reports from all grants and projects.
Submission of all budgets by all projects and grants is also mandatory as part of the accountability reports required by the University and Government.
As a matter of emphasis, on submission of accountability reports, PIs were advised to pay attention to their MoUs since different funders have different requirements.
Detailed presentations from the training follow below.
ICT Bootcamp for Vacists (P7, S4 & S6), Students & General Public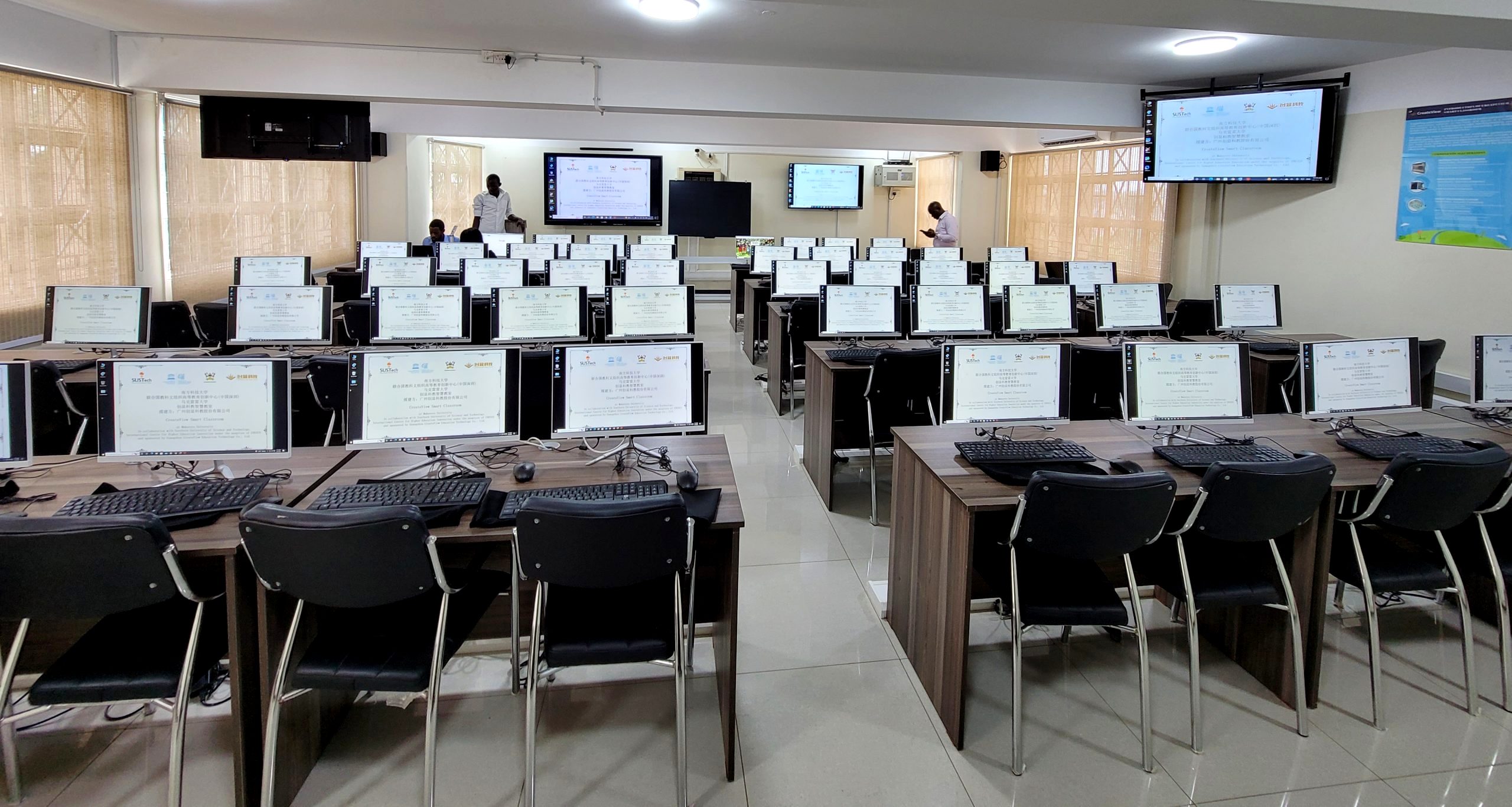 Makerere University, College of Computing and Information Sciences (CoCIS) is the main ICT training, research and consultancy Centre in Makerere University and the region. The College runs a Center for Innovations and Professional Skills Development (CiPSD), through which the College addresses various industrial challenges, like skills development, incubation of new ideas and nurturing of new technology-based business.
CiPSD has organised an ICT Bootcamp to equip participants with  hands-on tech skills. Practical sessions are open to vacists (P.7, S.4 and S.6), Students and the general public.    
DURATION : 2 Weeks – Instructor Led (Hands-on practical training)
Start Dates : 20th/11/2023 (P.7 & S.4 )    |  04th/12/2023 (S.6 & Others)
CERTIFICATE : Each participant will receive a certificate at the end of the training
BOOTCAMP REGISTRATION LINK :  https://bitly.ws/X9kv
TARGET AUDIENCE :
Vacists (P.7, S.4 & S.6)
Students
Anyone interested in acquiring hands-on tech skills.
SKILLS COURSES
Microsoft Office Suite, Internet & Online Collaboration – 50,000/= (2 weeks)
Programming/Dynamic Website Design, – 50,000/= (2 weeks)
Graphics Design & Image Editing – 50,000/= (2 weeks)
Networking & Systems Administration – 50,000/= (2 weeks)
Computer Repair & Software Maintenance – 100,000/= (2 weeks)
3D Computer Animation – 50,000/= (2 weeks)
Computerised Accounting – 350,000/= (3 weeks)
PAYMENT PROCEDURE:  To book your slot, go to the Accounts Office, CIT  Block A, Level 2, and get a reference number. Proceed to any nearest bank and deposit training fees. 
CONTACT INFORMATION
The Center for Innovations and Professional Skills Development (CIPSD)
Block A – Front Office/Block B, Level 5
College of Computing and Information Sciences (CoCIS)
Makerere University
Email: cicpsd@cis.mak.ac.ug
Tel: +256 753 200013/ +256 392 000180 / +256 782 512897
CoCIS CIPSD Short Courses Nov, Dec 2023 & Jan 2024
Makerere University College of Computing and Information Sciences (CoCIS) is the main ICT Training, Research and Consultancy Centre in Makerere University. The College has six Academic departments comprising of the Department of Computer Science, Department of Networks, Department of Information Technology, Department of Information Systems, Department of Library and Information Sciences, and the Department of Records and Archives management.
In addition to the mainstream degree programmes, C0CIS has a specialized Center for Innovations and Professional Skills Development CIPSD) which delivers state-of-art training in ICT e.g. the Cisco Networking Academy for Cisco related courses, the Microsoft IT Academy Program for Microsoft related courses, International Computer Driving License course, Oracle Certified Training center for Oracle, Linux and Unix Training center. The College is also an authorized Testing center, operating under PearsonVUE and Kryterion. Listed in the table below are the courses currently offered at the Center with their next start dates, duration, and cost.
For SENIOR 4 & 6 VACISTS at affordable fees.
Utilize your vacation and achieve an international certificate to help your future career and stand out from the crowd.
Nov 2023 / Jan 2024 / April 2024 / July 2024 (For all courses)
Contact Information
E-mail: psd@cis.mak.ac.ug
Tel: +256 392 000 180
Mob: +256 782 512 897