Global Conversations: Climate Change Multiplies Health Risks, A Call to Action on Extreme Weather Effects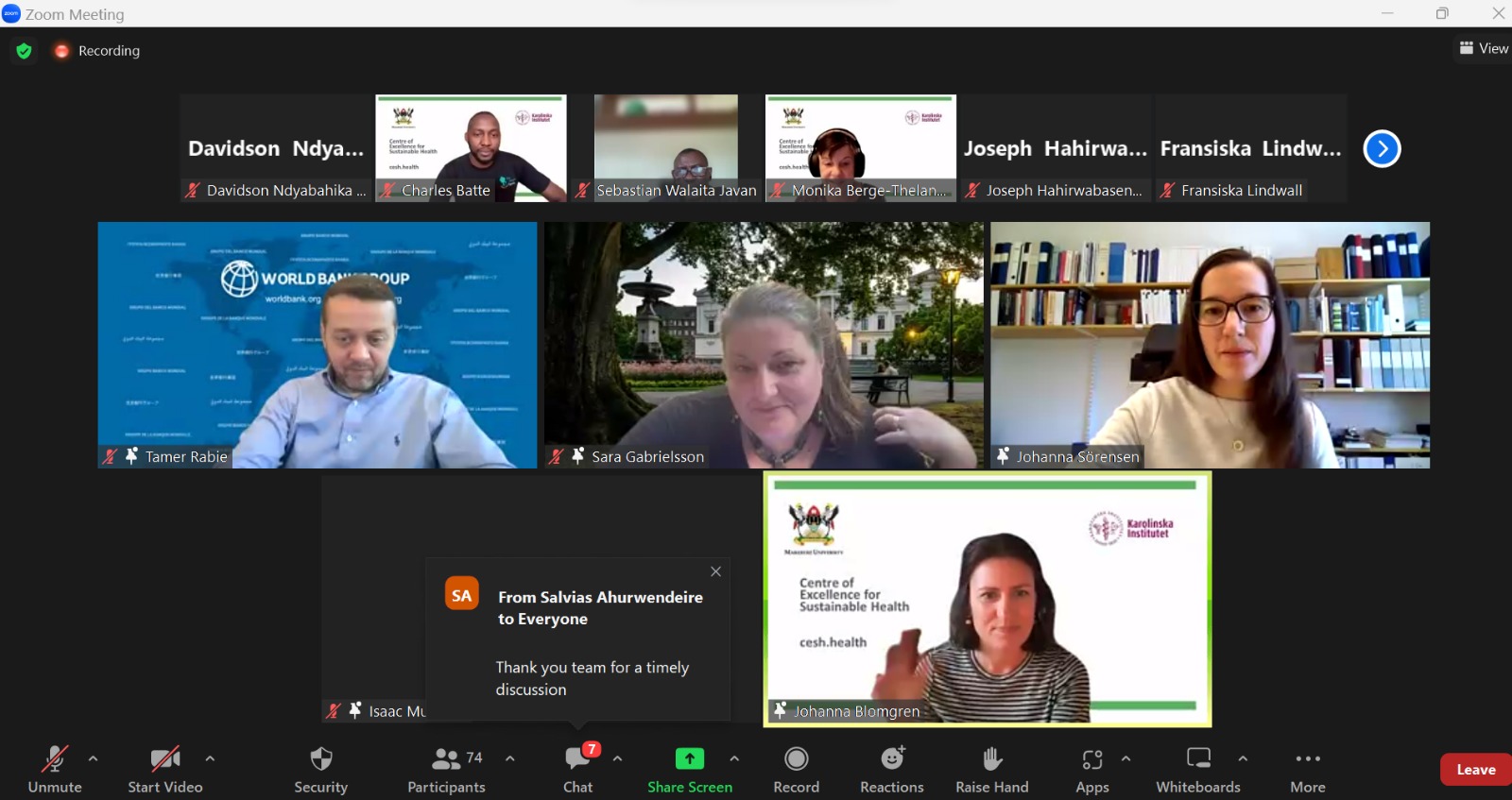 By Davidson Ndyabahika, Johanna Blomgren and Julius T. Mugaga
Experts have urged urgent action to mitigate the health risks of climate change. The 2023 global conversation, on Climate Change and Health highlighted the need for transformational action in every sector to protect people's health from climate change.
Held on September 5, 2023 the virtual seminar, organized by the Centre of Excellence for Sustainable Health (CESH), a collaboration between Makerere University and the Karolinska Institutet that aims to increase capacity and spur action to advance the agenda for sustainable health drew over 230 attendees from all over the world. It placed emphasis on mitigating the effects of extreme weather, such flooding.
A more recent research study by CESH defines Sustainable health as a multisectoral area for study, research, and practice towards improving health and well-being for all while staying within planetary boundaries.
In its 2023 report, the Intergovernmental Panel on Climate Change (IPCC) notes that global terrestrial, freshwater, and ocean ecosystems have already been affected by climate change, along with the associated losses and costs. It predicts that heavy rainfall and flooding events are expected to worsen and occur more frequently in the majority of regions of Africa, Asia, North America, and Europe by 1.5°C global warming (high confidence).
The 2023 IPCC report identifies barriers that prevent people and society from implementing climate-resilient behaviors. Financial limitations, conflicts with the SDGs, inequalities, institutional, economic, and social hurdles, as well as dispersed strategies, are a few of these. The panel equally agree that if global warming exceeds 1.5 °C and the SDGs are not adequately progressed, chances for climate-resilient development would be considerably more limited.
Now, during the seminar, the panel, by consensus agreed that climate change is critical citing that such conversations on critical factors in relation to the climate and health crisis are not only timely but necessary.
Climate change impacts the social determinants of health, which include excellent health and wellbeing, by causing decreased food output, low fishing yields, flooding, and infrastructure damage, according to Daniel Helldén, a PhD student at KI Department of Global Public Health.
"The future emission scenarios are dire. What is becoming more and more clear is that climate change is a generational issue. Children born today will continue to bear the biggest burden of climate change impact," said Helldén.
Dr. Mugume Isaac Amooti, the Director of Weather Forecasting Services at the Uganda National Meteorological Authority (UNMA), emphasized the importance of considering both long-term averages and unprecedented weather events driven by climate change. These events are thought extreme only when they exceed past records. He noted for instance that in Uganda; "The widespread flooding brought on by heavy and frequent precipitation is what we are seeing in Uganda, particularly in the cities. However, we are witnessing heat waves and cold waves at different times of the year."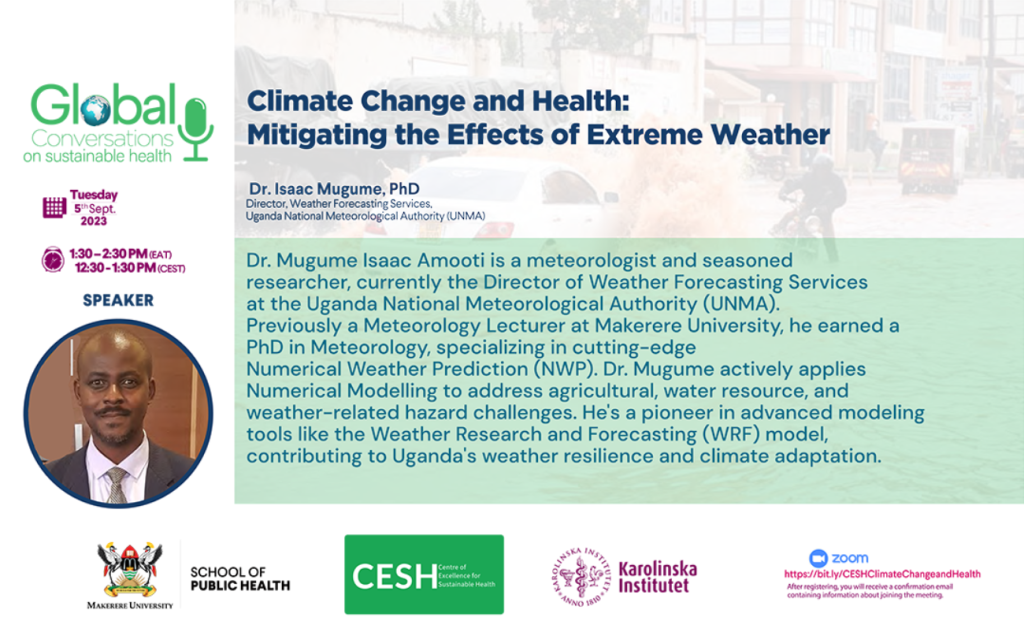 Although there isn't a clear pattern in Sweden's precipitation, Dr. Johanna Sörensen of Lund University in Sweden said that forecasts suggest that rainfall may increase by the end of the century. Given the flooding problems that already present, this, she says is something to worry about. "Flooding is increasing not only because of climate change but also even more that we construct the cities more densely and we construct buildings and industries on lowly areas that we used not to do in the past which is of course not a good idea."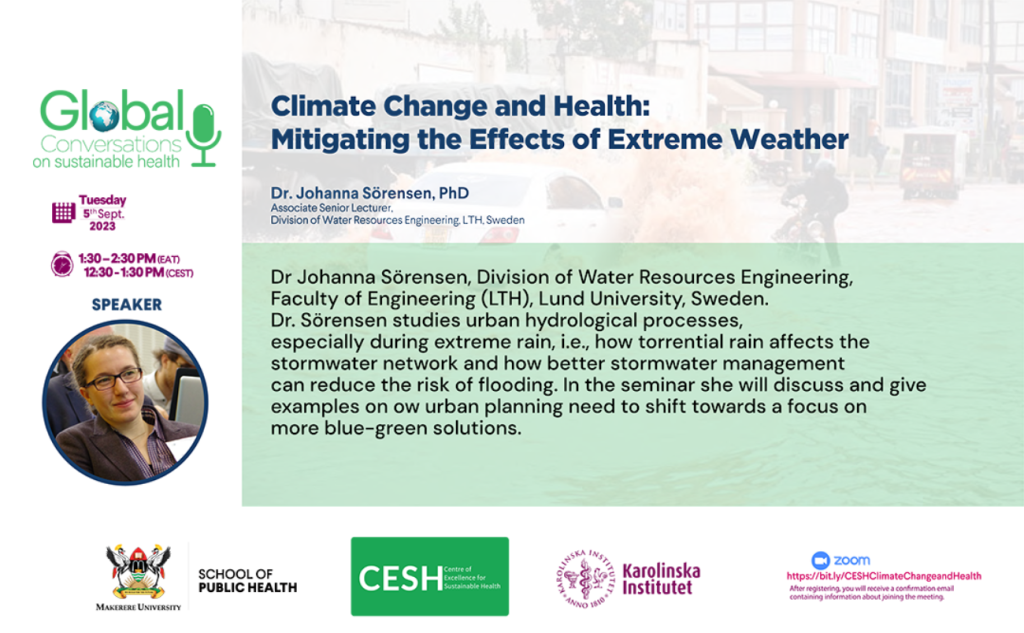 Dr. Tamer Rabie, a lead health specialist at the World Bank Group, notes that risks are amplified by climate change, which therefore has an intensified negative impact. He points out, for instance, that in order to comprehend how climate change and changes in temperature and precipitation patterns will affect health, it is critical to view climate change as a risk multiplier.
Dr. Tamer, also the architect of the World Bank's global Health-Climate and Environment Program (H-CEP), underscored three pathways through which climate change impacts health: direct effects, indirect effects, and those mediated by ecosystems. Some of the direct pathways include issues like increased temperatures likely to lead to heat waves, heat-related illnesses, worsened non-communicable diseases, and increase in the risk of events like traumatic injuries.
According to Dr. Tamer, ecosystem-mediated risks include vector-borne diseases (like Malaria and Dengue), foodborne illnesses, and waterborne diseases (like Cholera). These risks are closely tied to how health outcomes are influenced by the ecosystem. Additionally, indirect health impacts encompass mental health due to population displacements, as well as malnutrition resulting from shifts in food production and overall food systems.
"We have done estimates in the World Bank that show that extreme weather events and climate change will lead to pushing nearly 132 million people into extreme poverty by 2030. If you look at the health impacts within those figures and the main drivers, we are seeing that nearly 44 million out of those 132 will be pushed into extreme poverty by 2030 if we don't take any action today," Dr. Tamer.
According to Dr. Tamer, the World Bank has conducted climate and health vulnerability assessments specifically looking at the cost of inaction moving into the 2030s and 2050s using information that relates to malaria, dengue, diarrhea, stunting in children, heat related illnesses, floods, among others.
"What we are seeing is that on average, countries will be losing anywhere between 1-5% of their GDP as a result of not really addressing the climate crisis, not being able to address these impacts that we are talking about, and obviously not investing enough into the health systems to be able to be more resilient," Dr. Tamer noted during the webinar.
According to Dr. Sara Gabrielsson, an Associate Senior Lecturer in Sustainability Science at Lund University's Centre for Sustainability Studies (LUCSUS), addressing immediate health risks involves containing flooding, which is just one aspect of climate change-related challenges like sea level rise and drought.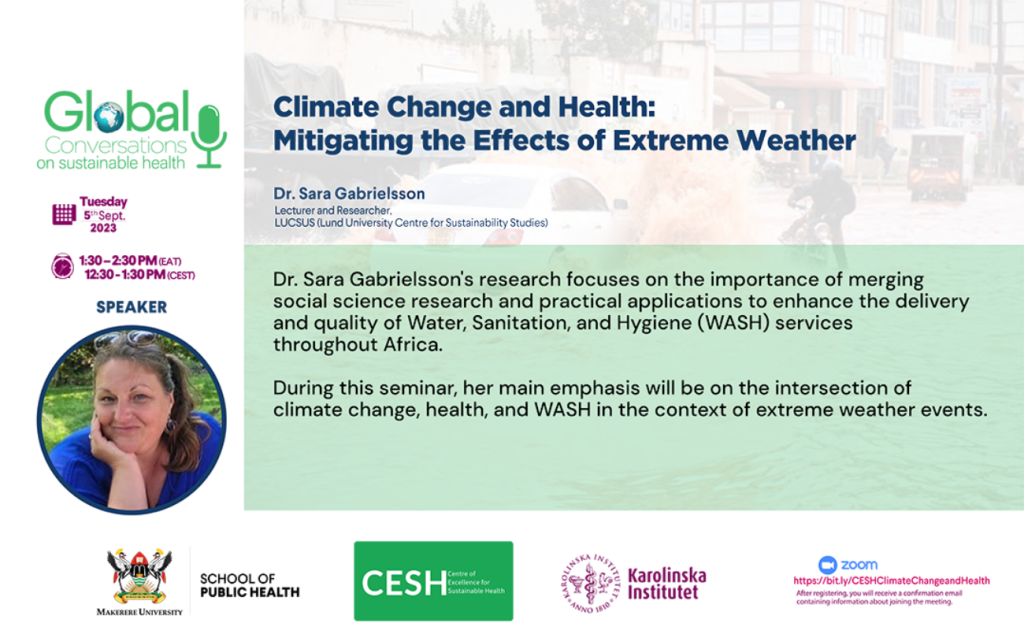 She highlights the connection between various deadly diseases like dengue, typhoid, trachoma, and cholera among others to this issue. During a crisis like flooding, treatment for these diseases she notes often takes a backseat due to the overwhelming health burdens that arise.
"There is death from drowning or direct injury from debris in these very storm surges, but then we also have the issue of just water sitting, waiting in water for longer periods, leading to lots of infections, urine-tract infections, vaginal infections, skin diseases, hypothermia, lots of those kinds of things, but also vector-borne diseases, and especially malaria, which is, of course, one big thing here," Dr. Gabrielsson opines.
She adds that flooding brings problems like contaminated drinking water, leading to chronic diarrhea and malnutrition. Additionally, damaged sanitation facilities force people into open defecation, exposing them to harmful bacteria and further risk of chronic diarrhea.
"These immediate health risks are just the beginning. Moving into long-term risks, flooding severely impacts the availability of clean water for basic hygiene. As we've learned from COVID, hygiene is paramount for health. Insufficient handwashing and personal hygiene can breed disease. We need proper hygiene for preparing food, tending to babies, managing menstrual health, and more. Without it, there's increased exposure to harmful bacteria, compounded by the use of inadequate sanitation systems, resulting in outbreaks of various diseases," observed Gabrielsson.
Way forward
Dr. Sörensen, from a Swedish standpoint, proposes proactive steps to mitigate flooding. These include slowing down water flow, discouraging construction in flood-prone zones, and avoiding building in areas prone to heavy rain. She points out that in cities like Mumbai and Gothenburg, there has been a concerning trend of construction in flood-prone regions. Dr. Sörensen emphasizes the importance of adapting solutions for creating greener, more sustainable cities. "In China, they call it a sponge city. It's like a sponge—you fill it up with water during rainfall and then use it later for various purposes. Utilizing vegetation and water storage helps retain water and slow down its flow in urban areas. Green spaces in cities are crucial for health, well-being, and providing shade, especially during heatwaves," she says.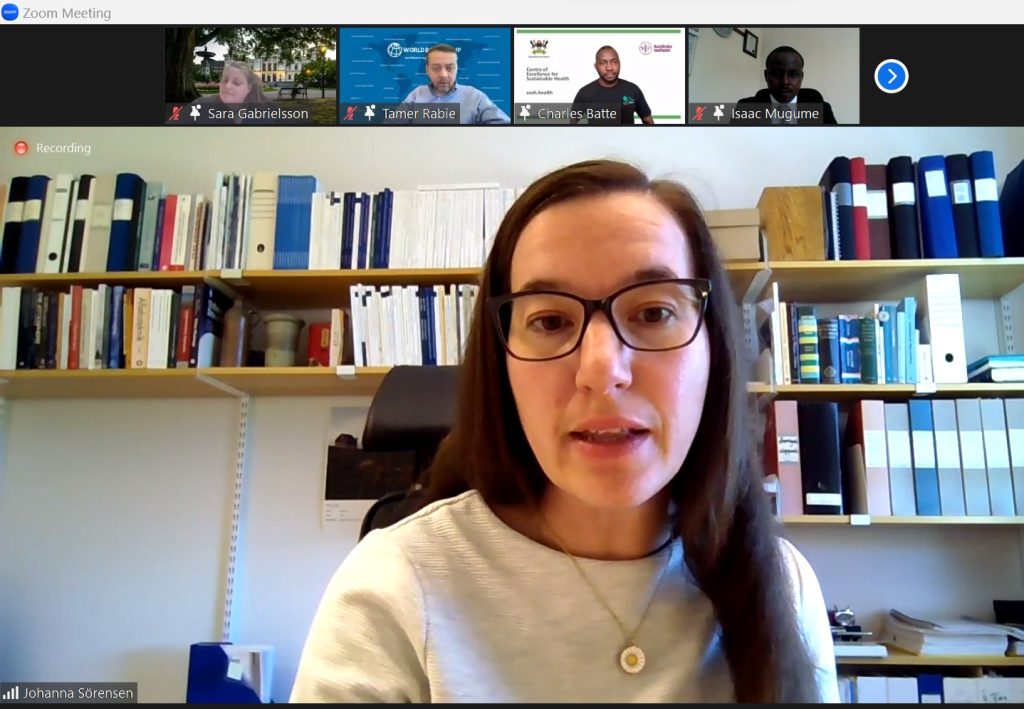 In Uganda, Dr. Mugume notes that the government has invested in weather monitoring infrastructure, including the three weather radars, which are strategically spread across the country to enable UNMA to monitor weather at any part of the country.
"With this technology, we can now offer more precise and timely services, ensuring our communities respond effectively. Weather and climate forecasts range from hourly to seasonal projections. Shorter forecasts tend to be more accurate, although longer ones still fall within manageable limits. For instance, our seasonal forecast accuracy in Uganda is at 90%, aligning with National Development Plan 3. We collaborate with development partners to fine-tune these forecasts."
For Dr. Gabrielsson, preparedness is key, especially for the 2.2 billion people worldwide relying on sanitation systems, many of whom live in rapidly urbanizing areas and unplanned settlements.
Unfortunately, these systems often lack proper management, leading to health risks. In urban settings, she says, the spread of sludge from these systems can have widespread health implications. To address this, there's a pressing need to prioritize climate-resilient sanitation systems. Historically, the sanitation sector has been under-prioritized, resulting in insufficient funding and political attention. Without a one-size-fits-all solution due to diverse living habits, cultural considerations become paramount. A gender-responsive approach is crucial, as women are primarily responsible for WASH (Water, Sanitation, and Hygiene) practices.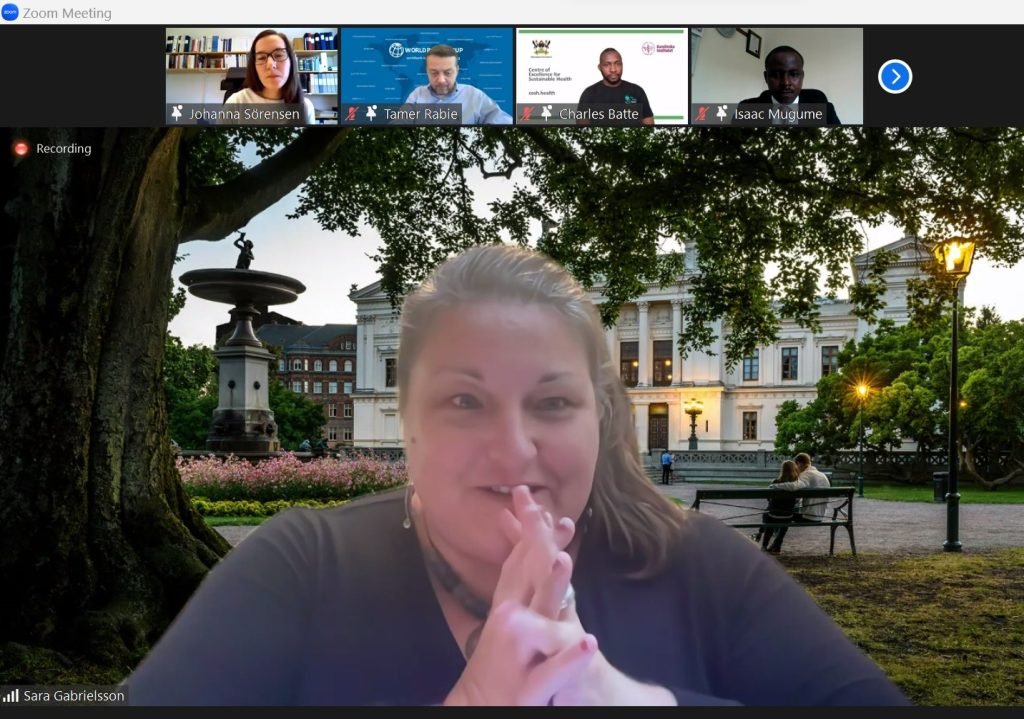 "It involves recognizing the unique needs of different groups, such as refugees, the elderly, disabled individuals, children, and menstruating individuals. Climate-resilient wash infrastructure requires community responsibility, government policy, and financial support. For instance, in flood-prone areas like the Amazon Basin, sanitation facilities are designed to align with local livelihoods, incorporating features like composting latrines that produce manure for farming and collecting rainwater for handwashing. This approach ensures environmental safety and sustainable practices," she observes.
Dr. Gabrielsson emphasizes the importance of cultural acceptance in encouraging people's dedication to upholding basic sanitation and hygiene practices, particularly in the face of flooding. "Another example I presented is a UNICEF-supported toilet in Bangladesh. It's elevated with precast concrete rings to prevent flooding, sealed with concrete mortar for contamination prevention, and reinforced to withstand heavy rain and wind. This design was developed in close consultation with local communities, ensuring cultural acceptance and affordability. The goal is to create facilities that people actually want to use, which is why it's crucial to integrate natural and social sciences for effective solutions."
The World Bank has substantially supported action on climate change, including both adaptation and mitigation initiatives. Dr. Tamer says over $2.2 billion has been set aside as of today for climate-related health interventions, especially in South Asia and sub-Saharan Africa. Significant assistance has also been given to assist tiny island states in managing the effects of climate change, particularly extreme events.
In Yemen, the World Bank has sponsored efforts to put in place electronic early warning systems for real-time health data and policy response due to outbreaks of diseases including cholera and malaria. In Madagascar, the World Bank has funded work combining climate and nutrition programming.  The World Bank worked with the government of Ghana to create long-lasting vaccine delivery networks.
Mak's GMI Labs Authorized to Conduct DNA Paternity Testing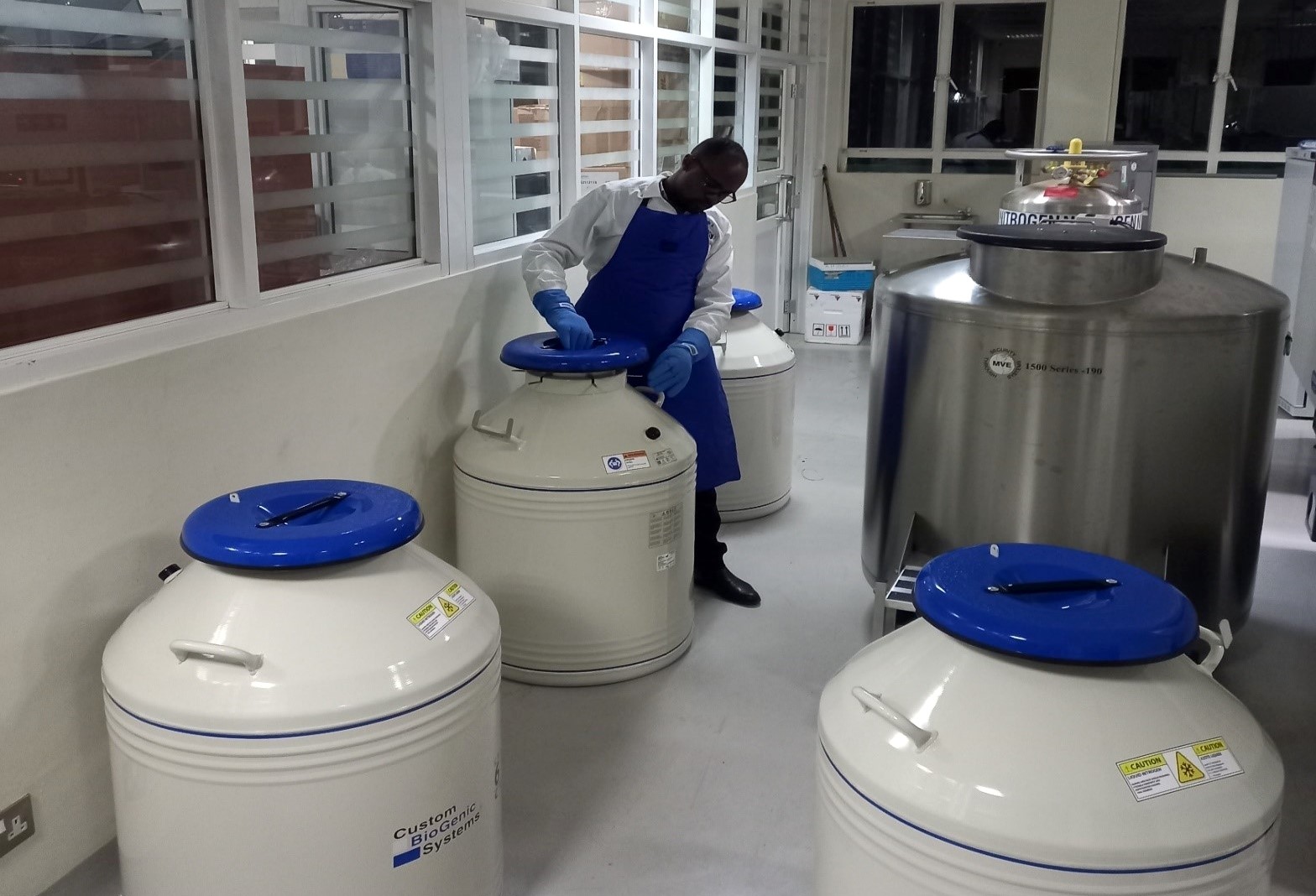 The Genomics, Molecular, and Immunology Laboratories (GMI Labs), operating under the auspices of the Makerere University Biomedical Research Center (MakBRC), have achieved another significant milestone in their journey of diagnostic excellence. The labs, renowned for their pivotal role in infectious and non-infectious disease research, have received official approval from the Director General Health Services at the Ministry of Health (MoH), Uganda, to conduct DNA Paternity Tests.
Situated at the Dept of Immunology & Molecular Biology under the School of Biomedical Sciences at the College of Health Sciences, Makerere University, the GMI Labs have been at the forefront of cutting-edge research, diagnostic testing, and training initiatives. Their remarkable contributions during the COVID-19 pandemic, where they conducted nearly a million PCR tests, underscored their unwavering commitment to public health and scientific advancement. The labs' exemplary performance and reliability were further highlighted by their successful management of two critical COVID-19 prevalence surveys. The findings of these surveys served as foundational data for crucial decisions guiding the country's lockdown strategies and phased reopening, earning commendation from the President and the Ministry of Health.
This latest authorization from the Ministry of Health marks a significant expansion of the GMI Labs' diagnostic capabilities. With the approval to conduct DNA Paternity Tests, the labs are now equipped to offer a crucial service addressing the need for accurate and reliable genetic testing for determining biological parentage. In a letter dated 22nd November 2023, the Director General Health Services emphasized the laboratory's rigorous adherence to international standards, proficiency in molecular biology techniques, and their proven track record in delivering precise and credible results. This approval further solidifies the labs' position as a trusted institution for advanced genetic diagnostics in Uganda.
Prof. Moses L Joloba, the Director of the GMI Labs, expressed immense pride in the team's dedication and expertise that led to this authorization. He highlighted the labs' commitment to upholding the highest standards of ethical practice, confidentiality, and accuracy in DNA paternity testing, ensuring the delivery of dependable results crucial for legal, personal, and familial purposes.
The inclusion of DNA Paternity Testing within the GMI Labs' list of services aligns with their overarching goal of advancing healthcare through state-of-the-art diagnostics, research, and education. This milestone represents not only a significant achievement for the labs but also a valuable resource for individuals seeking reliable and comprehensive genetic testing services. As the GMI Labs continue their unwavering commitment to excellence in healthcare and research, this new capability reaffirms their pivotal role in advancing the frontiers of molecular diagnostics and genetic testing in Uganda, working closely with reputable institutions such as Makerere University Hospital and other top-notch health facilities.
MNCH e-Post Issue 121: Learning from Nsambya Hospital Human Milk Bank to inform national scale-up & save preterm babies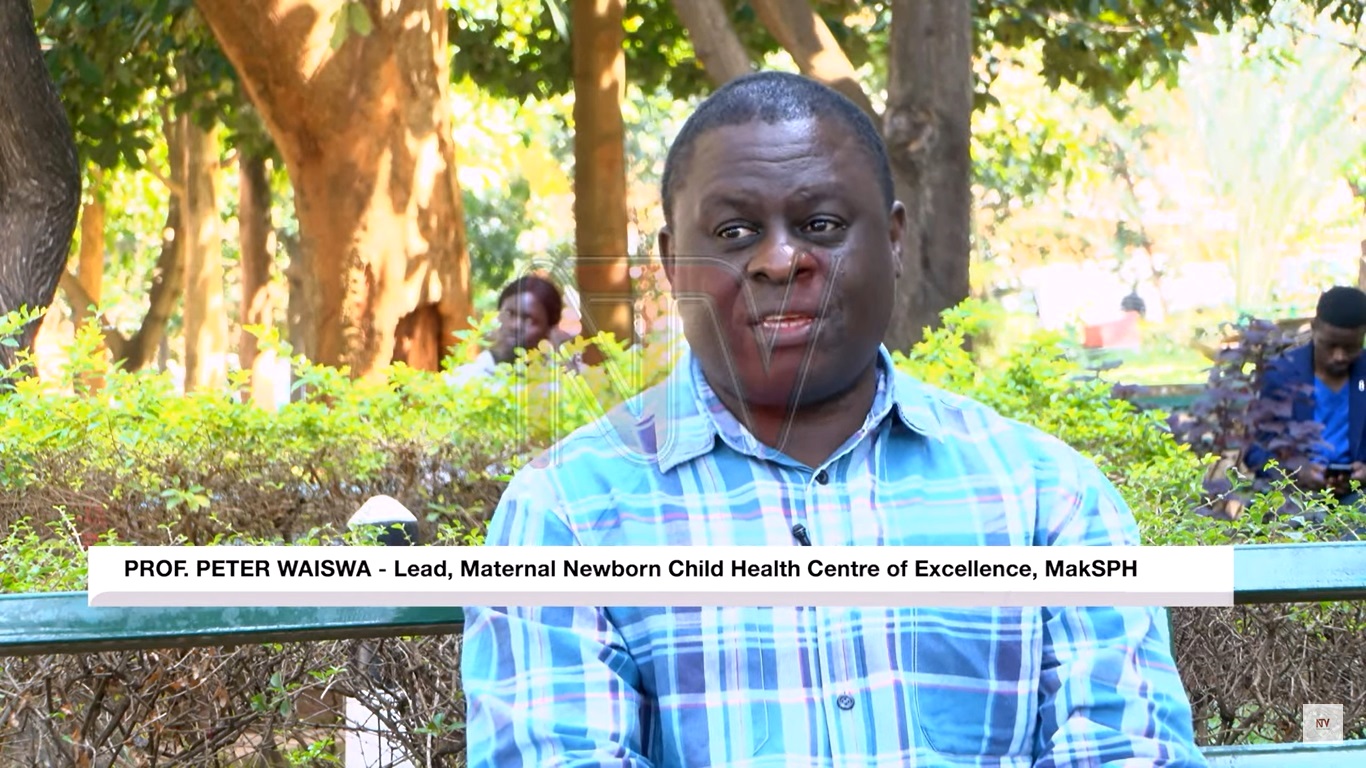 Welcome to this exclusive interview with Prof. Peter Waiswa, lead expert from the Makerere University Centre of Excellence for Maternal, Newborn, and Child Health. Dr. Victoria Nakibuuka from St. Francis Nsambya Hospital, and Dr. Jesca Nsungwa from Ministry of Health Uganda. In this video, they discuss a groundbreaking innovation in Uganda's healthcare landscape: the country's first-ever human milk bank at St. Francis Hospital Nsambya. This initiative represents a significant stride towards improving the survival rates of premature and vulnerable infants by ensuring access to essential breast milk, even when mothers are unable to produce enough. Watch Video
Click here to View the full MNCH e-Post Issue 121
METS Newsletter October 2023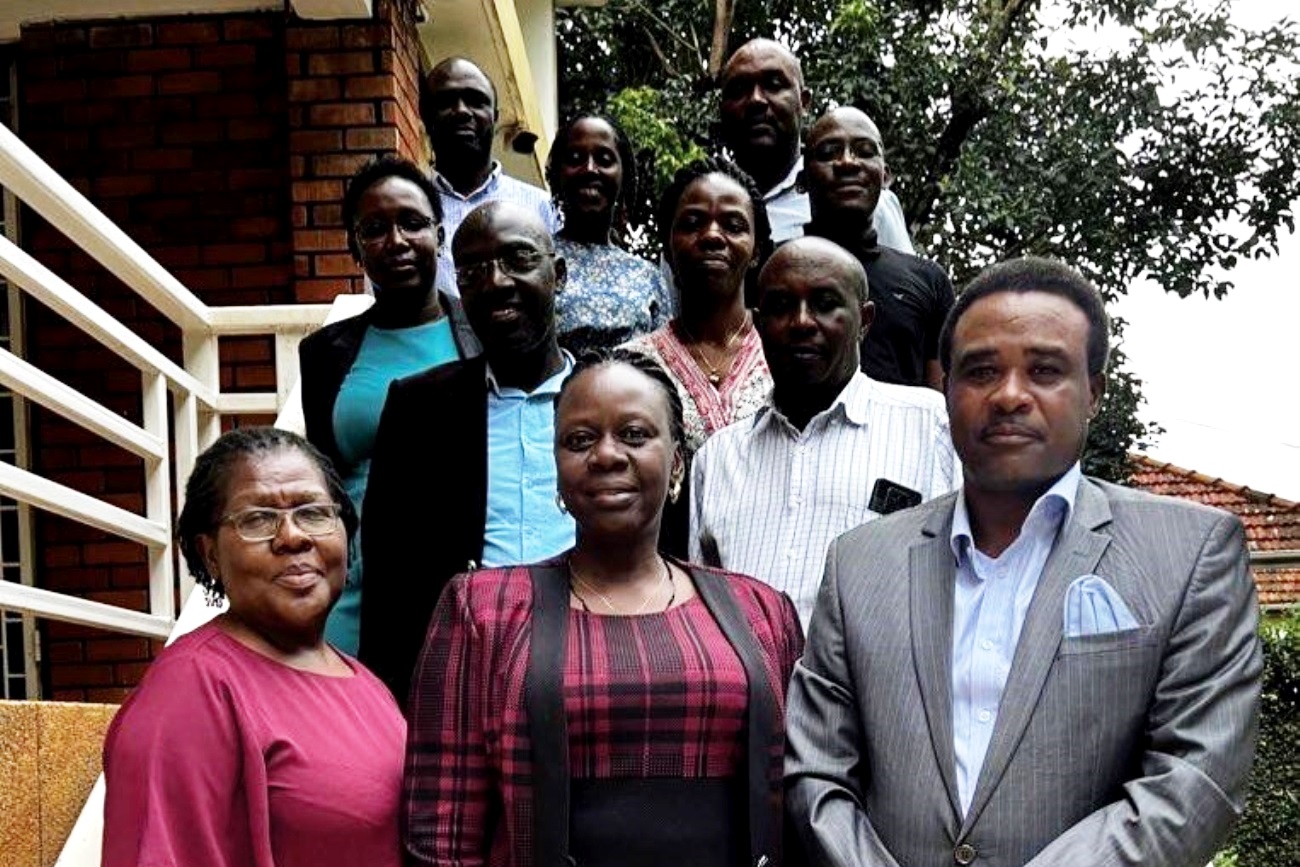 The Monitoring and Evaluation Technical Support (METS) Program is a 5-year CDC-supported collaboration of Makerere University School of Public Health (MakSPH), the University of California San Francisco (UCSF) and Health Information Systems Program (HISP Uganda).
Highlights of the METS October 2023 Newsletter
Strategies for Enhanced Disease Surveillance and Public Health Response in Uganda

The MoH Department of Integrated Epidemiology Surveillance & Public Health Emergencies (IES&PHE) Head, Commissioner Allan Muruta (Dr) visited METS to acquaint himself with the various surveillance activities supported by the Program.
Commissioner Muruta emphasized the need to build the capacity of districts and regions to conduct surveillance activities by training the relevant staff and establishing surveillance focal points at health facility levels.
He further emphasized the importance of linking laboratory data to the District Health Information System (DHIS2) and ensuring that different systems are interoperable.

Improving quality of data for HIV testing services (HTS) through regular assessments

MoH has been conducting Data Quality Assessments and Improvement (DQAI) activities to inform program planning, monitoring, and performance management. HIV testing services (HTS) inter was conducted in 16 regions, 81 districts, and 111 health facilities in partnership with 26 Implementing partners.
The HTS DQA has improved data management, infrastructure, and understanding of indicators. Specific staff assignment at each HTS entry point has proven effective, and use of the UgandaEMR system for reporting has yielded positive results.

Shaping Uganda's Healthcare Data Landscape

METS has maintained a strong collaboration with the Ministry of Health (MoH) providing invaluable technical support in developing various strategic guidelines for the country. These guidelines include the Uganda Health Information Exchange and Interoperability (HIE) Guidelines, the Uganda Health Data Protection and Confidentiality (HDPC) Guidelines, and the Uganda Health Data Sharing, Access, and Use Guidelines.

HIE and HDPC guidelines have received the endorsement of the Health Information, Innovation and Research (HIIRE) Technical Working Group (TWG), awaiting presentation to the senior management team at the MoH for final approval.

Empowering Health Professionals: PrEP Training in Hoima District

MakSPH-METS has taken a proactive stance in supporting Monitoring and Evaluation (M&E) for key populations through the development, management, and conducting trainings on the use of the PrEP tracker system across various agencies.
METS conducted a 5-day training on the KP/PrEP Tracker system in Hoima district. Moving forward, facility staff will be able to enter data on PrEP services into the system in a timely manner, analyze the data, and use it for program improvement.

Gallery

HIV testing services (HTS) Data Quality Assessments and Improvement DQAIs
Interagency cervical cancer on-site mentorships
Orientation in KP tracker-Soroti
TDY from CDC headquarters visit to METS
M&E orientation meetings for new Implementing Partners
Planning meeting for Cross Border Data Sharing-Busia