UNESCO Documentary Heritage Seminar Calls for Preservation of Africa's Oral Knowledge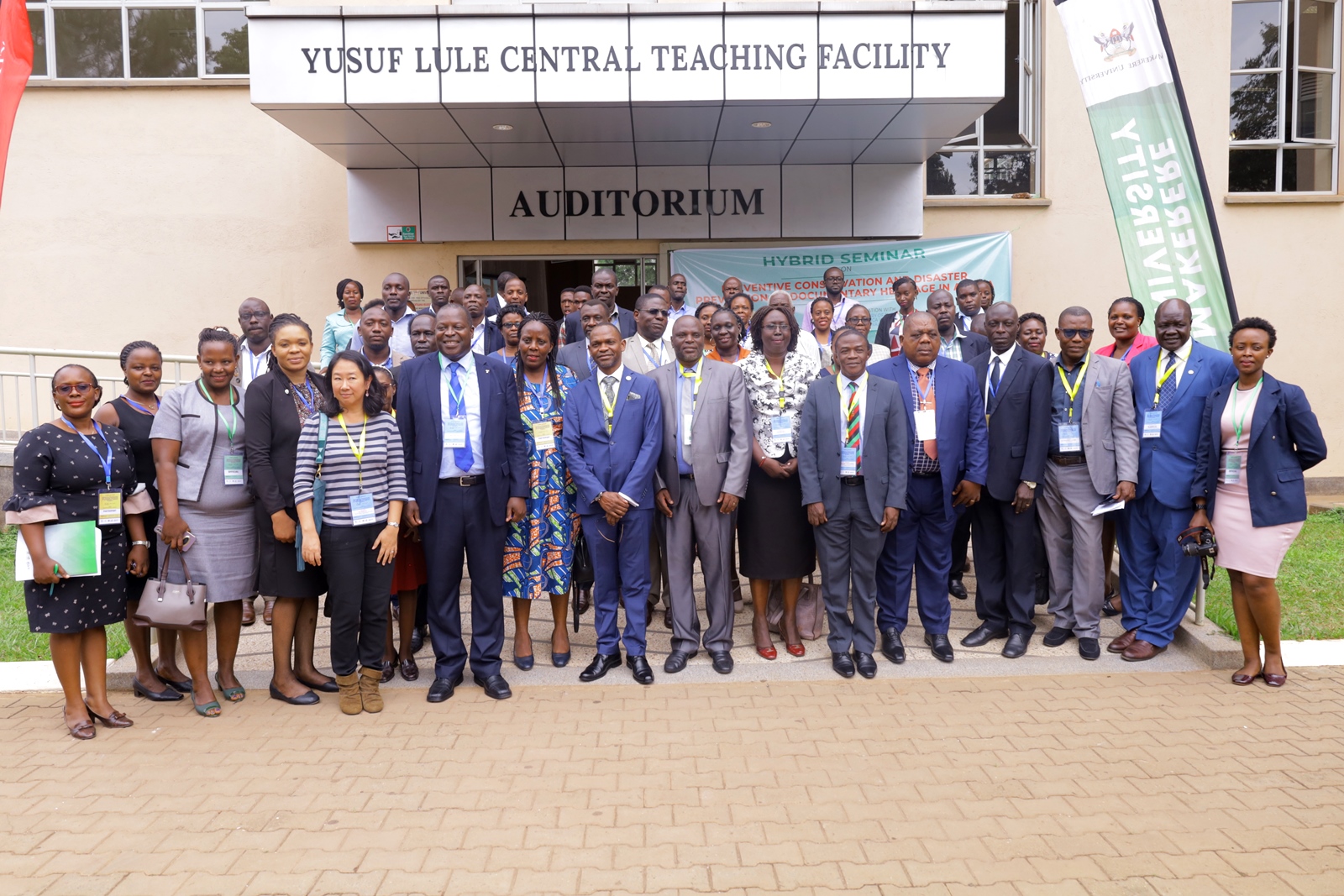 Makerere University in collaboration with the Sub-Committee on Education and Research Working Group Africa (SCEaR-WGA) of UNESCO Memory of the World and Uganda National Commission for UNESCO (UNATCOM) organized hybrid a seminar on "Preventive Conservation and Disaster Reduction of Documentary Heritage in Africa". Held from 4th to 5th July 2023 in the Yusuf Lule Auditorium, the objective of the Seminar was to provide an input to the guide on Preventive Conservation and Disaster Prevention of Documentary Heritage in Africa being developed by SCEaR-WGA.
Officially opening the seminar, the Deputy Vice Chancellor (Academic Affairs), Prof. Umar Kakumba appreciated SCEaR-WGA and UNATCOM for their invaluable support in organising and hosting the seminar. He therefore congratulated the Convener Prof. Elisam Magara, the Department of Records and Archives Management, the East African School of Library and Information Sciences (EASLIS) and the College of Computing and Information Sciences (CoCIS) on championing the initiative at Makerere University.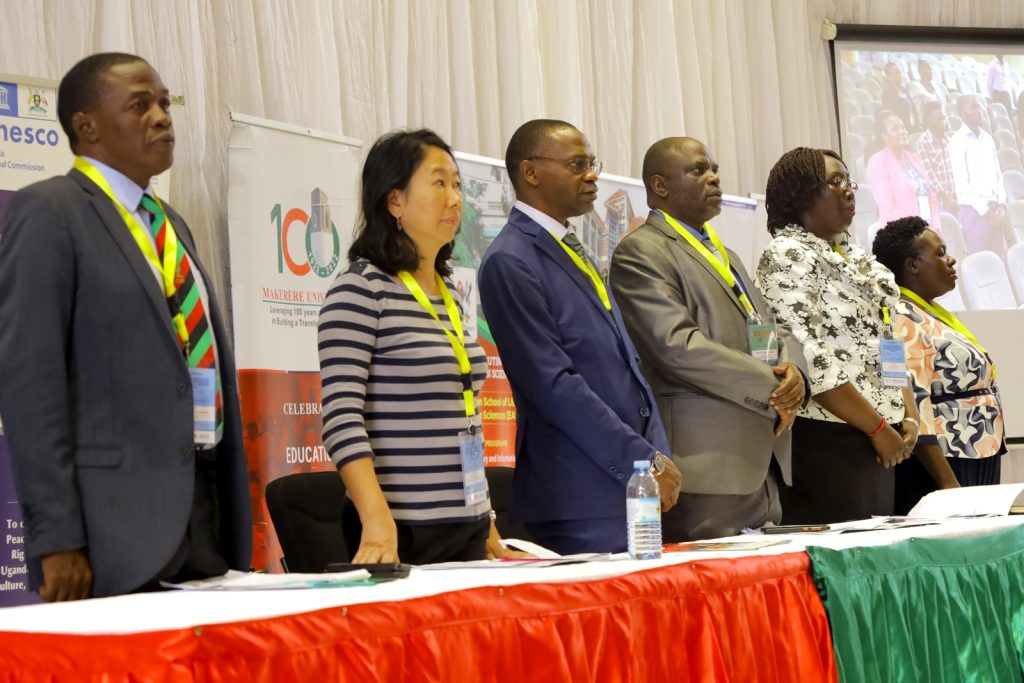 "The strength of any nation is measured largely by the strength, character and proficiency of its people. Beneath the people is the knowledge – the human side of enterprise. Knowledge does not emerge from space, it must be generated, managed and preserved" noted Prof. Kakumba. This, he added, is particularly important in today's knowledge economy for the sake of providing solid points of reference for future generations.
"Makerere University is happy to associate with UNESCO's Memory of the World Programme and many partners that seek to foster this document and knowledge preservation" he added.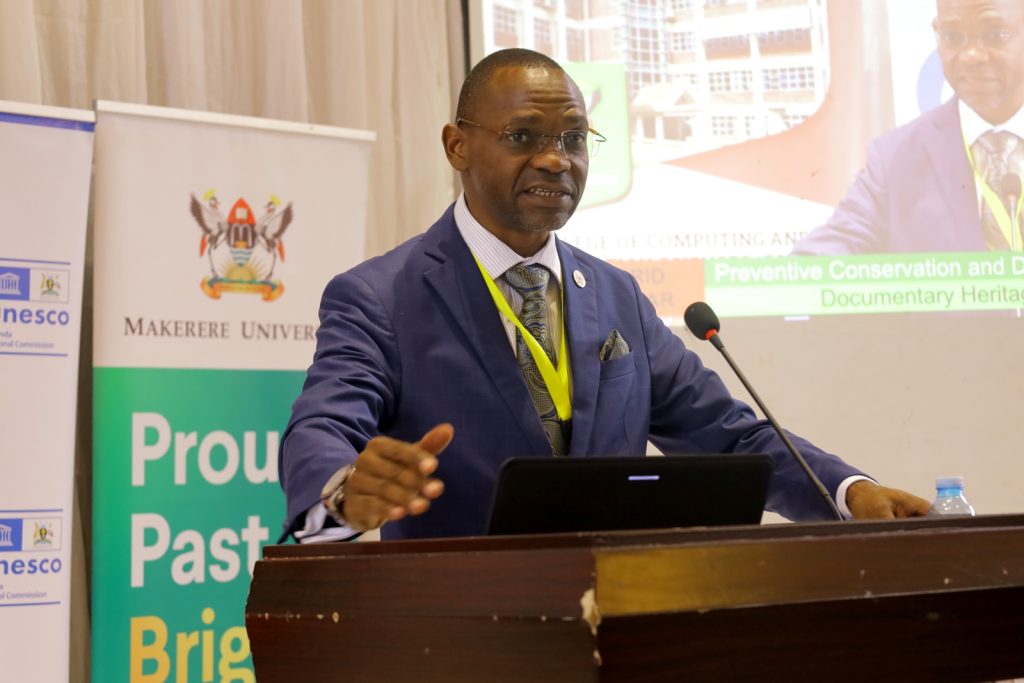 In line with documentation and preservation efforts, Prof. Kakumba shared that the University Leadership is in the final stages of setting up the Muteesa II Memorial Museum and upon completion the reconstructed Main Administration Building would allocate space for a Museum.
Addressing participants, Ms. Misako Ito, the Regional Adviser for Communication and Information in Africa, UNESCO thanked Makerere University and Prof. Elisam Magara in particular for organising the event. She noted that Japan as a country that is prone to natural disasters has in response come up with very well-developed disaster prevention strategies.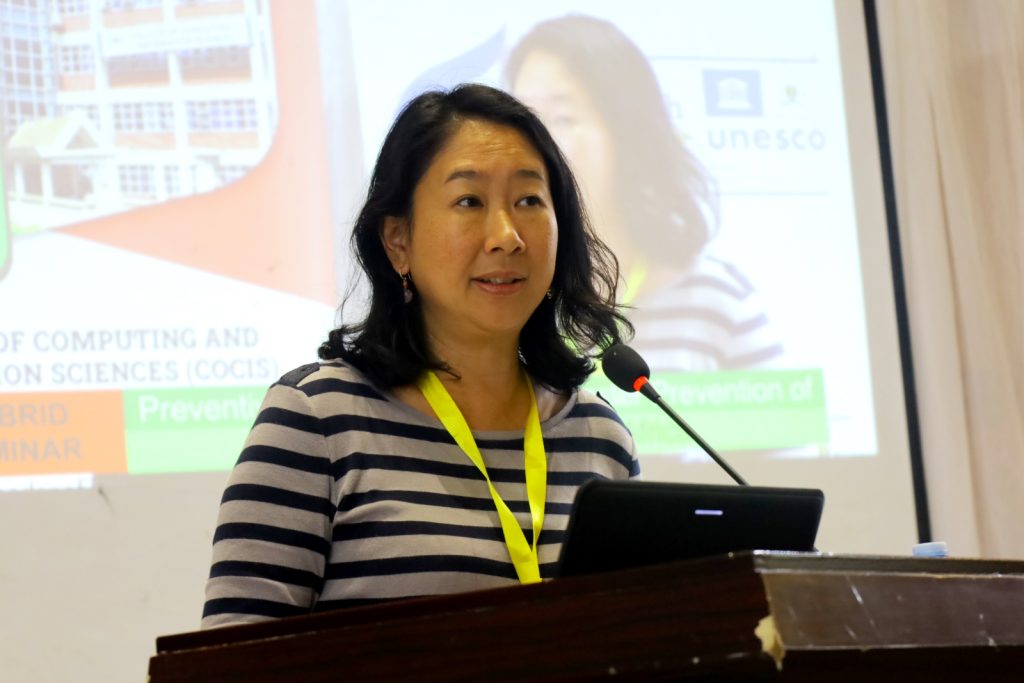 "For last four years, Japan has funded this project to promote Preventive Conservation and Disaster Prevention of Documentary Heritage in Africa" she added relatedly.
Ms. Misako informed participants that UNESCO had on 1st July 2023 launched a new call for nominations for the Memory of the World International Register and encouraged the Uganda National Memory of the World Committee to submit entries. She noted that because only 5% of documentary heritage entries come from Africa despite its rich history, UNESCO has held workshops in Madagascar and Kenya to raise awareness of the initiative.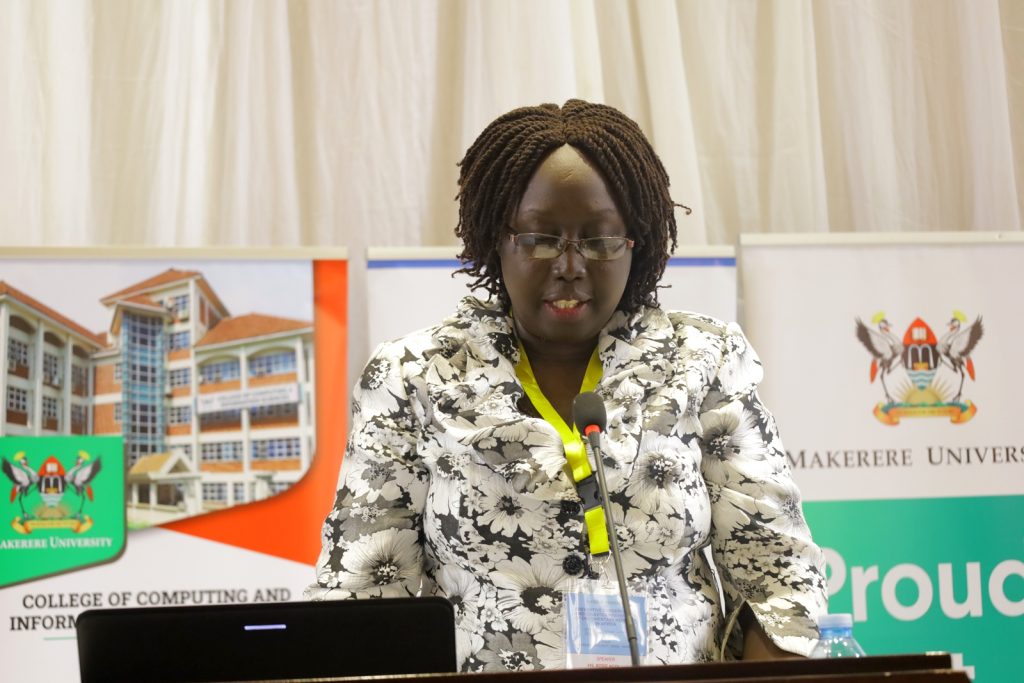 Ms. Misako said the latest call has added an important gender component to prominently reflect women in archives and historical narratives. She equally encouraged participants from other African countries to consider preserving the documentary heritage of revolutionary movements, which have had significant impact on the continent's political leadership.
As Convener, Prof. Elisam Magara introduced members of the SCEaR-WGA namely: the Group Coordinator, Prof. Papa Momar Diop, Associate Professor at the University Gaston Berger, Senegal; Ms. Esther Olembe, Director of the National Archives of Cameroon; Dr. Lydia Waithira Muthuma, Senior Lecturer, Technical University of Kenya; Mr. Apolinaitre Tokanji Gbaguidi, Professor of Digitization at the Calavi University of Abomey, Benin; and Mr. Seyni Moumini, specialist in sub-Saharan Africa and Islam manuscripts at the Abdou Moumouni University, Niger. He equally introduced Ms. Hasiniaina Rajaonarivelo from the Malagasy National Commission for UNESCO who held a session on how to successfully register an entry in the Memory of the World.
During the hybrid seminar, participants listened to a keynote address delivered virtually by Mr. Lothar Jordan, Chair of the UNESCO Memory of the World Programme Sub-Committee on Education and Research (SCEaR). Prof. Papa Momar Diop, who also doubles as President of African Regional Committee of Memory of the World (ARCMoW) and Dr. Lydia Waithira Muthuma also gave highlights of the Guide on Preventive Preservation Strategies.
Notable from the work done to date was the need to document Africa's rich traditions, culture and norms that are largely passed on from generation to generation orally. "Many of us come from communities where the spoken word is the form of documenting knowledge and encapsulating heritage" explained Dr. Muthuma.
One of the recommendations of the guide under development is that ARCMoW's stakeholders should come together and create a specific place for oral heritage, which is Africa's living heritage. Citing examples such as traditional marriage ceremonies and decisions on where one ought to be buried in case of dispute e.g. the Kenyan Case of S. M. Otieno where customary law took precedence over common law, Dr. Muthuma said, "We have to be the ones to create a section or instrument in the Memory of the World where oral traditions are taken care of."
So far, the guide contains chapters on; 1) Specific aspects of the region 2) Analysis and management of risks 3) How to involve the community 4) How to handle natural disasters 5) How to teach preventive conservation of documentary heritage and 6) Standards and handbooks on disaster prevention (ISO, ICA, IFLA, CCAAA, IASA etc.).
Prof. Magara equally shared the ten loss factors he is contributing to documenting in the guide namely; 1) Physical forces 2) Theft and vandalism 3) Fire 4) Water 5) Biological dangers (insects, etc.) 6) Chemical dangers 7) Light 8) Temperature 9) Humidity and 10) Loss of information due to obsolete equipment.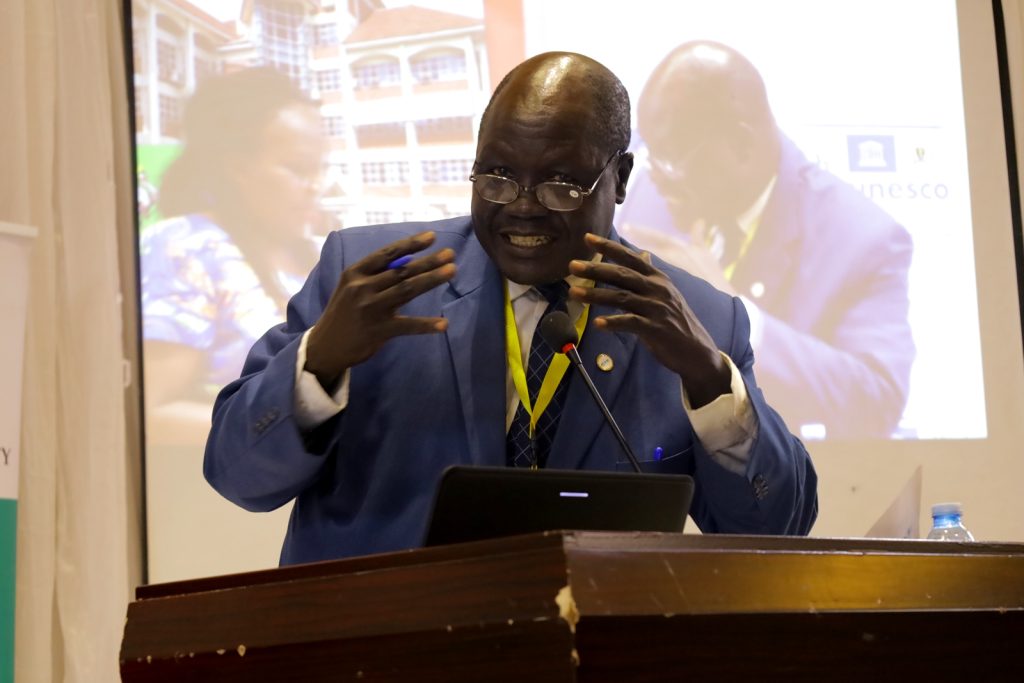 The seminar also featured a session on reflections chaired by Dr. Dominic Lali Mundrugo-Ogo, Assistant Secretary General, UNATCOM. Contributors to the session included Assoc. Prof. Ruth Nalumaga, the University Librarian, Makerere University and Mr. Adonia Katungisa, Director, National Library of Uganda (NLU). Additional contributions were from representatives of the; Uganda Library and Information Association (ULIA), Constorium of Uganda University Libraries (CUUL), Cross-Cultural Foundation Uganda, National Records Centre and Archives, Ministry of Public Service, Library and Information Services, Parliament of Uganda, Uganda Broadcasting Corporation and Academia, among others.
Dr. Mundrugo-Ogo thanked panelists and participants for contributing to the discussions, noting that a lot of ground had been covered in line with the seminar theme. "We need to document our African cultural values, rituals and practices. It is a challenge for all of us to work in that direction."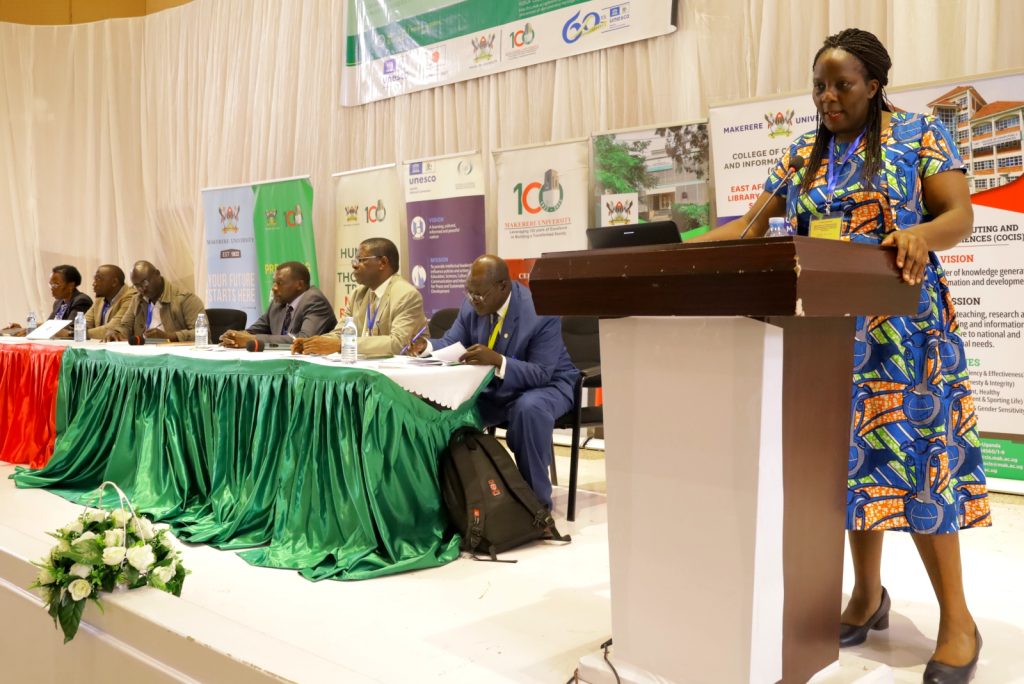 He challenged representatives of institutions present to each nominate of what entries ought to be included in the national register for consideration by National Committee of the Memory of the World. "Today's meeting will be fruitful if henceforth, we start receiving proposals coming forward to form the basis for the national committee to act."
Delivering the closing remarks on Day One, the Principal CoCIS, Prof. Tonny Oyana on behalf of the Vice Chancellor and Makerere University thanked UNESCO represented by Ms. Misako, SCEaR-WGA, UNATCOM and all participants for contributions to the efforts to preserve Africa's Documentary Heritage. He reassured the stakeholders that despite the risk posed lack of documentation to the preservation of oral African knowledge, technology through various platforms offers a lifeline to not only embark on but also accelerate these efforts.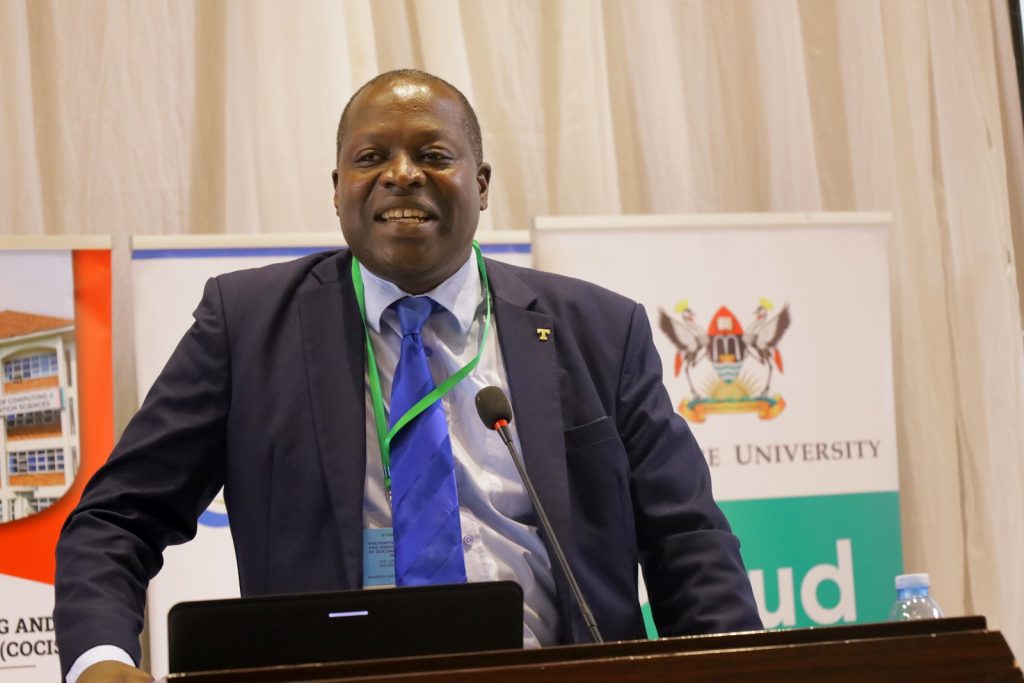 "I want to reassure all of you that we have new resources that we need to look to such as YouTube. We need to rewrite these literary elements or adopt oral documentation and we have the technology to help us document this knowledge" he said.
Prof. Oyana shared that the Makerere University Strategic Plan aspires to make the institution more research-led, with a research agenda that lays emphasis on community engagement, and commended the organisers on a job well done in this regard. "Your work Prof. Magara is well aligned to our research agenda and creating visibility for the University."
Day One of the Seminar was moderated by the Principal Public Relations Officer, Ms. Ritah Namisango. Additional recommendations from Day One included the need to boost the Bachelor of Cultural Heritage Studies developed by the Cross-Cultural Foundation of Uganda, with support from UNESCO's ICH Fund to cater for Masters and PhD level studies. The programme is currently offered at Uganda Martyrs' University, Kabale University, Kyambogo University, and the Islamic University in Uganda.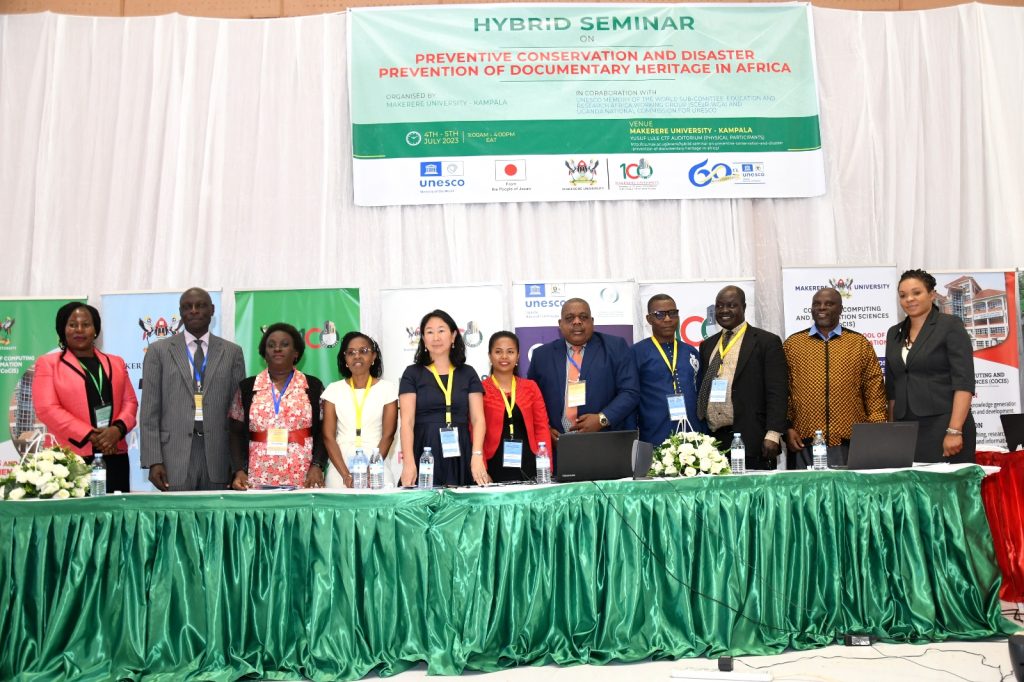 Day Two of the Seminar was dedicated to the ARCMoW Business Meeting and MoW workshop.
Ambassador of Sweden to Uganda calls for full involvement of men and boys in achieving Gender Equality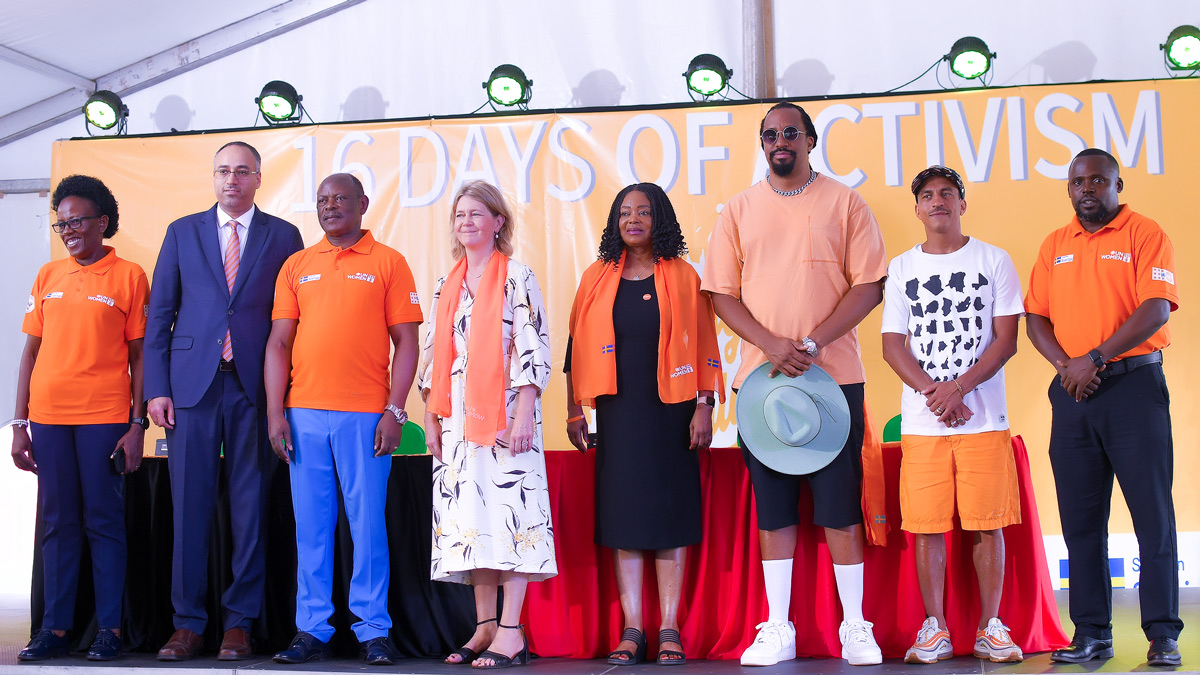 The Ambassador of Sweden to Uganda Her Excellence Maria Håkansson has emphasized the need to fully engage men and boys in all the initiatives geared towards achieving Gender Equality in Uganda and other parts of the world. She said this on 28th November 2023 at a press conference organized by the Embassy of Sweden in close collaboration with Makerere University Gender Mainstreaming Directorate, UN Women and United Nations Population Fund (UNFPA) to unveil the National Orange Pledge campaign and officially launch the 16 Days of Activism against Gender-Based Violence.
The press conference was headlined by a Ugandan rapper and record producer Daniel Lubwama Kigozi, popularly known by his stage name Navio and his fellow from Sweden Jason Michael Bosak Diakité popularly known as Timbuktu. Over 200 students both male and female from Makerere University and other institutions of higher learning attended the press conference at Makerere University Rugby Grounds.
According to Her Excellence Maria Håkansson, Gender Equality cannot be achieved without involving men and boys to take their responsibilities and be the drivers of change. "For real change to happen, we need to change attitudes and norms that might cause Gender Based Violence, one of the social ills in Uganda and an extreme of gender inequality that occurs at all levels of society," she said.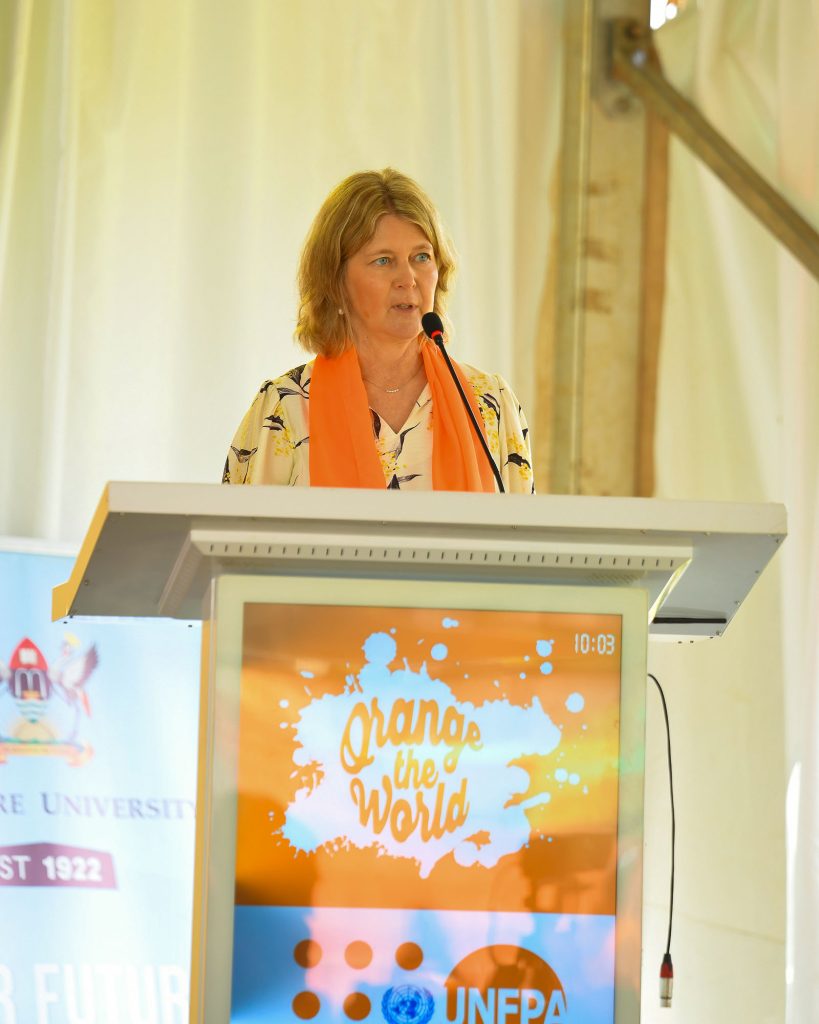 Referring to the national survey conducted in 2020, the Ambassador was concerned about the escalating burden of gender based violence in Uganda when she said, "the Survey highlighted that 95% of women and girls experience physical or sexual violence since the age of 15."
She therefore emphasized the Global 16 Days of Activism as key international movement to increase awareness and advocate for an end to Gender Based Violence. The Ambassador also mentioned that preventing and responding to Gender Based Violence is a cornerstone for Sweden's commitment to promote democracy, human rights and gender equality and this is done as an investment in a society that upholds the principles of equality, dignity and justice.
She acknowledged the full participation of university students in all campaigns and activities geared towards achieving gender equality as well as ending Gender Based Violence when she said, "You are the leaders of tomorrow and you have an opportunity to build a future where everyone can thrive. So please use today to take an active stand against Gender Based Violence."
Every year Uganda joins the rest of the world to enhance the global campaigns on 16 Days of Activism against Gender-Based Violence and also add a voice to the call for an end to violence against women and girls.   These campaigns run from 25th November (the International Day for the Elimination of Violence against Women) until 10th December of the Human Rights Day.
The United Nations Secretary-General's UNiTE by 2030 initiative calls for global action to increase awareness, galvanize advocacy efforts and share knowledge and innovations to help end all types of violence against women and girls.  This year 2023, the UNiTE campaign theme is; Invest to Prevent Violence against Women & Girls.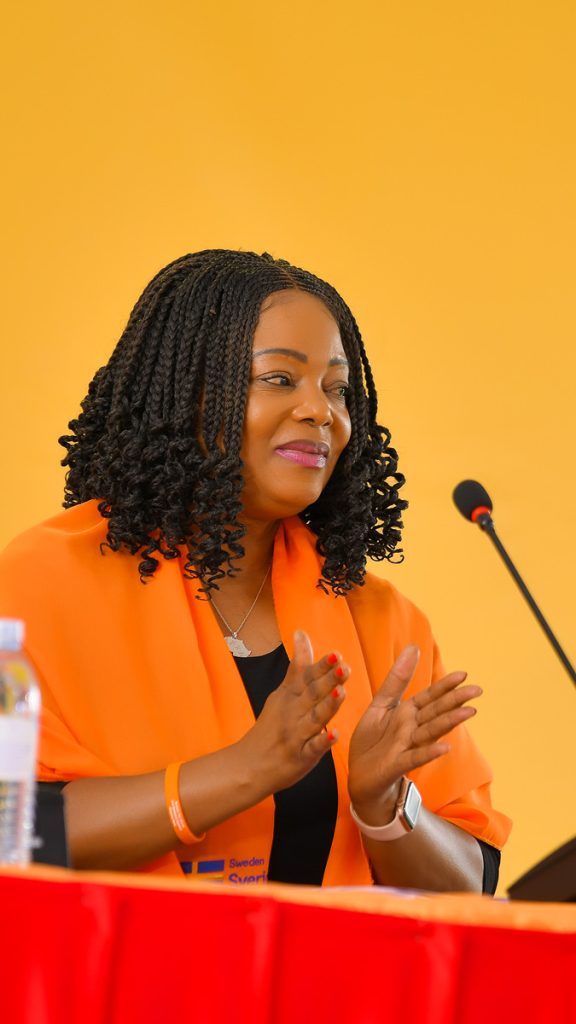 Over the years, Makerere University through its Gender Mainstreaming Directorate and School of Women and Gender in partnership with UN Women and many other partners have been at the fore front to support the campaign on 16 Days of Activism against Gender Based Violence in Uganda. This has been done through debates, theatre forums, student dialogues, thematic artistic presentations, media exposures, drama and music skits presentation, and student peer led discussions and quarterly competitions.
This year 2023, the University in partnership with the Embassy of Sweden, UN Women and United Nations Population Fund (UNFPA) unveiled the Orange Pledge. According to Eric Tumwesigye the Senior Gender Specialist at Makerere University Gender Mainstreaming Directorate, this campaign calls upon government, policymakers, activists, civil societies, academicians, students and all members of community from all parts of the country to make their heartfelt pledges towards ending Gender Based Violence in Uganda and the rest of the world.
The UN Women Country Representative Paulina Chiwangu recognized the investment Makerere University, the Embassy of Sweden and UNFPA have made to end violence against women and girls. "Thanks to our collective efforts, the silence that used to shroud violence against women has now been broken" said.
In the same spirit, she acknowledged the progress Makerere University has made in establishing and implementation of the University's Policy and Regulations against Sexual Harassment to protect students and staff from potential abuses of power and conflict of interest. She also applauded the increased support and training for students and the strengthened mechanisms for investigations that allow students and staff to anonymously report sexual misconduct.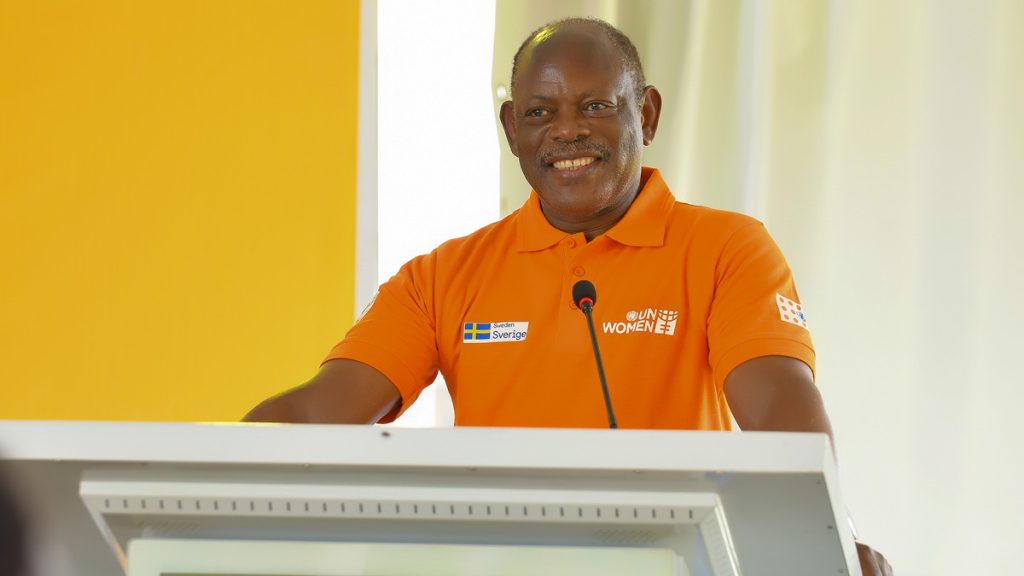 "We are however, aware that despite this, sexual harassment is still happening in the university and that not many students report to the authorities when they experience it. It is therefore, our humble appeal to the university leadership to continue monitoring the implementation of the Policy and Regulations Against Sexual Harassment, take all allegations of sexual harassment and violence seriously, ensure that all personnel have information on available support services and take action to ensure that perpetrators are held accountable."
Reaffirming the University's position in fighting GBV and particularly sexual harassment, the Vice Chancellor of Makerere University Prof. Barnabas Nawangwe was highlighted the various measures Makerere University has put in place to prevent and respond to Gender Based Violence. To him, the Policy and Regulations against Sexual Harassment; the appointment and capacity building for the Vice Chancellor's Roster of 100 eminent people from the various colleges and administrative units; recruitment and training of the Gender Mainstreaming Programme Student Peer Trainers and setting up Sexual Harassment Investigation Committees are bigger milestones to celebrate.
He appreciated the move by the Gender Mainstreaming Directorate and all the partners to embrace entertainment and artistry as a critical advocacy and awareness tool to reach several communities especially the youth.
"We firmly believe in the transformative power of music and the arts in promoting social change. Music and art does serve as a powerful medium to advocate for the world free from violence especially violence against women," said to Mr. Dainel Alemu, the UNFPA Deputy Country Representative.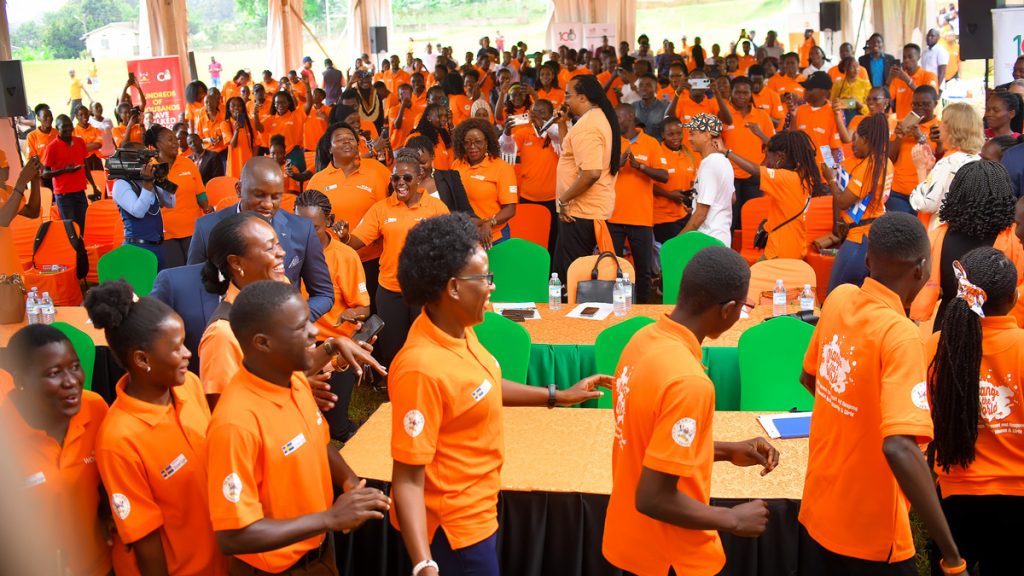 "It is heartening to see artists like Navio taking a stand and using their influence to challenge harmful norms. As we revel in the beats and melodies, let us not forget he underlying message that everyone , regardless of gender, has a role to play in fostering a world where everyone is free from shackles of gender based violence," he added.
Speaking at the Press Conference at Makerere University Rugby Grounds, Navio said that for the 20 years he has been an activist of Gender Based Violence, he has faced the reality of many young girls and women in Uganda being victims of sex and physical abuse. He therefore sent a huge condemnation to men especially artists that who are perpetrators of Gender Based Violence and called for serious government action and clear policies and laws against such injustices.
Navio applauded the women and men who have stood tall over the years to fight against Gender Based Violence in Uganda when he said, " As we launch the 16 days activism in Uganda and through these pledges we are making, let us be accountable for our actions. For long in our cultures, men have considered force and violence as power and protection. They have been tough to their children hence instilling fear to the extent that the children cannot freely interact with them on serious matters such as abuse and torture."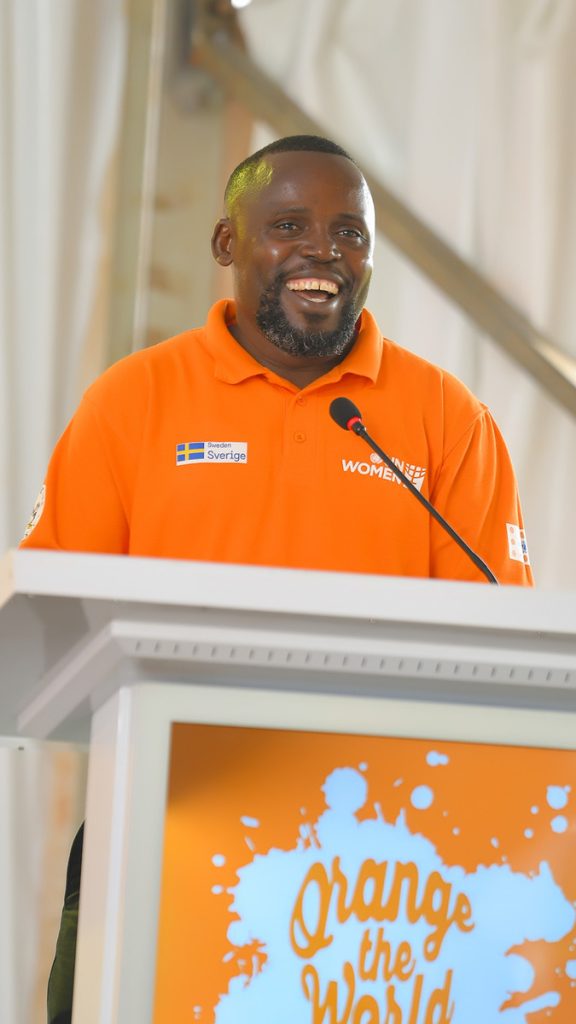 He applauded all families that have adopted the new parenting model of free conversations and interaction hence encouraging children to freely open up whenever they have challenges. Navio also acknowledged the role of his mother Mrs Maggie Kigozi as a human rights activist and a champion in fighting against Gender Based Violence in Uganda.
Jason Michael Bosak Diakité popularly known as Timbuktu from Sweden appreciated the wider platform provided by the music industry globally for artists to act as role models and champion of change. The rapper highlighted the need to respect women for their roles and support towards community development.
"I am a son and it is extremely important for me to respect my mother and all women. Also being a father to a beautiful daughter, I am always eager and looking forward to seeing the best future for her. I want daught to grow up in the world where she is able to feel safe and be allowed to freely associate without being discriminated or threatened because of her gender," he said.
Scholars & Alumni of Mastercard Foundation light up Achukudu Community, Napak District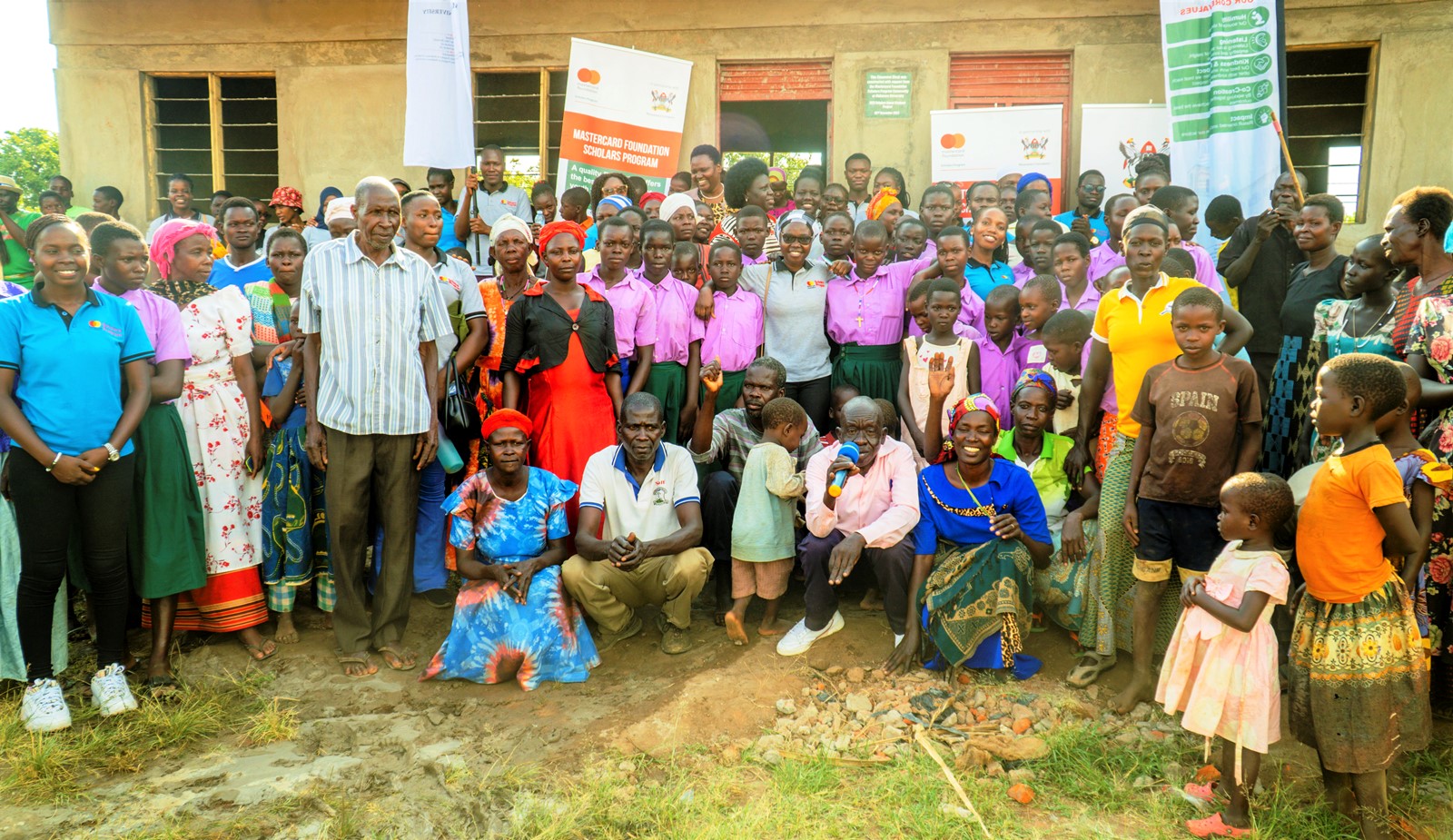 By Bernard Buteera
On Saturday 2nd December 2023, all roads led to Achukudu Community Primary School in Napak District, Karamoja sub-region, as the Scholars and Alumni of Mastercard Foundation at Makerere University commemorated their Scholars' Annual Day of Community Service (Giveback). The 2023 Scholars Annual Day of Community Service was held at Achukudu Community Primary School, Napak District in the Karamoja sub-region. Established in 2013, Achukudu Community School serves two ethnic communities—The Iteso and Karamojong.
With a total population of 1,097 pupils only three government-paid teachers, and nine community-paid teachers, the School faces a plethora of challenges. Key among the challenges is the lack of Classrooms, decent Ventilated Pit Latrines, and Desks. Therefore when the Scholars identified the School as one that deserved to be given a gift of a classroom block, it was a befitting choice!
The Scholars with support from the alumni, the Program Team, Members of the Steering Committee, and partners of the Scholars Program at Makerere University intervened by constructing a two-classroom block, which was supervised by one of the alumni who is an Engineer. Alongside the classroom block, the Scholars also provided 40 desks, helping the school meet UNEB Center eligibility criteria.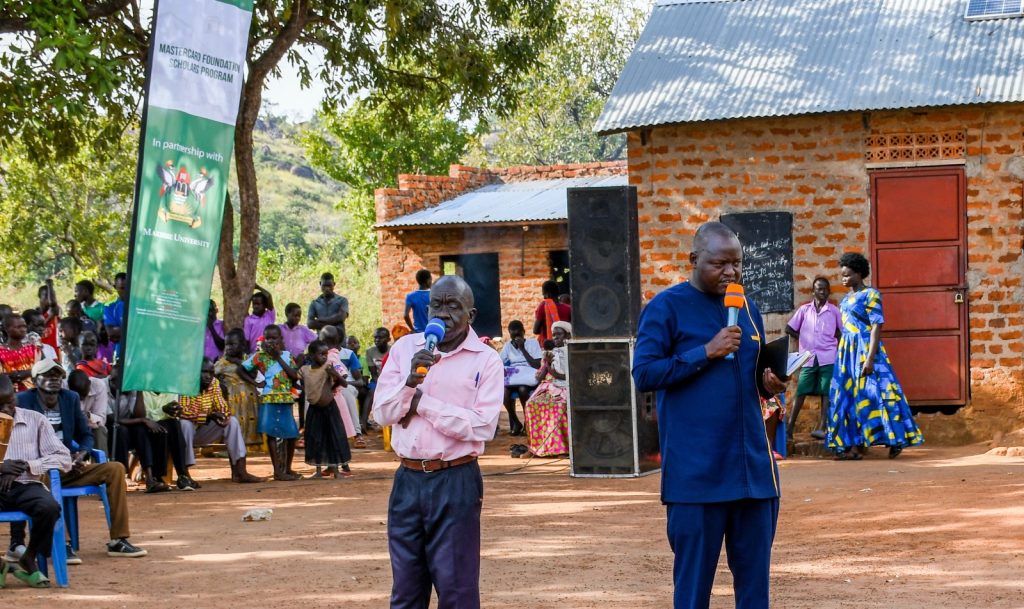 While presiding over the event, the area member of Parliament, Hon. John Bosco Ngoya, thanked the Scholars and alumni community at Makerere University for supporting the young pupils of Achukudu Primary School and the entire community by gifting them with a two-classroom block.
"Thank you Scholars and alumni of Mastercard Foundation at Makerere University for the Christmas gift of a classroom block to the young people and the entire community of Achukudu. This classroom block will go a long way in improving the learning environment of the young children of Achukudu primary school." Hon. Ngoya pointed out.
Hon. Ngoya called upon other people to emulate the Scholars and alumni of the Mastercard Foundation in embracing the spirit of giving back to the vulnerable people in the community. On his part, he donated One Million Five hundred shillings (1,500,000/=) to help the School purchase more desks, and he had earlier contributed One million shillings (1,000,000/=) towards the construction of the classroom block.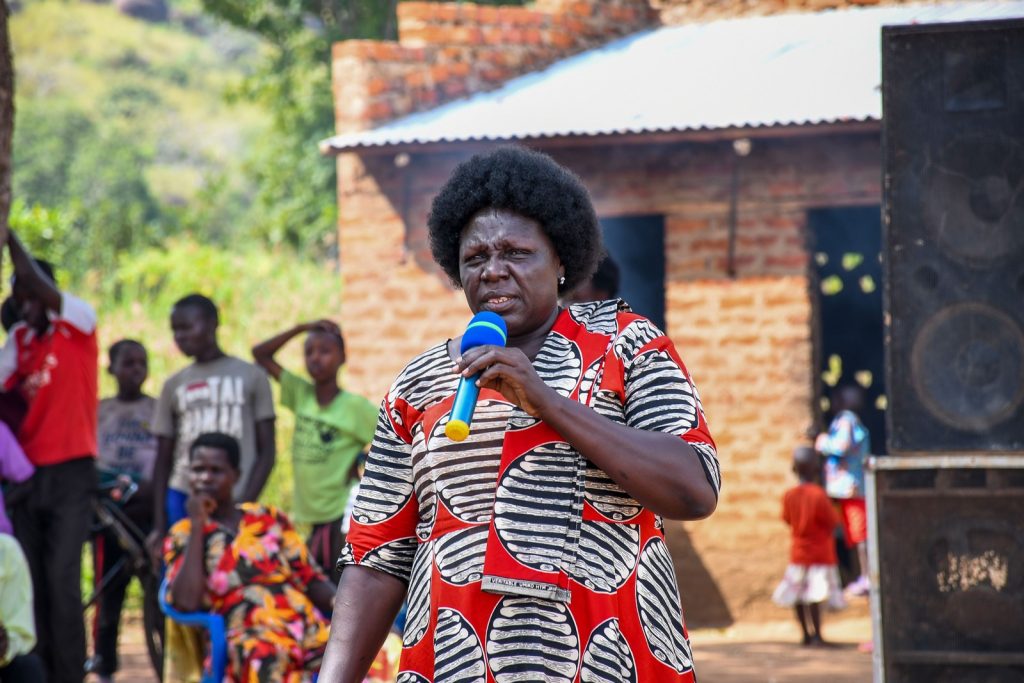 The District Education Officer (DEO) for Napak District, Ms. Joyce Nakoya, praised the Scholars Community for embracing and practicing the spirit of giving back to other people at an early age.
"Thank you Scholars and alumni of the Mastercard Foundation at Makerere for embracing the spirit of giving back to other people at such an early age. If all people gave back to the less privileged in our communities, we would have a better world for everyone." Ms. Nakoya pointed out.
Ms. Nakoya further pointed out every child deserves to study in a decent environment, therefore it was a befitting cause for the Scholars to construct a classroom block for the young pupils of Achukudu community primary school, who were studying in open grass thatched classrooms.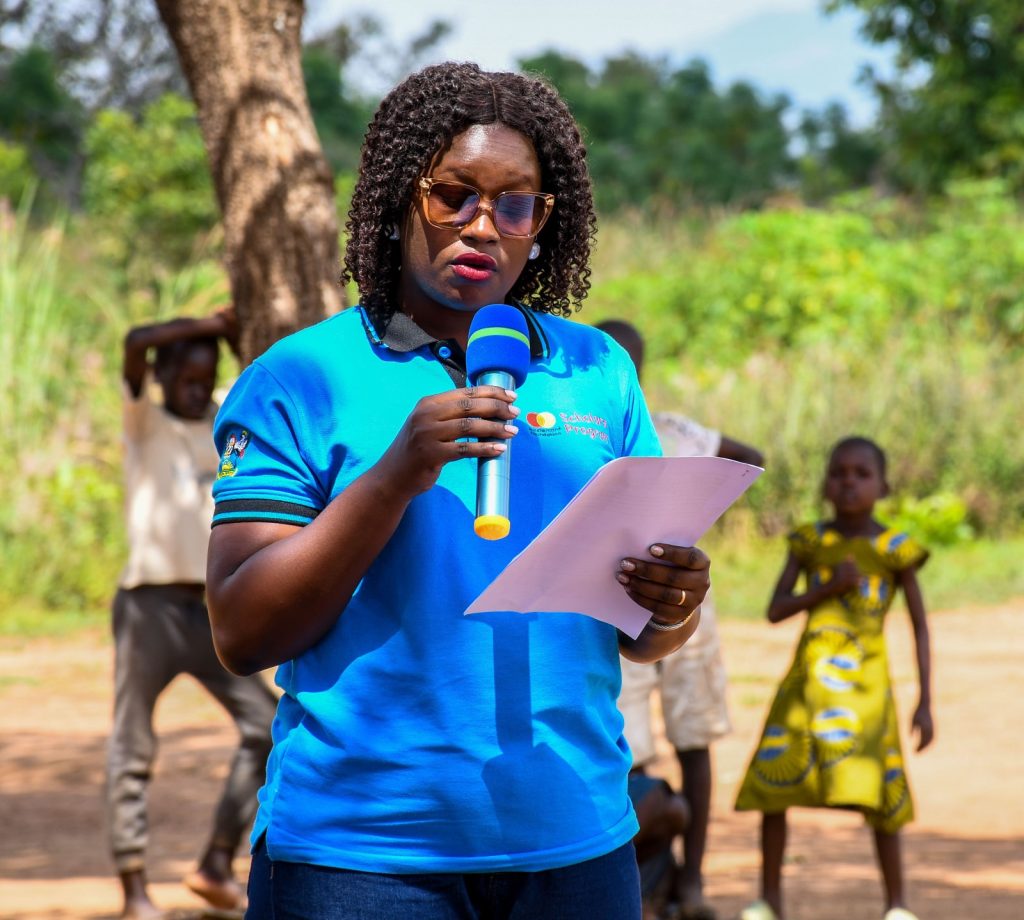 The Program Manager of the Mastercard Foundation Scholars Program at Makerere University, Ms. Jolly Okumu who led the team of Scholars, alumni, and staff to Karamoja thanked the community of Achukudu for supporting the Scholars to deliver the class block by contributing to the construction sand.
"We come here today to join with you as a community driven by a shared commitment to education, empowerment, and ethos of giving back. Today is a historic occasion as we celebrate the completion and commissioning of the classroom block, which is a remarkable testament to the transformative power of education and our unwavering spirit of community service." Ms. Jolly remarked.
The President of the Scholars Association, Mr. Godfrey Okello, thanked all the Scholars and alumni, and all stakeholders who contributed to the construction of the classroom block, which was a dream that became a reality.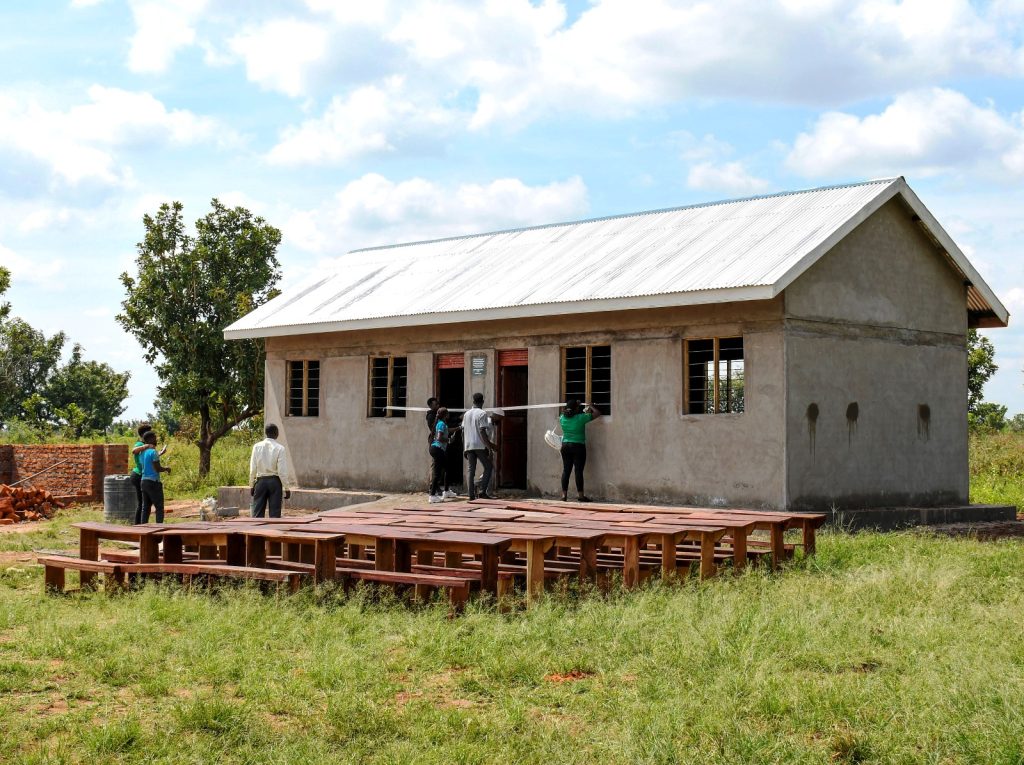 "I would like to thank my colleagues and people of goodwill who supported us to realize our dream of constructing this classroom for our young brothers and sisters of Achukudu Primary School. Together we can make a difference in the lives of our fellow young people in Uganda and Africa as a whole." Mr. Okello remarked.
The Headteacher of the School, Mr. Eryebu Raymond, who was visibly very excited was full of praises for Scholars and alumni of the Mastercard Foundation, for what he termed as an iconic classroom block they had gifted to his School.
"This day is very special to us, we will not see this day again. We are delighted to receive the Scholars and alumni of Mastercard Foundation from Makerere University, thank you for considering supporting our School" Mr. Eryebu excitedly remarked.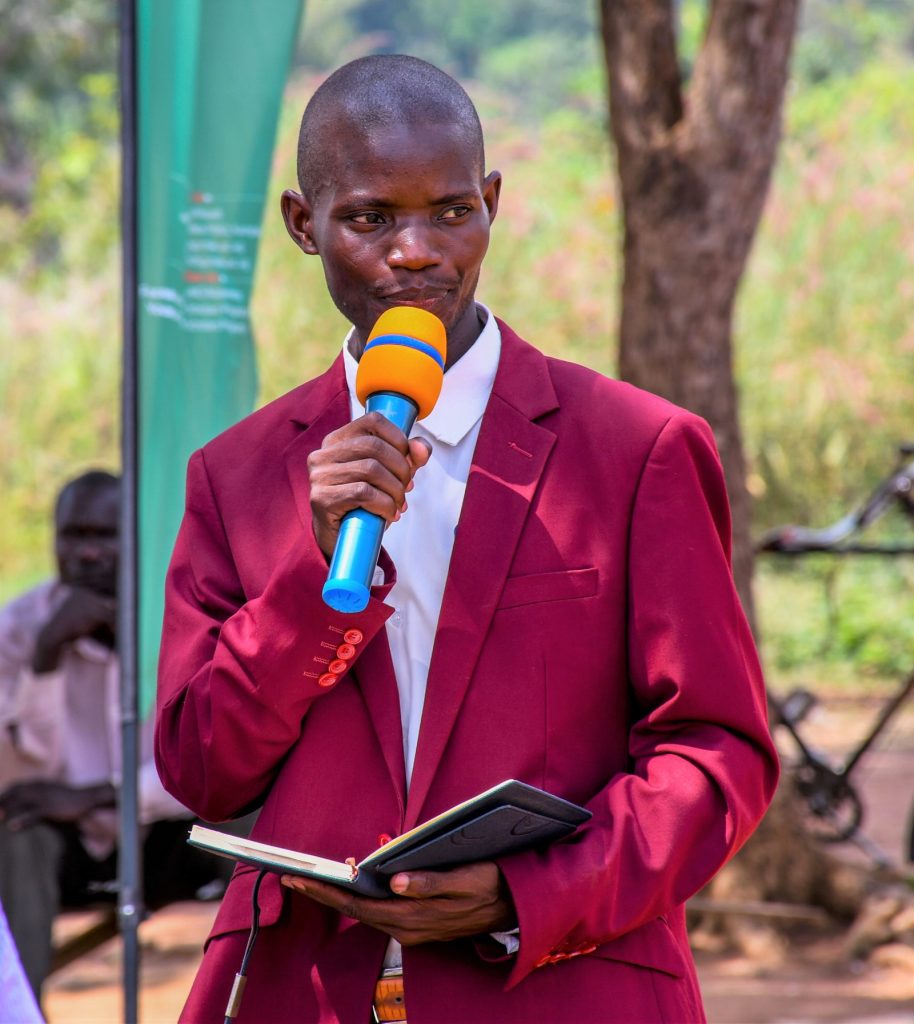 The Headteacher revealed that one of the major challenges the school was facing was an acute shortage of classrooms for his 1,097 pupils. He was therefore grateful to Mastercard Foundation Scholars for choosing to construct a two-class block for the School.
"This donation of a classroom block and Desks is a testament to your commitment to education and empowering the lives of the vulnerable people in the community. This classroom block and desks will go a long way in improving the quality of teaching and learning at our school." Mr. Eryebu further remarked.
The 2023 Scholars Annual Day of Community Service (Giveback) was punctuated with a lot of joy, pomp, and fanfare, as the pupils and the entire community of Achukudu danced and ululated at the commissioning of the classroom block. The construction of the classroom block and purchase of desks for Achukudu Community Primary School was made possible by generous contributions by the Scholars, alumni, the Program Team, and members of the Steering Committee.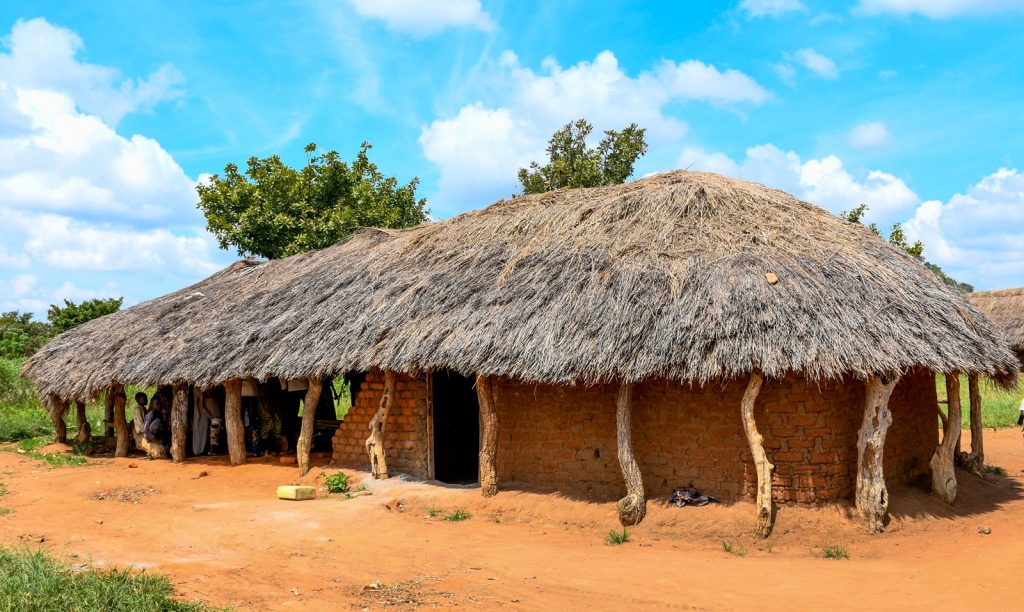 Among the Partners who made financial contributions towards the class block construction included; DFCU Bank, Post Bank, URA, Katumba Estates, Footsteps Furniture Ltd, and Sion Travels Ltd.
The Scholars and Alumni Day of Community Service (Give back) is an annual event, where Scholars and alumni of the Mastercard Foundation go out into the community to give back by providing solutions to challenges that a particular community is facing. Over the years Scholars have given back to the communities in numerous ways that range from offering professional services and erecting major projects like classroom blocks.
Bernard Buteera is the Communications and Public Relations Officer of the Mastercard Foundation Scholars Program at Makerere University.
Innovations using low cost locally available materials for point of use water treatment system unveiled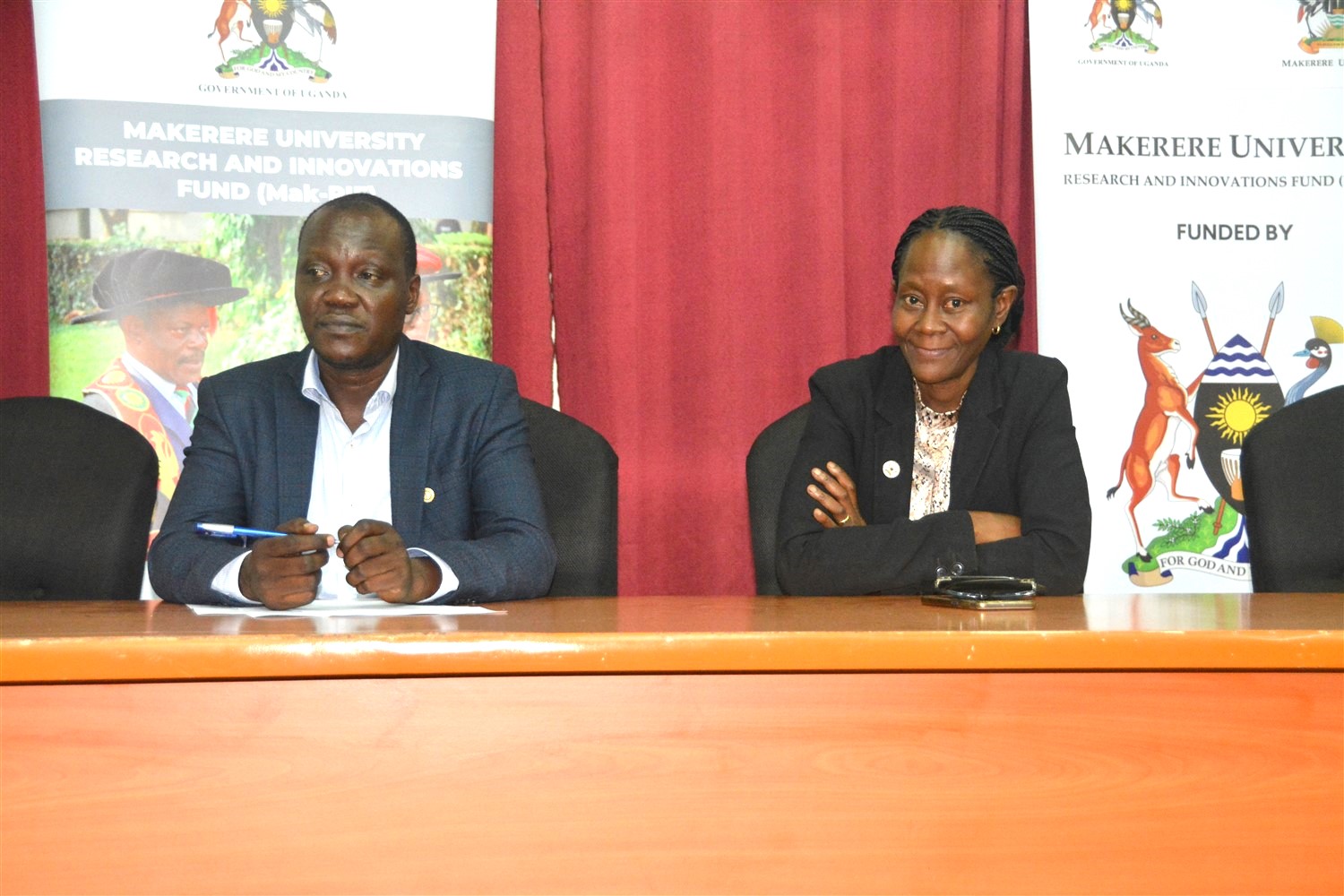 The College of Engineering, Design, Art and Technology (CEDAT) conducted a Research Dissemination of two studies aimed at the Development of Materials for point of use water treatment systems.
The investigations were conducted by a team of researchers comprised of P. W. Olupot, H. M. Kalibbala, E. Menya, G.M. Wangi, J. Jjagwe, J. Wakatuntu, M. Turyasingura, R. Walozi, C. Kanyesigye and R. N. Kulabako.
The dissemination event held on Wednesday 29th November 2023 follows the successful completion of two MakRIF supported Research projects namely; Development of rice husk based granular activated carbon for point-of-use water treatment systems and Development of zeolite-based nanocomposite filters for drinking water treatment.