HERS-EA Sixth Academy – A Call to Rise
The HERS-EA Sixth Academy officially kicked off on 3rd July 2023 at the Grand Global Hotel, Makerere Kikoni, based on the Maya Angelou-inspired theme 'And Still I Rise'. This year's theme is aimed at challenging participants to rise above and beyond institutional and personal barriers to women leadership. Launched in 2014, the Higher Education Resource Services, Eastern Africa (HERS-EA) is a non-profit organisation affiliate of HERS, established in the USA in 1972. The goal of HERS-EA is to raise the proportion of women in leadership and management positions in Higher Education Institutions (HEIs) in Eastern Africa through intensive leadership and management training and mentorship.
The Sixth Academy due to be held until Friday 7th July 2023 has attracted 42 aspiring women leaders from universities and organizations across East Africa, with Gulu University sending a ten-strong contingent of participants. The hybrid nature of the academy will allow both participants and facilitators to join the training virtually.
Delivering the welcome remarks, the Vice Chancellor, Prof. Barnabas Nawangwe congratulated HERS-EA's Founder and Board Chair, Prof. Margaret Khaitsa as well as the Co-founder and Executive Director, Ms. Naomi Lumutenga on their persistence that has seen organization empower tens of women since its founding in 2014.
"Recently while appointing Deans (of Schools) it was pleasant to note that five (5) out of seven (7) of them were women… we intend to continue like that because we now have a revised policy on Gender Mainstreaming, and we are really thinking about even putting quotas in the policies" remarked Prof. Nawangwe. The quotas, explained the Vice Chancellor, will offer clear guidance on what is deemed as fairness when it comes to percentage of women appointed as leaders.
In the same breath, Prof. Nawangwe congratulated Prof. Khaitsa on being nominated for the 2023 Excellence in Community Partner Engagement Award by the Engagement Scholarship Consortium for her work with HERS-EA. The Award will be presented in October this year. "All the research we do will only be meaningful when we bring in the community because we should be doing research in order to improve the conditions of our people."
Prof. Nawangwe equally thanked Prof. Maggie Kigozi, also a long-term supporter of HERS-EA, for accepting to deliver the keynote address. He observed that the work that HERS-EA is doing in mentoring women leaders is extremely important and encouraged the organisation to conduct a tracer study of its alumnae.
The keynote address by Prof. Maggie Kigozi was a heart-to-heart from a medical doctor turned businesswoman, who had been through many highs and lows including two flights into exile. She awed her audience when she shared that she was only two days shy of celebrating her 73rd birthday (on 5th July), despite her youthful appearance and agility.
Describing an eventful career peppered with many turning points, Prof. Kigozi couldn't help but appreciate the pivotal role that her parents' reassuring love and her medical degree played in her life.
"'You are wanted, you are enough. I don't need any other daughter'" she said, quoting her parents' reassuring words. "When your parents tell you this, you grow up with that confidence, you take that into any room and don't let people overlook you," added Prof. Kigozi. As an only girl and a middle child with two elder and two younger brothers, this reassurance, she said, was all she needed to avoid feeling overshadowed by her equally outstanding siblings.
"I truly believe that education is the foundation for everything" she continued, before saying of her alma matter, "There is no way I would be standing here talking to you if Makerere had not taken me in, if I did not have my medical degree".
"And for seventeen years I was a doctor. In those years of political turbulence here, I was able to take my famous Makerere University Medical School degree, wave it in Zambia and come out with a job the next day… three years later I went to Nairobi and again I just went into the Ministry of Health with this famous degree of mine and I was employed so education is power" she emphasised.
Prof. Kigozi equally urged participants to define the big and small fights and stop fighting the latter. "I have worked with men and women and I find we do tend to worry about the small things, as women, by nature." Additionally, she urged the women to take part in sports to stay healthy and forge friendships, accept people for their various religious beliefs, volunteer their time and expertise to the various NGOs in need of board members and not limit their networks to their professions, education or economic levels.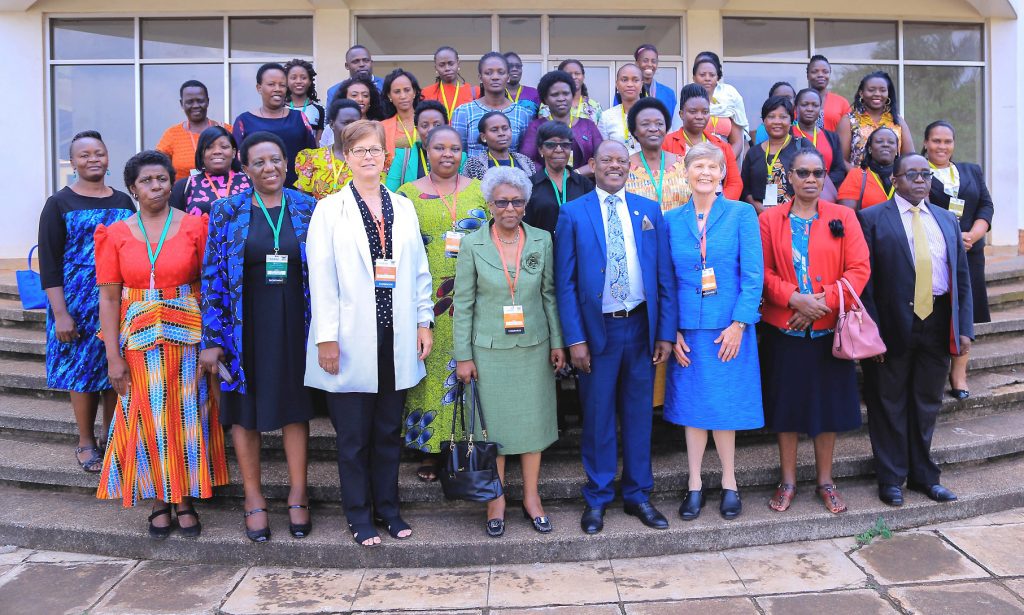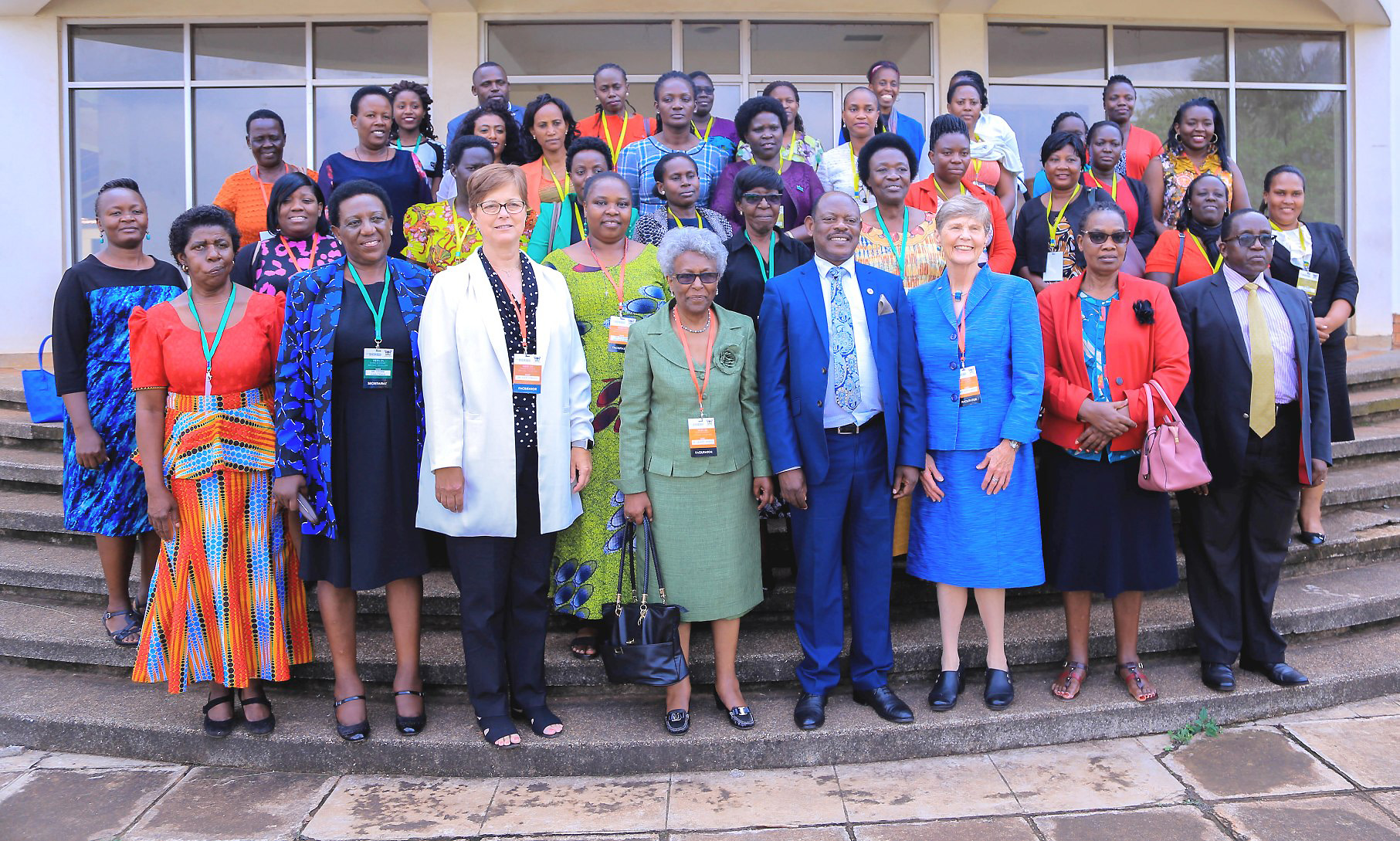 In line with the Sixth Academy theme, 'And Still I Rise', Prof. Kigozi said that whereas many would regard 72 as the age to slow down, she still rises, not for herself but to effect change for others that are not doing so well as well as many other causes. One of these causes is the Makerere University Endowment Fund (Mak-EF), where she serves as the Board Chairperson.
"When I was asked to join the Makerere University Endowment Fund last year, I didn't even take one minute to think about it. Yes I'm tired, yes I'm overworked, but I can make a difference and so I'm going to do this because if I can raise money to get scholarships and get research done and get buildings put up, I will drop other things and do it but we need your help" remarked Prof. Kigozi. She therefore urged the alumnae to sign up on the Endowment Fund Platform and give back to their alma mater.
As a mother and grandmother, Prof. Kigozi stressed the need for fellow women to prioritise their children's school activities over their own professional engagements, noting that this would greatly encourage and motivate them.
On a motivational note, Prof. Kigozi introduced Ms. Jackie Nansubuga, a Makerere alumna and co-founder of Quality Management Services, a business that has been in operation since 2002. Ms. Nansubuga urged participants to always choose great partners when starting up businesses, have a personal vision and equip themselves with a growth mindset that allows other people in the team, particularly the younger ones, to communicate freely. She equally urged them to never compromise on honesty, integrity and excellent service, always work hard, accept criticism and always persevere.
In her remarks, Ms. Naomi Lumutenga thanked the Prof. Barnabas Nawangwe for being a dependable and long-term supporter of HERS-EA as well as Prof. John David Kabasa for his ardent backing of the organisation's vision. She equally thanked Prof. Kigozi for her keynote address and generosity towards HERS-EA, as exemplified by her bringing along Ms. Nansubuga and many other inspiring professionals at previous academies.
Ms. Lumutenga shared that the training programme will be woven around the three core themes of (1) Personal Development, (2) Institutional Development and (3) Networking. She said that participants had received one template for a leadership project and another to prepare participants to pitch about collaborative interests of their respective universities to fellow participants.
Particularly addressing herself to the impact that past leadership projects have had, Ms. Lumutenga said, "The fact that we are here today running this workshop in-person is part of an outcome of last year's alumni who worked with us and sought a small grant that has managed to cover registration for most of you or subsidize it at the very least."
Furthermore, on the impact of presentations by participating teams on future institutional collaborations, she cautioned, "Don't underestimate that because previous pitches by other universities have led to faculty exchange and student exchange programmes, just because somebody did a good pitch during those ten minutes."
The HERS-EA Sixth Academy sessions will cover topics such as; Gender Mainstreaming, Navigating gender stereotypes, Grants Management, Grant Writing and Budgeting for Grants. Other sessions will cover; Mentorship, Collaborative Opportunities, Navigating the Political Environment, Developing a Career Map and Evidence-based Community Engagement. The academy will officially close on Friday 7th July with a certificate award ceremony presided over by the President and Executive Director of HERS, Dr. Gloria Thomas.
Zoom Link for the Closing Ceremony
https://us02web.zoom.us/j/89133216548?pwd=ZEVnRFhldmdOK1NEU0h2M2orRzFOQT09
Meeting ID: 891 3321 6548
Passcode: 197775
Scholars & Alumni of Mastercard Foundation light up Achukudu Community, Napak District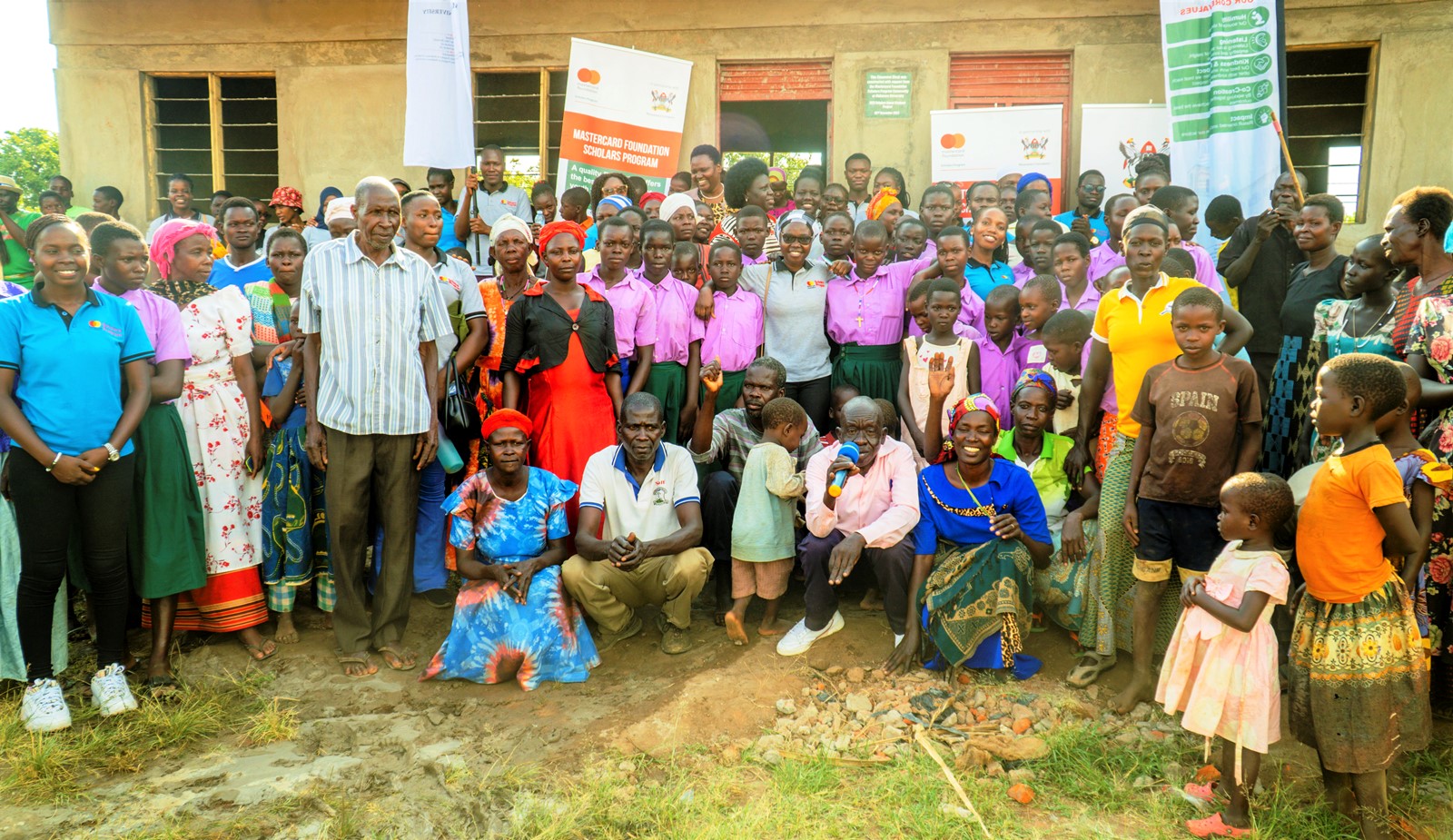 By Bernard Buteera
On Saturday 2nd December 2023, all roads led to Achukudu Community Primary School in Napak District, Karamoja sub-region, as the Scholars and Alumni of Mastercard Foundation at Makerere University commemorated their Scholars' Annual Day of Community Service (Giveback). The 2023 Scholars Annual Day of Community Service was held at Achukudu Community Primary School, Napak District in the Karamoja sub-region. Established in 2013, Achukudu Community School serves two ethnic communities—The Iteso and Karamojong.
With a total population of 1,907 pupils only three government-paid teachers, and nine community-paid teachers, the School faces a plethora of challenges. Key among the challenges is the lack of Classrooms, decent Ventilated Pit Latrines, and Desks. Therefore when the Scholars identified the School as one that deserved to be given a gift of a classroom block, it was a befitting choice!
The Scholars with support from the alumni, the Program Team, Members of the Steering Committee, and partners of the Scholars Program at Makerere University intervened by constructing a two-classroom block, which was supervised by one of the alumni who is an Engineer. Alongside the classroom block, the Scholars also provided 40 desks, helping the school meet UNEB Center eligibility criteria.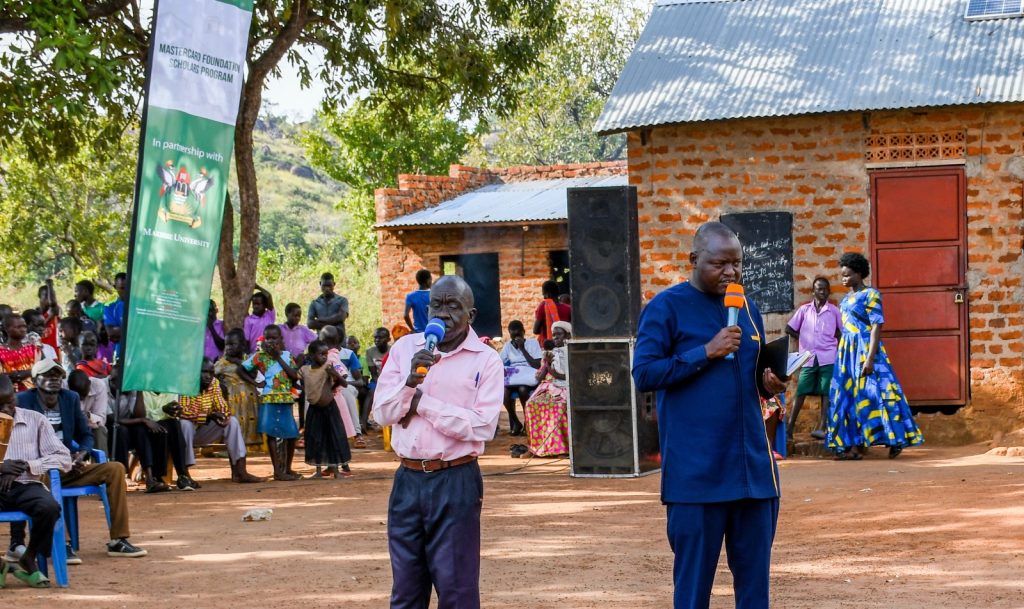 While presiding over the event, the area member of Parliament, Hon. John Bosco Ngoya, thanked the Scholars and alumni community at Makerere University for supporting the young pupils of Achukudu Primary School and the entire community by gifting them with a two-classroom block.
"Thank you Scholars and alumni of Mastercard Foundation at Makerere University for the Christmas gift of a classroom block to the young people and the entire community of Achukudu. This classroom block will go a long way in improving the learning environment of the young children of Achukudu primary school." Hon. Ngoya pointed out.
Hon. Ngoya called upon other people to emulate the Scholars and alumni of the Mastercard Foundation in embracing the spirit of giving back to the vulnerable people in the community. On his part, he donated One Million Five hundred shillings (1,500,000/=) to help the School purchase more desks, and he had earlier contributed One million shillings (1,000,000/=) towards the construction of the classroom block.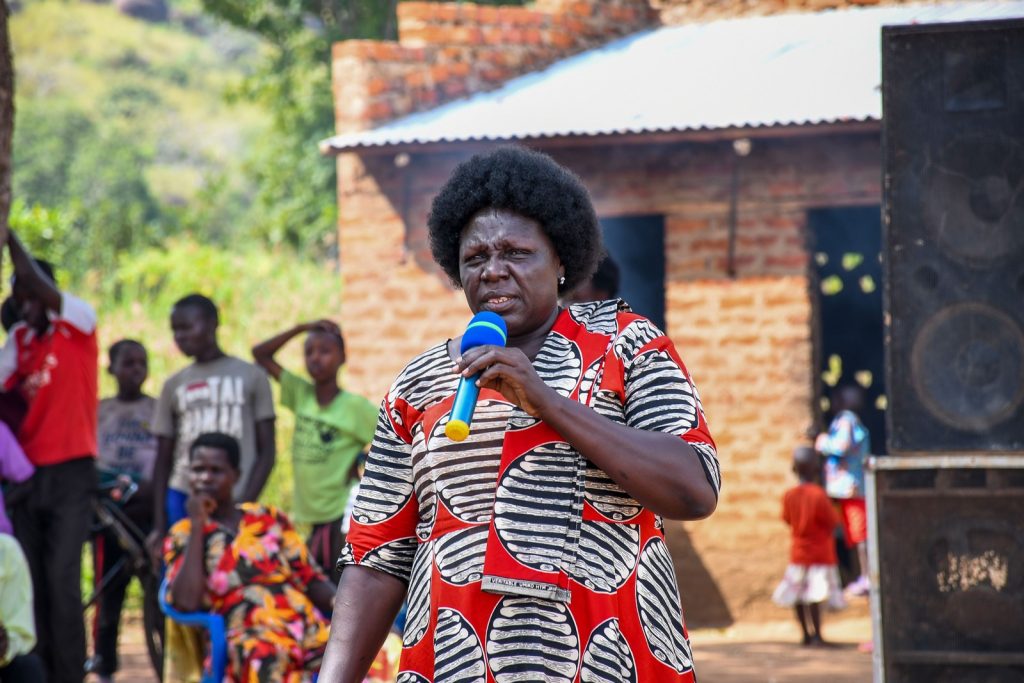 The District Education Officer (DEO) for Napak District, Ms. Joyce Nakoya, praised the Scholars Community for embracing and practicing the spirit of giving back to other people at an early age.
"Thank you Scholars and alumni of the Mastercard Foundation at Makerere for embracing the spirit of giving back to other people at such an early age. If all people gave back to the less privileged in our communities, we would have a better world for everyone." Ms. Nakoya pointed out.
Ms. Nakoya further pointed out every child deserves to study in a decent environment, therefore it was a befitting cause for the Scholars to construct a classroom block for the young pupils of Achukudu community primary school, who were studying in open grass thatched classrooms.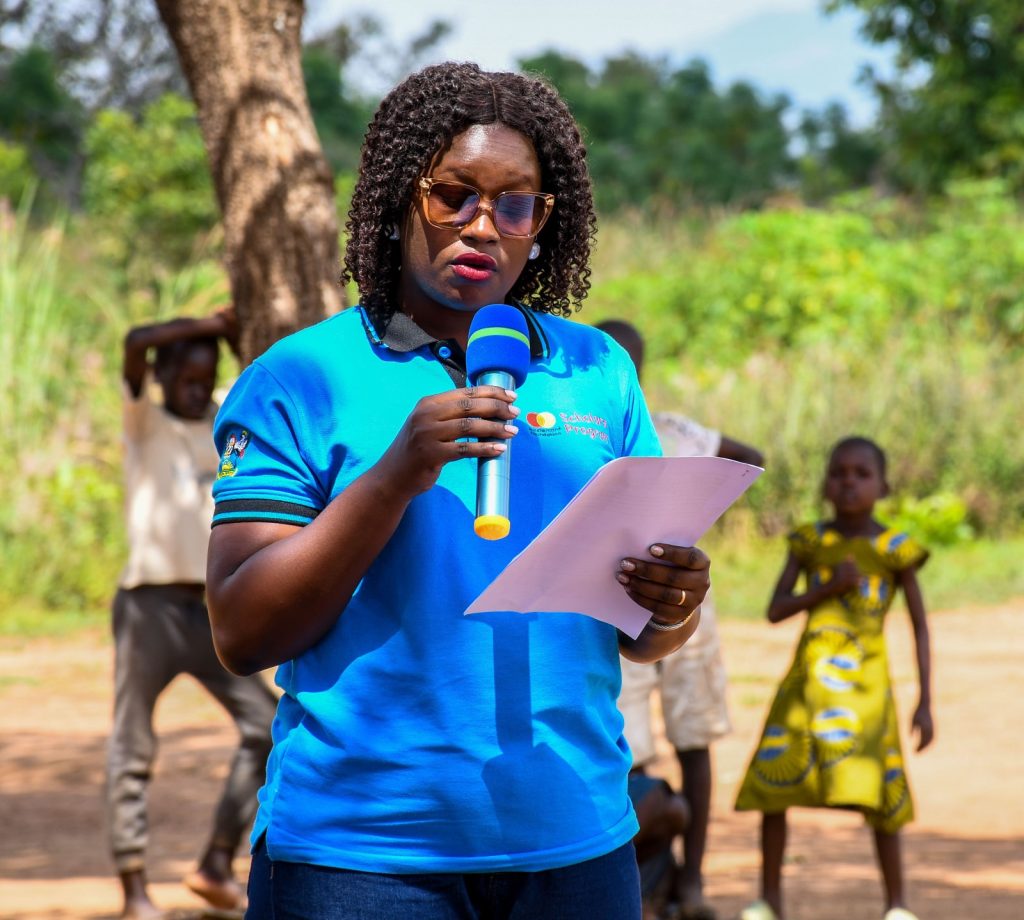 The Program Manager of, the Mastercard Foundation Scholars Program at Makerere University, Ms. Jolly Okumu who led the team of Scholars, alumni, and staff to Karamoja thanked the community of Achukudu for supporting the Scholars to deliver the class block by contributing to the construction sand. 
"We come here today to join with you as a community driven by a shared commitment to education, empowerment, and ethos of giving back. Today is a historic occasion as we celebrate the completion and commissioning of the classroom block, which is a remarkable testament to the transformative power of education and our unwavering spirit of community service." Ms. Jolly remarked.
The President of the Scholars Association, Mr. Godfrey Okello, thanked all the Scholars and alumni, and all stakeholders who contributed to the construction of the classroom block, which was a dream that became a reality.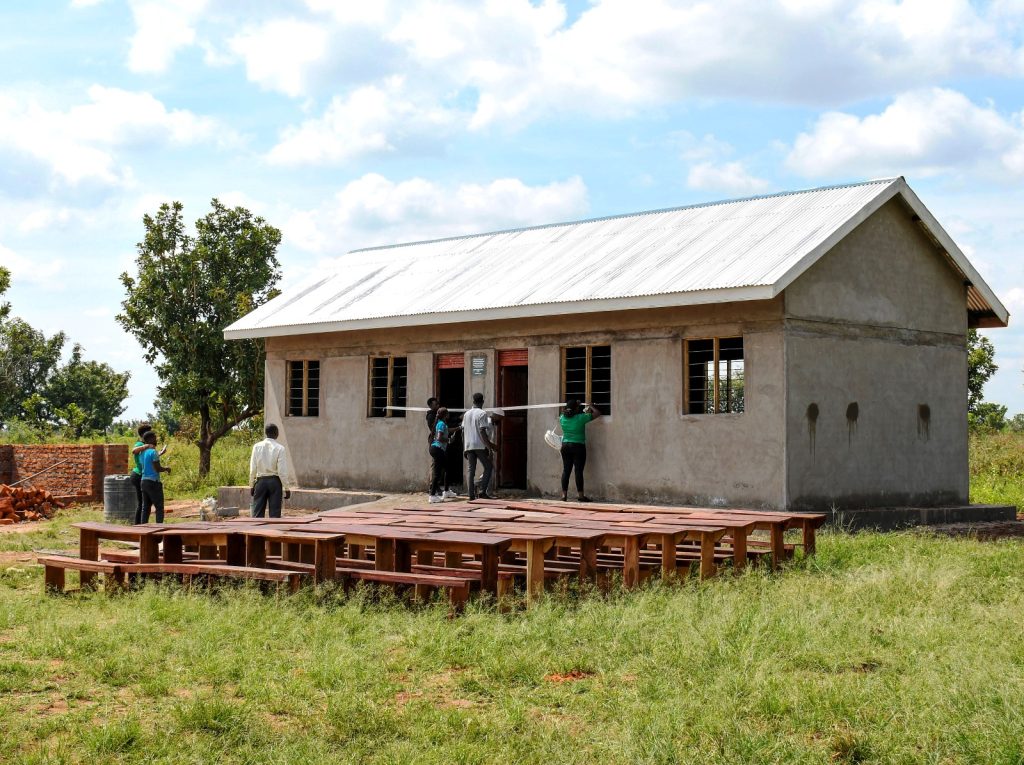 "I would like to thank my colleagues and people of goodwill who supported us to realize our dream of constructing this classroom for our young brothers and sisters of Achukudu Primary School. Together we can make a difference in the lives of our fellow young people in Uganda and Africa as a whole." Mr. Okello remarked.
The Headteacher of the School, Mr. Eryebu Raymond, who was visibly very excited was full of praises for Scholars and alumni of the Mastercard Foundation, for what he termed as an iconic classroom block they had gifted to his School.
"This day is very special to us, we will not see this day again. We are delighted to receive the Scholars and alumni of Mastercard Foundation from Makerere University, thank you for considering supporting our School" Mr. Eryebu excitedly remarked.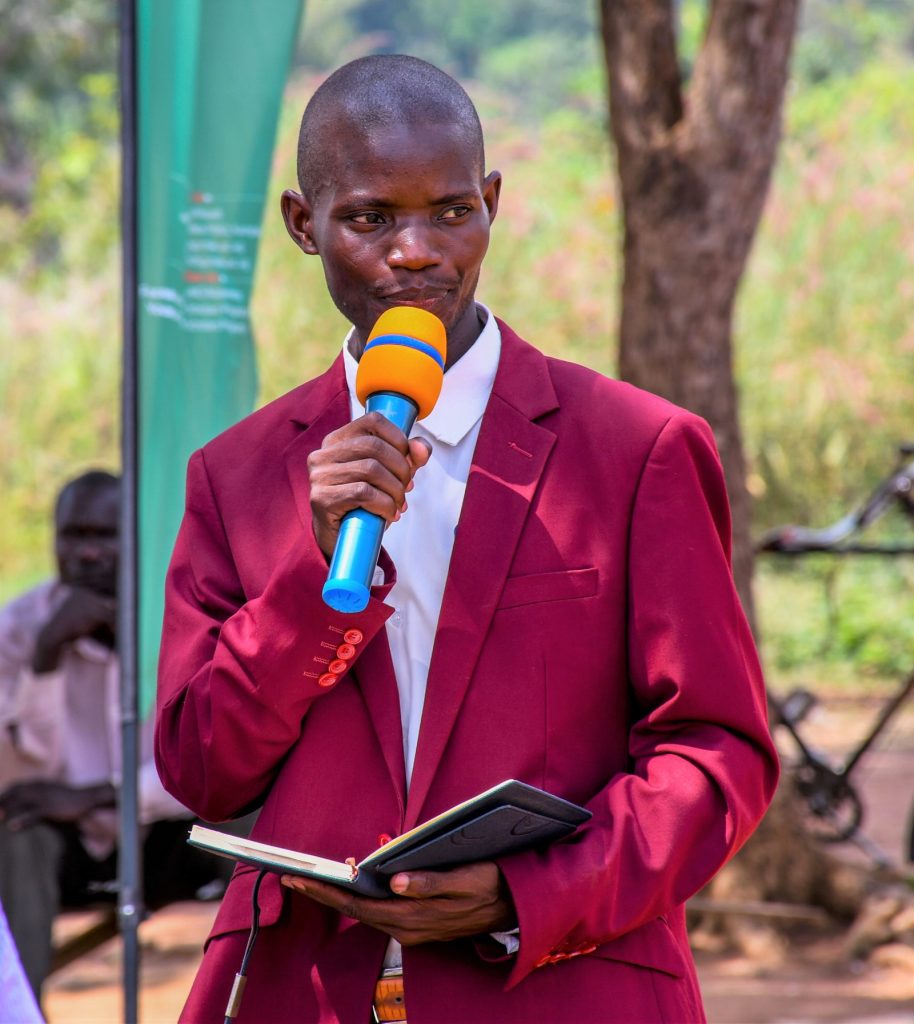 The Headteacher revealed that one of the major challenges the school was facing was an acute shortage of classrooms for his 1,097 pupils. He was therefore grateful to Mastercard Foundation Scholars for choosing to construct a two-class block for the School.
"This donation of a classroom block and Desks is a testament to your commitment to education and empowering the lives of the vulnerable people in the community. This classroom block and desks will go a long way in improving the quality of teaching and learning at our school." Mr. Eryebu further remarked.
The 2023 Scholars Annual Day of Community Service (Giveback) was punctuated with a lot of joy, pomp, and fanfare, as the pupils and the entire community of Achukudu danced and ululated at the commissioning of the classroom block. The construction of the classroom block and purchase of desks for Achukudu Community Primary School was made possible by generous contributions by the Scholars, alumni, the Program Team, and members of the Steering Committee.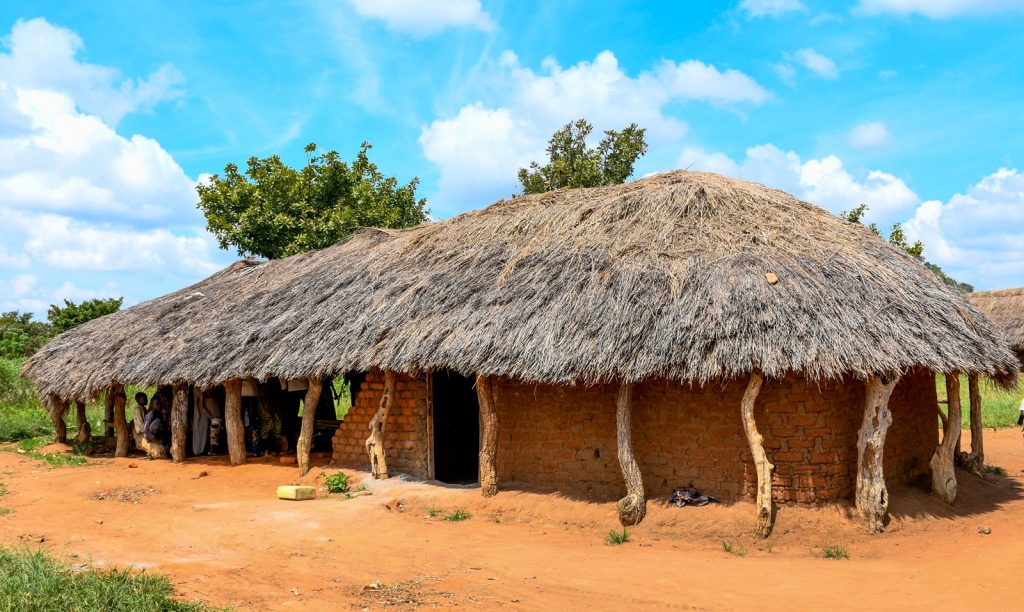 Among the Partners who made financial contributions towards the class block construction included; DFCU Bank, Post Bank, URA, Katumba Estates, Footsteps Furniture Ltd, and Sion Travels Ltd.
The Scholars and Alumni Day of Community Service (Give back) is an annual event, where Scholars and alumni of the Mastercard Foundation go out into the community to give back by providing solutions to challenges that a particular community is facing. Over the years Scholars have given back to the communities in numerous ways that range from offering professional services and erecting major projects like classroom blocks.
Bernard Buteera is the Communications and Public Relations Officer of the Mastercard Foundation Scholars Program at Makerere University.
Innovations using low cost locally available materials for point of use water treatment system unveiled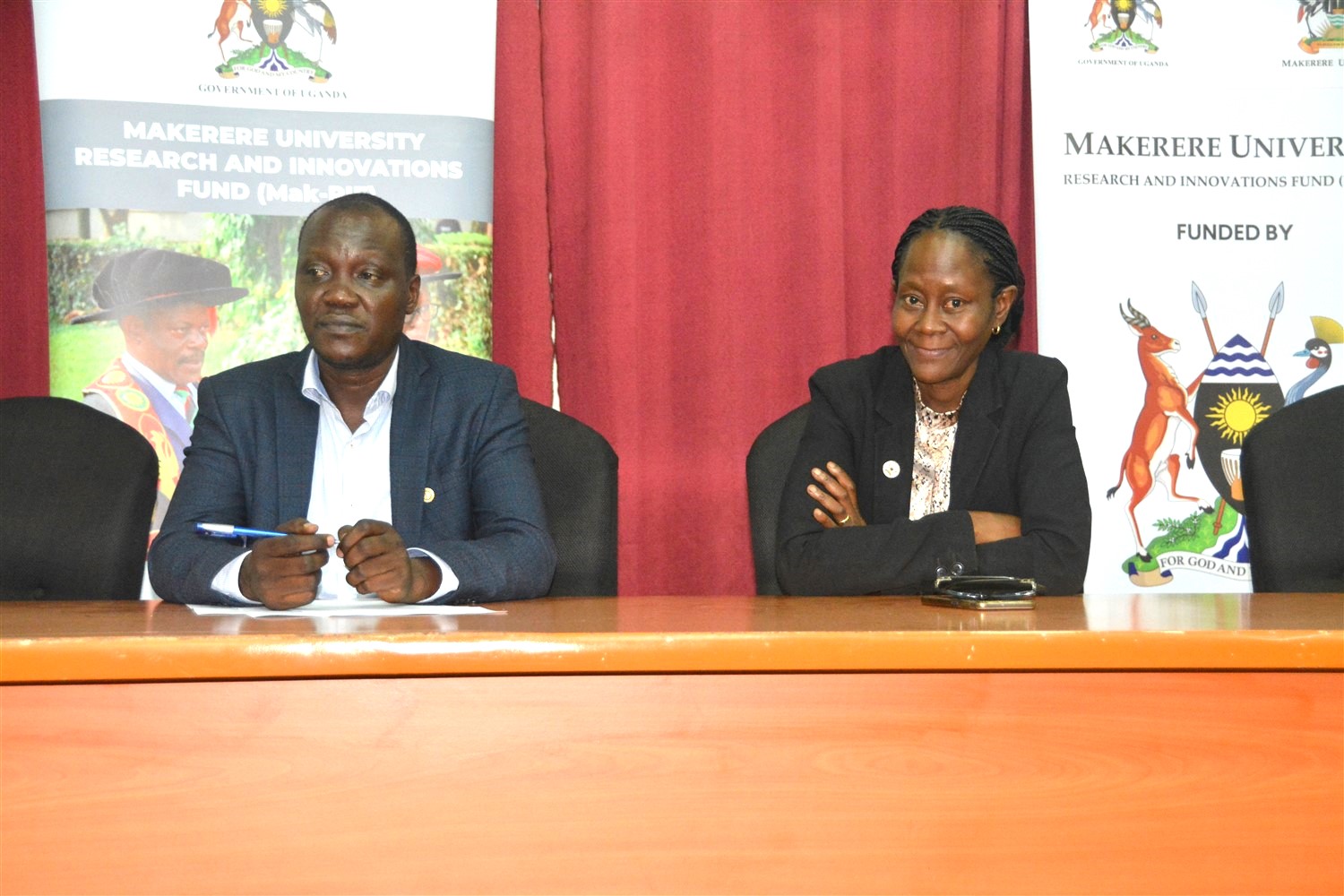 The College of Engineering, Design, Art and Technology (CEDAT) conducted a Research Dissemination of two studies aimed at the Development of Materials for point of use water treatment systems.
The investigations were conducted by a team of researchers comprised of P. W. Olupot, H. M. Kalibbala, E. Menya, G.M. Wangi, J. Jjagwe, J. Wakatuntu, M. Turyasingura, R. Walozi, C. Kanyesigye and R. N. Kulabako.
The dissemination event held on Wednesday 29th November 2023 follows the successful completion of two MakRIF supported Research projects namely; Development of rice husk based granular activated carbon for point-of-use water treatment systems and Development of zeolite-based nanocomposite filters for drinking water treatment.
Apac District gains from CEDAT's Research on Piloting a Rural Broadband Connectivity Model and Efficacious patient management system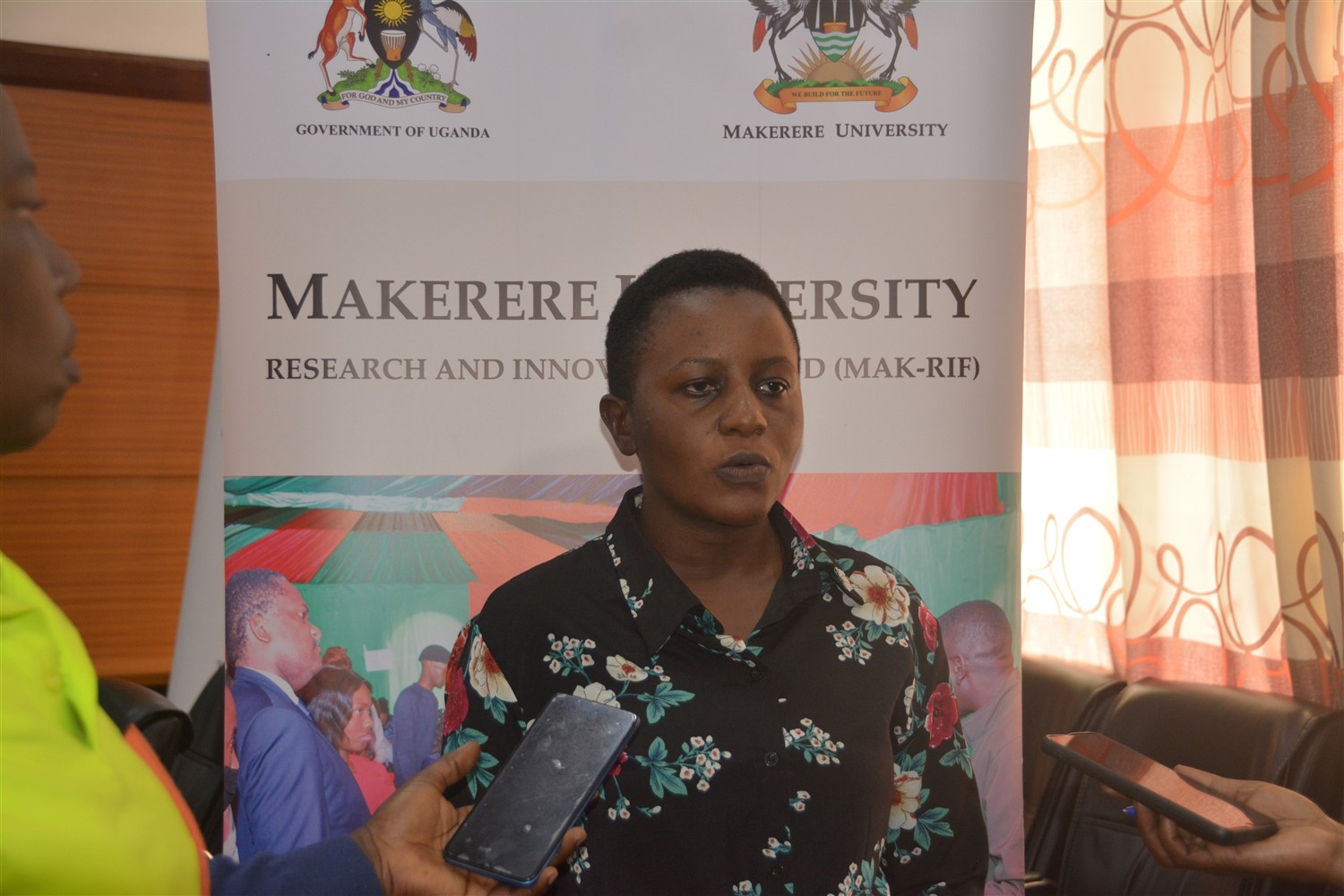 The School of Engineering at the College of Engineering, Design, Art and Technology (CEDAT) shared findings of research that was conducted in Apac Districts through two projects namely Piloting a Rural Broadband Connectivity Model (RCBM) and Efficacious patient management system (EPMS).
The findings of the research sponsored by the Government of Uganda through the Makerere University research and Innovation Fund(MakRIF) were disseminated during a dissemination seminar held in the College on Friday 24th November 2023, where it was revealed that  Apac the host District greatly benefited from the services that not only led to the increased uptake of internet services but also gained through other socio economic areas.