Mak AirQo Project Launches CLEAN-Air Africa Network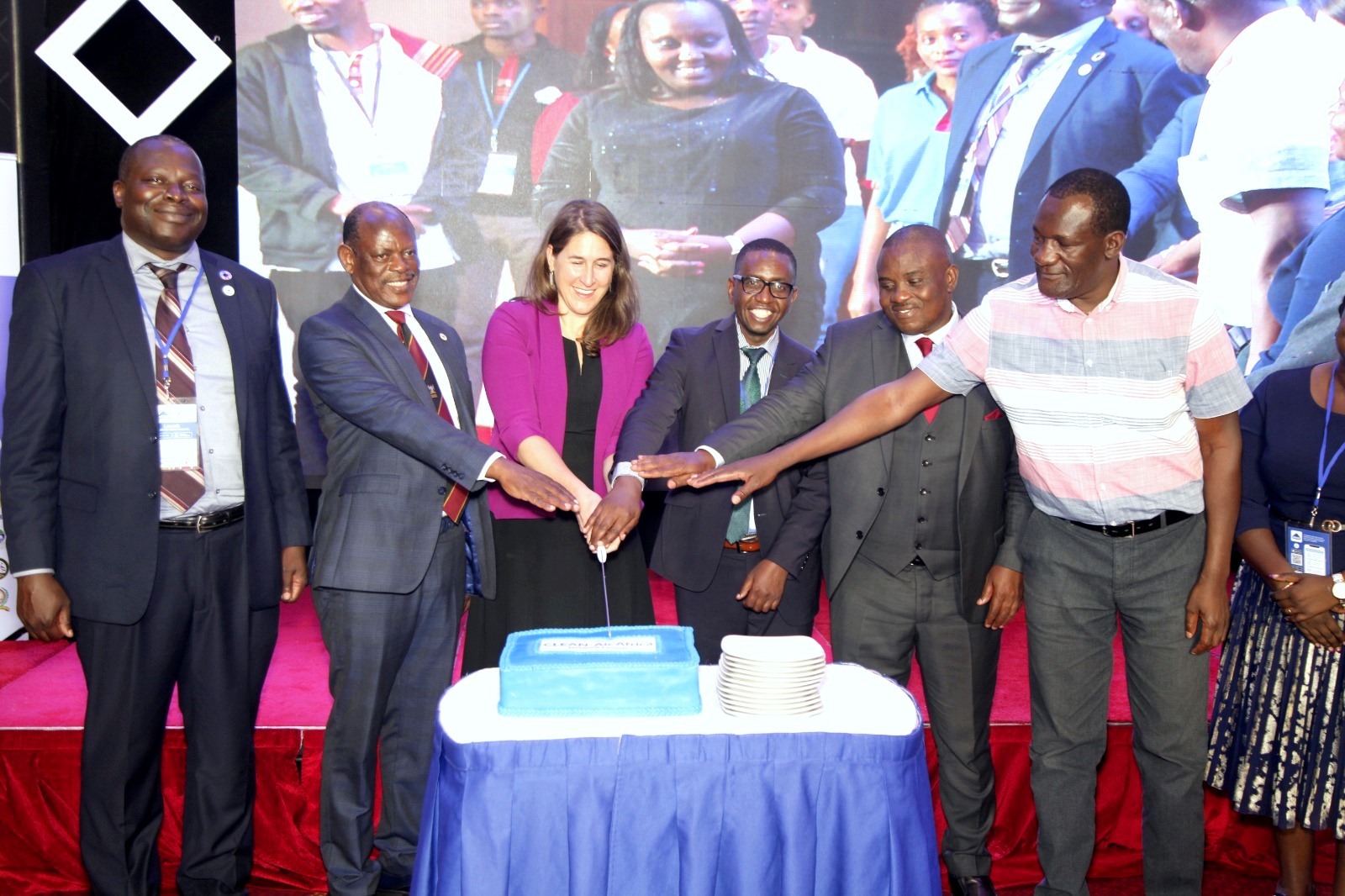 The AirQo Project, College of Computing and Information Sciences (CoCIS), Makerere University in collaboration with various partners hosted a three-day peer learning and knowledge exchange workshop in Kampala Uganda. The workshop brought together communities of practice from over fifteen cities in Africa, with a focus on utilising low-cost sensors for air quality management in Africa. 
Participating cities included: Kampala, Jinja, Fort Portal, Kabale and Gulu (Uganda), Nairobi and Kisumu (Kenya), Dar-es-Salaam (Tanzania), Kigali (Rwanda) and Bujumbura (Burundi). Others were Lagos and Abuja (Nigeria), Accra (Ghana), Yaounde and Douala (Cameroon) and Dakar (Senegal) in West and Central Africa; Maputo and Manica (Mozambique) in Southern Africa; and Port Louis (Mauritius) in the Island States.
Held under the theme: Championing Liveable Urban Environments through African Networks for Air, the workshop served as a launchpad for Africa-led collaborations and multi-regional partnerships for sustained interventions to achieve cleaner air across the continent. 
Held from 3rd to 5th April 2023, the three-day engagement was aimed at; 1) Increasing the understanding of low-cost air quality sensor networks and digital solutions as new approaches for air quality management in the African context, 2) Fostering city-city and policy-research collaborations and 3) Increasing awareness of contextual issues of air quality for better health outcomes.
The three-day workshop was crowned by launching the CLEAN-Air Africa Network at a dinner held at the Kampala Sheraton Hotel on 5th April 2023. The launch was graced by the Vice Chancellor, Professor Barnabas Nawangwe, The Lord Mayor of Kampala City, His Worship Erias Lukwago, Acting Public Affairs Officer at the U.S. Embassy Kampala, Amy Petersen, the AirQo Project Lead, Prof. Engineer Bainomugisha, among other dignitaries.
Please see below for the remarks.
Project PIs & Accountants Urged to follow Budget Controls, Approval Structures & Policies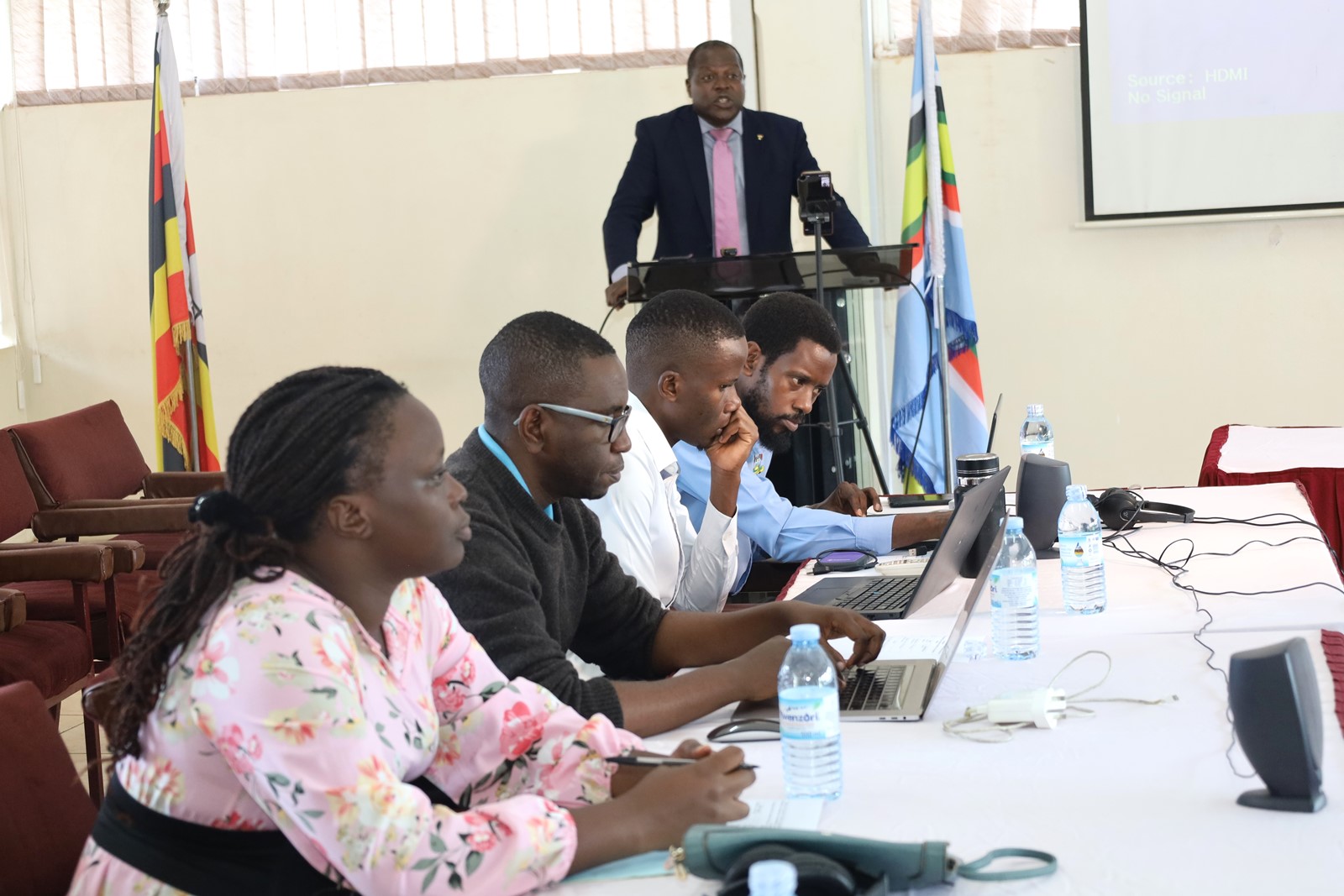 Principal Investigators (PIs), research assistants and accountants in the College of Computing and Information Sciences (CoCIS) on 23rd November 2023 were equipped with knowledge and skills on Accountability protocols to increase their knowledge on managing funds.
The half-day blended Workshop which attracted 30 participants was officially opened by the Principal CoCIS, Prof. Tonny Oyana and facilitated by the Manager Accounts and Reports Makerere University Mr. Lubowa S. Gyaviira and the Team Leader, College of Agricultural and Environmental Sciences (CAES) Mr. Tom Vok Elwana.
The training highlighted the common accountability challenges, accountability procedures and approvals and submission of accountability reports.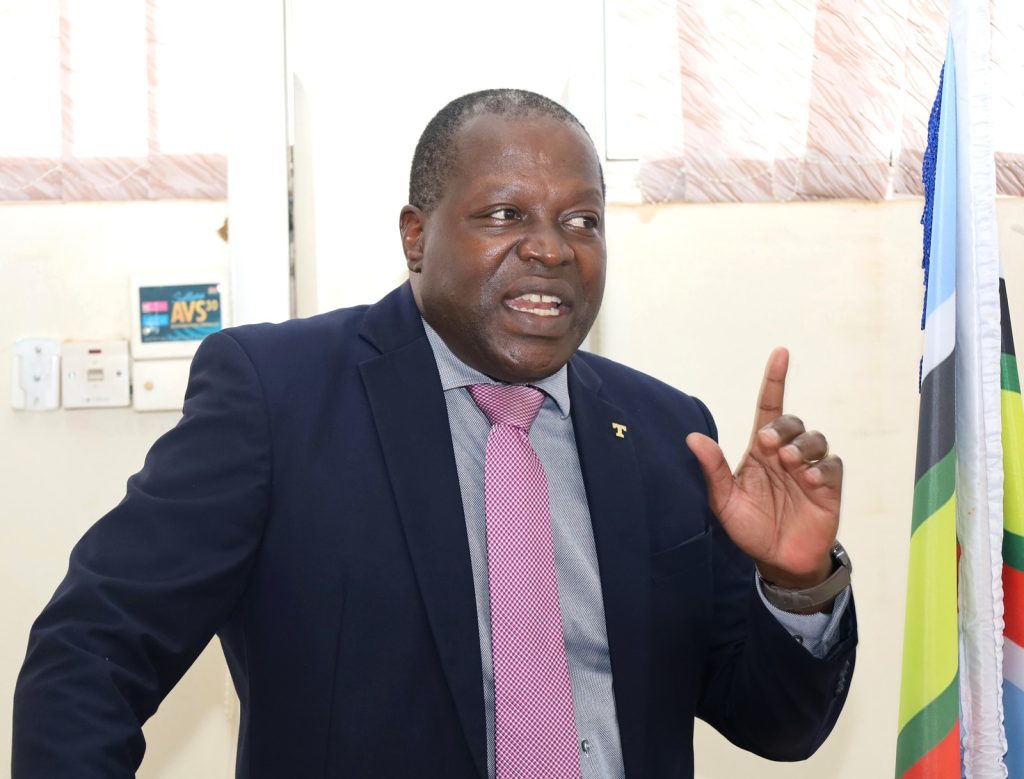 Noting delays in accountabilities, Prof. Oyana said, he would like to see the college conduct research and grow big rather than being blacklisted by development partners and donors.
The Principal said, the college has established itself in four principle areas of research where it draws credibility namely; the Sensing Technology, Artificial Intelligence, Human Computer Interaction research and Information seeking research.
He observed that sometimes researchers under estimate the reasons to be financially knowledgeable and hence the need for the training.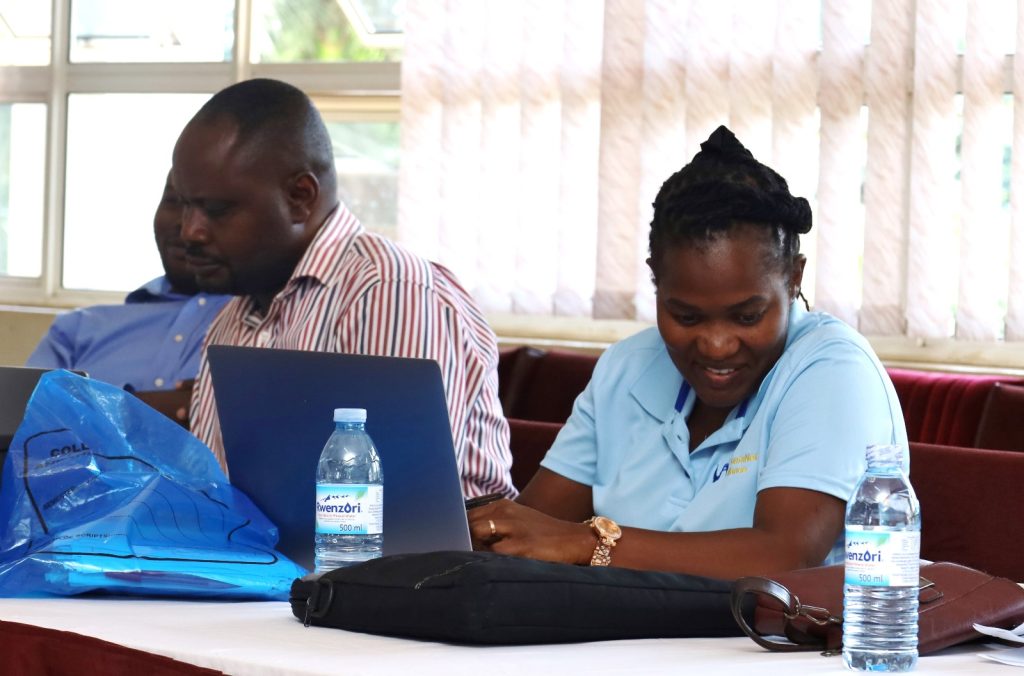 "Everything happens because of money. If you are a poor manager of your money, then, you cannot pursue the activities you set. So, financial responsibilities and discipline are very important if you are to be a good negotiator", He said.
Motivated by the need to build a system that is prudent and robust and building an inclusive place to learn, work and succeed, Prof. Oyana shared his experience of what he has learnt as critical.
"First of all, know your financial status and spend within those limits. Never destroy someone's credibility. I also recommend responsible financial discipline and not to go by peer pressure.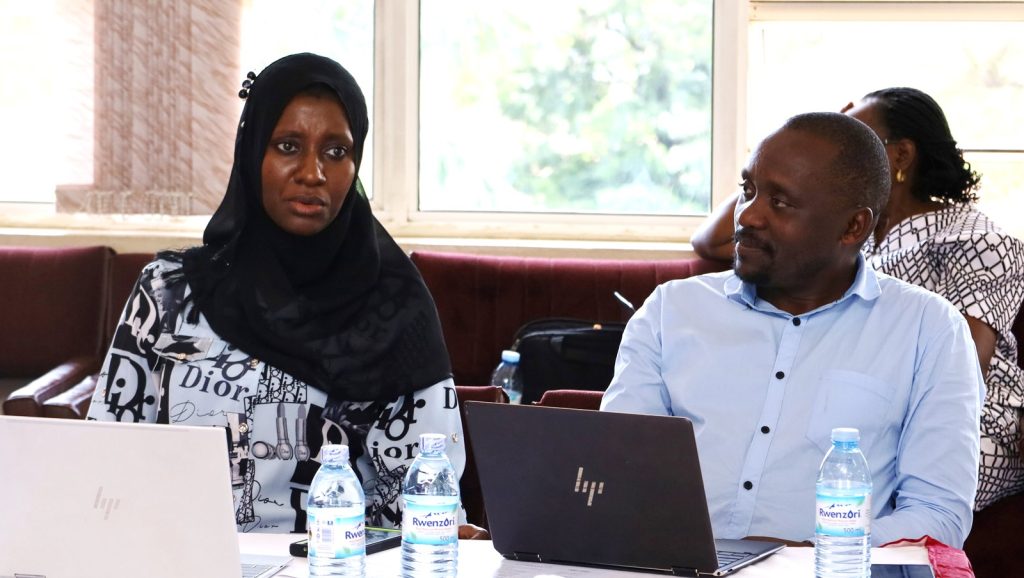 The minute you indicate a budget, you have controls. You don not shift budget items from other controls. If you want to spend and move items that are 10% and above, you need to get permission from the treasury", Oyana advised.
The Principal also advised researchers to learn and follow the approval structures and policies, stick to their values and ethics and, ensure funds are used for intended activities. He advised scientists to strive for excellence and make good returns to those that entrust them with the resources.
Prof. Oyana extended the call for discipline in the laboratories on grounds that laboratories run on ethics and honesty. He stressed that it is good practice to follow scientific evidence because Science does not depend on rumours but on data and evidence.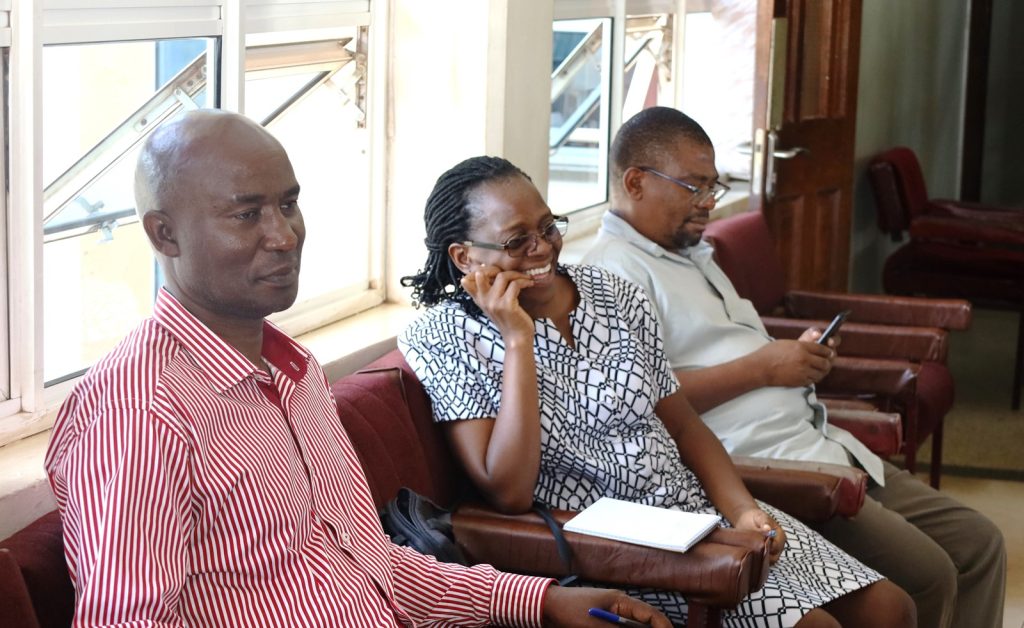 Oyana also urged every researcher to have a research gap, be visionary and ensure laboratories have good practices and procedures and, provide data and scientific evidence to back hypotheses.
He reminded researchers that the primary duty of research is contributing to the body of knowledge and secondly to train and mentor young scientists to contribute to their knowledge.
Accountability procedures and approvals
Giving an overview of Accountability procedures and approvals, Mr. Lubowa Gyaviira represented by Mr. Tom Elwana underscored the need for researchers to know the regulations for accountability when planning.
Key Accountability procedures as extracted from relevant laws, policies and procedures that govern public financial management include but not limited to; Public Finance Management Act 2015; Universities and Other Tertiary Institutions Act; Treasury Instructions 2017 and; Makerere University Financial Manual 2014.
Elwana said accountability helps to establish whether the funds advanced were used for the intended purpose and whether all documentation relating to the accountability was presented for review.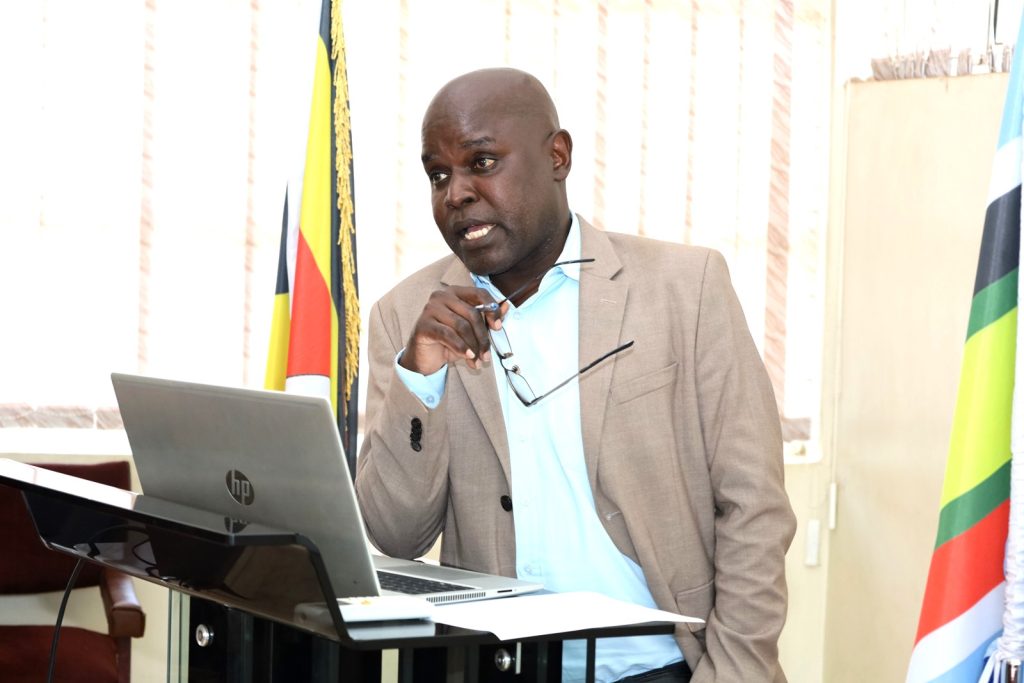 Section 10 paragraph 10.20.11 and 10.20.12 of the Treasury Instructions, 2017, requires all advances to be retired as soon as the necessity for their use ceases to exist or within sixty (60) days upon completion of the activity or by closure of business of the last working day of the financial year in which the advance was issued.
"The Makerere University Financial Procedures Manual 2014 under section 4.6.4 enjoins staff to account for all advances received within 14 days of the completion of the activity and in any case not later than 60 days.
Failure to comply with standing instructions leads to the withholding further advances; Recovery from payroll; and or Disciplinary action in accordance with laid down procedures", he said.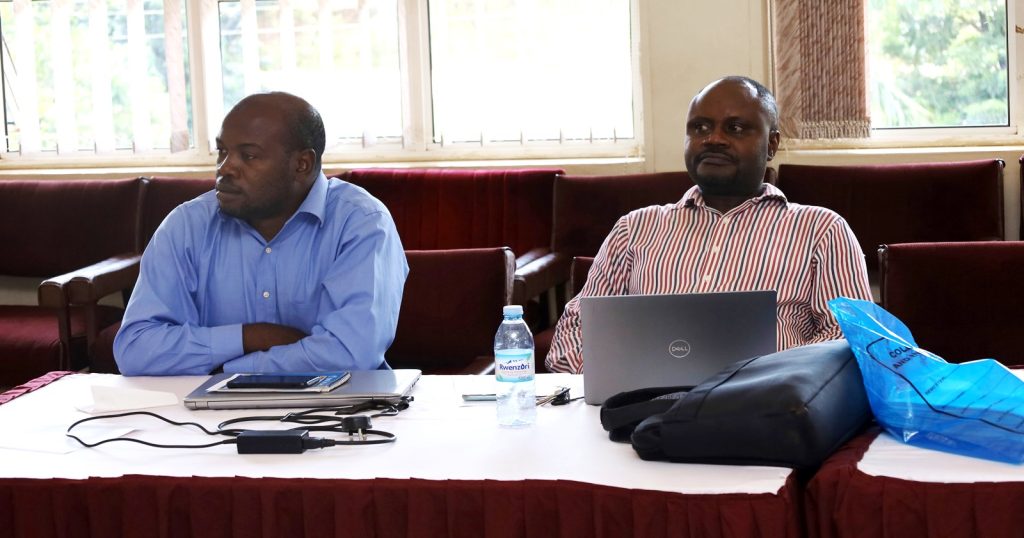 Elwana explained that staff advanced funds should follow the accountability and approval process from the unit accountant to the Internal Audit/examinations and compliance office which delivers to the Secretary Directorate of Internal Audit, who shall ensure it is stamped received, recorded in the register.
He said, a report for accountability must be attached and receipts indicating clearly amount of advance being accounted for while outstanding advances at end of year will be posted to the general ledger to make up the funds balance.
"Balances on advances not utilized at the end of the work/research should be surrendered to the Head of accounts and a receipt should be issued.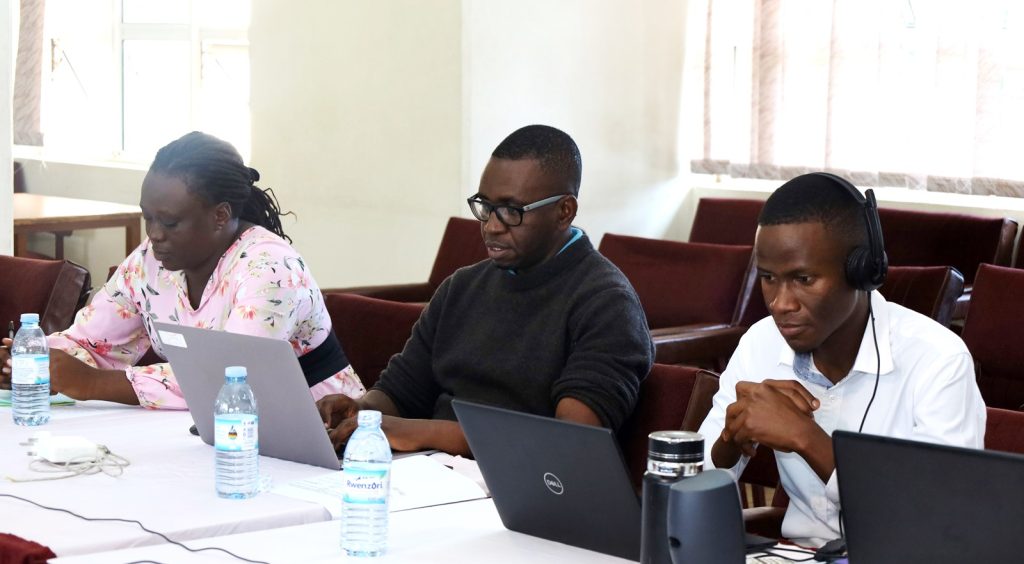 Failure to submit accountability will necessitate refund of all unaccounted for funds by the implementer.
After clearance of all accounted funds, a Journal Voucher (JV) is issued to show clearance of total amount accounted for," Elwana emphasized
Submission of projects to GAMSU, a MUST for implementation of any activity
Elwana told researchers that all project PIs must not only register their projects and budgets with the Makerere University Grant Administration, Management and Support Unit (GAMSU) but also submit quarterly reports to this unit.
"GAMSU has an application and is calling upon PIs to submit their projects for capturing in their data. Failure to be captured, they may not implement their activities", Elwana warned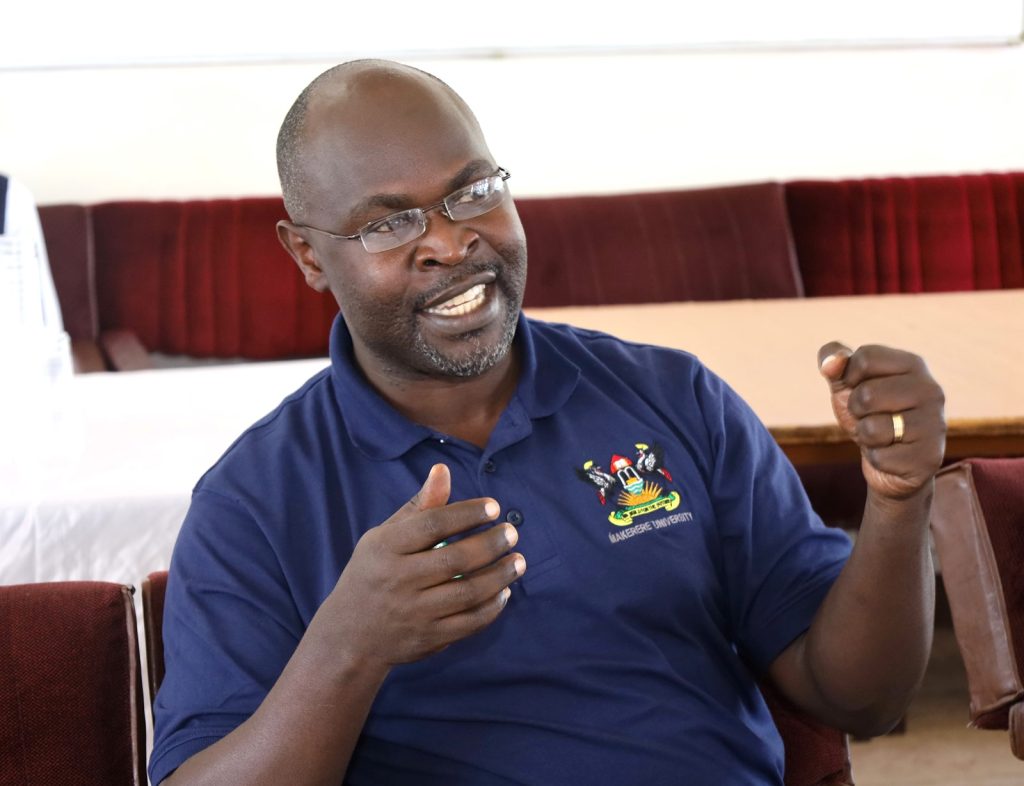 Makerere University established GAMSU, which is tasked with the responsibility of overseeing all projects and grants within the university. This measure, Elwana explained, was an agreement with Government to allow the university oversee and receive the grants instead of the funds going directly to the consolidated fund.
The key responsibility of GAMSU is to ensure that reporting is streamlined within the university. GAMSU requires quarterly accountability reports from all grants and projects.
Submission of all budgets by all projects and grants is also mandatory as part of the accountability reports required by the University and Government.
As a matter of emphasis, on submission of accountability reports, PIs were advised to pay attention to their MoUs since different funders have different requirements.
Detailed presentations from the training follow below.
Four Awarded during EASLIS@60 Celebrations: DGRT calls on information scientists to empower research hubs & entities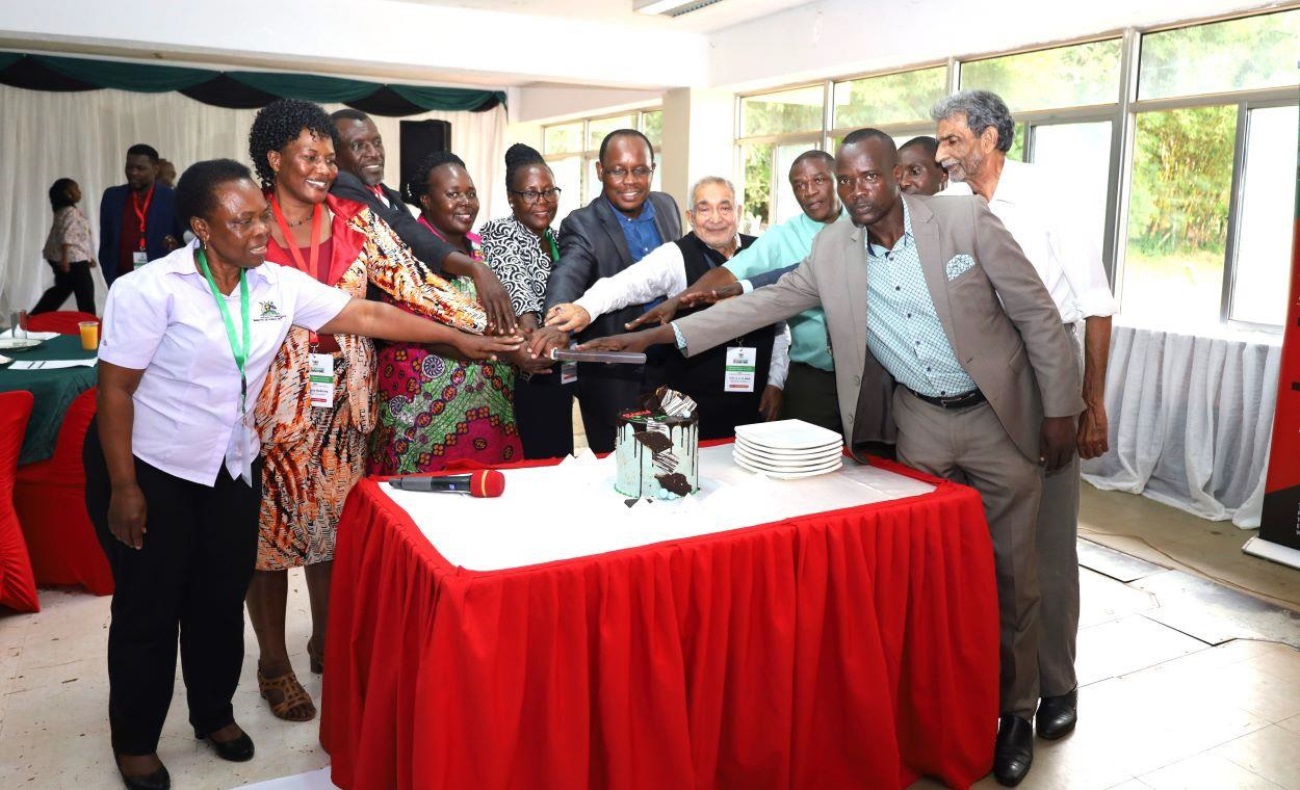 The three –day celebrations to mark the 60 years of the East African School of Library and Information Sciences (EASLIS@60) service to humanity were crowned by a Luncheon on Friday 10th November, 2023.
The closing ceremony was graced by the Director, Directorate of Research and Graduate Training (DRGT), Prof. Edward Bbaale as Chief Guest. Prof. Bbaale implored information scientists to contribute to the development of research and innovation hub at Makerere University and also embrace digital technologies in management of information and data.
Describing the event as a testament to Makerere University's unwavering commitment to academic excellence, research and the nurturing of intellectual talent, Bbaale said, library and information sciences play a pivotal role in any university, serving as a cornerstone for teaching, research, and innovation.
He explained that Makerere University activities are guided by the Strategic Plan for 2020-2030, which is a visionary roadmap that aims to transform Makerere into research-led and innovation-driven institution. This vision according to the Director, rests upon three fundamental building blocks, each playing a crucial role in the transformative journey.
The first building block emphasizes a distinct shift towards increased graduate enrollment, particularly at the doctoral and postdoctoral levels. The goal according to Prof. Bbaale is to raise the share of graduate students. Presently the graduate student population stands at around 12% with only 2% being international students.
"As the school celebrates 60 years, it is time to rethink vividly raising graduate enrolment because you hold a key role in trying to raise a generation of people that can be sources of information and data and guidance to national transformation," Bbaale appealed.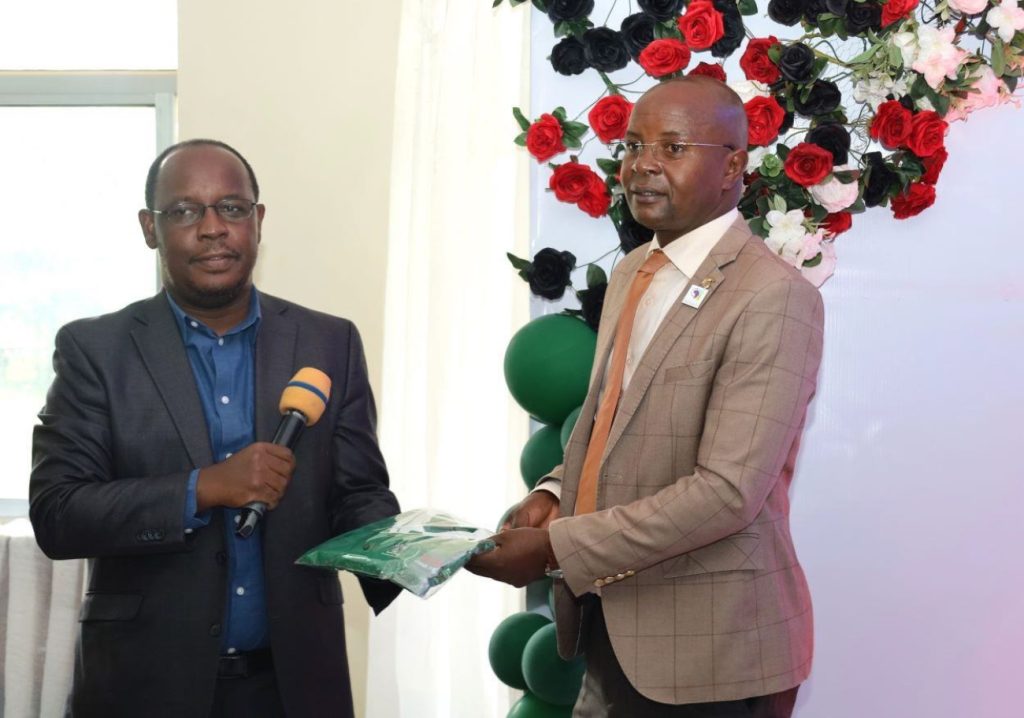 The second building block according to the Director focuses on building research entities designed to catalyze large-scale, multidisciplinary, and multi-institutional research activities. Supported by the policy on the establishment of research entities and institutions of 2021, these entities are envisioned as hubs of innovation, fostering collaboration that transcends boundaries.
"You are the source of information. These research centers will not thrive without you. And we are very happy that you have trained many people and the many libraries are benefiting from you. We can also look at this scenario where you can work to empower research hubs that we have. You have a responsibility to help these research hubs come up because the university is saying, we don't have any other way we shall be research intensive, we don't have any other way, we shall be innovation-driven until when we have established large research entities, centers of excellence' He said.
The third building block underscores the importance of packaging and marketing research outputs for effective adoption and adaptation to impact communities. Initiatives like the Makerere UNDP Innovation Hub aligns with this vision and this is supported by policies like the intellectual property management policy and the research and innovations policy of Makerere University.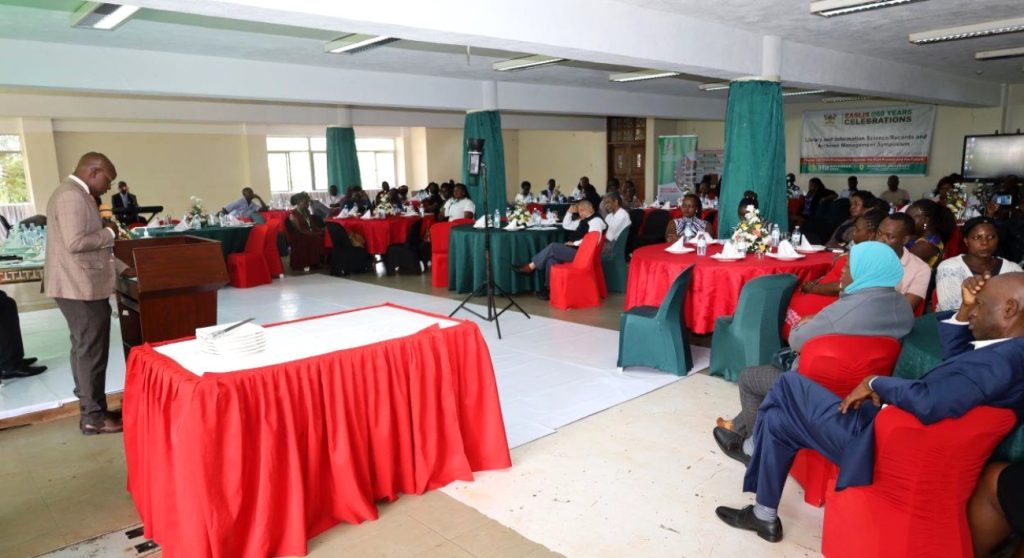 "The East African School must work collaboratively with the innovation hub. What are those aspects about innovation that must be developed through training? Because later on, the graduates that you are going to churn out must be able to support innovators through providing the requisite information that is needed", The Director asserted.
Prof. Bbaale congratulated the school upon its milestones and challenged experts to move with the university aspirations on grounds that library and information science field, focusses on the interactions between people, information, and digital technologies which plays a vital role in enhancing information creation, access, management, sharing, and societal benefit.
As the Directorate of Research and Graduate Training, Prof. Bbaale said they acknowledge the strong complementarity working relation between the DGRT mandate and the expertise of the EASLIS in terms of dealing with the student information, creating repositories and making sure that information is available and usable very quickly when we need it.
Representing the Principal CoCIS, the Deputy Principal Dr. Peter Nabende expressed happiness that EASLIS which started in 1963 as an agreement between the then three countries in East Africa, Kenya, Tanzania and Uganda has survived throughout the years.
"It has, not only survived, but achieved greatly in many ways. It continues to uphold excellence in all aspects. From my observations, the levels of professionalism at EASLIS, the levels of commitment, they are the kinds of levels I have never seen anywhere else". Dr. Nabende stated.
Nabende explained that the school has contributed significantly in terms of research and practice and preservation of records, serving as the main center of excellence in library and information sciences, and in addition continued to establish partnerships with highly reputable institutions worldwide.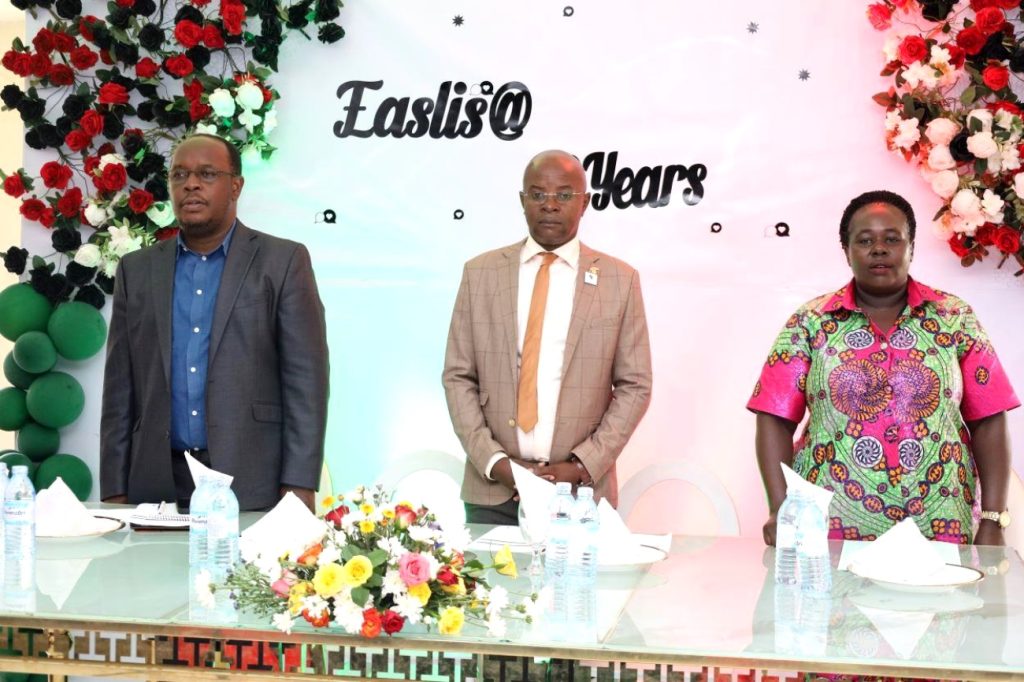 Dr. Nabende observed that the school finds itself at a time when the world is advancing technologically but it is advancing in a sense that what is driving the advancement is information.
He called for more concerted efforts to remain the center of reference, through adopting new technologies in information and data management.
He attributed the success of the celebrations to the support from different stakeholders including university top management and the principal's office for providing most of the funds, contributions from the collaborating institutions and all individuals that played various roles.
The Dean, EASLIS Dr. Sarah Kaddu said the event was to commemorate the relentless pursuit of knowledge, the unwavering commitment to excellence and the profound impact EASLIS has had on society and on to peoples' lives.
She explained that the three day celebrations characterized by intellectual quiz and talk shows, the symposium and crowned with a luncheon, widened participants aperture, created a platform to meet new people to encounter new ideas and experiences.
The Dean said, the roots of EASLIS trace back to a vision of empowering communities through access to information, preserving knowledge, and nurturing an environment where the pursuit of learners knows no bounds.
"Our school's legacy extends far beyond the confines of its physical structure. It embodies the spirit of dedication, innovation, and adaptability, among others. Libraries are not mere buildings stocked with books. They are sanctuaries of learning and inspiration, serving as bridges between the past, present and the future.
Information science as a discipline has evolved dramatically, translating boundaries and revolutionizing how we access, organize and disseminate information. Our institution has been at the front line of these changes, adapting and leading the transformations," Dean noted.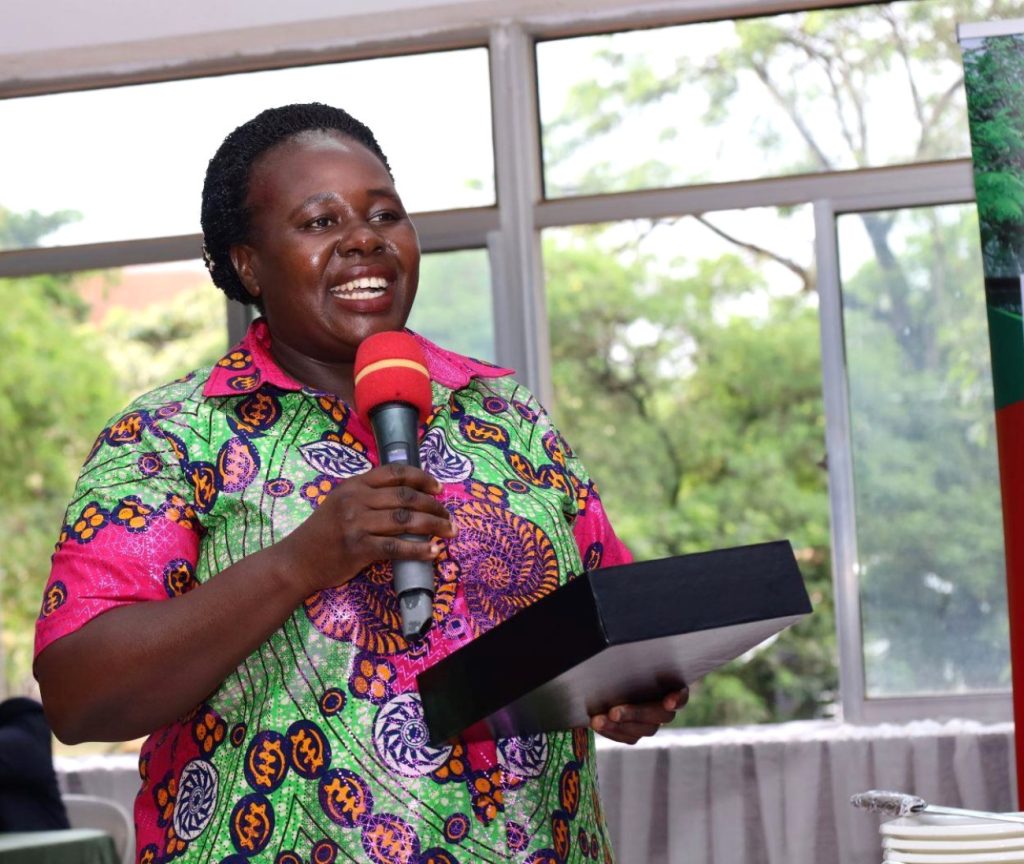 Dr. Kaddu recognized the pivotal role played by the individuals who have been the driving force behind the school's success. Kaddu recognized faculty members whose passion for scholarship and commitment to nurturing the minds of the next generation of professionals has been exemplary adding that the school has always been a beacon of academic rigor and integrity.
"I have noticed many changes over the years. Our commitment to excellence and nurturing of intellectual curiosity has remained unwavering. This anniversary is not just a testimony to the enduring dedication of everyone associated with this institution, but also a celebration of our collective achievements." The Dean asserted.
The school she said, has witnessed the rise and disruption of technology as a catalyst, reshaping the landscape of information science.
"Our libraries have transcended physical boundaries, extending into the digital realm. We've embraced these changes, fostering innovation and diversifying our programs to meet the demands of the modern era while upholding the fundamental principles that underscore our profession.
Furthermore, our collaborations and partnerships with other institutions, organizations, and communities have not only enriched our education environment, but have also empowered us to make a broader and more meaningful impact on the communities we serve", Dr. Kaddu assured.
Looking towards the future, Dr. Kaddu said, the school is poised at an exciting juncture with a horizon of possibilities they must continue building on. As the school embarks on the next phase, the Dean called upon faculty and alumni to remain adaptable, resilient, embracing change, while staying rooted in the values and principles that have been the bedrock of this school for six remarkable decades.
Dr. Kaddu expressed gratitude to all who have contributed to the success of this institution and the celebrations.
Four recognized for their outstanding service to EASLIS
The closing ceremony was also marked by awards of four distinguished personnel who have served the school in different capacities.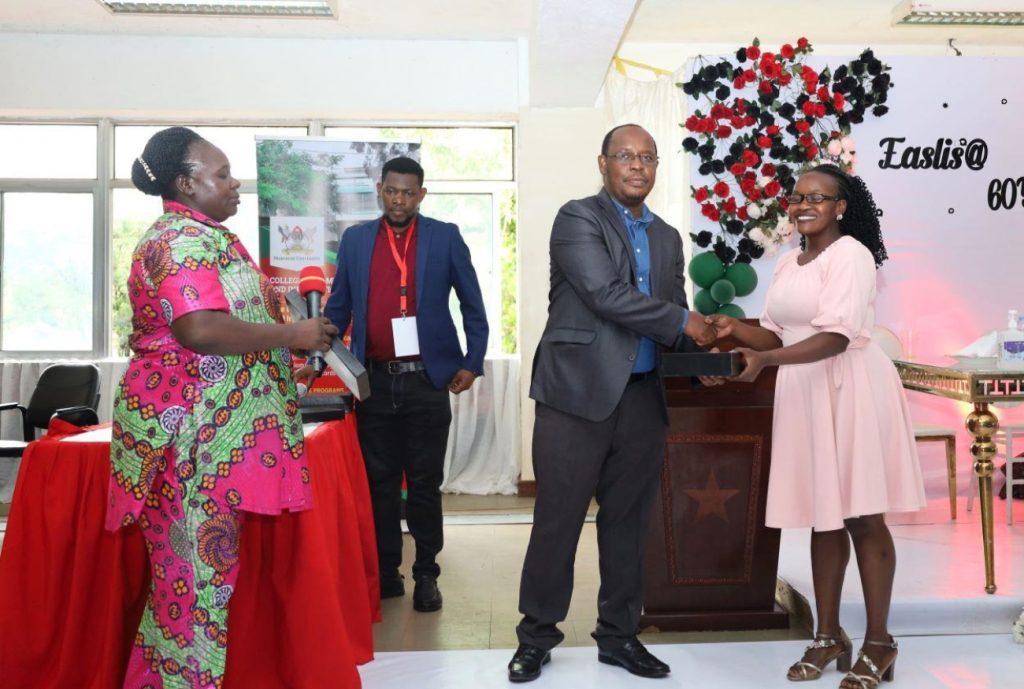 The Rising Star Award was presented to Mr. Geoffrey Magimbi in recognition of his outstanding academic resilience and success. Magimbi, joined the school as a custodian without any academic paper. Being in the academic circle, he was inspired and determined to enrol for a certificate course , then a diploma, to a bachelors and now pursuing Masters. He has also served in the Ministry of Public service and currently working with the Mountains of the Moon University.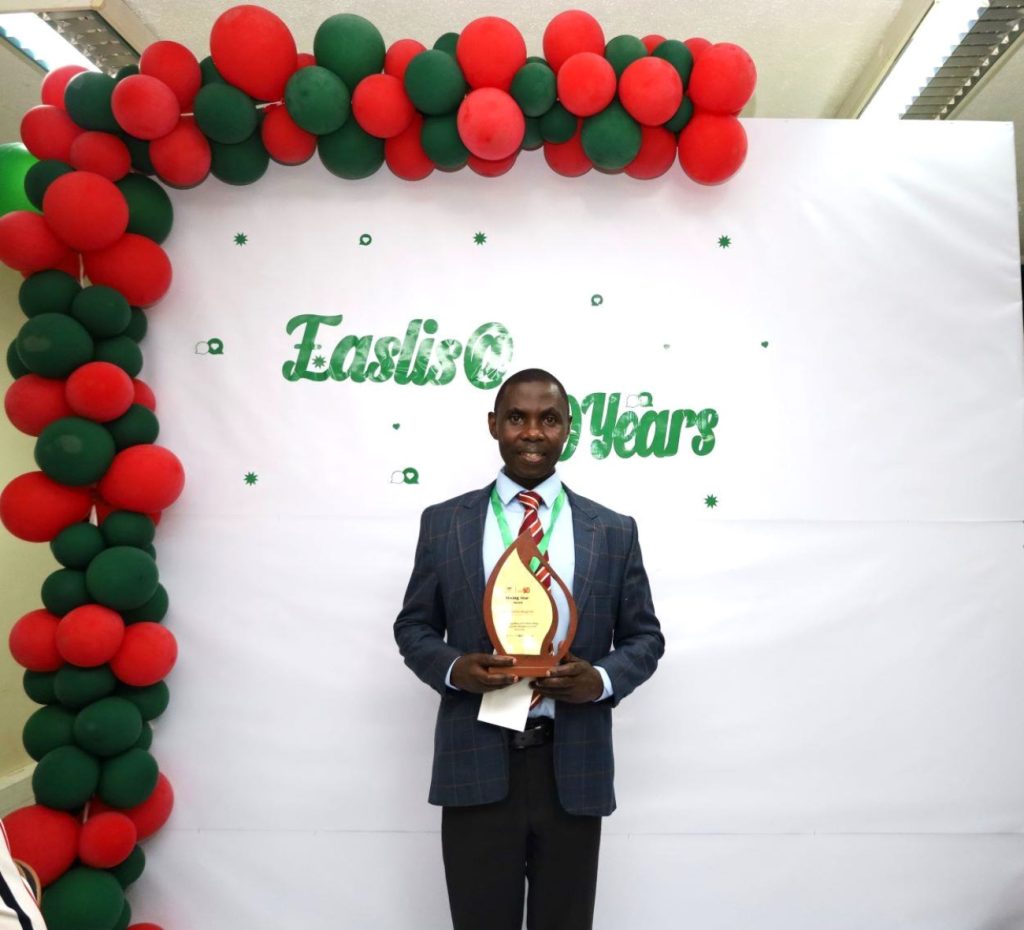 The Leadership Award was presented to Prof. S. AH. Abidi in honor of his long and exemplary service as Director EASLIS (1972-2002). Another Leadership Award was presented to Ms. Sarah Kagingo in absentia, in appreciation of her loyalty and dedicated service as the first Guild President from EASLIS (1997-1998).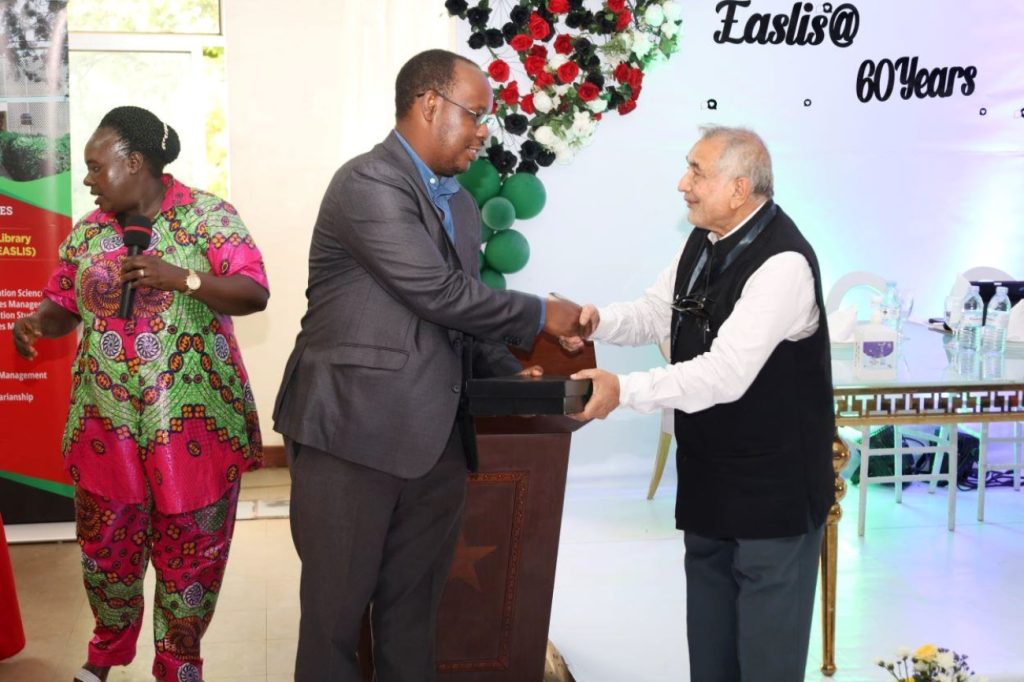 The Service award was presented to Boniface Odongo with deepest appreciation for his outstanding contribution as the longest serving librarian from 1996-2012 . Odongo who was unwell, was represented by his daughter Aguttu.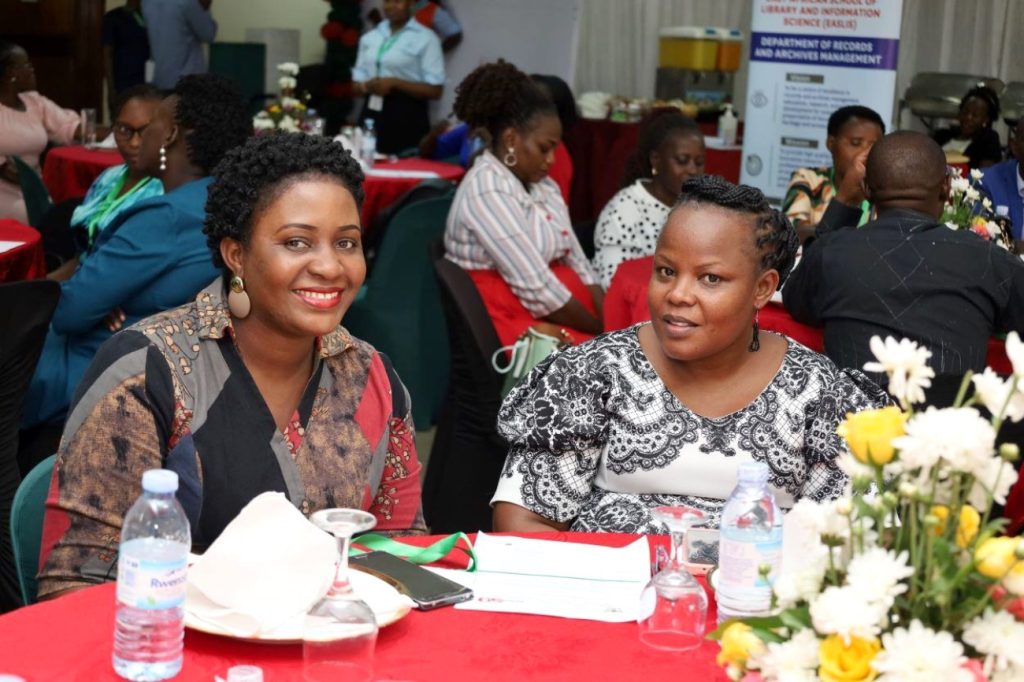 EASLIS@60: Information scientists called to contribute to the national transformation and development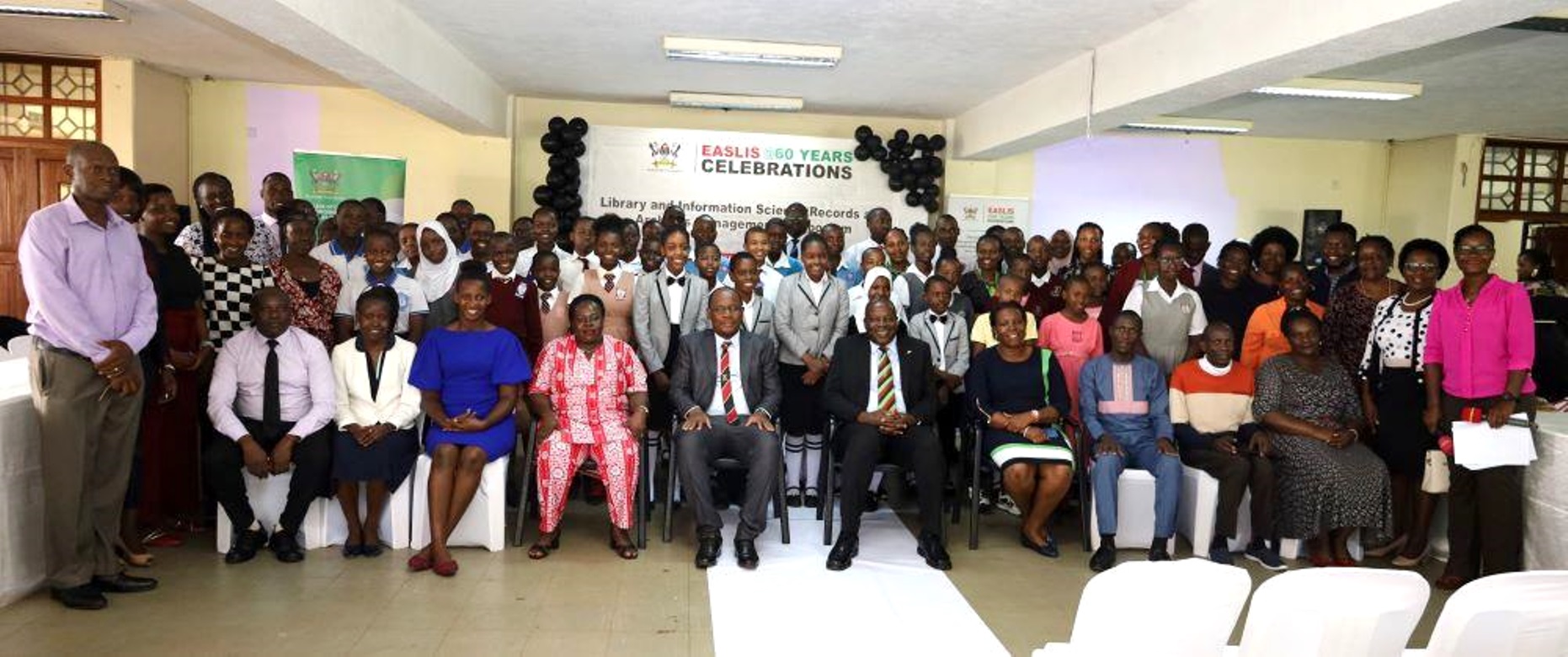 Celebrations to mark 60 years of service for the East African School of Library and Information Science (EASLIS) were officially opened on 9th November 2023 with a call on Information scientists to change their mind set and embrace the digital technology in order to contribute to the national transformational agenda and improve livelihoods.
The School celebrated its 60 Years of teaching, research and innovation in the field of Library, Records, Archival and Information Sciences from Wednesday 8th – Friday 10th November, 2023. As part of the celebrations, EASLIS organized primary and secondary schools quizzes and tertiary institutions talk show on 8th November 2023. The quiz for Primary schools focused on importance of school libraries and solicited proposals on how they can be improve.
The tertiary talk shows attracted university students from Mbarara, Makerere, Kabale, Kyambogo and other universities who discussed the role of information scientists , challenges and how they can be addressed. Students were also asked what role information scientists can play to guide government in the proper management of projects such as oil and gas, national identity card replacement, registration of digital car number plates, managing the upcoming elections 2026. Students made a number of proposals for government to address challenges affecting library and information scientists.
These include:
Introduction of electronic documents management software to move away from paperwork.
Supporting national, district and libraries in the new cities.
Come up with a disaster preparation plan for records and archives in institutions
Provision of information materials
Revamping, standardizing national libraries and provision of better housing and allocation of sufficient resources
Lobby support from organizations
Encourage partnerships to help in capacity building
Support Community libraries to promote intellectualism
Revise National library act and other policies to match the current trends
Offer scholarship and bursaries to information scientists
Equate salaries of information scientist with other professions
Register information scientists and offer certificates to operate
Remove taxes on information materials
Support the consortium of libraries etc.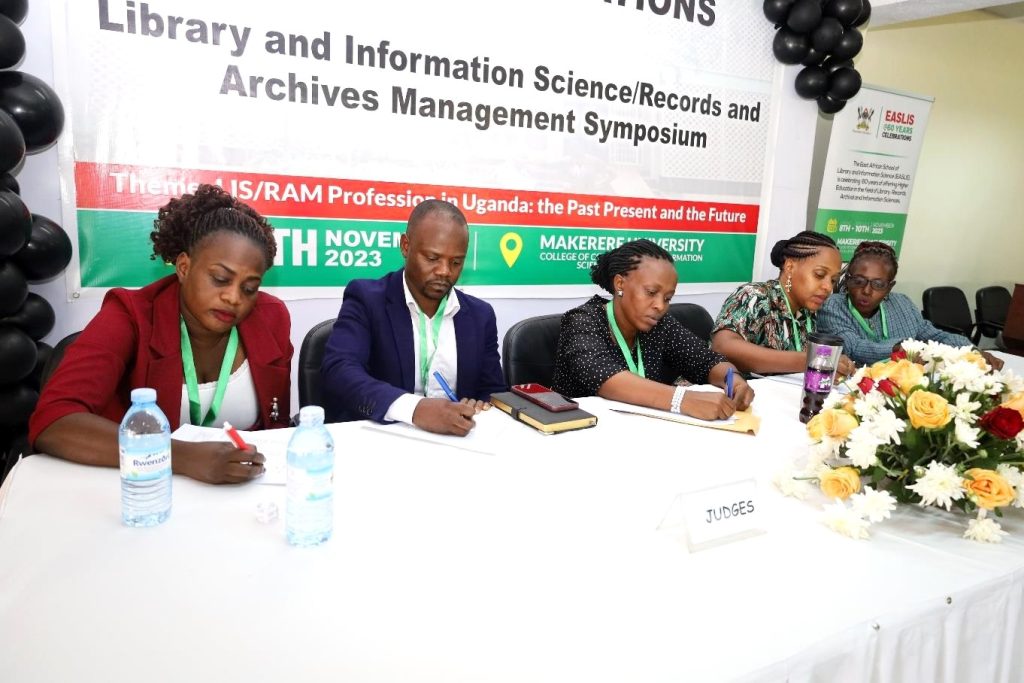 The celebrations were crowned by a Luncheon on Friday 10th November, 2023.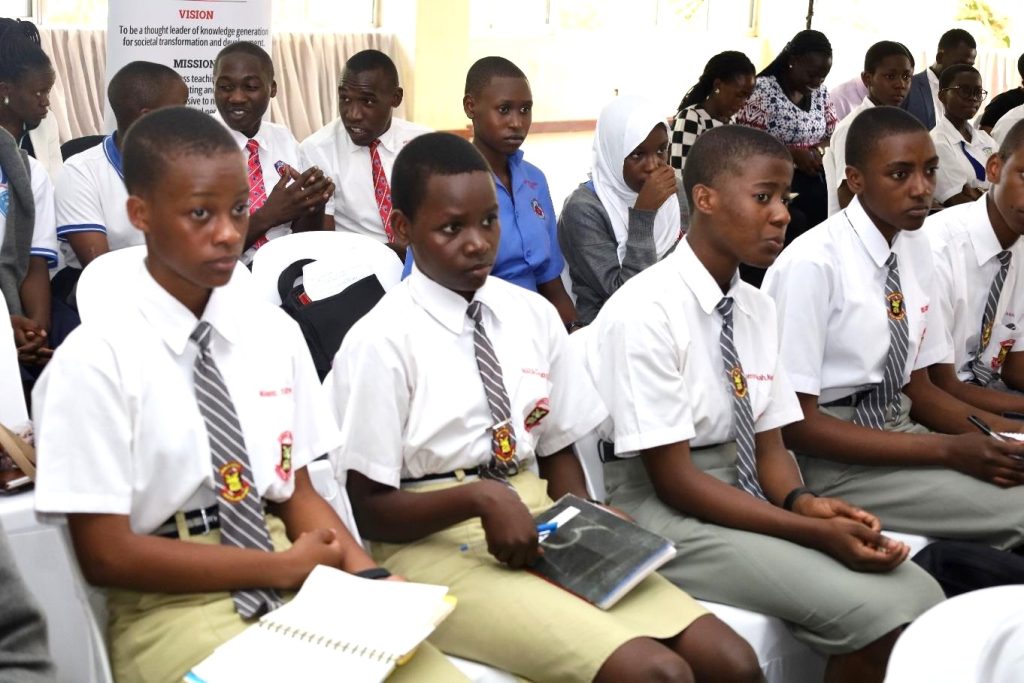 The Official Opening
While officially opening the three day celebrations on 9th November 2023, the Minister for Public Service Hon. Muruli Mukasa acknowledged that world over; records facilitate the operations of Government and other organizations, preserve the documented heritage of a nation and support accountability, transparency and good governance.
Due to their critical importance across the Service, the minister pledged government commitment to address the challenges in managing Library and Information Centers in the country including professionalization and infrastructural development.
"Libraries and Information centres remain critical pillars for national transformation and development. They are not just buildings filled with books; they are dynamic institutions that empower our citizens with knowledge, encourage innovation, and foster a sense of community", Hon. Muruli stated.
The minister emphasized the critical role of libraries and information centres as silent engines that power a nation's progress, and significantly contribute to the continued development of the knowledge base of people, communities, society, education sector, the overall economy and national development.
Besides being repositories of knowledge and information, the minister said libraries and information centres serve as the intellectual hubs where people of all ages and backgrounds can access a wealth of resources, from books to digital media, in pursuit of knowledge and self-improvement.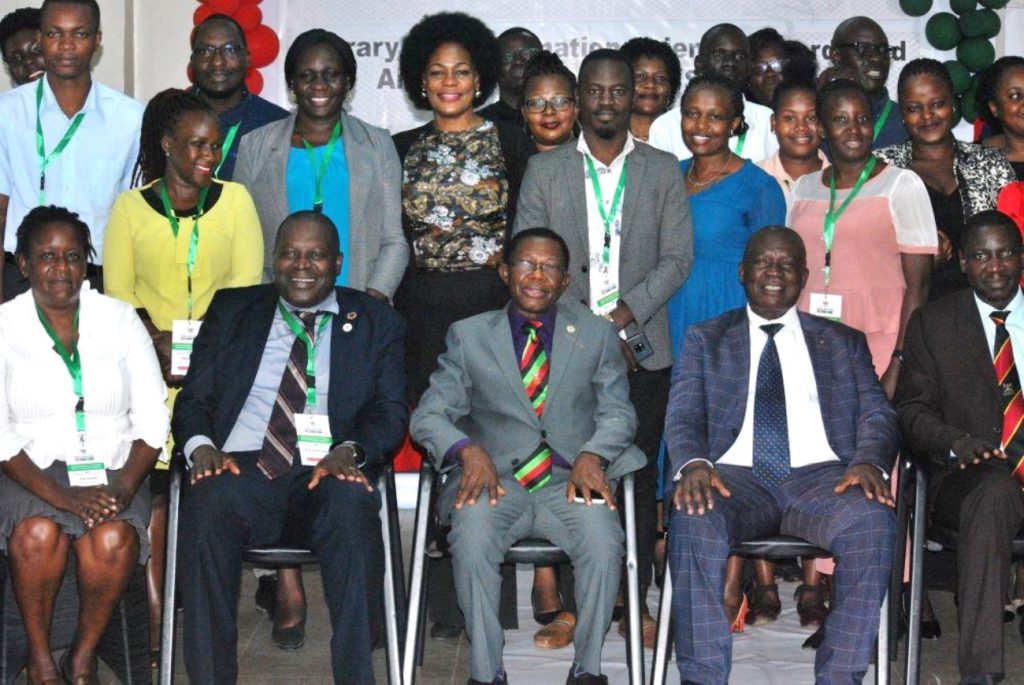 Libraries and information centres according to the minister, are not merely book depositories; they are dynamic, evolving institutions that need to be properly management in all aspects in order to play their critical role in transforming societies and nations since on a daily there are changing and competing knowledge needs across all societies.
In that regard , Hon. Muruli emphasized that, libraries and information centres are the bedrock in the Education sector across all nations as they continue to provide students with essential learning resources, making education accessible to all, regardless of socio-economic status.
From textbooks to research materials, Hon Muruli stressed that libraries and information centres empower future leaders with the tools they need to inform the countries policy and development agendas.
"Similarly, a nation's progress relies heavily on research and innovation and therefore, libraries and information centres are invaluable in supporting this endeavour by offering access to academic journals, databases, and research materials, which fuel innovation, scientific discovery, and technological advancement.
It is also important to note that libraries and information centres are champions of literacy, fostering a reading culture and encouraging lifelong learning. By offering reading programs and resources for people of all ages, libraries and information centres contribute to a more knowledgeable and informed citizenry. Back in the day, there were public Libraries that provide the required reading environment and materials across the country". He explained.
On the side of cultural preservation, the minister highlighted that every countries cultural heritage is preserved within the walls of libraries and information centres. They house historical documents, records, and rare manuscripts, ensuring that the history and traditions of our nation are not forgotten. The materials therein continue to be reference points for cultural preservation.
Concerning community awareness, the minister explained that libraries and information centres serve as community resource centres, promoting social cohesion and civic engagement. They offer a space for community events, discussions, and activities that strengthen the bonds among our citizens.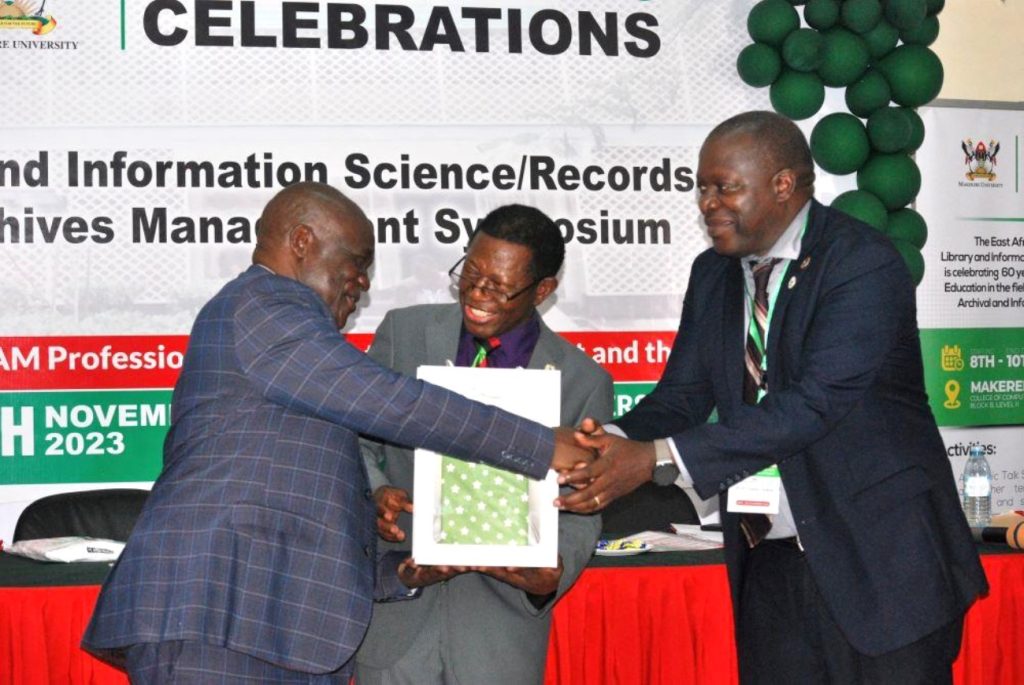 In regard to the increasing digital transformation, Hon. Muruli asserted that libraries and information centres have been instrumental in fostering digital inclusion by bridging the digital by way of providing internet access and computer facilities to the less privileged, enabling all citizens to access online information and services, fostering a more inclusive society.
The minister further highlighted the importance of libraries and information centres, in supporting economic growth and development. They continue to be avenues for facilitating entrepreneurship and small business development as they equip prospective entrepreneurs with knowledge and skills that can help them establish and grow their businesses.
In regard to health and wellness, Hon Muruli said libraries and information centres provide critical health information, promoting public health and wellness. They act as information resource centres on healthcare, disease prevention, and healthy living, contributing to the overall well-being of citizens.
The minister added that in the wake of climate change and its impact on the Globe, environmental libraries and information centres can contribute to environmental sustainability by providing information on environment and ecological issues, conservation, and sustainable practices, promoting a more environmentally responsible society.
"The role of libraries and information centres on the media landscape is arguably immense as they provide avenues for equipping citizens with the skills to evaluate, use, and share information responsibly, a vital skill in our edge of information overload especially in the Digital spaces". He emphasized.
Despite the pivotal role in promoting literacy, education, and community development, the minister observed that libraries and information centres worldwide are facing a crisis that threatens their very existence, including but not limited to;-.underfunding, outdated resources, limited access to technology, inadequate staffing, declining usage, mind-set change; as majority of the officers in the entities sampled are still using manual processes and are slow to adopt digital systems.
Other challenges according to the minister include the dysfunctional records management system that continue to be an impediment to better library and information management in most entities as the manual systems require to be streamlined prior to digitization, lack of complementary equipment like computers and scanners to drive the digitization of the records management processes, the continued digital skills gaps due to general lack of knowledge and skills in the use and adoption of ICTs by the records staff and users among others.
The minister explained that the current status quo concerning records and information management across the service, should now be related to the historical importance of the East African School of Library and Information Science, which has been a beacon of knowledge, a catalyst for progress, and a cradle of talent.
"The East African School of Library and Information Science nurtured generations of professionals, for whom we are all-proud of and have immensely played pivotal roles in preserving and disseminating knowledge. It has also greatly contributed to the growth and development of the information management regime at this University, the country, and the greater region of East Africa and Africa as a whole.
60 years of service before and during the technological edge is not just a celebration but also a big milestone for the school. This commemoration should therefore enable us reflect on school's unwavering commitment to the values of education, research, and community service. It has fostered an environment where innovation thrives, where intellectual curiosity is encouraged, and where a sense of unity and purpose prevails", the Minister said.
As the school commemorates 60 years, the minister challenged participants to reflect on where they have come from, the achievements registered, the challenges faced together, shared and overcome in steering the agenda for Library and Information Science in Uganda.
This day according to Hon. Muruli should be used to look into the future of library and information management as a whole considering the changing landscape because of the changing current digital edge influenced by technology.
"The East African School of Library and Information Science is not just a repository of knowledge; it is a bridge to the future and the future is now. In focusing the future of Library and Information Science, we should embrace new ways of doing things.
The advancements in information science and technology present new challenges and opportunities, and I believe management of the school is well prepared to lead the way and the School properly equipped to provide better services to the students and the clients that visits the school in search for new knowledge", he implored.
No standard documents and records management system
The minister observed that no attempts have previously been taken to implement a standard documents and records management system across all Government institutions. Currently, the minister said the documents and records management functions are largely manual in most Government Institutions. The automation of documents and records management initiatives contribute to the Public Sector Transformation Programme under objective 5 of the third National Development Plan (NDP III).
"The records management function is the fulcrum of the Public Sector Transformation and therefore this requires a Public Service that is efficient, effective, transparent and responsive to the needs of the people driven by efficient records management"
The Policy Paper on the Transformation of the Public Service as stated by the minister identifies structures, processes and systems as one of the pillars of service delivery. Therefore, the EDRMS Project intends to address service delivery bottlenecks associated with Records and Information Management systems in the Public Service considering its central role in service delivery.
It is envisaged that the digitization of records in MDAs and LGs will result in more flexible and rapid access to information for quick decision making and the eventual improved services to the citizens. It will also save on storage costs, space, equipment and time taken to retrieve records in MDAs and LGs. This will promote transparency, good governance and accountability.
The EDRMS system the minister reported has since been piloted, deployed and is working well in two Ministries: The Ministry Public Service, since November 2021; the Ministry of ICT and National Guidance since January 2022. In the second phase of the deployment process, the Ministry of Trade, Industry and Cooperatives (MoTIC) and Uganda Retirement Benefits Regulatory Authority (URBRA) were on boarded in January 2023. Currently, the EDRMS is running in four (04) entities.
Government pledge support to professionalization of the library carder and infrastructure
Despite the many challenges, the minister said, Libraries and Information Centers are not a luxury; they are a fundamental necessity for education, research, and community development.
The Minister pledged Government's readiness and commitment to address the challenges in managing Library and Information Centres in the country due to their critical importance across the Service.
"I therefore wish to request the Library fraternity to remain steadfast in the changing information access landscape in order to keep a braced with the new developments and counter the current challenges as herein enumerated.
I therefore implore you all to remain professionals in you line of due and serve the people that require your services diligently. Professionalism is one of the virtues for the 21st managers that will facilitate rapid economic transformation of our country."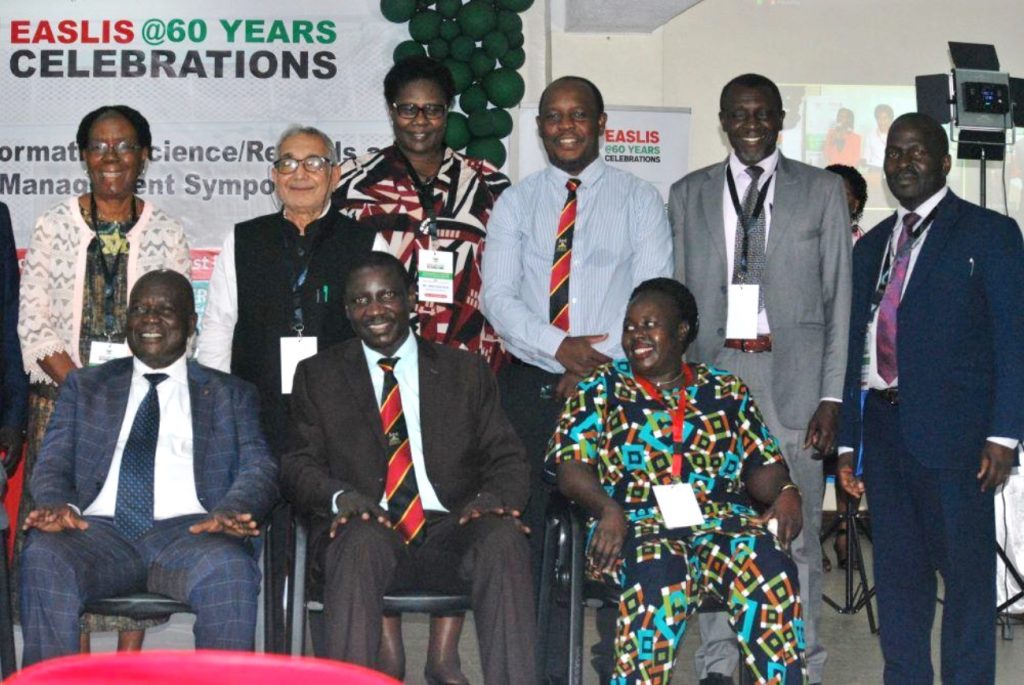 Government of Uganda through the Ministry of Public Service he said, continues to be supportive in walking the talk of professionalizing the library cadre across the service, including librarianship. This has led to the development of standardized curricula, accreditation processes, and recognition of the importance of well-trained library and information professionals.
Government according to the minister is also committed to ensuring that the required infrastructure is in place to support Library and Information Management noting that the expansion of the National back born fiber has greatly impacted on the information landscape in the country and facilitated Digital Literacy, in the country and access to information. This aligns with the evolving field of Library and Information Science, which increasingly involves managing digital resources and technology.
"Government will therefore make every effort and other actors to support continued Community Engagement by providing the much-needed information services to citizens in various regions of Uganda in shaping the landscape of Library and Information Science in the country.
Moving forward, it is essential that we continue to support and strengthen Library and Information Science training to ensure that our Libraries, Information Centres, and information services remain vibrant, relevant, and accessible to all Ugandans.", he pledged.
In pursuit of the aforementioned role, the Ministry of Public Service he said, is championing the strengthening of the Records and Information Management function by fully automating the records management processes to promote proper management and utilisation of records at all levels by every stakeholder across Ministries, Departments, Agencies and Local Governments (MDAs/LGs) including Makerere University that hosts the East African School of Library and Information Science (EASLIS).
Over the years, the Ministry of Public Service has engaged the Ministry of Information and Communication Technology and National Guidance to provide an integrated Electronic Document and Records Management System (EDRMS) solution.
EDRMS (eDocs+) has been developed with requisite modules to facilitate records/document creation, usage, search and retrieval, storage, processing and maintenance, transfer and disposal throughout the active, semi active and inactive records lifecycle in the new digital agenda.
Hon Mukasa reported that through digitization of the end-to-end business processes relating to Records and Information Management, the system enables MDAs and LGs to proactively and effectively execute their respective core mandates and functions through timely and informed decision-making.
The Minister noted that the advent of Information and Communication Technology (ICT) has fundamentally changed records management landscape world over. As a result, he said, Electronic records came onto the scene when Uganda embraced ICT as part of its economic development strategy in the mid-1990s. The significant reforms to embrace ICTs include the establishment of a fully-fledged Ministry of Information and Communication Technology in 2006, which led the development of the National ICT Policy, e-Government Master Plan, and the Cyber Laws.
Other developments highlighted include the establishment of the National Information Technology Authority-Uganda (NITA-U) as an Information Technology regulator. Overtime, many Government institutions have taken on computerization projects. Examples include; i) the Integrated Financial Management System (IFMS) by the Ministry of Finance Planning and Economic Development (MoFPED); ii) the Local Governments Information Communication System (LoGICS) by the Ministry of Local Government; iii) the Electronic Tax System (e-Tax) by Uganda Revenue Authority; among others.
Information scientists must embrace the new technologies to transform the management of information and data – Mak VC
The Vice Chancellor represented by the Academic Registrar Prof. Mukadasi Buyinza, said celebrating 60 years comes with a lot of viable lessons.
Prof. Buyinza said the office of the Vice Chancellor partners with EASLIS to celebrate its joy as part of the proud history and promising future.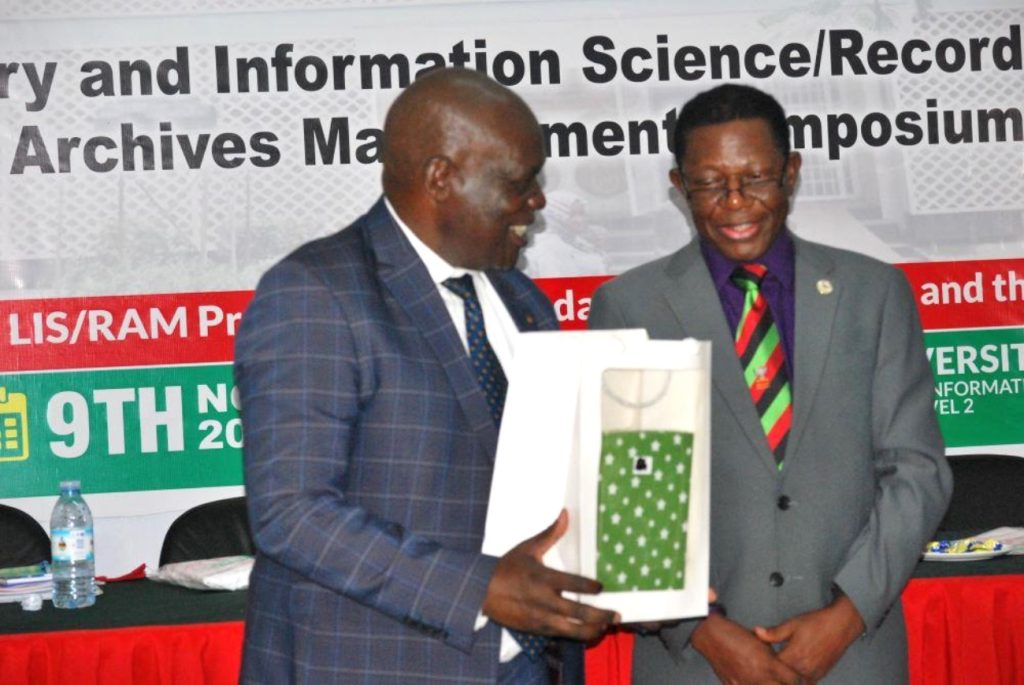 "As an academic institution our tool of trade is teaching, learning and research and community outreach but our currency is information. The oxygen and life-blood of the knowledge economy is data, information and records management. And being the custodians of these valuable assets means you are determined to the speed and agenda of our development". Buyinza said.
Buyinza implored information scientists to embrace the new technologies to transform the management of information and data.
"We are going through the information revolution. Digital libraries and web mediated technologies have come on board but the goal is the same, to transform society. This is your time to shape our destiny as a country and as a humanity. Do not lose the moment" the professor advised.
EASLIS has shaped the Library and Information Science Industry in Uganda, DVCAA
In an overview of the school's history, the Deputy Vice Chancellor in charge Academic Affairs represented by the Director Quality Assurance Dr. Cyprian Misinde expressed pride in the schools contribution in obtaining some required documentation to trace the university history, undertaking research in various fields with output reflected in international databases.
He said EASLIS research and professional training has shaped the Library and Information Science industry in Uganda, the region and internationally. At the national level, the DCVAA pointed out the development of the public library system, the national library in Uganda, and the school library policy.
The school was also hailed for the establishment of Information Resources Centres and professionalization of records and Archives management in Government Ministries, Departments and Agencies, private sector agencies and civil society organizations.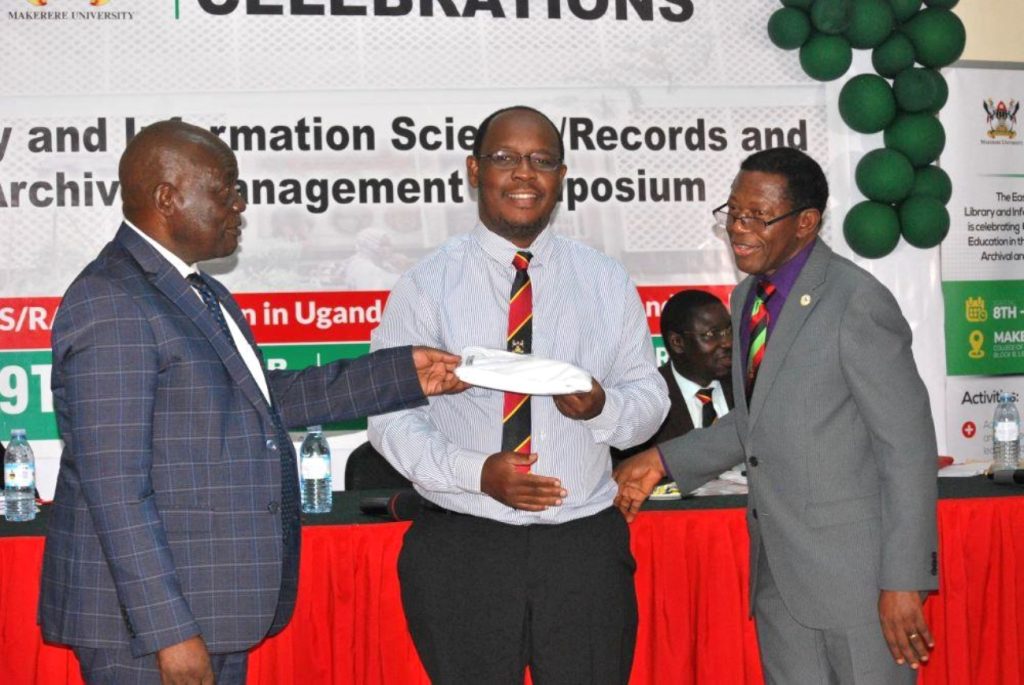 The DVCAA appreciated the school for the development and growth of the publishing sector, enactment of relevant legislation, institutional records and archives policies, development of the museum industry and academic libraries as well as the automation of library, records and archives management functions and digitization of institutional records at various levels.
"Notably, EASLIS has contributed significantly to the digitization of academic records at Makerere University and streamlining storage access to academic records under the DARP project that is being implemented under the department of the Academic Registrar", Dr. Misinde stated.
The DVCAA recognized various stakeholders and development partners for supporting the school. These include UNESCO, Swedish school of Library and Information Sciences, Bras university, National Library of Uganda and the Uganda Library and information Association among others.
The DVC AA recognized the invaluable contribution of the school leadership since its founding. These include Mr. Knud Larsen the first Director of EASLIS (1963-1966), Mr. Seith Director (1967-1971), Prof. SAH Abidi (1972-2002), Prof. Isaac Milton Namwanje Kigongo –Bukenya RIP (2002-2006), Prof. Elisam Magara (2006-2010), Prof. Constant Okello-Obura (2010-2014 and 2018-2022), Dr. George W. Kiyingi (2013-2018) and the current first female Dean Dr. Sarah Kaddu.
EASLIS has significantly contributed to knowledge, Principal CoCIS
The Principal College of Computing and Information Sciences Prof. Tonny Oyana appreciated participants for participating in the celebrations of EASLIS at 60 saying, the school is among the elders close to the university centenary celebrations.
Prof. Oyana thanked the school leadership for organizing the celebrations for purposes of reflecting noting, it was important to take stock after walking a journey to determine how to reach the final destination.
The Principal honored EASLIS for her significant contribution to knowledge.
"As a scholar, the work that has impacted a lot in term of publications that are out there lies in the information seeking behavior. And, among the giants is Prof. Robert Ikoja Odong who has 180 citations. When you go to the web of science, there are other others who have published a lot like over 500 citations", Oyana appreciated.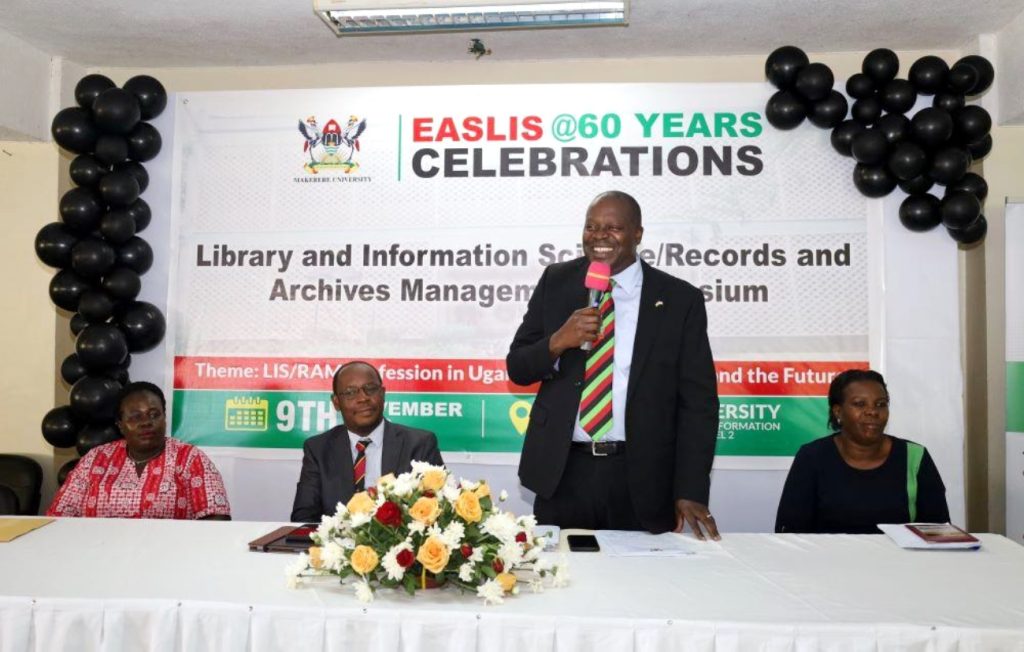 Prof. Oyana said the basic function of the library is to enable people seek information and data in different areas including agriculture, health, finance, economy and legal aspects among others, giving humans an empowering that enable them achieve their goals.
Noting that information can accessed digitally, the professor urged participants to utilize gadgets such as mobile phones for economic productivity to enhance their livelihoods.
The Principal also recognized librarians for satisfying people's needs for information.
Celebrations as a platform for collaboration and a catalyst for progress in library and information services – Dean EASLIS
The Dean EASLIS Dr. Sarah Kaddu, said the gathering was purposed to delve into the crucial realms of library and information services as well as the significance of records management in society.
"The symposium stands as a testimony to the enduring commitment of this institution and its stakeholders towards the advancement of knowledge, information accessibility and preservation of our collective memory", she said.
Expressing gratitude to the academics, practitioners, students and enthusiasts and library lovers for gracing the occasion, Dr. Kaddu explained that the symposium was a platform for vibrant discussions, sharing insights and fostering collaborations.
"This symposium comes at a time when EASLIS is celebrating her 60th anniversary. We at EASLIS stand on the shoulders of those that came before us. We celebrate those who have gone through EASLIS and especially you who have come to celebrate with us", the Dean appreciated.
The Dean re-echoed the importance of libraries, information services and records management saying, the symposium serves as a witness to the university's commitment to continually improve and adapt to the evolving landscape of information management and records preservation.
"Let us embrace this symposium as a beacon of knowledge, a platform for collaboration and a catalyst for progress in library and information services as well as records management. Together, let us strive to enhance our understanding, practices and methodologies, fostering a culture of effective information management and preservation", Dr. Kaddu implored.
The Dean further implored information scientists to embrace technology in transforming how they manage information and records on grounds that the digital age has come with both opportunities and challenges requiring them to constantly evolve their methods and strategies in handling information and records in both traditional and digital formats.