Mak Celebrates a Legacy of Leadership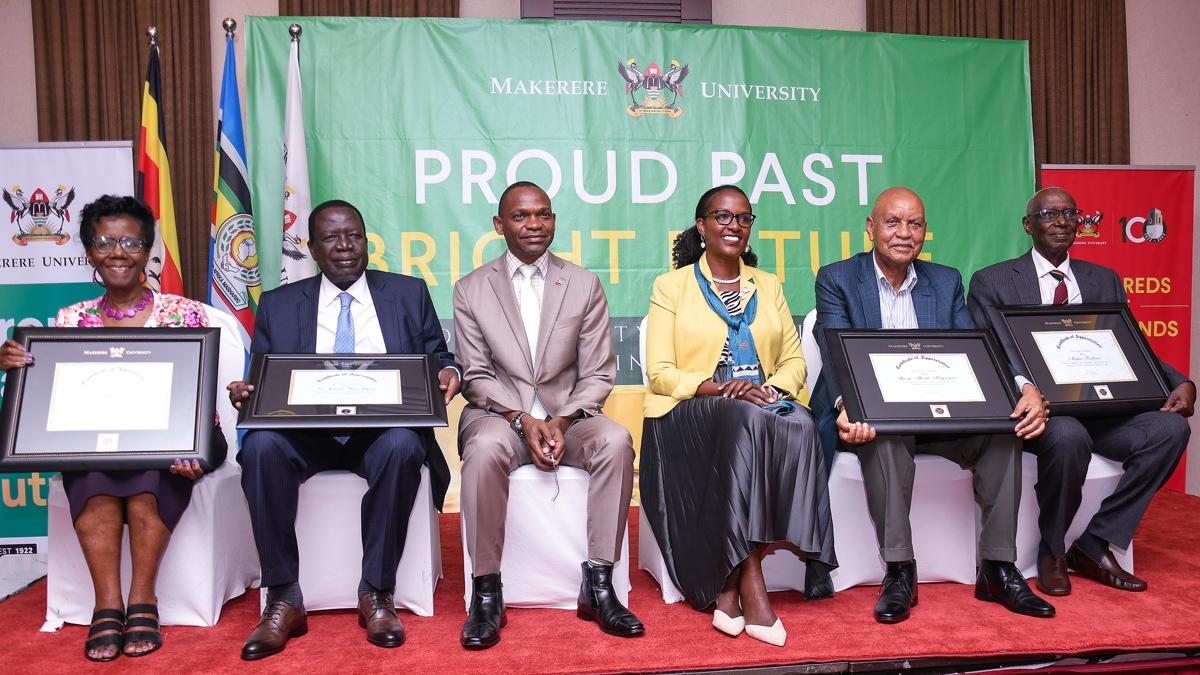 Dawn broke to a cold and overcast morning on Friday 17th March 2023. As if sensing the impending downpour, motorists and pedestrians alike made haste to get to their respective destinations; not a soul willing to add wetness to an already cold morning. But, not to be outdone, mother nature had other plans. The skies opened up, and down came the rain, nothing thunderous or menacing but steady nevertheless. And then it let up, but after a few minutes, resumed in earnest, continuing the pattern intermittently as the traffic slowed to a crawl, occasionally grinding to a halt.
So continued the trend until the gates of the Kampala Serena Conference Centre came into view. Security checks cleared, the teardrop banners were hard to miss; drenched to the core but still standing tall, their various messages welcoming guests to a celebration of Makerere University. Parking slots secured, the sighs of relief were unmistakable as guests finally made it into the quiet cavernous foyer of the Conference centre.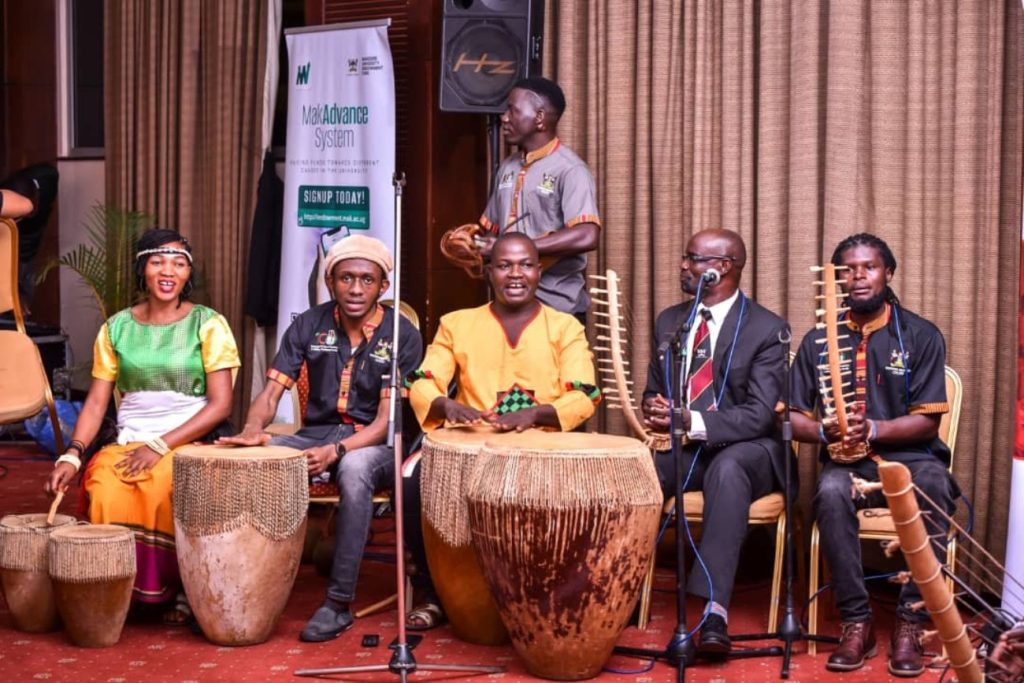 As one started to wonder if they were in the right place, a look to the right revealed a clue, a pull-up banner, beckoning guests upstairs. Steps cushioned by the deep red carpet, another clue beckoned on the ascent, a soft interplay of adungu and tube fiddle interwoven with song melodiously pouring out of a room at the end of the corridor. As one drew closer, the singing voices became more distinct, particularly that of Dr. Milton Wabyona as he effortlessly led the vocals of one of many traditional songs.
Katonga Hall was bathed in soft light, abuzz with warm greetings and laughter, as long lost friends and colleagues caught up, the total opposite of mother nature's cold display on the outside. The host and Chairperson of Council, Mrs. Lorna Magara, assisted by the Vice Chancellor, Prof. Barnabas Nawangwe and members of Management was on hand to welcome her guests, freely mingling, beaming with appreciation as Makerere University celebrated a Legacy of Leadership. The University Secretary, Mr. Yusuf Kiranda and day's emcee too worked his way across the room, ensuring that there was not letting up on celebratory mood, and that all went according to schedule.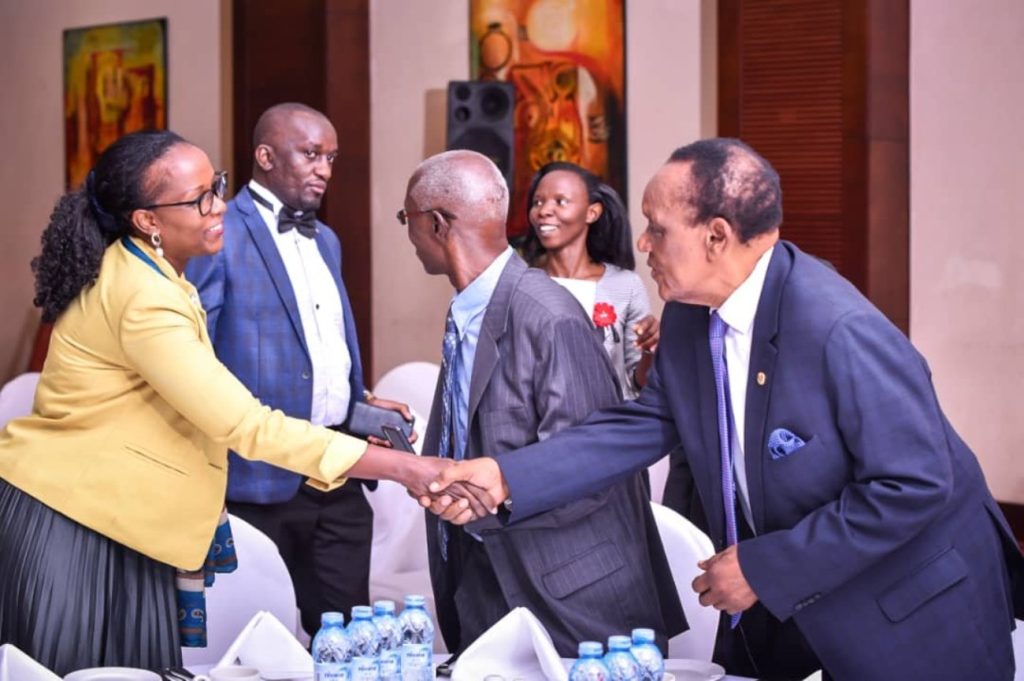 Commencing the formalities, Prof. Nawangwe thanked the Chairperson of Council, Mrs. Lorna Magara for bringing the idea of celebrating Makerere's past leadership to life. He noted that it was important to pay homage to the gallant men and women, both living and deceased, that had sacrificed their lives to serve and protect Makerere, especially during turbulent political times.
On this note, he made special mention of Owek. Martin Luther Nsibirwa, Makerere's first Vice Chancellor, Mr. Frank Kalimuzo and Ms. Theresa Nanziri Bukenya the warden of Africa Hall as some those that lost their lives because of the values they stood for. "These are celebrated great sons and daughters of Uganda who made Makerere not only thrive but also progress."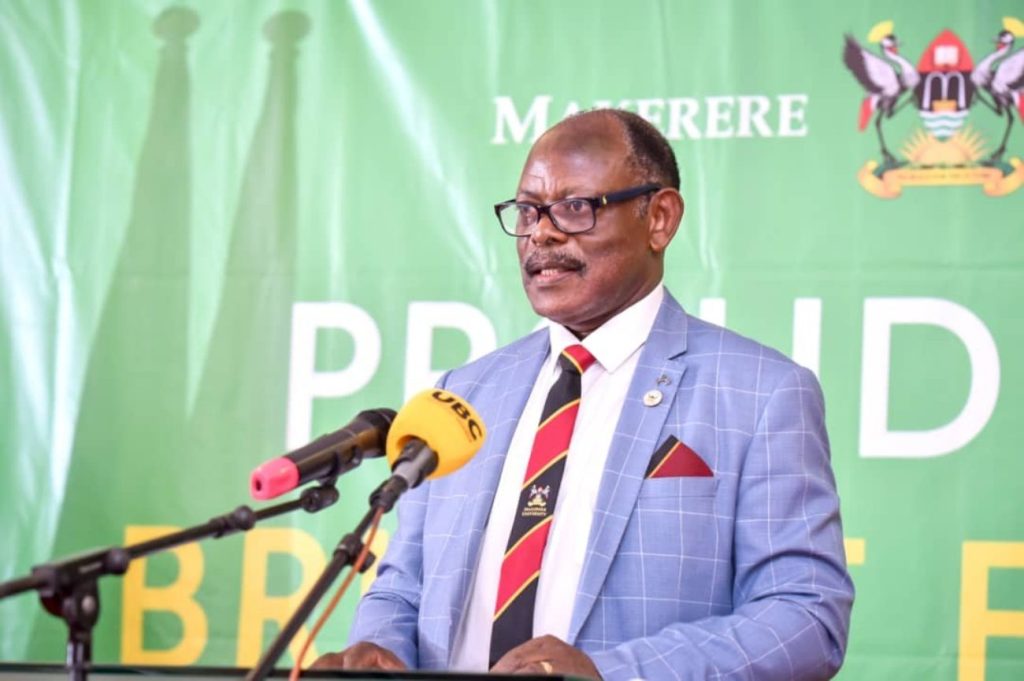 Prof. Nawangwe equally thanked the celebrants for sparing time to attend the event as well as the families of those who had since passed on for honouring the University's invitation..
Former Makerere University leaders present or represented that received their awards on the day included;
CATEGORY
NAME
TERM OF OFFICE
REPRESENTED BY
A
FORMER CHANCELLORS
1. Prof. Apolo Robin Nsibambi
2003–2007
Daughters:
Juliet Nsibambi Kasujja
Violet Nsibambi
2. Prof. George Mondo Kagonyera
2007–2011, 2012–2015
Self
B
FORMER CHAIRPERSONS OF COUNCIL
1. Eng. Dr. Charles Wana-Etyem
2018–2022
Self
2. Hon. Mathew Rukikaire
2010–2018
Self
3. Canon John Bikangaga
1990–1996
Son & Daughter
Eng. Andrew Bikangaga
Mrs. Margaret Kakitahi Bikangaga
C
FORMER VICE CHAIRPERSONS OF COUNCIL
1. Mrs. Christine R.M. Kiganda
2002–2010
Self
D
FORMER VICE CHANCELLORS
1. Prof Livingstone Serwadda Luboobi
2004–2009
Self
2. Prof. Pancas John Mukasa Lubowa Ssebuwufu
1993–2004
Son:
Mr. Martin Mwanje
3. Prof. Barnabas George Kirya
1986–1990
Self
4. Prof. William Senteza Kajubi
1977–1979, 1990–1993
Daughters:
Mrs. Betty Mugoya Kajubi
Ms. Samalie Kajubi
9. Mr. Frank Kalimuzo
1970–1972
Son & Daughter: Daniel Kalimuzo Phyllis Kalimuzo
E
FORMER DEPUTY VICE CHANCELLORS (ACADEMIC AFFAIRS)
1. Lady Justice Prof. Lillian Tibatemwa-Ekirikubinza
2004–2009 2007–2012
Self
F
FORMER DEPUTY VICE CHANCELLORS (FINANCE & ADMINISTRATION)
1. Prof William Bazeyo
2017–2020
Self
2. Prof. Barnabas Nawanagwe
2013–2017
Self
3. Prof. Sandy Stephens Tickodri – Togboa
2009–2013
Self
4. Prof. David Justin Bakibinga
2004–2009
Self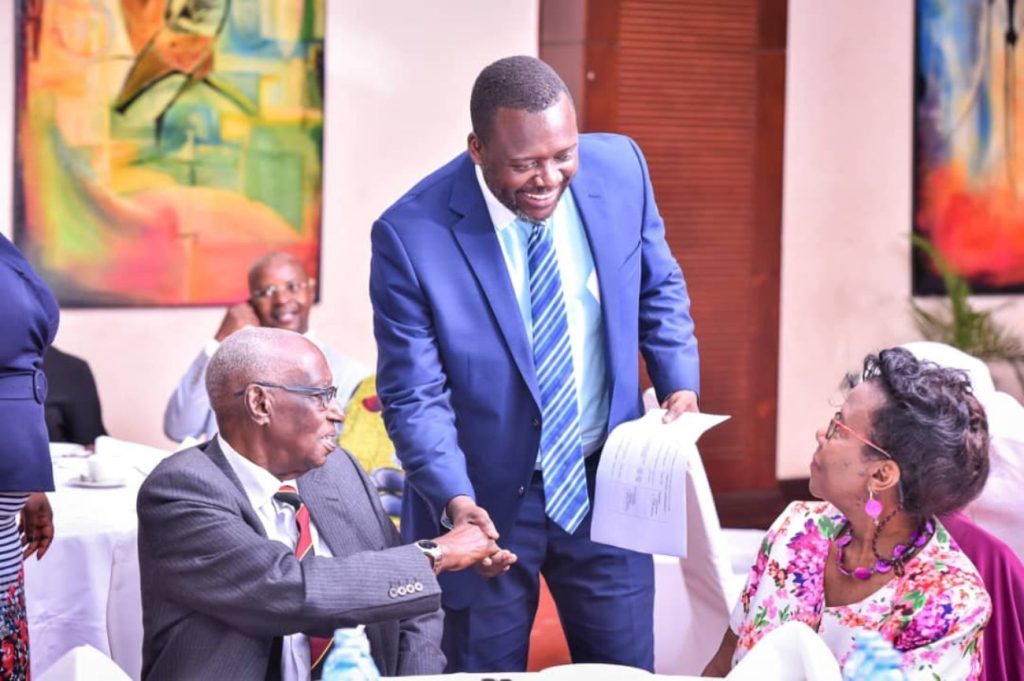 An event of this distinction would be incomplete without a moving address. And none was better placed than one who previously served Makerere as Guild President in 1962 and as Chairperson of Council for two successive terms, an author in his own right, 70 Years A Witness of Uganda's pre and post-independence struggles, the Honourable Mathew Rukikaire.
A few opening statements into his keynote address, Hon. Rukikaire had the audience feeding right out of the palm of his hand, with every sentence well articulated with poise as he expertly knitted the histories of Uganda and Makerere together. One could easily tell how passionately he felt about his alma mater.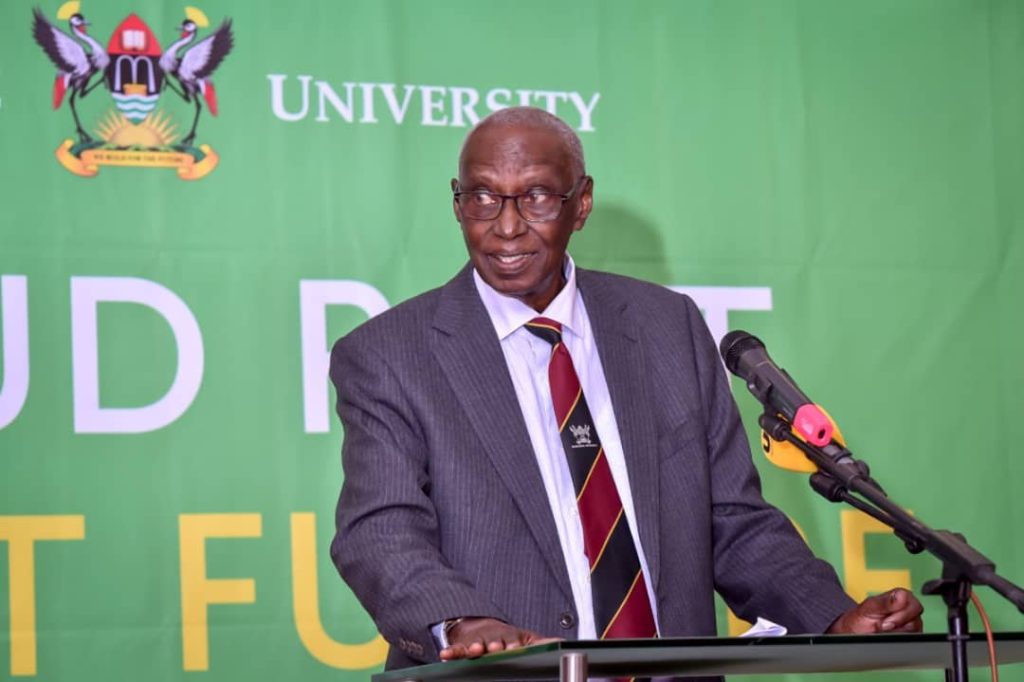 "…so were Makerere's fortunes adversely affected; yet, mercifully, its star was one of those that remained shining in that dark night" cited one example, in reference to the dark period following Mr. Frank Kalimuzo's abrupt disappearance in 1972. "As they say, stars shine brightest when the night is darkest. Makerere continued to shine in Uganda's darkest hour" he added reverently of his Alma mater.
Hon. Rukikaire nevertheless had a few pointers on what he thought ought to be Makerere's role, in the next two to three decades. Earlier, he had made reference to Africa's exploding population and the apparent lack of jobs for its youth combined with the slow pace of development of its mineral resources as "the greatest demographic upheaval in history".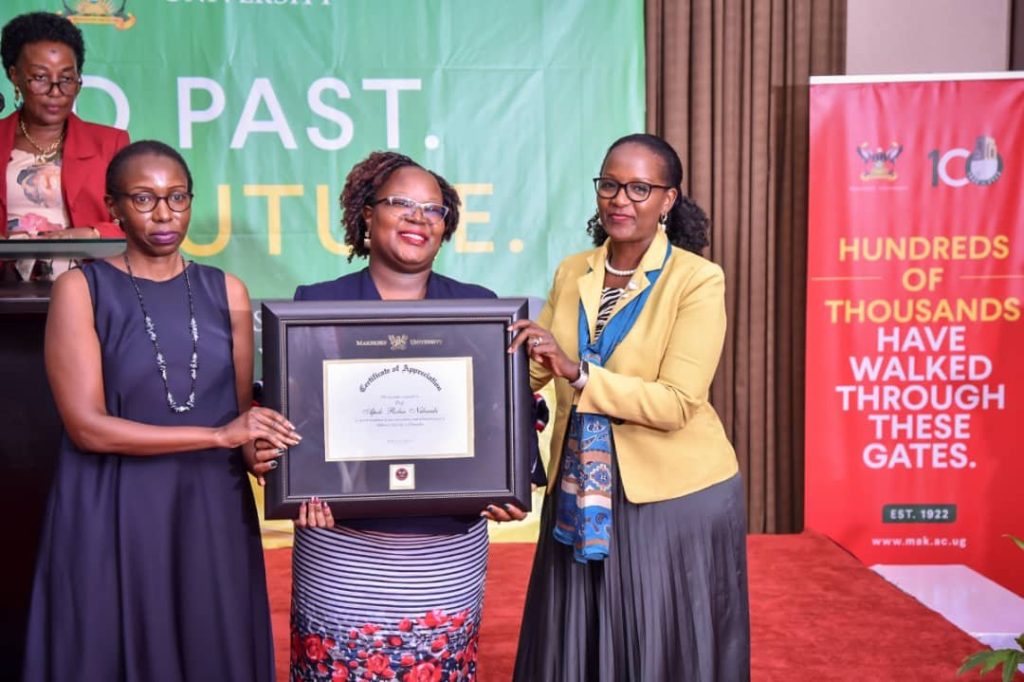 He however expressed hope that in prioritizing three things; Education, Regional Integration and Macroeconomic Stability, Africa still had opportunity to tap into the potential of its youth and reap the demographic dividend.
"I propose that Makerere as the oldest university in East Africa spearheads the search for and propose solutions to these problems by establishing a faculty or a specialized department to deal with these in Sub-Saharan Africa, covering economic integration, population and demography, environment and related technical training to support these efforts", he submitted.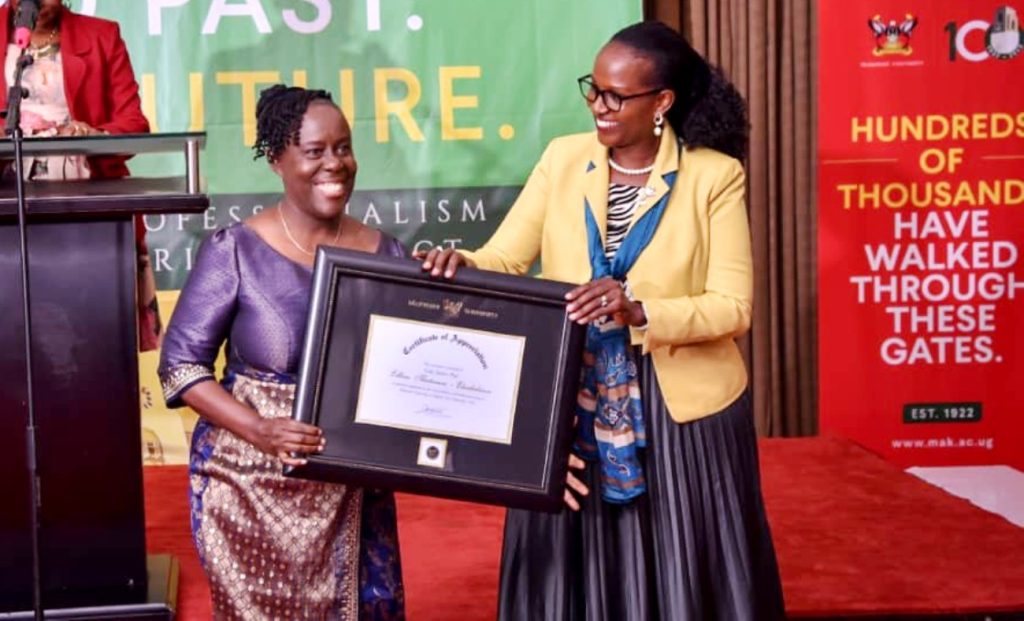 Hon. Rukikaire opined that by hosting such a centre, Makerere "would be able to attract global support and financing, because its impact and ramifications would be global."
Delivering the day's concluding remarks, Mrs. Lorna Magara thanked Hon.Rukikaire for an address she termed as "insightful and passionate", noting that it was a great indicator that Makerere's former leaders "are still passionate and concerned for its growth, progress, and impact on our society."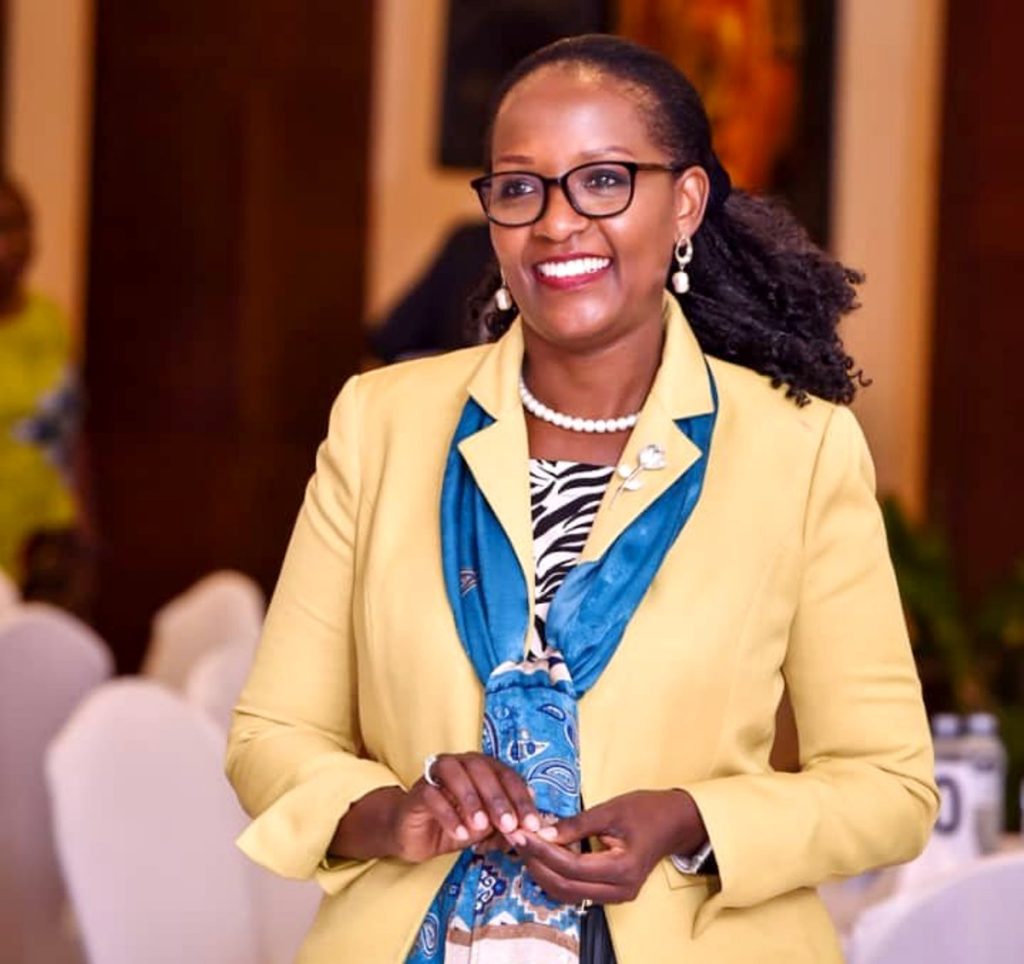 The Chairperson added that the day's celebration was not only aimed at honouring past and continuing diligent service of Makerere's leaders but also cherishing the contributions of those who selflessly served the institution but have since passed on. "It is our humble gesture as the current leadership of this great institution to demonstrate that we remember and sincerely appreciate their respective contributions and influence long after their departure."
Mrs. Magara affirmed the University leadership's commitment to ensuring that it consolidates the gains made in Makerere's first century, by putting in place the appropriate policy environment responsive to emerging technology breakthroughs and their anticipated disruption of various sectors.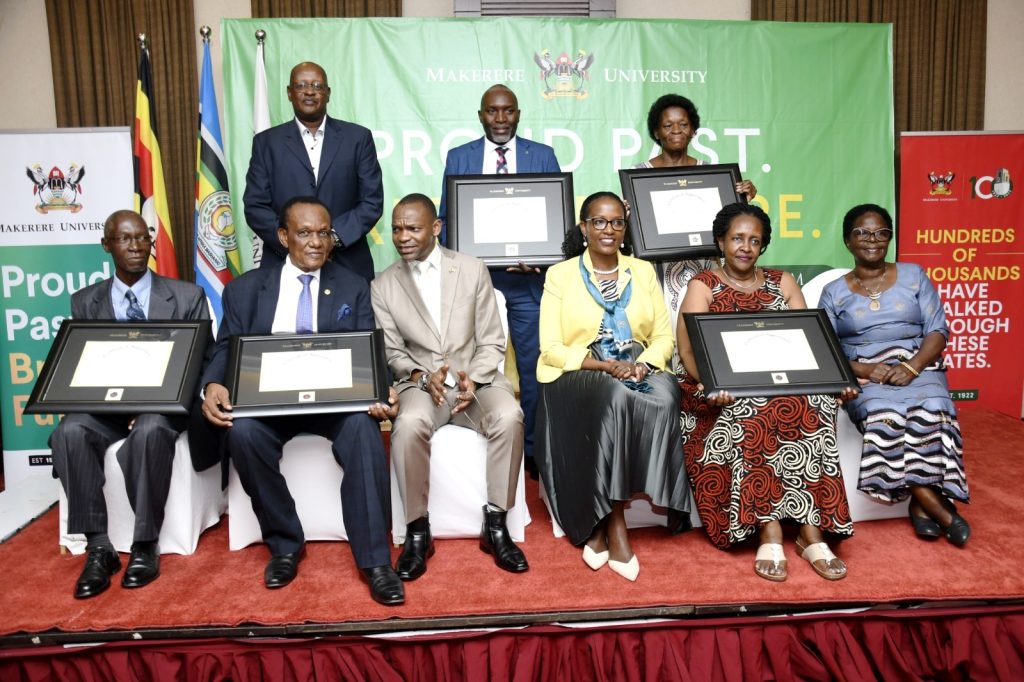 "Makerere has had 100 years of being fed, empowered, nurtured and supported. The next 100 must be years of coming out of the University and impacting society; Makerere must be relevant to the nation, the nations around us, and to Africa" she emphasized.
The Chairperson concluded the day's remarks by extending an open invitation to Makerere's elders to a fireplace conversation, where the younger generation can ask questions, hear their stories, and receive wisdom. "There is so much more that we lose if we don't connect with our elders," she politely added.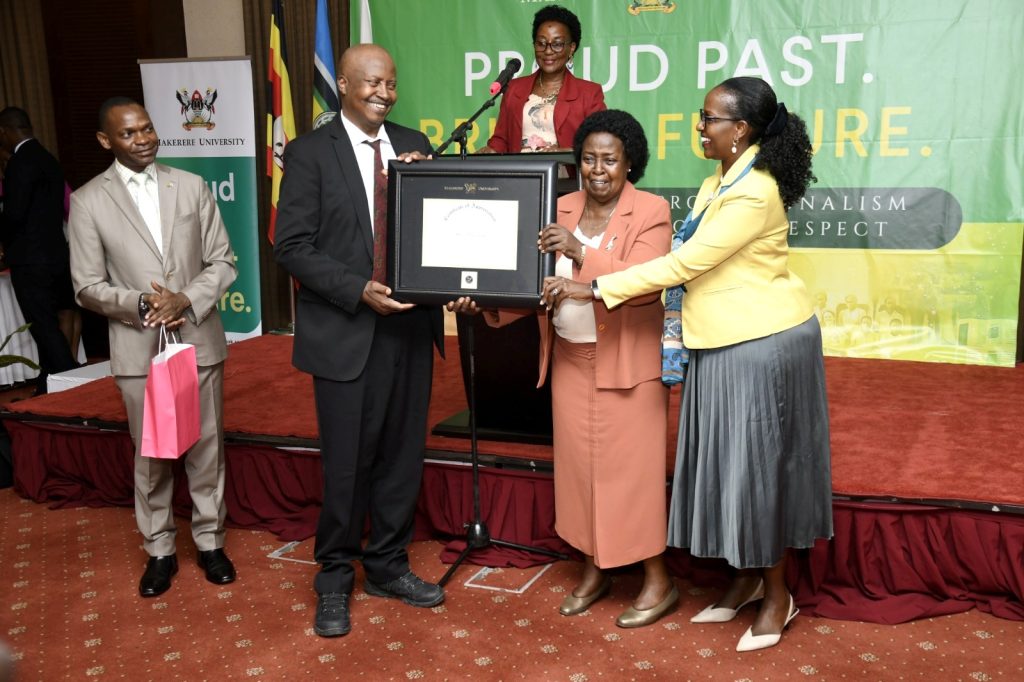 Formalities done, it was time for the elders to once again mingle with the audience and share fond memories. The delight on their faces as they read the wording on their certificates of recognition and souvenirs said it all, it had been a morning well spent.
Ambassador of Sweden to Uganda calls for full involvement of men and boys in achieving Gender Equality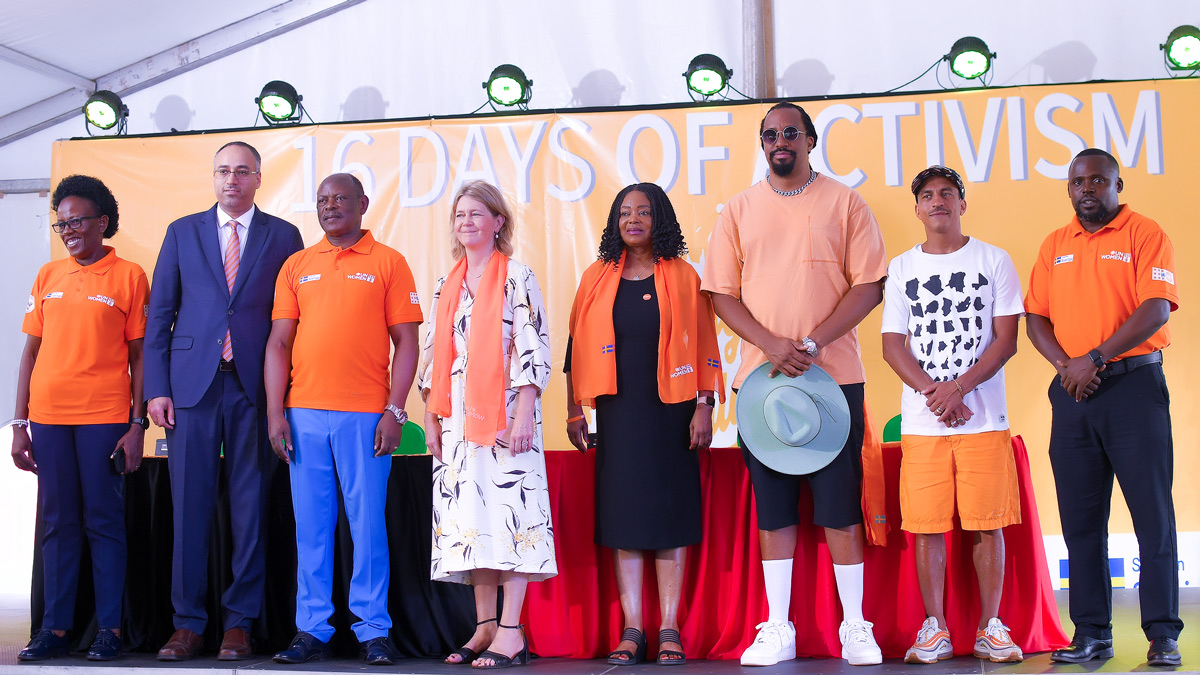 The Ambassador of Sweden to Uganda Her Excellence Maria Håkansson has emphasized the need to fully engage men and boys in all the initiatives geared towards achieving Gender Equality in Uganda and other parts of the world. She said this on 28th November 2023 at a press conference organized by the Embassy of Sweden in close collaboration with Makerere University Gender Mainstreaming Directorate, UN Women and United Nations Population Fund (UNFPA) to unveil the National Orange Pledge campaign and officially launch the 16 Days of Activism against Gender-Based Violence.
The press conference was headlined by a Ugandan rapper and record producer Daniel Lubwama Kigozi, popularly known by his stage name Navio and his fellow from Sweden Jason Michael Bosak Diakité popularly known as Timbuktu. Over 200 students both male and female from Makerere University and other institutions of higher learning attended the press conference at Makerere University Rugby Grounds.
According to Her Excellence Maria Håkansson, Gender Equality cannot be achieved without involving men and boys to take their responsibilities and be the drivers of change. "For real change to happen, we need to change attitudes and norms that might cause Gender Based Violence, one of the social ills in Uganda and an extreme of gender inequality that occurs at all levels of society," she said.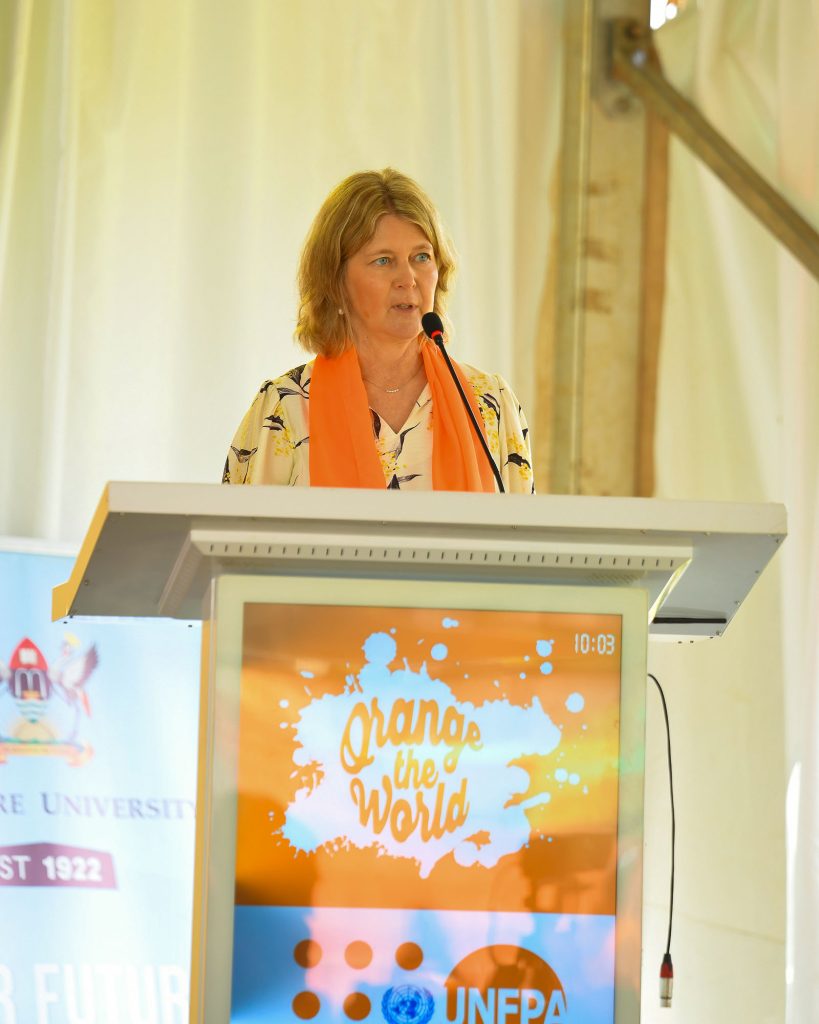 Referring to the national survey conducted in 2020, the Ambassador was concerned about the escalating burden of gender based violence in Uganda when she said, "the Survey highlighted that 95% of women and girls experience physical or sexual violence since the age of 15."
She therefore emphasized the Global 16 Days of Activism as key international movement to increase awareness and advocate for an end to Gender Based Violence. The Ambassador also mentioned that preventing and responding to Gender Based Violence is a cornerstone for Sweden's commitment to promote democracy, human rights and gender equality and this is done as an investment in a society that upholds the principles of equality, dignity and justice.
She acknowledged the full participation of university students in all campaigns and activities geared towards achieving gender equality as well as ending Gender Based Violence when she said, "You are the leaders of tomorrow and you have an opportunity to build a future where everyone can thrive. So please use today to take an active stand against Gender Based Violence."
Every year Uganda joins the rest of the world to enhance the global campaigns on 16 Days of Activism against Gender-Based Violence and also add a voice to the call for an end to violence against women and girls.   These campaigns run from 25th November (the International Day for the Elimination of Violence against Women) until 10th December of the Human Rights Day.
The United Nations Secretary-General's UNiTE by 2030 initiative calls for global action to increase awareness, galvanize advocacy efforts and share knowledge and innovations to help end all types of violence against women and girls.  This year 2023, the UNiTE campaign theme is; Invest to Prevent Violence against Women & Girls.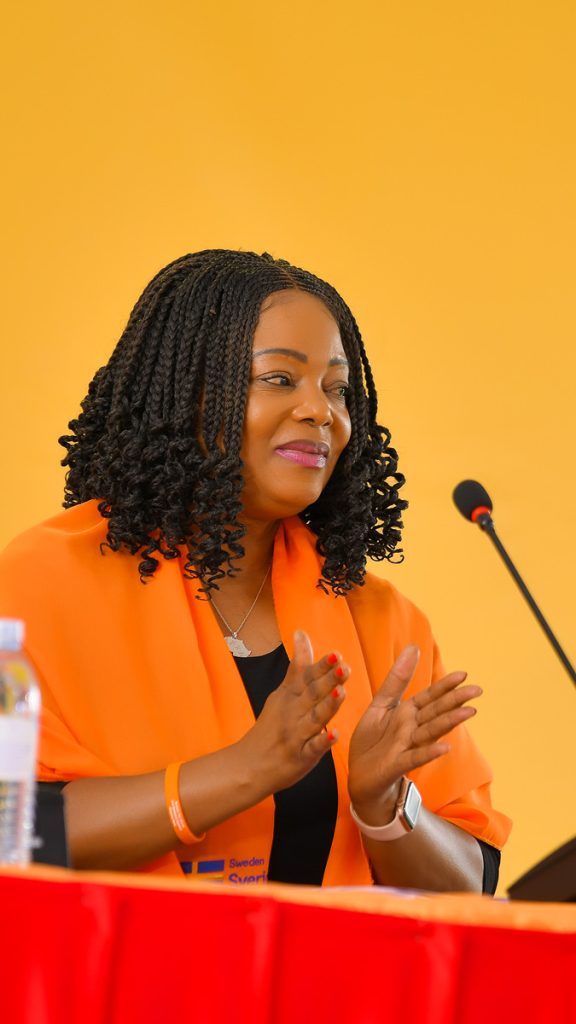 Over the years, Makerere University through its Gender Mainstreaming Directorate and School of Women and Gender in partnership with UN Women and many other partners have been at the fore front to support the campaign on 16 Days of Activism against Gender Based Violence in Uganda. This has been done through debates, theatre forums, student dialogues, thematic artistic presentations, media exposures, drama and music skits presentation, and student peer led discussions and quarterly competitions.
This year 2023, the University in partnership with the Embassy of Sweden, UN Women and United Nations Population Fund (UNFPA) unveiled the Orange Pledge. According to Eric Tumwesigye the Senior Gender Specialist at Makerere University Gender Mainstreaming Directorate, this campaign calls upon government, policymakers, activists, civil societies, academicians, students and all members of community from all parts of the country to make their heartfelt pledges towards ending Gender Based Violence in Uganda and the rest of the world.
The UN Women Country Representative Paulina Chiwangu recognized the investment Makerere University, the Embassy of Sweden and UNFPA have made to end violence against women and girls. "Thanks to our collective efforts, the silence that used to shroud violence against women has now been broken" said.
In the same spirit, she acknowledged the progress Makerere University has made in establishing and implementation of the University's Policy and Regulations against Sexual Harassment to protect students and staff from potential abuses of power and conflict of interest. She also applauded the increased support and training for students and the strengthened mechanisms for investigations that allow students and staff to anonymously report sexual misconduct.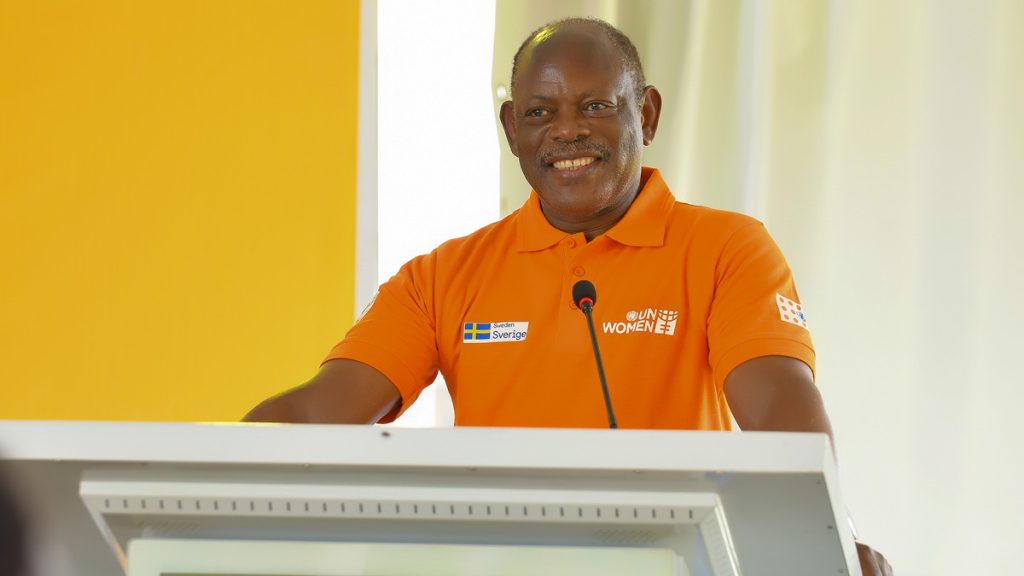 "We are however, aware that despite this, sexual harassment is still happening in the university and that not many students report to the authorities when they experience it. It is therefore, our humble appeal to the university leadership to continue monitoring the implementation of the Policy and Regulations Against Sexual Harassment, take all allegations of sexual harassment and violence seriously, ensure that all personnel have information on available support services and take action to ensure that perpetrators are held accountable."
Reaffirming the University's position in fighting GBV and particularly sexual harassment, the Vice Chancellor of Makerere University Prof. Barnabas Nawangwe was highlighted the various measures Makerere University has put in place to prevent and respond to Gender Based Violence. To him, the Policy and Regulations against Sexual Harassment; the appointment and capacity building for the Vice Chancellor's Roster of 100 eminent people from the various colleges and administrative units; recruitment and training of the Gender Mainstreaming Programme Student Peer Trainers and setting up Sexual Harassment Investigation Committees are bigger milestones to celebrate.
He appreciated the move by the Gender Mainstreaming Directorate and all the partners to embrace entertainment and artistry as a critical advocacy and awareness tool to reach several communities especially the youth.
"We firmly believe in the transformative power of music and the arts in promoting social change. Music and art does serve as a powerful medium to advocate for the world free from violence especially violence against women," said to Mr. Dainel Alemu, the UNFPA Deputy Country Representative.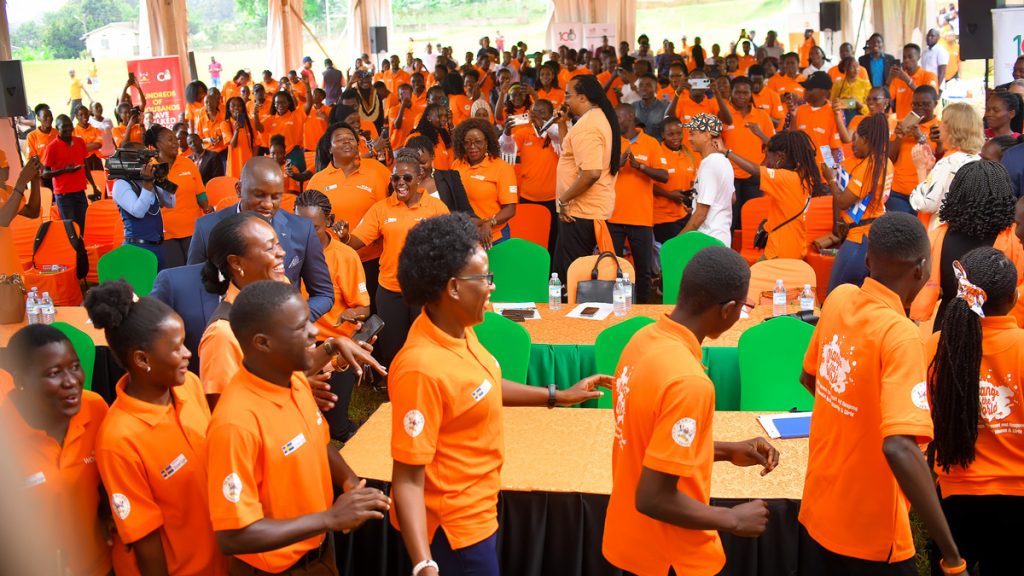 "It is heartening to see artists like Navio taking a stand and using their influence to challenge harmful norms. As we revel in the beats and melodies, let us not forget he underlying message that everyone , regardless of gender, has a role to play in fostering a world where everyone is free from shackles of gender based violence," he added.
Speaking at the Press Conference at Makerere University Rugby Grounds, Navio said that for the 20 years he has been an activist of Gender Based Violence, he has faced the reality of many young girls and women in Uganda being victims of sex and physical abuse. He therefore sent a huge condemnation to men especially artists that who are perpetrators of Gender Based Violence and called for serious government action and clear policies and laws against such injustices.
Navio applauded the women and men who have stood tall over the years to fight against Gender Based Violence in Uganda when he said, " As we launch the 16 days activism in Uganda and through these pledges we are making, let us be accountable for our actions. For long in our cultures, men have considered force and violence as power and protection. They have been tough to their children hence instilling fear to the extent that the children cannot freely interact with them on serious matters such as abuse and torture."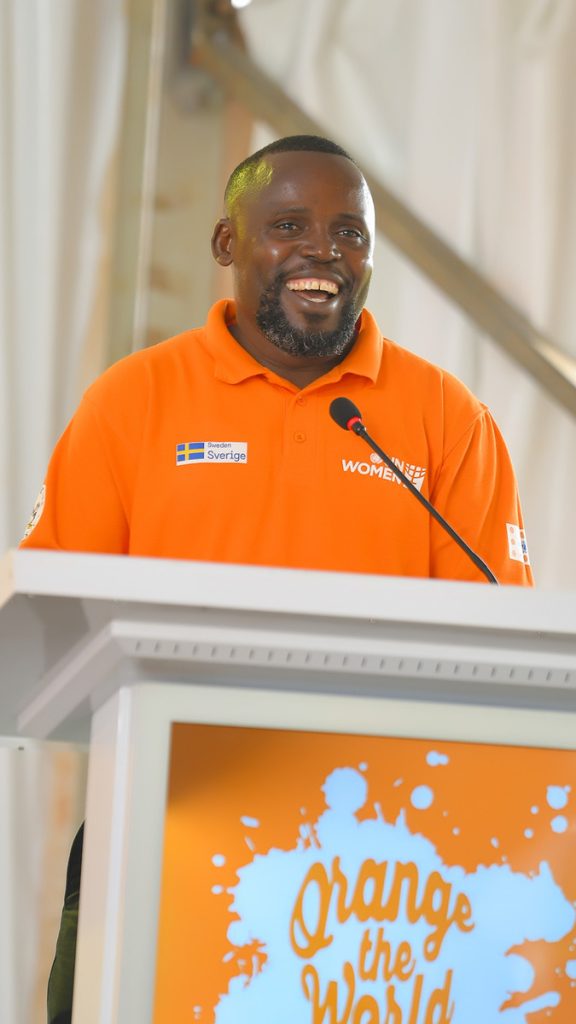 He applauded all families that have adopted the new parenting model of free conversations and interaction hence encouraging children to freely open up whenever they have challenges. Navio also acknowledged the role of his mother Mrs Maggie Kigozi as a human rights activist and a champion in fighting against Gender Based Violence in Uganda.
Jason Michael Bosak Diakité popularly known as Timbuktu from Sweden appreciated the wider platform provided by the music industry globally for artists to act as role models and champion of change. The rapper highlighted the need to respect women for their roles and support towards community development.
"I am a son and it is extremely important for me to respect my mother and all women. Also being a father to a beautiful daughter, I am always eager and looking forward to seeing the best future for her. I want daught to grow up in the world where she is able to feel safe and be allowed to freely associate without being discriminated or threatened because of her gender," he said.
Scholars & Alumni of Mastercard Foundation light up Achukudu Community, Napak District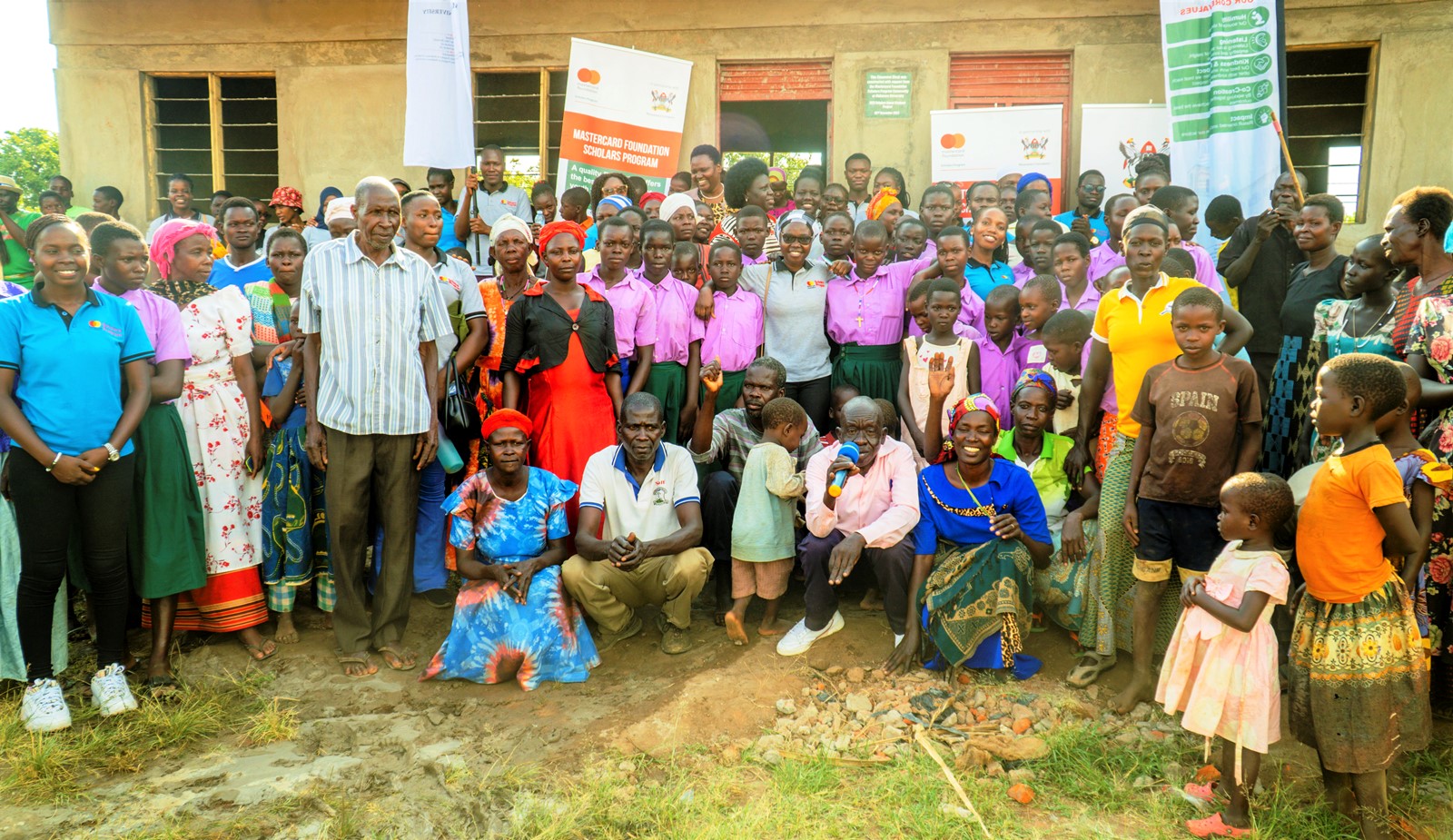 By Bernard Buteera
On Saturday 2nd December 2023, all roads led to Achukudu Community Primary School in Napak District, Karamoja sub-region, as the Scholars and Alumni of Mastercard Foundation at Makerere University commemorated their Scholars' Annual Day of Community Service (Giveback). The 2023 Scholars Annual Day of Community Service was held at Achukudu Community Primary School, Napak District in the Karamoja sub-region. Established in 2013, Achukudu Community School serves two ethnic communities—The Iteso and Karamojong.
With a total population of 1,097 pupils only three government-paid teachers, and nine community-paid teachers, the School faces a plethora of challenges. Key among the challenges is the lack of Classrooms, decent Ventilated Pit Latrines, and Desks. Therefore when the Scholars identified the School as one that deserved to be given a gift of a classroom block, it was a befitting choice!
The Scholars with support from the alumni, the Program Team, Members of the Steering Committee, and partners of the Scholars Program at Makerere University intervened by constructing a two-classroom block, which was supervised by one of the alumni who is an Engineer. Alongside the classroom block, the Scholars also provided 40 desks, helping the school meet UNEB Center eligibility criteria.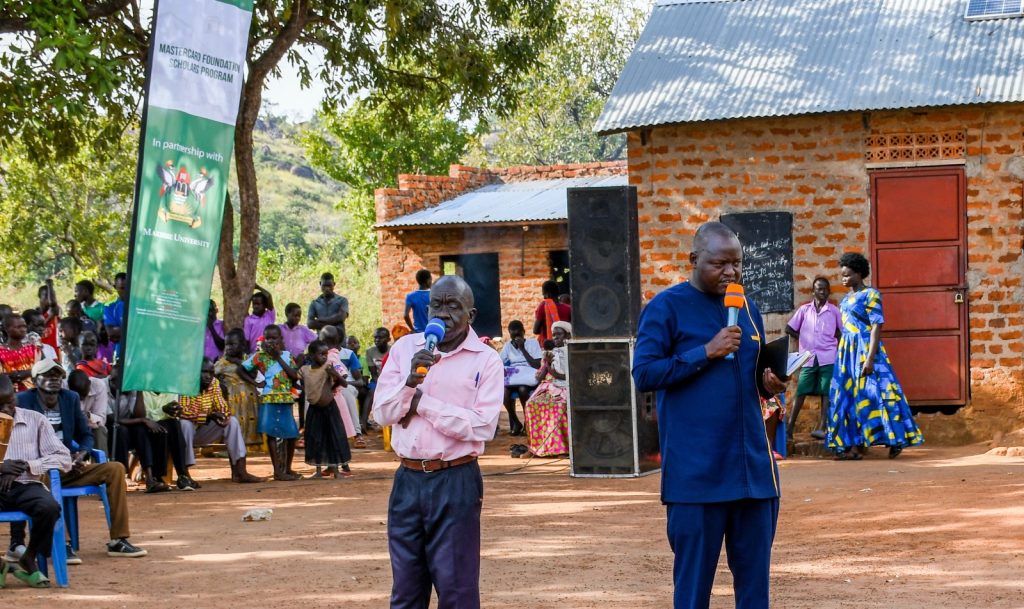 While presiding over the event, the area member of Parliament, Hon. John Bosco Ngoya, thanked the Scholars and alumni community at Makerere University for supporting the young pupils of Achukudu Primary School and the entire community by gifting them with a two-classroom block.
"Thank you Scholars and alumni of Mastercard Foundation at Makerere University for the Christmas gift of a classroom block to the young people and the entire community of Achukudu. This classroom block will go a long way in improving the learning environment of the young children of Achukudu primary school." Hon. Ngoya pointed out.
Hon. Ngoya called upon other people to emulate the Scholars and alumni of the Mastercard Foundation in embracing the spirit of giving back to the vulnerable people in the community. On his part, he donated One Million Five hundred shillings (1,500,000/=) to help the School purchase more desks, and he had earlier contributed One million shillings (1,000,000/=) towards the construction of the classroom block.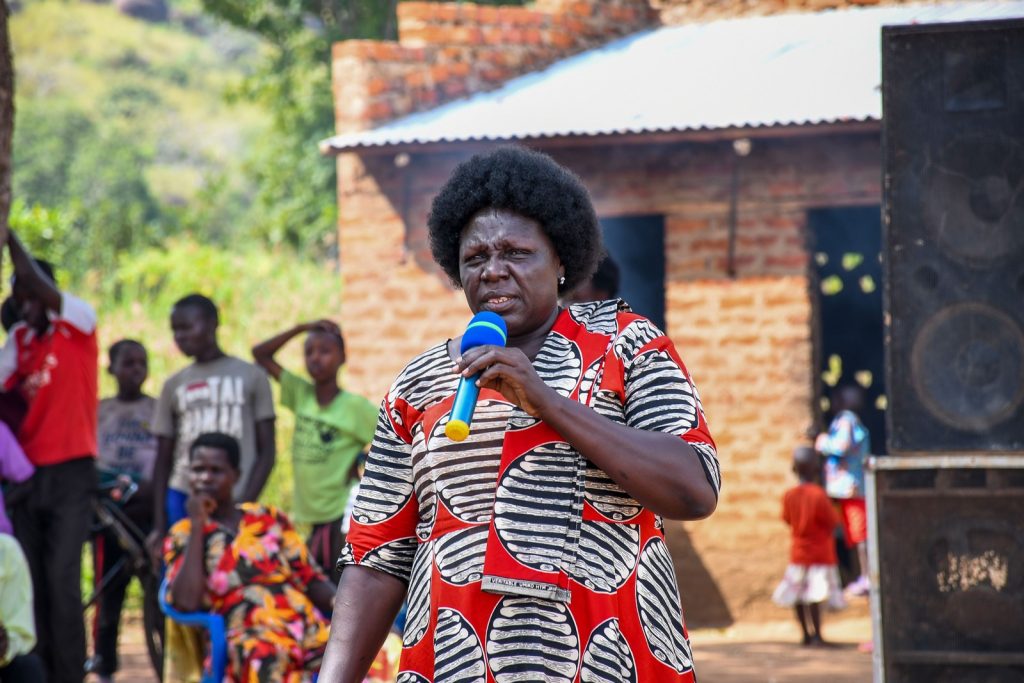 The District Education Officer (DEO) for Napak District, Ms. Joyce Nakoya, praised the Scholars Community for embracing and practicing the spirit of giving back to other people at an early age.
"Thank you Scholars and alumni of the Mastercard Foundation at Makerere for embracing the spirit of giving back to other people at such an early age. If all people gave back to the less privileged in our communities, we would have a better world for everyone." Ms. Nakoya pointed out.
Ms. Nakoya further pointed out every child deserves to study in a decent environment, therefore it was a befitting cause for the Scholars to construct a classroom block for the young pupils of Achukudu community primary school, who were studying in open grass thatched classrooms.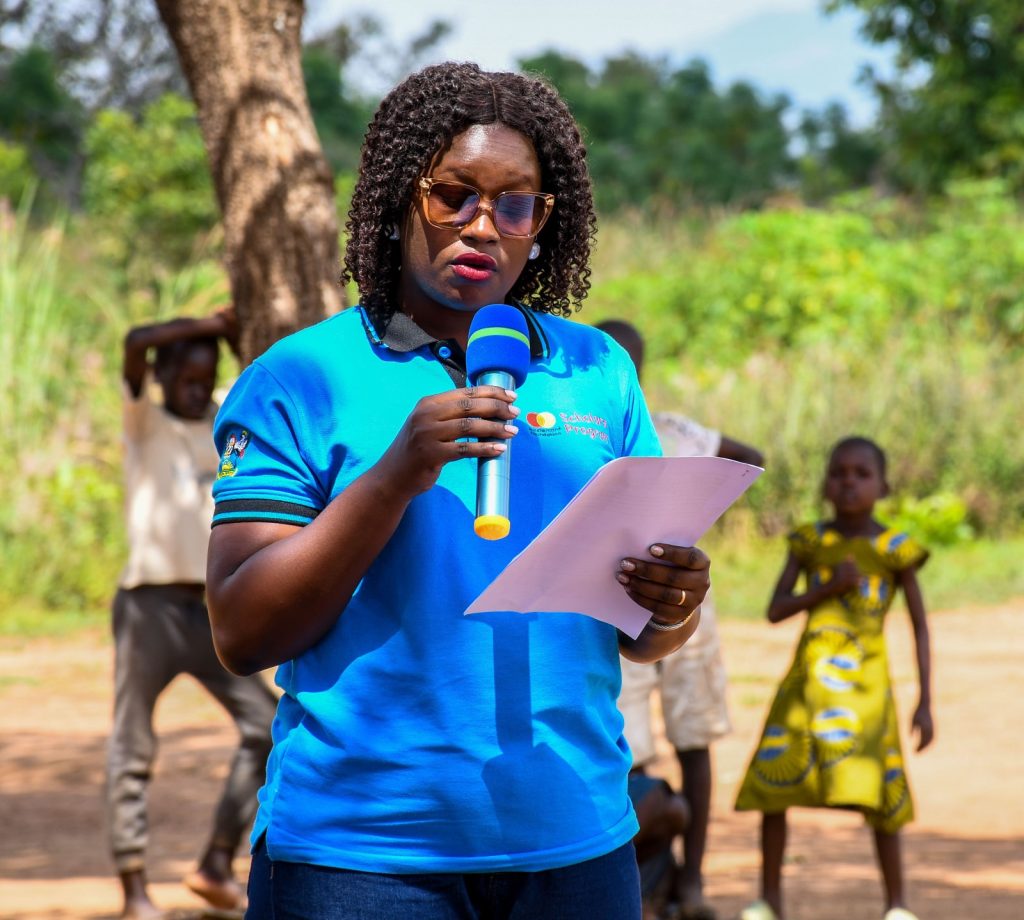 The Program Manager of the Mastercard Foundation Scholars Program at Makerere University, Ms. Jolly Okumu who led the team of Scholars, alumni, and staff to Karamoja thanked the community of Achukudu for supporting the Scholars to deliver the class block by contributing to the construction sand.
"We come here today to join with you as a community driven by a shared commitment to education, empowerment, and ethos of giving back. Today is a historic occasion as we celebrate the completion and commissioning of the classroom block, which is a remarkable testament to the transformative power of education and our unwavering spirit of community service." Ms. Jolly remarked.
The President of the Scholars Association, Mr. Godfrey Okello, thanked all the Scholars and alumni, and all stakeholders who contributed to the construction of the classroom block, which was a dream that became a reality.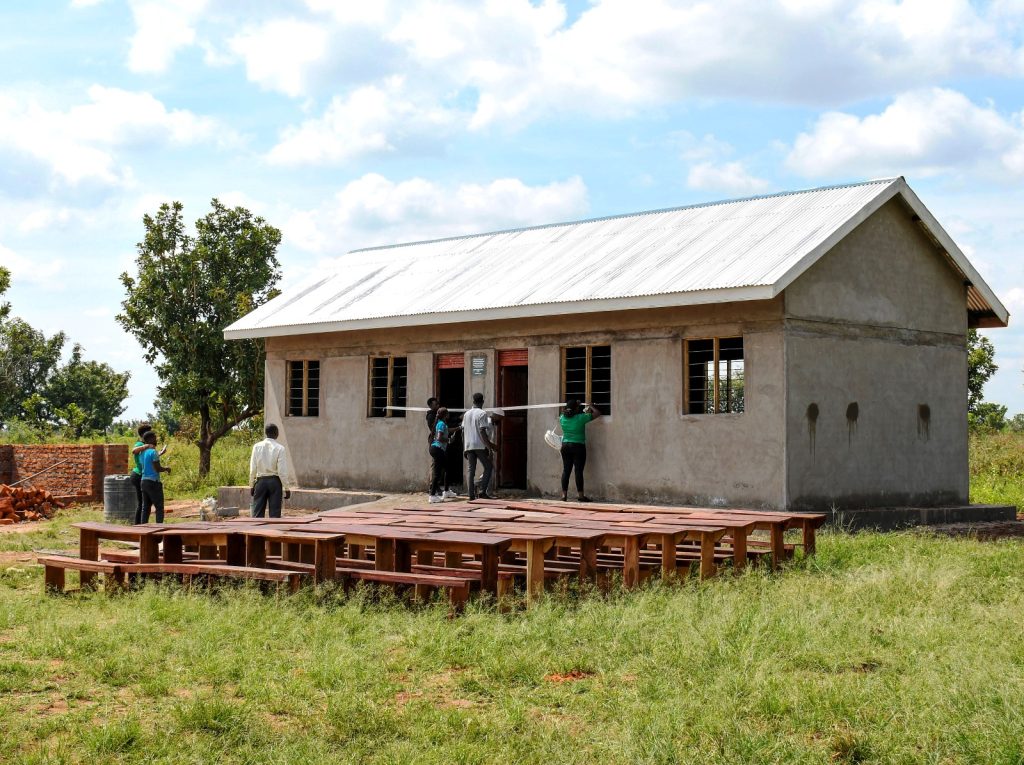 "I would like to thank my colleagues and people of goodwill who supported us to realize our dream of constructing this classroom for our young brothers and sisters of Achukudu Primary School. Together we can make a difference in the lives of our fellow young people in Uganda and Africa as a whole." Mr. Okello remarked.
The Headteacher of the School, Mr. Eryebu Raymond, who was visibly very excited was full of praises for Scholars and alumni of the Mastercard Foundation, for what he termed as an iconic classroom block they had gifted to his School.
"This day is very special to us, we will not see this day again. We are delighted to receive the Scholars and alumni of Mastercard Foundation from Makerere University, thank you for considering supporting our School" Mr. Eryebu excitedly remarked.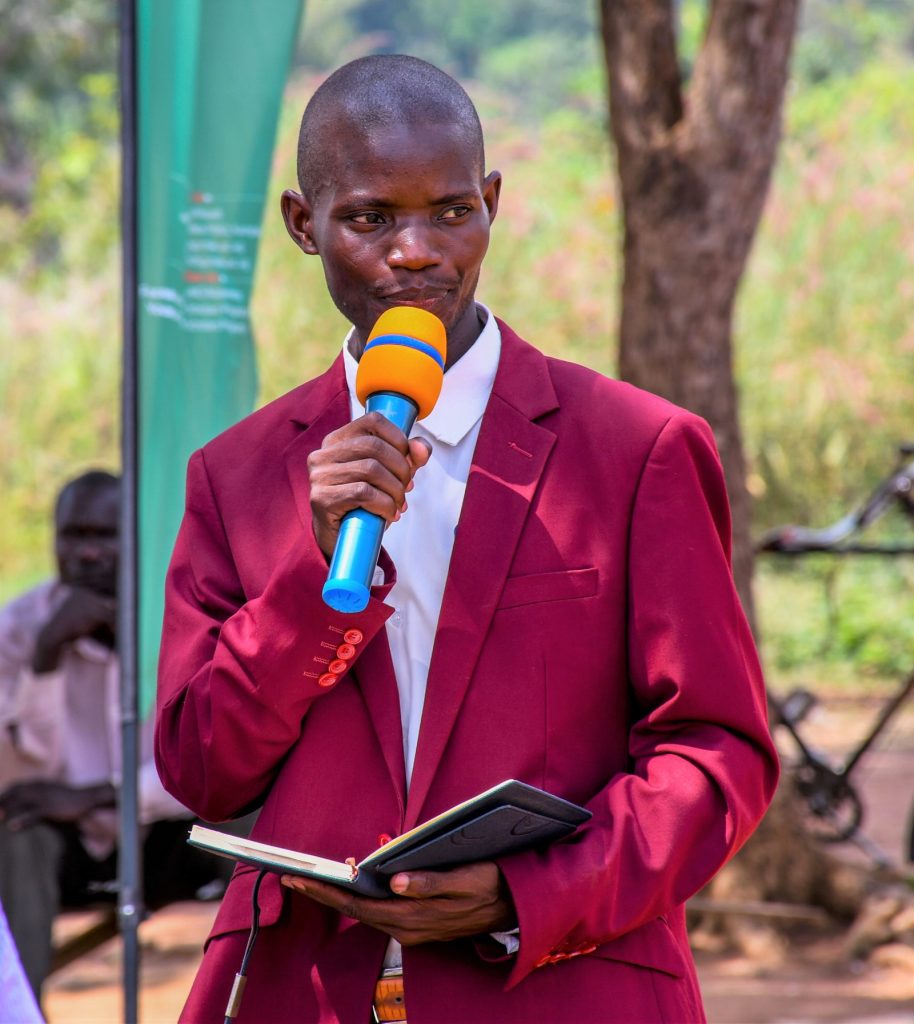 The Headteacher revealed that one of the major challenges the school was facing was an acute shortage of classrooms for his 1,097 pupils. He was therefore grateful to Mastercard Foundation Scholars for choosing to construct a two-class block for the School.
"This donation of a classroom block and Desks is a testament to your commitment to education and empowering the lives of the vulnerable people in the community. This classroom block and desks will go a long way in improving the quality of teaching and learning at our school." Mr. Eryebu further remarked.
The 2023 Scholars Annual Day of Community Service (Giveback) was punctuated with a lot of joy, pomp, and fanfare, as the pupils and the entire community of Achukudu danced and ululated at the commissioning of the classroom block. The construction of the classroom block and purchase of desks for Achukudu Community Primary School was made possible by generous contributions by the Scholars, alumni, the Program Team, and members of the Steering Committee.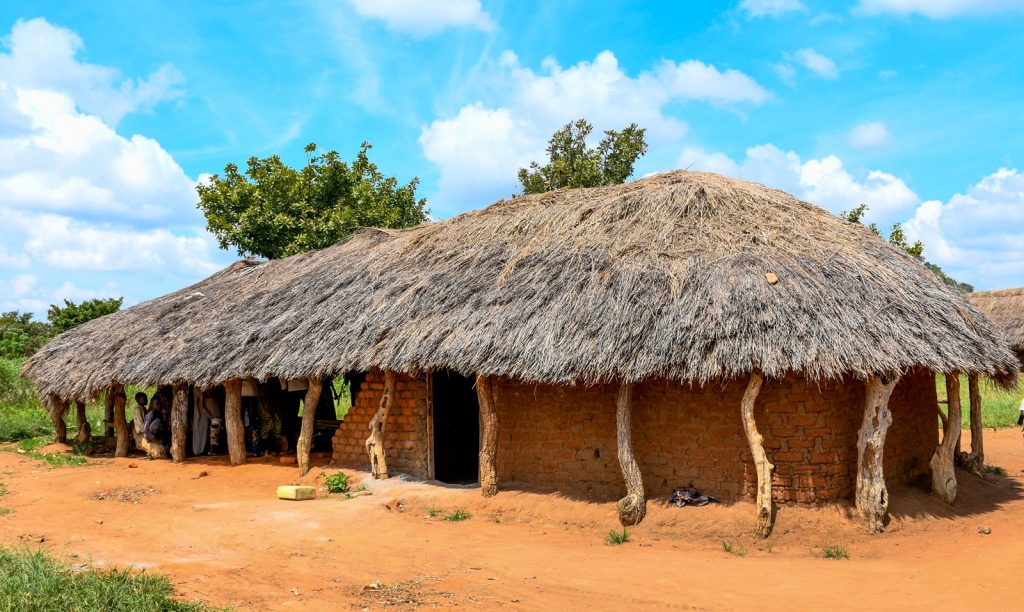 Among the Partners who made financial contributions towards the class block construction included; DFCU Bank, Post Bank, URA, Katumba Estates, Footsteps Furniture Ltd, and Sion Travels Ltd.
The Scholars and Alumni Day of Community Service (Give back) is an annual event, where Scholars and alumni of the Mastercard Foundation go out into the community to give back by providing solutions to challenges that a particular community is facing. Over the years Scholars have given back to the communities in numerous ways that range from offering professional services and erecting major projects like classroom blocks.
Bernard Buteera is the Communications and Public Relations Officer of the Mastercard Foundation Scholars Program at Makerere University.
Innovations using low cost locally available materials for point of use water treatment system unveiled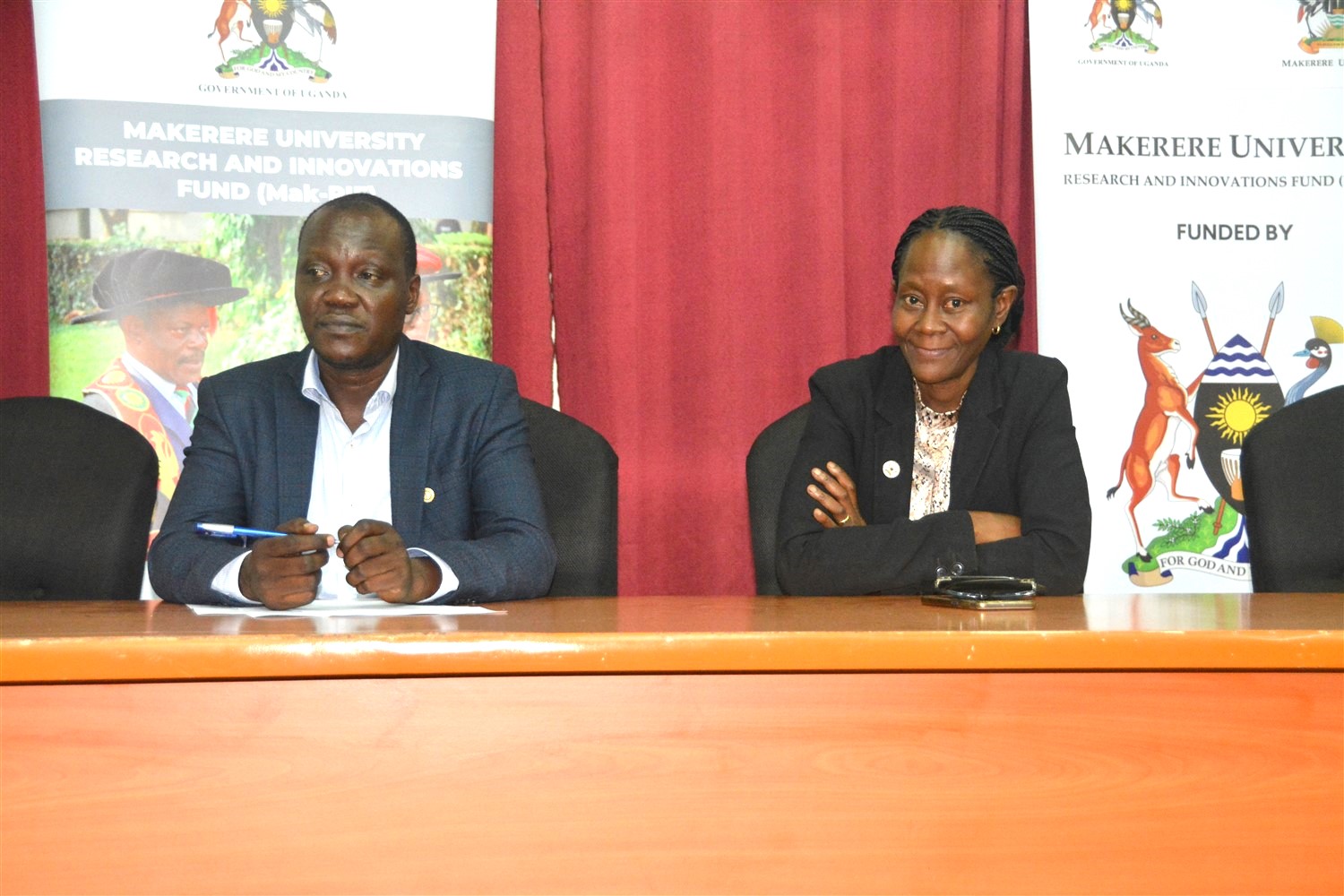 The College of Engineering, Design, Art and Technology (CEDAT) conducted a Research Dissemination of two studies aimed at the Development of Materials for point of use water treatment systems.
The investigations were conducted by a team of researchers comprised of P. W. Olupot, H. M. Kalibbala, E. Menya, G.M. Wangi, J. Jjagwe, J. Wakatuntu, M. Turyasingura, R. Walozi, C. Kanyesigye and R. N. Kulabako.
The dissemination event held on Wednesday 29th November 2023 follows the successful completion of two MakRIF supported Research projects namely; Development of rice husk based granular activated carbon for point-of-use water treatment systems and Development of zeolite-based nanocomposite filters for drinking water treatment.