17 Postdoctoral Research Teams Mentored as SECA Project Winds up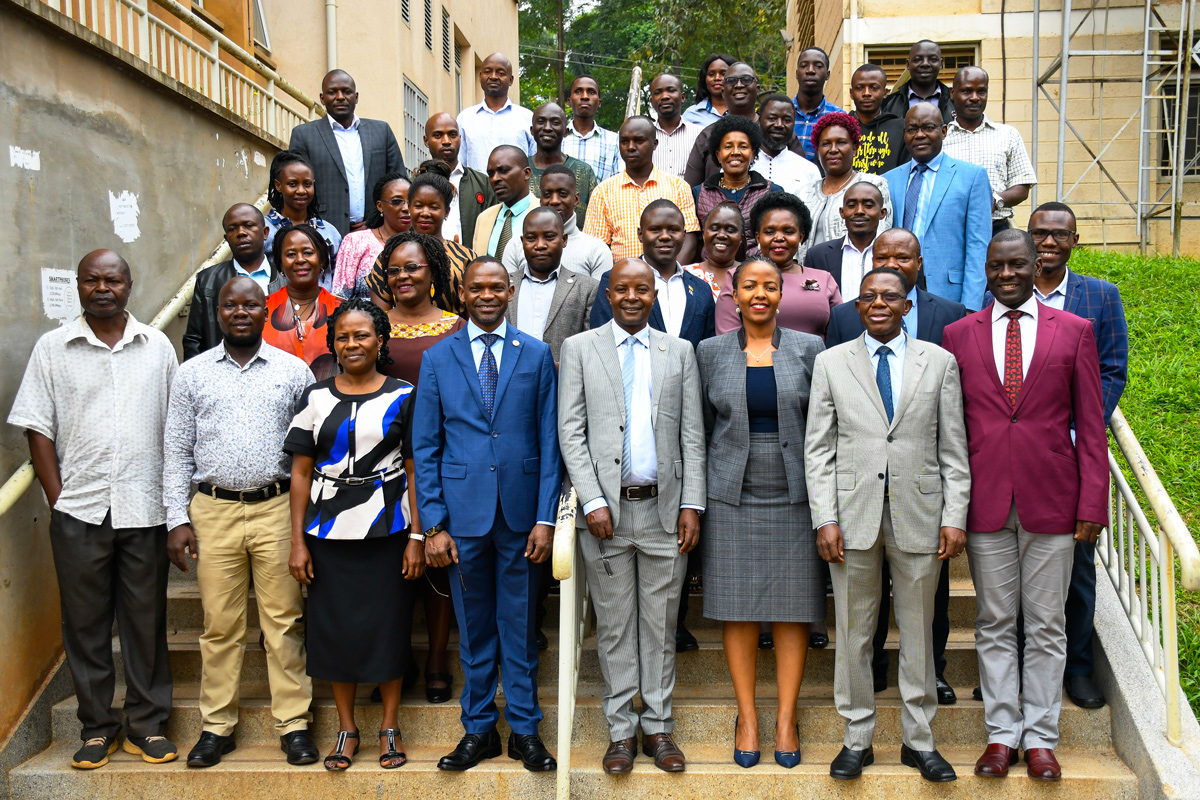 SECA is an acronym for the Supporting Early-Career Academics Programme at Makerere University (2019-2022). SECA is the fifth "phase" of the Carnegie Corporation of New York (CCNY)'s support to Makerere, and follows in the steps of similar successful initiatives that date back to 1946 when the Corporation's relations with Uganda started. On Thursday 12th January 2023, the Deputy Vice Chancellor (Academic Affairs) and SECA Chairman Project Implementation Committee (PIC), Prof. Umar Kakumba was joined by the Director, Directorate of Research and Graduate Training (DRGT), Prof. Edward Bbaale as well as Academic Registrar and SECA Project Coordinator, Prof. Buyinza Mukadasi to preside over the programme's final dissemination workshop.
Held in the Telepresence Centre, Senate Building, the workshop accorded the opportunity to research teams to present and discuss their findings. SECA supported seventeen (17) Early-Career academics at Makerere University, eight (8) of whom were female and nine (9) male, to undertake postdoctoral research fellowships in their respective fields of specialty. Additionally, SECA supported professional skills enhancement courses, as well as tuition and research costs for seventeen (17) Masters students (7 female, 10 male) attached to the research teams.
Furthermore, SECA provided funds to fellows for writing and publication, supported mentorship and research team building, provided travel grants to international conferences, and supported fellows to disseminate their findings to academia, policy makers and the general public. To facilitate improvements in the university research environment, SECA provided access to a grant worth US$6,000 to each of the fellows' host departments. Some of the activities undertaken using the grants included; conducting academic writing and dissemination workshops, holding symposia for PhD students and academic staff, development of academic programmes, renovating research infrastructure and acquiring equipment.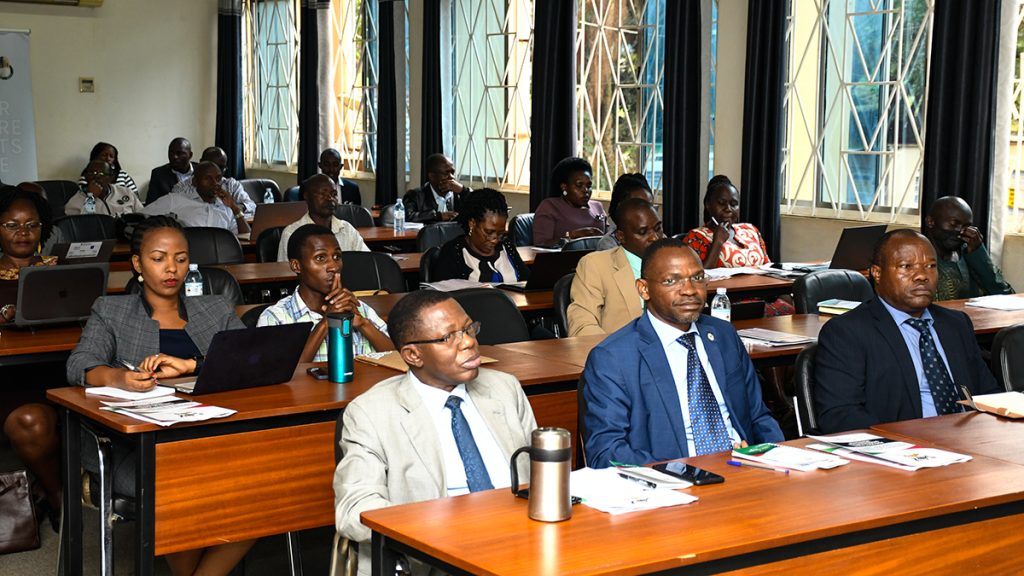 Delivering his remarks, Prof. Umar Kakumba congratulated both Prof. Buyinza and Prof. Bbaale upon their new appointments as Academic Registrar and Director DRGT respectively, and thanked them for contributing to SECA's success. In the same breath, he recognized and introduced members of the PIC namely; Prof. Jesca Nakavuma, Prof. Nicholas Kiggundu, Dr. Pamela Khanakwa, Prof. Julius Kikooma and Dr. Euzobia Baine Mugisha and thanked them for the rigorous work done in reviewing applications by fellows.
"I wish to congratulate you the fellows. As part of the monitoring team for SECA, we visited what you were involved in and I must say that Makerere has great potential. We received close to 102 proposals, and selecting seventeen (17) was a huge task because every proposition was bankable and attuned to the relevance of our country" Prof. Kakumba remarked.
The DVCAA noted that all projects undertaken by fellows had the potential to co-create knowledge with the communities and respective sectors beyond SECA funding. He therefore called upon them to continue providing research leadership in their departments and communities. On this note, he appreciated the fellows for each mentoring a graduate student.
Prof. Kakumba equally acknowledged CCNY for the generous support accorded to Makerere and continually entrusting the University with various opportunities to enhance the research capacities of her staff. In this regard, he thanked the Mentors, Heads of Department and the PIC for ensuring that the fellows continued to perform well and compile their progressive reports on time. This feat, he acknowledged, has led to Makerere University securing a successor grant in line with SECA.
Addressing the fellows and audience, Prof. Bbaale paid tribute to his predecessor, Prof. Buyinza for his visionary leadership of DRGT that gave rise to initiatives such as SECA. "It is gratifying and heartwarming to have events of this nature that are in line with the research-led agenda of the University.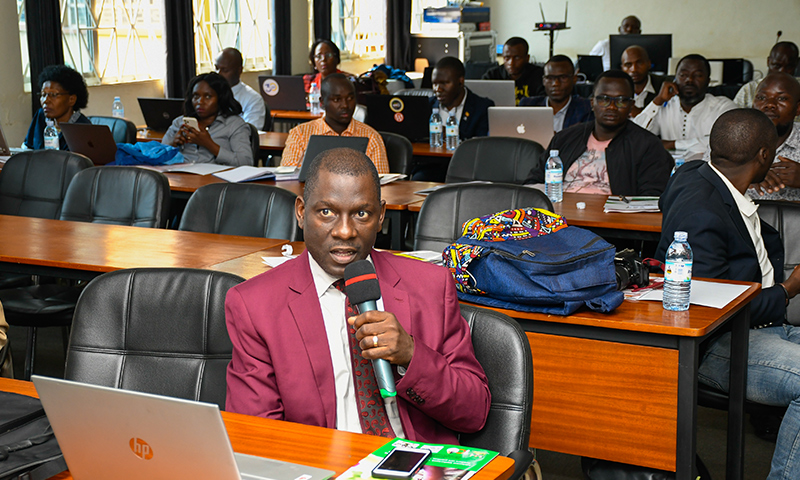 "Postdoctoral research is high quality research, which can go a long way in informing policy for societal transformation. We greatly value each of the projects you have undertaken and we are confident that they have the potential to contribute to the national development agenda. Therefore, we must bring on board targeted dissemination beyond this general dissemination" said Prof. Bbaale.
He explained that targeted dissemination is the gateway to different institutions of Government that are either users or potential users of policy recommendations and different projects that need to be scaled up across the country. Beyond SECA, Prof. Bbaale urged the fellows to form a cluster of researchers as a platform for continued collaboration and a multidisciplinary entity to compete for research grants.
"The world over, postdoctoral research is an engine that must propel the university into a research-led direction… As DRGT, we are soon going to propose a policy on postdoctoral degrees that will pave the way for different units to admit many more postdoctoral fellows" added Prof. Bbaale.
"Makerere's strategic thinking in terms of research is informed by the Sustainable Development Goals (SDGs), National Vision 2040, African Charter 2063 and the Institutional Research Framework, which implies that we are running a coherent research agenda" said Prof. Buyinza as he commenced his remarks.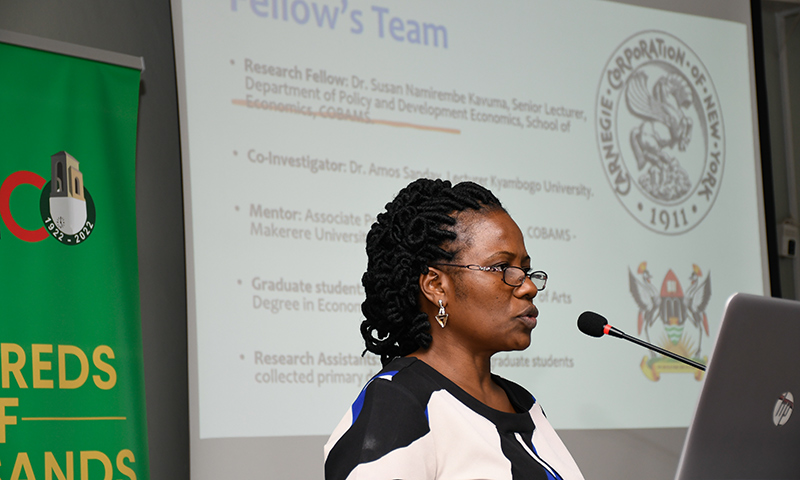 The Academic Registrar added that the realization of these aspirations is dependent on grooming a crop of critical thinkers who can contribute to the knowledge economy. He therefore expressed his gratitude at being able to participate in a number of phases of CCCNY's support to Makerere, aimed at achieving this objective.
"I have been privileged to participate in the Next Generation of African Academics I, Next Generation of African Academics II, Nurturing Emerging Research Leaders through Post-Doctoral Training (NERLP) and Supporting Early-Career Academics (SECA), which we are closing today, and the successor consolidating the Supporting Early-Career Academics (SECA) programme" he explained.
Turning to SECA, Prof. Buyinza noted that the project was designed to expand Makerere's community of research leaders and doctoral supervisors through four (4) specific objectives. These included;
To consolidate the capacity of fellows to conduct quality research with appropriate mentorship at Makerere,
To strengthen the enabling environment to encourage the retention of fellows at Makerere,
To strengthen research management and research leadership capacity at Makerere, and
To increase the capacity for scientific communication of research outputs into publicly accessible writing.
"We believe that we have built an integrated, institutionalized, research mentorship culture at this University because of our model of delivery of this project. It is a three-tier model consisting of the Senior who is the Mentor, the PI (Principal Investigator) who is the Early-Career fellow and the Masters student" said Prof. Buyinza.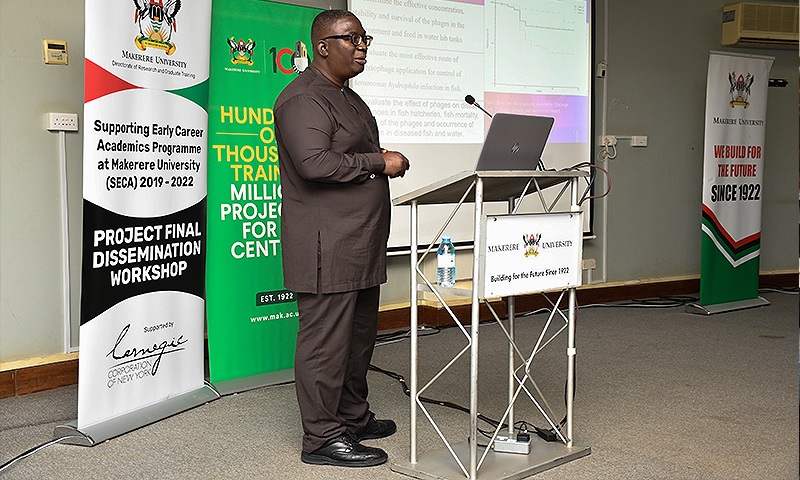 He added that this architecture enabled the SECA team to build synergies between the different levels of research development and in so doing, ensure sustainability by institutionalizing mentorship. Prof. Buyinza therefore encouraged the fellows to continue posting their successes on the SECA portal and holding the lunchtime seminars in their departments.
"I want to believe that your skills have been enhanced, your vision to research has been touched beyond publishing an article to looking at the wider spectra of events that form you as a regional research leader. We want you to form a regional network so that together you can write research grants, supervise graduate students and influence the research agenda in the different countries" concluded Prof. Buyinza.
Details of the fellows and their research projects may be viewed in the table below.
Innovations using low cost locally available materials for point of use water treatment system unveiled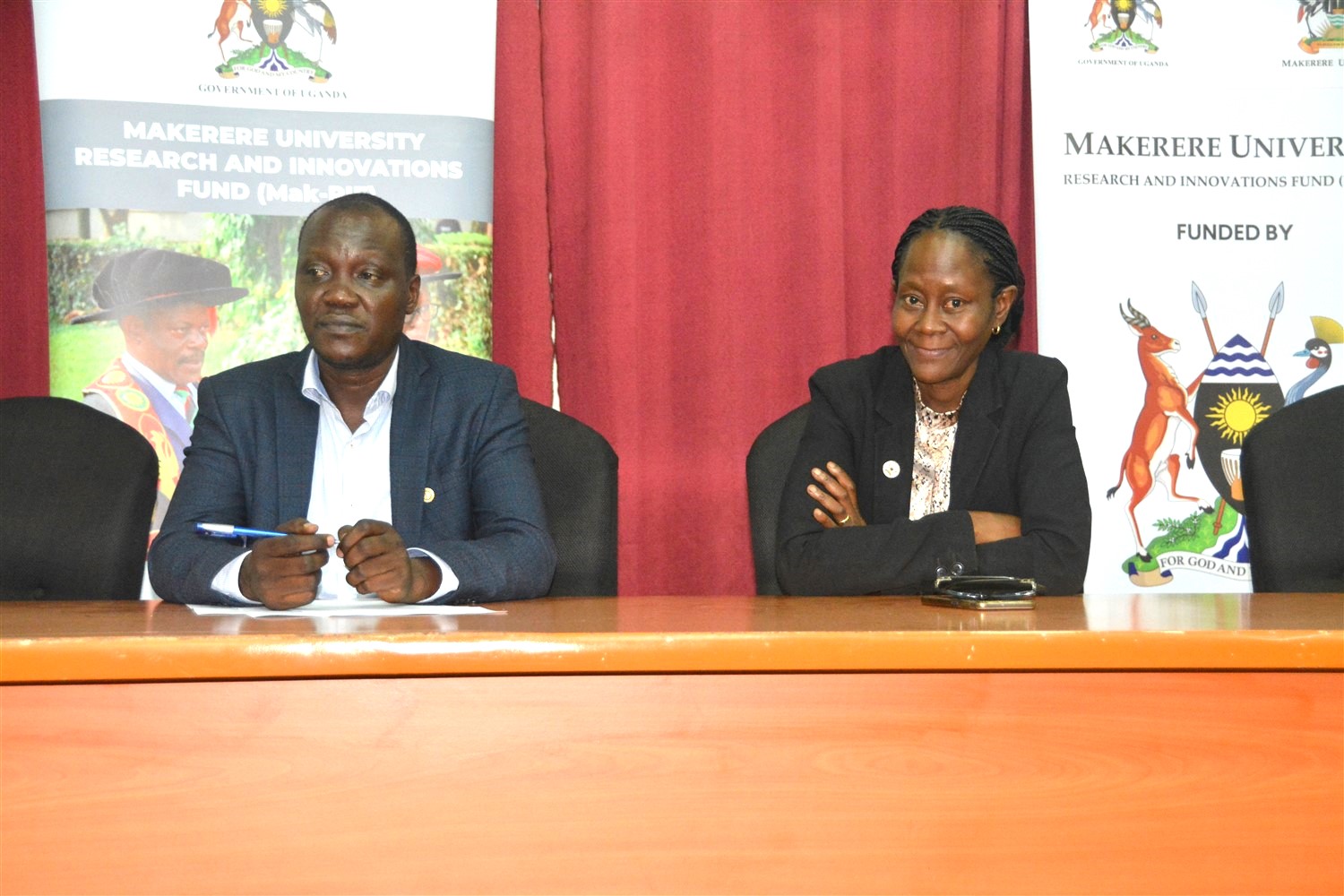 The College of Engineering, Design, Art and Technology (CEDAT) conducted a Research Dissemination of two studies aimed at the Development of Materials for point of use water treatment systems.
The investigations were conducted by a team of researchers comprised of P. W. Olupot, H. M. Kalibbala, E. Menya, G.M. Wangi, J. Jjagwe, J. Wakatuntu, M. Turyasingura, R. Walozi, C. Kanyesigye and R. N. Kulabako.
The dissemination event held on Wednesday 29th November 2023 follows the successful completion of two MakRIF supported Research projects namely; Development of rice husk based granular activated carbon for point-of-use water treatment systems and Development of zeolite-based nanocomposite filters for drinking water treatment.
Apac District gains from CEDAT's Research on Piloting a Rural Broadband Connectivity Model and Efficacious patient management system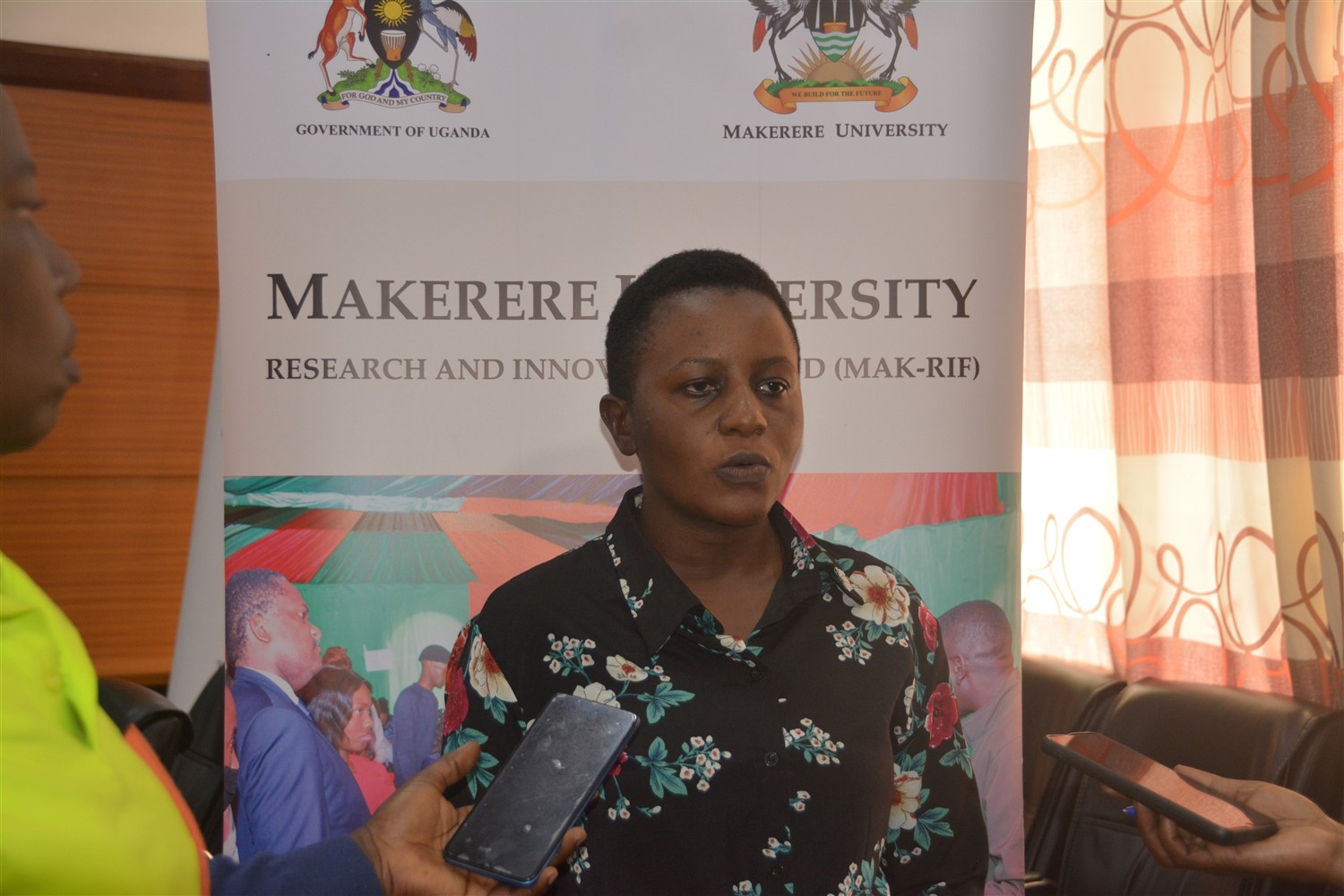 The School of Engineering at the College of Engineering, Design, Art and Technology (CEDAT) shared findings of research that was conducted in Apac Districts through two projects namely Piloting a Rural Broadband Connectivity Model (RCBM) and Efficacious patient management system (EPMS).
The findings of the research sponsored by the Government of Uganda through the Makerere University research and Innovation Fund(MakRIF) were disseminated during a dissemination seminar held in the College on Friday 24th November 2023, where it was revealed that  Apac the host District greatly benefited from the services that not only led to the increased uptake of internet services but also gained through other socio economic areas.
Soybean Breeders Deliberate Strategies for Improving Productivity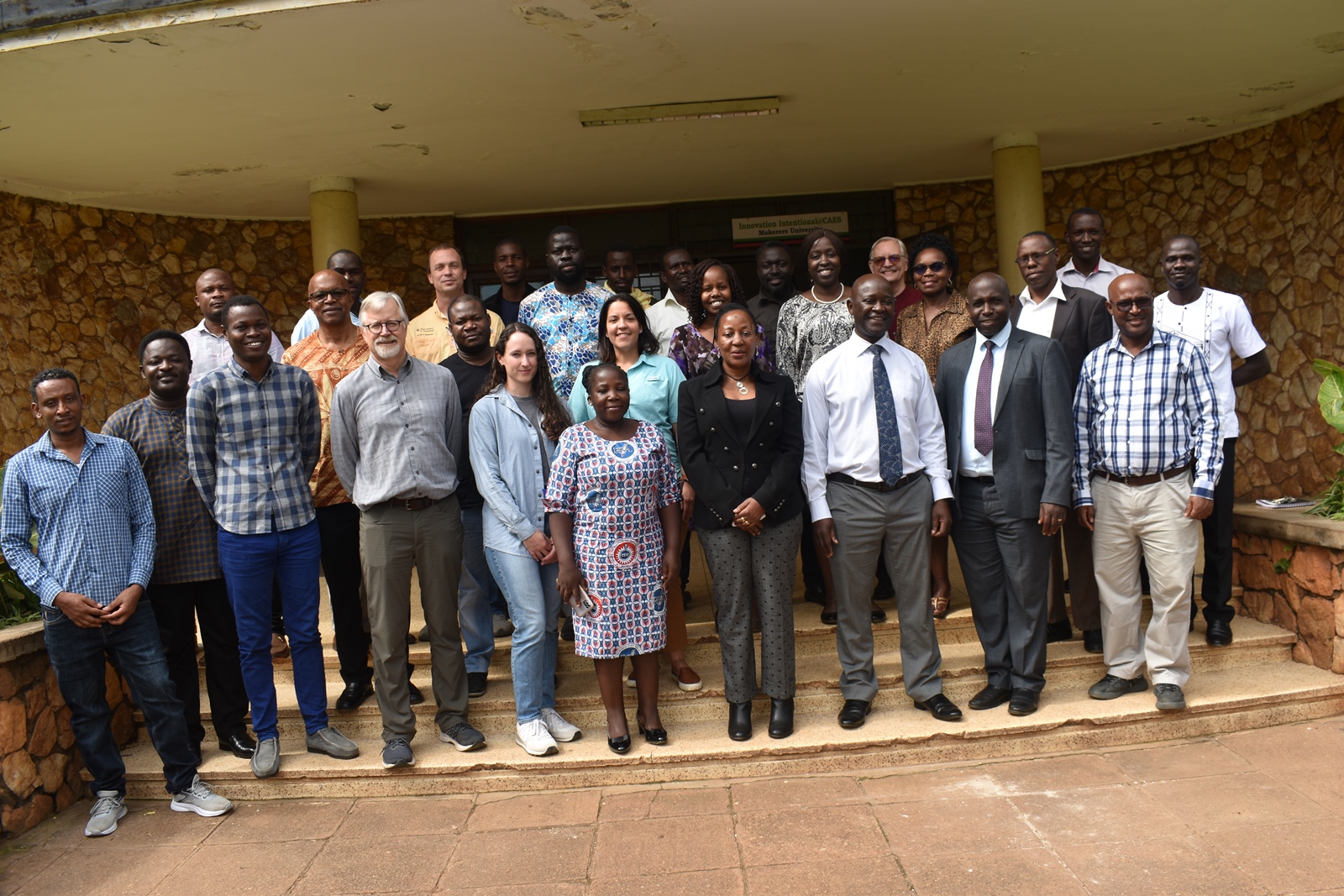 The breeders from USA, Brazil and across Africa, including scientists from CGIAR met at Makerere University on 28th November-1st December 2023 to share experiences, best practices and ideas on collaboration, and to brainstorm on ways of improving productivity.
Overview
Soybean (Glycine max) serves as one of the most valuable crops in the world, not only as an oil seed crop and feed for livestock and aquaculture, but also as a good and cheap source of protein for human diet and as a biofuel feedstock.  The protein content of soybean is the highest among legume crops, averaging 40% on a dry matter basis. Soy-foods are generally considered to be nutritious and healthy based on their nutrient composition which includes protein, fat, carbohydrates, dietary fibres as well as minerals and phytoestrogens (or isoflavones). Due to its nutritional superiority, soybean-based foods are highly recommended for children under 5 years, expectant mothers, and HIV/AIDS patients. Impact studies have shown that regular soy food consumption can reduce the risk of heart disease by lowering serum cholesterol by about 33%. It can also reduce the risk of rectal cancer by 80%, mammary tumour by 40%, and breast cancer by 50%.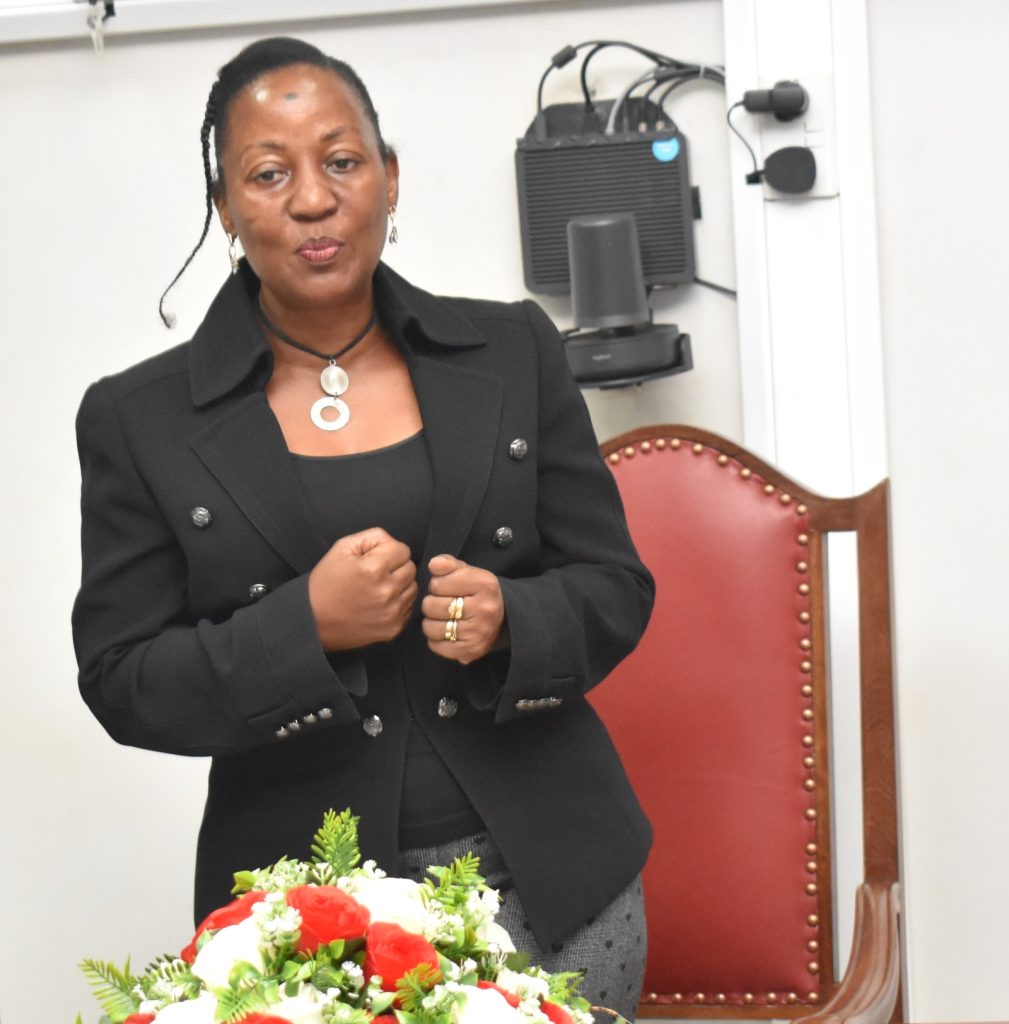 Economic viability
Production of soybean stands at 264 million MT worldwide, with United States of America (USA), Brazil and Argentina being the largest producers. In Africa, Nigeria, South Africa, Zambia and Uganda are the largest producers, with annual volumes estimated at 1.5 million metric tonnes (FAO, 2017). The Soybean Market size is estimated to reach $259 billion by 2030 (IndustryARC – Soybean Market Forecast 2023-2028).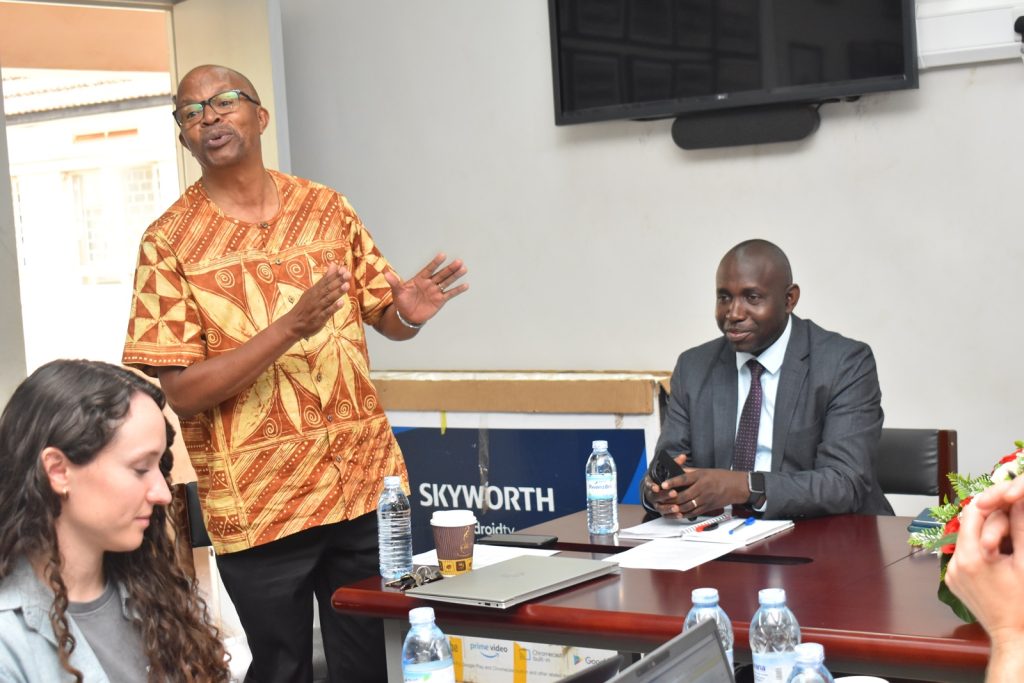 The economic viability of soy production is determined by the commercial utilization of both its sub-products, meal and oil, which, respectively, account for about two thirds and one third of the crop's economic value. Soymeal accounts for over 60% of world output of vegetable and animal meals and occupies a prominent position among protein feedstuffs used in the production of feed concentrates, while soybean oil is the single most important vegetable oil, accounting for 20% of global vegetable oil production. The widespread use of soybean oil in particular as edible oil is mainly due to (i) its plentiful and dependable supplies, (ii) its competitive price, (iii) its neutral flavour, and its stability in both unhydrogenated and partially hydrogenated form. Indirectly, the rapid rise in the demand for compound feed has contributed considerably to the rise in soybean and soyoil production. Soybean contributes significantly to the total value added by the agricultural sector in the major producing countries and particularly so in Brazil, Argentina, Paraguay and the USA. In these countries, soybean and its two main sub-products also occupy an important position in export earnings from agriculture as well as in terms of total merchandise exports (FAO). In Uganda, soybean is number one income earner crop in Northern and Eastern Uganda. Farmers in the region earn at least UGX1,200,000 per hectare per season.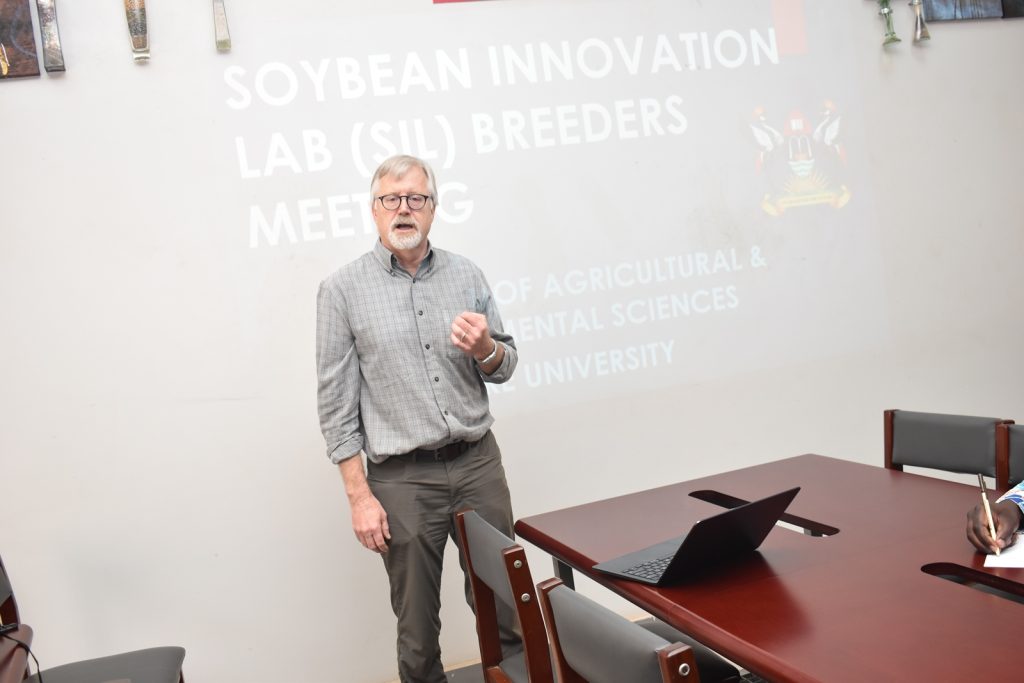 Challenges undermining productivity
Despite the significant strides registered by soybean growing countries, and the health and economic benefits that the crop presents, a number of challenges still undermine productivity. These include; pests and diseases, prolonged droughts and prolonged rains, poor agronomic practices, inaccessibility to good seed by farmers, drudgery in the production chain (Planting and harvesting) and market price fluctuations, as well as mismatches in supply and demand. Surging input costs, supply disruptions of fertilizers and alternative crops caused by Russia's invasion of Ukraine and lingering COVID-19 effects have added more uncertainty and volatility to the soybeans market, driving up the prices. Home grown technologies, local seed business approach, and addressing the whole value chain, are envisaged as some of the strategies to overcome the challenges. Adapting crop management, conserving and improving soil conditions by minimizing tilling, increasing crop diversification, protecting soil from erosion, as well as the development of drought-tolerant varieties, will be key to withstand the emerging climate challenges.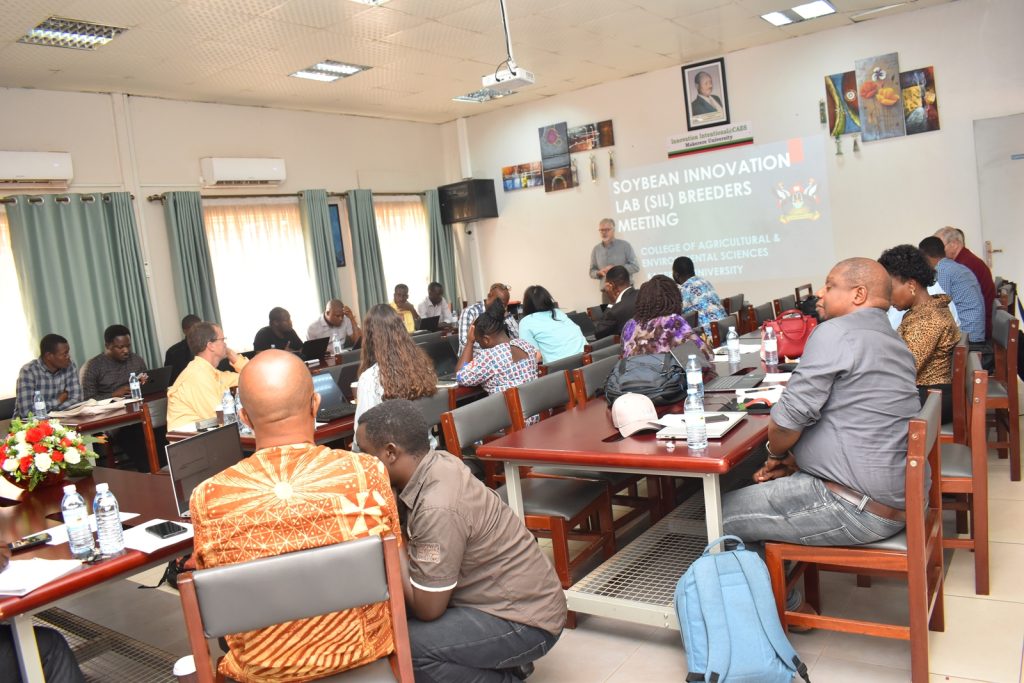 Soybean Breeders meeting at Makerere
Soybean breeders from USA, Brazil, and across Africa including scientists from CGIAR on 28th November 2023 met at Makerere University to share experiences, best practices, and ideas on collaboration, and to brainstorm on ways of improving soybean productivity. The meeting held at the School of Agricultural Sciences (SAS), College of Agricultural and Environmental Sciences (CAES) was organized by the Makerere University Centre for Soybean Improvement and Development (MAKCSID) and the Soybean Innovation Lab (SIL) of the University of Illinois with support from USAID. It was coordinated by Prof. Phinehas Tukamuhabwa, Principal Investigator for the Soybean Breeding and Seed Systems at Makerere, and Prof. Brian Diers from SIL, University of Illinois. It was graced by the Principal of CAES, Prof. Gorettie Nabanoga, the Deputy Principal, Prof. Yazidhi Bamutaze, and the Dean, SAS, Dr John Baptist Tumuhairwe. During the meeting, participants shared progress reports of their respective institutions, highlighting the achievements registered in soybean breeding and seed systems, best practices, challenges undermining productivity, and strategies for improvement. In his presentation, Prof. Diers briefed participants on SIL breeding efforts, indicating that 20 varieties had been developed between 2019-2022 up from the 7 developed between 2013-2018. He also shared updates on the renewed funding from USAID, and the support extended towards new breeding programmes at IITA in Nigeria, IITA in Zambia, EIAR in Ethiopia, Makerere University, and SARI in Ghana.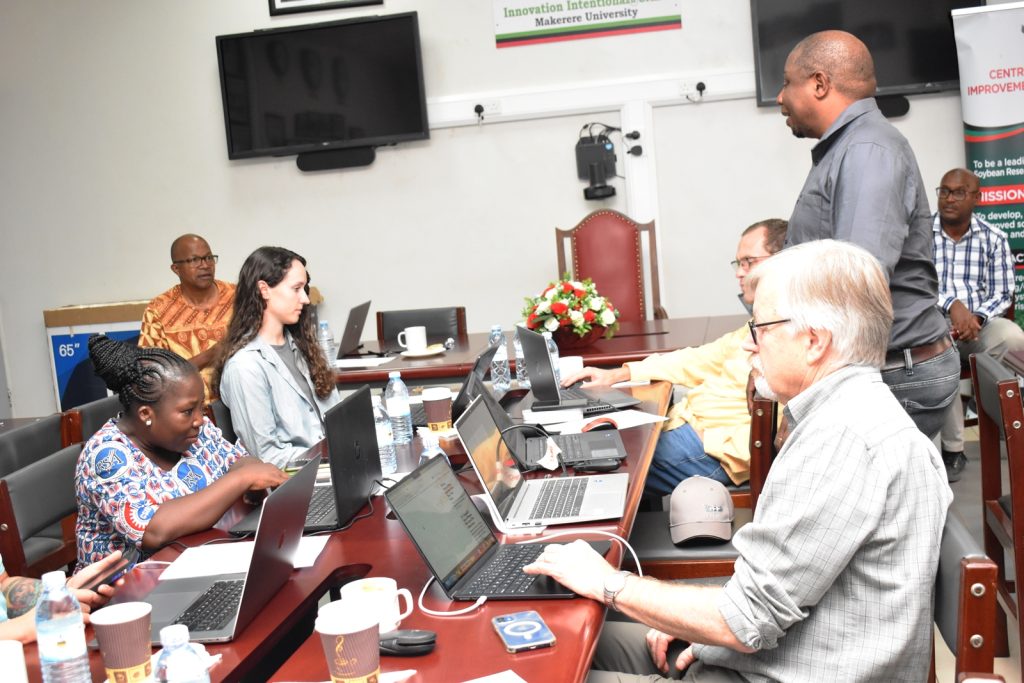 Delivering a presentation on soybean research in Uganda, Prof. Tukamuhabwa noted that the country had registered significant strides with the production of six high yielding varieties namely; Maksoy IN, Maksoy 2N, Maksoy 3N, Maksoy 4N; Maksoy 5N, Maksoy 6N. Recent impact studies indicated that the new varieties developed by MAKCSID were the most planted and accounted for 93% of the soybean varieties grown by Ugandan farmers. Currently, Maksoy 1N is the most widely adopted variety by farmers, while Maksoy 3N has the largest quantities of foundation seed disseminated by the Centre. According to Prof. Tukamuhabwa, the Centre also established a state-of-the-art seed storage facility for early generation seed (Breeders and Foundation seed) and soybean germplasm used for breeding other varieties. Other facilities are soybean processing equipment (soycow) and Soybean roaster that are used to add value to soybeans. The growth of the soybean sub-sector in Uganda is mainly attributed to the availability of a wide range of improved varieties, government investment in soybean research, and increased private sector investment along the soybean value chain. Despite the achievements, Prof. Tukamuhabwa outlined a number of factors undermining soybean seed systems in Uganda including; the presumed high cost of seed by farmers, counterfeit seed in the market, limited interest in self-pollinating crops by most private seed companies, weak seed policy enforcement, limited access to seed, and unpredictable weather conditions. He expressed gratitude to all development partners that have supported the growth of the MAKCSID programme including; USAID through SIL, the Government of Uganda through the Ministry of Agriculture, Animal Industry and Fisheries (MAAIF VODP), NARO, NAcRRI, RUFORUM, AATF, AGRA, Soybean Africa Limited, NAADS, Smart Foods, ISSD Uganda, IITA, and all local soybean stakeholders.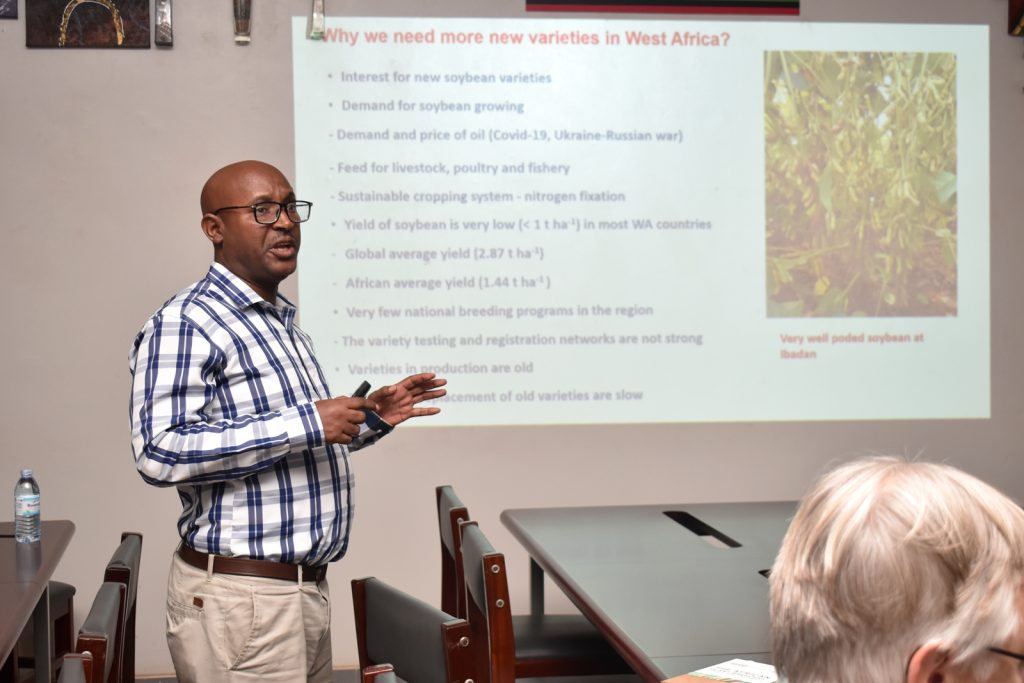 At the meeting, participants including Godfree Chigeza from IITA, Zambia; Abush Tesfaye (IITA, Nigeria), Masresha Yirga (EIAR, Ethiopia), Harun Murithi (SIL), Andrew Scaboo (University of Missouri), Elizabeth De Meyer (University of Missouri), and Carrie Miranda (North Dakota State University) delivered presentations on the progress of their breeding and research programmes.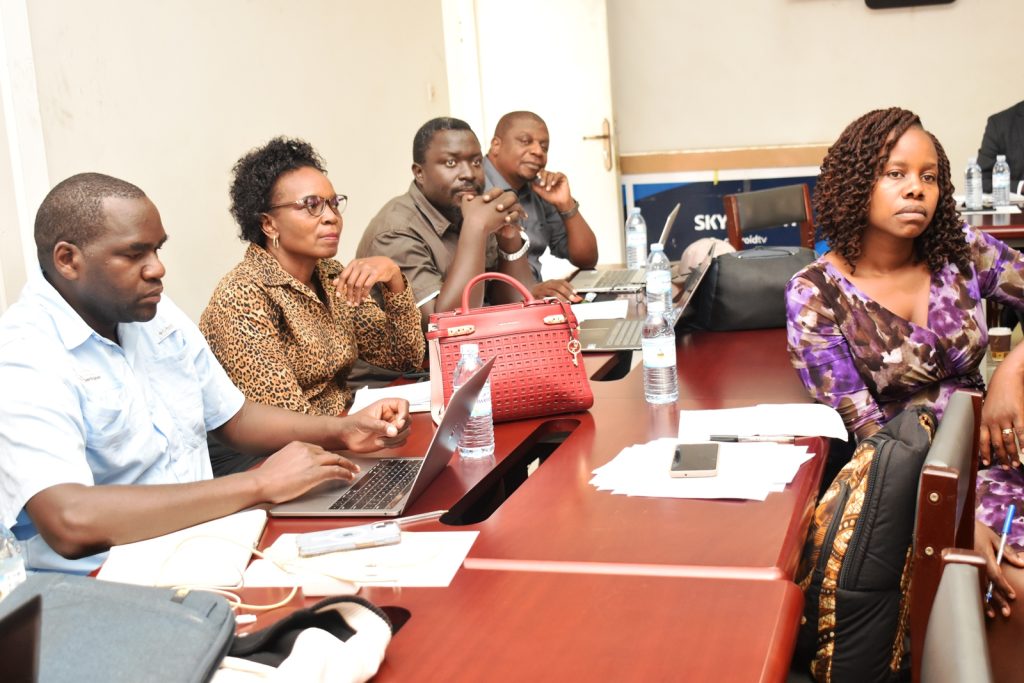 A major concern arising from the meeting was the increasing threat of rust. Through efforts of the Centre for Soybean Improvement and Development (MAKCSID), the soybean rust pandemic was brought under control, through breeding and dissemination of superior varieties to the farming communities.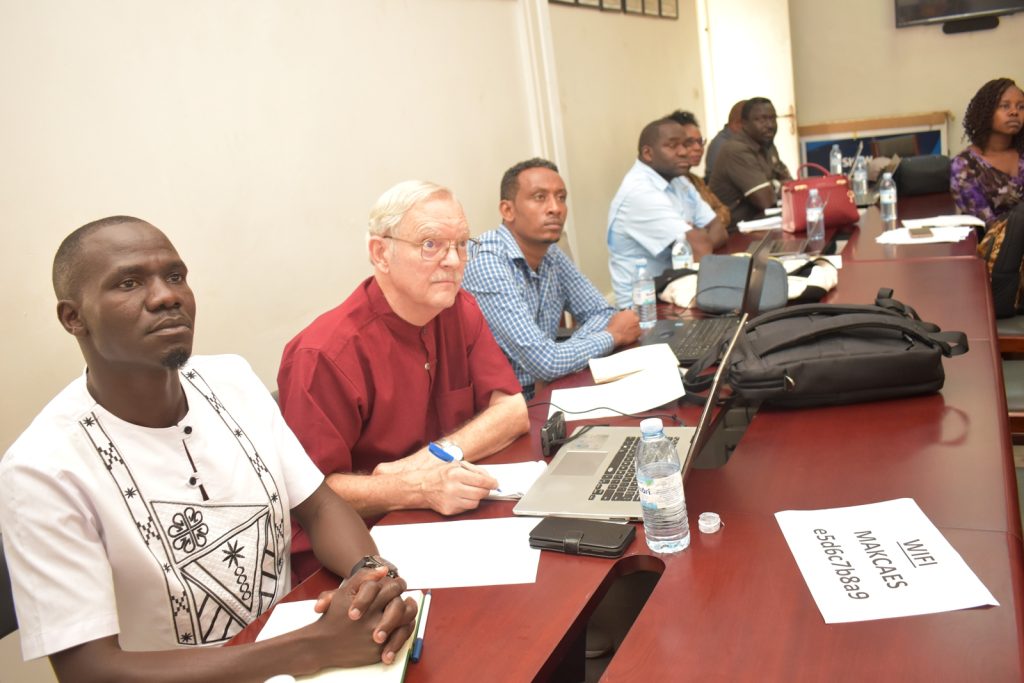 Going forward, participants emphasized the need to set up a rust reference centre, early warning systems, and disease nurseries – potential lines for monitoring virulence. They also called for an increase in germplasm acquisition, capacity building for germplasm storage and utilization, introduction of bruchid tolerant genotypes, introduction of soybean genotypes suitable for mechanical harvest, mechanization of production processes, leveraging the scarce research infrastructure, and the development of necessary skills amongst scientists and staff.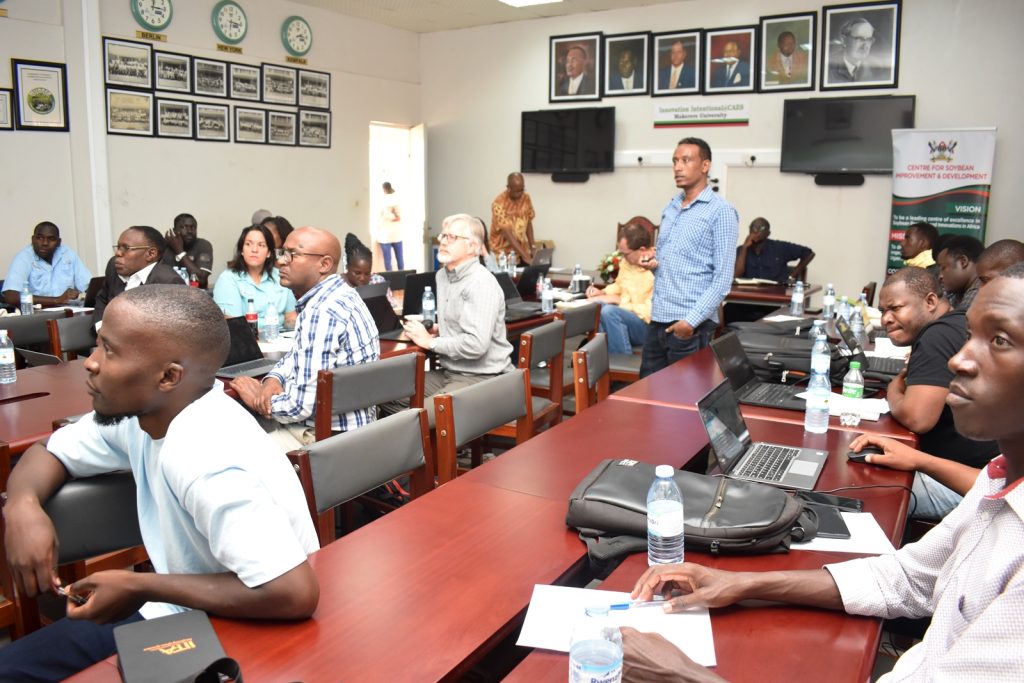 In her remarks, the Principal of CAES, Prof. Gorettie Nabanoga expressed gratitude to participants for leading soybean development initiatives. She also appreciated the development partners for supporting the programme. Commenting on the significance of the crop, she said under NDPIII, soybean had been identified as a game changer and one of the crops to improve the country's food systems. "The crop has been targeted for its oils and nutritional benefits. It is therefore important that we move it to the next level in terms of resistance to diseases, adaption to climate change, and development of fast growing varieties." She specifically thanked the breeding team led by Prof. Tukamuhabwa for making Makerere the leading Centre in quality soybean seed production and distribution in the country. During their four-day visit, the soybean breeders visited the screen houses, soybean fields, and the Early Generation Seed Unit at MUARIK where they provided enriching insights for improvement. The team also toured Nakabango/Jinja trials as well as the Bugi ZARDI highland soybean trials.
---
---
More photos from the meeting