17 Postdoctoral Research Teams Mentored as SECA Project Winds up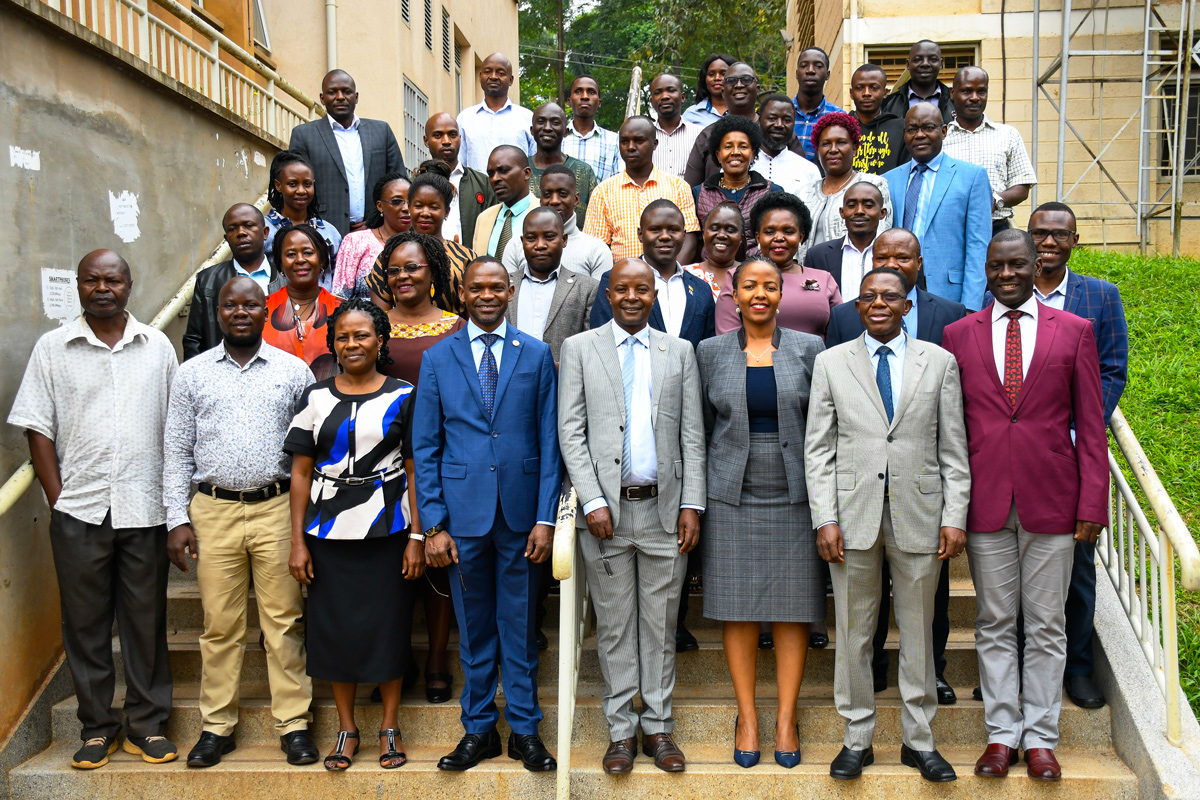 SECA is an acronym for the Supporting Early-Career Academics Programme at Makerere University (2019-2022). SECA is the fifth "phase" of the Carnegie Corporation of New York (CCNY)'s support to Makerere, and follows in the steps of similar successful initiatives that date back to 1946 when the Corporation's relations with Uganda started. On Thursday 12th January 2023, the Deputy Vice Chancellor (Academic Affairs) and SECA Chairman Project Implementation Committee (PIC), Prof. Umar Kakumba was joined by the Director, Directorate of Research and Graduate Training (DRGT), Prof. Edward Bbaale as well as Academic Registrar and SECA Project Coordinator, Prof. Buyinza Mukadasi to preside over the programme's final dissemination workshop.
Held in the Telepresence Centre, Senate Building, the workshop accorded the opportunity to research teams to present and discuss their findings. SECA supported seventeen (17) Early-Career academics at Makerere University, eight (8) of whom were female and nine (9) male, to undertake postdoctoral research fellowships in their respective fields of specialty. Additionally, SECA supported professional skills enhancement courses, as well as tuition and research costs for seventeen (17) Masters students (7 female, 10 male) attached to the research teams.
Furthermore, SECA provided funds to fellows for writing and publication, supported mentorship and research team building, provided travel grants to international conferences, and supported fellows to disseminate their findings to academia, policy makers and the general public. To facilitate improvements in the university research environment, SECA provided access to a grant worth US$6,000 to each of the fellows' host departments. Some of the activities undertaken using the grants included; conducting academic writing and dissemination workshops, holding symposia for PhD students and academic staff, development of academic programmes, renovating research infrastructure and acquiring equipment.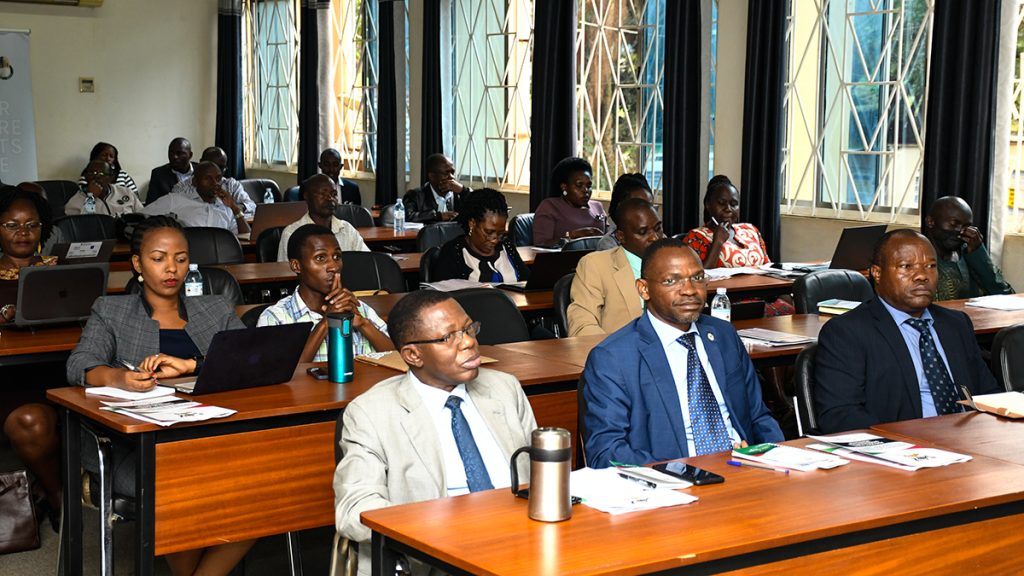 Delivering his remarks, Prof. Umar Kakumba congratulated both Prof. Buyinza and Prof. Bbaale upon their new appointments as Academic Registrar and Director DRGT respectively, and thanked them for contributing to SECA's success. In the same breath, he recognized and introduced members of the PIC namely; Prof. Jesca Nakavuma, Prof. Nicholas Kiggundu, Dr. Pamela Khanakwa, Prof. Julius Kikooma and Dr. Euzobia Baine Mugisha and thanked them for the rigorous work done in reviewing applications by fellows.
"I wish to congratulate you the fellows. As part of the monitoring team for SECA, we visited what you were involved in and I must say that Makerere has great potential. We received close to 102 proposals, and selecting seventeen (17) was a huge task because every proposition was bankable and attuned to the relevance of our country" Prof. Kakumba remarked.
The DVCAA noted that all projects undertaken by fellows had the potential to co-create knowledge with the communities and respective sectors beyond SECA funding. He therefore called upon them to continue providing research leadership in their departments and communities. On this note, he appreciated the fellows for each mentoring a graduate student.
Prof. Kakumba equally acknowledged CCNY for the generous support accorded to Makerere and continually entrusting the University with various opportunities to enhance the research capacities of her staff. In this regard, he thanked the Mentors, Heads of Department and the PIC for ensuring that the fellows continued to perform well and compile their progressive reports on time. This feat, he acknowledged, has led to Makerere University securing a successor grant in line with SECA.
Addressing the fellows and audience, Prof. Bbaale paid tribute to his predecessor, Prof. Buyinza for his visionary leadership of DRGT that gave rise to initiatives such as SECA. "It is gratifying and heartwarming to have events of this nature that are in line with the research-led agenda of the University.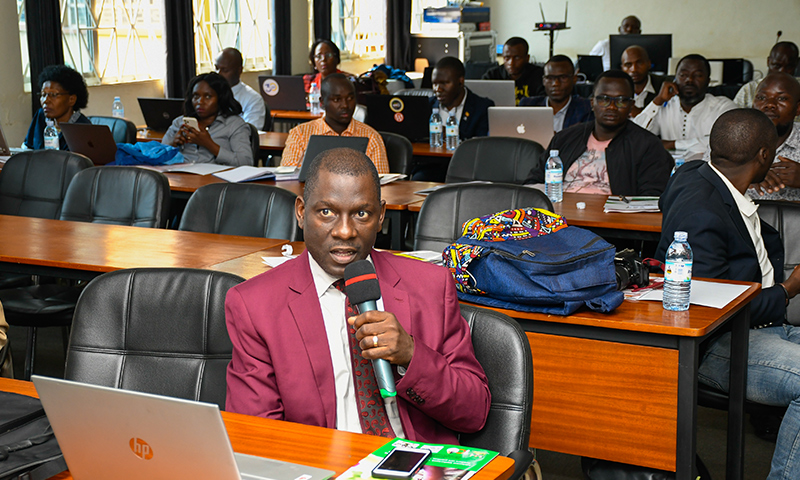 "Postdoctoral research is high quality research, which can go a long way in informing policy for societal transformation. We greatly value each of the projects you have undertaken and we are confident that they have the potential to contribute to the national development agenda. Therefore, we must bring on board targeted dissemination beyond this general dissemination" said Prof. Bbaale.
He explained that targeted dissemination is the gateway to different institutions of Government that are either users or potential users of policy recommendations and different projects that need to be scaled up across the country. Beyond SECA, Prof. Bbaale urged the fellows to form a cluster of researchers as a platform for continued collaboration and a multidisciplinary entity to compete for research grants.
"The world over, postdoctoral research is an engine that must propel the university into a research-led direction… As DRGT, we are soon going to propose a policy on postdoctoral degrees that will pave the way for different units to admit many more postdoctoral fellows" added Prof. Bbaale.
"Makerere's strategic thinking in terms of research is informed by the Sustainable Development Goals (SDGs), National Vision 2040, African Charter 2063 and the Institutional Research Framework, which implies that we are running a coherent research agenda" said Prof. Buyinza as he commenced his remarks.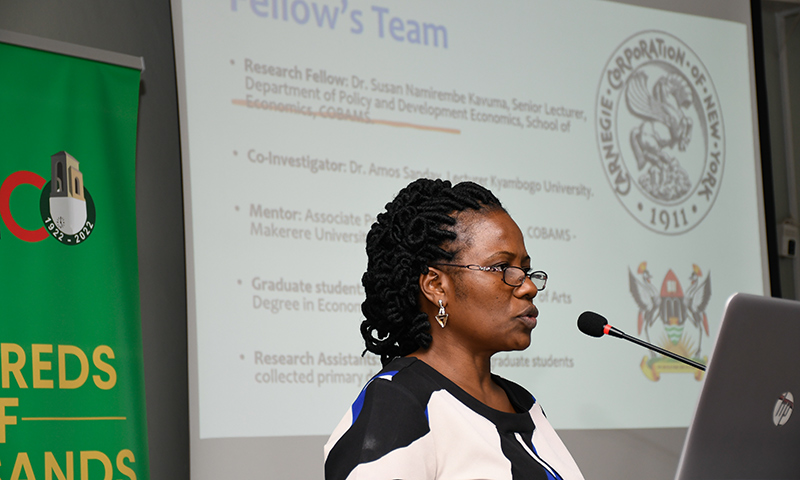 The Academic Registrar added that the realization of these aspirations is dependent on grooming a crop of critical thinkers who can contribute to the knowledge economy. He therefore expressed his gratitude at being able to participate in a number of phases of CCCNY's support to Makerere, aimed at achieving this objective.
"I have been privileged to participate in the Next Generation of African Academics I, Next Generation of African Academics II, Nurturing Emerging Research Leaders through Post-Doctoral Training (NERLP) and Supporting Early-Career Academics (SECA), which we are closing today, and the successor consolidating the Supporting Early-Career Academics (SECA) programme" he explained.
Turning to SECA, Prof. Buyinza noted that the project was designed to expand Makerere's community of research leaders and doctoral supervisors through four (4) specific objectives. These included;
To consolidate the capacity of fellows to conduct quality research with appropriate mentorship at Makerere,
To strengthen the enabling environment to encourage the retention of fellows at Makerere,
To strengthen research management and research leadership capacity at Makerere, and
To increase the capacity for scientific communication of research outputs into publicly accessible writing.
"We believe that we have built an integrated, institutionalized, research mentorship culture at this University because of our model of delivery of this project. It is a three-tier model consisting of the Senior who is the Mentor, the PI (Principal Investigator) who is the Early-Career fellow and the Masters student" said Prof. Buyinza.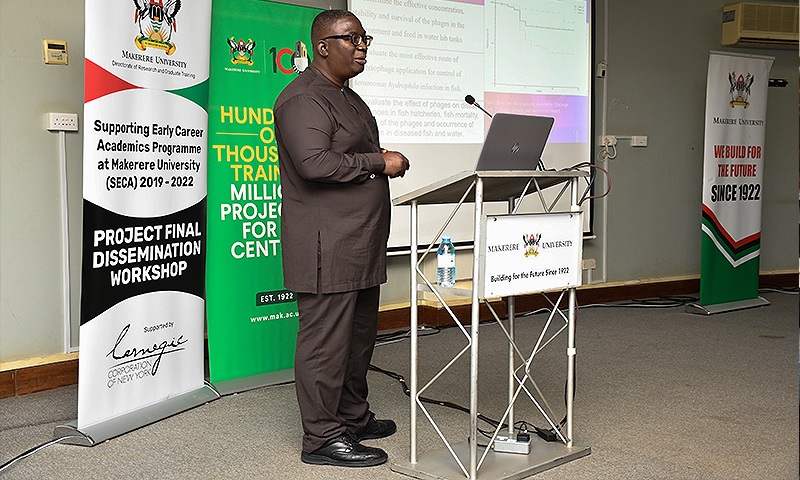 He added that this architecture enabled the SECA team to build synergies between the different levels of research development and in so doing, ensure sustainability by institutionalizing mentorship. Prof. Buyinza therefore encouraged the fellows to continue posting their successes on the SECA portal and holding the lunchtime seminars in their departments.
"I want to believe that your skills have been enhanced, your vision to research has been touched beyond publishing an article to looking at the wider spectra of events that form you as a regional research leader. We want you to form a regional network so that together you can write research grants, supervise graduate students and influence the research agenda in the different countries" concluded Prof. Buyinza.
Details of the fellows and their research projects may be viewed in the table below.
| | | | |
| --- | --- | --- | --- |
| No. | Name | Unit | Project Title |
| 1. | Dr. Dhabangi Aggrey | Child Health and Development Centre (CHDC), CHS. | Hemolytic Disease of the New-born in Uganda: Burden and Clinical Characteristics |
| 2. | Dr. Edopu Nabuyungo Ritah | Department of Fine Art, MTSIFA, CEDAT. | Community Product Design Education for Improved Market Access. |
| 3. | Dr. Kabagenyi Allen | Department of Population Studies, CoBAMS. | Adolescent Motherhood, pre and postnatal New-born care practices, perceptions and barriers in Eastern Uganda (AMNEP). |
| 4. | Dr. Kambugu Robert | Department of Agricultural and Biosystems Engineering, CAES | Modeling of long-term development scenarios for plantation forestry and forest industries in Uganda. |
| 5. | Dr. Kavuma Namirembe Susan | Department of Policy and Development Economics, CoBAMS | Empirical Evaluation of Spatial Connectivity, Urban structure, Density and Firm Productivity: Evidence from Kampala. |
| 6. | Dr. Kindi Immanuel Fredrick | School of Women and Gender Studies, CHUSS. | Gender, Oil and Migration in the Albertine Graben Region, Uganda. |
| 7. | Dr. Mayanja Nanziri Maureen | Department of Bio-security, Ecosystem and Veterinary Public Health, CoVAB. | Ethnoveterinary Medicinal Plant Technology Information Pathways and Prospective for Sustained Usage among Transhumant Pastrolists in Karamoja. |
| 8. | Dr. Muhanguzi Denis | Department of Bio-molecular and Bio-Laboratory Sciences, CoVAB | Targeting hotspot villages to accelerate the eradication of Acute Sleeping Sickness (ASS) from Uganda. |
| 9. | Dr. Mwesigye Rutabatiina Abraham | Department of Forestry, Biodiversity and Tourism, CAES. | Epidemiological survey of populations exposed to heavy metals and trace elements from Mining activites in Uganda. A case study of Kilembe copper mine catchment. |
| 10. | Dr. Mwikirize Cosmas | Department of Electrical and Computer Engineering, School of Engineering, CEDAT. | Efficacy of Deep Learning-aided Platform for Diagnosis of Breast Cancer using Ultrasound Images in the Ugandan Population. |
| 11. | Dr. Najjemba Harriet P. | Institute of Open Distance and E-learning, CEES. | Using Emerging Technologies to Capture and Disseminate Indigenous Agricultural Practices for Improved Food Production in Uganda: A case of Luweero District (INDIGRIC). |
| 12. | Dr. Nambi Rebecca | Department of Humanities and Language Education, CEES. | Supporting refugee access and participation in higher education: A case of Makerere University. |
| 13. | Dr. Nasirumbi B. Losira | School of Agricultural Sciences, CAES. | Intra-household gender dynamics and uptake of agricultural technologies for sustainable livelihoods in Uganda. |
| 14. | Dr. Semujju Brian | Department of Journalism and Communication, CHUSS. | Evaluating Digital Literacy to Create a Policy for Digital Media use at Makerere University. |
| 15. | Dr. Ssekuubwa Enock | Department of Forestry, Biodiversity and Tourism, CAES. | Enhancing the use of Farmer-Managed Natural Regeneration for mitigating climate change, conserving biodiversity and improving livelihoods in Uganda's Cattle Corridor (FMNR). |
| 16. | Dr. Tamale Andrew | Department of Wildlife and Aquatic Animal Resources, CoVAB. | Operationalization of Phages for Management of Bacterial Diseases in Fish Hatcheries |
| 17. | Dr. Zawedde Aminah | Ministry of ICT and National Guidance. Formerly CoCIS. | QATE: A Public Participatory Approach for Quality Assessment of e-Government Services to Enable Sustainable Development. |
SECA Project Postdoctoral Research Teams (2019-2022)
Dr. Julius Mulindwa Wins DFG Research Grant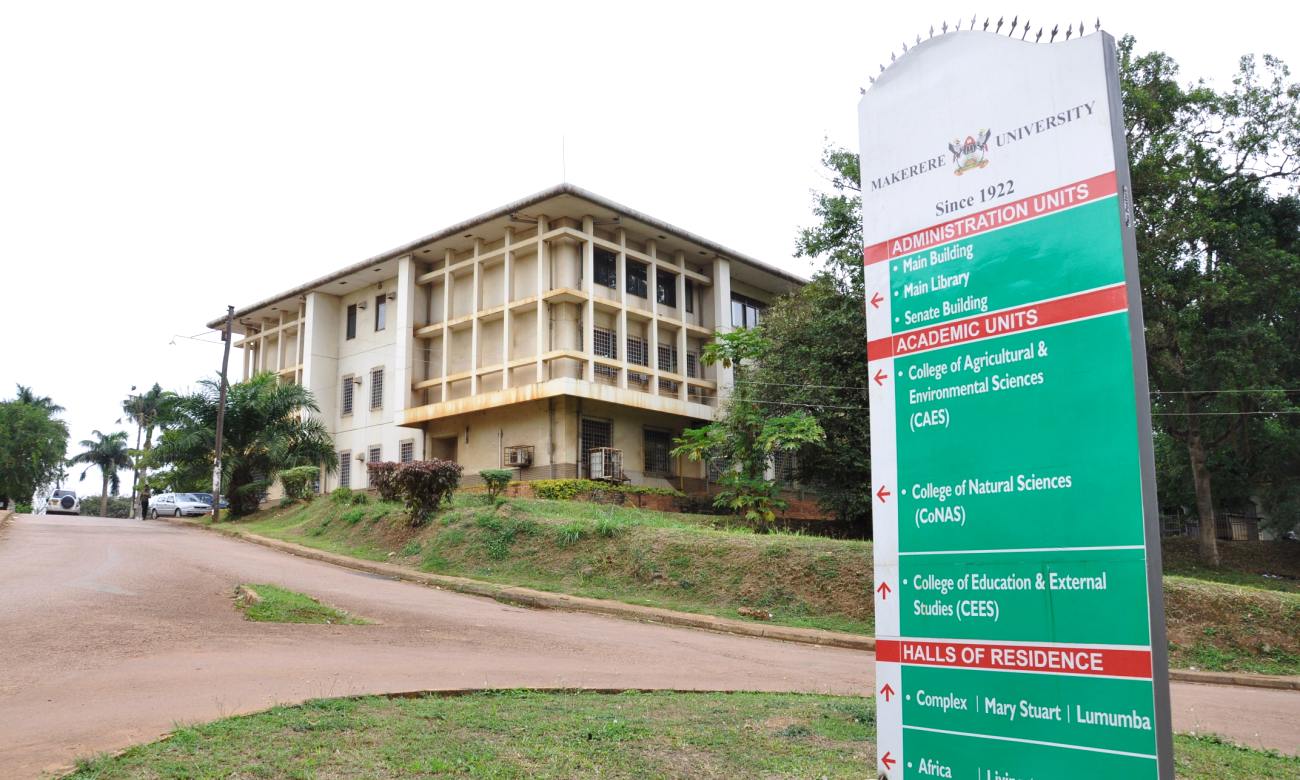 Dr Julius Mulindwa, Lecturer in the Department of Biochemistry and Sports Science, College of Natural Sciences (CoNAS), Makerere University, together with colleagues Prof. Nicolai Seigel at the University of Munchen, Germany and Dr Kevin Marucha at Kisii University, Kenya were recently awarded a research grant by the German Research Foundation (DFG) amounting to 290,985 Euro. Out of this, 179,735 Euro is for the research activities that will be conducted at the Department of Biochemistry and Sports Science, CoNAS.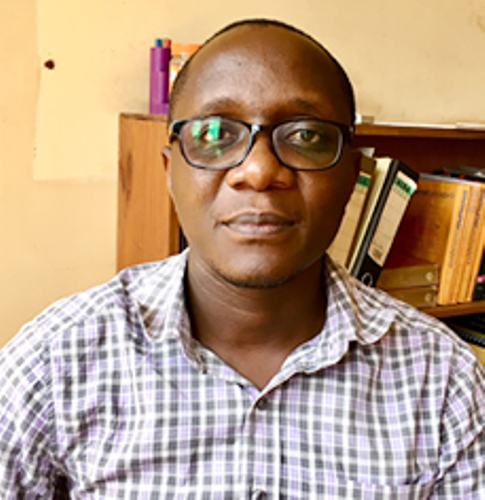 The research study is about, "Understanding cell to cell heterogeneity in African trypanosome field isolates".
The benefits of this study to Makerere University will include:
Capacity building in trypanosome single cell transcriptomics. This technic can be further exploited in other fields of research including cancer biology and it will be a great breakthrough if it is established at CoNAS.
Training of a Ugandan PhD student and MSc students.
Building research networks and fostering collaborative research between Makerere University, LMU, Germany and Kisii University, Kenya.  
Impact Program PhD Fellowships (Cohort 2): Deadline Extended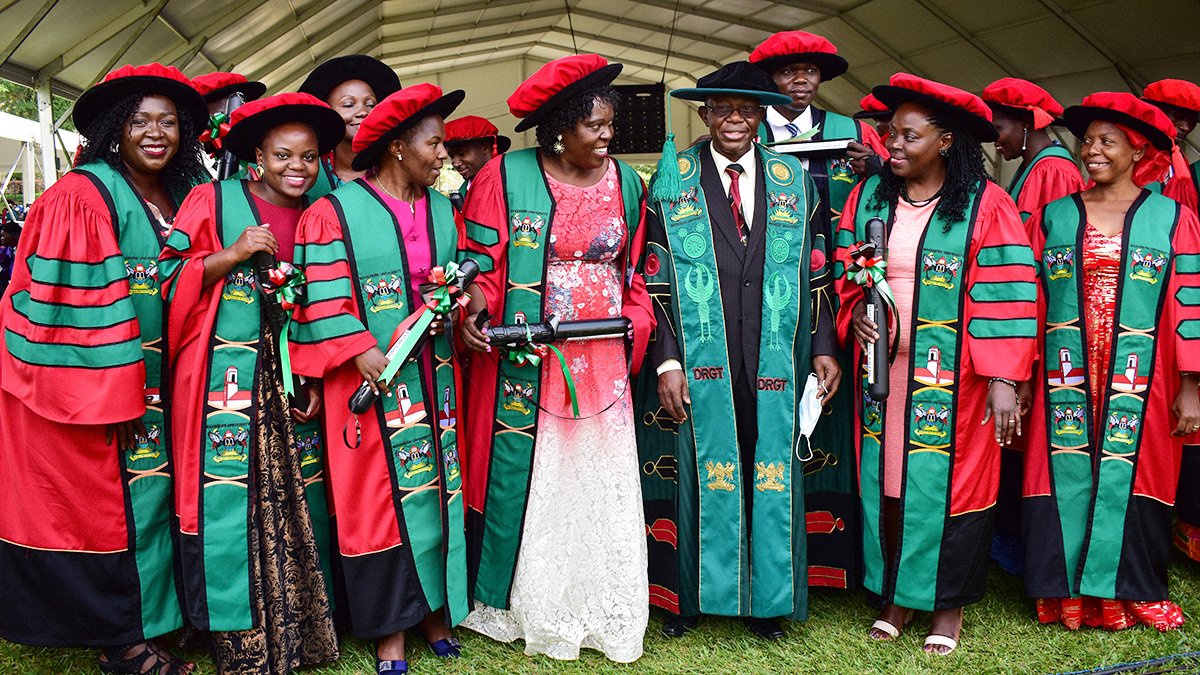 Makerere University in collaboration with the Uganda Heart Institute, Cincinnati Children's Hospital Medical Center and Children's National Hospital received funding from the National Institutes of Health's Fogarty International Centre to implement the Impact Training Program. The goal of the program is to equip and nurture emerging research leaders and
professional scholars in Uganda to generate high-quality contemporary evidence on rheumatic heart disease (RHD) across the lifespan and to create an enduring research training center on the African continent that will rapidly advance progress towards the elimination of the disease in a generation. The impact program is soliciting for applications for Cohort 2, 4-year PhD scholarships tenable at Makerere University.
Eligibility
Must be junior or mid-level researcher/scientist affiliated to Makerere University and Uganda Heart Institute.
Prior master's degree or fellowship in medicine, social sciences, gender studies or biomedical/health related field.
Able to articulate a clear research RHD problem.
Demonstrate interest in RHD research and commitment to develop a productive career in RHD research.
Demonstrate a basic understanding of RHD in order to know that this is an appropriate next step for the applicant.
Willingness to undertake and complete all training as mandated by the Impact program
Commitment to publish research conducted under this training in open access peer reviewed journals.
Please see Downloads for detailed selection criteria and application process.
Closing date for the receipt of applications is January 20, 2023.
Enquiries can be forwarded to the Impact Program Coordinator, 1st Floor Clinical Research Building, Room 1.4, makimpact22@gmail.com.
Successful candidates must complete training in responsible conduct of research (RCR), protection of human research participants (PHRP) and good clinical practice (GCP) before they conduct research involving human research subjects.
Timelines:
Application deadline: January 20, 2023
Interviews: February 13-17, 2023
Notification date: February 24, 2023
Applicants should demonstrate excellent communications skills and will be expected to work as part of a highly motivated, result oriented RHD group.
First-Ever Mak-UiB Research School Comes to a Lively End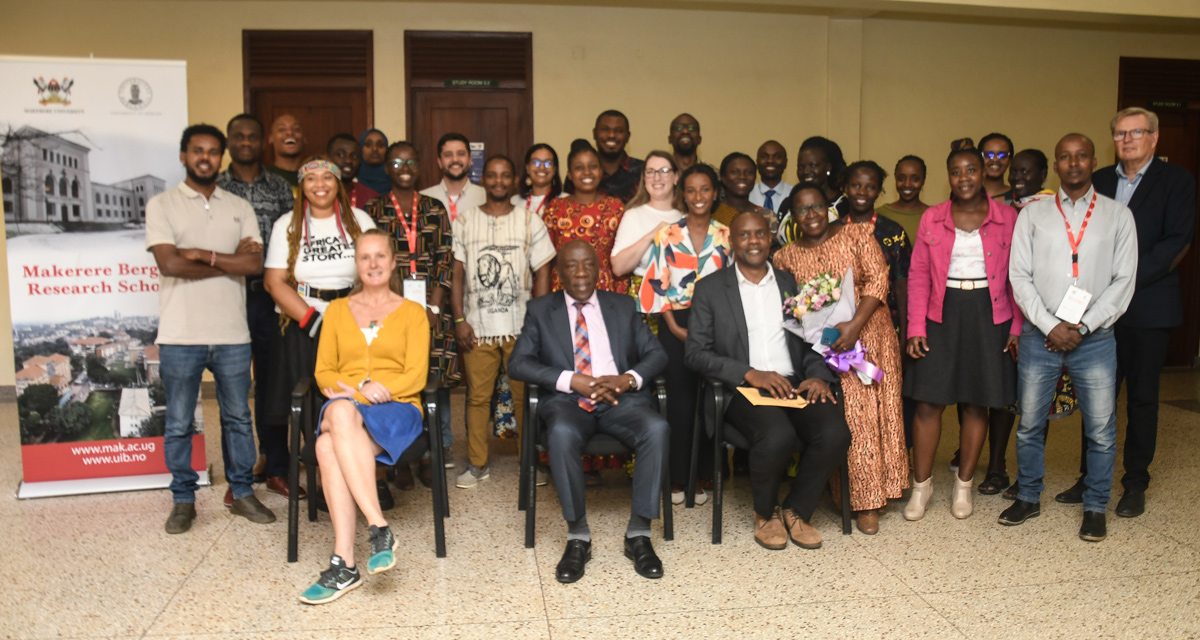 Officially opened on Monday 28th November 2022, the first ever Makerere-University of Bergen Research School (MBRS) came to a lively end as student participants cheered each other on at a certificate award ceremony presided over by the Deputy Vice Chancellor (Finance and Administration), Prof. Henry Alinaitwe. Held on Thursday 8th December, 2022 in the Multimedia/e-Learning room of the Frank Kalimuzo Central Teaching Facility, the ceremony was moderated by the Mak-UiB Collaboration Coordinator for Makerere University Dr. Ronald Semyalo. Also present at the award ceremony were UiB's Prof. Tore Sætersdal, Prof. Inger Måren, Nils Gunnar Songstad, Anja Christine Rørnes Tucker as well as other officials from Makerere and UiB.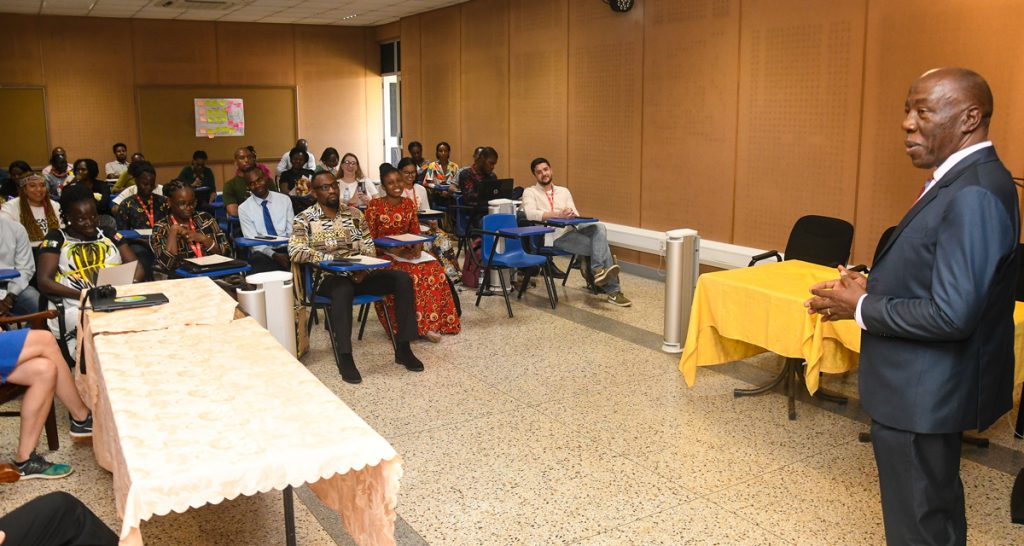 In his remarks, Prof. Alinaitwe, who represented the Vice Chancellor Prof. Barnabas Nawangwe, congratulated the facilitators from Makerere and UiB as well as the student participants upon successfully completing the two-week course. "Makerere takes great pride in collaborations and as our Vice Chancellor often says, we are the University that collaborates most in the whole world; we literally collaborate with institutions on all continents without discrimination."
Turning to the University's aspirations to become research-led, Prof. Alinaitwe, Prof. Alinaitwe appreciated UiB for choosing to host the PhD School at Makerere, noting that it augurs well with the institution's research strategies. The MBRS was held as part of activities to celebrate Makerere's 100 years of excellent service to humanity and 35 years of close collaboration with UiB.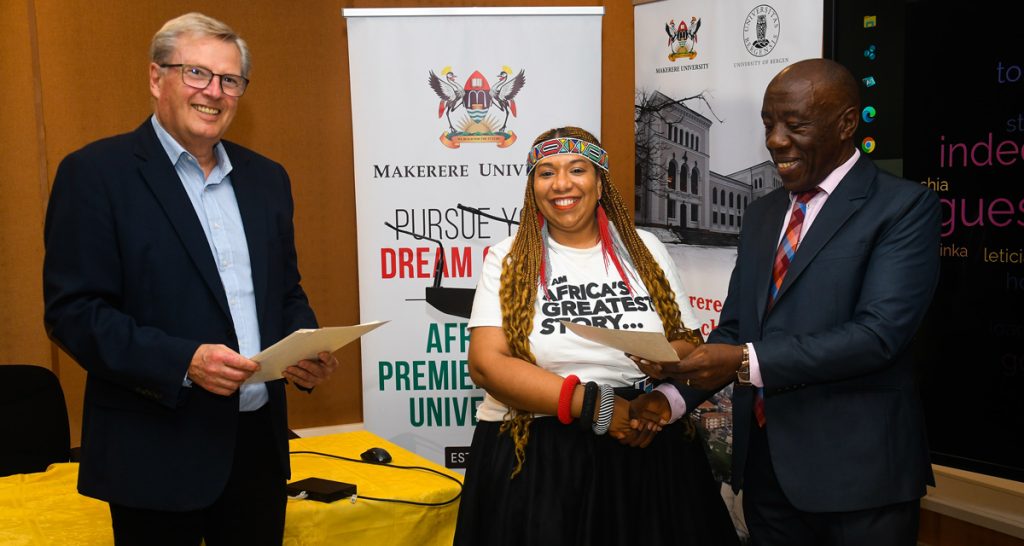 Prof. Alinaitwe added that activities such as the MBRS help make the PhD journey more engaging and will be remembered by participants long after they complete their respective programmes. He noted that the COVID-19 pandemic had put physical conventions such as the MBRS on hold and it is good for institutions to be able to resume them. He therefore urged participants to take full advantage of the networks they forge during such engagements.
"Makerere is a very progressive institution and we are looking forward to continue collaborating with various individuals and universities," he said. Turning to the MBRS topic; Food and Water Security in a changing World, Prof. Alinaitwe noted that although Uganda is well endowed with a variety of naturally occurring food and water resources, it would greatly benefit from technology-transfer partnerships. These partnerships, he said, would help promote technologies that enable communities to become food and water sufficient, despite varying onsets and amounts of rainfall received in the different regions of the country.