CoBAMS sets up forum to coordinate academia, innovators & entrepreneurs
The College of Business and Management Sciences (CoBAMS) has set up a forum to facilitate partnerships and transfer of assistance from academia to small and middle-sized innovators and entrepreneurs. The forum was established at the first-ever Entrepreneurs' Business Breakfast Meeting held in Yusuf Lule Central Teaching Facility, Makerere University on December 7, 2022.
The breakfast meeting was organised by the CoBAMS-based Makerere University Entrepreneurship and Outreach Centre, under the theme, 'Makerere University's role in entrepreneurship ecosystem' The meeting was attended by government agencies, Makerere University faculty and students and a wide array of entrepreneurs in the private sector.
The forum was one of the two engagement platforms agreed upon in the meeting. Giving a wrap-up of the meeting's discussions and resolutions, the college Principal Prof. Eria Hisali said, "We have agreed to set up two platforms: this one of academics with entrepreneurs and private sector practitioners, and the other for policymakers where we academics will engage with government ministries and agencies. The latter will be known as a policy laboratory. As for the former, the committee of volunteers we have set up today will come up with an appropriate name."
A committee of ten volunteers was formed. They include;
Mr. John Kakungulu Walugembe, the executive director of Federation of Small and Medium Enterprises Uganda
Grace Nanyonga Mugisha, Grana Fish Supplies Ltd
Kazigati B.L.F, NAADS secretariat
Seregio Naturinda, Swiftia Devt ltd
Sajjabi Bamuzala Robert, Uwezo Microfinance
Nabuuma Teddy, Twin Cakery
Pamela Nalukwago Ntalo, Pamville Schools
Ssekimpi Philip Kakembo, Uganda Tailors Association
Alitubera Martha
Ssenogo Brian Kimuli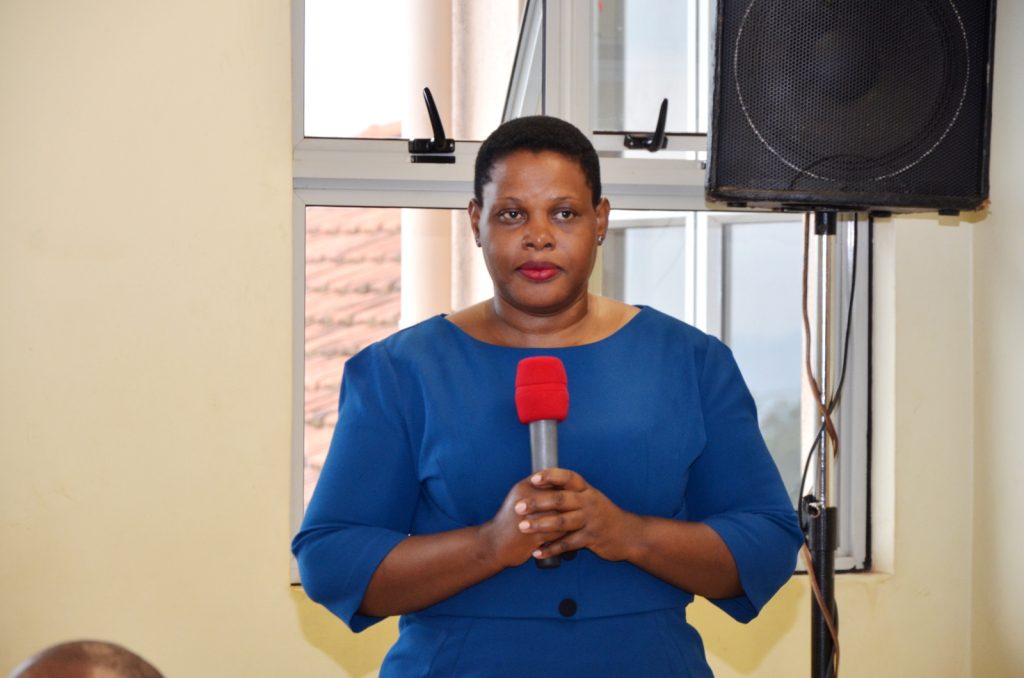 The committee will work with a secretariat to be headed by Dr. Sarah Bimbona, the director of the Makerere University Entrepreneurship and Outreach Centre (MakEOC). It was mandated to pursue the recommendations of the first Entrepreneurs' Business Breakfast Meeting and plan for future activities which include organizing the second such meeting in June 2023.
It was further resolved that to start with, the forum should convene twice a year, but the committee should meet quite often and keep updating the forum members. The next meeting of the forum should have more numbers in attendance, with more entrepreneurs giving personal testimonies of assistance got from Makerere University.
VACATING COMFORT ZONES
Prof. Hisali was pleased to listen to requests for more practical interaction between academics and entrepreneurs and innovators in the practical economy. "I am happy that our guests are challenging us to get out of our comfort zones as academicians. As a college, we have the knowledge and the manpower – faculty and students – which we can dip into the ecosystem of business and innovation. We are well placed to provide advisory services in areas of funding, taxation and policies, among others," Prof. Hisali affirmed.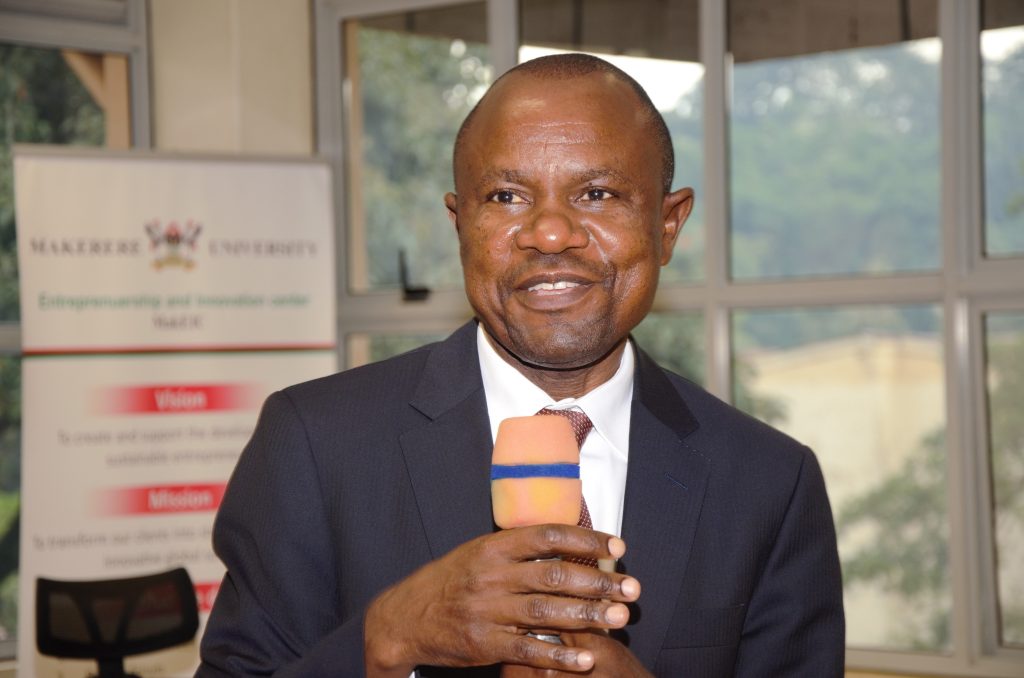 He disclosed that the college works with several stakeholders such as Uganda Revenue Authority, Uganda Registration Services Bureau, women traders in Kampala markets and other communities. This, in addition to designing more practical and relevant academic programmes
Prof. Hisali said the conversation on how the university should guide potential entrepreneurs and investors, what type of skills should be given to students and how to build and sustain a solid bridge among academia, industry, finance and business should continue.
The Head, Department of Marketing and Management, Dr. Peter Turyakira, emphasized that the Makerere University of today is no longer the ivory tower of the past. "We recognize that we are in the knowledge era; so, we share the knowledge we create through publications and conferences; we mentor students through expos and hubs, such that many of them leave campus when they are already employers or employed."
KEYNOTE SPEAKER JOHN WALUGEMBE
Mr. John Kakungulu Walugembe, the executive director of the 734,000-business-member Federation of Small and Medium Enterprises Uganda, was the keynote speaker. Mr. Walugembe underscored the central role of small and medium enterprises and businesses in the development of countries.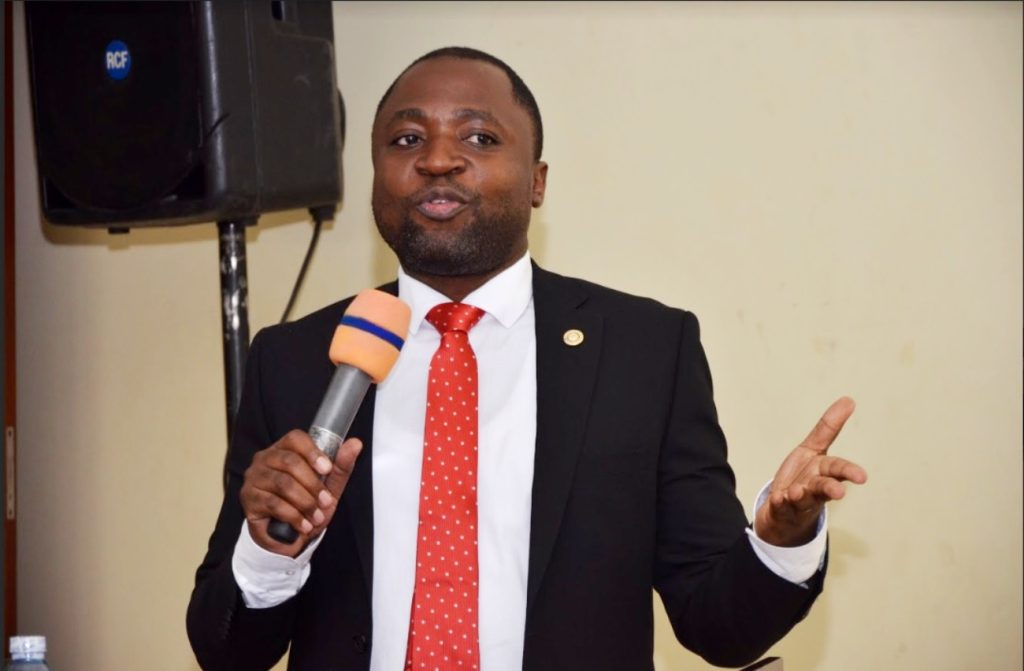 "There is a lot of confusion and lack of exposure in this country. No country has ever developed on the basis of big companies or big investors. It is small and medium-sized enterprises that have built economies in developed countries." He added that no country can ignore the textile and apparels sector, adding that this sector alone would employ all the youth flocking the Middle East seeking employment.
Mr. Walugembe decried the culture of entrepreneurs working in isolation from one another and the alarming lack of soft skills especially among the youth who dream of becoming rich without sweating. "There are many jobs in this country, but it is very difficult to find honest people," he lamented.
He also criticized banks in Uganda for concentrating on buying treasury bills and bonds rather than loaning money to businesses, and the tax authority which prefers closing distressed businesses rather than help them survive.
Mr. Walugembe outlined a number of interventions Makerere can make to improve the situation in the ecosystem. He advised Makerere to have a venture fund and raise funds for investment; intellectual property; set up student-led enterprises; and avoid training people for jobs that are dying or no longer exist, among others.
DESIGN LABS, PUBLIC INVESTMENT MANAGEMENT CENTRE
Dr. Cathy Mbidde, the manager at Makerere University Innovation Hub, said the hub had embarked on the task of retrieving research documents archived in the library and translating them into usable innovations and products. She disclosed that with UNDP support, Makerere University is going to set up nine design labs for making machines and equipment, among other uses.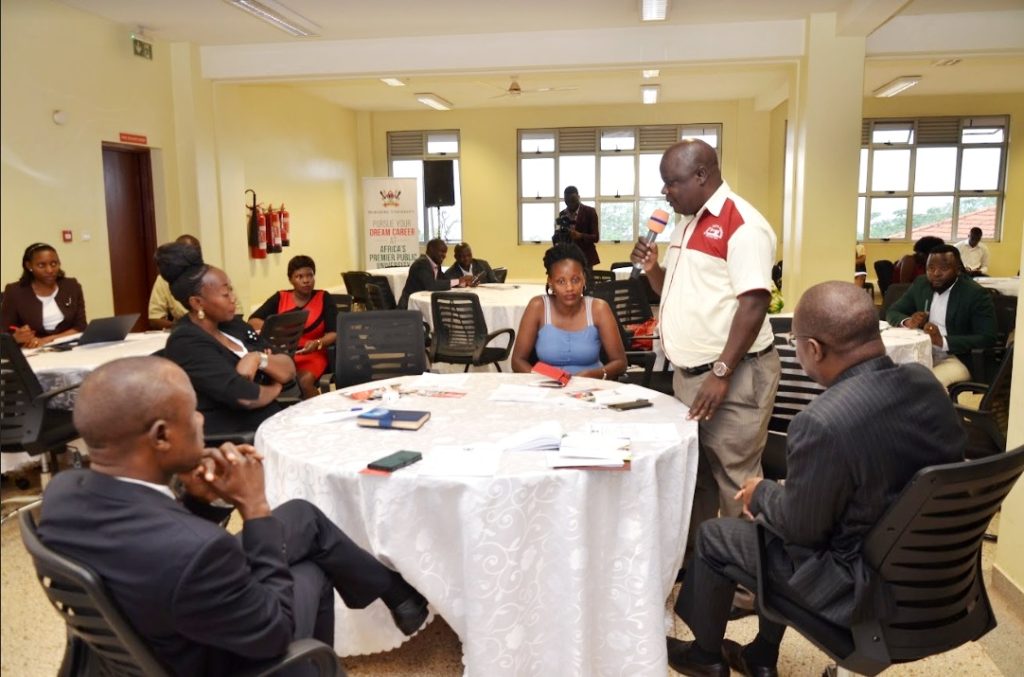 Prof. Hisali reported that government has given money to the college to set up a Centre of Public Investment Management. He said the centre has started supporting the implementation of many government initiatives and the improvement of the management performance of Saccos and SMEs. It would also absorb many of the students who would give free service as part of their training.
Non-Makerere participants put forward a number of challenges they face and pieces of advice on how the university should collaborate with them going forward. For example, they requested the university to help them gain exposure through foreign visits, avail advisory databases that can provide information and guidance on what kind of business one can start with which amount of capital or skills.
Participants also asked the university to train their students in soft skills, character, morality and discipline. Lack of self-confidence and a persevering spirit and shortage of locally made machines and equipment were pointed out as major obstacles to growth and survival of many businesses.
EfD Uganda Stakeholders Propose Sustainable use of Biomass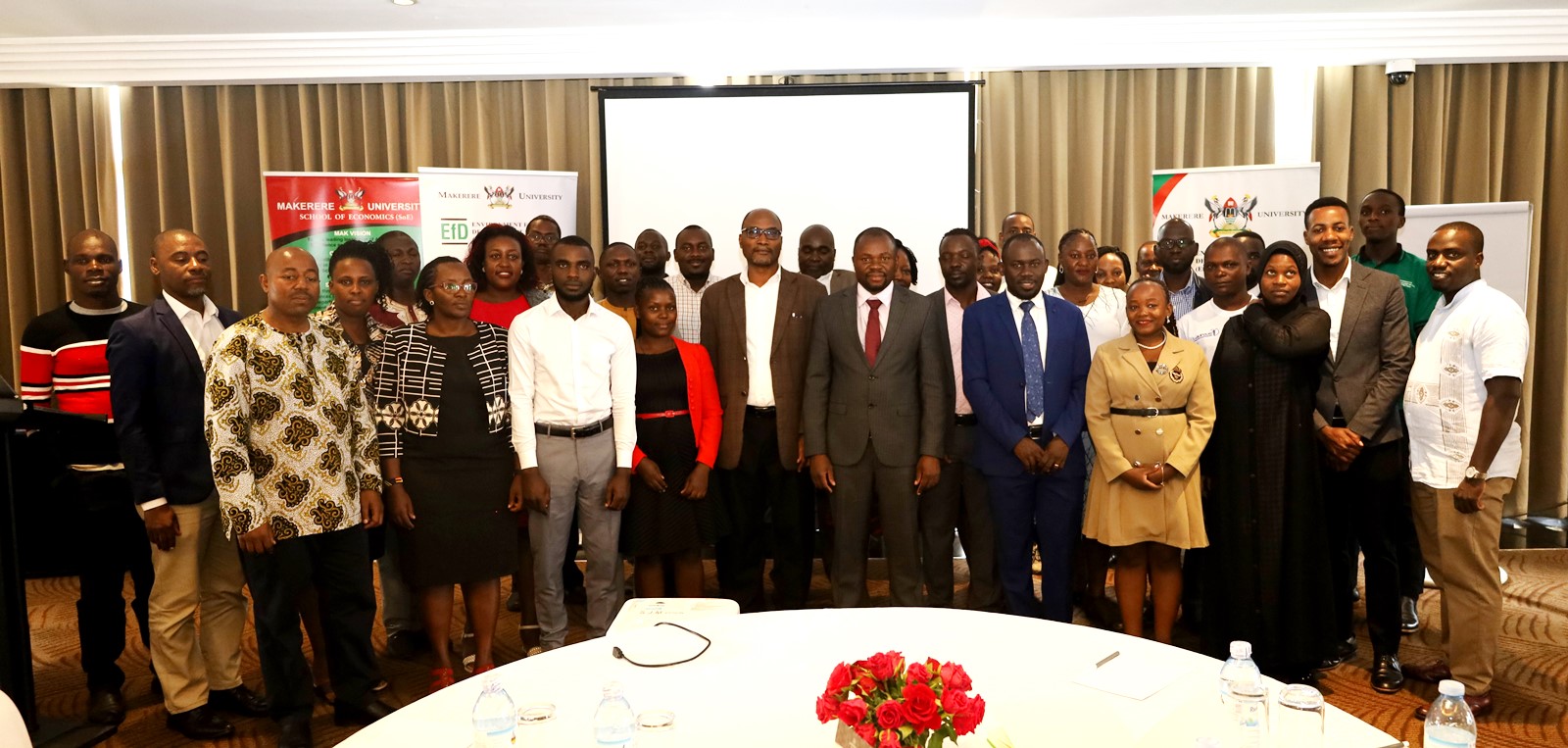 The Inclusive Green Economy program of the Environment for Development Initiative in Uganda on 17th November hosted stakeholders across the country's sectors to get their perspectives on biomass transition to clean energy sources in Uganda.
Uganda's IGE engagement specialists Dr. Peter Babyenda says this is one of the work plan item on on social inclusion where stakeholders were identified by IGE fellows during the 17th EfD Annual meeting in Ghana.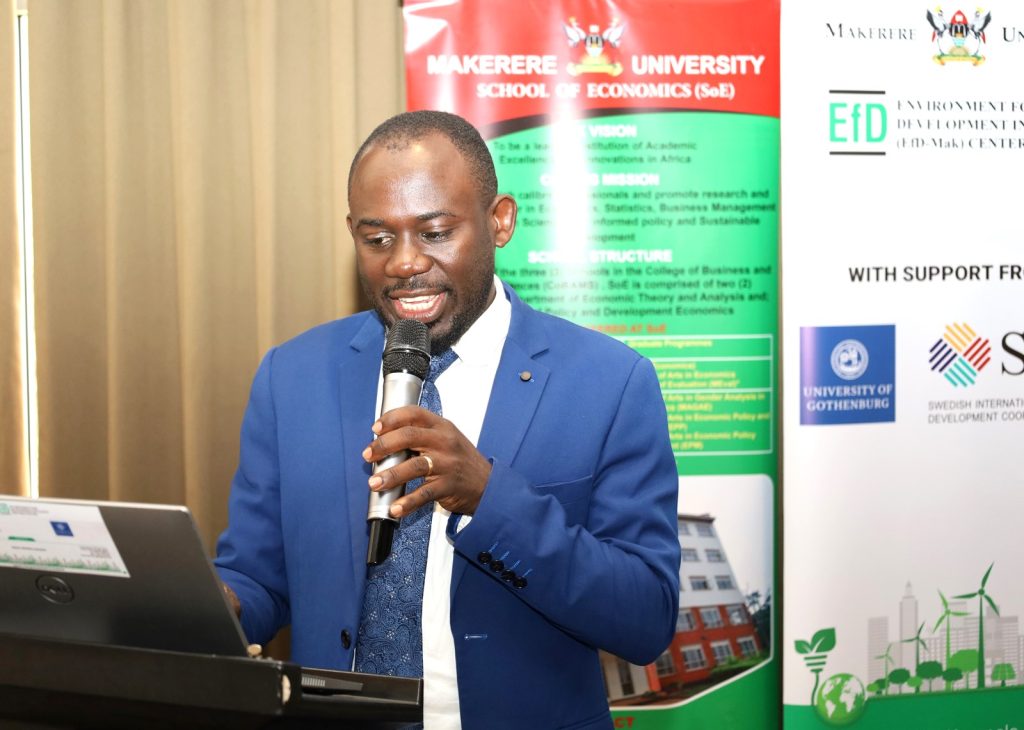 In a meeting held at Sheraton Hotel in Kampala, stakeholders gave the  situation analysis of biomass use in the country, where they want to go, how to go there and who should take the country there.
"We found out that almost 90% of our households depend on biomass whether in rural areas or town. This is attributed to cultural issues where certain foods are believed to have good taste when cooked on firewood or charcoal, the fear to use electricity and gas that may result to shocks and fire explodes, inaccessibility to clean energy sources and affordability issues."
The meeting resolved to primarily focus on behavioural change efforts of the sustainable use of biomass and gradual transitioning to clean energy sources.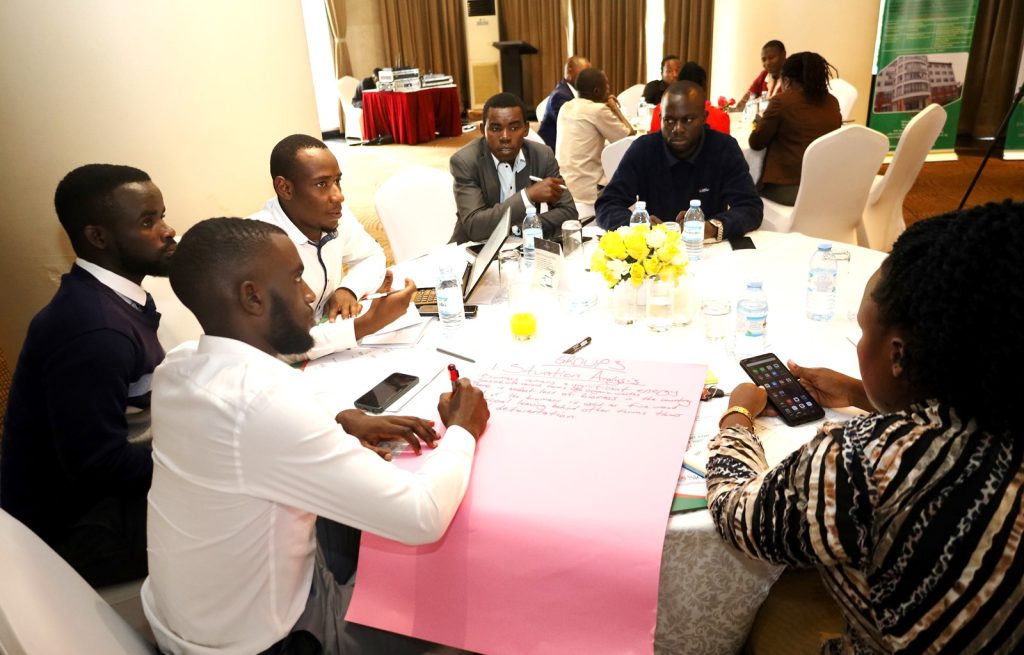 'We concluded that for now we cannot say let us move to clean energy but go slowly go slowly  on sustainable use of biomass by planting more trees so that instead of depending on natural forests, we depend on plantation forests, use energy saving  stoves and those  that can save users on effects of smoke and slowly move to clean energy sources by connecting households to electricity and make it affordable and make gas available at an affordable cost'´Babyenda said.
The meeting also proposed the need for more awareness creation about alternative energy sources such as biogas for schools and prisons.
Representing the Principal College of Business and Management Sciences,  Dr. Yawe Bruno thanked Sida through the EfD Global hub at the University of Gothenburg for funding  the IGE program and the EfD-Mak centre.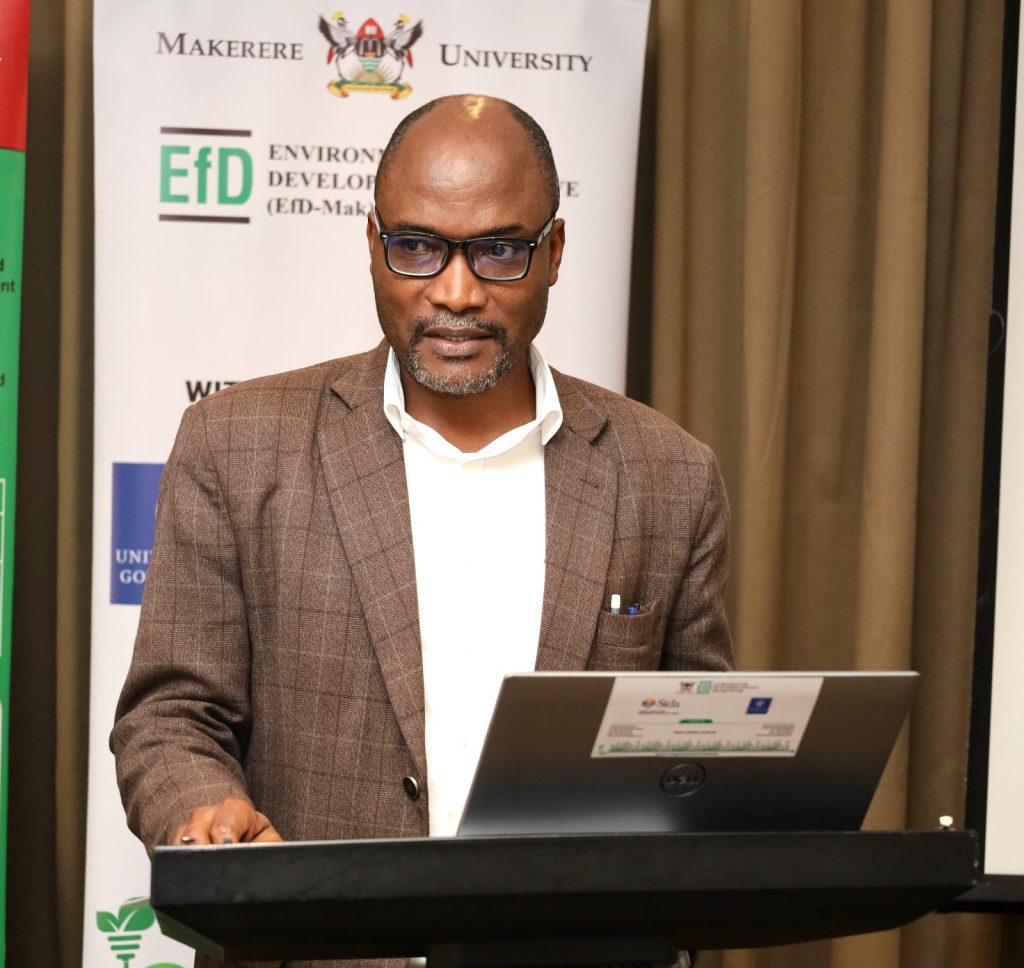 "The use of biomass in Uganda has persistently remained high. 80% use firewood and 13% charcoal for cooking but there is a proportion that use a combination of those two. This imposes great implication for household welfare.
Biomass usage affect our productivity, schooling of children, labour market participation especially by women and children. On health, the use of biomass especially firewood causes eye defects, breathing difficulties, snake bites, body dislocations and sexual abuse," He explained.
Besides household effects, Yawe noted that reliance on biomass has effects on the environment.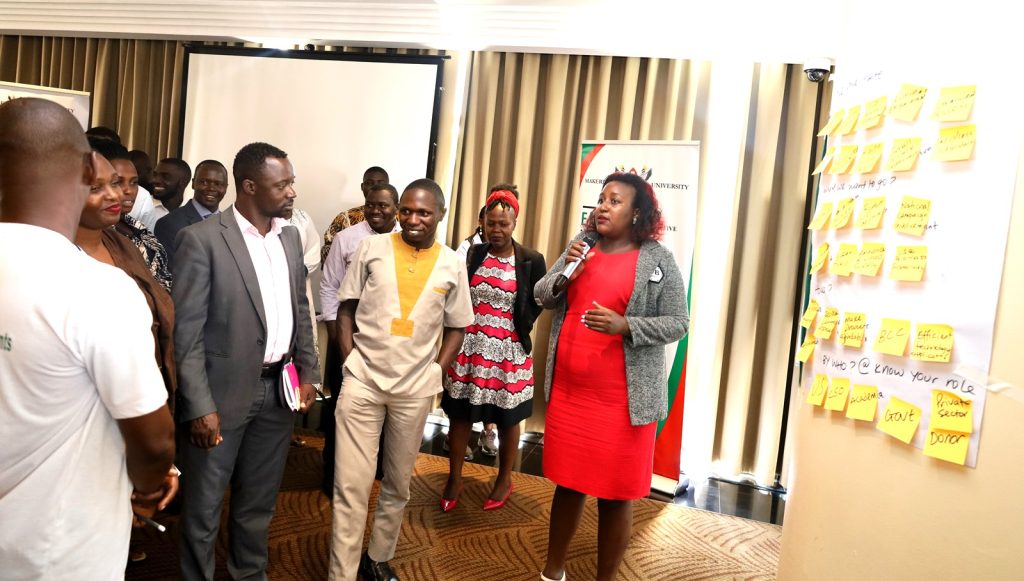 Yawe reported that Uganda's forest cover is being threatened by biomass usage reducing it from 24% in 1990 to less than 9% to date. Transiting to renewable and clean energy requires clear understanding of supply and demand relationship for both biomass and clean energy.
"We must know what drives the uptake and while many can afford gas and electricity, why are we insisting that we should have charcoal? Comparatively,  a 6kg gas cylinder costs 60 thousand and today a bag of charcoal costs not less 70 thousand but some households find it cheaper which is expensive and because of the felling of trees, the quality of charcoal may not last more than a week,"
He challenged stakeholders to find out why the supply and demand for biomass is still high amidst detrimental effects and why the supply for clean energy is still low amidst numerous innovations.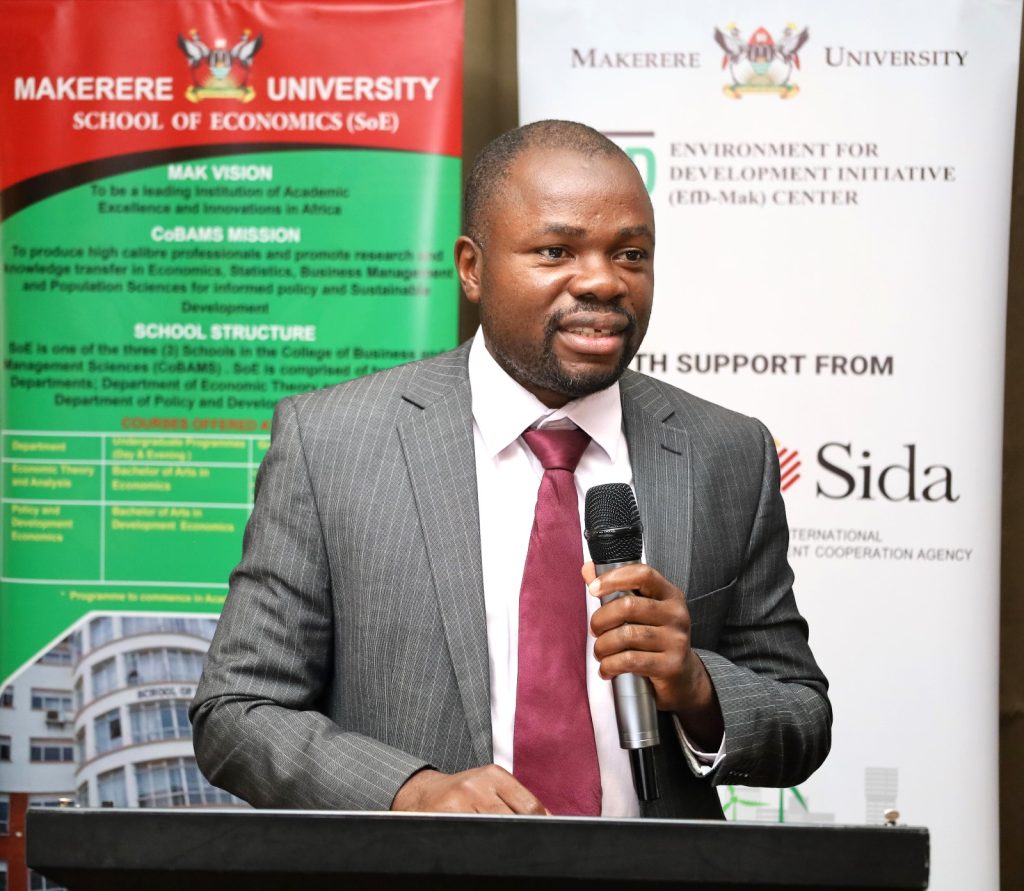 Representing the Director EfD-Mak Center, the Dean, School of Economics Dr. Mike Okumu said many households are struggling to transition from firewood and charcoal due to socioeconomic characteristics that define them.
Okumu attributed the climate change effects to the household behaviours and enterprise behaviour and challenged stakeholders to find innovative ways of co-existing with the environment to enhance productivity and also feed communities
He congratulated the IGE engagement specialists for being intentional in identifying the participants taking into account that the majority and poorest population resides in the rural Uganda, and Uganda's biggest population being the youth.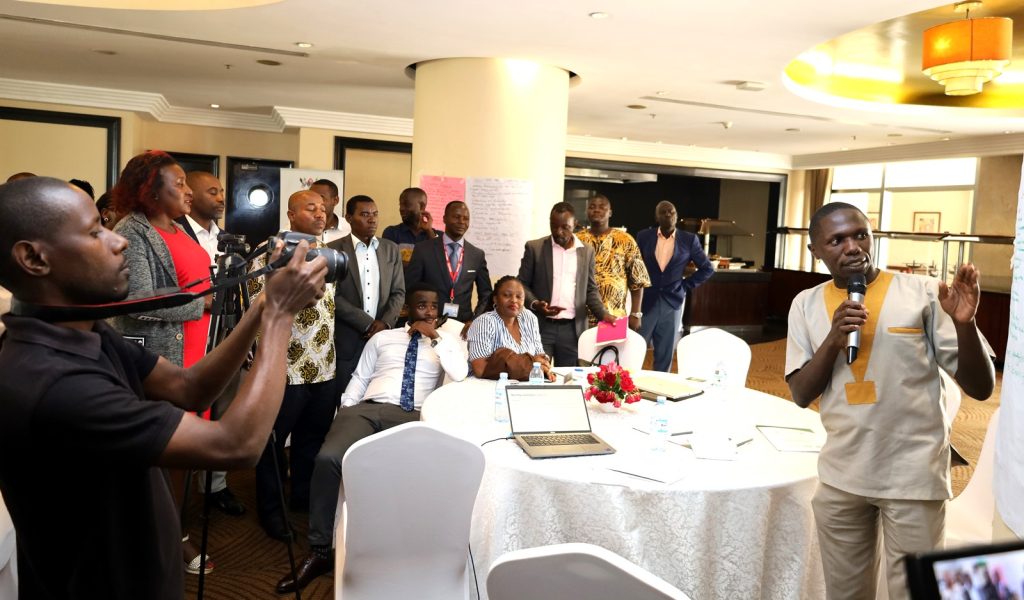 The meeting comprised specialists in environmental conservation, researchers in renewable energy specifically biomass energy, persons dealing in innovations in sustainable productivity, those working with rural energy transition and renewable energy through use of waste plants and  animal residues and persons engaged in youth environmental initiative particularly agroforestry.
Okumu  also congratulated the EfD-Mak centre for bringing on board collaborative partners from different Ministries,  Departments and Agencies , the private sector and Civil Society organisations.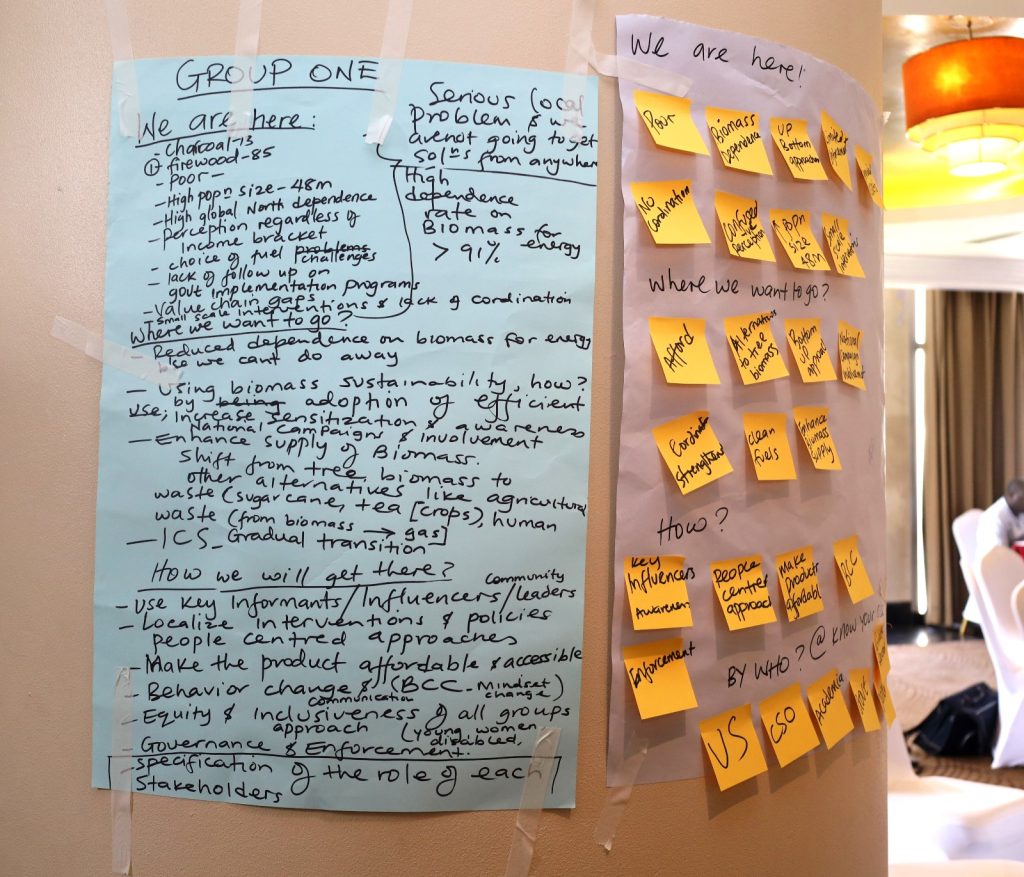 He expressed the centre's commitment to engage in similar engagements for purposes of having a drive into a cleaner Uganda and mitigating climate change effects on Uganda's economy and a drive to having persons making informed decisions towards a better climate sensitive Uganda.
Jane Anyango is the Communication Officer EfD Uganda
Researchers call for creating of fund to support industrial symbiosis for sustainable entrepreneurship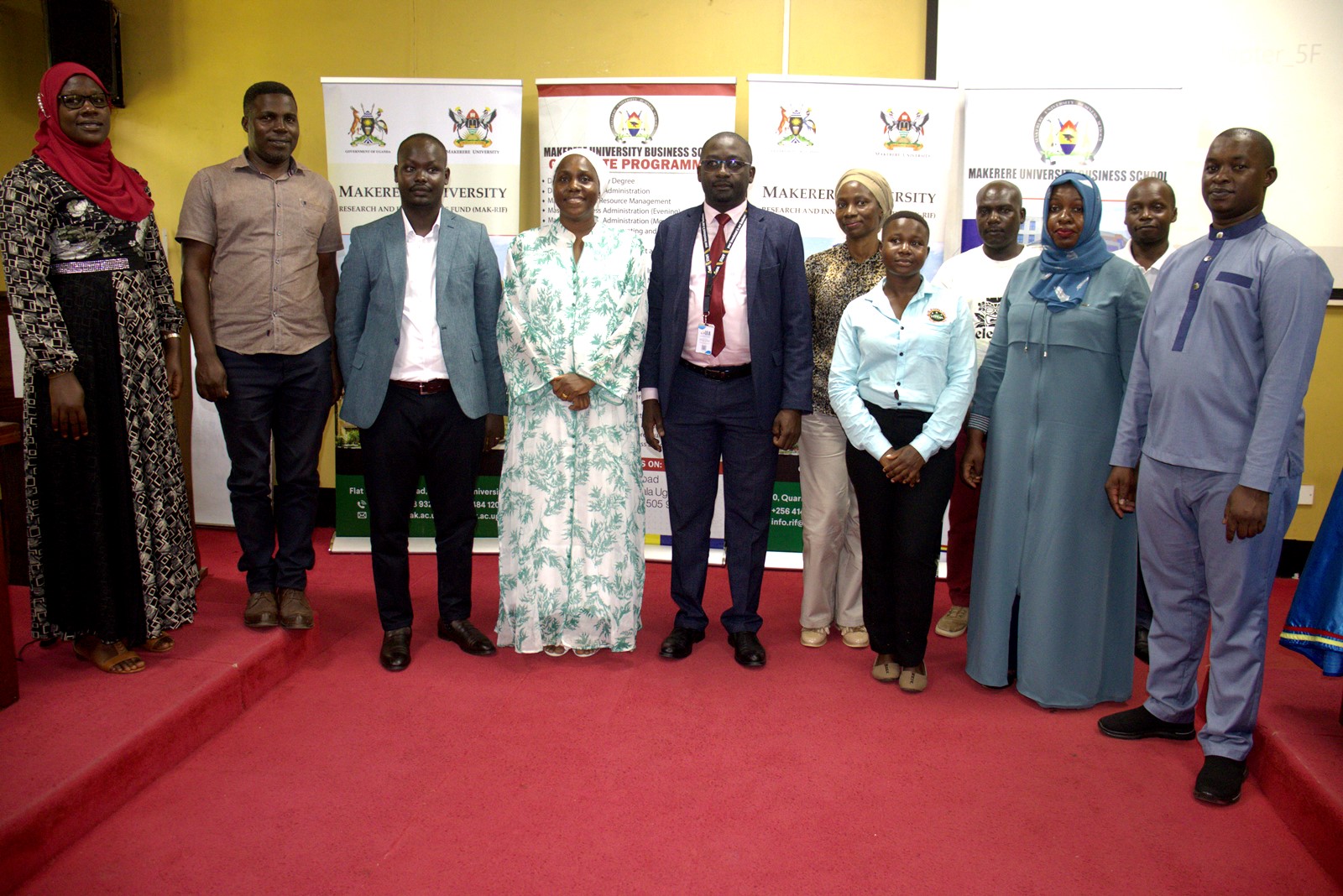 Government has been advised to create a fund to support Small and Medium Enterprises to implement symbiotic practices, which they say will foster sustainable development.
Dr. Saadat Kimuli Nakyejwe, the principal investigator, and Dr. Kasimu Sendawula from Makerere University Business School and the College of Business and Management Sciences at Makerere University, respectively, argued that if firms practice industrial symbiosis (working together to forge a mutually beneficial relationship), they are bound to grow. This symbiosis may take different forms, such as knowledge sharing, raw material sharing, and the sharing of machines and space, among other things. 
Dr. Saadat said these mutually beneficial relations will result in more profitable businesses, conservation of the environment, reduction in production costs, and creation of jobs. Furthermore, he emphasized that industrial symbiosis can also lead to innovation and increased competitiveness within industries. By collaborating and leveraging each other's resources, firms can develop new products and services that meet evolving market demands. Ultimately, this not only benefits individual businesses but also contributes to overall economic growth and sustainability.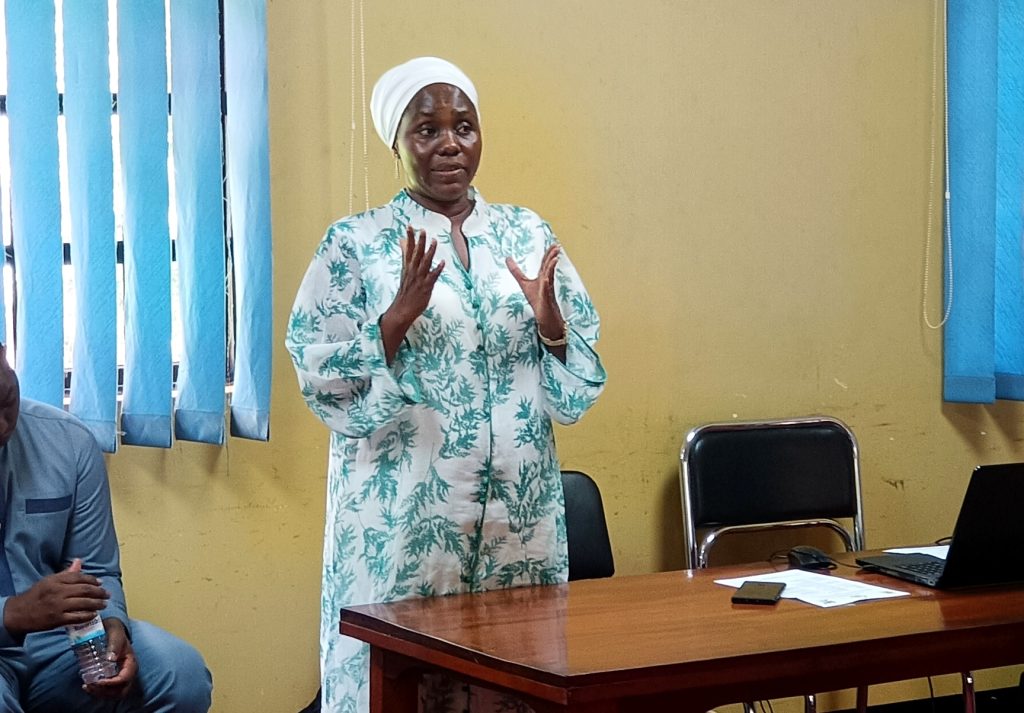 Dr. Kasimu Sendawula, the Co-PI of the project, said there is a need to sensitize entrepreneurs about the benefits of industrial symbiosis, emphasizing that it can lead to cost savings through resource efficiency and waste reduction. Additionally, industrial symbiosis can foster a more circular economy by promoting the reuse and recycling of materials, reducing environmental impact, and promoting sustainable practices.
The research was looking at "Exploring the Potential of industrial Symbiosis as an Innovative strategy to foster sustainable Entrepreneurship in Micro and Small Enterprises in Uganda" a research funded by Makerere University Research and Innovations Fund.
The researchers also called for an amendment to the current Micro, Small, and Medium Enterprise (MSMEs) policy so that it can address the environmental, social, and economic issues undermining the potential of MSMEs to undertake industrial symbiosis.  By incorporating industrial symbiosis into the MSMEs policy, it can provide the necessary support and incentives for businesses to adopt sustainable practices. This would not only benefit the environment but also enhance the competitiveness and resilience of MSMEs in the long run. The team also called on the government to put in place a symbiotic fund to support organizations. This fund could provide financial resources and technical assistance to MSMEs interested in implementing industrial symbiosis initiatives. Additionally, the team suggested that the government should collaborate with industry associations and experts to develop training programs and knowledge-sharing platforms to help MSMEs navigate the challenges and opportunities of industrial symbiosis.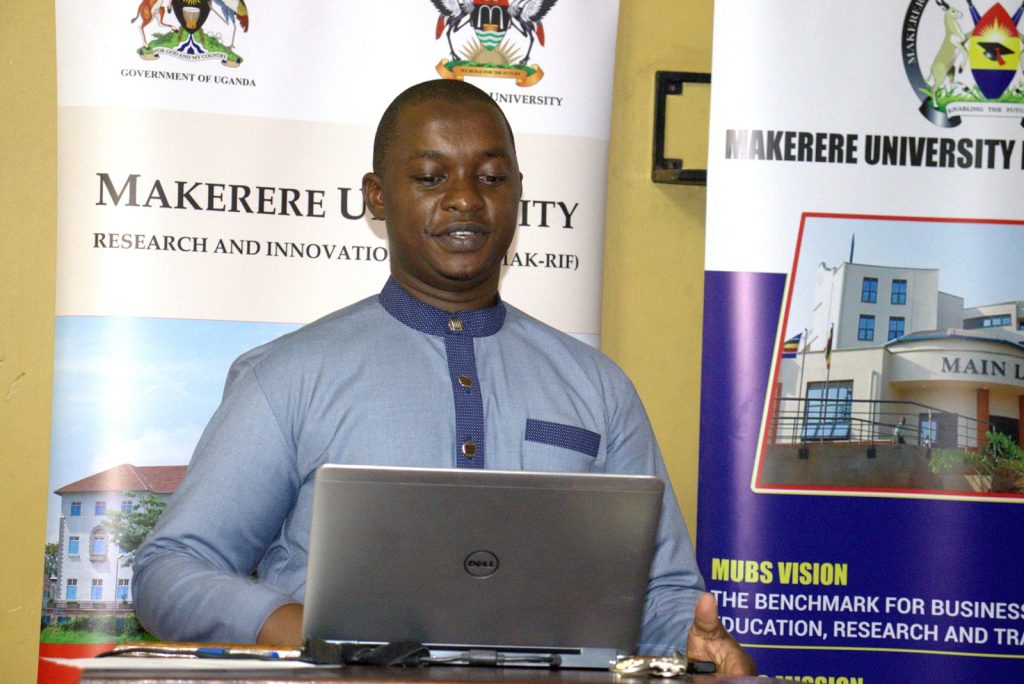 Ms. Nakalembe Betty, one of the entrepreneurs that participated in the research, shared with participants during the research dissemination on November 9, 2023, that she had successfully implemented an industrial symbiosis initiative in her textile business. She emphasized the importance of networking and building relationships with other businesses in order to identify potential symbiotic partnerships. Ms. Nakalembe also highlighted the positive impact that industrial symbiosis had on her business's sustainability practices and overall profitability. She shared that since the training, she has been able to use the waste textile materials to make decorative materials, masks, and glass covers, among other products. This, she said, has reduced her waste disposal and also increased her income. Additionally, Ms. Nakalembe mentioned that through industrial symbiosis, she has been able to establish a network of suppliers and customers who are interested in sustainable products. This has not only expanded her market reach but also allowed her to contribute to the circular economy by promoting the reuse and repurposing of materials. As a result, her business has become more resilient and environmentally conscious, positioning her as a leader in sustainable practices within her industry.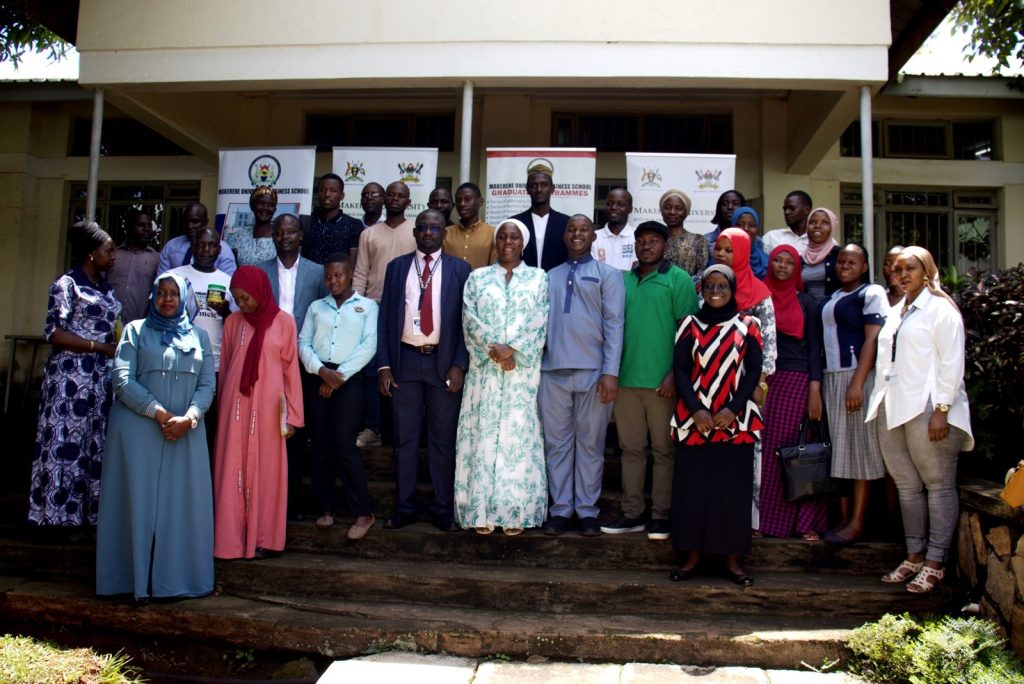 Ms. Natayi Aisha, who is in charge of recycling at Luuka Plastics, also shared that the company recycles plastic and polynene bags in an effort to reduce waste and minimize their environmental impact. By implementing recycling practices, Luuka Plastics is able to divert plastic waste from landfills and give it a new life, reducing the need for virgin materials and conserving valuable resources. This not only benefits the environment but also creates a positive image for the company, attracting eco-conscious customers who appreciate their commitment to sustainability.
Mr. Galiwango Hamza, the Director of Industrial Parks at the Uganda Investment Authority, welcomed the recommendations of the research team, saying that industrial symbiosis aligns with Uganda's goals of promoting sustainable industrial practices. He emphasized the importance of companies like Luuka Plastics in driving economic growth while minimizing environmental impact. Additionally, Mr. Hamza expressed his hope that other businesses would follow suit and adopt similar practices to contribute to a greener and more sustainable future for Uganda. Mr. Ezra Byakutangaza, from the Research and Innovation Fund of Makerere University, the funding agency, congratulated the researchers and also thanked the government for the continued funding of research and innovation. 
Research Team
Dr. Saadat Kimuli Nakyejwe
Dr. Sendawula Kasimu
Ms. Shamirah Najjinda
Eng. Dr. Ismail Kizza K.
URA trains Makerere University students to nurture future voluntary compliant tax payers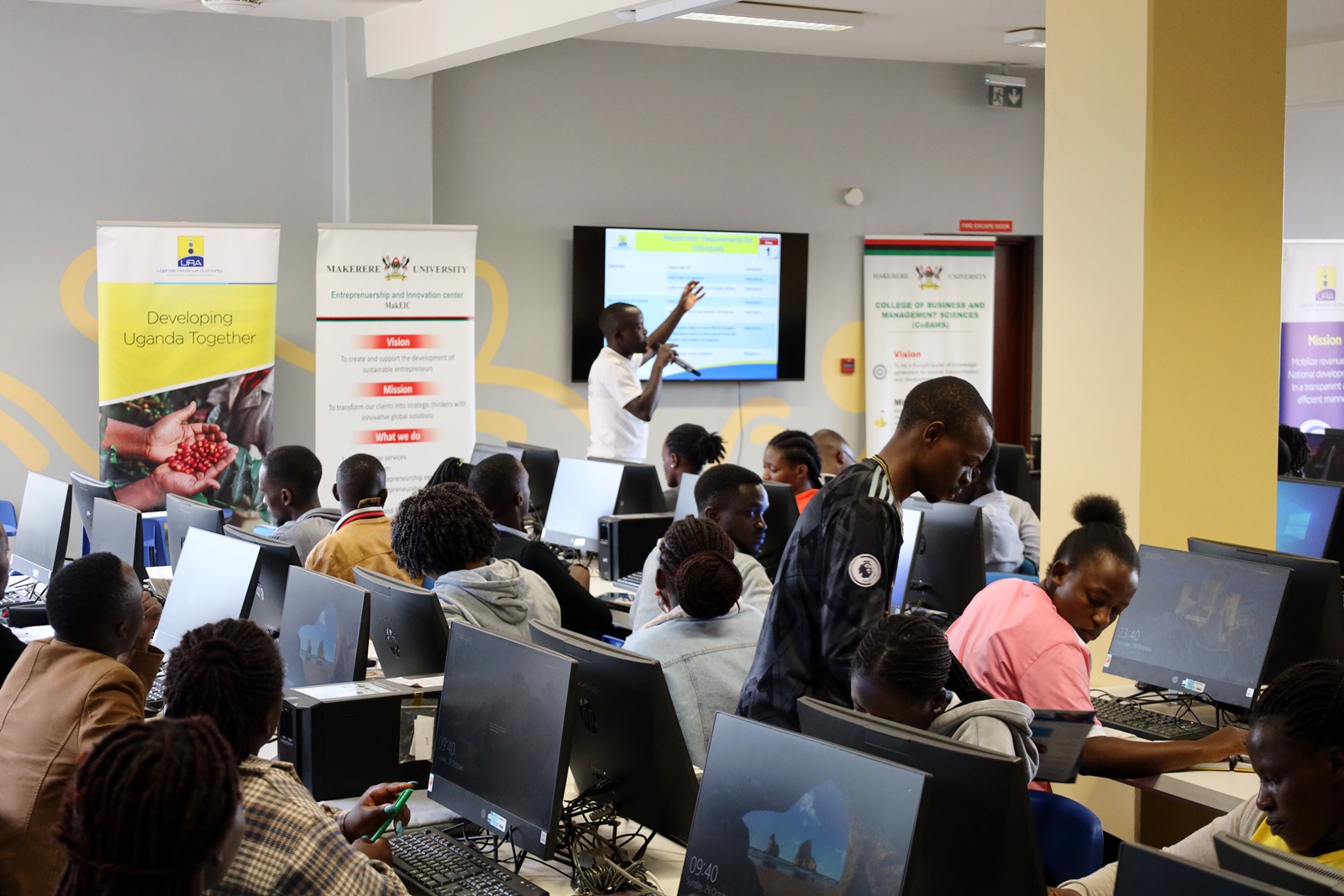 Uganda Revenue Authority (URA) has partnered with Makerere University to nurture future voluntary compliant tax payers in a four-day training targeting 600 final year students from the College of Business and Management Sciences (CoBAMS).  
Dr. Ismail Kintu, a lecturer from the Department of Accounting and Finance said the tax training is premised to the fact that many students go to the field without hands-on skills.
"The training is intended to impart practical skills among the students to enable them help their parents, employers and themselves when they become active tax payers in filing returns to URA," he said.
The training started on Saturday, October 28 and is going to run for four weekends ending on Sunday, November 4 under the theme, "Fostering voluntary tax compliance among Ugandan youths"
Dr. Kintu called for more trainings like this and he believes if these sessions are conducted for young people, sensitizing  the citizens to pay taxes will be easy.
He lauded the College Management and special applaud to the principal Prof Eria Hisali for always supporting initiatives of equipping students with skills and noted that the tax training is targeting students doing Business related courses because they study taxation as a course unit in their programs.
URA trains students to register and get Tax Identification Number (TIN), to read and navigate the URA portal and get any tax information they need, filing the returns especially the Value Added Tax (VAT) returns via the Electronic Fiscal Receipt and invoicing System (EFRIS) that are on the monthly basis.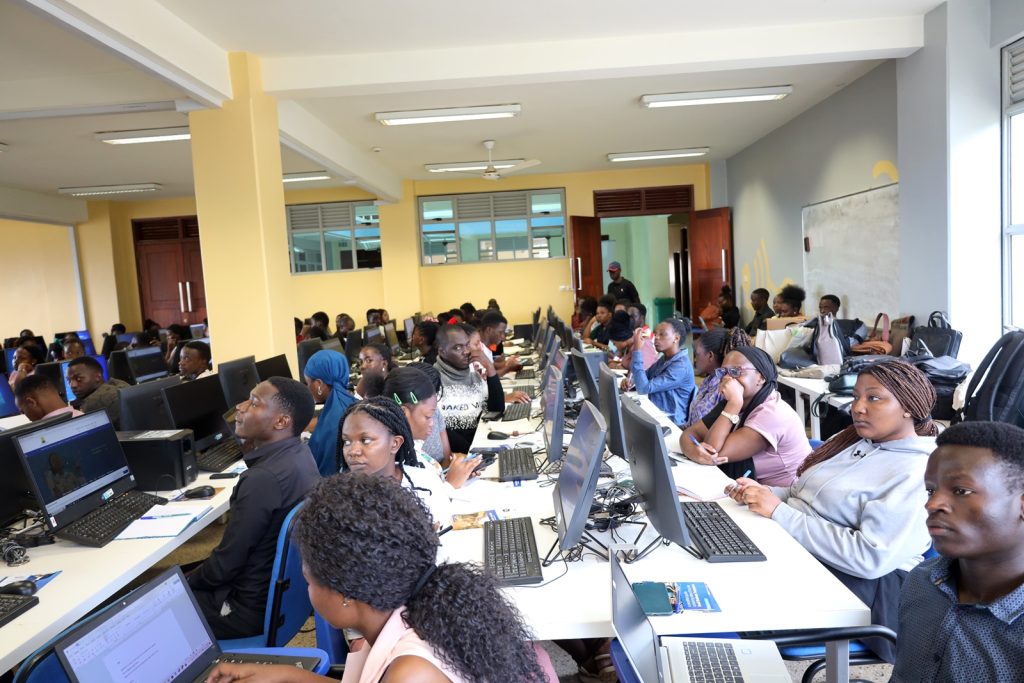 The program started in 2019 with 700 students and this is the third cohort of the training and at the end of it, URA issues students with a certificate upon assessment and attaining a 70% pass rate.
Dr Kintu has encouraged students to always look out for new information especially about tax since all fields have to pay tax once they start earning income and asked this year's participants to be ambassadors and take on the training to other students who missed the opportunity.
Andrew Kyakonye, the Tax Education Officer at URA who spearheaded the training said this year, URA is looking at how students can be exposed to the job market, taking them through URA processes like registration, and Business Formalization, delving into how they can register their businesses for taxes and taking them through the processes of registering their businesses and the one of their prospective clients when they go out to the field.
On the same note, the program is also looking at returns filing where tax payers are expected to declare how they have performed throughout the year.
"Our target is basically on students in their final year because they are the one who will be required to issue the e-receipts and filling tax returns of their clients." He explained.
During the same session, the students will learn Electronic Fiscal Receipting and Invoicing Solution (EFRIS), an online system that helps in record keeping and issuing of on-time receipts.
"With this new web-based forms, the tax payers will be able to use EFRIS full time and they will not need to file their tax returns because the system keeps on updating the information with just a clique of the button." He added.
URA has trained over 1,000 students of Makerere University in the past two trainings in 2019 and 2022.