Academicians call for equity in education delivery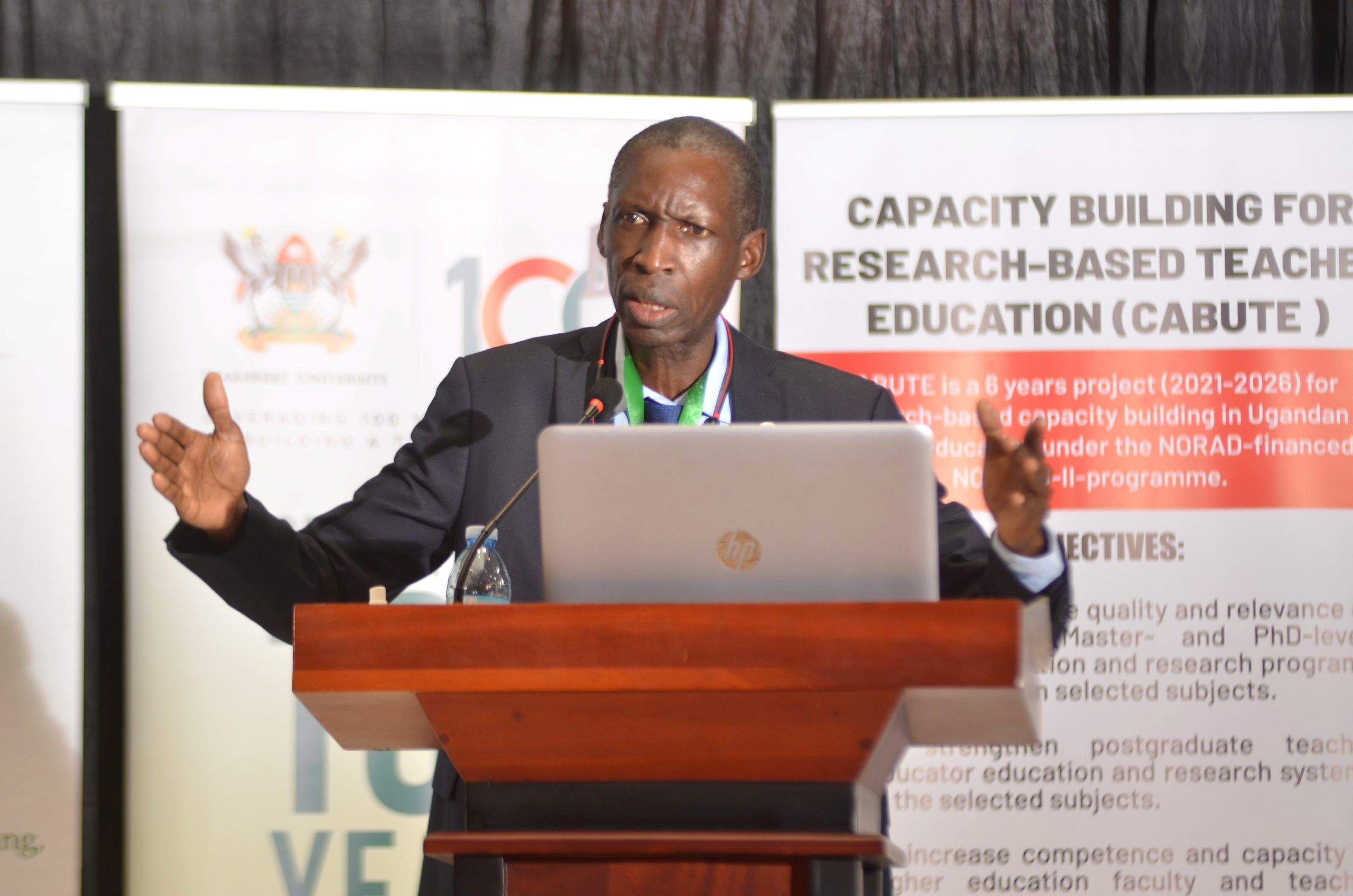 Academicians at Makerere University have called for equity in education delivery, saying the Covid-19 pandemic exposed our education systems as one that favours the elite/urban students and disadvantages the rural poor students.
The call was made by Prof. Anthony Muwagga Mugagga while delivering a key note address on "Blended Pedagogical Approaches and their Impact on Learning Cultures During and After Covid – 19 pandemic.", at the opening of a symposium on Teacher Education under the theme "Pandemic's effects on Education in East Africa". 
The country, upon the outbreak of the pandemic the government adopted certain Pedagogical interventions which included, home learning packages/materials,mainly distributed through newspapers, which cost between Shs1000 and UShs 2000.
Prof. Mugagga argued that the poor, who on average earn between 0 and UShs 1000, could not afford this. 
The government also used Radio and Television programmes for the candidate classes, which were presented during the day. Prof. Mugagga, however says this still left out the rural students who were in the gardens during the delivery of these classes.
Another method of blended learning adopted during the pandemic was the Home Parental assistance and guidance. This would imply that all parents with children at school irrespective of level of formal schooling were supposed to provide some degree of pedagogical assistance to their children. "Unfortunately, approximately 50% of the rural people in Uganda are illiterate or Semi illiterate , but even those who are fairly schooled cannot cope with the dynamic school curriculum reigning today," Prof. Mugagga said during his keynote address.
Using WhatsApp messages to communicate between schools and students and emails was only a preserve of the urban elite, the professor said.
"The Covid-19 pandemic exposed our education house. It showed that indeed our education system and its planers are skewed towards the elite and the urban rich," Prof. Mugagga said.
Prof. Mugagga recommended certain changes if the education system is to have meaningful blended pedagogical interventions.
Functional state structures
Governance and political as well as social accountability for all rich , middle and poor .
Parity and equity in educational opportunities for all
Meritocracy versus favoritism in access to good educational opportunities: The best are selected and not those who are most favored by the system.
Strong leadership and administration which makes state institutions functional and powerful
A Strong sense of entrepreneurship on part of all education stakeholders
Strong civil society
An overall sense of professionalism by all
Strong vocational and technical education
Pedagogical innovativeness by all
Plan but in cognizant of our affluent-poverty education access divide.
Train both the in-service and pre-service teachers in use of Emerging Technologies(ETs ) such as Mobile phones, Televisions and Radio among others.
Create inclusive Education technology implementation frameworks from Early Childhood Care Education (ECCE) to university levels but tailored to the Ugandan context.
The symposium, which was also attended by Ministry of Education Official, was organized by Capacity Building for Research-Based Teacher Education (CABUTE) project.
Commissioner Jonathan Kamwana, called on the university to train teachers in preparation for crisis. "We need to prepare out teachers to handle refugee students and those from war tone areas." "We also need to teach them soft stills, values that are conducive for the environment," Mr. Kamwaka said.
The ministry he said has got a teacher training framework which has competence profiles for all teachers at all levels.
The ministry he said has done studies and has the teacher policy which is hoped will guide training of teachers and better the quality of the teacher sent out into the schools.
About CABUTE:
CABUTE is a 6 years project (2021-2026) for research-based capacity building in Ugandan teacher education under the NORAD-financed NORHED-II-programme.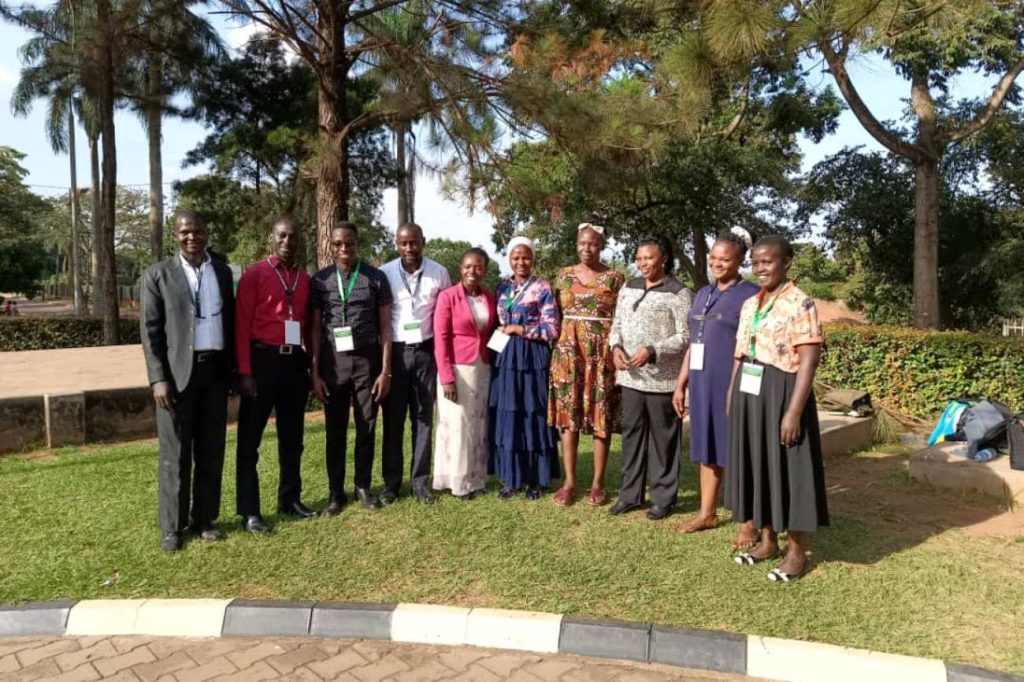 It has so far issued 16 masters scholarships and 4 PhD scholarships to teachers of NTCs and PTCs.
CEES, Jesuit Refugee Services Launch Scholarships for Refugees, Asylum Seekers & Vulnerable Women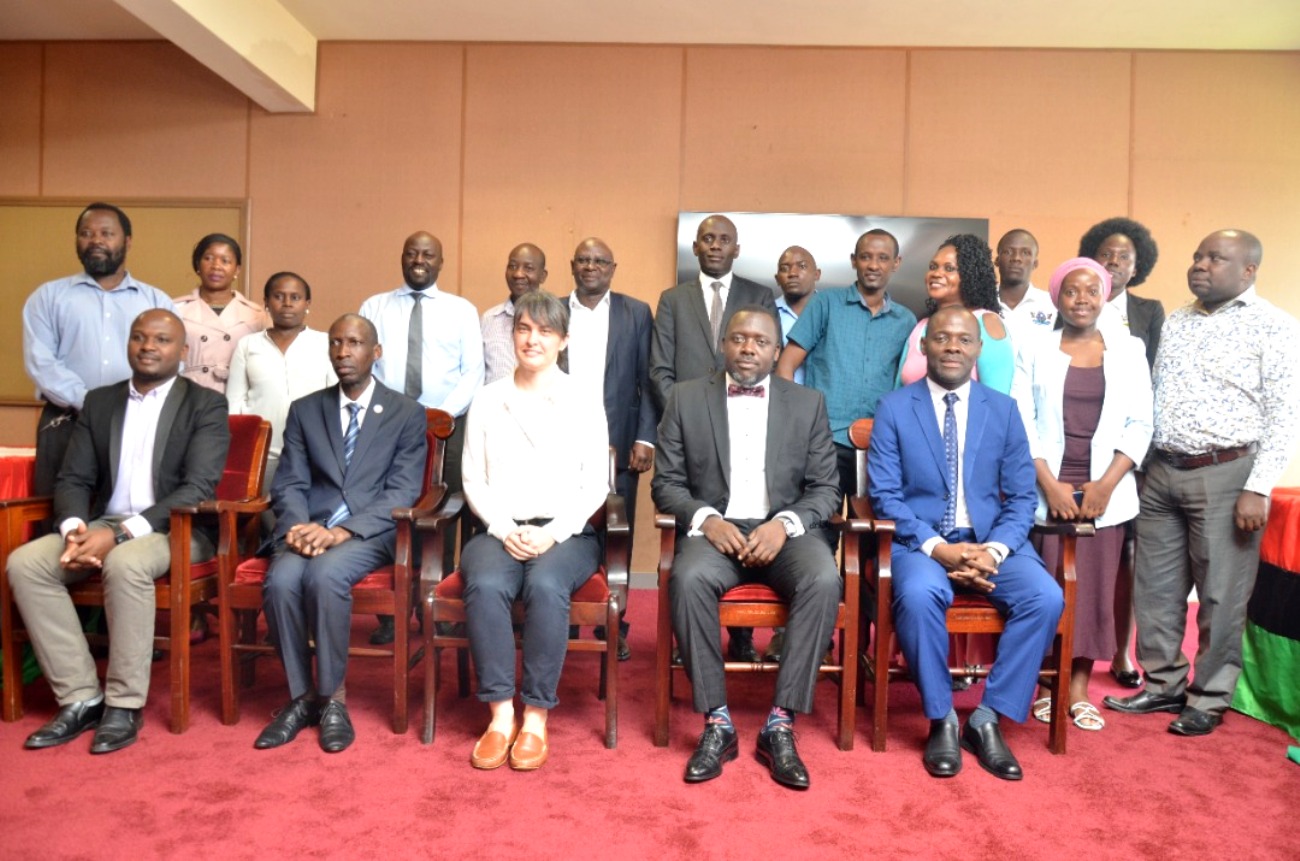 Makerere University School of Education has partnered with Jesuit Refugee Services (JRS), to offer scholarships to refugees, asylum seekers and vulnerable women.
28 candidates will benefit during the first year of this arrangement.
This development was actualized by the Signing of the Memorandum of Understanding between the JRS leadership led by its Country Representative Ms. Christina Zetlemeisl and Mr. Yusuf Kiranda the Makerere University Secretary.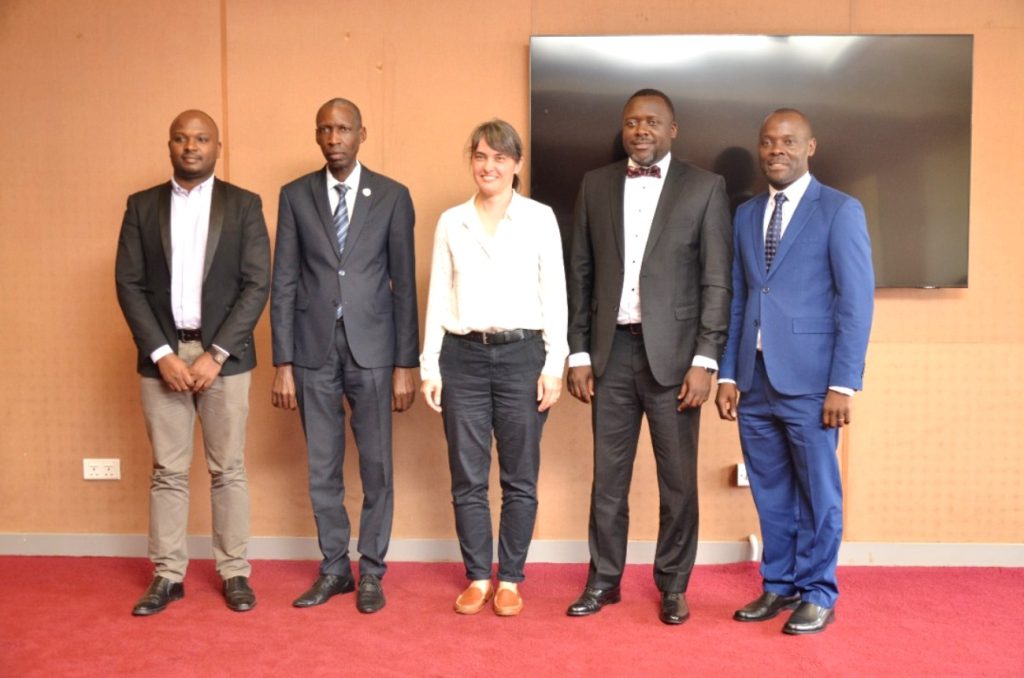 "As long as one falls in the above category, they will benefit, in all courses whether science or arts," Zetlemeisl said.
The scholarship will cover tuition and functional fees.
"We emphasize the need to extend education services to all people. Every child has a right to education as conveyed in the convention for Children's rights and the Sustainable Development Goal 4, which calls for universal access to education," she added.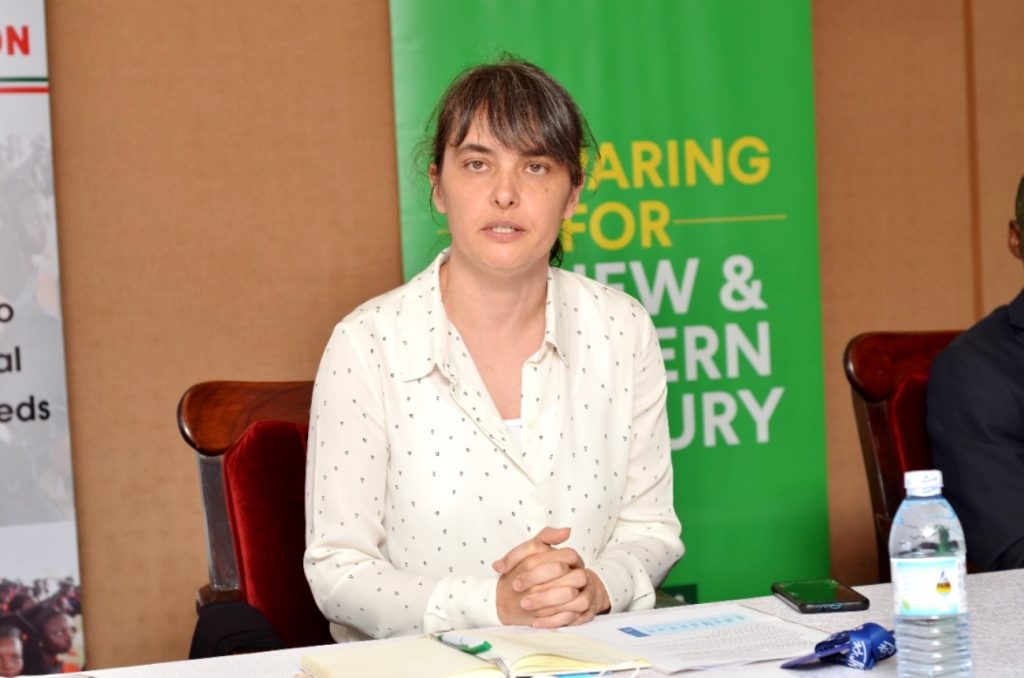 Uganda is currently a home to 1.4 million refugees leaving in different camps and urban areas, according to the 2018 report of the United Nations High Commission for Refugees (UNHCR). The report further reveals that over 100,000 refugees are leaving in different urban areas of Kampala.
Speaking at the signing ceremony, Mr. Kiranda expressed gratitude to JRS for the opportunity given to refugees and asylum seekers whose dreams tend to be shuttered because of instabilities and financial challenges.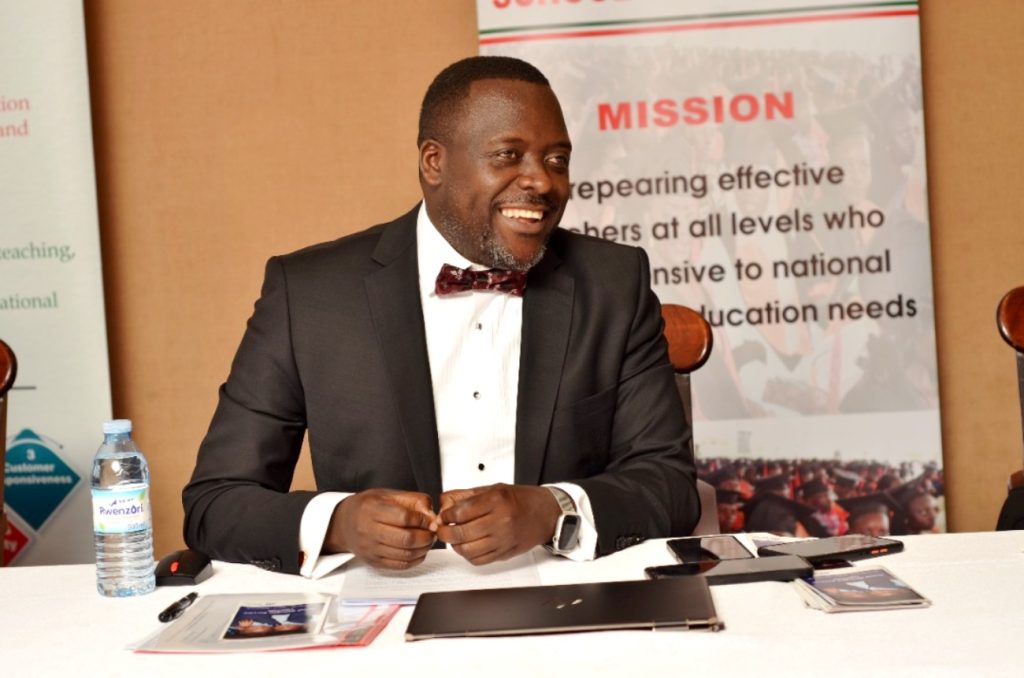 "We all need to build broader reception for refugees because any of us is a potential refugee," he said
Makerere University, he said is a public University which should offer services to the entire public, including PWDs, without discrimination on basis of sex, race, color or political affiliations.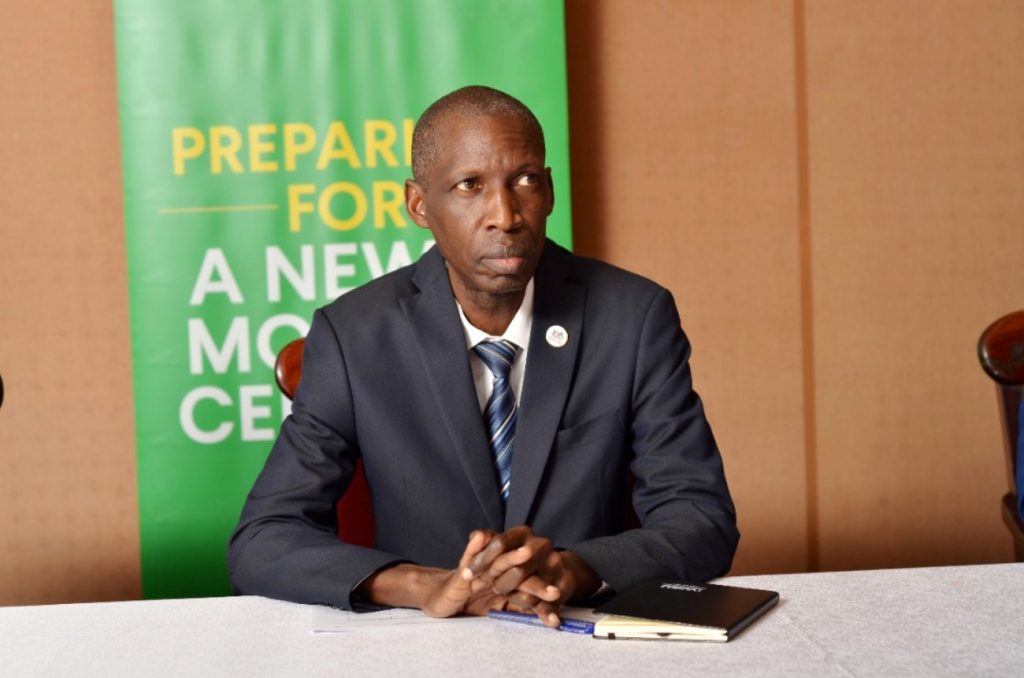 "This initiative by JRS is good because it complements our goal and will help the under privileged women, refugees and asylum seekers access quality education. We are all what we are because of education. Many years back we used to do casual work to get our tuition but see how education has changed us. We want the same for our refugee community," he said.
Prof. Antony Mugagga Muwagga, the Principal of the College of Education and External Studies said the initiative will help students who would like to access University education but are struggling in life.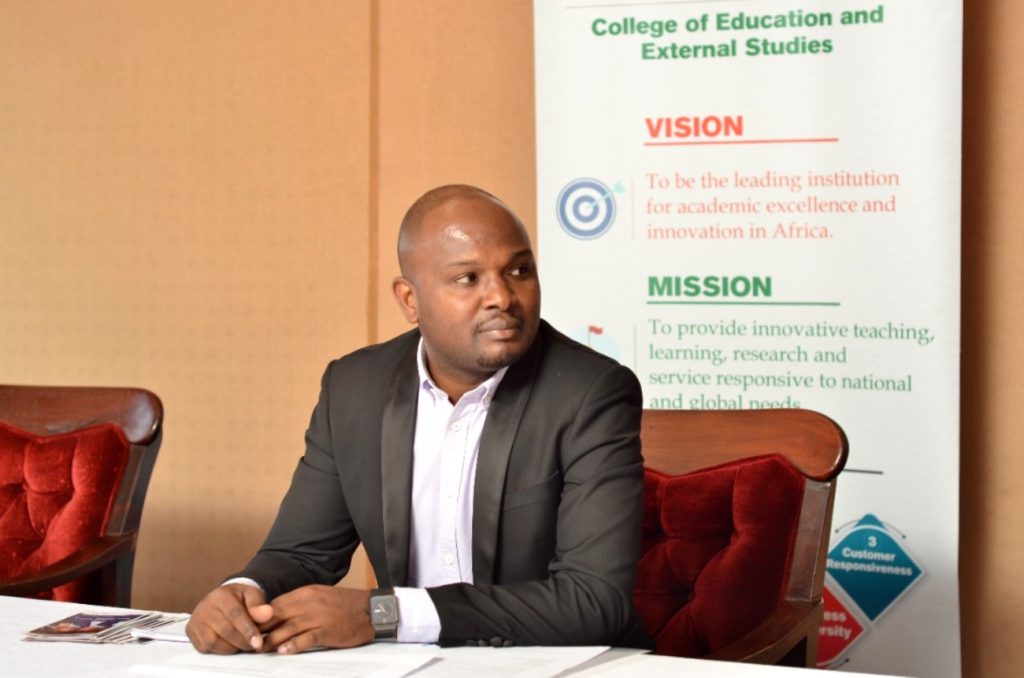 "I want to implore our students to desist from abusing these scholarships. Use this time to work hard because the people who donate this money for your tuition make sacrifices," he said.
John Mary Kisembo, the JRS Project Director said that selection criteria of the beneficiaries will be announced after the concerned team finalizing with it.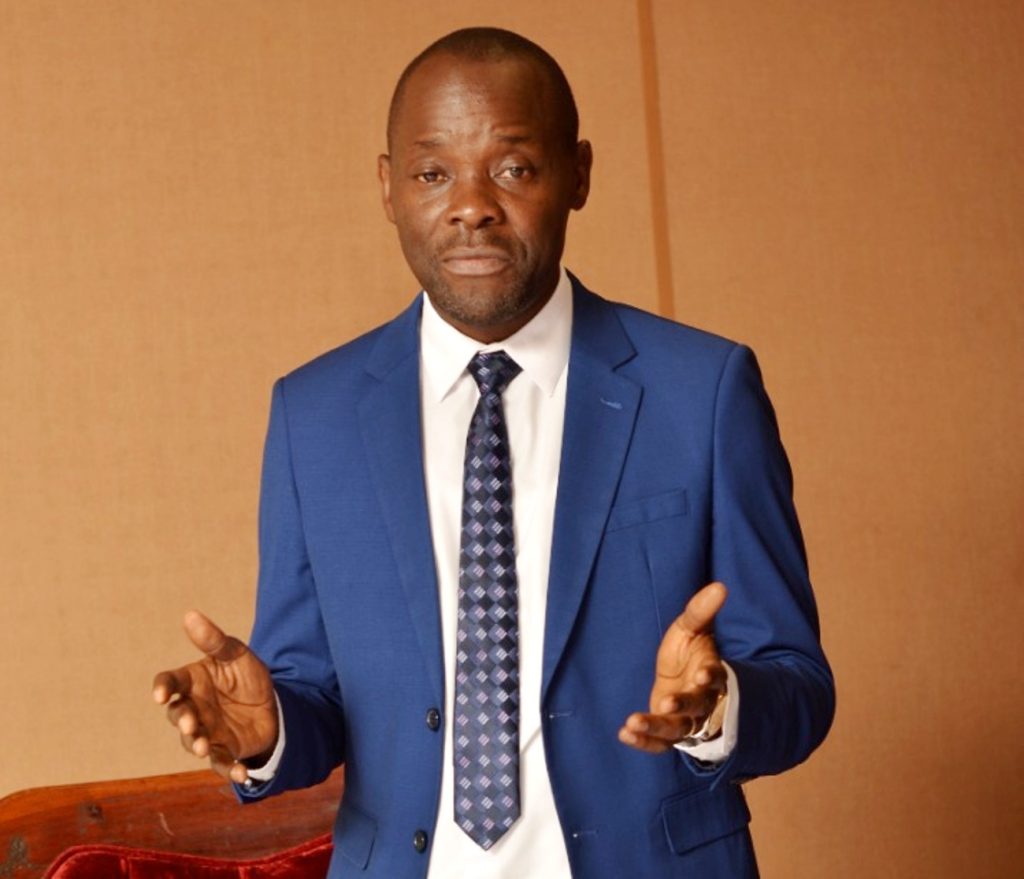 The Dean of the School of Education, Assoc. Prof. Mathias Mulumba Bwanika, appreciated JRS for the generosity and pledged the school's commitment to implementing the MoU.
Prof. Nawangwe reiterates Makerere's commitment on e-learning as the East African Teacher Education Symposium kicks off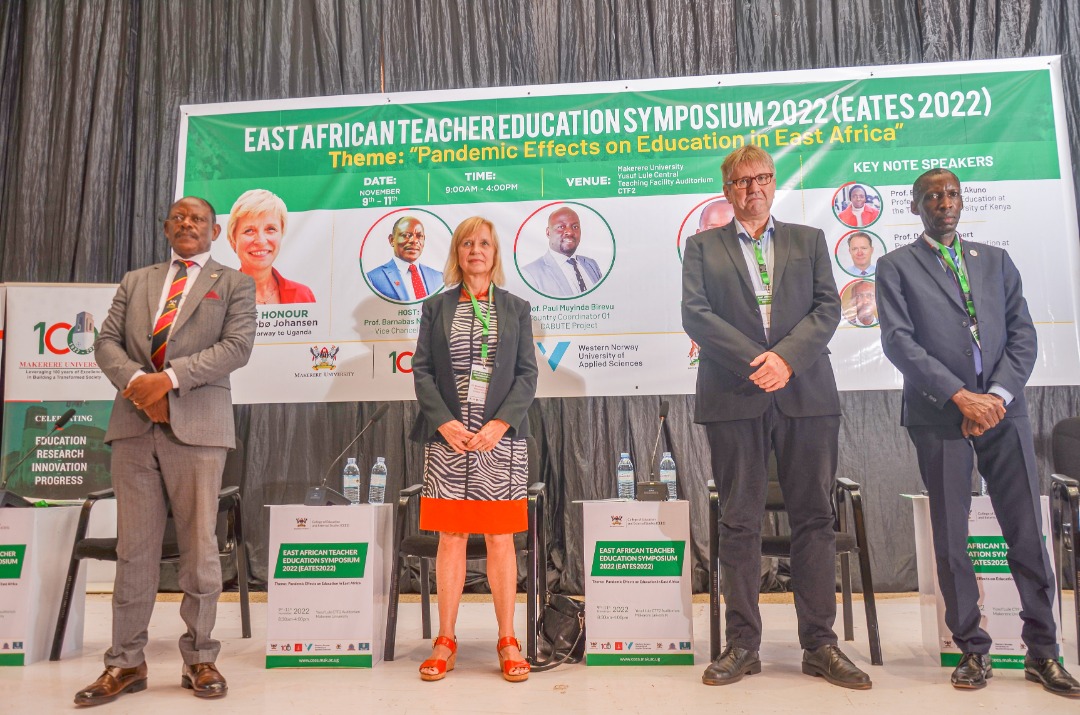 Prof. Barnabas Nawangwe, the Vice Chancellor of Makerere University has reiterated the University's commitment towards the implementation of e-learning. The vice Chancellor was speaking at the opening of a 3-day symposium organized to discuss the "Pandemic's effects on Education in East Africa".
Prof. Nawangwe said the University has embarked on process of developing the e-learning.
"Online teaching by Makerere University falls under core goals of the University that endeavours to market itself as a centre of research, teaching and Community outreach," he said.
Upon the outbreak of the covid-19 pandemic, he said all private Universities nearly closed after they failed to pay their staff. Those that chose to teach online struggled because students lacked the necessary equipment.
Makerere University, he said upon learning this immediately constituted a special Committee led by the Deputy Vice Chancellor Academic Affairs which studied and rolled out e-learning and as well supported its staff in acquiring skills in the same.
"We embarked on the largest staff development program ever in the history of the University, when the institute trained more than 700 staff within one month. We also reactivated the MUELE and these initiatives maintained an online presence, with all students at Makerere also being advised to obtain a University email address thus teaching and learning went on," he said.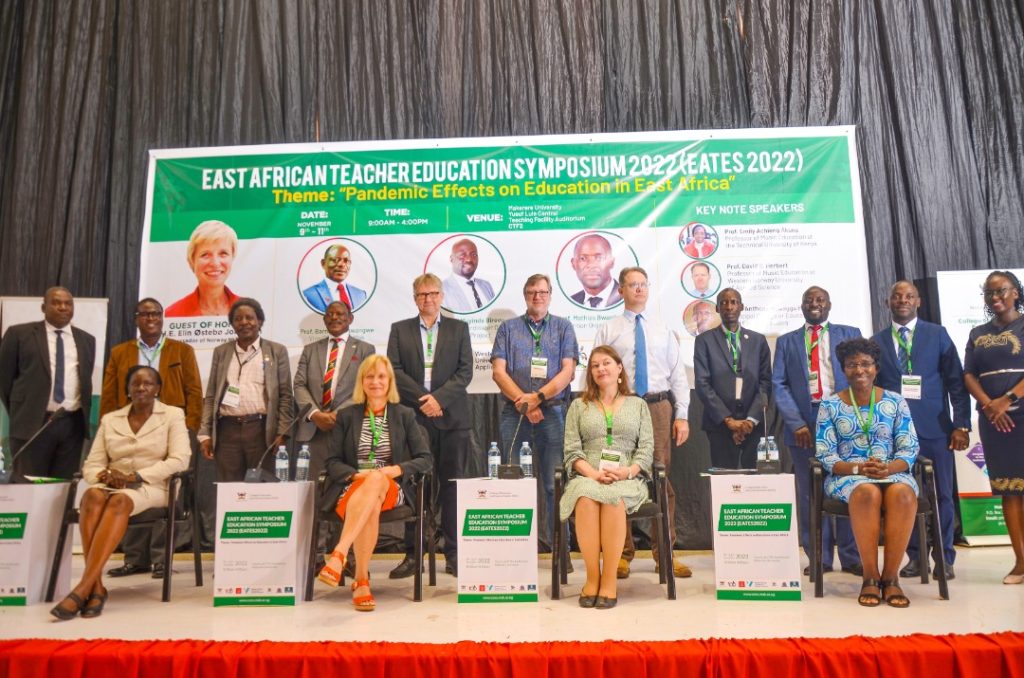 "We were in a way responding to a theme of a conference which I attended in Beijing just before covid-19 broke out and we all didn't know that it will be there," he said
Prof. Nawangwe made these remarks during the launch of the 3 days East African Teacher Education Symposium 2022 (EATES 2022)
The East African Teacher Education Symposium was organized by the Capacity Building for Research-Based Teacher Education (CABUTE) project with funding from the Government of Norway.
"Uganda is home to over 40 registered private Universities and 11 public Universities. Almost all Universities in Uganda were Ill prepared for the covid-19 pandemic shock just like many in the world," Nawangwe said.
"I thank the CABUTE project which aims at successful implementation of the National Teacher Policy through capacity building in English languages, education, foundation of education, mathematics education and Music education," he said
Prof. Nawamgwe thanked the people and the government of Norway for the financial support to research and staff development and infrastructure development, saying it has been instrumental in making Makerere the great University that it is.
The Ambassador of Norway to Uganda, Her Excellency Elin Ostebo Johansen, said the project is a reflection program on career educational development.
Teachers, she said are the backbone of ensuring successful learning for everybody.
"A great teacher requires a great teacher education, excellence in functioning knowledge is necessary to excel as well. Quality education is a basis for growth and prosperity of people and this is import to all countries," Ambassador Elin Ostebo Johansen said.
Paul Muyinda Birevu Country Coordinator of CABUTE Project said that the project is one of the signature activities of the Capacity building for research based teacher education project.
"We conceived this project after realizing the need to support the government in fast tracking capacity development of higher teacher trainers in primary teacher colleges and National Teacher colleges. These institutions are by policy required to transform into degree awarding institutions," he said
He said that the CABUTE project therefore is intended to support this initiative and it is starting to pay off.
The project has awarded over 10 scholarships for Masters and PhD studies, at Makerere University. The awardees are drawn from National Teacher Colleges and Primary Teacher colleges across the country.
"Our work with building capacity in Ugandan teacher
education is finally in full swing. In the coming years, EATES will present
the results of this work, and the work of the CABUTE candidates' will be
of particular interest. We already look forward to accompanying them
on their journey toward a degree," the Principal Investigator, Prof. Steinar Sætre said.
Value of Play-Based Learning in Early Childhood Development Education
On Wednesday, 12th October 2022, Makerere University researchers from the College of Education and External Studies (CEES) hosted, virtually, a symposium on the recent research project that engaged Early Childhood Education stakeholders in North, Central and Eastern Uganda on scaling the school readiness initiative (SSRI) through play-based learning.
The International Development Research Centre Canada (IDRC) funded program titled "Strengthening school and community capacities in scaling school readiness through play-based pedagogies in pre and primary education."envisions generation of knowledge and evidence to strengthen Early Childhood Education, strengthening curriculum and capabilities for teachers in Early Childhood Education development for Uganda and Zambia to ensure a strong education foundation for learners and promotion of Play Based learning in learners between 0 to 8 years.
While opening the symposium, Professor Anthony Mugagga the principal College of Education and External Studies (CEES) Makerere University shared his disappointment from some professionals who under look early childhood education teachers and consider them failures.It is on this basis that ten years ago, he started efforts to better Early childhood education in Uganda through research.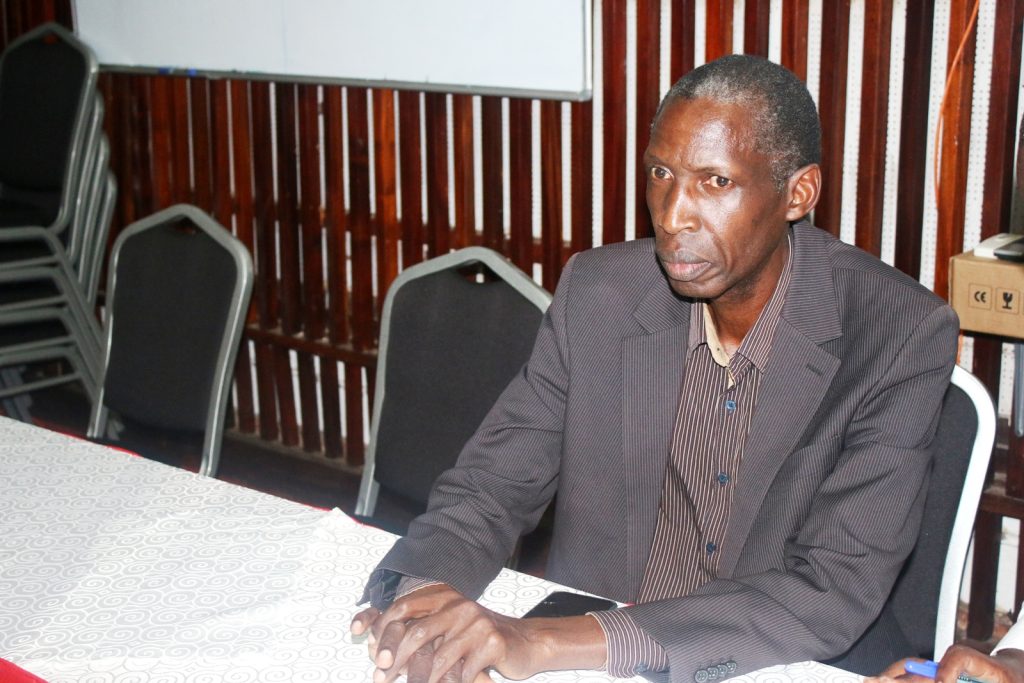 "I am happy that 10 years down the road, the College of Education admits students of PhDs, Masters and Diplomas of Early Childhood Education," added Prof Mugagga.
He said the country has only about 5% graduate students as early child hood education givers, saying most of the caregivers are from S4 or Primary 7 students, a thing he said must change if we are to improve ECE. "Teachers who are constrained in learning cannot do a good job teaching the young children," Prof. Mugagga said. He decried the policy of administering interviews for children joining primary one, saying it has forced teachers to teach pre-primary children with the primary curriculum in an effort to ensure they pass the interviews.
Prof. Mugagga concluded his remarks by thanking IDRC for funding this incredible study and the research team for the dedicated work done. He assured the team of his support in promotion of play-based learning in ECD centers in Uganda.
While giving his remarks, the Dean School of Education and the program Principal Investigator in Uganda Professor Bwanika Mulumba noted how the benchmarking for ECDE had been neglected in Uganda concentrating much on higher Education hence a challenge in production of unskilled learners in writing and reading for learners in tertiary institutions.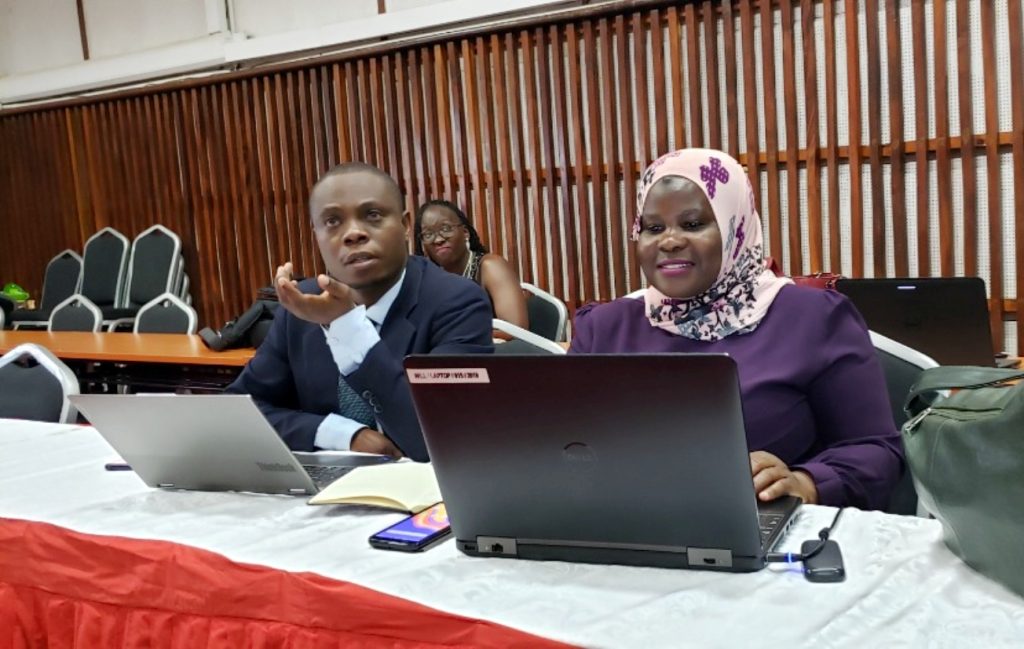 Professor Bwanika added that Ugandan schools and parents give children less time to play always cautioning them on academics and homework which hinders children's cognitive skills and emotional wellbeing in response to learning. He hailed IDRC for the funding and the Zambia Open Community schools (ZOCs) that hosted the research team to benchmark in Zambia for the assessment tools developed to promote Play Based learning in Zambia.
Mrs. Cleopatra Muma the Executive Director ZOCs emphasized that the program is based on schools' readiness for children, children's readiness for school and parents' readiness to work with schools in educating children. The project in Zambia has solved challenges of limited access to quality ECDE service especially among marginalized rural communities and inadequate knowledge and skills to ECD workforce hence enriching cross learning and strengthening linkage between centers of knowledge, government and all stakeholders.
While sharing experience on Zambia's preparedness in response to ECDE, Dr, Edward Kansiime a research team member praised Zambia and ZOCs for moving swiftly and steadily in benchmarking and preparing for early childhood education play based learning where learning centers have equipped demarcated playing grounds on top of a well-developed digital assessment tool teachers use in guiding learners on their able gadgets.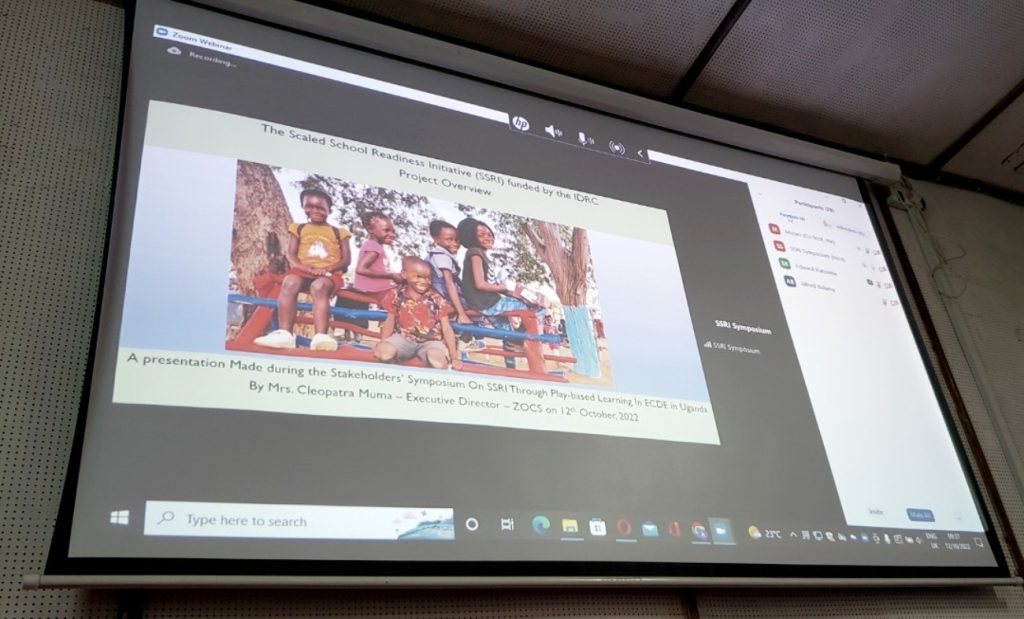 Dr. Nancy Nabiryo an English and Literature specialist from School of Education Makerere University presented Findings from a systematic review of play-based learning in national ECD frameworks and baseline survey on play-based learning in ECDE centers in Uganda.
It is evident that parents and schools are not aware that children can learn effectively through play and play based learning has not been benchmarked and neither has it been much encouraged.
The government has not recognized the role of an effective ECDE in tertiary Education, Dr. Nabiryo ended by calling on government not to only regulate but to assiduously fund, benchmark and encourage play based learning across ECD centers in the country and also help out teachers through training to understand rights of the child and values of play in Early Childhood Education.
Dr. Alfred Buluma and Mr. Edward Kansiime also presented their projects on Infrastructure in Play Based Learning and Play based learning ECDE teachers 'pedagogical practices respectively where learners were encouraged to use their own bodies and materials in learning. Both studies at least found that learners are using actions and the five senses in learning.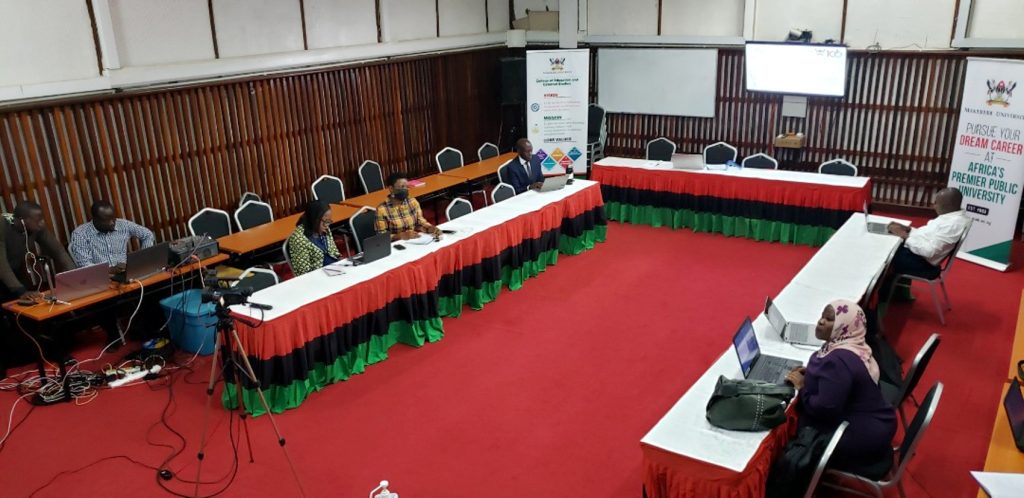 The project also captured gaps in ECDE that need immediate intervention which include pupils singing while sitting which limits full body activity, most ECDE teachers arenot well trained, congested classrooms by desks and too much play materials where some are actually not used, interpersonal skills and personality traits of curiosity and creativity not fully encouraged.
The project team thinks that it is prudent if workshops were put in place to sensitize teachers, parents, policy makers and implementers. Also, organizing of In-service teacher training, provision of an ECDE learning framework to some of the schools at least in every region and working alongside the inspectorate of Education for building linkage and sustainability of play-based learning in ECDE.
The symposium on scaling school readiness initiative (SSRI) through play-based learning brought together education enthusiasts from universities of Uganda and across the world. It is a joint partnership among Makerere University, University of Zambia, University of Arizona and the Zambia Open Community Schools organization funded by the International Development Research Centre Canada.