Food vendors  can  only afford  LPG cookstoves at their households – EfD-Mak study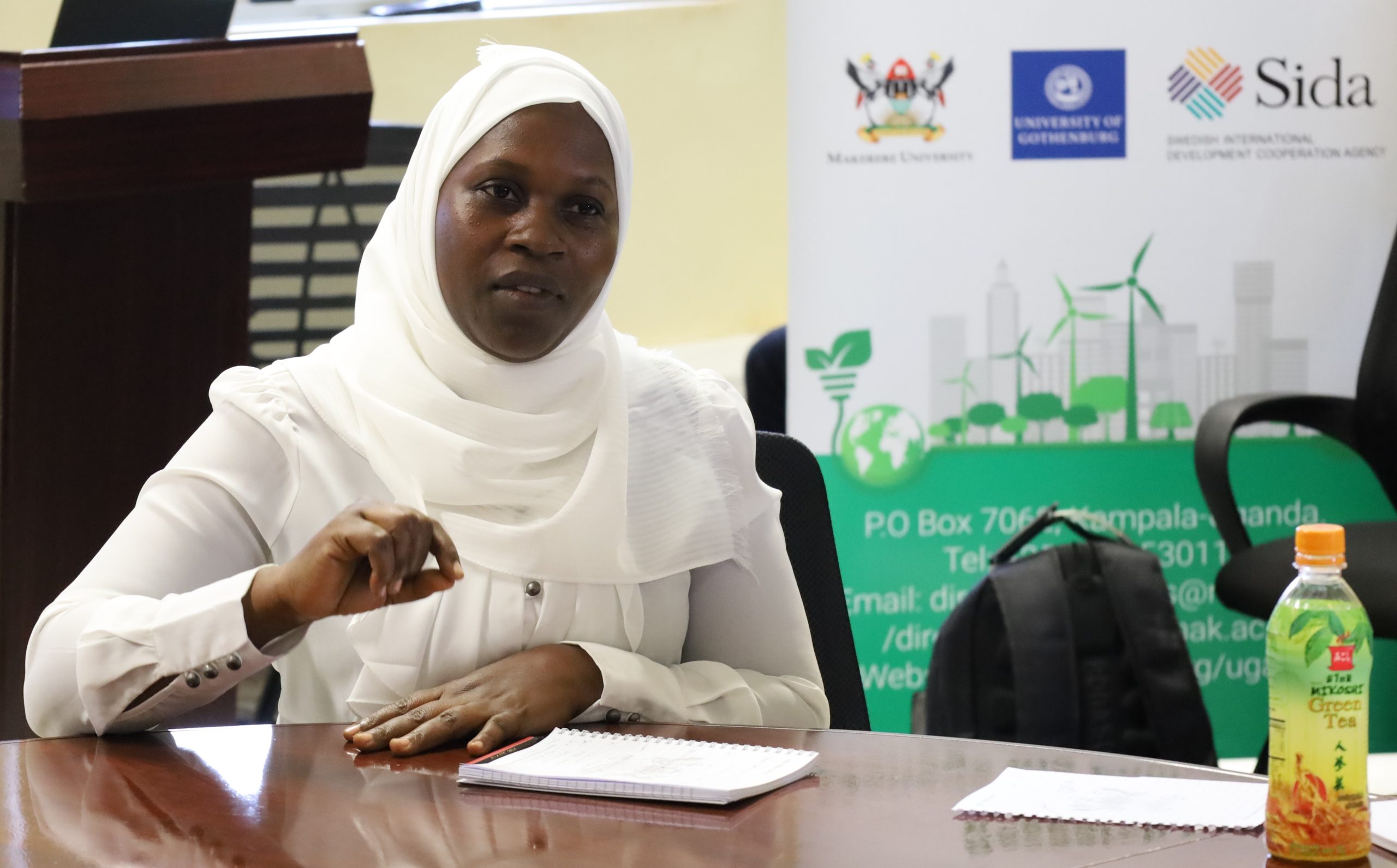 A study conducted by researchers at the EfD Mak Center Uganda has shown that Chapati vendors could only afford to use the Liquefied Petroleum Gas (LPG) cook stoves at their households. The study findings indicated that LPG cook stoves were more costly for such small businesses.
The study also revealed that Chapati vendors demonstrated considerable credibility on settling instalments and that given appropriate terms and access to hire-purchase schemes can support adoption of cleaner and modern cook stoves by food vendors.
The study titled, "Purchase and Learning Schemes and Adoption of LPG Cook stoves: Experimental Evidence from Uganda", was funded by Sida under the auspices of the EfD network at an estimated budget of US$ 55,747.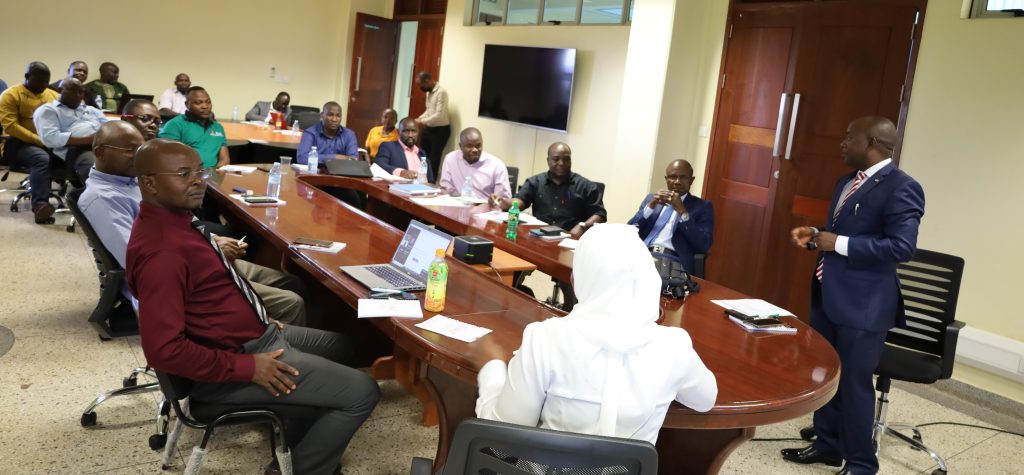 The project was launched on 18th August 2021 under the leadership of Dr. Aisha Nanyiti assisted by three Co-PI's Prof Fred Matovu, Dr. Suzan Kavuma and Richard Ssebagala , School of Economics, Makerere University.
Disseminating the study findings, on 13th October 2022, Dr. Nanyiti said, Biomass is predominantly the energy used for cooking by households and food vendors in Africa. In Uganda for instance Biomass constitutes 94% of energy used with Fuel wood forming 64% and Charcoal for 30%/.
Nanyiti reported that reliance on biomass increases the deforestation rate and contributes to climate change noting that 44 million tonnes of tree biomass is used per year in Uganda posing negative health effects with respiratory infections accounting for 18% of all illnesses in Uganda with women facing higher risk of illness. .
She said various interventions have been undertaken to promote use of cleaner cooking technologies. Earlier studies focused on improved cookstoves while some studies asses LPG cookstoves.
These studies Nanyiti said, focus on adoption of and attitude towards LPG and identify barriers in high initial cost, limited supplies and perceptions. High initial cost she said, is relevant especially to adoption by the low income groups where subsidization is not sustainable.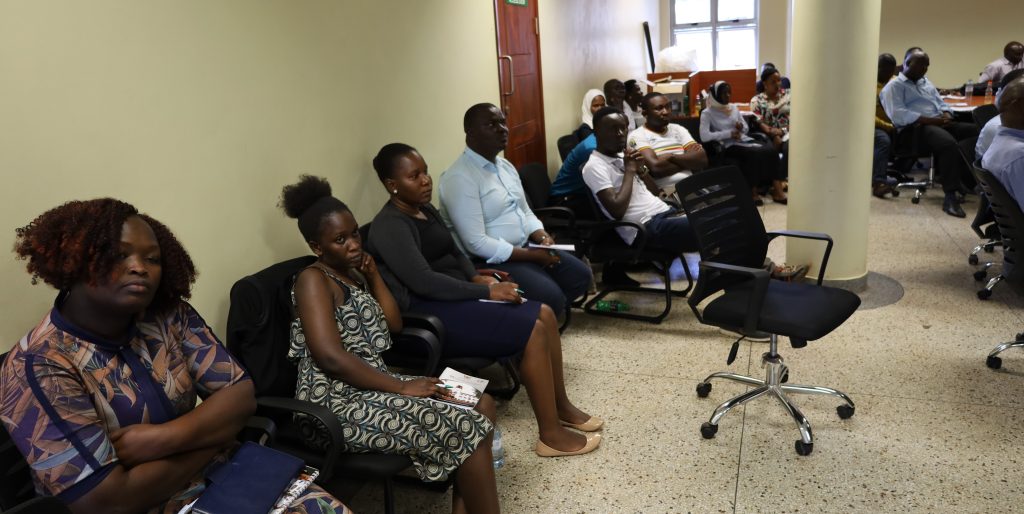 "Hire purchase schemes are relevant to easing the high initial cost. These have not been assessed before. Most studies focus on households. This study assesses the impact of Hire purchase schemes, Learning schemes, on adoption of LPG cookstoves by chapati vendors.", Dr. Nanyiti said.
To achieve the objective Dr. Nanyiti said the study employed a Randomised Control Trial with chapati vendors in the capital Kampala in 3 divisions of Kampala, Constructed 3 clusters of parishes in each division and implemented 3 treatment arms in each division (Treatment 1 information only, Treatment 2-information + hire purchase and Treatment 3-information + grace period learning+ hire-purchase)
Treatments were administered to individual owners at their chapati stalls. From each cluster; 100 chapatti vendors were randomly selected. 5 surveys; Baseline, intervention, first follow-up, second follow-up and endline. Intervention conducted at stall in teams of two and vendors always carried the full kit of LPG cookstove to the stall.
"In Treatment 1 (Information) the research team offered verbal information on the benefits of using LPG cookstoves and offered opportunity to buy the LPG cookstove by paying at once the full cost of UGX 210,000 ($60). This opportunity lasted for two weeks where the vendors refilled gas cylinders themselves at a nearby refill station.
In Treatment 2(Hire purchase) the research team provided Verbal information on the benefits of using LPG cookstoves. Vendors were offered opportunity to buy the LPG cookstove on a hire-purchase in 3 instalments (70,000 @) or 4 instalments (50,000 @).  The vendors had opportunity to instead pay at once. The opportunity lasted for two weeks and vendors had to refill the cylinders by themselves at a nearby refill station", Dr.Nanyiti explained.
In Treatment 3 (Learning) the team provided Verbal information on the benefits of using LPG cookstoves, offered opportunity to use the LPG cookstove for two weeks then decide to buy the LPG cookstove on a hire purchase basis or to pay at once.. The opportunity lasted for two weeks and refill done by the vendors themselves at a nearby refill station. But on returning, vendors would pay 49000 for the gas used.
University management applauds Dr. Nanyiti
The study findings were disseminated during the two in one event of the EfD- Mak center disseminating the outputs from the study funded through the EfD Network but also getting to launch and start the journey for other studies at centres' conference room on 13th October 2022.
The event presided over by the Principal College of Business and Management Sciences brought together members of staff and students from the School of Economics and Agricultural sciences and the EfD members.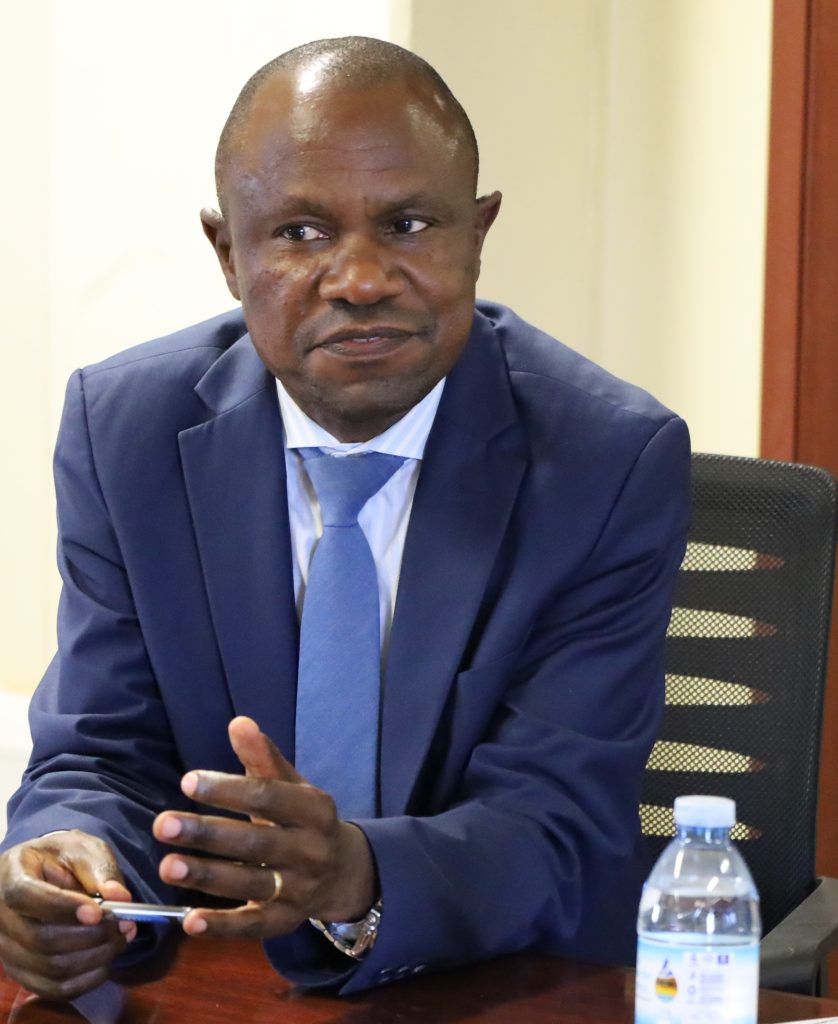 The Principal Prof. Eria Hisali congratulated Dr. Aisha Nanyiti and the team upon delivering the research output calling for more involvement of other stakeholders during the dissemination activities.
"Dr. Nanyiti and your team, we congratulate you and thank you for delivering and for not disappointing the network. From the questions that were coming up, it clearly seems to be a very interesting study and with a lot of potential to contribute to policy.
Let us get closer involvement of the policy makers, implementers, and key actors from the private sector both in the course of our research but also in the dissemination activities. This is very important for purposes of uptake because you take care of their concerns, insights and that way the findings became immediately useful", Hisali said.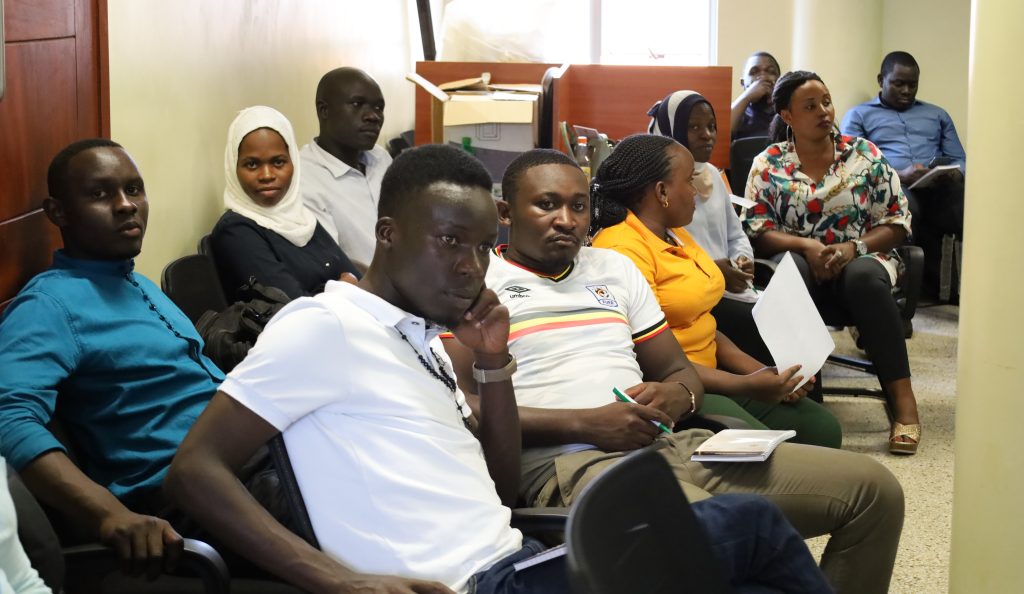 Hisali also thanked the EfD Global hub for sponsoring the study and the participatory model used in the partnership.
"I thank colleagues from the EfD Global hub for the continued support and for the very healthy partnership. The EfD over the past few years is that kind of partner that does not stop at sending resources and waits for reports but these are colleagues who we are working with along the way .Many of the activities we run, you take off time and participate and urged you keep at that.
Gender Dynamics affect Uptake of Agricultural Technologies – Mak SECA Study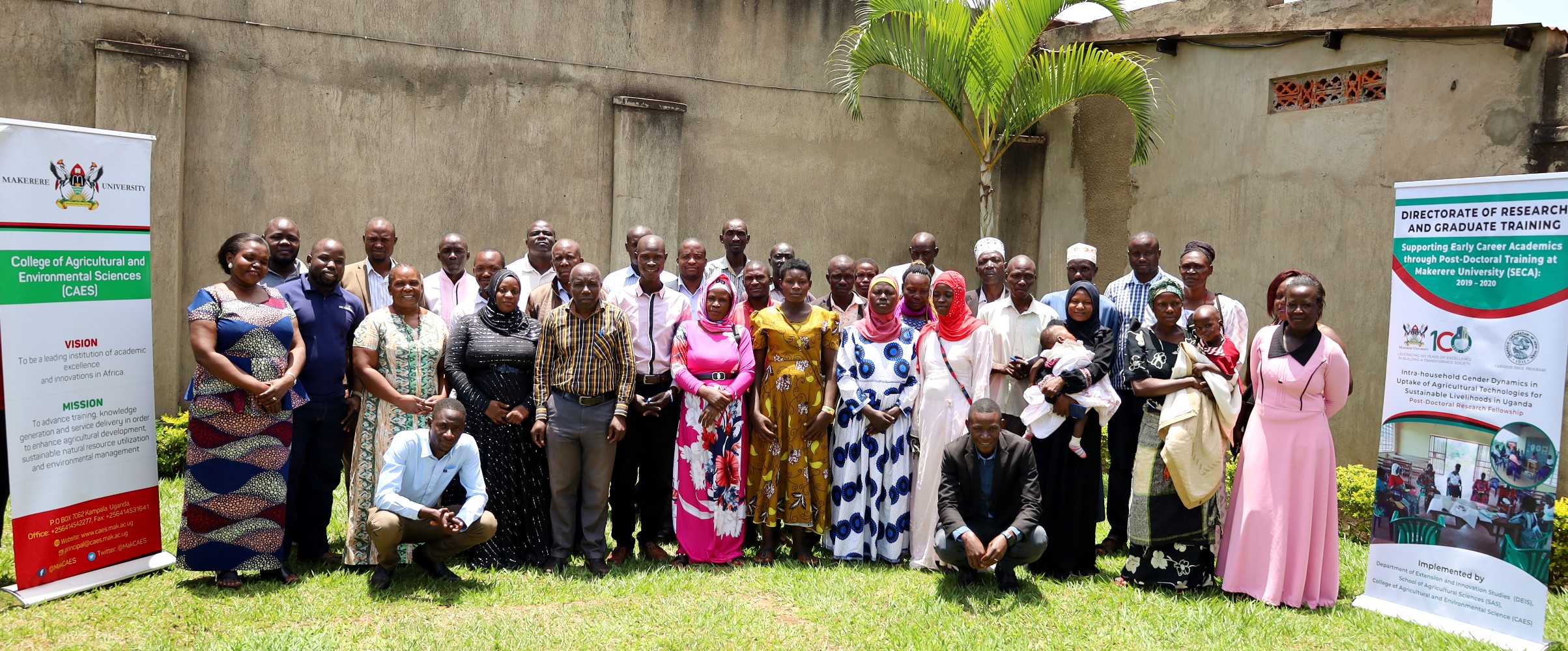 A study conducted by Makerere University researchers in Iganga and Bugiri districts indicates that disparities still exist regarding access and sustained use of improved crop varieties among women and men. The men still dominate decision making power which negatively impacts on the sustained use and uptake of improved crop varieties in the two districts. Gender transformative approaches that consider the interest and needs of both men and women, are deemed fit for the design and implementation of interventions and ensure voices and aspirations of men and women are considered.
Between 2020–2022, researchers from Makerere University Department of Extension and Innovation Studies with support from Carnegie Corporation of New York under the Auspices of the Directorate of Graduate Research and Training programme of Supporting Early Career Academics through Post-Doctoral training at Makerere University (SECA) undertook a study titled, "Intra-household Gender Dynamics in Uptake of Agricultural Technologies for Sustained livelihoods in Uganda."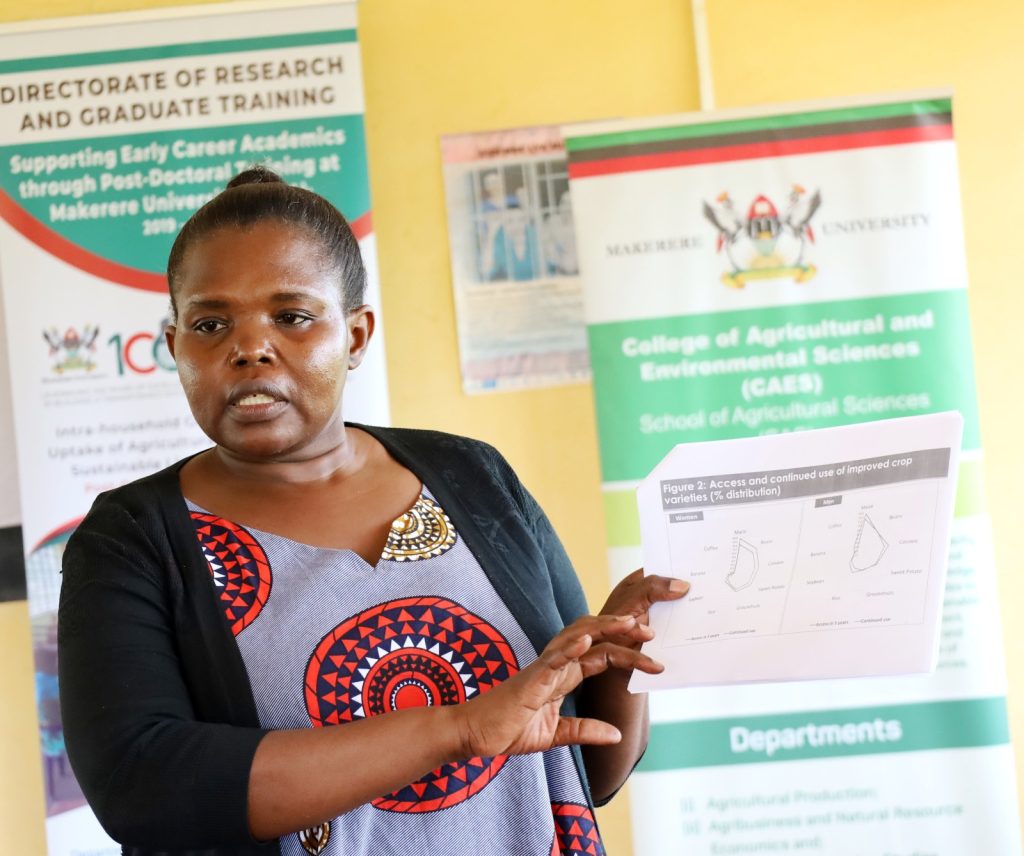 The study was conducted in Nakigo and Nambaale sub-counties in Iganga and Buwunga and Nabukalu sub counties in Bugiri districts. The study areas were selected because of the intensity of interventions by government and non-state agencies in the area aimed at enhancing resilience of the farming systems and increasing agricultural productivity.
The study, aimed to unravel the power dynamics at the household level that influence sustained use of new crop varieties for equitable and sustainable likelihoods in Uganda. The research therefore adopted a gender approach in examining decision making patterns, power relations and negotiation processes at household level and how these influence access to control over new technologies and ultimately sustained use. This was disclosed during the research dissemination workshops conducted on 6th and 7th October 2022 in the study areas that brought together district administrative and technical officers including, production, extension and agricultural officers, district chairpersons, senior production secretaries, farmers and farmer groups, civil society organisations and community-based organisations.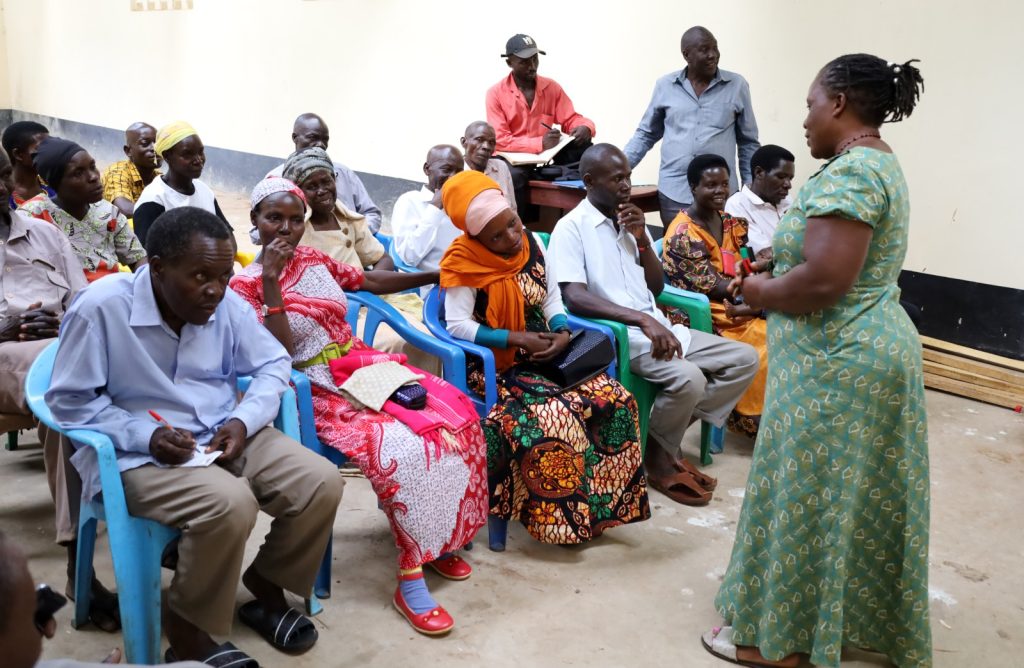 According to the Principal Investigator, Dr. Losira Nasirumbi Sanya, progress towards attaining food security remains a challenge partly due to low use of science and technological innovations developed over time. While sharing the study findings for validation, Dr. Losira explained that the overall objective of the research was to contribute towards promoting sustainable use of new agricultural technologies and innovations through better understanding of the gendered dynamics that enhance access and sustained use as a pathway to transformation of production systems and increasing productivity.
"The specific objectives were to describe the dissemination and use of agricultural technologies in selected districts of Eastern agro-ecological zone of Uganda; analyse the intra-household gender roles and relations in regard to technology access and sustained use within the institution of the household, and quantify the distribution of the decision-making power within dual adult households and how this influences technology uptake and empowerment among women," she said.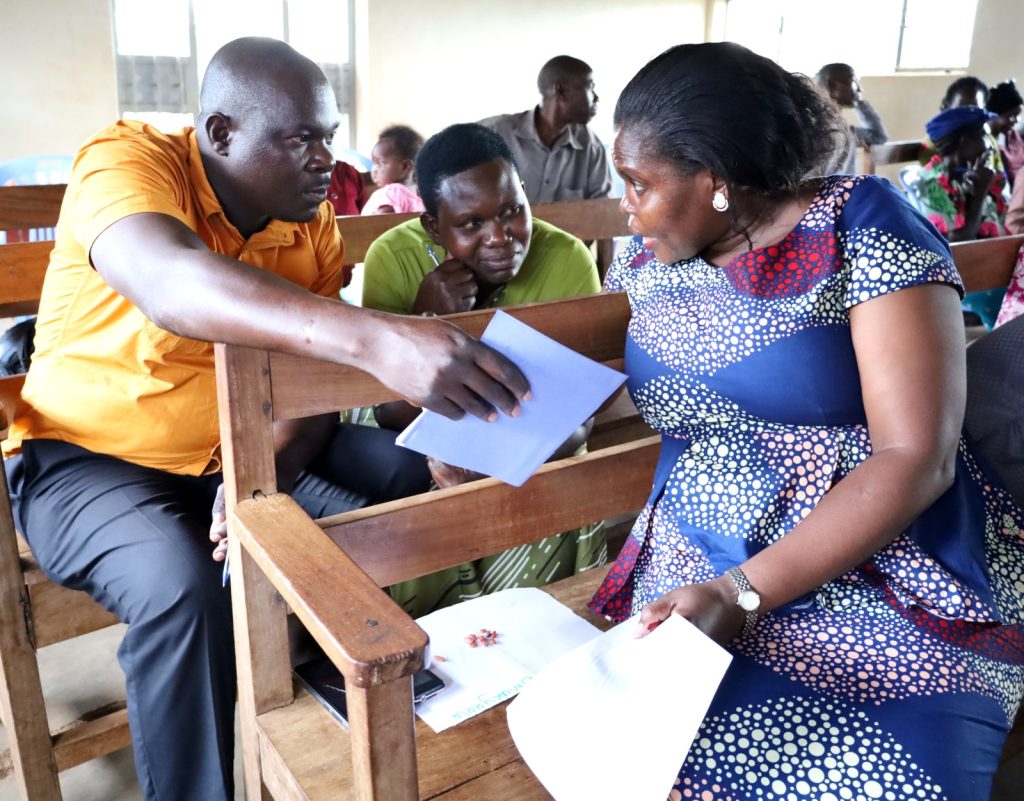 She said data was collected from men and women using survey questionnaires, focus group discussions and in-depth farmer interviews. The findings indicated that farmers were involved in growing at least eight crops, two of the crops purposely for food security, one for cash and the rest for both food and cash. The crops include maize, cassava, beans, sweet potatoes, ground nuts, rice, soybeans, coffee and bananas among others.
The study revealed that in the past five years, men had more access to training on farming and improved seeds from government related experts and NGOs.The study also revealed that though women went to cluster project [ACDP] and accessed improved seed, only a few continued to use such varieties due to several factors.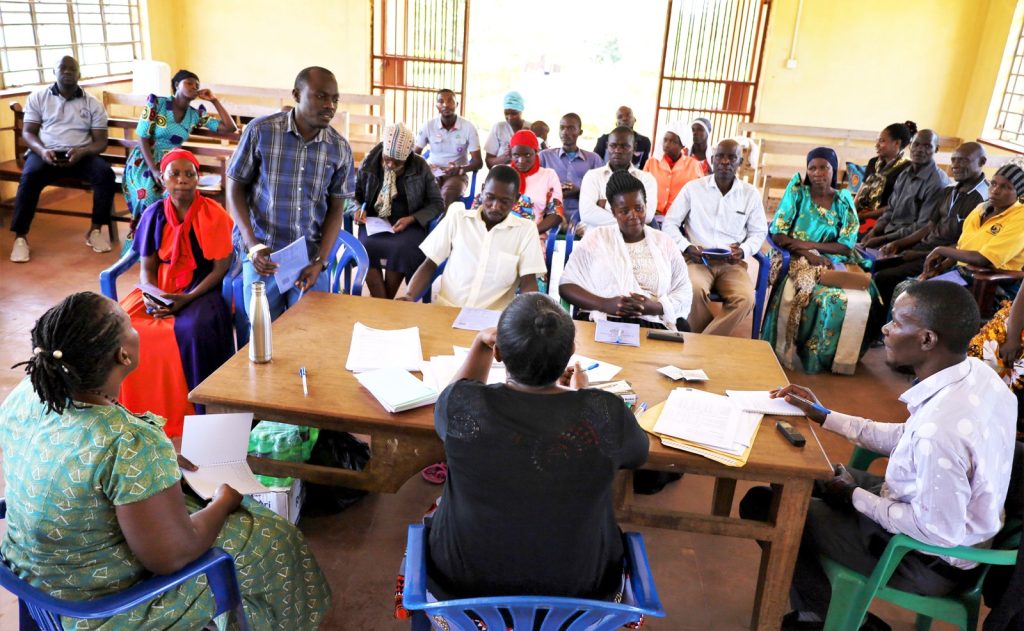 The study also established that households had joint and individual plots for women and men. Joint farms according to this research were preferred by men and women to promote harmony and reduce domestic violence, ease management, sharing resources and labour, timely planting and due to limited land.
Men, the study found, preferred their own plots to meet their diverse demands since some were polygamous, and wanted to fulfil family obligations. On the other hand, it was found that women preferred individual farms for financial independence, control over their income and the need to ensure food security.
When it came to access to farming resources such as land, fertilizers, herbicides and seeds, the study indicated that men had more access but women were mostly involved in providing farm labour for planting and weeding.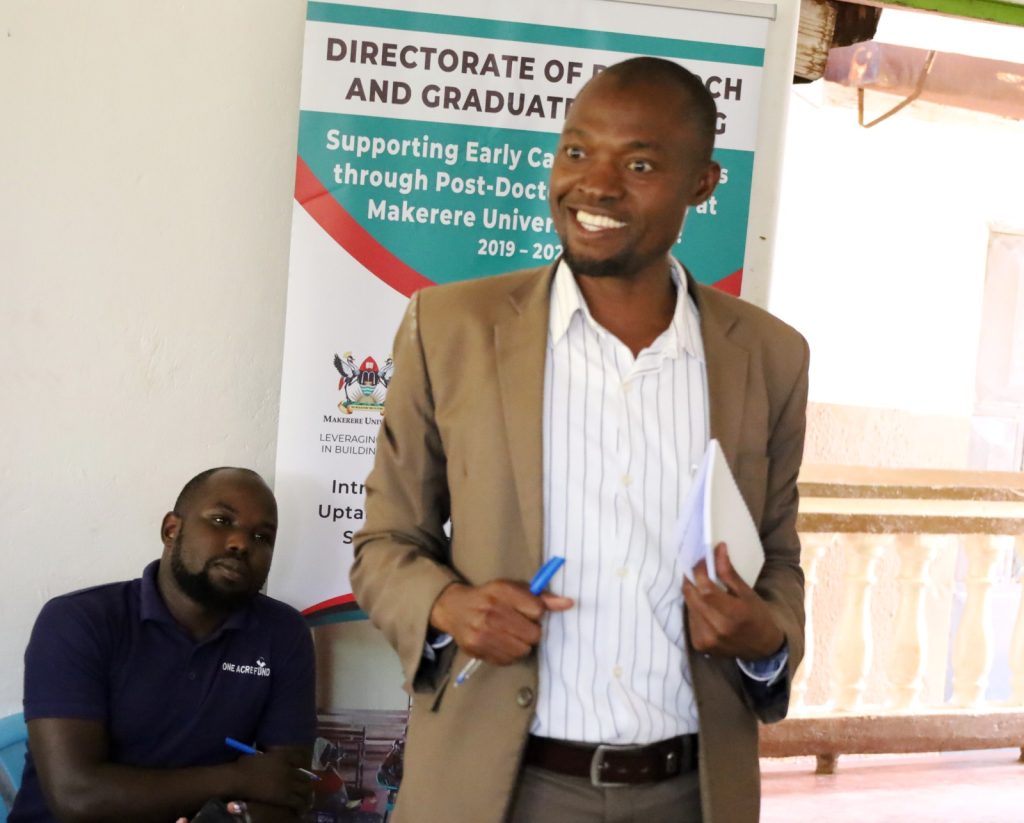 Findings on the intra-household decision making power indicated that 62% of women accorded themselves a high score of having more decision making power than what men scored them in relation to their input to decision dimensions related to asset ownership and use, productive decisions, use of labour (hired and family), marketing, financial time allocation and access to trainings, extension and group membership. However, 29% of the women gave themselves a lower score than their spouses scored them across the different decision dimensions. The study found perfect agreement in the scores assigned by men and women in only 9% of the households. "Decision making power is directly linked to one's ability to make choice and action on that choice," said the PI. "A mismatch between actual and perceived empowerment in decision making signals opportunities for creating awareness among farming communities if we are to achieve the intended goal of equitable access and outcomes."
The study revealed that the disparities in decision making power affected the use of improved technologies and productivity.
"Women with high decision making power (empowered) were more likely able to sustain use of improved varieties than those with lower scores.Those with low decision making power were highly associated with low use of improved varieties. Those with the ability to make decisions and even when closer to extension services were able to grow more improved varieties though high decision making power was negatively associated with the number of improved varieties grown. This illuminates the fact that women's empowerment in decision making has potential to contribute to closing the gender gap in sustained use thus the need to be more intentional about women's participation, decision making and agency in development interventions if we are to achieve greater impact in sustained use of agricultural technologies towards better livelihoods," Dr. Losira explained.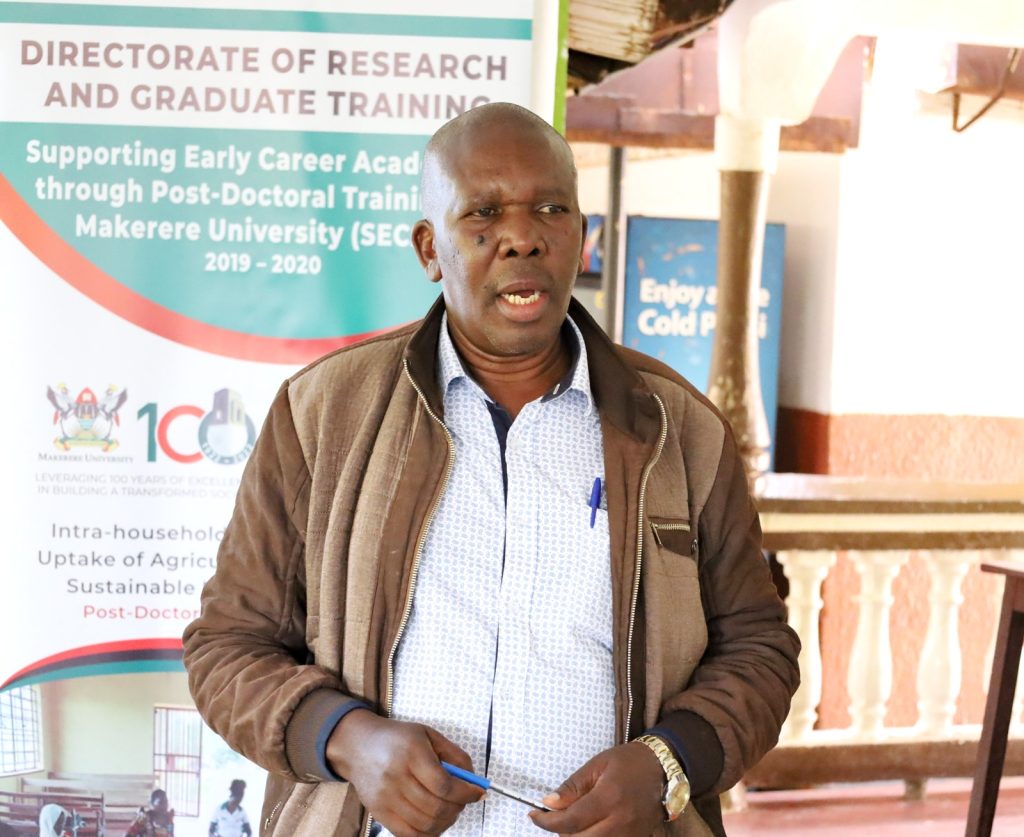 During the dissemination workshop, the District Agricultural Officer, Iganga, Mr. Bazalaki Sully Nantatya said, the research has been of great value and has unearthed the dynamics in the communities in regard to gender relations, decision making and uptake of technologies.
He reported that technology uptake in Iganga district has been good because of the capacity building initiative undertaken by a number of partners and projects both through government and non-state actors.
"This research has revealed that adoption of improved technologies has been embraced which has led to increased yields and farmers are very appreciative. Since the start of this research, we have observed that gender relations have improved among participating households when it comes to working in gardens and decision making and that now a wife and husband have come closer and jointly taking lead in implementing farming activities right from planting to marketing. This has been made possible by the approach adopted in this research of having both spouses involved in all activities. Farmers are also realising the use of improved technologies which they feel must be sustained. As a district, we are thinking of enhancing input delivery system to sustain the new interventions and all these have been revealed during the dissemination workshop which has pointed out where things are working out well and not," he said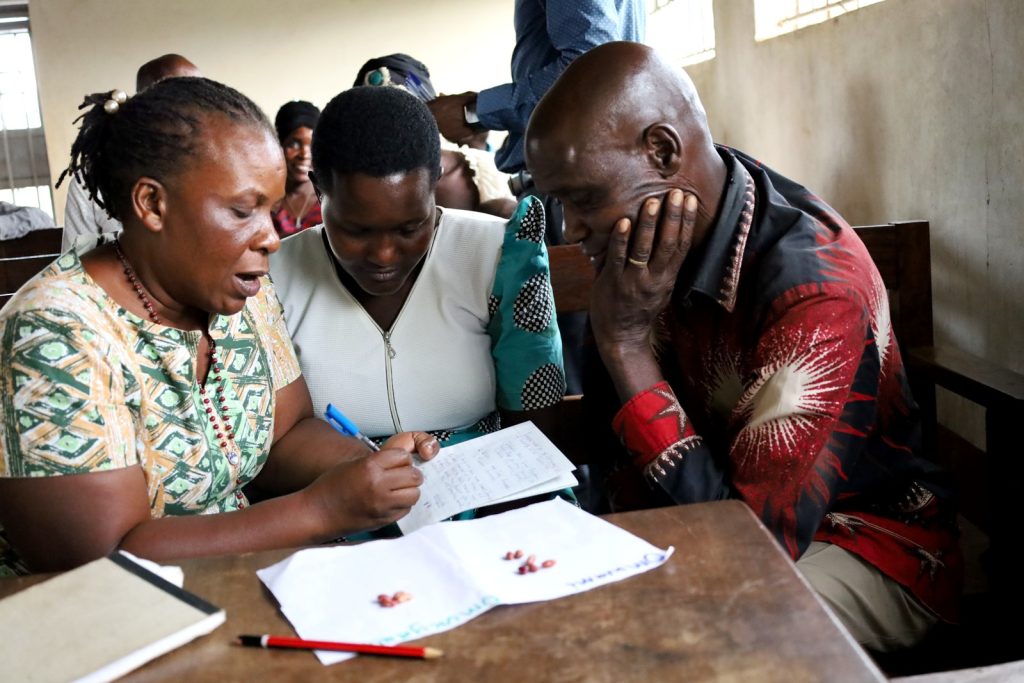 The Agricultural Officer, Nambaale Sub County, Gwahaba Richard said farmers easily take up new technologies especially to increase yields but hardly sustain their use.
"We need to wake up as extension officers and district partners and concentrate on gender issues so that men, women and children at the household level embrace these technologies and work together to sustain them," he said.
Representing the District Chairperson Iganga, the Vice Chairperson, Ali Mukacha appreciated Makerere University for choosing Iganga as a site for the research saying, the study was in line with the government strategy of modernising agriculture and improving farmers' livelihoods from a peasantry to middle income earners by the year 2030.
He said Nambaale Sub County has been one of the model sub-counties in the district that has participated in many interventions. He pledged the district support towards any research program in the area.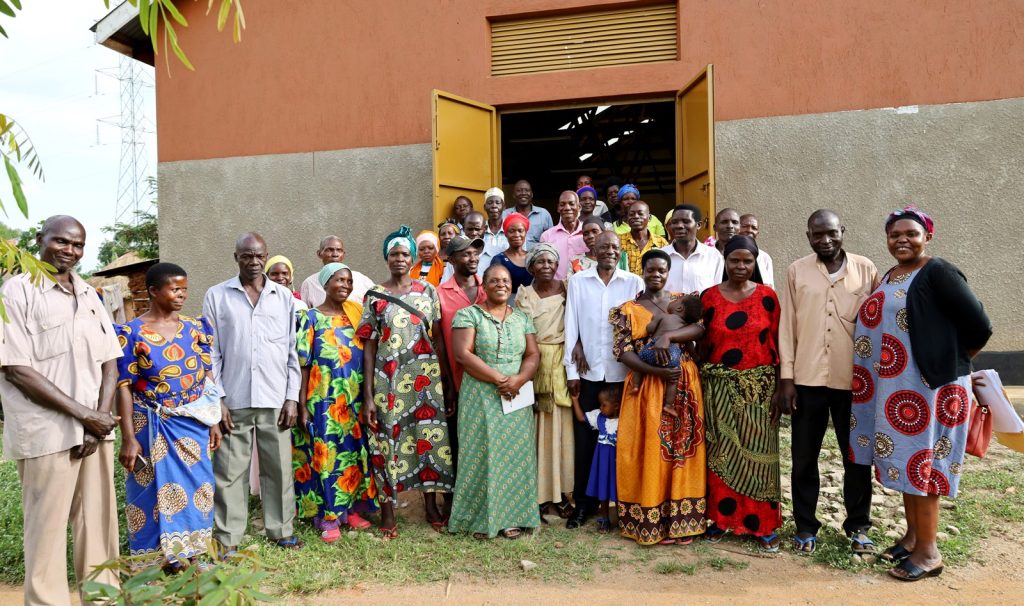 Rebecca Naigaga, a farmer from Iganga districts appreciated the research.
"I have learnt a lot that a husband and wife need to sit together during the planting season and agree on how to rent land, its size, what crops to plant. Then during harvest, we need to agree on what amount to sell and leave for food and what to sell for fees. The other, I have learnt is that, men have more access to land but as women we can also hire," she noted.
Elias Mutyaba from Nambaale Agro business appreciated the study for changing his mindset and called upon farmers to adopt modern farming practices.
"This time I have changed my attitude. I was so piteous of myself that I was unemployed but with this workshop, I have learnt that farming is also a business where I can earn money. I call upon my fellow farmers to embrace new varieties and use of fertilisers to improve the yields," he said.
Mak Flags off 50 Students for Agrostudies Internship in Israel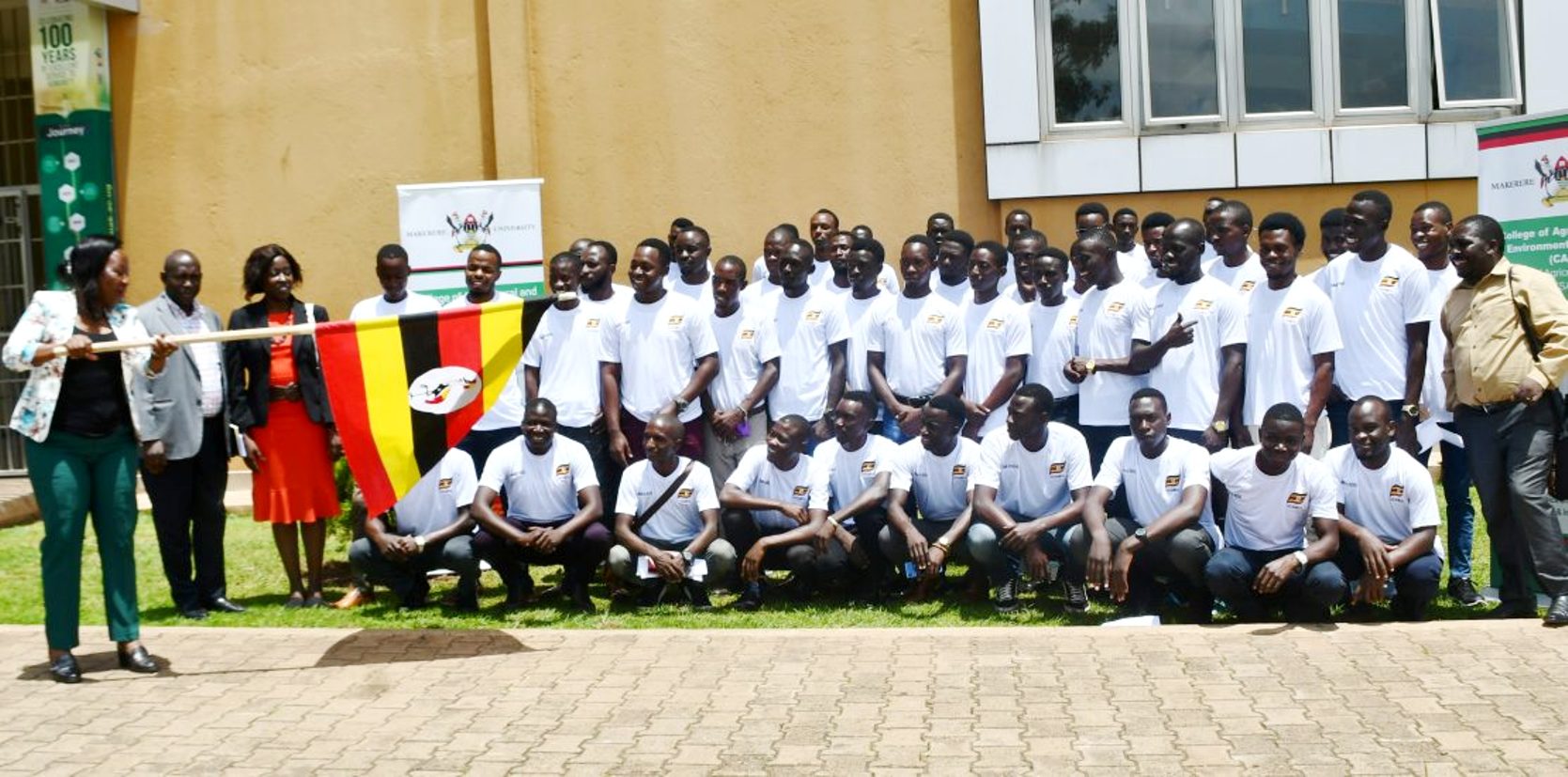 The Government of Uganda currently holds bilateral cooperation with Israel, encompassing: agriculture, post harvest technologies, animal husbandry, water management, health and on land security. The cordial relationship resulted into the Israel Agrostudies Apprenticeship Programme, which has incredibly benefited many Ugandan students since 2013. The programme started in 2013 but was institutionalized in 2021. The Agrostudies Institute in Israel, which is the international centre for agricultural interns, coordinates the programme. The Agrostudies opportunity comes with a lot of practical agricultural skills training and international cultural exposure.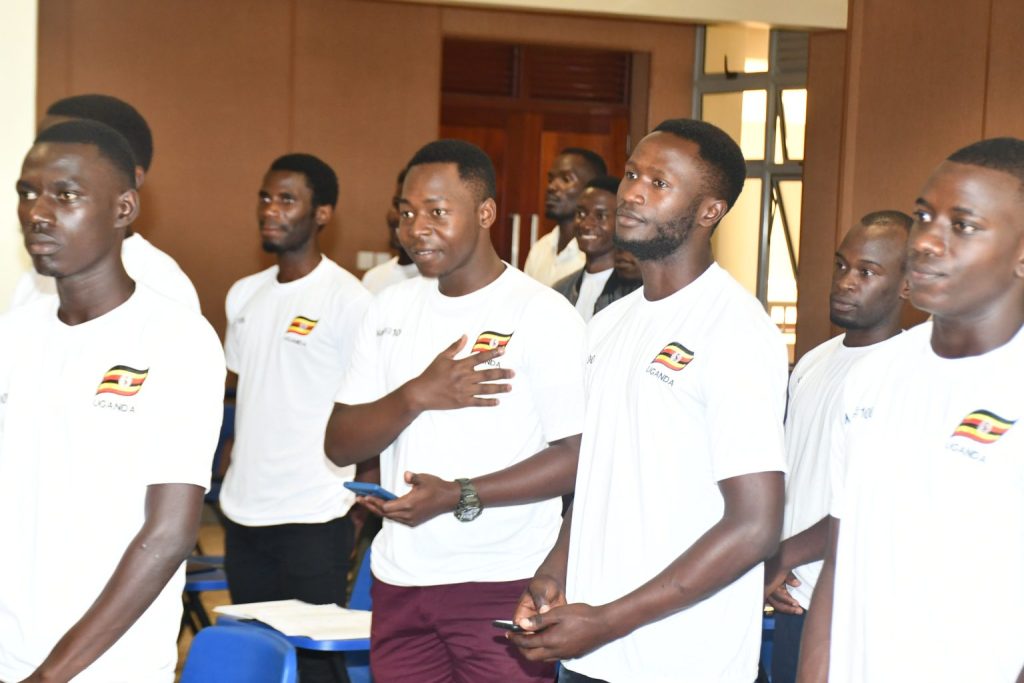 Makerere University in September flagged off 50 male students to Israel for a one-year paid internship. Ten (10) of these were from Busitema University while 40 were from Makerere. The students were flagged off by the Vice Chancellor of Makerere University, Prof. Banarbas Nawangwe, who was represented by the Principal, College of Agricultural and Enviromental Sciences (CAES), Prof. Gorretie Nabanoga, on 21st September 2021 at an event held in the Council Room at the Frank Kalimuzo Teaching Facility), Makerere University.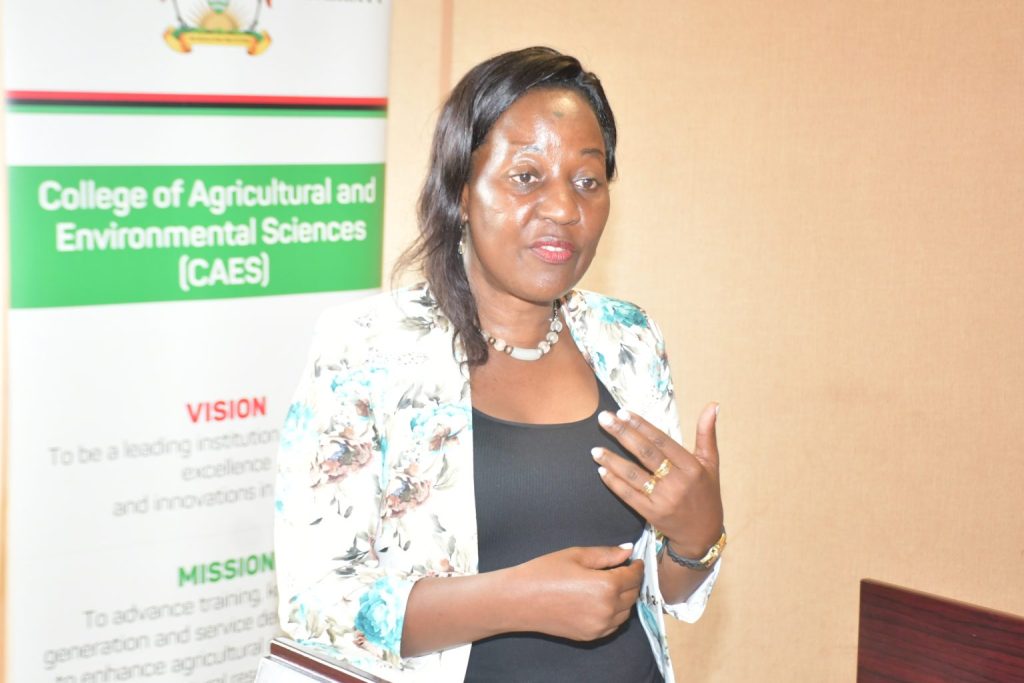 The event was attended by the Dean, School of Agricultural Sciences (SAS), Dr. John Baptist Tumuhairwe; the Head Department of Agricultural Production, Dr Mildred Ochwo Semakula; as well as alumni and coordinators of the Agrostudies Apprenticeship Programme at Makerere University.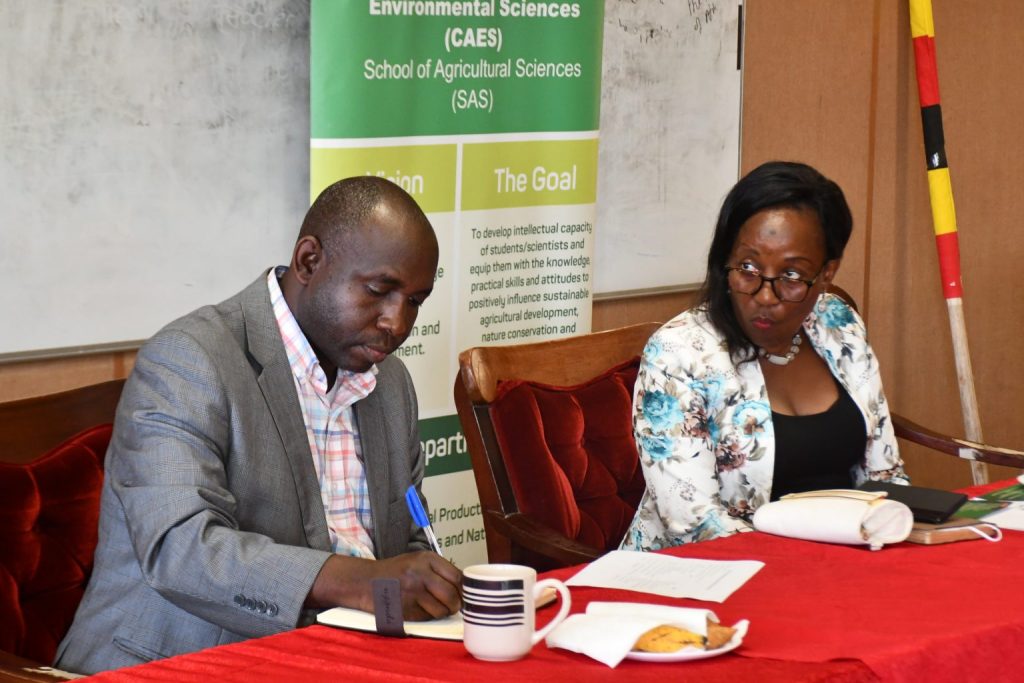 In his remarks, Vice Chancellor, Prof. Banarbas Nawangwe urged students to be hardworking, resilient and committed to the training. "You need to go with an open mindset. Have an inquisitive mind and use this as an opportunity to acquire a variety of skills. Your main focus should be skills acquisition rather than money making. Do not let money be the driving force. Have it in mind that you are ambassadors of Makerere University," he said. "As you make individual choices, know that you are in it alone. Do not be influenced by others. In case of challenges that cannot be addressed by those around you, always get back to us." Prof. Nawangwe advised the students to share their skills as a way of showcasing their seven (7) months training.
The Principal, College of Agricultural and Environmental Sciences, Prof. Gorretie Nabanoga applauded the coordinators of the programme and the Dean SAS for equipping students with the necessary skills. She further appreciated the Vice Chancellor, Prof. Nawangwe for the support accorded to the programme.
Dr. John Baptist Tumuhairwe, Dean School of Agricultural Sciences, cautioned students against indiscipline. "While out there, you need to be mindful of your actions. Do not spoil the future for other. We shall lobby for an increase in number from fifty (50) to more depending on your progress," he said.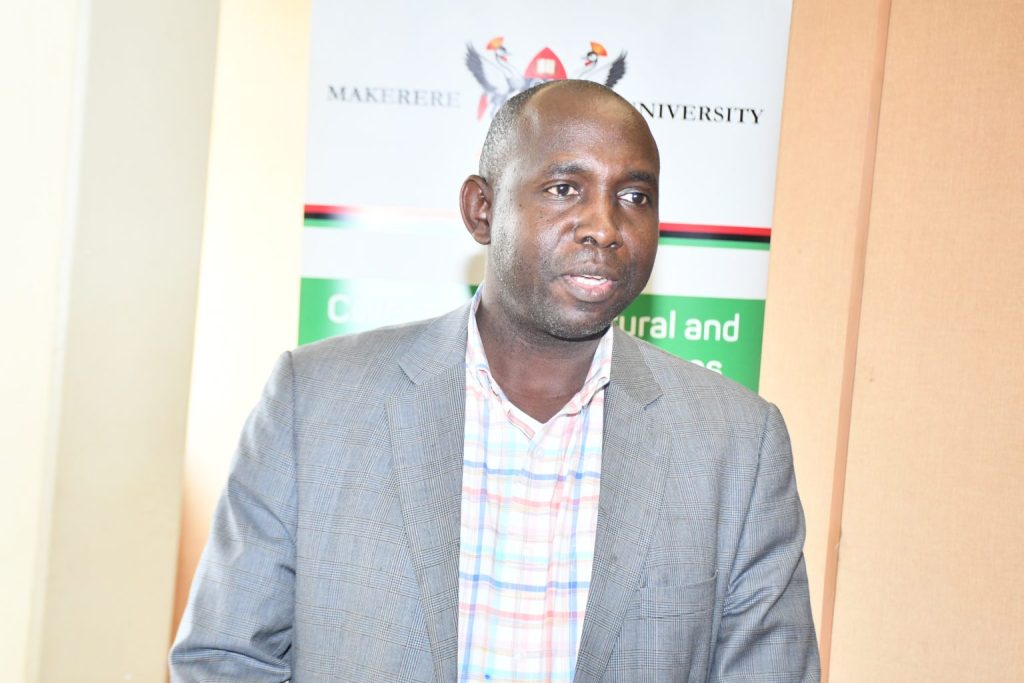 Dr. Tumuhairwe further urged students to make good use of the opportunity to develop skills for future employment.
In his remarks, Mr. Narisi Mubangizi, Lecturer in the Department of Extension and Innovation Studies, also part of the coordination team, cautioned the interns against diversion and tarnishing the country's image. "Remember how far you have moved on your course and focus to successfully complete. The future of this programme lies in your hands. Any mistake you make will deter progress of the programme."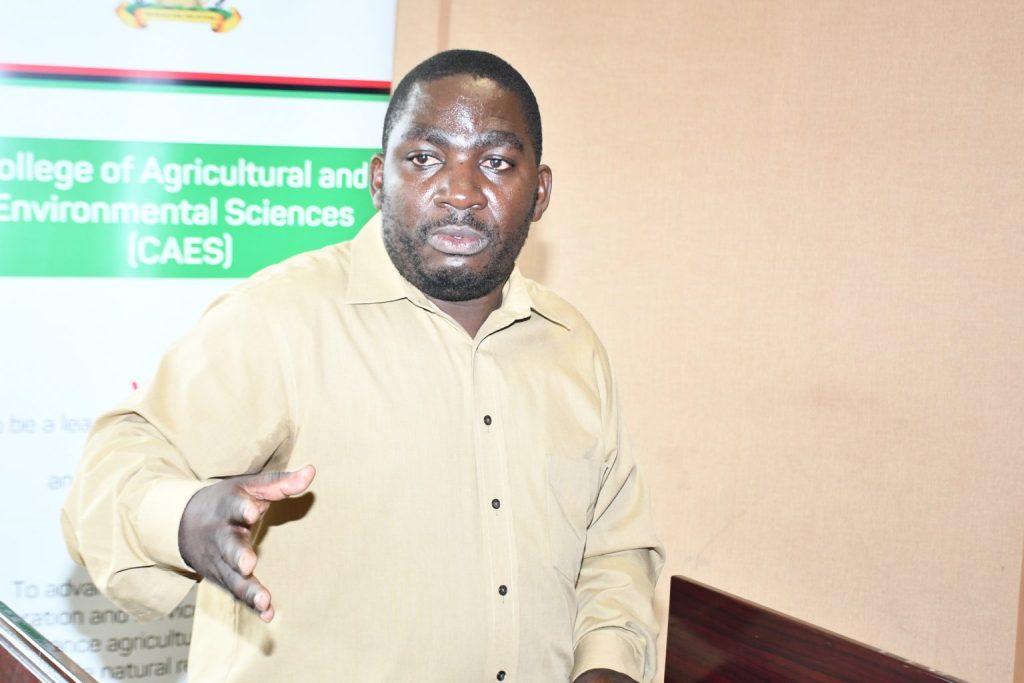 According to Mr. Moris Bua, a former beneficiary, the Agrostudies Programme is a life changing initiative. "You must have goals in your life. You must see the future. Use the opportunity to map out your future.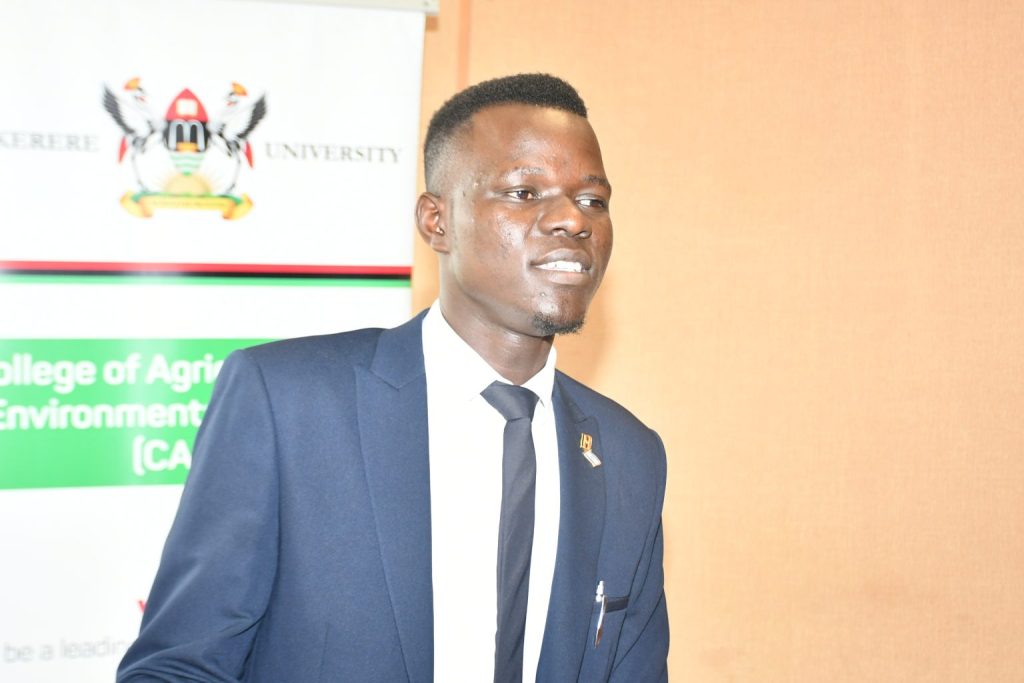 Mr. Deric Niwasasira, a student and Team Leader Agrostudies Apprenticeship Programme, Cohort 2022/2023, urged the interns not to lose focus on the major objectives of the programme. "The next journey requires endurance and focus. Let us not disappoint our country and our college."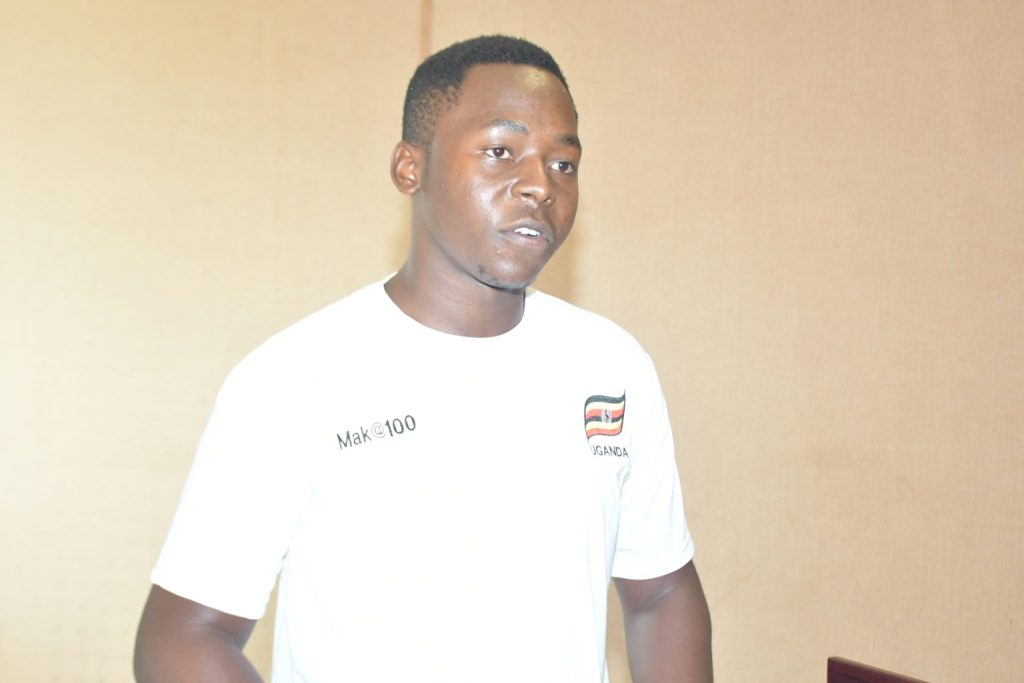 Mak-CAES holds Research Seminar for SET Project supported graduate students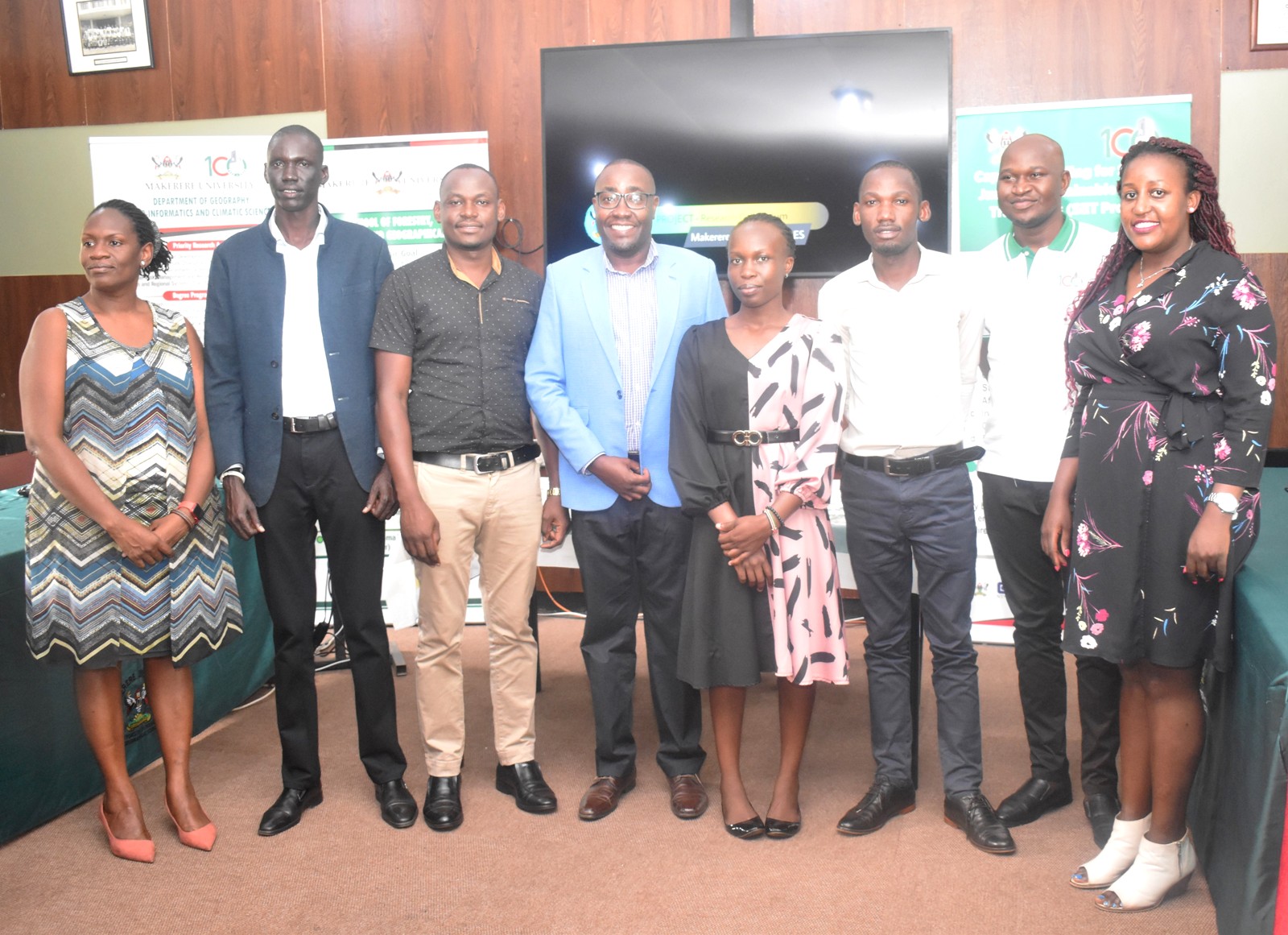 Capacity Building for Socially Just and Sustainable Energy Transitions (SET), a Project under the Department of Geography, Geo-informatics and Climatic Sciences at the College of Agricultural and Environmental Sciences (CAES), Makerere University is supporting 3 PhDs, 7 MAs and 2 Postdoc students
Overview
The East African region has embraced the global drive to transition to low carbon economies and clean energy. However, a key challenge is the persistent lack of knowledge, capacity and skilled personnel to support the transition. In 2021, the Department of Geography, Geo-informatics and Climatic Sciences at the College of Agricultural and Environmental Sciences (CAES), Makerere University received funding under NORHED II to improve research and knowledge on energy transitions.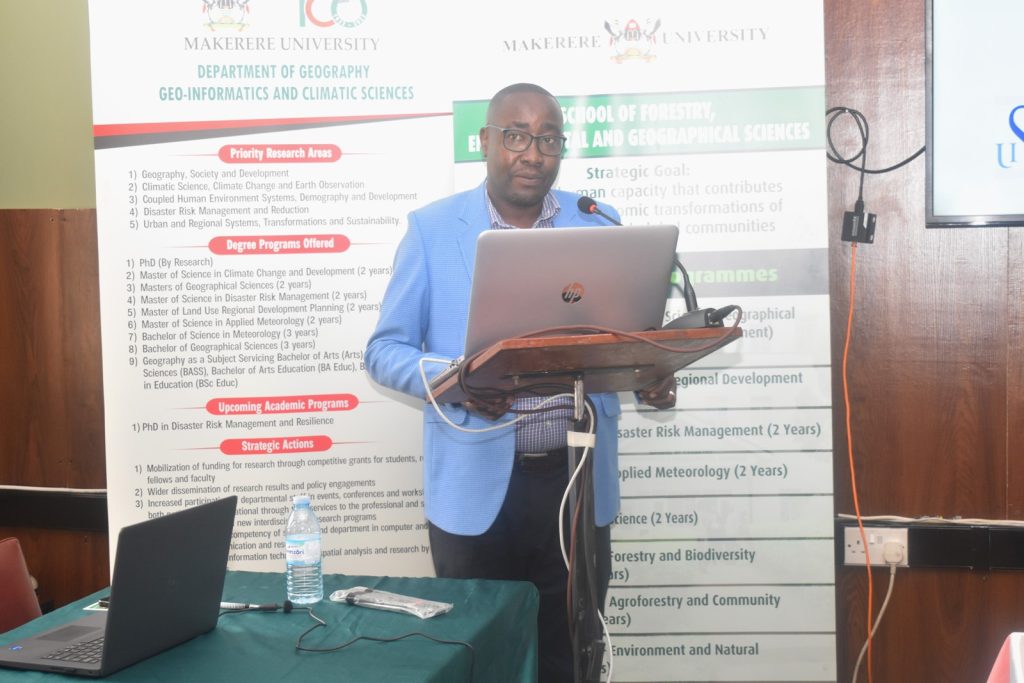 The six-year project titled,"Capacity Building for Socially Just and Sustainable Energy Transitions (SET)" aims to build capacity and competence through education, research and outreach to secure a workforce in the East African region with relevant skills and knowledge to implement and demand for a just and sustainable low carbon energy transition agenda.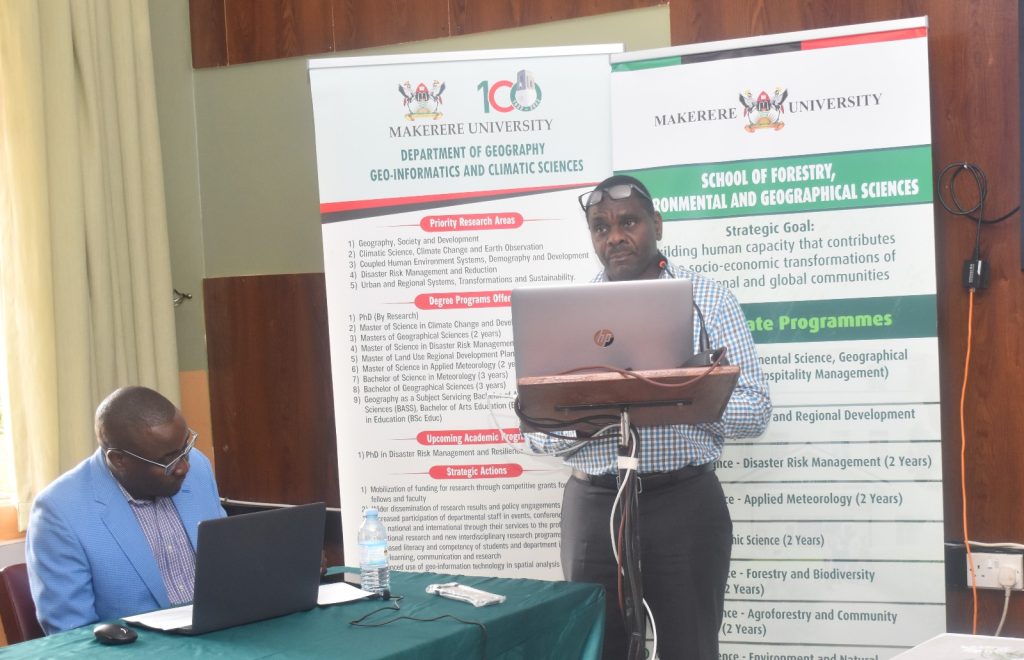 Specific objectives of the project include; i)developing capacity in social sciences, humanities and environmental management education programs to address emerging challenges and harness opportunities presented by the transition to low carbon energy economies in new oil and gas frontiers in East Africa; ii)improving competence and capacity of staff and students to undertake teaching and research on energy transitions from social sciences and humanities perspectives; iii) producing more and better research on energy transitions in East Africa through joint interdisciplinary research conducted by graduate students and Senior researchers at the partner institutions, and ultimately contribute to national and regional policy and practice in energy transitions; and iv) establishment of  a Norway-East Africa (NOREAC) partnership and strengthening existing national and regional partnerships between academia, public sector, private sector and civil society to improve the relevance of graduate programs and ultimately enhance employability of graduate students.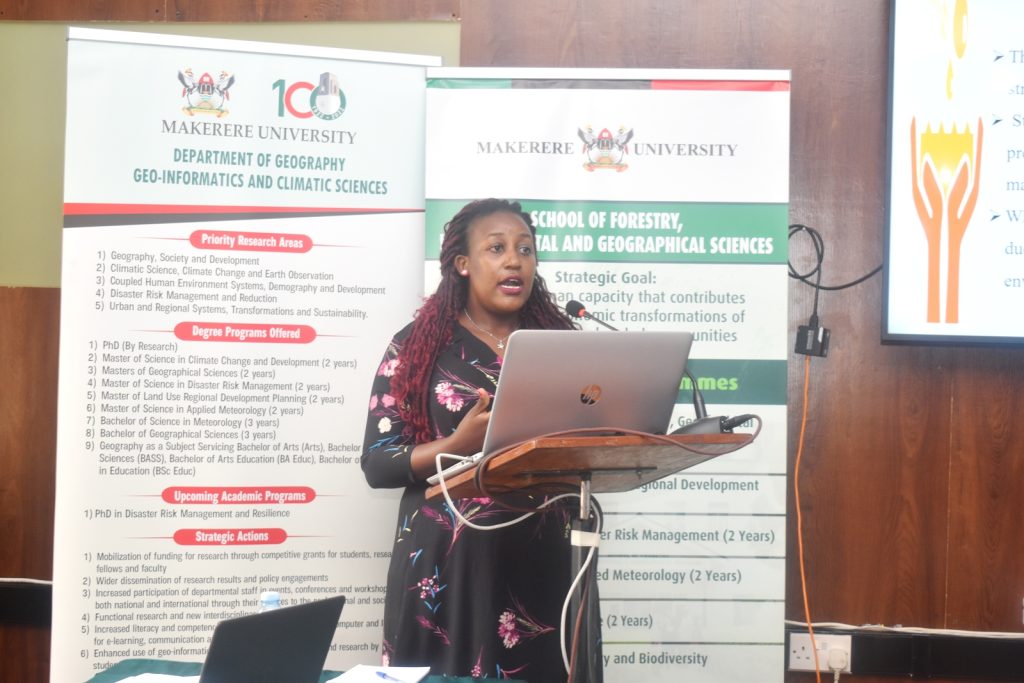 Partner institutions include; Makerere University, Makerere University Business School (MUBS), Norwegian University of Science and Technology (NTNU), University of Stavanger (UiS) and TUK University of Juba.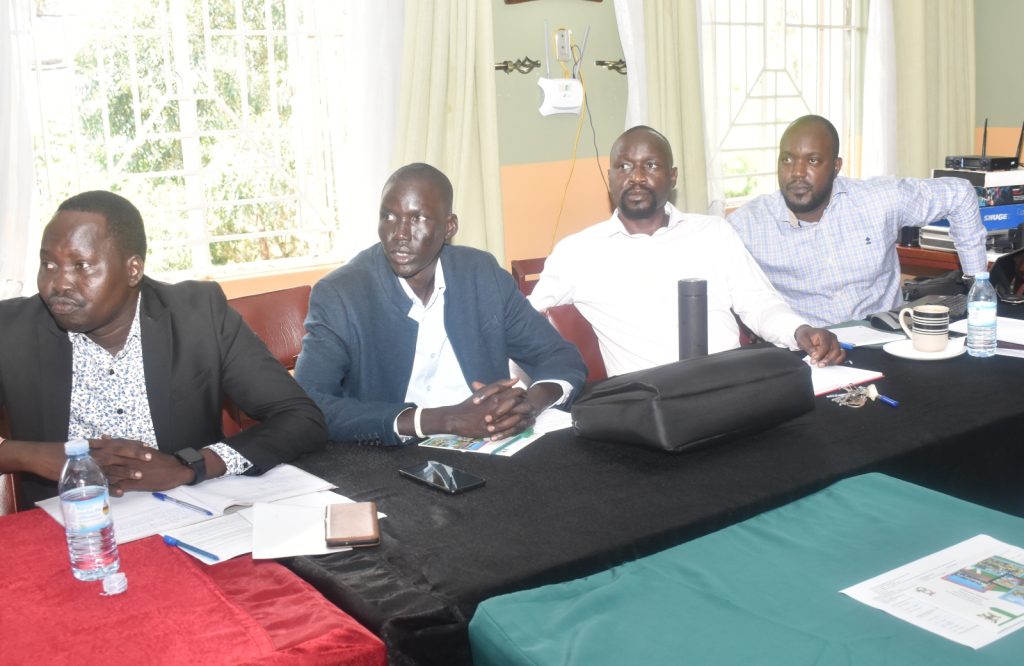 Led by Dr. Charlotte Anne Nakakaawa-Jjunju from NTNU and coordinated by Prof. Frank Mugagga, Head, Department of Geography, Geo-informatics and Climatic Sciences at Makerere University, the project will directly contribute to the realization SDG4 on Quality Education, SDG5 on Gender equality, SDG7 on Energy, SDG13 on Climate Action and SDG17 on enhancing global partnerships for sustainable development. It will indirectly contribute to SDG1 on ending poverty; SDG3 on good health and wellbeing; SDG8 on decent work and economic growth; SDG10 on reduced inequalities; SDG11 on sustainable cities and communities; and SDG16 on peace, justice and strong institutions.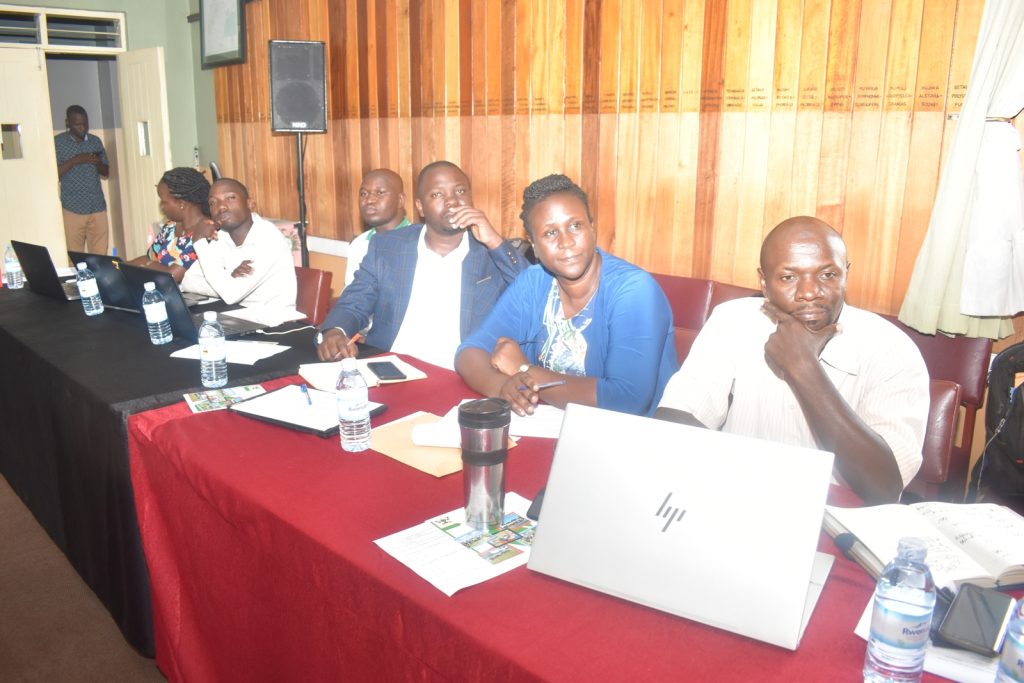 Project themes
The project themes include; i) Geographies of energy transition in East Africa;ii) Stranded assets and green growth in East Africa: Role of state and non-state actors; iii) Inclusive engagement in energy transitions: Gender, participation and justice; iv)Energy infrastructure, environmental impacts and changing social practices; and v) Transition to an integrated East African regional energy market: Enabling infrastructure, Policies and Regulations.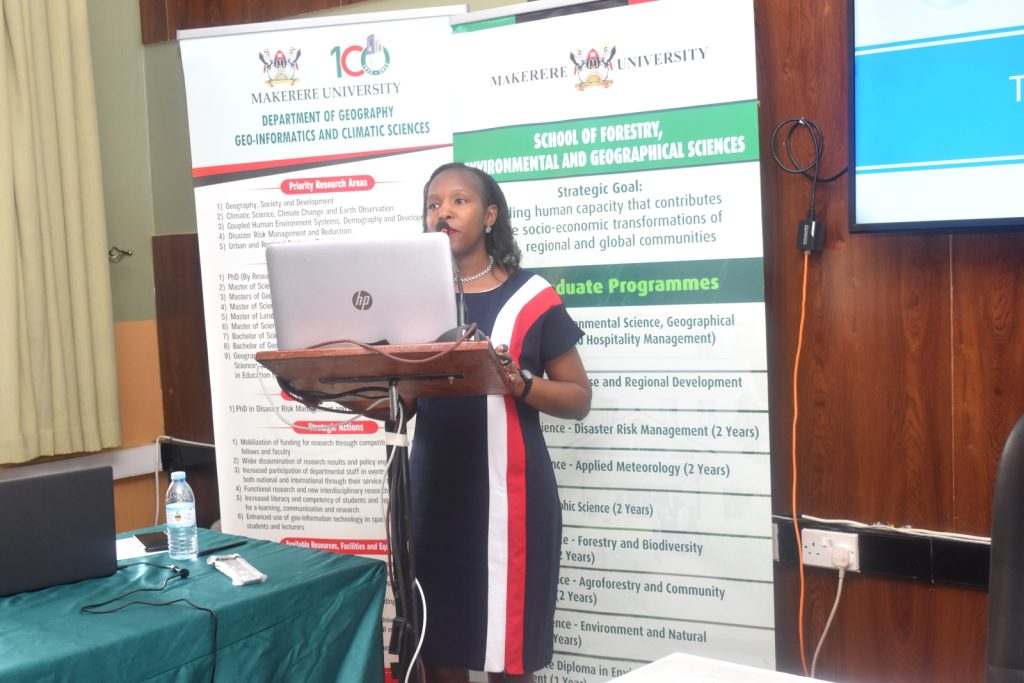 Support to graduate students
The project is supporting 3 PhDs, 7 MAs and 2 Postdoc students from the partner institutions. These include; Dr Maria Nantongo, a postdoc student from MUBS conducting research on positioning oil and gas companies for the transition to a lower carbon economy. Others are; Mr. Benon Nabaasa, a PhD student who will be assessing Uganda's energy geographies for solar power transition with special focus on the incumbent energy geographies for selected solar power infrastructure, geographical nature of solar power rollout for selected solar power infrastructure, and the relationship between specific energy geographies and the nature of solar power rollout.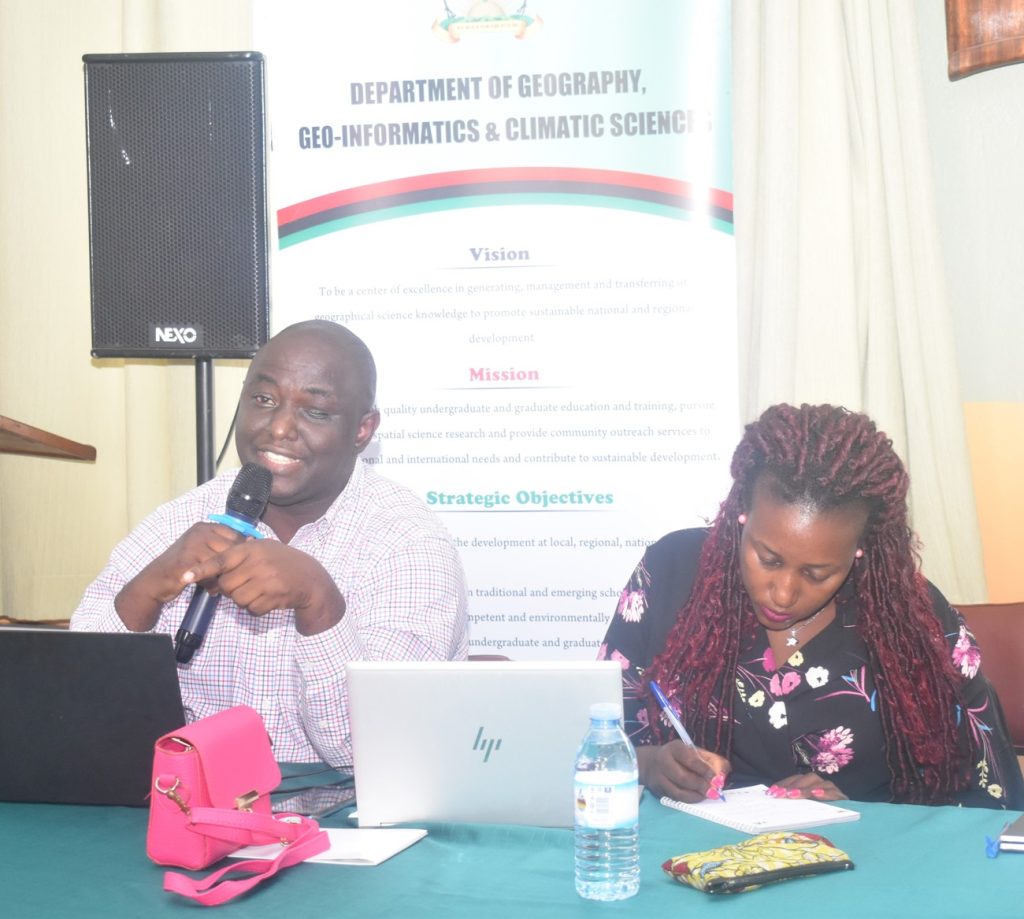 Ms. Kemitare Gladys, a PhD student examining asset and resource stranding as a consequence of the transition to a lowcarbon energy economy intends to assess the drivers of stranded assets and resources, estimate the impact stranded assets and resources will have on Uganda's GDP, and investigate the policies, plans and frameworks that have been put in place to mitigate the risk of asset stranding on Uganda's economic development. Ms. Namukasa Juliet, PhD student is undertaking research on carbon mobility in Kampala with special focus on user perspectives and practices on walking, cycling and public transport. She intends examine the visions of and meanings connected to walking, cycling and public transport, assess the challenges and controversies of these mobility modes, specifically focusing on their relation to other forms of mobility or factors such as gender, age, material, social, cultural and economic differences; and to provide solutions on what should be put in place for such mobility modes to be used more and minimize the growth of private car mobility.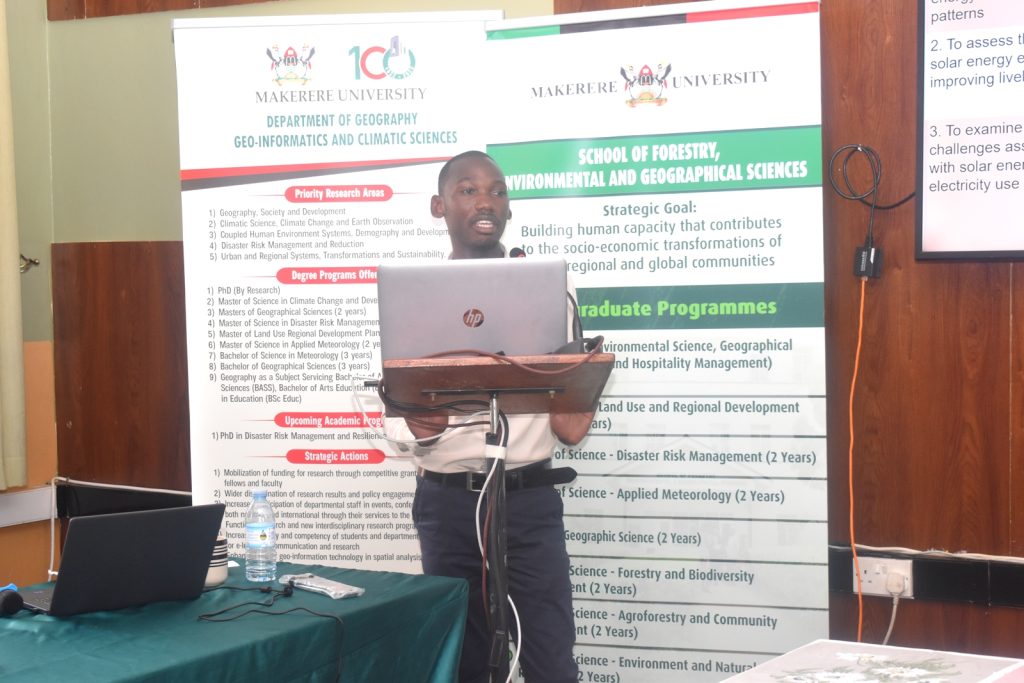 The Masters students include; Mr. Patrick Kayima who is conducting research on the effect of hybrid solar energy electrification on people's livelihoods on Bugala Island in Kalangala District; Mr. Lukyamuzi Vincent –assessing the willingness of Kampala slum dwellers to adopt and adapt to clean cooking technologies; Mr. Kafilondi Albert – investigating the suitability and accessibility of solar photovoltaic technology infrastructure in South Sudan; Ms. Namono Maureen – assessing the drivers of energy transition and its impact on the economy; Ms. Suzan Nafisa – examining the impact of solar energy on women's socio-economic lives in Juba, South Sudan; Mr. Madet Daniel – examining the environmental and socio-economic effects of crude oil extraction in Bentiu, South Sudan; and Mr. Thon Makoi who is assessing the socio-economic impact of oil production on women, focusing on Paloch Oil producing area in Melut, South Sudan.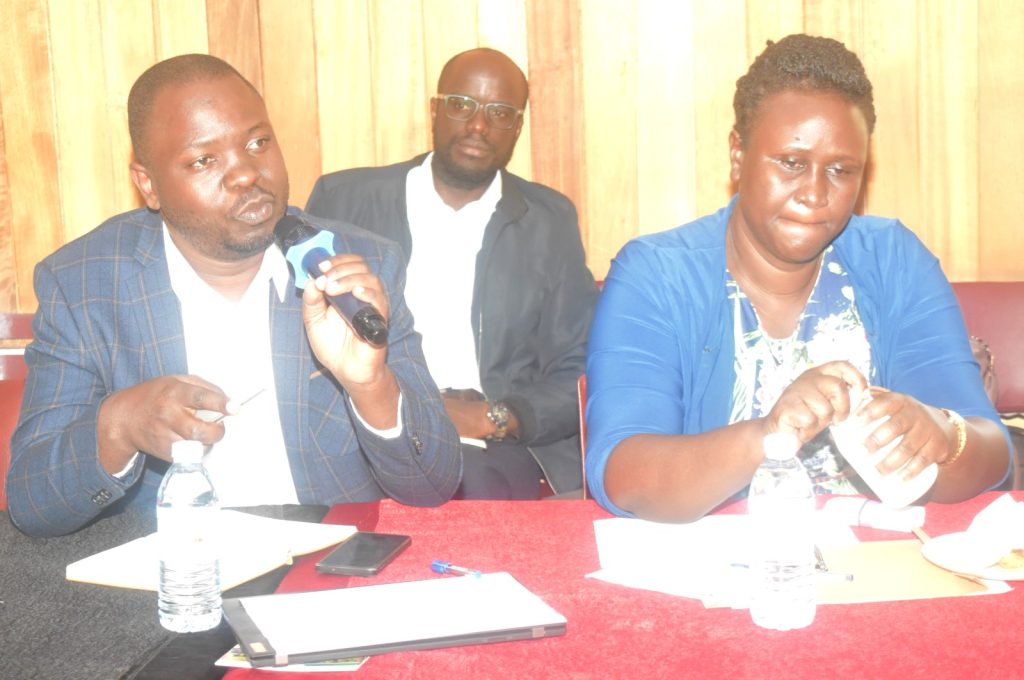 Research seminar
On 11th October 2022, the Department of Geography, Geo-informatics and Climatic Sciences held a research seminarat which the students presented their concept papers to get input/buy in from sector players and other stakeholders regarding the relevance of the planned research.The workshop was also intended to receive guidance from stakeholders on the best course of action on how the intended research can be structured to inform policy and practice.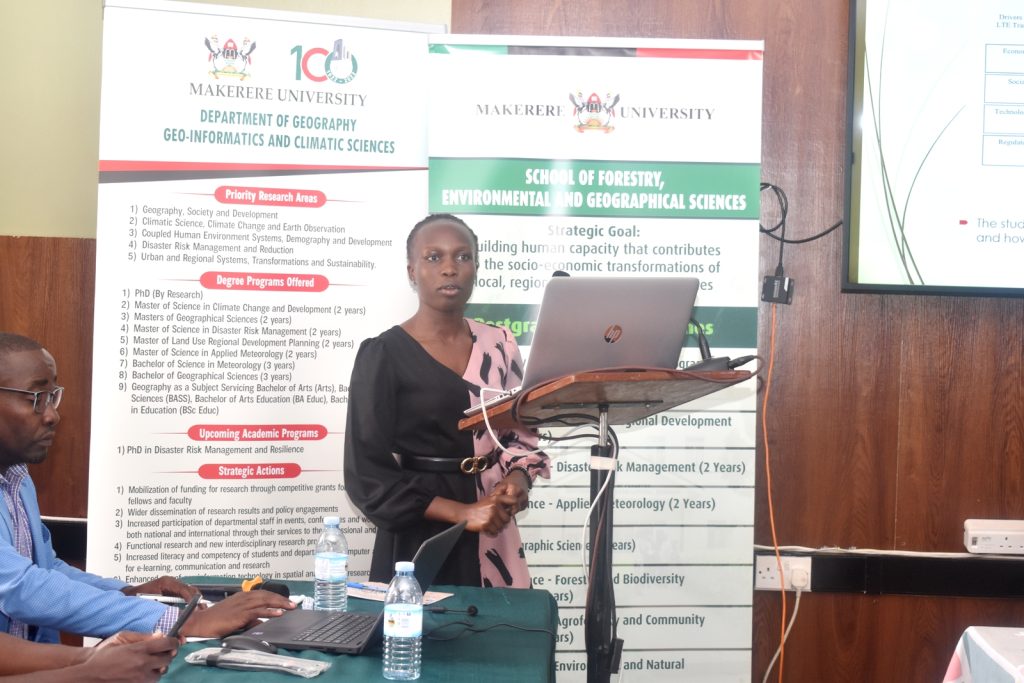 Held at the School of Forestry, Environmental and Geographical Sciences at the College of Agricultural and Environmental Sciences (CAES), Makerere University, the blended seminar (physical and online)was attended by supervisors from partner institutions as well as representatives from line ministries who made enriching contributions to the students' proposals.The students were enlightened on the current challenges in the energy sector and guided on the best format of structuring their research to provide practical solutions.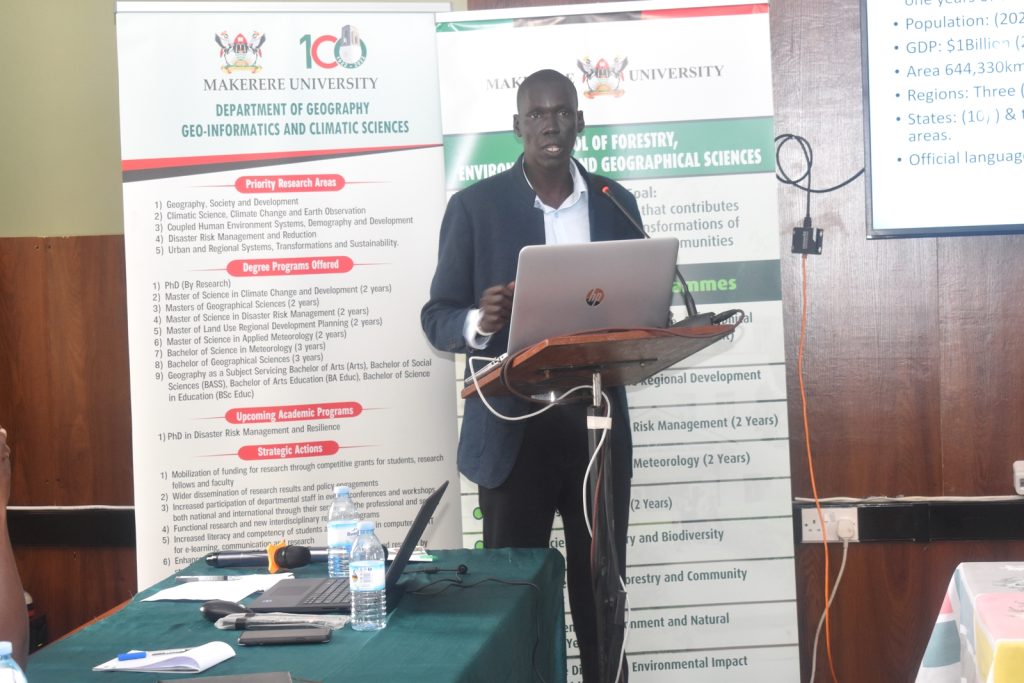 Remarks by the Dean SFEGS and project coordinators
Speaking at the workshop, the Dean, School of Forestry, Environmental and Geographical Sciences, CAES, Prof. Fred Babweteera commended SET as a timely project that would greatly contribute to transforming Makerere into a research-led University. "As the country grapples with the challenges of constructing the East African Crude Oil Pipeline, SET comes in handy to address the socio-economic injustices related to the project," he noted, pledging increased support towards quality research and graduate training. He applauded the PIs for the initiative and thanked the development partners for the support rendered towards the project and other programmes at the university.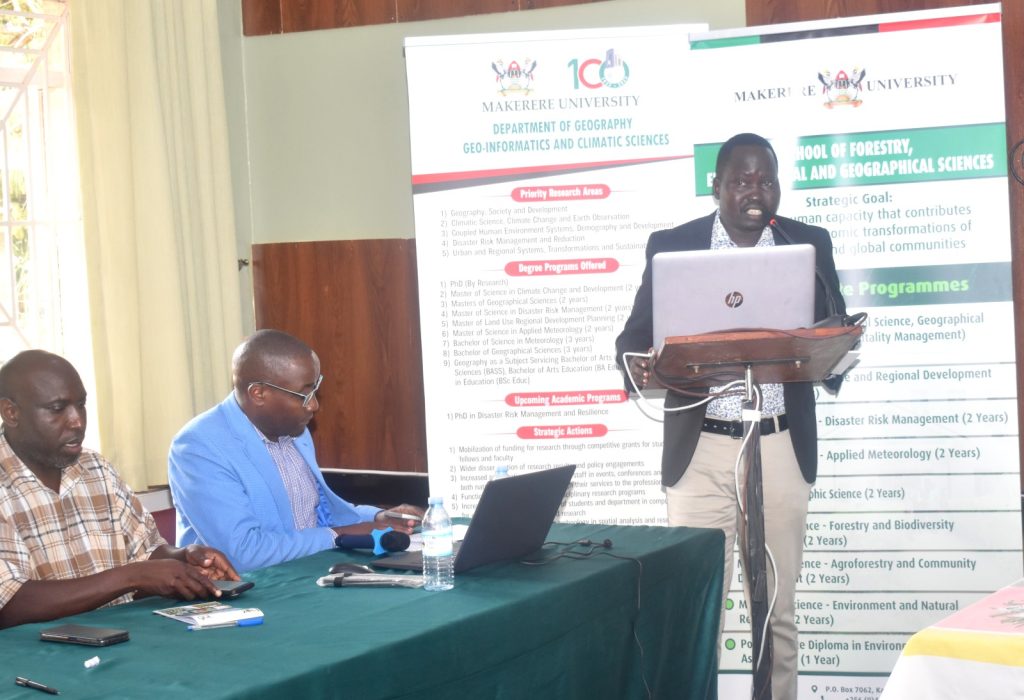 Sharing an overview of SET, Prof. Frank Mugagga appreciated the funders, noting that project would largely improve capacity of graduate training and research at Department and partner institution.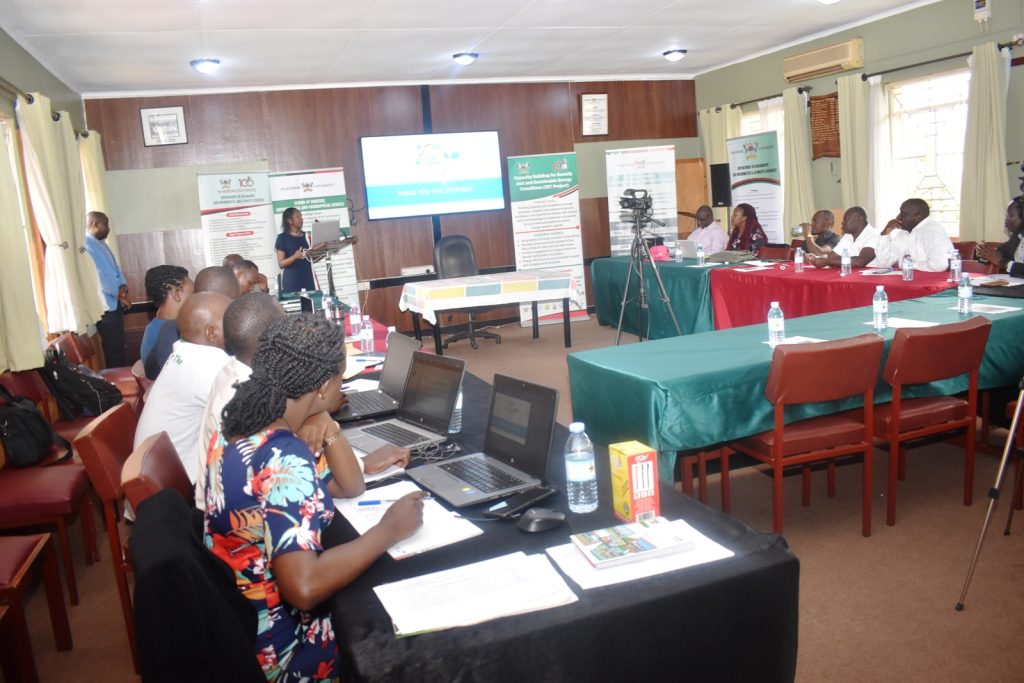 In her remarks, Dr Charlotte Anne Nakakaawa-Jjunju from NTNU urged the students to contextualise their work and align it to contribute to policy and practice. She also reminded the students of the need to mainstream gender throughout their research.The Norwegian Development Policy emphasizes gender mainstreaming in all NORHED-funded projects.
More photos from the Seminar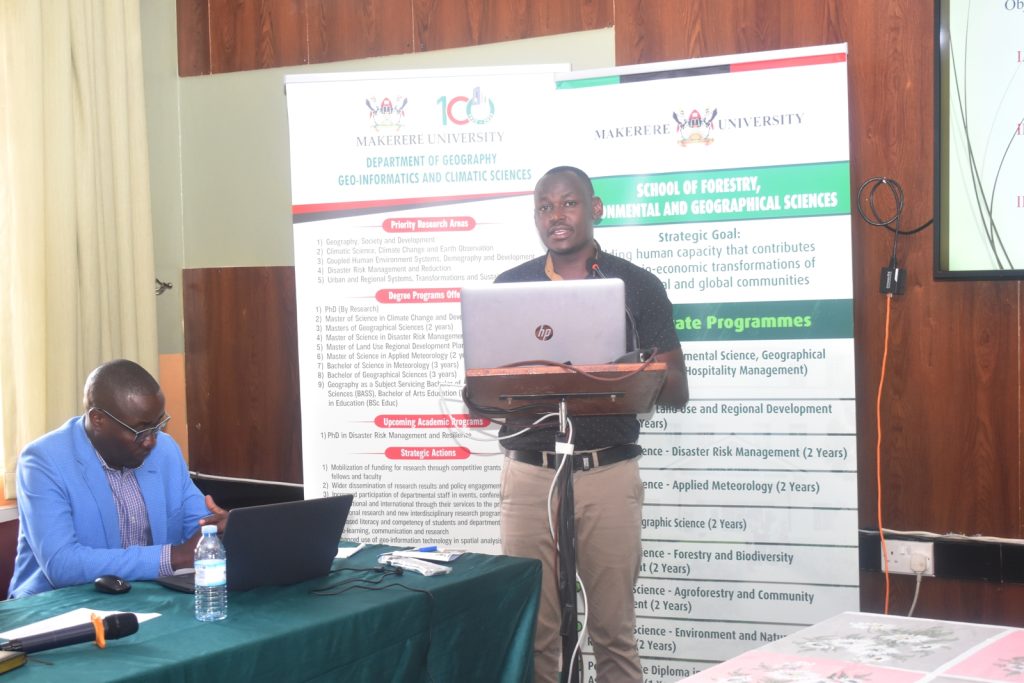 ---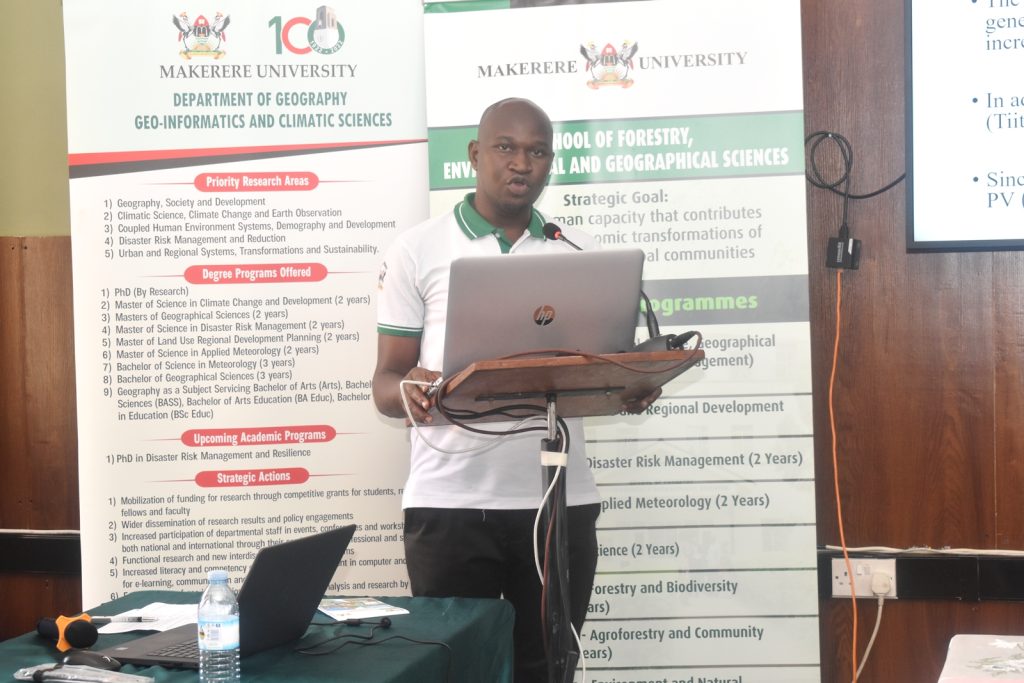 ---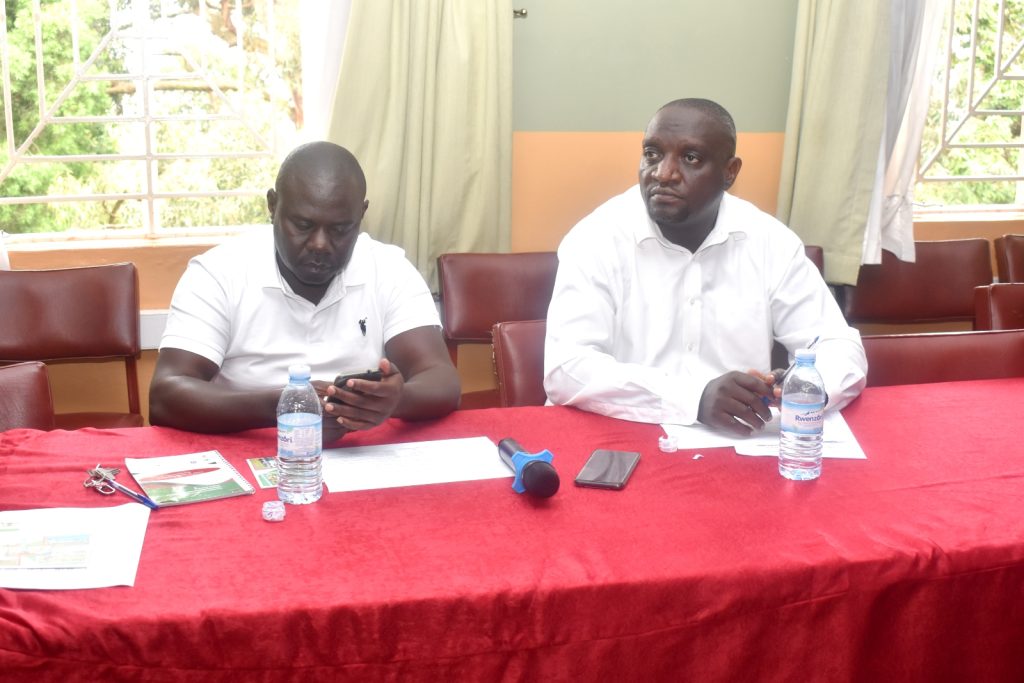 Presentations