EfD-Mak Launches two  projects on Uganda's National Water and Forest Authorities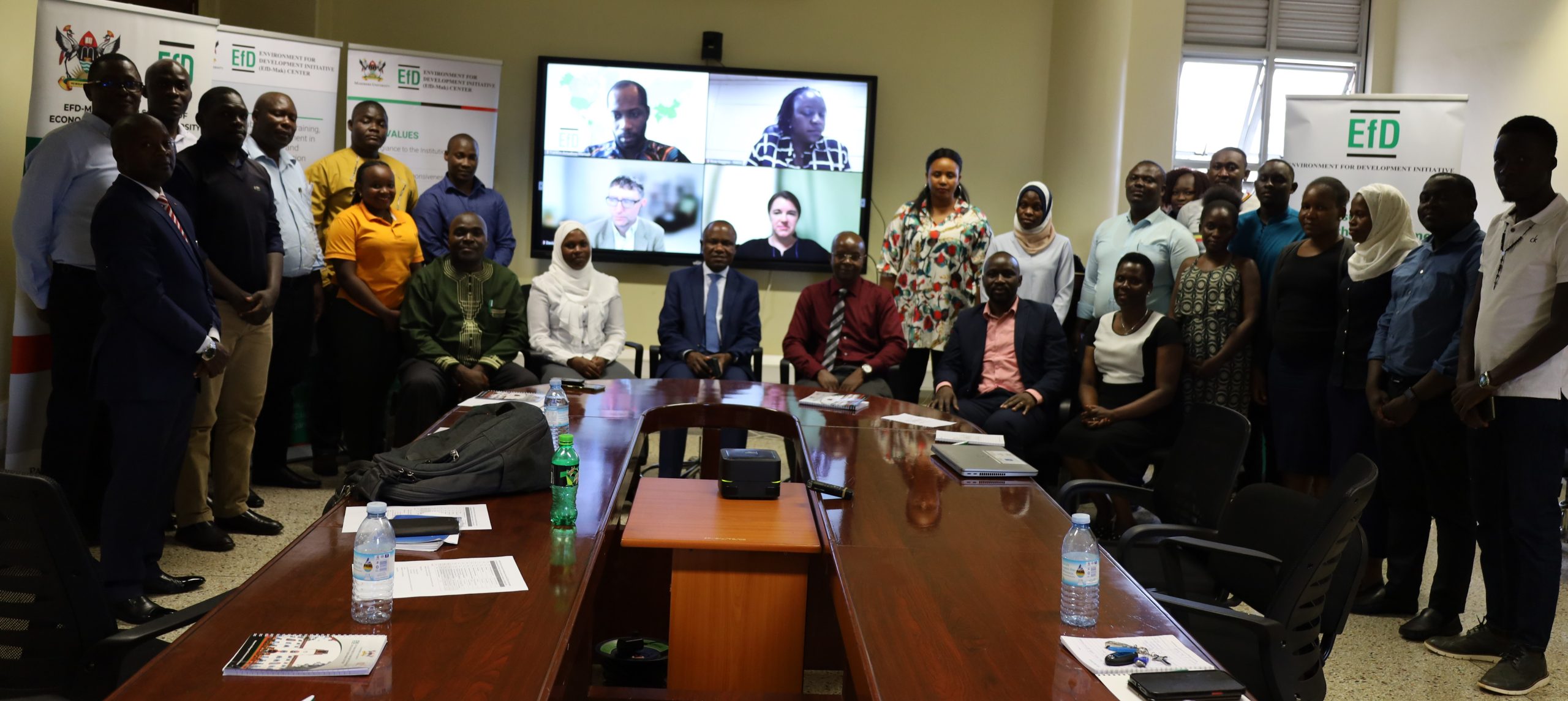 The Environment for Development Initiative (EfD) Makerere Centre has launched two new collaborative projects – on improving water bill payments in the National water authority and a quasi experimental analysis of the Forest Authority Afforestation projects. The launch is a significant achievement for the year 2021/2022.
The projects were launched during the centres seminar series held on 13th October 2022 at the EfD Confrence room. The function was graced by the Principal College of Business and Management Scieces Prof. Eria Hisali as chief guest. It was also attended online by the EfD Global hub Manager for Research Dr. Amuakwa-Mensah, Franklin and project collaborators ,
While officially launching the projects, Prof. Hisali said as a developing country the university cannot afford to do research for the sake of doing research but research that is going to have an impact on policy, change people's lives and have findings that are immediately useful.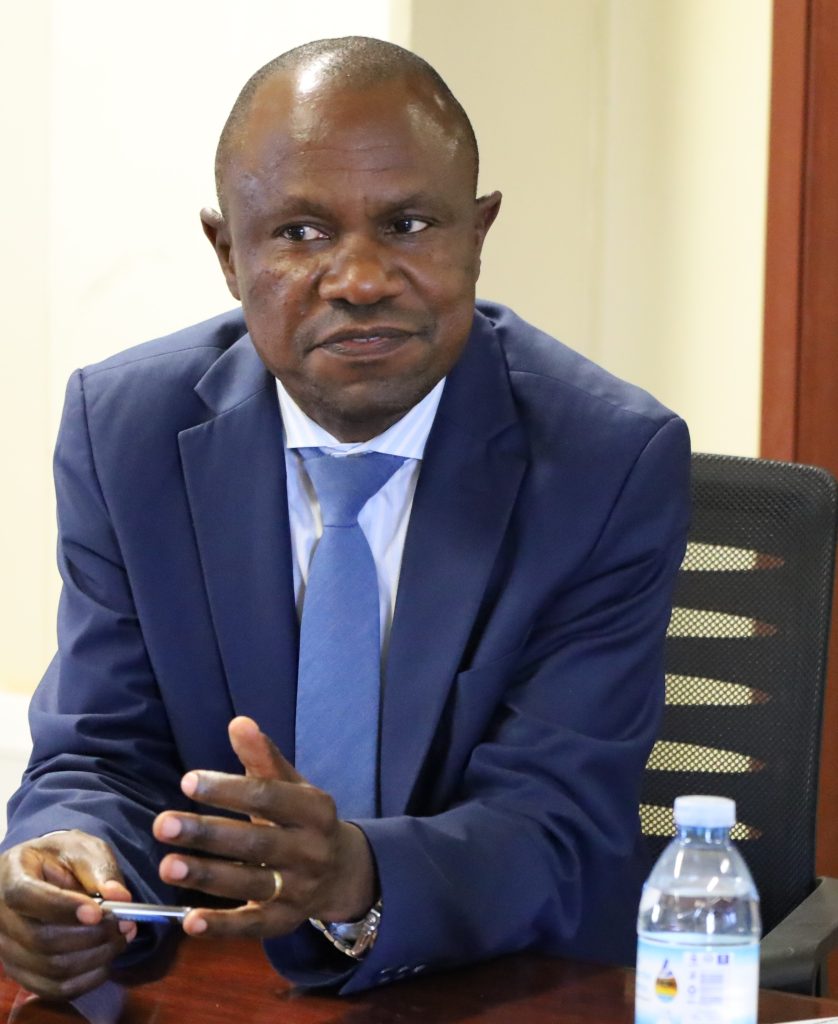 "This does not mean that that it should not be rigorous. It should be as rigorous as possible but it should be immediately relevant to our environment and needs", Hisali stressed.
To achieve that, the Principal expressed the need for policy makers and implementers, the researchers and the private sector to come in one room and discuss some broad thematic areas and agree on areas immediate relevancy and the biggest knowledge gaps.
The second phase according Hisali is to prepare some few background papers around the broad thematic areas that give the scope and insights of the advances of the methodological approaches and a few other things and then commission relevant studies.
"If we take that route, we are going to come with findings that are immediately useful. As researchers in this part of the world we cannot afford at all to do research for the sake of doing research. We should do rigorous research that links to the problems that we are facing as acountry and that speaks to providing solutions to the list of problems", Hisali re – emphasized
As the leadership of the college, Hisali pledged to remain committed to working closely with patners and to continue permitting all processes required to support the colleagues doing research.
The new projects
Project one titled, "Improving Bill Payments for Water and Sanitation in Uganda" is spearheaded by Prof.  Edward Bbaale as  the Principal Investigator . Bbaale is also the  Director EfD Mak Centre. He assisted by Co-Principal Investigators. Dr. Nicholas Kilimani (EfD-Mak & Makerere University) Dr. Rose Kaggwa (National Water and Sewerage Corporation), Dr. Nicholas Mwebaze (National Water and Sewerage Corporation) and Dr. David Fuente (EfD & University of South Carolina).
Prof Bbaale said the motivation behind the study was based on the global water and sanitation infrastructure challenge and the need to respond to the SDG 6 on the provision and attainment of "Safe and affordable water and sanitation for all by 2030" and Uganda's NDPIII and Vision 2040- increasing access to safe water for all.
"Arrears undermine utilities financial sustainability. For Example in  South Africa: households owed municipal governments 40 billion Rand (about 4 billion USD). In Nairobi, Kenya: ~60% of customers have arrears while in Kampala, Uganda (study location): 57% of residential customer accounts have arrears", Bbaale said.
He said the study will be conducted in Kampala – National Water and Sewer Corporation (NWSC) aimed at reducing customer arrears and bill non-payment, improve financial sustainability of utilities, boost the agency's financial position to cater for its investments and also increase the social welfare benefits from the agency's investments
The project according to Bbaale will document pathways through which improved billing can result in better bill payment hence sustained revenue for the agency.
"Improving agency's financial sustainability enhances its ability to improve the quality of services and the expansion of access to households who lack access to piped water and sanitation services.
There are welfare benefits associated with the improved quality and coverage of the agency's services, i.e., improved health, increased time for productive work, increased school attendance", He added.
Established in 1972, NWSC, is a public utility company 100% owned by the Government of Uganda and is mandated to supply water and sewerage services to 257 cities and towns across the country with a customer base standing at 711,556 accounts.
The Customer base of the NWSC currently stands at 711,556 accounts with total arrears level of Uganda Shillings 69,471,961,698 billion government arrears inclusive and 32,962,667,390 billion non-government arrears.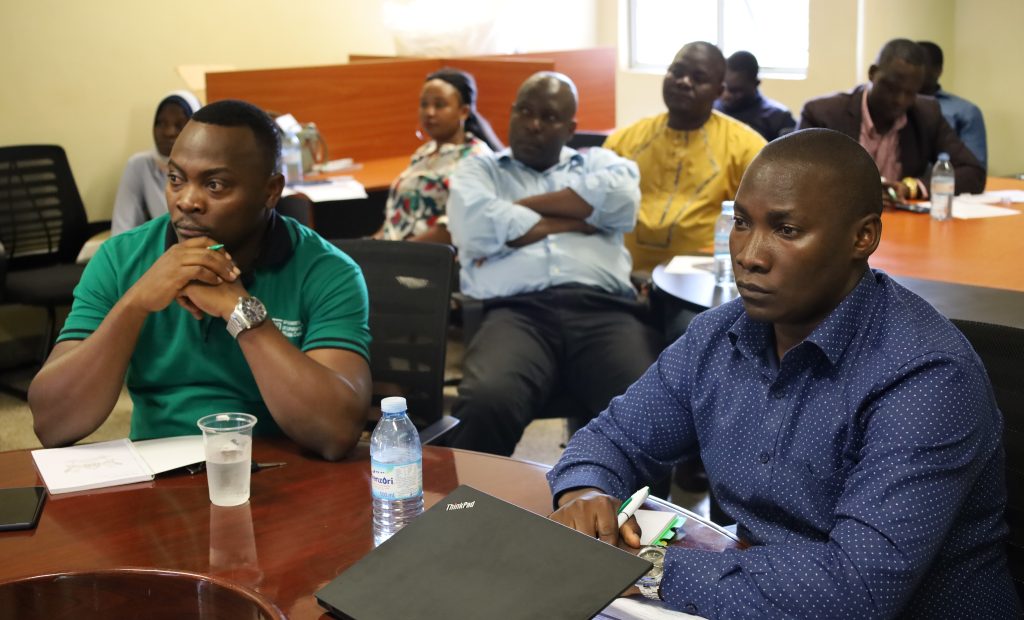 The project area of study that is, Kampala water area, has total customer base of 357,342 accounts. Out of these accounts 202,484 are domestic accounts with non-government arrears of Uganda shillings 10,584,626,646 billion (2.8 M USD) contributing 69% of the total non-government arrears.
Policy implications
Reduce customer arrears and bill non-payment and improve financial sustainability of utilities and ensure households maintain access to services
Documentation of the implications of an efficient revenue mobilization in harnessing resources for effective service delivery
Direct engagement of National Water in the project will increase potential for using the study's results to inform policy and practice.
Knowledge co-production and policy engagement
The second projects titled, " Quasi-Experimental Analysis of National Forestry Authority Afforestation Projects in Uganda", is being led by Dr. Patrick Byakagaba of Makerere university . The Project Co-PIs are Professor Katrina Mullan (university of Montana), Professor Jeff Vincent (Duke university), Mr. John Diisi (National (Forestry Authority Uganda)and Mr. Mr. Peter Babyenda of Makerere University.
Dr. Byakagaba said Uganda continues to experience wood deficit and natural forest loss and this led to NFA and partners to invest afforestation projects
This study intends to evaluate these afforestation projects in terms of their contribution to well-being and landuse/landcover dynamics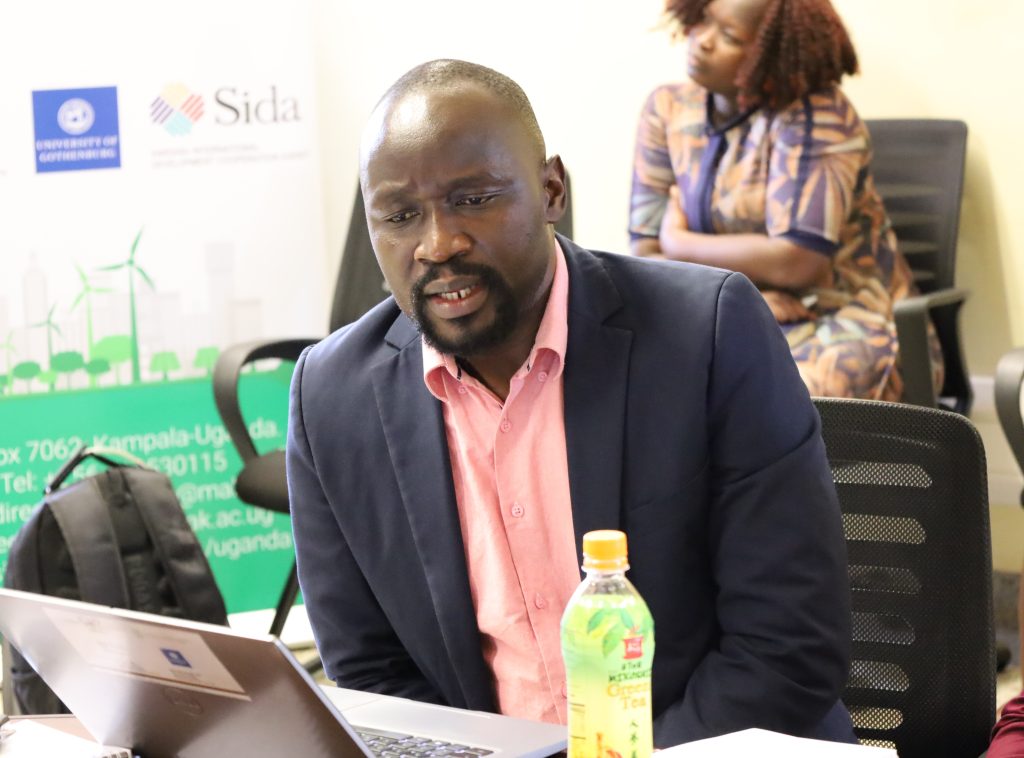 The study sites according to Byakagaba will  be villages  adjacent to each reserve and control communities will be >5km from reserve within the same landscape. The selected study areas are Katugo (Nakasongola) – long history of planting (multiple harvests) and mostly planted by NFA; Kasagara (Nakasongola) – more recent planting, by many small private planters; Bujawe (Hoima)- more recent planting, small private planters and; Kachung (Dokolo) – more recent planting, single large private planter with FSC certification
"The aim is to evaluate the socio-economic and forest-cover impacts of the forest plantations but specifically to analyse the impacts of NFA afforestation programs on human well-being
and also to assess the impacts of NFA afforestation programs on land use/land cover dynamics
The proposed proxy indicators for household well-being that will be studied include; employment, income, food security, poverty" Byakaga explained adding that spatial land use/cover datasets from the National Forestry Authority will be used for assessing landuse/landcover dynamics, and, the Theory of change by SPGS will be applied in interrogating the impacts
Report by
Jane Anyango
Communication Officer
Makerere University to set up an agro-processing skilling hub in 2024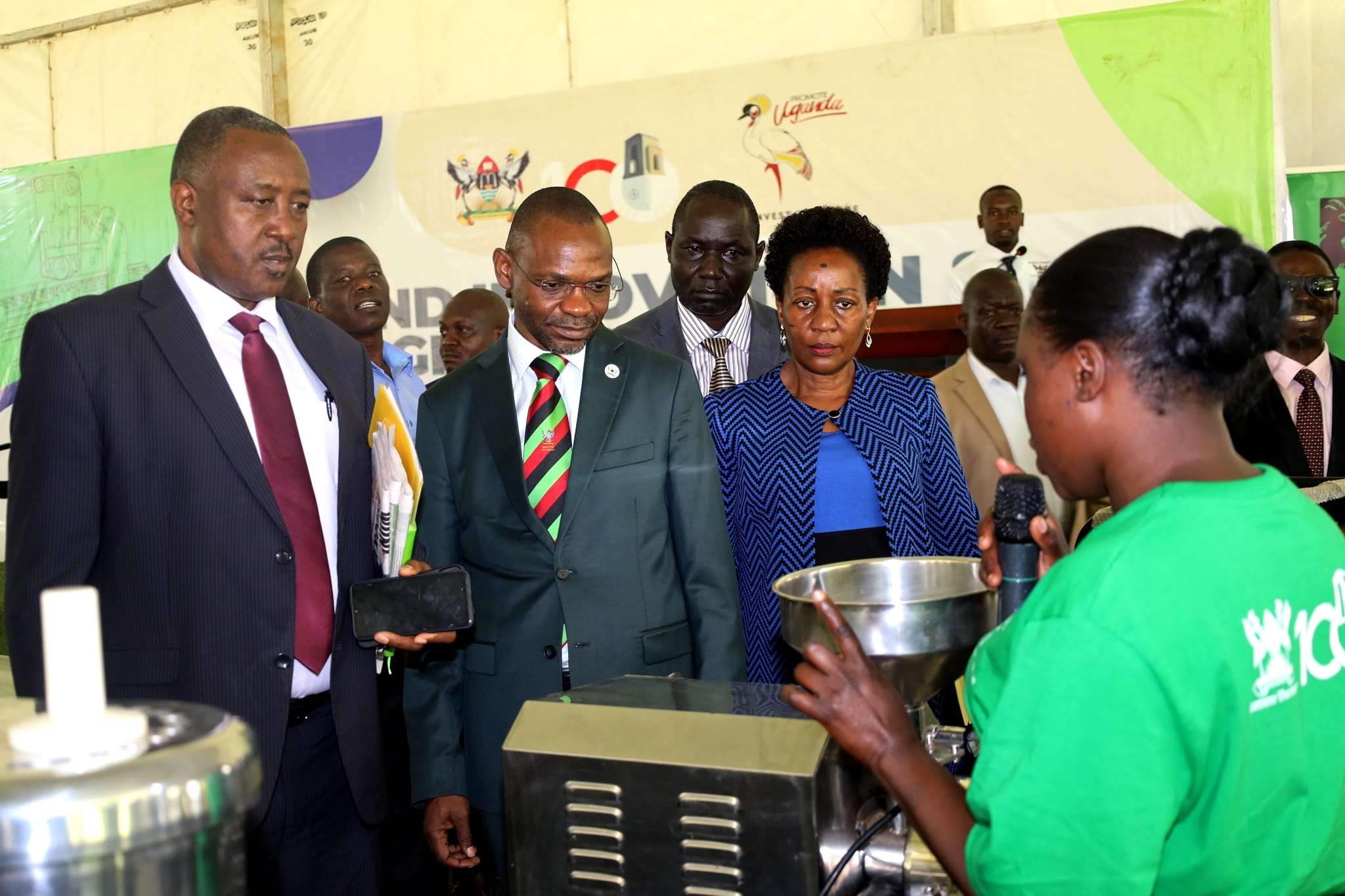 Makerere University in partnership with Promote Uganda Company Limited (PROUL) is set to establish an agro-processing skilling hub next year to expose students to agricultural machinery.
The hub that will be based at Makerere University main campus in Kampala will house agricultural machines that add value to agricultural products.
While unveiling the initiative on Thursday, November 23 during the opening day of the three-day 2nd Innovation and Agro-processing machine exhibition at Makerere University's Freedom Square, Mr David Nsubuga, the Director for PROUL said many youths remain unemployed despite their academic qualifications and it is high time they embraced new technology to create more job opportunities for the graduates. He revealed that the university will be signing a memorandum of understanding with PROUL next week.
"On top of the courses students are studying, we are going to establish a skilling center where they can be exposed to the machines that add value to agricultural products. We believe that when they start buying and selling finished agricultural products, this, will start them on the journey of industrialists." he noted
The Vice Chancellor, represented by his deputy Prof. Umar Kakumba, revealed that the university has student innovators who just need backup funds to transform the agricultural sector.
"They have innovated machinery that can do irrigation. We are partnering with Promote Uganda Limited to showcase some of the innovations and to be able to connect them to banks which can give them credit and be able to promote their machinery that they are producing including those that do a lot with production of finished goods." He said in a message delivered by Prof Umar Kakumba, the Deputy Vice Chancellor in charge of academics.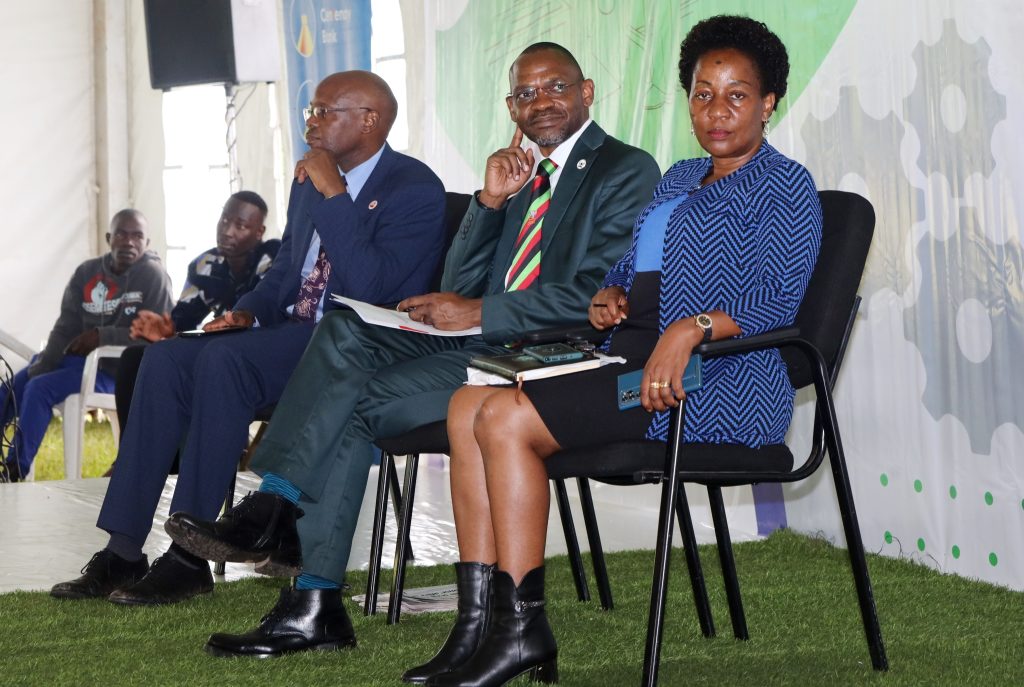 Student innovators of agricultural machinery are those pursuing degree programmes related to bioprocessing engineering, water resources engineering, dealing with mechanical engineering and students of business management sciences among others.
The 2nd innovation and Agro-processing machine expo is a three day exhibition that will run from Thursday, November 23 to Saturday, November 25.
Prof Kakumba understands 80 percent of Makerere graduates fail to get formal employment and revealed the need to inject money in such innovations to harness surging number of unemployed youth flooding the streets of Kampala looking for what to do saying, "Every year, higher institutions of learning and tertiary institutions produce about 150,000 students and yet government job slots are around 30,000 only which is a great blow to students who want white collar jobs," he added
Mr Steven Byantwale Tibeijuka, the Director Crop Protection in the Ministry of Agriculture, Animal Fisheries and Industries who represented the minister for Agriculture, Mr Frank Tumwebaze pledged on behalf of the government to support the skilling hub that will be established at Makerere University next year.
"I ask the University to put it into writing and address the letter to the minister, the government cannot fail to give you funds once everything is ready," he pledged
Dr Cathy Mbidde, the manager of the Makerere University Innovation hub said the hub was established in August 2022 under the office of the Vice Chancellor to commercialise the innovations from basically research that the university does and their main goal is to create awareness of the agro-processing machinery.
She added: "When you look at the current Uganda National Development Plan III government's agenda goal one is agri-industrialisation. As the University, yes we do research and teach but how do we work with the private sector to achieve that goal. We have students who have done research and discovered nutritional values but they don't have the machinery and access."
She believes this expo will act as an eye opener to young innovators to team up and purchase the agricultural machinery they need to start up small companies and food processing enterprises while still at the university.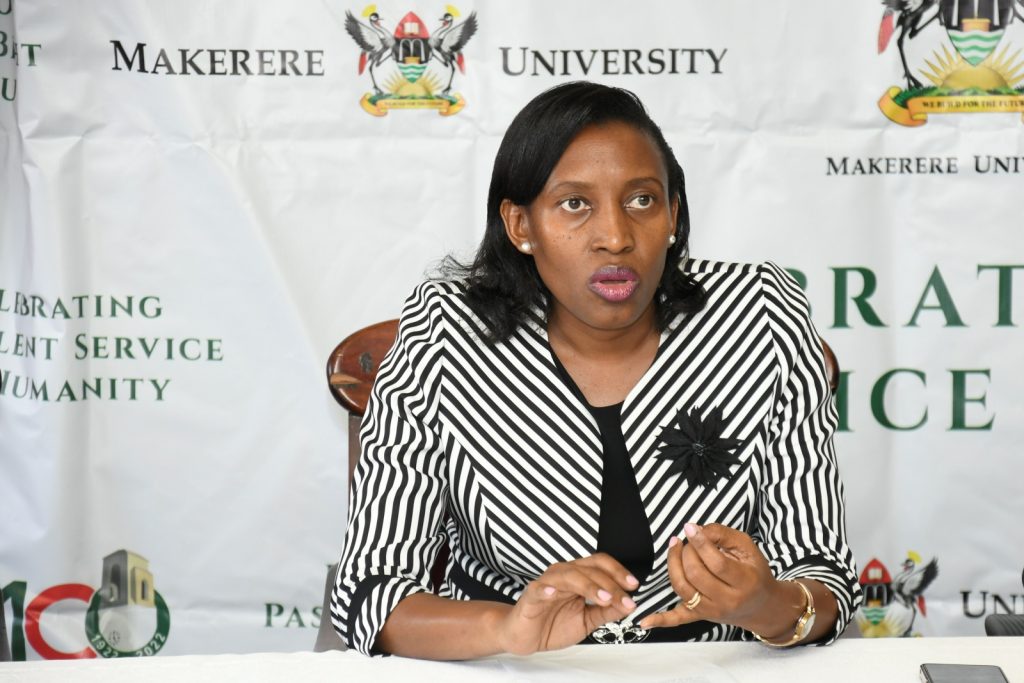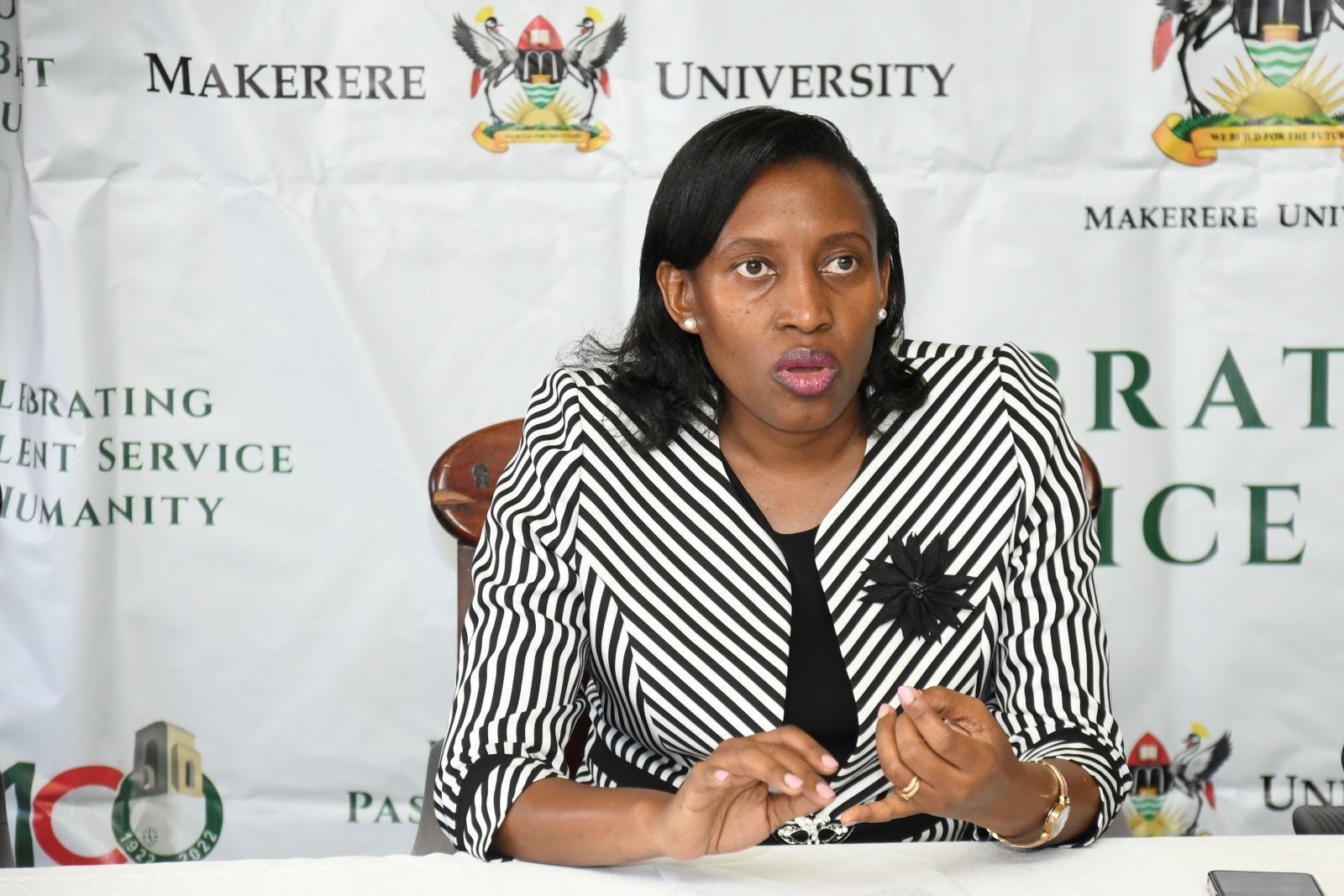 According to her, every year Makerere University graduates around 13,000 students and they can't find jobs anywhere so there is a need to come up with financing models through financing companies, Non-governmental organisations, and the government to help them to get machinery on credit.
Promote Uganda limited is a company that produces agricultural machinery and their partnership with the university is to introduce the idea of using machines to add value to agricultural products.
When many students graduate, they fail to get formal employment, and end up going to Arab countries where many have lost their lives.
Mr Nsubuga wants the skilling training on operation of agricultural machinery to be added to the students' courses.
The skilling center will help students to become entrepreneurs and know how to utilise raw materials that are readily available from agriculture to make value added products. The expo is a cross-cutting student exhibition.
Mr Anthony Akandwanaho, a student from Busitema University, said had come to exhibit a day and night dryer invented by his lecturer.
"The machine uses solar thermal during the day to dry the products which it collects directly from the sun and transpires the heat to the products for drying and solar energy during the night," he said
He noted that this machine dries products from both animal and plant types including meat, chicken, fruits and vegetables. And the maximum drying time for products is 24 hours, for those with higher moisture content like pineapples. However, for products like meat, it dries them within eight hours.
"The unique beauty with it is that you collect the water from the product and can be used for domestic purposes." Mr Akandwanaho explained
The student also exhibited a chicken de-feathering machine which is able to rip all feathers from the chicken. The mode of operation is that you slaughter the chicken and soak it in warm water for about one minute and transfer the chicken to the machines and in 15 seconds, the feathers are all removed. Its production rate is three chicken per minute.
Some of the exhibited machinery include a garden sprayer, a maize mill, grain grinder stainless, potato slicer, electric chips cutter, vacuum sealer, food dryer, bone Shaw, meat cutter among others.
EfD Uganda Stakeholders Propose Sustainable use of Biomass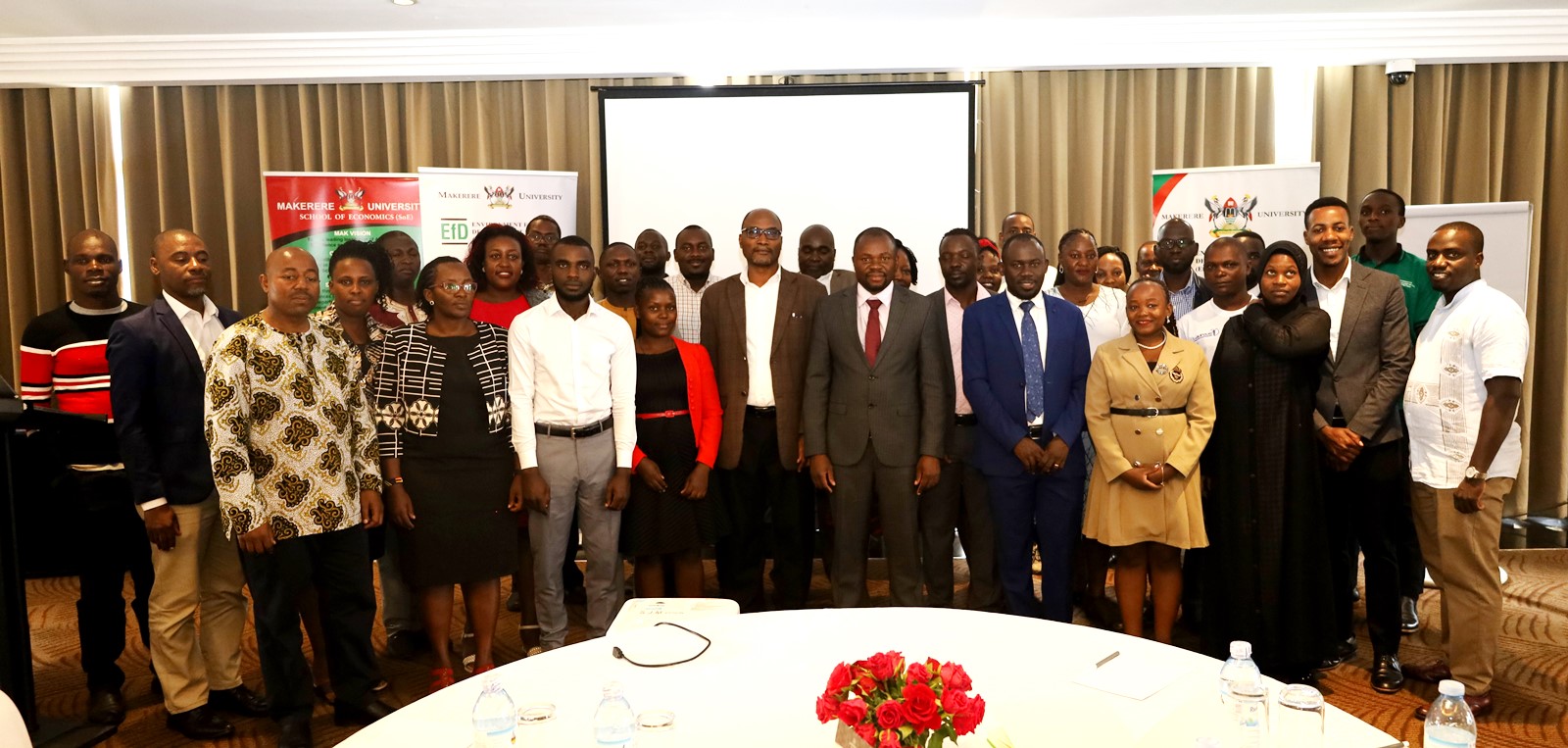 The Inclusive Green Economy program of the Environment for Development Initiative in Uganda on 17th November hosted stakeholders across the country's sectors to get their perspectives on biomass transition to clean energy sources in Uganda.
Uganda's IGE engagement specialists Dr. Peter Babyenda says this is one of the work plan item on on social inclusion where stakeholders were identified by IGE fellows during the 17th EfD Annual meeting in Ghana.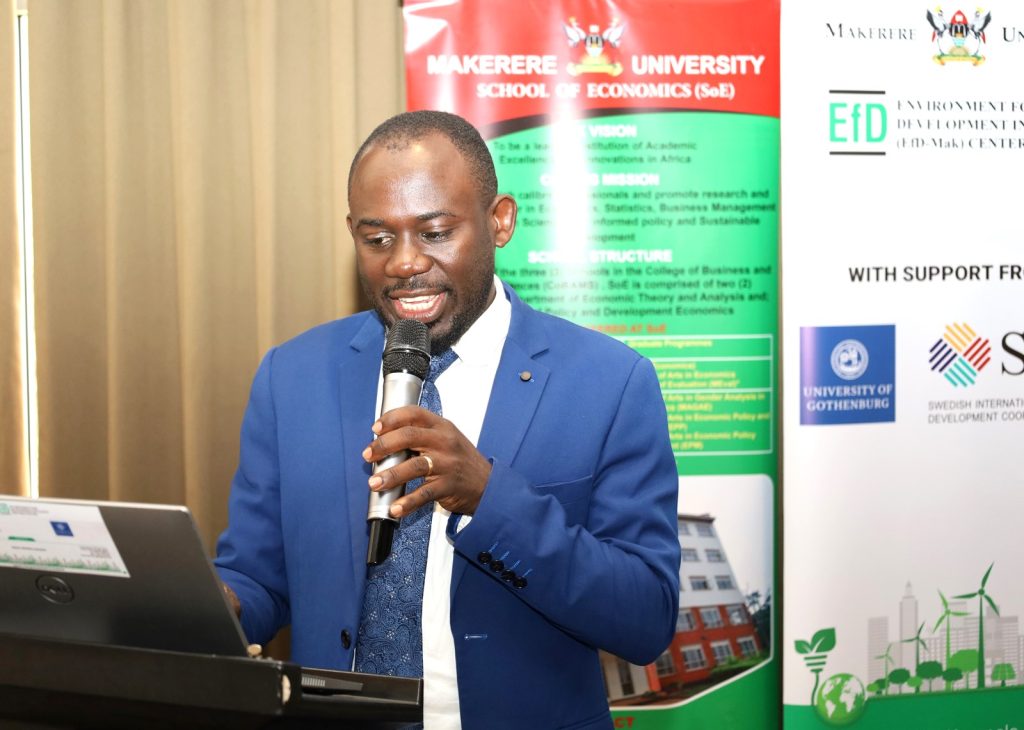 In a meeting held at Sheraton Hotel in Kampala, stakeholders gave the  situation analysis of biomass use in the country, where they want to go, how to go there and who should take the country there.
"We found out that almost 90% of our households depend on biomass whether in rural areas or town. This is attributed to cultural issues where certain foods are believed to have good taste when cooked on firewood or charcoal, the fear to use electricity and gas that may result to shocks and fire explodes, inaccessibility to clean energy sources and affordability issues."
The meeting resolved to primarily focus on behavioural change efforts of the sustainable use of biomass and gradual transitioning to clean energy sources.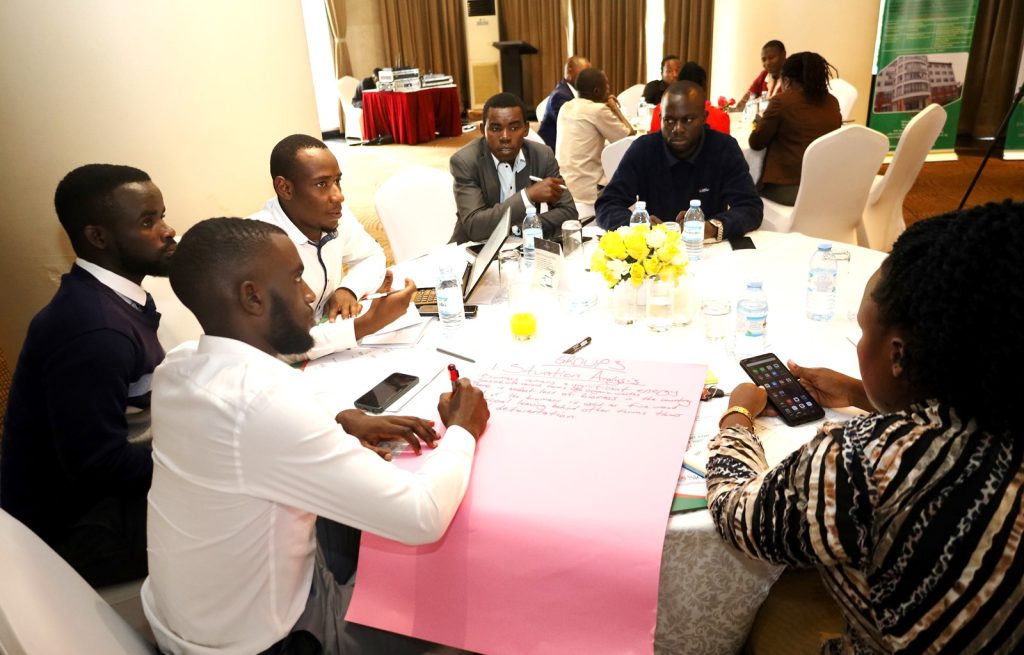 'We concluded that for now we cannot say let us move to clean energy but go slowly go slowly  on sustainable use of biomass by planting more trees so that instead of depending on natural forests, we depend on plantation forests, use energy saving  stoves and those  that can save users on effects of smoke and slowly move to clean energy sources by connecting households to electricity and make it affordable and make gas available at an affordable cost'´Babyenda said.
The meeting also proposed the need for more awareness creation about alternative energy sources such as biogas for schools and prisons.
Representing the Principal College of Business and Management Sciences,  Dr. Yawe Bruno thanked Sida through the EfD Global hub at the University of Gothenburg for funding  the IGE program and the EfD-Mak centre.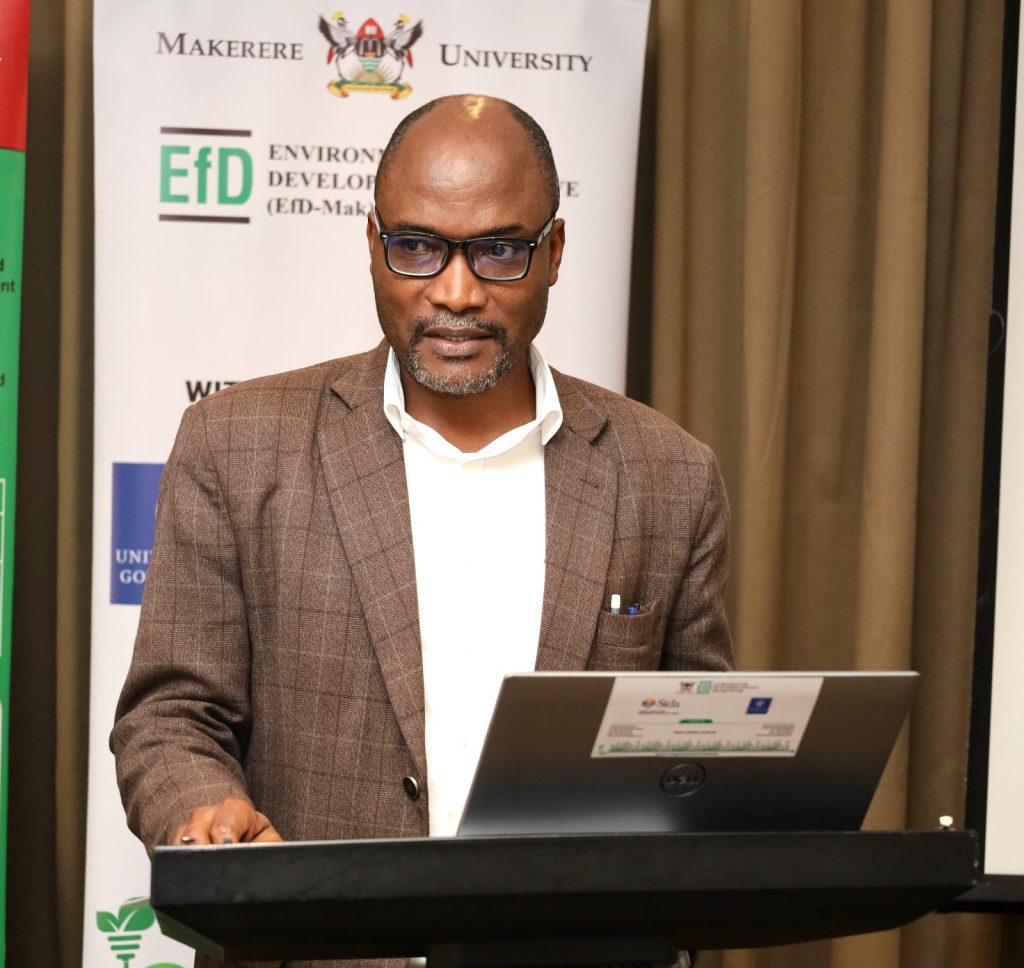 "The use of biomass in Uganda has persistently remained high. 80% use firewood and 13% charcoal for cooking but there is a proportion that use a combination of those two. This imposes great implication for household welfare.
Biomass usage affect our productivity, schooling of children, labour market participation especially by women and children. On health, the use of biomass especially firewood causes eye defects, breathing difficulties, snake bites, body dislocations and sexual abuse," He explained.
Besides household effects, Yawe noted that reliance on biomass has effects on the environment.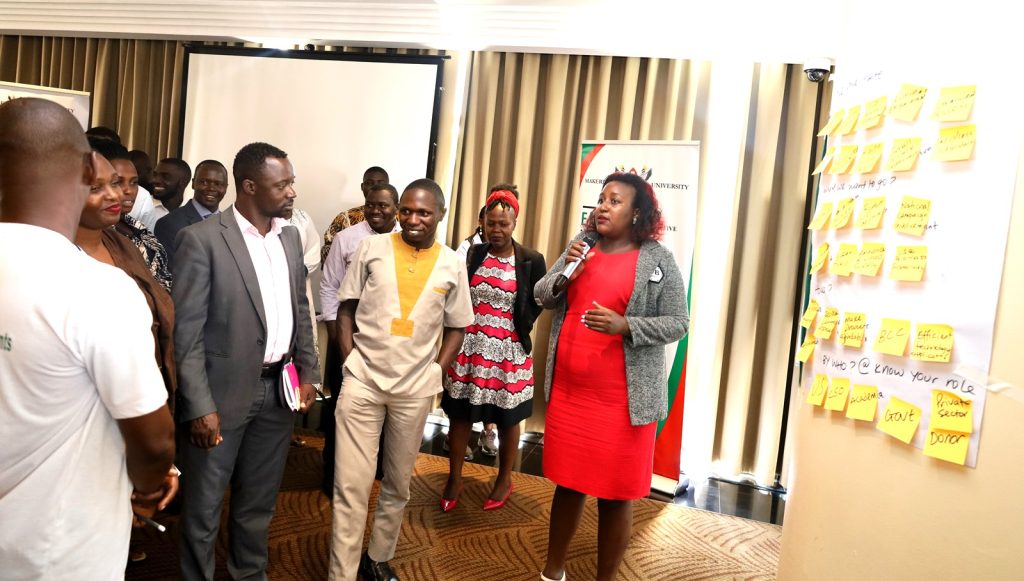 Yawe reported that Uganda's forest cover is being threatened by biomass usage reducing it from 24% in 1990 to less than 9% to date. Transiting to renewable and clean energy requires clear understanding of supply and demand relationship for both biomass and clean energy.
"We must know what drives the uptake and while many can afford gas and electricity, why are we insisting that we should have charcoal? Comparatively,  a 6kg gas cylinder costs 60 thousand and today a bag of charcoal costs not less 70 thousand but some households find it cheaper which is expensive and because of the felling of trees, the quality of charcoal may not last more than a week,"
He challenged stakeholders to find out why the supply and demand for biomass is still high amidst detrimental effects and why the supply for clean energy is still low amidst numerous innovations.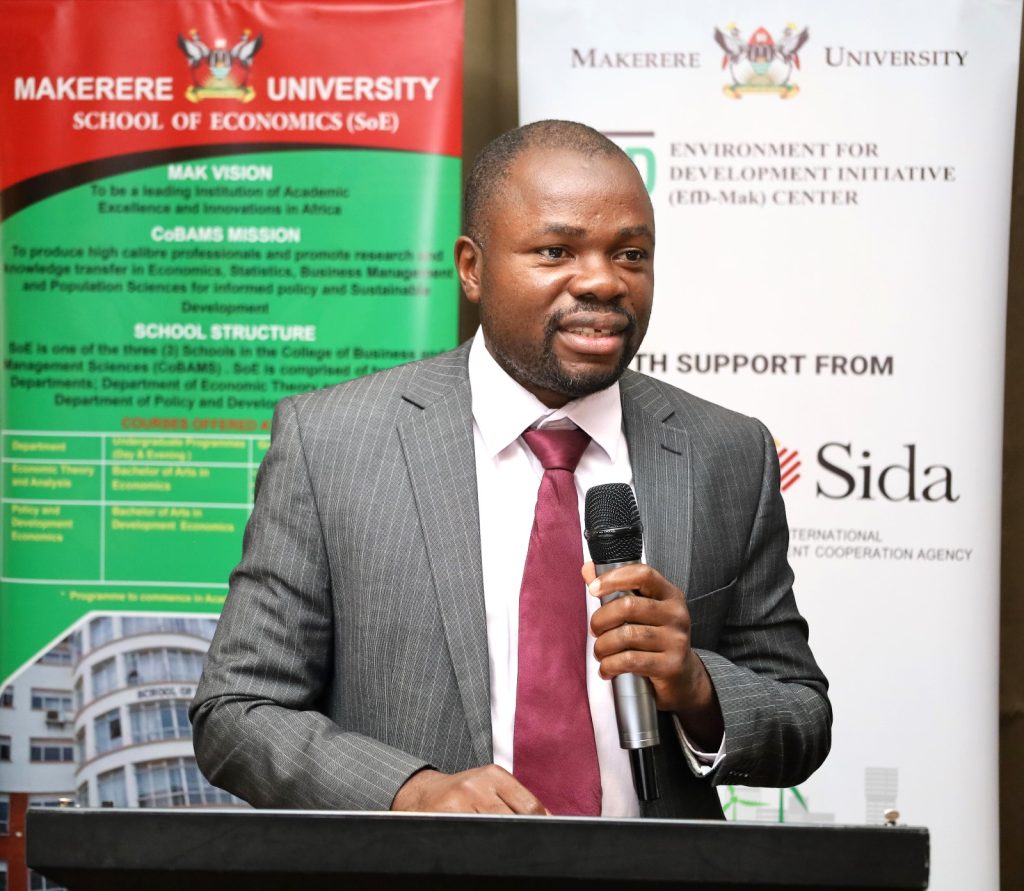 Representing the Director EfD-Mak Center, the Dean, School of Economics Dr. Mike Okumu said many households are struggling to transition from firewood and charcoal due to socioeconomic characteristics that define them.
Okumu attributed the climate change effects to the household behaviours and enterprise behaviour and challenged stakeholders to find innovative ways of co-existing with the environment to enhance productivity and also feed communities
He congratulated the IGE engagement specialists for being intentional in identifying the participants taking into account that the majority and poorest population resides in the rural Uganda, and Uganda's biggest population being the youth.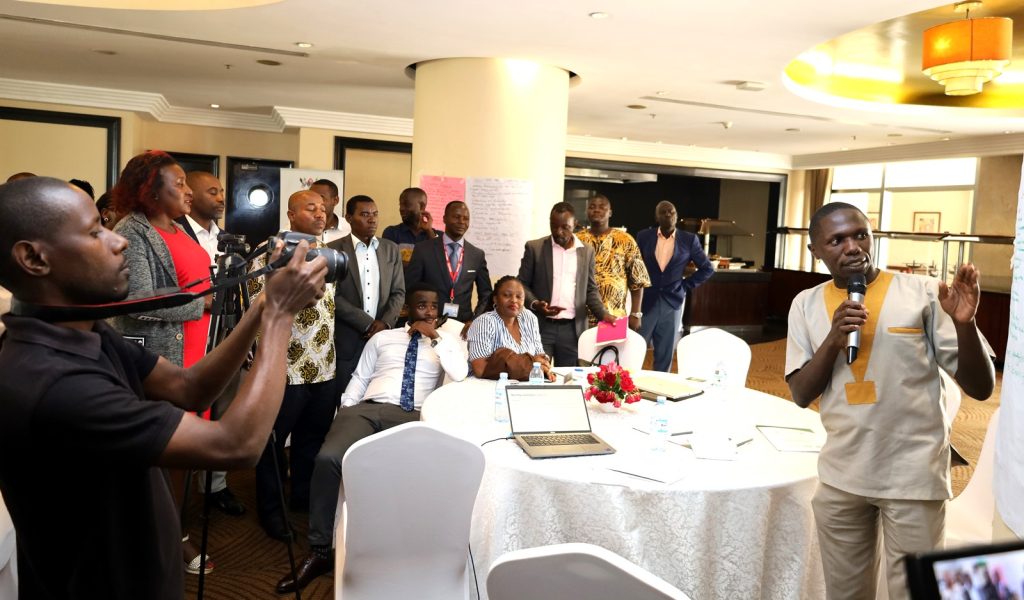 The meeting comprised specialists in environmental conservation, researchers in renewable energy specifically biomass energy, persons dealing in innovations in sustainable productivity, those working with rural energy transition and renewable energy through use of waste plants and  animal residues and persons engaged in youth environmental initiative particularly agroforestry.
Okumu  also congratulated the EfD-Mak centre for bringing on board collaborative partners from different Ministries,  Departments and Agencies , the private sector and Civil Society organisations.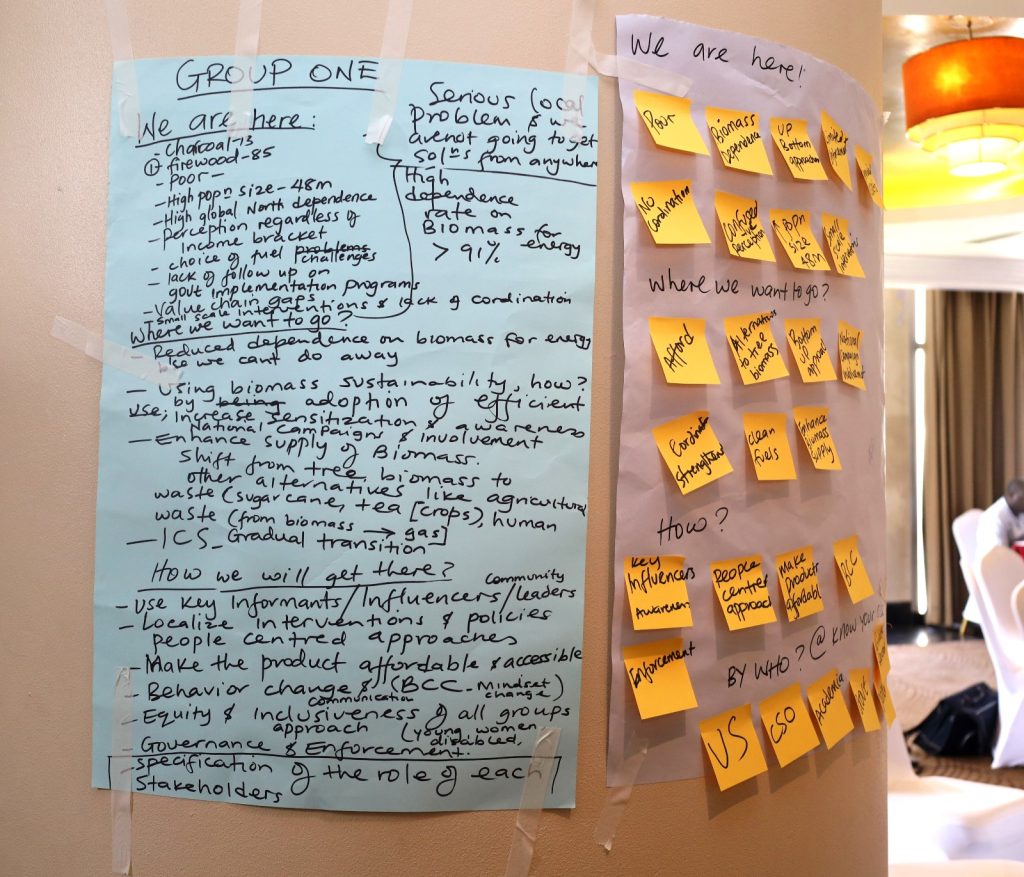 He expressed the centre's commitment to engage in similar engagements for purposes of having a drive into a cleaner Uganda and mitigating climate change effects on Uganda's economy and a drive to having persons making informed decisions towards a better climate sensitive Uganda.
Jane Anyango is the Communication Officer EfD Uganda
Researchers call for creating of fund to support industrial symbiosis for sustainable entrepreneurship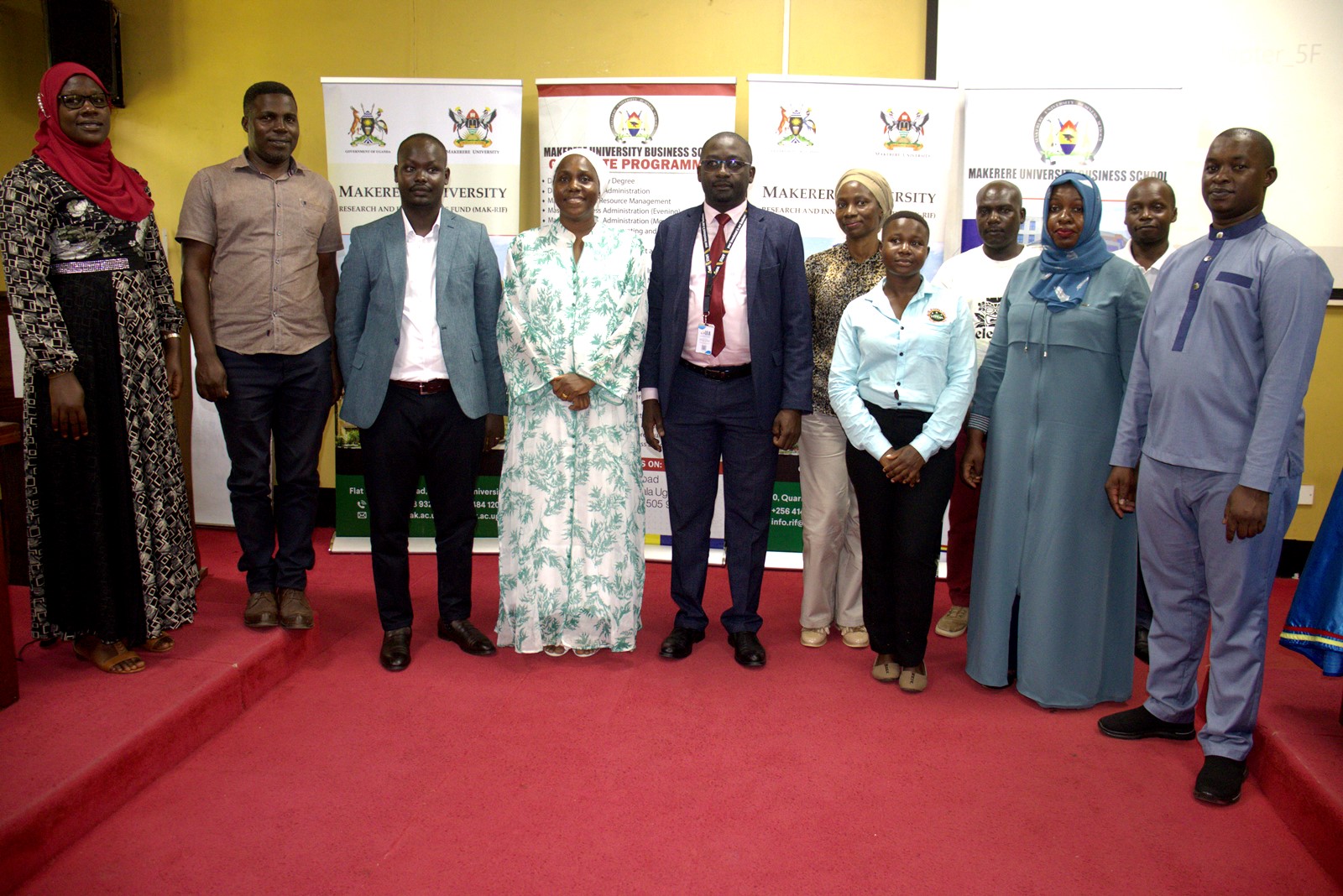 Government has been advised to create a fund to support Small and Medium Enterprises to implement symbiotic practices, which they say will foster sustainable development.
Dr. Saadat Kimuli Nakyejwe, the principal investigator, and Dr. Kasimu Sendawula from Makerere University Business School and the College of Business and Management Sciences at Makerere University, respectively, argued that if firms practice industrial symbiosis (working together to forge a mutually beneficial relationship), they are bound to grow. This symbiosis may take different forms, such as knowledge sharing, raw material sharing, and the sharing of machines and space, among other things. 
Dr. Saadat said these mutually beneficial relations will result in more profitable businesses, conservation of the environment, reduction in production costs, and creation of jobs. Furthermore, he emphasized that industrial symbiosis can also lead to innovation and increased competitiveness within industries. By collaborating and leveraging each other's resources, firms can develop new products and services that meet evolving market demands. Ultimately, this not only benefits individual businesses but also contributes to overall economic growth and sustainability.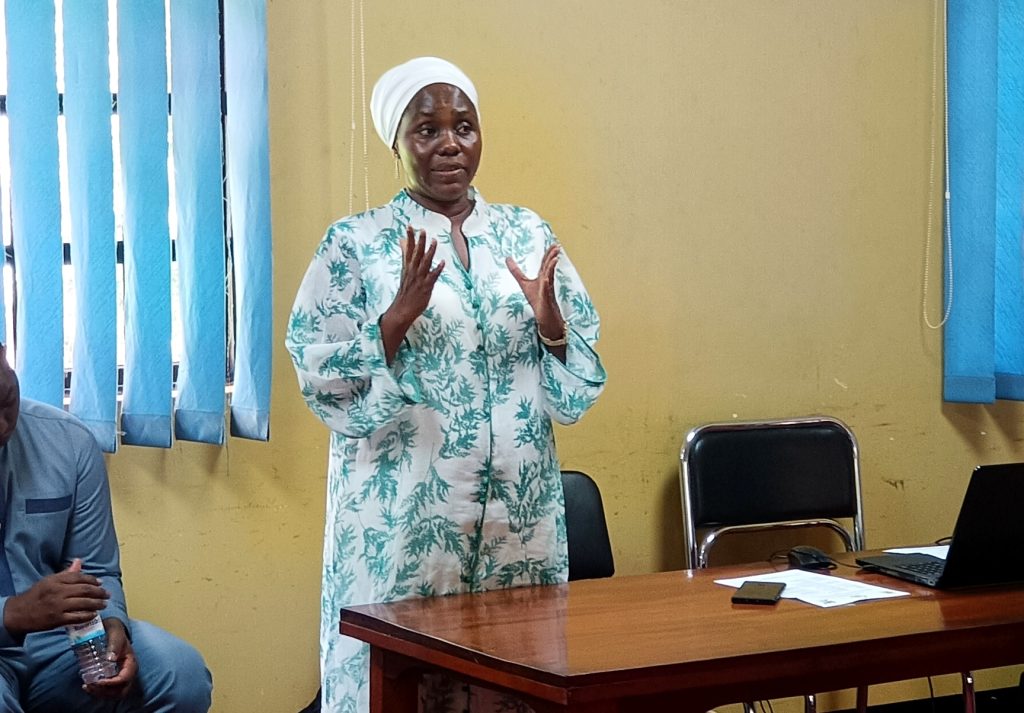 Dr. Kasimu Sendawula, the Co-PI of the project, said there is a need to sensitize entrepreneurs about the benefits of industrial symbiosis, emphasizing that it can lead to cost savings through resource efficiency and waste reduction. Additionally, industrial symbiosis can foster a more circular economy by promoting the reuse and recycling of materials, reducing environmental impact, and promoting sustainable practices.
The research was looking at "Exploring the Potential of industrial Symbiosis as an Innovative strategy to foster sustainable Entrepreneurship in Micro and Small Enterprises in Uganda" a research funded by Makerere University Research and Innovations Fund.
The researchers also called for an amendment to the current Micro, Small, and Medium Enterprise (MSMEs) policy so that it can address the environmental, social, and economic issues undermining the potential of MSMEs to undertake industrial symbiosis.  By incorporating industrial symbiosis into the MSMEs policy, it can provide the necessary support and incentives for businesses to adopt sustainable practices. This would not only benefit the environment but also enhance the competitiveness and resilience of MSMEs in the long run. The team also called on the government to put in place a symbiotic fund to support organizations. This fund could provide financial resources and technical assistance to MSMEs interested in implementing industrial symbiosis initiatives. Additionally, the team suggested that the government should collaborate with industry associations and experts to develop training programs and knowledge-sharing platforms to help MSMEs navigate the challenges and opportunities of industrial symbiosis.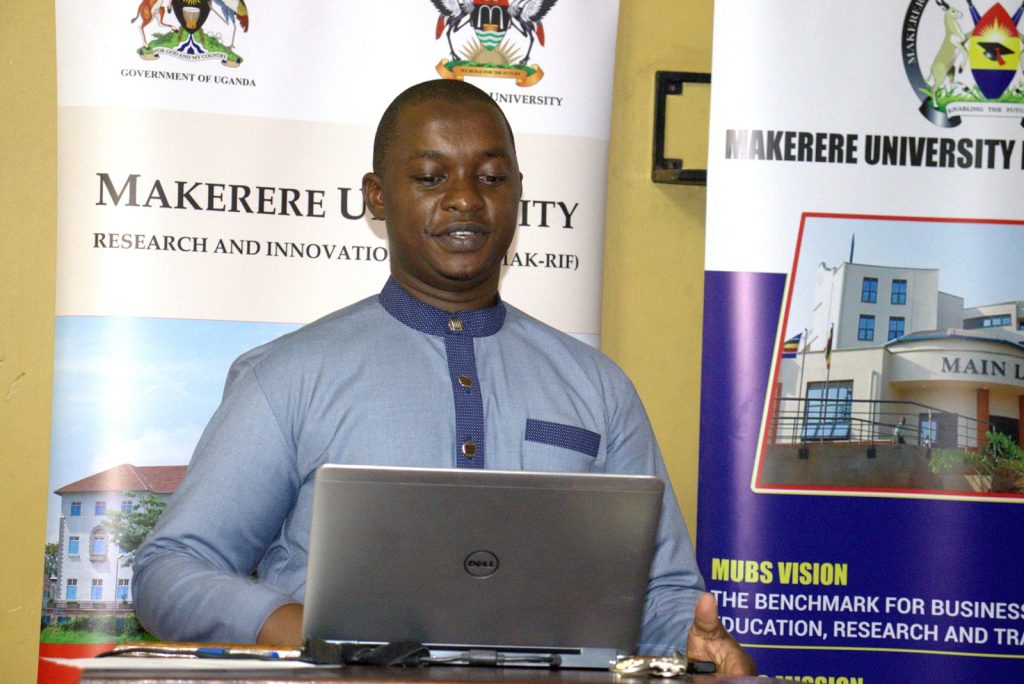 Ms. Nakalembe Betty, one of the entrepreneurs that participated in the research, shared with participants during the research dissemination on November 9, 2023, that she had successfully implemented an industrial symbiosis initiative in her textile business. She emphasized the importance of networking and building relationships with other businesses in order to identify potential symbiotic partnerships. Ms. Nakalembe also highlighted the positive impact that industrial symbiosis had on her business's sustainability practices and overall profitability. She shared that since the training, she has been able to use the waste textile materials to make decorative materials, masks, and glass covers, among other products. This, she said, has reduced her waste disposal and also increased her income. Additionally, Ms. Nakalembe mentioned that through industrial symbiosis, she has been able to establish a network of suppliers and customers who are interested in sustainable products. This has not only expanded her market reach but also allowed her to contribute to the circular economy by promoting the reuse and repurposing of materials. As a result, her business has become more resilient and environmentally conscious, positioning her as a leader in sustainable practices within her industry.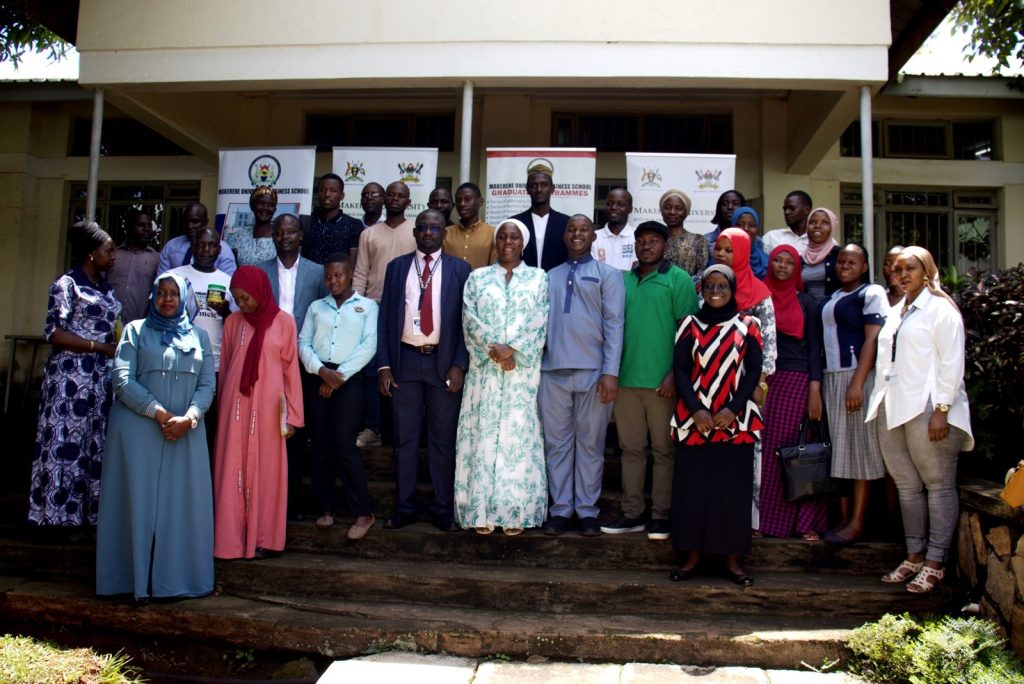 Ms. Natayi Aisha, who is in charge of recycling at Luuka Plastics, also shared that the company recycles plastic and polynene bags in an effort to reduce waste and minimize their environmental impact. By implementing recycling practices, Luuka Plastics is able to divert plastic waste from landfills and give it a new life, reducing the need for virgin materials and conserving valuable resources. This not only benefits the environment but also creates a positive image for the company, attracting eco-conscious customers who appreciate their commitment to sustainability.
Mr. Galiwango Hamza, the Director of Industrial Parks at the Uganda Investment Authority, welcomed the recommendations of the research team, saying that industrial symbiosis aligns with Uganda's goals of promoting sustainable industrial practices. He emphasized the importance of companies like Luuka Plastics in driving economic growth while minimizing environmental impact. Additionally, Mr. Hamza expressed his hope that other businesses would follow suit and adopt similar practices to contribute to a greener and more sustainable future for Uganda. Mr. Ezra Byakutangaza, from the Research and Innovation Fund of Makerere University, the funding agency, congratulated the researchers and also thanked the government for the continued funding of research and innovation. 
Research Team
Dr. Saadat Kimuli Nakyejwe
Dr. Sendawula Kasimu
Ms. Shamirah Najjinda
Eng. Dr. Ismail Kizza K.