Three Innovations Combating COVID-19 in Uganda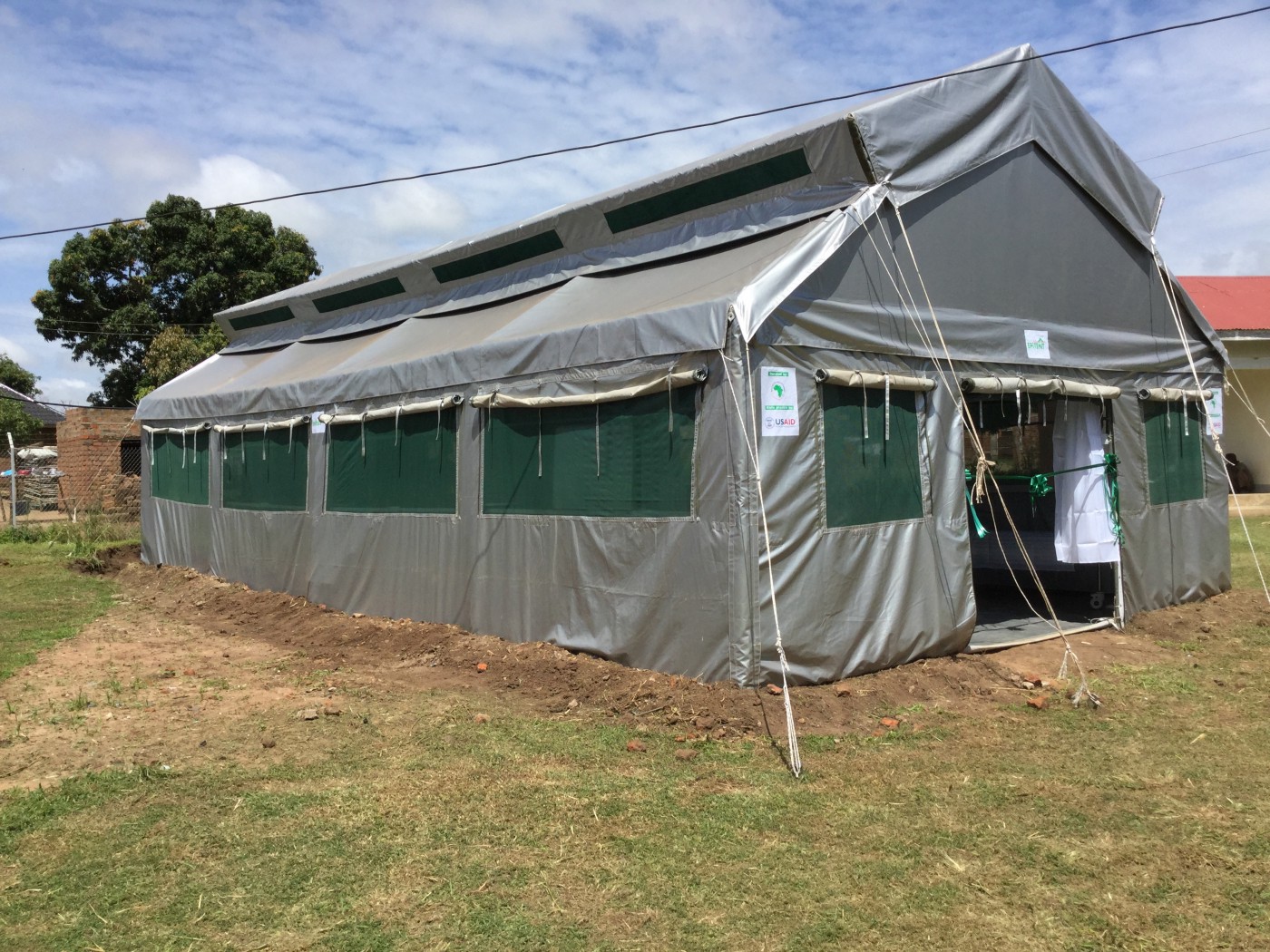 How the ResilientAfrica Network is fostering research and innovation while fighting COVID-19
By Eseroghene Oruma, USAID
Research, technology, and innovation are critical tools for international development, particularly for unprecedented challenges like the COVID-19 pandemic. People around the world are still reeling from one of the greatest health challenges we have ever faced. The pandemic impacts all our lives, and exposes the shortcomings in our health systems.
How is USAID helping and supporting our partner countries to combat this disease? Through research, technology, and innovation.
By working with local partners such as higher education institutions, USAID brings positive change in local communities that last well after USAID funding ends. Funding from USAID's Higher Education Solutions Network (HESN) provided support to cultivate an approach to development that sources ideas on how to address local development challenges from the community itself.
The ResilientAfrica Network (RAN), based at Makerere University in Uganda which was also a USAID development lab through the HESN program from 2012–2022, continues to deploy this locally driven approach in their work today. Local innovators and technologists receive guidance from RAN about how to refine and scale up their ideas. This approach to development has proven effective in creating innovations to combat the pandemic.
Digital Health Payment Initiative and Research in Africa RFAs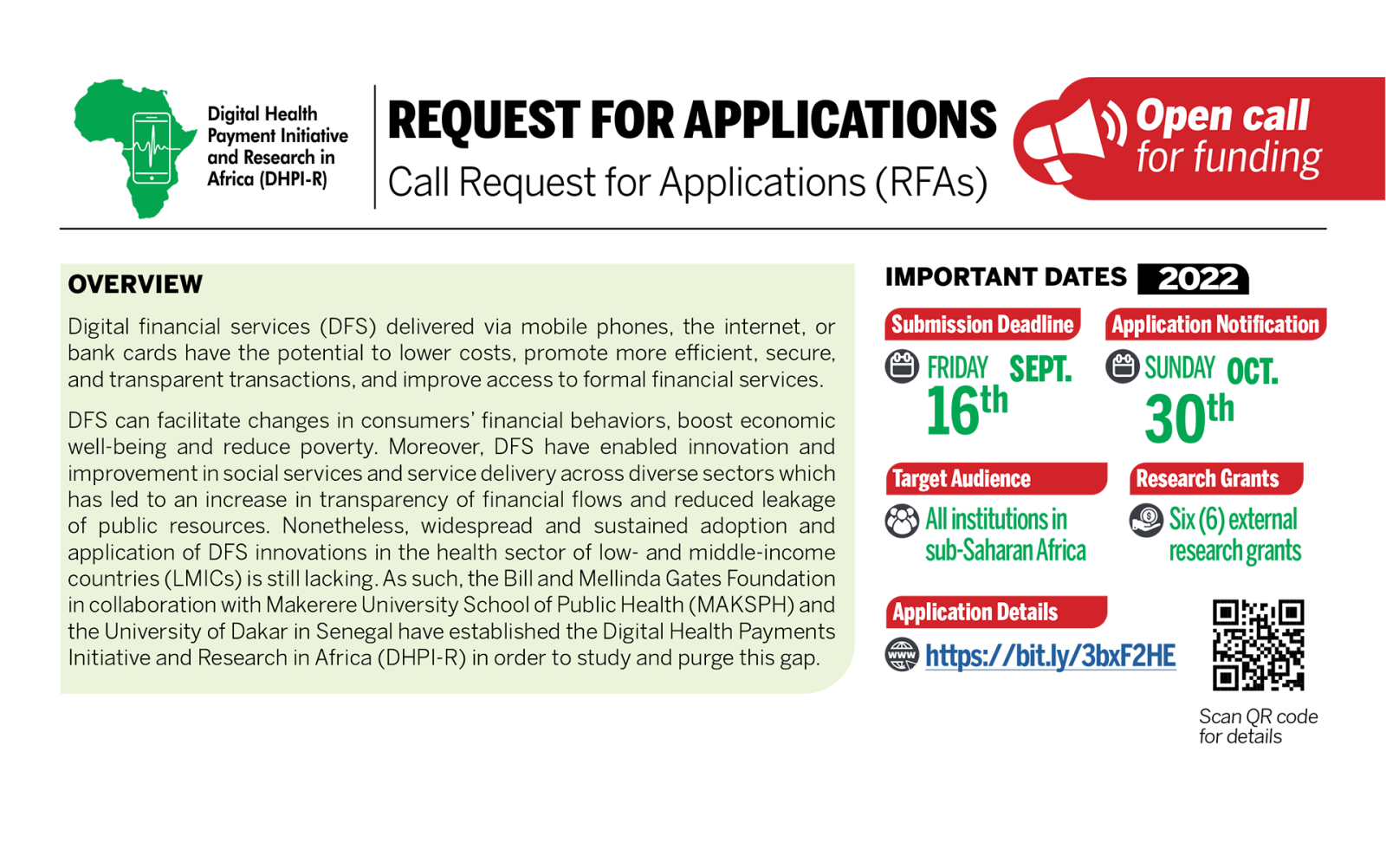 The Digital Health Payment Initiative and Research in Africa (DHPI-R), a Bill and Melinda Gates Foundation-funded project that is implemented in Makerere University School of Public Health (MakSPH) and Université Cheikh Anta Diop de Dakar (UCAD) Senegal is thrilled to announce an OPEN CALL FOR REQUEST FOR APPLICATIONS. This will foster widespread, sustainable adoption and application of Digital Financial Service innovations within the health sector of low-and-middle-income countries (LMICs) in sub-Saharan Africa.
Focus Research Areas/ Research Themes
DHPI-R is seeking applications for studies that address the evidence gaps listed.
1) Campaign Effectiveness
2) Digital Financial Services' effects on financial inclusion, safety, and security of payments
3) Health worker performance and retention
4) Payment experience and financial behavior
Funding Information
For any request made in this call, the budget goes as follows;
Large studies:12 months $200,000
Medium studies: 9 months $100,000
Small studies: 6 months $60,000
Eligibility
All Institutions within sub-Saharan Africa
Funding Restrictions and Terms
The award will be a fixed fee agreement, and the total amount of the award will be stated in the award letter. The funding is intended to support the collection, analysis, and dissemination of research. The allocation of program funds will directly correspond to the monetary figures presented in the final Budget and disbursement of funds will be initiated upon the timely receipt of invoices, financial reports, and expected deliverables.
How to Apply
Applications must be submitted in English or in French.
Applications must be submitted through our website: Submit applications here.
Application deadline: 16th SEPT 2022
Award decisions: All applicants will be notified of the outcome of their submission by 30th October 2022.
For more information and application details, see; Call for Request for Applications
WFP IGNITE Food Systems Challenge Uganda
Apply to receive up to US $50,000 in equity-free funding, mentorship and access to the world's largest humanitarian organization.
Last year, the United Nations World Food Programme launched its first regional innovation hub in Eastern Africa. Now, the hub is kicking off its flagship WFP IGNITE Food Systems Challenge in partnership with the USAID Bureau for Humanitarian Affairs and DANIDA, implemented by Outbox in search of game-changing ventures contributing to stronger, more sustainable food systems Uganda.
30.4 million people are currently facing severe food insecurity in Eastern Africa. The main drivers of high levels of food and nutrition insecurity are conflict/insecurity, climatic shocks, macro-economic instability and COVID-19. This suggests that existing food systems — all elements involved in the production, distribution, consumption, loss or waste of food products that originate from agriculture — are not meeting the needs of all people. We have seen that some food systems can easily be disrupted by climate shocks, COVID-19 and violent conflict. Even in stable environments, people have limited access to nutritious food because of geographic isolation, socioeconomic inequalities, or weak commercial markets.
This challenge celebrates Ugandan entrepreneurs who are thinking outside of the box to redesign regional food systems in service of people and the planet. We are looking for startups, SMEs and cooperatives contributing towards food security in areas such as resilience to shocks and stress, access to safe and nutritious food, optimizing regional food supply chains, empowering smallholder farmers, and advancing food security for all.
Targets: Rwanda, South Sudan, Uganda
Sectors: Agribusiness, Agritech, Clean technology and energy, Community water systems, Crop farming, Farm machinery, Food production, Manufacturing
SDG (4): 2. Zero Hunger, 3. Good Health and Well-being, 7. Affordable and Clean Energy, 12. Responsible Consumption and Production
Applications can be submitted until 20th May 2022 at 11:59 pm (EAT).
Seedstars, Lima Expresa & ProInnóvate Global Smart Cities Challenge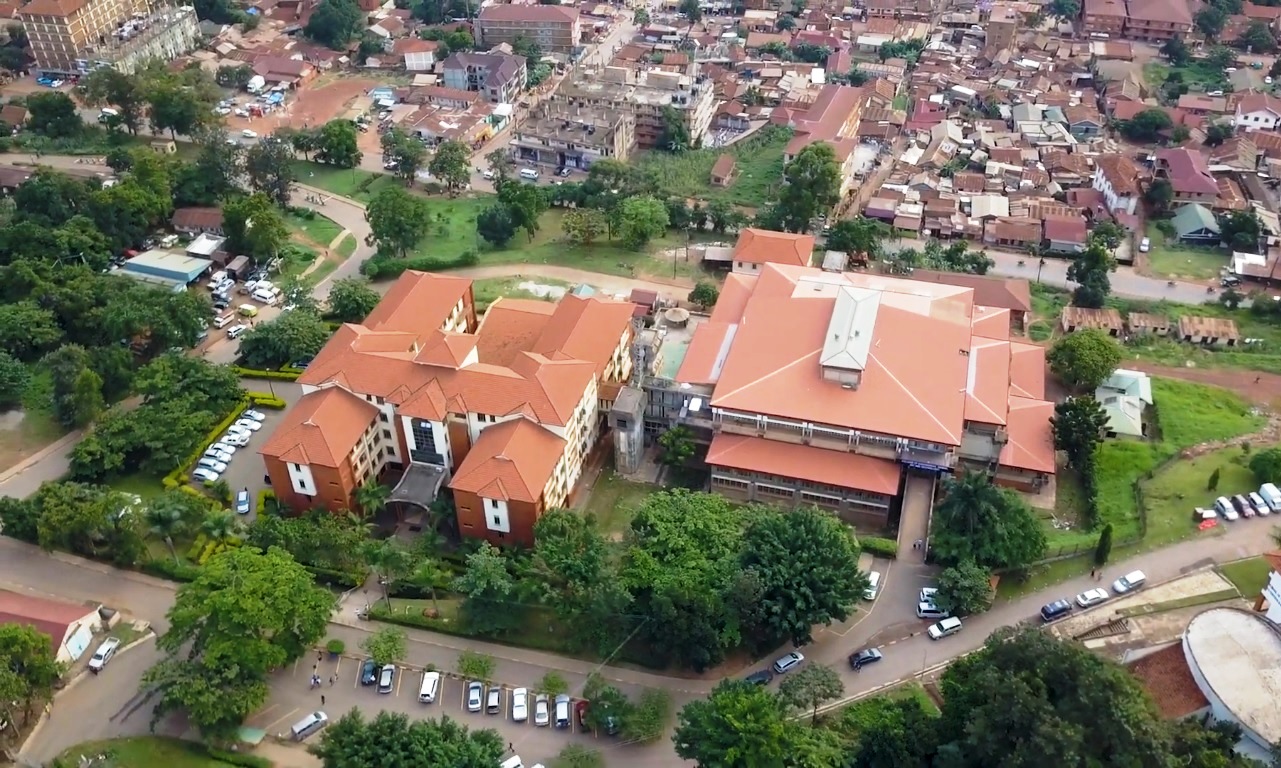 Seedstars World has joined forces with Lima Expresa, a VINCI company and with ProInnóvate Perú to organize a Global Smart Cities Challenge. The goal is to find tech companies able to solve one (or more) of the following challenges:
Accident and Incident Detection and Prevention: How to reduce incident & accident detection time?
Smart Roads: How to obtain massive data from users in Smart Roads using current infrastructure?
Waste Management & Circular Economy: How to manage 20 tons of waste per day?
Click here for more details and how to apply
Application Deadline: 15th April 2022.