Health Experts meet at MakCHS to discuss Health Professions Education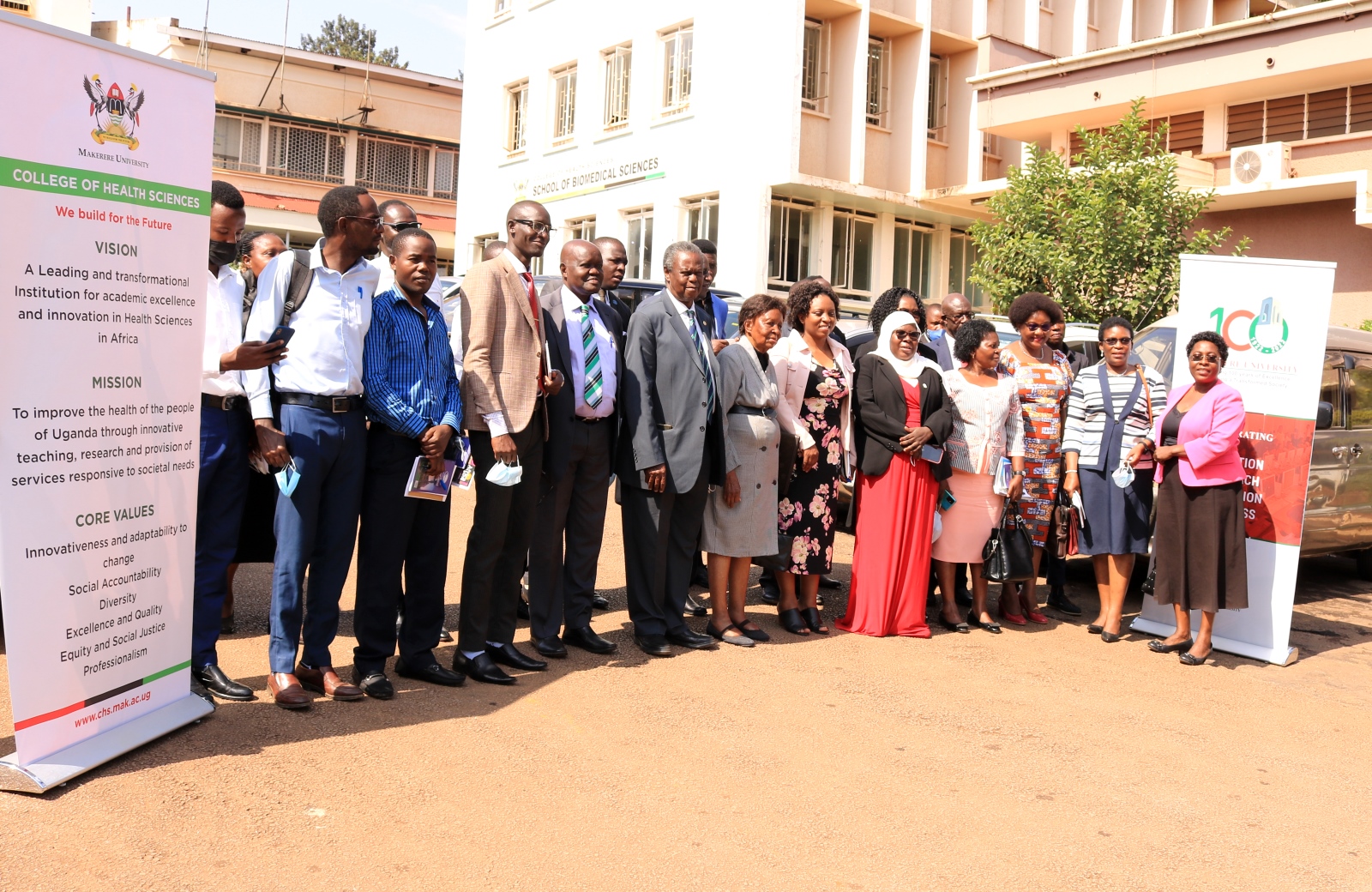 On 17th June 2022, health experts met at Makerere University College of Health Sciences (MakCHS) for a half-day symposium, 'Makerere@100: Advancing Health Professions Education in Uganda'.  Theaim of the symposium hosted by Health Professions Education Partnership Initiative (HEPI) in collaboration with The African Center for Global Health and Social Transformation (ACHEST) was 'to take a look at Health Professions Education (HPE), the past, the present and future in Uganda'. In addition, the symposium was also intended to keep abreast of emerging issues and new trends in a globalised world. The meeting was attended by academia, government institution officials, civil society, researchers and students.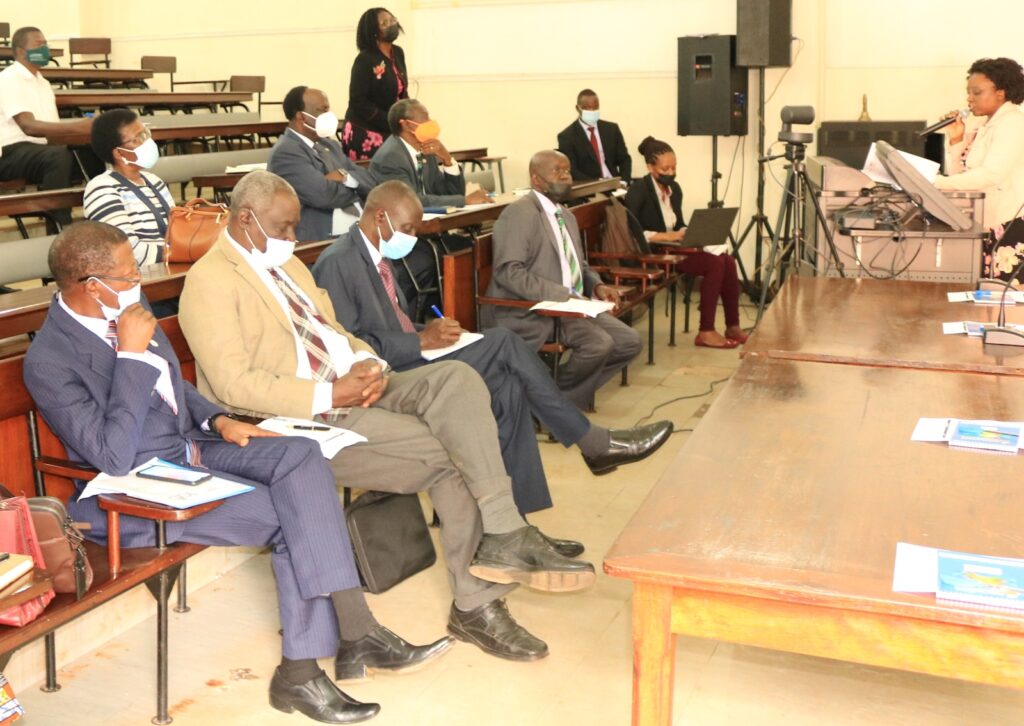 Welcoming participants to the symposium, Professor Damalie Nakanjako – Principal, MakCHS reiterated the aim of the meeting, 'to review the past, present and future health professions education in Uganda'. Professor Nakanjako stressed the importance of balancing teaching, service delivery and teaching as the three legs of the stable African stool and foundations of HPE. She traced the history of the college since establishment in 1924 as the oldest health training institution in the region and highlighting the major milestones and innovations of MakCHS. 'The college has a long and distinguished history in health education: it has been involved in health innovations, research, case management, modeling impact and has addressed: infectious diseases and non-communicable diseases" she added. Prof. Nakanjako thanked HEPI and ACHEST for the support given to MakCHS in organising the symposium. The Principal invited the Chief Guest to give his opening remarks.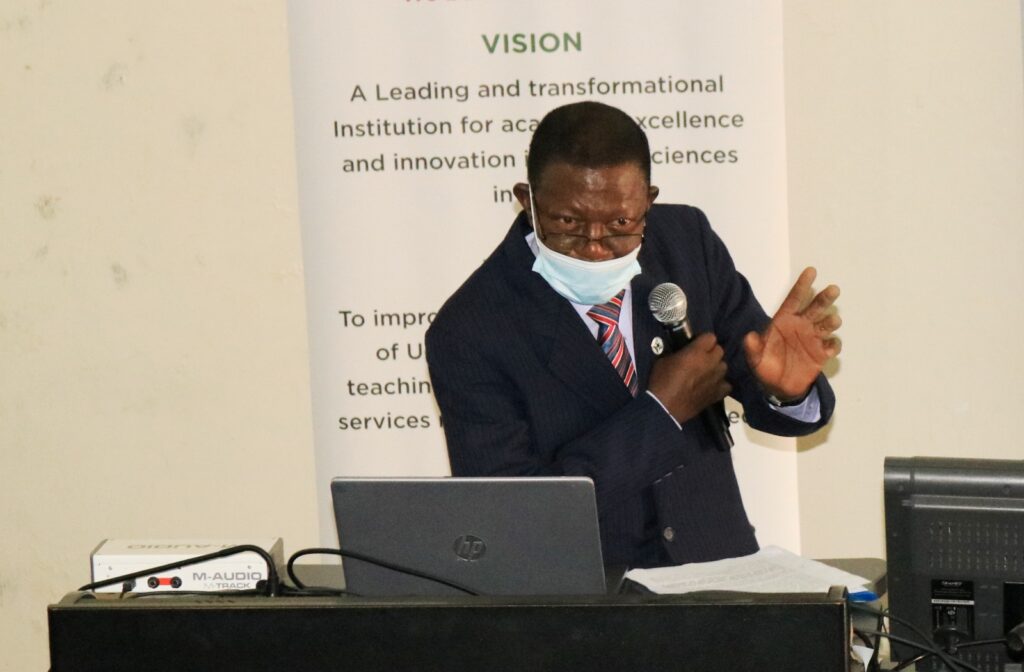 Professor Mukadasi Buyinza – Director, Research and Graduate Training at Makerere University represented the First Deputy Vice Chancellor/ Academic Affairs, Prof. Umar Kakumba as Chief Guest. In his remarks, Professor Buyinza commended MakCHS for organising the symposium bringing together senior and junior health professionals noting that, 'There is need to build sustainable health profession networks that serve as forums to share innovative ideas and learning'. He added 'quality should be considered a priority and we need to focus on professionalism, inclusiveness, communication, etc. in order to promote health education'. Professor Buyinza highlighted the role of Makerere University as we celebrate 100 years noting that during the pandemic, Makerere University responded adequately in a multitude of areas: and advised that moving forward with  lessons from the pandemic, we must promote fundamental health education. He applauded the champions behind the HEPI and ACHEST  who supported the meeting noting "this is great because for sure times have changed with the Covid-19 pandemic has been a great lesson calling for different approaches in order to strike a balance and this can only be possible with partnerships". Professor Buyinza called on government and partners to increase funding for health professions education adding that "Investment in education of training of health workers with a weak mindset, will not give us the quality health care and service we require thus a positive attitude among health professionals should be part of their education". He reiterated that new emerging issues like tele-medicine are here to stay and thus health professionals should be equipped with the competencies to handle them. He also encouraged that we must give back to society and MakCHS is challenged to remain as leader in training health workers. Prof. Buyinza officially opened the meeting thanking the organisers and wished the participants fruitful deliberations noting that he looks forward to receiving the report from the symposium.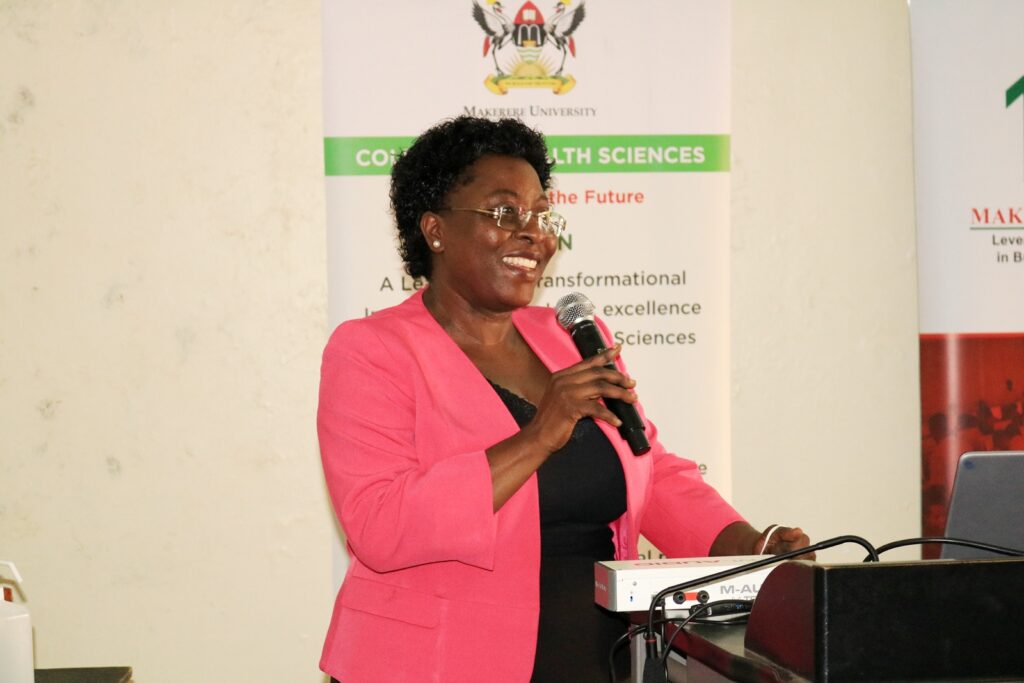 Speaking on behalf of the organisers, Professor Sarah Kiguli, Principal Investigator – HEPI welcomed participants to the symposium thanking them for accepting the invitations. She thanked Professor Francis Omaswa, Executive Director – ACHEST for the proposal to hold the symposium and agreeing to partner with MakCHS is hosting the meeting. "I thank previous leaders on whose work we are building what we do today. We can't advance HPE without strong partnerships: We need to establish and sustain the collaborations", Professor Kiguli added. She also highlighted the objectives and successes of the HEPI Project so-far.
Deliberations at the meeting were aligned along two panel discussions preceded by keynote speeches by preeminent health professionals; Professor Francis Omaswa and Professor Nelson Sewankambo.
In his keynote speech titled, 'The Global Health Workforce Crisis: the role of Academic Institutions', Professor Francis Omaswa shared the global statistics for health professions training and patient ratio noting that it's not a good picture. He highlighted that populations globally are living longer and require health services. However, in the global north there are less young people to train as health professionals thus recruiters are looking to the global south, Africa and Asia are most affecting because our trained health workers are migrating due of poor pay. On Africa Uganda specifically he said "there are shortages in Africa but our professionals are recruited to serve elsewhere. We don't have money to employ health workers despite the increasing population". Professor Omaswa gave the critical success factors for better health services and HPE in Africa including: Political Commitment and good governance; Workforce planning and Enabling Environment.  He also proposed key competencies for today's health work, these are: Work where services are most needed; Respond to health needs of community; Deliver quality care; Clinical excellence; Be leaders and change agents; Self-directed learners and Effective communicators. Professor Omaswa advised that there must be strong link between the health system and health profession education institutions adding 'stop grumbling and start acting, when we act together we will go much further and achieve more. Let this symposium be the beginning of us as change agents'.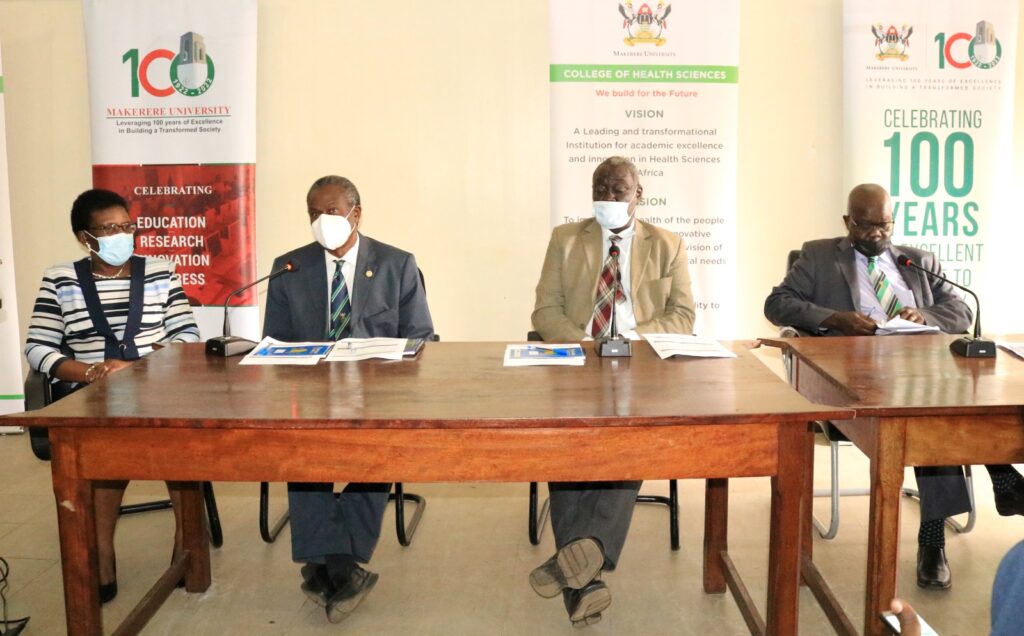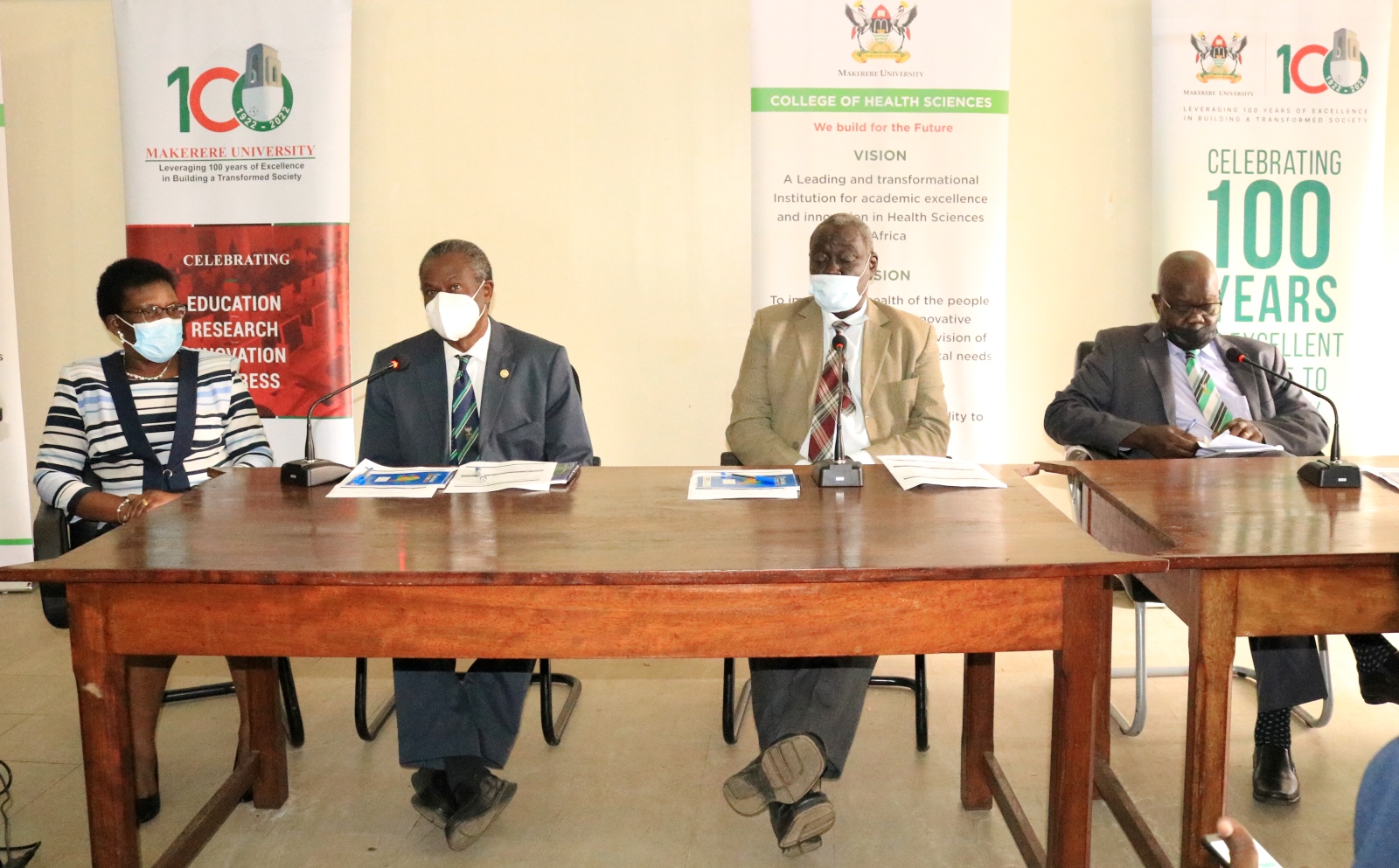 Panelists to discuss Professor Omaswa's presentation were Professor Elsie Kiguli-Malwadde, ACHEST; Professor Jehu Iputo (Busitema University); Professor Joel Okullo (Uganda Medical and Dental Practitioners Council, Professor Sarah Kiguli (HEPI/MakCHS) and Representative from National Council for Higher Education. A key issue raised from the panel discussion was the need for a link between stakeholders in the HPE sector and a call for education institutions to plan their teaching programmes in response to the health sector.
In his keynote speech titled "Health Professions Education (HPE) in Uganda, past present and future", Professor Nelson Sewankambo noted that the current curriculum is old and doesn't reflect health & disease prevention adding that we need to strike a balance between curative, health services & disease prevention. Prof. Sewankambo urged lecturers and staff in health institutions to help the young generation, students in particular, "let's take the young people by hand to strengthen the future generation, we are not doing what we are supposed to do", he added. Professor Sewankambo also called for closer working relationships between teaching hospitals and health profession training institutions and echoed Professor Omaswa's call that staff stop lamenting and get to work.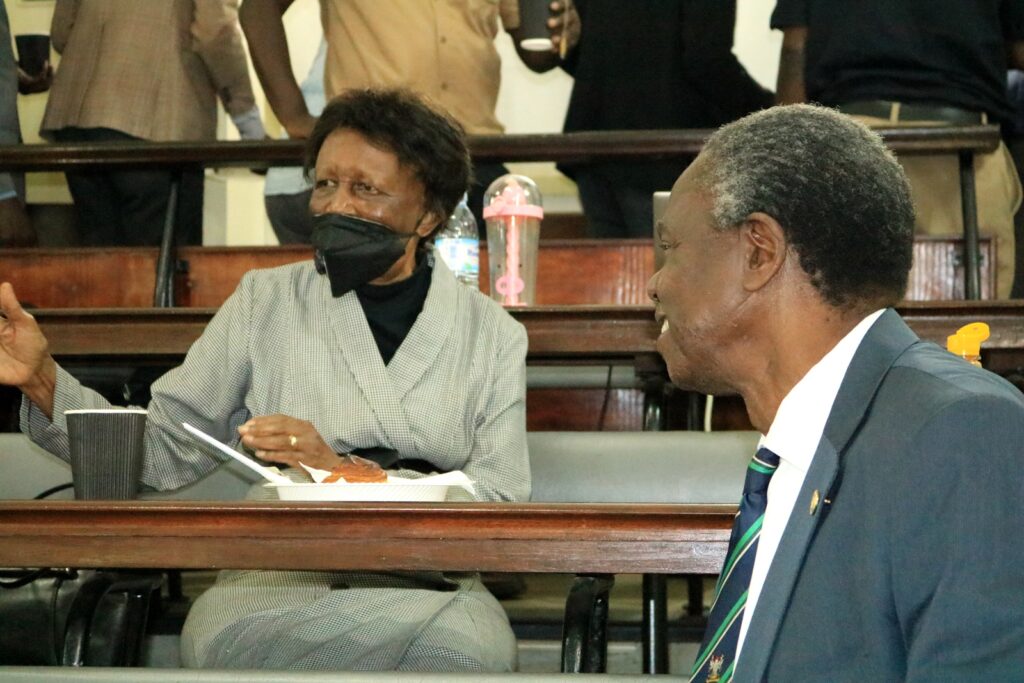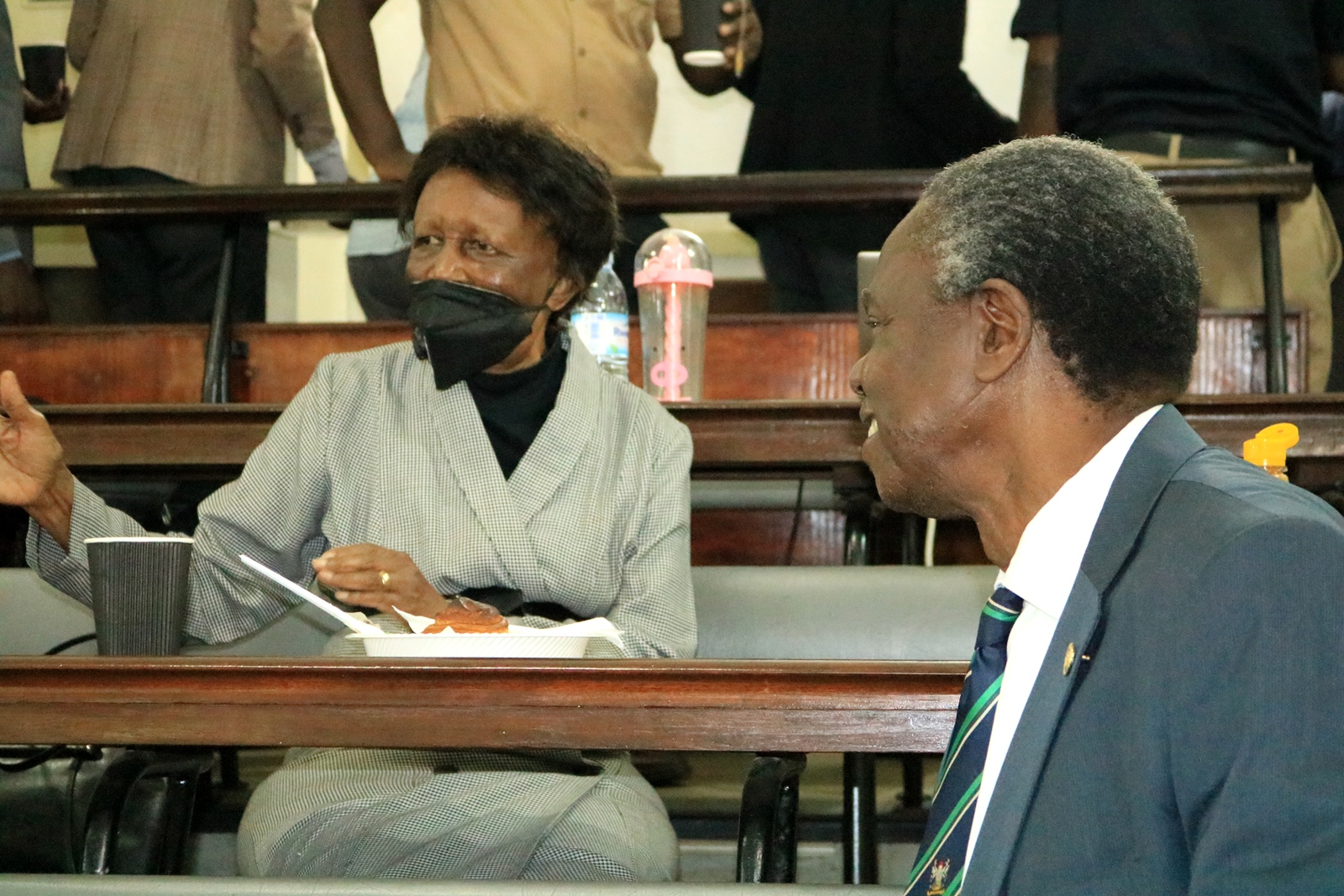 Panelists to discuss Professor Sewankambo's presentation were Professor Josephine Namboze, the first female doctor trained at Makerere University; Dr. Safina Museene, Ministry of Education and Sports; Professor Pius Okongo, Health Service Commission and Ms. Elizabeth Ekong Namukombe, Uganda Nurses and Midwives Council. Key issues raised from the panel discussion was a call for research to inform planning for health institutions; revision of establishments at health institutions and job evaluation to reflect current developments; and partnerships between institutions rather than competition.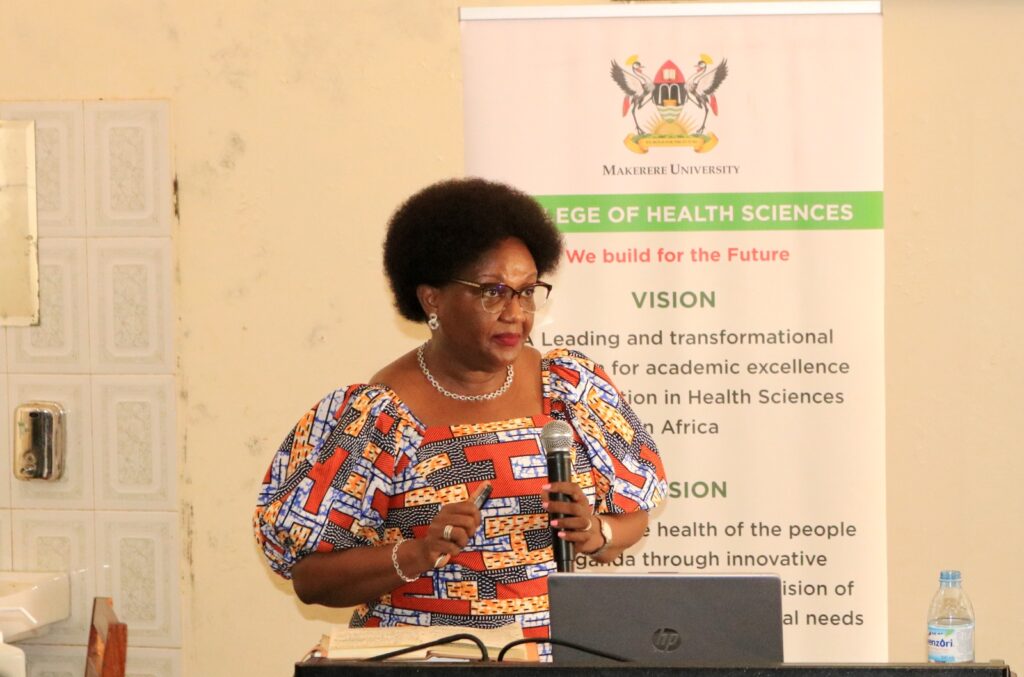 A wrap-up and way forward from the meeting was presented by Professor Rhoda Wanyenze, Dean – School of Public Health. Professor Wanyenze advised that competencies for health professionals need a critical revision calling for skills aligned to current environment for the products from health training institutions. "When we train people are who are knowledgeable with a lot of theory it's only as good as having critics, however we need to train skilled people in the health sector", she added. She highlighted the following issues for consideration as next steps:
Need for a national Strategy and Plan: Informed by the National Health Policy and Plan as well as emerging issues in health e.g. move towards healthier societies, revitalizing Primary Health Care to drive UHC and comprehensively address health determinants.

a. Address the numbers, cadre mix and quality with attention to current gaps in development of some professions e.g. nursing, dental, pharmacy, among others
b. Network with relevant bodies to address the issues within the Qualifications Framework and MOH HRH Plan
c. Integrate linkages between Health, Education and other relevant sectors in line with the NDP move towards multi-sectoral collaboration

Strengthen Health Training Institutions

a. Teaching infrastructure including space, laboratories, simulation and community labs (need collaborations with communities and other organizations for student hands-on learning), and to streamline agreements between teaching institutions and teaching hospitals.
b. Curriculum aligned to competencies—streamline issues of standardization of curricular within the country and the EAC region, and move beyond knowledge and skills to professionalism and transformative leadership in competences, and integrate the critical components of health promotion and prevention
c. Trainers: Numbers, mix of disciplines and expertise and quality: Comprehensive training and capabilities in teaching, research and community service as well as leadership and governance; need Education Units to support trainers and Research Units to support research management
d. Explore inter-sectoral/Interdisciplinary programs—break the silos to appropriately prepare the trainees to work across disciplines and sectors.
e. Governance and Systems Leadership: Functional, effective and efficient systems with relevant networks for health professional training
f. Teaching institutions systems for appointments and promotion need a review of the definition of scholarship—beyond PhDs and publications to critical grounding in disciplines, professionalism and leadership in the field
g. Collaborate with relevant structures within Health, Education and Finance to address the issue of scholarships for graduate students

Collaboration and networks across universities (south-to-south, within and across countries, north-south), with training hospitals and communities
Financing: Review and streamline models and level of financing for health training institutions and related regulatory structures such as the Professional Councils

a. Joint training, research and service collaborations
b. VC, Deans Forums across universities for experience sharing and joint learning

Health professionals Forum: Annual meeting to share experiences and learnings, and joint planning as well as engagement and negotiations to improve health professions education in Uganda
Standards, Quality Assurance and Regulation: Adequately resources and effective regulatory structures and systems—address issues of curricular and examinations standardization and implementation
Research: Modeling of health workforce needs to inform planning and a review of the state of health in Uganda
Arrange a follow-up stakeholder meeting to synthesize and follow-up on the actions
Mak's GMI Labs Authorized to Conduct DNA Paternity Testing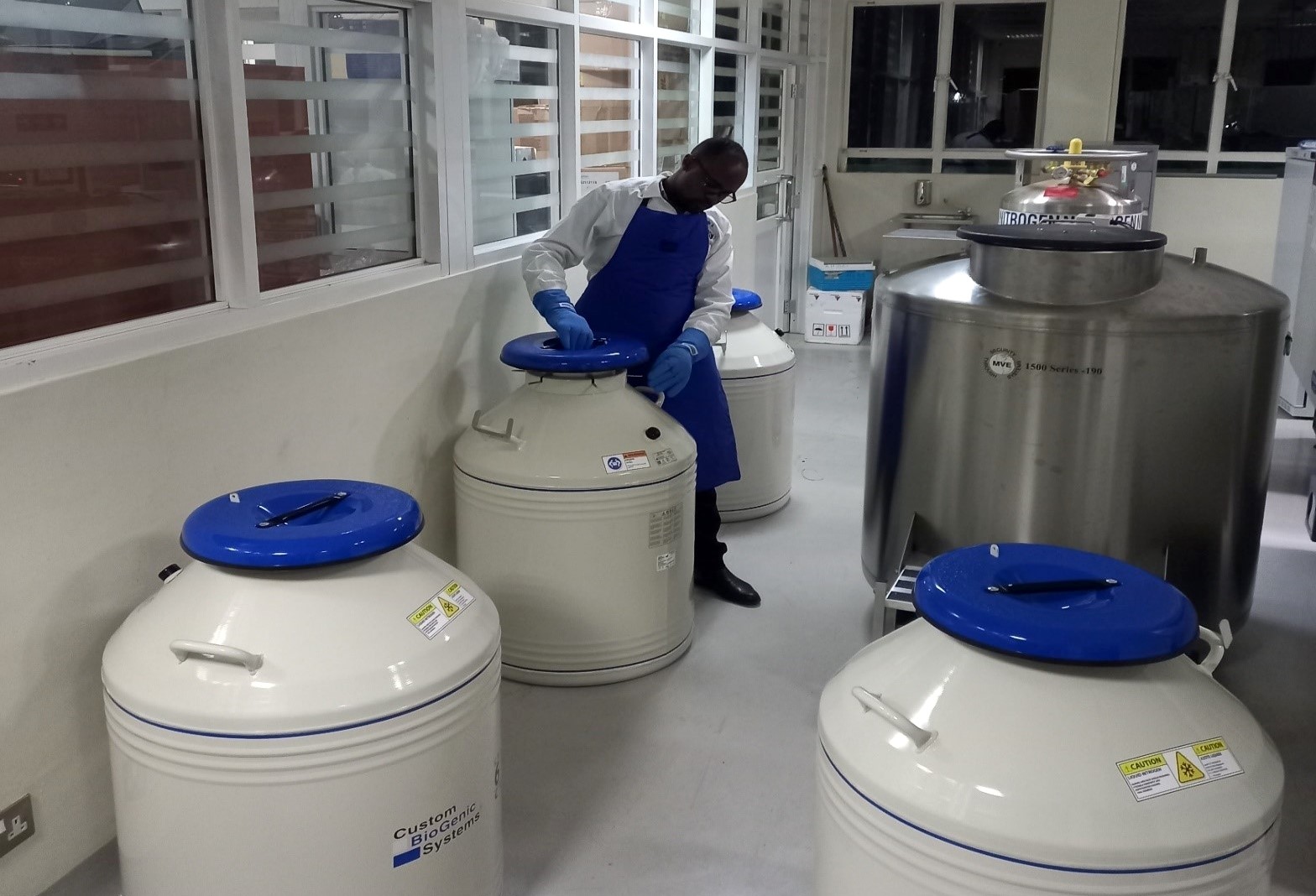 The Genomics, Molecular, and Immunology Laboratories (GMI Labs), operating under the auspices of the Makerere University Biomedical Research Center (MakBRC), have achieved another significant milestone in their journey of diagnostic excellence. The labs, renowned for their pivotal role in infectious and non-infectious disease research, have received official approval from the Director General Health Services at the Ministry of Health (MoH), Uganda, to conduct DNA Paternity Tests.
Situated at the Dept of Immunology & Molecular Biology under the School of Biomedical Sciences at the College of Health Sciences, Makerere University, the GMI Labs have been at the forefront of cutting-edge research, diagnostic testing, and training initiatives. Their remarkable contributions during the COVID-19 pandemic, where they conducted nearly a million PCR tests, underscored their unwavering commitment to public health and scientific advancement. The labs' exemplary performance and reliability were further highlighted by their successful management of two critical COVID-19 prevalence surveys. The findings of these surveys served as foundational data for crucial decisions guiding the country's lockdown strategies and phased reopening, earning commendation from the President and the Ministry of Health.
This latest authorization from the Ministry of Health marks a significant expansion of the GMI Labs' diagnostic capabilities. With the approval to conduct DNA Paternity Tests, the labs are now equipped to offer a crucial service addressing the need for accurate and reliable genetic testing for determining biological parentage. In a letter dated 22nd November 2023, the Director General Health Services emphasized the laboratory's rigorous adherence to international standards, proficiency in molecular biology techniques, and their proven track record in delivering precise and credible results. This approval further solidifies the labs' position as a trusted institution for advanced genetic diagnostics in Uganda.
Prof. Moses L Joloba, the Director of the GMI Labs, expressed immense pride in the team's dedication and expertise that led to this authorization. He highlighted the labs' commitment to upholding the highest standards of ethical practice, confidentiality, and accuracy in DNA paternity testing, ensuring the delivery of dependable results crucial for legal, personal, and familial purposes.
The inclusion of DNA Paternity Testing within the GMI Labs' list of services aligns with their overarching goal of advancing healthcare through state-of-the-art diagnostics, research, and education. This milestone represents not only a significant achievement for the labs but also a valuable resource for individuals seeking reliable and comprehensive genetic testing services. As the GMI Labs continue their unwavering commitment to excellence in healthcare and research, this new capability reaffirms their pivotal role in advancing the frontiers of molecular diagnostics and genetic testing in Uganda, working closely with reputable institutions such as Makerere University Hospital and other top-notch health facilities.
MNCH e-Post Issue 121: Learning from Nsambya Hospital Human Milk Bank to inform national scale-up & save preterm babies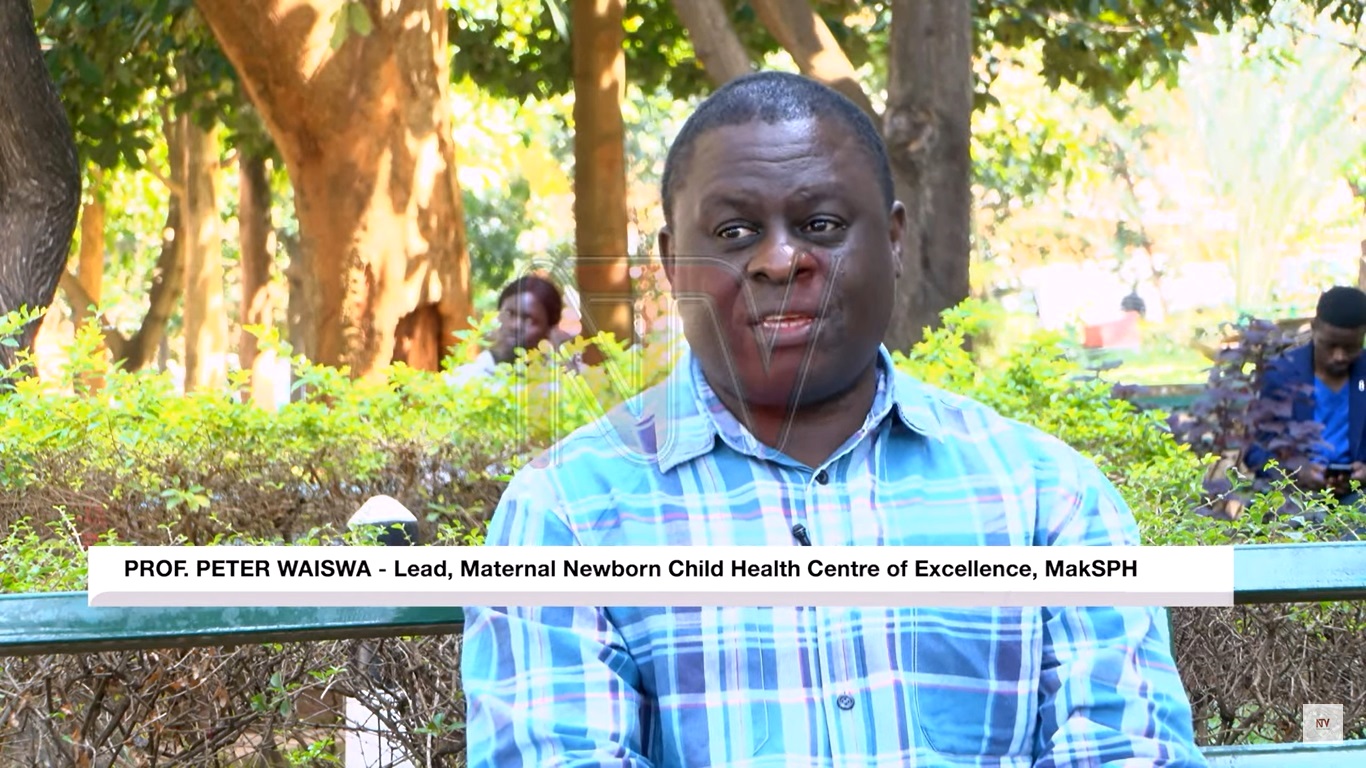 Welcome to this exclusive interview with Prof. Peter Waiswa, lead expert from the Makerere University Centre of Excellence for Maternal, Newborn, and Child Health. Dr. Victoria Nakibuuka from St. Francis Nsambya Hospital, and Dr. Jesca Nsungwa from Ministry of Health Uganda. In this video, they discuss a groundbreaking innovation in Uganda's healthcare landscape: the country's first-ever human milk bank at St. Francis Hospital Nsambya. This initiative represents a significant stride towards improving the survival rates of premature and vulnerable infants by ensuring access to essential breast milk, even when mothers are unable to produce enough. Watch Video
Click here to View the full MNCH e-Post Issue 121
METS Newsletter October 2023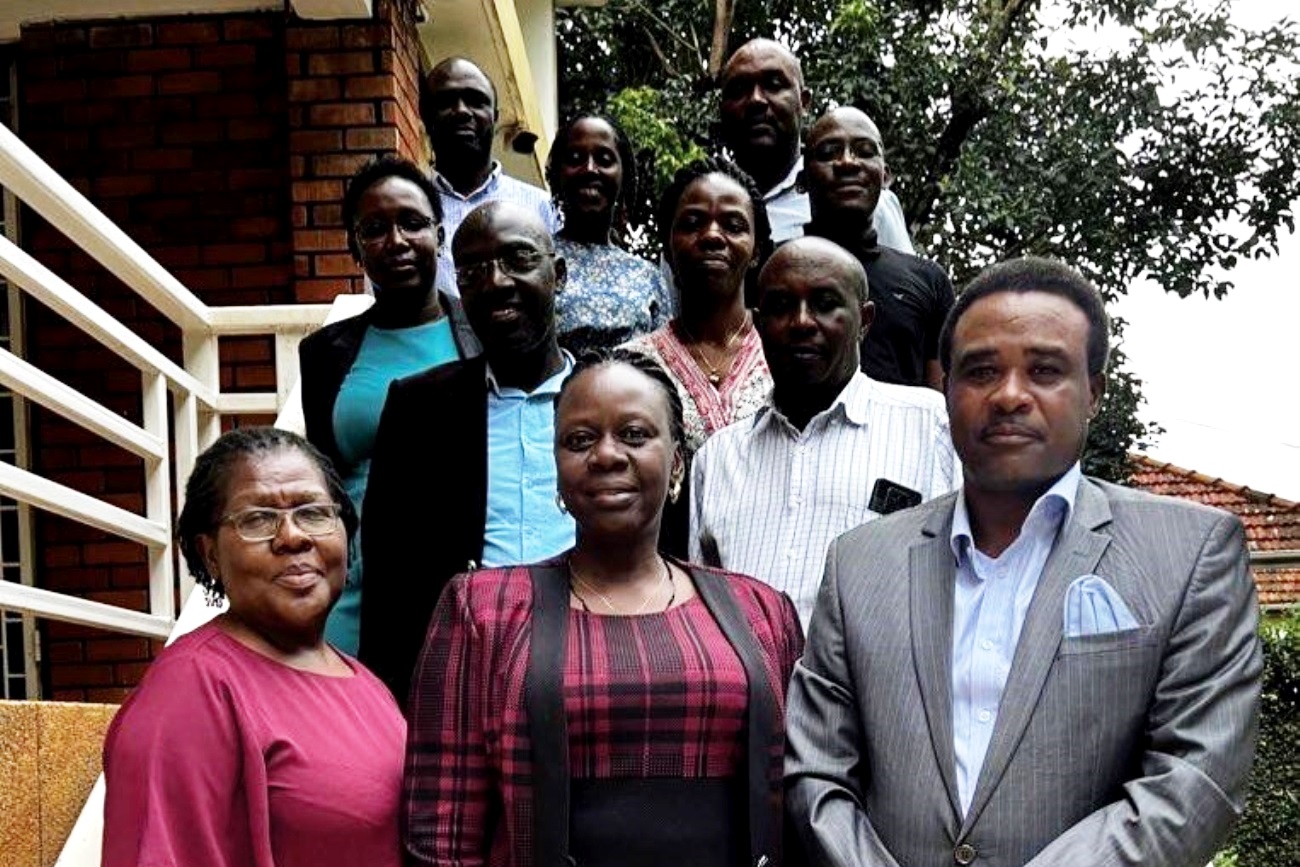 The Monitoring and Evaluation Technical Support (METS) Program is a 5-year CDC-supported collaboration of Makerere University School of Public Health (MakSPH), the University of California San Francisco (UCSF) and Health Information Systems Program (HISP Uganda).
Highlights of the METS October 2023 Newsletter
Strategies for Enhanced Disease Surveillance and Public Health Response in Uganda

The MoH Department of Integrated Epidemiology Surveillance & Public Health Emergencies (IES&PHE) Head, Commissioner Allan Muruta (Dr) visited METS to acquaint himself with the various surveillance activities supported by the Program.
Commissioner Muruta emphasized the need to build the capacity of districts and regions to conduct surveillance activities by training the relevant staff and establishing surveillance focal points at health facility levels.
He further emphasized the importance of linking laboratory data to the District Health Information System (DHIS2) and ensuring that different systems are interoperable.

Improving quality of data for HIV testing services (HTS) through regular assessments

MoH has been conducting Data Quality Assessments and Improvement (DQAI) activities to inform program planning, monitoring, and performance management. HIV testing services (HTS) inter was conducted in 16 regions, 81 districts, and 111 health facilities in partnership with 26 Implementing partners.
The HTS DQA has improved data management, infrastructure, and understanding of indicators. Specific staff assignment at each HTS entry point has proven effective, and use of the UgandaEMR system for reporting has yielded positive results.

Shaping Uganda's Healthcare Data Landscape

METS has maintained a strong collaboration with the Ministry of Health (MoH) providing invaluable technical support in developing various strategic guidelines for the country. These guidelines include the Uganda Health Information Exchange and Interoperability (HIE) Guidelines, the Uganda Health Data Protection and Confidentiality (HDPC) Guidelines, and the Uganda Health Data Sharing, Access, and Use Guidelines.

HIE and HDPC guidelines have received the endorsement of the Health Information, Innovation and Research (HIIRE) Technical Working Group (TWG), awaiting presentation to the senior management team at the MoH for final approval.

Empowering Health Professionals: PrEP Training in Hoima District

MakSPH-METS has taken a proactive stance in supporting Monitoring and Evaluation (M&E) for key populations through the development, management, and conducting trainings on the use of the PrEP tracker system across various agencies.
METS conducted a 5-day training on the KP/PrEP Tracker system in Hoima district. Moving forward, facility staff will be able to enter data on PrEP services into the system in a timely manner, analyze the data, and use it for program improvement.

Gallery

HIV testing services (HTS) Data Quality Assessments and Improvement DQAIs
Interagency cervical cancer on-site mentorships
Orientation in KP tracker-Soroti
TDY from CDC headquarters visit to METS
M&E orientation meetings for new Implementing Partners
Planning meeting for Cross Border Data Sharing-Busia