Health Experts meet at MakCHS to discuss Health Professions Education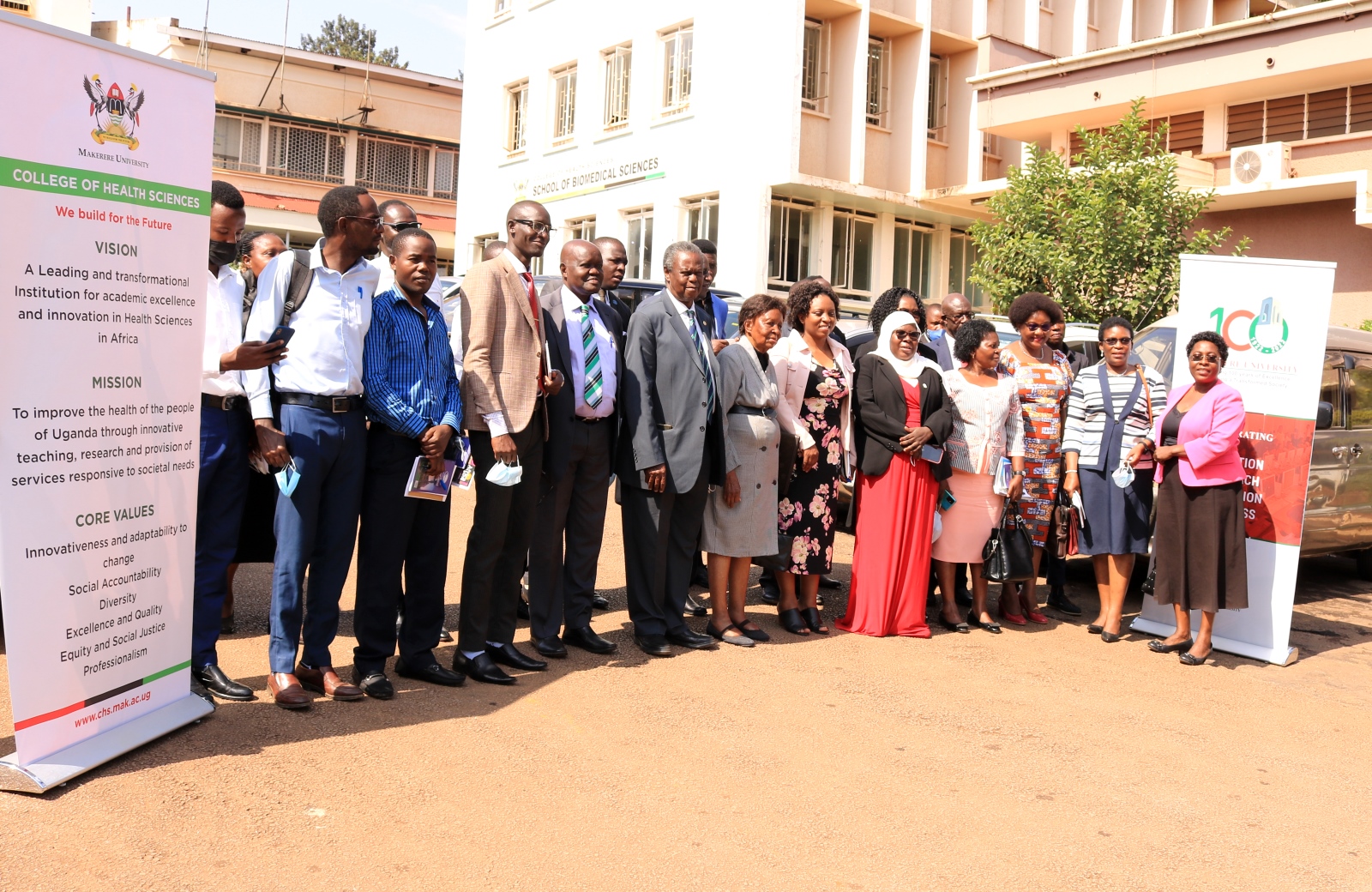 On 17th June 2022, health experts met at Makerere University College of Health Sciences (MakCHS) for a half-day symposium, 'Makerere@100: Advancing Health Professions Education in Uganda'.  Theaim of the symposium hosted by Health Professions Education Partnership Initiative (HEPI) in collaboration with The African Center for Global Health and Social Transformation (ACHEST) was 'to take a look at Health Professions Education (HPE), the past, the present and future in Uganda'. In addition, the symposium was also intended to keep abreast of emerging issues and new trends in a globalised world. The meeting was attended by academia, government institution officials, civil society, researchers and students.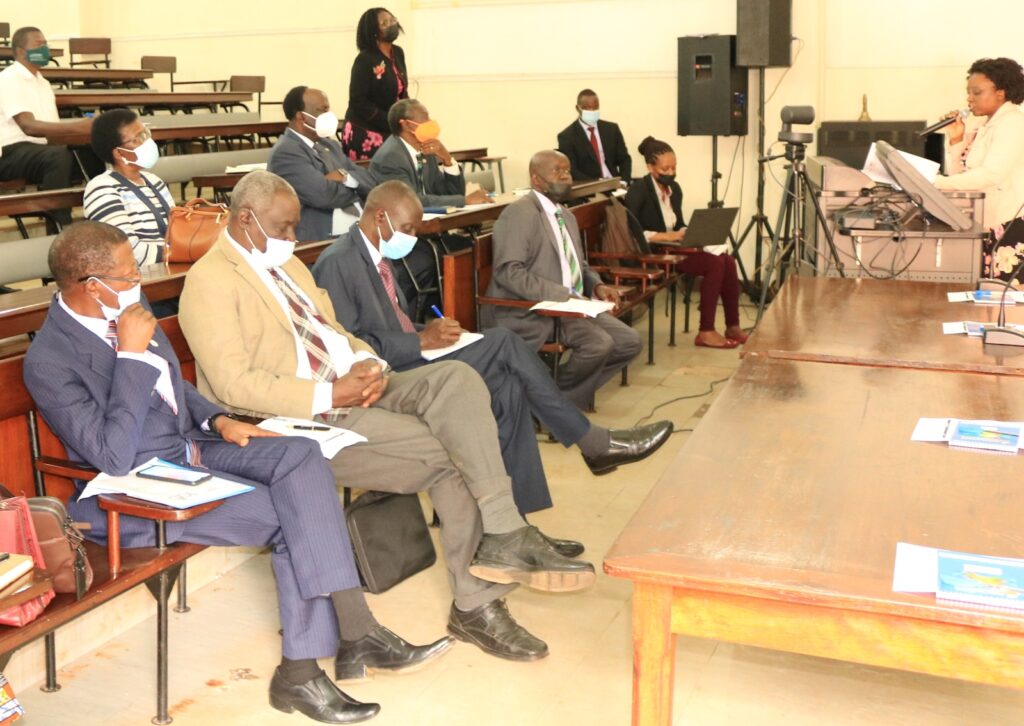 Welcoming participants to the symposium, Professor Damalie Nakanjako – Principal, MakCHS reiterated the aim of the meeting, 'to review the past, present and future health professions education in Uganda'. Professor Nakanjako stressed the importance of balancing teaching, service delivery and teaching as the three legs of the stable African stool and foundations of HPE. She traced the history of the college since establishment in 1924 as the oldest health training institution in the region and highlighting the major milestones and innovations of MakCHS. 'The college has a long and distinguished history in health education: it has been involved in health innovations, research, case management, modeling impact and has addressed: infectious diseases and non-communicable diseases" she added. Prof. Nakanjako thanked HEPI and ACHEST for the support given to MakCHS in organising the symposium. The Principal invited the Chief Guest to give his opening remarks.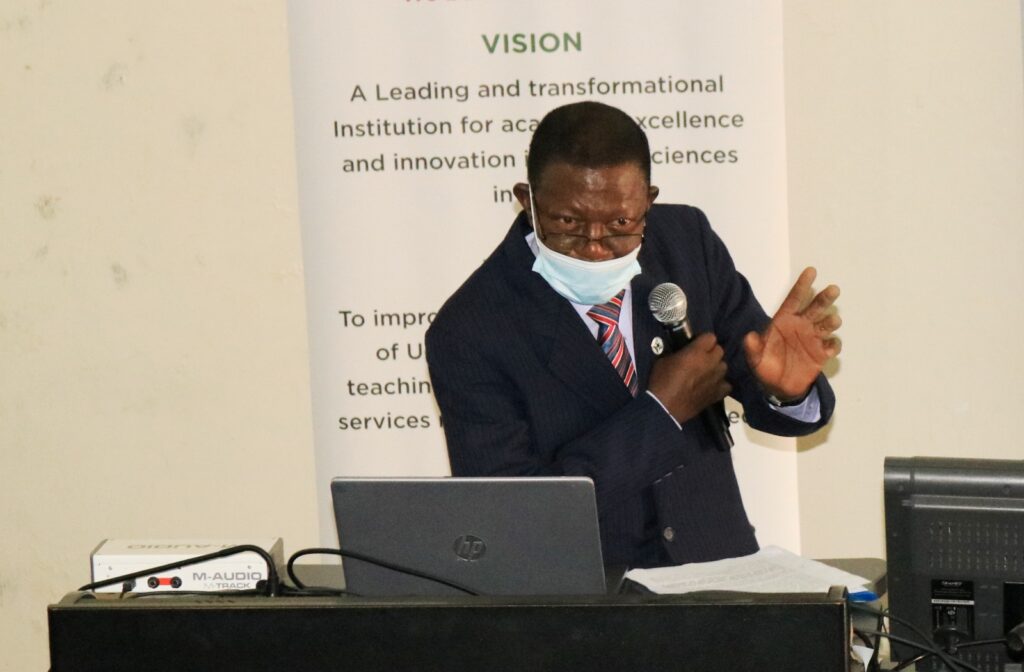 Professor Mukadasi Buyinza – Director, Research and Graduate Training at Makerere University represented the First Deputy Vice Chancellor/ Academic Affairs, Prof. Umar Kakumba as Chief Guest. In his remarks, Professor Buyinza commended MakCHS for organising the symposium bringing together senior and junior health professionals noting that, 'There is need to build sustainable health profession networks that serve as forums to share innovative ideas and learning'. He added 'quality should be considered a priority and we need to focus on professionalism, inclusiveness, communication, etc. in order to promote health education'. Professor Buyinza highlighted the role of Makerere University as we celebrate 100 years noting that during the pandemic, Makerere University responded adequately in a multitude of areas: and advised that moving forward with  lessons from the pandemic, we must promote fundamental health education. He applauded the champions behind the HEPI and ACHEST  who supported the meeting noting "this is great because for sure times have changed with the Covid-19 pandemic has been a great lesson calling for different approaches in order to strike a balance and this can only be possible with partnerships". Professor Buyinza called on government and partners to increase funding for health professions education adding that "Investment in education of training of health workers with a weak mindset, will not give us the quality health care and service we require thus a positive attitude among health professionals should be part of their education". He reiterated that new emerging issues like tele-medicine are here to stay and thus health professionals should be equipped with the competencies to handle them. He also encouraged that we must give back to society and MakCHS is challenged to remain as leader in training health workers. Prof. Buyinza officially opened the meeting thanking the organisers and wished the participants fruitful deliberations noting that he looks forward to receiving the report from the symposium.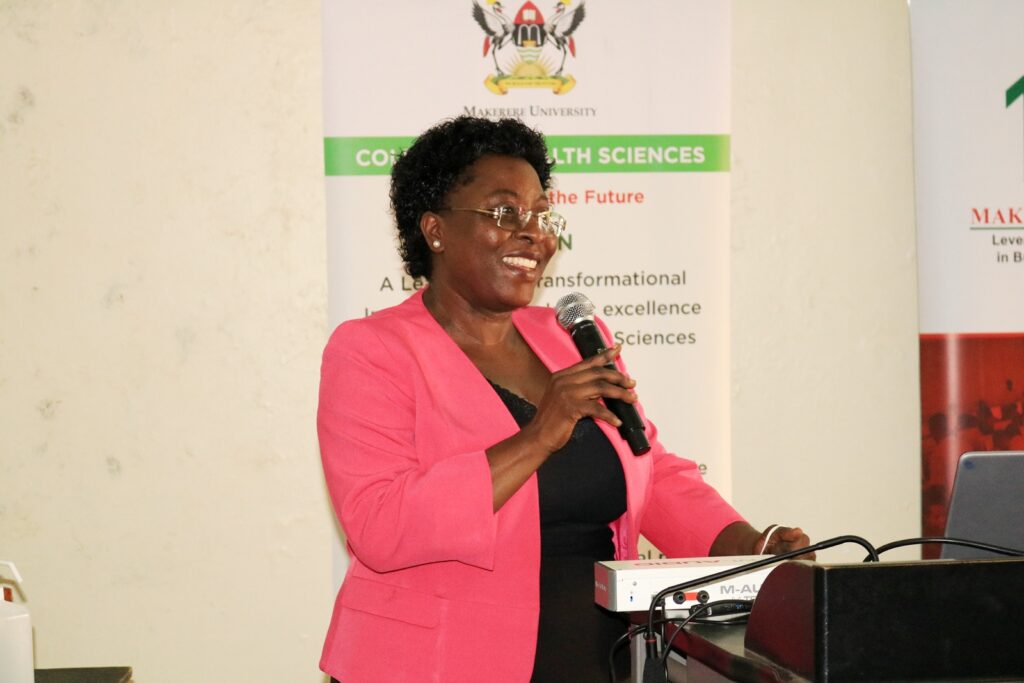 Speaking on behalf of the organisers, Professor Sarah Kiguli, Principal Investigator – HEPI welcomed participants to the symposium thanking them for accepting the invitations. She thanked Professor Francis Omaswa, Executive Director – ACHEST for the proposal to hold the symposium and agreeing to partner with MakCHS is hosting the meeting. "I thank previous leaders on whose work we are building what we do today. We can't advance HPE without strong partnerships: We need to establish and sustain the collaborations", Professor Kiguli added. She also highlighted the objectives and successes of the HEPI Project so-far.
Deliberations at the meeting were aligned along two panel discussions preceded by keynote speeches by preeminent health professionals; Professor Francis Omaswa and Professor Nelson Sewankambo.
In his keynote speech titled, 'The Global Health Workforce Crisis: the role of Academic Institutions', Professor Francis Omaswa shared the global statistics for health professions training and patient ratio noting that it's not a good picture. He highlighted that populations globally are living longer and require health services. However, in the global north there are less young people to train as health professionals thus recruiters are looking to the global south, Africa and Asia are most affecting because our trained health workers are migrating due of poor pay. On Africa Uganda specifically he said "there are shortages in Africa but our professionals are recruited to serve elsewhere. We don't have money to employ health workers despite the increasing population". Professor Omaswa gave the critical success factors for better health services and HPE in Africa including: Political Commitment and good governance; Workforce planning and Enabling Environment.  He also proposed key competencies for today's health work, these are: Work where services are most needed; Respond to health needs of community; Deliver quality care; Clinical excellence; Be leaders and change agents; Self-directed learners and Effective communicators. Professor Omaswa advised that there must be strong link between the health system and health profession education institutions adding 'stop grumbling and start acting, when we act together we will go much further and achieve more. Let this symposium be the beginning of us as change agents'.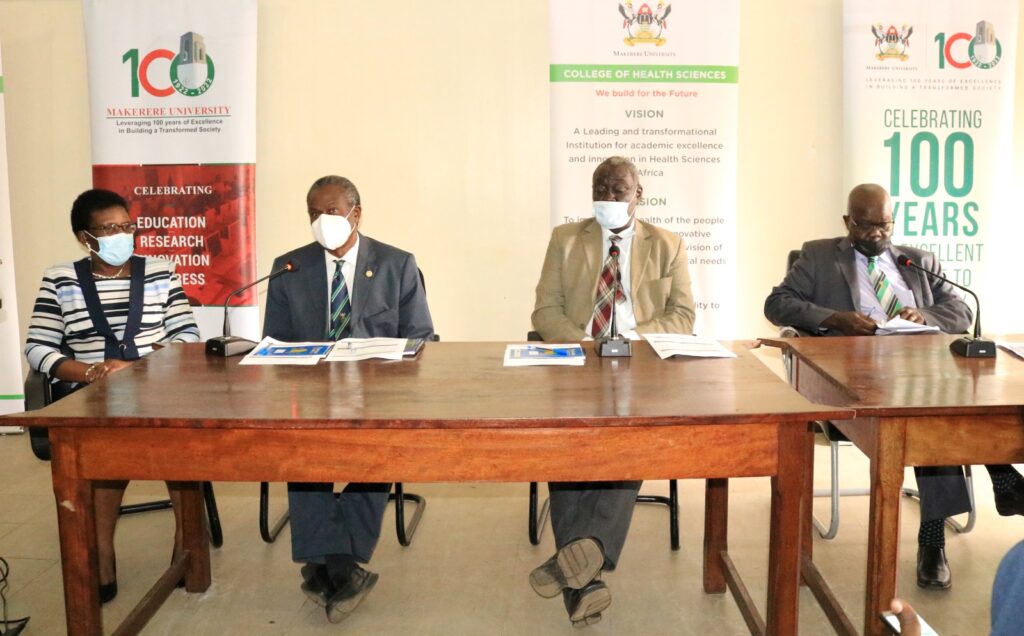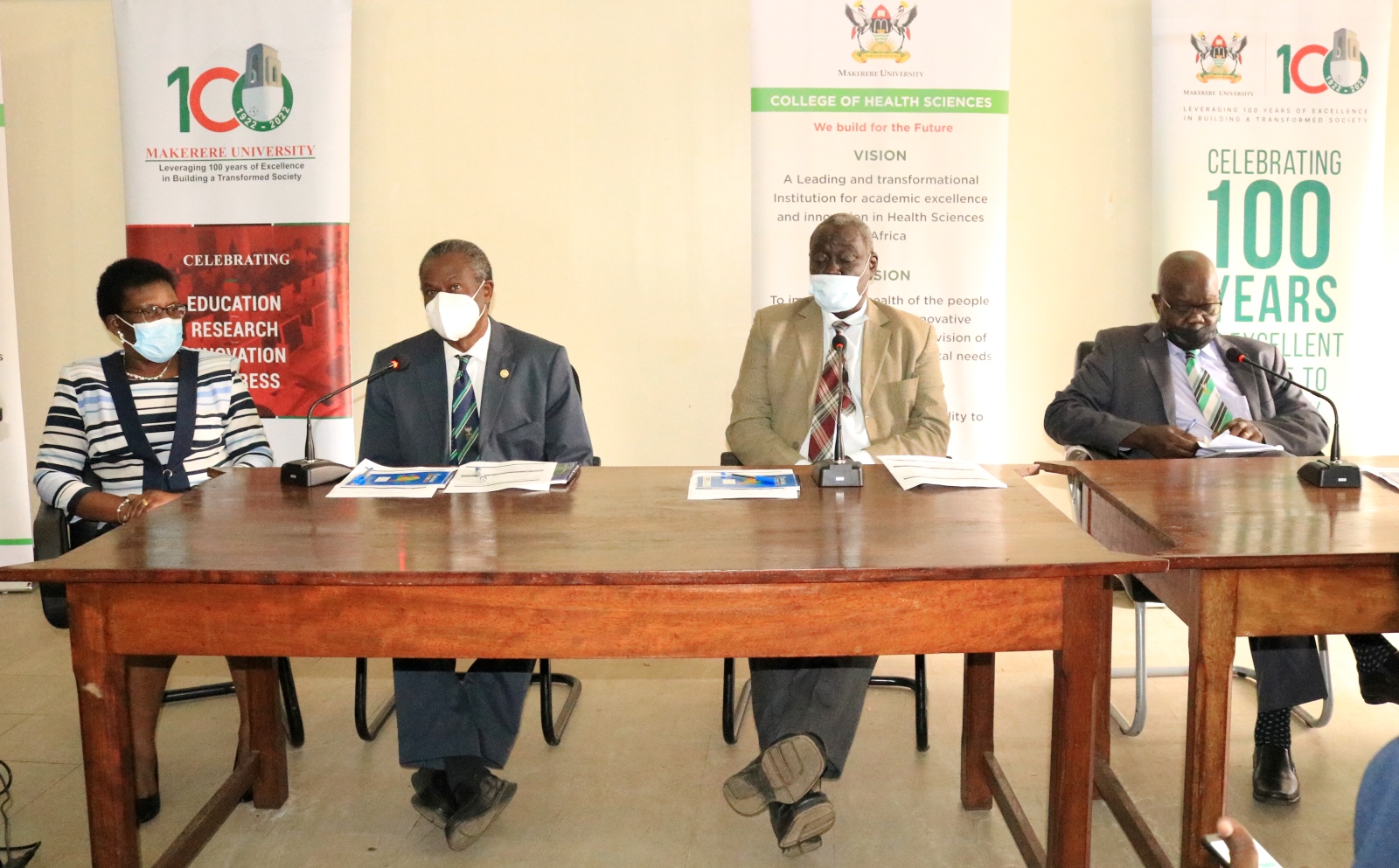 Panelists to discuss Professor Omaswa's presentation were Professor Elsie Kiguli-Malwadde, ACHEST; Professor Jehu Iputo (Busitema University); Professor Joel Okullo (Uganda Medical and Dental Practitioners Council, Professor Sarah Kiguli (HEPI/MakCHS) and Representative from National Council for Higher Education. A key issue raised from the panel discussion was the need for a link between stakeholders in the HPE sector and a call for education institutions to plan their teaching programmes in response to the health sector.
In his keynote speech titled "Health Professions Education (HPE) in Uganda, past present and future", Professor Nelson Sewankambo noted that the current curriculum is old and doesn't reflect health & disease prevention adding that we need to strike a balance between curative, health services & disease prevention. Prof. Sewankambo urged lecturers and staff in health institutions to help the young generation, students in particular, "let's take the young people by hand to strengthen the future generation, we are not doing what we are supposed to do", he added. Professor Sewankambo also called for closer working relationships between teaching hospitals and health profession training institutions and echoed Professor Omaswa's call that staff stop lamenting and get to work.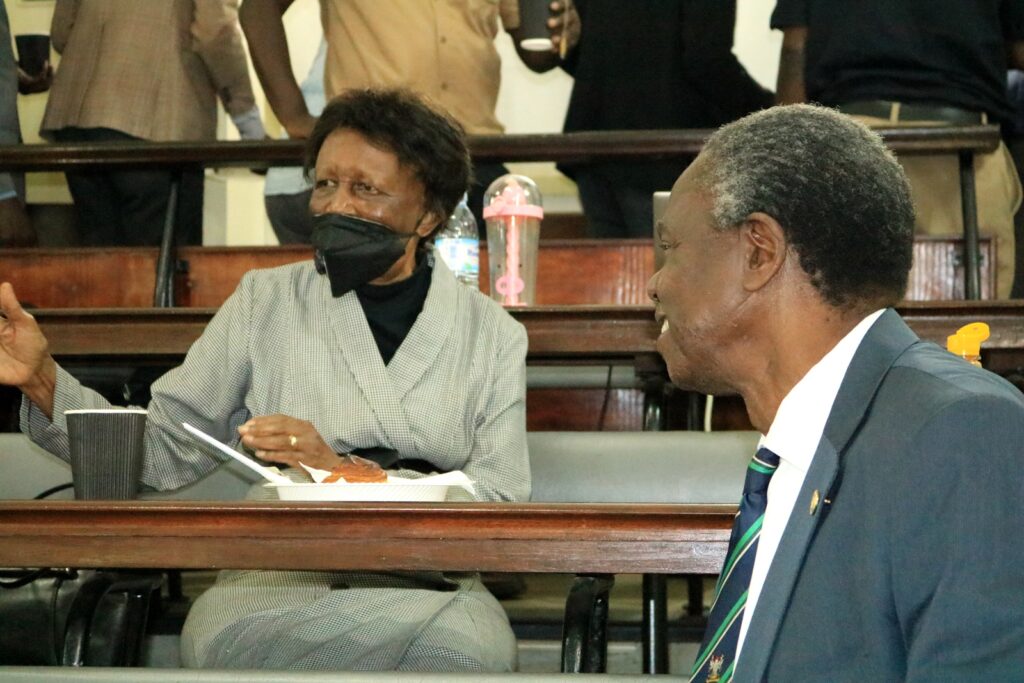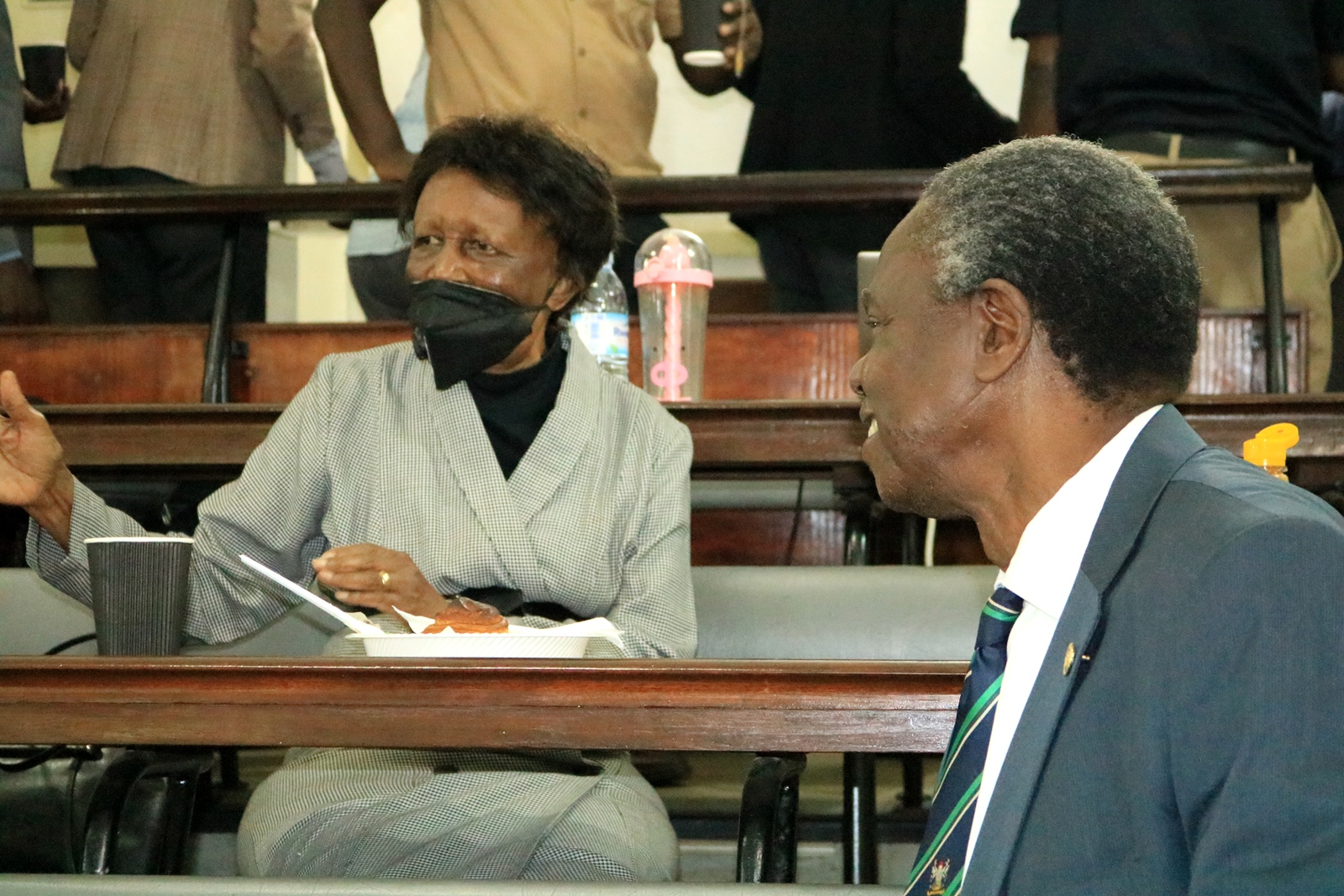 Panelists to discuss Professor Sewankambo's presentation were Professor Josephine Namboze, the first female doctor trained at Makerere University; Dr. Safina Museene, Ministry of Education and Sports; Professor Pius Okongo, Health Service Commission and Ms. Elizabeth Ekong Namukombe, Uganda Nurses and Midwives Council. Key issues raised from the panel discussion was a call for research to inform planning for health institutions; revision of establishments at health institutions and job evaluation to reflect current developments; and partnerships between institutions rather than competition.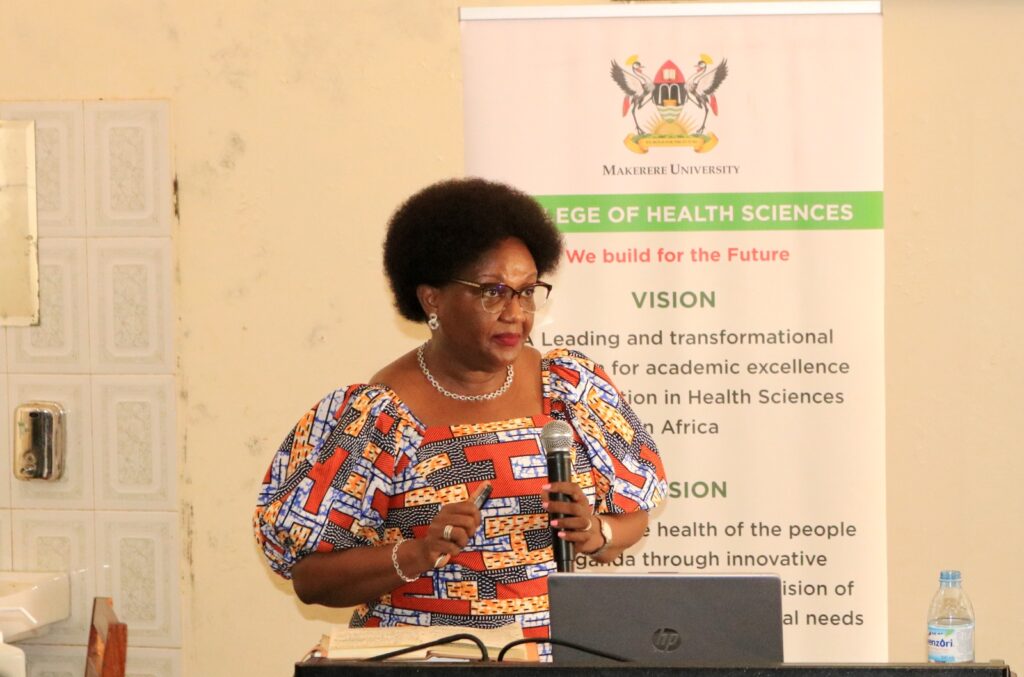 A wrap-up and way forward from the meeting was presented by Professor Rhoda Wanyenze, Dean – School of Public Health. Professor Wanyenze advised that competencies for health professionals need a critical revision calling for skills aligned to current environment for the products from health training institutions. "When we train people are who are knowledgeable with a lot of theory it's only as good as having critics, however we need to train skilled people in the health sector", she added. She highlighted the following issues for consideration as next steps:
Need for a national Strategy and Plan: Informed by the National Health Policy and Plan as well as emerging issues in health e.g. move towards healthier societies, revitalizing Primary Health Care to drive UHC and comprehensively address health determinants.

a. Address the numbers, cadre mix and quality with attention to current gaps in development of some professions e.g. nursing, dental, pharmacy, among others
b. Network with relevant bodies to address the issues within the Qualifications Framework and MOH HRH Plan
c. Integrate linkages between Health, Education and other relevant sectors in line with the NDP move towards multi-sectoral collaboration

Strengthen Health Training Institutions

a. Teaching infrastructure including space, laboratories, simulation and community labs (need collaborations with communities and other organizations for student hands-on learning), and to streamline agreements between teaching institutions and teaching hospitals.
b. Curriculum aligned to competencies—streamline issues of standardization of curricular within the country and the EAC region, and move beyond knowledge and skills to professionalism and transformative leadership in competences, and integrate the critical components of health promotion and prevention
c. Trainers: Numbers, mix of disciplines and expertise and quality: Comprehensive training and capabilities in teaching, research and community service as well as leadership and governance; need Education Units to support trainers and Research Units to support research management
d. Explore inter-sectoral/Interdisciplinary programs—break the silos to appropriately prepare the trainees to work across disciplines and sectors.
e. Governance and Systems Leadership: Functional, effective and efficient systems with relevant networks for health professional training
f. Teaching institutions systems for appointments and promotion need a review of the definition of scholarship—beyond PhDs and publications to critical grounding in disciplines, professionalism and leadership in the field
g. Collaborate with relevant structures within Health, Education and Finance to address the issue of scholarships for graduate students

Collaboration and networks across universities (south-to-south, within and across countries, north-south), with training hospitals and communities
Financing: Review and streamline models and level of financing for health training institutions and related regulatory structures such as the Professional Councils

a. Joint training, research and service collaborations
b. VC, Deans Forums across universities for experience sharing and joint learning

Health professionals Forum: Annual meeting to share experiences and learnings, and joint planning as well as engagement and negotiations to improve health professions education in Uganda
Standards, Quality Assurance and Regulation: Adequately resources and effective regulatory structures and systems—address issues of curricular and examinations standardization and implementation
Research: Modeling of health workforce needs to inform planning and a review of the state of health in Uganda
Arrange a follow-up stakeholder meeting to synthesize and follow-up on the actions
Makerere Medical Journal: Golden Jubilee Edition 2022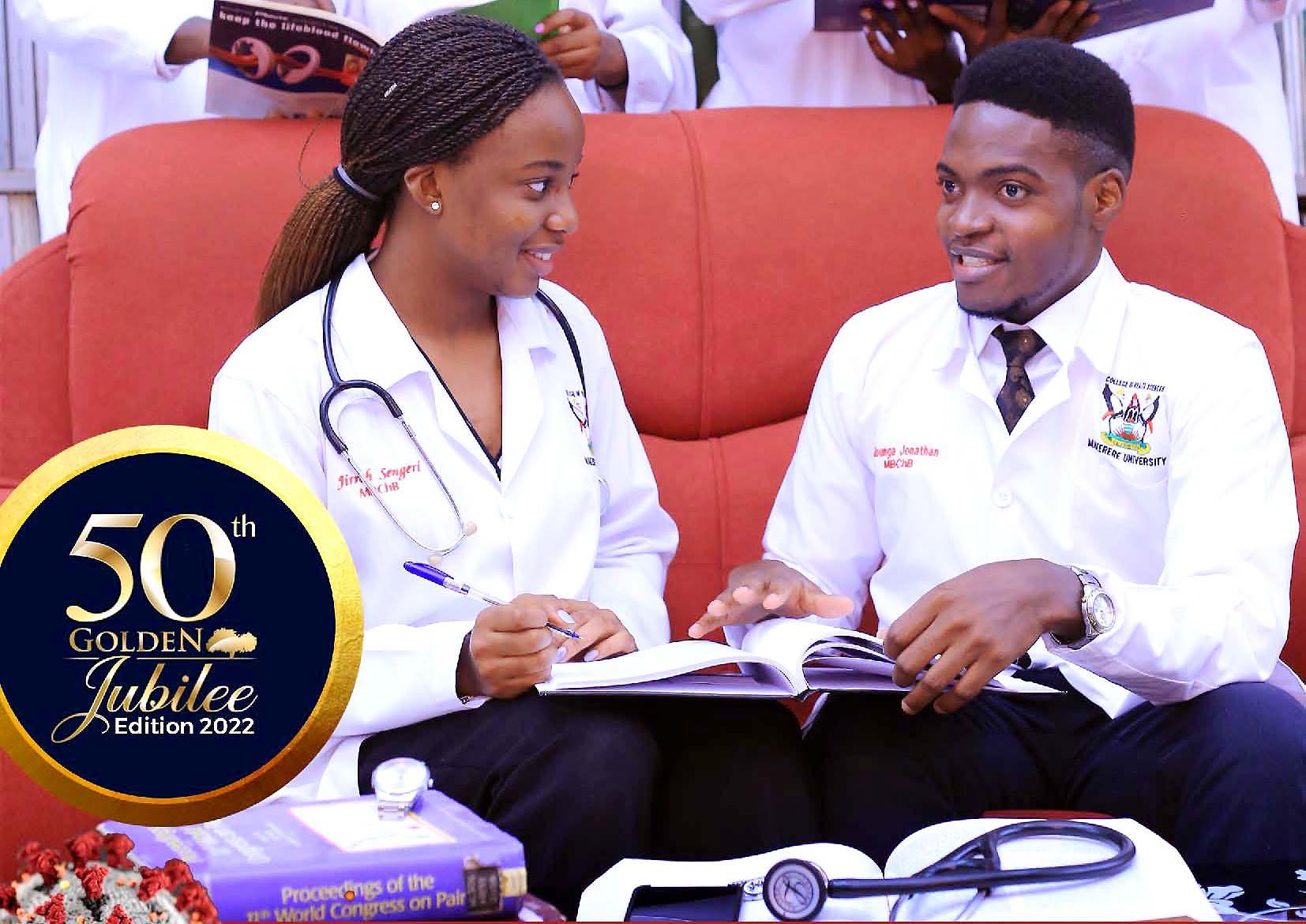 It's with great pleasure that I welcome you to the Golden Jubilee edition of this phenomenal journal. Yes, The Makerere Medical Journal marks 50 years of publication with this year's edition and all this has been made possible by the endless efforts and contributions of the Makerere University College of Health Sciences Staff and students because without your research submissions and financial support, the journal wouldn't have made it this far. To you reading this, thank you for contributing to the sustainability of this great project, year in year out.
Here's a quote to ponder on as you delve into this year's well-crafted articles and it's by Zora Hurston (1891-1960), "Research is formalized curiosity. It is poking and prying with a purpose." And doesn't that just define our purpose as researchers?!
This edition's articles cover pertinent topics ranging from Antimicrobial Stewardship, COVID-19 interventions, Oral Health amongst others. It also features student projects, write-ups on student-led organizations and societies that are making a difference in the life of a health sciences' student and many more interesting writings. Featured in this issue are international manuscripts from countries like Nigeria and we were also honored to work with other universities within the country and feature some of their students' articles.
I would like to extend my most sincere gratitude to my team of editors that engaged in a rigorous peer review process to ensure that the articles published are up to standard. As the editorial team, we are quite pleased to see the number of undergraduates involved in research steadily increasing and all the efforts that have been put in by the different stakeholders to see this happen are commendable.
With that said, I hope you enjoy every second of your read!!!
LINDA ATULINDA,
MBChB IV
EDITOR-IN-CHIEF,
Research and Writers' Club 2021-2022
Call for Applications: HEPI Masters Support Fellowship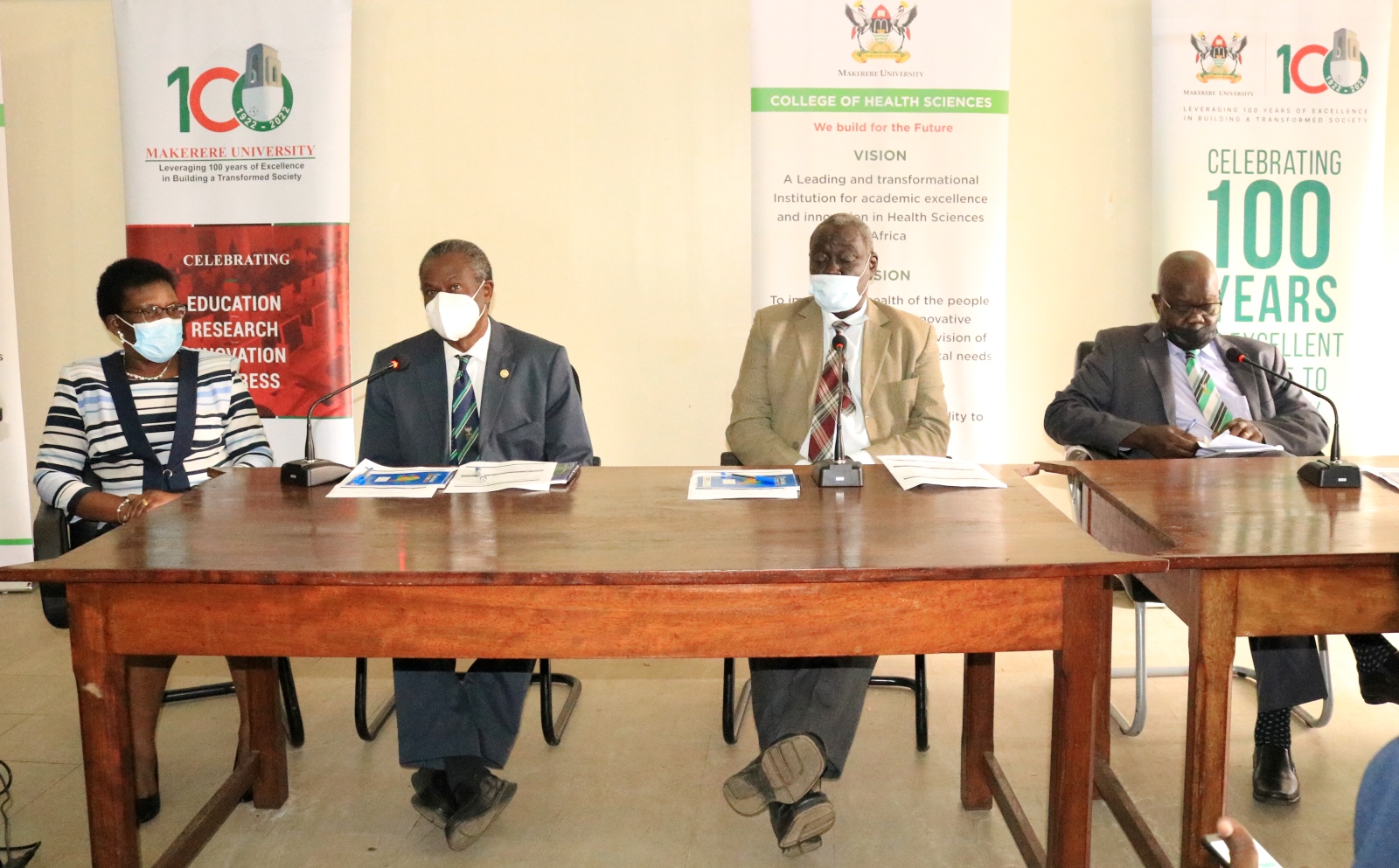 Applications are invited for the Health Professional Education Partnership Initiative (HEPI-SHSSU) Masters fellowship programme support from postgraduate students of:
Makerere University College of Health Sciences (MakCHS)
Kabale University School of Medicine
Clarke International University
Faculty of Health Sciences, Busitema University
The programme will support graduates in their final year of training leading to the award of a Masters degree on any of the Master's graduate training programs at the stated University for a maximum of 19 successful candidates.
The closing date for the receipt of applications is 30th September 2022.
Inquiries and Applications must be submitted to hepishssu@gmail.com
See attachment for more details 
Call for Applications: Faculty Research Training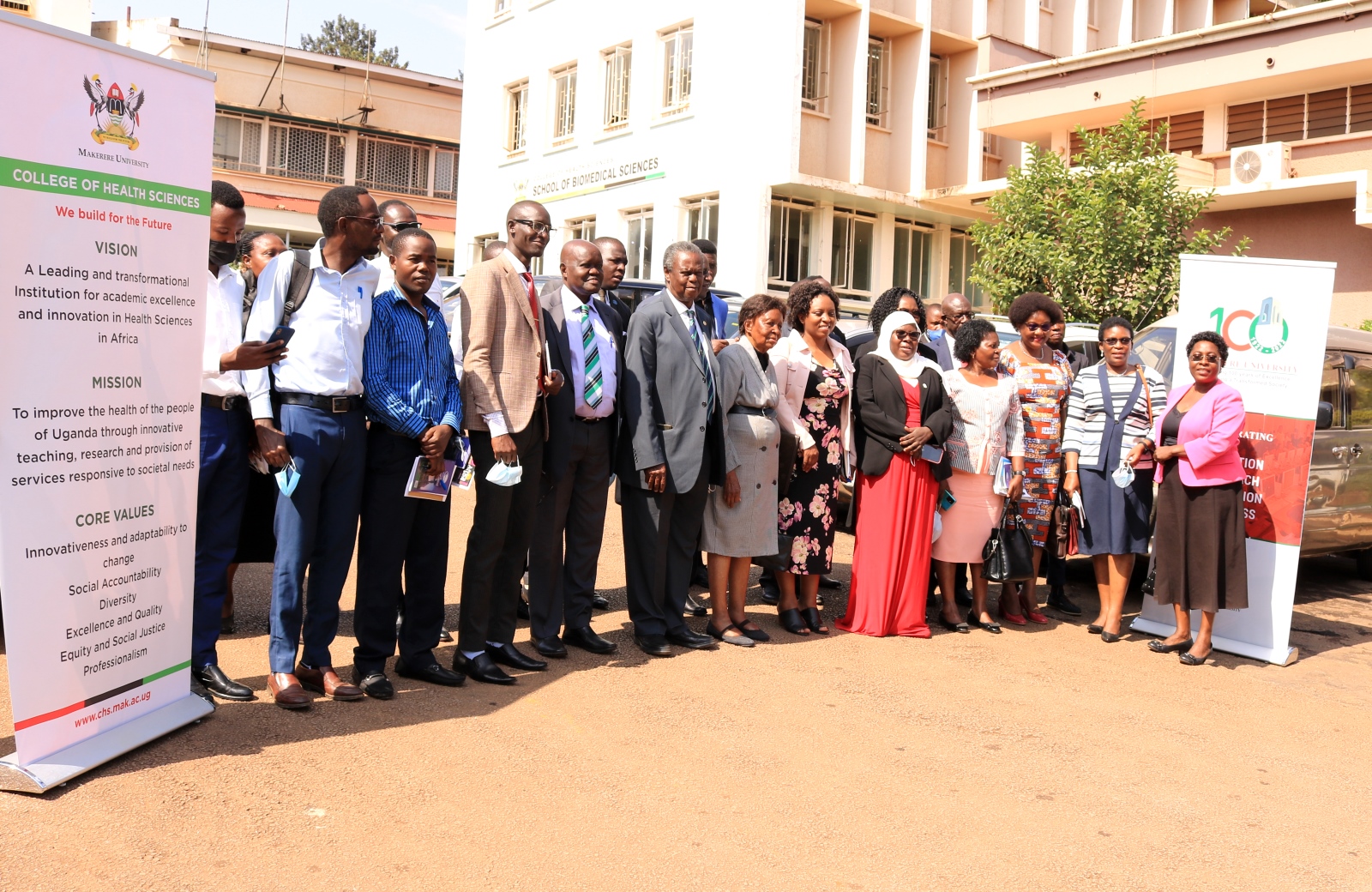 Applications are invited from faculty at Makerere University College of Health Sciences, Kabale School of Medicine, and Clarke International University to undertake training in research.
Limited research funding will be available for research focusing on community-based, clinical, operational, health professions education, epidemiological, biomedical, and research in Communicable Diseases (e.g. HIV/AIDS, malaria, tuberculosis, etc.) or non-communicable diseases of importance to Uganda.
Up to 15 applicants will be selected and they will undergo a brief (2 days) didactic training in research proposal development prior to embarking on their research projects. Up to 4,000 US dollars per applicant (depending on budget) will be available to support the research.
The closing date for the receipt of applications is 3rd October 2022.
Inquiries can be forwarded to the PI, HEPISU Program on hepishssu@gmail.com
See attachment for more details