Do not waste a crisis, Prof. Doyin tips leaders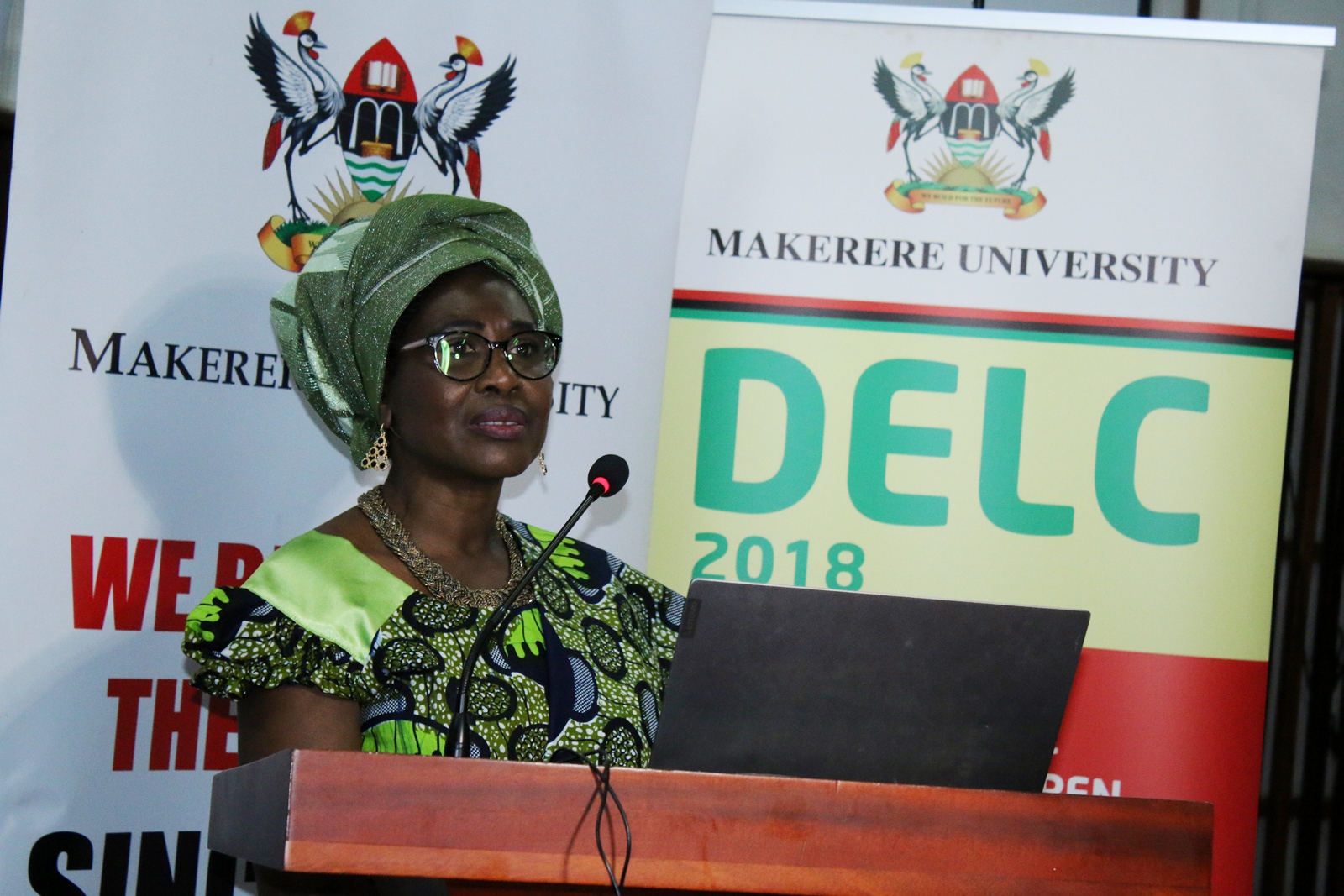 A crisis is a terrible thing to waste, were the parting words of Prof. Doyin Coker-Kolo, during her lecture on Leadership in times of Crisis; Building a campus culture of Resilient Thinking. Prof. Doyin called on leaders to ensure that they emerge victorious after the crisis. She said it is during a crisis that we are all tested and it is the best time to be innovative.  Taking an example of the Institute of Open, Distance and e-Learning IODEL, Makerere University, which used the Covid 19 Crisis to ensure the university faculty and students embraced e-learning. The institute had previously conducted e-learning for only its students, however, upon the closure of the education system owing to the pandemic, the management of the university embraced e-learning for all students of the university, a practice that continues to date.
Prof. Doyin, a visiting professor from Indiana University Southeast, delivered her lecture during a webinar on March 31, 2022 to researchers across the globe. She Is a Carnegie African Diaspora Fellow at the College of Education & External Studies (CEES).
While welcoming Prof. Doyin to address give her lecturer, the Principal of CEES, Prof. Anthony Muwagga Mugagga, noted that the education system in Uganda has been resilient even in the face of Covid-19. He challenged women to join leadership of the institution, saying women are resilient in many ways, but have not joined leadership of the college. "I hope that by the end of this discussion, more women will have been swayed to join the leadership of the college."
 Quoting Stockholm Resilience Center, Prof. Doyin advised that leaders in Higher Institutions out to be resilient leaders with cognitive flexibility, who overcome crisis thinking by holding a strong sense of purpose, an openness to question fundamental assumptions, and demonstrate mindful thinking outside of their daily responsibilities. "Crises are places where we find our greatness because they push us in ways that, in times of normalcy, we don't get pushed. We find strengths and abilities that are latent inside us," she said.
She shared some effective leadership practices which included effective communication, decision making, empathy or humanism, realism and one who knows the core values of the institution. "People want credible leaders. Let the people know what the institution can and cannot do. Give facts with humility and empathy," she emphasized.
Prof. Doyin shared factors of building a resilient institution which included having a strong foundation, having visionary leaders both past and present, commitment of staff and students. She said the vision that the students have for the institution is also an important factor of a resilient institution. External partnerships also play a role in ensuring the resilience of the institution. A sense of pride by the staff and students of the institution as well as communication also play a vital role in ensuring resilience of an institution.
Resilience of an institution can however be hindered by anxiety of leaders, relying on short term goal rather than the long term as well as the desire to return to normalcy. Prof. Doyin said the desire to return to normalcy hinders innovation.
Professor share some lessons from resilient leaders and asked her audience to reflect on them;
Resilience takes practice; Training in crisis management may be required
Focus on mission as the rationale for change
Engage a wide range of stakeholders in the planning process but provide a clear structure and ideas for them to react to rather than simply soliciting random suggestions
Be transparent about institutional constraints and tradeoffs and the need to rigorously prioritize goals and resources
Empower leaders at every level—board, cabinet, deans and admin leaders, chairs and students by devoting time and resources to leadership development
Focus on the fundamentals of resilience thinking. The goal is not simply to survive a temporary crisis but to build a structure that can continue to support the mission of the institution well into the future
Prof. Doyin concluded by calling on all leaders to look at any crisis as an opportunity to do better. Quoting Hunter, she said "As a leader, crisis is an opportunity to find your greatness and to activate that in other people around you."
Scholarships for the MSc in Digital Education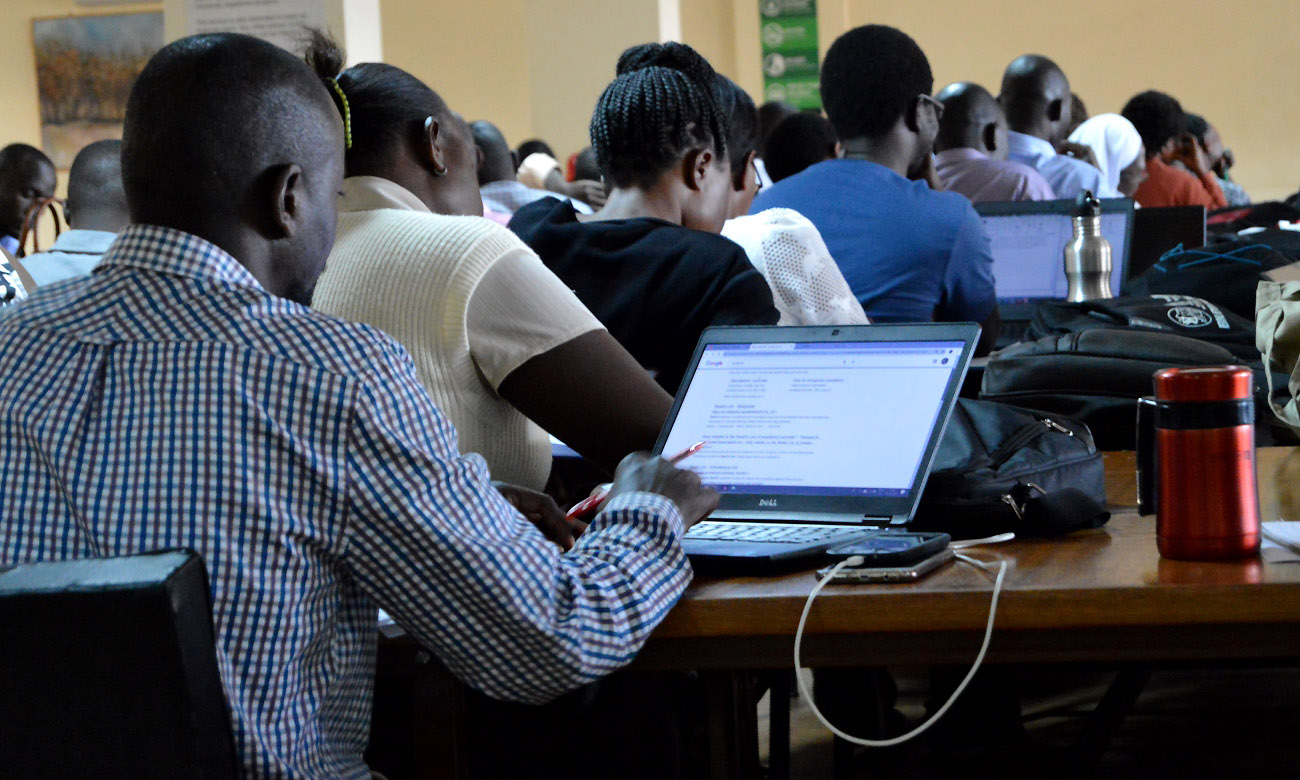 The role that digital education plays and might continue to play in providing access to higher education throughout sub-Saharan Africa is both promising and perilous. No single approach to digital education will effectively scale in the manner intended and will potentially exacerbate the marginalization that these groups experience. What does scale, however, are the multiplier effects of education itself.
Active academics from Makerere University, Bugema University, Gulu University, Uganda Martyr's University (Nkozi), Kyambogo University, and Nkumba University will study on the MSc in Digital Education at the University of Edinburgh, and further that education in dedicated cohorts designed to translate their critical experiences on the programme into tangible policy, strategy, and practice instruments for their institutions.
Potential candidates need not have any technological skills or background. Rather, they should be interested in the role that digital technologies might play in Ugandan higher education, particularly for marginalised groups such as women, displaced populations, and those with disabilities.
When does it start?
The programme will start in September 2023. We are accepting applications for this programme currently.
Contact Information
The Institute of Open, Distance and E-Learning (IODeL) will be the support centre for Makerere University staff enrolled on the programme.
See below for the full advert.
CEES hosts 21 students from University of Agder, Norway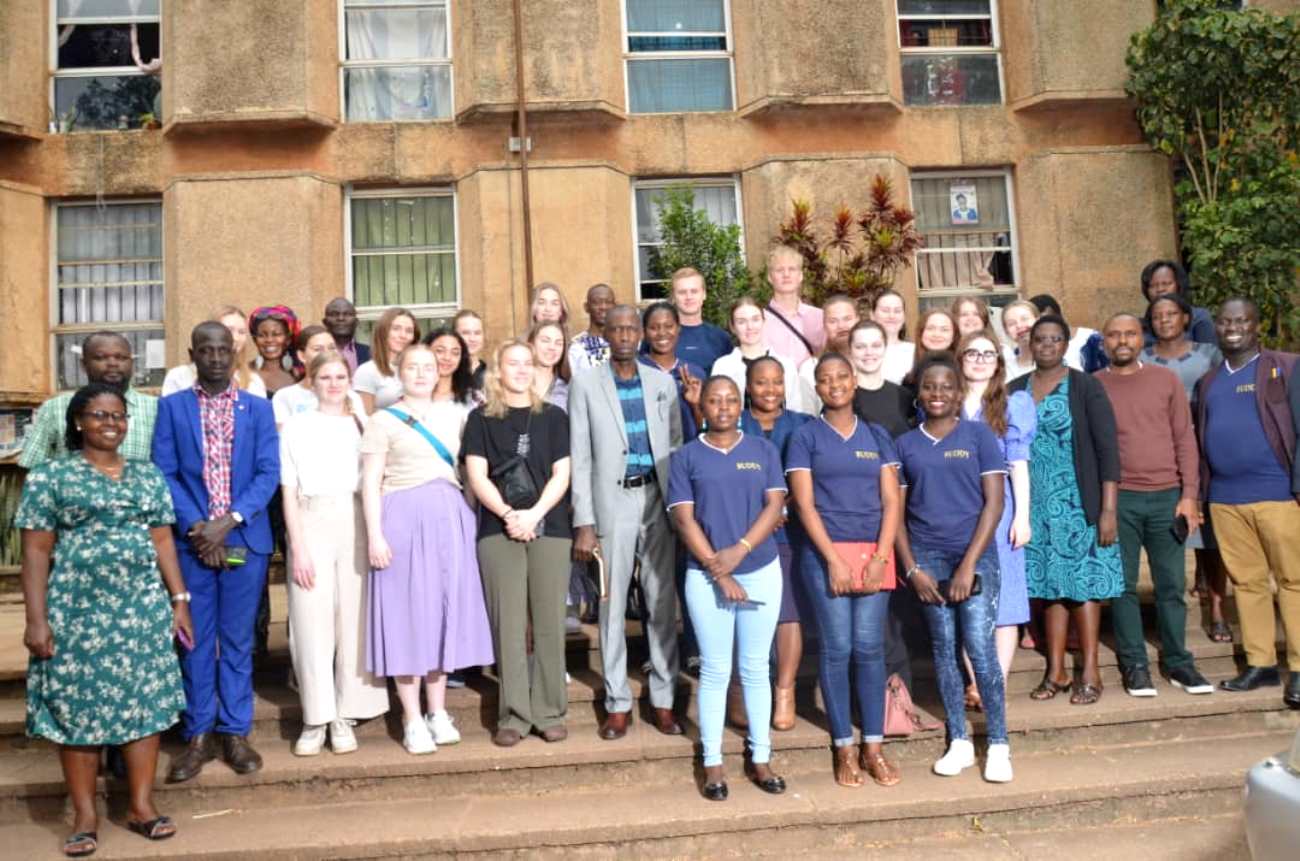 Students in the country for a one-month field course
The Department of Adult and Continuing Education is hosting about 21 students from University of Agder, Norway, on a student exchange program. The students, most of them first year students of Development studies will be in Uganda for one-month undertaking field studies in different parts of the country.
As part of their training, the students will live in Luweero with host families for a duration of one week. The students will be expected to learn from the communities and also share ideas on how to develop the different homesteads.
The students will then move to Mbale where they will live and study for another one-week. They will be working with different non-profit organizations in the area.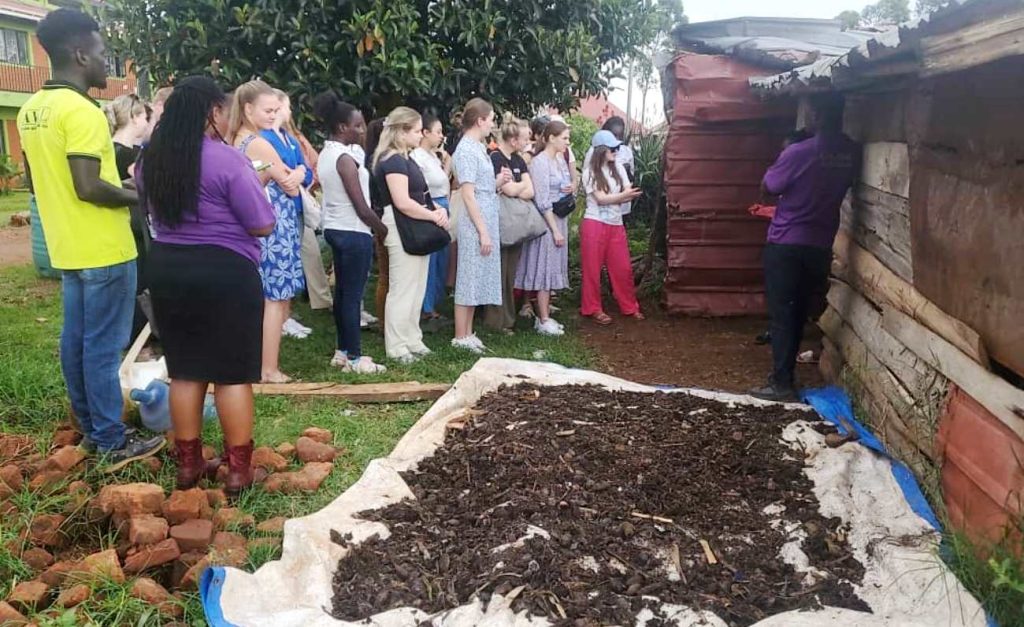 Speaking during the debrief of the students, on January 9, 2023, the Principal Prof. Anthony Muwagga Mugagga welcomed them to Uganda and asked them to ensure they enjoy their stay in Uganda. He however, cautioned them about ensuring their own safely.
He informed the students that Uganda was a beautiful country with sociable people. Prof. Mugagga encouraged the students to learn the Ugandan culture which will help ease the process of working with the communities in the different parts of the country.
He cautioned them about the cultural differences they may experience but reminded them that it is normal for things to be different because of the different cultures and upbringing the host communities have. "Have an open mind so that you can learn and above all, have fun," Prof. Mugagga said.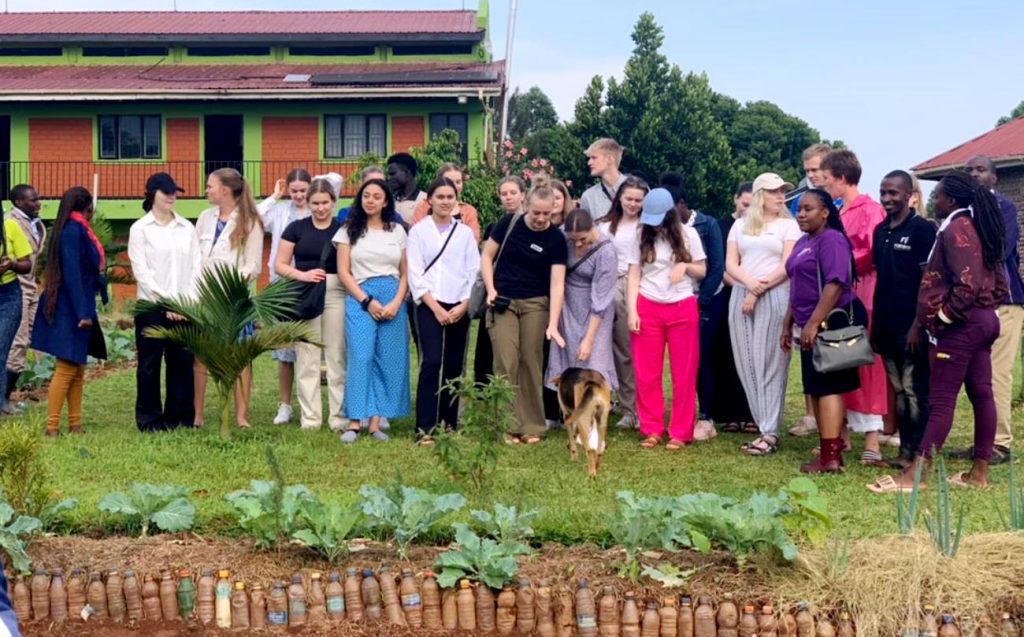 The Head of Department, Dr. Sanya Rahman, welcomed the students to Uganda and encouraged them to have an open mind so that they can learn and also unlearn certain things they know about Africa. He shared with the students the courses taught at the department and the opportunities available for exchange students.
The students had an opportunity to learn about the culture and norms of Ugandans. Dr. Constance Mudondo shared with the students about Uganda. She informed them that we have over 50 languages spoken by different groups of people. She informed them that greeting is an important aspect of our culture that they must learn to observe. She cautioned them about dress code, saying they must be decent at all times, especially in the rural communities where they will be spending most of their stay in Uganda. Dr. Mudondo informed the students that prayer is an important part of our lives and should be respected. "If the family you are living with sits down to pray, please join them as a sign of respect for their values and beliefs," she said. She cautioned them against smoking in public and ensuring their safety and that of their property.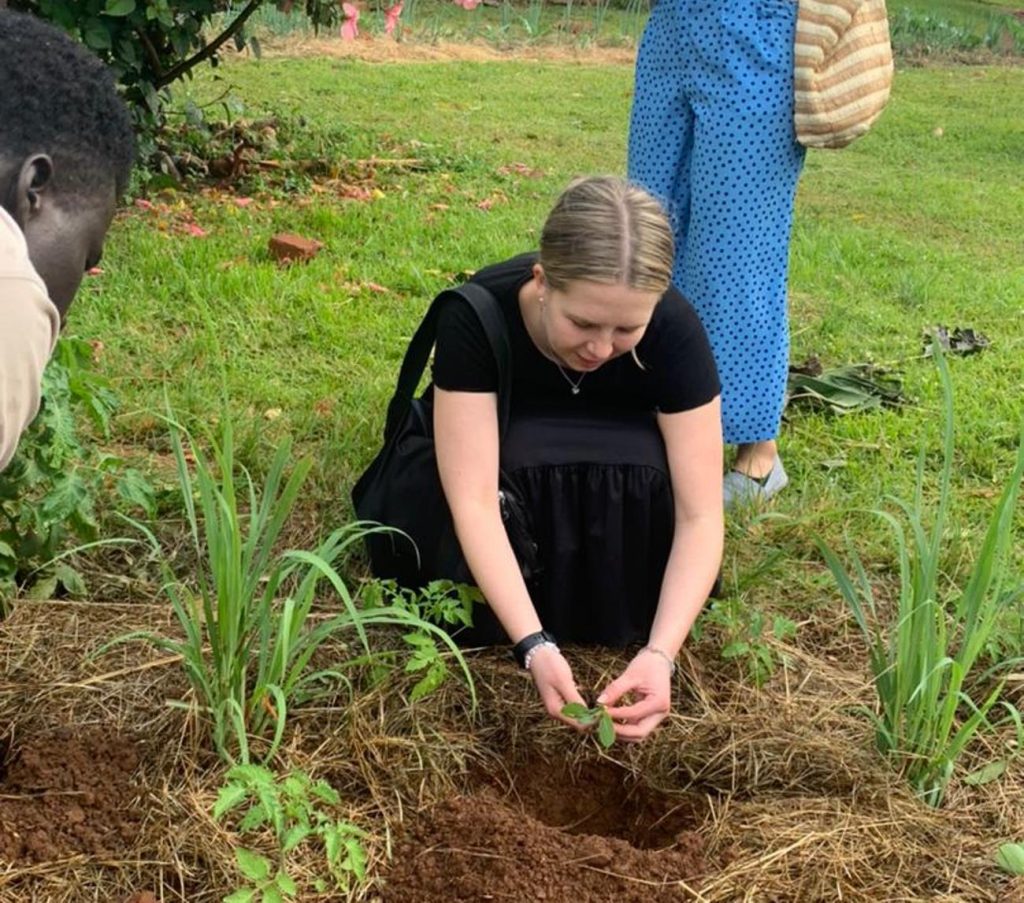 According to Mr. Joseph Watuleke, the coordinator of the student exchange program this is the sixth field study that students from the University of Agder are undertaking.
The students on January 11, 2023 visited Jangu International, in Mpigi District. Jangu International is an NGO that offers an innovative place where marginalized youth and refugees are empowered to create a future for this and upcoming generations.
Jangu International tackles the failing education of vulnerable groups by providing a "freesponsible" learning space with interactive workshops on personal development and social entrepreneurship.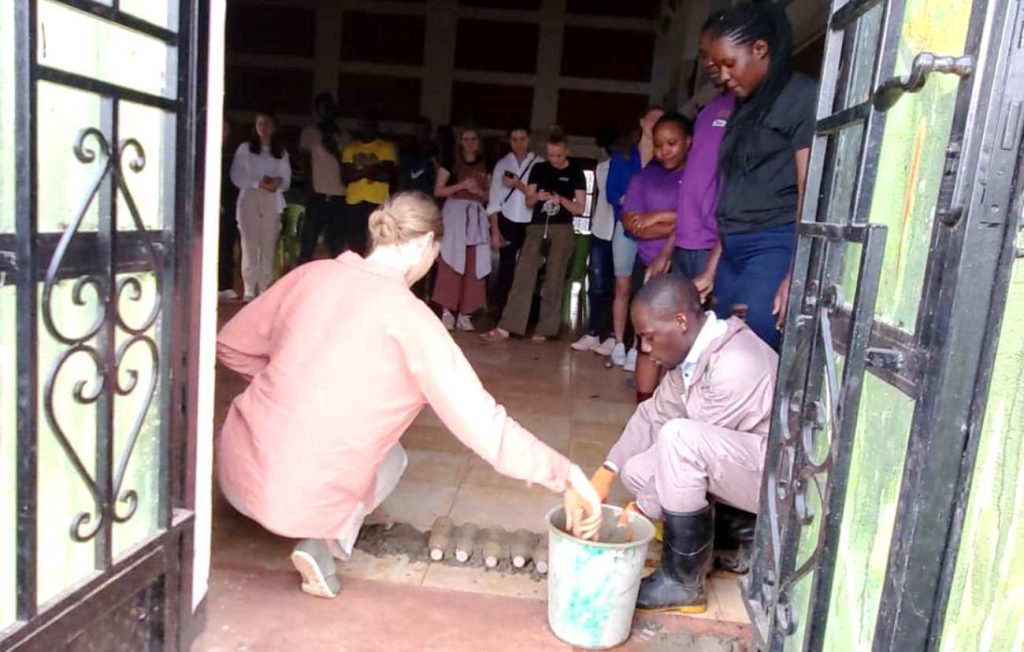 The students of the University of Agder described the visit as empowering, interesting and a learning experience for all of them. The students found a group of teenagers that was building houses with bottles, which they said was innovative and a good way to conserve the environment.
Over 400 graduate in Skills Dev't from Mak – Love Binti International Program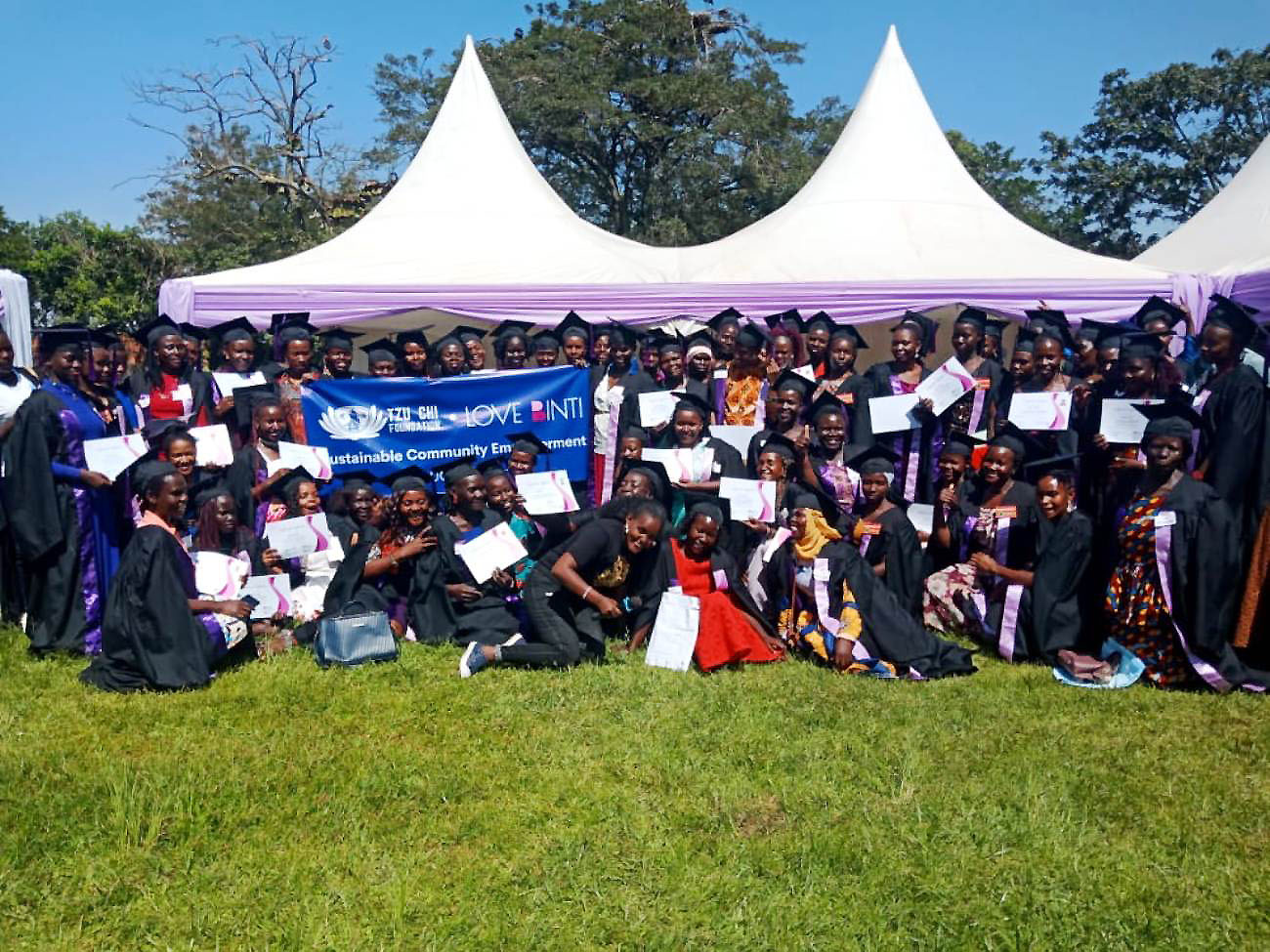 It was ululations and dancing as 417 students graduated with certificates at Makerere University under the Love Binti program. Of these, 415 were women.
The university partnered with Love Binti International to offer certificate training to students that required the education.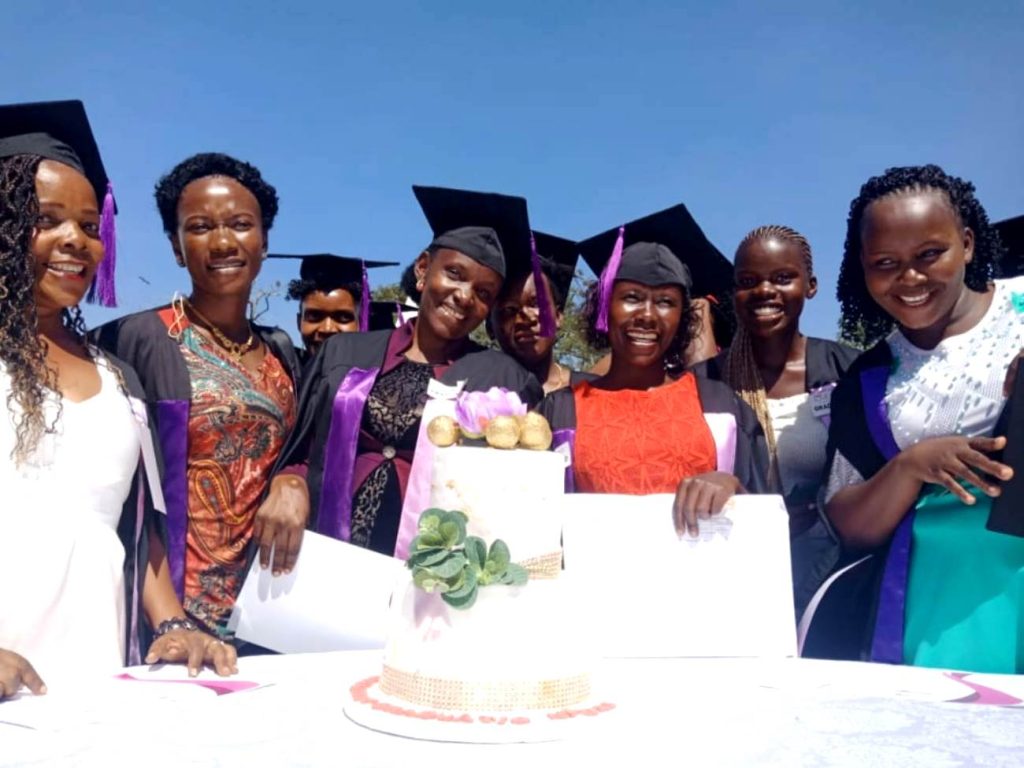 The students graduated from three different branches of Love Binti International, including; 177 from Makerere University branch, 145 from Harvest Church, Kabalagala and 95 from the mobile branch which us currently located in Kikaya.
The graduands have been trained in three major areas Including; Tailoring, Entrepreneurship and Health Education.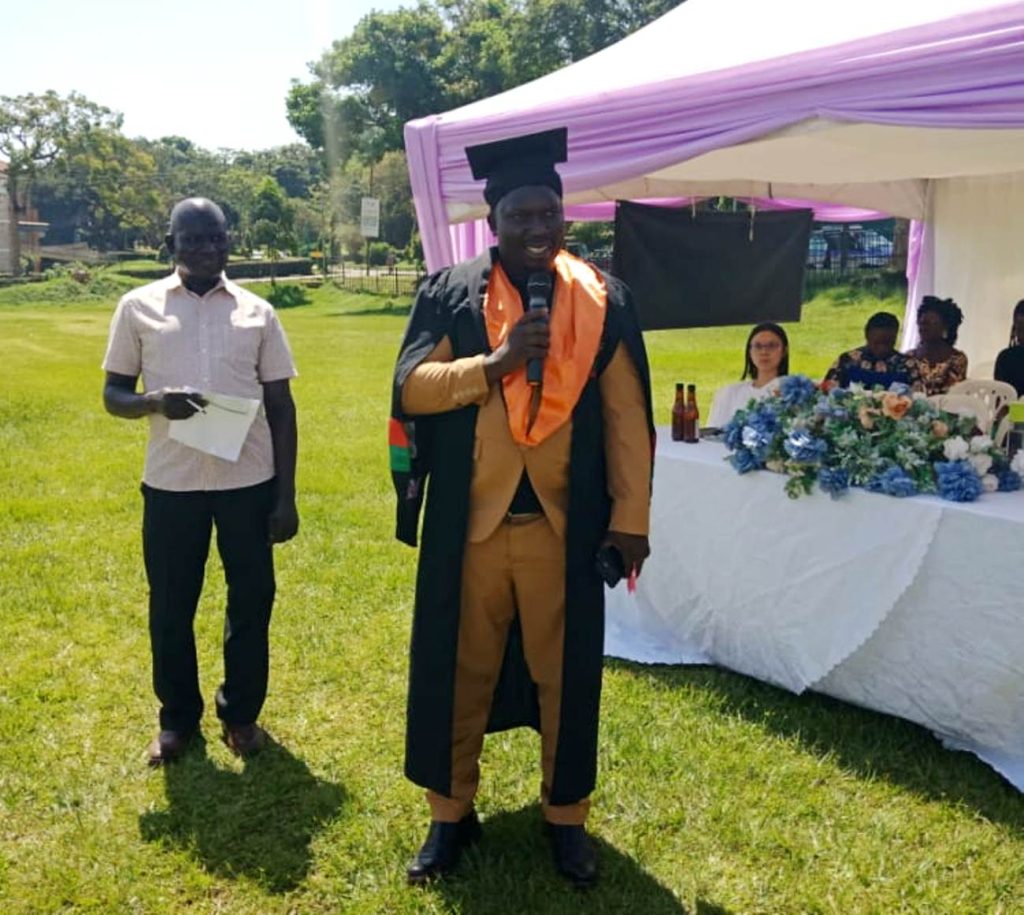 Speaking at the Graduation, Mr. Joseph Wakuleke, the Executive Director of Love Binti International, Makerere Chapter said the program has trained over 1,180 students since its inception in June 2018. Majority of these are female students.
"At Love Binti International, we prioritize empowering women, to help them become self-sustaining because an economically empowered healthy woman is a gate pass to collective development," he said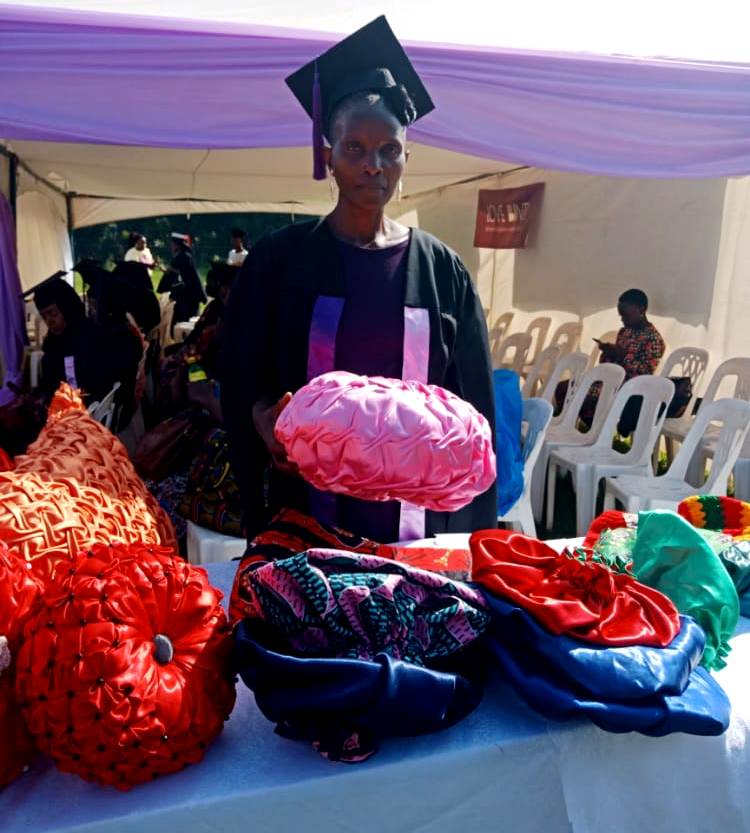 As they empower women, the program, Wakuleke said has opened doors to men who also want to benefit and develop skills.
"Our strategy is to empower a girl child through provision of skills in three modules; tailoring, entrepreneurship and health education, which are all compulsory because we realized most of the diseases that disturbing our homesteads are avoidable," Wakuleke emphasized.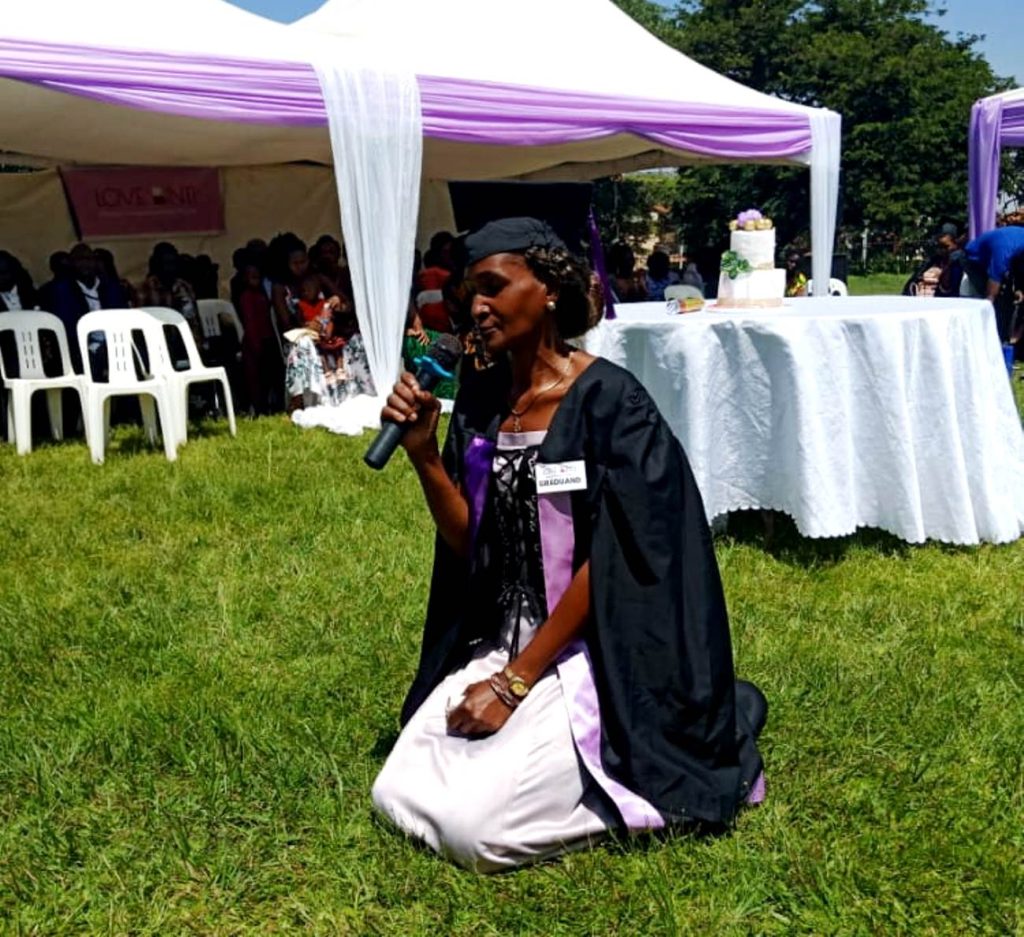 At a function held at Makerere University Freedom Square on Saturday 7th January 2023, the excited gradaunds shared moments of joy and danced as they sung in praises for the Almighty.
The graduands, who had been accompanied by their parents thanked the University and Love Binti International for thinking about the under privileged groups of women and young men who had failed to study, due to tuition constraints.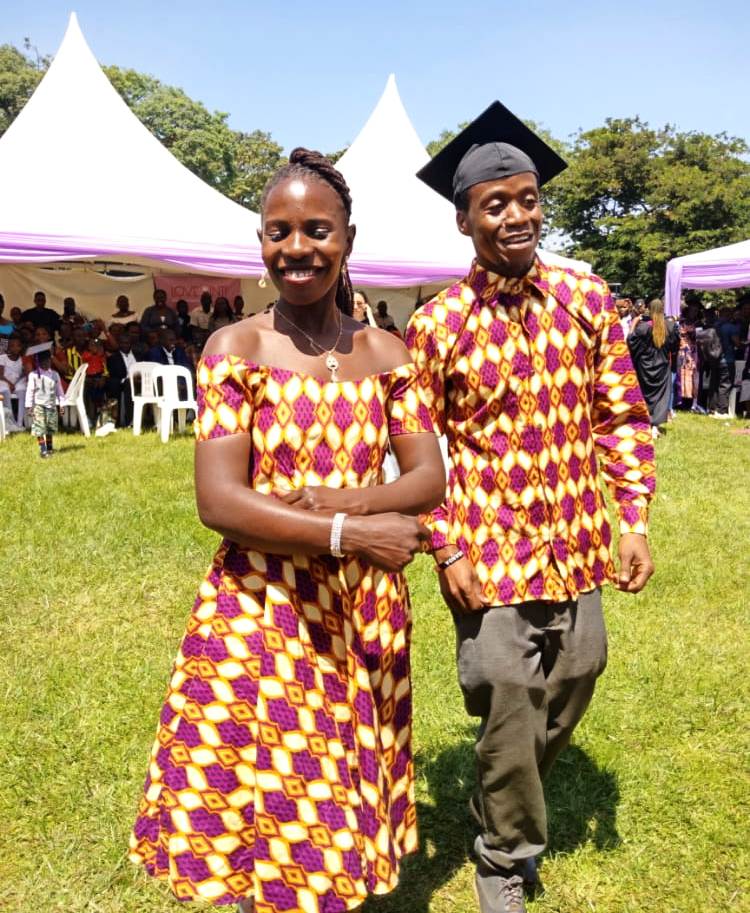 In this three months program, Love Binti International paid all the tuition and gave the beneficiaries materials to use during training.
In her remarks, Elle Yang, the Director of Love Binti International thanked the graduands and management for being resilient especially during the two years of lockdown.
"The two years were crazy, classes were halted but you stood firm and peacefully waited and here we are," she said.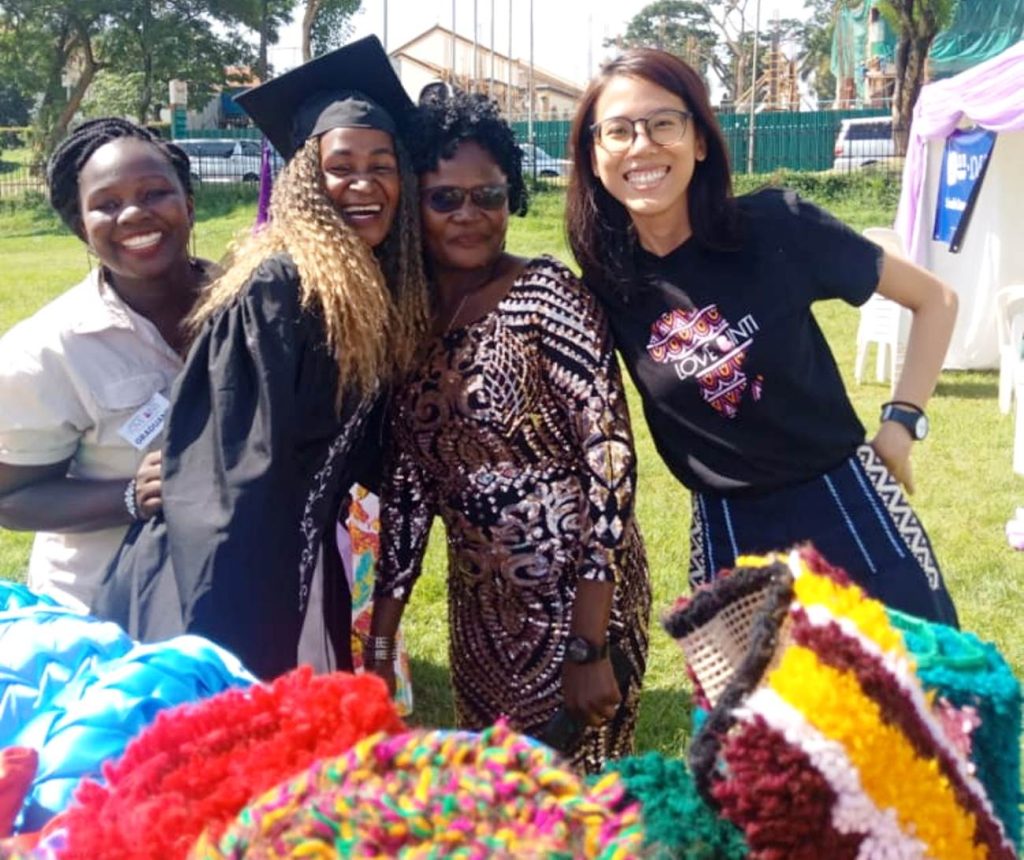 "I want to thank you for the basic skills you have learnt and implemented. We were discussing if students should really pay tuition and chose to agree with the guest of honor that really students do not need to pay tuition but just bring materials to help their smooth learning," she added.
Adding her voice to Yang's remarks, Taiwan based Sara Liu, the Chairperson of Love Binti International urged Graduands to practice what they have learnt to better their lives.
While officiating at the Graduation, Dr. Twine Bananuka, the Dean School of Distance and Lifelong Learning at Makerere University appreciated the efforts brought by Love Binti International, which are partly helping Makerere realize some of its objectives, like being a people-centred University.
"What we are doing here today is what defines a people-centered University. We are delivering education to all Ugandans," he said added.
"From what we are seeing here (innovations), you have shown us that you are professionals. I am happy that the program deals with women empowerment and as Makerere we have done our part,"
Promoting women empowerment through entrepreneurship, health and skills development, he said, are among the gears of economic development.
"Government is emphasizing the Parish Development Model and as Makerere University we are now stakeholders in ensuring the success of this program so I implore you to go and participate in it," he said. "Go flourish, work and change your lives, families and the whole world," he concluded.