RE-ADVERTISED Call For Applications: 4 PhD Scholarships under CABUTE Project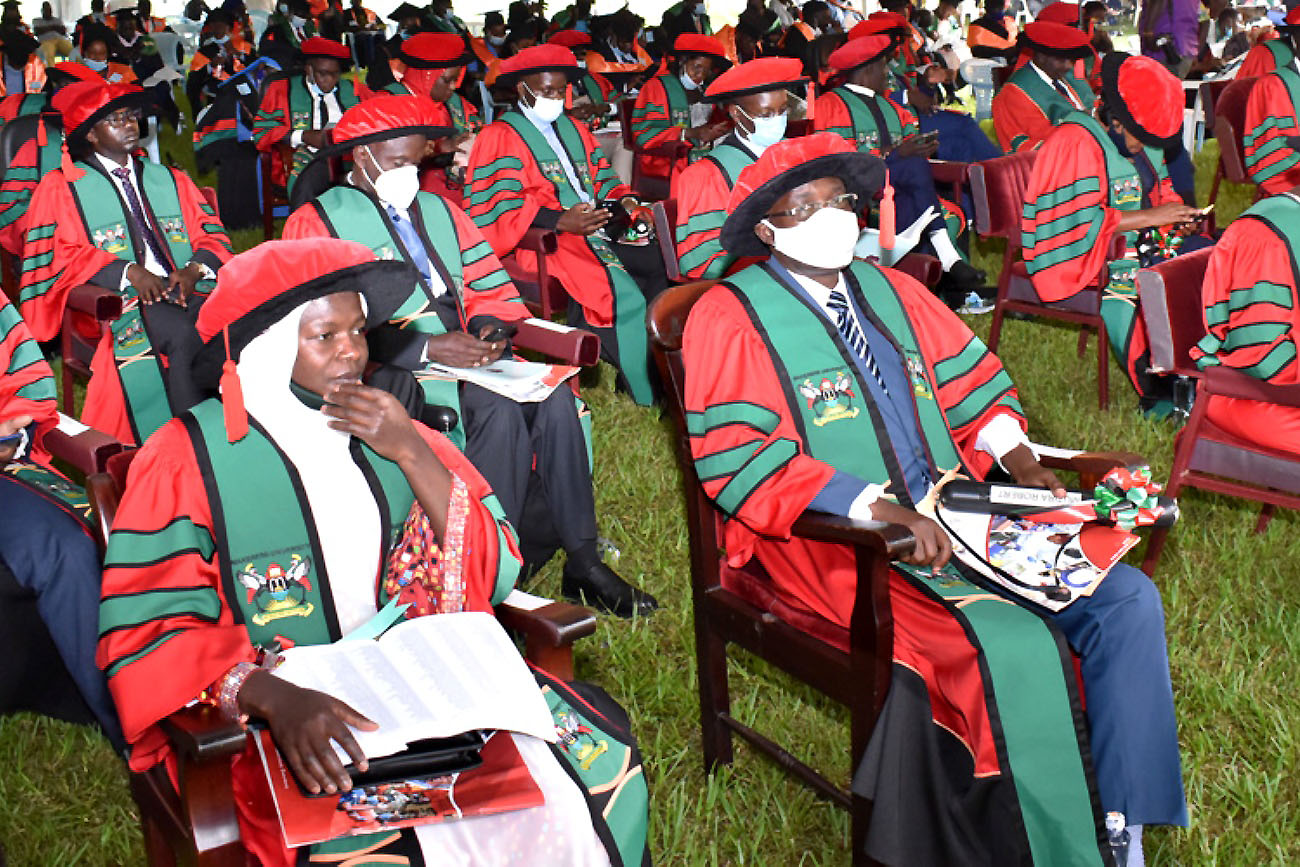 Makerere University in collaboration with University of Bergen, Norway; Kyambogo University, Uganda; National Institute of Teacher Education (UNITE); and Western Norway University of Applied Sciences is implementing a Six (6) years NORHED II supported Project titled 'Capacity Building for Research–Based Teacher Education (CABUTE)'.
The main purpose of this collaboration is to enable successful implementation of the National Teacher Policy in Uganda through capacity building in the subject areas of English, General Education, Mathematics, and Music.
The specific objectives of CABUTE are:
To strengthen the quality and relevance of postgraduate teacher education and research program and methods in selected subjects
To strengthen postgraduate teacher educator education and research systems in the selected subjects.
To increase competence and capacity of higher education faculty and teacher educators.
To improve institutional small-scale infrastructure and equipment for education and research.
To improve gender equality and inclusion of marginalized groups in teacher education and research in selected subjects.
To increase availability of opportunities for lifelong learning among teacher educators, and
To increase engagement with the Ugandan ministry of education and sports and other relevant stakeholders for dissemination of knowledge, among others.
To achieve these objectives, CABUTE provides a total of four (4) PhD scholarships to promising scholars conducting their studies and research in one or a combination of the following subject areas:
English/English Education (two scholarships)
General Education/Foundations of Education (two scholarships)
Mathematics/Mathematics Education (two scholarships)
Music/Music Education (two scholarships)
The training of the four (4) PhD students will take place at Makerere University, with co-supervision from the University of Bergen and/or Western Norway University of Applied Sciences.
CABUTE especially invites interested candidates from the Ugandan CABUTE-partner institutions (Makerere University, Kyambogo University, and UNITE) to apply for the scholarships. If filled with well-qualified applications, Makerere staff will receive three scholarships, and Kyambogo staff will receive one scholarship. Well-qualified applicants from UNITE staff will be prioritized if the other two institutions lack well-qualified applicants. Applicants from other Teacher Training Colleges in Uganda may come into consideration if the CABUTE partner institutions are unable to recruit well-qualified applicants to the scholarships.
The PhD training will commence in September 2022 and will be supported financially for a period of four (4) years on full-time basis. The training is preferably under the existing PhD in Education at the Makerere University, College of Education and External Studies.
Eligibility
Applicants must:
Be holding a relevant master's degree in one of the following subjects: English/English Education, General Education/Foundations of Education, Mathematics/Mathematics Education, or Music/Music Education
Be a Ugandan citizen, aged not more than 45 years
Be able to stay in Norway for a period of one year during their PhD training
Not be holding any other scholarship for PhD studies
Demonstrate the ability to think creatively and work independently
Be able to work in a team of researchers from Uganda and Norway
Take on an education-related PhD research project in any of the four subject areas named above, or a combination of two of these subject areas
Be a tutor/lecturer in one of the Ugandan CABUTE partner institutions (Makerere, Kyambogo or UNITE) or another Teacher Training College in Uganda
Interested applicants should submit the following sets of documents:
An application letter for scholarship for PhD studies
A research Concept Note of maximum five (5) pages (see guidelines given below)
A current CV (maximum five (5) pages), which includes a detailed description of previous education at university level (all courses and grades)
A description of the applicant's master thesis (topic, method, theory, results)
A certified copy of the applicant's Bachelor and Master's degree/diploma
Certified transcripts of grades from all courses at university level
At least two (2) letters of recommendation from academic referees, signed and dated from 2022.
Copy of appointment letter from the Education Service Commission, Ministry of Education and Sports, or proof of employment from own Head of Department/Dean.
Citizenship Proof; copy of national identity card or passport
Three recent passport size photos
The Concept Note must include:
A description of the applicant's research interest in any of the above subject areas, and of the topic of the applicant's PhD project
A description of the applicant's background in this research area
An account of the applicant's motivation for conducting PhD studies
A discussion on what outputs the applicant expects to realize through the PhD studies.
Application procedure
All application documents must be zipped up into one file folder named Application for CABUTE PhD Scholarship.
The application with supporting documents should be submitted electronically on email to:
Dr. Paul Birevu Muyinda
Coordinator of CABUTE at Makerere University
paul.birevu@mak.ac.ug
Copies should be sent to:
Assoc. Prof. Steinar Sætre
Principal investigator for the CABUTE project, University of Bergen
steinar.satre@uib.no
Professor Buyinza Makadasi, Directorate of Research and Graduate Training, Makerere University
Overall Coordinator of NORHED II Programme at Makerere University
mbuyinza@mak.ac.ug
No hardcopies of application documents will be required due to the prevailing Covid-19 situation. Application submission deadline has been extended to Thursday 28th April 2022 at 5pm. Interviews will be conducted at an appropriate date to be communicated. Only shortlisted candidates will be contacted for interviews.
ANY APPLICATION SENT AFTER THE DEADLINE WILL BE REJECTED.
Selection Process
These are competitive PhD scholarships. The applications shall be vetted by a selection panel consisting of professors selected from Makerere University, Kyambogo University, Uganda National Institute of Teacher Education (UNITE), Western Norway University of Applied Sciences and University of Bergen in Norway.
The admission for PhD in Education with specialization in English/English Education, General Education/Foundations of Education, Mathematics/Mathematics Education, or Music/Music Education is independent of the scholarship award and hence candidates must follow the existing admission processes/regulations at Makerere University.
Successful candidates for the scholarship who are not yet admitted at Makerere University will be required to follow Makerere University PhD application procedure and secure admission before commencement of the PhD training in September 2022.
Improving equality and inclusion
The CABUTE-project is aiming to improve equality and inclusion of marginalized groups in teacher education, and women, members of ethnic and cultural minorities, and other marginalized groups are therefore strongly encouraged to apply. Please inform us in your application if you want to be considered as an applicant on this basis.
More details
For more details on the different research areas, contact:
Assoc. Prof. Paul Birevu Muyinda, PhD Coordinator CABUTE Project at Makerere University
Deputy Principal, College of Education and External Studies
Makerere University E-mail: (paul.birevu@mak.ac.ug)
or
Assoc. Prof. Steinar Sætre
Principal Investigator for the CABUTE Project
Department of Education
University of Bergen
E-mail: (steinar.satre@uib.no)
For more details on CABUTE, check our website:
https://www.uib.no/en/cabute/147184/phd-scholarships
Prof. Nawangwe reiterates Makerere's commitment on e-learning as the East African Teacher Education Symposium kicks off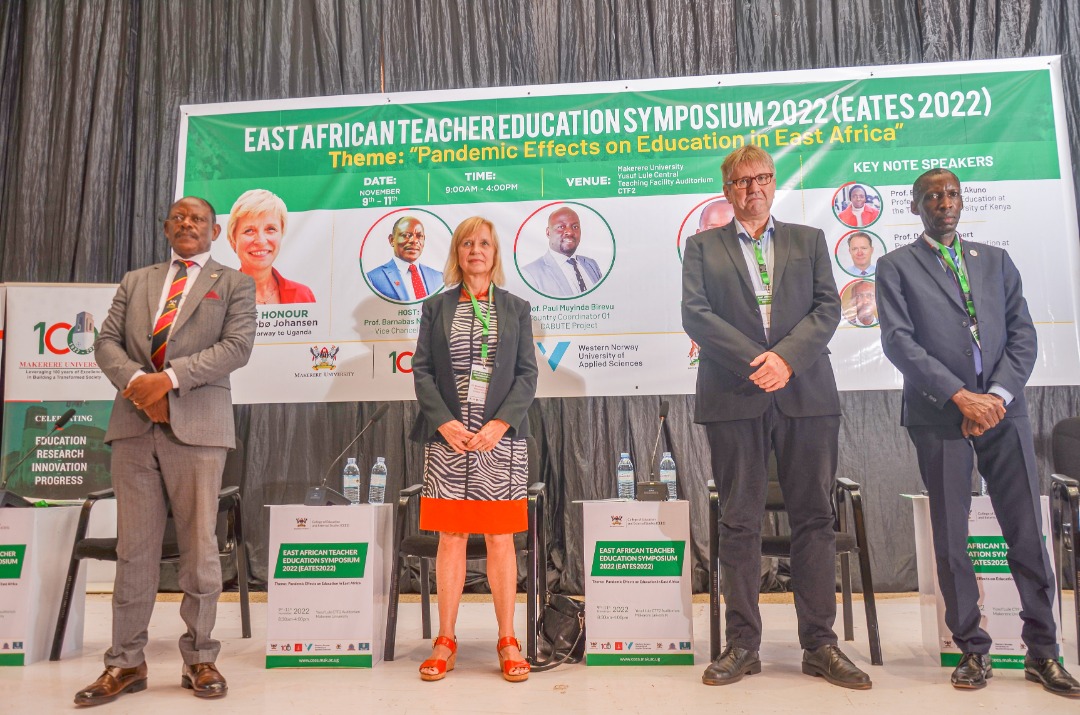 Prof. Barnabas Nawangwe, the Vice Chancellor of Makerere University has reiterated the University's commitment towards the implementation of e-learning. The vice Chancellor was speaking at the opening of a 3-day symposium organized to discuss the "Pandemic's effects on Education in East Africa".
Prof. Nawangwe said the University has embarked on process of developing the e-learning.
"Online teaching by Makerere University falls under core goals of the University that endeavours to market itself as a centre of research, teaching and Community outreach," he said.
Upon the outbreak of the covid-19 pandemic, he said all private Universities nearly closed after they failed to pay their staff. Those that chose to teach online struggled because students lacked the necessary equipment.
Makerere University, he said upon learning this immediately constituted a special Committee led by the Deputy Vice Chancellor Academic Affairs which studied and rolled out e-learning and as well supported its staff in acquiring skills in the same.
"We embarked on the largest staff development program ever in the history of the University, when the institute trained more than 700 staff within one month. We also reactivated the MUELE and these initiatives maintained an online presence, with all students at Makerere also being advised to obtain a University email address thus teaching and learning went on," he said.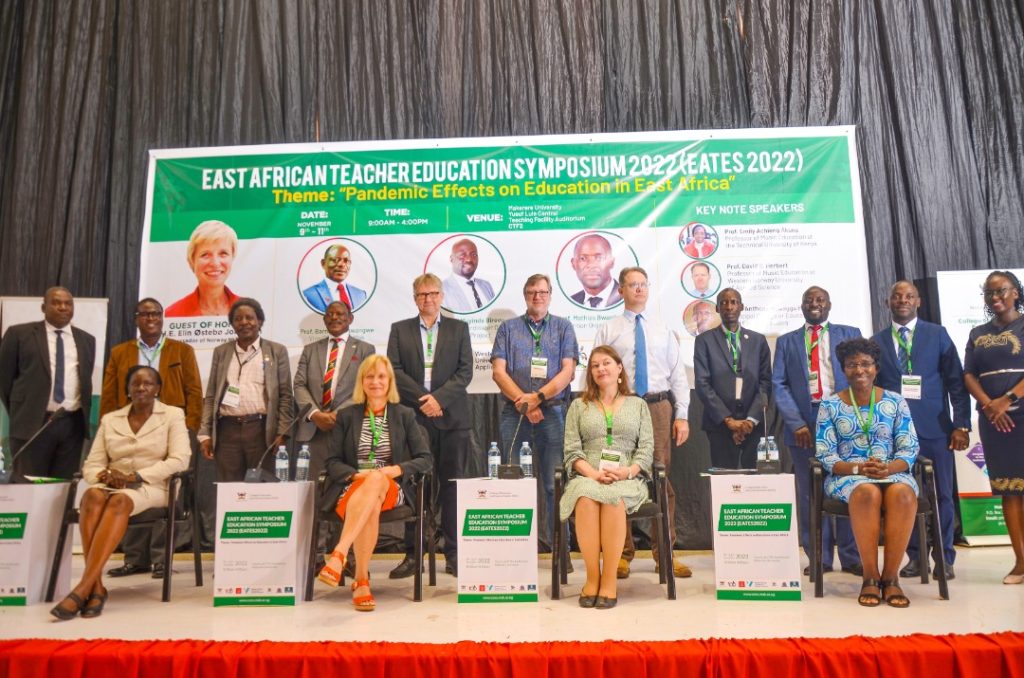 "We were in a way responding to a theme of a conference which I attended in Beijing just before covid-19 broke out and we all didn't know that it will be there," he said
Prof. Nawangwe made these remarks during the launch of the 3 days East African Teacher Education Symposium 2022 (EATES 2022)
The East African Teacher Education Symposium was organized by the Capacity Building for Research-Based Teacher Education (CABUTE) project with funding from the Government of Norway.
"Uganda is home to over 40 registered private Universities and 11 public Universities. Almost all Universities in Uganda were Ill prepared for the covid-19 pandemic shock just like many in the world," Nawangwe said.
"I thank the CABUTE project which aims at successful implementation of the National Teacher Policy through capacity building in English languages, education, foundation of education, mathematics education and Music education," he said
Prof. Nawamgwe thanked the people and the government of Norway for the financial support to research and staff development and infrastructure development, saying it has been instrumental in making Makerere the great University that it is.
The Ambassador of Norway to Uganda, Her Excellency Elin Ostebo Johansen, said the project is a reflection program on career educational development.
Teachers, she said are the backbone of ensuring successful learning for everybody.
"A great teacher requires a great teacher education, excellence in functioning knowledge is necessary to excel as well. Quality education is a basis for growth and prosperity of people and this is import to all countries," Ambassador Elin Ostebo Johansen said.
Paul Muyinda Birevu Country Coordinator of CABUTE Project said that the project is one of the signature activities of the Capacity building for research based teacher education project.
"We conceived this project after realizing the need to support the government in fast tracking capacity development of higher teacher trainers in primary teacher colleges and National Teacher colleges. These institutions are by policy required to transform into degree awarding institutions," he said
He said that the CABUTE project therefore is intended to support this initiative and it is starting to pay off.
The project has awarded over 10 scholarships for Masters and PhD studies, at Makerere University. The awardees are drawn from National Teacher Colleges and Primary Teacher colleges across the country.
"Our work with building capacity in Ugandan teacher
education is finally in full swing. In the coming years, EATES will present
the results of this work, and the work of the CABUTE candidates' will be
of particular interest. We already look forward to accompanying them
on their journey toward a degree," the Principal Investigator, Prof. Steinar Sætre said.
Academicians call for equity in education delivery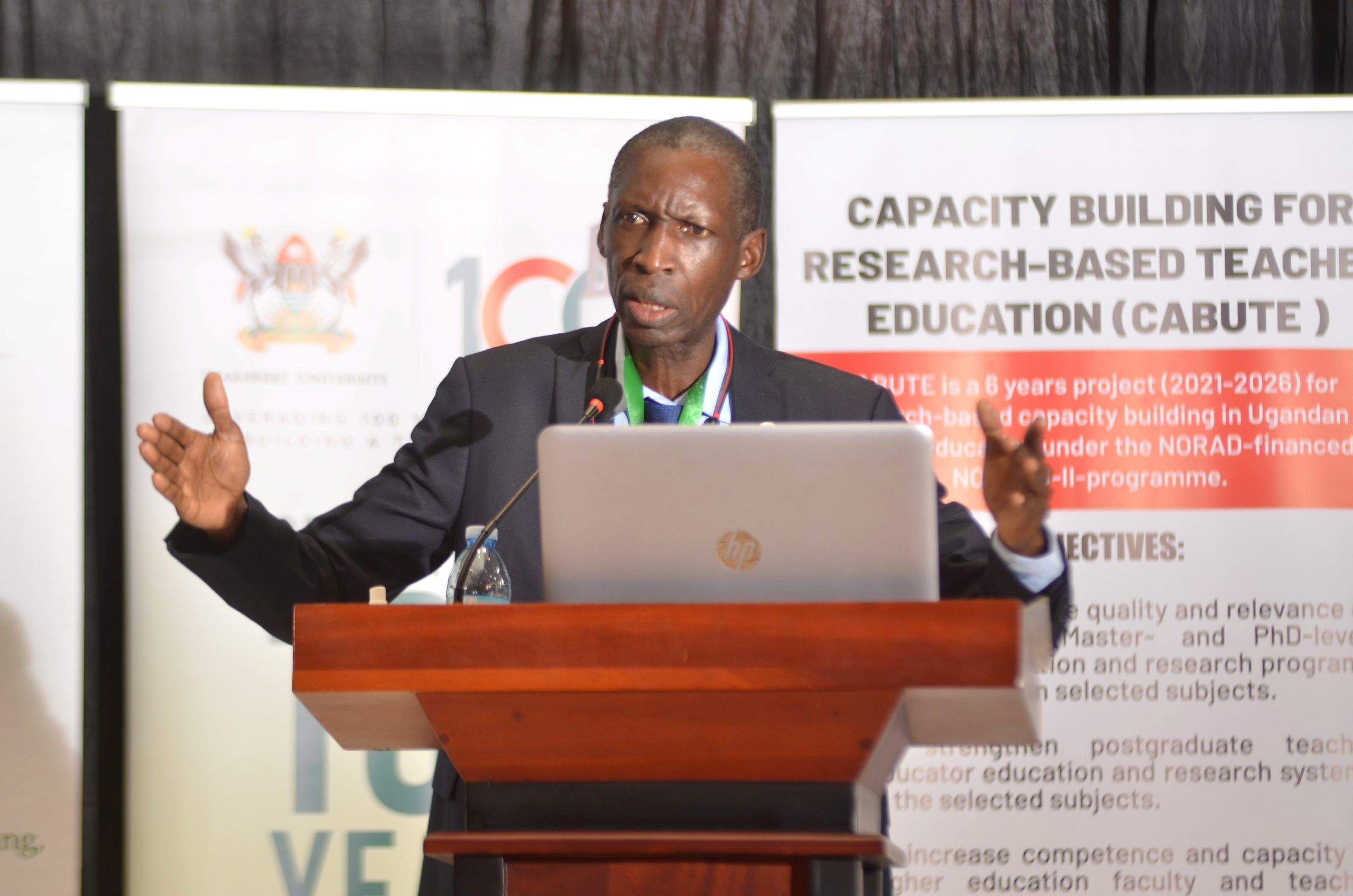 Academicians at Makerere University have called for equity in education delivery, saying the Covid-19 pandemic exposed our education systems as one that favours the elite/urban students and disadvantages the rural poor students.
The call was made by Prof. Anthony Muwagga Mugagga while delivering a key note address on "Blended Pedagogical Approaches and their Impact on Learning Cultures During and After Covid – 19 pandemic.", at the opening of a symposium on Teacher Education under the theme "Pandemic's effects on Education in East Africa". 
The country, upon the outbreak of the pandemic the government adopted certain Pedagogical interventions which included, home learning packages/materials,mainly distributed through newspapers, which cost between Shs1000 and UShs 2000.
Prof. Mugagga argued that the poor, who on average earn between 0 and UShs 1000, could not afford this. 
The government also used Radio and Television programmes for the candidate classes, which were presented during the day. Prof. Mugagga, however says this still left out the rural students who were in the gardens during the delivery of these classes.
Another method of blended learning adopted during the pandemic was the Home Parental assistance and guidance. This would imply that all parents with children at school irrespective of level of formal schooling were supposed to provide some degree of pedagogical assistance to their children. "Unfortunately, approximately 50% of the rural people in Uganda are illiterate or Semi illiterate , but even those who are fairly schooled cannot cope with the dynamic school curriculum reigning today," Prof. Mugagga said during his keynote address.
Using WhatsApp messages to communicate between schools and students and emails was only a preserve of the urban elite, the professor said.
"The Covid-19 pandemic exposed our education house. It showed that indeed our education system and its planers are skewed towards the elite and the urban rich," Prof. Mugagga said.
Prof. Mugagga recommended certain changes if the education system is to have meaningful blended pedagogical interventions.
Functional state structures
Governance and political as well as social accountability for all rich , middle and poor .
Parity and equity in educational opportunities for all
Meritocracy versus favoritism in access to good educational opportunities: The best are selected and not those who are most favored by the system.
Strong leadership and administration which makes state institutions functional and powerful
A Strong sense of entrepreneurship on part of all education stakeholders
Strong civil society
An overall sense of professionalism by all
Strong vocational and technical education
Pedagogical innovativeness by all
Plan but in cognizant of our affluent-poverty education access divide.
Train both the in-service and pre-service teachers in use of Emerging Technologies(ETs ) such as Mobile phones, Televisions and Radio among others.
Create inclusive Education technology implementation frameworks from Early Childhood Care Education (ECCE) to university levels but tailored to the Ugandan context.
The symposium, which was also attended by Ministry of Education Official, was organized by Capacity Building for Research-Based Teacher Education (CABUTE) project.
Commissioner Jonathan Kamwana, called on the university to train teachers in preparation for crisis. "We need to prepare out teachers to handle refugee students and those from war tone areas." "We also need to teach them soft stills, values that are conducive for the environment," Mr. Kamwaka said.
The ministry he said has got a teacher training framework which has competence profiles for all teachers at all levels.
The ministry he said has done studies and has the teacher policy which is hoped will guide training of teachers and better the quality of the teacher sent out into the schools.
About CABUTE:
CABUTE is a 6 years project (2021-2026) for research-based capacity building in Ugandan teacher education under the NORAD-financed NORHED-II-programme.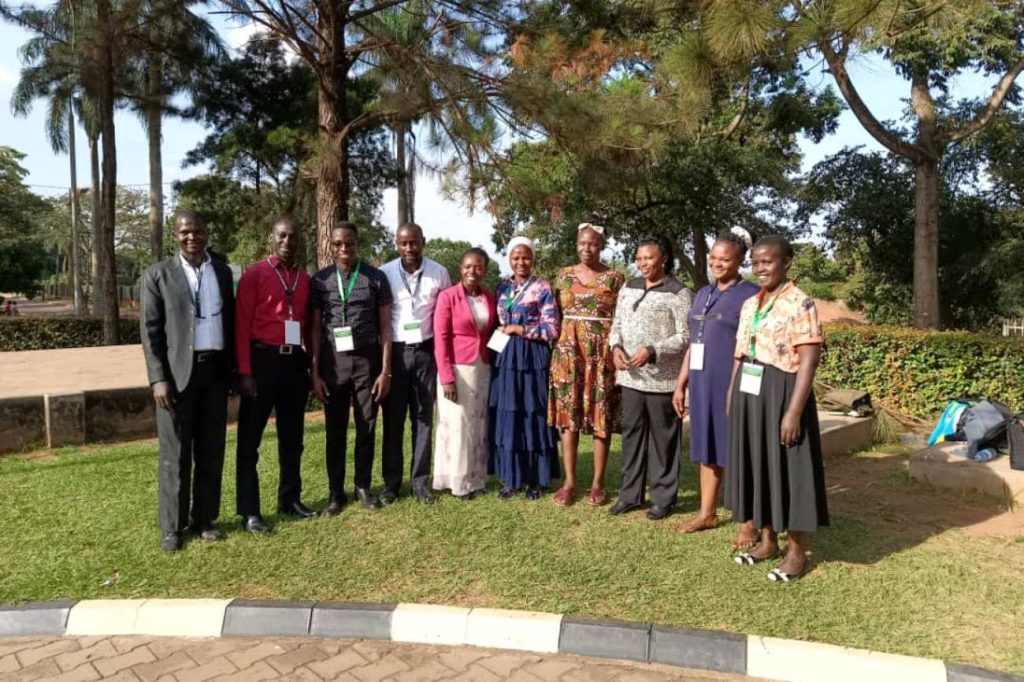 It has so far issued 16 masters scholarships and 4 PhD scholarships to teachers of NTCs and PTCs.
Value of Play-Based Learning in Early Childhood Development Education
On Wednesday, 12th October 2022, Makerere University researchers from the College of Education and External Studies (CEES) hosted, virtually, a symposium on the recent research project that engaged Early Childhood Education stakeholders in North, Central and Eastern Uganda on scaling the school readiness initiative (SSRI) through play-based learning.
The International Development Research Centre Canada (IDRC) funded program titled "Strengthening school and community capacities in scaling school readiness through play-based pedagogies in pre and primary education."envisions generation of knowledge and evidence to strengthen Early Childhood Education, strengthening curriculum and capabilities for teachers in Early Childhood Education development for Uganda and Zambia to ensure a strong education foundation for learners and promotion of Play Based learning in learners between 0 to 8 years.
While opening the symposium, Professor Anthony Mugagga the principal College of Education and External Studies (CEES) Makerere University shared his disappointment from some professionals who under look early childhood education teachers and consider them failures.It is on this basis that ten years ago, he started efforts to better Early childhood education in Uganda through research.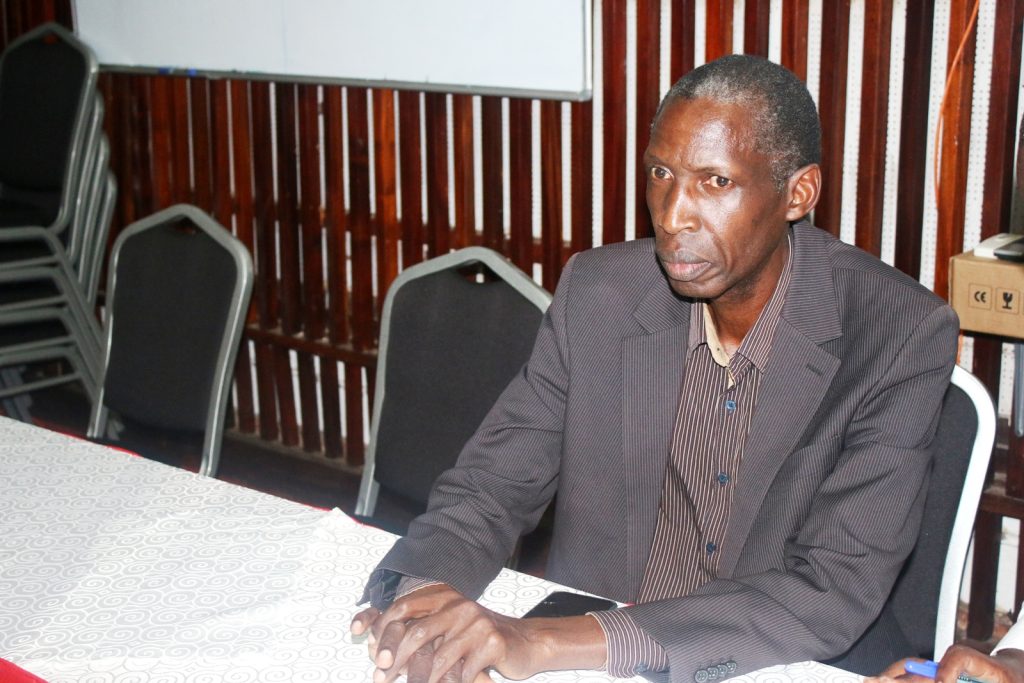 "I am happy that 10 years down the road, the College of Education admits students of PhDs, Masters and Diplomas of Early Childhood Education," added Prof Mugagga.
He said the country has only about 5% graduate students as early child hood education givers, saying most of the caregivers are from S4 or Primary 7 students, a thing he said must change if we are to improve ECE. "Teachers who are constrained in learning cannot do a good job teaching the young children," Prof. Mugagga said. He decried the policy of administering interviews for children joining primary one, saying it has forced teachers to teach pre-primary children with the primary curriculum in an effort to ensure they pass the interviews.
Prof. Mugagga concluded his remarks by thanking IDRC for funding this incredible study and the research team for the dedicated work done. He assured the team of his support in promotion of play-based learning in ECD centers in Uganda.
While giving his remarks, the Dean School of Education and the program Principal Investigator in Uganda Professor Bwanika Mulumba noted how the benchmarking for ECDE had been neglected in Uganda concentrating much on higher Education hence a challenge in production of unskilled learners in writing and reading for learners in tertiary institutions.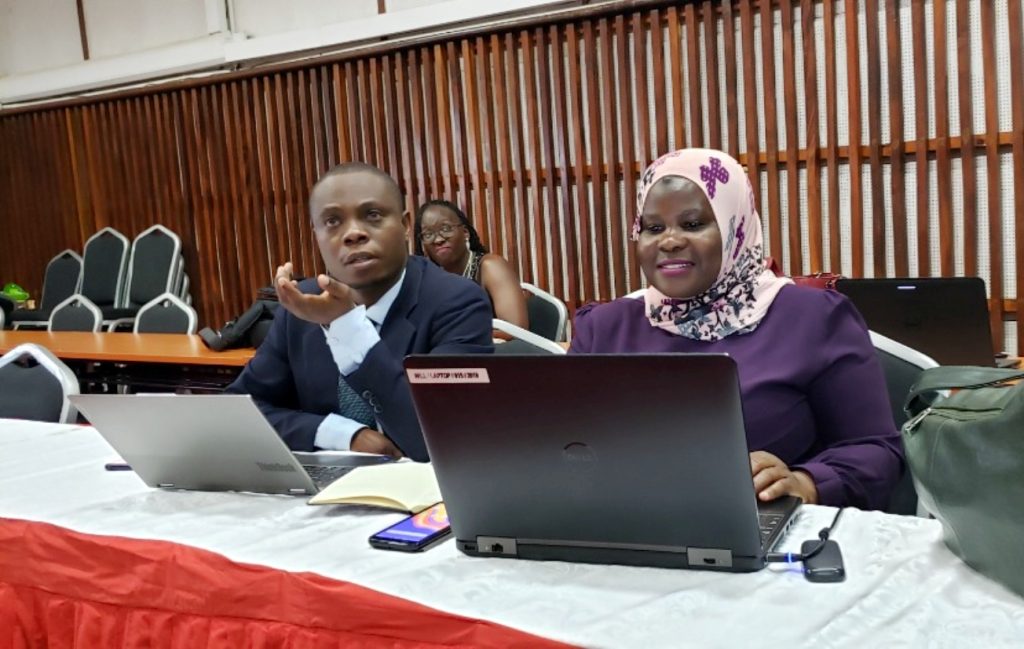 Professor Bwanika added that Ugandan schools and parents give children less time to play always cautioning them on academics and homework which hinders children's cognitive skills and emotional wellbeing in response to learning. He hailed IDRC for the funding and the Zambia Open Community schools (ZOCs) that hosted the research team to benchmark in Zambia for the assessment tools developed to promote Play Based learning in Zambia.
Mrs. Cleopatra Muma the Executive Director ZOCs emphasized that the program is based on schools' readiness for children, children's readiness for school and parents' readiness to work with schools in educating children. The project in Zambia has solved challenges of limited access to quality ECDE service especially among marginalized rural communities and inadequate knowledge and skills to ECD workforce hence enriching cross learning and strengthening linkage between centers of knowledge, government and all stakeholders.
While sharing experience on Zambia's preparedness in response to ECDE, Dr, Edward Kansiime a research team member praised Zambia and ZOCs for moving swiftly and steadily in benchmarking and preparing for early childhood education play based learning where learning centers have equipped demarcated playing grounds on top of a well-developed digital assessment tool teachers use in guiding learners on their able gadgets.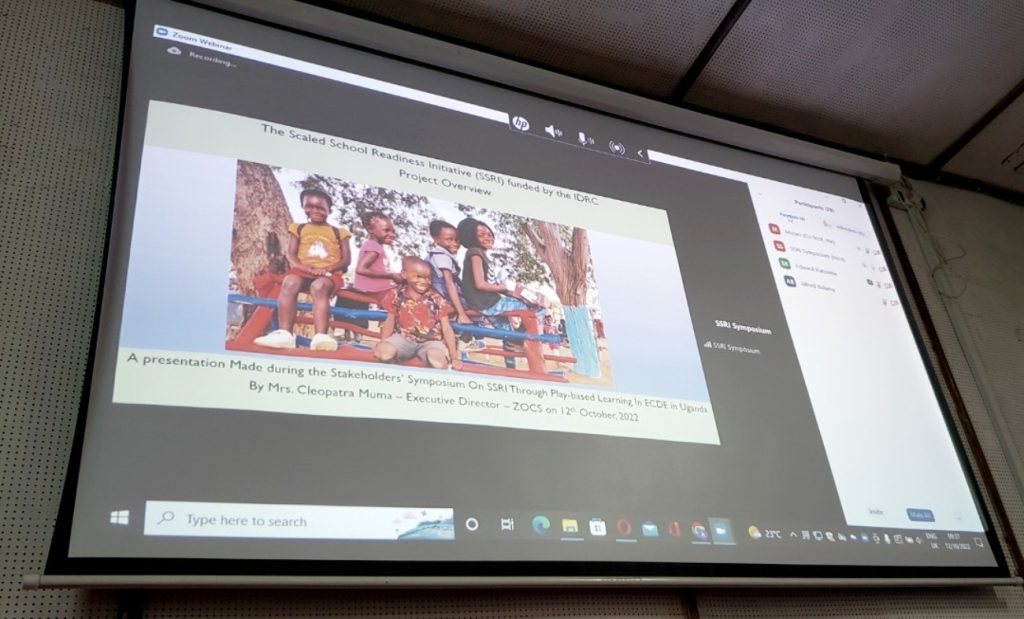 Dr. Nancy Nabiryo an English and Literature specialist from School of Education Makerere University presented Findings from a systematic review of play-based learning in national ECD frameworks and baseline survey on play-based learning in ECDE centers in Uganda.
It is evident that parents and schools are not aware that children can learn effectively through play and play based learning has not been benchmarked and neither has it been much encouraged.
The government has not recognized the role of an effective ECDE in tertiary Education, Dr. Nabiryo ended by calling on government not to only regulate but to assiduously fund, benchmark and encourage play based learning across ECD centers in the country and also help out teachers through training to understand rights of the child and values of play in Early Childhood Education.
Dr. Alfred Buluma and Mr. Edward Kansiime also presented their projects on Infrastructure in Play Based Learning and Play based learning ECDE teachers 'pedagogical practices respectively where learners were encouraged to use their own bodies and materials in learning. Both studies at least found that learners are using actions and the five senses in learning.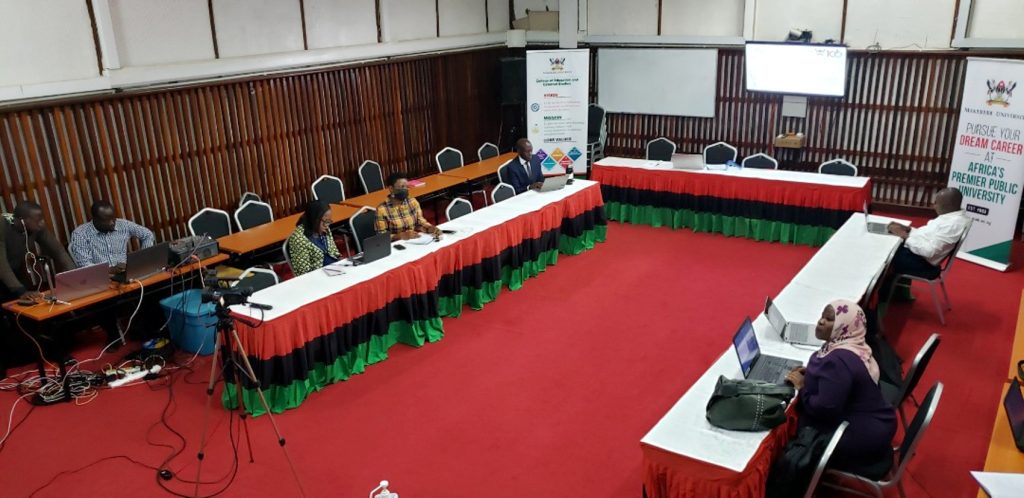 The project also captured gaps in ECDE that need immediate intervention which include pupils singing while sitting which limits full body activity, most ECDE teachers arenot well trained, congested classrooms by desks and too much play materials where some are actually not used, interpersonal skills and personality traits of curiosity and creativity not fully encouraged.
The project team thinks that it is prudent if workshops were put in place to sensitize teachers, parents, policy makers and implementers. Also, organizing of In-service teacher training, provision of an ECDE learning framework to some of the schools at least in every region and working alongside the inspectorate of Education for building linkage and sustainability of play-based learning in ECDE.
The symposium on scaling school readiness initiative (SSRI) through play-based learning brought together education enthusiasts from universities of Uganda and across the world. It is a joint partnership among Makerere University, University of Zambia, University of Arizona and the Zambia Open Community Schools organization funded by the International Development Research Centre Canada.