Govt. urged to integrate parent-child communication in sexual reproductive health programs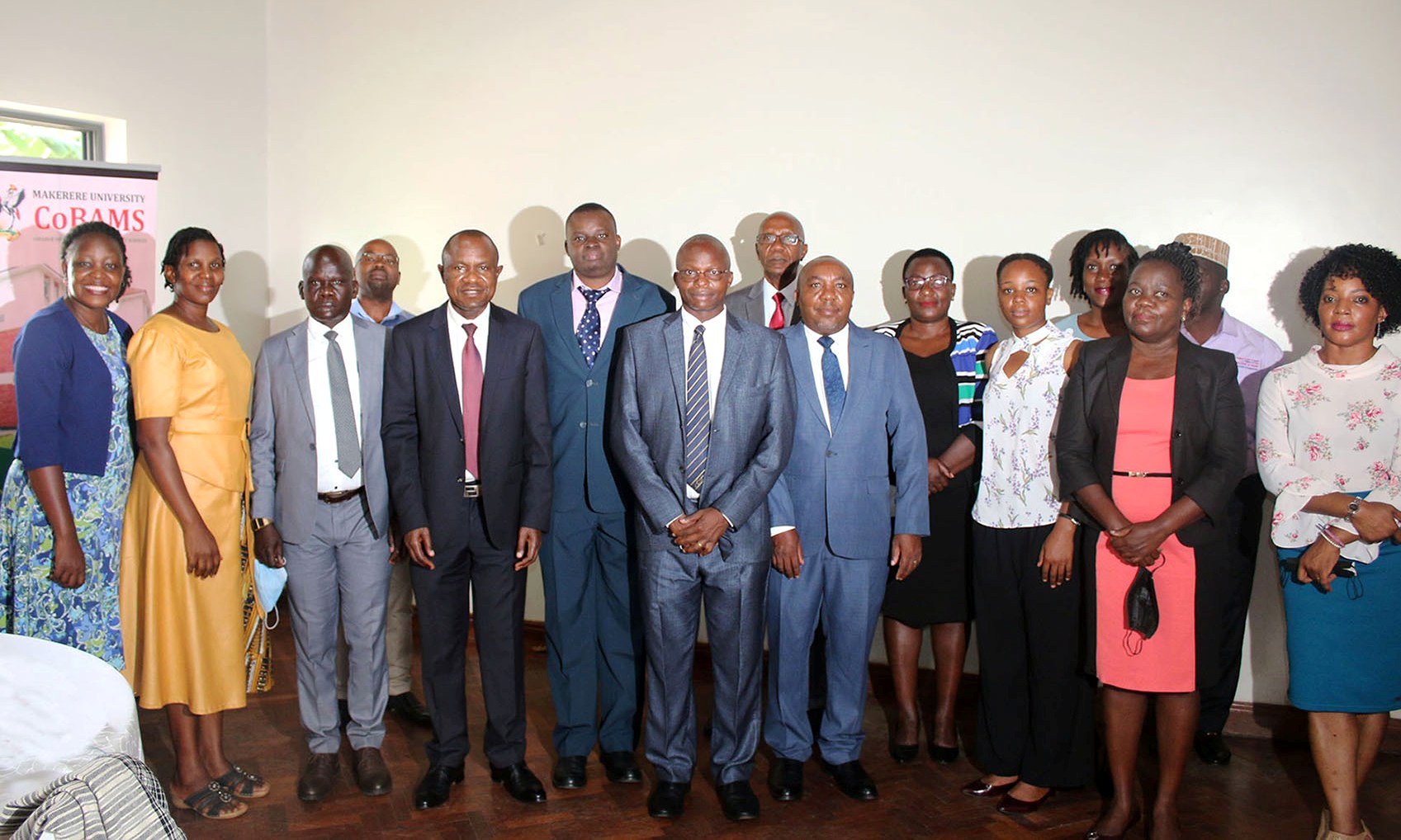 The government has been asked to integrate parent-child communication into sexual reproductive health programs in an effort to reduce teenage pregnancies.
The call was made by a team of researchers from the Department of Population Studies (DPS), College of Business and Management Sciences (CoBAMS), in collaboration with a team from Ministry of Gender, Labour and Social Development.
The group was presenting research findings of their paper titled "Parent-Child Communication on Sexual and Reproductive Health in border districts of Eastern Uganda".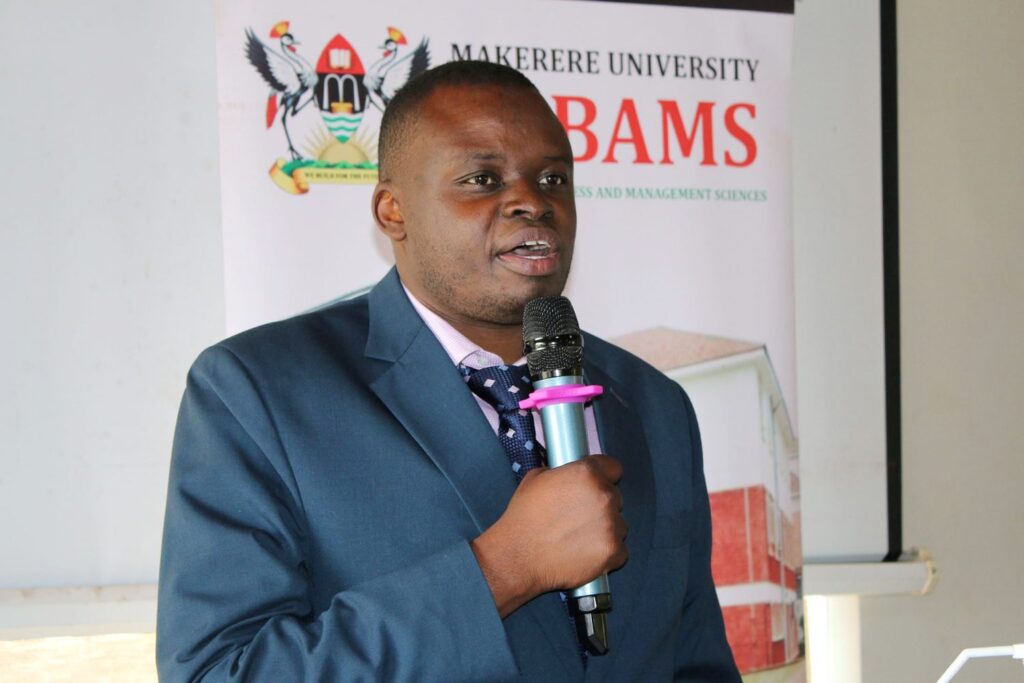 During a dissemination workshop held on March 10, 2022 in Kampala, Dr. Stephen O. Wandera, the principal Investigator, said research revealed that both parents and children were afraid of talking about sexual reproductive health issues. The study showed that 79% of the parents and 61% of the children reported discussing sexual reproductive health issues.
"Parents feel like things to do with sexual health should not be discussed between a parent and a child. It is considered a taboo," Assoc. Prof. Betty Kwagala, a member of the research team said.
The research also showed that good quality of parent-child relationships, close monitoring and keen interest in children and their behaviours facilitate good Parent-Child Communication (PCC). Support from religious leaders and Institutions was identified as a facilitator of PCC.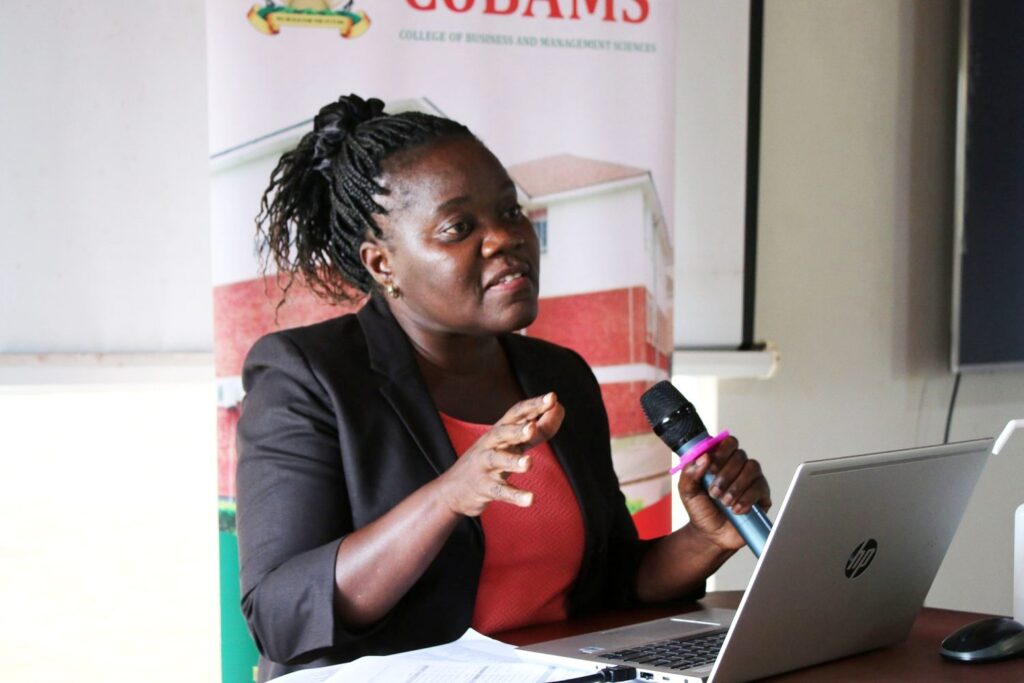 Dr. James Wokadala, the Dean of the School of Statistics and Planning (SSP) remarked that "Issues of health are very strongly emphasized in the National Development Plan III and the results of this research will inform not only knowledge and skills but also will guide policy engagement and policy direction, particularly on issues of sexual and reproductive health in Uganda." Dr. Wokadala also thanked the research team, led by Dr. Stephen Wandera for the wonderful work done and appreciated the Ministry of Health for joining the research by providing the technical eye from the Ministry.
"This is an appetizer for us moving forward." Dr. Wandera said. "It will pave the way for the monthly seminar series such that output like this can be shared country-wide and provide an opportunity for us to receive feedback from stakeholders so we can improve on our research outputs."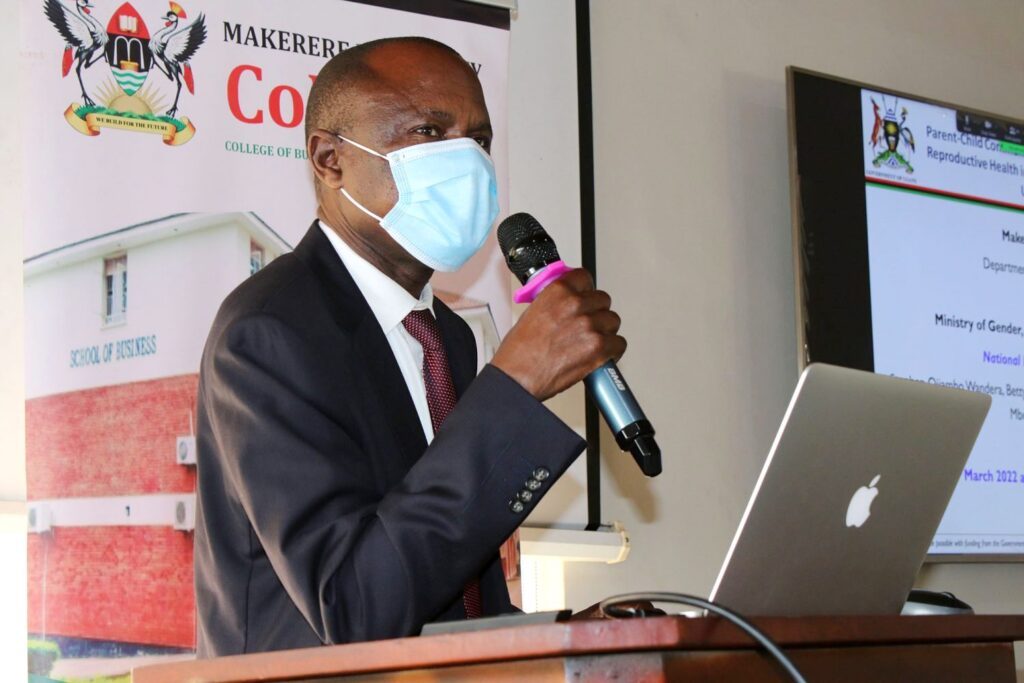 Assoc. Prof. Eria Hisali, Principal of the College of Business and Management congratulated the study team for winning the grant and also for being able to successfully execute the work in a timely manner. He also appreciated the Government of Uganda through the Research and Innovation Fund for supporting the research work. Prof. Hisali noted that there has been a considerable breakdown in the structures of society today. In the past, the responsibility of raising a child wasn't for only the nuclear family, but rather was the responsibility of a larger community. He called for the researchers and guests to reflect on the past, looking at the practices in raising children and adopt the good, neglecting the bad in them.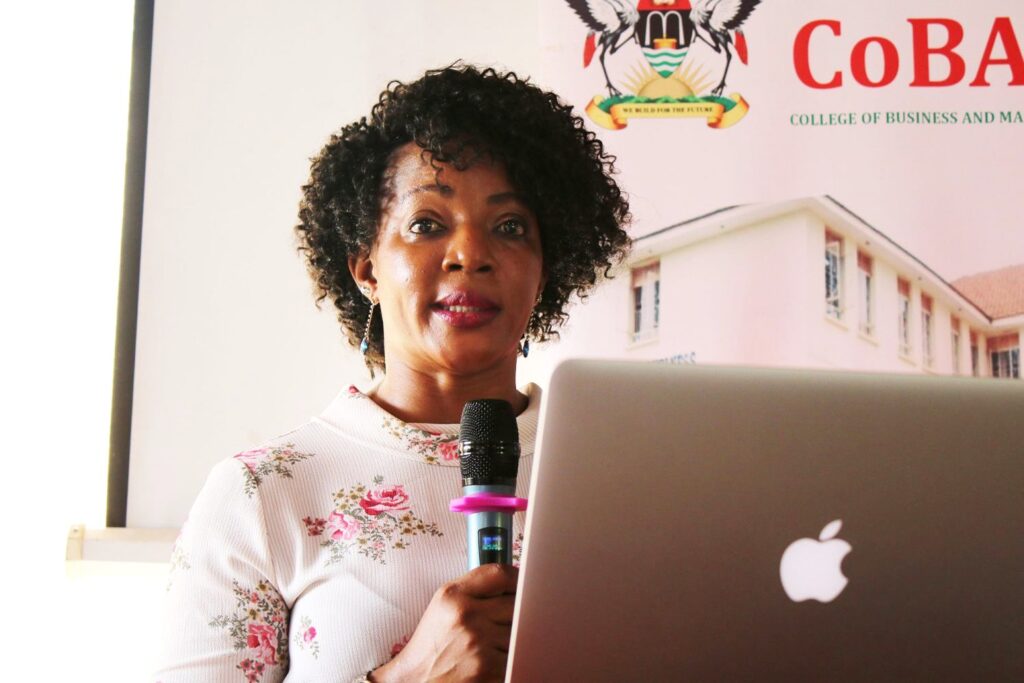 Dr. Sabrina Kitaka, Senior Lecturer of Paediatrics and Child Health, who represented the Chair of the Grants Management Committee of the Makerere University Research and Innovations Fund (Mak-RIF) congratulated the research team on their dissemination.
"As a paediatrician and as an adolescent health expert, this topic is pertinent to me. Many girls got pregnant during the COVID-19 lockdown and one of the studies we conducted in the districts of Kamuli and Wakiso showed that many of the girls who got pregnant had very poor parent-child communication," Dr. Kitaka said.
"As an adolescent health expert, one of the things that children always tell me is that they would like parents who have a very small mouth and big ears- parents that talk less and listen more to their children."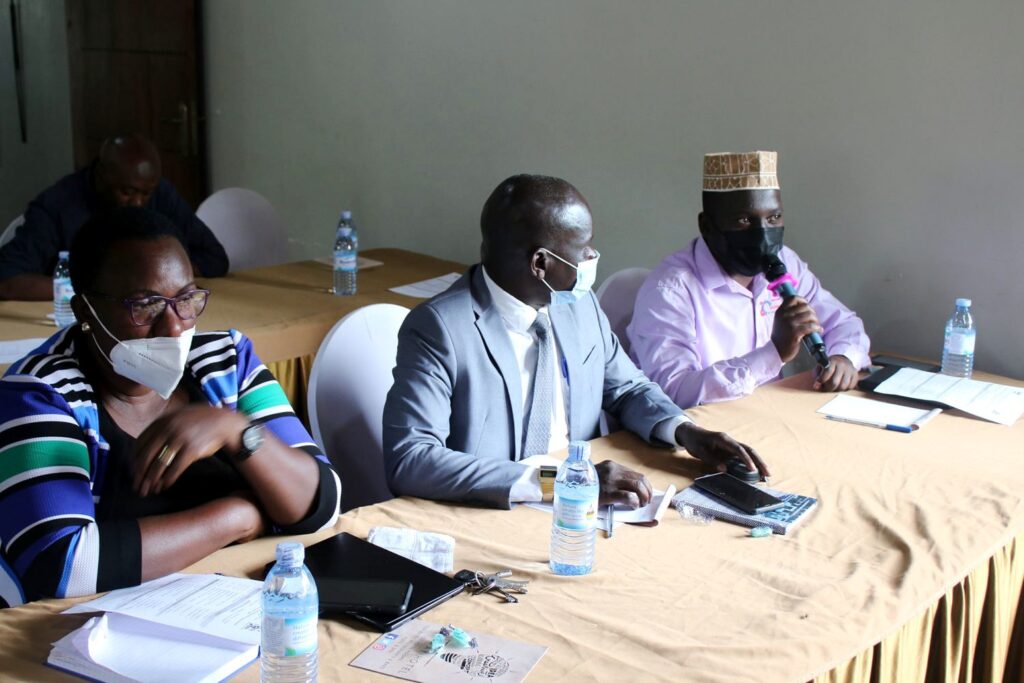 Young adolescents in developing countries prematurely experience a host of sexual and reproductive challenges. These include early sexual debut, sexually transmitted infections (STIs), unsafe abortions and childbirth with detrimental sexual and reproductive health (SRH) and socio-economic consequences. This project assessed children and parents' knowledge, attitudes, and practices (KAP) and the determinants of PCC about SRH in in the boarder districts of Busia and Tororo in eastern Uganda.
Recommendations
Mr. Fred Ngabirano, the Commissioner, Children and Youth Affairs at the Ministry of Gender, Labour and Social Development presented the recommendations of the research. He explained that, according to the research, Government should develop and implement a "Responsible Parenthood" programme for parents. The study also recommended that the government develops age appropriate, and contextualized SRH information, education, and communication (IEC) package and approaches.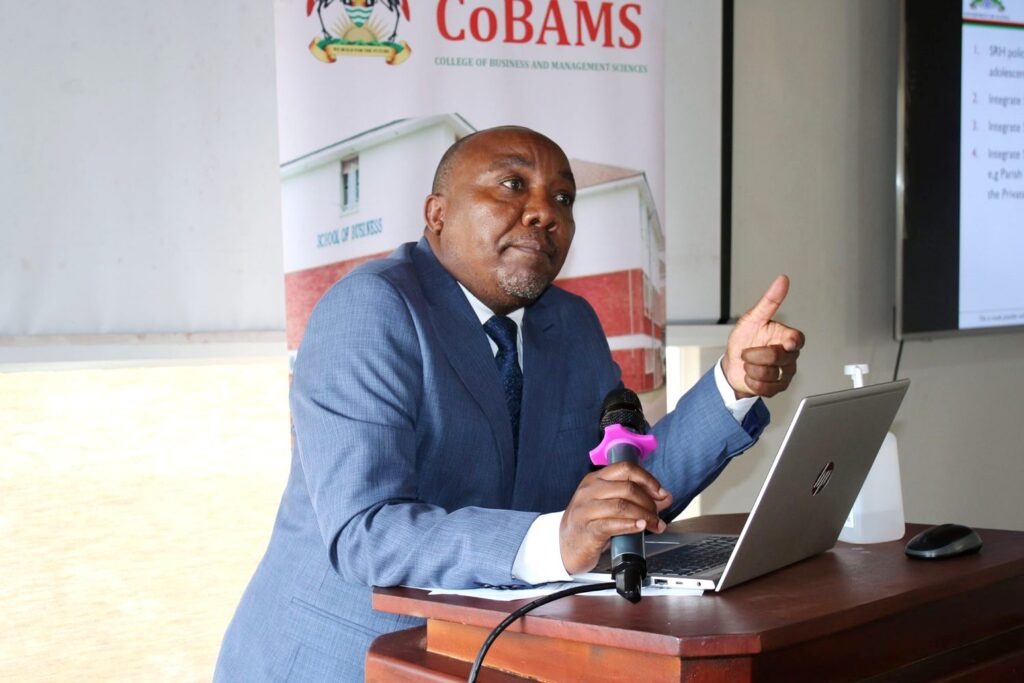 Mr. Ngabirano, also a researcher on this project also explained that according to their findings, government should recruit and equip parent peer educators and promote shared/community parenthood and should also strengthen child protection mechanisms at various levels and address the gaps in the enforcement of child protection laws.
Dr. Wandera appreciated the study participants, children, adolescents and parents for giving the team valuable feedback and input, through a very engaging process. Dr. Wandera also appreciated the research team, which was composed of Assoc. Prof. Betty Kwagala, Dr. Patricia Ndugga, Dr. Peter Kisaakye, Dr. Martin K. Mbonye, Mr. Fred Ngabirano and himself. He thanked them for the amount of effort and dedication put into seeing the study to completion. "Let this be the start of conversations about parent child communication, regarding sexual reproductive health. Let's not close the conversation" I am very glad for the opportunity we had to conduct research together with government. This has been a day where policy makers, researchers and programmers have met to dialogue on critical issues that affect the country.
The dissemination workshop was attended by officials from the Ministry of Health, representatives from the Ministry of Gender, Labour and Social Development, representatives from Civil Society, religious leaders and the press.
Business owners trained on social media usage in business operations by Makerere University Researchers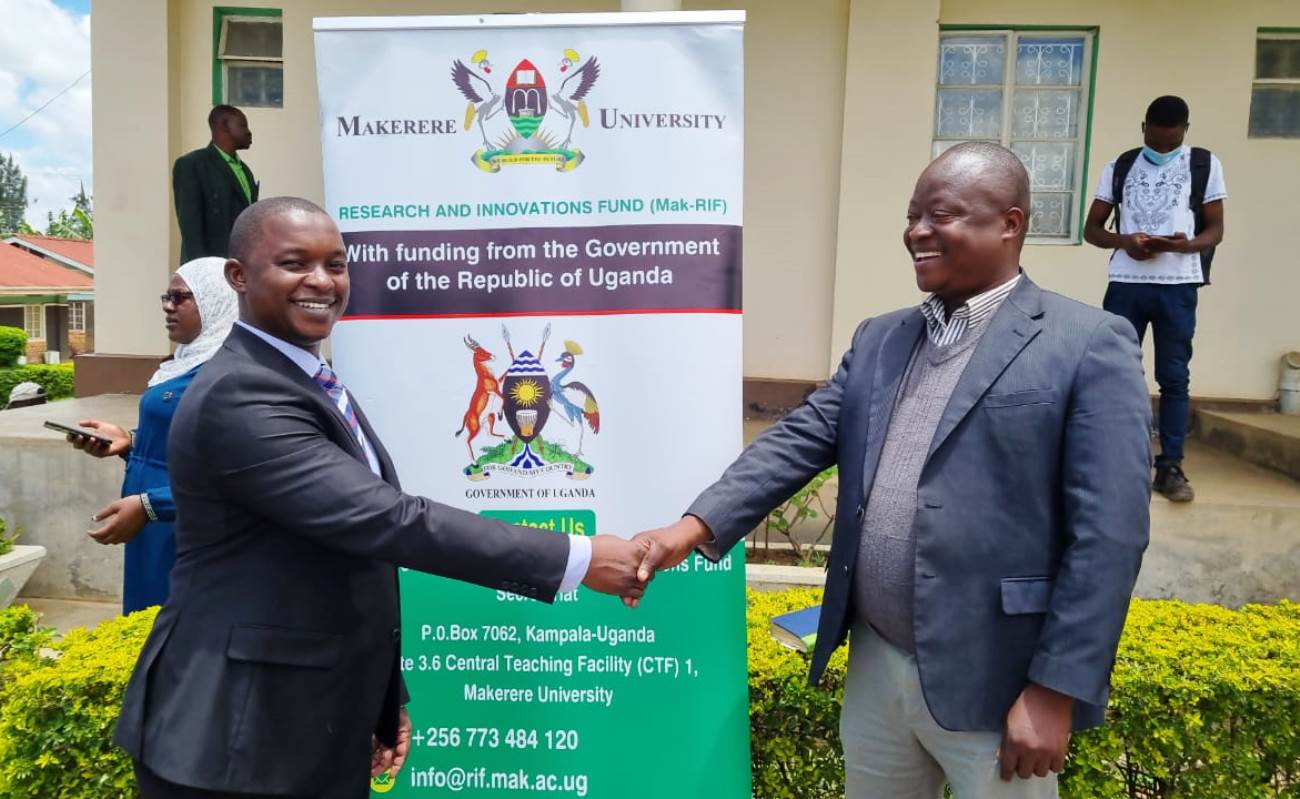 On Thursday 29th September 2022, happened a research dissemination workshop at St. Joseph's Inn Virika-Fort Portal that presented a policy debrief on social media technology as a feasible strategy in catalyzing Sustainable growth of small businesses in Uganda. A case study of Mbale and Fort portal by Makerere University's Business Management expert and Lecturer Dr. Kasimu Sendawula.
The research project themed "Strengthening the Social Media Competencies of Business Owner Managers for Sustainable Growth of Small Businesses in Uganda" objected at equipping business owner-managers with social media competencies that are relevant in boosting productivity, marketing and promoting business operations for sustainable growth.
The project team first conducted a needs assessment before training where it was revealed that 195 (92%) of the business owner-managers in Fort Portal and Mbale had never obtained training on social media usage. The research team engaged the project participants in a hands-on social media training and eventually social media platforms were integrated into the functionality of their businesses.
Uganda being the most entrepreneurial country in the world, it is unfortunate that 64% of businesses started do not live to see their first birthday and those that do, 30% collapse before their 3rd anniversary, this all has been made worse by the covid 19 pandemic.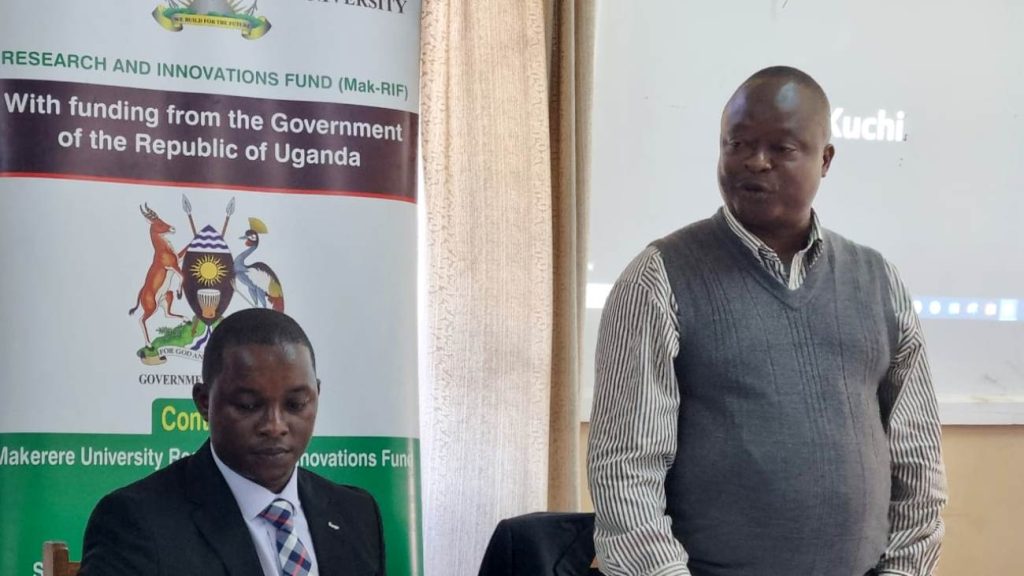 This research further revealed that 85% of the participants demonstrated readiness to use social media in the operations of their business and 77% of Business owner-managers have smartphones. On the other hand, 87% of participants were concerned that social media platforms may make it easy for Governments to spy on their businesses hence Privacy and Security threats.
Dr. Kasimu Sendawula the project Principal Investigator reported that after engaging the Business owner-managers in a hands on training; they appreciated social media and opened up social media platforms, channels, and pages that were suitable for their businesses and that the project team used the training materials to develop social media digital training modules that can be adopted by institutions of higher learning to equip nascent entrepreneurs with social media competencies relevant for sustainable business growth.
Dr. Mercy Amayo the Representative of the Grants Management Committee (GMC), Makerere University Research and Innovations Fund applauded the project team for the job well done and also congratulated them upon winning such a prestigious grant.
Mr. Ssekyondwa Augustine a Business Process Analyst and National Information Technology Authority Uganda Directorate of E-Government Services added his voice to appreciate and congratulate the research team on doing such an impactful study. He encouraged the trained business owners to exercise their marketing goals in respect to computer ethics and patent rights of businesses to avoid falling culprits of plagiarism and offensive communication.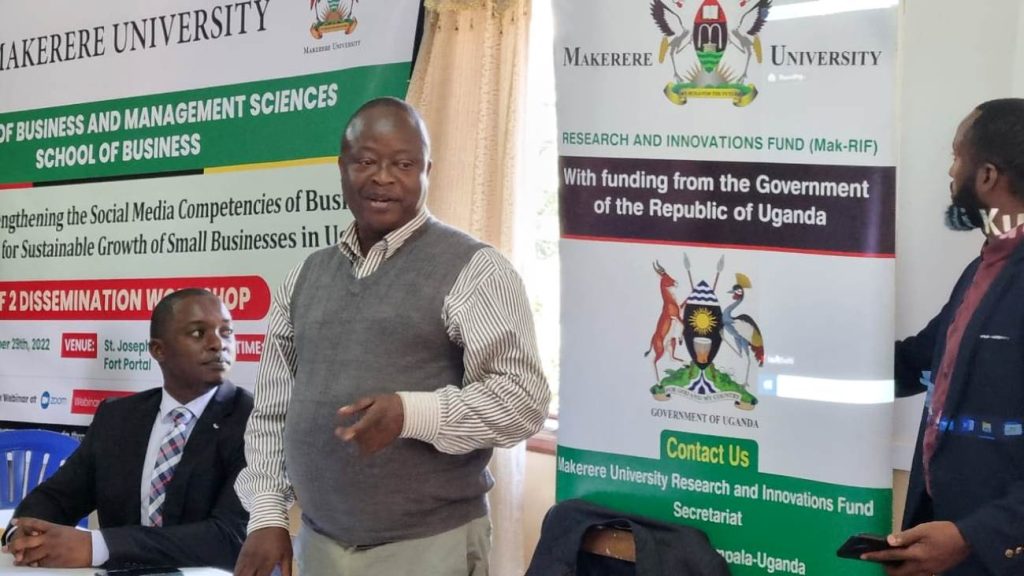 The research recommends that government of Uganda amends the current social media guide by integrating issues concerning social media usage by the business community as it will guide business owner-managers on the requirements and guidelines for social media usage, potential risks, security, transparency and the legal considerations of using social media in business operations, for small businesses will trust social media platforms and fully utilize them with a goal of fostering sustainable business growth in Uganda.
Further recommendations highlight that government integrates social media technology training in the skilling Uganda program to enable nascent entrepreneurs to acquire competencies needed to successfully integrate social media technology into the functionality of their startups for sustainable growth.
The Ministry of Education and Sports should encourage academic institutions to adopt the social media training modules developed from this project to equip learners with practical soft and technical social media skills to enable future entrepreneurs to acquire competencies relevant in launching social media platforms, selling and marketing online.
This study was spearheaded by Dr. Sendawula Kasimu, Professor. Peter Turyakira, Professor Grace Kibanja, Dr. Saadat Kimuli Nakyejwe, Ms. Najjinda Shamirah, Mr. Ashiraf Mutagubya, Mr. Muhsin Mutagubya and Ms. Betty Tuhaise: funded by the Government of Uganda through Makerere University Research and Innovations Fund (Mak-RiF).
MBA Shortlist for Graduate Admission Test (GAT) 2022/2023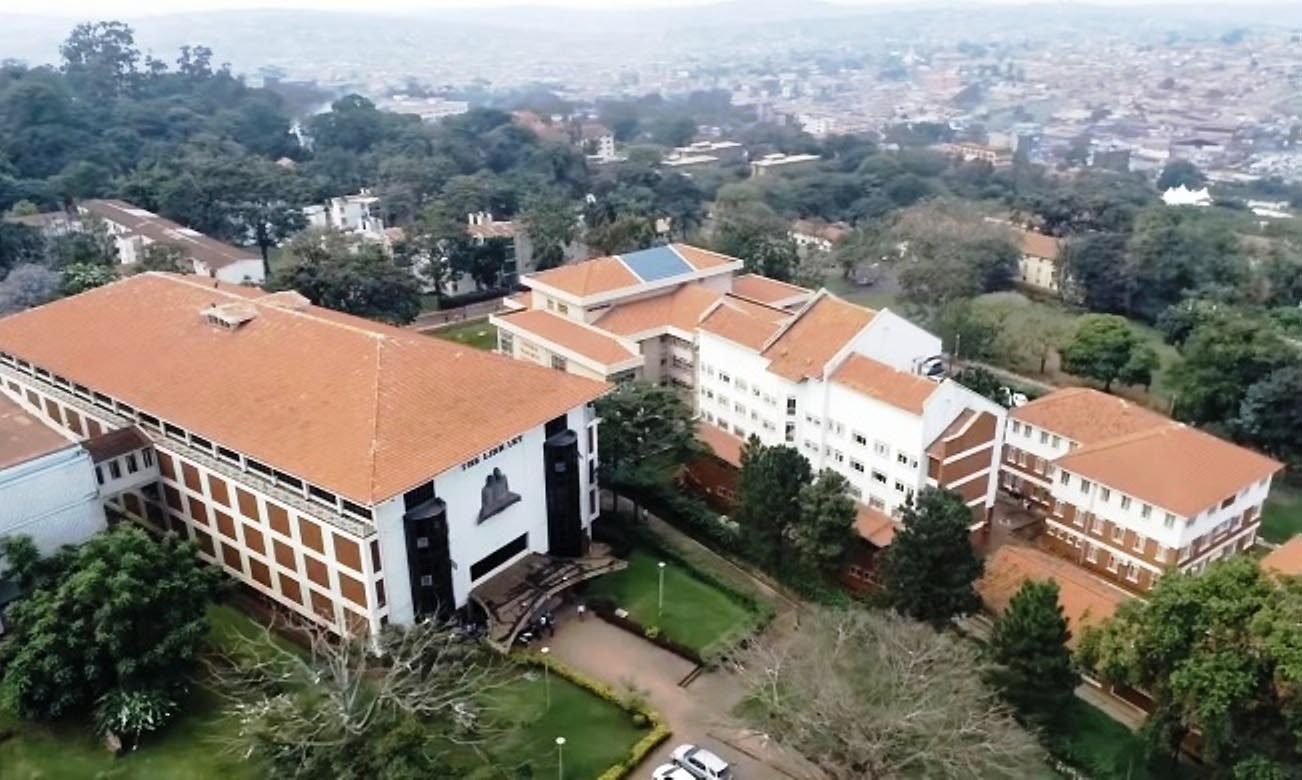 The Academic Registrar, Makerere University, invites all shortlisted candidates who applied for the Master of Business Administration (MBA) programme offered at Makerere University Main Campus; College of Business and Management Sciences (CoBAMS) for academic year 2022/2023 for a Graduate Admission Test (GAT).
The test is scheduled to take place on Saturday 27th August, 2022 starting 9:00 AM at CoBAMS.
Further information can be accessed by following the link:
Hon. Baryomunsi Launches Book with Pledge to continue Supporting Research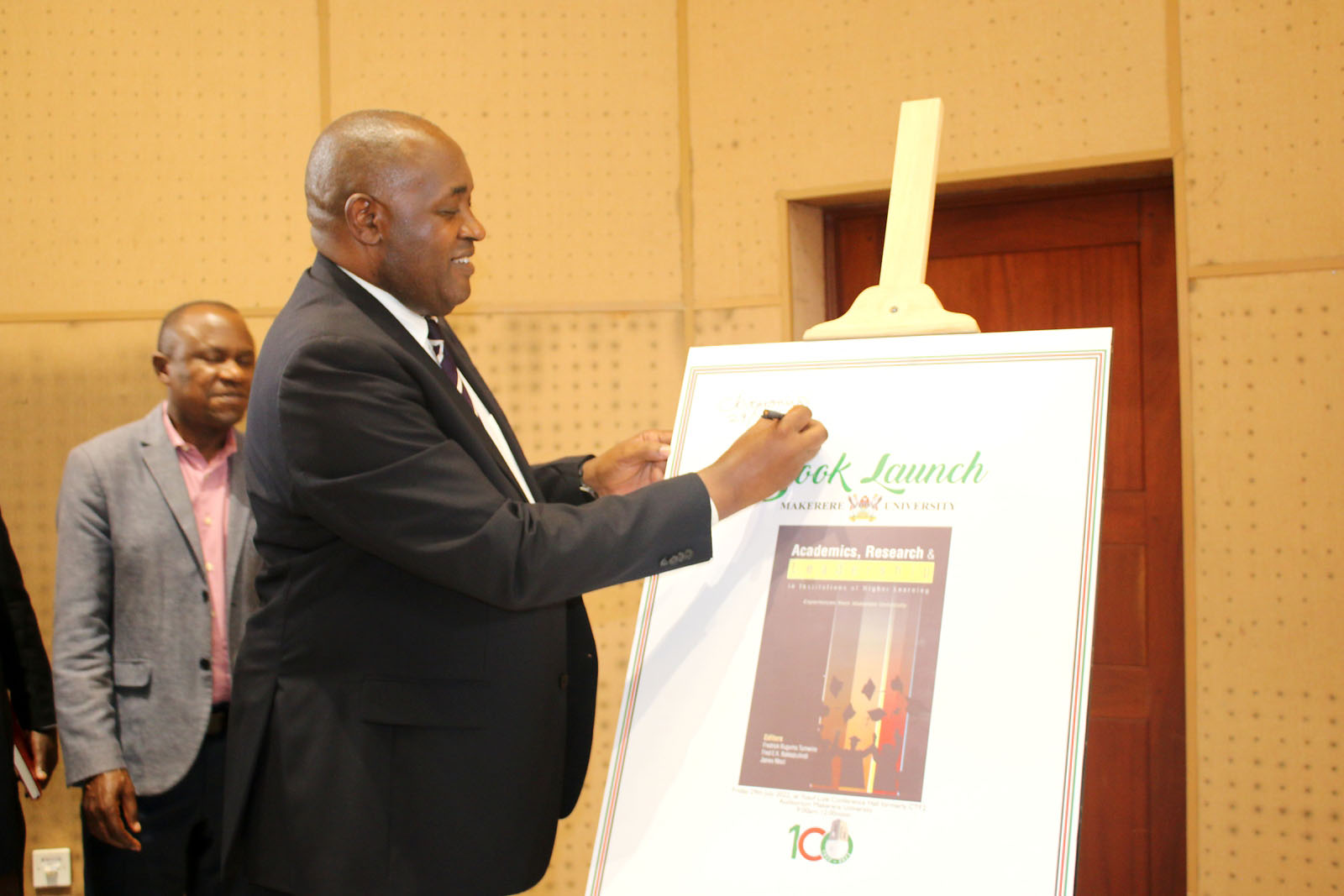 The Minister for ICT and National Guidance, the Hon. Chris Baryomunsi today July 29, 2022, launched a book authored by 20 researchers of Makerere University.
The book titled "Academics, Research and Leadership in Institutions of Higher Learning: Experiences from Makerere University" details the research and training experiences of some academic units in Makerere University. The programs analyzed in the book include training of statisticians, population scientists, quantitative economists among others. The book documents past, present and emerging issues in training and research in the above fields. The book, according to Prof. Ben Kiregyera who gave the keynote address, makes the case for strengthening the infrastructure for training and research including technical and administrative leadership. The book also looks at the acquisition of new knowledge, strategic skills and competences in different disciplines to meet the 21st century development and data challenges.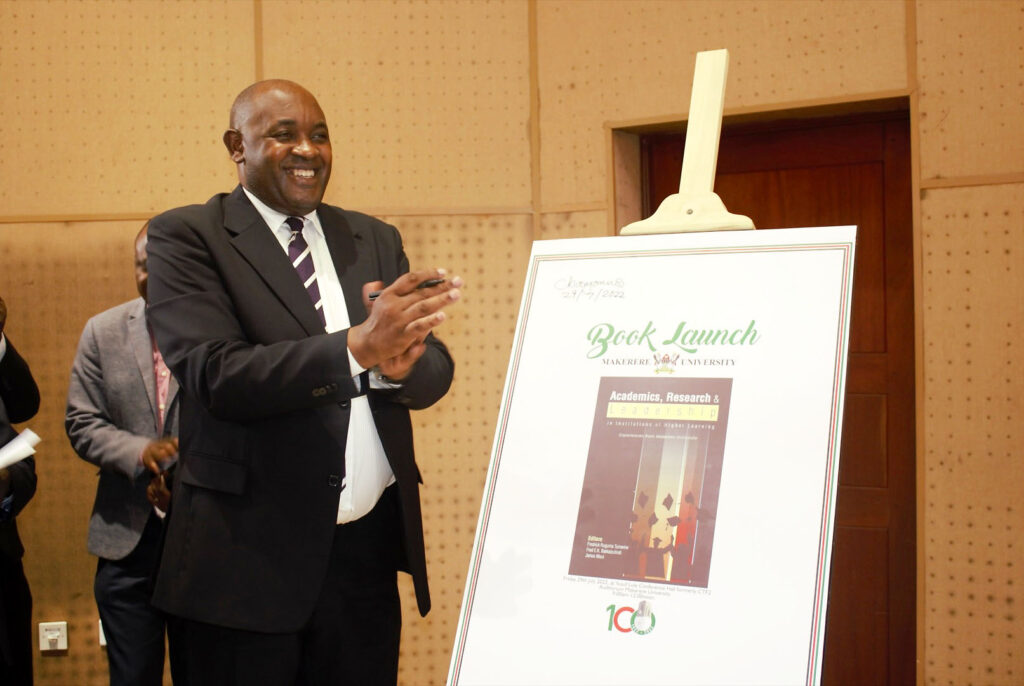 Hon. Chris Baryomunsi, also a former lecturer in the department of population studies said the government would continue to support research and innovation because they drive development of the economy. "What we need to do better is engage policy makers in our research processes," Dr. Baryomunsi advised. "Your research needs to inform government but you also have a role of simplifying statistics to the public". He challenged researchers to engage in new research areas such as robotics, nano-technology, big data, Internet of Things and integrate them in our day to day lives.
Prof. Henry Alinaitwe, the Deputy Vice Chancellor in charge of Finance and Administration, who represented the Vice Chancellor, applauded the authors of the book, saying they are greatly contributing to the research agenda of the university. He said the book will go a long way in informing decision making in the university, as the university moves into becoming a research led university.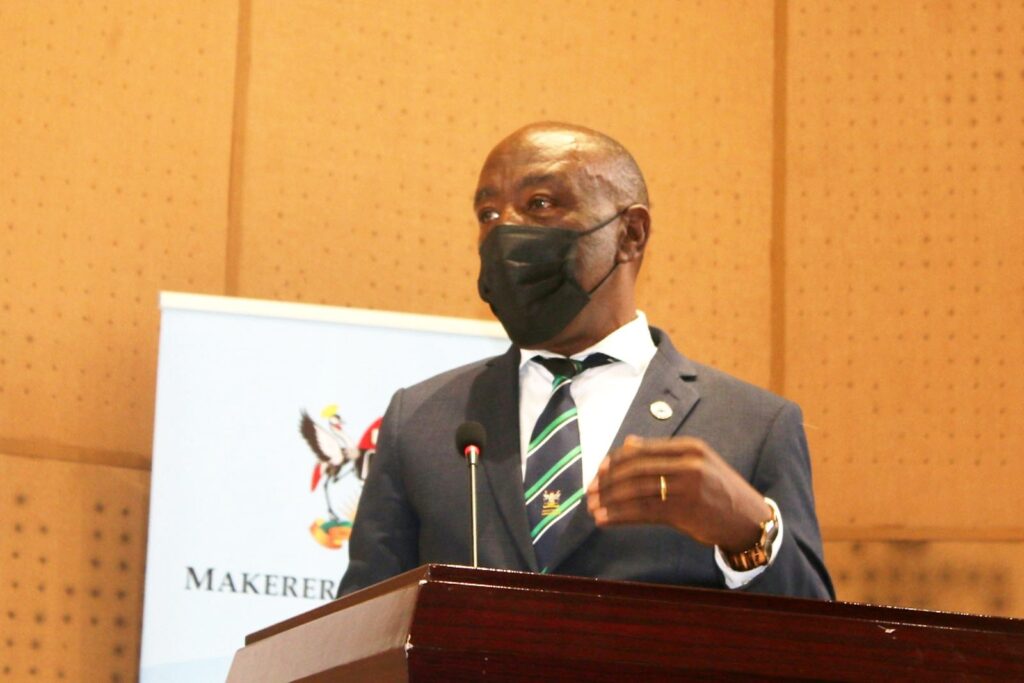 The Principal of the College of Business and Management Science, Prof. Eria Hisali, who was represented by the Deputy Principal Prof. Bruno Yawe, congratulated the authors and editorsfor a job well done. "This is yet another reminder that a lot can be achieved when we are determined and when we choose to work closely together," the Principal said.
The Principal told the authors, most of whom were drawn from CoBAMS that the college will be launching a special purpose vehicle for policy engagements called the Policy Labs. This will bring together policy makers, implementers, private sector actors, development partners and the academia to engage on topical policy issues. It will enable researchers to share the recommendations with a wider audience of policy makers and implementers.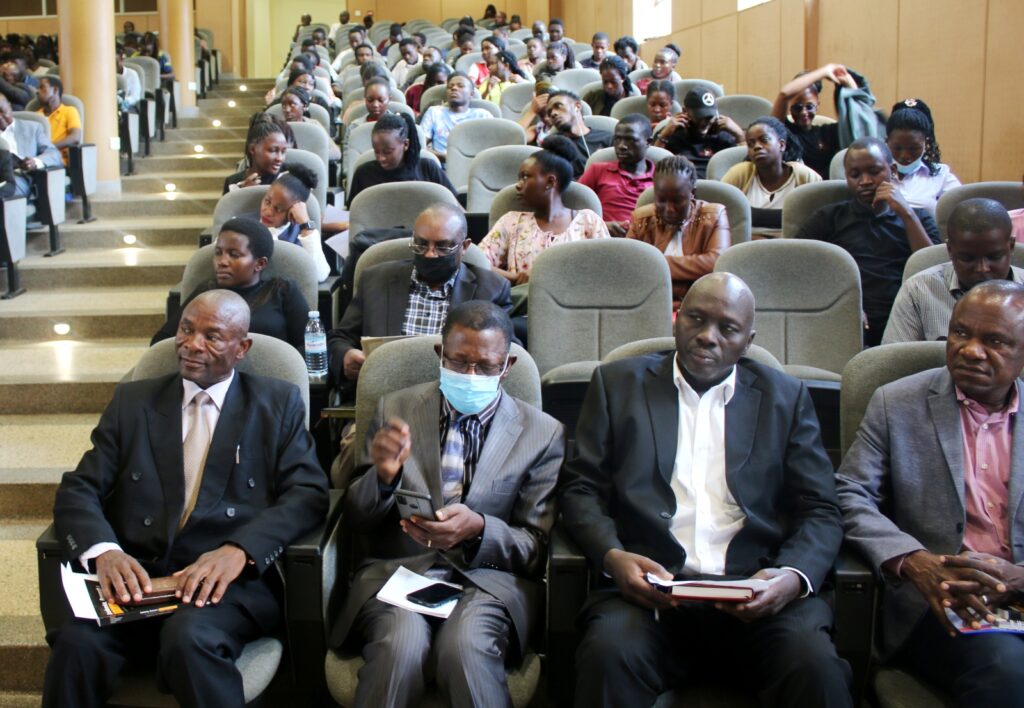 The Director of Research and Graduate Training, Prof. Buyinza Mukadasi also congratulated the authors and reemphasized the university's commitment to supporting research geared at finding home grown solutions to society challenges.
The coordinators of the book project, Prof. Abel Nzabona, shared with the audience the 5-year journey of writing the book.
The journey started in June 2018 when Prof. Ronald Wesonga (in the company of Dr. Fred Maniragaba) mentioned that he had a book idea and wanted Prof. Nzabona to coordinate the writing process. Prof Ronald Wesonga's idea of the book was an academic document that was researched, evidence-based, informative, marketable and interesting to read. The team then set out on a journey or writing, vetting, peer-reviewing and manuscript writing, identifying editors and publishers. 
"We started off with just 4 chapters but never gave up. We intensified the popularization of the book idea and eventually reached the 15-chapter mark," Prof. Nzabona said. The team was delighted to have been joined by colleagues from the College of Education and External Studies namely Dr David Onen and Prof. Fred Bakkabulindi.
The vision bearer and funder of the publication, Prof. Ronald Wesonga, in his remarks highlighted the objectives of the book which included:
To Share evidence-based, data-driven experiences pertaining academics and research leadership at Makerere University.
To Infer how leadership shapes academics and research outputs at universities
To Provide viable recommendations based on findings from different studies
To Contribute to the Mak@100 celebrations
The book Prof. Wesonga shared addresses the following research questions:
What is the effect of leadership on excellence in academics? Addressed in seven chapters: {4,5,6,7,9,10,12}
What is the effect of leadership on research outputs? Addressed in six chapters: {2,3,8,11,13,14}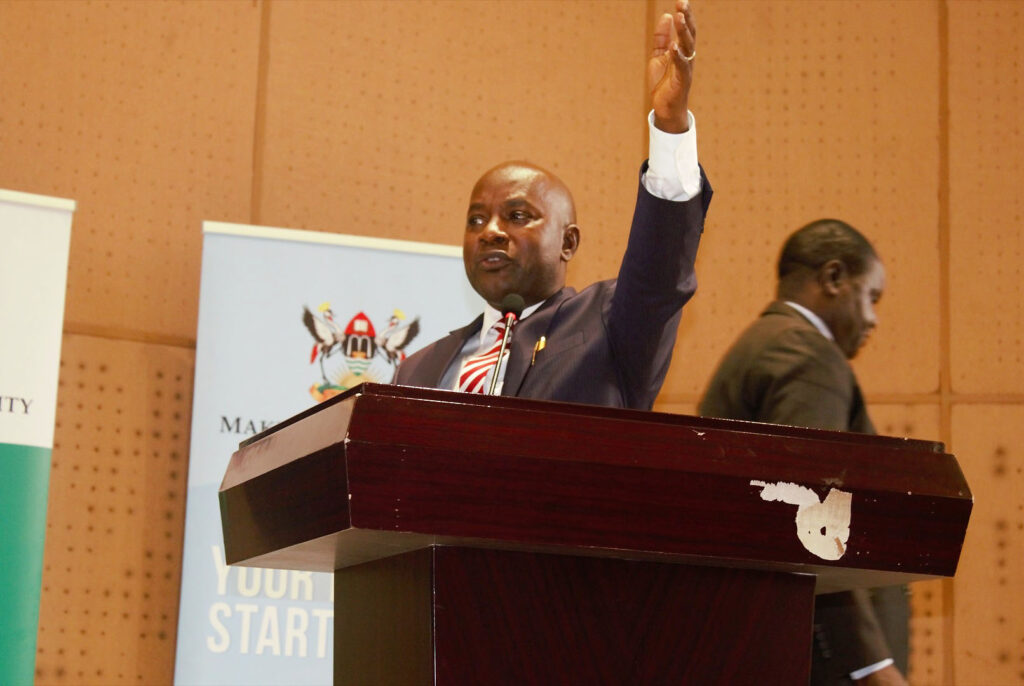 The book employed the following methodology:
Teamwork and networking
Primary and secondary data sources
Literature Search
Mixed Methods
Descriptive and Inferential Approaches
Quality Standardization and Flow (Abstract, KW, Introduction, Methods, Results, Discussion, Conclusion & Recommendations)
According to Prof. Wesonga, the book's unique attributes include:
First ever in the history of Mak to demonstrate impeccable teamwork and network with 20 contributing authors
Pioneering book in Mak history that focuses on leadership audit
Proven data-driven scientific approach
Baseline for various monographs, yet to come soon
First book to be internationally demanded before its launch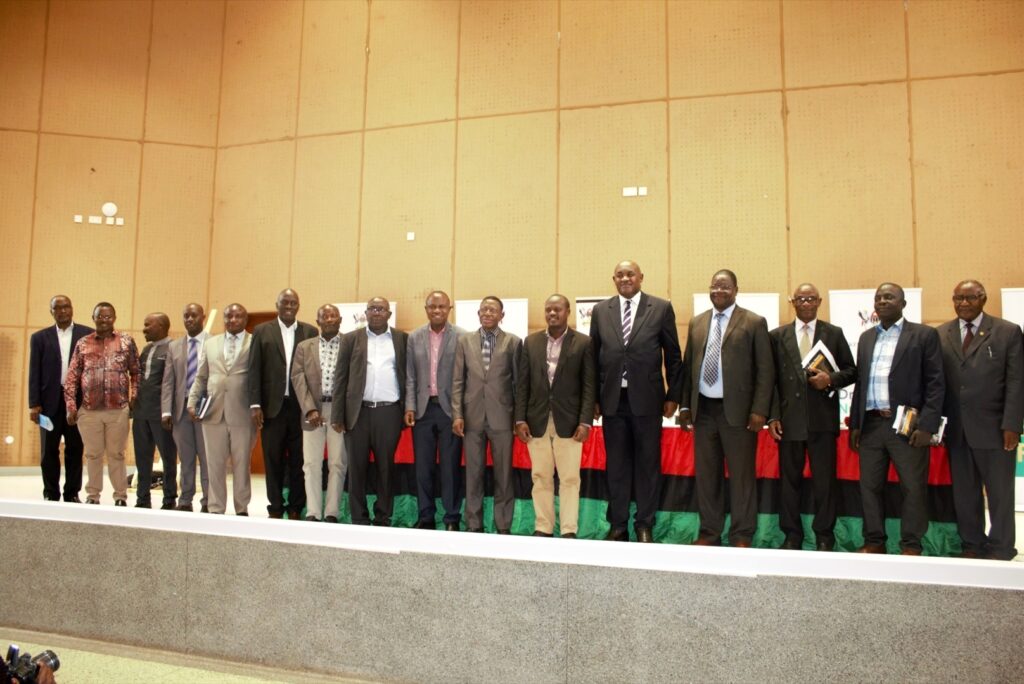 THE AUTHORS
Anthony Tibaingana
Abraham Y. Owino
Mwanga Yeko
Fred Maniragaba
Ronald Wesonga
John Mushomi Atwebembeire
Abel Nzabona
John Paul Tugume
Christian Kakuba
Charles Lwanga
Ishmael Kalule-Sabiti
James Ntozi
Edward Musoke
Richard Tuyiragize
Fabian Nabugoomu
John Bosco Asiimwe
Yeko Mwanga
Paulino Ariho
Fred Edward K. Bakkabulindi
David Onen
EDITORS:
Fredrick Ruguma Tumwine
Fred E. K. Bakkabulindi
James Ntozi