Prof. Bernard Bashaasha hands over to New CAES Principal, Dr. Gorettie N. Nabanoga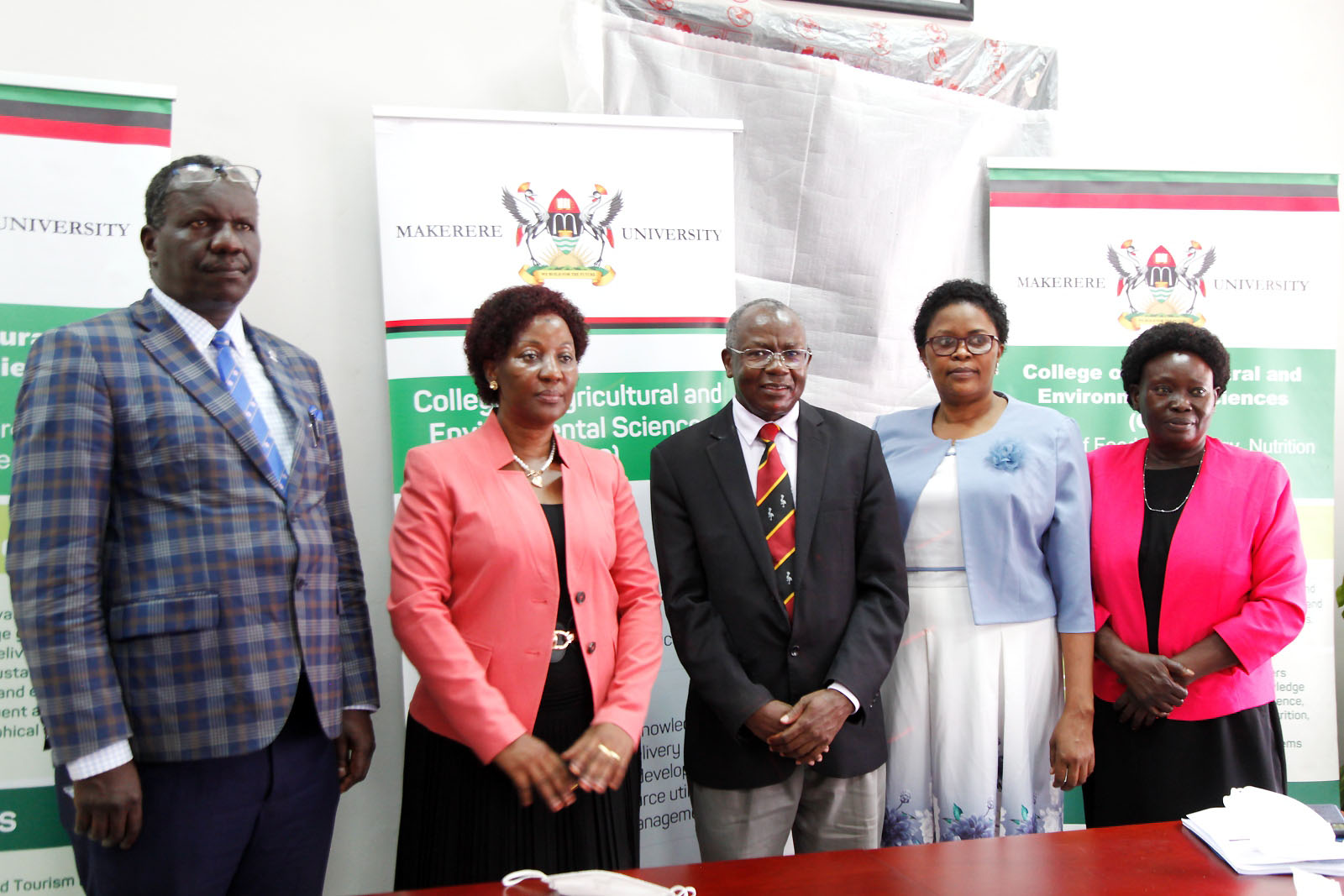 Makerere University Chancellor, Prof. Ezra Suruma appointed Dr. Gorettie N. Nabanoga as the next Principal of the College of Agricultural and Environmental Sciences (CAES), Makerere University effective 1st February 2022. She is the first female Principal of CAES and will hold the position for a period of four years as stipulated in the Universities and Other Tertiary Institutions (Management of Constituent Colleges of Makerere University) Statute, 2012. Dr. Nabanoga who has been Deputy Principal, CAES takes on from Prof. Bernard Bashaasha who has served in the position since August 2013.
CAES Structure
CAES is composed of three schools and eight Departments. The schools are; Agricultural Sciences; Forestry, Environmental and Geographical Sciences; and Food Technology, Nutrition and Bio-Engineering. The School of Agricultural Sciences is composed of three Departments namely; Agricultural Production; Extension and Innovation Studies; and Agribusiness and Natural Resource Economics. The Departments under the School of Forestry, Environmental and Geographical Sciences include; Forestry, Biodiversity and Tourism; Environmental Management; and Geography, Geo-informatics and Climatic Sciences. The School of Food Technology, Nutrition and Bio-Engineering is made up of two Departments-Food Technology and Nutrition; and Agricultural and Biosystems Engineering.
The College also hosts several research institutes and centres namely; Makerere University Agricultural Research Institute Kabanyolo (MUARIK), the Makerere University Biological Field Station (MUBFS), the Food Technology and Business Incubation Centre (FTBIC), Makerere University Regional Centre for Crop Improvement (MaRCCI), Makerere University Centre of Excellence in Waste Management, Makerere University Centre for Climate Change Research and Innovations (MUCCRI), Makerere University Centre for Soybean Improvement and Development (MAKCSID), the National Biodiversity Data Bank (NBDB) – Uganda, Uganda Forestry Resources and Institutions Centre (UFRIC) – Makerere University, Continuing Agricultural Education Centre (CAEC), and a Consortium for Enhancing University Responsiveness to Agribusiness Development (CURAD). Others are; the Centre for Mountain Resources and Disaster Management, Rangeland Resources Centre, and the Agricultural Policy Analysis Centre. In addition, the College is composed of several administrative units including; the Office of the Bursar, Office of the College Registrar, Human Resource Office, Procurement and Communications.
During her four-year tenure as Principal, CAES, Dr. Gorettie N. Nabanoga will provide academic and administrative leadership to 373 members of staff and over 3,000 students in the aforementioned Units.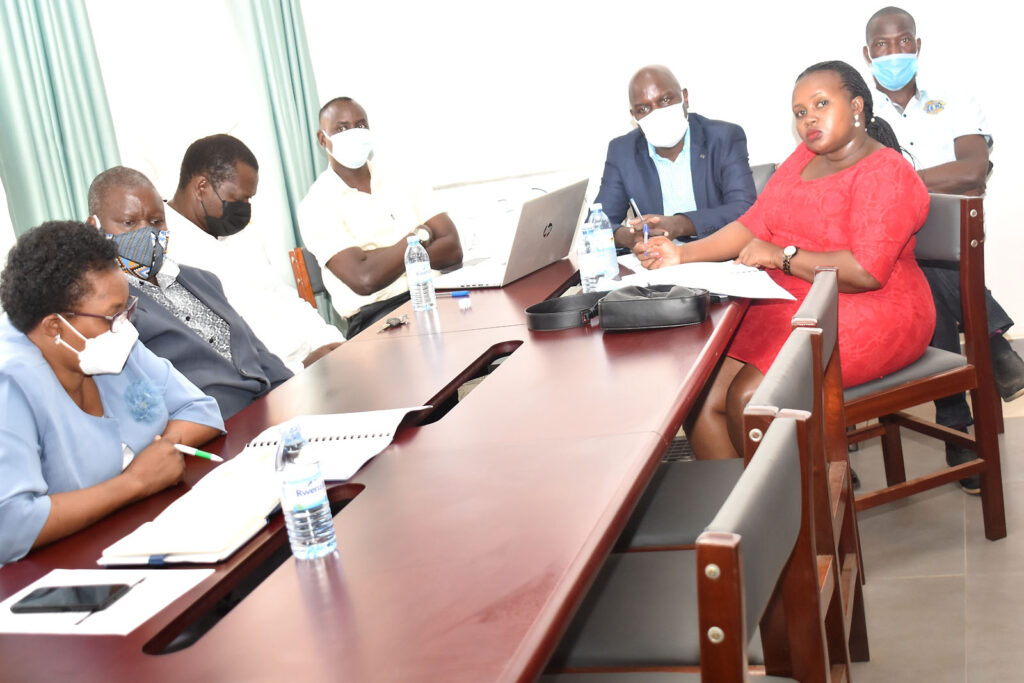 Handover ceremony
Today, 15th February 2022, the outgoing Principal, Prof. Bernard Bashaasha handed over to the new Principal at a ceremony witnessed by the Representative of the University Secretary, Ms. Consolata Komugisha; the Director Internal Audit, Mr. Walter Yorac Nono; as well as the Deans and Heads of Academic and Administrative Units at the College.
Presenting his handover report, Prof. Bashaasha congratulated the new Principal upon her appointment and briefed her on a number of issues relating to the status of CAES programmes; assets; ICT infrastructure; student enrolment; registration and graduation statistics; E-Learning; research, innovations, and outreach programmes; online presence and publicity; human resources; the financial status of the college; as well as the achievements registered; challenges experienced over the years, and the pending tasks.
Achievements registered during Prof. Bashaasha's term of office
Key achievements registered under Prof. Bashaasha include increased student enrolment. As at December 2021, CAES had a total of 2,922 registered students. Of these 2,758 (94.4%) are undergraduate students and 164 (5.6%) are graduate students (Masters and PhD). Other achievements include growth in graduation statistics from 362 undergraduates in 2013 to 467 in 2021, and 122 graduate students in 2021 (with 21 PhDs) from 83 in 2013 with only five PhDs. There has also been accelerated research output resulting into a total of 331 publications in 2021 from 164 in 2018. "The College also revamped the Makerere University Agricultural Research Institute Kabanyolo (MUARIK) Bulletin into Makerere University Journal of Agricultural and Environmental Sciences (MUJAES)," Prof. Bashaasha noted. According to the outgoing Principal, the College has widened research collaborations locally and internationally, established a research grants office and laid the foundation for the CAES Research and Ethics Committee (REC) to support the ethical aspects of research. "An interim REC Committee has been appointed and the application is with the National Council for Higher Education," he explained.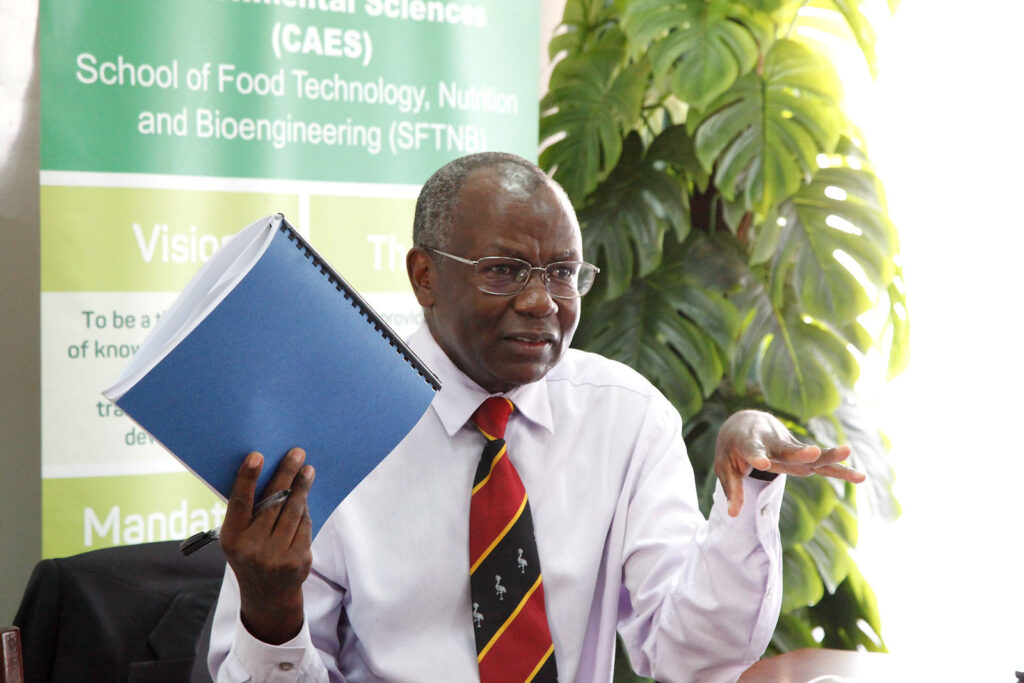 Other achievements include; enhanced visibility of CAES through the website and other online platforms, the college quarterly newsletter, annual reports and other IEC materials; rehabilitation of research laboratories and facilities at MUARIK including the Diary Value Chain; establishment of a Botanical Garden at MUARIK, increased number of research centres and institutes; enhanced transport facilities; 50 Zoom licenses procured to support blended teaching and learning; increase in number of programmes to 13 undergraduate and 24 graduate – a total of 6 new programmes have been developed during the last 8 years and another 6 programmes are in the pipeline; increase in the number of research institutes and centres; increase in the number of high level research innovations; procurement of a standby generator for the College; and above all enhanced teamwork at the College. "We inherited a college divided in opinion and strategy. We have managed the diversity and coalesced into one CAES family working together for the good of the College, University and nation," he said.
Key Research, Innovations and Outreaches
The College of Agricultural and Environmental Sciences (CAES) undertakes basic, strategic and applied research and development in the broader areas of agriculture, food technology and nutrition, forest management, and environment and natural resources management.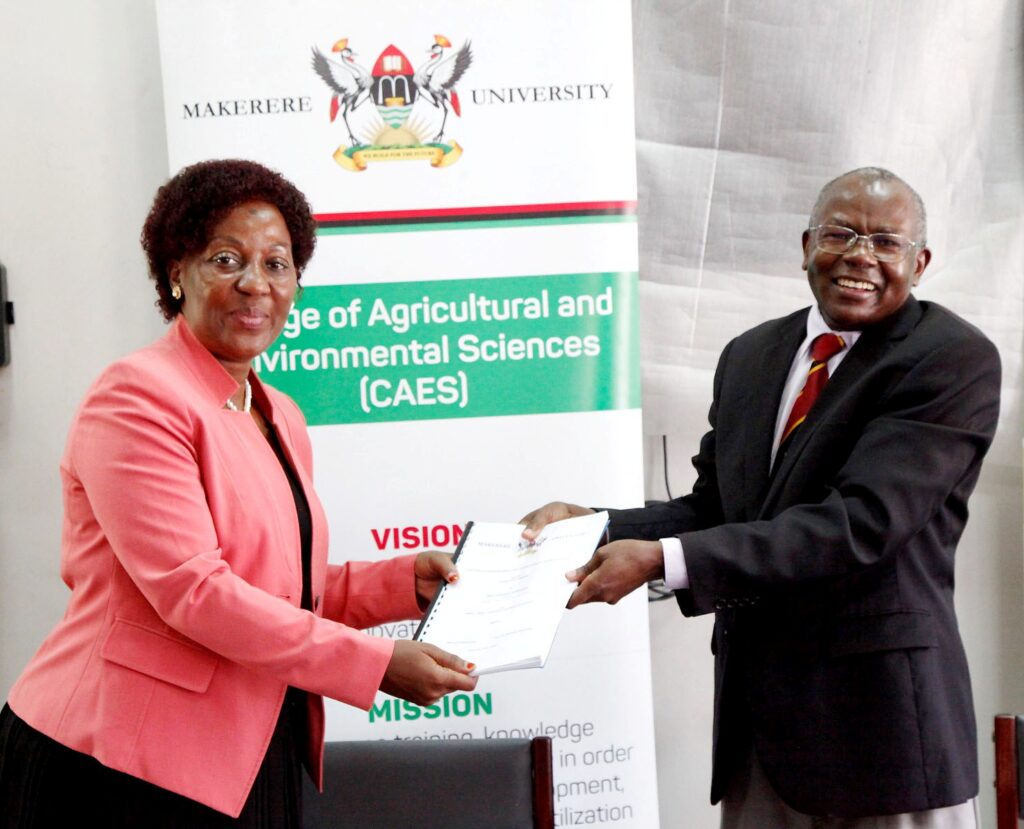 In agriculture, research and development programmes have focused on enhancing farmer-centred approaches, climate smart agricultural systems, value chain improvement for the achievement of food and nutritional security, livelihood improvement and overall rural development. The College has also pioneered R&D in biotechnology, integrated pest and disease management, linking producers to markets as well as incubation of innovation for market products.
The key research achievements include;
Launch of crop breeding programmes on disease and drought tolerant cowpeas and sorghum by the Makerere University Regional Centre for Crop improvement (MaRCCI)
Construction of a Graduate Training and Research Laboratory building at MUARIK
Development of a hybrid dryer, automatic communal borehole, 3D thermal imaging for the pots (value added potatoes), refractive window drying technology for fruits, and a solar irrigation pump
Development and release of a new soybean variety – Maksoy 6N
Establishment of a pig semen lab at MUARIK
Making diesel from recycling plastics
Making organic pesticides from agricultural waste
Invention of a three-wheeled multi-purpose farmers' tractor – MV MULIMI, and;
Signing of various MoUs on research and innovations
Challenges experienced
Despite the achievements, the College has experienced a number of challenges. These include; erosion of staff, depleted transport facilities, lack of data to support blended teaching and learning, underfunding, limited research funding, lack of a budget for MUARIK, non-registration and overstay on programmes by graduate students, limited teaching space, and depleted ICT facilities. Prof. Bashaasha implored the new Principal to follow up on a number of issues including; pending appointments and replacement of retired staff in critical units – appointment of a graduate programmes coordinator and a dedicated registrar to support graduate students' registration. He also appealed to her to follow up on the operationalization of the College Research and Ethics Committee and the Grants Office, pending results, mobilization of CAES alumni to support the establishment of the College Endowment Fund, and the rehabilitation of facilities in the College.
Appreciation to staff
Prof. Bashaasha appreciated Makerere University Management and all staff for the cooperation and support accorded to him during his term of office. He pledged continued support to the new Principal and all staff at CAES.
Remarks by Dr. Gorettie N. Nabanoga
In her communication to members of staff at CAES, Dr. Gorettie N. Nabanoga appreciated the Search Committee, Senate and Council for recommending her for the position. She expressed gratitude to the CAES fraternity for their support. "I wish to thank the Search Committee, Senate and the University Council that identified me as the most suitable candidate. My appreciation to all the colleagues at CAES that encouraged, supported and provided mentorship. I will forever be grateful for the trust you have placed in me, and I commit to work tirelessly to deliver on my mandate as Principal, CAES," she stated.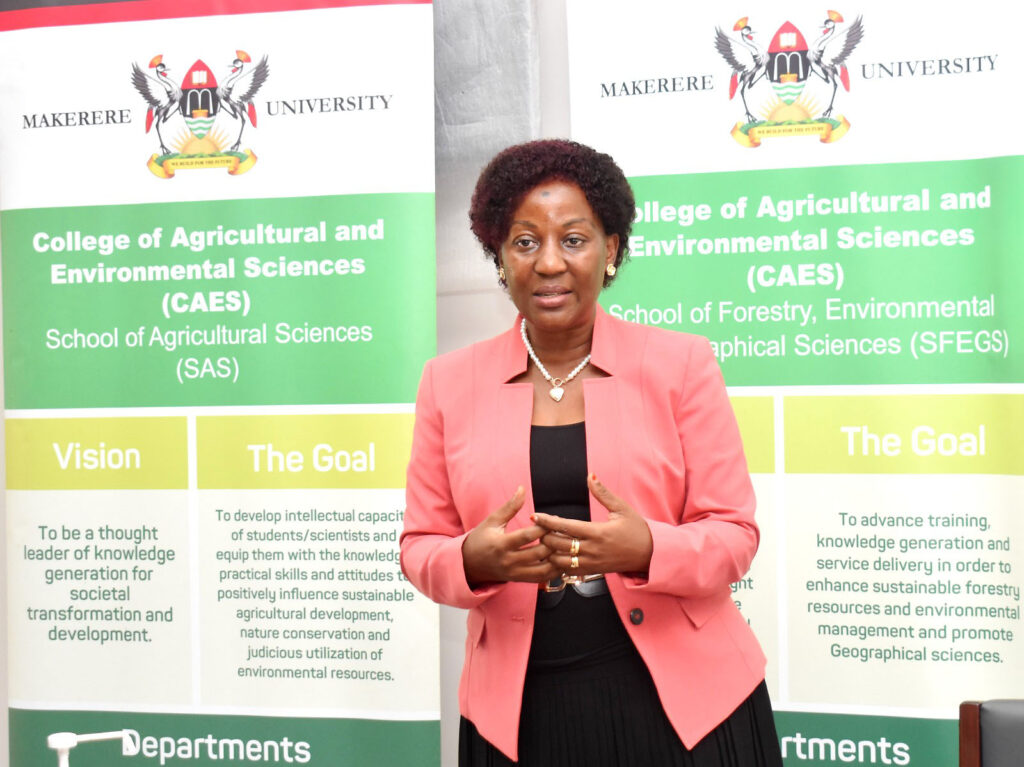 Similarly, Dr. Nabanoga extended appreciation to the outgoing Principal, Prof. Bernard Bashaasha. "I wish to pay tribute to Prof. Bernard Bashaasha who has steered CAES for the last 8 and a half years with utmost dedication and professionalism. Thank you so much for your commitment to serve CAES. It is great honour and privilege to succeed you and build upon the significant transformations you have made at CAES. I thank you for all the support offered to me as your Deputy, which enabled me to gain management experience and advance my professionalism."
She equally appreciated her contenders, Prof. Jacob Godfrey Agea and Dr. Patrick Okori for offering themselves for the position. "It showed the zeal and motivation you equally have to serve this university and CAES fraternity in particular. "We may have had slightly different visions and strategies to move CAES in the next 4 years, which if consolidated, shall get the College to the desired level much faster. I pledge to seek and integrate your brilliant ideas, and also harness your networks within and outside the University," she noted. Dr. Nabanoga acknowledged the support of the former and current Deans and Heads of Department.
Pledge to serve
Getting the Journey started, Dr. Nabanoga pledged to steer the College Management to deliberate on how best to cascade the University Mantra of a Research-Led University, and thus, nurture the CAES that everyone will be proud of. "Through this process, all voices shall contribute to co-creating winning strategies as we nurture the CAES we shall continue to be proud of. I reiterate my aspirations of having a united, harmonious and progressive CAES and, I continue to count on your support, even much more than you did when I served as Deputy Principal. I Pledge to serve you with utmost professionalism," she stated. Dr. Nabanoga pledged to maintain an open-door policy during her term of office. The open-door policy will not just be about leaving my office door open, but reaching out to all staff to establish their psychological wellbeing and to seek views on how to manage the College better," she explained.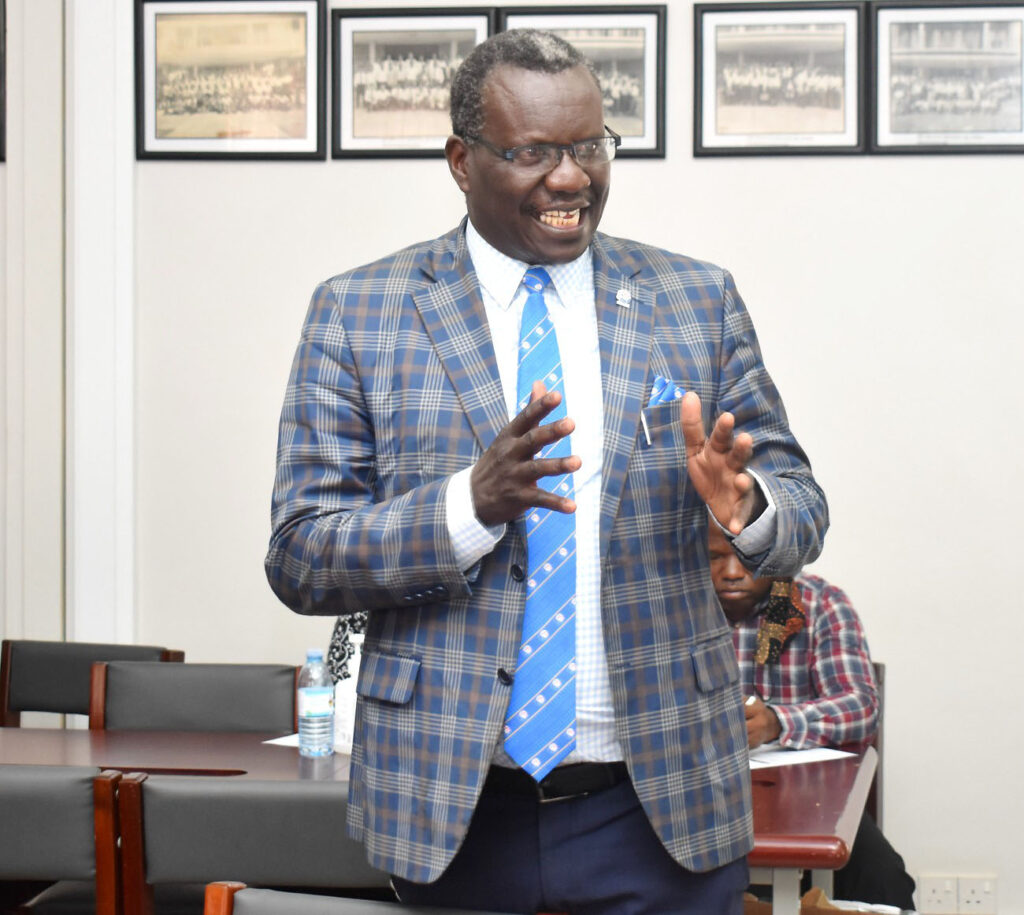 In his remarks, the Director Internal Audit, Mr. Walter Yorac Nono congratulated the new Principal upon her appointment and appreciated the outgoing Principal for the commitment and dedication that steered CAES to greater heights. "Prof. Bashaasha has come out strongly to defend CAES programmes in various Management engagements and I highly commend him for that," he said.
The Representative of the University Secretary, Ms. Consolata Komugisha congratulated Prof. Bashaasha for the achievements registered over the years, noting that CAES had not experienced any serious financial challenges under his tenure. She congratulated Dr. Nabanoga upon her appointment as the first female Principal of CAES and pledged to support her. Commenting on the budget cuts that have led to insufficiency in most of the Units, Ms.Komugisha implored Dr. Nabanoga to work towards managing staff expectations, endeavouring to explain and opening up to staff on the situation at hand.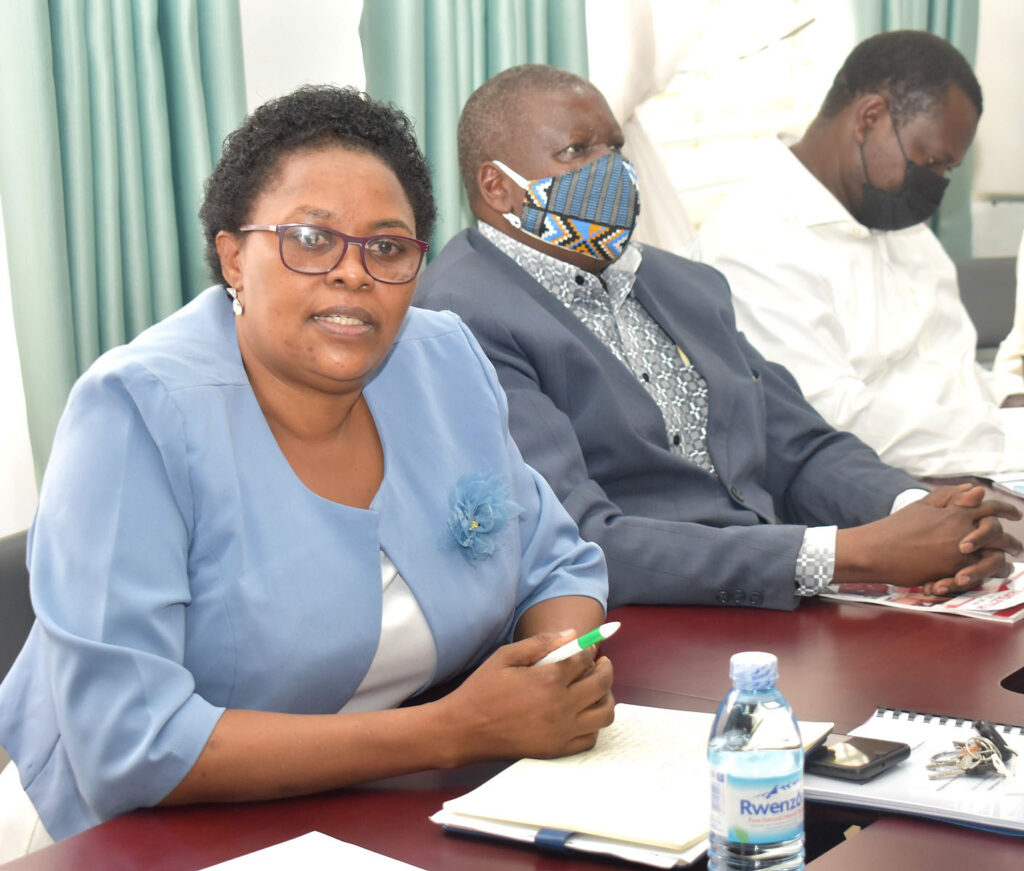 The College Human Resource Officer, Ms. Hawa Harriet congratulated the new Principal and appreciated the outgoing Principal for the cordial working relationship.
On behalf of all staff and students of CAES, the Dean, School of Food Technology, Nutrition and Bio-Engineering, Dr. Abel Atukwase welcomed the new Principal and pledged to support her to advance the mandate of CAES. He appreciated the outgoing Principal for the cordial relationship, mentorship and guidance over the years and appealed to him to continue supporting the College.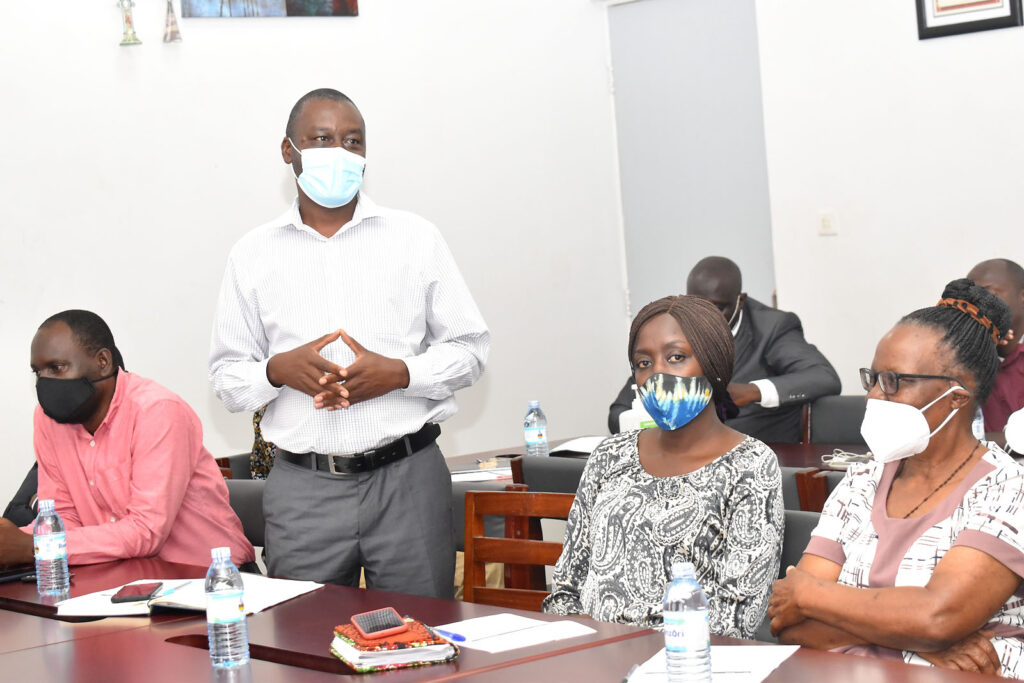 Profile of the New Principal Dr. Gorettie N. Nabanoga
Dr. Gorettie N. Nabanoga is innovative, goal-oriented, dependable, trustworthy, open-minded, easy going yet a perfectionist. She enjoys co-creating ideas, learning, unlearning and re-learning when engaging with teammates. She endeavours to always use these qualities in her personal and professional engagements.
She is a Christian, Ugandan citizen, born in 1969. She holds a PhD-Social Sciences; with research in Gender and Natural Resources Management, Wageningen Agricultural University, The Netherlands; a Master of Science in Management of Natural Resources and Sustainable Agriculture (MNRSA), Norwegian University of Life Sciences, Norway; a Bachelor of Science in Forestry, Department of Forestry, Makerere University, Uganda, and she completed her ordinary and advanced levels of education from Mt. St. Mary's College Namagunga, Uganda.
Dr. Nabanoga completed her 4-year Bachelor's Degree in Forestry with an Upper Second Honors Degree of Makerere University in 1993 and has since served Makerere University growing through the academic ranks from Teaching Assistant to currently Associate Professor.
She has also held several administrative and academic leadership portfolios in the University; starting as the first female Head, Department of Community Forestry and Extension, Faculty of Forestry and Nature Conservation-MAK for 8 years; the first female Dean of Faculty of Forestry and Nature Conservation-MAK for 3 years; the first female Deputy Principal, College of Agriculture and Environmental Sciences, Makerere University for 8 years; and now the first female Principal, College of Agriculture and Environmental Sciences, Makerere University. She has also served the University on several management committees as Member of the Inaugural Board of Directors, Makerere University Holdings Company for 7 years; Chair, Procurement Sub-committee, Makerere University Holdings Company for 6 years; Chair, Research and Innovations Sub-committee, of the Change Management Committee of the URARFC, Makerere University for one year; Member of the Search Committee for Principal and Deputy Principal for the College of Health Sciences; Member of the Senate Committee in the formation of the Gender Mainstreaming Directorate (GMD); Member of Makerere University Governing Council- Science Senate representative and Member of Makerere University Senate.
She has supervised several undergraduate and graduate students and mentored staff and students, many of whom have risen though the academic ranks under her mentorship; edited a Book, published two Book Chapters, several publications in peer reviewed journals and mobilized close to US$ 14 million research grants through international collaboration with several development agencies and Universities such as Agricultural University of Life Sciences, Norway (UNMB), Norwegian University of Science and Technology (NTNU), Lund and Uppsala Universities, Sweden, Wangeningen University, The Netherland, Yale University, USA, Connell University, USA, Michigan State University USA among others. And regional Universities such as Stellenbosch University South Africa; Sokoine Agricultural University, Tanzania; the University of Addis-Ababa, Ethiopia; Egerton University, Kenya as well as many Universities, Ministries, Departments and Agencies in Uganda. She has also been part of a number of consultancy teams local, regional and international.
In fulfilling the University's outreach and community service mandate, Prof. Nabanoga is currently serving as the Vice Chairperson, Board of Directors – Buganda Cultural and Development Foundation (BUCADEV); and Member of Technical Working Committee (TEWOCO) for the Consortium for enhancing University Responsiveness to Agribusiness Development (CURAD). She previously served as an Advisory Board Member, Uganda Martyrs University – Masaka Campus; Chair, Uganda Martyrs University's Advisory Board Academic Planning Committee – Masaka Campus; Vice-chairperson, Board of Advisors – Environmental Management for Livelihood Improvement Bwaise Facility (EMLI); and Patron – Buganda Kingdom Environment Development Association. In the private sector, she is one of the Directors, Royal Suites Hotel (a 20 US million dollar 4-Star Suite Hotel with about 130 employees) located in Bugolobi, Kampala Uganda-. Award winner of the Investor of the Year Award in 2003 and Kalanoga Resort (a 2 US million dollar Resort with about 50 employees) located 2km off Kajjansi-Munyonyo Highway, Busabala Road Junction, Kampala, Uganda.
Prof. Nabanoga is a Uganda National Academy of Science (UNAS) Fellow, a member of the Society for Conservation Biology (SCB); Uganda Society for Science and Technology (USST); Norwegian Friends of Uganda (NUFA); Uganda Forestry Association (UFA): and Buganda Kingdom Development Programme-Agro Sector.
Stakeholders to work with Academia to strengthen Education & Research in Biodiversity Conservation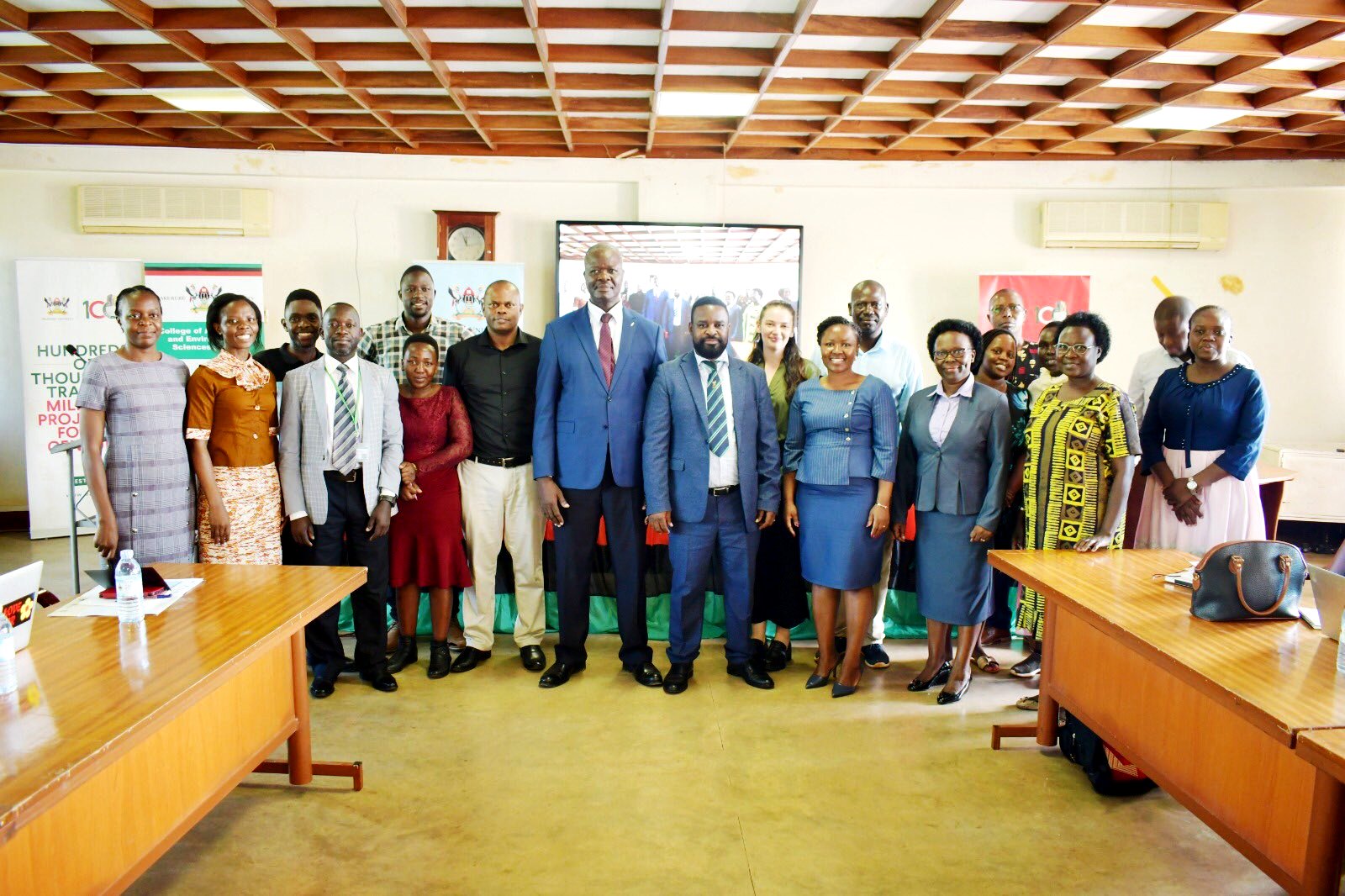 On 16th November 2023, national and international stakeholders participated in the kick off workshop hosted at Makerere University to further consolidate various schools of thought aimed at producing a holistic and relevant graduate student equipped with practical skills, research and problem solving abilities aligned to Sustainable Development Goals.
The blended kick off workshop, which brought on board the academia, researchers, private sector, civil society, business community and graduate students set the pace for the implementation of the Sustainable Development Goals (SDG) Partnership Project titled: Strengthening Education and Research Capacity for Enhancing Biodiversity Conservation and Sustainable Natural Resources Use."
Expected to benefit over 350 graduate students and 20 members of staff, the SDG Partnership project that will be implemented by Makerere University (Mak) through the College of Agricultural and Environmental Sciences (CAES) in collaboration with Rhine-Waal University of Applied Sciences (HSRW), and Central University of Technology (CUT) is funded by the German Academic Exchange Service (DAAD).
Welcoming the stakeholders to the kick off workshop, the research project team represented by Prof. John Tabuti from Makerere University and Ms Nele Vahrenhorst from Rhine Waal University of Applied Sciences highlighted that the project seeks to contribute to the following SDGs: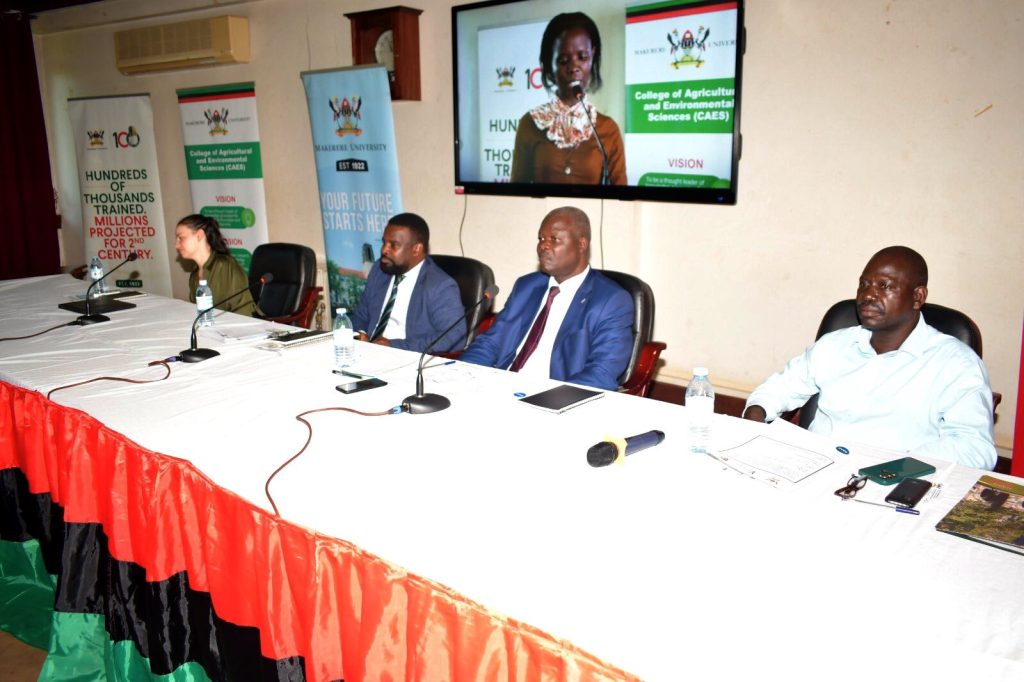 Poverty Eradication (SDG 1), Zero Hunger (SDG 2), Quality Education (SDG 4), Economic Growth (SDG 8), promoting sustainable consumption and production through developing business opportunities in natural resources use (SDG 12), Climate action through better management technologies and protection on natural resources and ecosystems reducing carbon emissions (SDG 13), as well as protect, restore and promote sustainable use of terrestrial ecosystems, sustainably managed forests, combat desertification and halt reverse land degradation and halt bio diversity loss (SDG 15).
Prof. Tabuti stated that the mode of delivery will prioritise the student using an approach referred to as 'Student-centred learning."
The main objective of the project is to enhance SDG research and teaching through a strong North-South-South partnership between HSRW, Mak, and CUT, so as to prepare graduate students for the societal challenges ahead, and the requirements of the job market. The SDG project partnership will ensure that university graduates are highly equipped with the necessary competencies to develop appropriate resource management responses, and implement optimum biodiversity conservation strategies as well as dealing with dynamic and complex business problems. The project will address the issue of environmental degradation hence poverty reduction, food insecurity, natural resource depletion, and climate change.
The project will focus on mainly Uganda, being the most bio-diverse country in Sub-Saharan Africa, with over 70% of its population relying on agriculture and use of natural resources. In addition, the loss of substantial parts of the natural habitat used in infrastructure development and extension is a major issue of concern. The research project states the urgent need to encourage the youths and students to foster their passion for SDGs premised on the rapid population growth in Uganda, with 50% of the population being under 16 years old.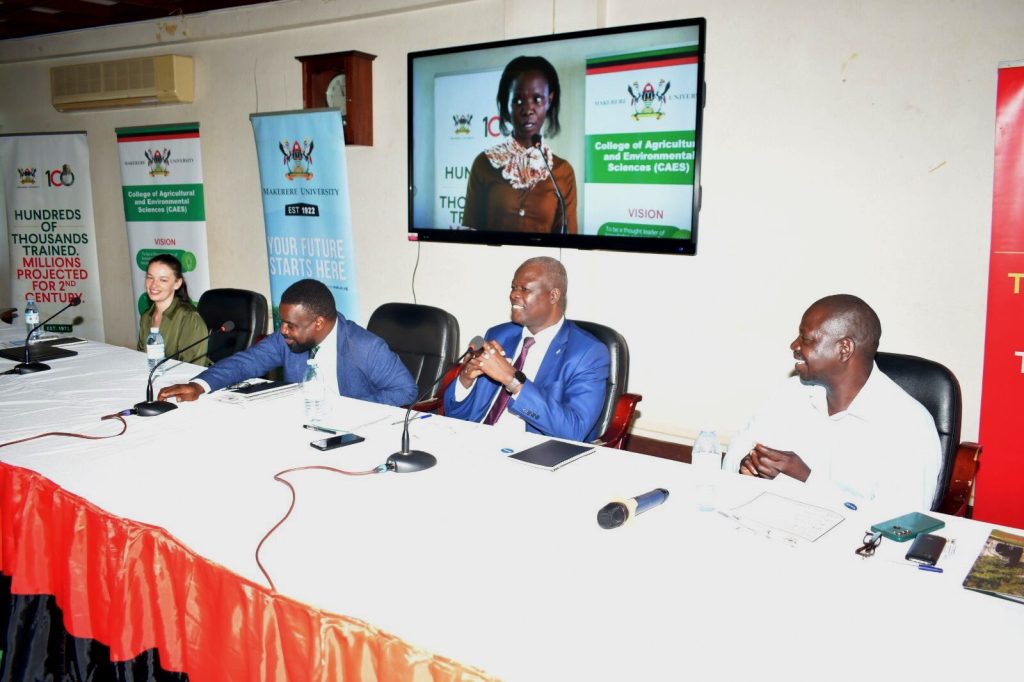 Officially opening the kick off workshop for the SDG partnership project, the Vice Chancellor of Makerere University, Prof. Barnabas Nawangwe, represented by Associate Prof. Robert Wamala from the Directorate of Research and Graduate Training commended the physical and online participants for accepting to engage in this highly interactive workshop. He further underscored the need to conduct research aligned to the SDGs, national development goals, and global challenges.
The Vice Chancellor pointed out that biodiversity, despite sustaining the planet, faces unprecedented challenges including: Climate change, habitat loss, pollution, and unsustainable resource use. He highlighted education and research as the most formidable tools in addressing these challenges. He noted the role played by Makerere University through its 5-year Strategic Plan that aligns with the National Development Plan III (2020/21-2024/25), by contributing to our transformation into a "research-led" institution with a multi-faceted research agenda and enhanced engagement with industry players.
Associate Professor Robert Wamala concluded by informing the audience that DAAD has been instrumental in his career growth, having sponsored both his Masters' and PhD studies. Currently serving as Deputy Director (Research Innovations and Partnerships) at Makerere University, he applauded DAAD for supporting research and capacity building programmes at Makerere University.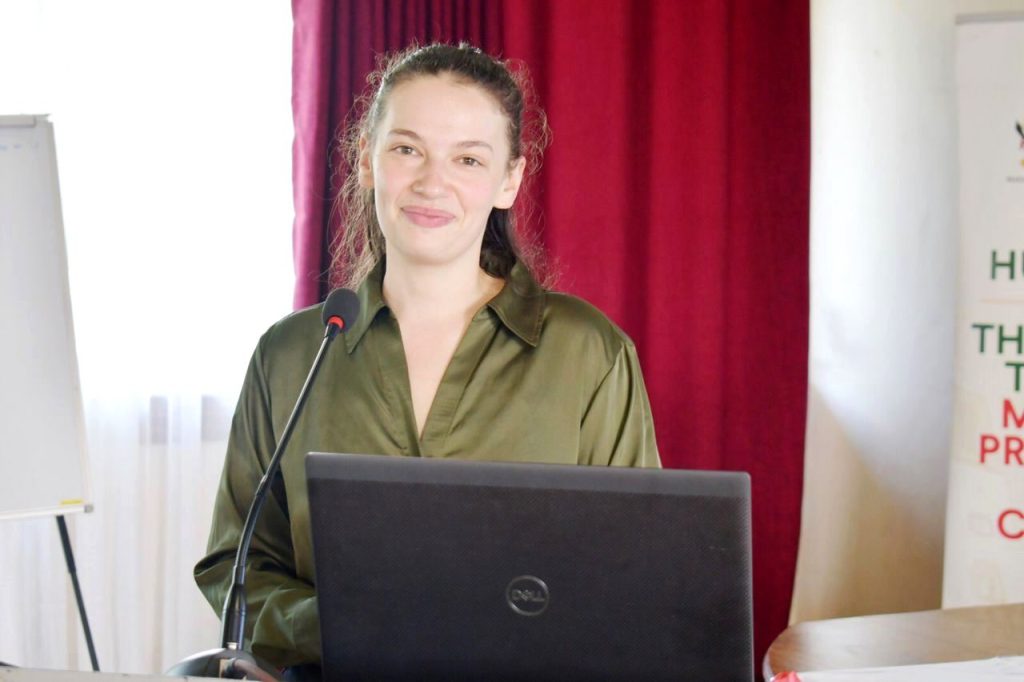 According to the Acting Head, Department of Environmental Management at Makerere University, Associate Professor Vincent Muwanika, the project will support practical training of students on problem identification, and staff in identifying and publishing local cases that are key in enhancing growth, not only at Makerere University but also in the private sector.
Associate Prof. Muwanika observed that the project's alignment with SDG 15 will be guided by and greatly benefit from partnerships. He noted that partnerships are key in enabling us share and cross fertilize academic ideas and experiences, a feat that has kept Makerere University among top-tier research institutions.
Highlighting the importance of policies in churning out relevant products, Associate Prof. Muwanika commended the Vice Chancellor of Makerere University-Prof. Barnabas Nawangwe for spearheading and overseeing policies and programmes that recognize, incentivize, and promote partnerships with industry, people and institutions outside Makerere University.
To further onboard the stakeholders, the project team leads namely Prof. John Tabuti and Ms Nele Vahrenhorst specified that the main activities of the project would include: improving the teaching material on courses that assemble natural resources for use, socio-ecological issues, data analysis, genetics, entrepreneurship, and sustainable tourism. The project will focus on capacity building of teaching and research staff on various methods, develop case studies on sustainable natural resources use, develop networks with non-academic actors, enhance student mobility to strengthen international perspectives, as well as promote inter-country inter-disciplinary learning exchange, incorporate higher education management, internationalization, digitalization as well as monitoring and evaluation.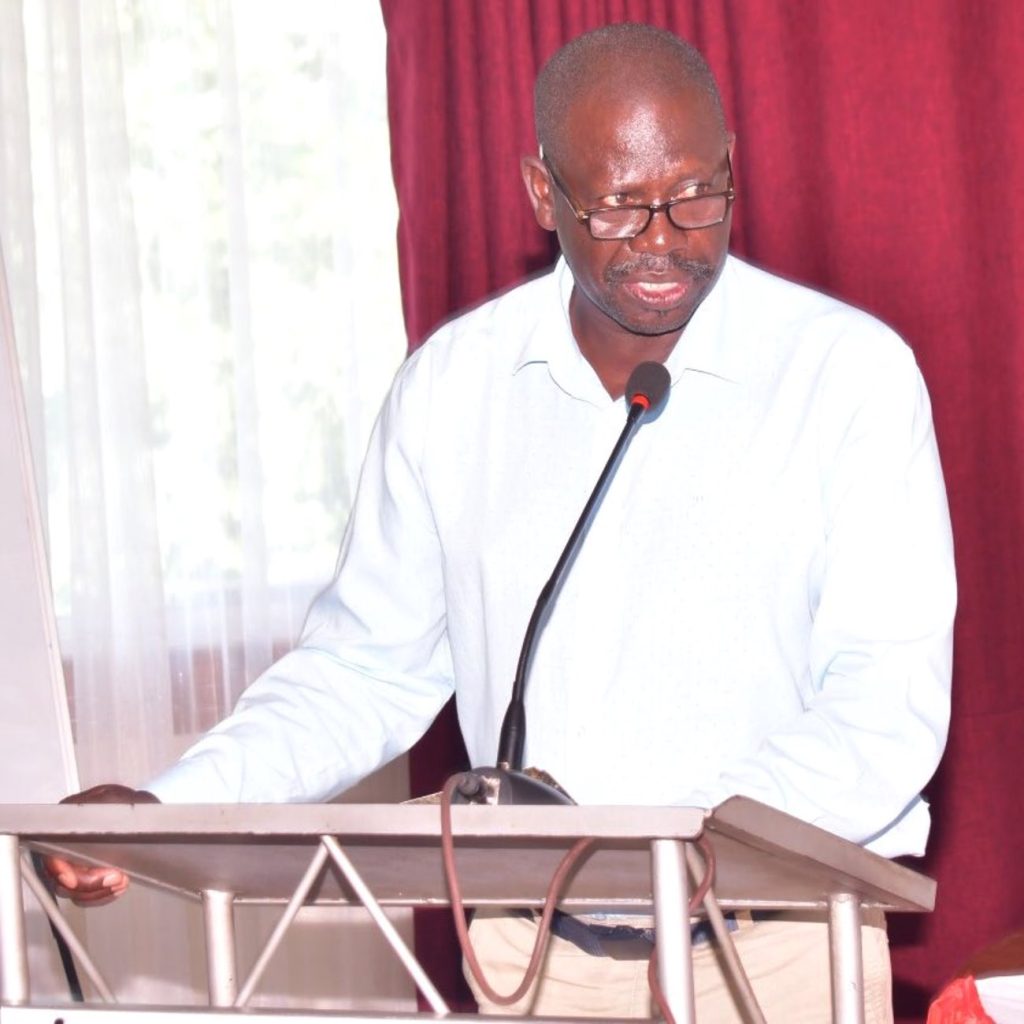 Prof. Tabuti advocated for a strong stakeholder engagement for content development, research undertakings and case studies. "We have brought you on board because you are key people in the field. You are going to play an instrumental role in the development of case studies. Stakeholders will work with the academic staff to develop the content and teach our students," said Prof. Tabuti.
In a highly interactive session involving a plenary and group sessions, the stakeholders contributed to the discussion on their needs and expectations regarding the graduate competencies and skills in biodiversity conservation and sustainable natural resources.
Matters arising from the stakeholder workshop:
With regard to the kind of graduates' employers would wish to have, participants presented a number of qualities including: good communication skills, practical orientation, humility, openness to diversity, readiness to learn and unlearn, ability to adopt to work ethics, problem solving skills, articulateness, confidence with ability to collaborate, design thinking mindset, and innovativeness.
In response to a question on how the partnership with stakeholders to support teaching and research shall be made possible, the participants presented proposals including: Identification of case studies linking to the lecture to be delivered, identification of key stakeholders, stakeholder engagement, identification of valid course content, design access and agreement on methodological approach to be used during the teaching and learning process, compilation of issues to be addressed before they are presented, design of a working document that can guide who does what, coming up with a team to develop a framework for developing the curricular.
Responses to a question on how partners can collaborate in development of case studies included: contribution of knowledge to case study development, establishment of linkages with the community, identification of research gaps, sharing of available resources in public domain, documentation of intellectual property rights, collaboration in teaching and training of students, provision of internship opportunities, giving notifications for advance preparation.
During the presentations, stakeholders indicated the readiness to partner with Makerere University to contribute to the development of case studies and content production for lectures and community outreach.
Closing the kick off workshop, Prof. Tabuti conveyed his gratitude to Makerere University management for supporting the project. He acknowledged Ms Ritah Namisango, the Principal Public Relations Officer of Makerere University for moderating the workshop. He thanked Dr. Dorothy Nampanziira, Ms Ritah Namisango, Ms Aziidah Namatovu and Dr. Godfrey Mayende for the excellent coordination of activities leading to the successful hosting of the workshop. He also thanked the physical and online participants for actively contributing to the stakeholders' workshop.
RUFORUM 19th AGM Urges Africa to Take the Lead on Climate Action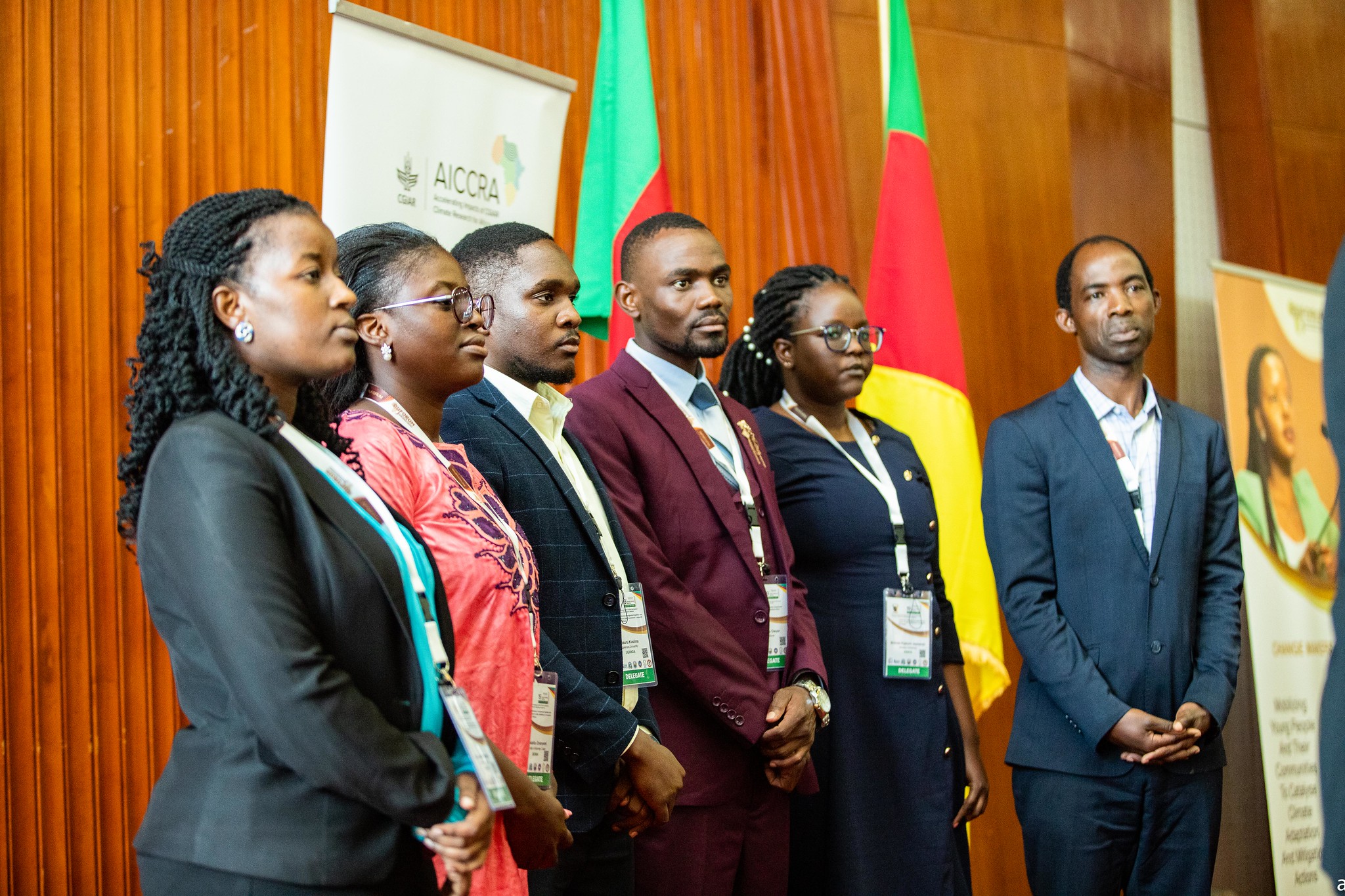 By Agaba Issa Mugabo
As the impacts of climate change are increasingly being felt across Africa, the Regional Universities Forum for Capacity Building in Agriculture (RUFORUM) has reminded African Governments that their climate commitments are key to preserving the continent's unique natural resources.
The appeal was made on 1st November 2023 in Yaoundé, Cameroon, where higher education leaders, researchers, policy makers, development partners, students, farmers, among others from across the African continent and the world gathered to discuss and lay strategies to transform agricultural higher education to contribute to Africa's development.
In line with thematic areas of the 19th RUFORUM Annual General Meeting (AGM), the "Accelerating and Scaling-Up Africa's Climate Change Adaptation and Mitigation Actions: Experiences and Lessons" side-event was held. The side-event provided a platform for participants to share experiences and lessons learned from initiatives such as; Accelerating Impacts of CGIAR Climate Research for Africa project (AICCRA), the Global Research Alliance for Agricultural Greenhouse Gases (GRA) and Responsible Artificial Intelligence for Climate Action in Africa (RAINCA). It served as a unifying platform where participants collectively envisioned a future characterized by integration and harmony of solutions.
Furthermore, the side-event emphasized the urgent need for swift and coordinated action to mitigate and adapt to the changing climate. The event featured discussions aimed at fostering efficiency, collaboration, and idea-sharing across various tracks.
Africa by virtue of its overreliance on rain-fed agriculture is vulnerable to climate change impacts. Predictions show that global warming of 1.5°C or 2.0°C, a now more than likely scenario, will shorten crop growth duration, aggravate droughts, and consequently reduce yield for major staple cereals.
Climate change adaptation is therefore necessary to reduce the likely impacts on agricultural productivity. Furthermore, mitigation actions are required to reduce on greenhouse gas emissions and enhance carbon sequestration.
In addition to sharing lessons and experiences, the side-event provided a forum to address challenges in accelerating and scaling up Africa's climate change adaptation and mitigation actions.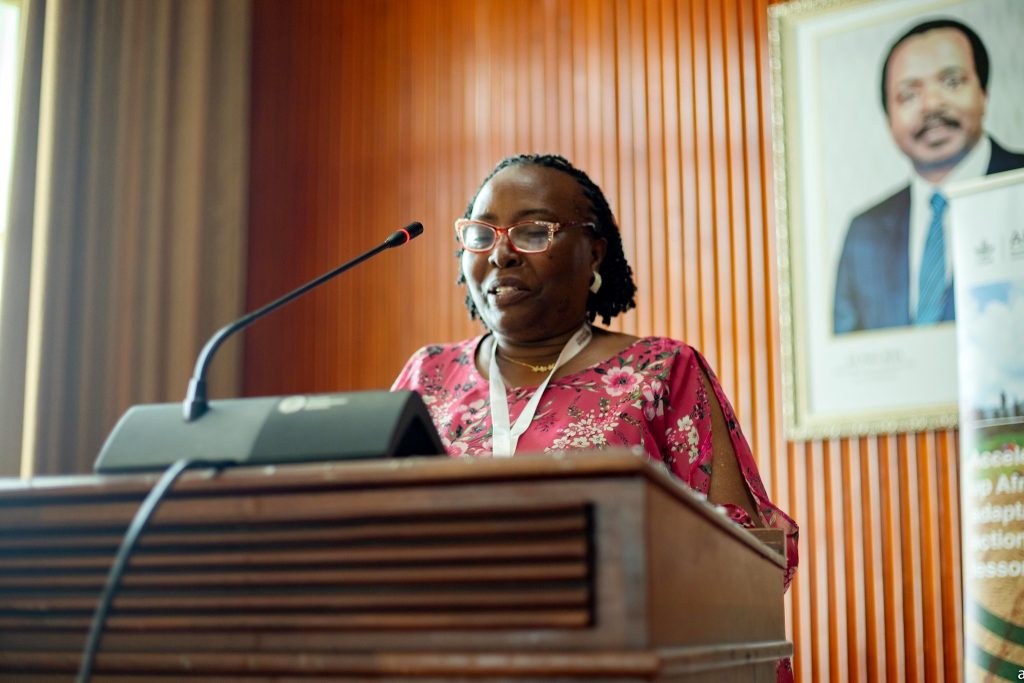 Speakers and discussants emphasized the vital role of climate finance in unlocking Africa's green energy potential and fostering climate-resilient development, with a call on African governments to allocate more financial resources to address climate challenges effectively.
Dr. Florence Nakayiwa Mayega, the Deputy Executive Secretary of RUFORUM, welcomed the attendees with a powerful message. "Africa can play a bigger role in climate change mitigation" she said, urging that "Governments and their people must mitigate climate change while preparing for climate change".
The Deputy Executive Secretary said that the main objective of the side event was to explore how universities can play an active role in addressing climate change issues. She added that universities should therefore take keen interest in the climate change initiatives RUFORUM is engaged in.
"Under the AICCRA programme, RUFORUM has developed curricula for enhancing the use of validated climate-smart agriculture (CSA) and/or the climate information services (CIS) knowledge products developed by the CGIAR Centres and other research institutions" added Dr. Nakayiwa Mayega.
The modules and other technologies, practices and innovations developed under the AICCRA programme were showcased at the side-event. The meeting also explored avenues for mainstreaming CSA/CIS into university activities including university curricula, research and outreach.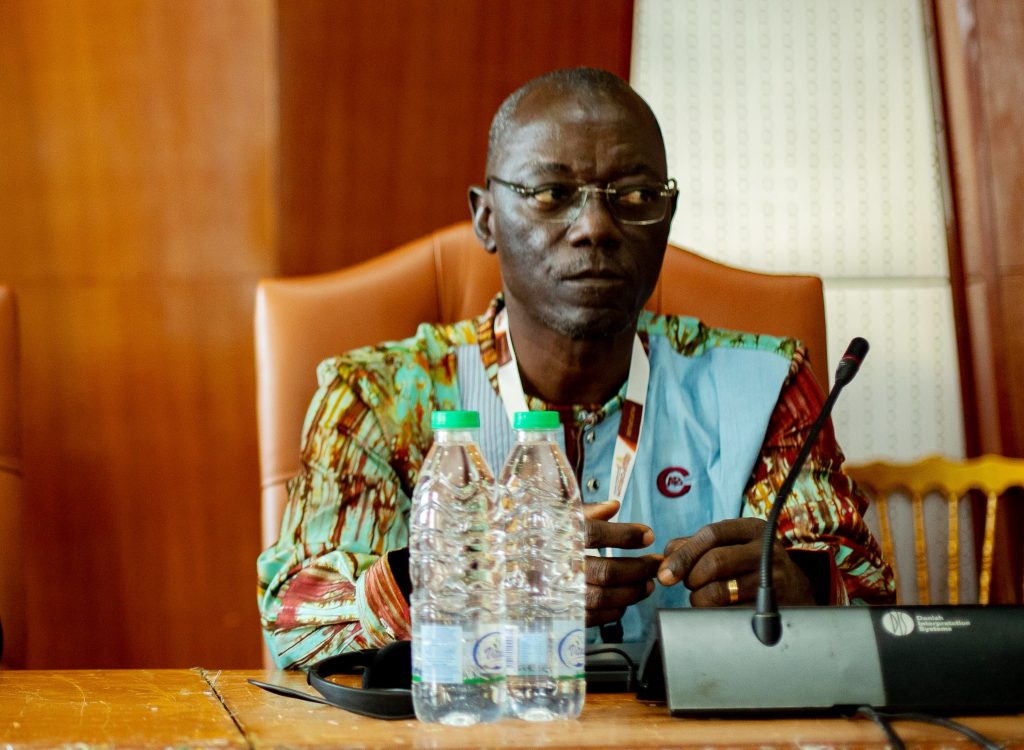 Dr. Robert Zougmore the AICCRA West Africa Cluster Lead delivered the keynote address on Accelerating and scaling-up Africa's climate change adaptation and mitigation actions: Experiences and lessons learned from AICCRA. He reported that AICCRA which started in 2012 has reached three million smallholder farmers in six countries including: Senegal, Ghana, Mali, Ethiopia, Kenya and Zambia. This, he said, had been achieved through a number of regional initiatives that complement national activities to deliver benefits for a broader range of stakeholders across East, West and Southern Africa.
"Africa, like other regions, has come to terms with the reality that climate change is already happening. The continent now knows that if left untamed, Africa's economies, livelihoods and nature will be hit by severe climate-induced pressure," said Dr. Zougmore.
"AICCRA has 45 packages that support millions of smallholder farmers across Africa to access and use proven innovations in climate information services and climate-smart agriculture," he said.
Dr. Zougmore added that AICCRA believes that with better access to innovative technology and advisory services—linked to information about effective response measures—farmers are enabled to better anticipate climate events and take preventative action that helps their communities safeguard livelihoods and the environment.
He also said that close to 80 partner organisations across Africa are using AICCRA technologies to help farmers and ten agriculture data (Agdata) hubs have been established with the aim of transforming agriculture decisions in Africa. The hubs integrate data from multiple sources to help farmers make informed decisions about what crops or varieties to plant in a given location and when to sow them.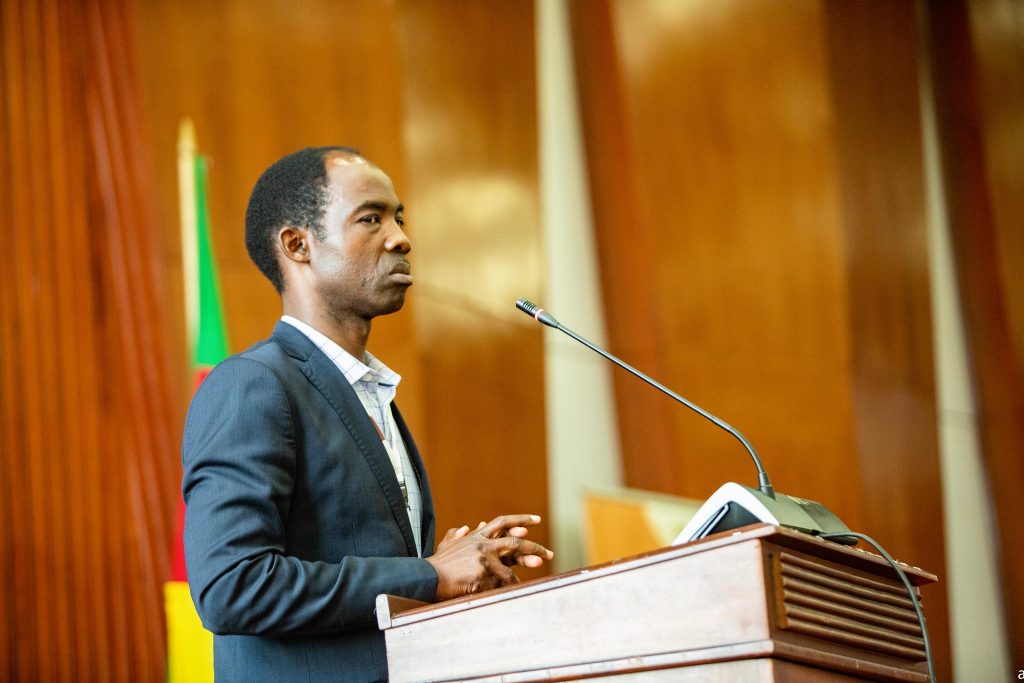 Addressing the audience on "Championing a transformative mode of Climate Change Action in Africa", Dr. Ackim Mwape, from the Global Research Alliance on Agricultural Greenhouse Gases (GRA) called for the continent's increased determination to accelerate action on adaptation and finance in order to deliver climate justice that Africa deserves.
Dr. Mwape said that there is need to inject more financial resources in climate action solutions in Africa to ensure that communities can bolster their climate resilience. "Only USD 30 billion in climate financing flows into Africa annually, which is only 11% of the climate financing needs estimated at USD 280 billion a year," he said.
He said that governments, the private sector, multilaterals and development partners need to do more to help close the climate financing gap on the continent that is not only the hardest hit by climate change but also sleepwalking into a potential catastrophe. Dr. Mwape added that the ongoing initiatives by international partners are still a drop in the ocean compared to financial resources needed to protect the most vulnerable.
He concluded by adding that failure to act now, not only exacerbates immediate risks but also threatens long-term resilience and contributes to social inequality and political instability. He reiterated that access to adequate financial resources is crucial for climate change adaptation and developed countries are expected to scale up climate finance for developing countries with a balanced allocation between adaptation and mitigation.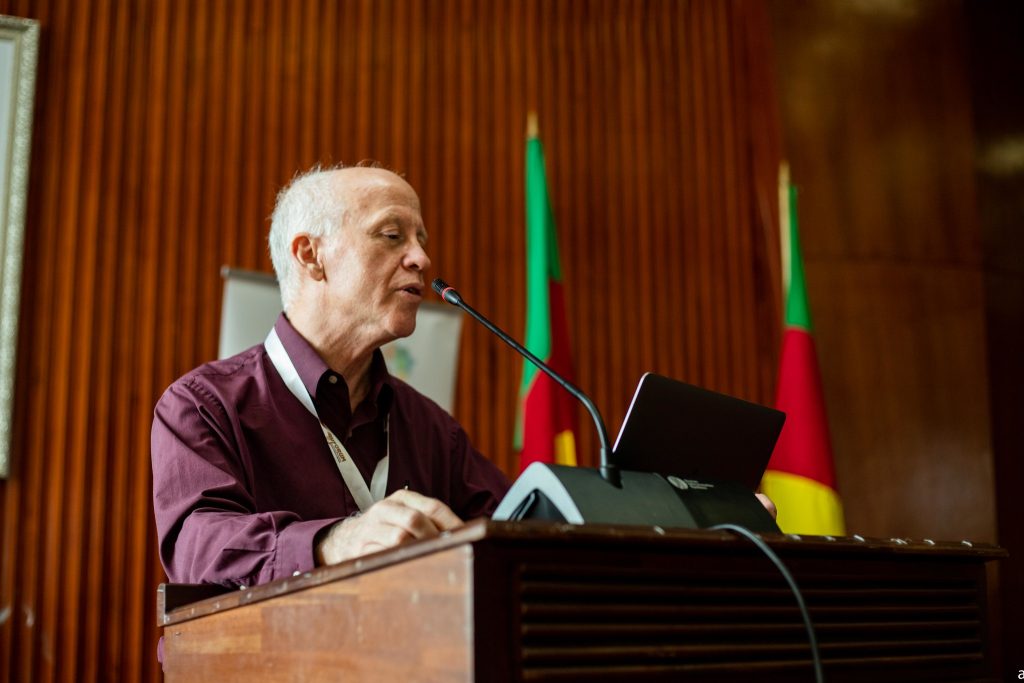 Discussing Climate Information Services (CIS) Curriculum Development and Research: Experiences from International Research Institute for Climate and Society (IRI), James Hansen a Senior Research Scientist at IRI, said that Africa requires climate information services that effectively meet African farmers' decision-making needs in a variable and changing climate.
He said that well-functioning weather and climate information services can save lives and livelihoods. He added that in order for African communities and businesses to adapt more effectively to the inevitable impacts of climate change, CIS must be strengthened as comprehensively as possible.
Prof. Hansen however acknowledged that uptake and use of CIS in Africa is influenced by many factors including the lack of reliable historical observations, coarse scale of future climate projections, and weakly coordinated CIS delivery, among others.
Participants were urged to mitigate the effects of climate-related weather events and manage residual risks through participatory planning and comprehensive service delivery.
The side event concluded with a resounding message to the effect that: Africa is not just a continent facing climate impacts; it is a continent poised to lead the world in climate solutions.
During the same event, the GRA-RUFORUM Alumni Network in Africa was launched.
RUFORUM convenings are held annually and rotationally in countries where its member universities are based.
Dr. Bernard Obaa Appointed Ag. Head, CAES Department of Extension & Innovation Studies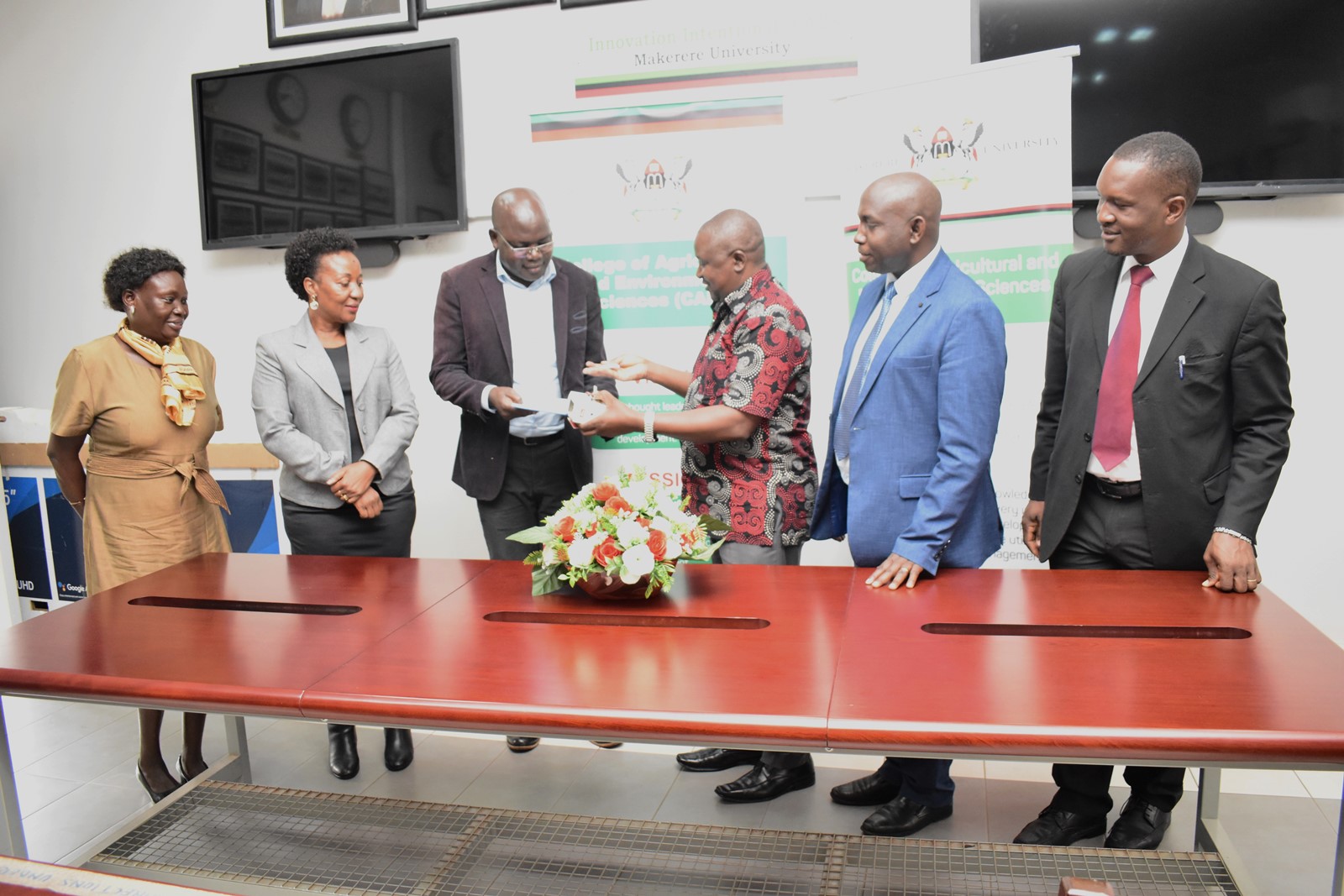 Makerere University Council has appointed Dr Bernard Obaa Acting Head, Department of Extension and Innovation Studies, College of Agricultural and Environmental Sciences (CAES). Dr Obaa takes on from Prof. Nelson Turyahabwe who has held the position for the last four years starting 2nd November 2019. Dr. Obaa is a Senior Lecturer in the Department of Extension and Innovation Studies at CAES. He holds a PhD in Rural Sociology (Food systems, Agriculture and Environment and Social Change and Development) from Iowa State University, USA, and an MSc in Agricultural Extension and Education from Makerere University.
During the official handover ceremony held on 13th November 2023 at CAES, the Principal, Prof. Gorettie Nabanoga appreciated the outgoing Head for his contribution. She congratulated the new Head and implored him to further strengthen the Department in line with the new strategic direction intended to transform Makerere into a research-led University, with more innovations to foster the country's development.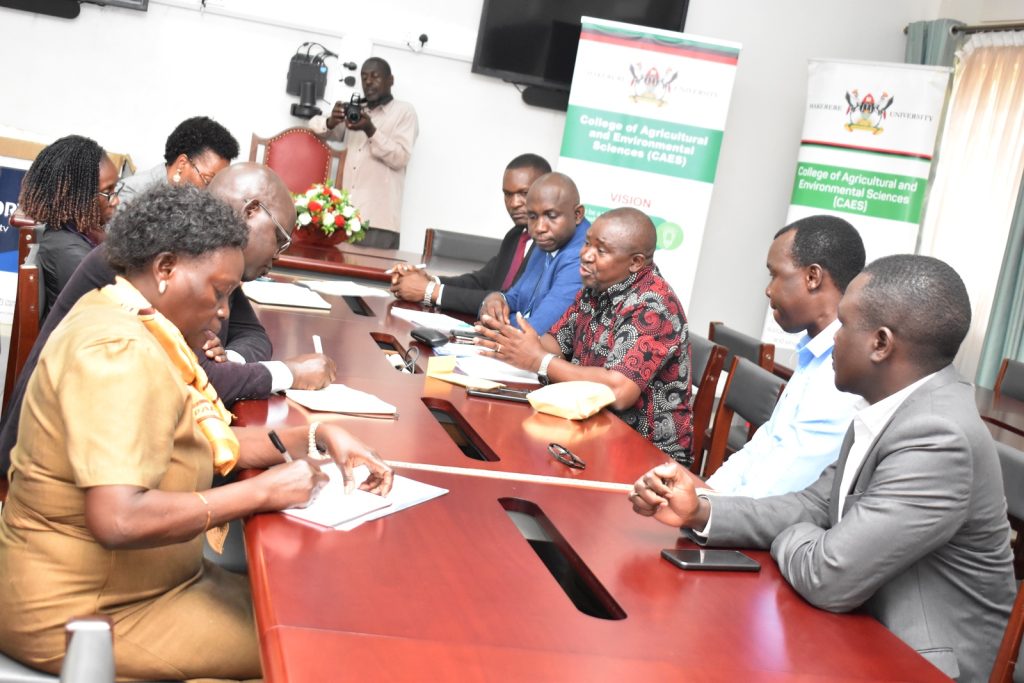 In Prof. Turyahabwe's four-year term of office, the Department of Extension and Innovation Studies has continuously registered improvement in the performance of students on the Bachelor of Agricultural and Rural Innovations programme. There has also been increased enrolment of students into the Masters of Science in Agricultural and Extension Education and PhD in Agricultural and Rural Innovations (PARI). Other achievements include; improvement in the completion rate of PARI students with the highest number of PhD students at CAES being from PARI. The Department has also reviewed curriculum for several programmes to meet the requirements of the Uganda National Council for Higher Education and Makerere University.  These include; the Master of Science in Agricultural Extension and Education that has been renamed Master of Science in Agricultural Extension and Rural Innovation and approved by Senate. Both the Bachelor of Agriculture and Rural Innovation (Internal- BARI) and the Bachelor of Agriculture and Rural Innovation (External – BAXI) were reviewed and renamed Bachelor of Agricultural Extension and Rural Innovation.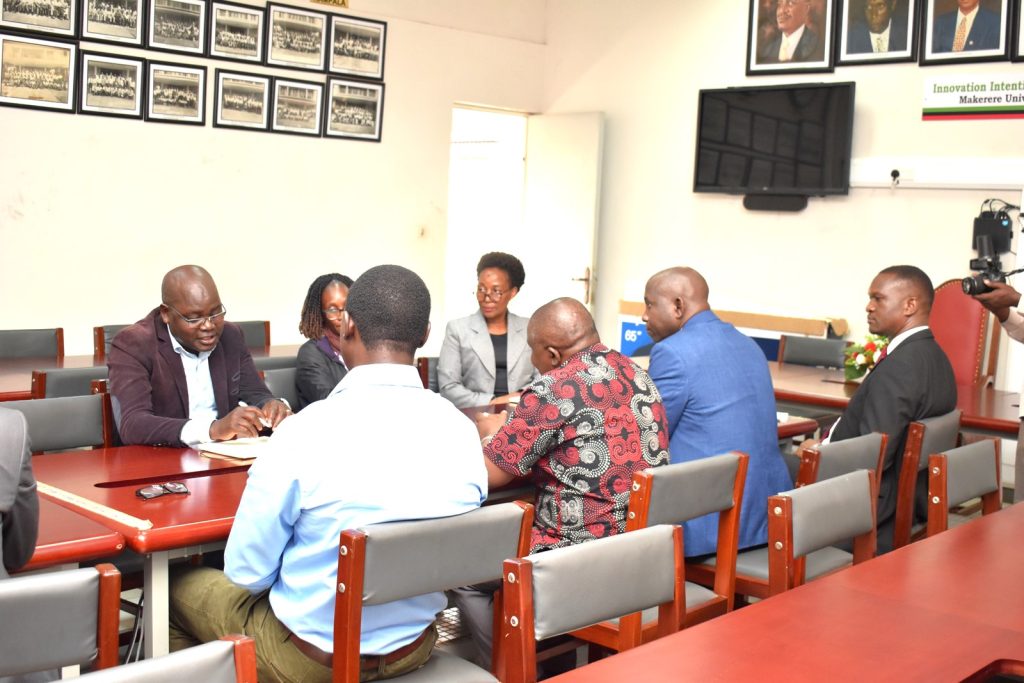 The Department staff have won several research grants namely: Enhancing the Capacity of Faculty and Students on the Bachelor of Agricultural and Rural Innovation, External Degree Programme for E-Learning at Makerere University; the CAES Innovation Scholars Programme run in collaboration with Michigan State University's (MSU) Borlaug Higher Education for Agriculture Research and Development (BHEARD) with support from MSU's Global Centre for Food Systems Innovation. Other projects include; Diversity and Inclusion in Leadership Training between Makerere University and MSU's African Studies Centre and Michigan Fellows Agribusiness Initiative (MFAI), supported by the Alliance African Partnership (AAP); and SECA (2019-2021) with support from Carnegie Cooperation of New York titled – Strengthening academic supervision and mentorship for enhanced completion rates of graduate students in the Department of Extension and Innovation Studies. There is also an ongoing project – Enhancing the Capacity of the Department of Extension and Innovation Studies to Facilitate E-learning and research through installation of the state of the art video conferencing system- Under consolidating Early Career Academic Programme (CECAP) at Makerere University. It is supported by Carnegie Cooperation of New York.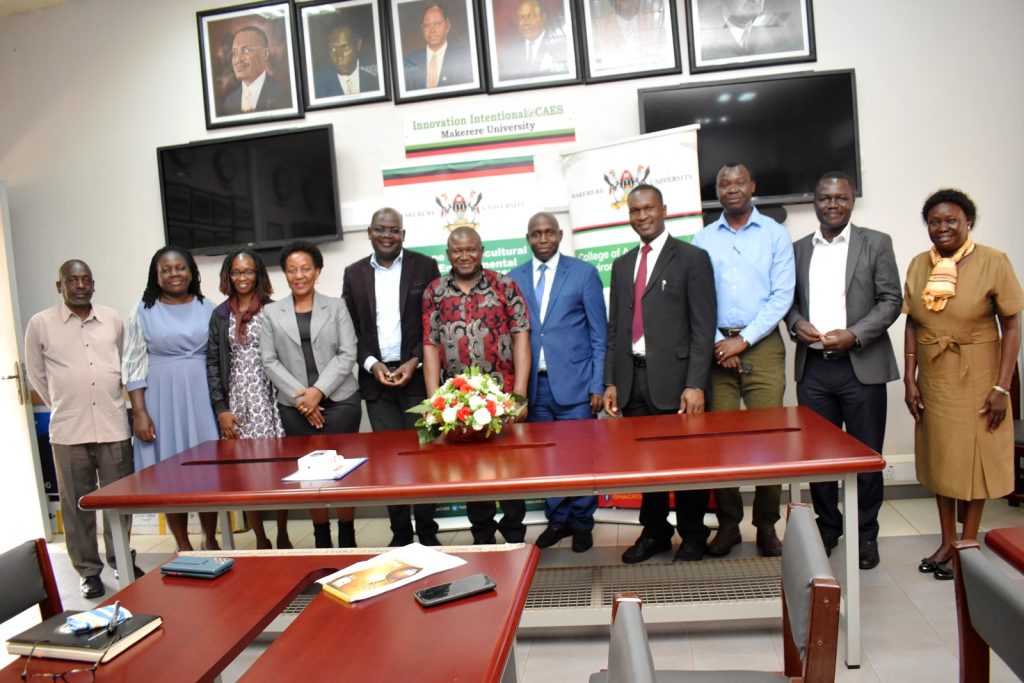 In his remarks, the outgoing Head, Prof. Nelson Turyahabwe appreciated the College leadership and staff, as well as programme coordinators for the support extended to him during his term of office. He also appreciated the incoming Head, Dr Bernard Obaa for accepting to take on the leadership of the Department, and pledged continued support to further strengthen the Department. Similarly, Dr Obaa appreciated Prof. Turyahabwe for his outstanding contribution towards the development of the Department and committed to build on the achievements registered thus far.
The handover ceremony was witnessed by the Dean, School of Agricultural Sciences, Dr John Baptist Tumuhairwe; the College Human Resource Office, Ms. Hawa Harriet; the representative from the Directorate of Internal Audit,   Mr. Aggrey Luwuliza; and members of staff form the Department.