First Mak@100 Lecture Examines Governance of Public Universities
The Makerere@100 Lecture Series got off to an exciting start on Wednesday 9th February, 2022 with an eminent alumnus and Attorney General of the Republic of Uganda, Hon. Kiryowa Kiwanuka delivering an excellent exposition of the theme "A Legal perspective on the role of Governing Councils in the Management of Higher Education Institutions".
Delivered to a packed but SOP-observant audience in the Central Teaching Facility 2 (CTF 2) Auditorium as well as hundreds online, the first series could best be described as historic; the first to be delivered by a sitting Attorney General of Uganda.
"It is therefore a privilege for me to moderate this public lecture not only as a lawyer but also as the Principal, School of Law" remarked the Event Chairperson, Prof. Christopher Mbazira. "We know and the Attorney General knows that his role as Head of Bar comes with various responsibilities, key among which is to mentor lawyers and ensure that the law is practiced according to professional standards and codes of conduct," he added.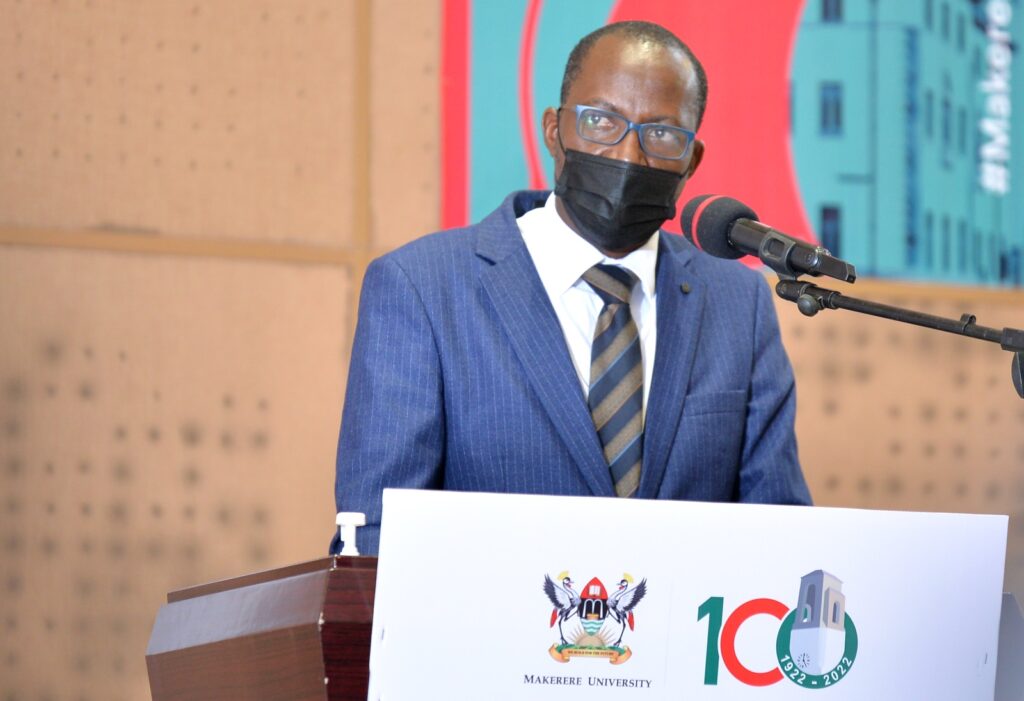 Prof. Mbazira thanked the Attorney General for using the lecture as an opportunity to discharge part of his duties as Head of Bar and informed the audience that as Principal, he had made a conscientious decision to cancel morning classes at the School of Law so that his students could attend the lecture, "because as I Law Student I never got that opportunity."
The Principal invited the Attorney General to take keen interest in the quality of legal education offered at the School of Law, particularly the unique innovation of offering of Legal Aid services.
"We invite you to take interest in that as we wait for the promulgation of the Legal Aid Bill, as well as use your offices to ensure sustainability of that innovation by having that particular aspect of the School of Law incorporated in the Justice Sector" added Prof. Mbazira.
The Vice Chancellor, Prof. Barnabas Nawangwe in his welcome remarks noted that in addition to being the first Makerere@100 Lecture Series, it was the first time the Attorney General was delivering a lecture at his alma mater.
"The Lecture is on a very important subject to Makerere University and all other Higher Education Institutions because the Council is the supreme governing body of the institution. We therefore thank Honourable Kiryowa Kiwanuka for accepting to come and deliver this lecture despite his very busy schedule" added the Vice Chancellor.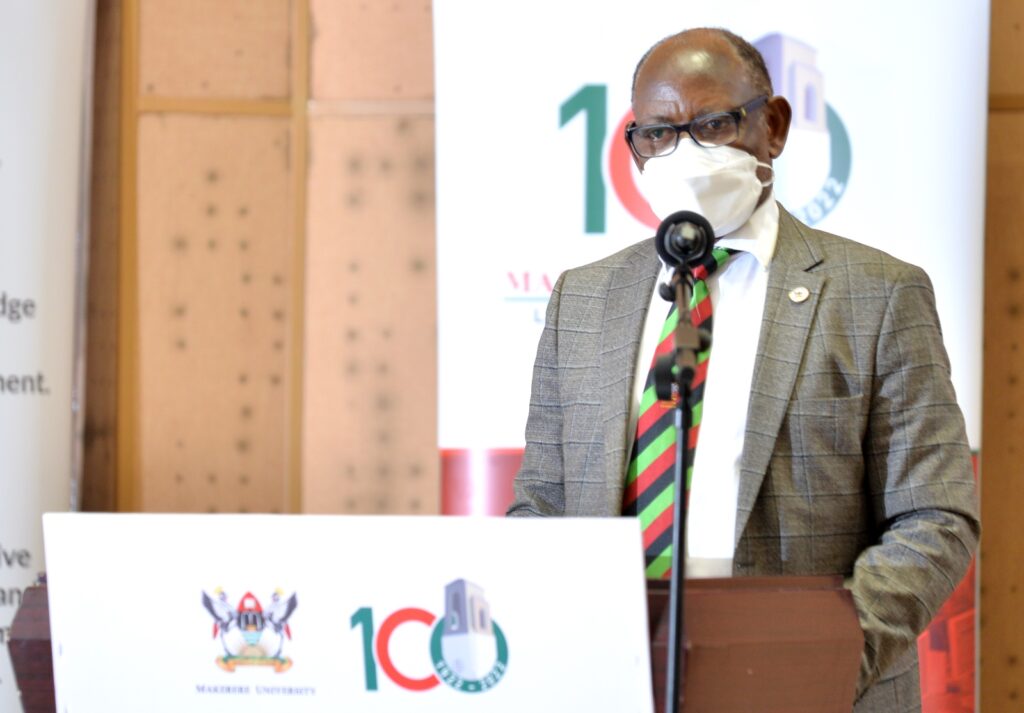 Prof. Nawangwe noted that the First Lecture would be followed by others in the lead-up to the climax of the Centenary Celebrations in October 2022. He thanked Prof. Mbazira for enabling his students to attend the historic lecture delivered by one of their own and Senior Counsel.
The Chairperson of Council, Mrs. Lorna Magara in her motivational statement prior to the lecture noted that there was no better person to deliver the First Makerere@100 Lecture Series than Hon. Kiryowa Kiwanuka.
"He has experienced firsthand the intricacies involved in the Governance of an educational institution of the magnitude of Makerere University" said the Chairperson, before adding that "Makerere University significantly benefited from Honourable Kiryowa Kiwanuka's extensive legal experience, his willingness to lead; his quick incisive thinking and relentless ability to find solutions to multifaceted issues."
Mrs. Magara further stated that the Lecture would double as an opportunity to officially bid farewell to Hon. Kiryowa Kiwanuka who served the Council from December 2018 to October 2021, as well as Her Worship Doreen Nyanjura who served from July 2016 to January 2022.
"As Chairperson, it's been one of those bittersweet moments bidding farewell to two extremely resourceful Council Members, and yet at the same time, finding great joy in seeing them take on greater responsibility to serve our Nation and our City. I heartily congratulate you Hon. Kiryowa Kiwanuka and Your Worship Doreen Nyanjura both upon your respective appointments" she added.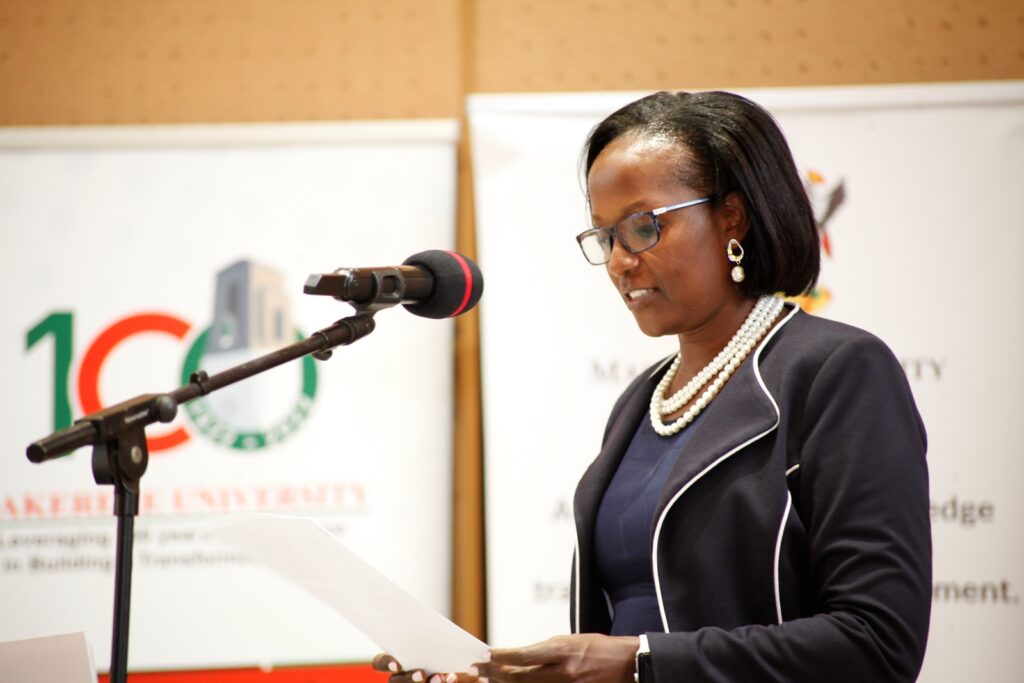 Quoting Barry Posner and James Kouzes' book "The Leadership Challenge" wherein they state that the domain of leaders is the future, Mrs. Magara emphasised that Makerere as it celebrates 100 years of achievements must leverage its wealth of intellectual and human capital to profer leadership in transforming Uganda, "and it starts with good governance, undergirded by a proper legal framework."
'Cometh the hour, cometh the man' is an idiom more popularly used in sport to describe the sportsman/woman that turns the tide of what hitherto seemed like an impossible score to recover from. Although no stranger to sport, Hon. Kiryowa Kiwanuka in this case had to deliver on a theme that was not only broad but also largely dependent on a legal framework; The Universities and Other Tertiary Institutions Act, 2001, that is in desperate need of amendment.
So palpable was the immensity of the task at hand that the Attorney General admitted "It's not business as usual to deliver a public lecture like this, our business is normally behind the desk writing documents, so I'm really honoured to receive this recognition… it's also interesting that I hear today, that this is the first lecture of the series, that I didn't know, because if I had been told, maybe I would have had an excuse to take the second."
He nevertheless noted that although the day's theme sounded legal, what he was going to discuss was education, which would hopefully help the audience plan for a lifetime. He observed that "new" knowledge will be very instrumental as the country seeks to achieve Middle Income Status, which further underlines the importance of Makerere University and other institutions of higher learning, and their need to observe good governance.
Hon. Kiryowa Kiwanuka noted that the University Council derives its mandate from Sections 38(1) and 40(1) of the Universities and Other Tertiary Institutions Act 2001 and its functions from Section 40(2) of the same. He added that although the broad nature of the Council's functions occasionally makes it hard to draw a line between its roles and those of Management, Council, being the Trustee of the Government wields overall responsibility to ensure effective and efficient management and functionality of the University.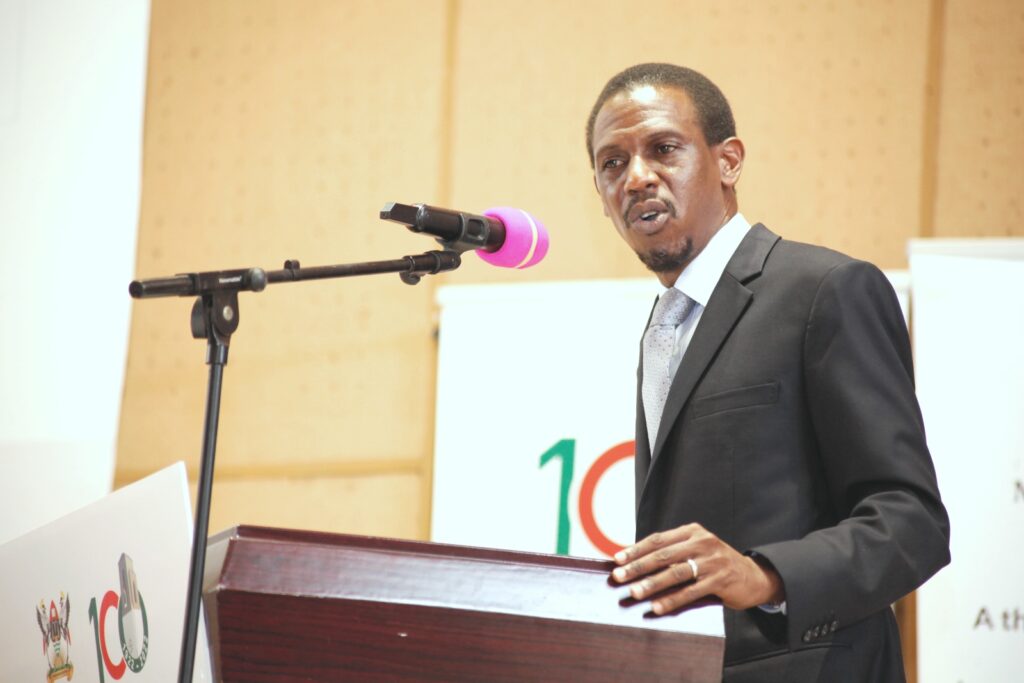 "The role of the university council is not simply to manage the institution but to manage change. We are surrounded by an ever changing environment. We are in the age of computers, social media, IT, artificial intelligence etc." explained the Attorney General.
In this regard, he commended the University for adapting to the changing world. "Makerere University has identified the changing circumstances and the need for research in order for us to find homegrown solutions to our challenges and has decided to make this its primary goal. To become research led!"
After delving deeply into the specific and routine responsibilities of Council such as: Making recommendations for the appointment of the University's top leadership; Establishing the University Senate and other Academic Bodies; Establishing Boards of Faculties, Institutes and Colleges; Appointing Committees of the University Council; Management of University Property; and Submitting University Budget Estimates, Hon. Kiryowa summed it up by saying there is no point in the management and running of the University where Council does not have a direct role.
"University business is not ordinary business. The rationale of this is that the purpose of a University is for the greater good. The greatest stakeholder at least in Makerere University, is the people of Uganda; alumni, students or not. What you do here affects all of Uganda" cautioned the Attorney General.
University Councils face a number of challenges largely due to their size and flouting the Chatham House Rule. After enumerating these, Hon. Kiryowa concluded on a cautionary note, reminding his audience of the need to achieve a good balance between the Council and the Vice Chancellor/Management for the good of the university.
The risk, he noted, was in a proactive Chairperson and a proactive Council limiting the scope of activity for a Vice Chancellor. He nevertheless commended, "I have had the privilege of working with both a dynamic Chairperson and proactive Vice Chancellor."
The well-received public lecture was followed by a lively one-on-one with the Attorney General, moderated by Assoc. Prof. Sarah Ssali a Council Member and Dean, School of Women and Gender Studies, College of Humanities and Social Sciences (CHUSS).
Pertinently raised were the need to: amend the Universities and Other Tertiary Institutions Act to move beyond the era in which Makerere was the only Public University in Uganda; and cater for affirmative action and minimum qualifications in the constitution of Council. Other burning issues touched on stifling academic freedom, losses to public universities arising out of litigation and the growing presence of the military in academic spaces. MakererePertinently raised were the need to: amend the Universities and Other Tertiary Institutions Act to move beyond the era in which Makerere was the only Public University in Uganda; and cater for affirmative action and minimum qualifications in the constitution of Council. Other burning issues touched on stifling academic freedom, losses to public universities arising out of litigation and the growing presence of the military in academic spaces.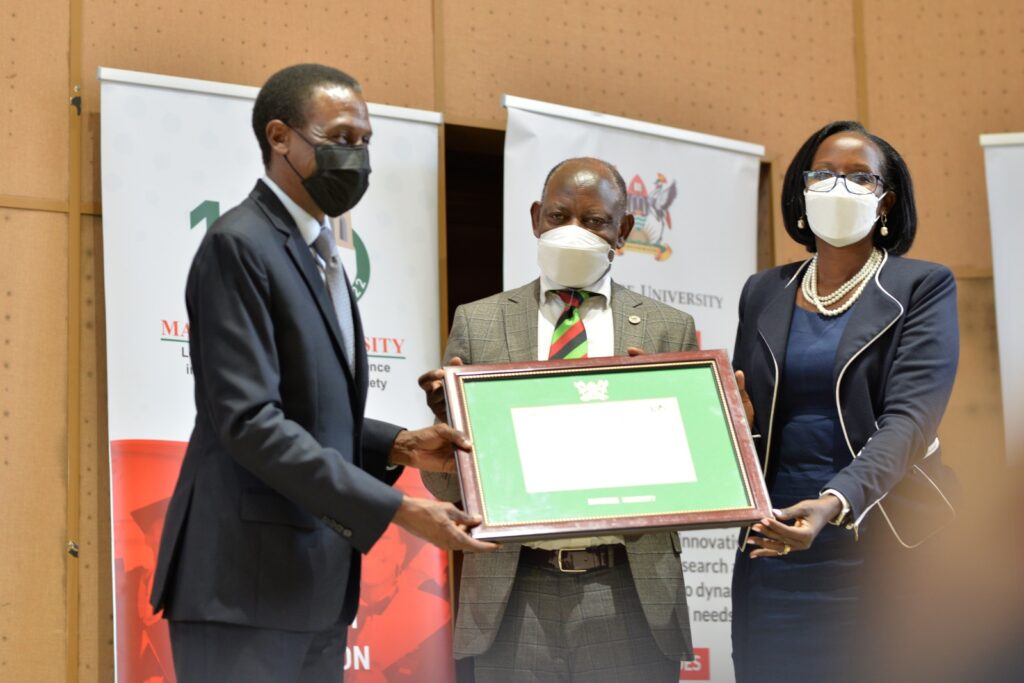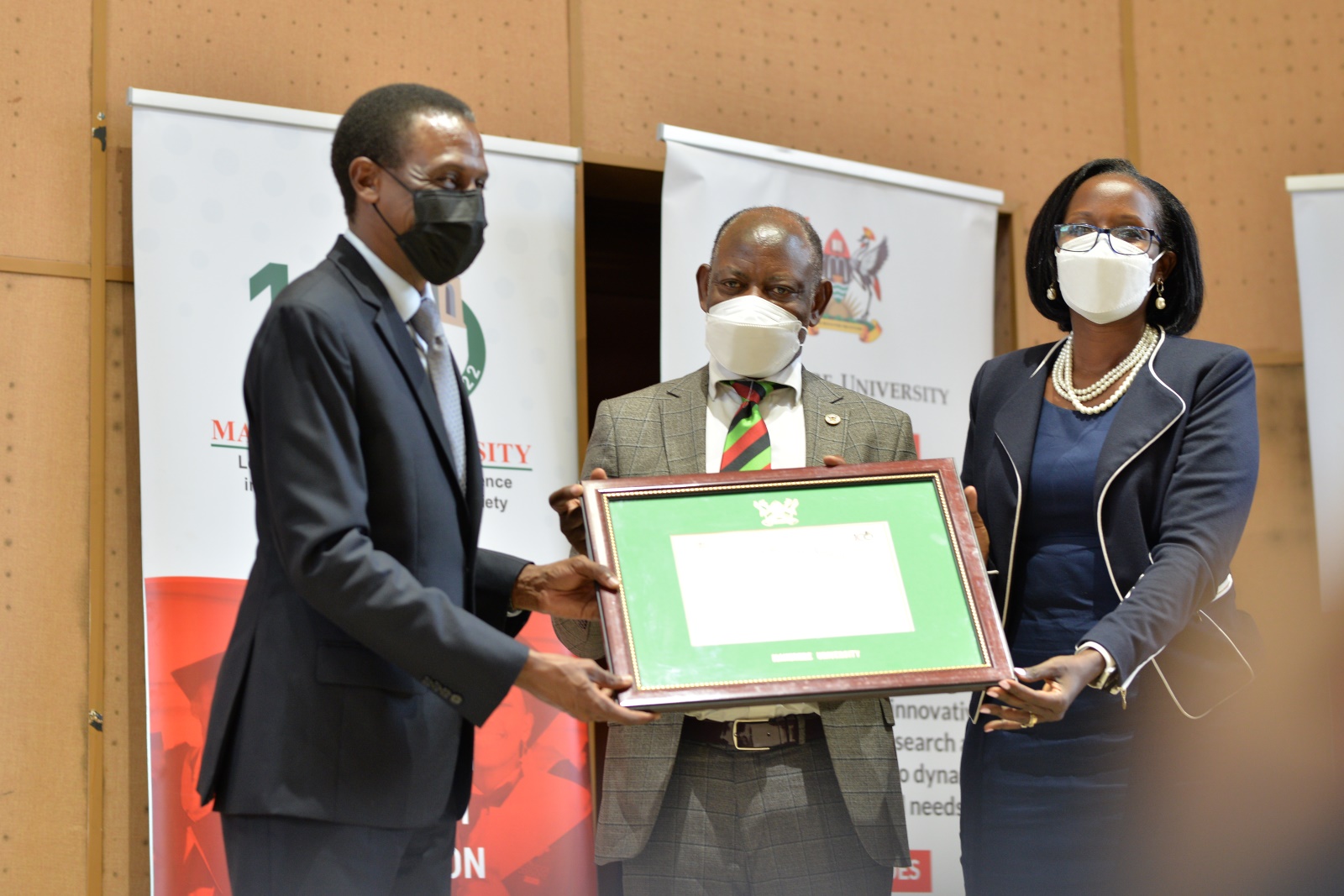 The Attorney General in summary concurred with the urgent need to amend the Universities and Other Tertiary Institutions Act as it governs a very dynamic era, proposing it be subject to amendment every ten years. He called for the adoption of a more inclusive "Ugandans in uniform" reference to the military, and offered to create a space for the public and academia to debate their growing presence in spaces outside their usual domain. Finally, he urged his audience not to use academic freedom to trample upon the freedoms of other members of the public.
As hinted on by the Chairperson of Council during her motivational statement, the lecture was crowned by the presentation of eminent service awards to Hon. Kiryowa Kiwanuka and Her Worship Doreen Nyanjura.
In her acceptance speech, Her Worship acknowledged that although she did not know what the future held as she journeyed from Nyamabuga village in Kyenjojo district to commence her undergraduate studies at Makerere in 2009, she carried in her heart a burning desire to make her surroundings a better place than she had found them. She went on to serve on the Students Guild and in 2016, became Councillor for Makerere University at the Kampala Capital City Authority (KCCA).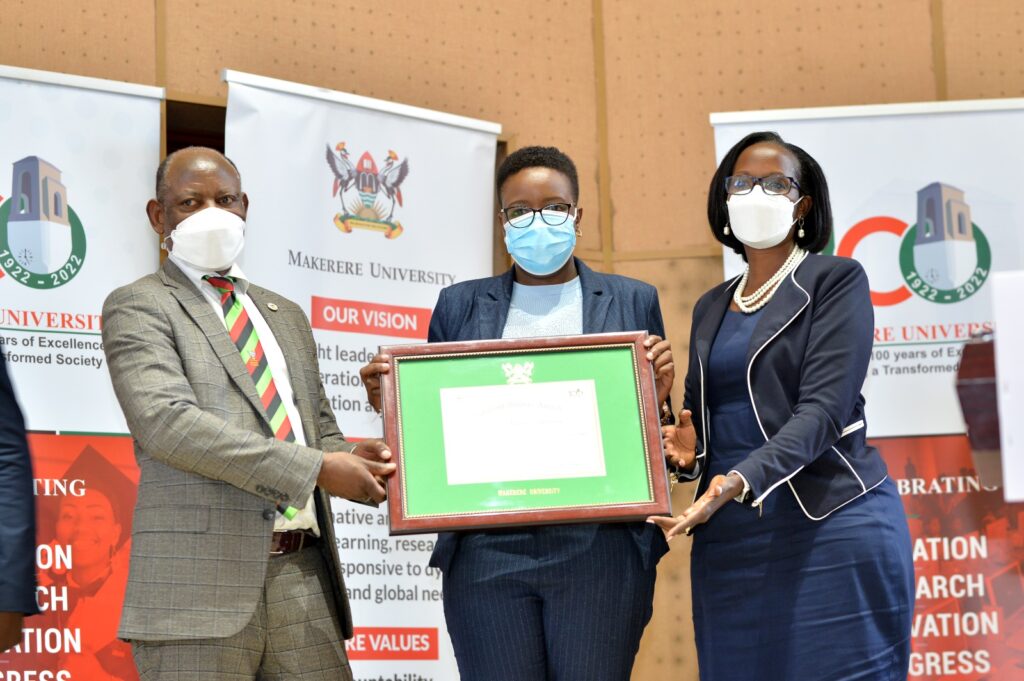 Nominated by KCCA to sit on the Makerere University Council in 2016, Her Worship was at the time of her departure in January 2022 serving her second five-year term.
"I want to extend my sincere gratitude to this Council and its members with whom I served. This University Council has groomed me, it has trained me and sharpened me to be a better leader. The Council has taught me that every single decision we take affects so many people and their families, a single decision could destroy a career or build it, it could shut out a whole section of our society from attaining an education or enable them to attain education" she said.
Please click the embedded video below to view proceedings of the First Makerere@100 Lecture Series
---
---
Mak Participates in New Vision Education Expo 2023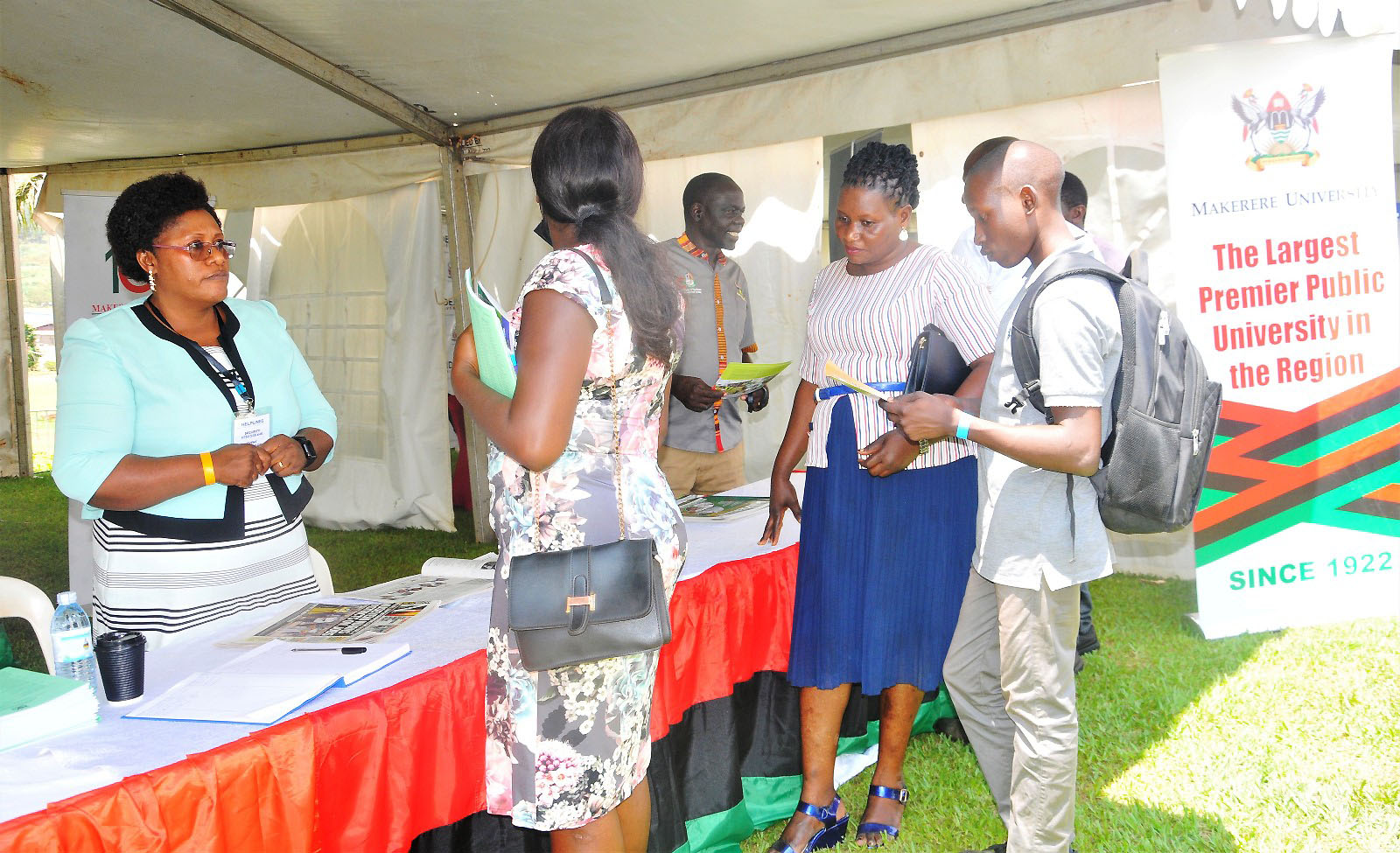 Makerere University is participating in the New Vision Education Expo 2023 to strengthen its niche as the leading provider of education services.
The three-day New Vision Expo (Friday 27th January 2023 to Sunday 29th January 2023) at the Uganda Institute of Information and Communications Technology (UICT) Nakawa brings on board players in the education and business fields to forge partnerships to improve the quality and outcomes of education in Uganda.
Makerere University seeks to maximally utilize the three days to ensure that the participants at the Education Expo gain a deeper understanding of its 100 year journey of providing excellent services to humanity through academic programmes, services offered and ongoing efforts aimed at producing employable graduates as well as entrepreneurs.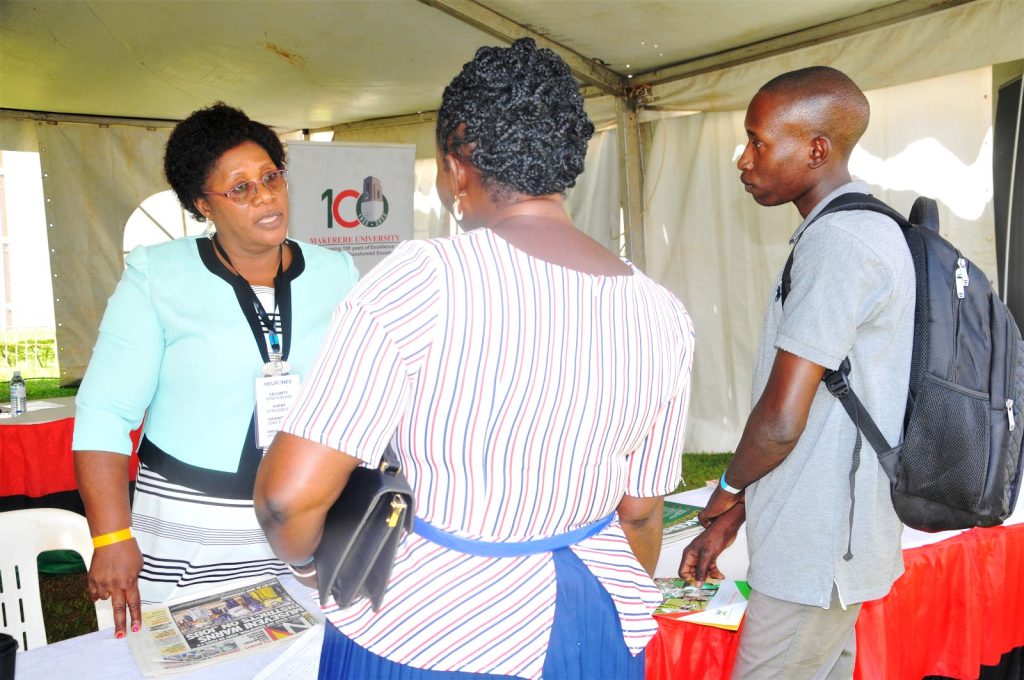 The Vice Chancellor, Prof. Barnabas Nawangwe highlights that Makerere University values stakeholder engagements and partnerships.  "The New Vision Expo 2023 presents Makerere University with an opportunity to enhance stakeholder engagements. It is about consolidating the relationships with schools, prospective students and parents, and partners in the education sector. I applaud the CEO of Vision Group-Mr. Don Wanyama for coming up with the Education Expo."
To respond to the information needs of stakeholders, Makerere University has lined up a team of experienced staff from the Department of the Academic Registrar, the Admissions Office, Public Relations Office, Career Guidance experts as well as the Institute of Open Distance and e-Learning (IODeL) under the College of Education and External Studies (CEES).
According to the Principal PRO of Makerere University Ms. Ritah Namisango, the Education Expo provides a platform to reach out to the clients that Makerere University exists to serve. "You must be in touch with your prospective parents, students as well as schools and partners that continue to recommend you as the leading university in the region. Makerere University has celebrated 100 years of excellent service to humanity (1922-2022). So, as we continue to promote the academic programmes, innovations and services that we offer, we are ready to listen, interact and learn from respective stakeholders about what they expect from the University as we embark on the next 100 years."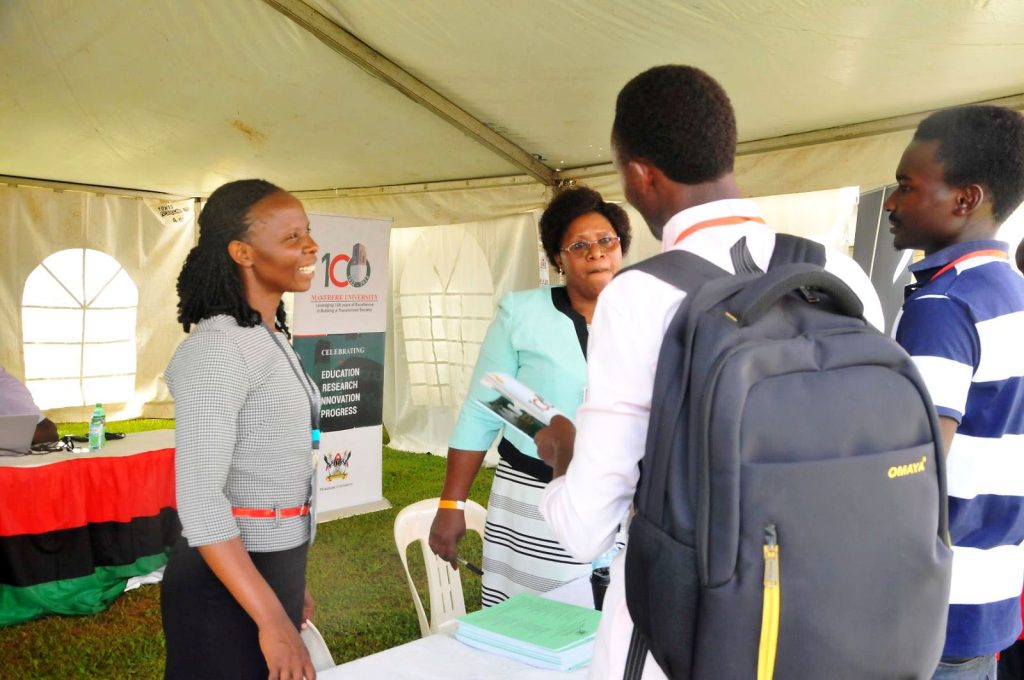 The New Vision Expo 2023 is happening at an opportune (holiday) time, which accords the students, parents and guardians quality time to visit the exhibition and interact with experts in the education sector.
In addition, Makerere University has recently advertised its academic programmes and it is preparing to receive students for the Academic year 2023/2024. Sharing her experience about the interaction with participants who visited the Makerere University exhibition space, Ms Joyce Muhanguzi, Senior Assistant Registrar in the Department of the Academic Registrar noted that most of the prospective students and parents wanted to know about the academic programmes, the subject combinations that students should study to qualify to apply for the respective academic programmes, and the available admission avenues i.e. government sponsorship, private sponsorship, diploma entry, direct entry, national merit, talented sports entry and district quota programme).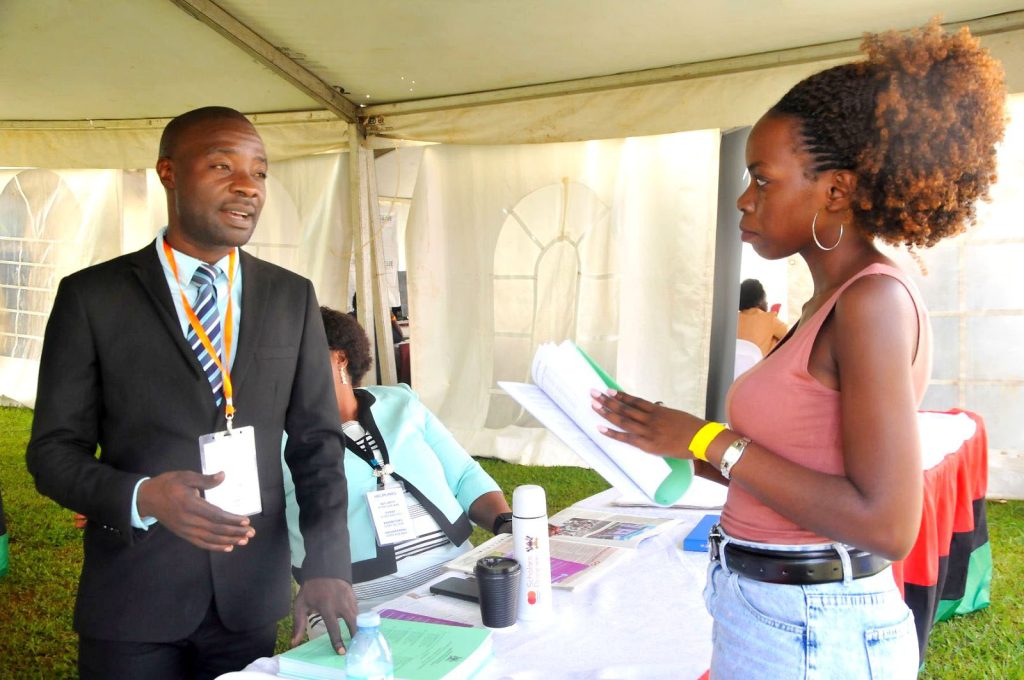 Ms Joyce Muhanguzi and Mr. Dennis Kibuuka's interaction focused on students who expressed their desire to join Makerere University in the coming years, and needed a case by case approach to their information needs, career guidance and linkages to Professors and Administrative staff in the respective Colleges at Makerere University.
The prospective students and parents also disclosed that in addition to the information on the Makerere University website, they welcome interactive and friendly approaches such as the New Vision Education Expo where they are presented with a golden opportunity to interact with Makerere University officials face-to-face.
At the New Vision Education Expo 2023, Makerere University joins other exhibitors that include; Government agencies, NGOs, Telecom companies, Banks, Insurance companies, Kindergartens/Daycare Centres, Primary and Secondary schools, Ugandan and Kenyan Universities, International schools, Study Abroad Agencies, Vocational institutions, Scholastic materials suppliers and SME service providers.
73rd Graduation Highlights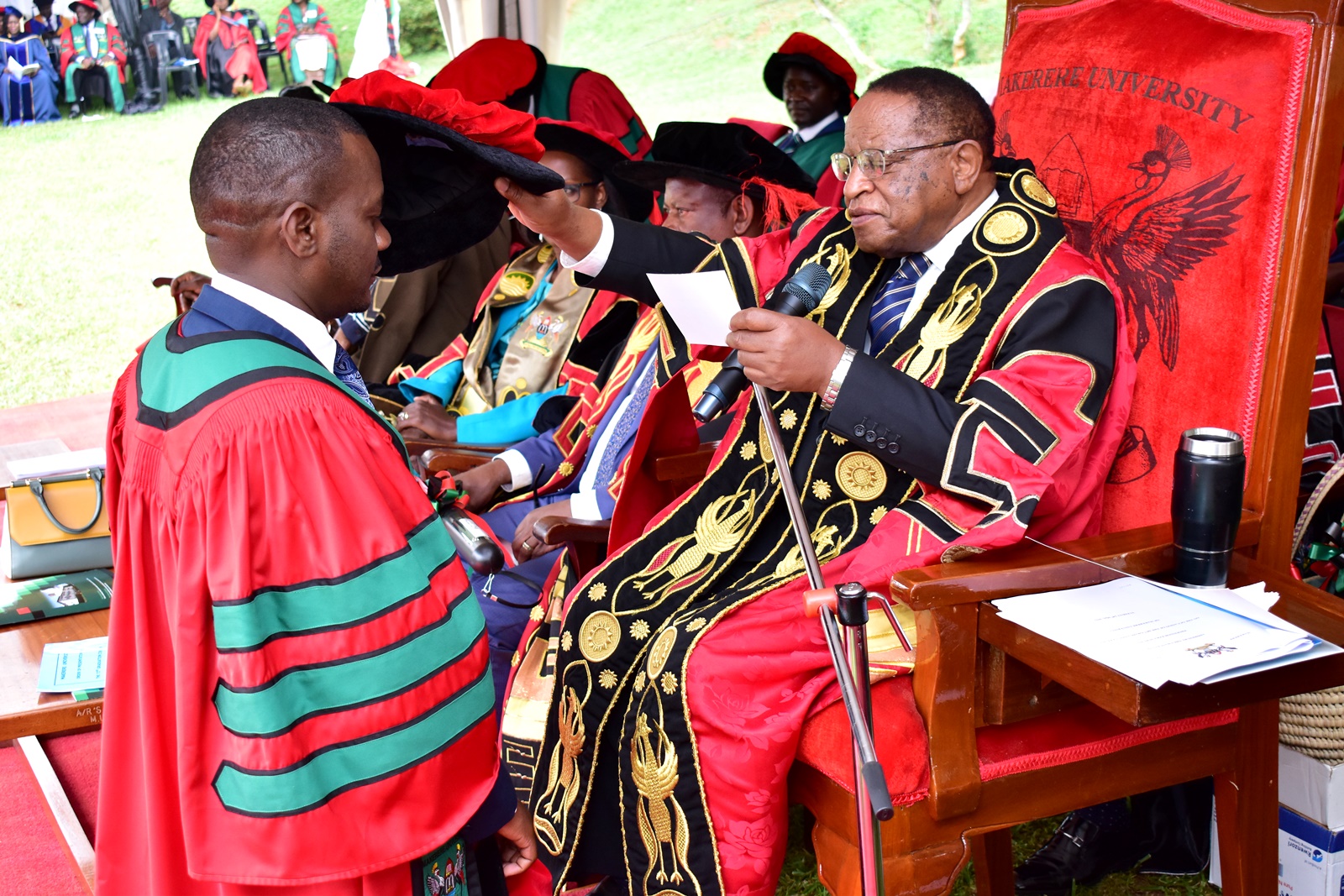 The 73rd Graduation Ceremony of Makerere University will be held from Monday 13th to Friday 17th February 2023 following the schedule below:
Monday, 13th February, 2023
College of Health Sciences (CHS)
College of Natural Sciences (CoNAS)
School of Law (SoL)
Tuesday, 14th February, 2023
College of Agricultural and Environmental Sciences (CAES)
College of Education and External Studies (CEES)
Wednesday, 15th February, 2023
College of Business and Management Sciences (CoBAMS)
College of Computing and Information Sciences (CoCIS)
College of Veterinary Medicine, Animal Resources and Bio-security (CoVAB)
Thursday, 16th February, 2023
Makerere University Business School (MUBS)
Friday, 17th February, 2023
College of Engineering, Design, Art and Technology (CEDAT)
College of Humanities and Social Sciences (CHUSS)
HEST Graduate Programme: Internship Placement Advert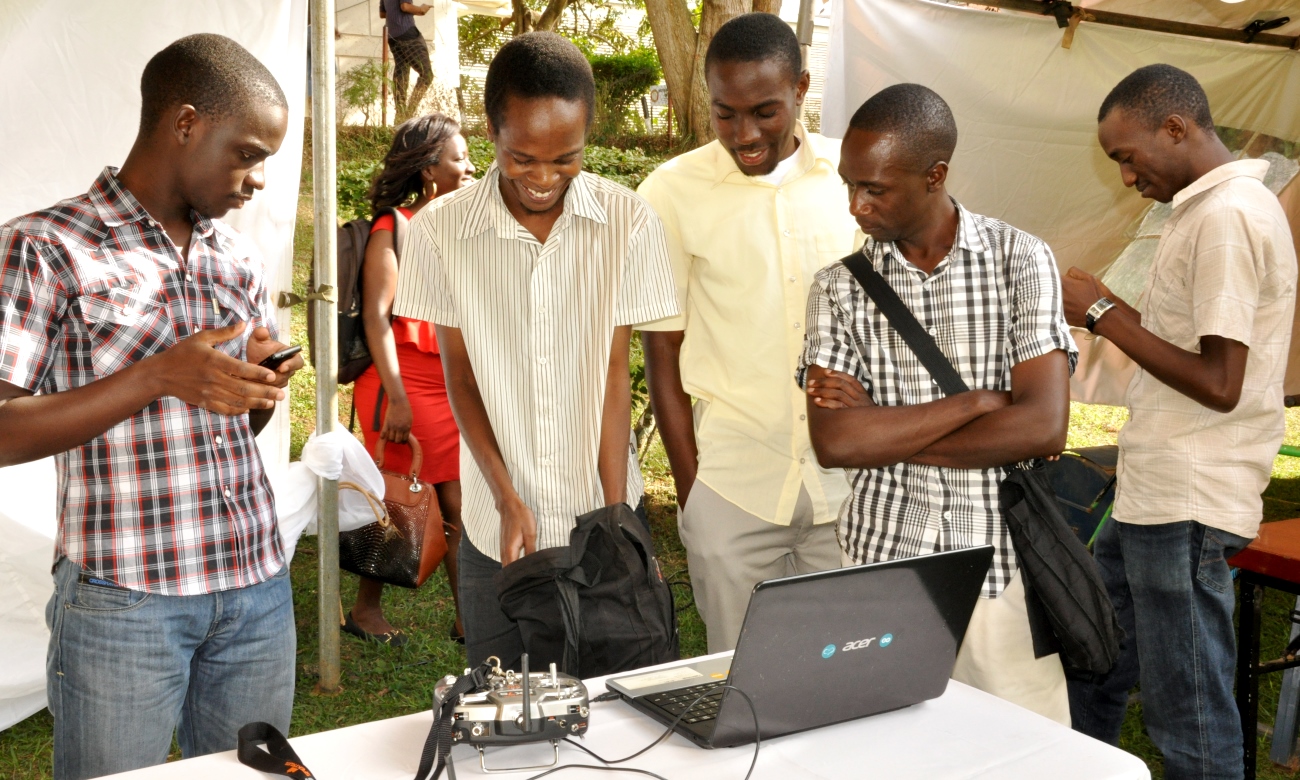 Purpose
The program aims to improve graduates' skills by placing them into selected partner industries for skills gain, facilitating the process and supervising placed interns. Graduates will be placed in their areas of study accordingly.
Time frame
The phased recruitment and placement will start from 1st December 2022 for a period of three months. Recent university graduates and those awaiting graduation should apply for this opportunity.
Eligibility
The project mainly focuses on university graduates from Makerere University (Mak), Makerere University Business School (MUBS) and Kyambogo University (KYU) who have undertaken the following courses
Makerere University and Kyambogo University
Bachelor of Science in Civil Engineering
Bachelor of Science in Electrical Engineering
Bachelor of Science in Computer Engineering
Bachelor of Science in Telecommunication Engineering
Bachelor of Science in Mechanical Engineering
Bachelor of Architecture
Bachelor of Science in Construction Management
Bachelor of Science in Land Economics
Bachelor of Science in Quantity Surveying
Bachelor of Science in Land Surveying and Geomatics
Bachelor of Visual Communication Design
Bachelor of Science in Actuarial Science
Makerere University Business School
Bachelor of Arts in Economics
Bachelor of Science in Business Statistics
Bachelor of Business Administration
Bachelor of Commerce
Bachelor of Real Estate Business Mgt.
Bachelor of Science in Accounting
.Bachelor of Science in Finance
Bachelor of Human Resource Mgt.
Bachelor of Leadership and Governance
Bachelor of Procurement and Supply Chain Mgt.
Bachelor of Transport & Logistics Mgt.
Bachelor of International Business
Bachelor of Catering and Hotel Mgt.
Bachelor of Science in Marketing
Bachelor of Travel and Tourism Mgt.
Bachelor of Entrepreneurship and Small Business Mgt.
Bachelor of Business Computing
Bachelor of Office and Information Mgt.
They should not be employed anywhere and should have gone through the traditional internship placement required by their respective universities.
How Students join
Interested university graduates shall submit an online application and contact the designated university contact or focal persons. Successful applicants will be required to complete the three (3) months internship pgoram uninterrupted to fully benefit from the program. Apply here: https://bit.ly/HEST2022
How companies participate
A company interested in hosting interns under the program can fill out an internship acceptance form and forward it to the internship placement officer.
Contacts of University focal persons
Makerere University (Mak)
Dr. Christine Amito
Tel: +256-771-321384
Email: amitoxtine@gmail.com
Makerere University Business School (MUBS)
Ms. Christine Nantambi
Tel: +256-772-654454/+256-703-878277
Email: cnantambi@mubs.ac.ug
Kyambogo University (KYU)
Ms. Nandugwa Harriet
Tel: +256-786030640
Email: hnandugwa@kyu.ac.ug
Contacts of IEED Project Team
Makerere University School of Public Health (MakSPH)
Ms. Mary Kaakyo,
IEED Project Coordinator
Email: mkaakyo@musph.ac.ug
Tel: +256-706-960075
Makerere University School of Statistics and Planning (MakSSP)
Ms. Afazali Zabibu,
HEST Study Coordinator
Email: zabibu.afazali@gmail.com
Tel: +256-779-912365/+256-705-587072