First Mak@100 Lecture Examines Governance of Public Universities
The Makerere@100 Lecture Series got off to an exciting start on Wednesday 9th February, 2022 with an eminent alumnus and Attorney General of the Republic of Uganda, Hon. Kiryowa Kiwanuka delivering an excellent exposition of the theme "A Legal perspective on the role of Governing Councils in the Management of Higher Education Institutions".
Delivered to a packed but SOP-observant audience in the Central Teaching Facility 2 (CTF 2) Auditorium as well as hundreds online, the first series could best be described as historic; the first to be delivered by a sitting Attorney General of Uganda.
"It is therefore a privilege for me to moderate this public lecture not only as a lawyer but also as the Principal, School of Law" remarked the Event Chairperson, Prof. Christopher Mbazira. "We know and the Attorney General knows that his role as Head of Bar comes with various responsibilities, key among which is to mentor lawyers and ensure that the law is practiced according to professional standards and codes of conduct," he added.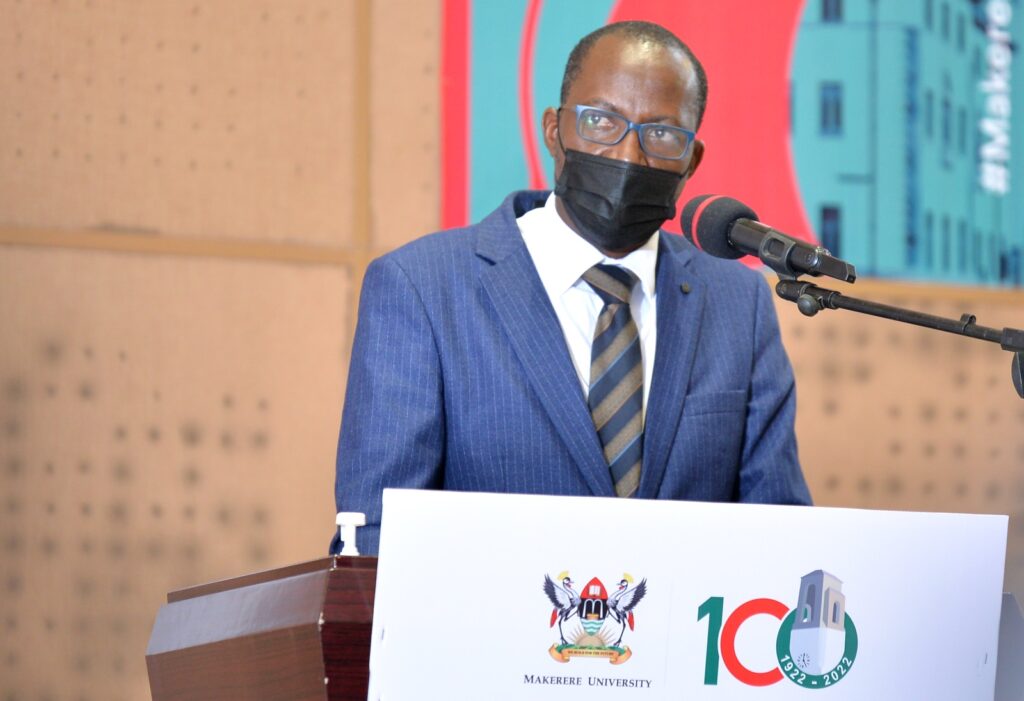 Prof. Mbazira thanked the Attorney General for using the lecture as an opportunity to discharge part of his duties as Head of Bar and informed the audience that as Principal, he had made a conscientious decision to cancel morning classes at the School of Law so that his students could attend the lecture, "because as I Law Student I never got that opportunity."
The Principal invited the Attorney General to take keen interest in the quality of legal education offered at the School of Law, particularly the unique innovation of offering of Legal Aid services.
"We invite you to take interest in that as we wait for the promulgation of the Legal Aid Bill, as well as use your offices to ensure sustainability of that innovation by having that particular aspect of the School of Law incorporated in the Justice Sector" added Prof. Mbazira.
The Vice Chancellor, Prof. Barnabas Nawangwe in his welcome remarks noted that in addition to being the first Makerere@100 Lecture Series, it was the first time the Attorney General was delivering a lecture at his alma mater.
"The Lecture is on a very important subject to Makerere University and all other Higher Education Institutions because the Council is the supreme governing body of the institution. We therefore thank Honourable Kiryowa Kiwanuka for accepting to come and deliver this lecture despite his very busy schedule" added the Vice Chancellor.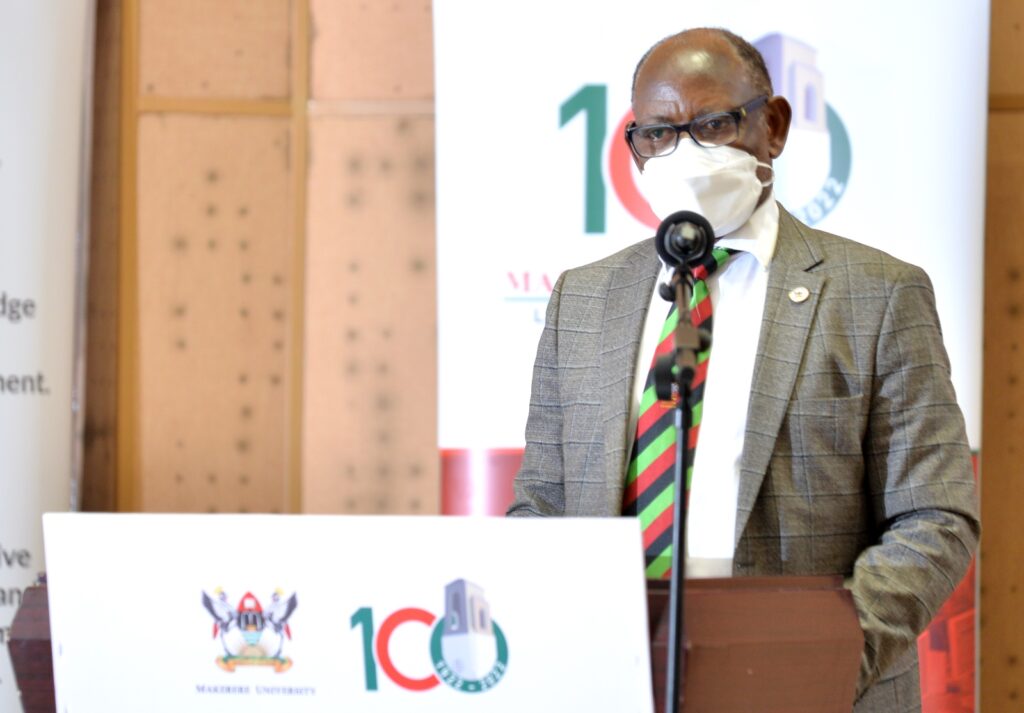 Prof. Nawangwe noted that the First Lecture would be followed by others in the lead-up to the climax of the Centenary Celebrations in October 2022. He thanked Prof. Mbazira for enabling his students to attend the historic lecture delivered by one of their own and Senior Counsel.
The Chairperson of Council, Mrs. Lorna Magara in her motivational statement prior to the lecture noted that there was no better person to deliver the First Makerere@100 Lecture Series than Hon. Kiryowa Kiwanuka.
"He has experienced firsthand the intricacies involved in the Governance of an educational institution of the magnitude of Makerere University" said the Chairperson, before adding that "Makerere University significantly benefited from Honourable Kiryowa Kiwanuka's extensive legal experience, his willingness to lead; his quick incisive thinking and relentless ability to find solutions to multifaceted issues."
Mrs. Magara further stated that the Lecture would double as an opportunity to officially bid farewell to Hon. Kiryowa Kiwanuka who served the Council from December 2018 to October 2021, as well as Her Worship Doreen Nyanjura who served from July 2016 to January 2022.
"As Chairperson, it's been one of those bittersweet moments bidding farewell to two extremely resourceful Council Members, and yet at the same time, finding great joy in seeing them take on greater responsibility to serve our Nation and our City. I heartily congratulate you Hon. Kiryowa Kiwanuka and Your Worship Doreen Nyanjura both upon your respective appointments" she added.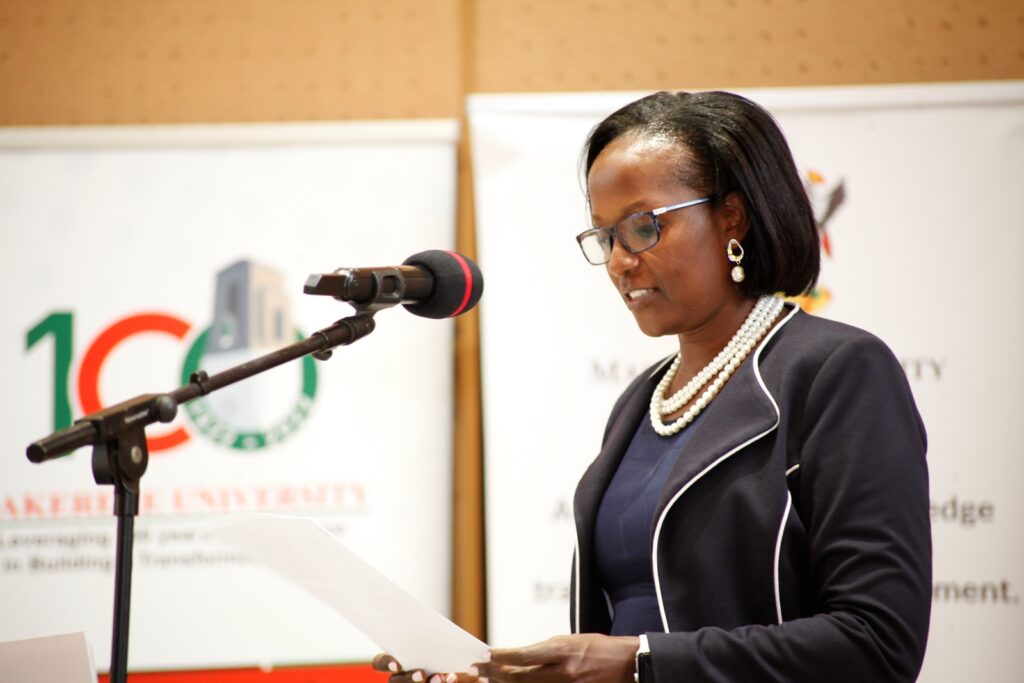 Quoting Barry Posner and James Kouzes' book "The Leadership Challenge" wherein they state that the domain of leaders is the future, Mrs. Magara emphasised that Makerere as it celebrates 100 years of achievements must leverage its wealth of intellectual and human capital to profer leadership in transforming Uganda, "and it starts with good governance, undergirded by a proper legal framework."
'Cometh the hour, cometh the man' is an idiom more popularly used in sport to describe the sportsman/woman that turns the tide of what hitherto seemed like an impossible score to recover from. Although no stranger to sport, Hon. Kiryowa Kiwanuka in this case had to deliver on a theme that was not only broad but also largely dependent on a legal framework; The Universities and Other Tertiary Institutions Act, 2001, that is in desperate need of amendment.
So palpable was the immensity of the task at hand that the Attorney General admitted "It's not business as usual to deliver a public lecture like this, our business is normally behind the desk writing documents, so I'm really honoured to receive this recognition… it's also interesting that I hear today, that this is the first lecture of the series, that I didn't know, because if I had been told, maybe I would have had an excuse to take the second."
He nevertheless noted that although the day's theme sounded legal, what he was going to discuss was education, which would hopefully help the audience plan for a lifetime. He observed that "new" knowledge will be very instrumental as the country seeks to achieve Middle Income Status, which further underlines the importance of Makerere University and other institutions of higher learning, and their need to observe good governance.
Hon. Kiryowa Kiwanuka noted that the University Council derives its mandate from Sections 38(1) and 40(1) of the Universities and Other Tertiary Institutions Act 2001 and its functions from Section 40(2) of the same. He added that although the broad nature of the Council's functions occasionally makes it hard to draw a line between its roles and those of Management, Council, being the Trustee of the Government wields overall responsibility to ensure effective and efficient management and functionality of the University.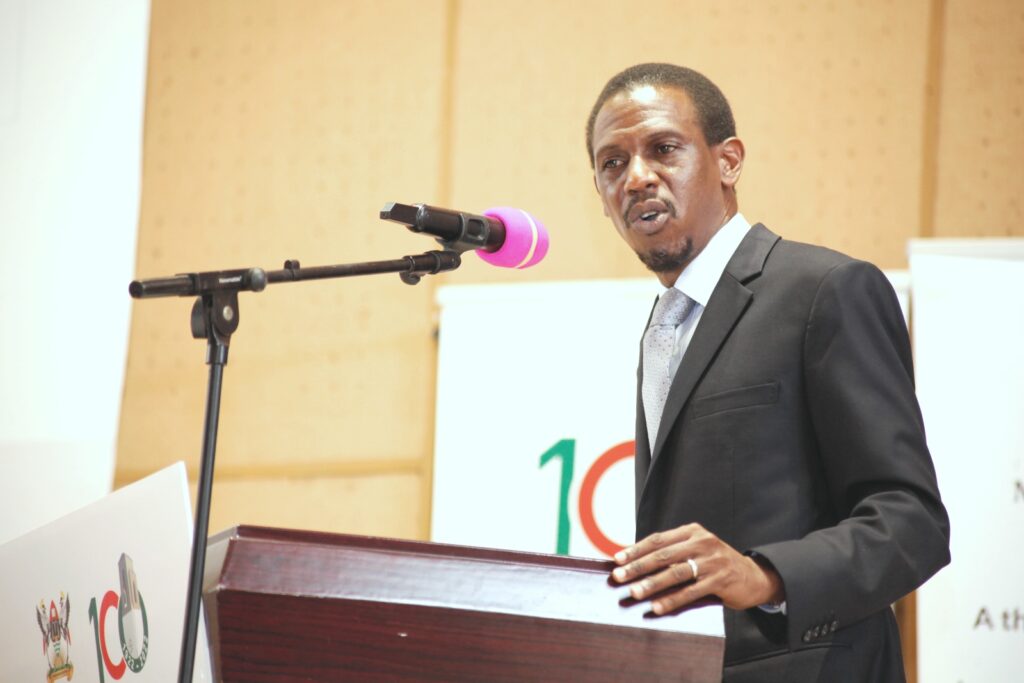 "The role of the university council is not simply to manage the institution but to manage change. We are surrounded by an ever changing environment. We are in the age of computers, social media, IT, artificial intelligence etc." explained the Attorney General.
In this regard, he commended the University for adapting to the changing world. "Makerere University has identified the changing circumstances and the need for research in order for us to find homegrown solutions to our challenges and has decided to make this its primary goal. To become research led!"
After delving deeply into the specific and routine responsibilities of Council such as: Making recommendations for the appointment of the University's top leadership; Establishing the University Senate and other Academic Bodies; Establishing Boards of Faculties, Institutes and Colleges; Appointing Committees of the University Council; Management of University Property; and Submitting University Budget Estimates, Hon. Kiryowa summed it up by saying there is no point in the management and running of the University where Council does not have a direct role.
"University business is not ordinary business. The rationale of this is that the purpose of a University is for the greater good. The greatest stakeholder at least in Makerere University, is the people of Uganda; alumni, students or not. What you do here affects all of Uganda" cautioned the Attorney General.
University Councils face a number of challenges largely due to their size and flouting the Chatham House Rule. After enumerating these, Hon. Kiryowa concluded on a cautionary note, reminding his audience of the need to achieve a good balance between the Council and the Vice Chancellor/Management for the good of the university.
The risk, he noted, was in a proactive Chairperson and a proactive Council limiting the scope of activity for a Vice Chancellor. He nevertheless commended, "I have had the privilege of working with both a dynamic Chairperson and proactive Vice Chancellor."
The well-received public lecture was followed by a lively one-on-one with the Attorney General, moderated by Assoc. Prof. Sarah Ssali a Council Member and Dean, School of Women and Gender Studies, College of Humanities and Social Sciences (CHUSS).
Pertinently raised were the need to: amend the Universities and Other Tertiary Institutions Act to move beyond the era in which Makerere was the only Public University in Uganda; and cater for affirmative action and minimum qualifications in the constitution of Council. Other burning issues touched on stifling academic freedom, losses to public universities arising out of litigation and the growing presence of the military in academic spaces. MakererePertinently raised were the need to: amend the Universities and Other Tertiary Institutions Act to move beyond the era in which Makerere was the only Public University in Uganda; and cater for affirmative action and minimum qualifications in the constitution of Council. Other burning issues touched on stifling academic freedom, losses to public universities arising out of litigation and the growing presence of the military in academic spaces.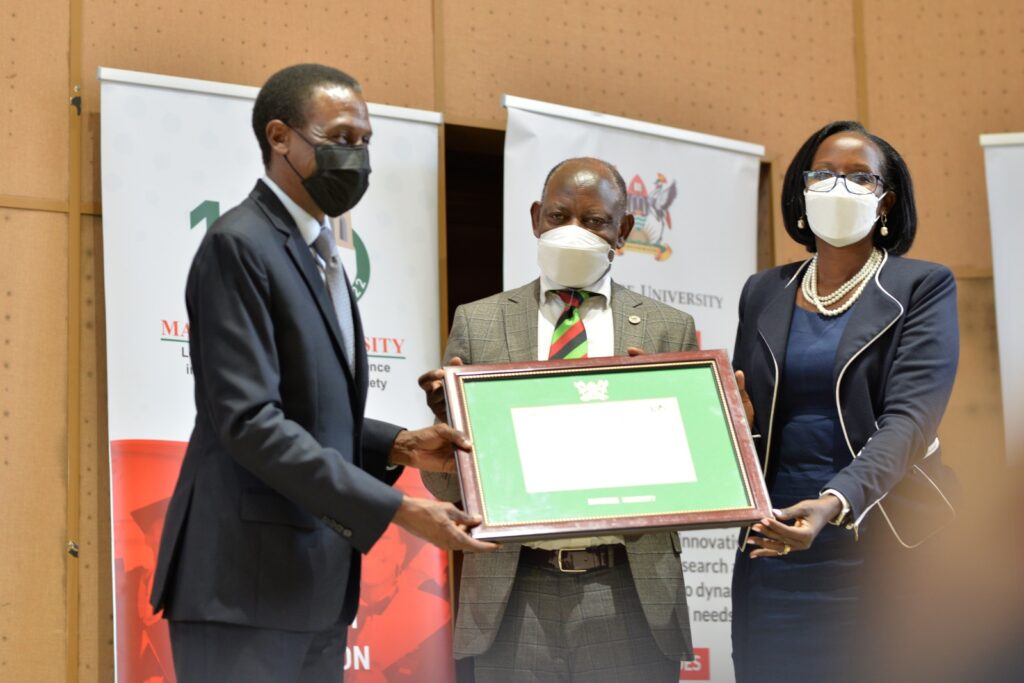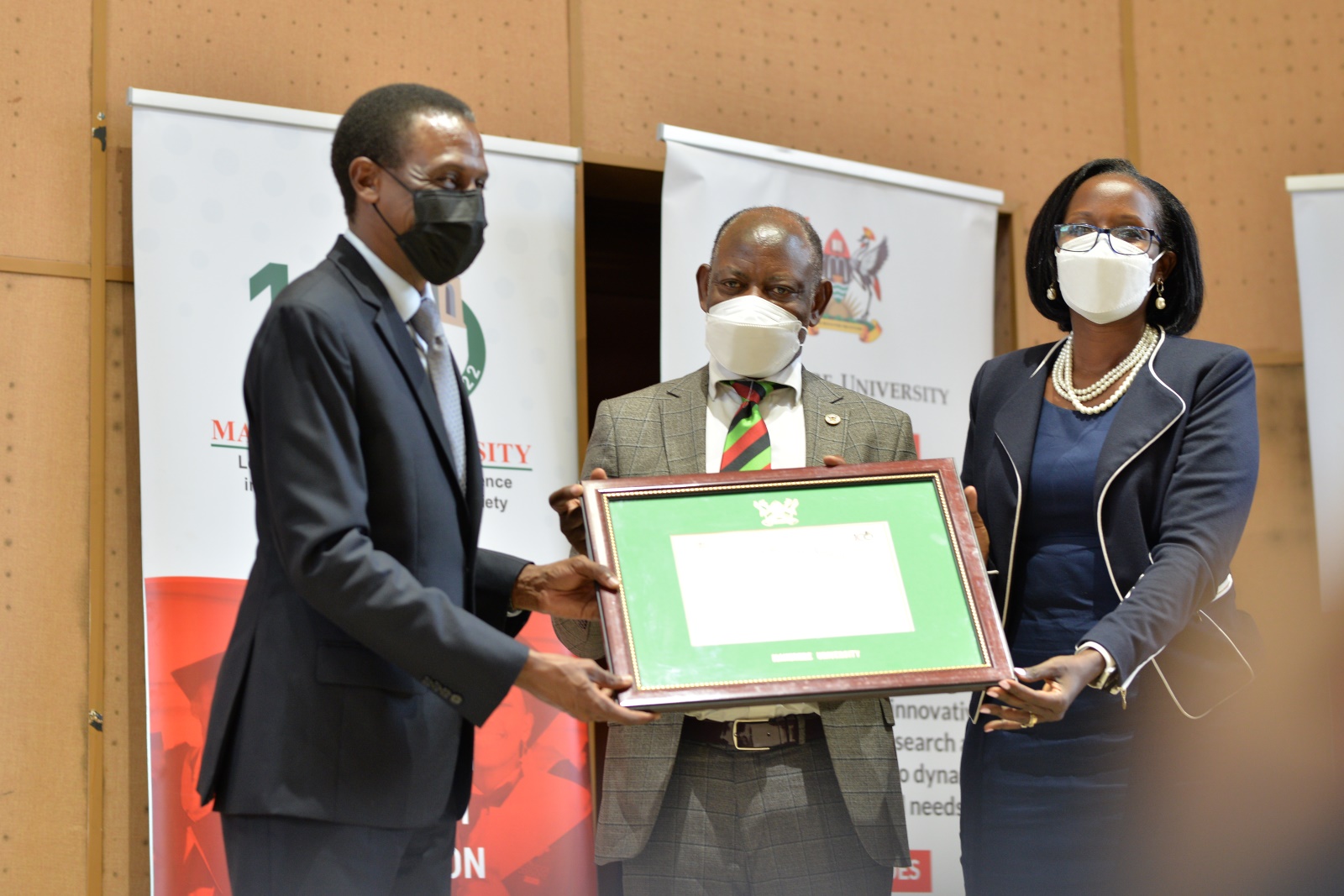 The Attorney General in summary concurred with the urgent need to amend the Universities and Other Tertiary Institutions Act as it governs a very dynamic era, proposing it be subject to amendment every ten years. He called for the adoption of a more inclusive "Ugandans in uniform" reference to the military, and offered to create a space for the public and academia to debate their growing presence in spaces outside their usual domain. Finally, he urged his audience not to use academic freedom to trample upon the freedoms of other members of the public.
As hinted on by the Chairperson of Council during her motivational statement, the lecture was crowned by the presentation of eminent service awards to Hon. Kiryowa Kiwanuka and Her Worship Doreen Nyanjura.
In her acceptance speech, Her Worship acknowledged that although she did not know what the future held as she journeyed from Nyamabuga village in Kyenjojo district to commence her undergraduate studies at Makerere in 2009, she carried in her heart a burning desire to make her surroundings a better place than she had found them. She went on to serve on the Students Guild and in 2016, became Councillor for Makerere University at the Kampala Capital City Authority (KCCA).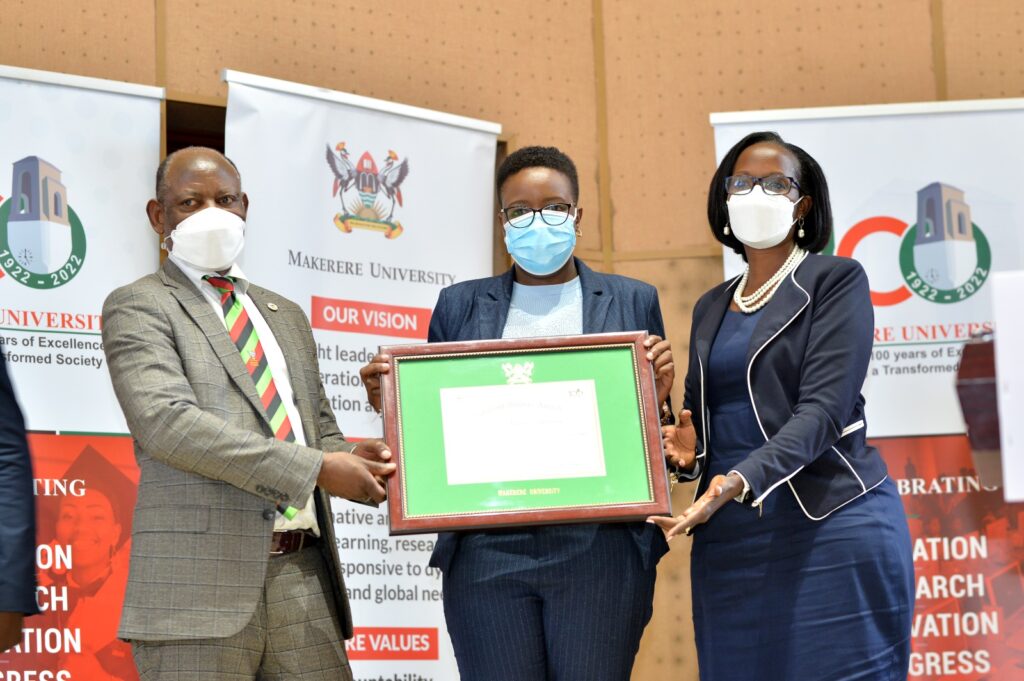 Nominated by KCCA to sit on the Makerere University Council in 2016, Her Worship was at the time of her departure in January 2022 serving her second five-year term.
"I want to extend my sincere gratitude to this Council and its members with whom I served. This University Council has groomed me, it has trained me and sharpened me to be a better leader. The Council has taught me that every single decision we take affects so many people and their families, a single decision could destroy a career or build it, it could shut out a whole section of our society from attaining an education or enable them to attain education" she said.
Please click the embedded video below to view proceedings of the First Makerere@100 Lecture Series
---
---
Makerere University Launches National Parenting Draft Manual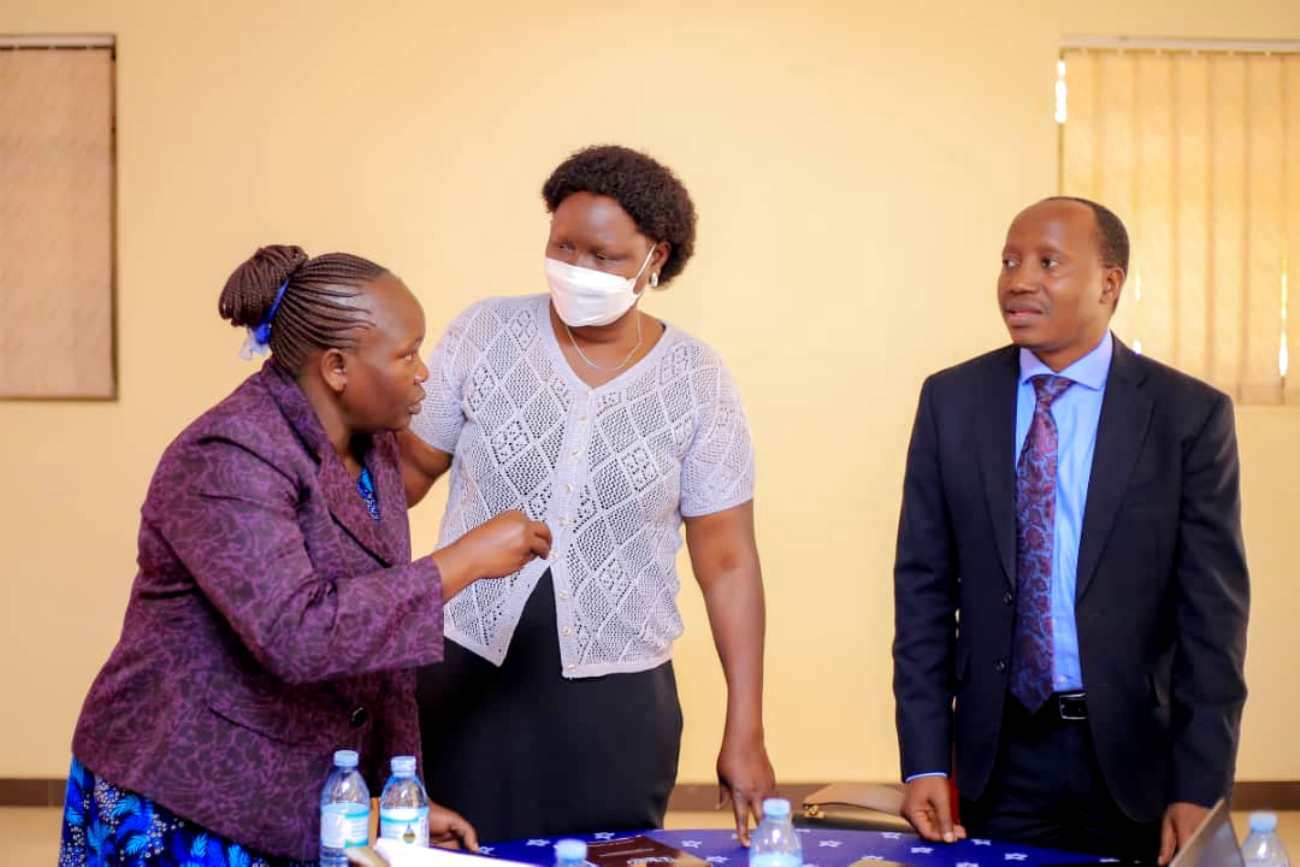 By Agnes Namaganda
On July 22nd 2022, Makerere University–Child Health and Development Centre (Mak–CHDC) launched a draft manual for the National Parenting Standards. The Centre has been working together with the Ministry of Gender, Labour and Social Development (MGLSD) with funding from UNICEF (United Nations Children's Emergency Fund), to develop standards that are agreeable to all organisations in the country that are involved in parenting work. The draft manual was being presented to members of a consortium that brings together all these organisations together, called the Parenting Agenda Consortium.
"We produce many documents and they are shelved," Irene Ayot Chono, who was speaking on behalf of UNICEF said. "We hope that this document will not be one of them," she emphasized.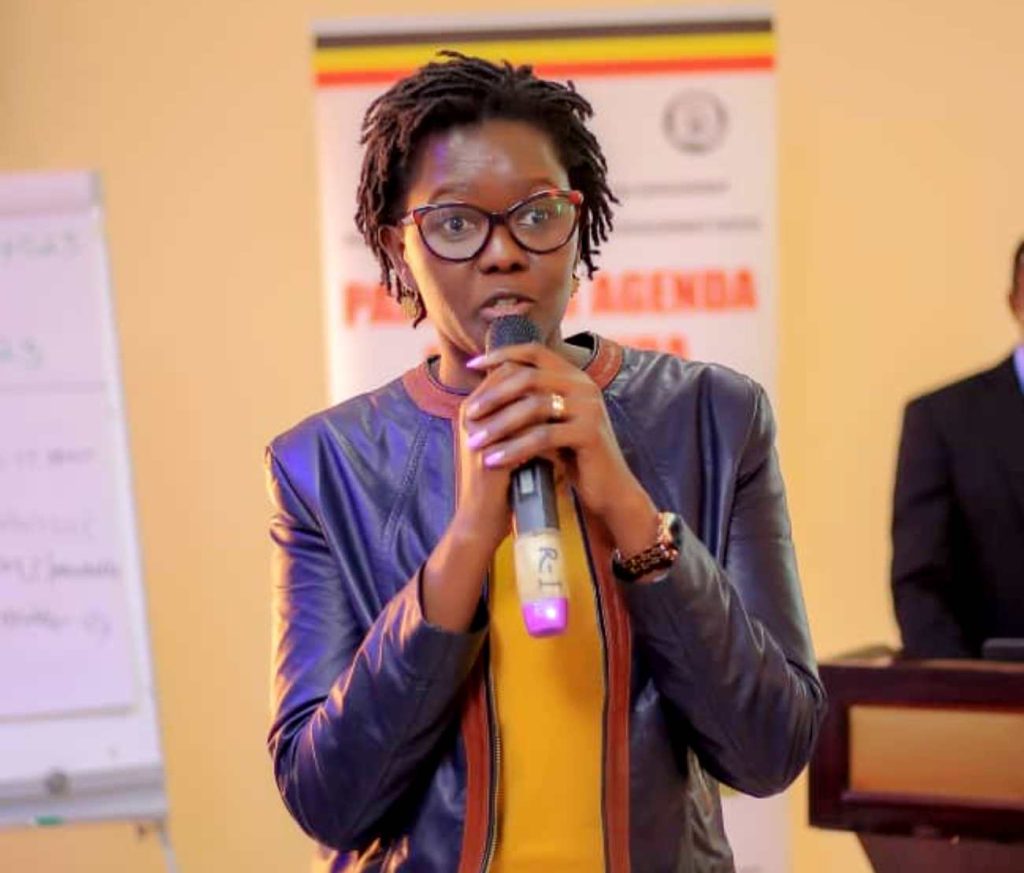 Dr. Godfrey Siu, the Principal Investigator from Mak-CHDC who presented the draft manual to participants, emphasized that if any organization is doing parenting work, there should be a minimum package that they should offer.
Draft Manual Content
The manual which will have several modules. These modules will be delivered face-to-face in 1.5 hour sessions. Some of these include; Module 6 which will focus on "understanding responsible masculinity and fatherhood" and on "understanding the concept of head of family."The draft manual also proposed that Module 11 focuses on Parenting in the 21st Century. Some of the sessions in this module will include Children and Technology, Contemporary Influence on Children and Modernity, Culture and Morality.Module 9 will focus on Parenting for Adolescents and some of the suggested sessions within this module are Needs for Adolescents and The Art of Communicating with Adolescents. Module 5 will focus on Preventing Violent Parenting and Promoting Alternative Discipline Strategies while Module 10 will be about Parenting to Address the Mental Health for Children and Adults.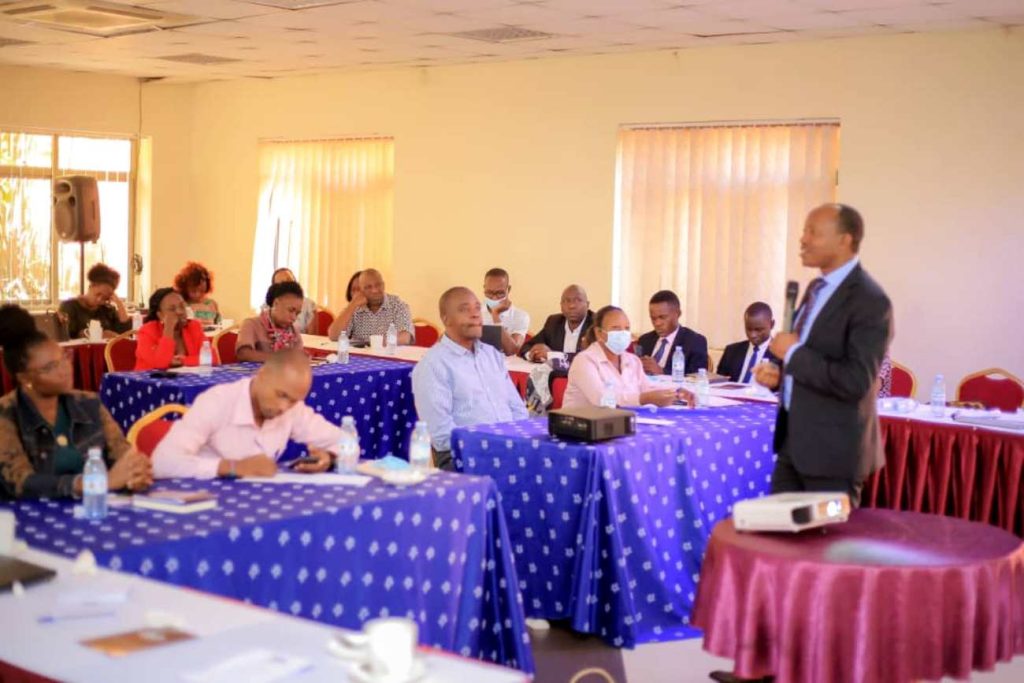 Participants' suggestions
After the presentation, participants raised several suggestions for discussion and consideration. These included whether there should be a module on spirituality since Uganda is a strongly religious nation. There was also the concern of how children in remand homes should be parented. Another concern raised by a participant was as to whether teachers who make an undeniable contribution to parenting, should be taken through the parenting manual.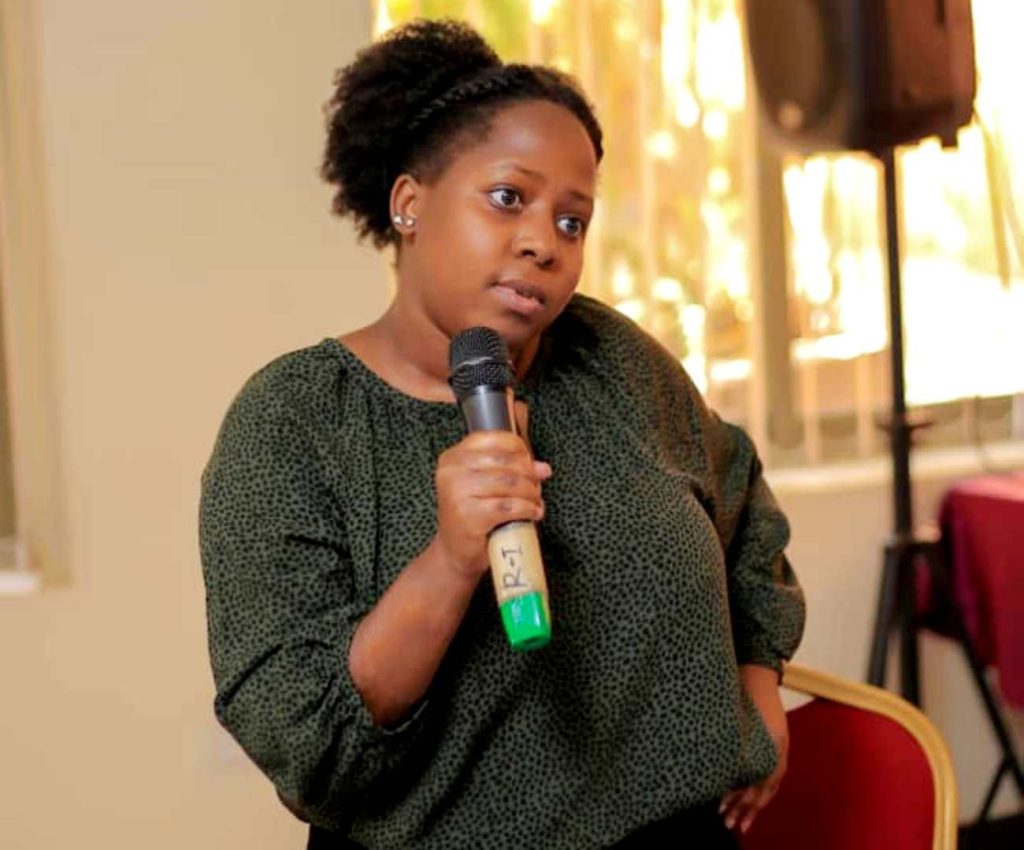 In her closing remarks, Ms. Juliana Naumo Akoryo, the Director of Cultural Affairs at the Ministry of Gender, Labour and Social Development (MGLSD) said that the manual is for the parenting organisations to utilize and not for MGLSD.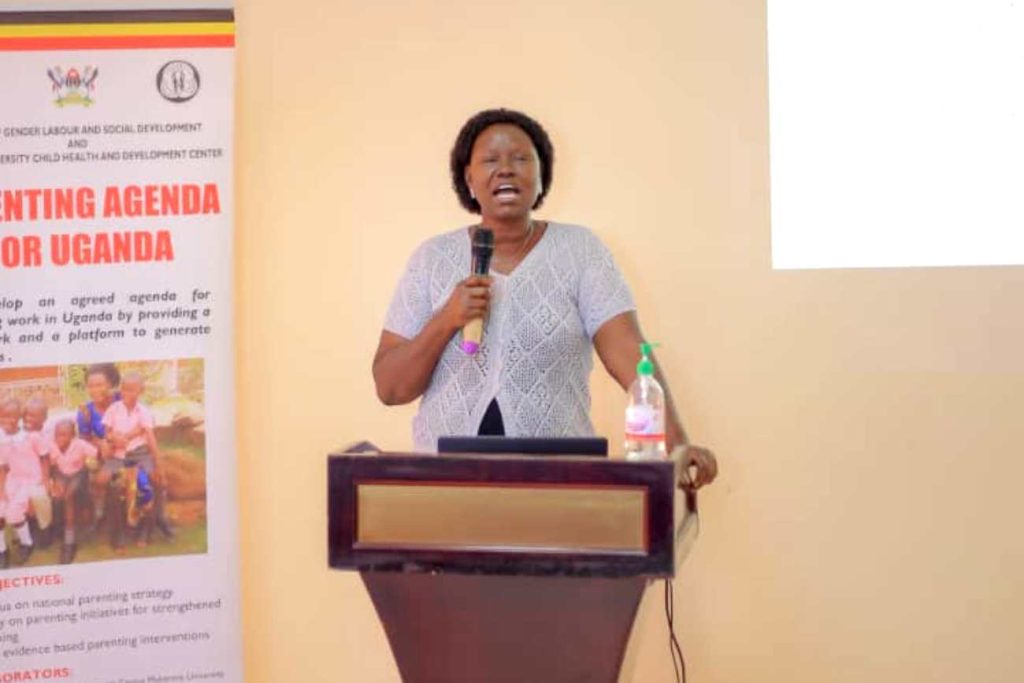 Ms. Chono also adjured the team behind the manual to use picture illustrations in the manual that can be relatable by the Ugandan parents.
Contact: Agnes Namaganda – agnesvioletnamaganda@gmail.com
Launch of Mak-RIF Round 4 Awards & PhD Call for Proposals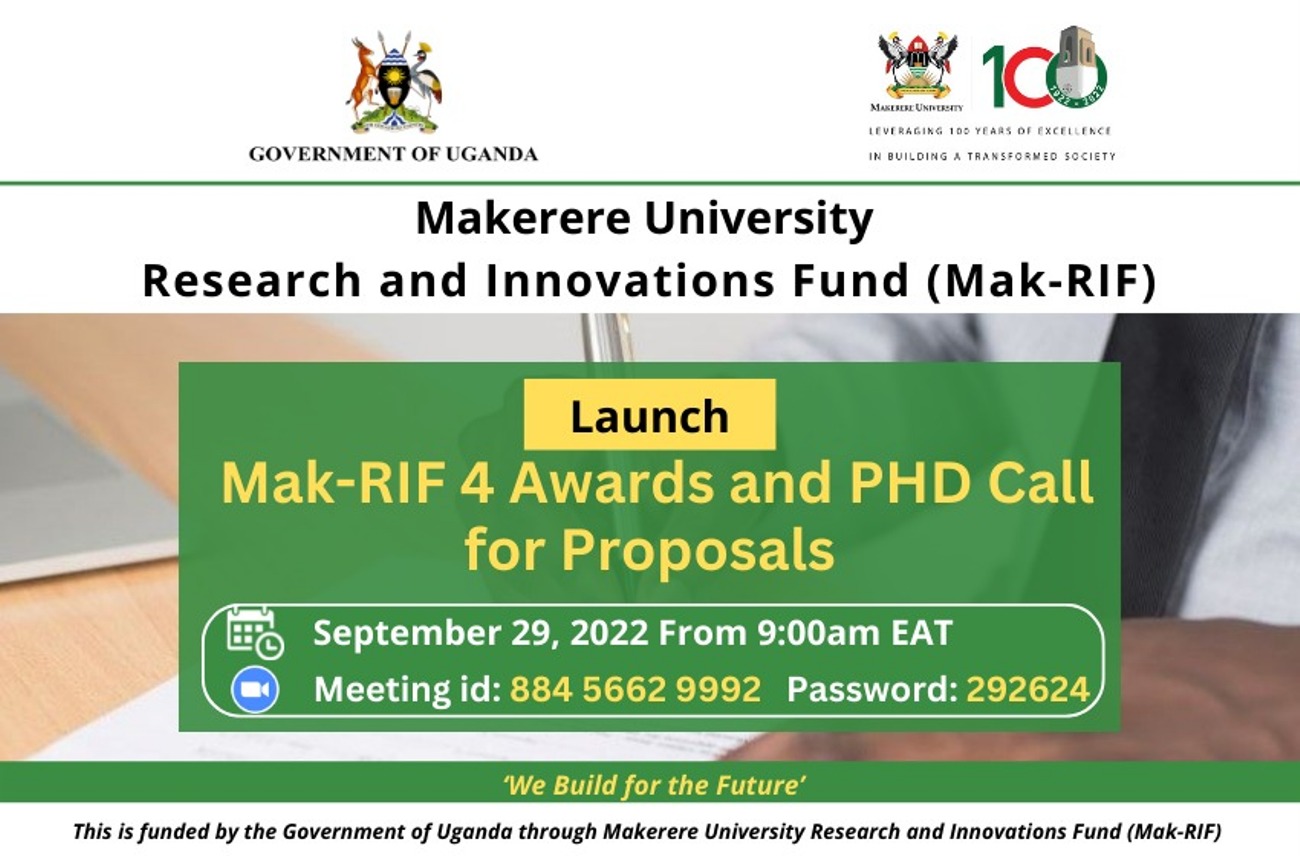 Makerere University received funding from the Government of the Republic of Uganda, earmarked to support high impact Research and Innovations. This unique initiative arose after engagements between the top University Management and the Government of Uganda. This fund illustrates the increasing importance that the Government attaches to Research and Innovation as a driver of development and transformation. The objective of the fund is to increase the local generation of translatable research and scalable innovations that address key gaps required to drive Uganda's development agenda. 
In the Financial years 2019/2020, 2020/2021 and 2021/2022 the Government of the Republic of Uganda through Mak-RIF has funded implementation of over 750 multidisciplinary research and innovations within the various Colleges, while engaging multiple stakeholders within and outside Makerere University. The Grants Management Committee (GMC) has finalized the award process for the Mak-RIF round 4 call for funding for this Financial Year 2022/2023.
The Grants Management Committee (GMC) hereby invites you to the Launch of the Mak-RIF Round 4 awards and PhD Call for Proposals scheduled to take place tomorrow Thursday 29th September 2022 from 9:00 to 10:00 a.m. EAT. 
Please use the following details to join the launch.
Register in advance for this meeting:
https://us06web.zoom.us/meeting/register/tZwpcu-urDIjE9ZgxdsbEmA2IkNMMiJVECt_ 
Meeting ID: 884 5662 9992
Password: 292624
Notice: Makerere Disability Scheme 2022/23 Medical Review Exercise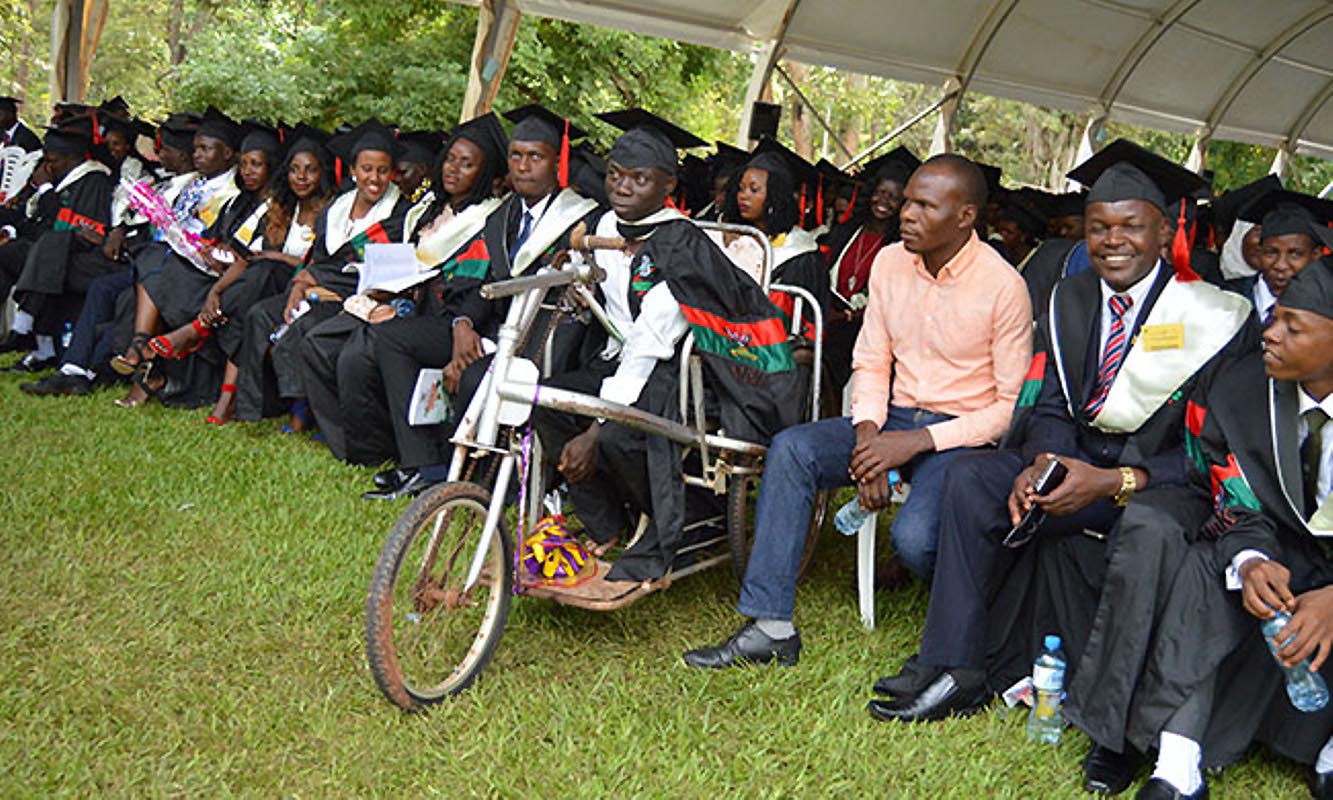 The Academic Registrar, Makerere University invites persons with disability who applied for admission to public universities under the disability entry scheme for 2022/2023 Academic Year to appear for medical/review exercise at Makerere Unive, Senate Building, Level Two (2) in the Telepresence Centre.
NOTE: Only those who have the minimum entry requirements of at least two principal passes at A' Level or its equivalent and at least five (5) passes at O' Level or its equivalent will be interviewed.
Only candidates who sat 'a' level in 2020, 2019 and 2018 are eligible for admission.
THE EXERCISE WILL BE CONDUCTED ON 3rd, 4th and 5th October, 2022 respectively from 9.00 A.M – 1.00 P.M each day.
IMPORTANT:
(i) If you fail to appear on any of the given days above, there will be no other chance for you.
(ii) Applicants with Government Scholarship for the previous years are not eligible for admission
ALFRED MASIKYE NAMOAH
Acting. ACADEMIC REGISTRAR