Prof. Edward Bbaale Delivers Professorial Inaugural Lecture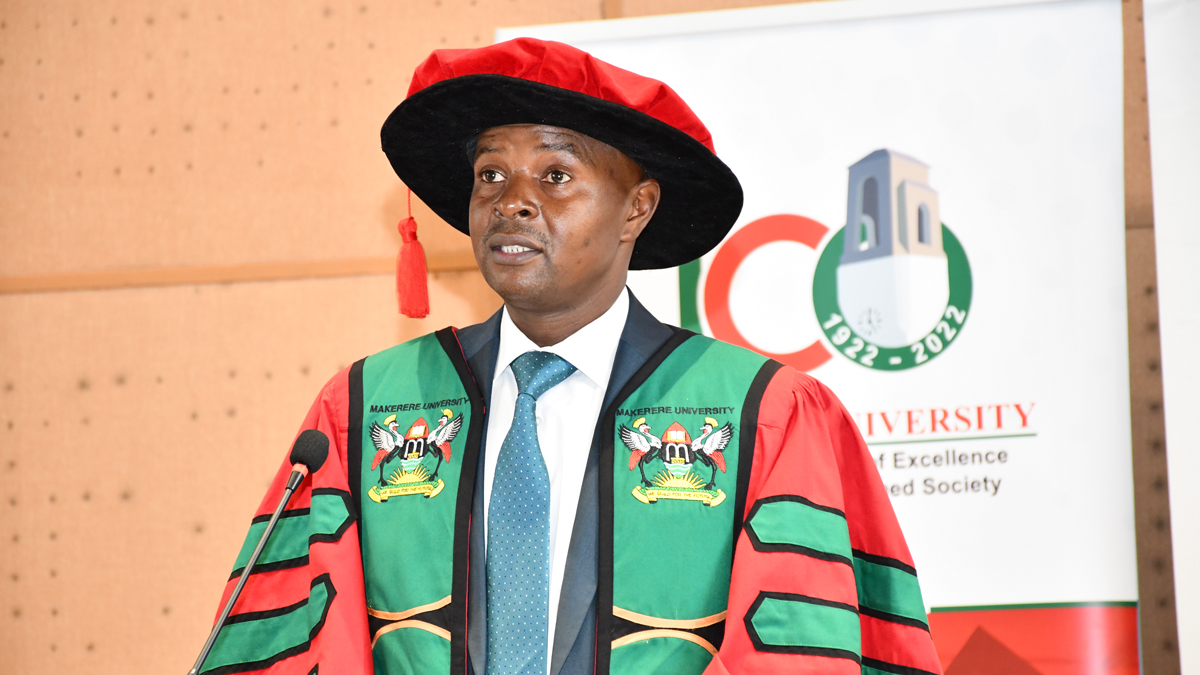 Makerere University on Friday 17th December 2021 held a prestigious event at which Professor Edward Bbaale delivered his Professorial Inaugural Lecture under the theme Rethinking Growth in Africa, Firms and the Business Environment Quality.
The Lecture held during the year-long celebrations to mark 100 Years of Makerere University's existence came five months after Prof. Bbaale's promotion from the rank of Associate to full Professorship.
Professor Edward Bbaale has for the last decade centered his research on firms and African economies, with one part of it looking at the dynamics and economic roles of firms in bridging productivity, export and employment gaps in Africa. His other research puts into perspective the quality of business environment necessary for firms in Africa to flourish.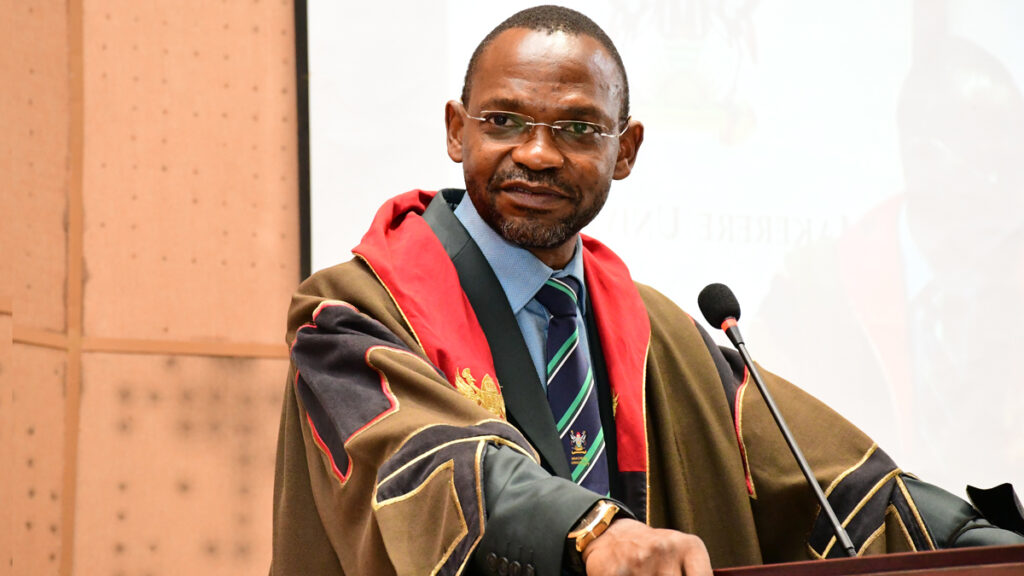 Prof. Bbaale said the country has great potential of technological change, innovation, employment and skilling which can only be attained when the industrial sector is prioritized.
"The contribution of industrialization to GDP was rather higher in the 60s. Due to the volatile economic environment and following what happened in the 1980s and 1990s, we have had a decline in industrialization.
Uganda in the 1990s privatized most of the public enterprises at the urging of the World Bank and the International Monetary Fund. Giving away control of key government parastatals to private individuals during the early days after Uganda had emerged from decades of political turmoil was a mistake, experts have said.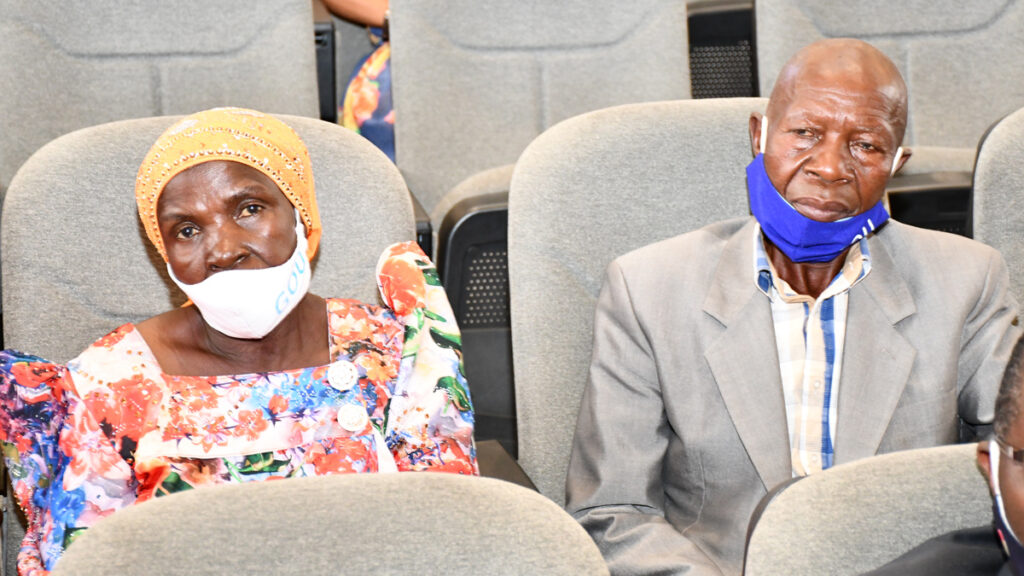 "We have seen a situation which I risk to call de-industrialization where the service sector has taken over industrial and agricultural sectors," Prof. Bbaale said. "Despite this, majority of our population is employed in the agricultural sector yet it contributes the least. This means poverty can not be escaped unless something is done about agriculture because that is where most of our people are."
Overall, industrial sector growth in Africa continues to lag behind GDP growth from approximately 17% in 1981 to 12% in 2020. In Uganda for example, the share of the manufacturing sector to GDP continuously experienced weaker growth with a marginal contribution of 4% in 1980 increasing to only 5% in 1990, and to 16% in 2020. This figure is still far below the 20% target specified in NDP III, Prof. Bbaale said.
"The implication of this is that although the prudent macroeconomic policies managed to increase GDP growth in Africa, they have not been sufficient enough to spur growth in the industrial sector, which affects its potential for job creation," Prof. Bbaale added.
"What is required of African economies to revive and sustain their growth, particularly in the industry sector is to refocus on the micro-economic policy environment where business firms operate."
Prof. Bbaale added that firms in Africa are predominantly small (close to 58%) with few medium and large firms and only 23% of the firms engage in exporting.
In Africa, Firm-level Gross Job Creation Rate (GJCR) stands at 13% while Gross Job Destruction Rate (GJDR) stands at 6%.
Small firms have a low chance of surviving and growing into large scale firms that are more productive. Therefore; low aggregate industrial productivity in Africa is to a greater extent attributed to a large fraction of small firms. Even with more domestic firms, domestic capital accumulation remains too low to boost adequate growth, he said.
Prof. Bbaale, pointed out some of the constraints to the potential of firms to achieve fast growth as the unreliable power supply, huge transportation costs, corruption, poor tax structures and weak laws among others.
One of longest serving professors of Makerere University Prof. Elly Sabiiti commended the great work done by Prof. Edward Bbaale and attributed this kind of achievement to formation of the Professorial Inaugural Lecture Committee in 2007. The Committee was established to guide newly-promoted professors on how disseminate the knowledge accumulated over the duration of their academic journeys for the benefit of the society.
He added that the theme of the Professorial Inaugural Lecture was relevant especially since it comes a at a time when Makerere is celebrating 100 years of excellent service with a milestone of over 90 professors.
Prof. Barnabas Nawangwe, the Makerere Vice Chancellor noted that the University contributes 70% of the research output in Uganda and 3% to the continent. He added that professors like Bbaale are expected to take the lead in the economic development of the country through their comprehensive research.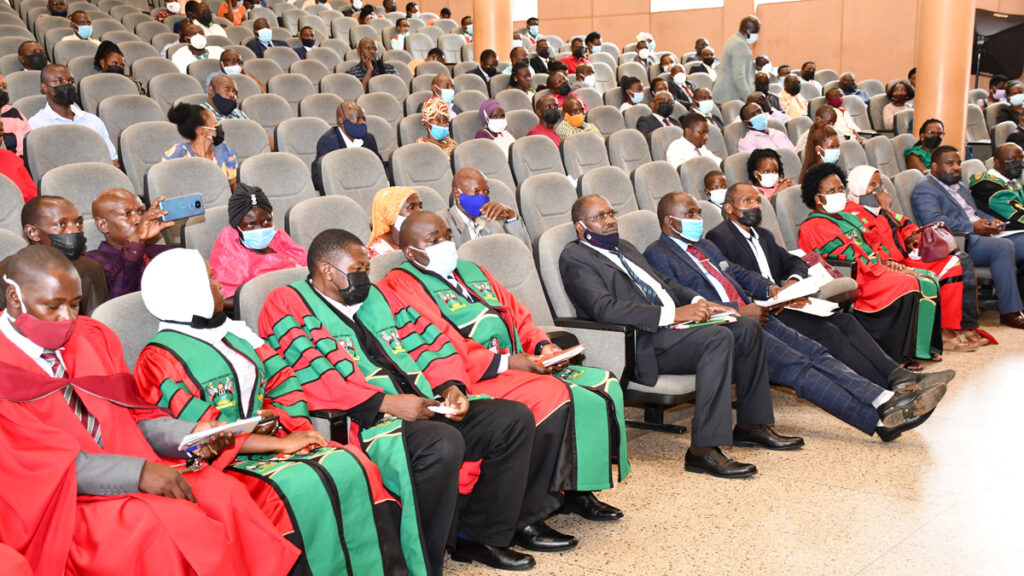 "I am glad to note that the inaugural lecture topic on "Rethinking Growth in Africa: Firms and the Business Environment Quality" is in line with the current global economic challenges arising due to the Covid-19 pandemic. Several business firms both local and international went into unprecedented decline. In Uganda, the informal sector has been greatly affected and livelihoods compromised," the Vice Chancellor said.
The Deputy Vice Chancellor in charge of Academic Affairs, Assoc. Prof. Umar Kakumba, congratulated Prof. Bbaale upon delivering his Professorial Inaugural Lecture, saying it is a prestigious and highly regarded public talk by an appointed Professor in an academic institution.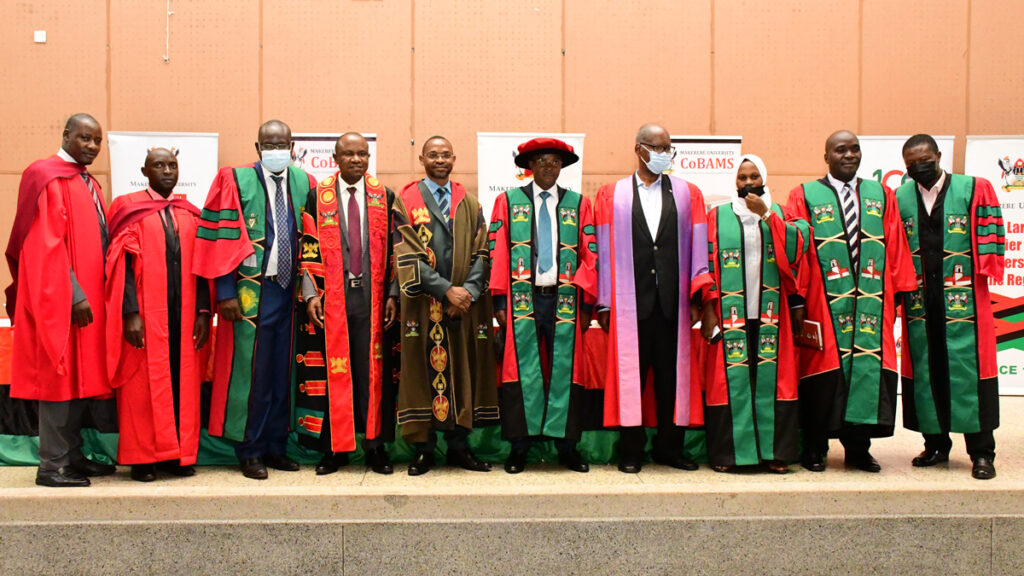 Assoc. Prof. Kakumba said Professor Bbaale's inaugural lecture theme was very relevant in today's setting and has provided very important knowledge.
"Professor Bbaale has ably demonstrated the contribution of his academic exploits in economic development. Notably, his lecture is in line with the theme of the Third National Development Plan (NDP III), on "sustainable industrialisation for inclusive growth, employment and sustainable wealth creation"."
Prof. Bbaale highlighted that overall industrial sector growth in Africa continues to fall behind GDP growth and that the manufacturing sector in Uganda has a marginal contribution to GDP at 16% as of 2020.
"He has argued for more focus on the microeconomic policy environment where business firms operate. This is expected to improve the success of the NDP III," Assoc. Prof. Kakumba said.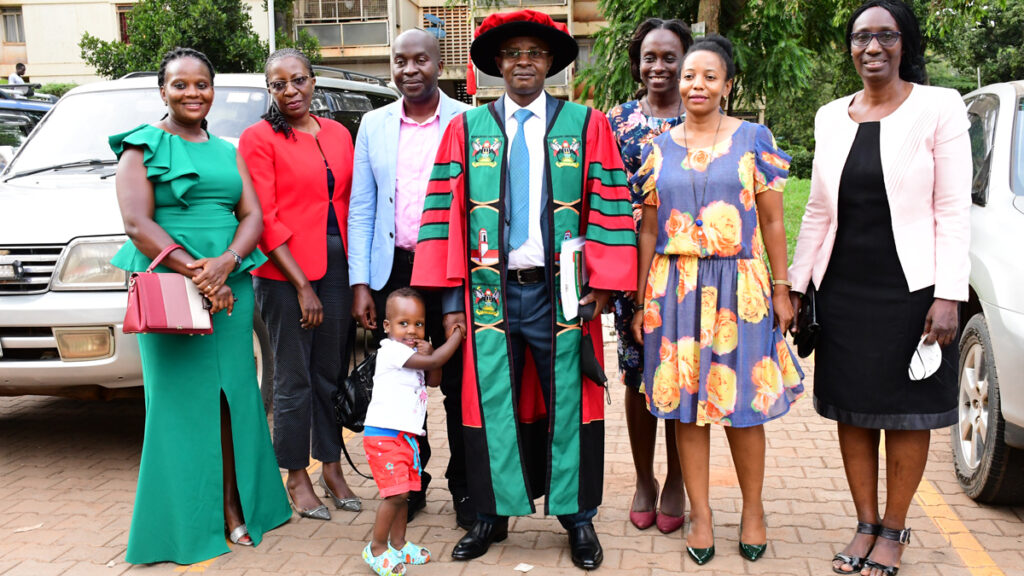 …………………………..
ABOUT PROF. BBAALE
Edward Bbaale is a Professor of Economics and holds a PhD in Economics, M.A. Economic Policy and Planning and B.A. Economics among other qualifications. He is currently the Dean of the School of Economics at Makerere University and the Director of EfD-Mak Centre which is part of the Global Network of Environmental Economics Research Centres supported by Sida. With support from Sida, Edward is the Lead Person at Makerere University for the Inclusive Green Economy (IGE) Capacity Development Program for Senior Civil Servants and Policy Makers. With support from the World Bank, Edward is the Principal Investigator of a Project intended to establish a Public Investment Management Centre of Excellence (PIM CoE) at Makerere University. Prior to that, Edward served as a Graduate Programmes Coordinator for the School of Economics from 2012 to 2013. He has very rich hands-on experience in economics research with a bias towards development microeconomics for enterprises and households. He was in 2017 awarded a post-doc scholarship by the Austrian Agency for International Cooperation in Education & Research (OeAD-GmbH) to undertake research at the Vienna Institute of International Economic Studies (wiiw) in Vienna-Austria. He was in 2013 nominated as a Visiting Fellow for the Journal of African Economies, Department of Economics, University of Oxford, UK. He was in 2010 nominated for the Visiting Research Fellow Position at the Centre for Global Development in Washington D.C. USA. He was in 2019 appointed a Chairperson of the Governing Council of Kampala Polytechnic-Mengo. He was in 2021 appointed a Member of the University Council at Muteesa I Royal University. He was in 2021 appointed Member of the National Task Force on the Enhancement of Labour Productivity. He is an External Examiner at Kyambogo University, University of Malawi, University of Zambia, University of Namibia, National University of Lesotho, and University of the Witwatersrand, South Africa. He was an External Examiner at the University of Zimbabwe 2015/16-2019/2020. He is a Member of the Expanded Board of the Uganda's National Planning Authority since 2015. He is a member of Senate of Makerere University and sits on the Admissions and Mature Age and Pre-entry Committees of Senate. He was a Chairperson of a Special Task Force that developed the Student Work and Employment Scheme Policy at Makerere University. He is a member of the African Economic Research Consortium Academic Advisory Board in Nairobi, Kenya. He is the Vice Chairperson of Makerere University Deans' Forum (MUDF). He is a member of the Scientific Committee of the United Nations Economic Commission for Africa Young Economists Network (ECA-YEN).
Edward has authored over 40 papers and, published in peer reviewed journals. Two of his papers were voted as Highly Commended Award Winners at Literati Network Awards for Excellence 2012 and 2019 (<http://www.emeraldinsight.com/literati>). At national level, he has implemented a number of policy-relevant research projects with key Government Ministries and Agencies as well as the private sector.
A Successful Ph.D. Defense by Vianney Andrew Yiga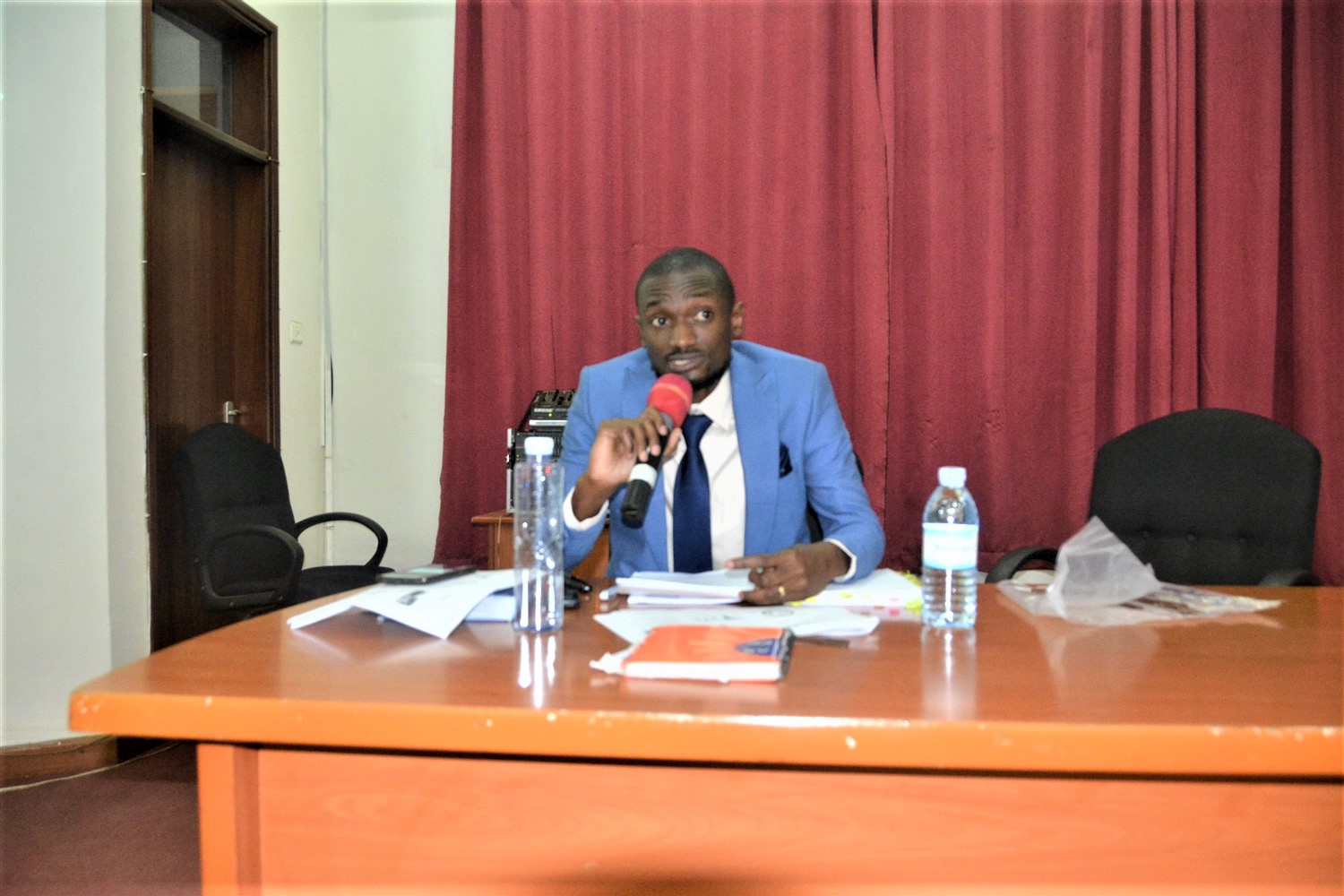 The CEDAT community is proud to share our congratulations to Vianney Andrew Yiga following his successful Ph.D. defense that happened yesterday Monday 3rd October 2022 at the College of Engineering, Design, Art, and Technology (CEDAT).
His Thesis was titled; Thermal Stability of Fiber- Reinforced Polylactic Acid Composites for Flameretarded Applications.
The candidate was supervised by Eng. Dr. Michael Lubwama and Eng. Dr. Peter W. Olupot both from the Department of Mechanical Engineering, at CEDAT.
Dr. John Wasswa, Department of Chemistry, College of Natural Sciences (CONAS), Makerere University was the opponent that interrogated the candidate to enable a clear understanding of the study.
Makerere University Launches National Parenting Draft Manual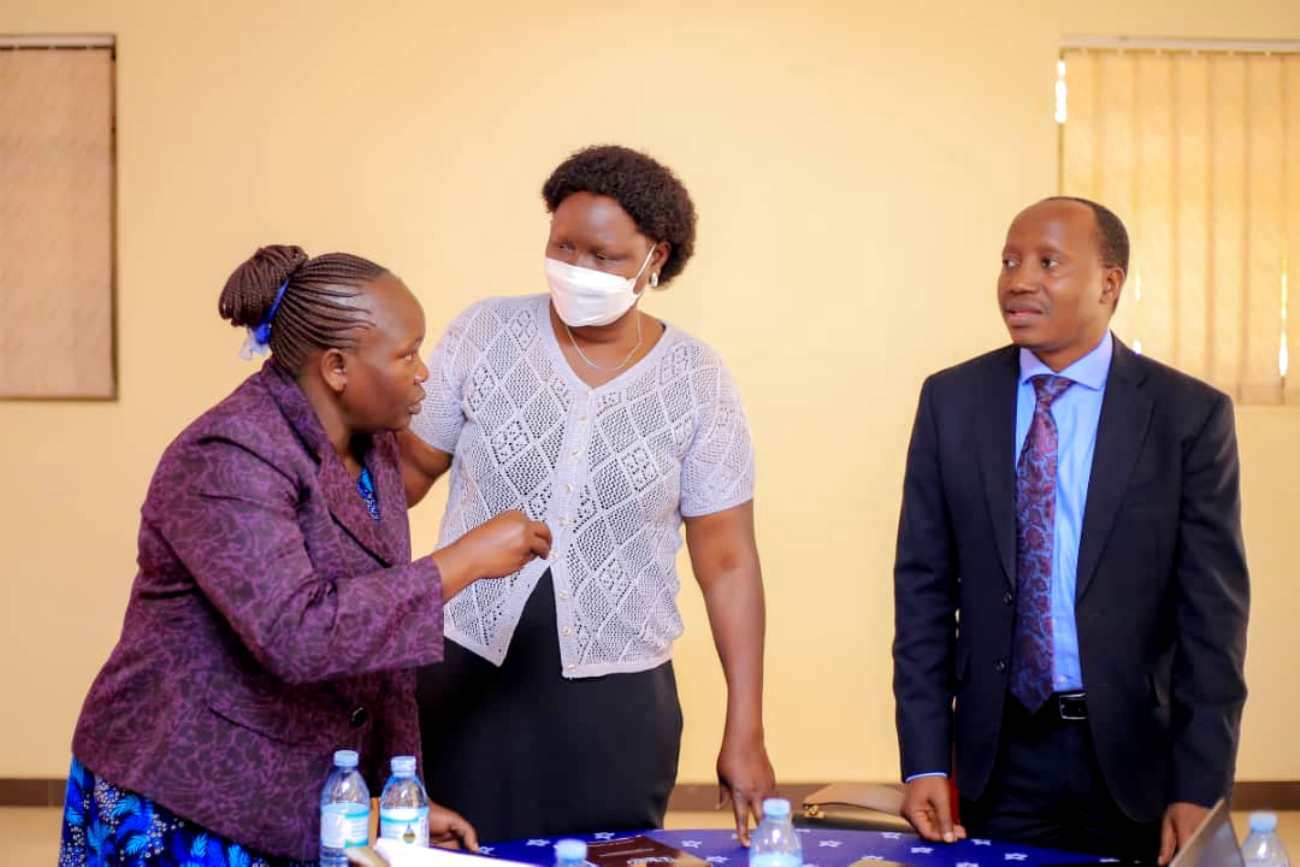 By Agnes Namaganda
On July 22nd 2022, Makerere University–Child Health and Development Centre (Mak–CHDC) launched a draft manual for the National Parenting Standards. The Centre has been working together with the Ministry of Gender, Labour and Social Development (MGLSD) with funding from UNICEF (United Nations Children's Emergency Fund), to develop standards that are agreeable to all organisations in the country that are involved in parenting work. The draft manual was being presented to members of a consortium that brings together all these organisations together, called the Parenting Agenda Consortium.
"We produce many documents and they are shelved," Irene Ayot Chono, who was speaking on behalf of UNICEF said. "We hope that this document will not be one of them," she emphasized.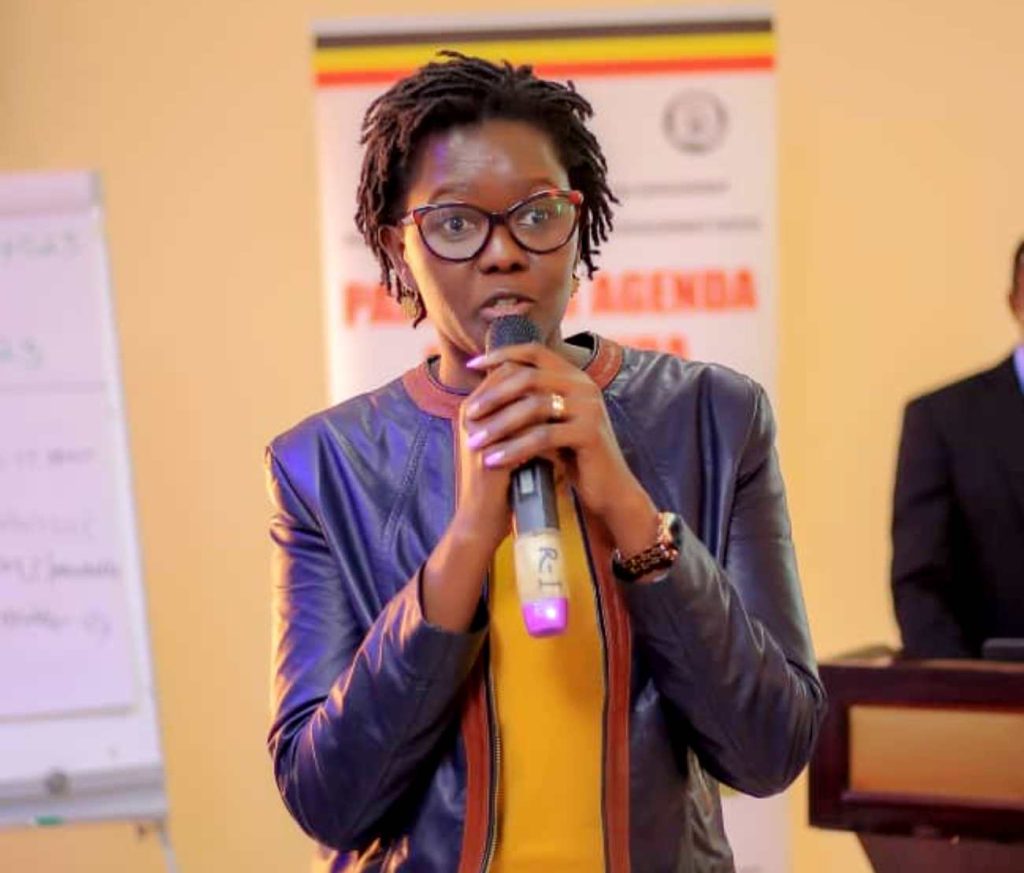 Dr. Godfrey Siu, the Principal Investigator from Mak-CHDC who presented the draft manual to participants, emphasized that if any organization is doing parenting work, there should be a minimum package that they should offer.
Draft Manual Content
The manual which will have several modules. These modules will be delivered face-to-face in 1.5 hour sessions. Some of these include; Module 6 which will focus on "understanding responsible masculinity and fatherhood" and on "understanding the concept of head of family."The draft manual also proposed that Module 11 focuses on Parenting in the 21st Century. Some of the sessions in this module will include Children and Technology, Contemporary Influence on Children and Modernity, Culture and Morality.Module 9 will focus on Parenting for Adolescents and some of the suggested sessions within this module are Needs for Adolescents and The Art of Communicating with Adolescents. Module 5 will focus on Preventing Violent Parenting and Promoting Alternative Discipline Strategies while Module 10 will be about Parenting to Address the Mental Health for Children and Adults.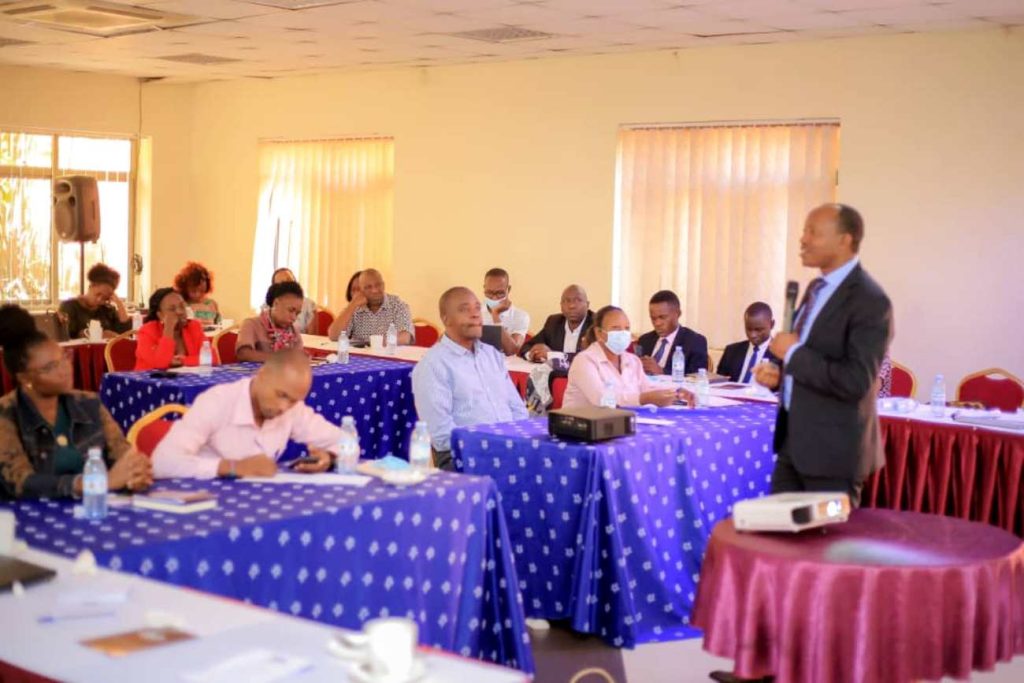 Participants' suggestions
After the presentation, participants raised several suggestions for discussion and consideration. These included whether there should be a module on spirituality since Uganda is a strongly religious nation. There was also the concern of how children in remand homes should be parented. Another concern raised by a participant was as to whether teachers who make an undeniable contribution to parenting, should be taken through the parenting manual.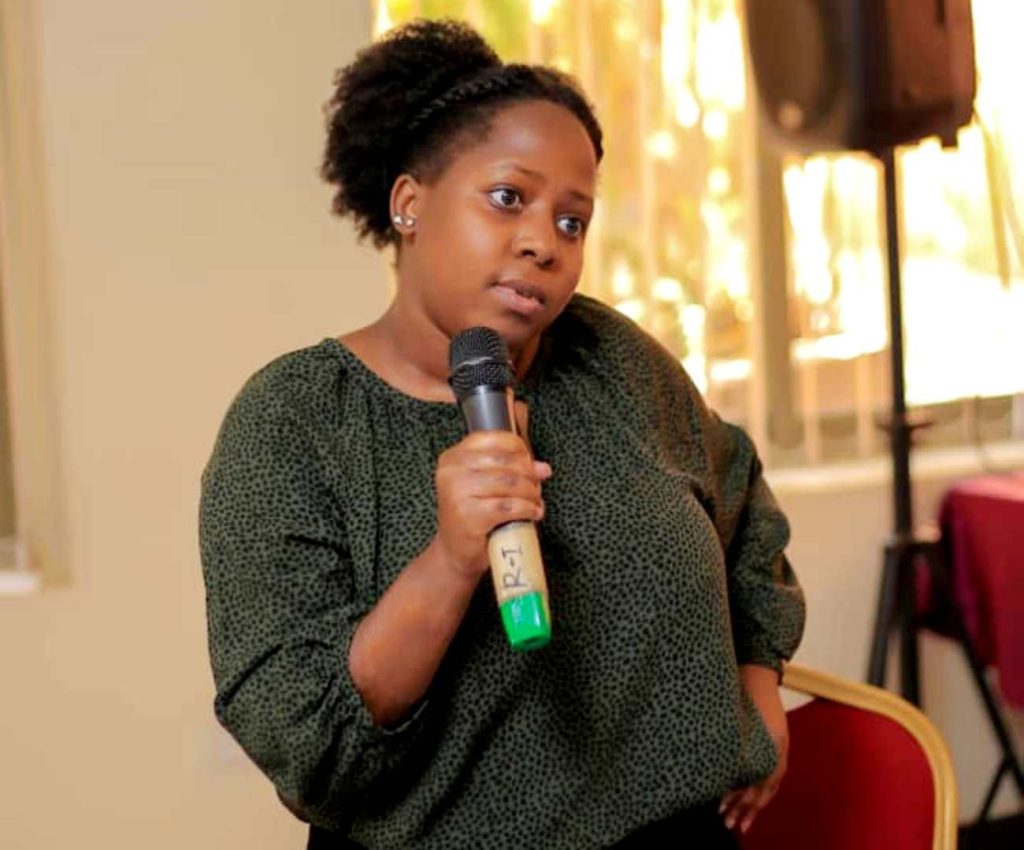 In her closing remarks, Ms. Juliana Naumo Akoryo, the Director of Cultural Affairs at the Ministry of Gender, Labour and Social Development (MGLSD) said that the manual is for the parenting organisations to utilize and not for MGLSD.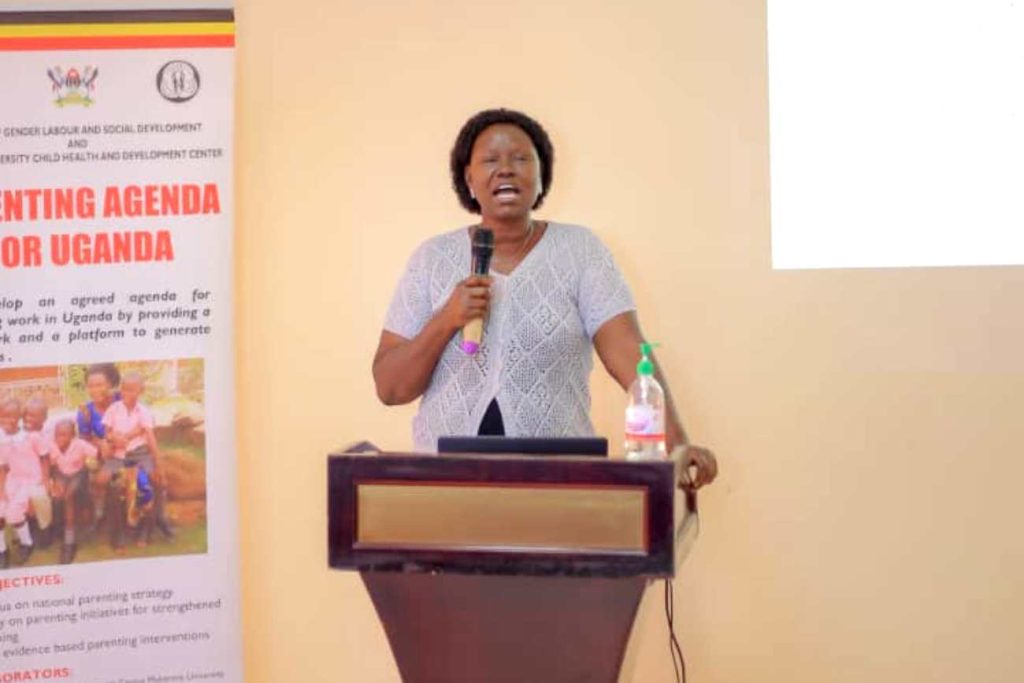 Ms. Chono also adjured the team behind the manual to use picture illustrations in the manual that can be relatable by the Ugandan parents.
Contact: Agnes Namaganda – agnesvioletnamaganda@gmail.com
Launch of Mak-RIF Round 4 Awards & PhD Call for Proposals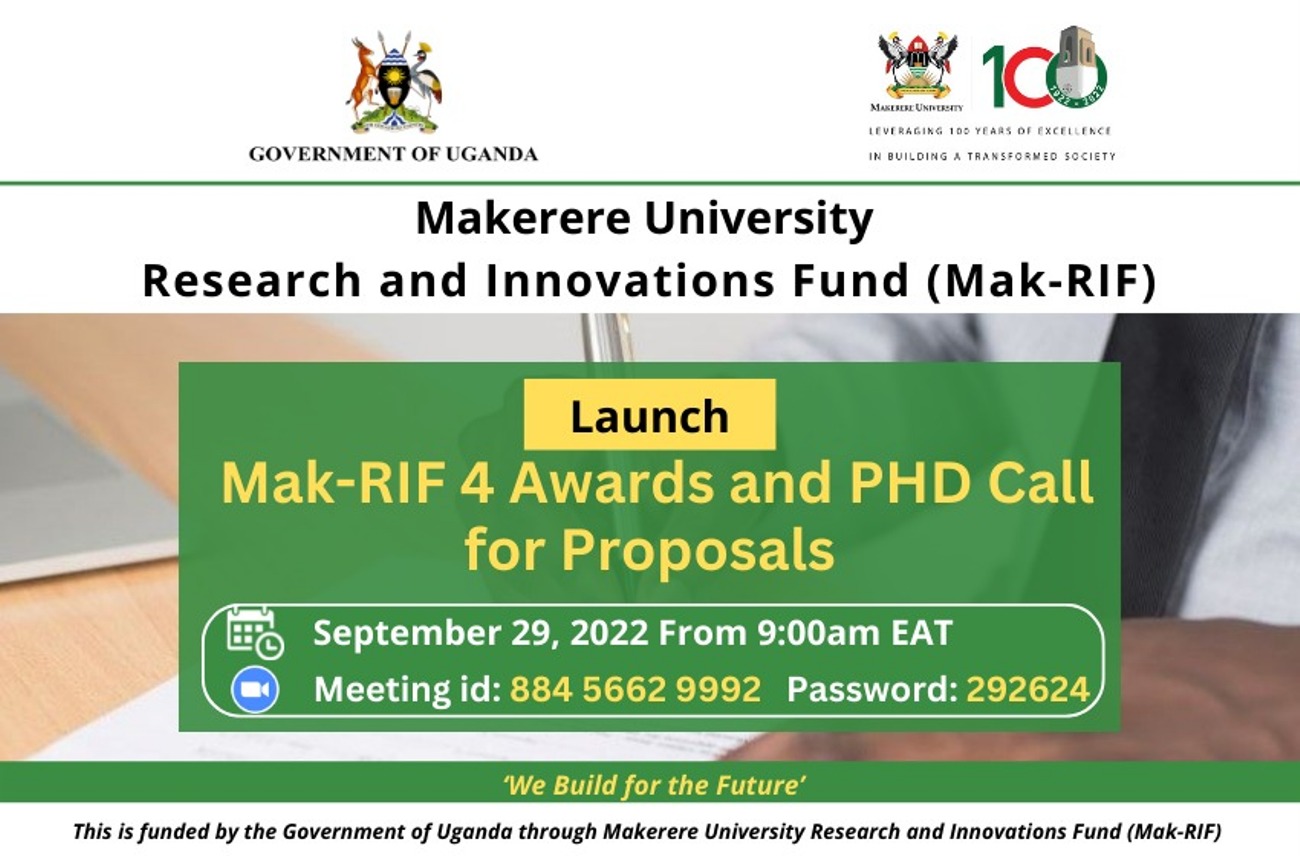 Makerere University received funding from the Government of the Republic of Uganda, earmarked to support high impact Research and Innovations. This unique initiative arose after engagements between the top University Management and the Government of Uganda. This fund illustrates the increasing importance that the Government attaches to Research and Innovation as a driver of development and transformation. The objective of the fund is to increase the local generation of translatable research and scalable innovations that address key gaps required to drive Uganda's development agenda. 
In the Financial years 2019/2020, 2020/2021 and 2021/2022 the Government of the Republic of Uganda through Mak-RIF has funded implementation of over 750 multidisciplinary research and innovations within the various Colleges, while engaging multiple stakeholders within and outside Makerere University. The Grants Management Committee (GMC) has finalized the award process for the Mak-RIF round 4 call for funding for this Financial Year 2022/2023.
The Grants Management Committee (GMC) hereby invites you to the Launch of the Mak-RIF Round 4 awards and PhD Call for Proposals scheduled to take place tomorrow Thursday 29th September 2022 from 9:00 to 10:00 a.m. EAT. 
Please use the following details to join the launch.
Register in advance for this meeting:
https://us06web.zoom.us/meeting/register/tZwpcu-urDIjE9ZgxdsbEmA2IkNMMiJVECt_ 
Meeting ID: 884 5662 9992
Password: 292624