Prof. Edward Bbaale Delivers Professorial Inaugural Lecture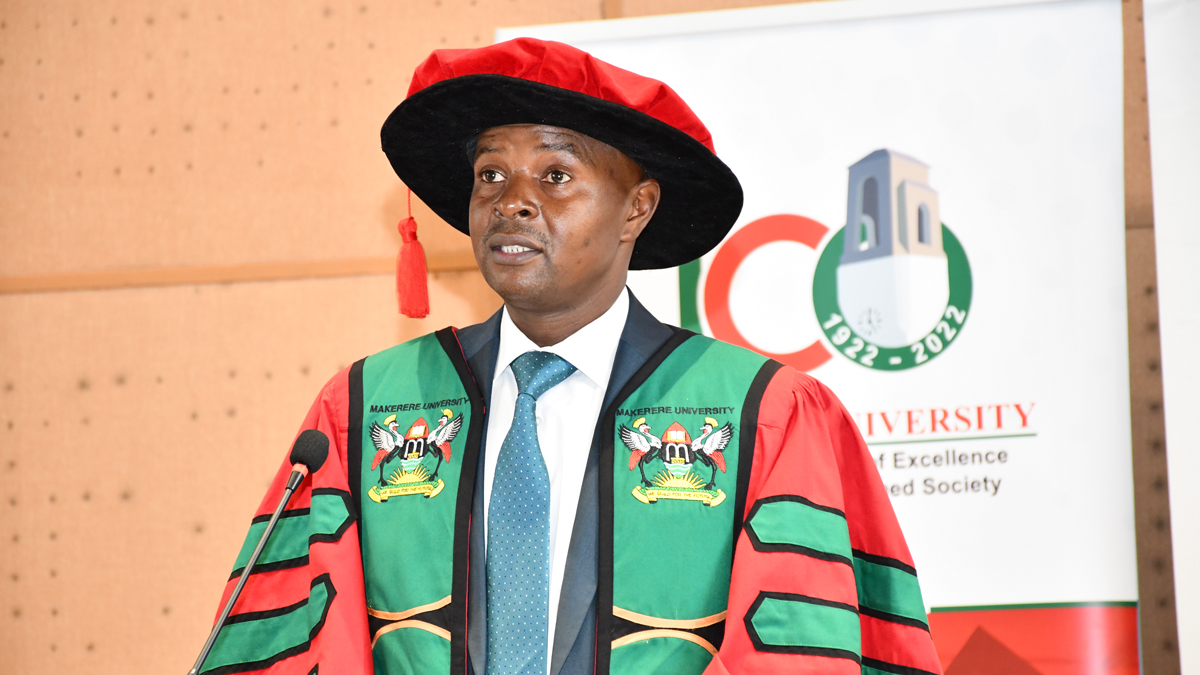 Makerere University on Friday 17th December 2021 held a prestigious event at which Professor Edward Bbaale delivered his Professorial Inaugural Lecture under the theme Rethinking Growth in Africa, Firms and the Business Environment Quality.
The Lecture held during the year-long celebrations to mark 100 Years of Makerere University's existence came five months after Prof. Bbaale's promotion from the rank of Associate to full Professorship.
Professor Edward Bbaale has for the last decade centered his research on firms and African economies, with one part of it looking at the dynamics and economic roles of firms in bridging productivity, export and employment gaps in Africa. His other research puts into perspective the quality of business environment necessary for firms in Africa to flourish.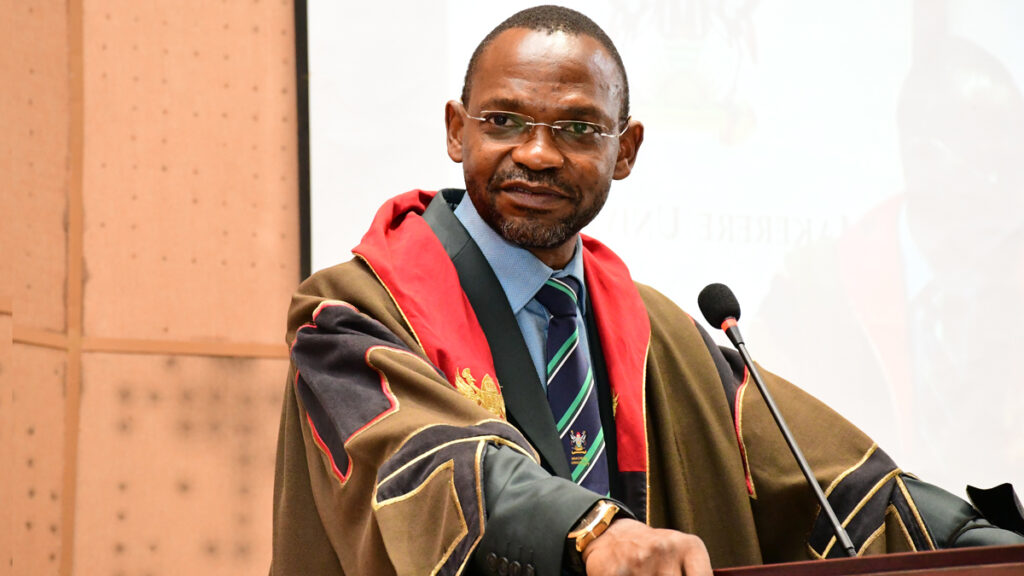 Prof. Bbaale said the country has great potential of technological change, innovation, employment and skilling which can only be attained when the industrial sector is prioritized.
"The contribution of industrialization to GDP was rather higher in the 60s. Due to the volatile economic environment and following what happened in the 1980s and 1990s, we have had a decline in industrialization.
Uganda in the 1990s privatized most of the public enterprises at the urging of the World Bank and the International Monetary Fund. Giving away control of key government parastatals to private individuals during the early days after Uganda had emerged from decades of political turmoil was a mistake, experts have said.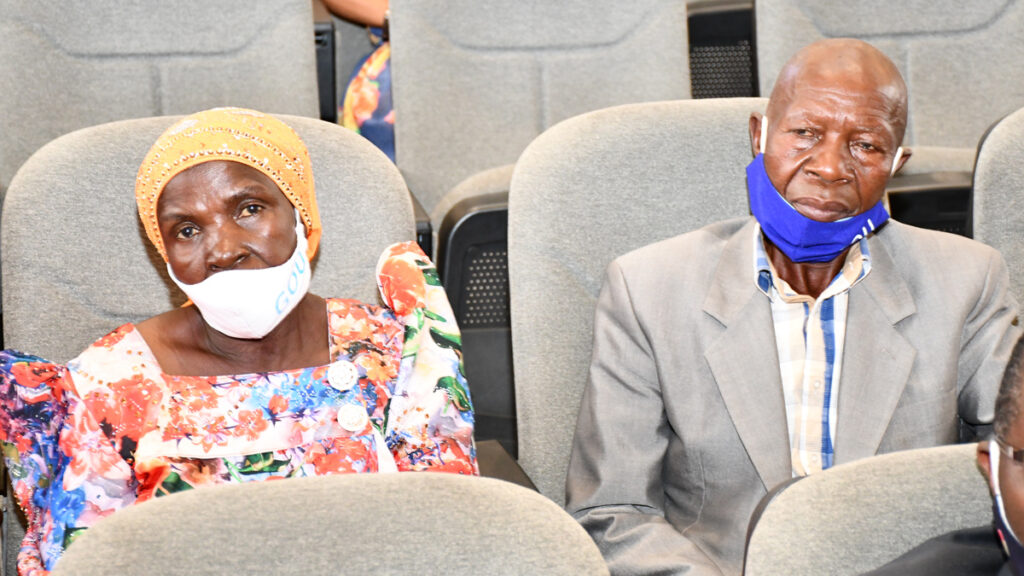 "We have seen a situation which I risk to call de-industrialization where the service sector has taken over industrial and agricultural sectors," Prof. Bbaale said. "Despite this, majority of our population is employed in the agricultural sector yet it contributes the least. This means poverty can not be escaped unless something is done about agriculture because that is where most of our people are."
Overall, industrial sector growth in Africa continues to lag behind GDP growth from approximately 17% in 1981 to 12% in 2020. In Uganda for example, the share of the manufacturing sector to GDP continuously experienced weaker growth with a marginal contribution of 4% in 1980 increasing to only 5% in 1990, and to 16% in 2020. This figure is still far below the 20% target specified in NDP III, Prof. Bbaale said.
"The implication of this is that although the prudent macroeconomic policies managed to increase GDP growth in Africa, they have not been sufficient enough to spur growth in the industrial sector, which affects its potential for job creation," Prof. Bbaale added.
"What is required of African economies to revive and sustain their growth, particularly in the industry sector is to refocus on the micro-economic policy environment where business firms operate."
Prof. Bbaale added that firms in Africa are predominantly small (close to 58%) with few medium and large firms and only 23% of the firms engage in exporting.
In Africa, Firm-level Gross Job Creation Rate (GJCR) stands at 13% while Gross Job Destruction Rate (GJDR) stands at 6%.
Small firms have a low chance of surviving and growing into large scale firms that are more productive. Therefore; low aggregate industrial productivity in Africa is to a greater extent attributed to a large fraction of small firms. Even with more domestic firms, domestic capital accumulation remains too low to boost adequate growth, he said.
Prof. Bbaale, pointed out some of the constraints to the potential of firms to achieve fast growth as the unreliable power supply, huge transportation costs, corruption, poor tax structures and weak laws among others.
One of longest serving professors of Makerere University Prof. Elly Sabiiti commended the great work done by Prof. Edward Bbaale and attributed this kind of achievement to formation of the Professorial Inaugural Lecture Committee in 2007. The Committee was established to guide newly-promoted professors on how disseminate the knowledge accumulated over the duration of their academic journeys for the benefit of the society.
He added that the theme of the Professorial Inaugural Lecture was relevant especially since it comes a at a time when Makerere is celebrating 100 years of excellent service with a milestone of over 90 professors.
Prof. Barnabas Nawangwe, the Makerere Vice Chancellor noted that the University contributes 70% of the research output in Uganda and 3% to the continent. He added that professors like Bbaale are expected to take the lead in the economic development of the country through their comprehensive research.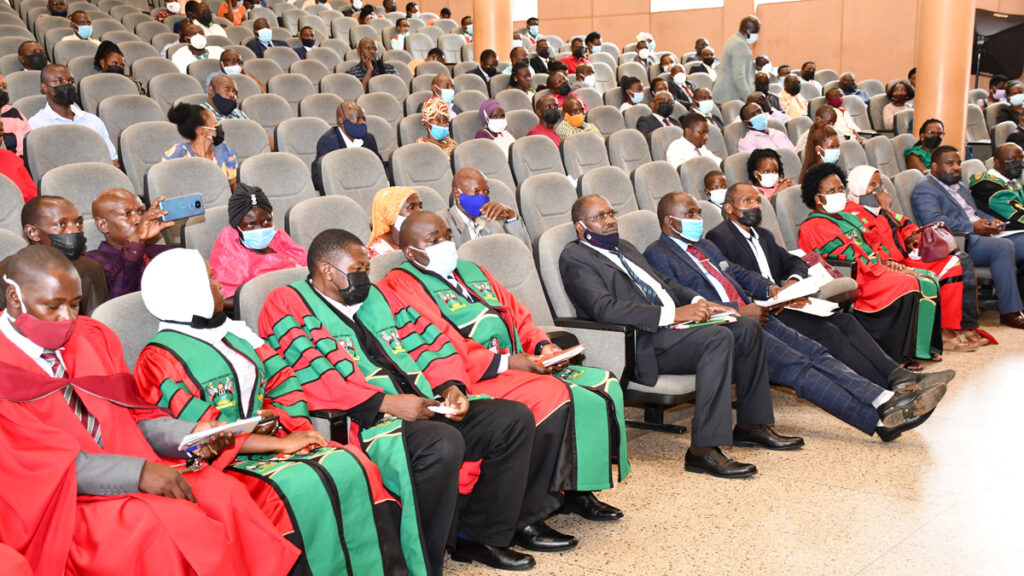 "I am glad to note that the inaugural lecture topic on "Rethinking Growth in Africa: Firms and the Business Environment Quality" is in line with the current global economic challenges arising due to the Covid-19 pandemic. Several business firms both local and international went into unprecedented decline. In Uganda, the informal sector has been greatly affected and livelihoods compromised," the Vice Chancellor said.
The Deputy Vice Chancellor in charge of Academic Affairs, Assoc. Prof. Umar Kakumba, congratulated Prof. Bbaale upon delivering his Professorial Inaugural Lecture, saying it is a prestigious and highly regarded public talk by an appointed Professor in an academic institution.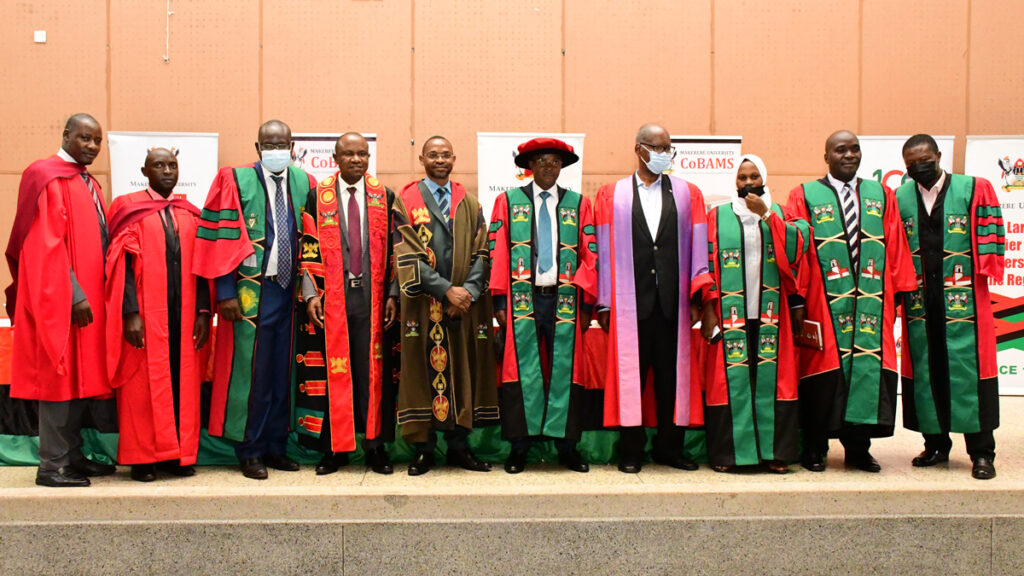 Assoc. Prof. Kakumba said Professor Bbaale's inaugural lecture theme was very relevant in today's setting and has provided very important knowledge.
"Professor Bbaale has ably demonstrated the contribution of his academic exploits in economic development. Notably, his lecture is in line with the theme of the Third National Development Plan (NDP III), on "sustainable industrialisation for inclusive growth, employment and sustainable wealth creation"."
Prof. Bbaale highlighted that overall industrial sector growth in Africa continues to fall behind GDP growth and that the manufacturing sector in Uganda has a marginal contribution to GDP at 16% as of 2020.
"He has argued for more focus on the microeconomic policy environment where business firms operate. This is expected to improve the success of the NDP III," Assoc. Prof. Kakumba said.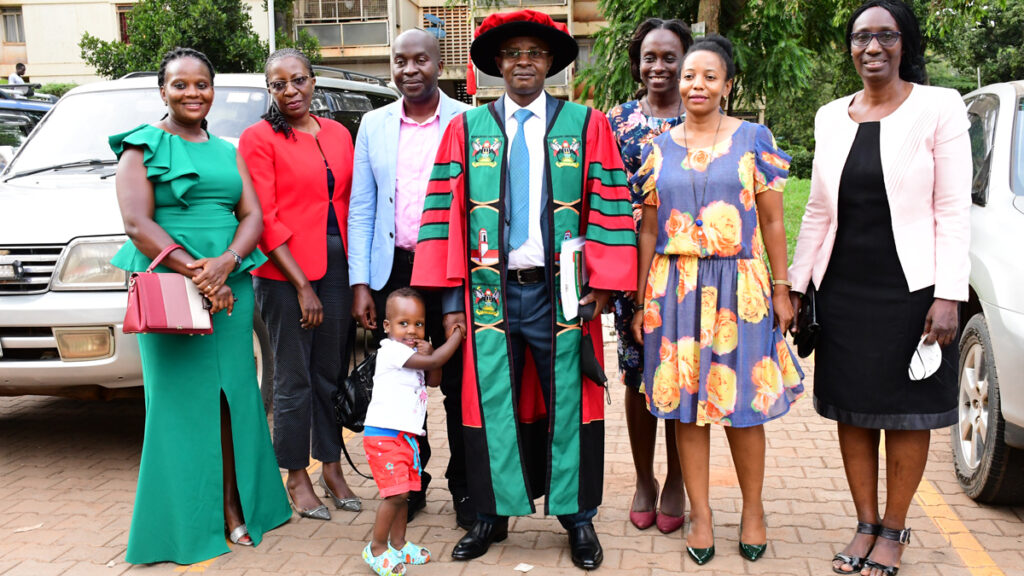 …………………………..
ABOUT PROF. BBAALE
Edward Bbaale is a Professor of Economics and holds a PhD in Economics, M.A. Economic Policy and Planning and B.A. Economics among other qualifications. He is currently the Dean of the School of Economics at Makerere University and the Director of EfD-Mak Centre which is part of the Global Network of Environmental Economics Research Centres supported by Sida. With support from Sida, Edward is the Lead Person at Makerere University for the Inclusive Green Economy (IGE) Capacity Development Program for Senior Civil Servants and Policy Makers. With support from the World Bank, Edward is the Principal Investigator of a Project intended to establish a Public Investment Management Centre of Excellence (PIM CoE) at Makerere University. Prior to that, Edward served as a Graduate Programmes Coordinator for the School of Economics from 2012 to 2013. He has very rich hands-on experience in economics research with a bias towards development microeconomics for enterprises and households. He was in 2017 awarded a post-doc scholarship by the Austrian Agency for International Cooperation in Education & Research (OeAD-GmbH) to undertake research at the Vienna Institute of International Economic Studies (wiiw) in Vienna-Austria. He was in 2013 nominated as a Visiting Fellow for the Journal of African Economies, Department of Economics, University of Oxford, UK. He was in 2010 nominated for the Visiting Research Fellow Position at the Centre for Global Development in Washington D.C. USA. He was in 2019 appointed a Chairperson of the Governing Council of Kampala Polytechnic-Mengo. He was in 2021 appointed a Member of the University Council at Muteesa I Royal University. He was in 2021 appointed Member of the National Task Force on the Enhancement of Labour Productivity. He is an External Examiner at Kyambogo University, University of Malawi, University of Zambia, University of Namibia, National University of Lesotho, and University of the Witwatersrand, South Africa. He was an External Examiner at the University of Zimbabwe 2015/16-2019/2020. He is a Member of the Expanded Board of the Uganda's National Planning Authority since 2015. He is a member of Senate of Makerere University and sits on the Admissions and Mature Age and Pre-entry Committees of Senate. He was a Chairperson of a Special Task Force that developed the Student Work and Employment Scheme Policy at Makerere University. He is a member of the African Economic Research Consortium Academic Advisory Board in Nairobi, Kenya. He is the Vice Chairperson of Makerere University Deans' Forum (MUDF). He is a member of the Scientific Committee of the United Nations Economic Commission for Africa Young Economists Network (ECA-YEN).
Edward has authored over 40 papers and, published in peer reviewed journals. Two of his papers were voted as Highly Commended Award Winners at Literati Network Awards for Excellence 2012 and 2019 (<http://www.emeraldinsight.com/literati>). At national level, he has implemented a number of policy-relevant research projects with key Government Ministries and Agencies as well as the private sector.
Graduate Admission Lists 2021/22
Admission Lists: Appeals and Re-advert for internationals 2021/2022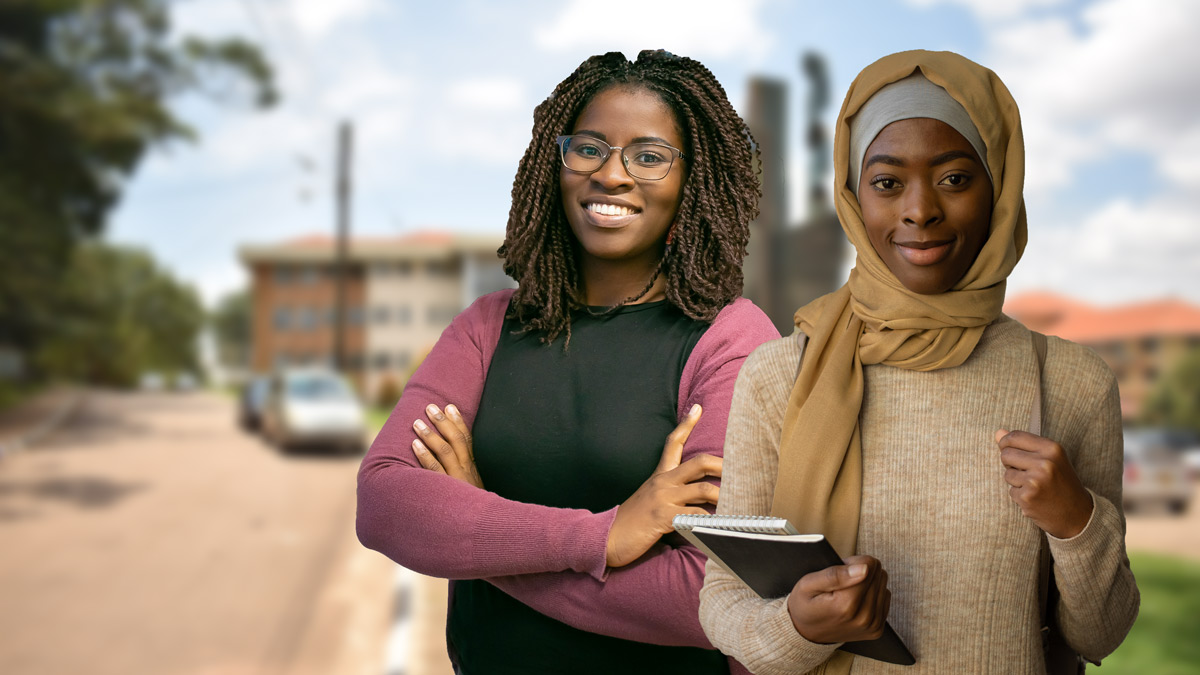 The Office of Academic Registrar, Makerere University has released lists of applicants who appealed and have now been admitted.
The following candidates have been admitted as follows;
MOP-UP Cases (Government)
Index No.                Name                       Sex           Course    Results  
(i)    U0025/667      HANS Murungi      M                       LAW       58          National Merit  
(ii)   U0004/631      AINE Aaron Amanya     M              ELE Sports Scheme
MOP UP Cases (Private Mature Entry Scheme)
NAME                      Sex    Mature results   Pre-entry Results      Programme
ARINAITWE Job    M                70                           55                            LAW (Private)
The lists for the successful appeals for Private Sponsorship Scheme, Re-advert and mop-up for International applicants can be accessed below:
Fees Waiver Scholarships for First Year Female Students for the Academic Year 2021/2022
In 2010 Makerere University established a Fees-Waiver Scholarship Scheme managed by the Gender Mainstreaming Directorate. The Scheme supports academically bright female students from disadvantaged socio-economic backgrounds to study various undergraduate degree programmes at Makerere University. The scholarship is administered by waiving off tuition and functional fees ONLY for the duration of study programmes of the scholarship beneficiaries. The applicant must be able to meet other costs by herself (for their feeding, accommodation and other learning necessities required by the University) for the duration of the scholarship and study period.  
The Gender Mainstreaming Directorate is pleased to announce 40 Fees Waiver scholarships for the academic year 2021/2022.  All Programmes in the 10 Colleges of Makerere University are eligible for this scholarship support and each College has four slots.
Eligibility
Scholarship applicants should meet the following criteria:
Should be female of Ugandan Nationality
Should be a first-year student admitted at Makerere University Main Campus for the academic year 2021/2022 under the Direct Entry Scheme, i.e. from A level
Should be from a genuinely disadvantaged socio-economic background.
Should not have been admitted on Uganda Government sponsorship to any public university.
Should not be a beneficiary of any other scholarship e.g. District Scholarship, the Higher Education Students Financing Board (HESFB)
Must be willing to participate in a selection process as shall be determined by the Gender Mainstreaming Directorate Scholarship Committee
Female students with disabilities are encouraged to apply.
An application shall be deemed complete once it contains the following attachments;
Photocopies of 'O' and 'A' level Academic Documents.
Three Passport size photographs of the applicant.
A copy of the applicant's Birth Certificate
In case of deceased parents, copies of death certificate(s)
A hand drawn physical map of the applicant's home/residence with clear directions of how to get to that home or residence from the nearest main road (indicate approximate distances in kilometres).
A copy of the admission letter to Makerere University.
A copy of 'A' Level fees payment slips for at least two terms
Interested and eligible applicants can download the application form from our website: www.gendermainstreaming.mak.ac.ug
OR pick an application form in Room 402 Senate Building, Level 4, Gender Mainstreaming Directorate. The deadline is Friday, 28th January 2022 at 5:00 pm.
NOTE:  Only shortlisted applicants will be contacted.
Euzobia Mugisha Baine (PhD)
DIRECTOR