Design and Analysis of Charcoal Briquette Heat Exchanger for Fruit Drying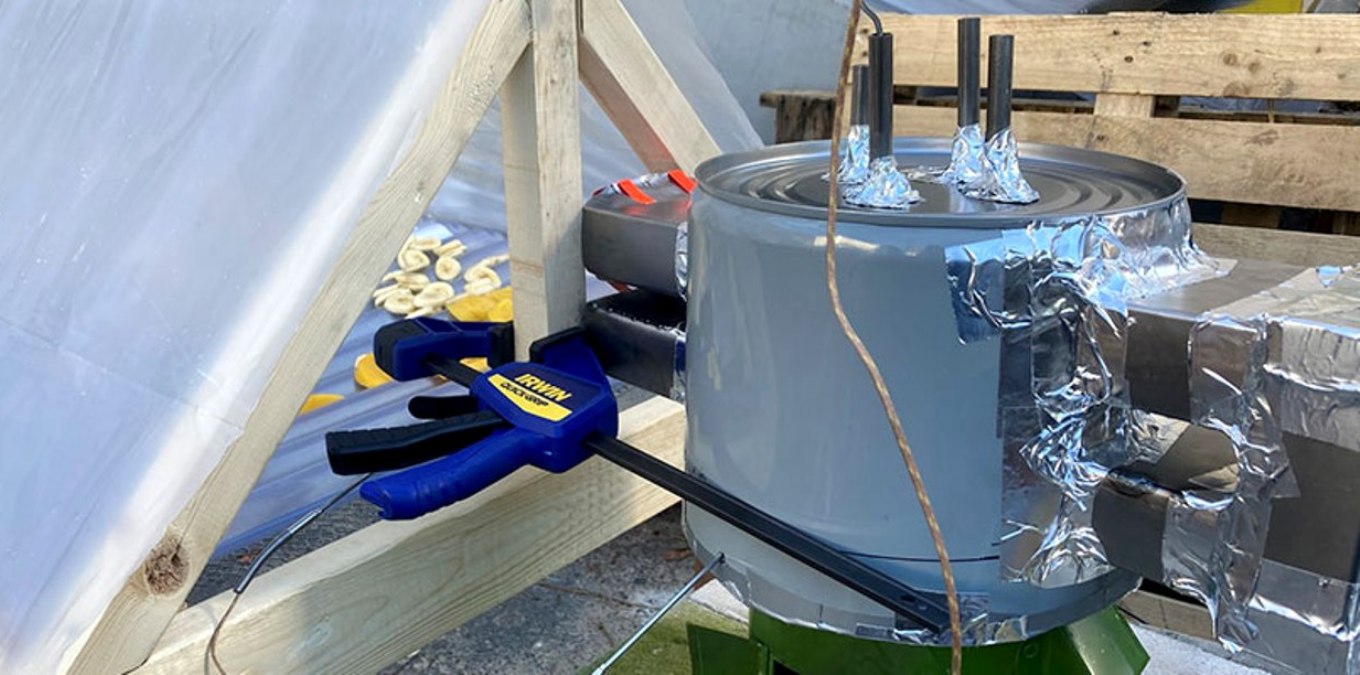 Introduction to Fruit Drying
According to the United Nations, one-third of the world's food is wasted annually. The majority of fruit loss occurs during storage or right after harvest. Drying fruit prevents food waste. Drying fruit has a lot of benefits. It can decrease post-harvest waste, increase the commercial value of fruit, add jobs to the local economy, and provide great nutritional value.
Our Community Partner
We have designed an affordable drying system that attempts to optimize drying time and reduce fuel expenditure to allow our community partner, the Teso Women Development Initiative (TEWDI Uganda), to produce attractive, clean-tasting fruit at a profit. TEWDI is based in Soroti, Uganda, and has several small businesses for charcoal briquette, charcoal Makaa cookstove, and fruit drying production.
Activities Conducted
We have evaluated multiple designs from two potential fuel sources: charcoal briquettes and peanut shells. After doing a holistic analysis of different design criteria, we concluded that the charcoal-powered Makaa cookstove heat exchanger (HEX) was the best option. It uses readily available materials and has a familiar user experience. We then designed the HEX around the Makaa cookstove's dimensions and heat output. In our design, we prioritized the maximization of radiative heat transfer and the minimization of thermodynamic losses. The HEX was then tested for its thermodynamic efficiency.
Evaporative Cooling Shipping Container for Fruit and Vegetable Preservation (Kenya, India)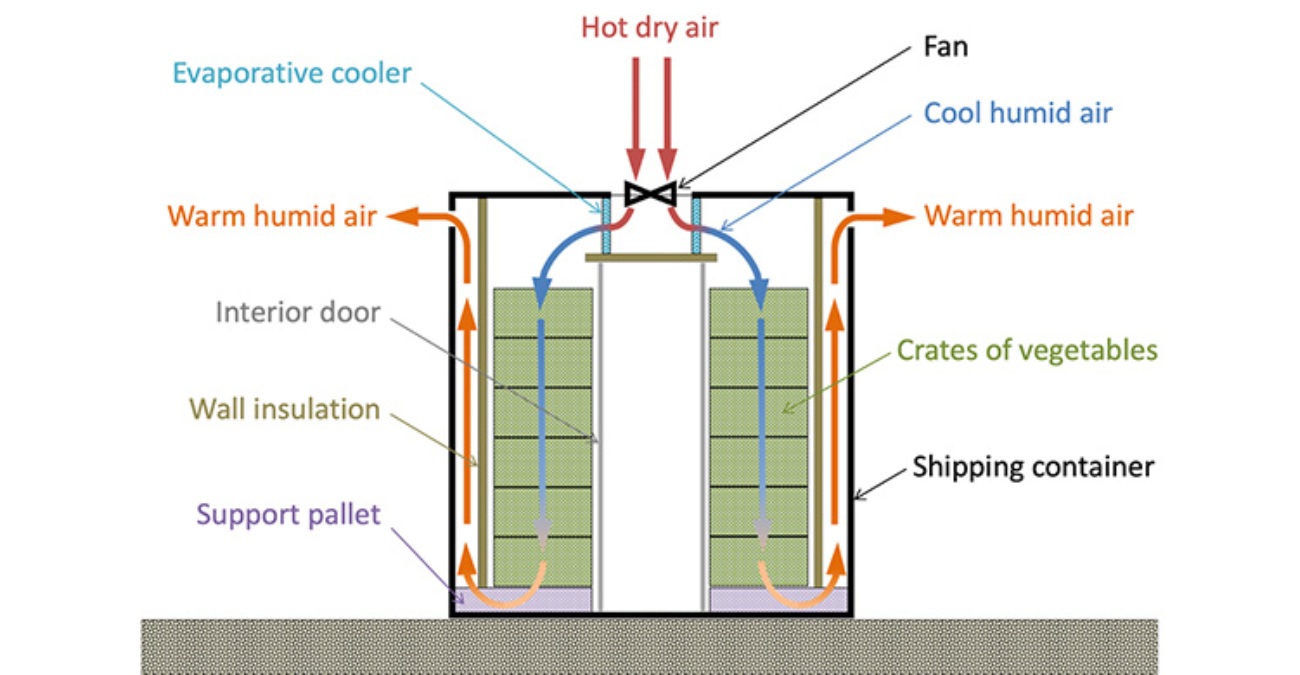 In developing countries, 30-50% of food produced is lost before it is consumed. Farmers, farmer collectives, and food vendors need an affordable cooling storage solution to increase their produce shelf life. This will not only improve profits, but also provide communities with more access to fresh produce and combat food scarcity and malnourishment. We have helped design fan and power systems of a forced-air evaporative cooling chamber that will address this issue (Figure 1). A fan system forces air through wet evaporative cooling pads, evaporating water and cooling the surrounding air that then flows into a chamber. Our solution will be housed within a 20 foot shipping container and powered by solar panels, such that it will be easily replicable in any region, regardless of access to grid power.
Call For Applications: Free Online Course – Youth Agri-Entrepreneurship & Business Growth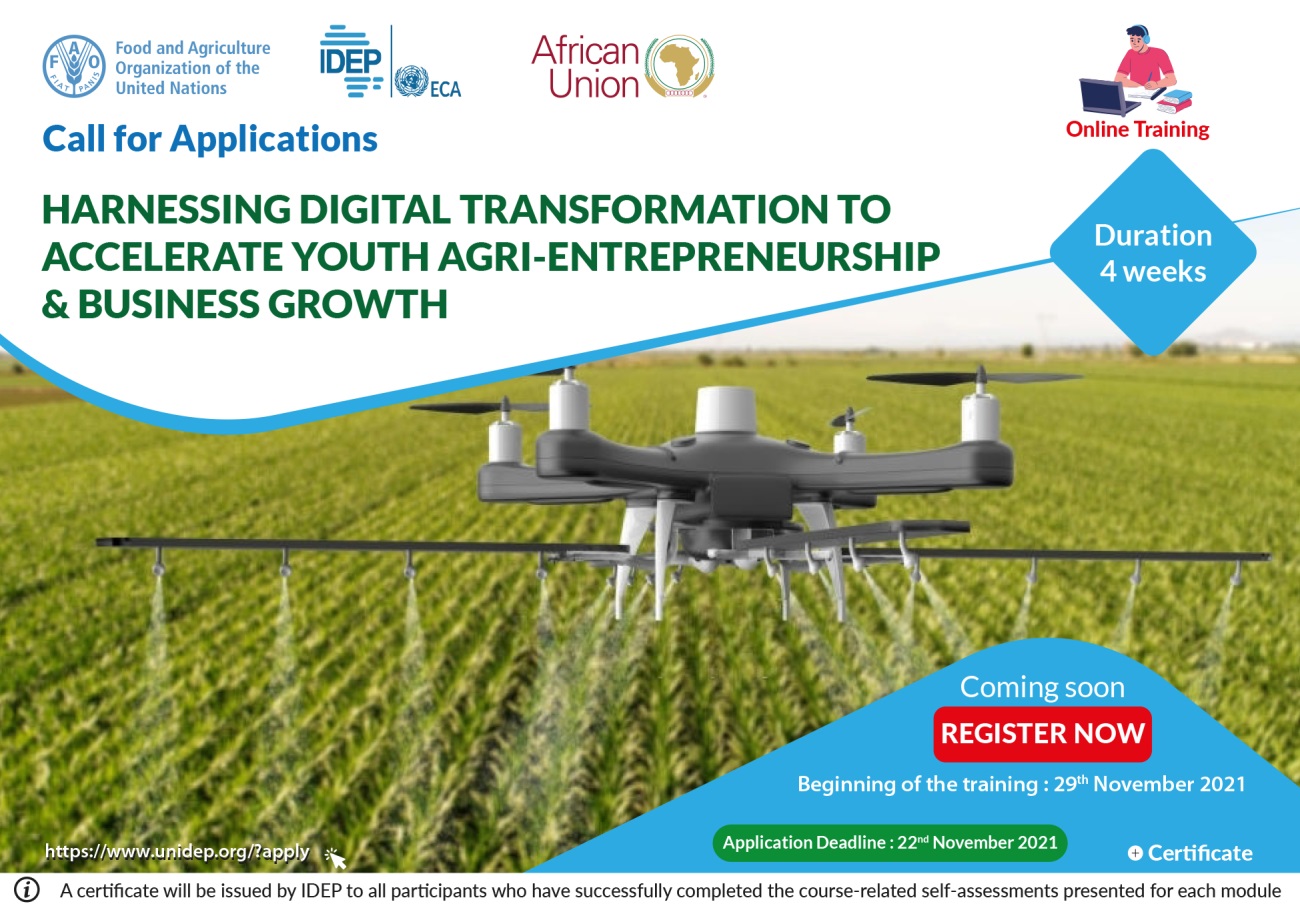 The African Institute for Economic Development and Planning (IDEP) in collaboration the Private Sector Development and Finance Division (PSDF); the Women, Youth Gender and Development Directorate (WGDD) of the African Union Commission, and the Food and Agriculture Organization (FAO) Regional Office for Africa, is organizing this training to support digital transformation of youth agribusinesses which will provide catalytic drivers for an accelerated achievement of full employment and sustainable and inclusive growth as pursued by African countries.
Learning Objectives
Provide a platform for young people to drive the African Development Agenda in the context of digital agriculture
Facilitate the understanding of digital agriculture pillars through case studies and analysis of emerging trends
Demonstrate ICT services and tools' transformative power for production and access to market for smallholder farmers, agricultural cooperatives and agripreneurship activities
Facilitate the development of digital strategies and services for youth agribusinesses
Application Deadline: Monday 22nd November, 2021.
Health Innovation Conference 2021 Highlights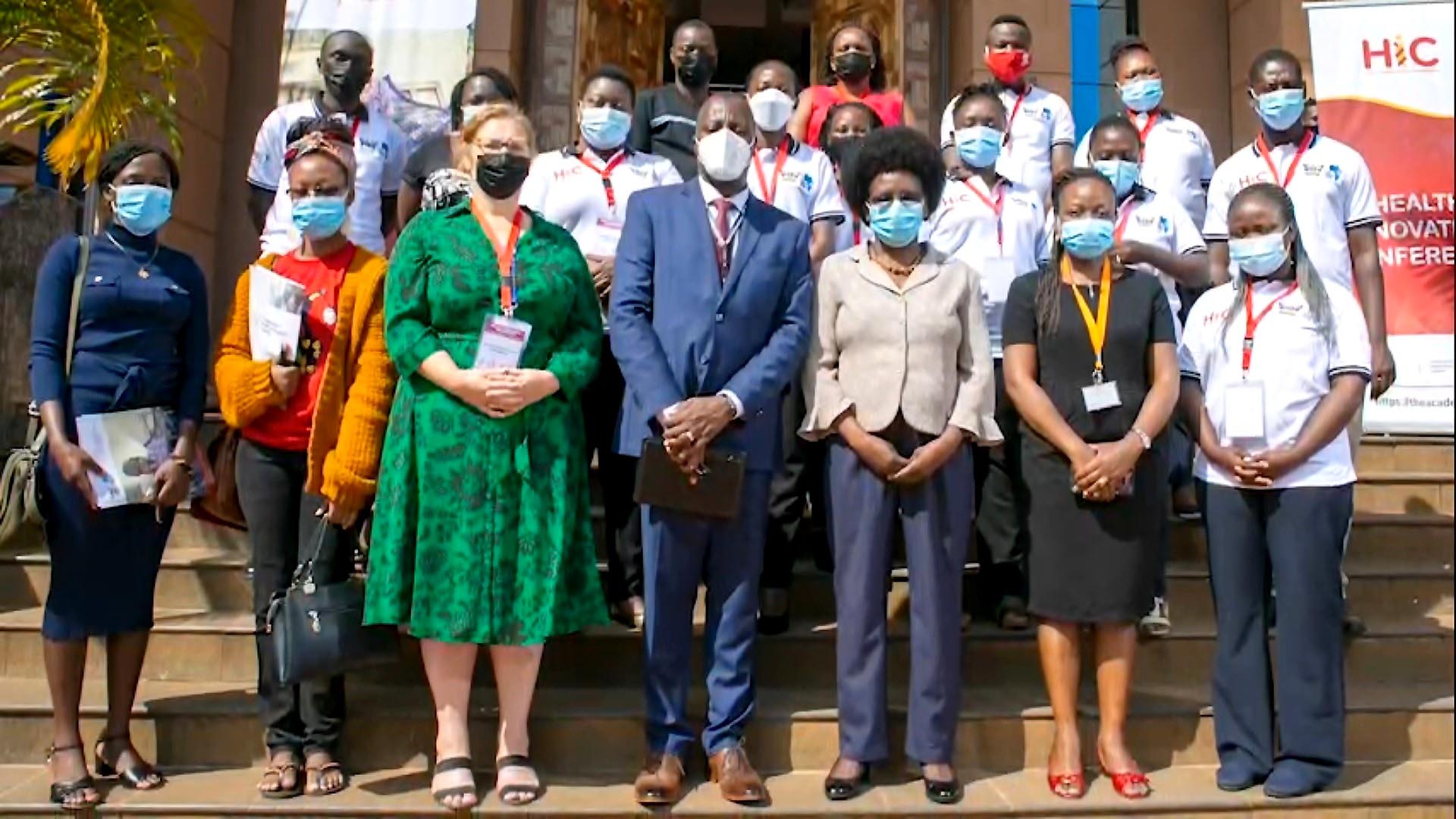 The Third Edition of the Annual Health Innovation Conference was held virtually from 9th to 11th November 2021 based on the theme Collaborating to Transform. Hosted by The Ugandan Academy for Health Innovation, a hub which sits within the Infectious Diseases Institute (IDI) Makerere University, the conference seeks to harness new, emerging and all capable technologies to improve the quality and access to healthcare in Uganda and the region at large.
Highlights of the conference which was officially opened by the Minister for Science, Technology and Innovation, Hon. Dr. Monica Musenero are now available for review.
Please click here to access the highlights or review specific sessions by clicking on the embedded videos below.
---
Health Innovation Conference 2021- Keynote Session: Leveraging Technology to Transform Healthcare
---
Health Innovation Conference 2021 – Design Thinking in Health Innovations
---
Health Innovation Conference 2021 – Sustainability: From Idea to Business
---
Health Innovation Conference 2021 – Plenary Session: Harnessing PPP in Healthcare
---
Health Innovation Conference 2021 – Equity and Inclusion
---
Health Innovation Conference 2021 – Emerging Technologies
---
Health Innovation Conference 2021 – Data Security
---
Health Innovation Conference 2021 – Technology Advancements for Global Health/Climate Change
---
Health Innovation Conference 2021 – Health Innovations Addressing Equity and Inclusion
---
Health Innovation Conference 2021 – Global Health/One Health
---
Health Innovation Conference 2021 – World Bank Presentation on Digital Health Strategies
---
Health Innovation Conference 2021 – Interoperability
---
Health Innovation Conference 2021 – AI and Gender Workshop
---
Health Innovation Conference 2021 – Abstract Presentations 1
---
Health Innovation Conference 2021 – Abstract Presentations 2