Chancellor Calls for Appreciation of Global Interconnectedness at 4th Kampala Geopolitics Launch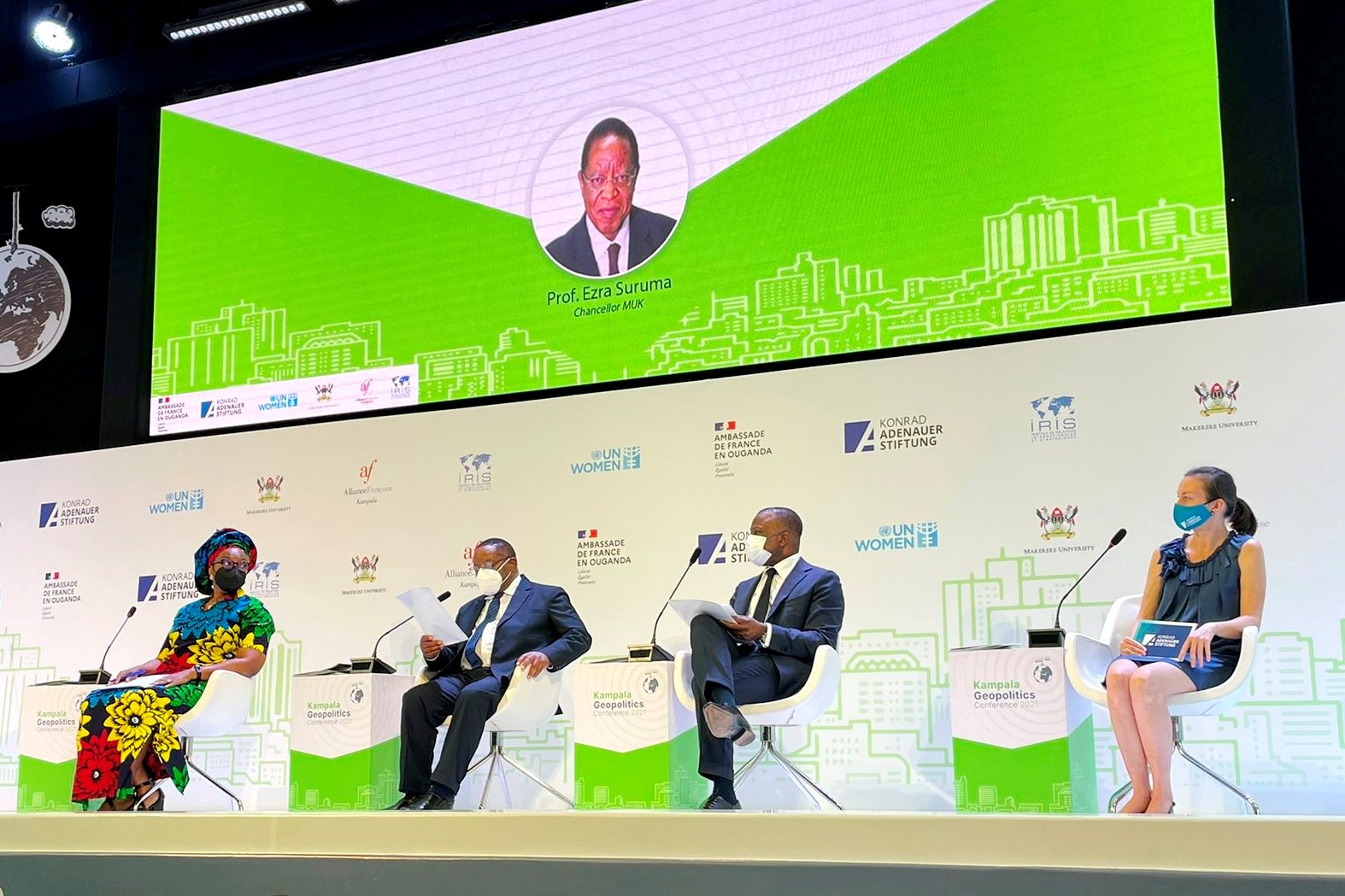 The Chancellor, Prof. Ezra Suruma while delivering his remarks at the opening ceremony of the Fourth Edition of the Kampala Geopolitics Conference has called for reflection on how COVID-19 demonstrated our interconnectedness as a human race, hence the need to work more closely together. The ceremony held in the Central Teaching Facility 2 (CTF 2) Auditorium on 10th November 2021 marked the beginning of the three-day conference on the theme; Crisis and Opportunity: Mapping the Geopolitical Importance of Africa.
"I am delighted to note that we indeed have people from many continents and as I was reflecting on this topic, it became clearer to me that indeed we live in one world. We may have lines drawn on the map and say this is Uganda, this is DRC and this is Egypt but these are lines on paper. In reality, we live in one global world" remarked Prof. Suruma.
He observed that the devastating impact of COVID-19 on the globe and the struggle to combat it through vaccination had led to a rise in vaccine nationalism. Prof. Suruma was therefore happy to learn that this topic would be discussed in depth at the conference.
The Chancellor further said that Uganda, given its location as a landlocked nation and the political developments in surrounding countries has a keen interest in geopolitics.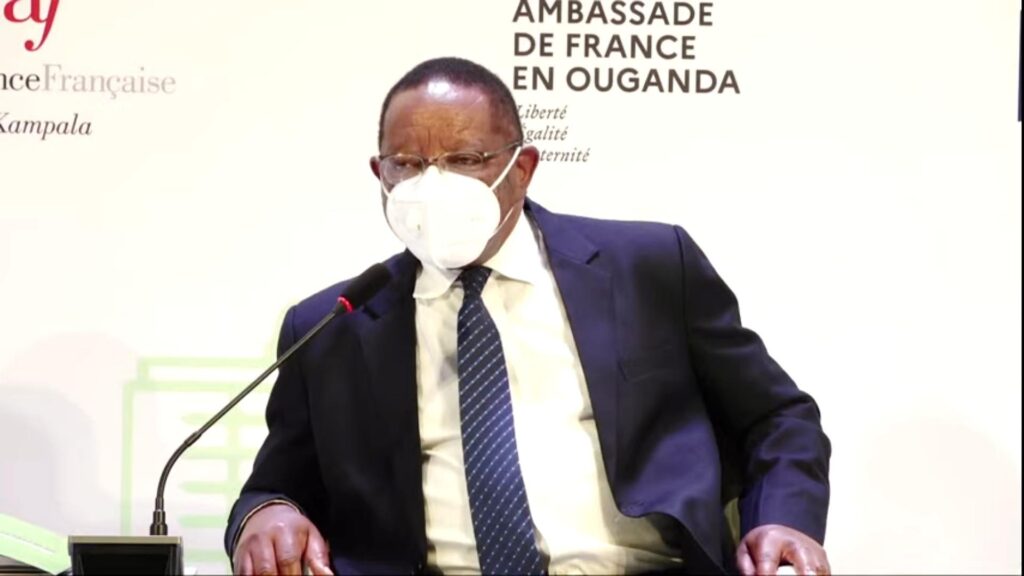 "Our hosting of large numbers of refugees, for example, is clear evidence of this fact. Geopolitics therefore is not a matter of indifference for Uganda. As seen historically and in contemporary history, Uganda has a great deal to ponder" said Prof. Suruma.
He thanked the partners Konrad-Adenauer-Stiftung, the French Embassy in Uganda, French Institute for International and Strategic Affairs, UN Women Uganda and Alliance Française for their commitment to ensuring that this important conference is held annually.
"And thank you especially for choosing Makerere University. We appreciate this vote of confidence at this time that Makerere is celebrating 100 years of service to Uganda and to the world. This year-long celebration through a series of events will be an occasion to reflect on our achievements, our successes and our failures in the past century. It will also an opportunity to lay strategies for the future" shared the Chancellor.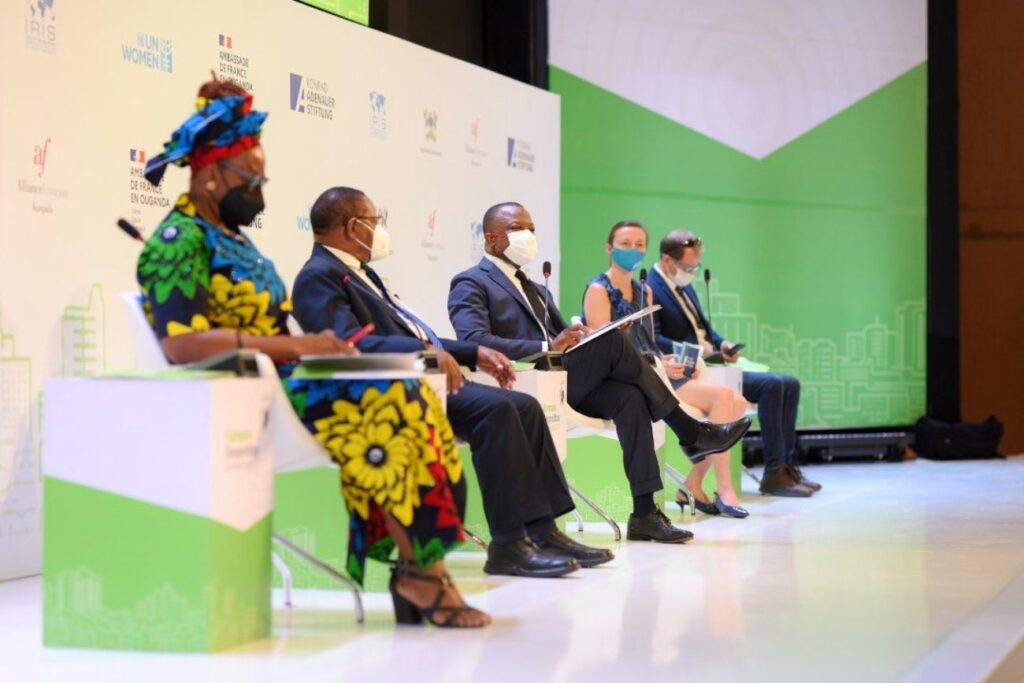 In his address, the Ambasssador of France to Uganda, H.E. Jules-Armand Aniambossou noted that as Makerere University commemorates 100 years of existence, the topic on Re-imagining Higher Education for the Post-COVID-19 Era would be of special interest to the institution and conference.
"This specific panel will open up an opportunity to re-imagine the future of Education for Africa in the context of the global family especially through the lens of digitalisation" added the Ambassador.
H.E. Aniambossou reminded the audience that one of the main ideas behind the Kampala Geopolitics Conference was to promote freedom of speech. "And I believe that as every challenge brings an opportunity, this year's hybrid edition will enable us to give the chance to more people to enjoy this freedom of speech by interacting both physically and virtually with our guest panelists."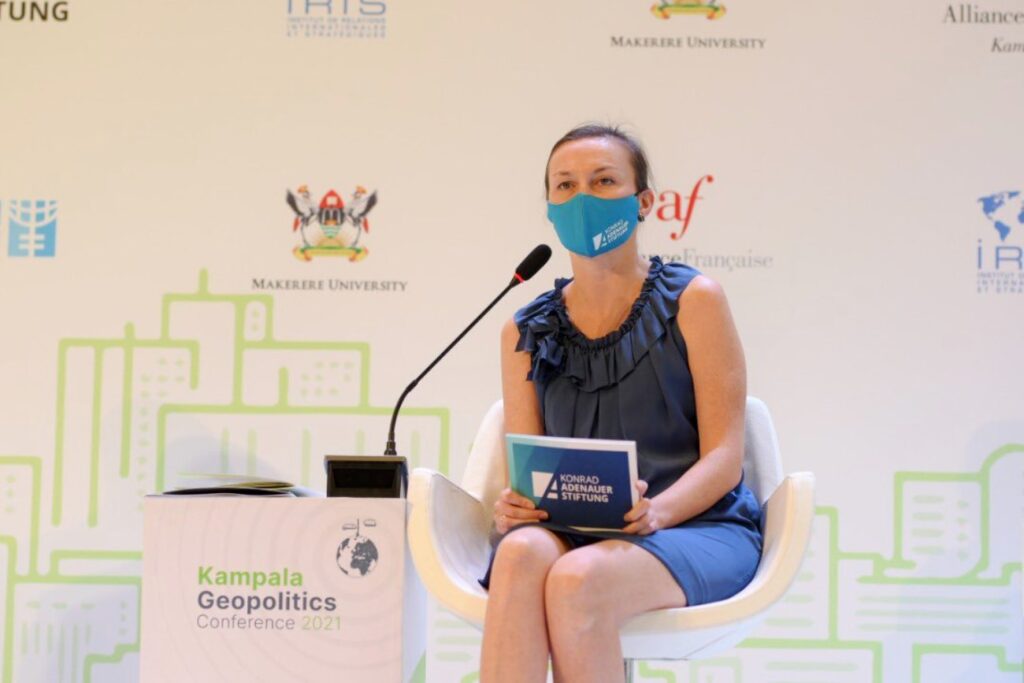 The opening ceremony was also addressed by the Konrad-Adenauer-Stiftung Country Representative, Ms. Anna Reismann who noted that a university does not exist in a vacuum but is embedded into society and has impact on its development, just as society has an impact on the institution's life.
"Therefore, also my congratulations on successful 100 years of navigating Makerere University through different political challenges, social developments and surely, some administrative constraints. Looking into the future of the university, one is certain the challenges might change but they will also always remain" said Ms. Reismann.
Turning to the Conference theme, she noted that the crises caused by the COVID-19 pandemic and the opportunities that are arising from it have placed Africa as an important region on the global map. She added that Africa is an important player in the peace and security dialogue, as an investment destination and trading partner, as a contender in addressing global challenges as well as an arena where different powers compete for influence.
Still on the topic of influence, Ms. Sylvie Matelly, Deputy Director of the French Institute for International and Strategic Affairs (IRIS) who addressed the conference virtually admitted that it was a source of great pride for her institution, that their annual conference on contemporary international relations held in Nantes, France had birthed the idea of an annual Kampala Geopolitics Conference.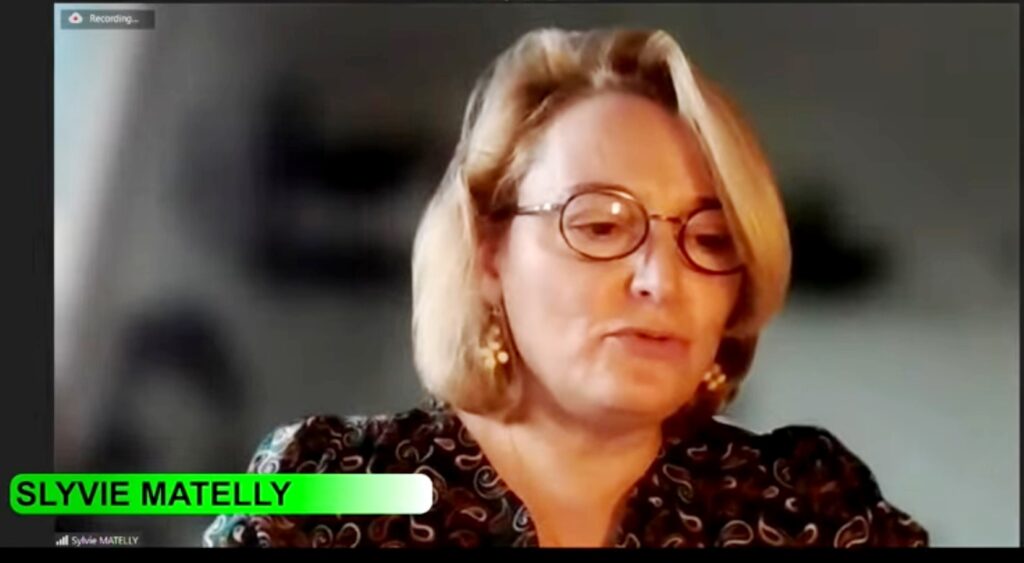 "Moreover, people used to think that because of the complexity of such topics the debate is just a private one but we are privileged that this is a public one and that is exactly why the Geopolitics of Kampala is a success year after year and I hope it will continue for a long time" remarked Ms. Matelly.
"After a very difficult period, we are pleased that we can again hold this event in person at Makerere University as we approach the 100 year celebration of the University as well as the 30th year since the foundation of Makerere University School of Women and Gender Studies" said Ms. Adekemi Ndieli, Deputy Country Representative UN Women, Uganda as she commenced her remarks.
Quoting the former US Secretary of State Madeleine Albright, Ms. Ndieli said "The world is wasting a precious resource as the dramatic underrepresentation of women which results in exclusion of talents and skills in the economy."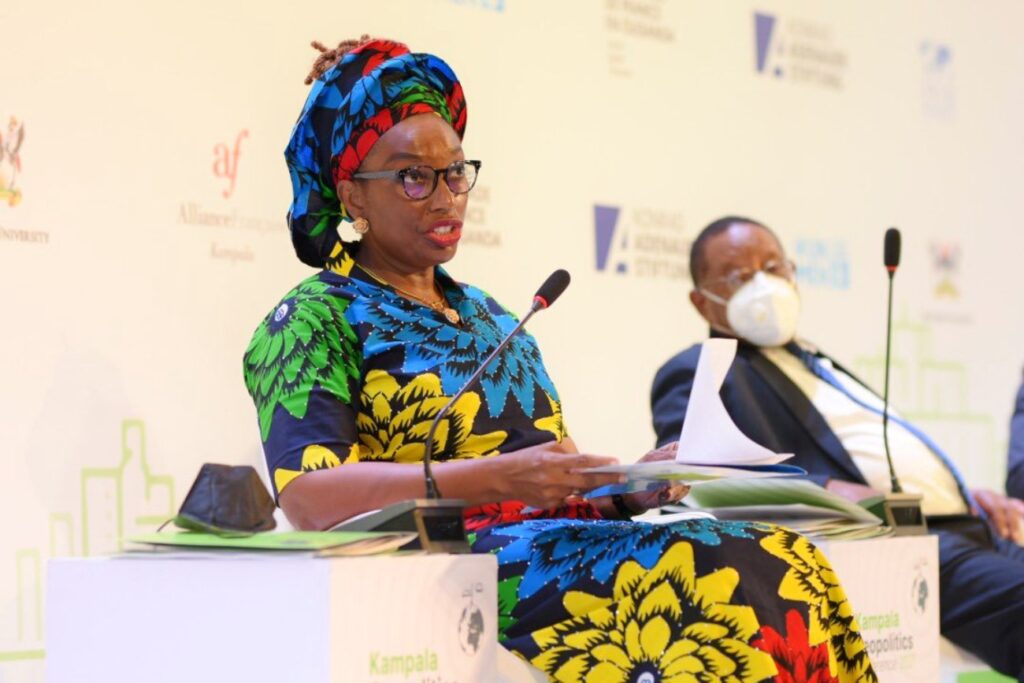 She therefore said that the Kampala Geopolitics Conference is an important opportunity for UN Women to elevate women's voices and hear their input and solutions across a broad range of topics. The topics range from climate action to feminist movements building to transitional justice and to engagement in outer space. The elevation, she noted, should be viewed in the light that gender equality is not only a pressing moral or social imperative but is a critical economic challenge.
"Ladies and gentlemen, we are living in unprecedented times as we all know and the COVID-19 pandemic has presented us one of the greatest challenges of our generation. Beyond the virus itself the response to COVID-19 has exposed deep inequalities in our societies and in global partnerships across the world" she added.
Ms. Ndieli continued to say that whereas COVID-19 had had disproportionate and devastating effects on social and economic life, these effects were more pronounced among the most vulnerable and as such, had tested the ability of states to come together to address the global challenges. "However, it has also presented us with unprecedented opportunities to build back better."
The opening ceremony was followed by a panel discussion on Re-imagining Higher Education for the Post-COVID-19 Era, where the Vice Chancellor, Prof. Barnabas Nawangwe was joined by Ms. Sylvie Matelly, Mr. Benjamin Rukwengye, Founder and CEO – Boundless Minds Uganda and Moderator Mr. James Kassaga , ED and Co-Founder – Teach for Uganda.
The Vice Chancellor shared that through partnerships with international collaborators, Makerere University had built a formidable force of academics that do research in all areas, and in the case of COVID-19, were very much aware of issues to do with online education.
"Online education is the future, even without the pandemic" said Prof. Nawangwe. "If Uganda's population doubles, with the infrastructure we have now, we cannot take in all those children who will be seeking higher education" he added.
Prof. Nawangwe said the university had taken advantage of the resources it had to train all staff in online education as well as alternative methods of education. This, he said, had ensured that Makerere had not suffered as much as the rest of the Ugandan education sector during COVID-19.
"We as the leading university have got the responsibility and obligation to support the other universities and other institutions to come out of this. And we are currently working with organizations around the world to train our colleagues at other universities on online education" said Prof. Nawangwe.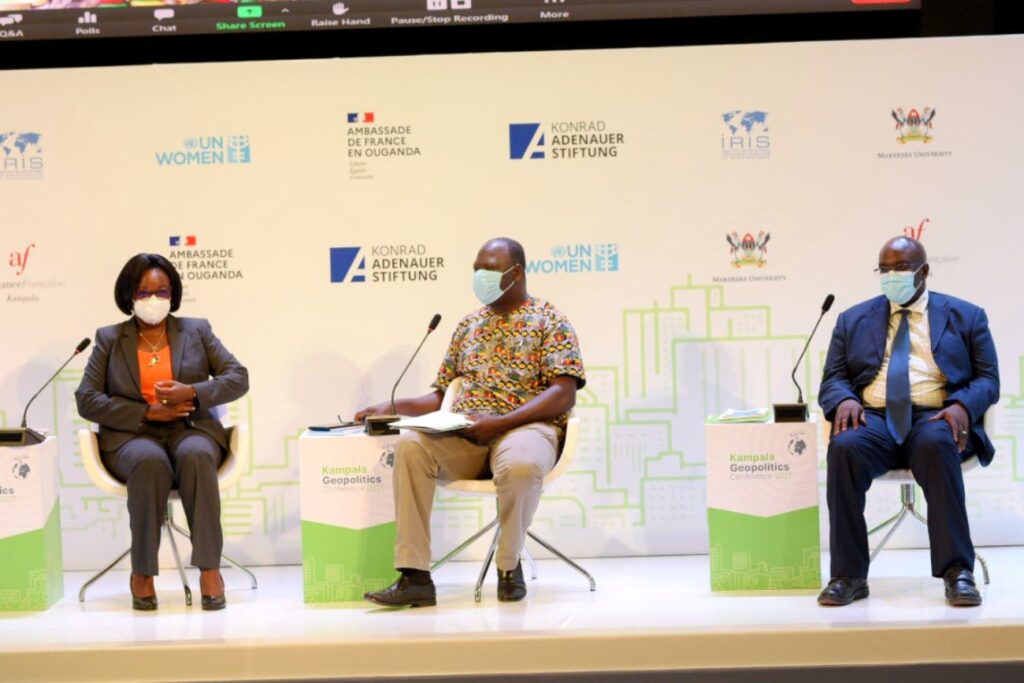 This panel was followed by another on Vaccine Nationalism and Diplomacy in the Times of the Pandemic, moderated by Dr. Milton Mutto, a Global Health Research Scientist. Panelists included Ms. Anne Senequier (IRIS), Dr. Alfred Driwale (MoH), Prof. Rhoda Wanyenze, Dean, Makerere University School of Public Health, Dr. Olaf Wientzek (KAS Geneva) and Mr. Andrew Bakainanga (WHO).
Prof. Wanyenze in her submission had noted that the struggle of who wins the vaccine war had given rise to a vaccine infodemic characterized by misinformation about the efficacy of some vaccines, resulting in their rejection by some sections of the public.
Touching on vaccine equity, she noted that up to 90% of the world vaccine market is controlled by a few companies, resulting in scarcity of vaccines such as the Covid-19 one, even for nations that had the money to purchase them.
"We talked about test kits for COVID-19. At the beginning you could hardly get them and buy them even when you had the money on the table. It was just the same dynamics as what you see for the COVID-19 vaccines. The same is true for the new COVID-19 drugs" she shared.
The Fourth Edition of the Kampala Geopolitics Conference that runs until Friday 12th November 2021 has adopted the format of Twitter Spaces at 12:30 PM on Day 1 and Day 2 as well as at 7:00 PM on all three days.
Join the Conversation using the #KampalaGeopolitics hashtag.
Graduate Admission Lists 2021/22
Admission Lists: Appeals and Re-advert for internationals 2021/2022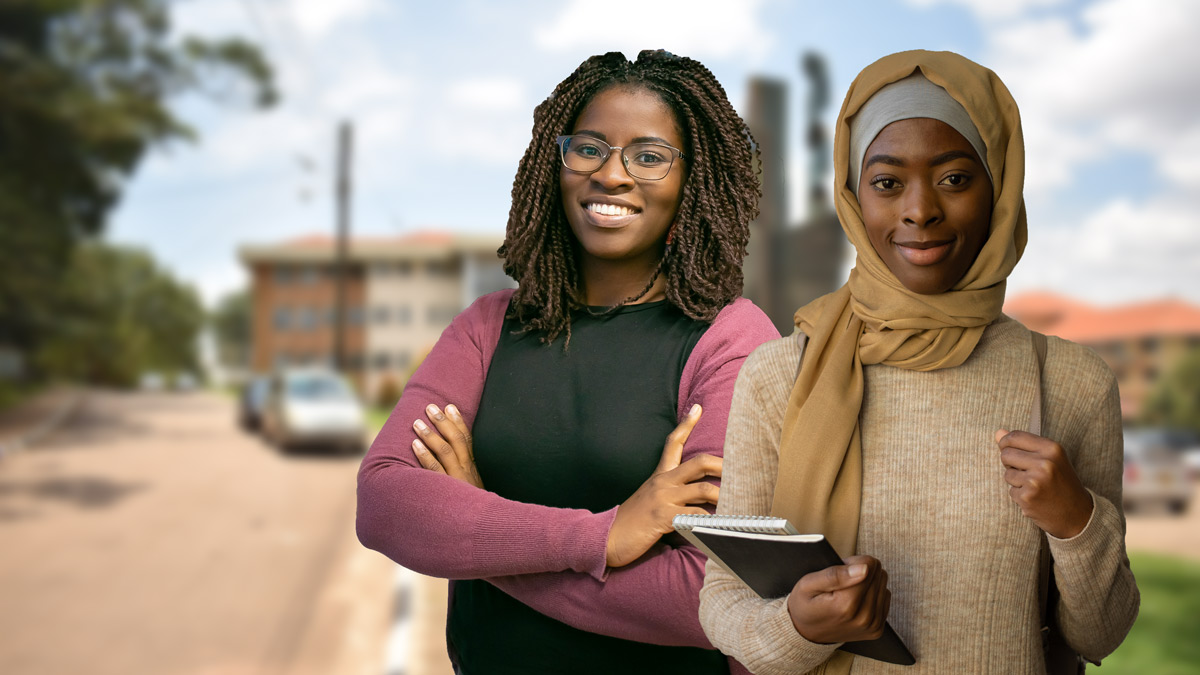 The Office of Academic Registrar, Makerere University has released lists of applicants who appealed and have now been admitted.
The following candidates have been admitted as follows;
MOP-UP Cases (Government)
Index No.                Name                       Sex           Course    Results  
(i)    U0025/667      HANS Murungi      M                       LAW       58          National Merit  
(ii)   U0004/631      AINE Aaron Amanya     M              ELE Sports Scheme
MOP UP Cases (Private Mature Entry Scheme)
NAME                      Sex    Mature results   Pre-entry Results      Programme
ARINAITWE Job    M                70                           55                            LAW (Private)
The lists for the successful appeals for Private Sponsorship Scheme, Re-advert and mop-up for International applicants can be accessed below:
Fees Waiver Scholarships for First Year Female Students for the Academic Year 2021/2022
In 2010 Makerere University established a Fees-Waiver Scholarship Scheme managed by the Gender Mainstreaming Directorate. The Scheme supports academically bright female students from disadvantaged socio-economic backgrounds to study various undergraduate degree programmes at Makerere University. The scholarship is administered by waiving off tuition and functional fees ONLY for the duration of study programmes of the scholarship beneficiaries. The applicant must be able to meet other costs by herself (for their feeding, accommodation and other learning necessities required by the University) for the duration of the scholarship and study period.  
The Gender Mainstreaming Directorate is pleased to announce 40 Fees Waiver scholarships for the academic year 2021/2022.  All Programmes in the 10 Colleges of Makerere University are eligible for this scholarship support and each College has four slots.
Eligibility
Scholarship applicants should meet the following criteria:
Should be female of Ugandan Nationality
Should be a first-year student admitted at Makerere University Main Campus for the academic year 2021/2022 under the Direct Entry Scheme, i.e. from A level
Should be from a genuinely disadvantaged socio-economic background.
Should not have been admitted on Uganda Government sponsorship to any public university.
Should not be a beneficiary of any other scholarship e.g. District Scholarship, the Higher Education Students Financing Board (HESFB)
Must be willing to participate in a selection process as shall be determined by the Gender Mainstreaming Directorate Scholarship Committee
Female students with disabilities are encouraged to apply.
An application shall be deemed complete once it contains the following attachments;
Photocopies of 'O' and 'A' level Academic Documents.
Three Passport size photographs of the applicant.
A copy of the applicant's Birth Certificate
In case of deceased parents, copies of death certificate(s)
A hand drawn physical map of the applicant's home/residence with clear directions of how to get to that home or residence from the nearest main road (indicate approximate distances in kilometres).
A copy of the admission letter to Makerere University.
A copy of 'A' Level fees payment slips for at least two terms
Interested and eligible applicants can download the application form from our website: www.gendermainstreaming.mak.ac.ug
OR pick an application form in Room 402 Senate Building, Level 4, Gender Mainstreaming Directorate. The deadline is Friday, 28th January 2022 at 5:00 pm.
NOTE:  Only shortlisted applicants will be contacted.
Euzobia Mugisha Baine (PhD)
DIRECTOR