Education Minister Expresses Readiness to use Scientific Findings to Revive Sector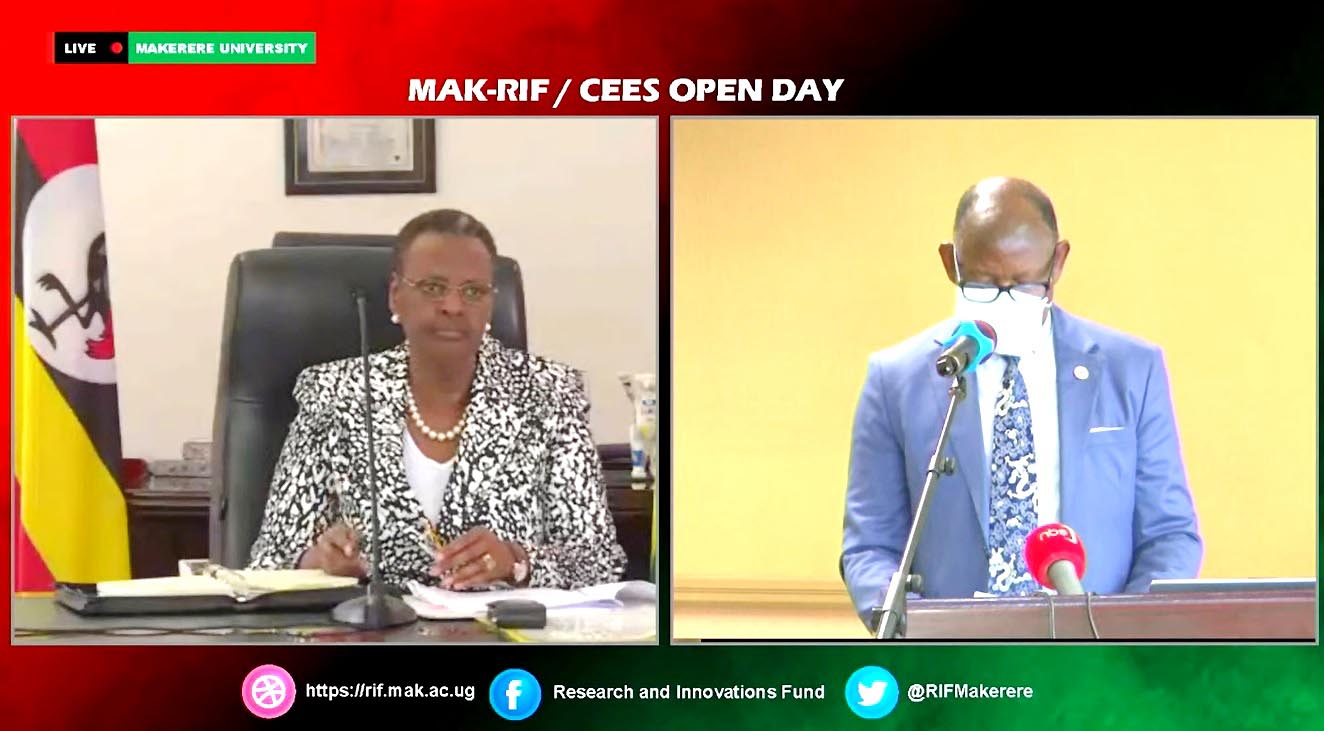 The First Lady and Minister of Education and Sports, Hon. Janet Kataaha Museveni while presiding over the Makerere University Research and Innovations Fund (Mak-RIF) College of Education and External Studies (CEES) Open Day has expressed Government's and her Ministry's preparedness to learn from the scientific evidence generated by research and innovations to guide the sector's recovery from the effects of COVID-19.
The Open Day held physically in the Central Teaching Facility 1 (CTF1) and streamed online to a virtual audience on 7th October 2021 was based on the theme "Education Research for Sustainable Development". It was graced by the Chairperson of Council Mrs. Lorna Magara, Vice Chancellor Prof. Barnabas Nawangwe, Chairperson Mak-RIF Grants Management Committee (GMC) Prof. William Bazeyo, University Secretary Mr. Yusuf Kiranda, Principal CEES Prof. Fred Masagazi Masaazi, Deputy Principal CEES Assoc. Prof. Paul Birevu Muyinda, Staff as well as Students.
"The Government is committed to supporting research and innovations in Universities, as you really now know, to provide high quality data to inform policy decisions. I want to encourage you to prioritise projects that are crucial to social and economic transformation" remarked the Honourable Minister.
She particularly took note of the "Inter-disciplinary Enhancement of Science Education in the Uganda Primary Thematic Curriculum" project as timely. The project among other objectives sought to appraise the importance of folklore in the teaching and learning of science in lower primary education.
"I think it is time that we find a way to bring out those issues in science that make sense to each child at a primary level in their mother tongue. That is when science will make sense to us and we will become transformational" urged the First Lady.
She lauded the researchers and University for the individual and institutional efforts to support the Education sector's development and review of curricula at various levels, development of a National Teacher Policy as well as the Early Childhood Development Framework. She equally acknowledged Makerere's support to the establishment of the Uganda National Institute of Teacher Education as well as to the ongoing development of the Digital Agenda of the Education and Sports sector.
"The Ministry appreciates all these contributions and I call upon you to continue supporting the Ministry in all possible ways – you must understand that a strong Ministry of Education is a strong sector of National Education throughout the country" she said.
The Minister commended the Mak-RIF GMC for identifying projects with the capacity to influence national development, noting that "the showcase projects are testimony that the funds are being properly utilised and it is my prayer that universities continue to do more and indeed live the purpose for which they exist as knowledge hubs for development."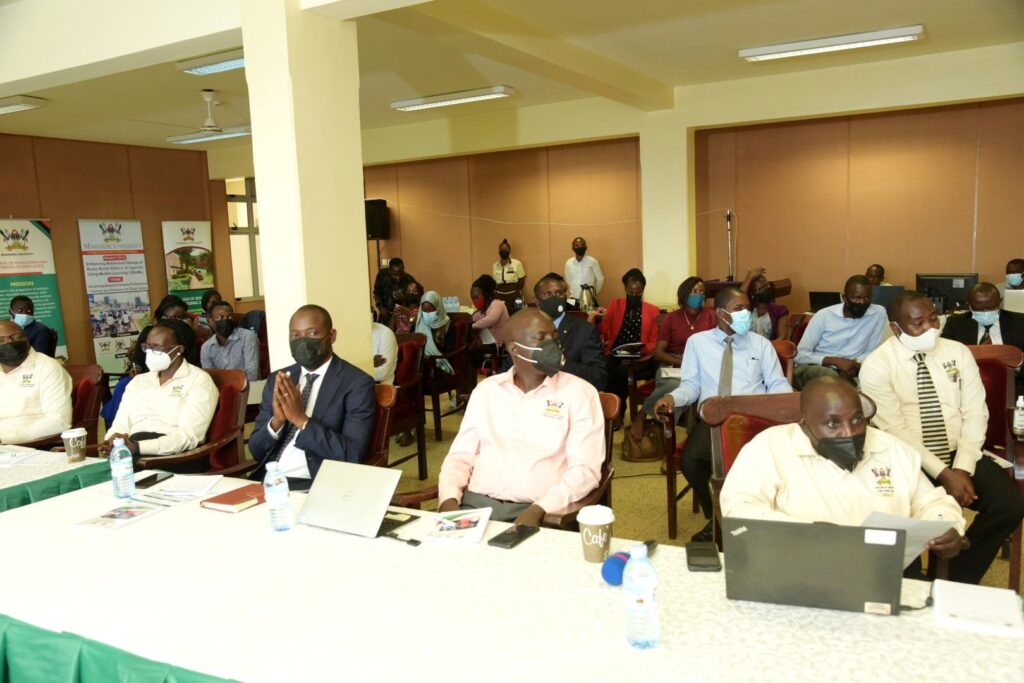 She applauded the University Council and Management for the efforts to support continuity of learning for students, and urged all in attendance to join hands and mobilize staff and students to get vaccinated in preparation for the reopening of tertiary institutions on 1st November using a staggered approach.
The seven presentations by CEES at the dissemination included;
Investing in Data and Research to Inform Education Policy by Prof. Anthony M. Mugagga,
Resilient Communities for Quality Primary Education in Uganda (ReCoPE) by Mr. Philemon Mukisa & Mrs. Alice Nankya Ndidde,
Enhancing Continued Learning to Rural Contexts during the COVID-19 Lockdown: Case of Kyotera District Rural Contexts by Dr. Tom D. Balojja,
Mapping Makerere University's Capacity to Mainstream e-Learning in University Education by Dr. Michael Walimbwa,
Pedagogical Leadership for Academic Staff in Higher Education Institutions to Enhance Graduate Work Readiness and Transition to work (PLASHE-WILL) by Dr. Ronald Bisaso,
Using Blended Learning to Fast Track Capacity Development for Teachers Implementing the Lower Secondary School Curriculum (BL4CD) by Dr. Paul Birevu Muyinda and
Inter-disciplinary Enhancement of Science Education in the Uganda Primary Thematic Curriculum by Dr. Henry Busulwa.
The Chairperson of Council Mrs. Lorna Magara in her remarks welcomed the First Lady to CEES her college where she is a treasured alumna, and thanked her for the charismatic leadership of Uganda's Education sector during the COVID-19 pandemic.
She noted that the Open Day had been made possible with generous support from Government to Research and Innovations at Makerere University to the tune of UGX 30 Billion annually and on behalf of the University leadership sincerely appreciated the gesture.
"The College of Education and External Studies has been a centre of excellence in pedagogy since the founding of the School of Education. Presently we have challenged the college to deliver research and innovations that prepare responsive professionals for the emerging realities in teaching and learning including globalization and technology and the COVID-19 situation and I can say that they have responded well" remarked Mrs. Magara.
The Chairperson of Council added that Makerere has relied on CEES for leadership through the Institute of Open, Distance and e-Learning (IODeL) to deliver the blended learning model, which enabled teaching and student assessment to continue during the COVID-19 lockdown.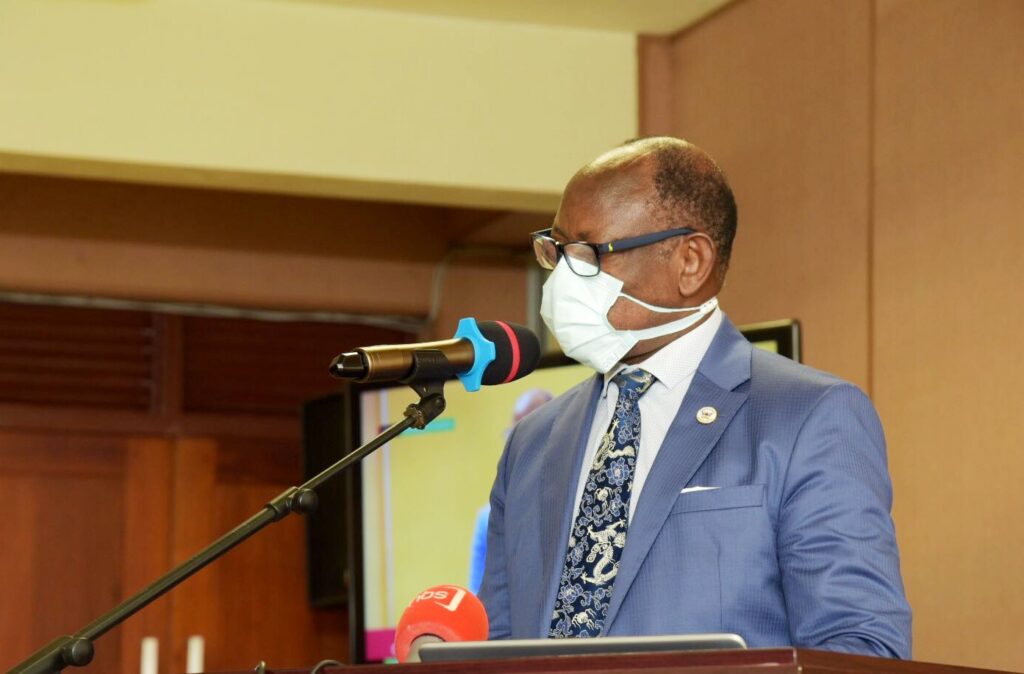 The Vice Chancellor Prof. Barnabas Nawangwe in his remarks prior to the Chairperson's welcomed the First Lady and Honourable Minister "home" and sincerely thanked her for the support in obtaining Cabinet approval for funds to reconstruct the University's iconic Main Building.
He noted that Makerere was already taking giant steps one year into implementing her ten year strategic plan aimed at making her a research-led University, thanks to the generous support from the Government of Uganda through Mak-RIF and the Presidential Scientific Initiative on Epidemics (PRESIDE).
"The two interventions by Government have enabled us to improve our research infrastructure and avail funds to our researchers. Practically every College, School and Department is now engaged in research and development activities" appreciated Prof. Nawangwe.
The Vice Chancellor acknowledged the central role played by CEES in enabling the University to continue conducting teaching and assessment despite the challenges posed by COVID-19. "We are happy to share the expertise developed at Makerere with our sister universities in Uganda."
He added that the seven research projects presented at the Open Day were proof of Makerere's enormous capacity to find solutions to the challenges that face Uganda's Education system right from Pre-Primary to Universities, especially in the wake of COVID-19. The Vice Chancellor renewed the University's call to Government to fund graduate student education, noting that this would help the country to develop faster.
"Honourable Minister, Makerere is ready to support you in your enormous task of enabling recovery of the Education sector from the effects of COVID-19, and I would like to believe that the presentations that you have listened to and seen are testimony to that readiness" affirmed the Vice Chancellor.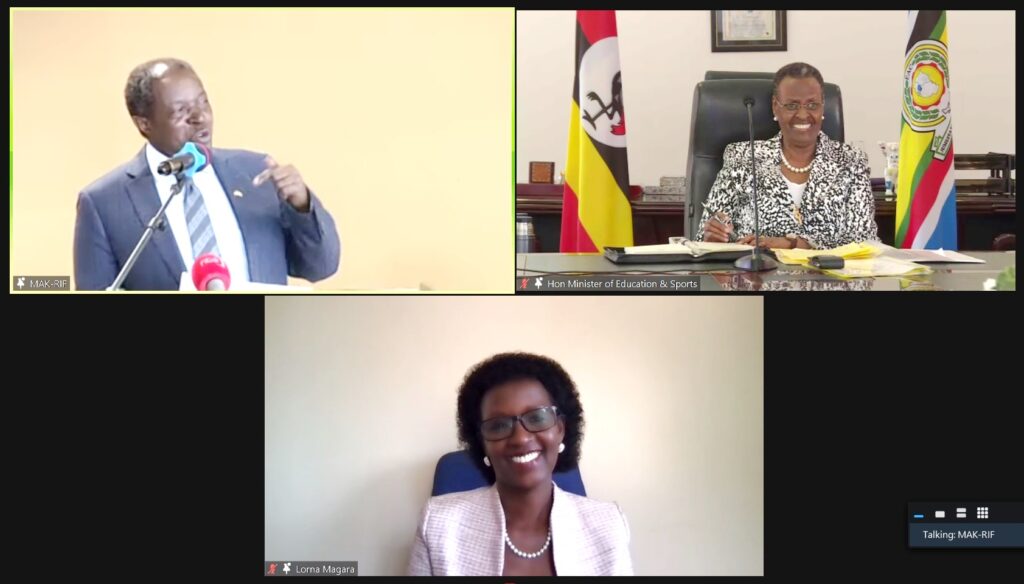 Speaking on behalf of the Mak-RIF GMC, the Chairperson Prof. William Bazeyo paid tribute to Hon. Janet Museveni for being that Minister of Education and Sports that inspired Makerere to become a research-led University. "We responded to your call and here we are to show the fruits of what you inspired us to do and we sincerely thank you."
He thanked the Chairperson of Council for embracing the Minister's vision for Makerere University to become research-led and the Vice Chancellor for taking up the mantle. "Getting Makerere to have this research and come up with findings that help Government and respond to national development goals is not easy and I want to thank you Professor Nawangwe."
Prof. Bazeyo equally paid tribute to the College Principals and researchers for coming up with projects that will impact the Ugandan society saying, "I want to thank my colleagues and congratulate the Principal and your team for the great job done."
On this note, he was pleased to inform the Honourable Minister that findings from one of the projects "Enhancing Continued Learning to Rural Contexts during the COVID-19 Lockdown: Case of Kyotera District Rural Contexts" revealed that the greatest impact on teaching and learning during the COVID-19 lockdown had been as a result of the teaching materials whose distribution she strongly advocated for.
"And now we have evidence to show that what the Ministry (of Education and Sports) did was the right thing" added Prof. Bazeyo.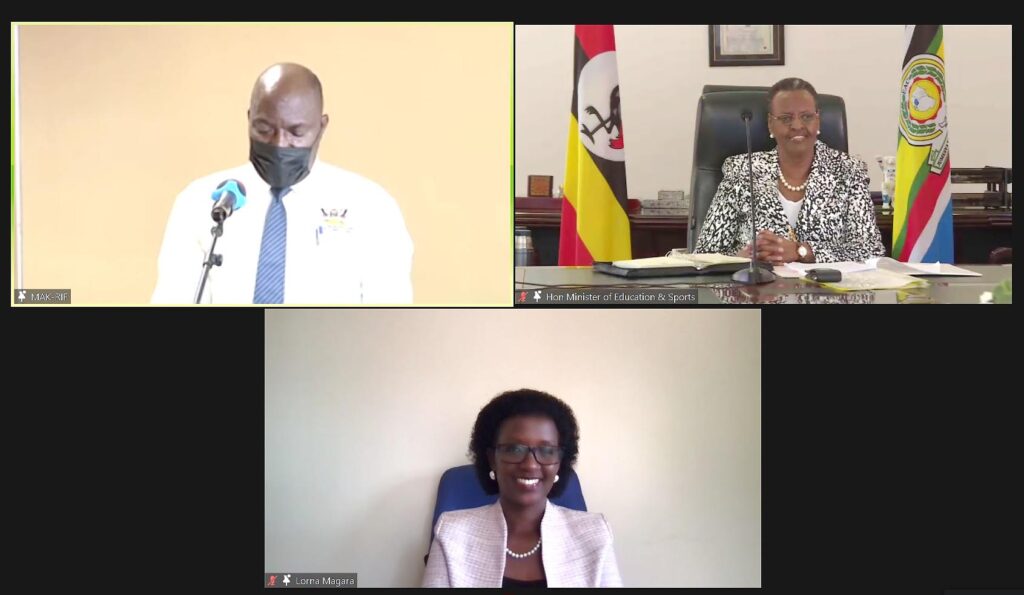 The Principal Prof. Fred Masagazi Masaazi in his address thanked the First Lady and Minister for accepting the invitation to grace the Open Day. "This is an important day in many ways; first, we are proving our capacity as a College in contributing to National Development through posing questions on Education issues and providing answers to some."
He added that as Makerere University marks 100 years of service and contribution to the world, CEES had commenced her celebrations with the Open Day, and preparations were underway to host a reunion day for the College's alumni adding, "We are hopeful that our Chief Guest will join us."
Prof. Masagazi Masaazi shared that their research findings had indicated that the education sector was not likely to go back to the pre-COVID-19 school setting, but was well primed for change through innovative re-imagination. He cited curriculum, instructional materials, assessment, teacher preparation, retooling of teachers, leadership, and leadership development as some of the areas that would need to be innovatively re-imagined.
The Principal pledged his college's commitment to continue providing innovative education solutions through the establishment of the Makerere University Institute of Teacher Education Research, "which will mainstream and further institutionalize cutting-edge research on teacher education in Uganda and beyond."   
Gone but still lives on: Makerere University celebrates Prof. Kajubi's legacy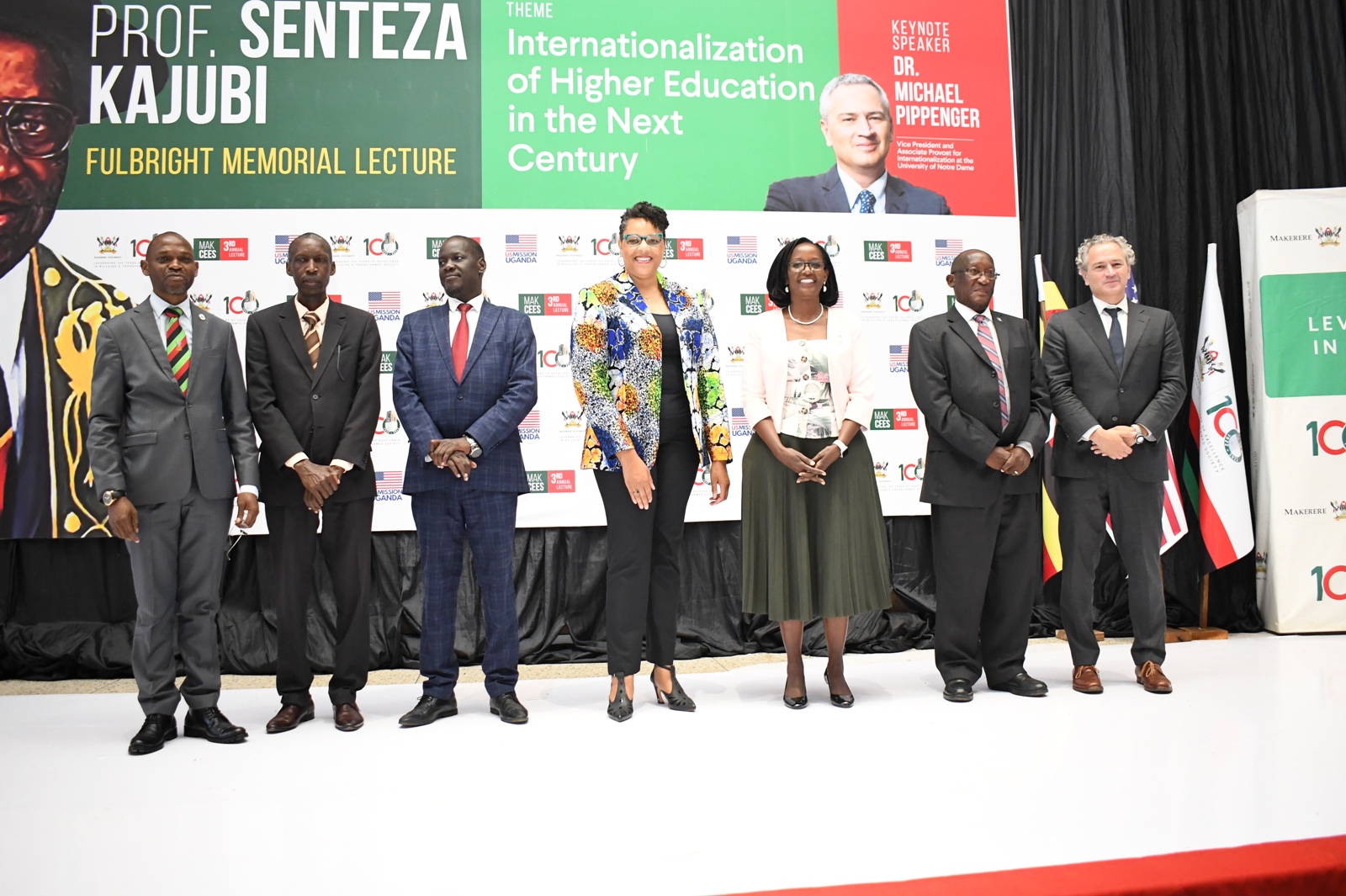 Professor William Senteza Kajubi, the first African to receive a Fulbright scholarship in 1952 and a renowned educationist who diversified and chaired a committee to review Uganda's Curriculum in 1990 was remembered and celebrated by Makerere University College of Education and External studies (CEES) in a public lecture that happened on 22nd September 2022 at the Yusuf Lule teaching facility Auditorium at Makerere University.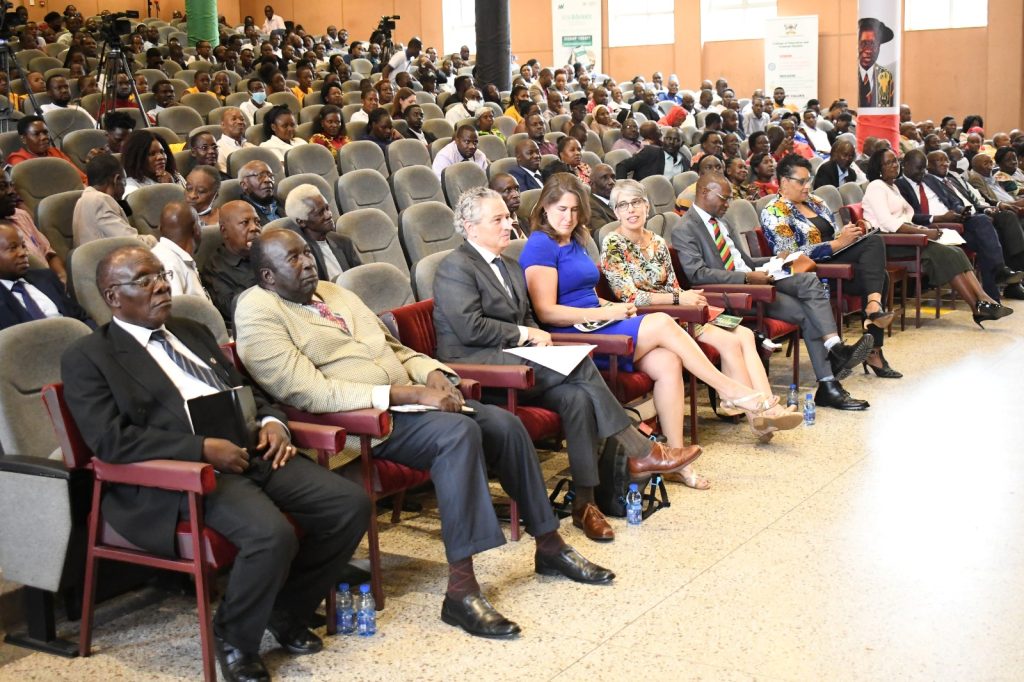 The ceremony themed "Internationalization of Higher Education in the next Century" presided over by the United States's Ambassador to Uganda Her Excellency Natalie Brown brought together many academicians, educationists and students across the world to celebrate the life and achievements of the person of Professor William Senteza Kajubi. In attendance were Vice Chancellors from Ugandan universities e.g. Soroti, Muni, Bishop Stuart, Bugema, Ndejje and Busitema.
Besides remembering the life of Prof. Kajubi, this public lecture also happened to be marking the Makerere University's 100 year anniversary, Uganda's 60 years of independence and its fruitful relationship with the United States that has paved way for the Fulbright Scholarship program and many other partnerships that have impacted lives of Ugandans.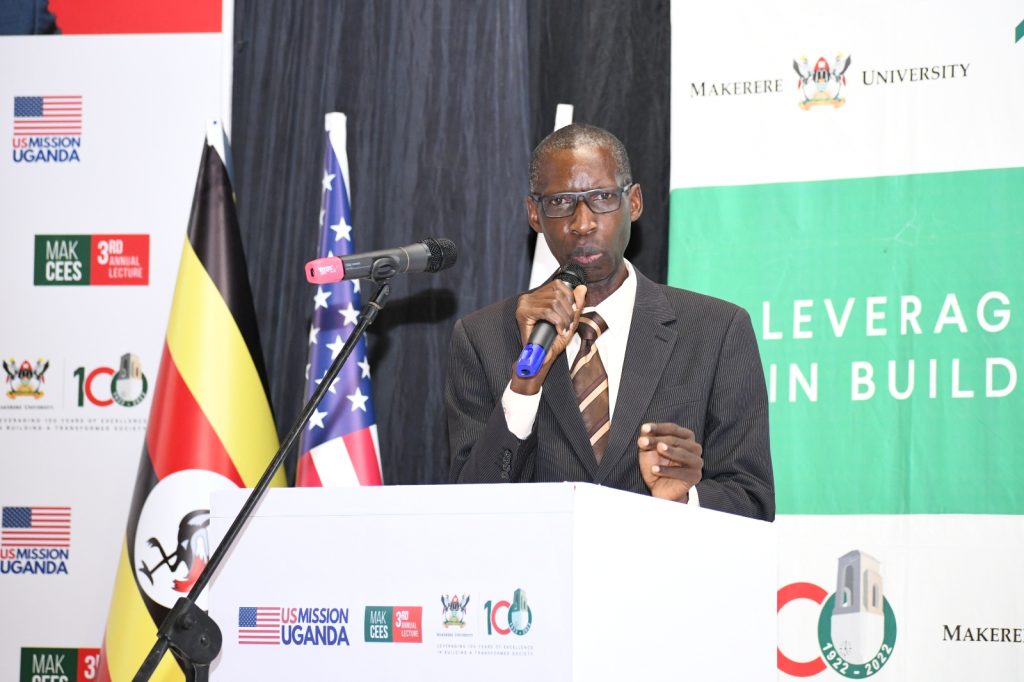 While addressing the congregation, the Principal College of Education and External Studies (CEES) Professor Anthony Mugagga hailed Professor Kajubi for the 1989 report on Education which the National Resistance Movement government incorporated into its 10-point program.
"In 1954 when Pope Leo the 10th appointed Ben Kiwanuka as the first African Bishop, he cautioned him to be successful so that he can inspire more African theologians. Kajubi never got lost in the States, neither did he do drugs but he clang to studies and paved way for other scholars of the Fulbright Scholarship program," added Professor Mugagga who concluded his remarks cautioning the congregation to emulate Prof. Kajubi, and also thanked all staff who participated in seeing this event a success.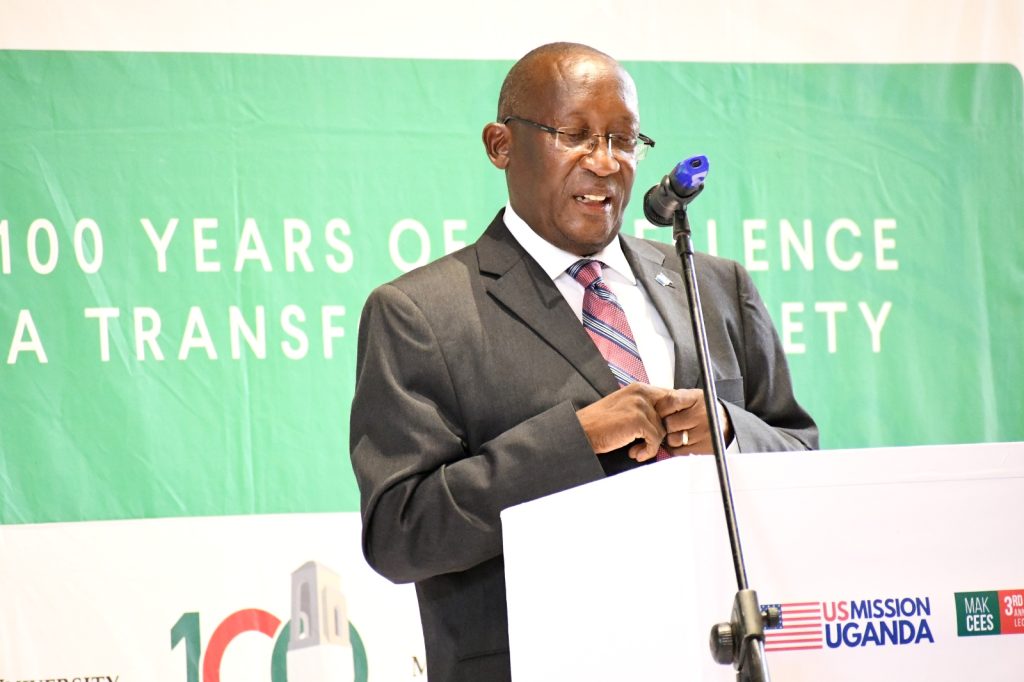 On behalf of the Senteza Kajubi family, his son Wasswa Kajubi expressed their deepest gratitude and honor to Makerere University and CEES administration for always remembering their loved one even when he passed on long time ago.
The Chairperson Makerere University Council Mrs.Lorna Magara highlighted how the Late Prof. Kajubi's life symbolized hard work, persistence and courage to pursue excellence and greatness. She added that Prof. Kajubi's passion for education at Makerere and the University of Chicago resulted into a lot of phenomenal education reforms that saw admission of private sponsored students to Makerere.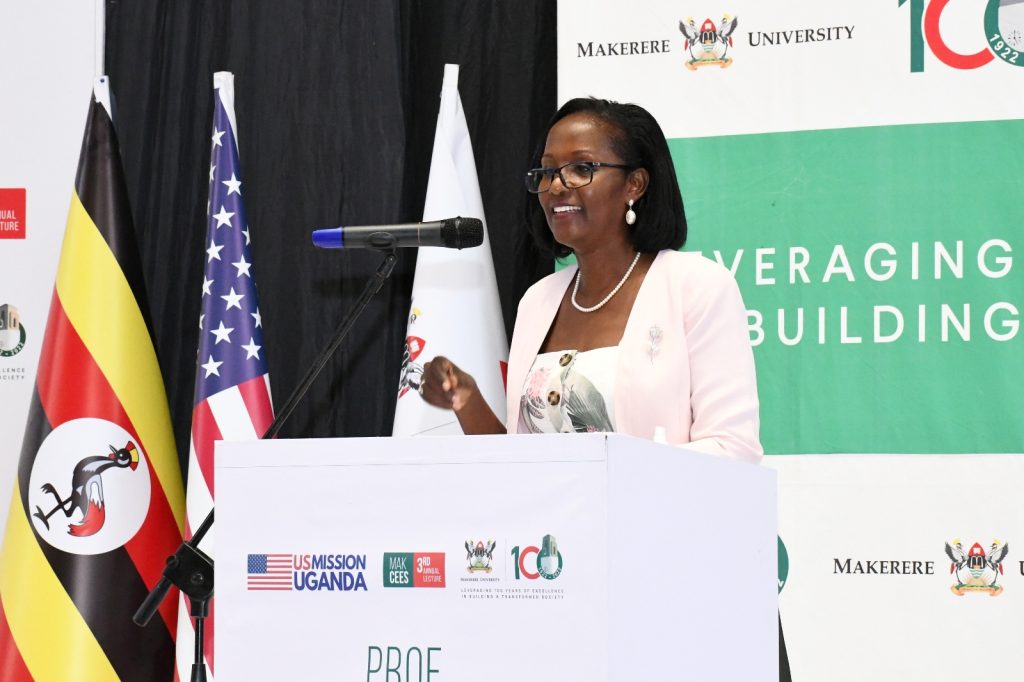 "Prof. Sentenza Kajubi's life symbolized hard work, passion for the profession,
creativity, innovation, and courage to pursue and carry out a vision". This hard work ethic, Mrs. Magara informed the gathering, was reinforced daily by a family motto in the Kajubi sitting room, "OMULIMU LYE LINNYA LY'OMUNTU," which may be translated as ONE'S WORK IS ONE'S NAME.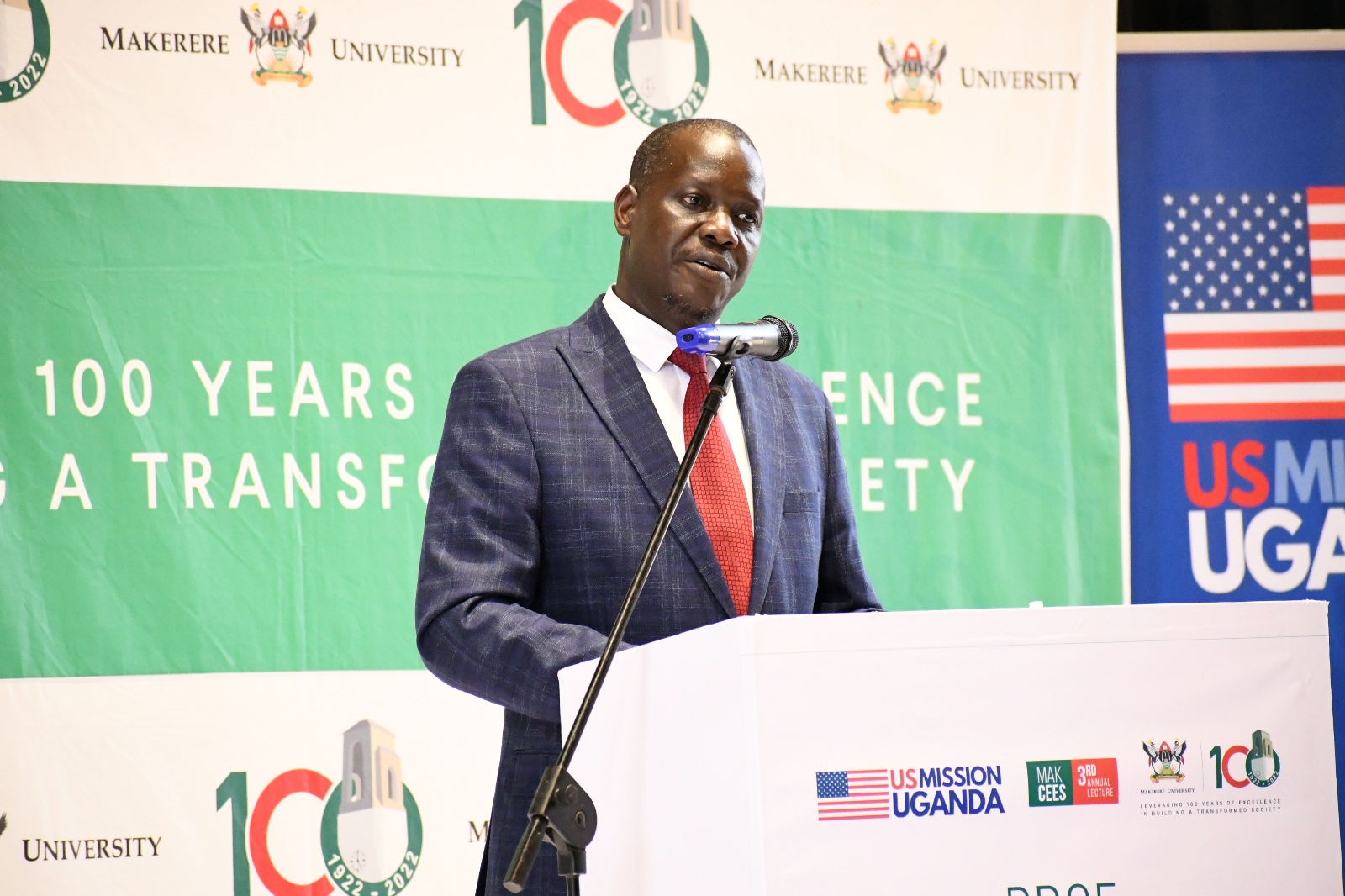 The late Prof. Kajubi's passion and pursuit for knowledge can be traced through his education journey, from Mengo Junior Secondary school to Kings College Budo, to Makerere University, and on to the University of Chicago on a Fulbright Scholarship graduating with an MSC. with a concentration in Geography. Upon return, he embraced the privilege and honor of serving as a teacher, and Administrator. His dedicated service saw him rise through the ranks to serve as Director, National Institute of Education (1964- 1977) and twice as Vice Chancellor, Makerere University (1977-1979; 1990-1993).
Her Excellency Natalie Brown the United States Ambassador to Uganda said," Professor Kajubi is a shining star among Fulbright alumni, in Uganda and beyond. He traveled to the U.S. in 1952 as a Fulbright student to pursue a master's degree at the University of Chicago. He returned to make great contributions to the education sector in Uganda and the region. His two-time tenure appointments at the helm of this university demonstrate his outstanding leadership ability". Professor Kajubi did not limit himself to education alone, he went on to serve as a delegate to Uganda's Constituent Assembly which created the new constitution in 1995, among other things. His legacy of service to his country remains an inspiration to generations of faculty and students alike".
Ms. Brown said the US Mission in Uganda are proud to manage the Fulbright program in Uganda where 12 Ugandan Fulbright grantees were sent this year to academic programs for Masters, PhD and research in the United States, and in exchange Uganda welcomed nine U.S. Fulbrighters to conduct research.
Makerere University and the people of America have had great partnerships that have seen America's public Health enthusiasts and other specialists come to Uganda to conduct research. They include the National Institutes of Health (NIH), the U.S. Centers for Disease Control and Prevention (CDC), President's Emergency Plan for AIDS Relief (PEPFAR), and so many others.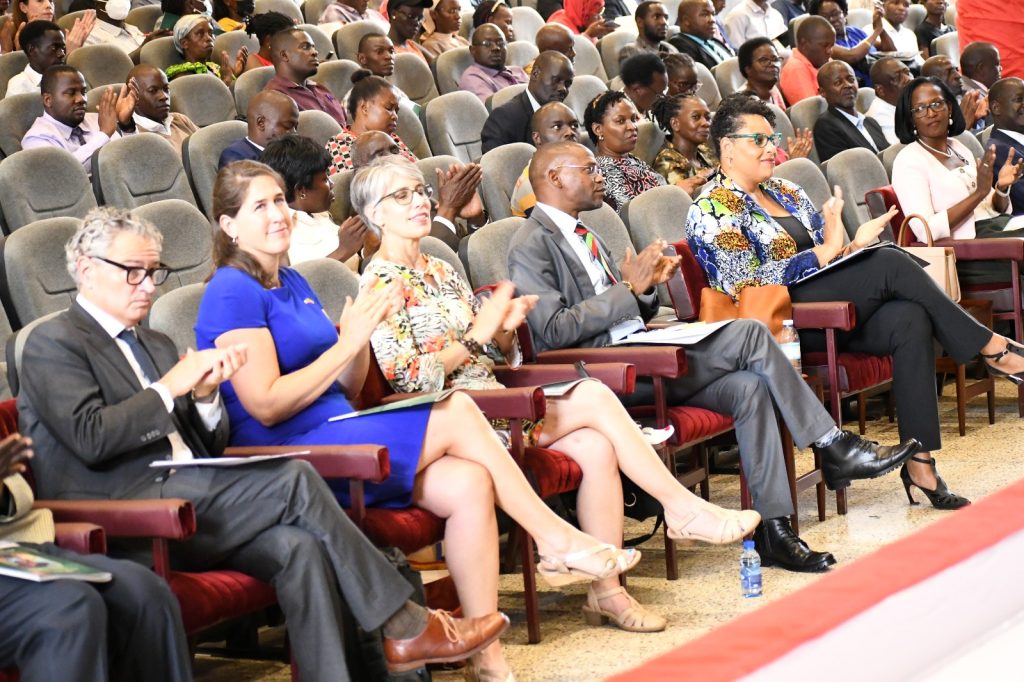 The keynote speaker of the day and the Vice President and Associate Provost for Internationalization at the University of Notre Dame, Dr. Michael Pippenger challenged African Universities to ensure solidarity, commitment and transparency if they actually want to internationalize since it not only helps them realize weaknesses, strengths and potential areas of collaboration but also builds transformative and global minded students.
"It is not the MOUs and agreements we sign that show internationalization, but rather the work we do while together on ending pandemics, fostering rule of law and other community impactful engagements. Surprisingly Prof Kajubi knew all this". Concluded Dr. Pippenger who urged universities to stick to their visions and missions which should reflect on the communities they serve.
Prof. William Senteza Kajubi served as the Vice Chancellor of Makerere University at two different intervals 1977 – 1979 and 1990 – 1993. He was also a member of the constitutional Assembly that drafted Uganda's constitution of 1995. He devoted his life to Academics and impacting communities until his death on May 1st, 2012.
Background
Prof. Senteza Kajubi was born in 1926, in Singo county (modern day Mityana District), to Yoweri Bugonzi Kajubi and Bulanina Namukomya. His family later moved closer to the capital and settled in Busega, a suburb in the outskirts of Kampala, where he began his long journey with, or rather in, education at the Mackay Memorial Primary School in 1933. He then attended Mengo Junior School from 1941 to 1943 before transferring to King's College Budo for his Advanced Level, finally making it to Makerere College in 1947 where he pursued a Bachelor of Arts with a Diploma in Education.
Shortly after he graduated, Prof. Kajubi taught at Kako Junior Secondary School before going to the University of Chicago for a Master of Science in Geography. Later, in 1955, he went back to his alma mater, King's College Budo, and taught Geography. It was during this period that he taught other notable personalities in Uganda's history such as Mathew Rukikaire and Prof. Apolo Nsibambi in a predominantly white environment. The only other native teachers at Budo, then, were the Deputy Headteacher, Mr. Sempebwa and Erisa Kironde, an English language teacher.
As one of the few Protestant members of a predominantly Catholic Democratic party (DP), Senteza Kajubi was a member of the National Symbols Committee which was tasked with selecting the national anthem, flag and coat of arms.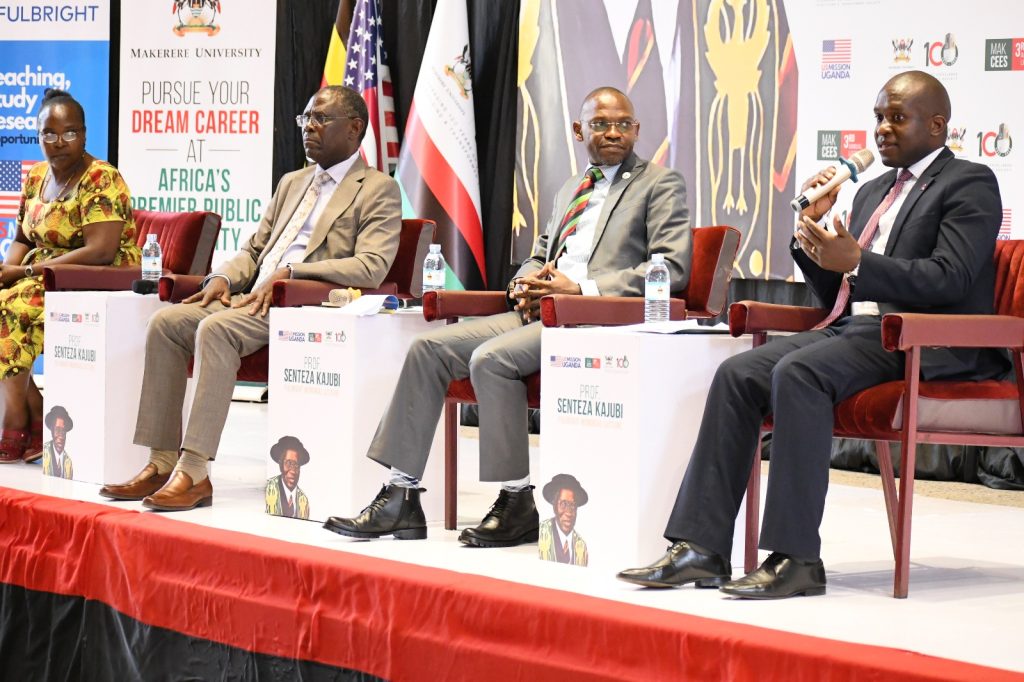 His political acumen propelled him to chair a number of government boards over the years until he directly participated in electoral politics in 1994 as a delegate of the Constituent Assembly representing Kyadondo North.
Two years after Uganda got independence, now a lecturer at Makerere University, Prof. Senteza was appointed the Director of National Institute of Education. He served there until 1977 when he became Vice Chancellor for the first time.
Education Policy Formation in Uganda
As the Secretary General of the Uganda Teachers' Association from 1959 to 1962, Prof. Senteza Kajubi was a member of the famed Castle Commission on Uganda's post-independence education policy framework.
Instituted and appointed in January 1963, the Castle Commission had been tasked with examining the content and structure of education in Uganda in light of the approved recommendations of the International Bank Survey Mission Report, Uganda's financial position and its future manpower requirement.
In the execution of its mandate, the commission dealt with a dilemma; if the formulated policy disproportionately focused on universal primary education and adult literacy while neglecting secondary, tertiary and higher education, it would fail to produce high level manpower which was required to staff government and teach in schools. However, on the other hand, the country did not have the resources to make improvements across the board and had to prioritise one option to the detriment of the other.
Since Makerere was still under the University of East Africa and higher education was still an inter-territorial responsibility, the commission instead focused on prioritising teacher-training, expanding secondary school enrolment and improving relevance, quality and access of primary education in remote areas.
In 1977, during his first tenure as the Vice Chancellor of Makerere University, Prof. Kajubi went on to chair the Education Policy Review Commission (EPRC) which was appointed by Idi Amin's Minister of Education, Brig. Barnabas Kili.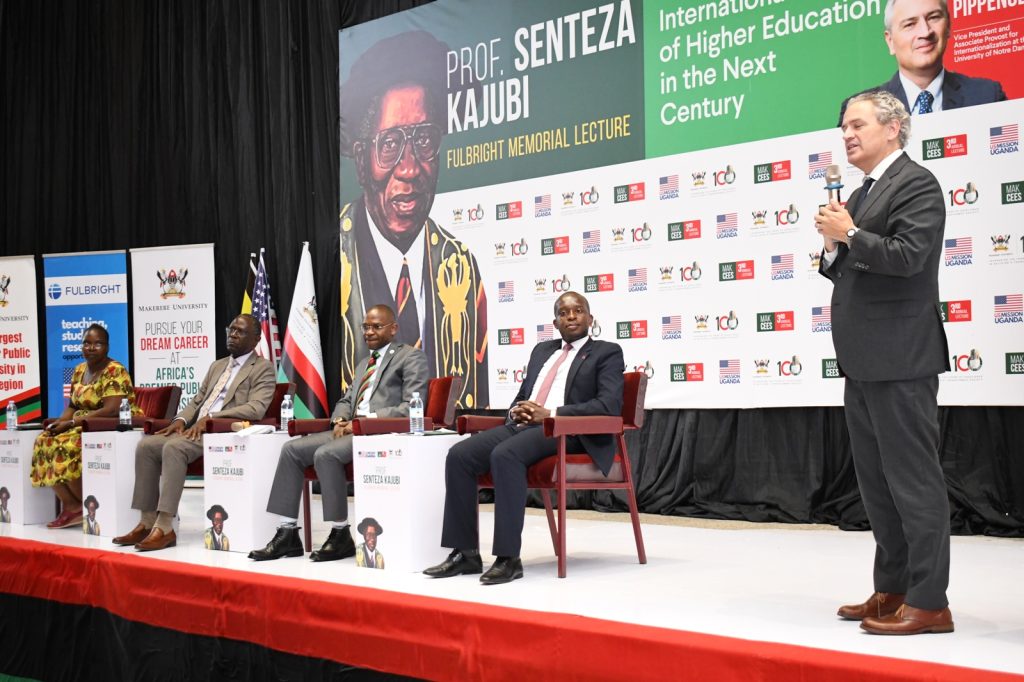 Owing to the political climate at the time, the education system was facing even dire problems. The gross human rights violations had led to a mass exodus of highly qualified professionals from civil service, teachers and university faculty into exile. Imploding diplomatic relations rendered external assistance with regard to education inexistent and the government had to deal with shortages from personnel to instructional material.
Prof. Senteza Kajubi was then tasked with the responsibility of leading an effort to circumvent some of these challenges and therefore keeping the education system in Uganda alive. Unfortunately, the findings and recommendations of the report, from its members and constituent sub-committees were overtaken by events in 1979 when war broke out and the Idi Amin regime was overthrown. The report was shelved and never formally presented to cabinet.
In 1987, after the ascendancy of the NRM government into power, another commission, once again headed by Prof. Senteza Kajubi, was appointed. Still under similarly unique circumstances, this commission too had to work within the socio-economic confines of a post-war society riddled with scarcity of resources. Eighteen months later, the commission's report was produced in January 1989.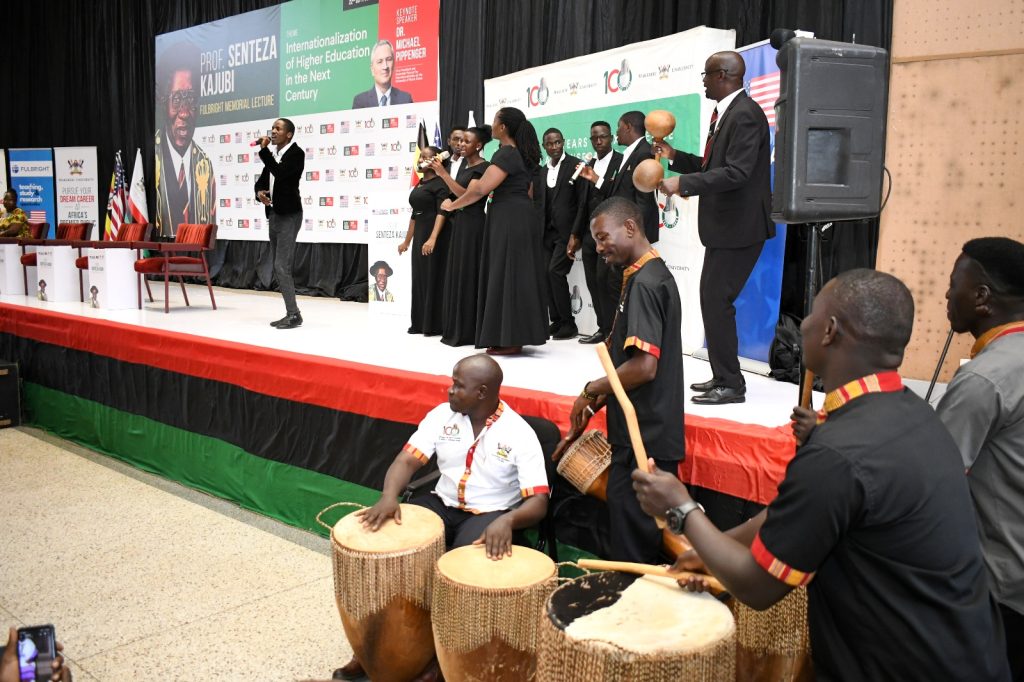 The most notable outcome of this committee report was a government white paper which brought to life the famous Universal Primary Education. This recommendation alone, for all its limitations, has contributed significantly to literacy levels in Uganda and to the education system as a whole.
After chairing the second Kajubi commission, he then became the Vice Chancellor of Makerere University for the second time, from 1990 to 1993, preceded by Prof. George Kirya and succeeded by Prof. John Ssebuwufu.
The Fulbright Program
In 1952, Prof. Senteza went on to the University of Chicago, on a Fulbright Scholarship, to pursue a Master of Science in Geography, making him the first African beneficiary of this scholarship program.
The student exchange scholarship program, which was started shortly after the Second World War by an act of Congress, was named after the American Senator J. William Fulbright, its framer. He made the case that "educational exchange could turn nations into people, contributing as no other form of communication can to the humanising of international relations."
Through his notable achievements and illustrious career, it is clear that this initiative to bridge cultural gaps through an international education exchange program had Prof. Senteza as one its successes.
CEES to host Prof. Senteza Kajubi Memorial Lecture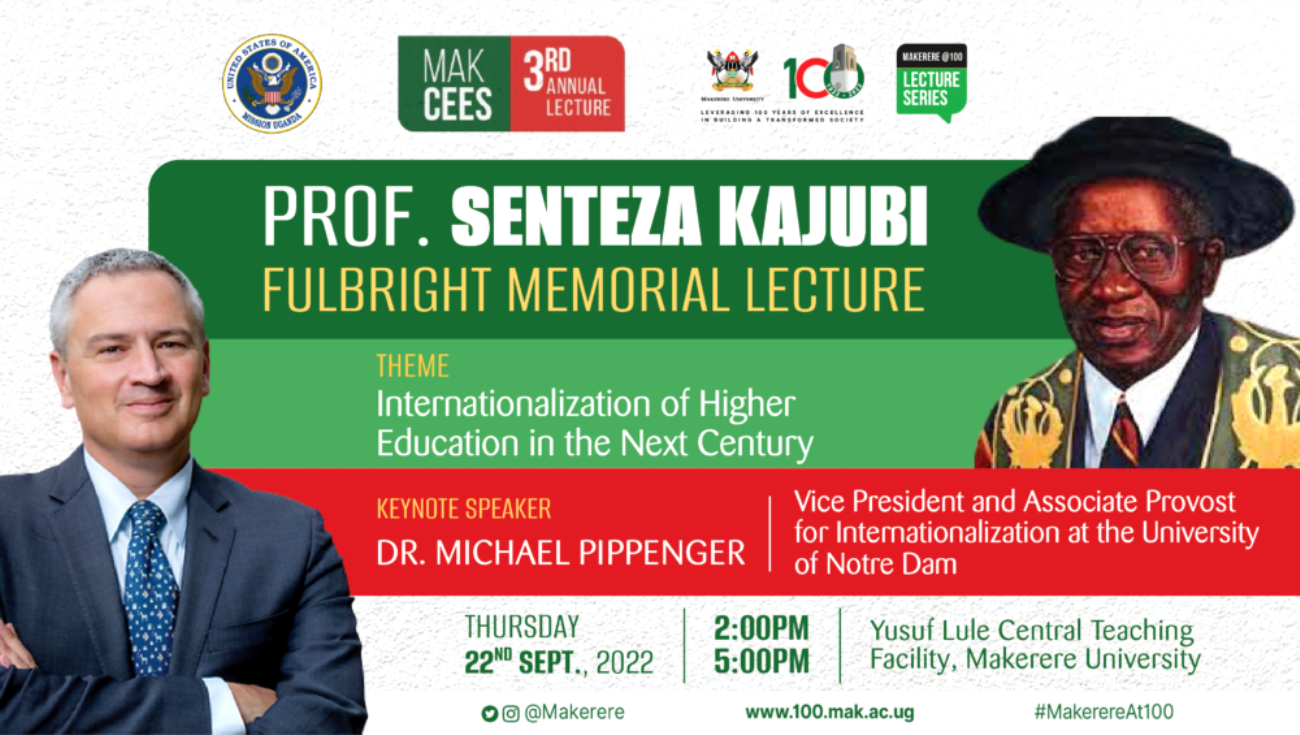 The College of Education and External Studies (CEES) is set to honour Prof. William Senteza Kajubi with a public lecture as part of the Makerere@100 celebrations.
The public lecture is scheduled for Thursday September 22, 2022 at 2pm in the Yusuf Lule Auditorium (Former CTF2).
The keynote address will be delivered by Dr. Michael Pippenger, the Vice President and Associate Provost for Internationalization at the University of Notre Dame, under the theme "Internationalization of Higher Education in the next Century".
The panel discussants are drawn from various places and come with a wealth of experience. These include; Dr. James Nkata, the Director General of Uganda Management Institute, Associate Professor Umar Kakumba, the Deputy Vice Chancellor in charge of Academic Affairs and Dr. Cosmas Mwikirize, the Superintendent-Industrial Value Chains Development at the Science, Technology and Innovation Secretariat, Office of the President.
The discussion will be moderated by Dr. Nambi Rebecca, a Lecturer in the Department of Humanities and Language Education at CEES.
About William Senteza Kajubi
Prof. William Senteza Kajubi, a Ugandan, was remarkably an accomplished academician, educationalist, administrator, consultant as well as a community leader.
Upon completing his Bachelor of Arts with Diploma in Education, at Makerere University, in 1950, Kajubi enrolled for a post-graduate course, Master of Science in Geography, at the University of Chicago, and graduated in 1955.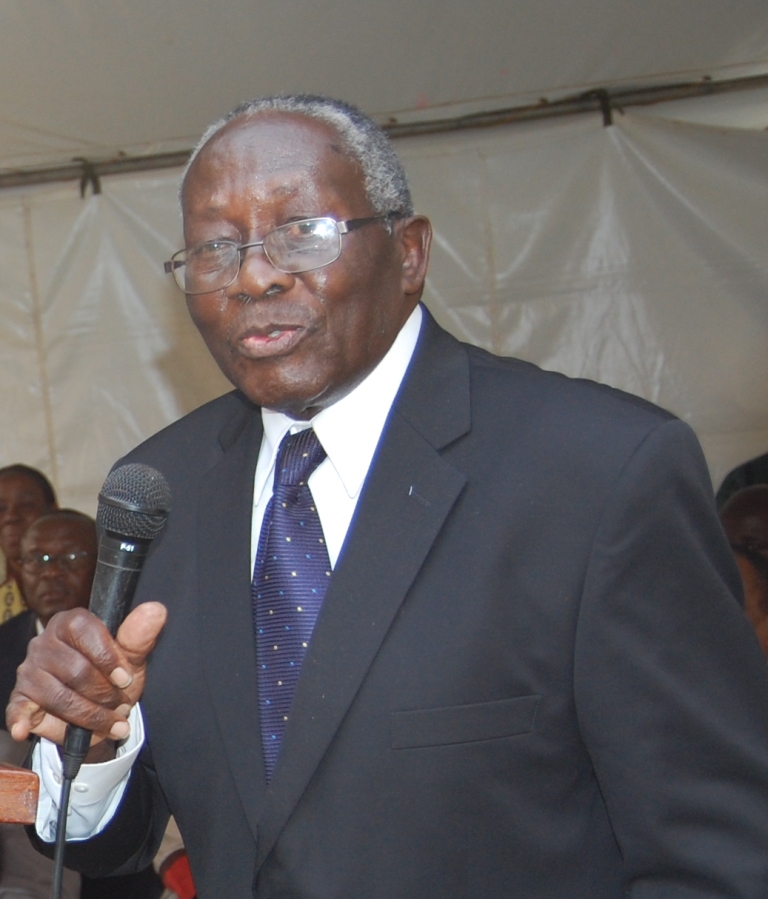 Kajubi was the first African to be awarded a Fulbright scholarship to study in the United States of America in 1952. From the 1950s, Kajubi worked for different institutions in various capacities, including, as a secondary teacher; University Lecturer; Principal of Kyambogo Institute of Higher Education; Director of National Institute of Education at Makerere University; twice, as Makerere University Vice Chancellor; and Vice Chancellor of Nkumba, a private University in Uganda.
In 2010, Mbarara University of Science and Technology awarded Kajubi an Honorary Doctoral degree of Science. In other responsibilities, Kajubi was the first chairman of the Association for Teacher Education in Africa.
In addition, he served as the Vice-President of the International Council of Education for Teachers.
Lastly, he is also remembered for being a consultant for the Namibian National Education System upon Namibia's independence in 1990.
The Keynote Speaker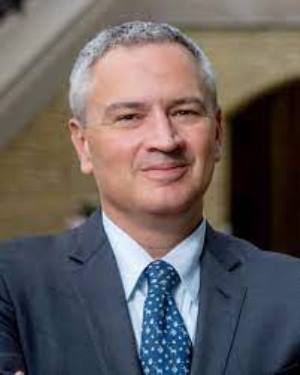 Dr. Michael Pippenger was appointed vice president and associate provost for internationalization at Notre Dame in 2016. His major responsibilities include advising University leadership on global strategies and overseeing Notre Dame International, which leads efforts to broaden Notre Dame's international culture, programs, reach, and reputation through study abroad, expanded international research, international collaborative projects, and strategic relationships with global partners.
Pippenger also leads the academic and operational work of Notre Dame's Global Gateways and Centers. Additionally, he chairs the University Committee on Internationalization.
Before coming to Notre Dame, Pippenger was dean of undergraduate global programs at
Columbia University and director of scholarship programs in the College of Arts and Sciences
at New York University. A graduate of Carleton College, Pippenger holds an M.A. and a Ph.D.
in English literature from Indiana University.
THE PANELISTS
Associate Professor Umar Kakumba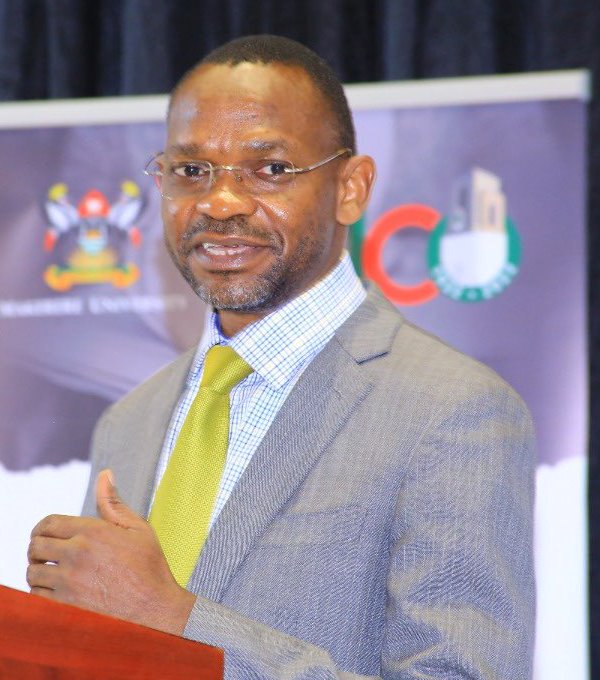 Associate Professor Kakumba is the Deputy Vice-Chancellor in charge of academic affairs at Makerere University. He is also the former Dean of the School of Business and Management Sciences, College of Business and Management Sciences (CoBAMS). He has served as a Member of the University's Senate and initiated programmes such the Pan-African Capacity Building Programme and the Cambridge-Africa Partnership for Research Excellence (CAPREx) project.
Prof. Kakumba holds a PhD in Public Affairs from the University of Pretoria, a Master of Public Administration & Management and a Diploma in Business Administration from Makerere University, and a Bachelor of Arts in Social Sciences also from Makerere University).
Dr. Cosmas Mwikirize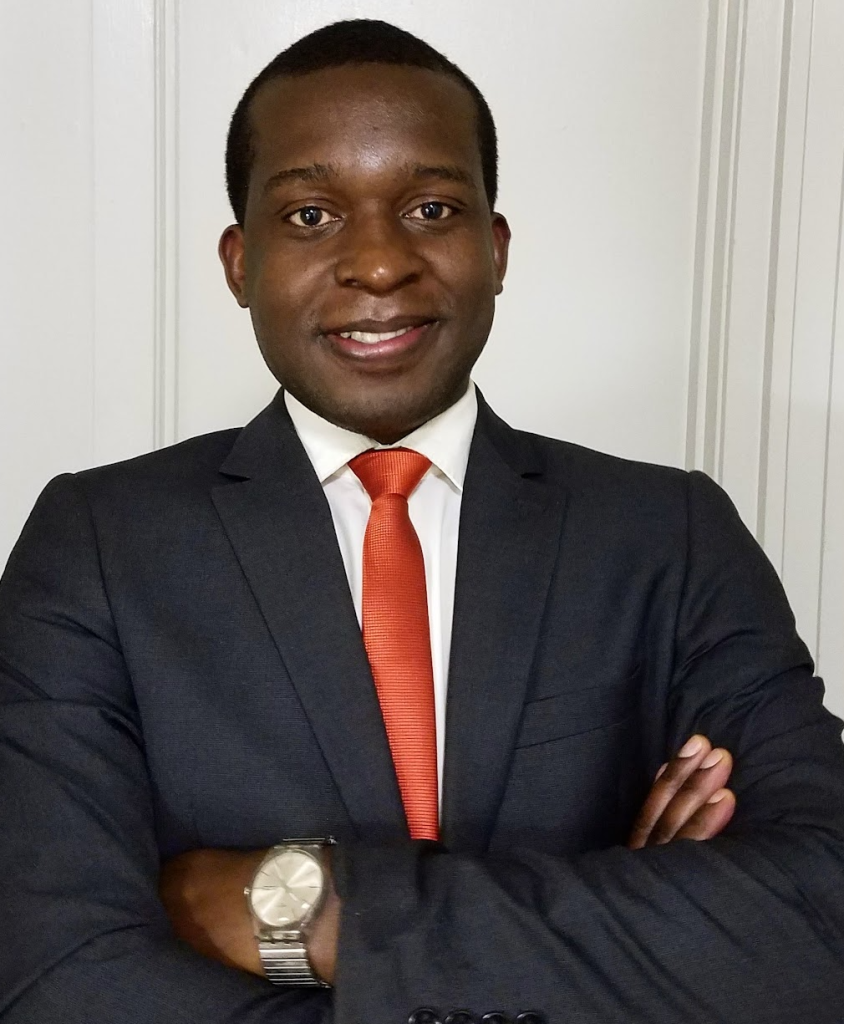 Dr. Cosmas Mwikirize was appointed the Superintendent-Industrial Value Chains Development at the Science, Technology and Innovation Secretariat, Office of the President in 2022. In this role, he is responsible for coordinating the implementation of strategic research, technology development and innovation to facilitate development of Uganda's priority industrial value chains (Pathogen Economy, Mobility, Industry 4.0+, Aeronautics and Space, Infrastructure Innovations, Productivity Acceleration, Import Substitution and Export Promotion).
He is on secondment from Makerere University where he is a Lecturer in the Department of Electrical and Computer Engineering.
He obtained a PhD in Biomedical Engineering from Rutgers University-USA (2014-2019) with support from the Fulbright Junior Staff Development Programme. He also holds Master's degrees in Biomedical Engineering and Electrical Engineering from Rutgers and Makerere University & Massachusetts Institute of Technology, and a Bachelor's degree in Electrical Engineering from Makerere University. He has also previously undertaken industrial residency at Philips Research North America in the Ultrasound Imaging and Interventions group.
His research body of work focuses on biomedical instrumentation, applications of machine learning in medical image computing and computer-assisted interventions, and Internet of Things (IoT) device development. He has over 20 peer reviewed articles, 5 USPTO & WIPO patent publications, and numerous international awards.
Dr. James Nkata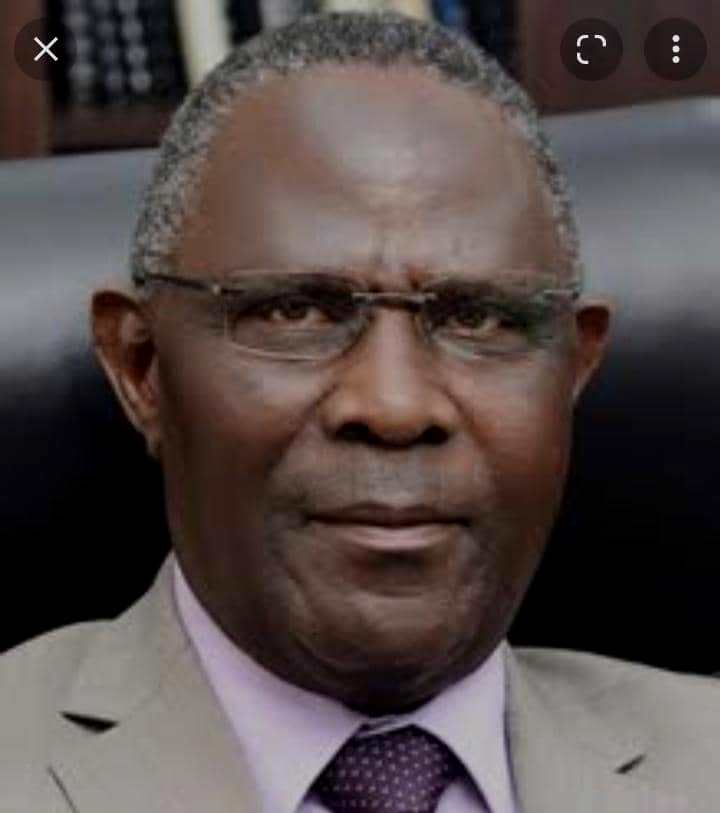 Dr. Nkata is a specialist and Scholar in Higher Education management, Administration and Planning. He is also a specialist in management and administration sciences in public sector. He is the Director General of Uganda Management Institute. Prior to that he was a Senior Lecturer of Management and Administrative Studies in Makerere University and also Director of the East African Institute of Higher Education Studies and Research. He has taught management and administration studies in various Universities for the last 35 years of which 22 years have been in the management and administration of public education at different levels. Dr. Nkata is a holder of PhD in Higher Education Management, Administration and Planning, MSc. and Postgraduate Diploma in Management and Administrative Sciences. He holds several other postgraduate qualifications in administrative law and public sector administration and practice.
He has 20 years exposure and experience in both international and national consultancy work in the fields of his specialty. He has been specifically engaged in policy formulation, planning, designing, running, conduction, and evaluating public policies and management programs at both strategic and operational levels. He has traveled and had an exposure to policies and administration practices in more than 37 countries of the world. He has been involved in national and international financial support negotiations with local and international agencies. He has won a number of research grants through his innovative experiences. He has served as an External Examiner of management and public administration in several Universities. He is credited for successfully supervising 17 PhD candidates in the area of management and public administration. He has extensively published books and Journal Articles in the area of management and administration of organizations. He is also the Chancellor YMCA Comprehensive Institute and Chairman of YMCA National Executive Committee.
He served as the Vice President of International Association of Schools and Institutes of Administration (IASIA), in charge of Africa region from 2016 to 2022. He is also serving on several editorial boards of a number of International Journals.
THE MODERATOR: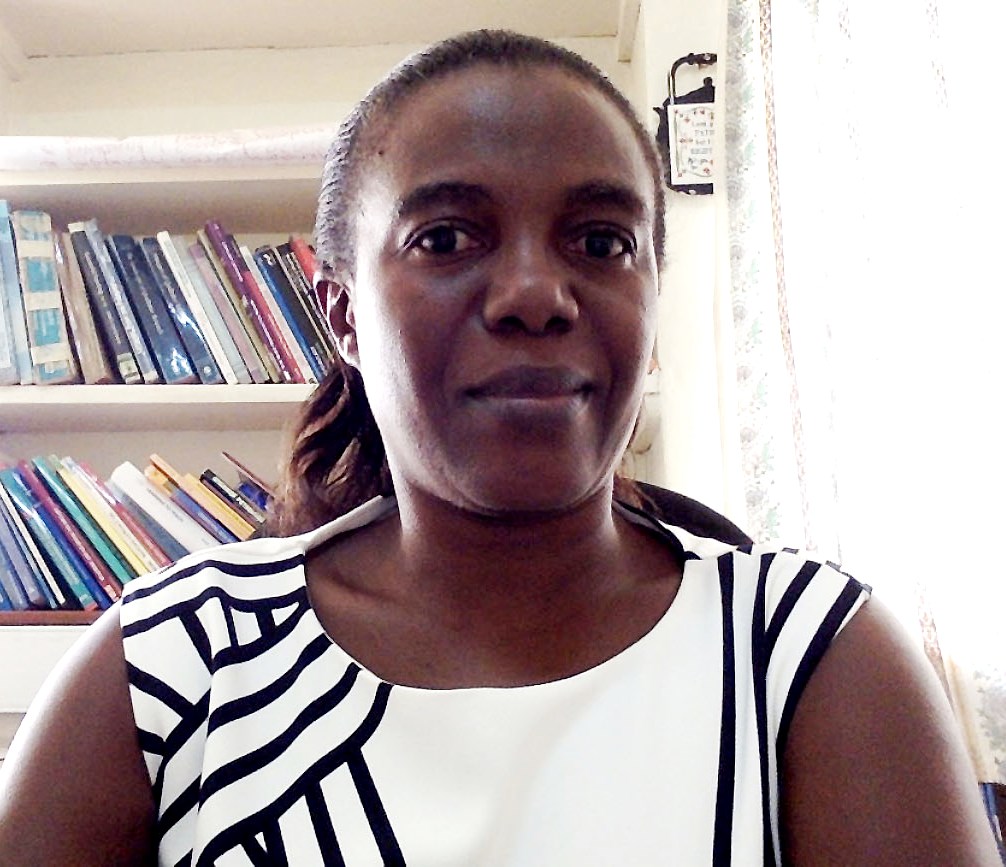 Dr. Rebecca Nambi received her PhD from the University of Cambridge, UK (2013-2015) with
support from the Commonwealth Scholarship Commission. She is currently a Senior Lecturer in the Department of Humanities and Language Education at the Makerere University's School of Education.
She teaches and supervises Masters and PhD students and tutors on English language, Literature in English and Distance Education Programs. Dr. Nambi is the Coordinator of the PhD program in her faculty and also participates on a number of committees including the Anti-sexual Harassment committee and the Uganda Association of University Women.
Dr. Nambi's areas of research and publication include the following themes: adolescents' literacy, educational research, entrepreneurship skills for the youth, digital literacy in higher education and refugee students in higher education among others.
Update: Please click the link below to view the article from the Prof. Senteza Kajubi Fulbright Memorial Lecture
Gone but still lives on: Makerere University celebrates Prof. Kajubi's legacy
Centre for Lifelong Learning to teach Certificate Course in Fashion & Garment Design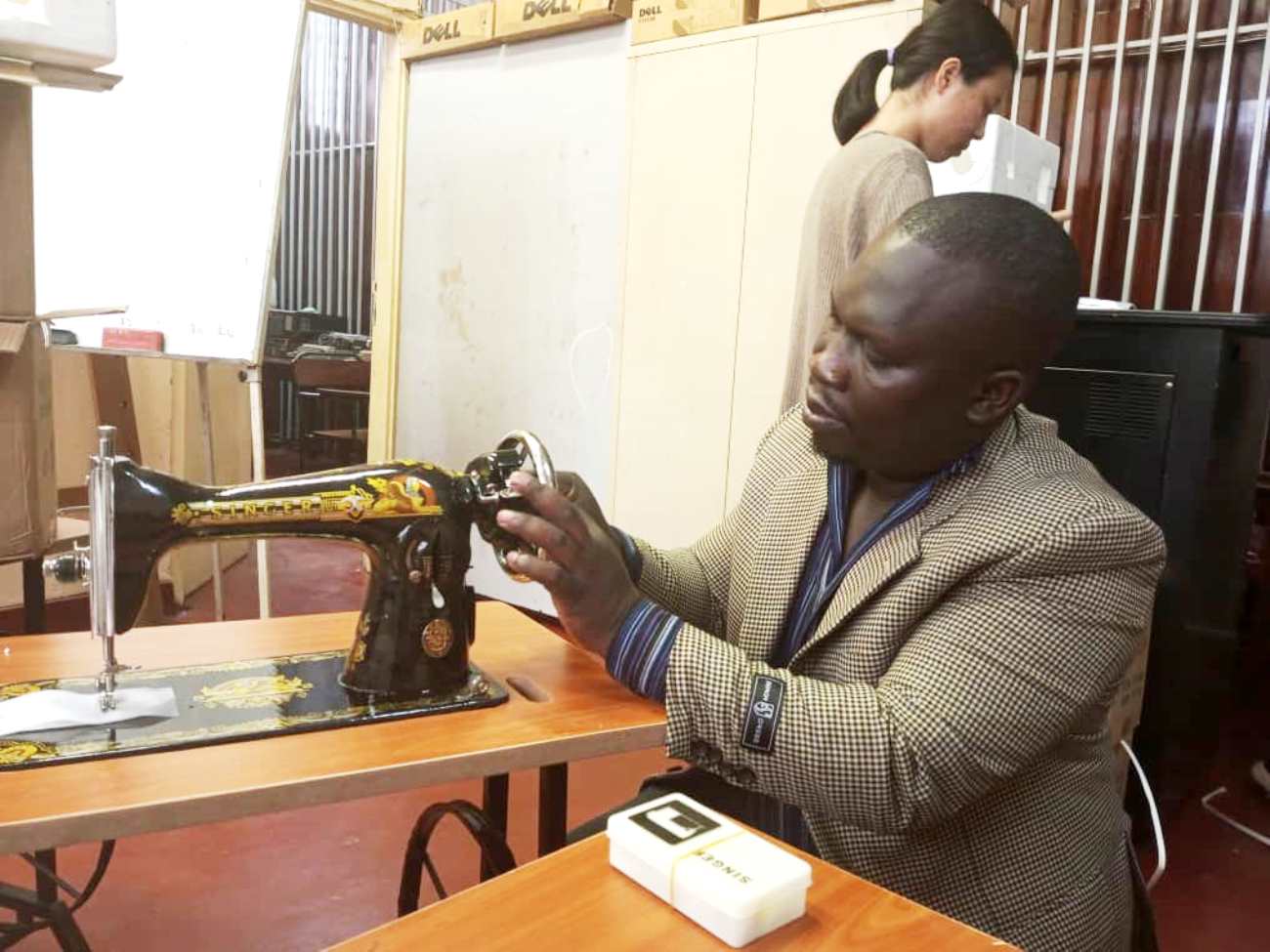 Centre for Lifelong Learning, College of Education and External Studies with support from Love Binti International is set to start teaching a two-year National Certificate in Fashion and Garment Design that shall be examined under UBTEB. The Centre has received a consignment of Sawing machines and other apparatuses that shall be used for teaching the course. CLL has established a training Centre in the School of Distance and Lifelong Learning starting in September 2022.
This effort is a response to governments' 10-year strategic plan known that emphasizes 'Skilling Uganda'.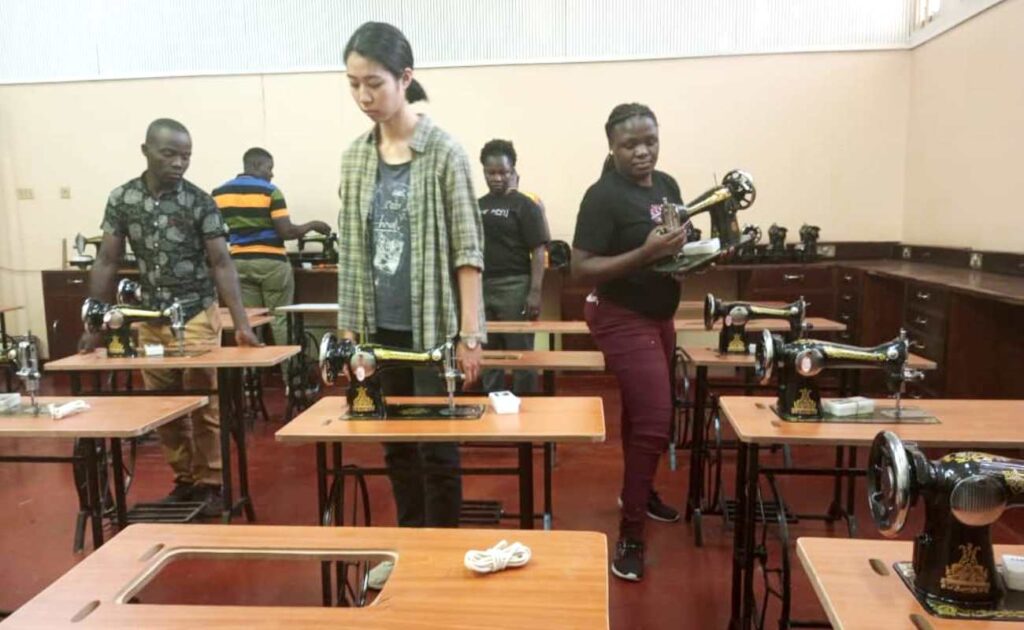 Many youths in Uganda lack the skills that employers are looking for due to a disconnect between degrees obtained and the practical skills jobs demand. In a bid to address this challenge, the Centre for Lifelong Learning, Makerere University is Partnering with UBTEB to support the government's effort to skill the youths. Currently, the Centre for Lifelong Learning is offering Technical Training in Mechanical Engineering, Civil Engineering, and Electrical Engineering. The Centre has, however, observed an increased demand and potential for vocational training in Fashion and Garment Design at both certificate and diploma levels. To tap into this demand and potential, the Centre for Lifelong Learning has entered into an agreement with Love Binti International Ltd, to introduce a Certificate Course in Fashion and Garment Design that shall be examined by UBTEB. Love Binti International already has a running MOU with the College of Education and External Studies to offer skills training.
Fashion and Garment Design is the art of applying design, aesthetics and natural beauty to clothing and its accessories. Fashion and Garment Designers work in a number of ways in designing clothing and accessories such as bracelets and necklaces. Fashion and Garment Designers attempt to design clothes which are functional as well as aesthetically pleasing. The Centre for Lifelong Learning wishes to request the support of the entire University community to inform their loved ones of this new course that will start running to enroll and be part of the skilling program.