Education Minister Expresses Readiness to use Scientific Findings to Revive Sector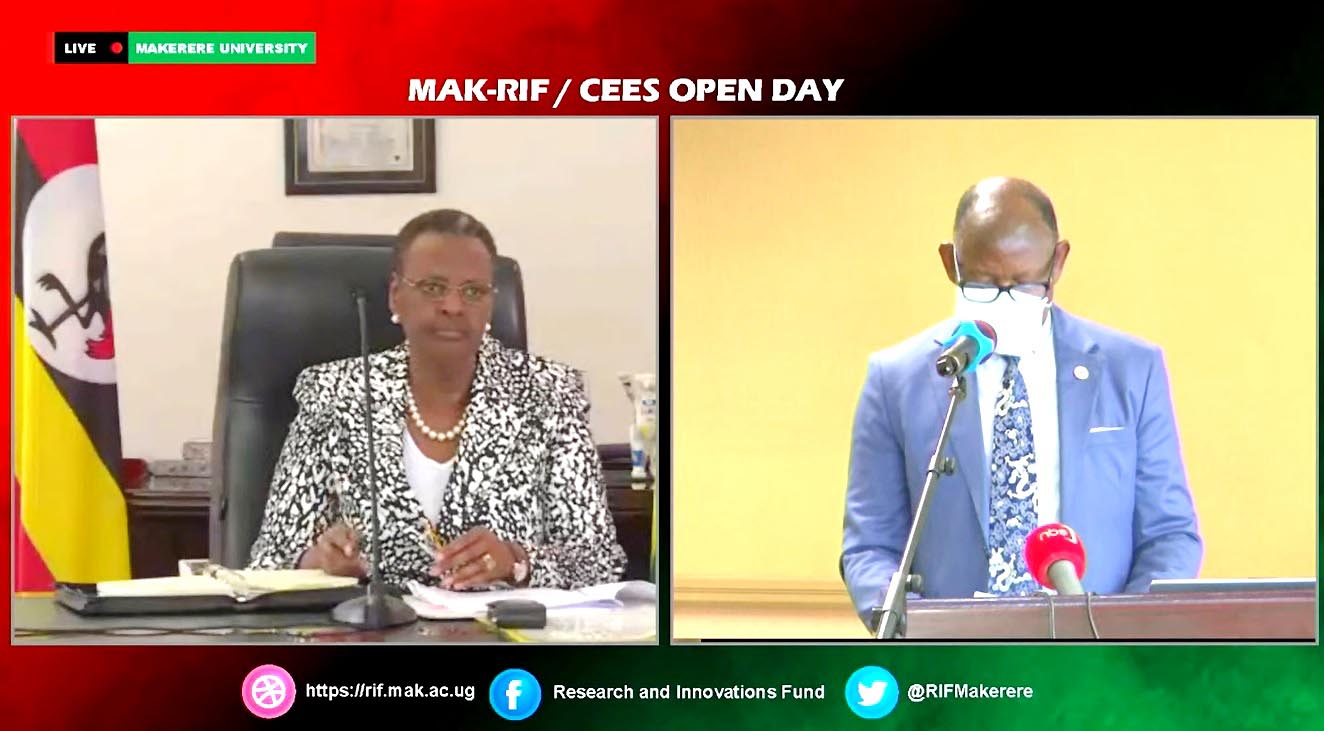 The First Lady and Minister of Education and Sports, Hon. Janet Kataaha Museveni while presiding over the Makerere University Research and Innovations Fund (Mak-RIF) College of Education and External Studies (CEES) Open Day has expressed Government's and her Ministry's preparedness to learn from the scientific evidence generated by research and innovations to guide the sector's recovery from the effects of COVID-19.
The Open Day held physically in the Central Teaching Facility 1 (CTF1) and streamed online to a virtual audience on 7th October 2021 was based on the theme "Education Research for Sustainable Development". It was graced by the Chairperson of Council Mrs. Lorna Magara, Vice Chancellor Prof. Barnabas Nawangwe, Chairperson Mak-RIF Grants Management Committee (GMC) Prof. William Bazeyo, University Secretary Mr. Yusuf Kiranda, Principal CEES Prof. Fred Masagazi Masaazi, Deputy Principal CEES Assoc. Prof. Paul Birevu Muyinda, Staff as well as Students.
"The Government is committed to supporting research and innovations in Universities, as you really now know, to provide high quality data to inform policy decisions. I want to encourage you to prioritise projects that are crucial to social and economic transformation" remarked the Honourable Minister.
She particularly took note of the "Inter-disciplinary Enhancement of Science Education in the Uganda Primary Thematic Curriculum" project as timely. The project among other objectives sought to appraise the importance of folklore in the teaching and learning of science in lower primary education.
"I think it is time that we find a way to bring out those issues in science that make sense to each child at a primary level in their mother tongue. That is when science will make sense to us and we will become transformational" urged the First Lady.
She lauded the researchers and University for the individual and institutional efforts to support the Education sector's development and review of curricula at various levels, development of a National Teacher Policy as well as the Early Childhood Development Framework. She equally acknowledged Makerere's support to the establishment of the Uganda National Institute of Teacher Education as well as to the ongoing development of the Digital Agenda of the Education and Sports sector.
"The Ministry appreciates all these contributions and I call upon you to continue supporting the Ministry in all possible ways – you must understand that a strong Ministry of Education is a strong sector of National Education throughout the country" she said.
The Minister commended the Mak-RIF GMC for identifying projects with the capacity to influence national development, noting that "the showcase projects are testimony that the funds are being properly utilised and it is my prayer that universities continue to do more and indeed live the purpose for which they exist as knowledge hubs for development."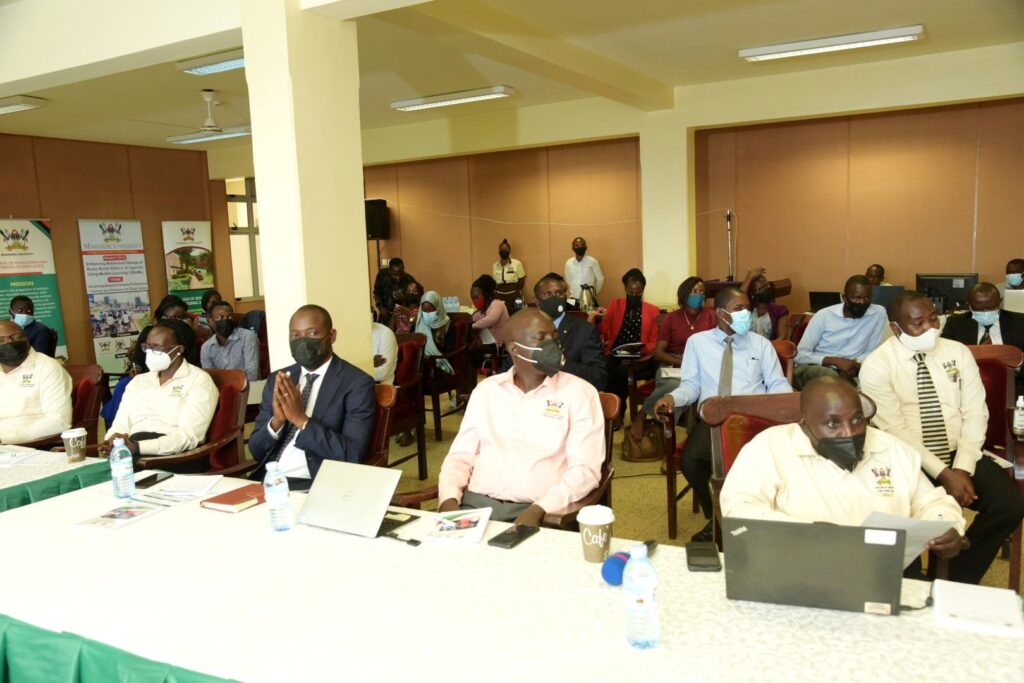 She applauded the University Council and Management for the efforts to support continuity of learning for students, and urged all in attendance to join hands and mobilize staff and students to get vaccinated in preparation for the reopening of tertiary institutions on 1st November using a staggered approach.
The seven presentations by CEES at the dissemination included;
Investing in Data and Research to Inform Education Policy by Prof. Anthony M. Mugagga,
Resilient Communities for Quality Primary Education in Uganda (ReCoPE) by Mr. Philemon Mukisa & Mrs. Alice Nankya Ndidde,
Enhancing Continued Learning to Rural Contexts during the COVID-19 Lockdown: Case of Kyotera District Rural Contexts by Dr. Tom D. Balojja,
Mapping Makerere University's Capacity to Mainstream e-Learning in University Education by Dr. Michael Walimbwa,
Pedagogical Leadership for Academic Staff in Higher Education Institutions to Enhance Graduate Work Readiness and Transition to work (PLASHE-WILL) by Dr. Ronald Bisaso,
Using Blended Learning to Fast Track Capacity Development for Teachers Implementing the Lower Secondary School Curriculum (BL4CD) by Dr. Paul Birevu Muyinda and
Inter-disciplinary Enhancement of Science Education in the Uganda Primary Thematic Curriculum by Dr. Henry Busulwa.
The Chairperson of Council Mrs. Lorna Magara in her remarks welcomed the First Lady to CEES her college where she is a treasured alumna, and thanked her for the charismatic leadership of Uganda's Education sector during the COVID-19 pandemic.
She noted that the Open Day had been made possible with generous support from Government to Research and Innovations at Makerere University to the tune of UGX 30 Billion annually and on behalf of the University leadership sincerely appreciated the gesture.
"The College of Education and External Studies has been a centre of excellence in pedagogy since the founding of the School of Education. Presently we have challenged the college to deliver research and innovations that prepare responsive professionals for the emerging realities in teaching and learning including globalization and technology and the COVID-19 situation and I can say that they have responded well" remarked Mrs. Magara.
The Chairperson of Council added that Makerere has relied on CEES for leadership through the Institute of Open, Distance and e-Learning (IODeL) to deliver the blended learning model, which enabled teaching and student assessment to continue during the COVID-19 lockdown.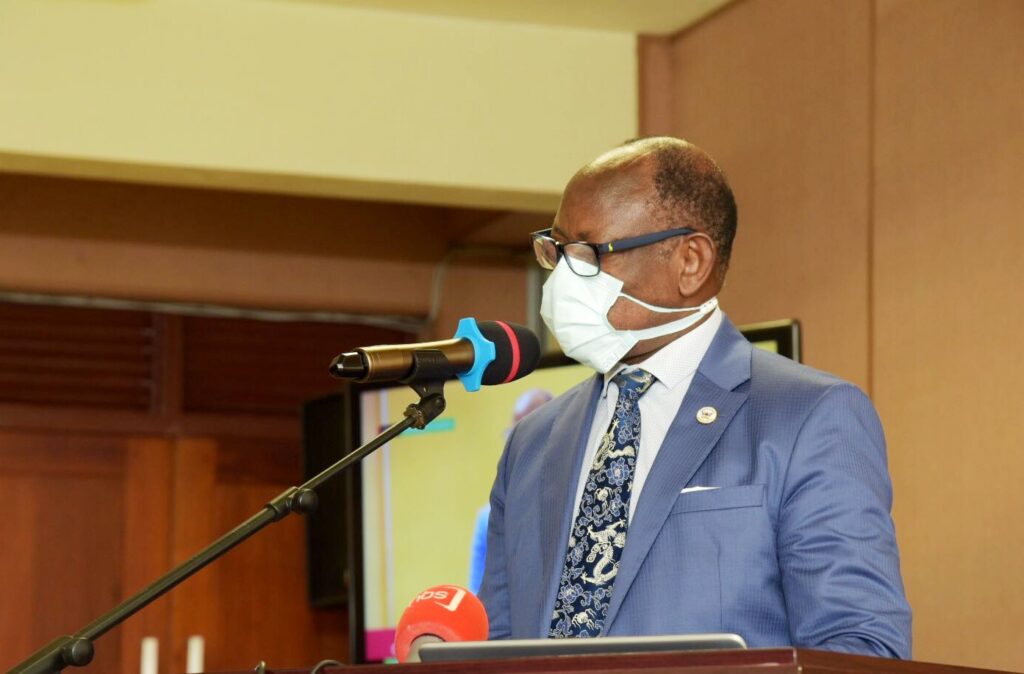 The Vice Chancellor Prof. Barnabas Nawangwe in his remarks prior to the Chairperson's welcomed the First Lady and Honourable Minister "home" and sincerely thanked her for the support in obtaining Cabinet approval for funds to reconstruct the University's iconic Main Building.
He noted that Makerere was already taking giant steps one year into implementing her ten year strategic plan aimed at making her a research-led University, thanks to the generous support from the Government of Uganda through Mak-RIF and the Presidential Scientific Initiative on Epidemics (PRESIDE).
"The two interventions by Government have enabled us to improve our research infrastructure and avail funds to our researchers. Practically every College, School and Department is now engaged in research and development activities" appreciated Prof. Nawangwe.
The Vice Chancellor acknowledged the central role played by CEES in enabling the University to continue conducting teaching and assessment despite the challenges posed by COVID-19. "We are happy to share the expertise developed at Makerere with our sister universities in Uganda."
He added that the seven research projects presented at the Open Day were proof of Makerere's enormous capacity to find solutions to the challenges that face Uganda's Education system right from Pre-Primary to Universities, especially in the wake of COVID-19. The Vice Chancellor renewed the University's call to Government to fund graduate student education, noting that this would help the country to develop faster.
"Honourable Minister, Makerere is ready to support you in your enormous task of enabling recovery of the Education sector from the effects of COVID-19, and I would like to believe that the presentations that you have listened to and seen are testimony to that readiness" affirmed the Vice Chancellor.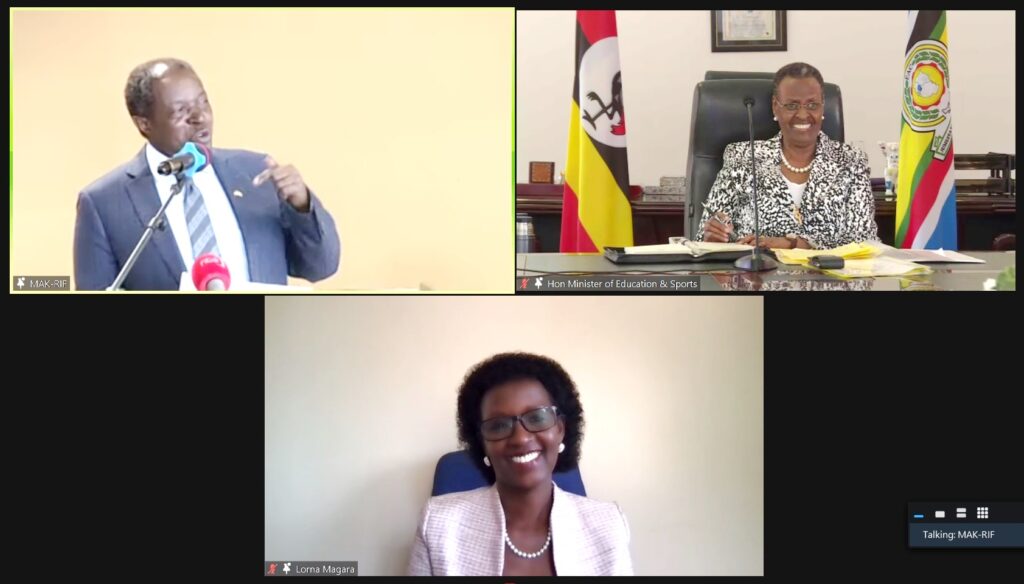 Speaking on behalf of the Mak-RIF GMC, the Chairperson Prof. William Bazeyo paid tribute to Hon. Janet Museveni for being that Minister of Education and Sports that inspired Makerere to become a research-led University. "We responded to your call and here we are to show the fruits of what you inspired us to do and we sincerely thank you."
He thanked the Chairperson of Council for embracing the Minister's vision for Makerere University to become research-led and the Vice Chancellor for taking up the mantle. "Getting Makerere to have this research and come up with findings that help Government and respond to national development goals is not easy and I want to thank you Professor Nawangwe."
Prof. Bazeyo equally paid tribute to the College Principals and researchers for coming up with projects that will impact the Ugandan society saying, "I want to thank my colleagues and congratulate the Principal and your team for the great job done."
On this note, he was pleased to inform the Honourable Minister that findings from one of the projects "Enhancing Continued Learning to Rural Contexts during the COVID-19 Lockdown: Case of Kyotera District Rural Contexts" revealed that the greatest impact on teaching and learning during the COVID-19 lockdown had been as a result of the teaching materials whose distribution she strongly advocated for.
"And now we have evidence to show that what the Ministry (of Education and Sports) did was the right thing" added Prof. Bazeyo.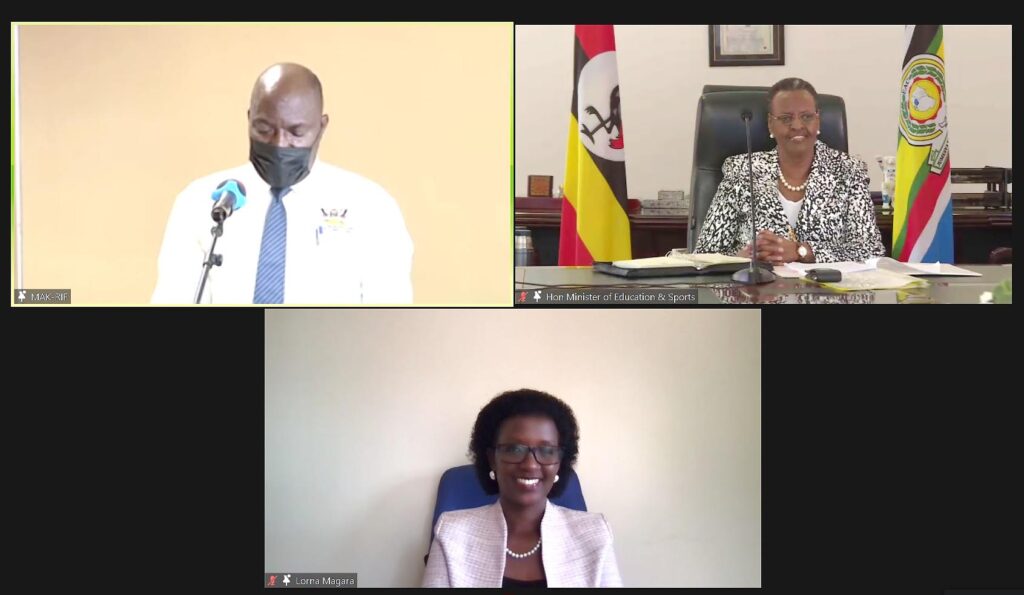 The Principal Prof. Fred Masagazi Masaazi in his address thanked the First Lady and Minister for accepting the invitation to grace the Open Day. "This is an important day in many ways; first, we are proving our capacity as a College in contributing to National Development through posing questions on Education issues and providing answers to some."
He added that as Makerere University marks 100 years of service and contribution to the world, CEES had commenced her celebrations with the Open Day, and preparations were underway to host a reunion day for the College's alumni adding, "We are hopeful that our Chief Guest will join us."
Prof. Masagazi Masaazi shared that their research findings had indicated that the education sector was not likely to go back to the pre-COVID-19 school setting, but was well primed for change through innovative re-imagination. He cited curriculum, instructional materials, assessment, teacher preparation, retooling of teachers, leadership, and leadership development as some of the areas that would need to be innovatively re-imagined.
The Principal pledged his college's commitment to continue providing innovative education solutions through the establishment of the Makerere University Institute of Teacher Education Research, "which will mainstream and further institutionalize cutting-edge research on teacher education in Uganda and beyond."   
CEES Seminar Series: Research under a lockdown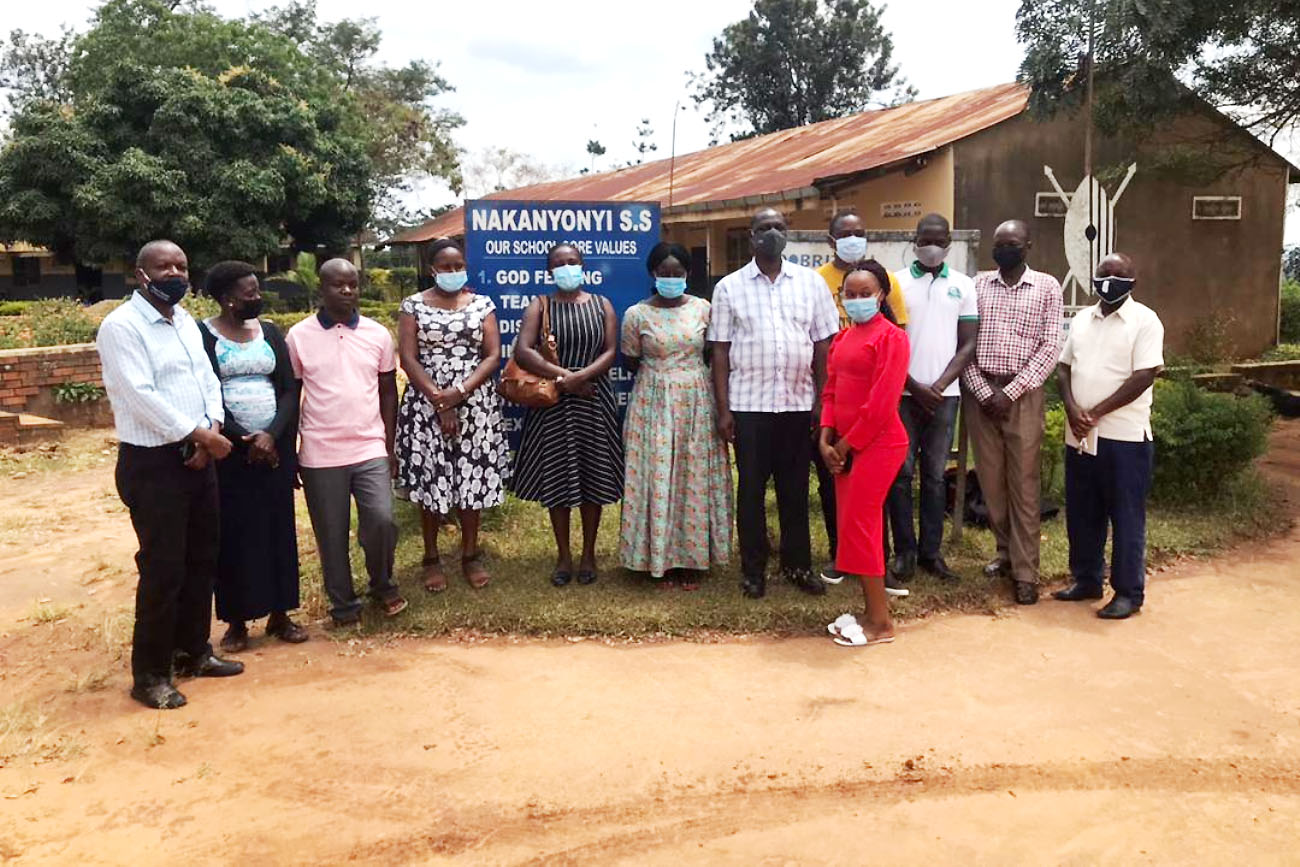 Even in the turbulent periods when most of us were home trying to hide away from Covid 19, Makerere University researchers at the Department of Humanities and Language Education of the College of Education and External studies (CEES) were busy patrolling communities to further understand what Ugandans think of current learning and teaching methods and how effectively they can be harnessed.
All this was unveiled on 21st January, 2022 during the 4th edition of the college seminar series themed Educational research during a national lockdown, Experiences and possibilities in the field. Seminar series is a Makerere University platform where both students and researchers meet to share and brainstorm on findings from projects and research they have completed.
Dr. Rebecca Nambi a senior Lecturer and researcher at the College of Education and External studies (CEES) opened the engagement reminding the audience how the Education fraternity is at crisis due to the Covid 19 pandemic and reinstated how worse it is for researchers, urged them not to bow down as it is a mandate they have to take upon if they are to continue educating and positively impacting this our nation.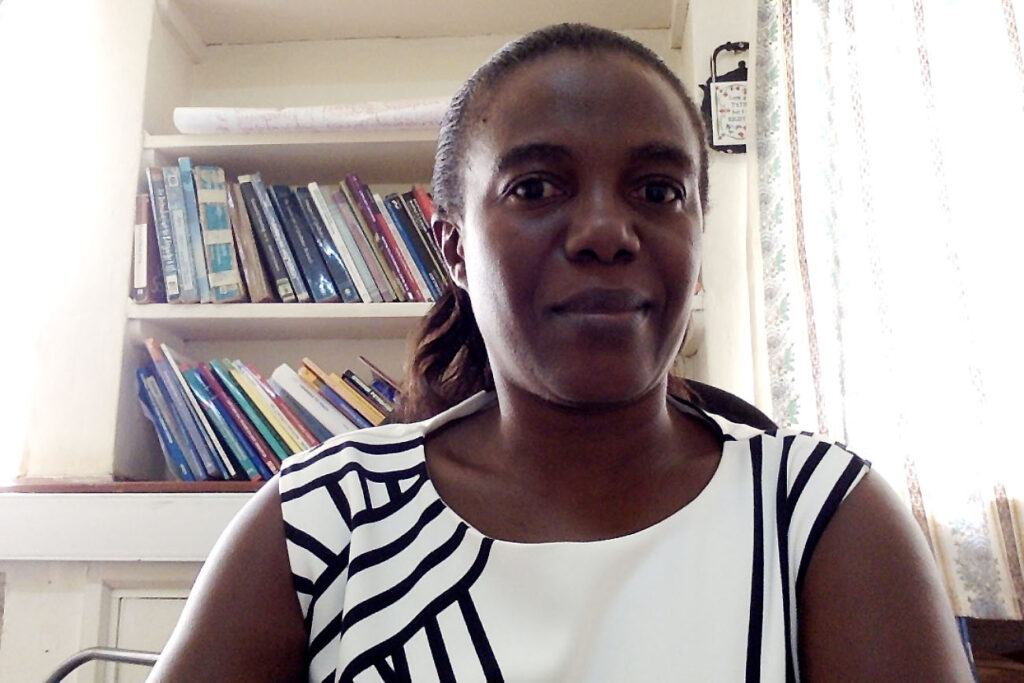 Dr. Rovincer Najjuma the moderator of the discussion invited Dr. Marjorie Sarah Kabuye Batiibwe a research don and mathematics Lecturer at the Department of Mathematics and Basic Sciences on the panel to discuss how she successfully conducted four research projects in the middle of a country lockdown.
Dr. Kabuye with 11 years in research was able to collect data on a theme named 'Integrated women in mathematical sciences in Uganda' that was funded by the world academy of science where she looked at empowering Ugandan girls on picking interest in mathematics at a young age to scrap away a mindset that it is such a 'difficult' subject. Secondly, she worked on a research project themed 'Future training and Job market training in secondary schools' where she looked at avenues from the people's perspective through which we can prepare secondary school students for the Job market economy.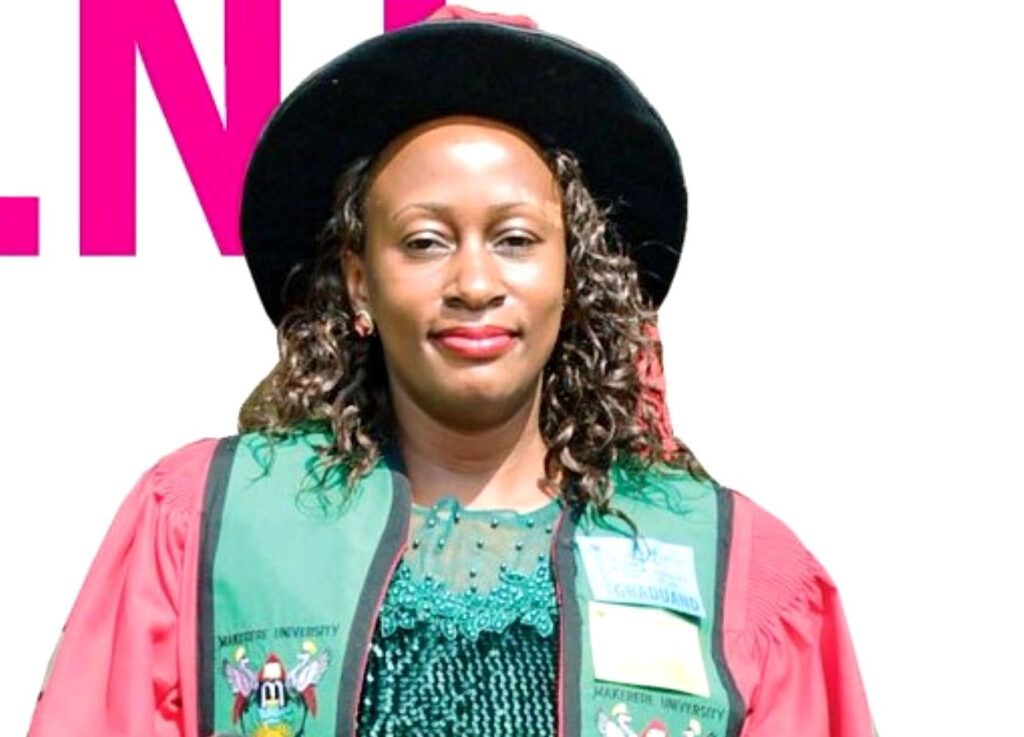 Increasing the number of girls offering mathematics and basic sciences in East Africa was another project Dr. Kabuye worked on basing on the fact that a few girls pick interest in such subjects. "We wanted to address the girls' attitude and approach towards mathematics," added Dr. Kabuye. The fourth project was about transformation of teaching and learning using emerging technologies in Makerere University.
"Covid 19 has affected the way researchers and educationists understand, conduct and disseminate research but we still remain relevant and in a spotlight as everyone is looking on us to revamp the education sector that has been tested for the last 2 years, the domains of learning, emotions, health and life style should be at center stage in bringing back minds of our students to classes since they spend most of the time with us at schools," Dr. Kabuye advised.
"Mentorship and psychosocial support are a mandate to every person they call a teacher. We should be able to signal to other sectors of challenges in post lockdown education."
The pandemic has impacted educational research learning styles, pedagogy, curriculum and policy.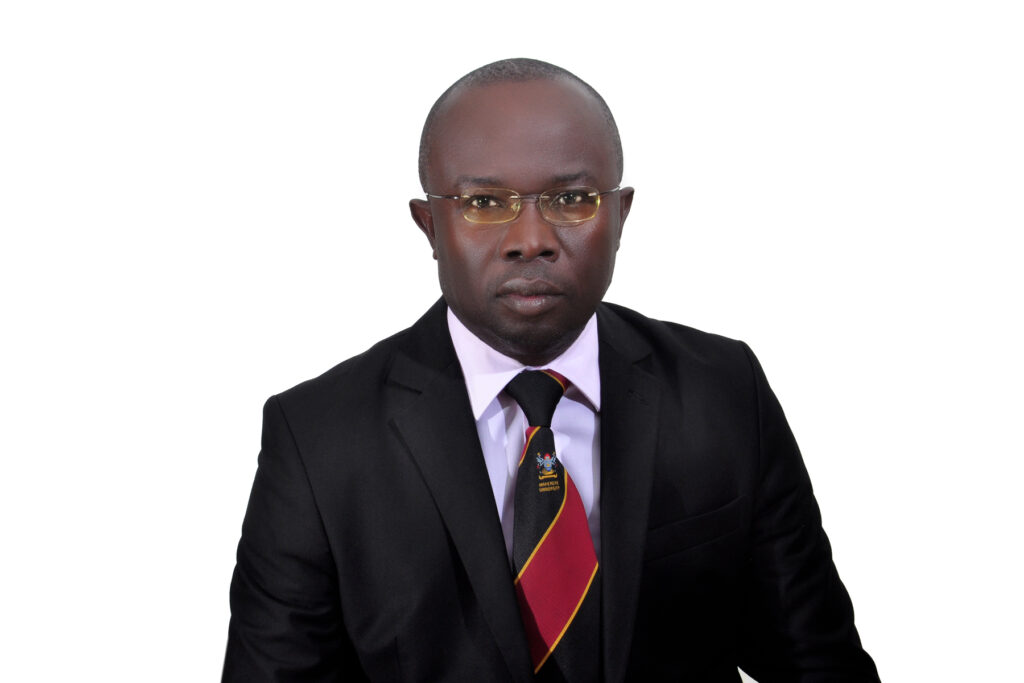 Challenges still remain in the recruitment of participants, increment in cost of doing research, delayed completion of projects, management of participatory data collection methods and minimizing ethics including consent, qualitative data collection, privacy and confidentiality.
However,embracing digital technology and greater free access to scholarly works are opportunities that cannot go unappreciated. Possibilities from research under lockdown include capacity building on online support and technological tools for researchers.
Dr. Kabuye ended her remarks showing a need for design of remote packages has to be adopted as it has been done to urban would-be samples to ensure inclusivity in research as one of the objectives and goals of research projects.
The Head of Department Humanities and Language education Dr. Muhammad Kiggudu Musoke thanked researchers and educationists at the college for honoring the seminar series program, the commitment and resilience they showed even during the Covid 19 lockdown as they embark at transformation through building for the future.
Dr. Kiggundu Appointed Head, Department of Humanities & Language Education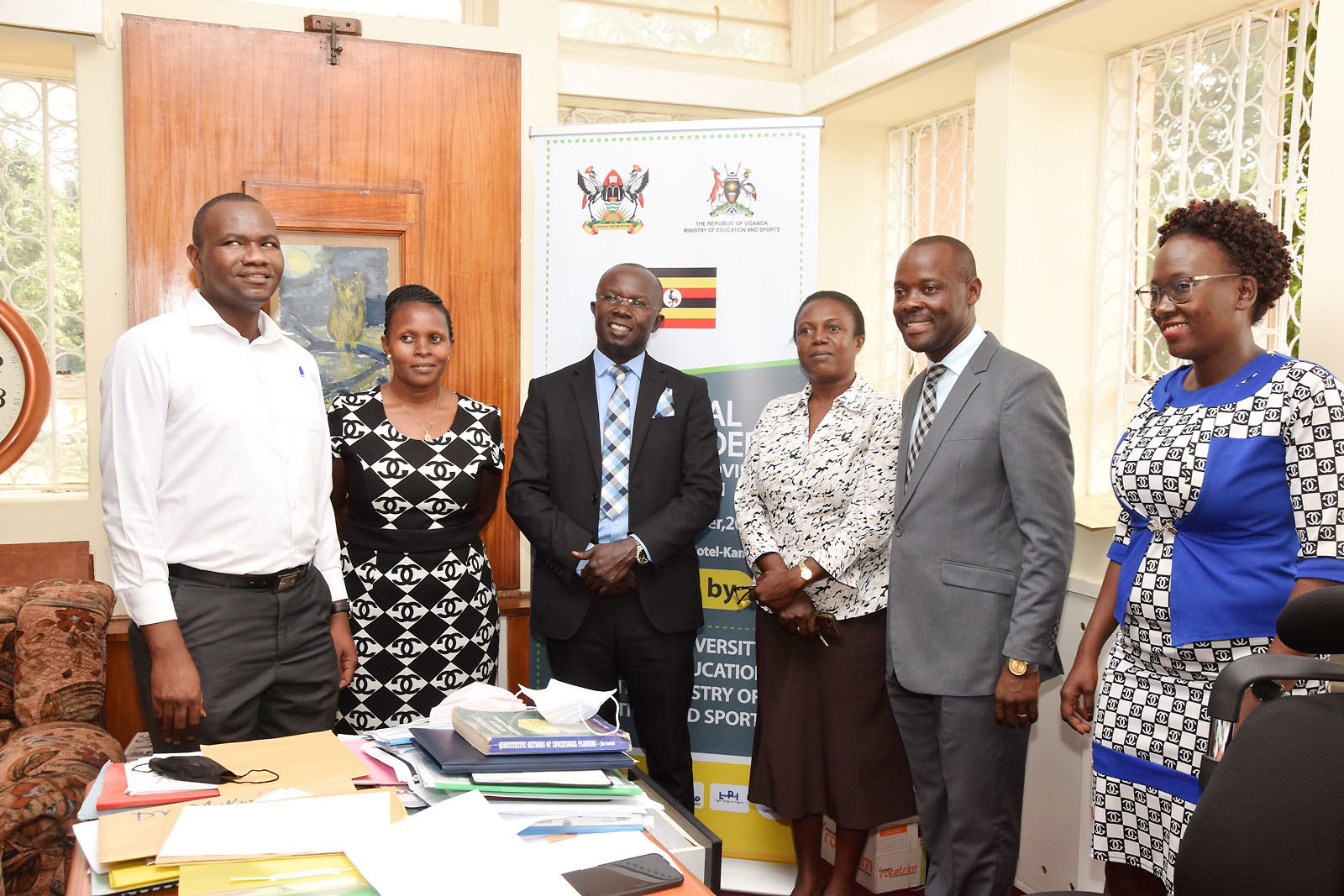 The Department of Humanities and Language Education, College of Education and External Studies today January 13, 2022 received a new head following the expiry of Dr. Nambi Rebecca's tenure.
Dr. Nambi handed over office to Dr. Muhammad Musoke Kiggundu after serving 4 months as acting head of the department. Dr. Nambi highlighted some of her achievements which included the introduction of seminar series, which have resulted in the publication of 13 papers, three staff promotions to the rank of senior lecturer. Three staff graduated with PhDs. She also introduced the Display Board where staff display their publications. Dr. Nambi welcomed Dr. Kiggundu and wished him a good tenure. She thanked management for the opportunity to serve her department and the staff for the support given to her during the term of office.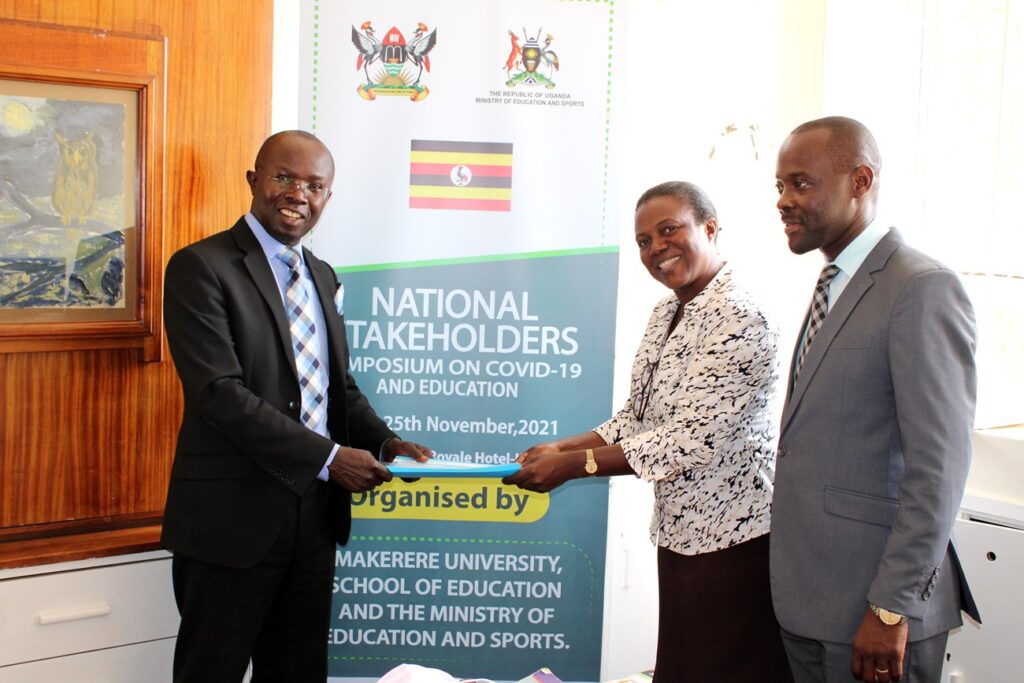 She requested the incoming head to conduct staff trainings for the new curriculum and also spear head curriculum review which is already in the pipeline.
Dr. Kiggundu thanked the staff of the department for the overwhelming support given to him during the voting process and pledged build on the achievements of Dr. Nambi.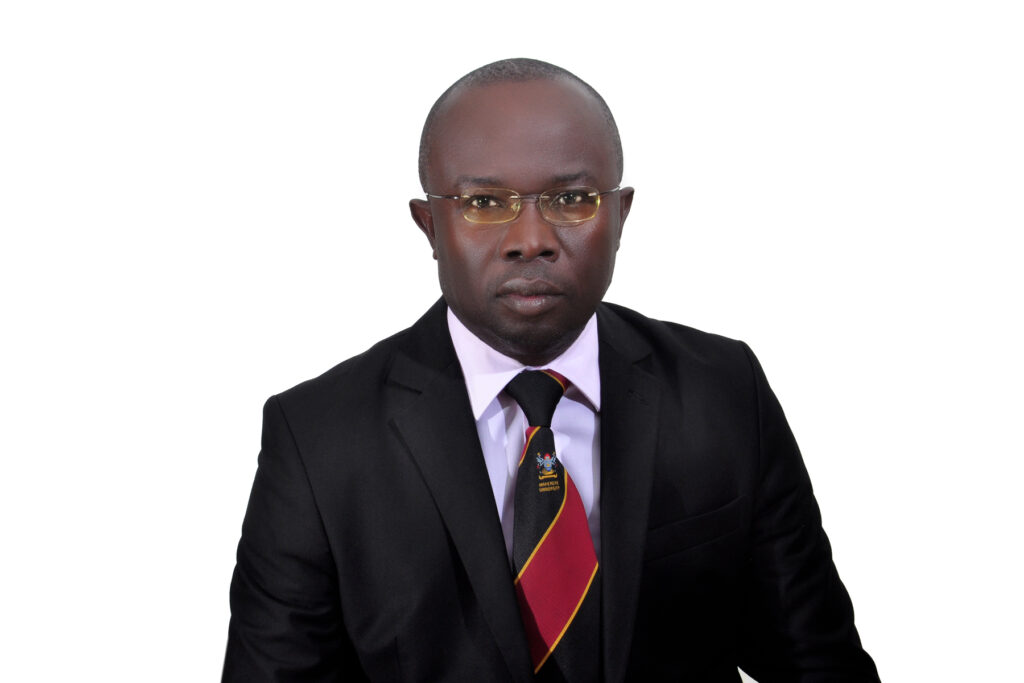 Some of the activities he plans to undertake include retooling of the students the college is training so that they fit the new curriculum issued by the Ministry of Education and Sports. Dr. Kiggundu noted that the department needed more research projects, saying they would be a good incentive for the staff. He called for the support of the Principal and the departmental staff in this endeavor. "I am happy to take on the responsibility given to me and with your support I know that we will achieve a lot," Dr. Kiggundu said.
On his part, the Principal, Dr. Fred Masagazi Masaazi, thanked Dr. Nambi for holding fort during her tenure and congratulated Dr. Kiggundu upon his election as Head. He cautioned that with the new curriculum, there is need to conduct in-house trainings for staff to bring them to speed with the new teaching and learning methods. He called on the new Head of Department to read his terms of reference in order to avoid conflict. "It is important to know what is expected of you and the reporting hierarchy," Prof. Masagazi said.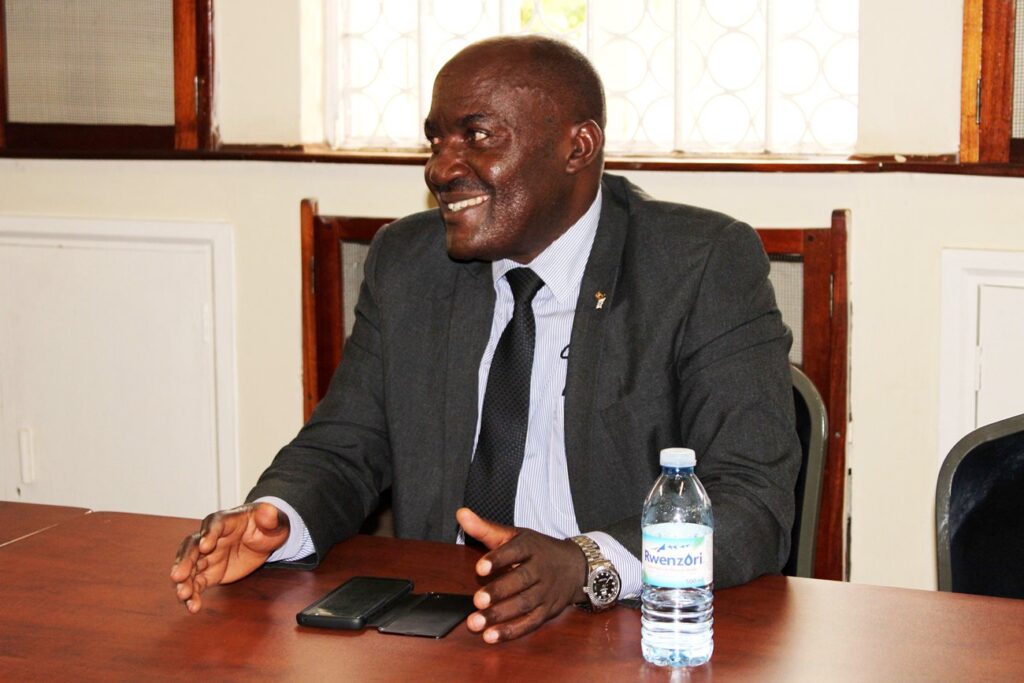 He also advised Dr. Kiggundu to ensure proper record keeping, saying even documents as old as 100 years are still important. The principal concluded by pledging his support to the new head of department.
The handover was also attended by the Dean of the School of Education, Dr. Mathias Mulumba who thanked Dr. Nambi for steering the college to higher horizons, pointing out that she took over leadership of the department at a difficult time when the university was in the process of conducting online examinations but she effectively managed the period. He congratulated her upon the introduction of seminars and leading the curriculum review process.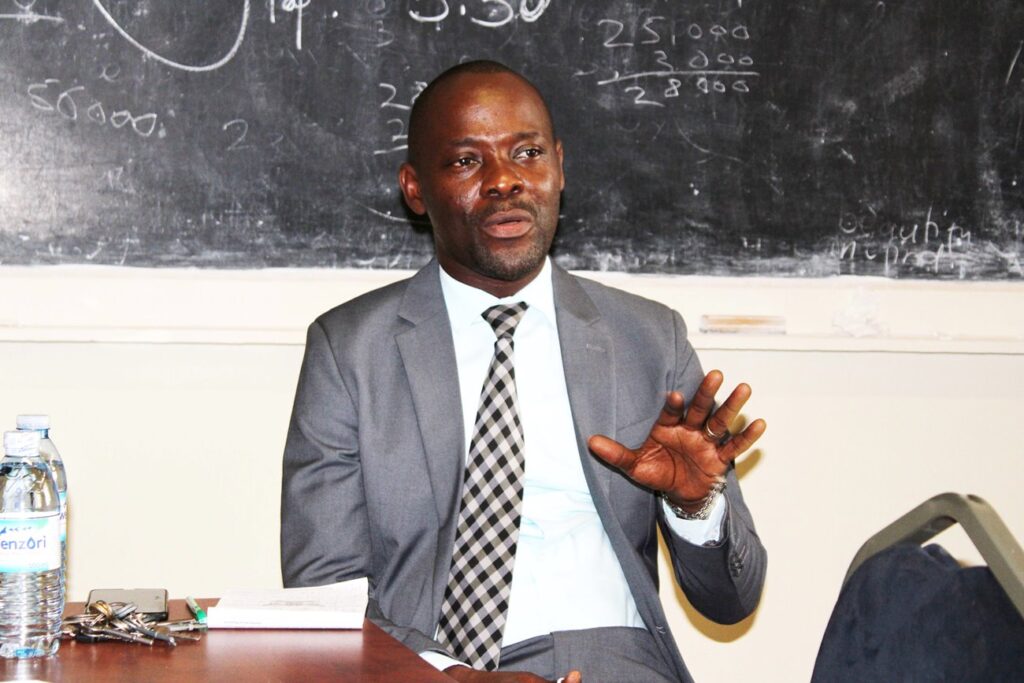 He congratulated Dr. Kiggundu, saying "I know you are a people person which give me pleasure to see you coming in as HoD". The Dean cautioned Dr. Kiggundu against fights with both his seniors and his juniors. He asked him to always reach out to colleagues and solve all the challenges and differences they may be experiencing. "Conflicts are too costly so solve them as soon as they arise," Dr. Mulumba advised.
He asked him to serve all people fairly, follow the university structures and also familiarize himself with the university policies especially those in regards to examinations and teaching and learning.
The handover was also witnessed by the Human Resources Officer of the college, Mr. Godfrey Makubuya, Dr. Josephine Kakeeto, Prof. Anthony Muwagga Mugagga, Mr. Mark Rujumba and Ms. Betty Kyakuwa among others.
TFU Leadership Development Programme for Undergraduate Finalist Students
Teach For Uganda (TFU) is a locally-rooted and globally informed leadership development organization operating as a non-profit organization since 2016.
The mission of TFU is to nurture leaders who are committed to advancing equitable access to quality education in low-income communities, by leveraging their power and knowledge to ensure that all children in Uganda attain an excellent education.
TFU offers a Two (2) year Fellowship programme through which they recruit and train Uganda's top university graduates and young professionals from all academic backgrounds into full-time teacher-leaders and place them in high-need rural and underserved government schools to improve the learning and life outcomes of children in the far-flung communities.
The fellowship is a leadership development programme aimed at equipping fellows with hands-on leadership and pedagogical skills to become effective teachers and lifelong leaders who are deeply rooted in the communities they serve.
TFU is seeking to recruit talented undergraduate finalist students (about to graduate) with a
strong academic background and leadership achievement.

Please visit https://www.teachforuganda.org/ for information on how to apply.