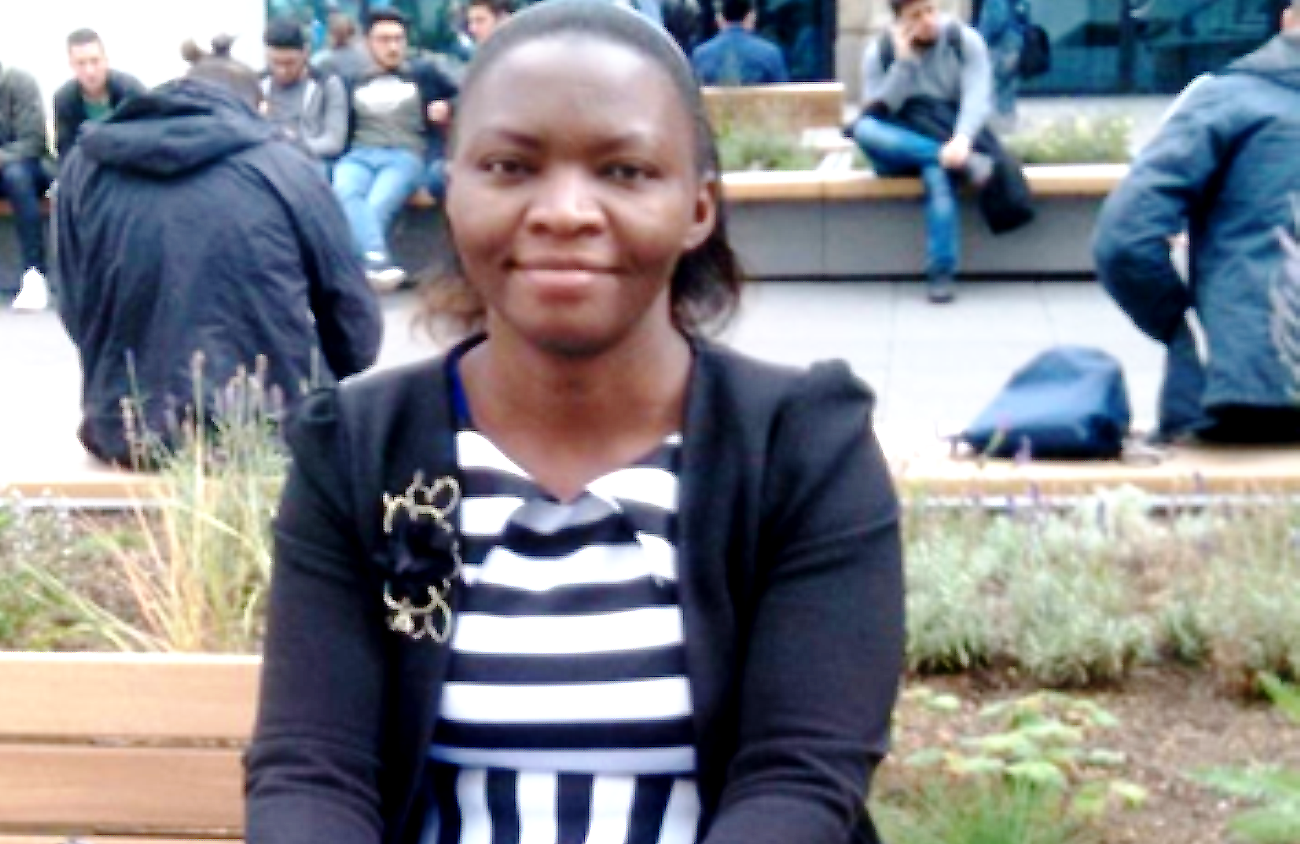 My name is Irene Bayiyana and I am one of the RUFORUM Alumni. I am an agricultural economist, with a master's degree in Agricultural and Applied Economics and a PhD in Economics. Currently, I am working as a Research Officer/Agricultural Economist based at the National Agricultural Research Organisation (NARO)/ National Crops Resources Research Institute (NaCRRI) – Namulonge. When I attained a bachelor's degree, I worked as an assistant research fellow under Prof. Johnny Mugisha in the Department of agribusiness and natural resource economics at Makerere University. Through Prof. Johnny Mugisha, I got to know about the RUFORUM Grant on "Assessment of spatio-temporal bovine migratory routes and Transboundary animal disease infestation in Uganda". Since I had the interest to advance my career, I applied for the scholarship
After my admission for the master's degree, I wondered! what next? The African Economic Research Consortium (AERC) had only offered a partial scholarship catering for only my tuition and part of research funds. RUFORUM scholarship covered my stipend, research balance and funds to attend the 2012 RUFORUM Biennial conference thus enabling me to complete my master's degree.
I was able to realize my dream of becoming a good scientist in 2012 at the RUFORUM Biennial Conference. Through the facilitation to attend several conferences, RUFORUM gave me a chance to interact with a broad spectrum of scientists from whom I learnt and received positive criticism and feedback on what I was doing. Moreover, the encouragement and support from different scientists that I interacted with also spurred me on as an upcoming scientist.
Mak Drylands Transform Project launched in Moroto District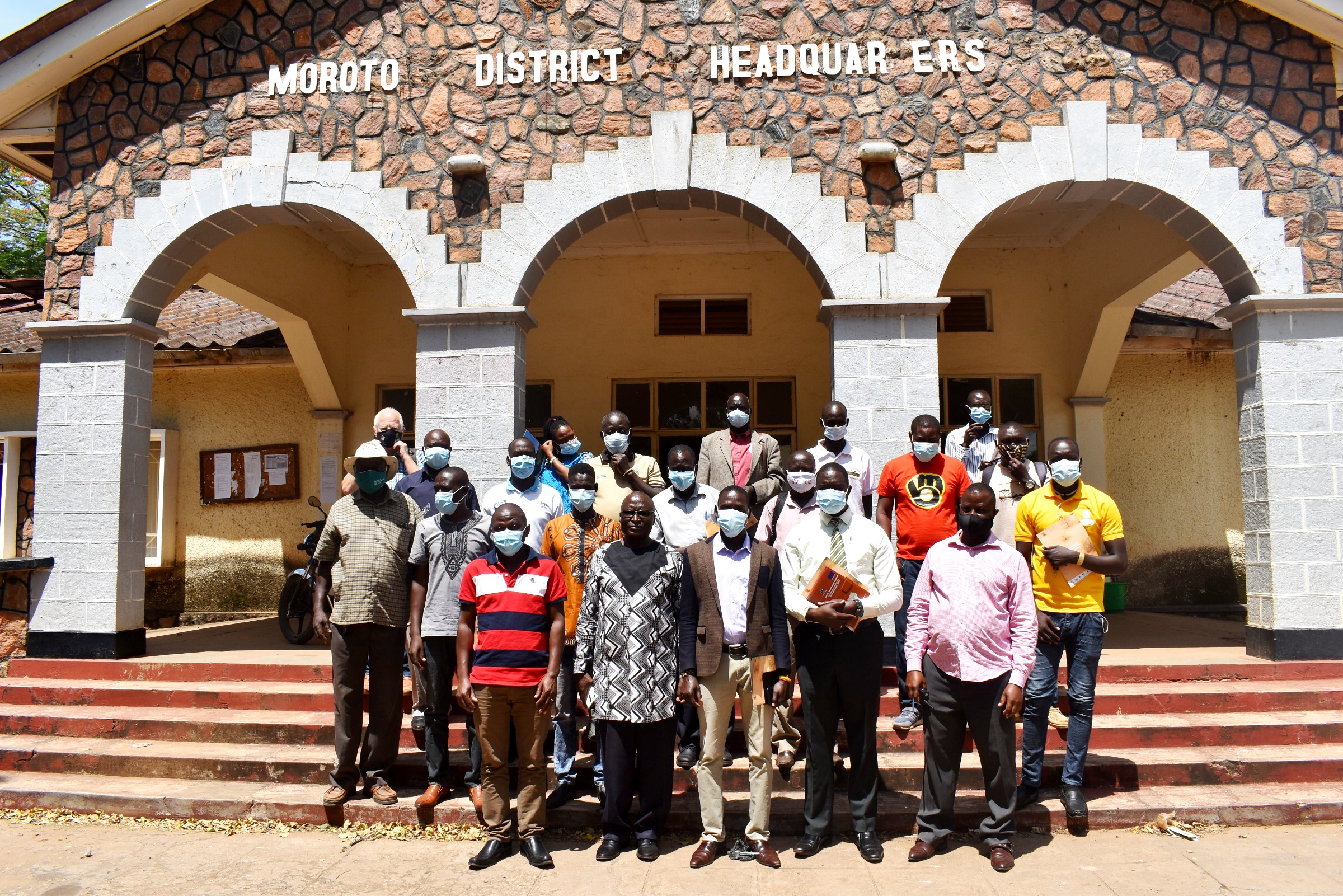 By Jane Anyango
Makerere University has received the blessing and support of community and administrative leaders to implement the five-year Drylands Transform project in Moroto district. This was during the project inception workshop held in the Planning Unit boardroom at the Moroto District headquarters on 21st October 2021. The inception workshop was held to kick start the project.
The meeting brought together over 20 participants comprising mainly the district technical, administrative staff, both political and those in the civil service. The meeting was also attended by representatives of different projects operating in Moroto including Welthungerhilfe project, GIZ and Karamoja Agropastoral Development Program that mainly focus on Livelihoods, food security and hunger.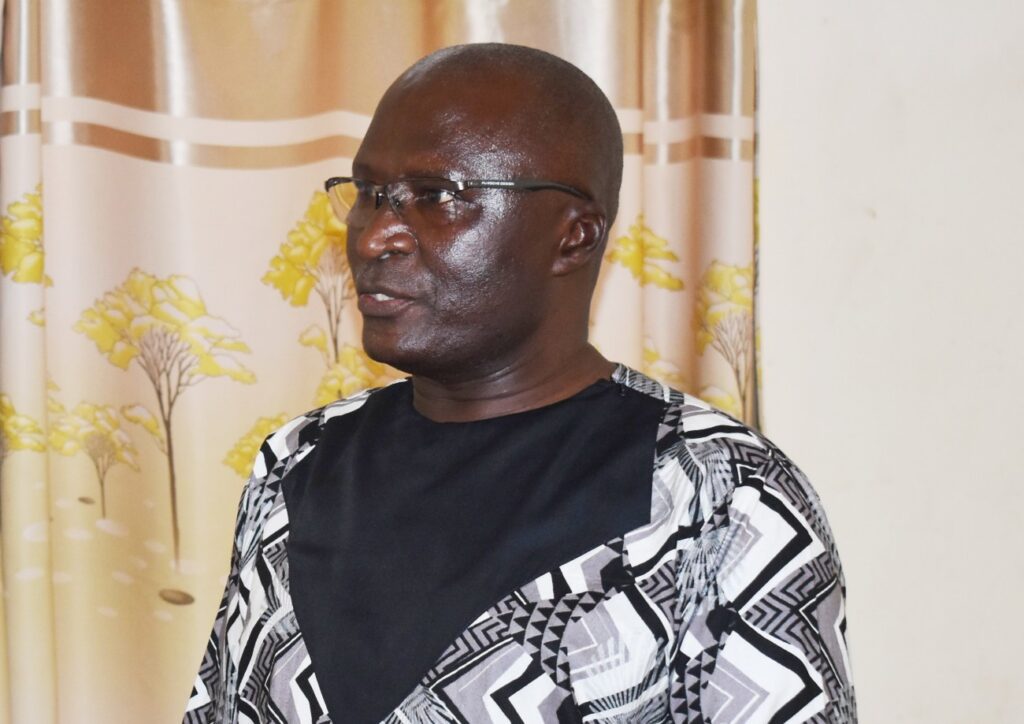 The Swedish University of Agricultural Sciences is leading a multidisciplinary team of researchers from Umea University, Gothenburg University, University of Nairobi, Makerere University, World Agroforestry (ICRAF) and the Intergovernmental Authority on Development (IGAD). The project: "Achieving the SDGs in East African drylands: Pathways and challenges towards  a transformation of landscapes, livestock and livelihoods in the East African drylands (Drylands Transform)", will be implemented in the greater Karamoja cluster of Uganda and Kenya.
Funded by the Swedish International Development Cooperation Agency (Sida), the Drylands Transform project investigates the link between land health, livestock-based livelihoods, human wellbeing, land management and governance. It is aimed at contributing new knowledge for transformative change and sustainable development of rangelands in the drylands of East Africa.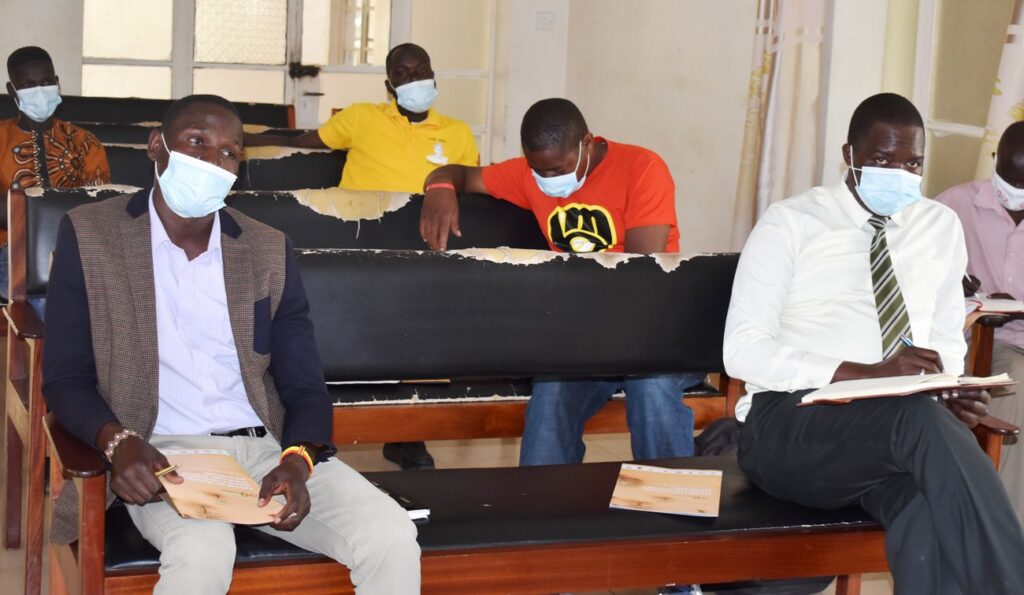 The Principal Investigator at Makerere University Prof. Denis Mpairwe said the function was to bring the stakeholders who are mainly the district officials without whom, the project can never succeed.
Prof. Mpairwe said, the leaders must be able to internalize the project, own it and then work with the research team.
"So here we were seeking three main things; one permission to work within the district. Two, the district technical team headed by the Chief Administrative Officer (CAO) to participate in the project inception workshop and we are happy that the CAO was instrumental in inviting the whole district team that turned up and we have got the blessings of working with the team and the support.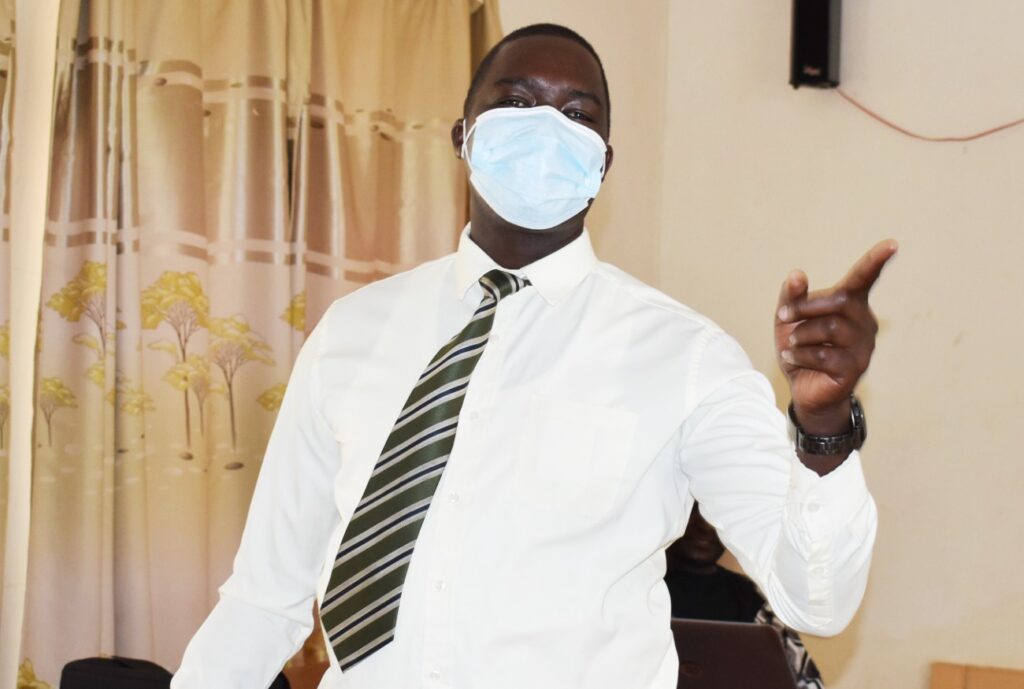 Three to get permission to work with the community and get security as the area is well-known for insecurity. The RDC assured the research team of the security to work with the communities and today we have achieved that one", The PI stated
Moroto Local Government district officials pledge total support
In his welcome remarks, the representative of the CAO who is also the Principal Assistant Secretary Mr. Eko Edward said, the district was pleased with the new initiative describing the project as the new baby.
"For many years, we have not been able to receive partners with a direct linkage to academia. So, by Makerere University focusing on issues of knowledge transfer in Moroto is something new. But also working in areas which affect our communities most that is, rangelands, land issues, bringing new technologies to transform the pastoralists way of life is something we want to appreciate.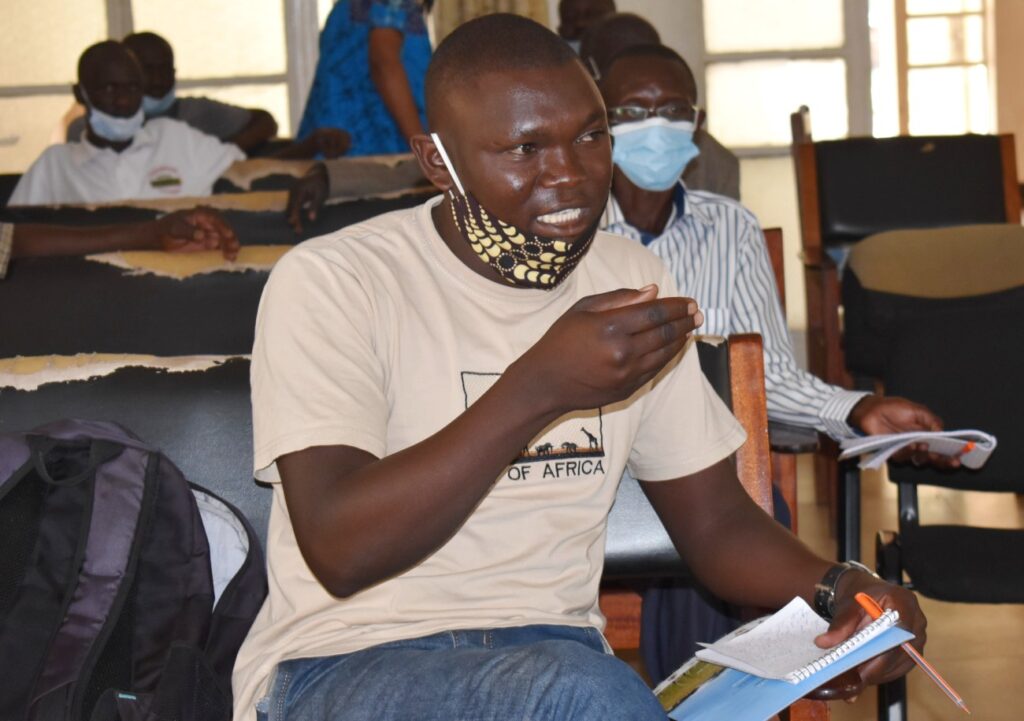 As a district, it is our opportunity now to work together with the new project. We want to call upon all the leadership to provide land to demonstrate this new knowledge. We want to call on the communities to learn from this new initiative, what has worked elsewhere, in case of exchange learning visits, to participate, appreciate and come and adopt", The CAO said
Mr. Eko called upon the technical team, especially the Production and Natural Resources Department to work closely with the new project to ensure that there is some learning done to change to the new normal.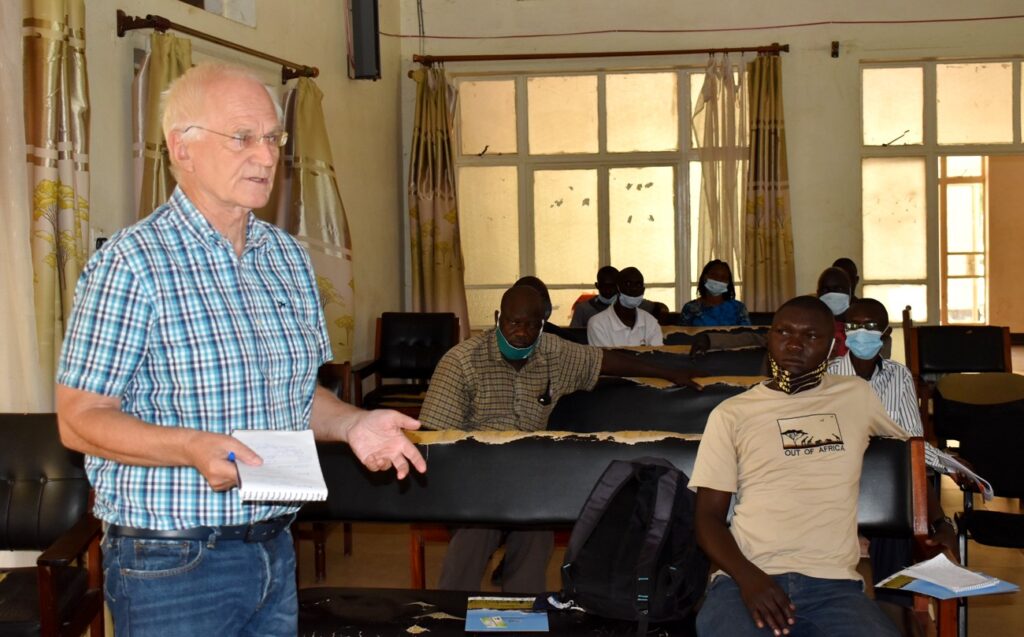 The CAO reported that Moroto district is blessed with a number of partners who have been able to work with communities on issues of rangelands and livelihoods calling on them to work with the new project to leverage on successes of those projects for the district to get the best out of these interventions.
As a district the CAO said, they want to see the impact, adding that Moroto District is well known for good governance and transparency, accountability and value for money.
He urged university researchers to work with existing structures and ensure that people from the community benefit from the available graduate scholarships on the project.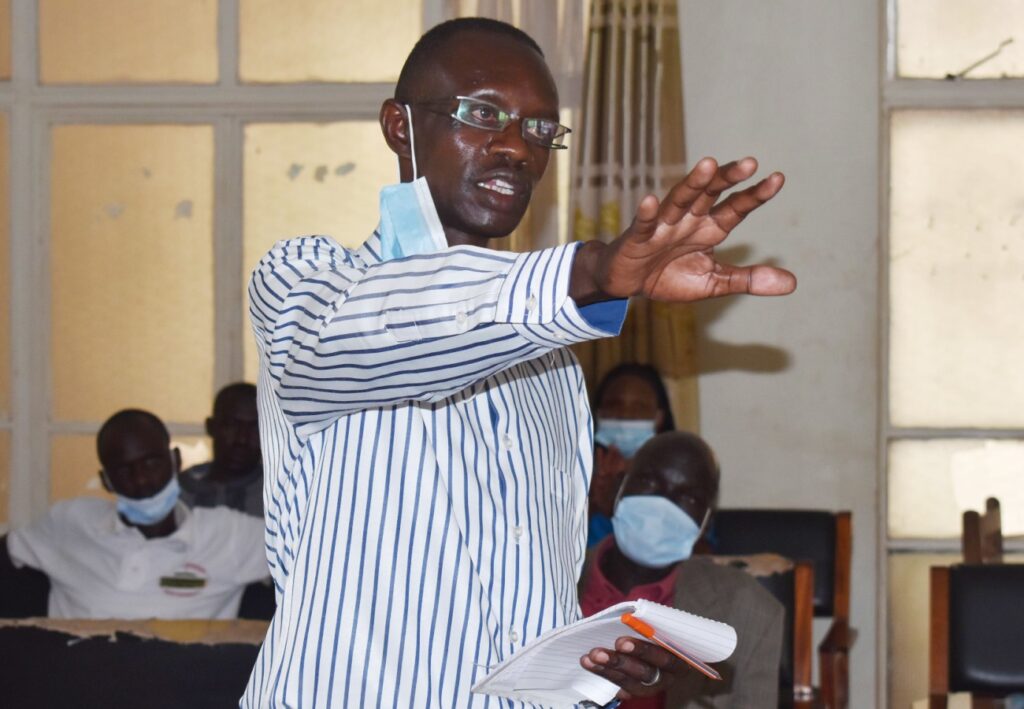 "We have a few who have got support to read up to master's level and others would wish to benefit through the PhD program. Please ensure that we benefit from that because it is only through that that we can have a sustained project over the years" He submitted.
The representative of the District Chairperson Local Council V (LCV) Mr. Achia John also Secretary for Production and Natural Resources hailed the University for focusing on mindset change.
"We are saying that we want our people to settle down not this business of going to look for water and grass and that is why we appreciate your intervention. We want to ensure that our people begin constructing long term settlements so that they are able to keep their animals there, cultivate and settle.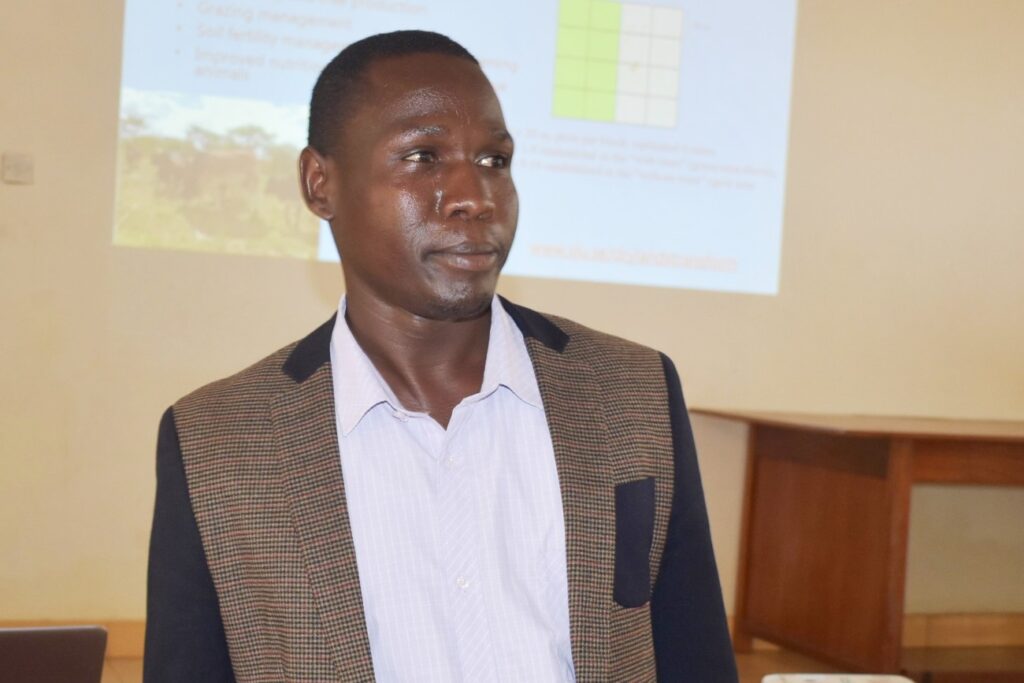 For a very long time, our people do not know how to control ticks that is why you hear about bush burning. We need to teach our people through this initiative to see alternative way of controlling the ticks", Mr. Achia submitted.
Mr. Achia thanked the research team for the initiative and other partners working in the district and assured them of the district's support.
Representing the Resident District Commissioner (RDC), Mr. Ssenoga William who is also the District Internal Security Officer (DISO) urged the communities and district technical team to take on the project, disseminate it and support its implementation. He also implored the district environmental office and Department of Production and Natural Resources to be at the forefront of the initiative.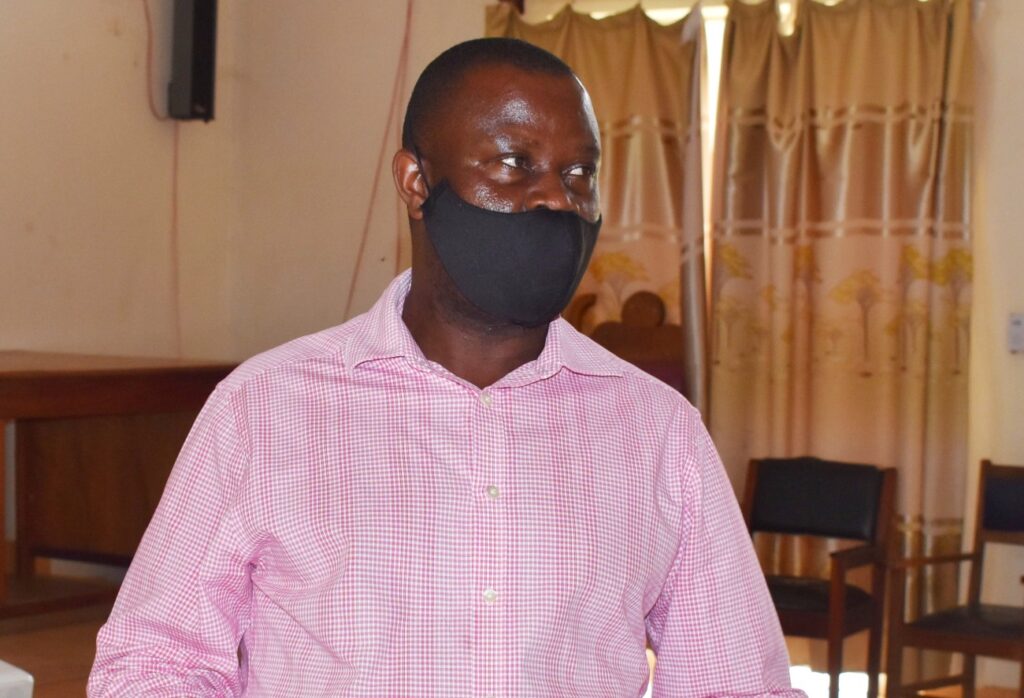 "As security, in case you are in need of us, communicate to us formally and we shall give you our uniformed officers to ensure you move and carry out the project activities safely. We shall require a formal communication for the district security committee to confirm that," The DISO stated.
He thanked the funders for considering the university proposal and the university researchers for competing worldwide and winning the project.
About the Drylands Transform Project
The Principal Investigator (PI)   Makerere University Prof. Denis Mpairwe from the Department of Agricultural Production said Drylands Transform is  multidisciplinary and cross border project covering the Karamoja cluster drylands which embed Western Pokot, Kenya, Turkana region, the South Western and Eastern part of Ethiopia, the South Eastern part of South Sudan and the whole Karamoja region of Uganda.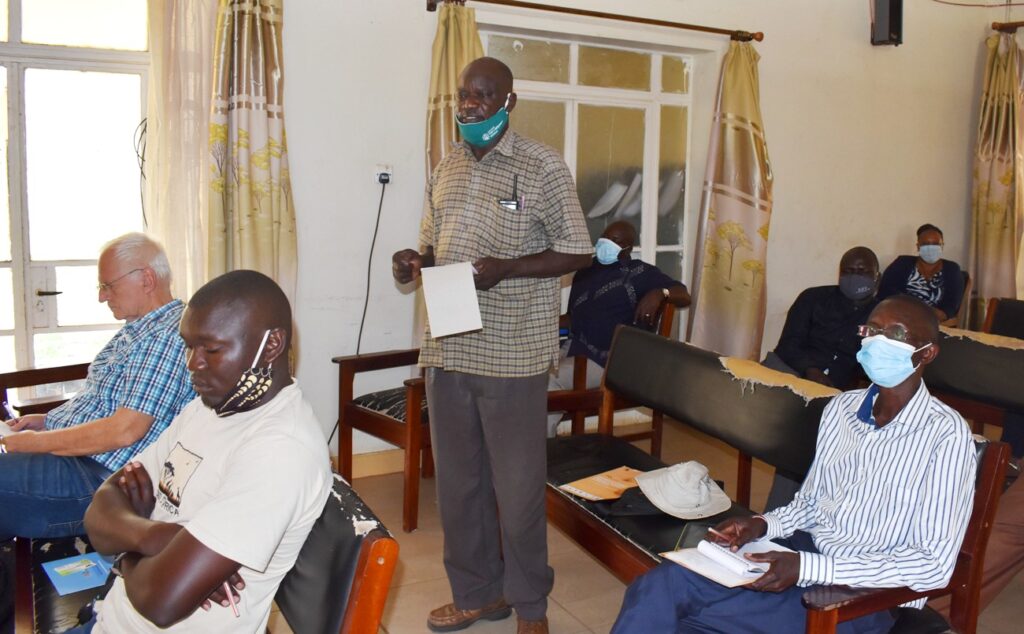 This area, the PI said, has a challenge of dry conditions, unreliable rainfall and of recent, it has been faced by the problem of degradation of the rangelands arising from misuse of land which was originally for pastoralism.
Prof. Mpairwe reported that this project was set to address the Sustainable Development Goals (SDGs) mainly to do with hunger, peoples livelihoods both nutrition and incomes, and for the pastoralists, the project is taking  the approach of caretaking of livestock since it is the main economic activity of the rangelands.
"This project will be addressing four main things. We want to work with the communities to understand the challenges facing the pastoral communities both the agro-pastoralists and pure pastoralists in the changing climate. Of recent the rainfall patterns have changed drastically in the amounts received and unpredictable onsets.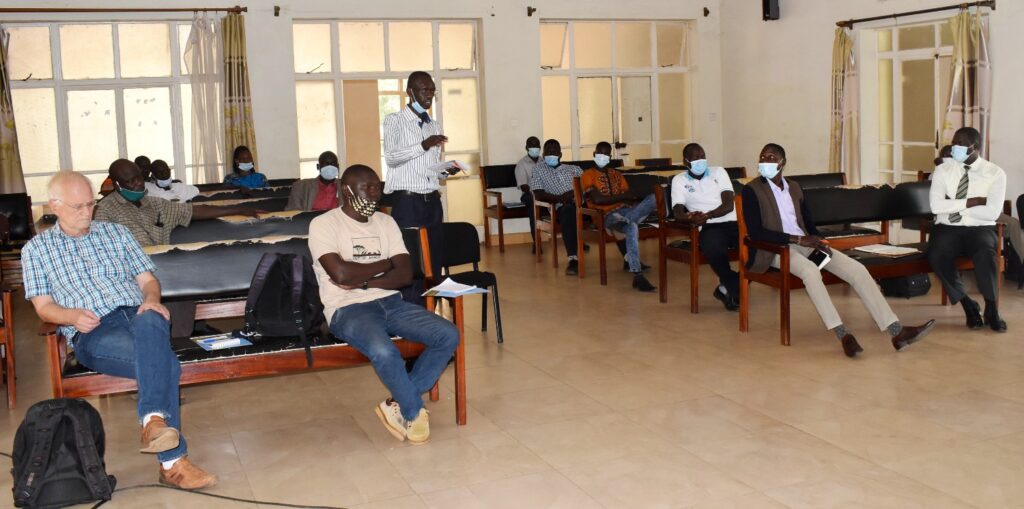 The second challenge the project is trying to address is that; land use changes have taken place – formerly used for pastoralism but now being used for agriculture, mining, gazetted for wildlife and forestry, all impacting on biomass that used to be fed to animals", Prof. Mpairwe explained.
He reported that the project wants to work with communities to show them what interventions they can adopt to ensure that they still remain with enough biomass to feed their animals. The project also intends to work with communities to see which of the technologies advanced are applicable to the agro-pastoralists and pure pastoralists.
The third project focus according to the PI is to look at stakeholder engagement mainly with local governments, the community, Central Governments Uganda and Kenya so as to craft solutions applicable to the people through various platforms of communication and discussion of issues affecting the pastoralists in the greater Karamoja cluster.
"Lastly, we want to use livestock cafes with all technologies in one place as one of the farmer field schools for pastoralists to learn the use of pasture improvement, teach them how to do over sowing, reseeding in bare areas so that they can learn and apply it on their own. The use of feeding strategies like hay, crop residues, improved pasture, use of trees as fodder and fruit trees for people will all be tackled", said Prof. Mpairwe.
He concluded that the overall objective is improved livelihoods of the people, improved nutrition by increasing animal productivity, having enough feeds for animals, improved household income by having milk and animals which are finished for sale as well as getting some people involved in selling hay and crop residues.
Jane Anyango is the Principal Communication Officer, College of Agricultural and Environmental Sciences (CAES)
Mak Flags off 244 Ugandan University Students for Agrostudies Internship in Israel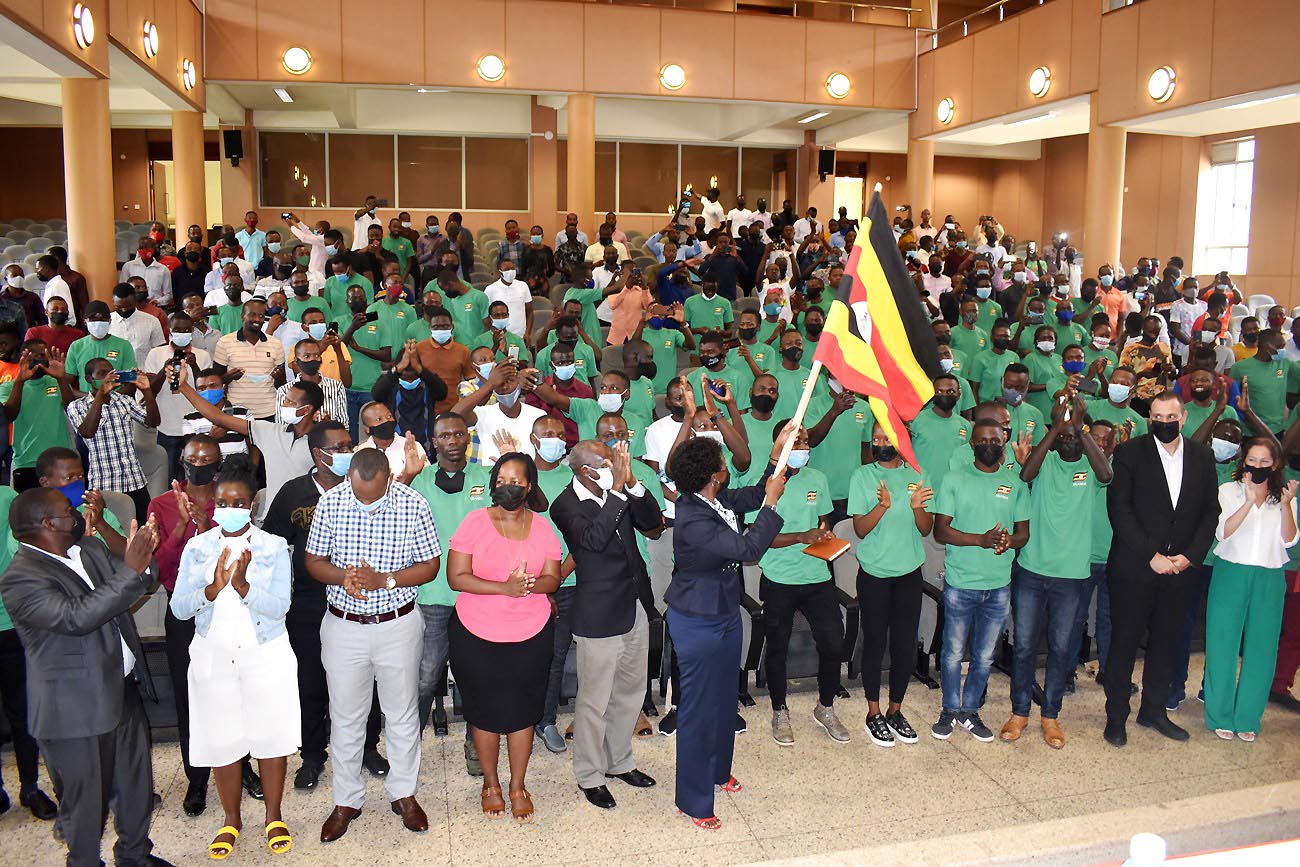 By Jane Anyango
244 students from five universities – Makerere, Kyambogo, Gulu, Busitema and Bishop Stuart University have been flagged off to Israel for a one year paid  internship. 10 out of the 244 flagged off are female.
The students were flagged of by the Vice Chancellor of Makerere University represented by the Deputy Vice Chancellor in charge of Finance and Administration (DVCFA) Assoc. Prof. Josephine Nabukenya on 13th October, 2021 at a colorful ceremony held in the Central Teaching Facility 2 (CTF2) Auditorium, Makerere University.
The function was also attended by a team from the Agrostudies center in Israel led by the CEO Mr. Yaron Tamir, representatives from the participating Universities in Uganda, Principal, College of Agricultural and Environmental Sciences (CAES), Alumni and Coordinators of the Agrostudies Apprenticeship Programme from the five universities.
Prior to the flag off, the Mr. Yaron Tamir and his deputy paid a courtesy call on the Vice Chancellor where they discussed matters of interest to the university and the Government of Uganda especially a plan to start an Agrostudies Alumni Cooperative in Uganda and the possibility of the program Alumni to support Government in providing extension services.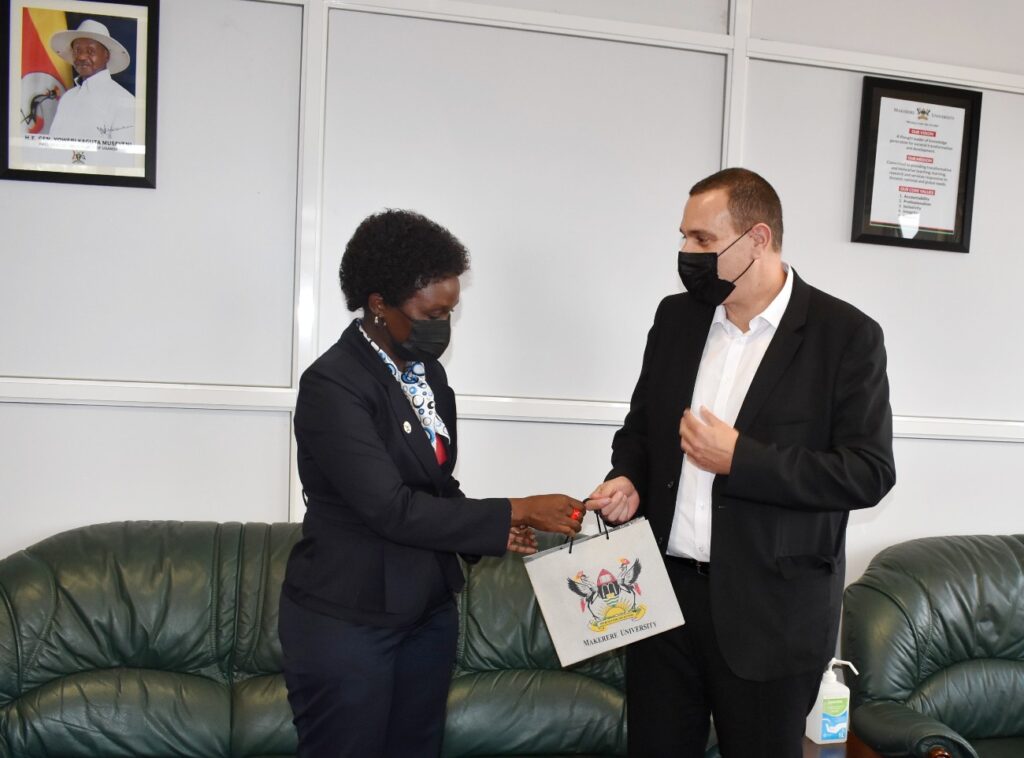 The Agrostudies cohort 2021/2022 was organized under the theme, "Securing the Future of Uganda through Agriculture Capacity Building". At Makerere University, the programme was coordinated by Dr. Mildred Ochwo-Ssemakula and Dr. Narisi Mubangaizi from the School of Agricultural Sciences, College of Agricultural and Environmental Sciences (CAES).
The students' participation in the Agrostudies agriculture capacity building  program is a response to the need to transform from subsistence to more commercial agriculture in a bid to secure the future of Uganda.
Presiding over the function as Chief Guest, Assoc. Prof. Josephine  Nabukenya welcomed all to Makerere describing the University as a warm  and peaceful community.
The Deputy Vice Chancellor reported that Uganda is grappling with several development challenges including low agricultural production and productivity, negative attitude of youth towards agriculture and high rates of unemployment among the youth.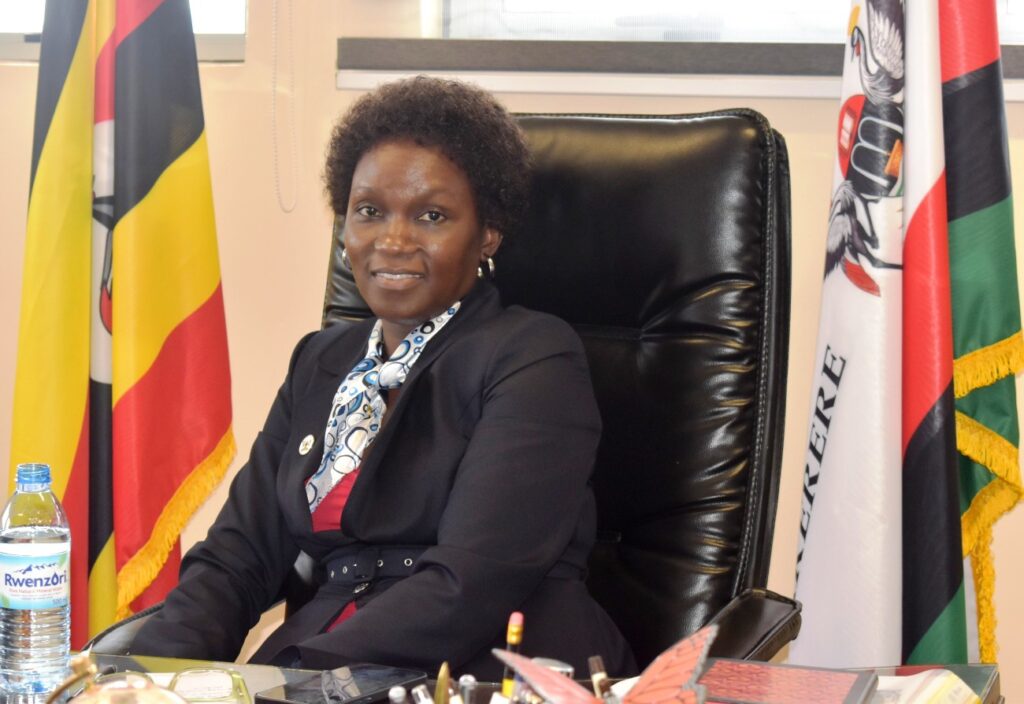 She noted that the Agrostudies apprenticeship programme which aims at exposing Ugandan University Students to modern agricultural technologies in agriculture has a huge potential to deal with these development challenges.
Dr. Nabukenya said most of the students that have participated in the agrostudies apprenticeship programme have set up agricultural enterprises in which they have applied knowledge, skills and financial resources acquired from the programme.
On behalf of Makerere University and all participating universities in Uganda, Prof. Nabukenya appreciated the foresightedness of the Israeli and Ugandan Governments for coming up with this wonderful programme
"By setting up agricultural enterprises, these students have become job creators rather than job seekers. These agricultural enterprises set up by alumni of the Agrostudies apprenticeship programme are also helping in transferring technologies from Israel to other farmers in Uganda," she stated.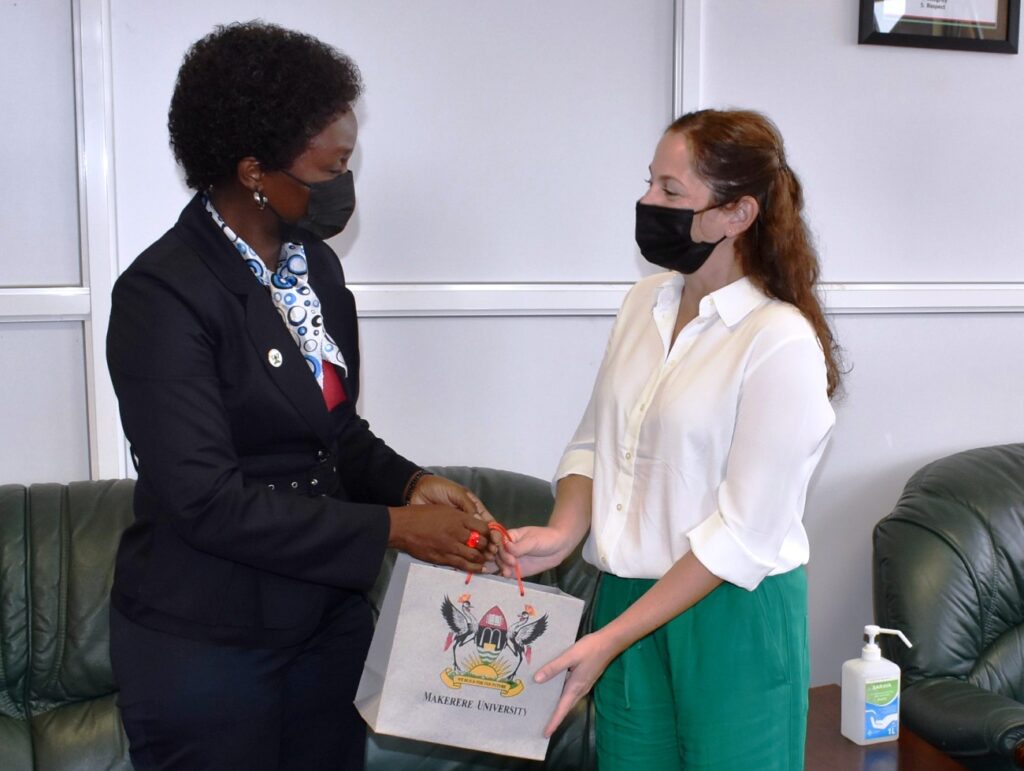 Dr. Nabukenya expressed gratitude to the governments of Uganda and Israel for entrusting Makerere University with the noble responsibility of being the national coordinator for the Agrostudies program in Uganda and pledged total commitment towards the programme's success and continuity. 
She said, the university has embarked on the process of institutionalizing the programme where the Office of the Vice Chancellor has mandated the  College of Agricultural and Environmental Sciences (CAES) to coordinate the programme on  behalf of Makerere University from 2021 onwards.
The DVCFA also thanked CAES for accepting this responsibility and for the progress so far made. As proof of the university commitment to the programme, Prof. Nabukenya said, Makerere University has provided free accommodation to all the students selected under the programme residing within the students' halls of residence.
She appreciated the efforts made by several units of Makerere University including the Vice Chancellors' Office, Office of the University Secretary, Finance  and Accounts, University Hospital, Dean of Students and staff in the students' halls of residence to support the programme.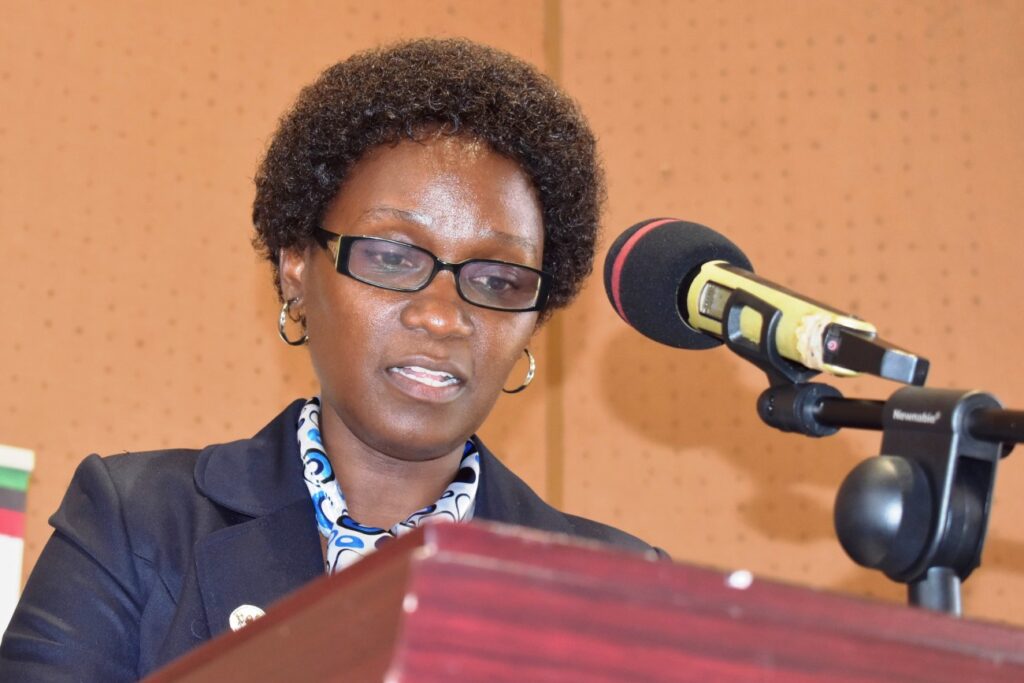 Dr. Nabukenya congratulated the students upon their successful selection for the program, a competitive process involving rigorous medical examinations as well physical fitness training to ensure that they are mentally, physically and emotionally ready for the work ahead of them.
"Please do not waste this golden opportunity. I encourage you to learn as much as you can and observe very good discipline during your stay in Israel.  Above all, I humbly appeal to you to fully observe all the rules and guidelines of the programme and to return to Uganda at the end of the programme", Dr. Nabukenya implored.
The DVCFA thanked the Agrostudies team from Israel for adjusting the earlier position regarding the non-participation of female students in the programme by enrolling 10 female students.
She however appealed to the Agrostudies Israel team to consider increasing the number of female students onto the programme in the subsequent years, saying, Makerere University is a gender sensitive institution and tries as much as possible to promote gender equity and equality by giving equal opportunities to both males and females.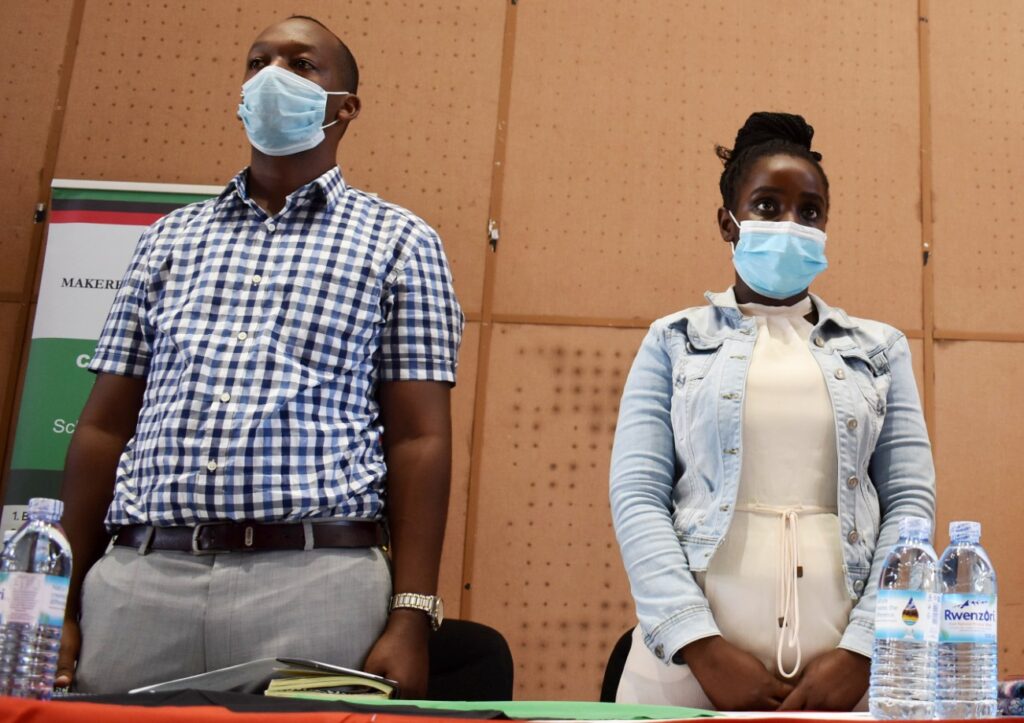 Orienting the students, the Chief Executive Officer Agrostudies program Mr. Yaron Tamir thanked Makerere University for hosting and selecting the candidates for the year 2021/2021.
Mr. Yaron said Agro studies was established 17 years ago to conduct agricultural capacity building by bringing students from different countries doing traditional agriculture to Israel to learn and practice modern agriculture. He clarified that Agrostudies is neither a university nor a replacement of a university but one has to be a university student to qualify for the program.
The CEO said Agro studies enrolls around 1,500 students every year from 14 countries including Philippines, Cambodia, Vietnam, Rwanda, Tanzania, Ivory Coast, Benin, Liberia among others. He cautioned students against laziness, escaping and staying in Israel beyond the program period.
"You are not going for summer. It involves very hard and intensive work in the field. If you feel you are not qualified or capable of doing it, this is not a place for you. It is true Agrostudies is a life changing program and we have thousands of students with amazing successful stories but you need to understand that agriculture is not done in the office, it does not involve air condition but it is hard physical work in the field", the CEO emphasized.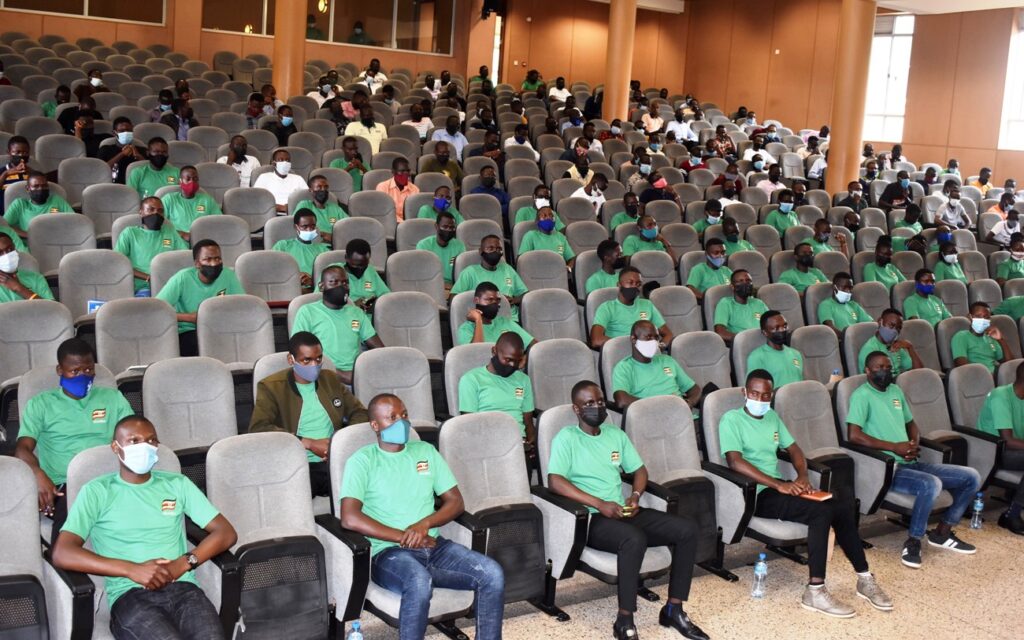 Mr. Yaron however told students not be afraid when they reach the airport saying it is their job to take care of them as mothers and fathers for the next eleven months.
"If you are sick, or have a problem back home, we are the ones to take care of you. We will be very communicative with the university in case of problems and we will solve them. We have a member of staff who will be in charge and he will visit you on the farm, check accommodation to see that everything is well and on arrival at the airport you will be availed emergency numbers", the CEO pledged.
Yaron told students that on arrival in Israel they will be quarantined for seven days, hosted in a farm apartment and given food and other necessities but before exiting the airport they will be subjected to a PCR test at a cost of USD 20 which will be repeated after seven days at no cost but they will have to pay for a PCR test upon their return to Uganda.
He urged students to carry with them laptops for they will start school during that quarantine period through the Israel system including all courseworks and tests adding that they have to pass to get that diploma.
The CEO said, once out of quarantine, students will be vaccinated because every citizen is vaccinated with Pfitzer noting that Israel is the first country in the world that gives a booster because after 6 months of vaccination the anti-bodies disappear or become low.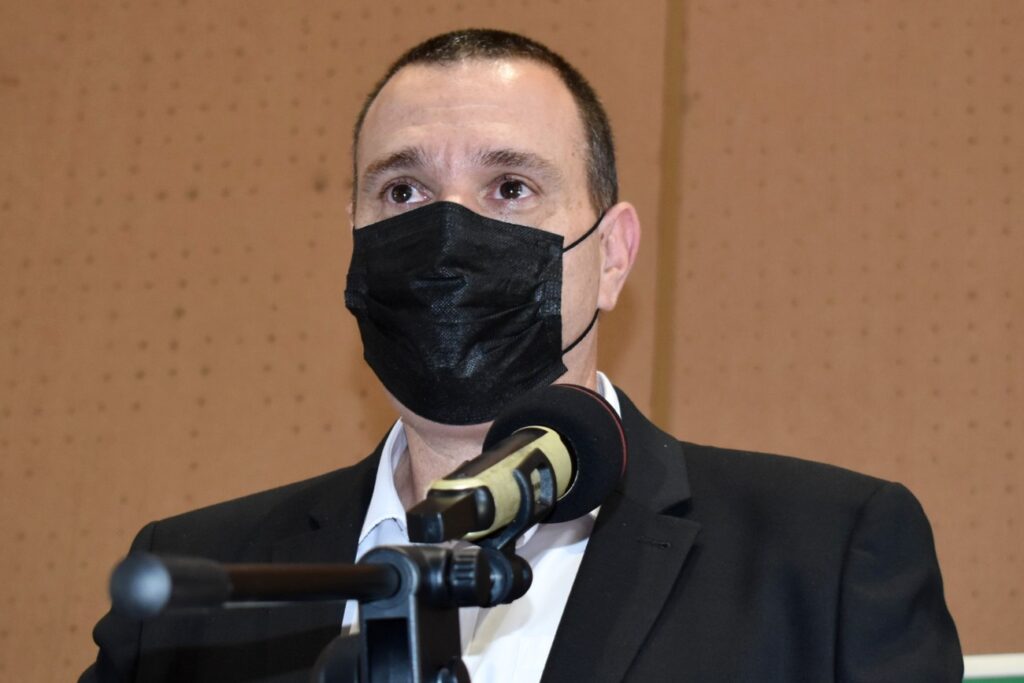 He explained that whether vaccinated or not, it does not matter as long as one is through with the quarantine period. In Israel, he said that a green tag is issued after vaccination to allow one to go to a restaurant, mall and other public places.
He reported that the Delta COVID variant was rampant but with the vaccination, the number has gone down significantly and going low day by day with anumber of PCR tests conducted.
He told students that they will be going to one of the campuses once every week to meet teachers, doctors and students from other countries and experience different courses of agriculture including crop, horticulture and dairy farming.
"Our job is to take the knowledge you have acquired here at university and transfer it into actions. Israel is a small and a highly developed agricultural nation with almost no arable land, the majority being a desert with a huge shortage of water unlike Uganda with a lot of water. And only 2% of the population grows everything the population needs and we export 150% of it because we have the technologies and this is why we hope you will experience this technology.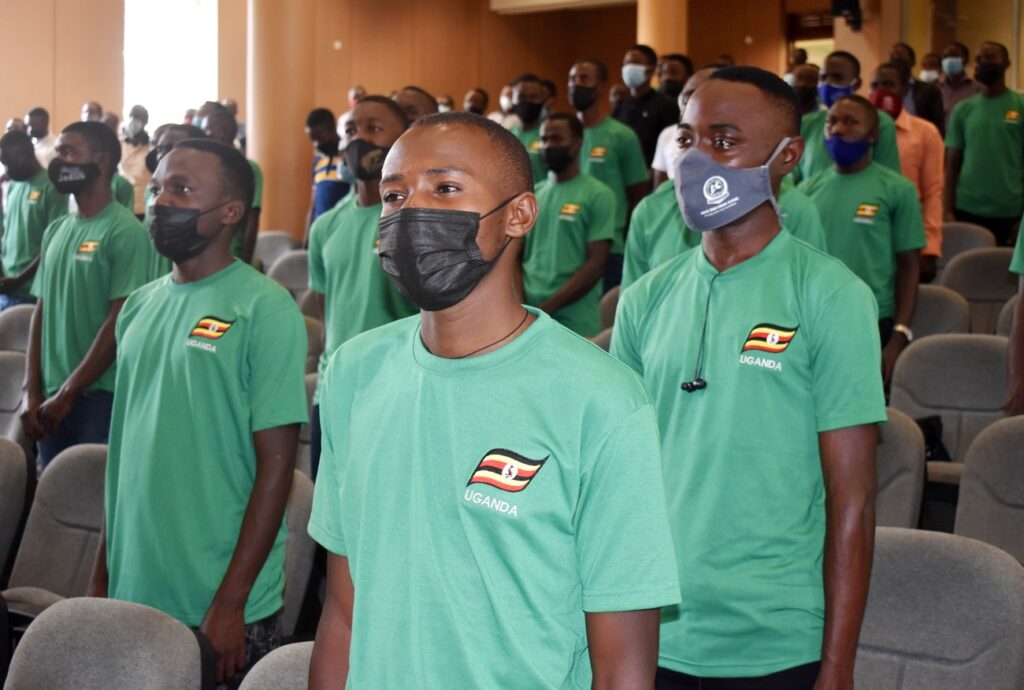 Success comes with hard work, so you will spend five days on the farm doing all farm activities, earn money for it and once you earn, it is important that you save a significant amount to help you come to Uganda and open your own business", the CEO said
Part of the school requirement according to Yaron is for the students to prepare the agricultural protocol where they will study what the farms have and analyse them so as to help them understand how to eventually start their own agricultural business. Among other things of agricultural course is the requirement by students to prepare a business proposal with the help of Israeli experts so that once they come back, they will have the capital to start a business.
Mr. Yaron observed that unlike Rwanda where the largest cooperative is owned by 101 Agrostudies alumni and the second largest is owned by 39 Agrostudies alumni, there is not yet a cooperative owned by Agrostudies graduates in Uganda.
Yaron told students that Israel farmers are very strict with time adding that they must understand that agriculture is a very profitable business and depends on how one does it. He said, Israel used to grow mangoes but abandoned them for avocados and cherry tomatoes because they are more profitably grown using irrigation from 80% recycled domestic water.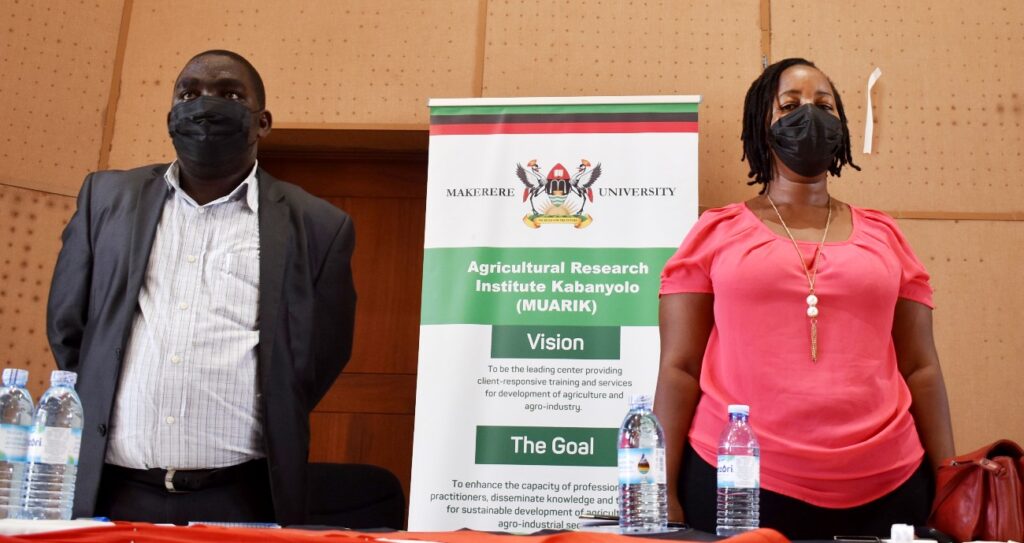 "Israel is a good country but with very hard conditions so we had to do what was possible especially using technology not to starve. You need to know you are not representing yourself but Uganda. … you are young, your future is bright. Come back and be a success story not to end with few dollars in restaurants to wash dishes", the CEO warned.
The Principal CAES Prof. Bernard Bashaasha described the day's event as a happy day and thanked the coordinating team from various universities for a job well done.
Prof. Bashaasha thanked the Government of Uganda and Government of the state of Israel for the political collaboration and partnerships that enables such activities to take place.
Bashaasha also expressed appreciation to the Vice Chancellors of the five participating universities for embracing the program.
He thanked Agrostudies for the vision and initiative that started in 2013 noting that seventeen years down the road, the vision has matured.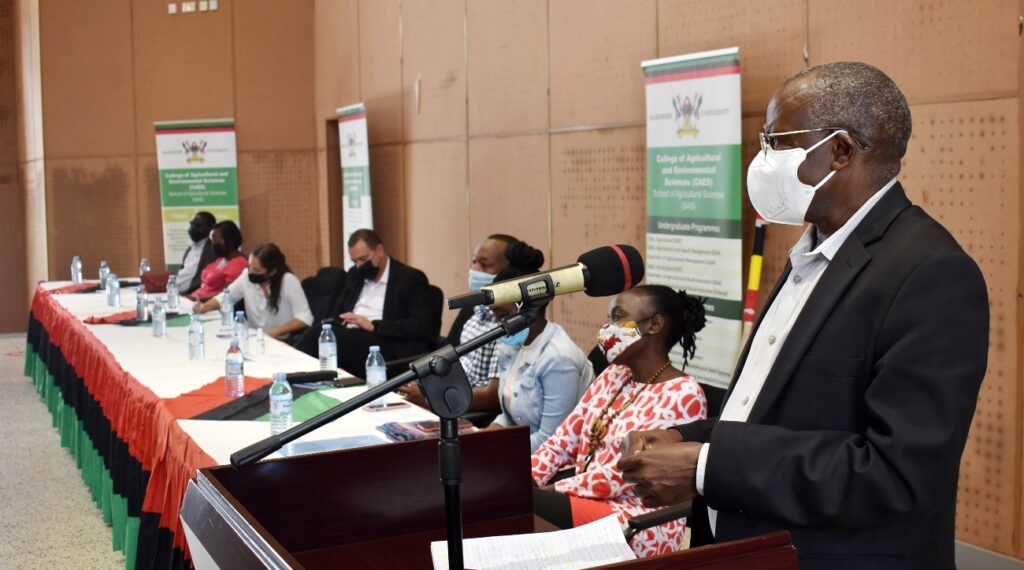 The Principal congratulated the selected students for successfully reaching the flagging-off stage and going through a stiff competition, thorough screening process and medical examination
"When you go to Israel, be good ambassadors. You are carrying the flag of Uganda and take that very seriously because it is not just a ritual but something seriously intended. When you go, please come back so as not to spoil chances of your other colleagues and the implementation of the program", Bashaasha advised.
Prof. Bashaasha appreciated the Government of Uganda for putting up a policy framework that allows such activities to happen.
He said the Agrostudies activity being conducted in various universities here is anchored in the government policy on guidelines of Technical and Vocational Education Training (TVET 2009) in the Ministry of Education and Sports.
Giving oversight of this, Prof. Bashaasha said, is the TVET Council which provides guidelines with eleven key parameters which stipulate that there has to be a governance structure, some remuneration, a written contract, social security coverage, a legal framework, the program of learning, on-off job training, formal assessment and within the duration of one to four years.
Jane Anyango is the Principal Communication Officer, College of Agricultural and Environmental Sciences (CAES)
Mak Unveils Recipes & Products for People Living with HIV/AIDS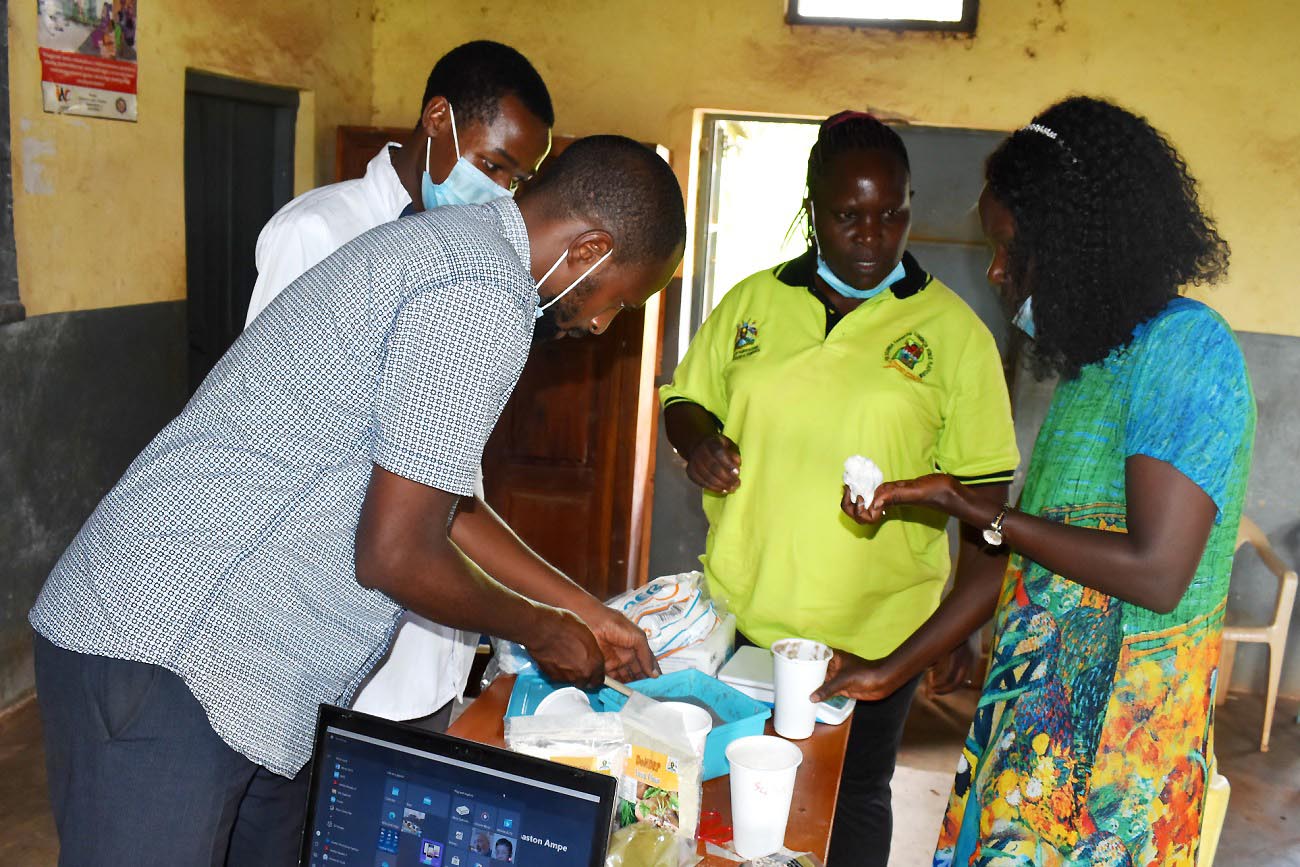 By Jane Anyango
Human Immunodeficiency Virus (HIV) is a global pandemic that is currently affecting 3.7 million people worldwide of which 70% are found in sub-Saharan Africa.
Uganda continues to suffer from the scourge of HIV with the current prevalence of 7%. Healthcare of people living with HIV/AIDS in Uganda is constrained by poor nutrition with estimates of 25% suffering from malnutrition.
A team of researchers led by Dr. Agnes Nabubuya from the Department of Food Technology and Human Nutrition in October 2020 embarked on the study titled, "Development of Nutrient-dense Recipes and Products from Underutilized crops to alleviate Malnutrition among HIV/AIDS Infected persons in Western Uganda (DoNDRP)". The study was fully funded by the Makerere University Research and Innovations Fund (Mak-RIF).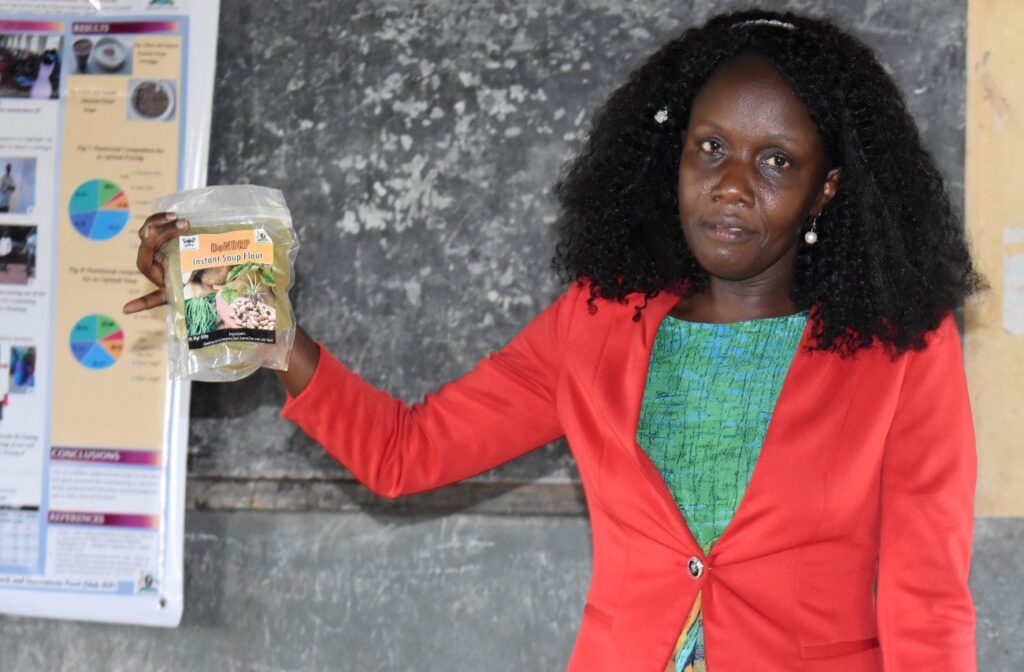 Other members on the research team are Paddy Ainebyona, Dr. Robert Mugabi, Dr. Ivan Muzira Mukisa from the Department of Food Technology and Human Nutrition and Dr. Immaculate Nakalembe from the College of Veterinary Medicine, Animal Resources and Biosecurity (CoVAB).
On 9th October, 2021 the research team unveiled four formulations of the neglected crops namely: Raw soup products, Instant soups, Raw porridge products and Instant porridge at Kigorobya sub-County. The Raw and Instant Nutrient-Dense porridge and soups were developed from neglected crops such as yam and yam leaves, climbing nuts, millet and cowpeas among others.
The nutritional composition for an optimal porridge is Proteins (20.4%), Crude fibre (13.26%) Carbohydrates (42.21%), Iron (26.78mg/l), Zinc (42.75 mg/l0 while the nutritional composition for an optimal soup is Proteins (25.69%), Crude fibre (20.53%), Carbohydrates (36.27%) Iron (23.14 mg/l) and Zinc (38.92mg/l).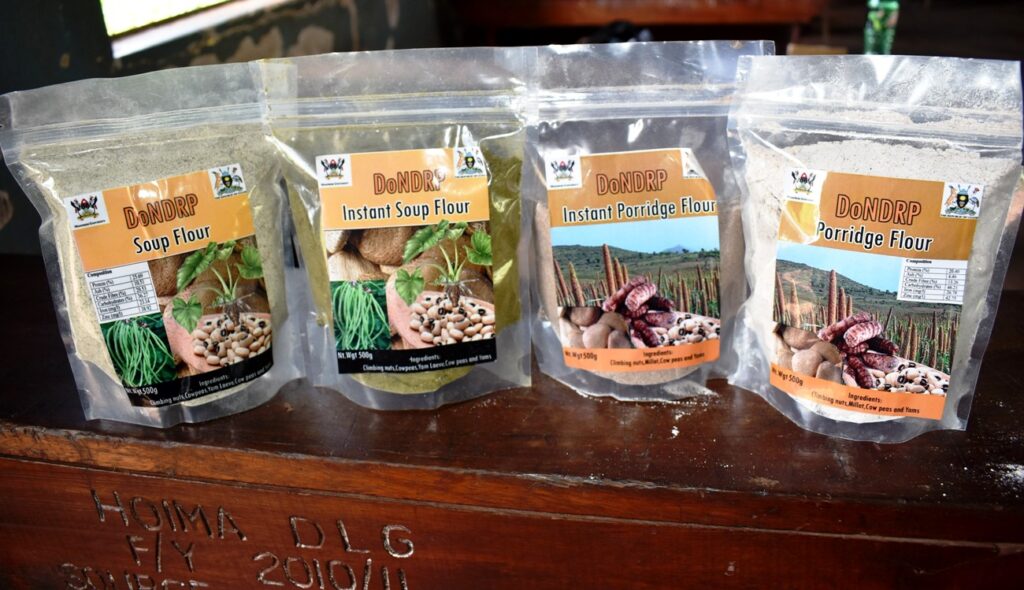 These products were subjected to an assessment by the study community during the research dissemination workshop held in Kigorobya sub-County Community Hall in Hoima district.
The dissemination workshop brought together about 40 participants including Chairpersons of the Local Council I, Village Health Teams, farmers' leaders, Chairpersons of cooperatives, Parish Chiefs, District production and technical staff and the representative of the Chief Administrative Officer Hoima, and people living with HIV/AIDS among others.
The Principal Investigator (PI) Dr. Agnes Nabubuya said, the project target was to carry out an inventory into the underutilized crops and develop a technology to process the selected crops and in addition, generate recipes for preparation of nutrient-dense meals and formulations for products like instant porridge flours and also, to train health facility workers and women from selected communities on using the developed recipes to make nutrient dense foods.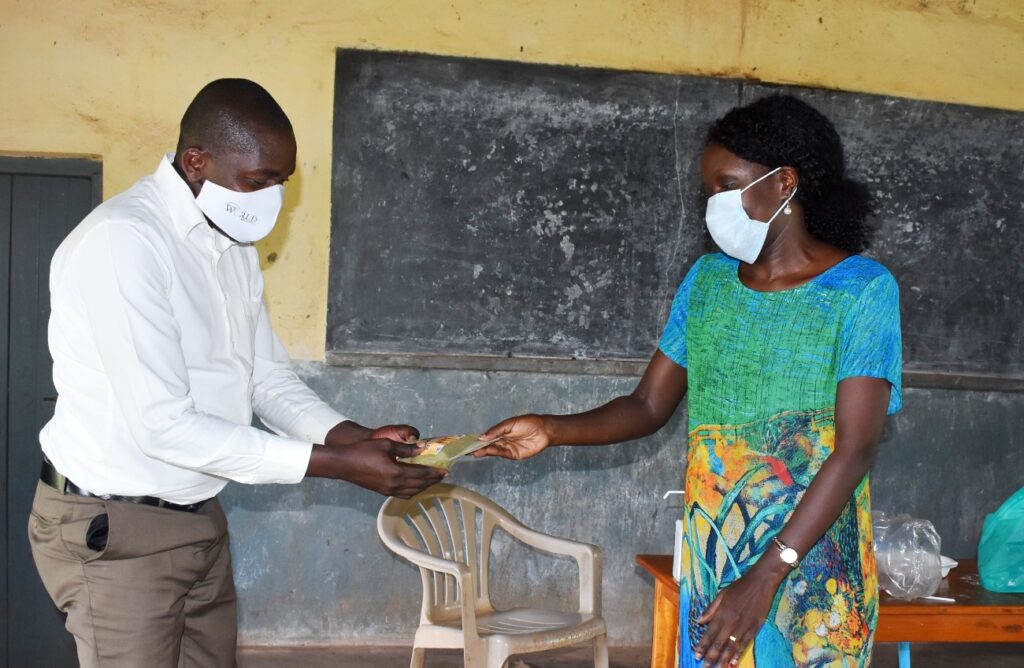 Dr. Nabubuya said they chose Hoima district and Kigorobya sub-County where an inventory of crops was done from farmers and other stakeholders from which mentioned underutilized crops were selected and preference made by farmers from the crops selected by the study team.
"These crops were later taken to the laboratory and analyzed for the nutrients, anti-nutrients, minerals and other properties. We were also able to do functional properties and from which we were able to develop nutrient-dense vegetable soups and porridge which were both raw and instant products", the PI reported.
Dr. Nabubuya said the study team was back in Kigorobya to disseminate the information that was produced in the laboratory and the analysis. Besides bringing back the information, the researchers were also in Kigorobya to showcase the products made, prepare them for the targeted people so as to get feedback.
The PI said the project along the way brought on board one undergraduate and a masters student who will write a project report and publication on the works.
She said the project mainly focused on people living with HIV/AIDS because of the high level of malnutrition but the products can also be utilized by the whole population because they are nutrient-dense and acceptable to the people.
"This project has come to an end but we are hoping to apply for an extension so that we can be able to come and train the participants on how to produce the products and also monitor the nutritional effects on them", the PI said.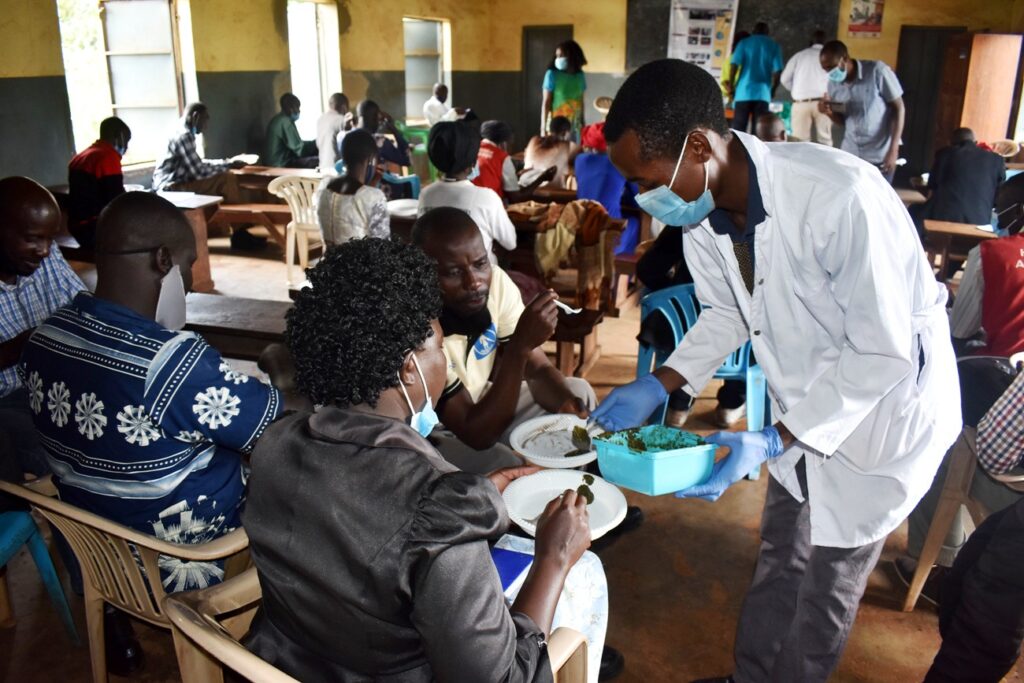 Mr. Paddy Ainebyona an MSc student of Agricultural Engineering on the project reported that data on neglected crops was collected using questionnaires to highlight the underutilized crops and performing community transect walks to obtain a catalogue of these crops.
Ainebyona also said all study materials were prepared and analyzed using standard analysis protocols.
"We looked at underutilized crops that is in terms of availability and consumption. We came up with a list of 39 underutilized crops and categorized them in descending order starting with one which is liked most and came up with a list of 7 which included pumpkin leaves, yam and yam leaves, millet and climbing nut.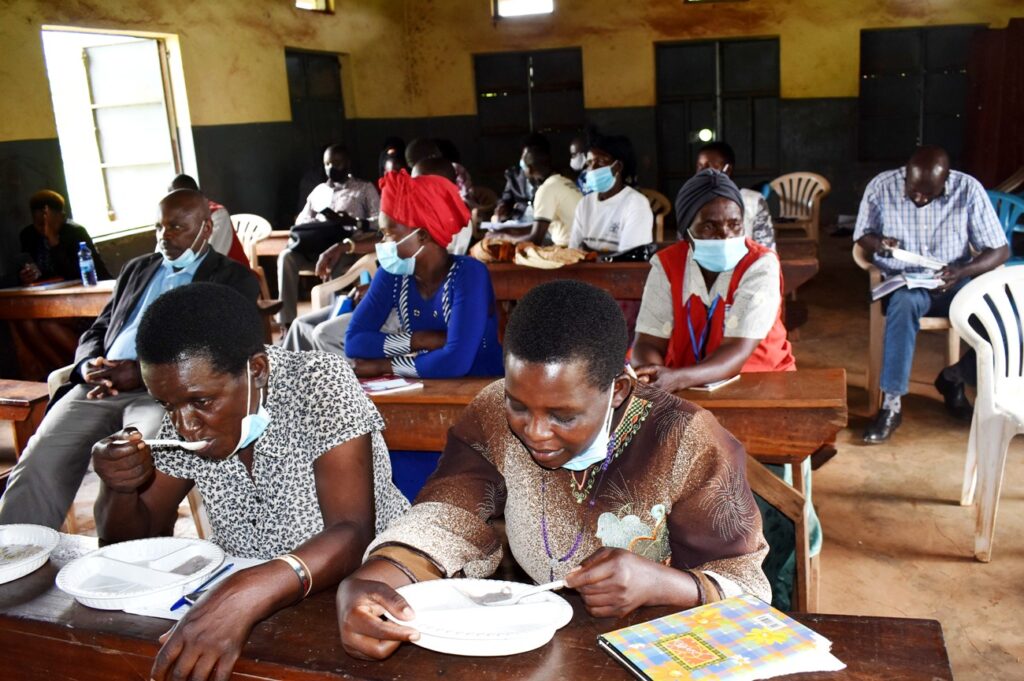 All crops were collected from Kigorobya sub-County, taken to Makarere University laboratories following standard operating procedures including peeling, slicing, drying but also for the leaves we had to do blanching to stop any chemical reactions, slice and assemble them for drying.
We then prepared them and turned them into flours for  shelf stability and started actual activity of product development of porridge and soups and later on, decided to turn these flours into instant products", Mr. Ainebyona explained.
Ainebyona said the products were taken into other processes like standard formulation, sensory evaluation. He said, in the current economic situation, instant products are desired because they are easy to prepare for people who do not have time.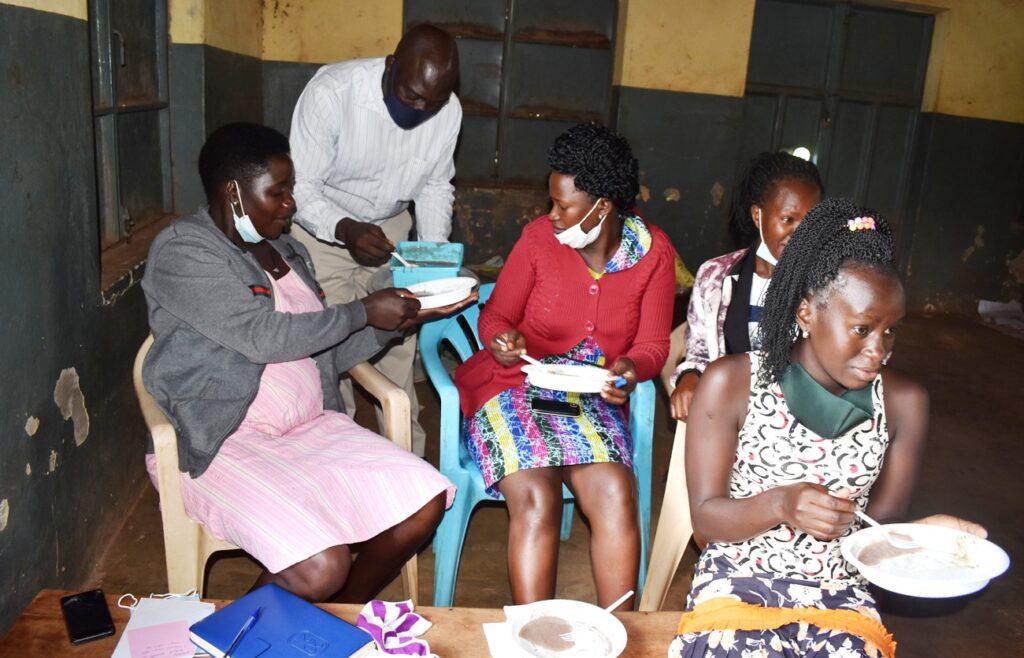 Study community representatives endorse the products as good and important
The sub-County Chief Kigorobya, Mr. Mwesiga Rwamukaga Steven described the project as wonderful and a blessing to the community.
"The number of people living with HIV/AID is increasing with new infections among the teenagers. The nutrition status of our people here is not that good and we have many children who are malnourished
The items used in preparing these supplements are within our locality and have not been taken as being of value. But now, we have seen that they have value and we need to embrace them and strengthen our community capacity so that they can prepare them locally", the sub-County Chief said.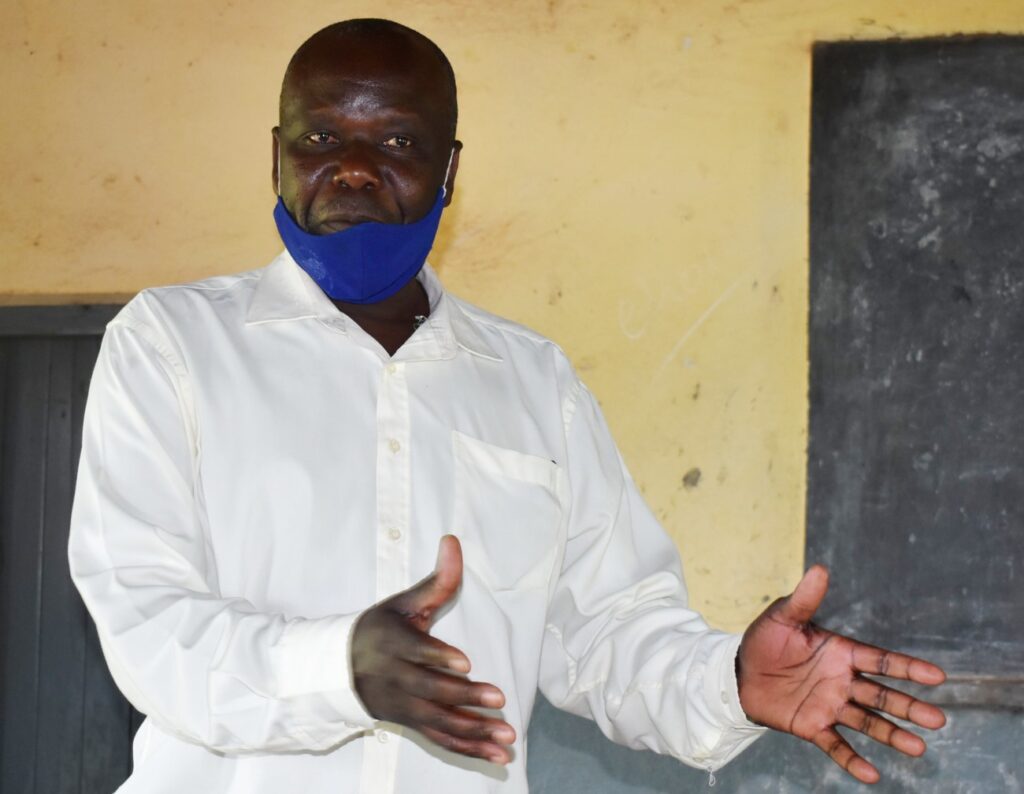 The Chairperson Local Council III Kigorobya sub-County Mr. Sajjabi Nickolas thanked the people of Kigorobya for participating in the study and turning up in large numbers
"I thank Makerere University staff and students for coming to our community to sensitise the people about the available important foods. We have tasted the porridge and soups and they are very good. We request that you organize more of such forums so that the local people acquire more knowledge and skills about feeding the sick", Mr. Sajjabi said
Chairperson Farmer's Management Committee, Kigorobya Cooperative Savings, Mr. Bainomugisa Godfrey thanked Makerere University researchers for processing food supplements from the community neglected crops.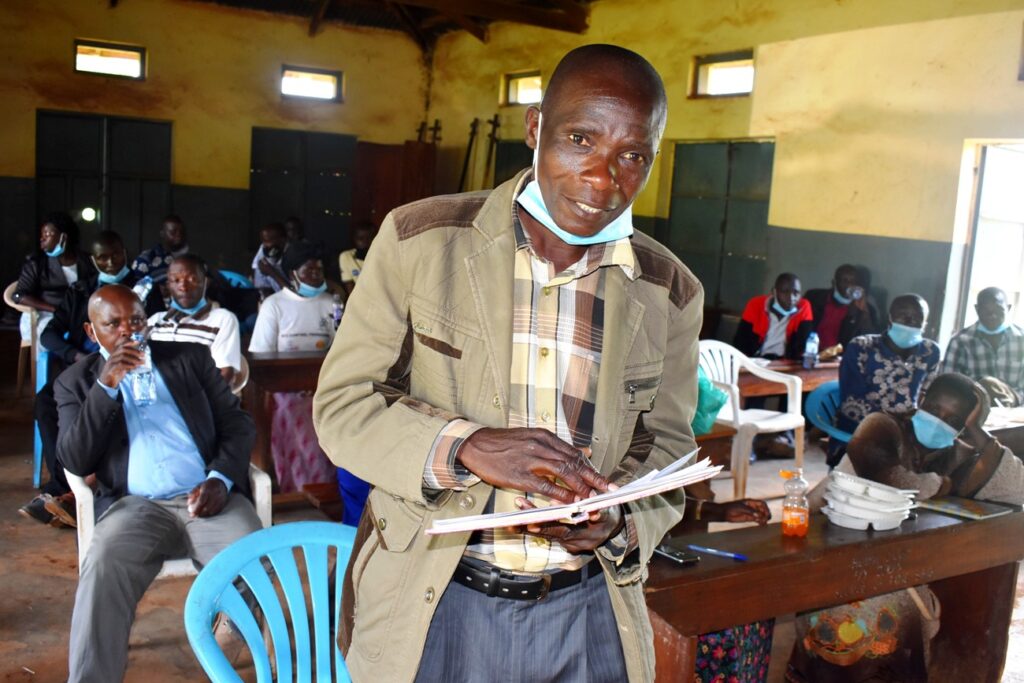 "We have learnt that we have been neglecting our crops which are nutritious and I request the university also to teach us how they are processing these products. The products are so nice and we request for some of these products to take them to the people at home so that they get an impression of the value of the neglected crops. We are going to mobilize our farmers to continue growing the neglected crops because we have learnt that they have important nutrients for our health", Mr. Bainomugisa said.
The Health Inspector Kigorobya sub-County Ms. Happy Moreen hailed Makerere University for the good initiative noting that what they have developed is of good value to the people they serve.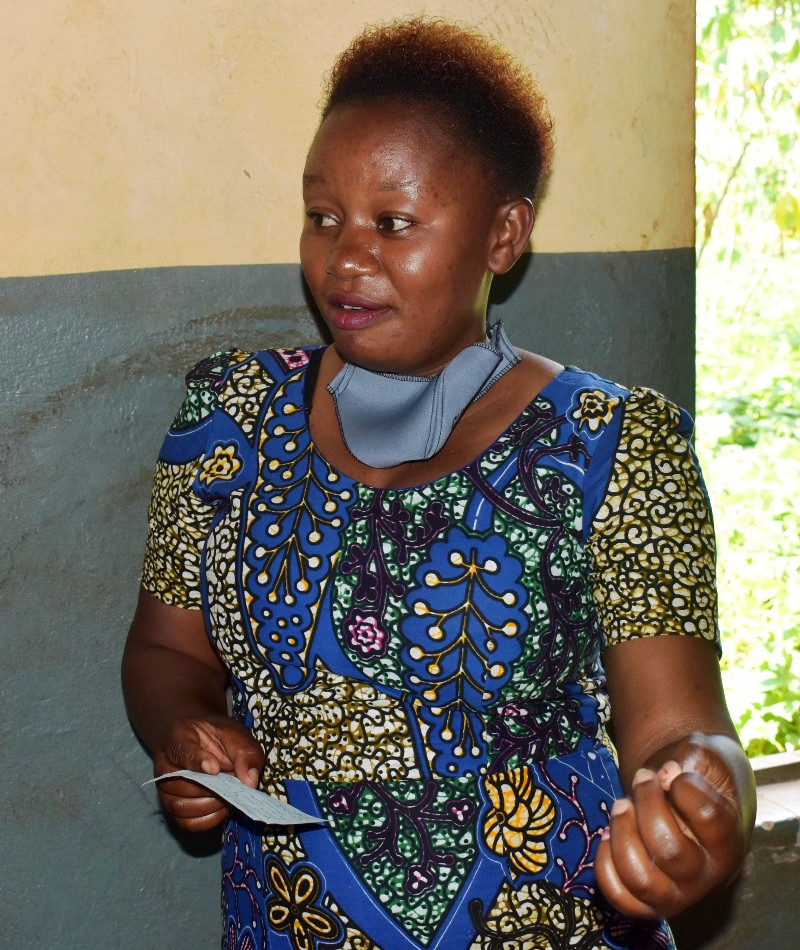 "Generally the instant porridge was nice but I believe if we add other food values like milk and little sugar it can be sweeter than without. If the salt in the instant soup can be reduced and prepared in a way that it is not very thick, it is the best. In addition to the people living with HIV/AIDS, All the products developed can also be helpful to the children. I urge the university to bring more researchers on board to consider also children of 6 months and above because we believe that when children are no longer on exclusive breast feeding, it is better to introduce them to other food values", said the health inspector.
Jane Anyango is the Principal Communication Officer, College of Agricultural and Environmental Sciences (CAES)