UiB sweeps NORHED II funding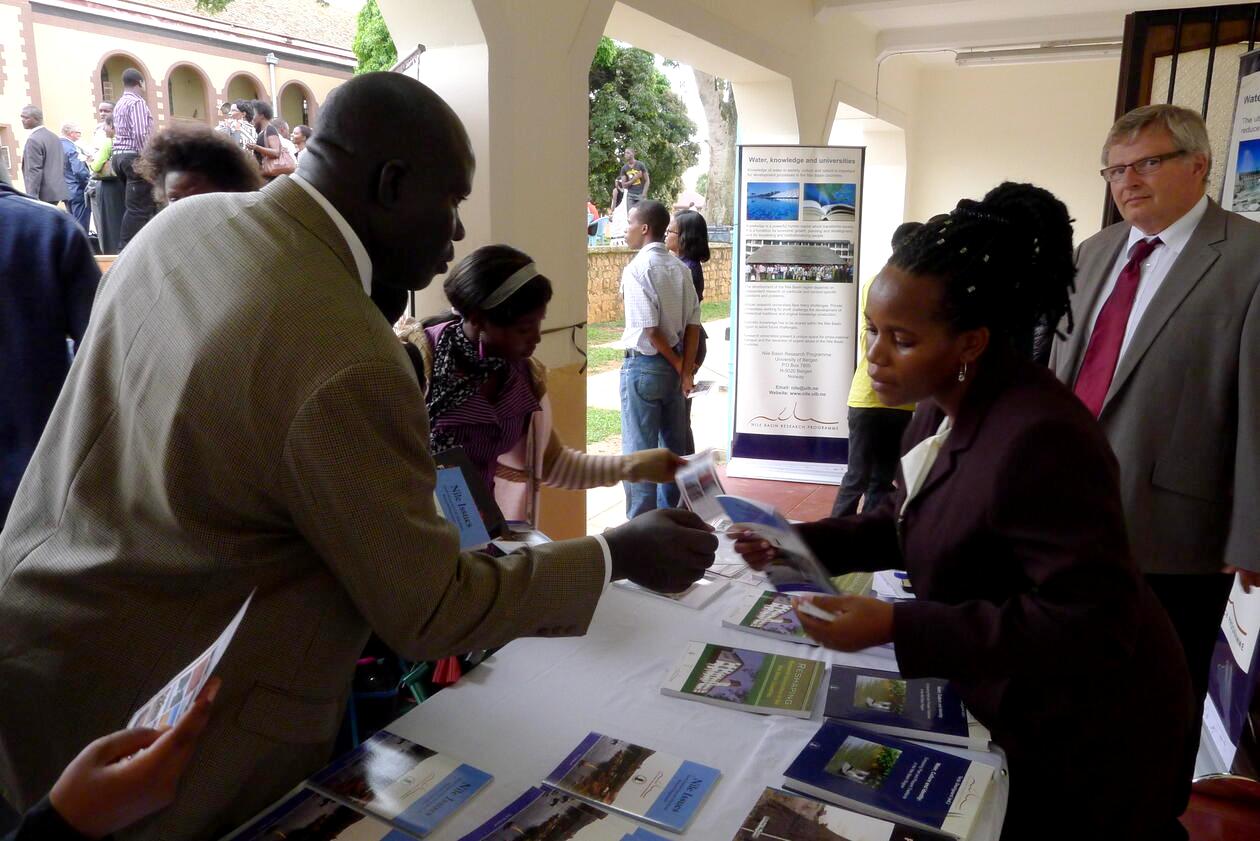 NORHED is Norway's national flagship programme on higher education and research for development. NORHED II represents the second time the Norwegian Agency for Development Cooperation (Norad) awards funding through the programme. A total of 1.1 billion Norwegian kroner (NOK) were awarded to a total of 60 projects out of 199 applications, of which NOK 250 million were awarded to 13 University of Bergen (UiB) projects. This puts UiB top among Norway's universities along with the Norwegian University of Science and Technology (NTNU), which was also awarded 13 projects.
The aim of the NORHED programme is to strengthen the capacity of higher education institutions in the global south to produce higher-quality graduates, more research, higher quality research, and more inclusive higher education. The programme is based on a collaborative partnership model between higher education institutions in Norway and the global south.
Makerere University in Uganda is involved in six projects, most of any partner in the global south. These include;
Mathematics for sustainable development,
Refugees on the Move – South Sudanese in Ethiopia, Sudan and Uganda,
Capacity Building for Research-Based Teacher Education (CABUTE),
Water ESSENCE Africa – creating synergy to meet the global challenges,
iCARTA – Institutionalisation of Advanced Research Training in Africa, and
Decolonizing Epistemologies: the Disciplines and the University
Mak Drylands Transform Project launched in Moroto District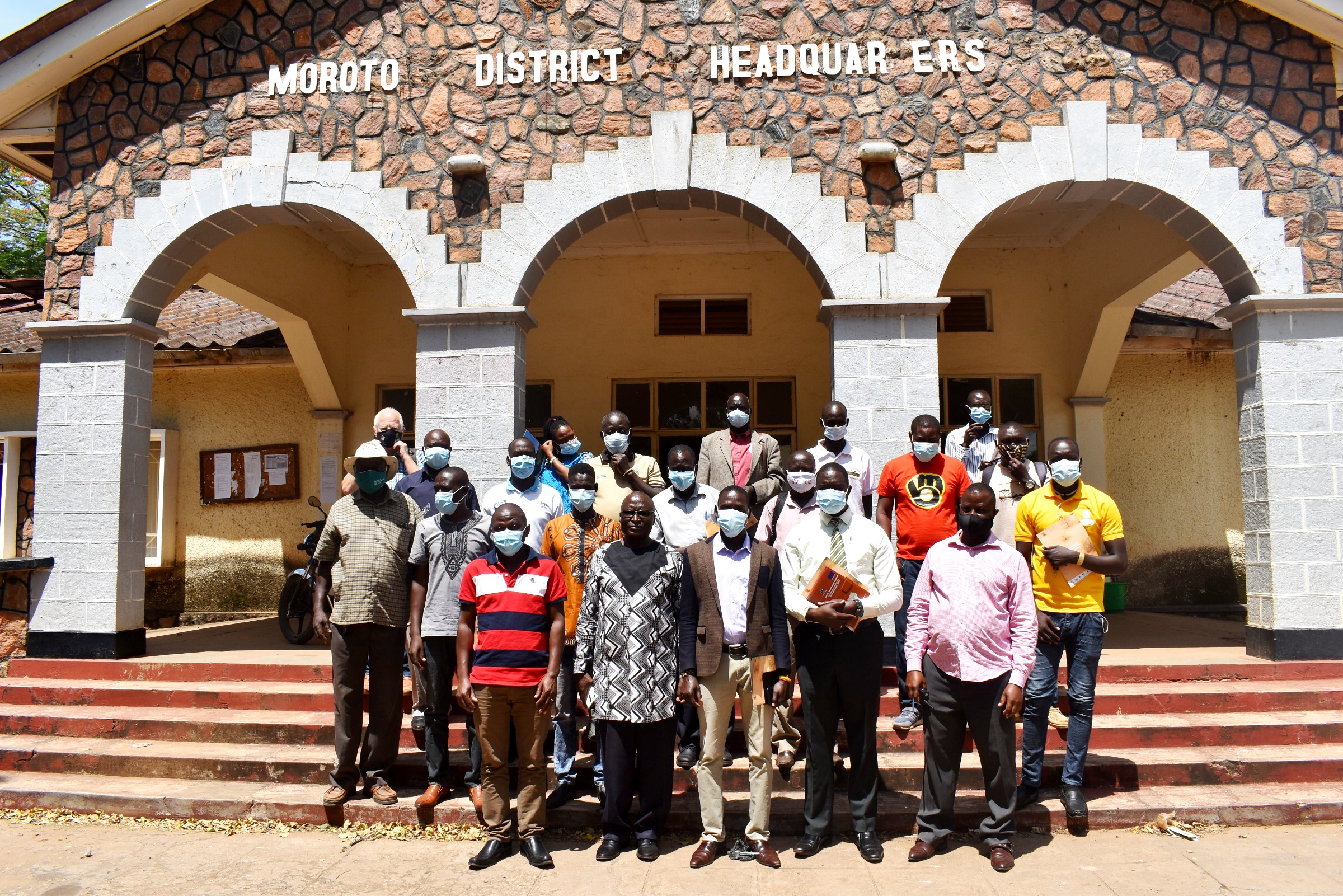 By Jane Anyango
Makerere University has received the blessing and support of community and administrative leaders to implement the five-year Drylands Transform project in Moroto district. This was during the project inception workshop held in the Planning Unit boardroom at the Moroto District headquarters on 21st October 2021. The inception workshop was held to kick start the project.
The meeting brought together over 20 participants comprising mainly the district technical, administrative staff, both political and those in the civil service. The meeting was also attended by representatives of different projects operating in Moroto including Welthungerhilfe project, GIZ and Karamoja Agropastoral Development Program that mainly focus on Livelihoods, food security and hunger.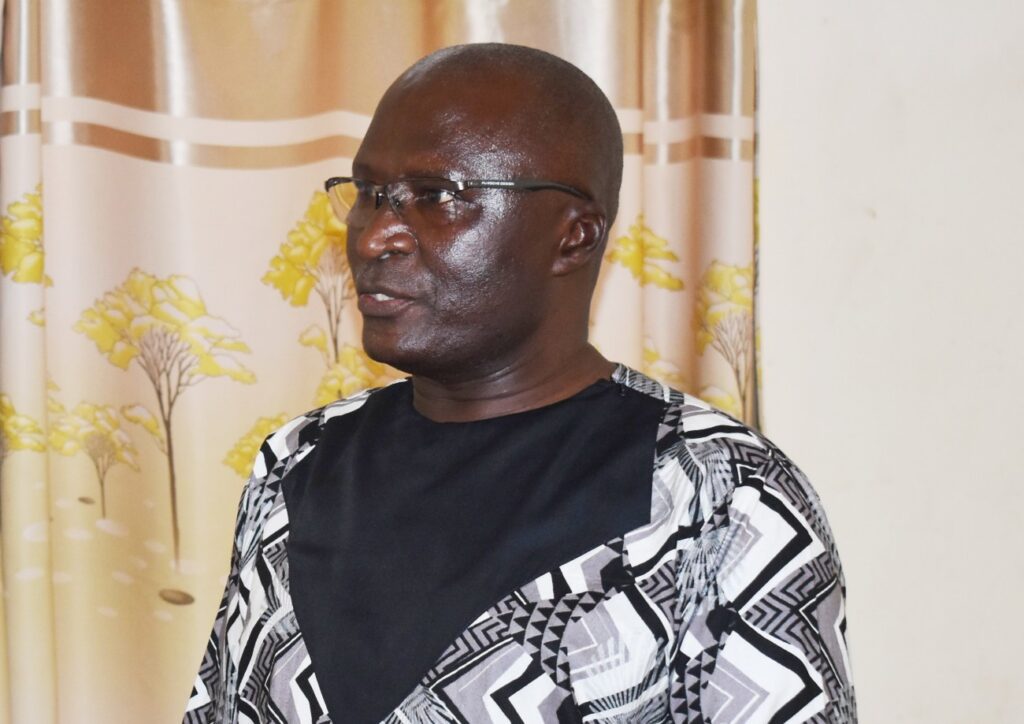 The Swedish University of Agricultural Sciences is leading a multidisciplinary team of researchers from Umea University, Gothenburg University, University of Nairobi, Makerere University, World Agroforestry (ICRAF) and the Intergovernmental Authority on Development (IGAD). The project: "Achieving the SDGs in East African drylands: Pathways and challenges towards  a transformation of landscapes, livestock and livelihoods in the East African drylands (Drylands Transform)", will be implemented in the greater Karamoja cluster of Uganda and Kenya.
Funded by the Swedish International Development Cooperation Agency (Sida), the Drylands Transform project investigates the link between land health, livestock-based livelihoods, human wellbeing, land management and governance. It is aimed at contributing new knowledge for transformative change and sustainable development of rangelands in the drylands of East Africa.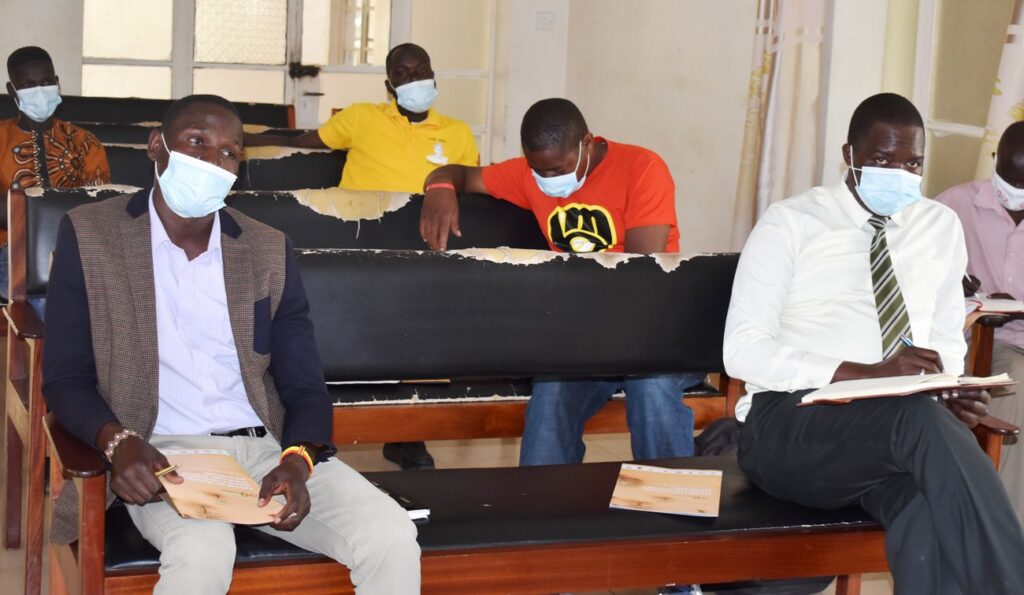 The Principal Investigator at Makerere University Prof. Denis Mpairwe said the function was to bring the stakeholders who are mainly the district officials without whom, the project can never succeed.
Prof. Mpairwe said, the leaders must be able to internalize the project, own it and then work with the research team.
"So here we were seeking three main things; one permission to work within the district. Two, the district technical team headed by the Chief Administrative Officer (CAO) to participate in the project inception workshop and we are happy that the CAO was instrumental in inviting the whole district team that turned up and we have got the blessings of working with the team and the support.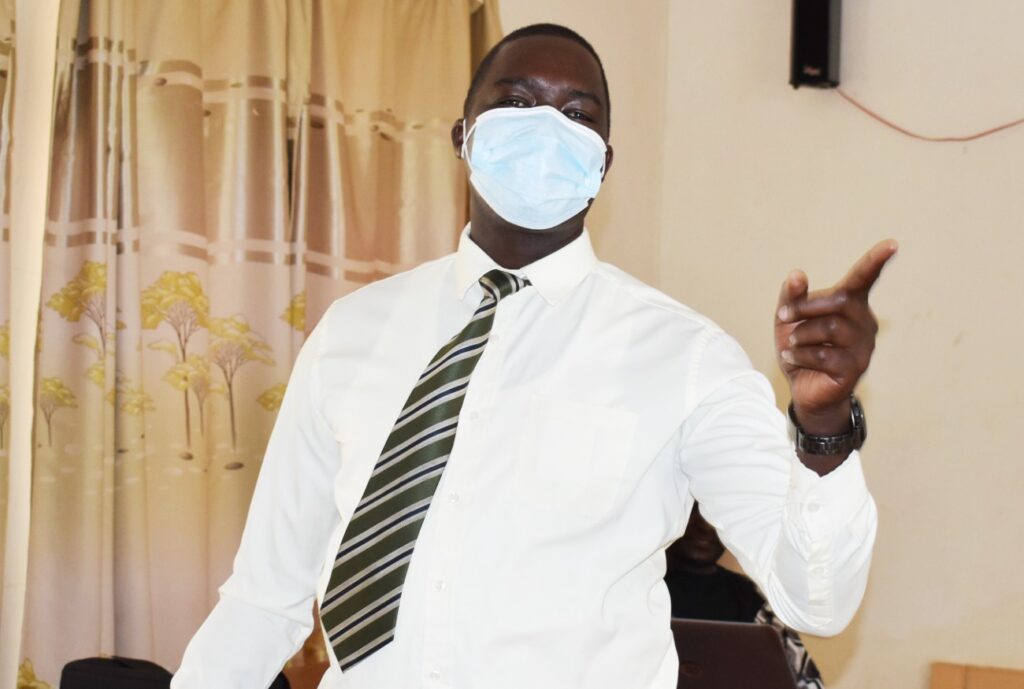 Three to get permission to work with the community and get security as the area is well-known for insecurity. The RDC assured the research team of the security to work with the communities and today we have achieved that one", The PI stated
Moroto Local Government district officials pledge total support
In his welcome remarks, the representative of the CAO who is also the Principal Assistant Secretary Mr. Eko Edward said, the district was pleased with the new initiative describing the project as the new baby.
"For many years, we have not been able to receive partners with a direct linkage to academia. So, by Makerere University focusing on issues of knowledge transfer in Moroto is something new. But also working in areas which affect our communities most that is, rangelands, land issues, bringing new technologies to transform the pastoralists way of life is something we want to appreciate.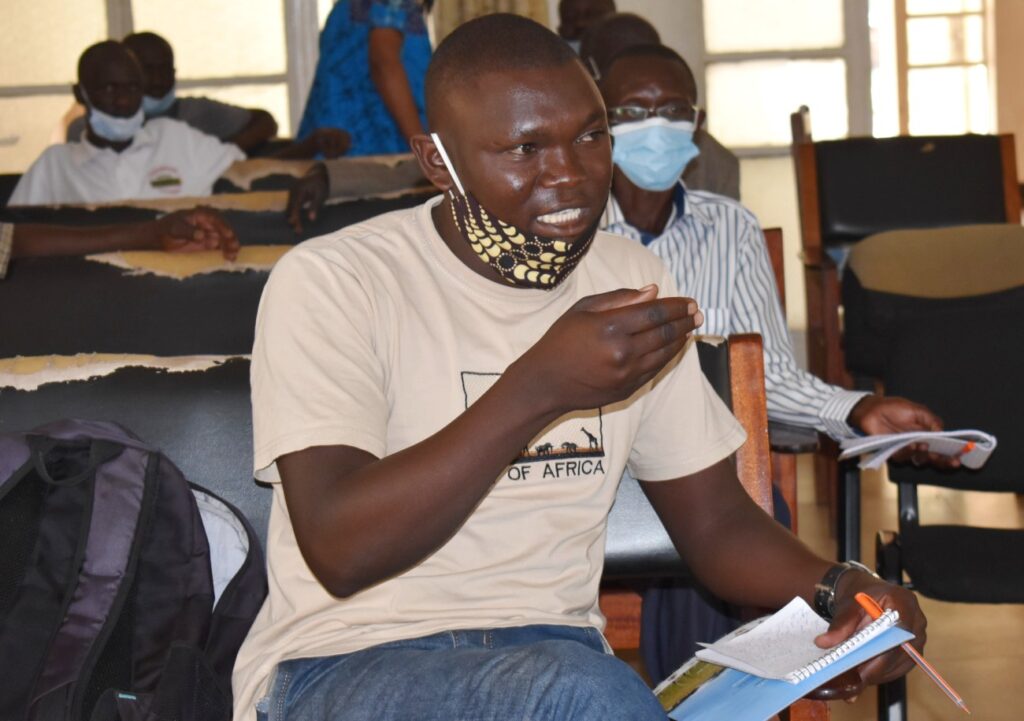 As a district, it is our opportunity now to work together with the new project. We want to call upon all the leadership to provide land to demonstrate this new knowledge. We want to call on the communities to learn from this new initiative, what has worked elsewhere, in case of exchange learning visits, to participate, appreciate and come and adopt", The CAO said
Mr. Eko called upon the technical team, especially the Production and Natural Resources Department to work closely with the new project to ensure that there is some learning done to change to the new normal.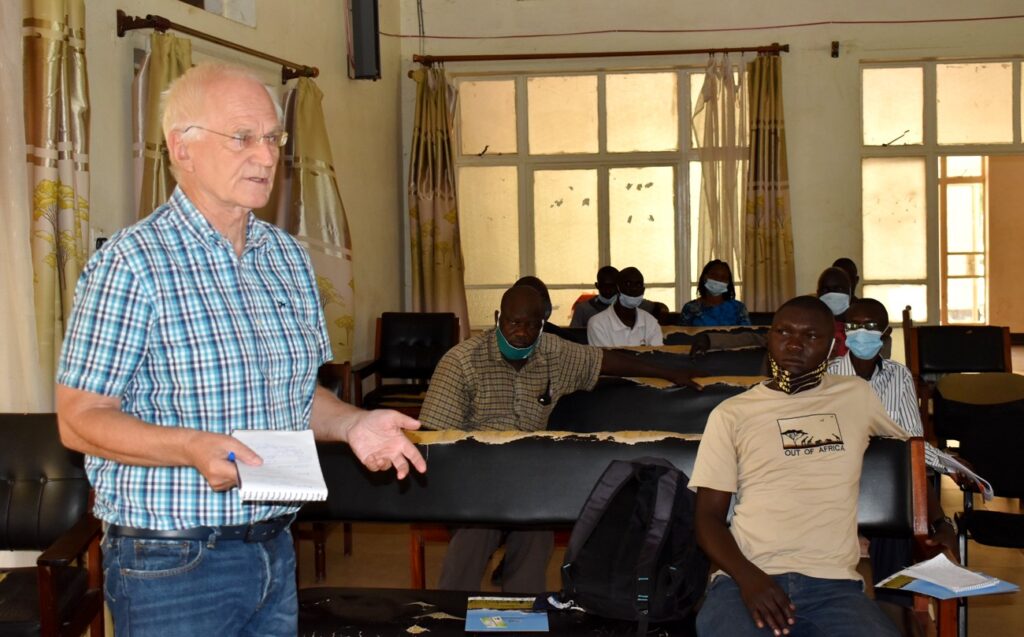 The CAO reported that Moroto district is blessed with a number of partners who have been able to work with communities on issues of rangelands and livelihoods calling on them to work with the new project to leverage on successes of those projects for the district to get the best out of these interventions.
As a district the CAO said, they want to see the impact, adding that Moroto District is well known for good governance and transparency, accountability and value for money.
He urged university researchers to work with existing structures and ensure that people from the community benefit from the available graduate scholarships on the project.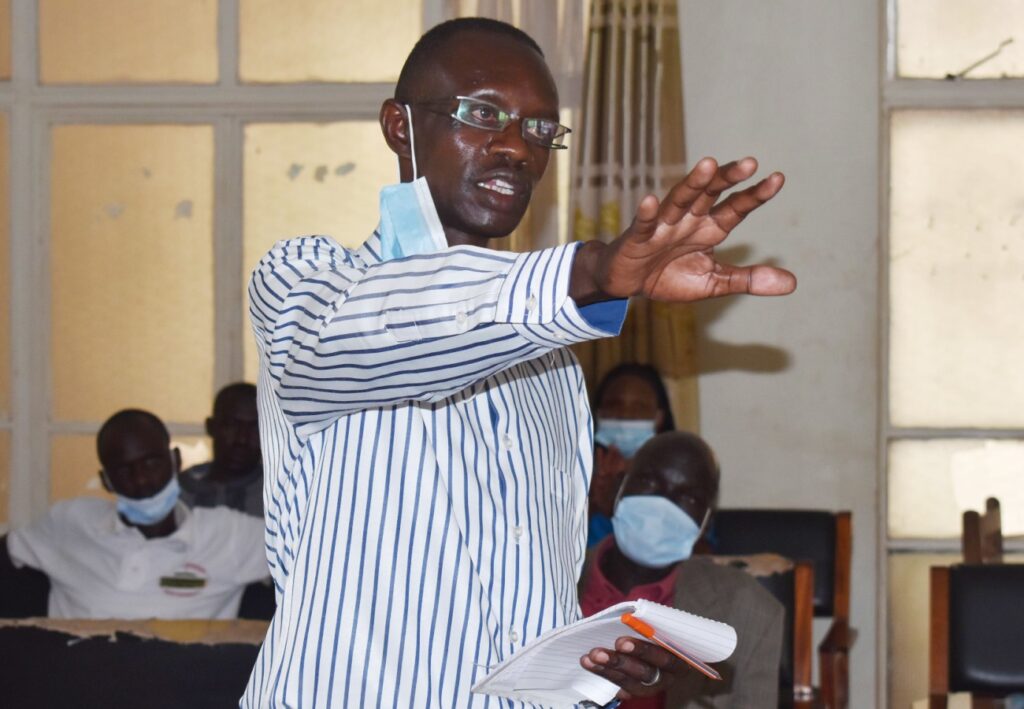 "We have a few who have got support to read up to master's level and others would wish to benefit through the PhD program. Please ensure that we benefit from that because it is only through that that we can have a sustained project over the years" He submitted.
The representative of the District Chairperson Local Council V (LCV) Mr. Achia John also Secretary for Production and Natural Resources hailed the University for focusing on mindset change.
"We are saying that we want our people to settle down not this business of going to look for water and grass and that is why we appreciate your intervention. We want to ensure that our people begin constructing long term settlements so that they are able to keep their animals there, cultivate and settle.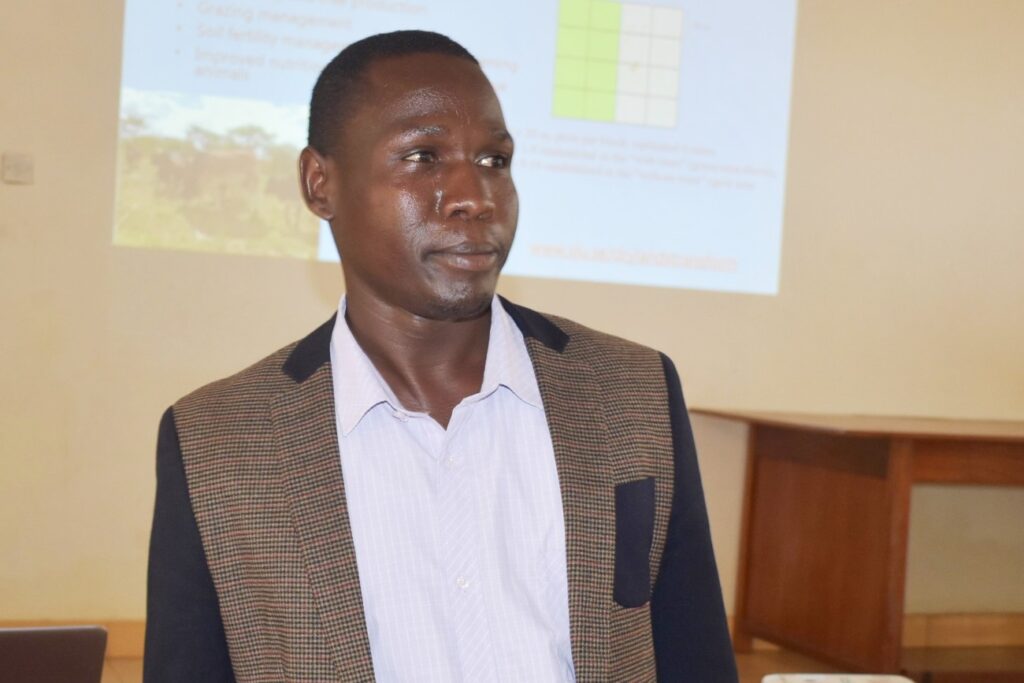 For a very long time, our people do not know how to control ticks that is why you hear about bush burning. We need to teach our people through this initiative to see alternative way of controlling the ticks", Mr. Achia submitted.
Mr. Achia thanked the research team for the initiative and other partners working in the district and assured them of the district's support.
Representing the Resident District Commissioner (RDC), Mr. Ssenoga William who is also the District Internal Security Officer (DISO) urged the communities and district technical team to take on the project, disseminate it and support its implementation. He also implored the district environmental office and Department of Production and Natural Resources to be at the forefront of the initiative.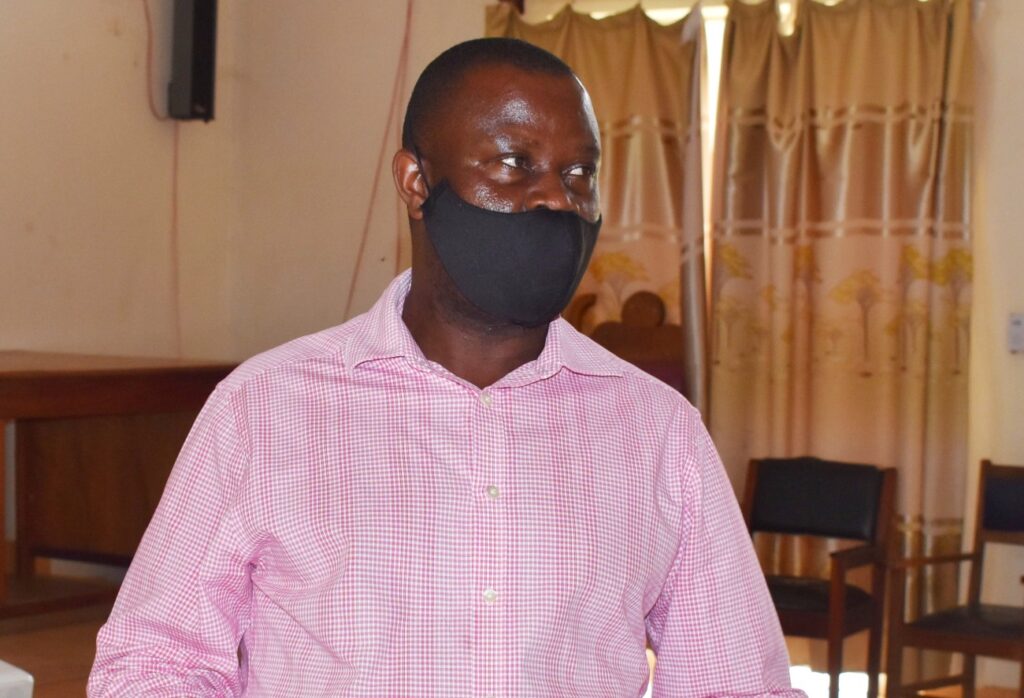 "As security, in case you are in need of us, communicate to us formally and we shall give you our uniformed officers to ensure you move and carry out the project activities safely. We shall require a formal communication for the district security committee to confirm that," The DISO stated.
He thanked the funders for considering the university proposal and the university researchers for competing worldwide and winning the project.
About the Drylands Transform Project
The Principal Investigator (PI)   Makerere University Prof. Denis Mpairwe from the Department of Agricultural Production said Drylands Transform is  multidisciplinary and cross border project covering the Karamoja cluster drylands which embed Western Pokot, Kenya, Turkana region, the South Western and Eastern part of Ethiopia, the South Eastern part of South Sudan and the whole Karamoja region of Uganda.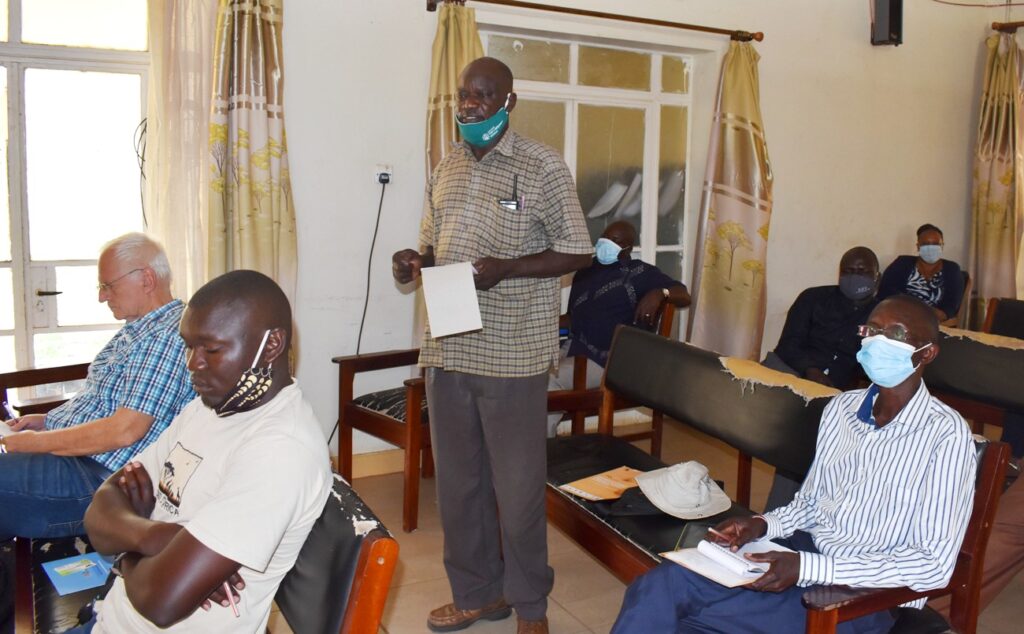 This area, the PI said, has a challenge of dry conditions, unreliable rainfall and of recent, it has been faced by the problem of degradation of the rangelands arising from misuse of land which was originally for pastoralism.
Prof. Mpairwe reported that this project was set to address the Sustainable Development Goals (SDGs) mainly to do with hunger, peoples livelihoods both nutrition and incomes, and for the pastoralists, the project is taking  the approach of caretaking of livestock since it is the main economic activity of the rangelands.
"This project will be addressing four main things. We want to work with the communities to understand the challenges facing the pastoral communities both the agro-pastoralists and pure pastoralists in the changing climate. Of recent the rainfall patterns have changed drastically in the amounts received and unpredictable onsets.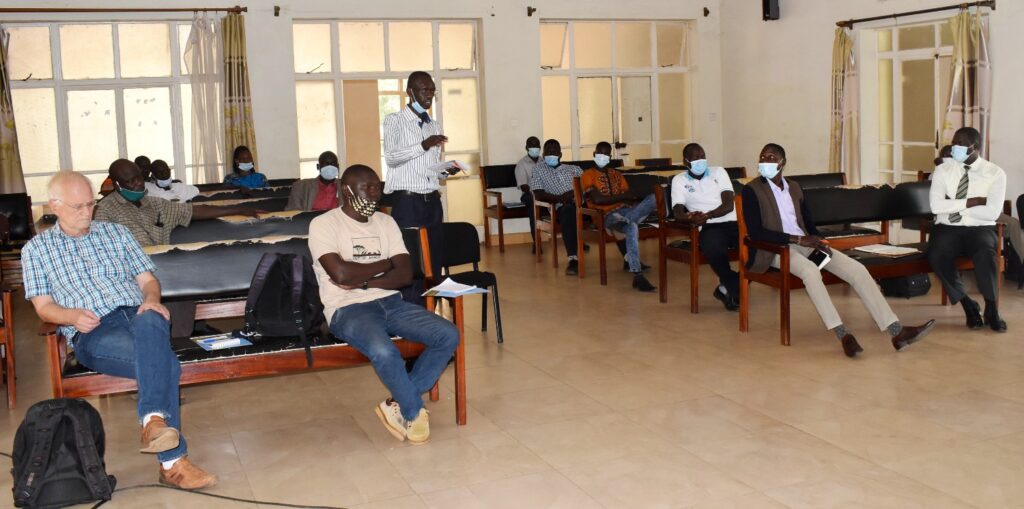 The second challenge the project is trying to address is that; land use changes have taken place – formerly used for pastoralism but now being used for agriculture, mining, gazetted for wildlife and forestry, all impacting on biomass that used to be fed to animals", Prof. Mpairwe explained.
He reported that the project wants to work with communities to show them what interventions they can adopt to ensure that they still remain with enough biomass to feed their animals. The project also intends to work with communities to see which of the technologies advanced are applicable to the agro-pastoralists and pure pastoralists.
The third project focus according to the PI is to look at stakeholder engagement mainly with local governments, the community, Central Governments Uganda and Kenya so as to craft solutions applicable to the people through various platforms of communication and discussion of issues affecting the pastoralists in the greater Karamoja cluster.
"Lastly, we want to use livestock cafes with all technologies in one place as one of the farmer field schools for pastoralists to learn the use of pasture improvement, teach them how to do over sowing, reseeding in bare areas so that they can learn and apply it on their own. The use of feeding strategies like hay, crop residues, improved pasture, use of trees as fodder and fruit trees for people will all be tackled", said Prof. Mpairwe.
He concluded that the overall objective is improved livelihoods of the people, improved nutrition by increasing animal productivity, having enough feeds for animals, improved household income by having milk and animals which are finished for sale as well as getting some people involved in selling hay and crop residues.
Jane Anyango is the Principal Communication Officer, College of Agricultural and Environmental Sciences (CAES)
President Museveni Appreciates Mak Research, Launches Mak@100 Celebrations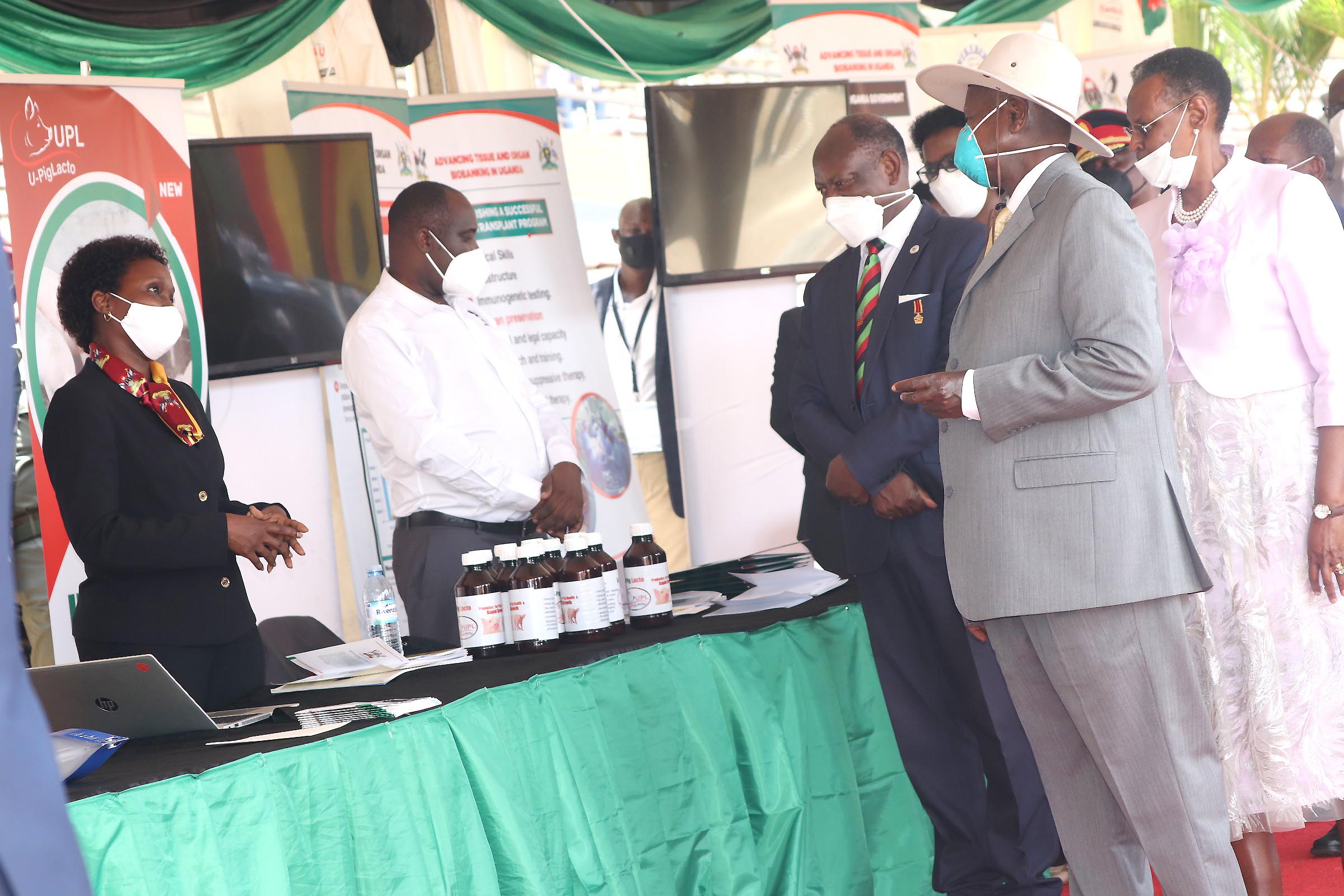 The President of the Republic of Uganda and Visitor of Makerere University H.E. Yoweri Kaguta Museveni on Saturday 9th October, 2021 unveiled the Mak@100 Logo and officially launched the year-long Centenary commemoration as part of the 59th Independence Day celebrations held at the Kololo Ceremonial Grounds.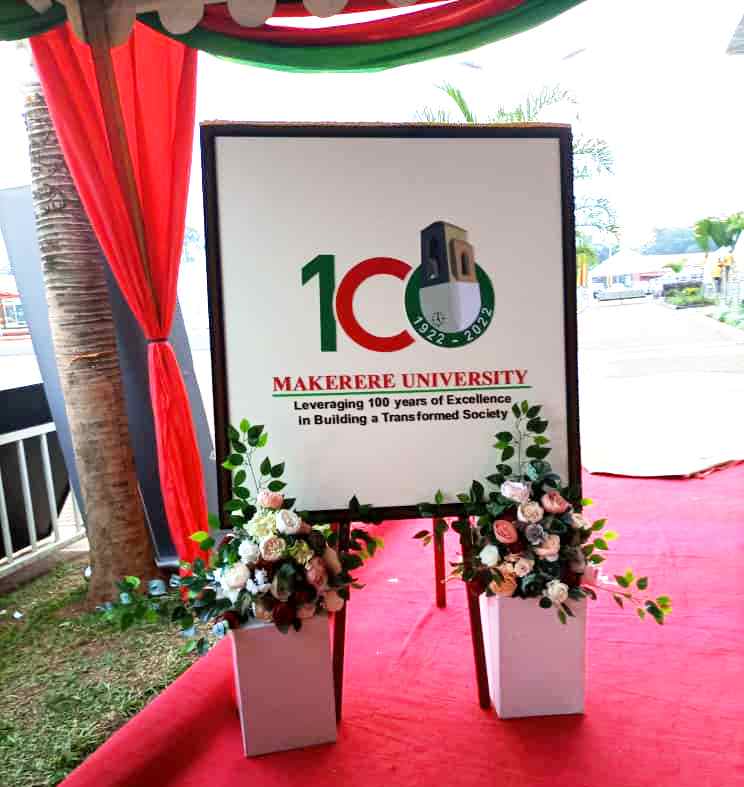 Prior to the launch, the President who was in the company of the First Lady and Minister of Education and Sports (MoES), Hon. Janet Museveni toured an exhibition of eighteen (18) projects –twelve (12) funded by the Government of Uganda through Makerere University Research and Innovations Fund (Mak-RIF) and six (6) funded by International Agencies – designed to drive Uganda's development Agenda. They included;
Advancing Tissue and Organ Biobanking in Uganda led by Prof. Moses Joloba
Up scaling the Usefulness of Ugandan Moringa oleifera and Aloe barbadensis through Formulation and Clinical Development of Novel cosmetics and pharmaceutical products led by Dr. Lutoti Stephen
Development of an open design Low-Cost Ventilator in Response to the COVID-19 Need
A low-cost Device for Decontamination of Personal Protective Equipment Towards Safe Reuse led by Dr. Cosmas Mwikirize
Kiira EV and Kiira EVS led by Prof. Sandy Stevens Tickodri-Togboa assisted by Mr. Paul Isaac Musasizi and Mr. Dominic Semukuttu.
Engine Proof of Concept prototype developed from locally available materials in Uganda by MAPRONANO ACE in collaboration with Kevoton Motion Engineering Limited (KMEL)
A Pedal-Operated Seed Cleaner (PoS-Cleaner) To Boost Post Harvest Grain and Legume Quality, Increase School-Study time and Create Financial Freedom in Rural-Uganda led by Dr. Peter Tumutegyereize
Development of a Green Low-Cost Touchless Hand Wash Technology (TW-20 Kit) For Public Shared Spaces led by Dr. Joshua Wanyama
Strengthening Science, Technology, Engineering, and Mathematics (STEM) Using Gamification in Primary Schools (GamePlus) led by Dr. Benjamin Kanagwa
Makerere University Electronic Human Resource Management System (eHRMS) led by Assoc. Prof. Josephine Nabukenya
Covid-19 and Learning from Home: Parental involvement in the learning of Primary School going Children led by Prof. Betty A Ezati.
Pathogen Economy: Microbial Probiotics for Improved Pig Health and Productivity led by Prof. Samuel Majalija
Design of an Improved Cooking Stove for Clean Energy, Electricity Generation, Food Security and Climate Change Mitigation led by Mr. Hussein Kisiki Nsamba
Practicals to the Home for the Rural Student led by Dr. Taddeo Ssenyonga
Wekebere Medical Device development led by Mr. Stephen Tashobya
Eco Mobile water purifier
EpiTent Limited: A "portable habitation solutions" provider
KUNGULA (Winnowing Thresher): Aggregated Post-Harvest Solutions led by Mr. Ssekanyo Stephen
The President and First Lady were received at the exhibition by the Chairperson of Council, Mrs. Lorna Magara, Vice Chancellor, Prof. Barnabas Nawangwe and Prof. William Bazeyo, Head Grants Administration and Management Support Unit (GAMSU) and Chairperson Mak-RIF Grants Management Committee (GMC).
Following his tour of the exhibition, the President acknowledged and appreciated the work being done by Makerere University, especially to front research and innovations, capacity building as well as providing solutions to community challenges.
Prof. Nawangwe in his remarks thanked the President for entrusting the research fund to Makerere University, which has over the years extended the fund to other institutions through partnerships. He thanked the researchers and innovators for doing a good job and urged them to continue producing solutions that benefit communities.
The University leadership pledged their continued commitment to realizing more community-targeted research and innovation outputs, with the aim of improving their livelihoods.
Press Release: New method offers rapid monitoring of contamination in drinking water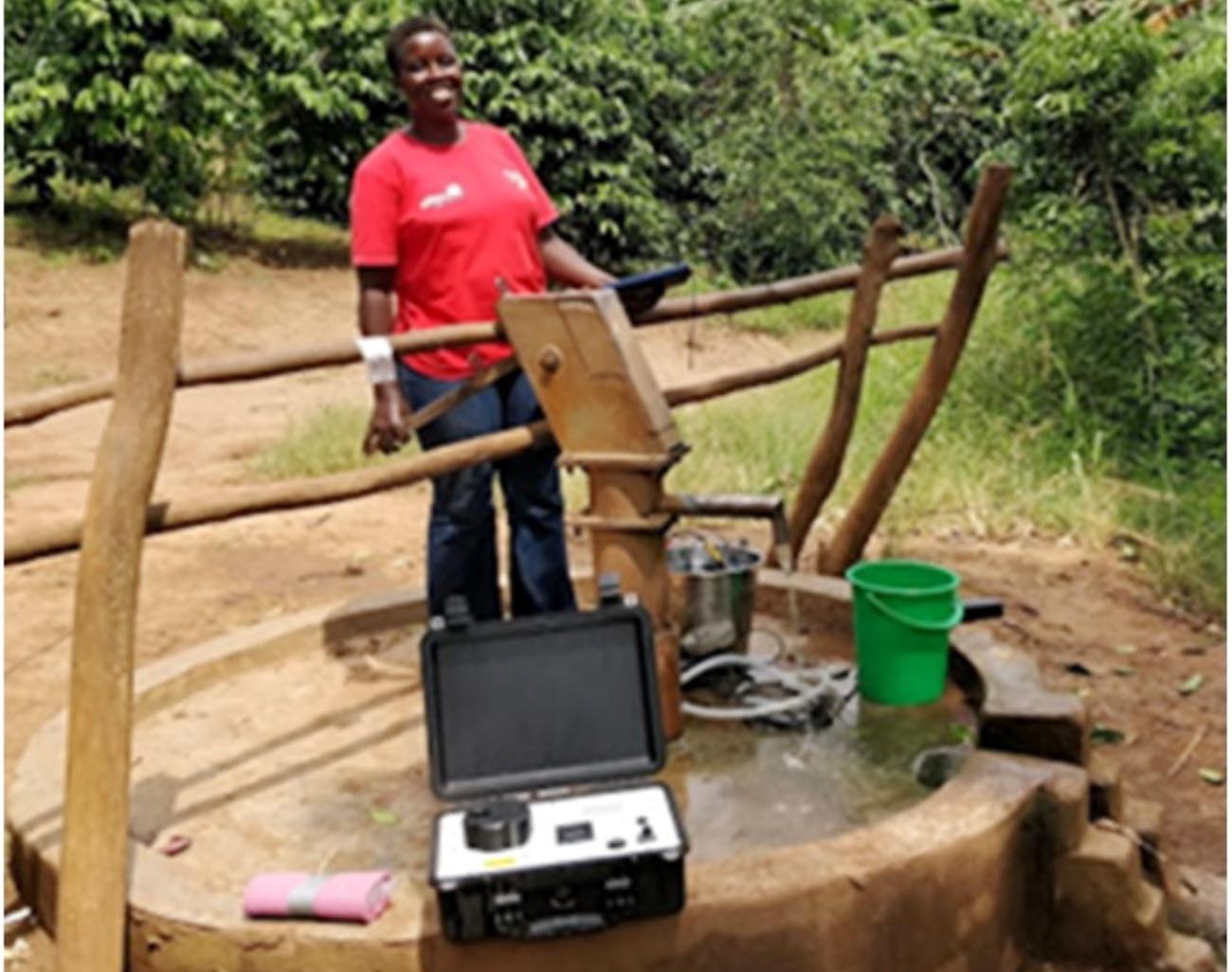 12th October 2021: Scientists have developed a reliable new method to monitor the risk of contamination in drinking water which gives immediate results, enabling global communities to respond rapidly and help reduce their exposure to waterborne diseases.
Drinking water contaminated with human and animal faeces is consumed by at least two billion people worldwide. This pollution is responsible for outbreaks of waterborne diseases that remain common, even in high-income countries.
For decades, standard approaches to test water supplies have used bacteriological indicators of faecal contamination, most commonly thermotolerant coliform bacteria known as TTCs. Analysis of these indicators requires use of sterile equipment and culturing techniques, which practically limit the frequency of water sampling so that contamination events can be missed. Time lags of 1 or 2 days before results are returned mean that people can already have been exposed to the faecal contamination.
A new study, published this week in Water Research by a collaborative team from Makerere University, the British Geological Survey, and University College London, shows how a technique exploiting the fluorescent properties of microbiological materials in water provides an easy-to-use method to test for faecal contamination.
Co-author Jacintha Nayebare, PhD student at Makerere University said, "In-situ fluorescence spectroscopy provides an instantaneous assessment of faecal contamination allowing rapid feedback to consumers that could reduce exposure of consumers to faecally contaminated drinking water."
The team examined changes in water quality over a 14-month period from 40 sources supplied by groundwater in Lukaya Town of south-central Uganda. The results show not only that in-situ fluorescence provides an instantaneous measure of faecal contamination but also that it is a more reliable measure of the risk of faecal contamination than TTCs.
Co-author, Dr. Robinah Kulabako from Makerere University's Department of Civil and Environmental Engineering said, "this rapid, robust method of monitoring the risk posed by faecal contamination has enormous implications in Uganda not only for untreated water sources such as wells and springs thereby, enabling communities to respond rapidly to contamination events but also for low-cost, continuous monitoring of piped water supplies."  
This research builds upon field studies conducted by the team in a network of urban observatories in Senegal, Kenya and Uganda under the AfriWatSan project, supported by The Royal Society and DFID, as well as research in the UK, India, and Zambia funded by Natural Environment Research Council.
Lead-author, James Sorensen from the BGS and UCL said: "the ability to test in-situ fluorescence as an indicator of faecal contamination risk in a wide range of environments and conditions has greatly improved both the evidence base for this method of water quality monitoring and our understanding of what fluorescence observed in water means."