Mak Student's Push-Pull App to Help Farmers Control Maize & Sorghum Pests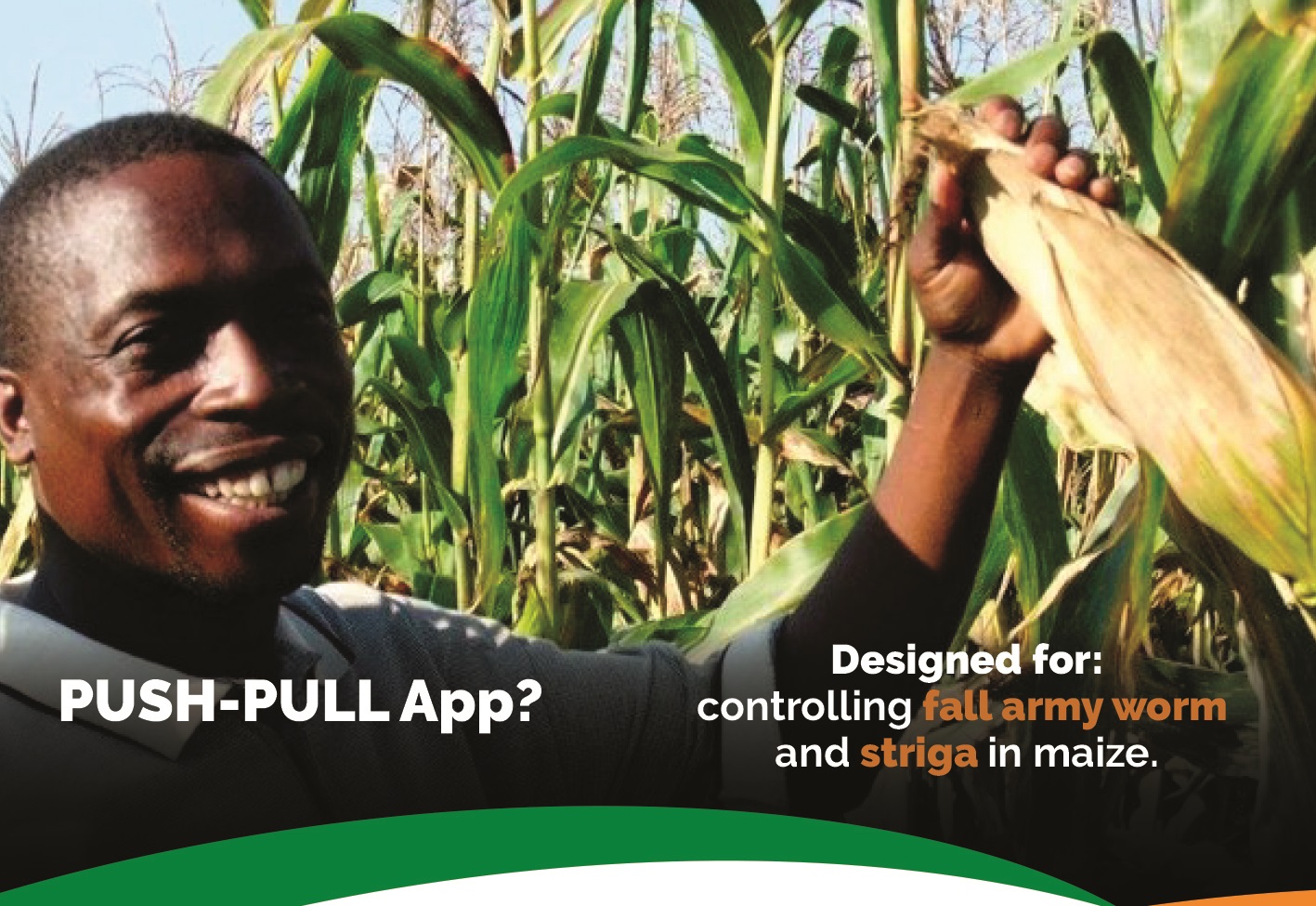 By Jane Anyango
Makerere University student Paul Mugisha in collaboration with a team of scientists from the International Centre of Insect Physiology and Ecology (ICIPE), Keele University and Leeds University has developed a mobile app to help maize and sorghum farmers to control pests without using pesticides.
Paul Mugisha is undertaking a Master of Science in Plant breeding and Seed systems at Makerere University's Department of Agricultural Production, School of Agricultural Sciences under the College of Agricultural and Environmental Sciences (CAES). Mugisha is also the Chief Executive Officer (CEO) Agape Innovations Ltd.
The purpose of this app is to enable a farmer to do push-pull on his garden without interacting with an extension agent but purely using his mobile phone which does not only solve the problem of scarcity of extension workers, but also, prevents the spread of COVID-19.
The new app code-named, "the Push-Pull App", was launched and made available for use on Google play store on 9th August, 2021 by an international team of scientists to support farmers across Africa to use innovative, environmentally-friendly techniques for evading crop pests.
In a press release issued during the launch, scientists noted that African smallholder farmers face major challenges from insect pests such as fall armyworm, and weeds such as striga that can destroy their crops. Fall armyworm is a serious threat to food security and livelihoods and already affects at least 400,000 hectares, causing crop losses worth an estimated $3 billion a year.
In the release, the "Push-Pull technology" was described as a novel method of crop management and a solution which can massively reduce farmers' losses from pests and increase their harvest sizes, whilst avoiding the need to use harmful and expensive chemical pesticides.
The media release in part states that the "Push-Pull technology" is a scientific method of planting crops like maize and sorghum, alongside particular species of forage grasses and legumes that repel pests and supress weeds.
"It was developed by scientists at ICIPE in Kenya and partners and is designed to protect the plants against devastating pests like the fall armyworm and the striga weed, with the companion plants also improving soil fertility. But a major challenge is how to communicate advice and information about this to millions of smallholder farmers in sub-Saharan Africa, to get as many of them using the technique as possible.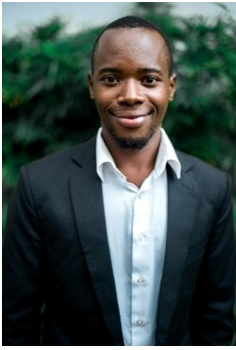 To help address this challenge, a new mobile phone app has been launched by Agape Innovations Ltd, in collaboration a team of scientists from the University of Leeds, University of Keele and ICIPE.
The app is part of a larger project called, "Scaling up Bio control Innovations in Africa", funded by the Global Challenges Research Fund, which seeks to understand how biocontrol methods have been used across Africa and to encourage their uptake", part of the media release states.
The Principal Investigator (PI) Dr Steve Sait, from the University of Leeds' School of Biology, said the Push-Pull method of pest control is decades old and is used successfully by thousands of smallholder farmers across Africa.
"We hope that this collaboration, and this new app, can help us extend knowledge of this technique to potentially millions of other farmers who could be benefitting from it. Compared to chemical pesticides, Push-Pull costs less money to the farmer, results in less damage to their crops, and it avoids harming other insect species that play valuable roles in the ecosystem."
The PI said, research by the scientists behind the Push-Pull technique, including Keele's Professor Toby Bruce, has proven that odours released by the companion plants can effectively repel fall armyworm and protect crops against the pest.
Early adopter farmers according to the scientists have had great success with this technique, reporting five times less fall armyworm damage and a doubling or even tripling of crop yield, showing the huge potential this has for farmers and crop-producing smallholders.In addition he said, It also reduces the environmental impact of farming by protecting against pests without using pesticides, as well as improving soil quality without inorganic fertilisers.
Dr. Steve Sait explained that the Push-Pull App has been developed by Agape innovations and is available on Android phones, designed to work on the basic smartphones that are being increasingly used by smallholder farmers in Africa.
The App he adds, gives farmers information they need to get started with Push-Pull farming, and is not only free but 100% available offline, meaning a lack of internet connection in rural regions will not affect its function.
"The ultimate goal is to provide a resource for farmers that is informed by science, protects their crops and improves their harvest, which they can access any time of day from anywhere in the world".
Professor Toby Bruce from Keele University's School of Life Sciences said the team was excited to see if this App can serve as a vehicle for taking practical information to the farmer.
"It is designed to share key details about how to get started with Push-Pull. We hope this will increase the number of farmers taking up this innovative approach that provides real benefits by improving crop protection and food security."Prof. Toby Bruce said.
Makerere University student- the App designer Mr.Paul Mugisha, who is also CEO of Agape Innovations Ltd underscored the significance of ICT in addressing farmers' challenges in critical challenging times involving natural calamities.
"With the world going digital and uncertainties like Covid-19 amplifying the challenges of physical interactions, ICT is so vital in today and tomorrow's agriculture. At Agape, we built the Push-Pull app as a global tool to equip a farmer with all that is needed for a successful push-pull garden.
Embedded with audio, visual and graphical expressions we are certain that the Push-Pull app will be relevant to maize and sorghum farmers worldwide for both today and tomorrow in controlling FAW, Striga and Maize stalk borer", Mr. Mugisha explained.
Mugisha said, in this Push and Pull technology, maize is intercropped with legumes, and forage grasses are planted around this intercrop as a border around the garden. The legume intercrop produces chemicals that repels the pests from the garden (push) while the forage grass in the boundary produces chemicals that attracting insect pests (pull). In addition, the chemicals released by the intercrop roots also cause abortive germination of the parasitic striga weed, providing effective control of this stubborn weed. The legume also fixes nitrogen into the soil thus boosting soil productivity..
More about the PUSH-PULL App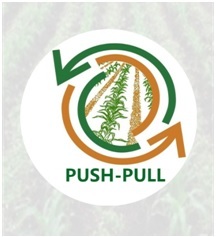 What is Push-Pull App?
PUSH-PULL app is a mobile application that serves as a guide to a farmer whose interest is to control pests in maize and sorghum (like fall army worm and maize stem borer) without using chemicals and also improve the soil conditions without using artificial fertilizers.
The PUSH-PULL app acts as an extension agent on a farmer's mobile phone providing information about a farming method called push-pull that was developed by scientists at ICIPE, a method that uses natural means for pest control and soil improvement.
What problem is PUSH-PULL app trying to solve?
With PUSH-PULL app, a farmer can access information at anytime of the day be at 6 am on a Sunday morning or at Thursday mid-night, something that is not possible with an extension agent. With this app, a farmer can access information anywhere, whether in his car, in his garden or on his way to the shop. Information is conveniently available for the farmer. With this app, farmers all over the world can access the information on their phones. Whether in Cambodia, Ecuador or in Burkina faso, push-pull information is available
What makes PUSH-PULL app unique?
Push-Pull App can operate offline 100%. This means it is not limited by internet connectivity and access, which is a big issue in rural communities in developing countries. You therefore do not need internet to use this application
PUSH-PULL App is 100% free. Anyone can download it for free, access all the app's section for free and use the information in the app for free.
Push-Pull App has visual and audio capabilities. it provides you with the options of either reading or listening to the information therein. The app also has elaborate graphics to help the farmer visualize the information
PUSH-PULL App is compatible with all android versions. This means that the app can operate on all phones with google play store. It can also work on computers as long as they have an app enabling system (bluestacks)
PUSH-PULL App occupies little space and is fast. The app is light and doesn't occupy much space on the phone making it handy to download and use.
PUSH-PULL App is also considerate of the user's privacy in that an option is provided where a farmers can open and use the app without providing his information (skip logging in)
PUSH-PULL App is also easy to navigate through, has simple and easily understandable language and provides additional features like YouTube links and google map links to help the farmer in getting help as far as push-pull technology uptake is concerned
Who can use the app?
Farmers of maize and sorghum, extension workers, agricultural researchers and anyone interested in push-pull technology
How can I find the app?
Open your phone
Look for an icon called google play store
Click on the icon and on the search option (the space at the top), type in PUSH-PULL app and click search or OK or Enter (depending on your phone)
Icons will appear. Click on the icon labelled PUSH-PULL app (with the plant logo)
Click on install and wait for the app to be installed (this takes a few seconds)
Click on open and the app will open.
You can start interacting with the app
If you want to watch a video on how to operate the push-pull app, you can go on you-tube and search for how to install and use the push-pull app. Once you search for that, a video will appear that will guide you through the whole process.
Designed by:
Mugisha Paul
MSc.Plant Breeding and Seed systems
MARCCI/DAP/ SAS/ CAES/ MAK
With support from:
ICIPE, Keele University, Leeds University.
For pictures please click on this link:
https://drive.google.com/drive/folders/13SaawOuA8gi31ba2PmLDtij0LWmuKWhI?usp=sharing
Please see the embedded video below for guidance on how to use the Push-Pull App
---
---
Jane Anyango is the Principal Communication Officer, College of Agricultural and Environmental Sciences (CAES)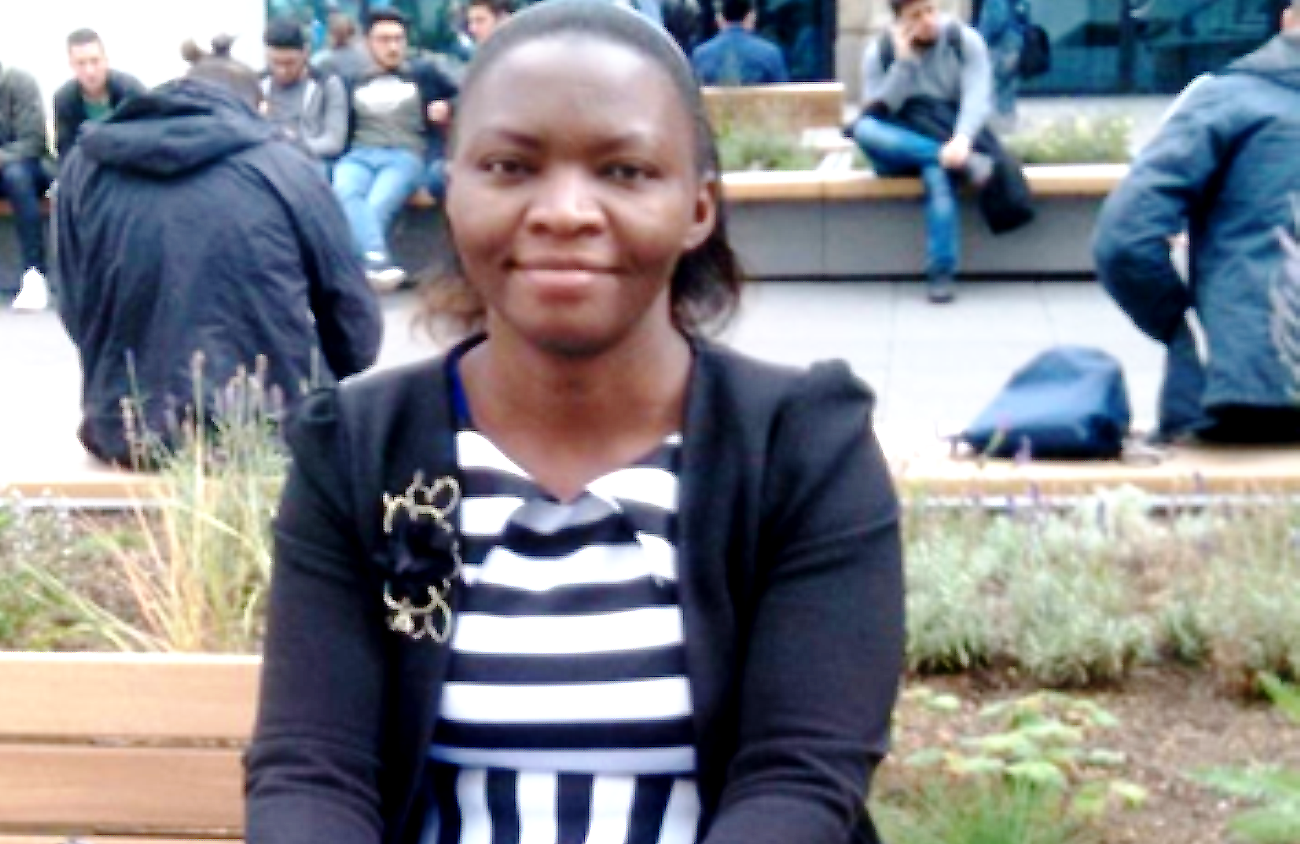 My name is Irene Bayiyana and I am one of the RUFORUM Alumni. I am an agricultural economist, with a master's degree in Agricultural and Applied Economics and a PhD in Economics. Currently, I am working as a Research Officer/Agricultural Economist based at the National Agricultural Research Organisation (NARO)/ National Crops Resources Research Institute (NaCRRI) – Namulonge. When I attained a bachelor's degree, I worked as an assistant research fellow under Prof. Johnny Mugisha in the Department of agribusiness and natural resource economics at Makerere University. Through Prof. Johnny Mugisha, I got to know about the RUFORUM Grant on "Assessment of spatio-temporal bovine migratory routes and Transboundary animal disease infestation in Uganda". Since I had the interest to advance my career, I applied for the scholarship
After my admission for the master's degree, I wondered! what next? The African Economic Research Consortium (AERC) had only offered a partial scholarship catering for only my tuition and part of research funds. RUFORUM scholarship covered my stipend, research balance and funds to attend the 2012 RUFORUM Biennial conference thus enabling me to complete my master's degree.
I was able to realize my dream of becoming a good scientist in 2012 at the RUFORUM Biennial Conference. Through the facilitation to attend several conferences, RUFORUM gave me a chance to interact with a broad spectrum of scientists from whom I learnt and received positive criticism and feedback on what I was doing. Moreover, the encouragement and support from different scientists that I interacted with also spurred me on as an upcoming scientist.
Senior Public Servants Skilled on Policy Instruments Design under the IGE Program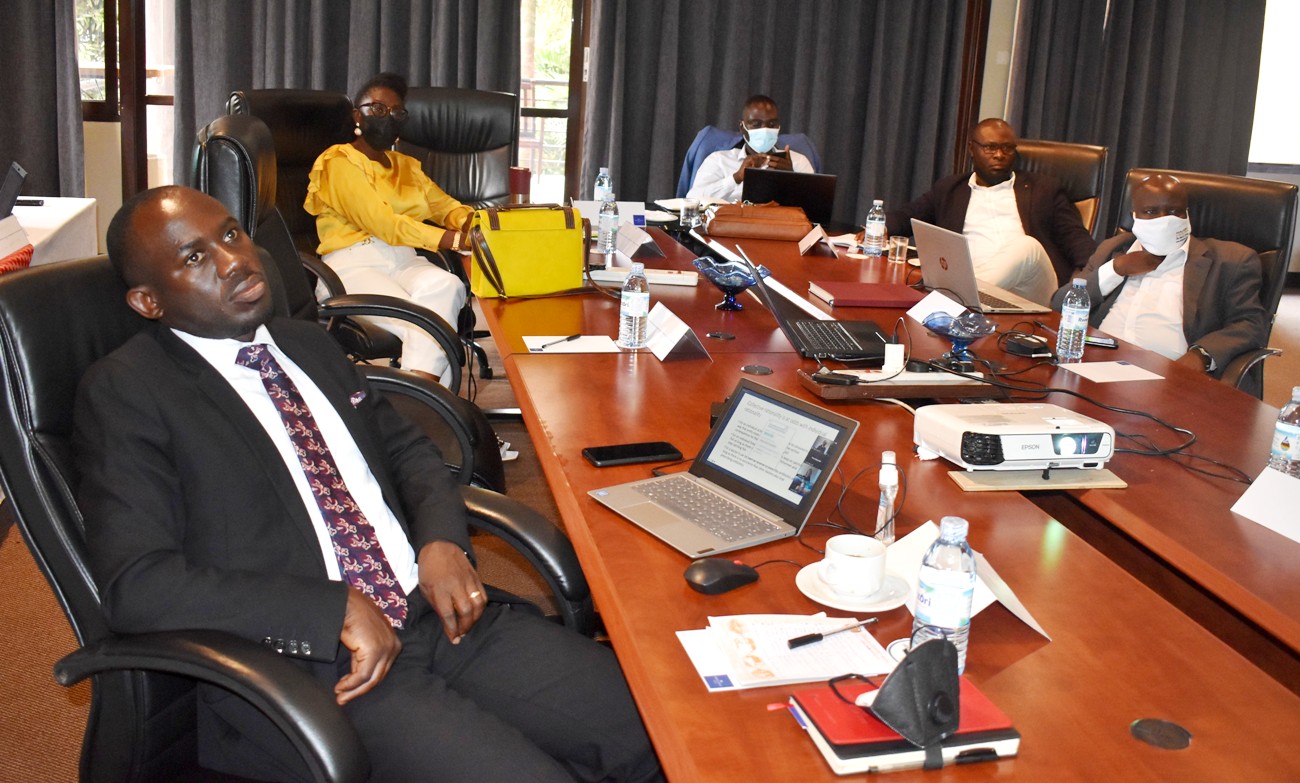 By Jane Anyango
Officials from Uganda's Ministries, Departments and Agencies (MDAs) have been equipped with skills and knowledge on how to design and enforce policy instruments to achieve compliance under the program called, Inclusive Green Economy (IGE) in Practice.
IGE in Practice, is a collaborative program between Makerere University's Environment for Development Initiative (EfD-Mak) Center and the University of Gothenburg. The IGE program covers five countries namely Uganda, Ethiopia, Kenya, Tanzania and Rwanda fully sponsored by Swedish Development Agency (Sida).
IGE program is aimed at strengthening Uganda's capacity for transformation towards an Inclusive Green Economy largely under the United Nations SDG 8 that focuses on promoting sustained, inclusive and sustainable economic growth, full and productive employment and decent work for all.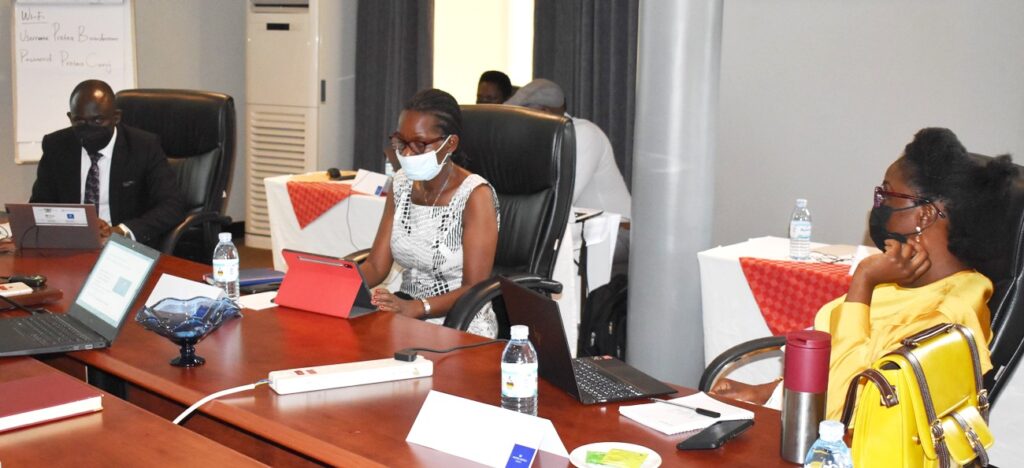 The program focuses on the use of environmental policy instruments, and specifically economic instruments such as environmental taxes, pollution fees, subsidies or subsidy reduction and other types of fiscal incentives for societal development in line with the Global Agenda 2030.
The two days training (16th-17th September, 2021) held physically and virtually brought Uganda's senior public servants from the Ministry of Finance, Planning and Economic Development, Ministry of Water and Environment, the National Planning Authority and the National Environment Management Authority coordinated at Hotel Protea in Kampala.
The training was facilitated by the University of Gothenburg, Sweden including the IGE program Head at the University of Gothenburg, Sweden, Prof. Anders Ekbom. Other instructors were Niklas Harring, Daniel Slunge, Emelie Ce'sar, Martin Solvinger and Erik Sterner.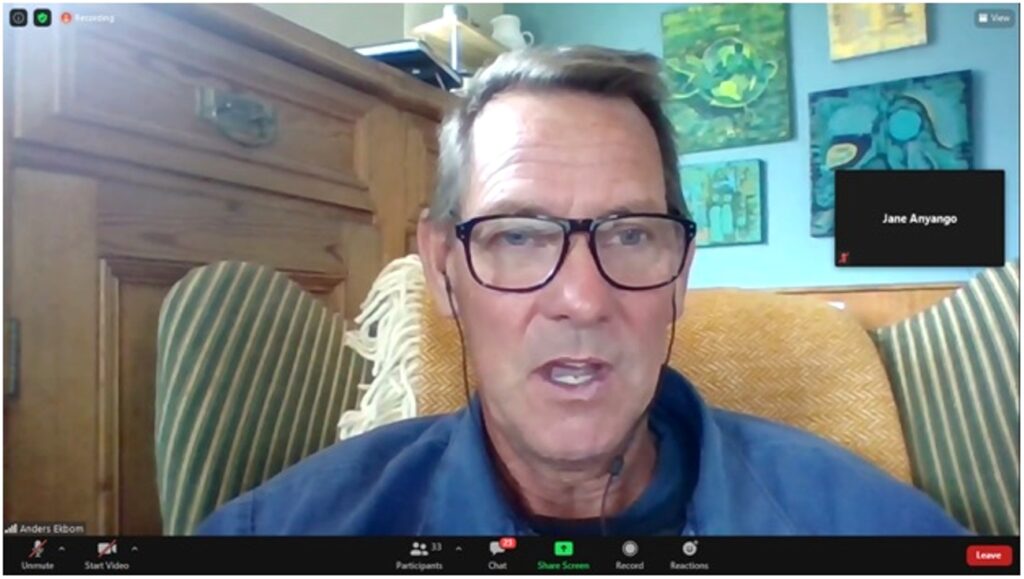 Speaking during the training, Makerere University's Policy Engagement Specialist in charge of coordinating the IGE training program, Mr. Peter Babyenda said the major aim of the program is to create capacity among public servants to plan sustainably, so that while planning, they should be mindful of the future generation in terms of environmental issues.
Mr. Babyenda said, some of the participants from Uganda's Ministry of Finance included the Director Cash and Debt, officials from the Department of Micro-economics and the Department of Tax.
"Why tax? If you are to regulate, you use tax. We want them on board so that they get skills and plan well.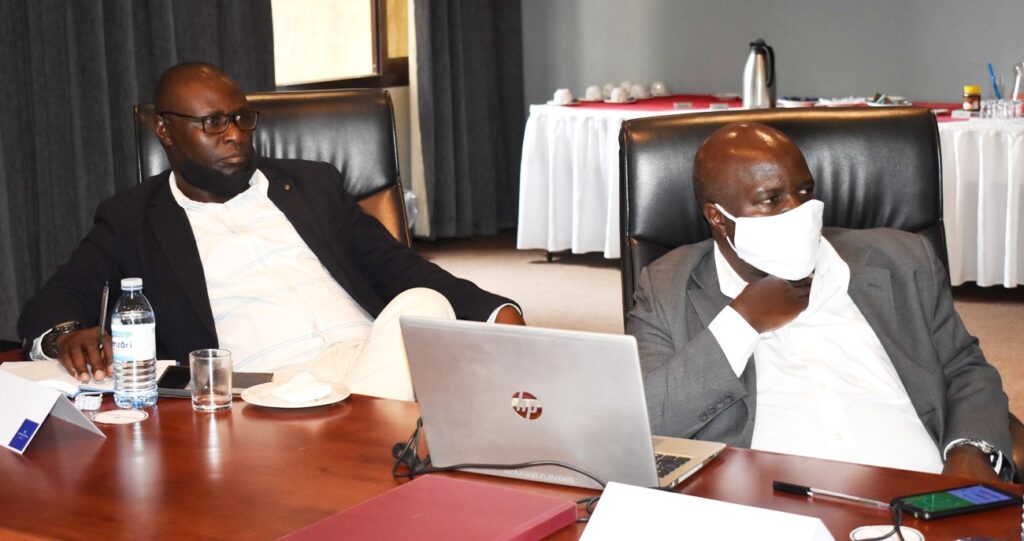 Today, we have discussed how to design a policy instrument and what measures governments use in order to enforce something for example, if government wants to protect wetlands, what policy instrument can be used, and what can it  do to achieve the intended goals.
We have discussed various measures like tax and how you involve people. The public servants know these things but we want to remind them and give them new techniques so that while planning and budgeting,they should consider these issues if we are to sustainably manage the environment", Mr. Babyeda explained
Babyenda added that since the program inception in June 2021, two trainings have been conducted with the ones held on 16th and 17th September 2021 being the third and fourth respectively.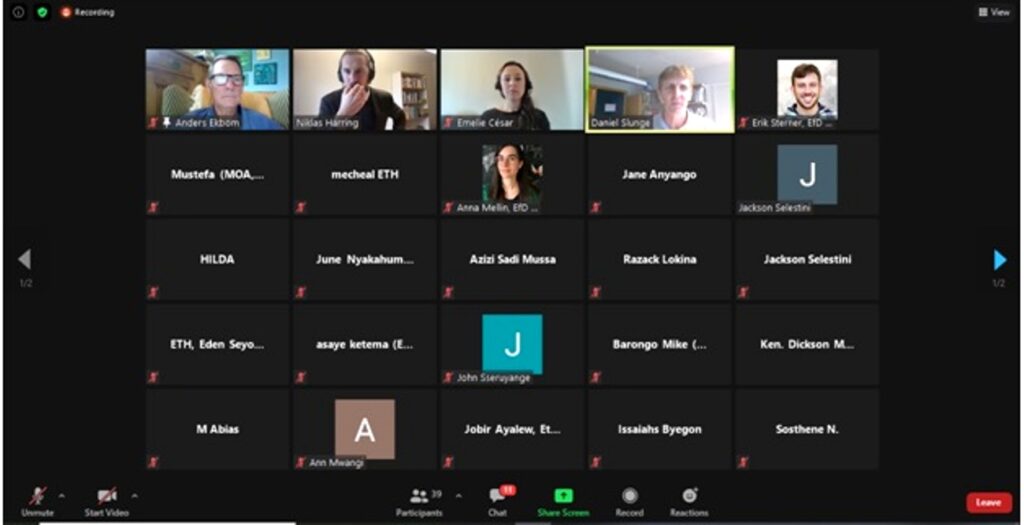 He said other trainings are planned for October 2021 and they will be wrapped up by regional trainings in November, 2021where the environment will be discussed generally among peers from Uganda, Tanzania, Rwanda, Ethiopia and Kenya and notes shall be compared.
"As you are aware, Rwanda and Kenya have gone ahead with green economy. Kenya is leading in terms of green economy and Rwanda is coming up as well as Tanzania but, in Uganda, the policy instruments are not being implemented.
Uganda was the first among those five countries to ban the use of plastics but up to now, plastics are in use and that is why we are targeting policy makers, so that they can advise the political class to manage the environment sustainably," Mr. Babyenda stated.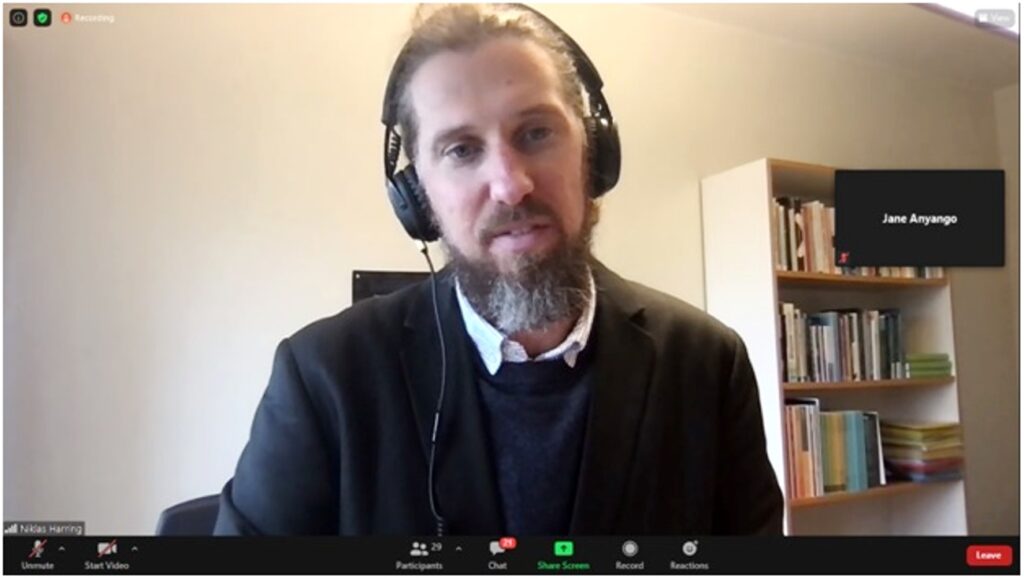 Babyenda explained that this program is an advanced in-service training with direct applicability in the participants' daily work involving theoretical training within IGE, practical exercises, project development and support for implementing change.
Participants speak out on the training.
Dr. Ronald Kagwa works with the National Planning Authority as Manager Production Trade and Trading planning and is also in-charge of implementing the Green growth development strategy.
"We are here to build capacity in green growth policies especially how to use green growth instruments to advance inclusive growth in development. So today, has been a good day in that, we have learnt about policy instruments, trust, policy attitudes all which are critical for successful implementation of green policy instruments" Dr. Kagwa said.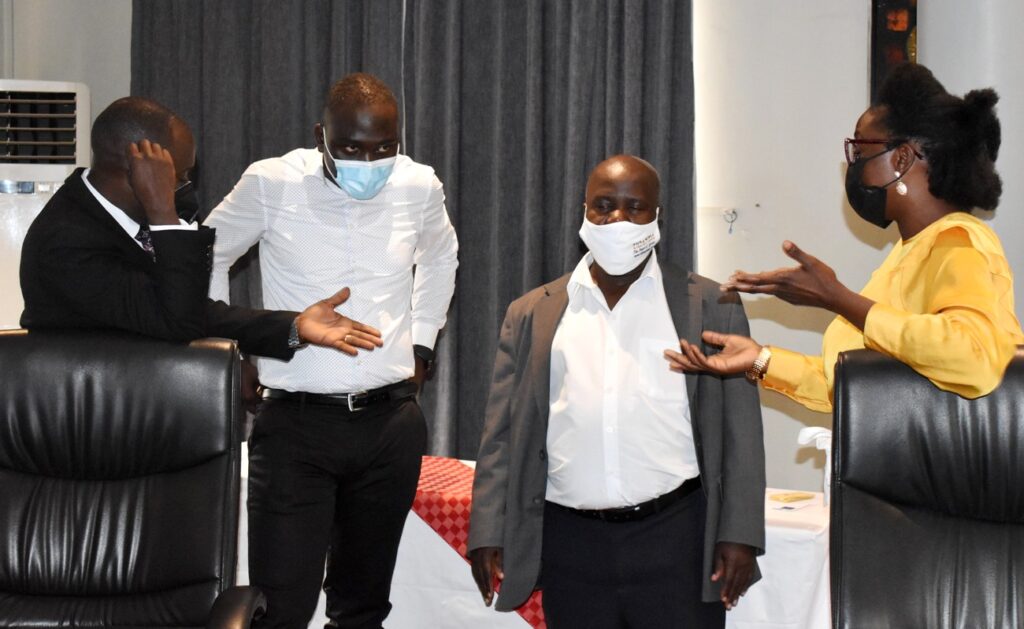 Moreen Anino is an Assistant Commissioner in the Ministry of Water and Environment.
"I am happy to have learnt about social inclusion and developing instruments that are acceptable by the public because this will help us to achieve higher levels of compliance during implementation of these policies" Ms. Anino said.
Jane Anyango is the Principal Communication Officer, College of Agricultural and Environmental Sciences (CAES)
Press Release: Twenty Two (22) winners of RUFORUM Young African Entrepreneurs Competition 2021 announced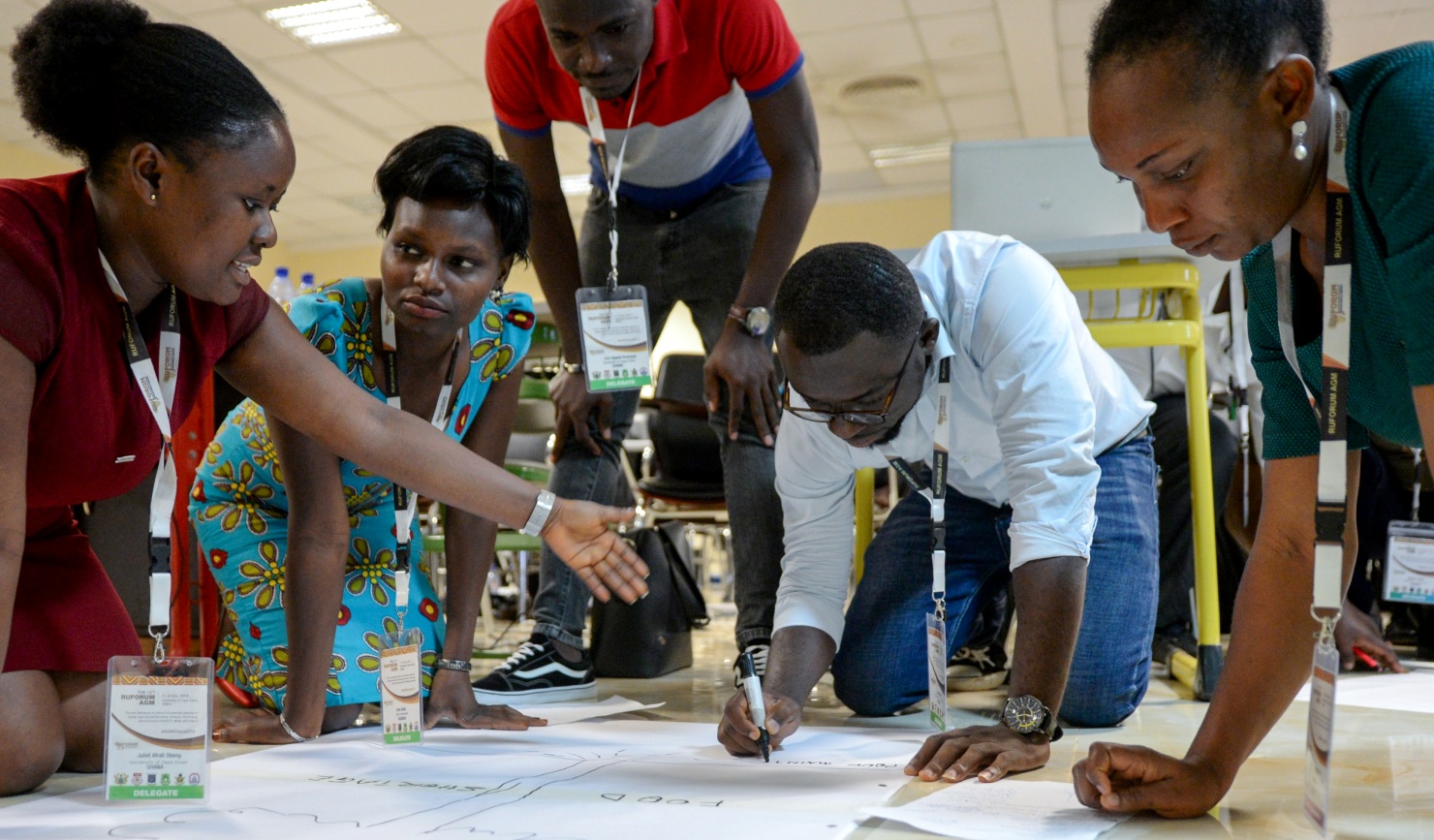 The Regional Universities Forum for Capacity Building in Agriculture (RUFORUM) is pleased to announce the 22 winners of the 2021 RUFORUM Young African Entrepreneurs Competition. The competition attracted 340 applications from 26 countries in Africa namely Benin, Botswana, Burkina Faso, Burundi, Cameroon, Chad, Congo Brazzaville, Cote d'Ivoire, DR Congo, Ethiopia, Ghana, Kenya, Liberia, Madagascar, Malawi, Mali, Morocco, Namibia, Nigeria, Rwanda, Senegal, Somali, Tanzania, Tunisia, Uganda and Zambia.
The following three-stage process was undertaken to identify the top 22 winners:
All 340 applications were reviewed for compliance to the call guidelines
A total of 319 (93.9%) applications were compliant and were each evaluated by three independent assessors
Top 22 applications were selected basing on mean scores from the three independent evaluators.