Mak Researchers Design National Drowning Prevention Strategy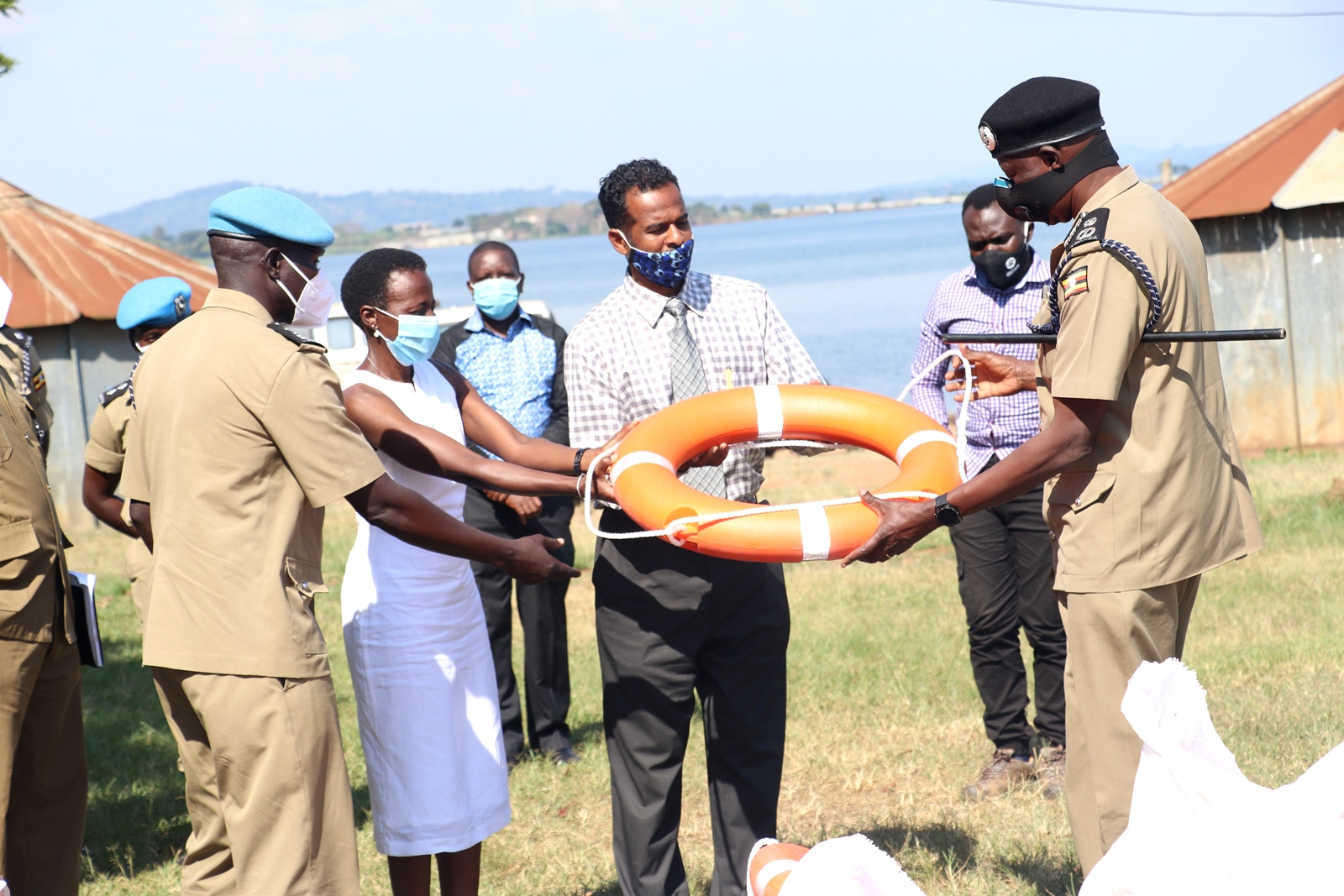 By Joseph Odoi
Makerere University researchers under Trauma, Injuries and Disability (TRIAD) Unit) have designed a national drowning prevention strategy. This strategy comes at a time when there is sky rocketing cases of drowning in Africa.
Globally, drowning is the third leading cause of unintentional injury death; accounting for 7% of all injuries. Over 90% of the estimated 322,000 annual global drowning deaths occur in low-and middle-income countries.
Although the burden of drowning is believed to be highest in the WHO-African region, data collection and surveillance for drowning in African countries is limited.
In bid to contribute to data driven interventions, Makerere University researchers carried out a study aimed at establishing the availability of drowning data in district-level sources and understanding the reporting of and record keeping on drowning in Uganda.
As part of the study titled: Drowning in Uganda; examining data from administrative sources, researchers engaged various health stakeholders who shared their experiences about drowning and how it can be prevented in communities.
It is upon that background that scholars designed a contextual appropriate strategy for drowning prevention in Uganda under the project titled; Drowning in Uganda; examining data from administrative sources.
According to the researchers, this drowning strategy is first ever in Uganda. ''it will be a national document that will guide all the efforts on drowning prevention in the country; and will avoid non-coordinated activities aimed at prevention of drowning. the strategy will also provide for monitoring and evaluation of all activities and interventions for drowning prevention in the country since there will be a government lead agency tasked with this responsibility' 'explained Mr. Fredrick Oporia who is part of the study team
STRATEGIES TO PREVENT DROWNING
In this study published on semantics scholar among other journals, the researchers came up with the following strategies to counter drowning;
• Setting and enforcing safe boating regulations. • Providing incentives that encourage adherence to boating regulations related to not overloading transport boats and increasing enforcement of boating regulations. • Ensuring boats are fit for purpose and increasing regular inspection of the seaworthiness of boats. • Improving detection and dissemination of information about the weather. • Supporting increased availability and use of lifejackets through subsidy, lifejacket loaner programs, and free lifejacket distribution programs. • Increasing sensitization about safe boating practices, the importance of wearing lifejackets, and limiting alcohol and illicit drug use when boating. Community members, especially children, are vulnerable to drowning in unsafe water sources such as ditches, latrines, wells, and dams. Potential interventions could include: • Modifying access to wells and dams to prevent children or adults from falling in. • Installing boreholes and pumps to enable community members to draw water safely.
Providing safe rescue and resuscitation training to community members and conducting refresher trainings. • Developing and providing low-cost rescue equipment such as boat fenders (rubber and ropes tied to boat on all sides that can assist in the immediate rescue of individuals) and buoyant throwing aids.
To enable ongoing design, implementation, and evaluation of drowning prevention efforts, the researchers note that it is essential to collect data on drowning incidents. Reporting of and record keeping on drowning in Uganda should also be improve according to the researchers namely; Tessa Clemens, Frederick Oporia, Erin M Parker, Merissa, A Yellman, Michael F Ballesteros and Olive Kobusingye
Other Potential interventions highlighted by the researchers include: • Providing records officers with proper training, equipment, and appropriate storage facilities. • Sensitizing the public on the importance of reporting all drowning cases to authorities.
As part of their study findings, the researchers noted that; A total of 1435 fatal and non-fatal drowning cases were recorded; 1009 (70%) in lakeside districts and 426 (30%) in non-lakeside districts.
Of 1292 fatal cases, 1041 (81%) were identified in only one source. After deduplication, 1283 (89% of recorded cases; 1160 fatal, 123 non-fatal) unique drowning cases remained. Data completeness varied by source and variable.
On demographics, fatal victims were predominantly male (85%), and the average age was 24 years. In lakeside districts, 81% of fatal cases with a known activity at the time of drowning involved boating.
What were people doing when they drowned?
Activity at the time of drowning in lakeside districts and non-lakeside districts
• Overall, boating was by far the most common activity that people were engaged in at the time of the drowning incident.
• Other common activities were collecting water/watering cattle and travelling on foot.
• The most common activities that people engaged in prior to drowning were similar in lakeside and non-lakeside districts. However, in non-lakeside districts, more drowning deaths occurred as a result of collecting water or watering cattle than as a result of boating in those districts.
• Almost half (48%) of all drownings occurred while the person was engaged in an occupational activity.
Of the 1,063 people who died from boating-related drowning or suffered a severe boating related drowning incident but survived, 1,007 (95%) were not wearing a lifejacket at the time of the incident.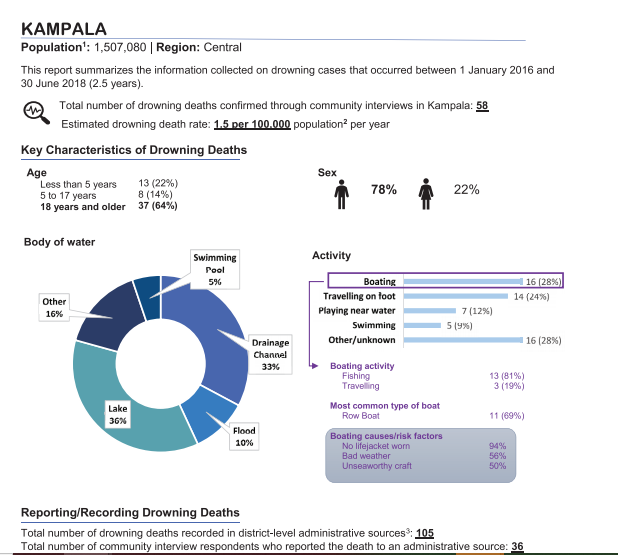 Bathing in water bodies: Study participants indicated that drowning sometimes occurs when people are bathing in lakes, ponds, swamps, and valley dams. People can unexpectedly slip into deep water from shallower areas or rocks.
Crossing flooded rivers and streams:
Attempting to cross flooded rivers and streams during the rainy season was another cause of drowning identified by study participants.
"Currently, people cross from makeshift bridges such as that of round poles. When the river overflows, it covers them. So, you can't see them; so, you just start guessing: 'the pole might be here or there' and in case your guess is wrong, you automatically drown and you will be gone." an Interview respondent in Kabale district explained
Delayed rescue attempts: Study participants identified the importance of timely rescue and resuscitation to prevent death from drowning. However, they also indicated that community members lack knowledge on how to rescue someone who is drowning.
Alcohol use: Several participants identified alcohol use as a key risk factor for drowning. Participants stated that alcohol use is common, especially in fishing communities. "We have a problem with alcoholism. Many of our colleagues go to the waters when their minds are a bit twisted by the alcohol and on some occasions, this has caused accidents and some of them have drowned just like that." – Interview respondent, Nakasongola district.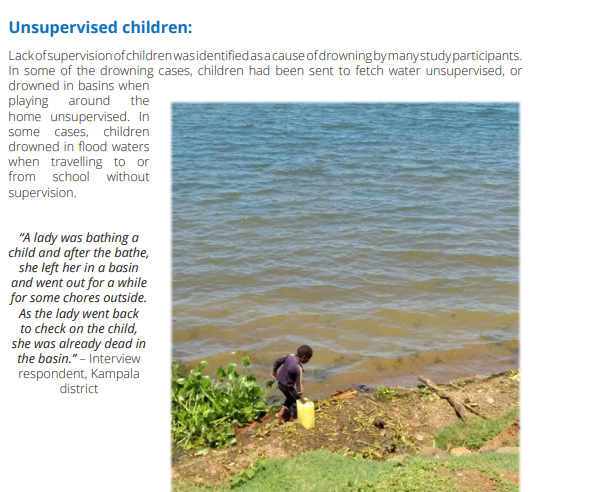 When asked on strategies of preventing drowning, participants suggested the following strategies for preventing drowning:
• Provide affordable and high-quality lifejackets to all water transport users and fishing communities. • Increase sensitization of fishermen and all water transport users on the importance of using lifejackets and avoiding alcohol while boating. • Provide subsidies for large and motorized boats that can be used for safe water travel and fishing to replace small and low-quality boats that are currently in use.
Inspect boats regularly to ensure they are in good travelling condition. • Recruit and deploy more marine police units on all major water bodies to enhance security and quick response to drowning incidents. • Install boat fenders (rubber and ropes tied to boat on all sides) to assist with the immediate rescue of individuals who are involved in a drowning incident. • Provide frequent and safe ferry services to enable water travellers access to safe transportation across rivers and lakes. • Avoid fishing during the moonlight periods to minimize hippopotamus attacks which are more frequent at that time.
"I think these fishermen really need lifejackets for their work and also need to be sensitized on how to manage the engine of the boats that they use for their work. In most cases, these men just learn how to use these boats without having been trained first." – Interview respondent, Rakai district. Swimming and basic rescue skills said
Moving forward, the researchers recommend that since; drowning is a multisectoral issue, and all stakeholders (local and national government, water transport, water sport, education, fishing, health, and law enforcement) should coordinate to develop a national water safety strategy and action plan.
MORE ABOUT THE STUDY
The study was conducted in 60 districts of Uganda for a period of 2.5 years (from January 1st, 2016 to June 30th, 2018). In the first phase, records concerning 1,435 drowning cases were found in the 60 study districts.
In the second phase, a total of 2,066 drowning cases were identified in 14 districts by community health workers and confirmed through individual interviews with witnesses/family members/friends and survivors of drowning. This work was funded by Bloomberg Philanthropies through the CDC Foundation
Mak's GMI Labs Authorized to Conduct DNA Paternity Testing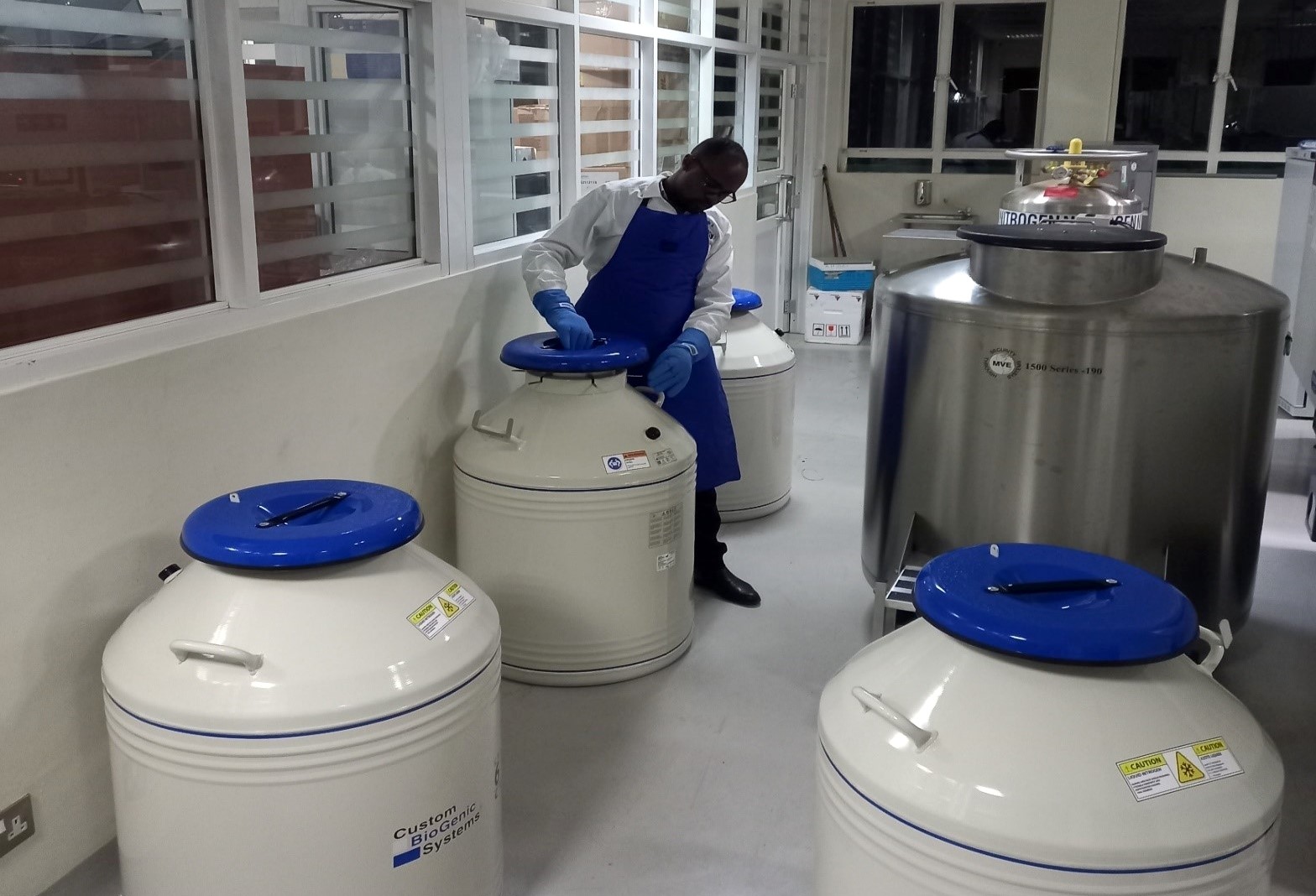 The Genomics, Molecular, and Immunology Laboratories (GMI Labs), operating under the auspices of the Makerere University Biomedical Research Center (MakBRC), have achieved another significant milestone in their journey of diagnostic excellence. The labs, renowned for their pivotal role in infectious and non-infectious disease research, have received official approval from the Director General Health Services at the Ministry of Health (MoH), Uganda, to conduct DNA Paternity Tests.
Situated at the Dept of Immunology & Molecular Biology under the School of Biomedical Sciences at the College of Health Sciences, Makerere University, the GMI Labs have been at the forefront of cutting-edge research, diagnostic testing, and training initiatives. Their remarkable contributions during the COVID-19 pandemic, where they conducted nearly a million PCR tests, underscored their unwavering commitment to public health and scientific advancement. The labs' exemplary performance and reliability were further highlighted by their successful management of two critical COVID-19 prevalence surveys. The findings of these surveys served as foundational data for crucial decisions guiding the country's lockdown strategies and phased reopening, earning commendation from the President and the Ministry of Health.
This latest authorization from the Ministry of Health marks a significant expansion of the GMI Labs' diagnostic capabilities. With the approval to conduct DNA Paternity Tests, the labs are now equipped to offer a crucial service addressing the need for accurate and reliable genetic testing for determining biological parentage. In a letter dated 22nd November 2023, the Director General Health Services emphasized the laboratory's rigorous adherence to international standards, proficiency in molecular biology techniques, and their proven track record in delivering precise and credible results. This approval further solidifies the labs' position as a trusted institution for advanced genetic diagnostics in Uganda.
Prof. Moses L Joloba, the Director of the GMI Labs, expressed immense pride in the team's dedication and expertise that led to this authorization. He highlighted the labs' commitment to upholding the highest standards of ethical practice, confidentiality, and accuracy in DNA paternity testing, ensuring the delivery of dependable results crucial for legal, personal, and familial purposes.
The inclusion of DNA Paternity Testing within the GMI Labs' list of services aligns with their overarching goal of advancing healthcare through state-of-the-art diagnostics, research, and education. This milestone represents not only a significant achievement for the labs but also a valuable resource for individuals seeking reliable and comprehensive genetic testing services. As the GMI Labs continue their unwavering commitment to excellence in healthcare and research, this new capability reaffirms their pivotal role in advancing the frontiers of molecular diagnostics and genetic testing in Uganda, working closely with reputable institutions such as Makerere University Hospital and other top-notch health facilities.
MNCH e-Post Issue 121: Learning from Nsambya Hospital Human Milk Bank to inform national scale-up & save preterm babies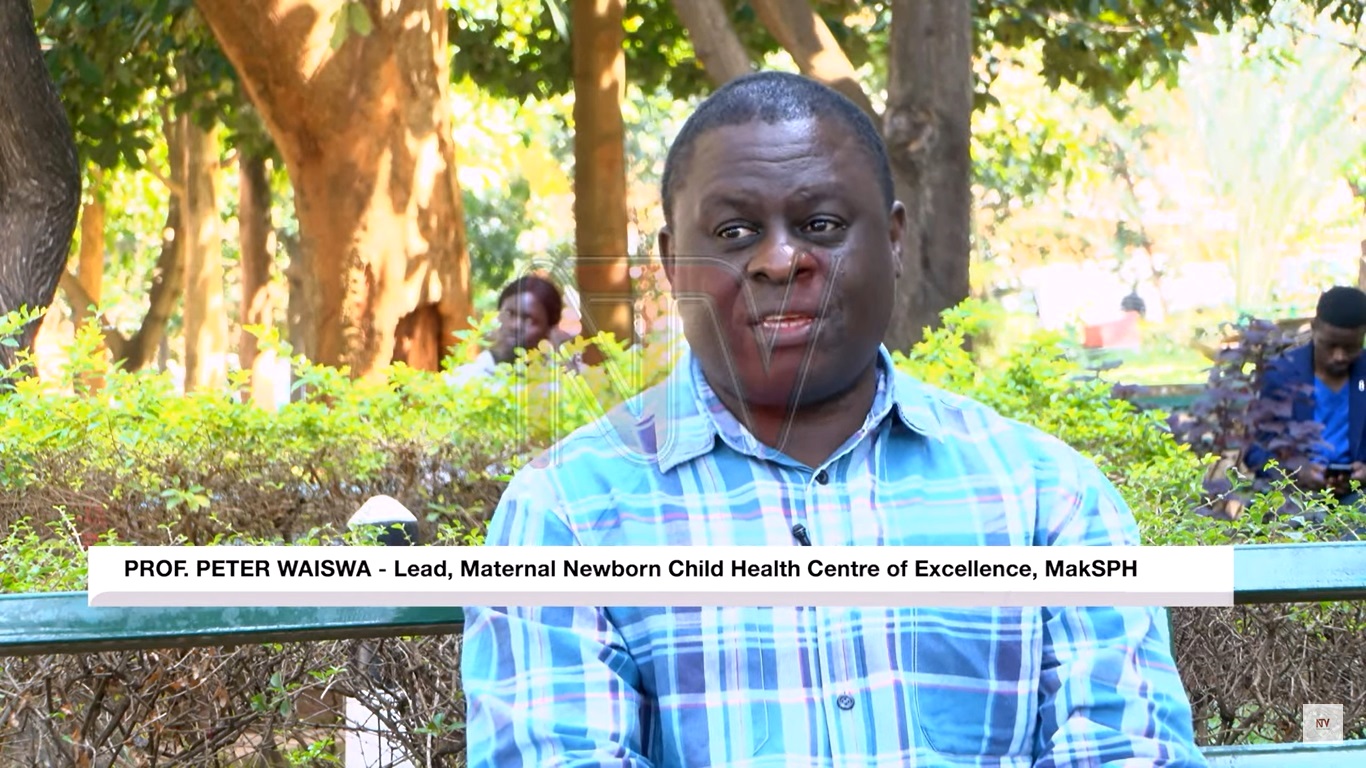 Welcome to this exclusive interview with Prof. Peter Waiswa, lead expert from the Makerere University Centre of Excellence for Maternal, Newborn, and Child Health. Dr. Victoria Nakibuuka from St. Francis Nsambya Hospital, and Dr. Jesca Nsungwa from Ministry of Health Uganda. In this video, they discuss a groundbreaking innovation in Uganda's healthcare landscape: the country's first-ever human milk bank at St. Francis Hospital Nsambya. This initiative represents a significant stride towards improving the survival rates of premature and vulnerable infants by ensuring access to essential breast milk, even when mothers are unable to produce enough. Watch Video
Click here to View the full MNCH e-Post Issue 121
METS Newsletter October 2023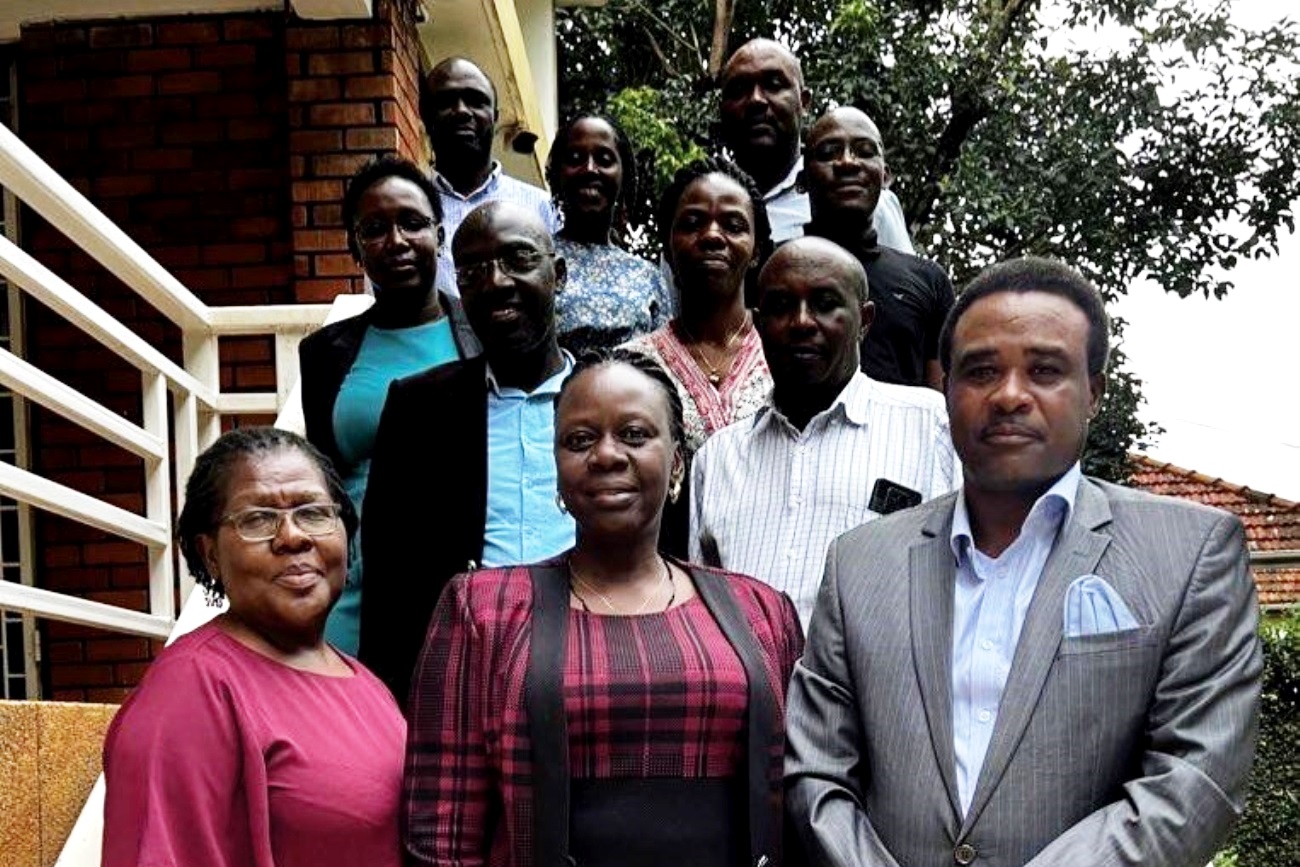 The Monitoring and Evaluation Technical Support (METS) Program is a 5-year CDC-supported collaboration of Makerere University School of Public Health (MakSPH), the University of California San Francisco (UCSF) and Health Information Systems Program (HISP Uganda).
Highlights of the METS October 2023 Newsletter
Strategies for Enhanced Disease Surveillance and Public Health Response in Uganda

The MoH Department of Integrated Epidemiology Surveillance & Public Health Emergencies (IES&PHE) Head, Commissioner Allan Muruta (Dr) visited METS to acquaint himself with the various surveillance activities supported by the Program.
Commissioner Muruta emphasized the need to build the capacity of districts and regions to conduct surveillance activities by training the relevant staff and establishing surveillance focal points at health facility levels.
He further emphasized the importance of linking laboratory data to the District Health Information System (DHIS2) and ensuring that different systems are interoperable.

Improving quality of data for HIV testing services (HTS) through regular assessments

MoH has been conducting Data Quality Assessments and Improvement (DQAI) activities to inform program planning, monitoring, and performance management. HIV testing services (HTS) inter was conducted in 16 regions, 81 districts, and 111 health facilities in partnership with 26 Implementing partners.
The HTS DQA has improved data management, infrastructure, and understanding of indicators. Specific staff assignment at each HTS entry point has proven effective, and use of the UgandaEMR system for reporting has yielded positive results.

Shaping Uganda's Healthcare Data Landscape

METS has maintained a strong collaboration with the Ministry of Health (MoH) providing invaluable technical support in developing various strategic guidelines for the country. These guidelines include the Uganda Health Information Exchange and Interoperability (HIE) Guidelines, the Uganda Health Data Protection and Confidentiality (HDPC) Guidelines, and the Uganda Health Data Sharing, Access, and Use Guidelines.

HIE and HDPC guidelines have received the endorsement of the Health Information, Innovation and Research (HIIRE) Technical Working Group (TWG), awaiting presentation to the senior management team at the MoH for final approval.

Empowering Health Professionals: PrEP Training in Hoima District

MakSPH-METS has taken a proactive stance in supporting Monitoring and Evaluation (M&E) for key populations through the development, management, and conducting trainings on the use of the PrEP tracker system across various agencies.
METS conducted a 5-day training on the KP/PrEP Tracker system in Hoima district. Moving forward, facility staff will be able to enter data on PrEP services into the system in a timely manner, analyze the data, and use it for program improvement.

Gallery

HIV testing services (HTS) Data Quality Assessments and Improvement DQAIs
Interagency cervical cancer on-site mentorships
Orientation in KP tracker-Soroti
TDY from CDC headquarters visit to METS
M&E orientation meetings for new Implementing Partners
Planning meeting for Cross Border Data Sharing-Busia