Mak Researchers Design National Drowning Prevention Strategy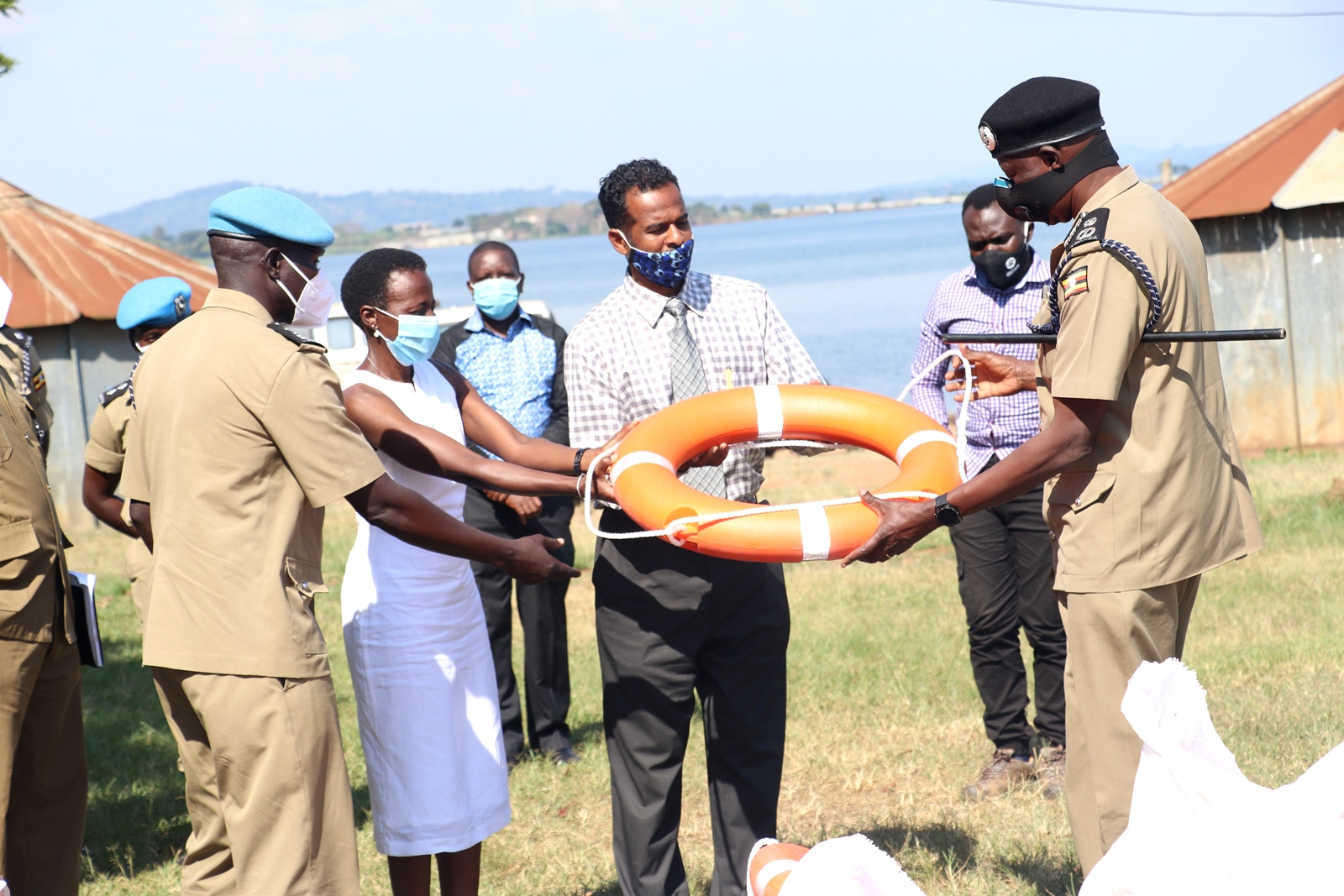 By Joseph Odoi
Makerere University researchers under Trauma, Injuries and Disability (TRIAD) Unit) have designed a national drowning prevention strategy. This strategy comes at a time when there is sky rocketing cases of drowning in Africa.
Globally, drowning is the third leading cause of unintentional injury death; accounting for 7% of all injuries. Over 90% of the estimated 322,000 annual global drowning deaths occur in low-and middle-income countries.
Although the burden of drowning is believed to be highest in the WHO-African region, data collection and surveillance for drowning in African countries is limited.
In bid to contribute to data driven interventions, Makerere University researchers carried out a study aimed at establishing the availability of drowning data in district-level sources and understanding the reporting of and record keeping on drowning in Uganda.
As part of the study titled: Drowning in Uganda; examining data from administrative sources, researchers engaged various health stakeholders who shared their experiences about drowning and how it can be prevented in communities.
It is upon that background that scholars designed a contextual appropriate strategy for drowning prevention in Uganda under the project titled; Drowning in Uganda; examining data from administrative sources.
According to the researchers, this drowning strategy is first ever in Uganda. ''it will be a national document that will guide all the efforts on drowning prevention in the country; and will avoid non-coordinated activities aimed at prevention of drowning. the strategy will also provide for monitoring and evaluation of all activities and interventions for drowning prevention in the country since there will be a government lead agency tasked with this responsibility' 'explained Mr. Fredrick Oporia who is part of the study team
STRATEGIES TO PREVENT DROWNING
In this study published on semantics scholar among other journals, the researchers came up with the following strategies to counter drowning;
• Setting and enforcing safe boating regulations. • Providing incentives that encourage adherence to boating regulations related to not overloading transport boats and increasing enforcement of boating regulations. • Ensuring boats are fit for purpose and increasing regular inspection of the seaworthiness of boats. • Improving detection and dissemination of information about the weather. • Supporting increased availability and use of lifejackets through subsidy, lifejacket loaner programs, and free lifejacket distribution programs. • Increasing sensitization about safe boating practices, the importance of wearing lifejackets, and limiting alcohol and illicit drug use when boating. Community members, especially children, are vulnerable to drowning in unsafe water sources such as ditches, latrines, wells, and dams. Potential interventions could include: • Modifying access to wells and dams to prevent children or adults from falling in. • Installing boreholes and pumps to enable community members to draw water safely.
Providing safe rescue and resuscitation training to community members and conducting refresher trainings. • Developing and providing low-cost rescue equipment such as boat fenders (rubber and ropes tied to boat on all sides that can assist in the immediate rescue of individuals) and buoyant throwing aids.
To enable ongoing design, implementation, and evaluation of drowning prevention efforts, the researchers note that it is essential to collect data on drowning incidents. Reporting of and record keeping on drowning in Uganda should also be improve according to the researchers namely; Tessa Clemens, Frederick Oporia, Erin M Parker, Merissa, A Yellman, Michael F Ballesteros and Olive Kobusingye
Other Potential interventions highlighted by the researchers include: • Providing records officers with proper training, equipment, and appropriate storage facilities. • Sensitizing the public on the importance of reporting all drowning cases to authorities.
As part of their study findings, the researchers noted that; A total of 1435 fatal and non-fatal drowning cases were recorded; 1009 (70%) in lakeside districts and 426 (30%) in non-lakeside districts.
Of 1292 fatal cases, 1041 (81%) were identified in only one source. After deduplication, 1283 (89% of recorded cases; 1160 fatal, 123 non-fatal) unique drowning cases remained. Data completeness varied by source and variable.
On demographics, fatal victims were predominantly male (85%), and the average age was 24 years. In lakeside districts, 81% of fatal cases with a known activity at the time of drowning involved boating.
What were people doing when they drowned?
Activity at the time of drowning in lakeside districts and non-lakeside districts
• Overall, boating was by far the most common activity that people were engaged in at the time of the drowning incident.
• Other common activities were collecting water/watering cattle and travelling on foot.
• The most common activities that people engaged in prior to drowning were similar in lakeside and non-lakeside districts. However, in non-lakeside districts, more drowning deaths occurred as a result of collecting water or watering cattle than as a result of boating in those districts.
• Almost half (48%) of all drownings occurred while the person was engaged in an occupational activity.
Of the 1,063 people who died from boating-related drowning or suffered a severe boating related drowning incident but survived, 1,007 (95%) were not wearing a lifejacket at the time of the incident.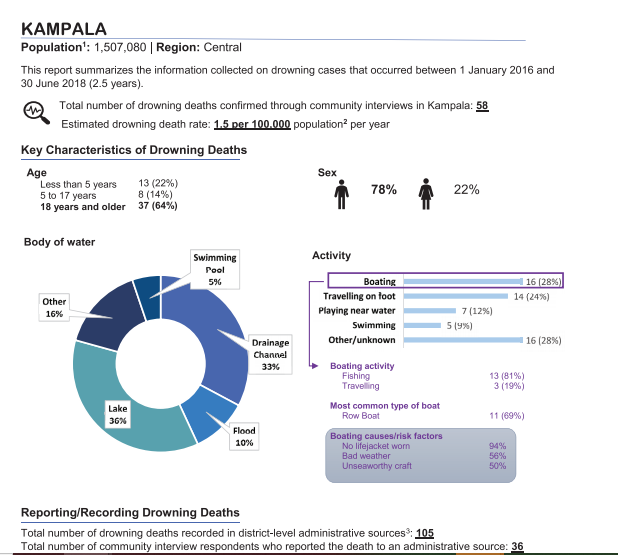 Bathing in water bodies: Study participants indicated that drowning sometimes occurs when people are bathing in lakes, ponds, swamps, and valley dams. People can unexpectedly slip into deep water from shallower areas or rocks.
Crossing flooded rivers and streams:
Attempting to cross flooded rivers and streams during the rainy season was another cause of drowning identified by study participants.
"Currently, people cross from makeshift bridges such as that of round poles. When the river overflows, it covers them. So, you can't see them; so, you just start guessing: 'the pole might be here or there' and in case your guess is wrong, you automatically drown and you will be gone." an Interview respondent in Kabale district explained
Delayed rescue attempts: Study participants identified the importance of timely rescue and resuscitation to prevent death from drowning. However, they also indicated that community members lack knowledge on how to rescue someone who is drowning.
Alcohol use: Several participants identified alcohol use as a key risk factor for drowning. Participants stated that alcohol use is common, especially in fishing communities. "We have a problem with alcoholism. Many of our colleagues go to the waters when their minds are a bit twisted by the alcohol and on some occasions, this has caused accidents and some of them have drowned just like that." – Interview respondent, Nakasongola district.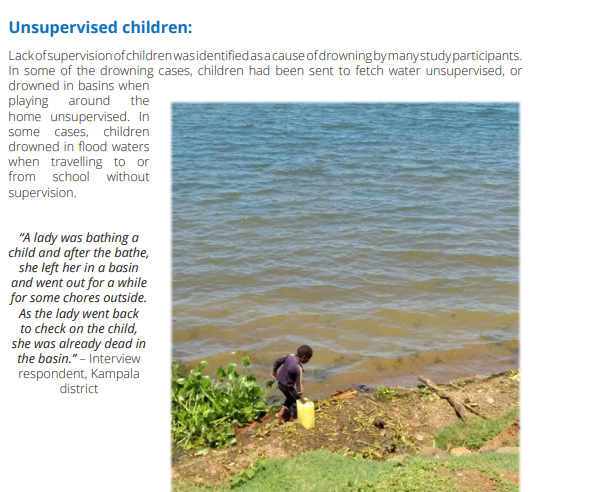 When asked on strategies of preventing drowning, participants suggested the following strategies for preventing drowning:
• Provide affordable and high-quality lifejackets to all water transport users and fishing communities. • Increase sensitization of fishermen and all water transport users on the importance of using lifejackets and avoiding alcohol while boating. • Provide subsidies for large and motorized boats that can be used for safe water travel and fishing to replace small and low-quality boats that are currently in use.
Inspect boats regularly to ensure they are in good travelling condition. • Recruit and deploy more marine police units on all major water bodies to enhance security and quick response to drowning incidents. • Install boat fenders (rubber and ropes tied to boat on all sides) to assist with the immediate rescue of individuals who are involved in a drowning incident. • Provide frequent and safe ferry services to enable water travellers access to safe transportation across rivers and lakes. • Avoid fishing during the moonlight periods to minimize hippopotamus attacks which are more frequent at that time.
"I think these fishermen really need lifejackets for their work and also need to be sensitized on how to manage the engine of the boats that they use for their work. In most cases, these men just learn how to use these boats without having been trained first." – Interview respondent, Rakai district. Swimming and basic rescue skills said
Moving forward, the researchers recommend that since; drowning is a multisectoral issue, and all stakeholders (local and national government, water transport, water sport, education, fishing, health, and law enforcement) should coordinate to develop a national water safety strategy and action plan.
MORE ABOUT THE STUDY
The study was conducted in 60 districts of Uganda for a period of 2.5 years (from January 1st, 2016 to June 30th, 2018). In the first phase, records concerning 1,435 drowning cases were found in the 60 study districts.
In the second phase, a total of 2,066 drowning cases were identified in 14 districts by community health workers and confirmed through individual interviews with witnesses/family members/friends and survivors of drowning. This work was funded by Bloomberg Philanthropies through the CDC Foundation
MU-JHU Positions: Locum Midwives/Nurses – WOMANPOWER Study June 2021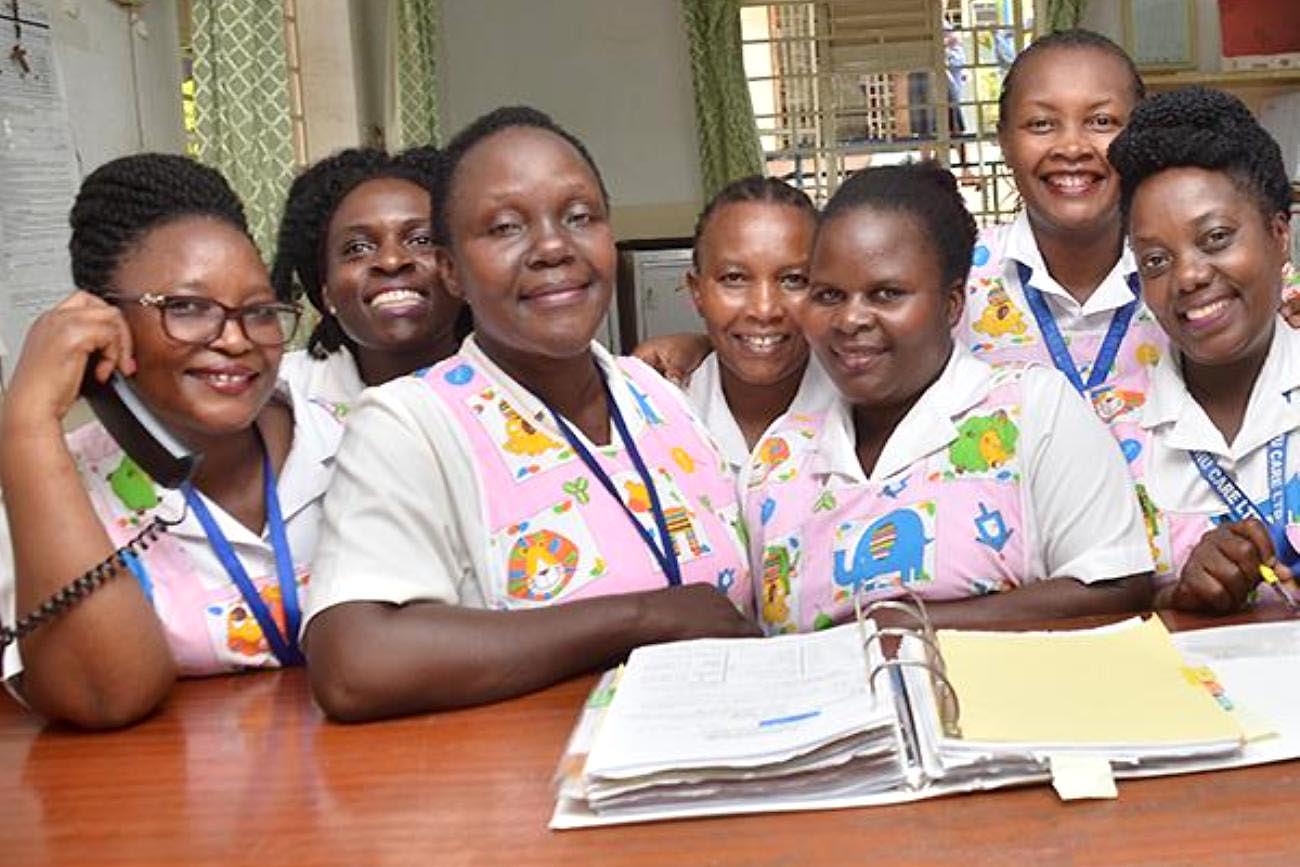 The Makerere University-Johns Hopkins (MU-JHU) Research Collaboration – MU-JHU CARE LTD, a Kampala – based equal opportunities Clinical Research and Service Delivery Organisation with more than 350 employees is seeking interested, committed and reliable professionals with the described qualifications to apply for the Locum positions listed below in support of the EDCTP funded studies. The positions are Locum positions on short term contract for 6 months.
1. Locum Midwife/Nurse: multiple positions
Reports To: Nurse Coordinator
Duty station: MUJHU, Kisenyi HCIV and Kawempe National Referral Hospital
Required qualifications and profile:
A Diploma in Midwifery/Nursing, with current registration for practice from the Uganda Nurses and Midwives councils (UNMC) with interest in working in a busy labour ward with minimum supervision. The candidates are required to have worked for at least three (3) years in a busy health centre/institution. Previous work experience in a clinical research environment and/or with HIV, TB and/or MCH clinical care would be a strong advantage. Computer literacy is required. The successful candidates should be willing and able to work extended duty shifts i.e. 12 hour day, and 12 hour night shifts, including public holidays and weekends.
The holder of this position will work under the direct supervision of the Nurse Coordinator with guidance from the Head of Nursing Section, and will be responsible for the following duties:
Working closely with other health professionals/research staff to obtain consents.
Provide midwifery/nursing care to study participants as well as do phlebotomy, cord blood sampling and other sample collection as required.
Collect data using tablets and laptops.
Participate in study data quality assurance and control.
Any other duties reasonably assigned by the relevant authorities.
Maintain professional GCP/HSP accreditation and complete study specific training as required.
Applications with complete C.Vs, including 3 referees and their full addresses or contact Telephone numbers, copies of academic certificates and testimonials, should be hand delivered to: MU-JHU Human Resource Manager, through the reception on first floor, MUJHU 1 Building – not later than 25th June, 2021 by 5.30pm.
Only short-listed applicants will be contacted. Successful candidates will be expected to start work immediately.
Psychological Services for Community Members While Home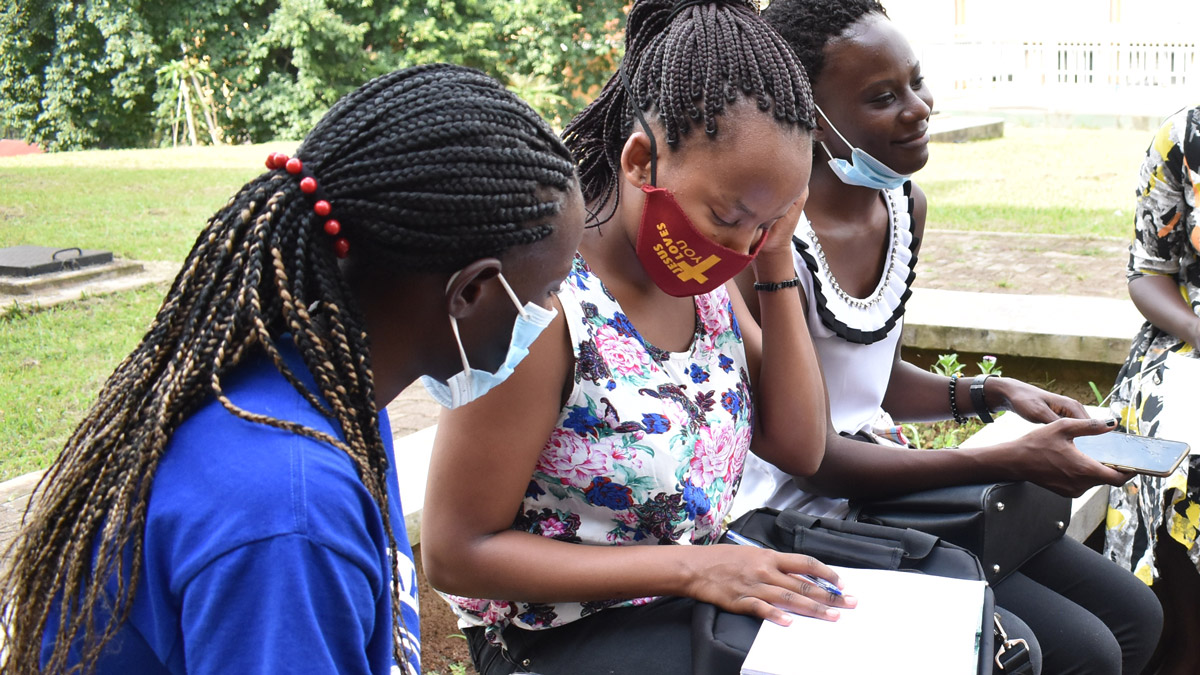 COVID-19 is a terrible disease that has brought about so many psychological challenges within the population but with many more effects to the students and the entire community. Already as students were departing yesterday they made remarks like "shall we ever finish?" "Let us go and get married" etc. They put on faces of sadness, anxiety, and many other forms of negative emotions. At their homes parents too some are having other challenges and anxieties that we need to help them deal with.

The Counselling and Guidance Centre is going to intensify its online presence as an avenue to reach out to the community. We shall do the following:
With support from the College of Computing and Information Sciences (CoCIS) staff we developed an App UniCare which people can download and reach a counsellor of their choice via e-mail, telephone, chat etc at any time at their convenience.
We intend to have a zoom session every fortnight addressing a topic of interest basing on the prevailing need.
Yesterday we held a meeting with student leaders who promised to work with us to deliver any content we develop to students via students' WhatsApp groups.
We lost a student (Byengyera Natasha) from the School of Law to suicide on Sunday and she will be buried tomorrow.

We want to do our best to provide all support possible using the avenues above to support members of the community and we call upon you to reach out to as many students as possible with this information. Thank you very much.

We build for the future.
Henry Nsubuga
Manager, Counselling and Guidance Centre,
Plot 106, Mary Stuart Road (Opposite Mary Stuart Hall),
Makerere University
Email: hnsubuga[at]cgc.mak.ac.ug
Tel: +256-772-558022
Click here for more information about the Counselling and Guidance Centre
MakSPH Annual Report 2020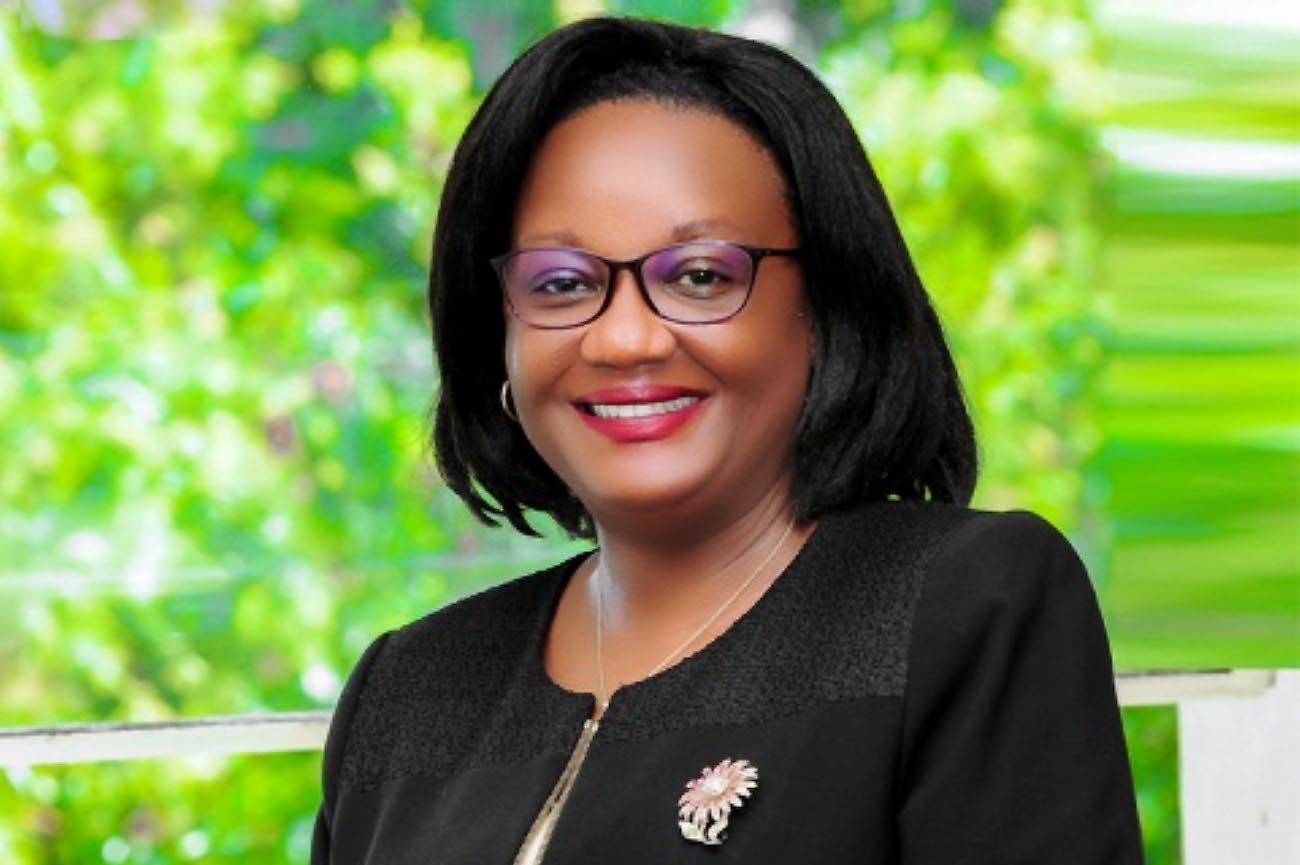 Dear Reader,
I am pleased to introduce our 2020 Annual Report, which illustrates the Makerere University School of Public Health, (MakSPH)'s shared commitment to advancing excellence in public health education, research, and innovation in Uganda and beyond.
In the face of the COVID-19 pandemic, the School of Public Health teams working together with the Ministry of Health and other partners moved fast towards enhancing the knowledge and awareness of our communities and other public health interventions to combat the spread of COVID-19 and mitigate a public health crisis that has thrown the world into disarray. We quickly adapted to the new normal, moving to working in a virtual environment and using blended approaches, to deliver our teaching, learning and research activities.
The pandemic has been a great challenge and slowed down several activities. However, this challenge has also propelled us towards fast-tracking some of our planned advancements including virtual
learning and partnerships, and has accelerated our public health innovations in a bid to contribute solutions to the current and future public health challenges.
Research
Our research has focused on current issues to support evidence-based decision making, and mitigate the impact of the pandemic on essential health and other services, especially in vulnerable groups such as adolescents and children, refugees, among others.
Construction
In 2020, we embarked on construction of our new home that we hope will reduce the space constraints for our staff and students. I am happy to report that the construction is now under way at Makerere University Main Campus. We are sincerely grateful to our partners, sponsors and staff for the efforts towards this great move.
Community Engagement
Our teams have maintained a very active community engagement focus and working with various stakeholders to share research findings and support processes for knowledge translation. We have also maintained a high level of scientific research outputs including over 250 peer reviewed publications in 2020. I cannot thank our researchers enough for this great effort.
Grants
The number of partnerships, grants and volume of work at the School has grown within Uganda and the African region. We are very grateful to our funders; partners and stakeholders for this continued growth.
I acknowledge the extraordinary efforts made by all our staff, students and alumni. We look forward to another productive year and decade of better service to our communities.
Have a nice read.
Dr. Rhoda Wanyenze,
Professor & Dean, School of Public Health, Makerere University
Please Downloads for the full report.