Mak-RIF CHUSS Open Day Lights Up Arts Quadrangle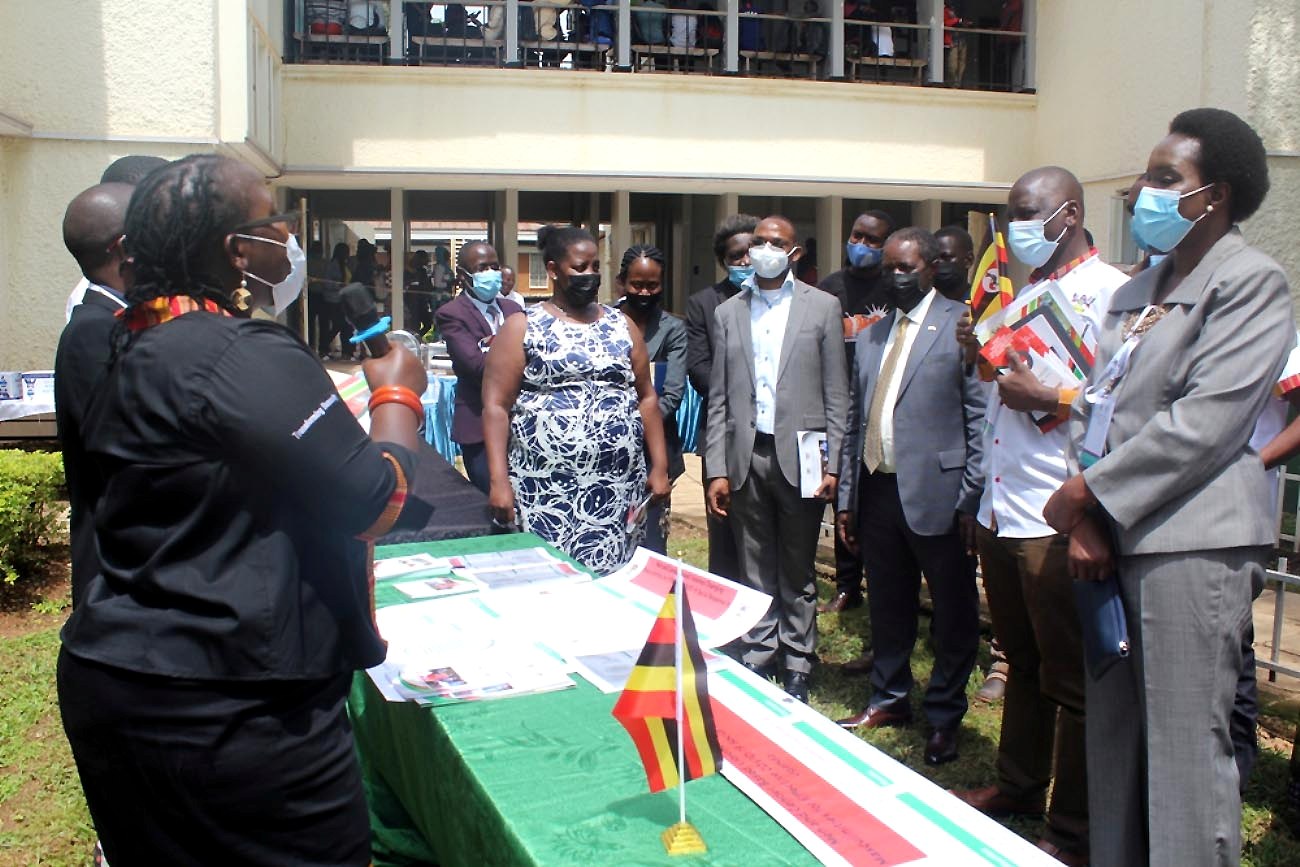 In 2019, Makerere University, with support from the Government of Uganda, introduced a special Fund to support high impact Research and Innovations that inform National Development Priorities. The objective of the Makerere University Research and Innovations Fund (Mak-RIF) is to increase the local generation of translatable research and scalable innovations that address key gaps required to drive Uganda's development agenda.  Other objectives include supporting the dissemination of high quality research and innovations in a way that impacts on development policies and programmes, and supporting the growth of research leadership capacity in the university. The Research and Innovations Fund is open to researchers from all Colleges of Makerere University which have research that aligns with National Priorities. The Government has so far extended UGX60 billion towards the Fund.  
Since FY 2019/20, the fund has supported 587 multidisciplinary research and innovation projects across the 10 colleges of Makerere University. Of these, the College of Humanities and Social Sciences (CHUSS) has obtained 61 projects across the two financial years.
In line with Objective Two of the Fund – "Supporting dissemination of high quality research and innovations in a way that impacts on development policies and programmes", Mak-RIF in collaboration with CHUSS held an Open Day on 29th April 2021 to showcase some of the outputs of the different research and innovation projects at the College. The event held in the Arts Quadrangle at CHUSS was presided over by the First Deputy Vice Chancellor in charge of Academic Affairs, Dr. Umar Kakumba. It was graced by among others, the Chairperson of Mak-RIF, Prof. William Bazeyo; representatives from the Mak-RIF Secretariat led by Ms. Phoebe Kamya Lutaaya; the Principal of CHUSS, Dr Josephine Ahikire; the Ag. Deputy Principal, Dr Julius Kikooma; the Dean School of Psychology, Dr Grace Kibanja; the Dean School of Languages, Literature and Communication, Dr Saudah Namyalo; and the Dean School of Liberal and Performing Arts, Dr Patrick Mangeni.
Projects showcased at the event included; "Whole University Approach: Kicking Sexual Harassment out of Higher Education Institutions in Uganda" led by Prof. Grace Bantebya – Kyomuhendo, "Men and Gender-Based Violence: Changing Masculinities for Effective COVID 19 Social Response in Uganda" led by Dr. Josephine Ahikire, "Adherence, lived experiences and resilient transformation among slum dwellers (ALERTs) in COVID-19: A study of Ki-Mombasa and Kabalagala Kataba slums in Kampala" by Dr. Gloria Kimuli Seruwagi, "Drug and Substance Abuse (DASA) in Primary and Secondary Schools in Uganda: Baseline Survey Implications for National Sensitisation, Curriculum Development and Capacity Building among Teachers" led by  Dr. Leonsio Matagi and "Children's Tales: the reality of Covid-19 related trauma on school children in rural Busoga, Uganda" by Mr. Richard Balikoowa. Other projects showcased at the Open Day are; "Transforming Ugandan Folktales in Digital (Animation) Films for Educational and Leisure Purposes" led by Prof. Dominica Dipio,  "Many peoples, many cultures, many heritages: Going Beyond nature-based tourism in Uganda" by Dr. William Wagaba, "Mainstreaming Kiswahili in Uganda's National Agenda for Regional Integration and Sustainable Development" by Dr. Caroline Asiimwe, "Corpus Development of the "SO" Language", led by Dr. Celestino Oriikiriza, "Communicating COVID-19-related messages in multilingual contexts" by Dr. Allen Asiimwe, "National Symbols and Values: Implications for Patriotism and National Development" by Dr. Paddy Musana, "Building peaceful communities in Kampala City amidst COVID-19 and beyond" led by Dr. Samson Barigye, "Use of episodic dramatics in promoting uptake of behavioural measures for prevention of COVID-19" led by Dr. Michael Muhumuza, and "Leveraging Civic Technology To Address COVID-19 in Uganda" by Dr. Firminus Mugumya Kabuzaranwa.
2,134 Students Graduate from CHUSS with a Record 22 PhDs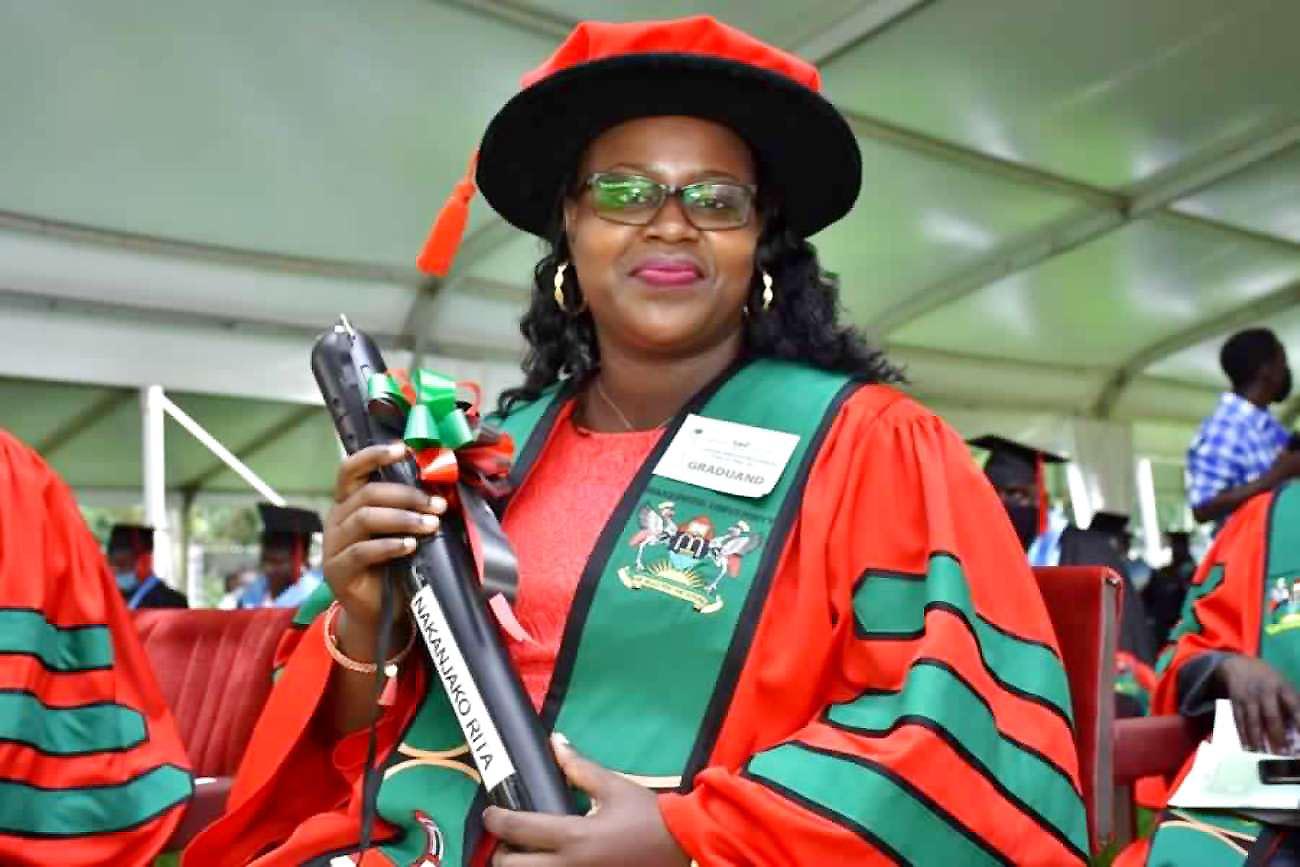 By Hasifa Kabejja
Friday, 21st May 2021 marked the end of the five-day 71st graduation ceremony of Makerere University with the College of Humanities and Social Sciences (CHUSS) presenting a total of 2,136 students for the award of degrees and diplomas in various disciplines. Of the 2,136 students, 1,338 were female and 798 male.
A total of 22 students graduated with PhDs. These included; Mr. Aleu Garang Aleu, Ms. Alidri Agatha, Ms. Ddungu Mugabi Rachael, Ms. Kaije Doris, Mr. Kakuru Robert, Mr Kannamwangi Kyanda Deogratius, Ms. Linda Lillian, Mr. Muhajubu Abudul, Mr. Okello Francis, Mr. Okeny Charles Kinyera, Mr. Sekito Zaid and Ms. Uwineza Mimi Harriet from the School of Liberal and Performing Arts; Mr. Atuhairwe Amos and Mr. Wandera Samuel from the School of Languages, Literature and Communication; Ms. Rita Nakanjako, Ms. Atukunda Gertrude, Mr. Jerome Ntege and Ms. Nanfuka Esther Kalule from the School of Social Sciences; Ms. Nyangoma Anicent and Ms. Akello Judith Abal from the School of Women and Gender Studies; and Mr. Ngabirano Evarist and Mr. Ngendo David Tshimba from Makerere Institute of Social Research (MISR). According to the Principal of CHUSS, Dr Josephine Ahikire, the high number of PhD graduates this time round, is attributed to cohort PhD training largely supported by Gerda Henkel Stiftung in Germany and the Andrew W. Mellon Foundation in New York. The success is also attributed to a dedicated team of academic supervisors at the College.
A total of 200 students graduated with Masters Degrees, 1,912 with Bachelor's Degrees and 6 with a Post Graduate Diploma in Gender and Local Economic Development. Out of the 1,912 Bachelors Degree graduates, 41 attained First Class Honours Degree. Overall, 12,550 students graduated from the 10 constituent colleges of the University with a record 108 PhDs.
Call For Applications: Mak-BSSR Training Support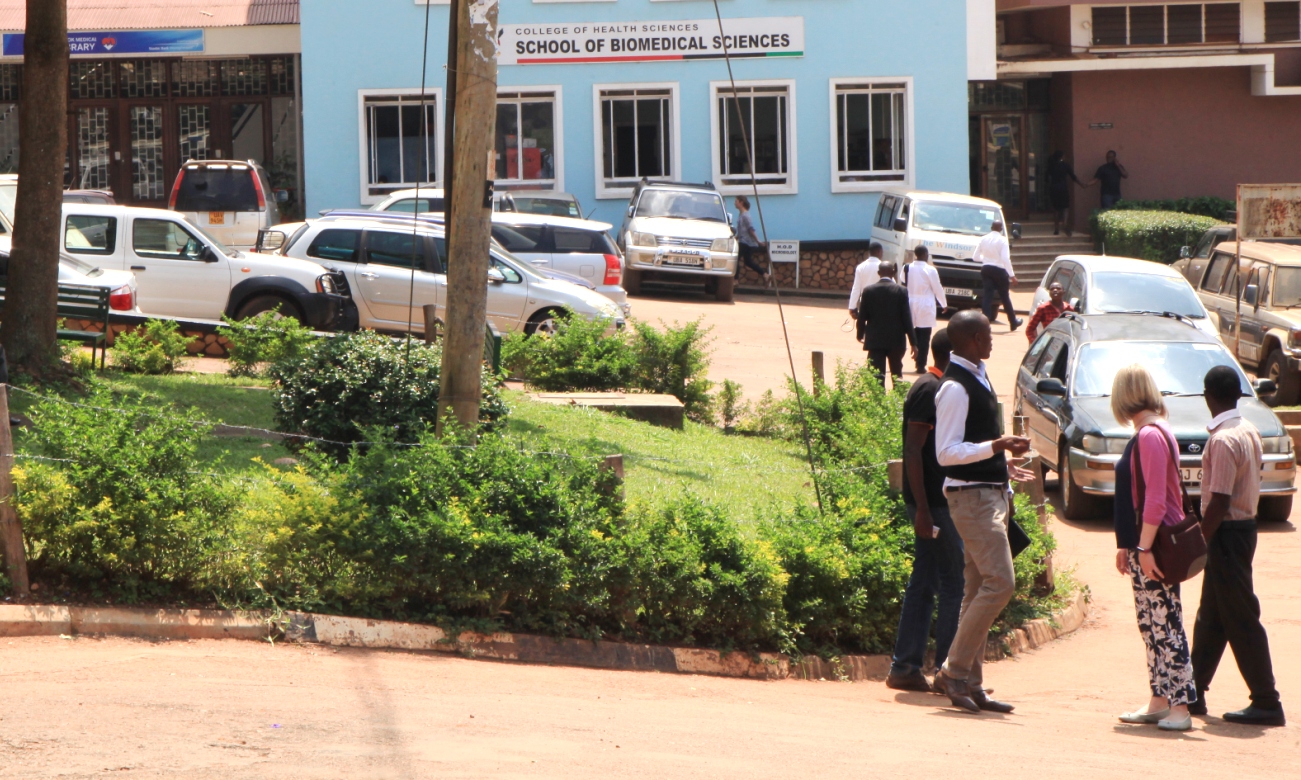 The Makerere University-Behavioral and Social Science Research (BSSR) in HIV Training Program, is a five year project, funded by National Institutes of Health (NIH), National Institutes of Health on Alcohol Abuse and Alcoholism (NIAAA), National Institute of Mental Health (NIMH) and Fogarty International Center (FIC). The major goal is to strengthen Behavioral Social Science scientific leadership and expertise in HIV research at Makerere University in order to address the evolving challenges in HIV care and prevention in Uganda.
The Program is soliciting applications for research training positions in the following categories;
Masters training in the fields of; Health Services Research, Public Health Sociology/Anthropology, Clinical Psychology and Psychiatry.
Long-term BSSR Fellowship
Application Process:
Application letters should be accompanied by a detailed Curriculum Vitae, copies of academic credentials, recommendation letters from two professional references or mentors in the same area of research, Personal Development Plan (Fellowship only), proof of admission at Makerere University (Master's) and a concept/ proposal of your proposed BSS HIV research project. The letters should be addressed to the Training Coordinator, Mak-BSSR Project and sent to: bssr.chs[at]mak.ac.ug.
Submit Applications before: 16th July 2021
Only shortlisted candidates will be conducted.
Please see Downloads for details.
Taking Mak Research to Communities Using Famous VJs – Bukedde TV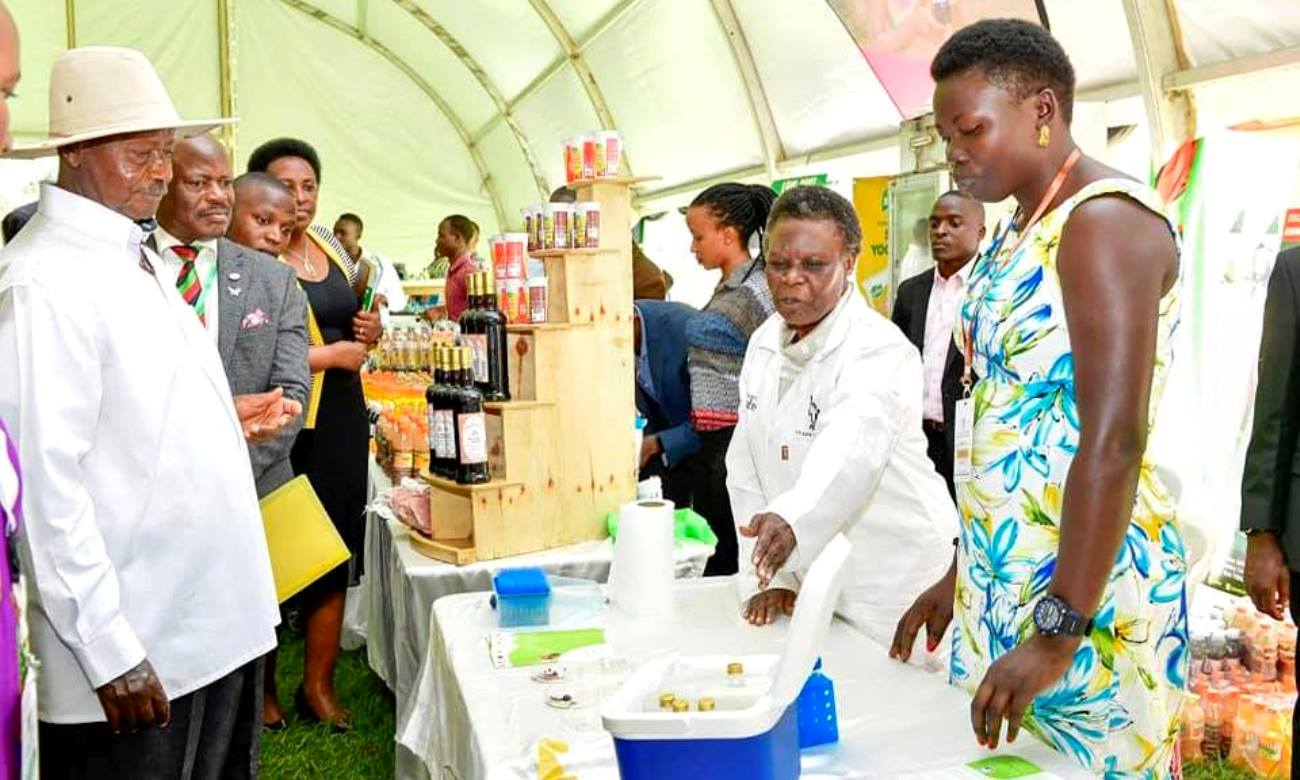 Following successful airings on Saturday 13th March, 2021 for Western Uganda audiences on TV West and Saturday 1st May, 2021 for Northern Uganda audiences on Wan Luo TV, this week the campaign to create public awareness of Makerere University's research will focus on Central Uganda.
Held under the theme "Communicating Science", the campaign is part of a project by the Department of Journalism and Communication, College of Humanities and Social Sciences (CHUSS) funded by the Makerere University Research and Innovations Fund (MakRIF).
The project titled: Using Video Jockeys (VJs) To Promote Public Engagement and Awareness of Makerere University Science will shine a spotlight on some of the innovations from various colleges using at least five languages (Acholi, Ateso, Luganda, Lugbara and Runyankore).
"I am happy to share that the 22-minute documentary titled: THE SCIENCE OF MAKERERE UNIVERSITY – PART 1: POLLUTION, will air this week on Thursday 6th May, 2021 between 7:30 pm and 8:00 pm on Bukedde (1) TV Station in Luganda," explained the Project Principal Investigator (PI), Dr. Brian Semujju.
In addition to TV stations, the campaign will extend to makeshift video halls, local video libraries, a YouTube channel, and social network sites.