Prof. Bernard Bashaasha leads CAES staff for COVID-19 Vaccination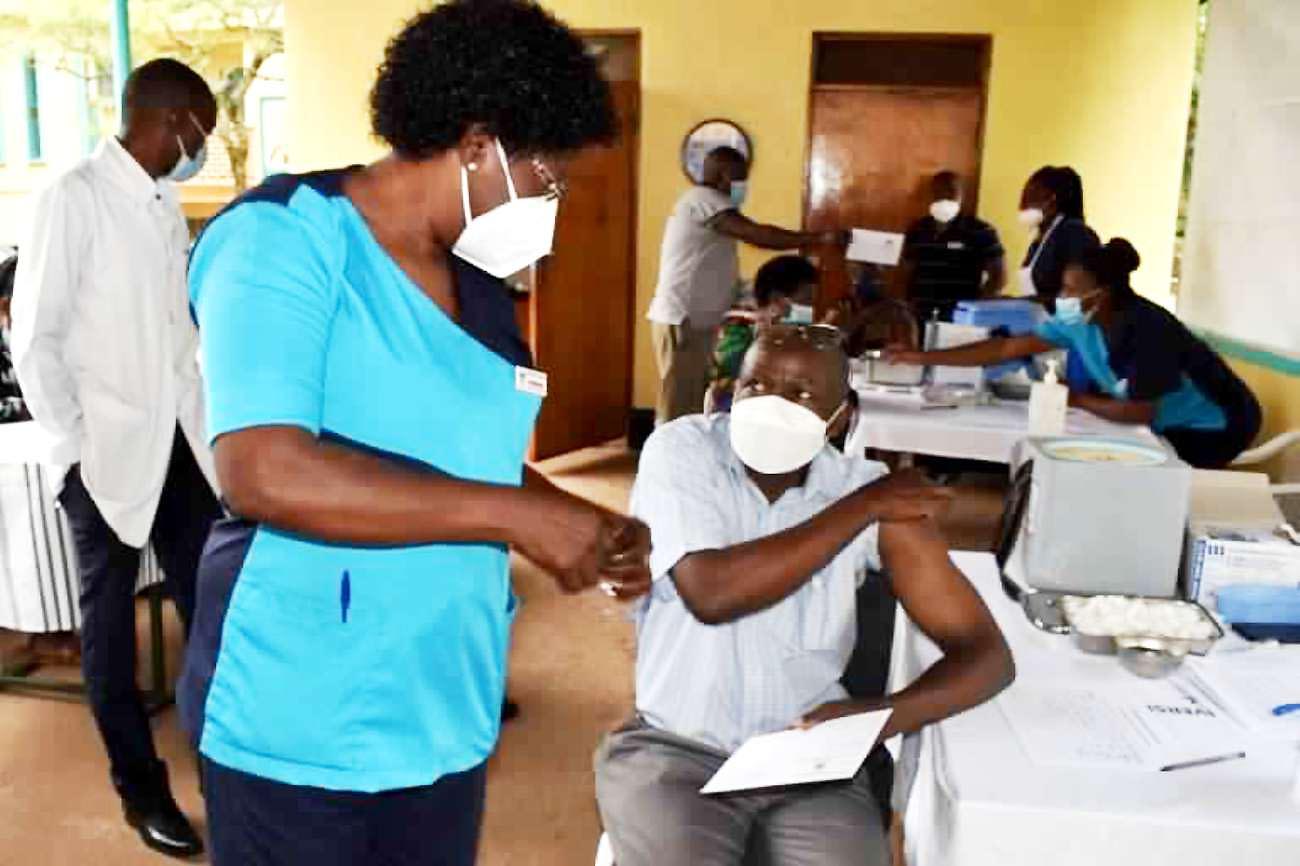 The Principal, College of Agricultural and Environmental Sciences (CAES) Prof. Bernard Bashaasha has got his first vaccination against COVID-19 at the Makerere University Hospital.
 A significant number of staff from the CAES also got their jabs. The other staff vaccinated were from the College of Education and Extra Mural Studies (CEES).  The vaccinated staff from CAES and CEES are expected to turn up for the next dose on 26th May 2021.
Speaking after getting his jab at the University Hospital, on 31st March, 2021, Prof.  Bashaasha described his experience as good and implored all the college staff to embrace this opportunity and get vaccinated for their safety.
"The experience was good. We came in and we were well-received. We filled the forms, we were ushered in, got the jabs and it was not painful. Actually, before you know it, the ladies are so good that your already done.
For CAES, I encourage everyone to come and get the vaccination because, the more people we have vaccinated, the safer we are. So, I think for the safety of everyone, let us all embrace this and stick on the guidelines issued and then, we come for the next jab when it is next scheduled", Prof. Bashaasha advised.
The vaccination of the University community against COVID-19 is being championed by Makerere University Hospital in conjunction with the Ministry of Health, Kampala Capital City Authority (KCCA) and the World Health Organisation (WHO).
In case of any serious adverse reactions, recipients are advised to report the nearest health centre or WhatsApp 0791415555 or 0800101999 (National Drug Authority (NDA).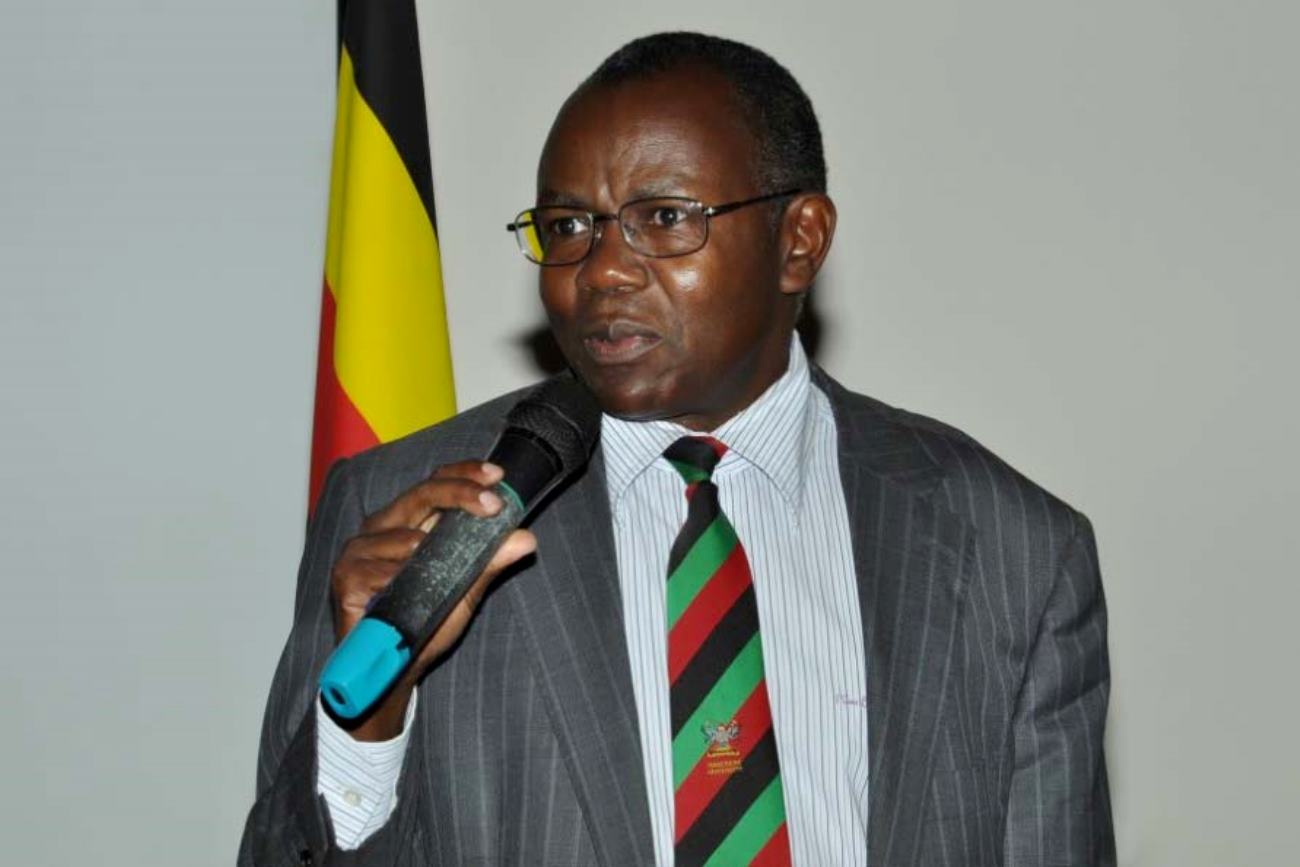 The academic year 2019-2020 was rocked with many challenges following the declaration of the Corona Virus Disease (COVID-19) a global pandemic on 11th March 2020. Countries world over are experiencing and trying to cope with its unprecedented rapid spread that has claimed many lives and devastated the social economic activities. Given the absence of a vaccine, partial and total lockdowns, social distancing, wearing of face masks, hand washing and sanitizing were recommended by the World Health Organization (WHO) as the global remedy to contain the spread of COVID-19.
All institutions of learning were since closed with online delivery as the only option despite the challenges that come with it. However, despite the challenges, the CAES registered some milestones. Eight (8) staff members were awarded projects under the Mak-RIF Special COVID-19 Call to contribute to measures to curb the spread of the pandemic. Over five technologies and innovations under this initiative were unveiled including an Automated Communal Hand Water Pump (MakNAI), Thermal Imaging for detection of COVID-19, Three-Dimensional (3D) printing of biodegradable face shields and components for the Bulamu ventilator and the Touchless Handwashing (TW-20) Kit .
Teaching and learning was disrupted. Academic staff were trained via zoom on uploading content on MUELE and also delivering lectures online. Student's placement for internship was disrupted by the Pandemic. The college developed different guidelines on how to conduct internship for all programs. E-learning focal coordinators were appointed.
Graduate program supervision, examination and defence resumed after the partial lifting of the lock down. A total of 1,017 undergraduate students were admitted. Of these, of 480 were admitted under the government scholarship while 537 students were admitted under the Private scheme.
The college actively participated in the restructuring of her programs following minimum standards developed by the National Council for Higher Education (NCHE) and the Quality Assurance and Gender Committee (UQAG) of the University Council was tasked to identify programs with duplications to be merged or removed from the curriculum. Pronouncements have been made by the different units as we wait for management decisions.
In our outreach and knowledge transfer efforts, over 250 staff publication in revered journals were recorded for the academic year 2019/2020. College branding materials including banners, tear drops, flyers and brochures were procured and a Book on Agriculture and Ecosystem Resilience in Sub Saharan Africa launched. Monthly policy seminar series to re-ignite the debate and bridge the existing knowledge gap between research and policy making on issues of agricultural and rural development were inaugurated. The College Strategic Plan (2020-2030) was developed and shared with college stakeholders and the university planning committee. The Climate Change Manual for Eastern Uganda was formulated and a Poultry Training Manual to address key capacity and knowledge gaps within the poultry sector designed. Over 20 research dissemination workshops for Mak-RIF and other projects were held.
On the human resources front, a number of our staff ascended in their academic ranks, a few resigned and some retired after reaching the mandatory retirement age. Six of our staff were nationally and internationally recognized for their outstanding performance.
The college continues to write grant wining proposals to mobilise resources to supplement the university resource envelope. As of now the CAES has over 150 running projects and 8 MoU s signed in the period under review.
On behalf of CAES Management, allow me express our heartfelt gratitude for the support rendered by university management, our development partners and the Government of Uganda towards our research function. I also thank our staff for the commitment and dedication to serve the university despite the challenges. We also thank students and parents/ guardians as our primary key stakeholders. As CAES, we are committed to delivering on our mandate to build for the future.
I thank you.
Prof. Bernard Bashaasha
PRINCIPAL
The scholarship from RUFORUM has expanded my research capabilities and network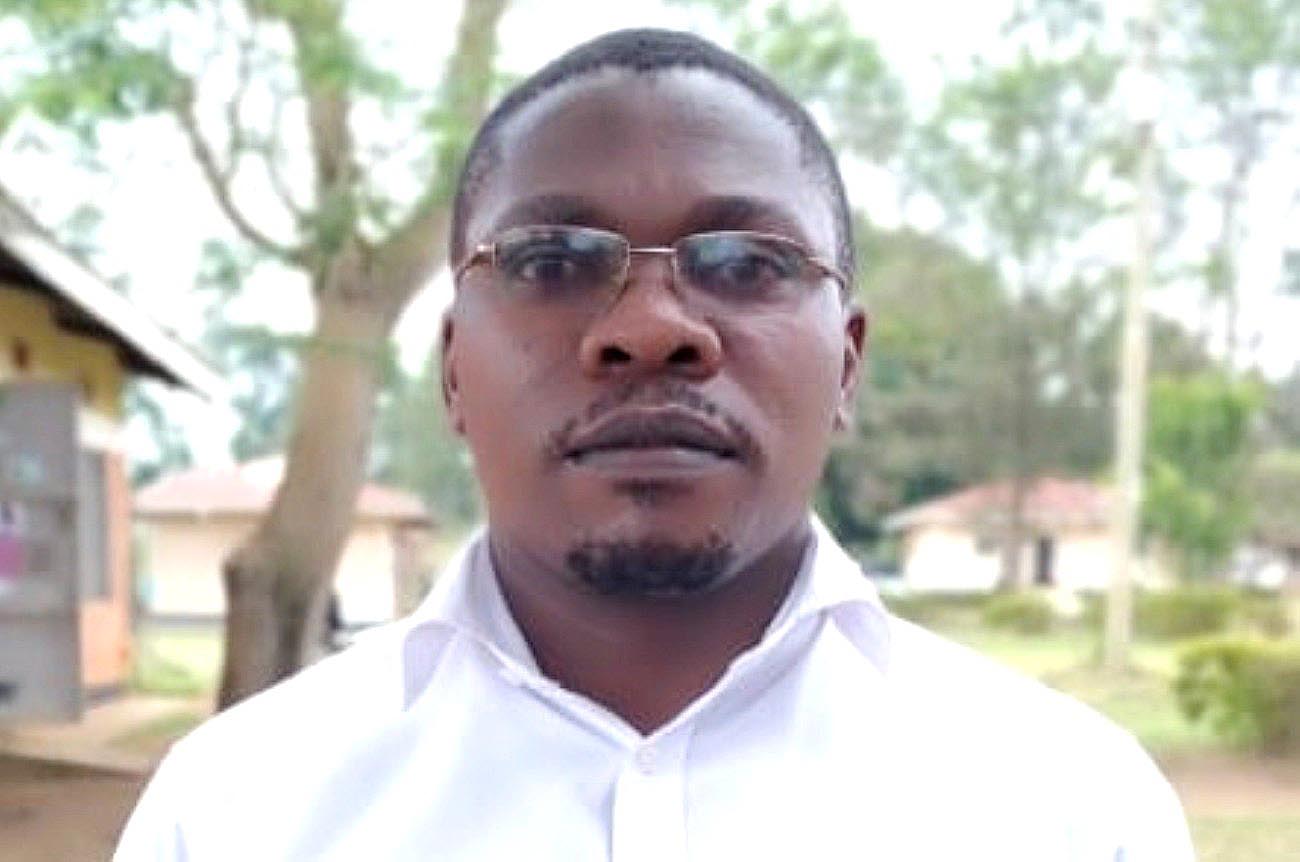 My name is Kusiima Kaheesi Samuel studying PhD Environment and Natural Resources at the College of Agricultural and Environmental Science (CAES), Makerere University, Uganda. I  received funding from RUFORUM under the Social and Environmental Trade-offs in African Agriculture (SENTINEL) Project for my research entitled: Land Use Land Cover Change (LULCC) and its Implications on Ecosystem Services in the Albert Water Management Zone, Uganda. The aim of my project is to unravel the relationship between LULCC and human well-being through alteration of ecosystem service supply in the dynamic landscape famous for being a biodiversity hotspot, oil and gas industry activities, agricultural activities, and an exponential population growth.
The project is great significance because of inter alia reflection of the situation in terms of Sustainable Development Goals (SDGs) 2,3,6,7,11,12,13; accounting for land use sector in Nationally Determined Conditions (NDCs) under the Paris Agreement; Forest Landscape Restoration opportunity of Uganda; Detect the level of compliance and effectiveness of elaborate environment and natural resources laws; understanding ecosystem services synergies/trade-offs; and explanation to the environmentalists paradox.
My proposal was accepted by the Doctoral Committee and since then I have spent most of the time doing intensive literature review to inform my review paper (yet to be submitted), instrumentation, and working on objective one which is basically GIS and RS thus requiring nominal fieldwork.
CoSTClim-NORPART Call For Applications: Masters & PhD Student Mobility to Norway 2021
Makerere University in collaboration with Norwegian University of Science and Technology (NTNU), Uganda Martyrs University (UMU) and Regional Universities Forum (for Capacity Building in Agriculture (RUFORUM) are implementing a five year CoSTClim project (Collaborative Action for Strengthening Training Capacities in Climate Risk and Natural Resource management). The main goal of the project is to improve the quality of training, education and research at the partner institutions with a dedicated focus on climate risk, disaster risk management and natural resource management. CoSTClim builds on a range of other capacity development projects funded by the Norwegian Government at the partner institutions, but is more focused on education.
One of the components of CoSTClim is student mobility from Uganda to Norway and from Norway to Uganda. Therefore, we are inviting applicants from Makerere University for Masters and PhD student mobility to Norwegian University of Science and Technology (NTNU) for the year 2021. The scholarship will cover a maximum 5 months and 3 months stay at NTNU in Trondheim, Norway for Masters and PhD students respectively.
Applications with all the required documents should be submitted by email to all the three contacts below in one message. The project application deadline is 15th and 31st March 2021 for Masters and PhD applicants respectively
Dr. Yazidhi Bamutaze: yazidhibamutaze[at]gmail.com
Dr. Runyararo Jolyn Rukarwa: r.rukarwa[at]ruforum.org
Dr. Charlotte Nakakawa Jjunju: charlotte.jjunju[at]ntnu.no
Short listed applicants will be invited to complete educational procedures at NTNU under the exchange arrangement. A scholarship award will be issued once formalities have been successfully completed at NTNU.
Please see Downloads for details