CoVAB Abridged Annual Report 2020
We are pleased to present to you the 2020 report. This abridged version highlights select achievements of our University College.
The year AD 2020 was unique and historical; being the era when COVID-19 pandemic struck the entire global civilization and crushed many local economies. AD 2020 has thus, been a turning point, literally, shaking everything. Our systems where laid bare; and adjustment to a new normal became urgent. Despite this assault, we shall be forever grateful, that our scientists, technocrats, administrators and support teams, wriggled through; emerging with certain key outputs, which we have been able to share here. The teams kept focused on accelerating efforts for advancing Makerere University's vision of being the number one leading institution for academic excellence and innovations in Africa. We have continued to place emphasis on building skilled human capital while driving transformative research and innovation, teaching, learning and service. As you will find in subsequent sections, despite the pandemic ecosystem, AD 2020 was marked by vital initiatives at the college. We received considerable support from the Government of Uganda, local and international partners.
The college vision of continuously creating a healthier, wealthier and safer society through animal value, was thus greatly reinforced. We have strengthened blended learning approaches, putting more emphasis on E-Learning programs as a way of not only controlling COVID-19 virus spread, but also as a mechanism for enhancing access to education. It has been exciting to see both students and staff graciously embrace the e-system under a new normal, challenges notwithstanding.
With pride therefore, we wish to salute the Government of Uganda, university administration, our staff and partners; recognize the sacrifice, service, value and impact of the work we have attained together. Without this contribution, the drive towards building CoVAB as a new generation of veterinary colleges in Africa and beyond would not have been realized.
May the Eternal God forever bless you all.
For God and My Country! As We Build for the Future!
Prof. John David Kabasa
PRINCIPAL CoVAB
Please see Downloads for the full report.
Mak to Quantify and Map Antimicrobials used in Livestock Farming in Uganda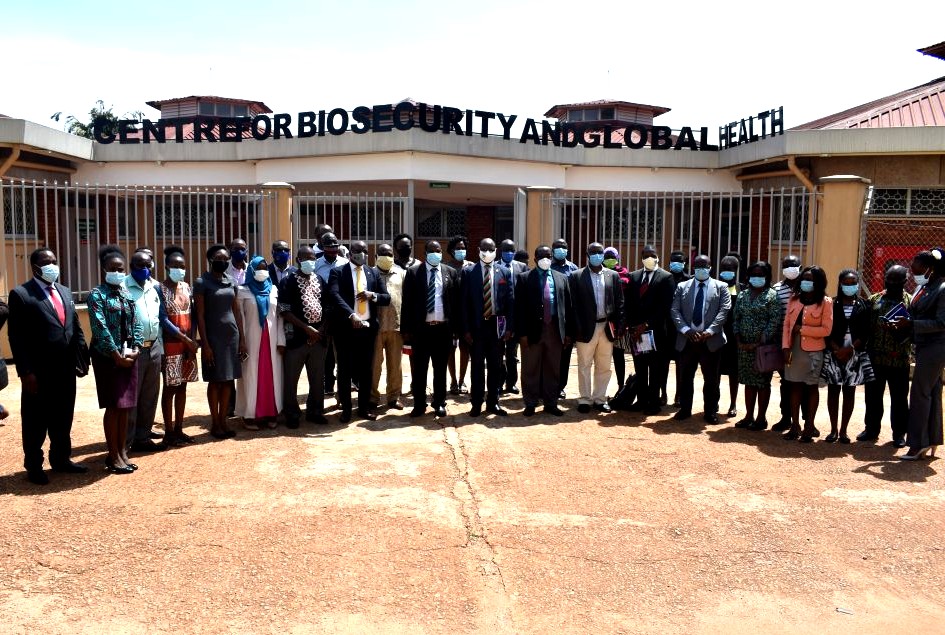 On Wednesday 30th September, 2020, one of the over 500 multidisciplinary projects currently being funded by the Government of the Republic of Uganda through Makerere University Research and Innovations Fund (Mak-RIF) was launched by the Vice Chancellor, Prof. Barnabas Nawangwe. This project is titled: Developing a Monitoring System for Quantifying and Mapping Antimicrobials used in Livestock Farming Systems in Uganda (VAMS). The VAMS research and systems Project was launched at the College of Veterinary Medicine, Animal Resources and Biosecurity (CoVAB). The event held at the college's Center for Biosecurity and Global Health had 50 physical attendees well social distanced in observation of COVID-19 containment measures and over 20 attending virtually via zoom, to engage in the discussion on antimicrobial usage in livestock farming in Uganda. In order to broaden the pool of knowledge during the engagement, participants were drawn from different disciplines including; Veterinary Medicine, Revenue, Engineering, Public Health and Social Sciences among others.
The research project spearheaded by Associate Professor Lawrence Mugisha, faculty at Department of Wild Life and Aquatic Animal Resources envisages fully developing a monitoring system for quantifying and mapping antimicrobial usage in livestock farming systems in Uganda. Prof. Mugisha said while giving his remarks said the team has designed a real-time system that will feature all latest developments in antimicrobial research only authenticated and approved by the Ministry of Agriculture, Animal Industry and Fisheries. This system is the first of its kind in Uganda.
Prof. Mugisha and his research team are closely working with several partners including; Ministry of Agriculture, Animal Industry and Fisheries, Uganda Revenue Authority and National Drug Authority to advance efforts aimed at addressing challenges related to antimicrobial usage in Uganda.