Mak Unveils Uganda's Potential to Process Powdered and Liquid Eggs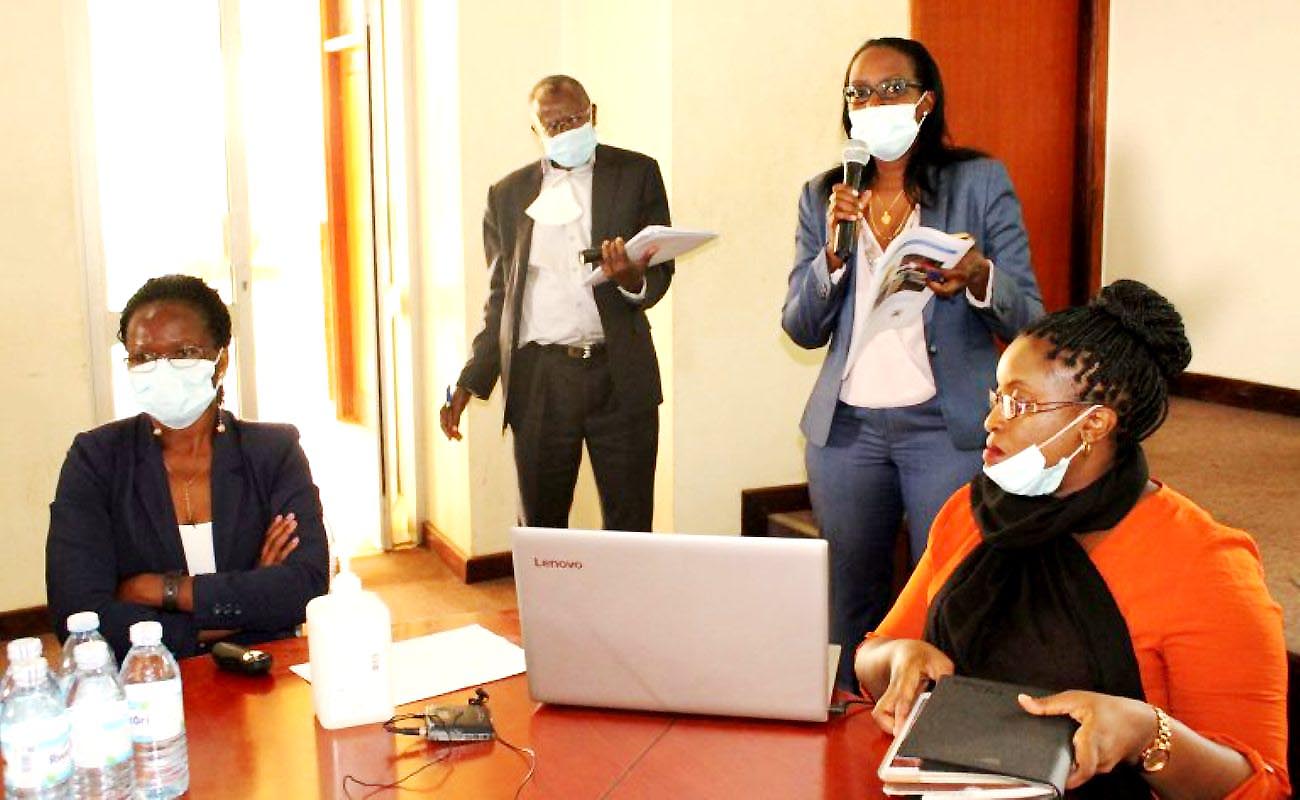 Makerere University researchers who received special funding under the Research and Innovations Fund (Mak-RIF) to respond to CoVID-19 have come up with interventions for Government, Public-Private Partners and Private investors to make egg production in Uganda more feasible and profitable.
The project team has produced a comprehensive report, a business plan based on the research findings that will be a guide for investors who would like to make capital investments in egg processing plants and a policy brief entailing policy interventions and options for the egg industry.
The proposed method of operation for Government interventions entailed;- Conducive tax regimes, Financing mechanisms, Enforceable standards and Targeted extension services.
The proposed method of operation for Public-Private investments were Financing of capital investments, Export expansion, Consumer education, Enhancing bio-security measures, Collective action, Targeted extension services and Youth platforms.
The Private investment calls for Investments in improved technology and buffer stocks, Innovations in processed egg uses and contract egg production.
The recommendations were made during the blended online and face-to-face research dissemination workshop for the study titled, "Exploring Egg Processing as a Sustainable Market Solution for Ugandan Poultry Farmers During and Post Covid-19 Pandemic" held on 14th October 2020 at the Conference Hall, School of Food Technology, Nutrition and Bioengineering. 30 key stakeholders including, policy makers, farmers and academia participated physically while another 50 joined virtually.
The study was spurred by the advent of the CoVID-19 pandemic in December 2019 and associated restrictions which disrupted the agriculture value chains including the egg value chain. For the egg value chain in particular, alternatives such as processing channels to add value and increase the shelf life of the shell eggs to absorb the excess supply were limited.
The study was funded by the Government of Uganda at an estimated budget of UGX 60 million through the Mak-RIF to support government initiatives to fight COVID-19 pandemic and to specifically address the need of the Ugandan poultry farmers who were greatly affected during the lockdown period.
The objectives of the study were: 1) To characterize and profile the egg producers as well as assess the trends in egg production in Uganda; 2) Understand challenges and opportunities in the egg value chain and propose possible solutions; 3) To understand the current marketing channels for eggs and; 4) To assess the profitability of egg processing in the Ugandan context
The Research Team was composed of four namely: Dr. Rosemary Emegu Isoto (PI, CAES); Prof. Bernard Bashaahsa (Co-PI and Principal, CAES); Ms. Caroline Kamugira (RIF, CAES) and Ms. Noreen Munabi Nkuraija (CAES).
Mak Launches Policy Seminar Series on Rural Development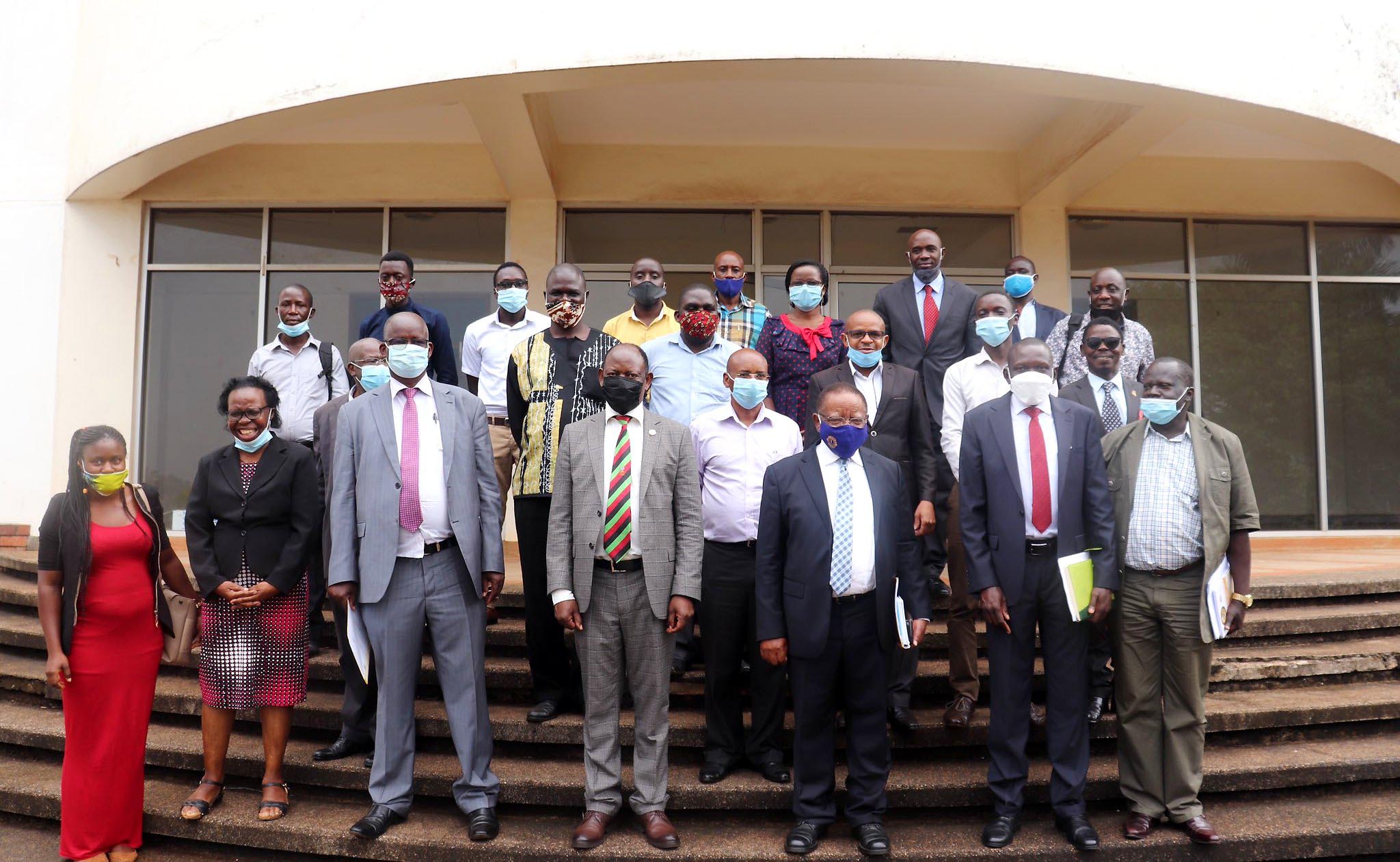 Makerere University College of Agricultural and Environmental Sciences (CAES) has launched the monthly policy seminar series to re-ignite the debate and bridge the existing knowledge gap between research and policy making on issues of agricultural and rural development.
The initiative supported by the Government of Uganda through the Research and Innovation fund (RIF), is being spearheaded by Dr. Rosemary Isoto (Principal Investigator ( PI), assisted by Prof Theodora Hyuha and Prof Bernard Bashaasha, all from the Department of Agribusiness and Natural Resource Economics (DANRE) School of Agricultural Sciences, the latter is also Principal CAES.
The function attracted over 100 participants physically and virtually and comprised members of the academia from Makerere and other universities, research, government ministries and agencies, development partners, the Private Sector and the Civil Society Organizations.
The monthly policy seminar series were officially launched on 24th November, 2020, by the Chairperson, National Planning Authority (NPA) represented by the Deputy Chairperson Prof. Sam Obwoya while the Keynote address was delivered by Makerere University Chancellor Prof. Ezra Suruma at the Conference Hall, School of Food Technology, Nutrition and Bioengineering.
The function was also graced by Makerere University Vice Chancellor, Prof. Barnabas Nawangwe and the Chair, RIF Grants Management Committee (GMC) represented by Mr. John Mutenyo.
REDD-EA Project Shares Successes as Research Dissemination Workshop Kicks-off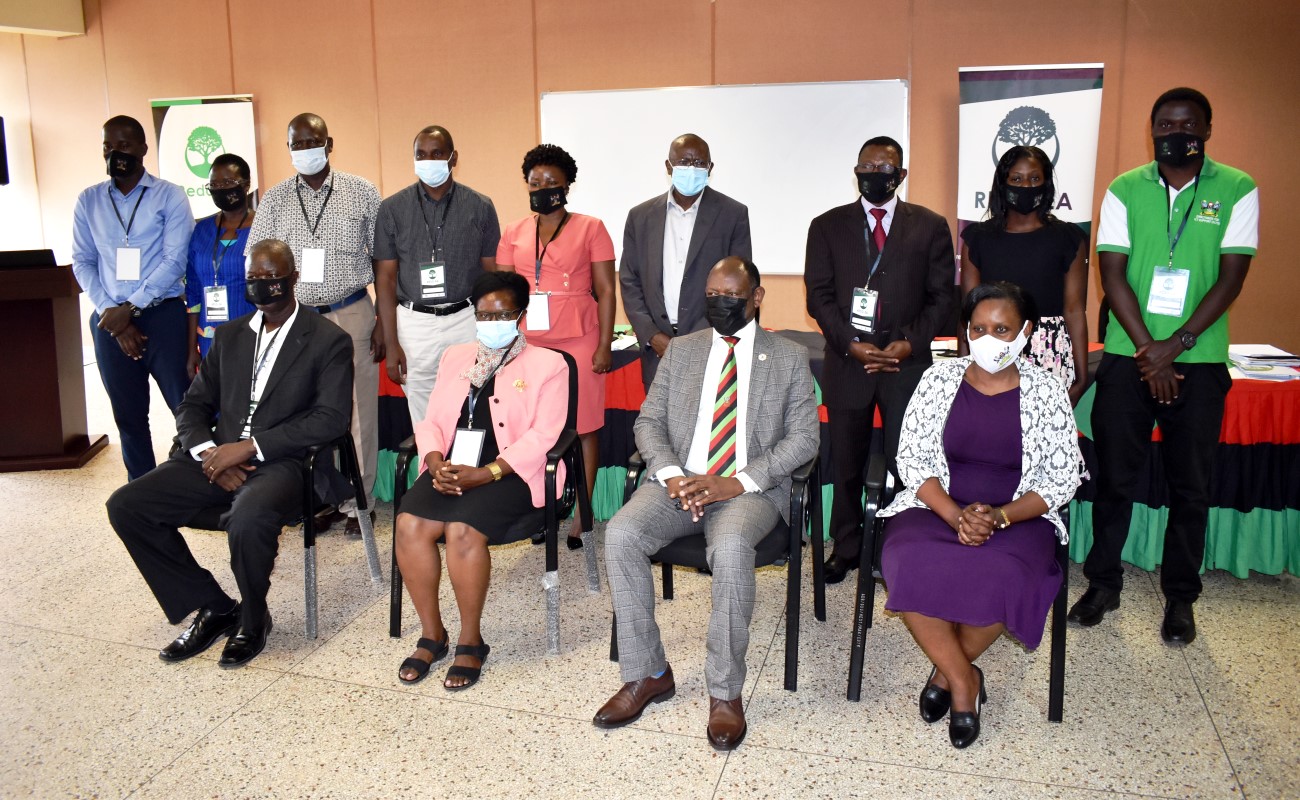 The REDD-EA project on 24th November 2020 launched a two-day National Research Dissemination Workshop to share its outputs under the theme "Forest-based emissions: Solutions for climate change mitigation, improved ecosystem health and sustainable livelihoods". Held in Room 3.2, Central Teaching Facility 1 (CTF1), Makerere University, the workshop was officially launched by the Minister of Water and Environment, Hon. Sam Cheptoris, represented by Mrs. Mwebesa Margaret Athieno, the Ministry's Assistant Commissioner for Forestry (Planning and Development).
REDD-EA stands for Building capacity for REDD+ in East Africa for improved ecosystem health and for sustainable livelihoods in Eastern Africa. REDD+ stands for Reducing Emissions from Deforestation and forest Degradation, (+) plus conserving carbon stocks, sustainable forest management and enhancing carbon stocks. REDD+ which was negotiated out of concern for the rapid loss of forests globally is aimed at rewarding actions that conserve forests and contribute to social and environmental outcomes.
With the above as its basis, the REDD-EA project goal is to contribute to reduced greenhouse gas emissions and improved ecosystem health for sustainable livelihoods in East Africa. The project which started in 2014 and ends in December 2020 purposed to achieve this goal by strengthening the capacity for education and research on climate change and REDD+ at Makerere and the University of Dar es Salaam (UDSM).
Addressing participants, the Principal Investigator (PI) REDD-EA, Prof. John Tabuti shared that the project has so far graduated 23 PhD and Masters Students, which is the largest number of graduate students of all projects funded by NORHED.
"I thank the Norwegian Government under the Norwegian Programme for Capacity Development in Higher Education and Research for Development (NORHED) for funding REDD-EA. I also thank the Government of Uganda for creating the necessary conditions for attracting the grant that funded this project and the Uganda National Council for Science and Technology (UNCST) for granting our students permission to conduct research in the country," remarked Prof. Tabuti.
He equally thanked the National Forestry Authority (NFA) and Uganda Wildlife Authority (UWA) for allowing the project to conduct research in protected areas under their mandate. "I thank the Vice Chancellor-Prof. Barnabas Nawangwe, Principal College of Agricultural and Environmental Sciences (CAES)-Prof. Bernard Bashaasha and the entire University Management for availing us an efficient environment for the management of research projects."
In her remarks, the Chairperson NIDIC (NORHED Institutional Development and Implementation Committee) Dr. Consolata Kabonesa noted that Norwegian Government support has enabled REDD-EA to contribute to generation of research crucial to not only economic development but also sustainable livelihoods. She paid tribute to the REDD-EA Co-PIs Prof. Douglas Sheil from the Norwegian University of Life Sciences (NMBU) and Prof. Pius Yanda from UDSM for their contribution in ensuring that the project was a success. "The research being disseminated today will support the policy informing and implementation process not only in Uganda but also internationally."
Prof. Bernard Bashaasha in his remarks applauded the School of Forestry, Environmental and Geographical Sciences (SFEGS) for creating a strong environment in which research on protecting our ecosystems has thrived. "When we take away forests, it is not only the forests that we lose but entire ecosystems that are associated with them."
Staying with the need to conserve our forests, the Director, Directorate of Research and Graduate Training (DRGT), Prof. Buyinza Mukadasi noted that the dissemination was timely to address emissions from forest cover loss. "Deforestation is the second largest source of emissions after the burning of fossil fuels and accounts for more than all the emissions from the transport sector."
He nevertheless expressed hope that the capacity built by REDD-EA over the years would help to generate new knowledge on forest conservation and increase its uptake through translation into technologies, interventions and strategies.
"It is heartwarming to note that this project has built capacity of over 60 researchers in REDD+ business through academic exchange mobility to Norway and likewise Norwegian Professors visiting Makerere to supervise students." said Prof. Buyinza. These include 12 PhDs – 8 from Makerere and 4 from UDSM and 35 MScs.
The Vice Chancellor in his address thanked the Norwegian Government for supporting research and staff development initiatives at Makerere University over the years through various programmes such as NUFU, NOMA and NORHED. He applauded Prof. Tabuti and his team for ensuring that communities that participated in the project have a deeper appreciation of the need to conserve forests as a mechanism for reducing carbon emissions.
"Uganda's population is expected to reach 100 million by 2050 and the number of people living in urban areas is expected to hit 22 million by 2040. This unchecked rapid population growth and rural to urban migration will inevitably have a negative impact on our forests and environment in general unless we intervene with timely dissemination of the consequences" warned the Vice Chancellor.
Prof. Nawangwe concluded by thanking the Government of Uganda for supporting Makerere University to undertake research on unfunded priorities critical to national development through the Research and Innovations Fund (Mak-RIF). He added that whereas the impact of Mak-RIF was beginning to be seen within a year, a lot of good research ideas from the immense capacity at Makerere had to be left out due limited resource envelope. The Vice Chancellor nevertheless expressed hope that outputs from projects like REDD-EA would be able to attract additional funding from the Government and support from development partners.
The keynote address at the research dissemination on "Uganda's REDD+ Readiness Process: Achievements and Developments" was delivered by Mrs. Mwebesa Margaret Athieno. She assured her audience that Uganda meets all four requirements necessary to implement REDD+. These include a; REDD+ National Strategy or Action Plan, National Forest Monitoring System (NFMS), Safeguards and Safeguards Information System (SIS) and Forest Reference Emission Level (FREL).
Mrs. Mwebesa nevertheless pointed out that her Ministry still has work to do in terms of building in-country capacity for REDD+ requirements such as expertise for collecting and analyzing data for carbon reporting purposes among others. She also noted the need to promote Public-Private-Partnerships, particularly those that promote commodity value chains, especially since 70% of Uganda's forest cover is under privately-owned land.
The Minister in his remarks read by Mrs. Mwebesa noted that the Ministry of Water and Environment with the support of partners intends to increase Uganda's forest cover from the current 12% to 15% by the end of the Third National Development Plan (NDPIII) 2020/21 – 2024/25. Under Forest Investment Planning, the Minister shared that it was important for Uganda as the third largest refugee hosting country in the world to reduce carbon emissions caused by environmental degradation around settlements by investing in reforestation programmes.
He noted that Uganda has prepared two emission reduction project proposals for the Albertine and Kyoga Water Management Zones, which will be supported by the World Bank's Forest Carbon Partnership Facility. The Minister concluded his remarks by commending the Norwegian Government for supporting the Sawlog Production Grant Scheme (SPGS) and other REDD+ initiatives in Uganda. He reiterated the Government's commitment to promote programmes such as the National Biodiversity Strategy and Action Plan (NBSAP) as an incentive for communities to continue preserving indigenous tree species such as the Shea nut tree and Prunus Africana.
The Research Dissemination Workshop which was moderated by Principal Public Relations Officer, Ms. Ritah Namisango also featured breakaway sessions where students presented their research findings. The sessions were on Forest Land Use and Land Cover Change (LULCC) and On Farm Tree Planting and Climate Smart Agriculture.
Article by Public Relations Office
Unmasking the Gendered Impact of COVID-19 Guidelines on Market Vendors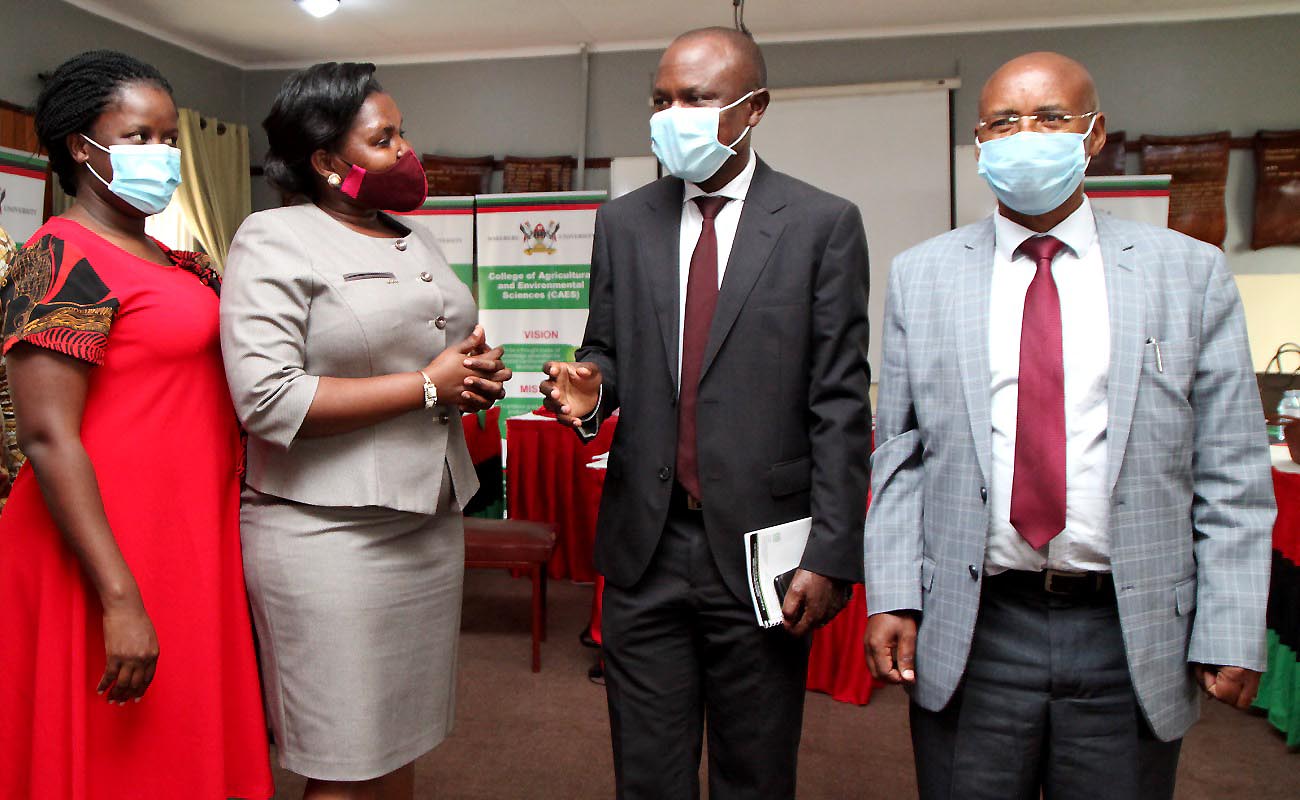 Over 100 participants from academia, business, private sector, research and Government Ministries, Departments and Agencies convened physically and virtually to discuss the findings of the Makerere University Research and Innovations Fund (Mak-RIF) Special  study on the gendered impact of  COVID-19  on market vendors of the perishable goods in urban and peri-urban areas of Uganda.
The workshop held on Wednesday 18th November 2020 attracted 40 participants physically at the Conference Room, School of Forestry, Environmental and Geographical Sciences while over 60 participants  attended via zoom.
The School of Agricultural Sciences (SAS), College of Agricultural and Environmental Sciences (CAES), Makerere University conducted a study on food markets following the distortions caused by COVID-19 pandemic. The study titled "The Gendered Impact of COVID-19 Guidelines on Market Vendors of Perishable goods in Urban and Peri-Urban areas of Uganda" was funded by the Government of Uganda through the Makerere University Research and Innovation Fund (Mak-RIF) COVID-19 Special Grant.
The research team comprised Dr. Losira Nasirumbi Sanya, Principal Investigator (PI) and Lecturer, Department of Extension and Innovation Studies (DEIS); Professor Johnny Mugisha, Co-PI and Dean, School of Agricultural Sciences and; Ms. Florence Nakazi, a Research Analyst, Economic Policy Research Centre (EPRC).
The dissemination workshop was officially opened by the Deputy Principal CAES who is also  a gender expert-Assoc. Prof. Gorettie Nabanoga as Guest Speaker. It was closed by  Makerere University Deputy Vice Chancellor in charge of Academic Affairs (DVC AA) represented by Assoc. Prof. Eria Hisali, who is also the Principal, College of Business and Management Sciences (CoBAMS).
The function was also graced by officials from the Ministry of Trade, Industry and Cooperatives led by Dr. Joshua Mutambi, Commissioner in charge of Processing and Marketing; representatives from the National Agricultural Research Organization (NARO), the Economic Policy Research Centre (EPRC) and  Kampala City Capital Authority (KCCA).
Other invited guests were the Makerere University Director, Directorate of Graduate Research and Training Prof. Buyinza Mukadasi, the Principal CAES-Professor Bernard Bashaasha. Dr. Hellen N. Nkabala representing the Mak-RIF Grants Management Committee also, doubling as Council member, Mrs. Phoebe Lutaya, Deputy Coordinator Mak-RIF and Ms. Carol Kamugira from the Mak-RIF Secretariat. Other special guest were representatives of  market vendors, members from civil society organizations and the private sector.
The Head, Department of Extension and Innovation Studies, Prof. Nelson Turyahabwe welcomed the virtual and physical participants describing the project dissemination workshop as timely.
He said, in March 2020 markets and businesses in Uganda were closed and guidelines put in place to ensure that market vendors operate safely. Some of the guidelines included instruction of market vendors to sleep in markets while others commuted and followed the Standard Operating Procedures (SOPs). These, the professor said, did not go well with especially vendors trading in vegetables and other perishable goods.
Much as this guidelines were put in place, Prof. Turyahabwe asserted that their impact was not evaluated and thus, when a call for the Special Mak-RIF COVID-19 funding was made, a team of researchers led by Dr. Losira Nasirumbi Sanya in collaboration with other researchers from the School of Agricultural Sciences tendered in the proposal that was accepted and funded by the Government of Uganda.
"Today they are here to share with us some of the findings on how the COVID-19 SOPs impacted on the men, women and youth that are involved in marketing of vegetables. They are here to share with us the innovations that were put in place and how the guidelines have impacted on their livelihoods." Prof. Turyahabwe said.
He appreciated the participants for honoring the invitation saying, their presence was of great importance given that they are practitioners, academics, vendors and policy makers  whose input into the study findings will find possible solutions to challenges of vegetable vending and also inform policy on better strategies in case  a similar pandemic occurs.