Journalists Urged to Double Efforts on Environment Conservation Reporting
Environment conservationists have appealed to journalists to enhance their efforts on public awareness and policy action for forest conservation when executing their reporting duties. This was during a virtual media engagement organized by the REDD+ East Africa (REDD-EA), on 13th October 2020, to provide updates on Building capacity for REDD+ in East Africa for improved ecosystem health and for sustainable livelihoods in Eastern Africa.
The meeting convened over 20 journalists, communication specialists, representatives from Ministry of Water and Environment (MWE) and experts in environment conservation from REDD-EA at Makerere University.
REDD+ stands for; Reducing Emissions from Deforestation and Forest Degradation plus Conservation of Carbon Stocks, Sustainable Management of Forests, and Enhancement of carbon stocks. It is a multilateral policy aimed at conserving forests for the mitigation of climate change.
According to the Principal Investigatorof REDD-EA project in Uganda, Prof. John Tabuti, REDD+ intends to control emission and increase the capture of carbon by forests. Its two (2) co-benefits are to conserve biodiversity and to enhance human wellbeing.
"REDD+ is a form of Payment for Ecosystem Services that was agreed to globally in 2007. It is an incentive-based mechanism whereby countries and communities participating in REDD+ receive payments for conserving forests and achievements are reported in terms of avoided carbon emissions or sequestered carbon," he said.
REDD+ has five objectives namely,
Reducing emissions from deforestation;
Reducing emissions from forest degradation;
Conservation of forest carbon stocks;
Sustainable management of forests;
Enhancement of forest carbon stocks
Speaking at the meeting, Prof. Tabuti acknowledged the significant contribution from the media when it comes to environment conservation. He however, noted the need for journalists to strengthen their reporting mechanisms on raising awareness and influencing policy for action on forest conservation in Uganda.
Prof. Tabuti said that the rate at which deforestation is occurring in Uganda calls for immediate intervention. To him, despite Government efforts to protect and conserve the natural forests, the country still experiences forest degradation.
Dr. Vincent Muwanika, a scientist on the REDD-EA project, called for a working mutual relationship between the media and environment experts to disseminate information among communities on environment conservation and the importance of protecting and conserving natural forests. "As specialists, we have more than enough data but when it comes to information dissemination, we need the media on board, because they have the language that appeals to the wider public. They have the writing, communication and reporting skills with unique traits that can take us far when it comes to informing the public, and influencing policy actions."
The Moderator of the REDD-Media training, Ms. Ritah Namisango who is also the Principal Public Relations Officer at Makerere University emphasized the need for researchers and scientists to simplify the technical jargon/terminologies when speaking to journalists and the general public. "It is important to communicate your research using simple and clear messages. Maintain the facts and research findings, but communicate in a language that is understood by journalists and the local people. It is also time to consider the usage of audio-visual content and short videos to disseminate your research," she said.
During the interactive training, the journalists urged the REDD-EA team and other projects at Makerere University to always engage with the media early enough and ensure that the media is on board from the inception, designing and implementation. Media engagement when designing communication strategies would enable the journalists and researchers/scientists to improve the effectiveness of communication.
The journalists and Communication specialists' understanding of REDD+ was further enriched by Mr. Xavier Mugumya's presentation titled: "How does Uganda benefit from the REDD+ policy?"
The Assistant Commissioner for Forestry/REDD+ National Focal Point, Ministry of Water and Environment, Mrs. Margaret Mwebesa, pointed out that the Government is working hard to slow and reverse the declining forest covers especially on private land. In a presentation on Uganda REDD+ Readiness Process, Achievements and Developments, Mrs. Mwebesa said that in 1990, 70% of Uganda's natural forest cover was constituted by forests on private land and by 2017 this had reduced to only 38% due to deforestation and forest degradation.
She recognized the tremendous role played by the Government of Uganda to develop and enforce policies that are geared towards conserving Uganda's forests and other natural resources.
According to Mrs. Mwebesa, Uganda launched a National REDD+ Strategy during United Nations Framework Convention on Climate Change (UNFCCC), 23rd Conference of Parties (COP 23) on 16th November, 2017 in Bonn, Germany and nationally in March 2019. The strategy is grounded in the Climate Change Policy (April 2015), National Forest Policy (2001) and National Forest and Tree Planting Act (2003), National Development Plan II and Uganda's 2040 Vision.
In addition to promoting Public-Private-Partnerships, particularly those that depend on commodity value chains, Government has also initiated a mechanism through which REDD+ strategies will be integrated into the various sectors of development.
"Government included the National REDD+ Strategy implementation among the key priority areas for Public financing with effect from FY 2019/20. We are now lobbying sectors such as Agriculture, wildlife/tourism, energy, infrastructure, local governments, water and lands to incorporate the REDD+ strategies into their planning and budgeting frameworks," she remarked.
Shading the journalist perspective on forest degradation and deforestation in respect to the role of media; Mr. Gerald Tenywa an environment journalist from New Vision noted that media in Uganda has played a critical role in setting the public agenda. We have uncuffed and followed up issues on sold and encroached upon natural resources," he said.
Mr. Tenywa noted that media has for long played the education role, when it comes to environment degradation and conservation by training and informing the public about the importance of protecting and conserving natural resources.
"We have fostered the entertainment role by designing edutainment channels that convey the message in a manner that attracts people's attention. Journalists have always deployed the watchdog/investigative tactics when carrying out their duties in respect to environment conservation. On many occasions we have dug deep into the details and followed up cases related to forest and swamp reclamation in Uganda," he said.
Reiterating the critical role of media in environment conservation Mr. Noah Omuya, said that journalists have faced it rough while executing their duties. Among the challenges he noted included; the perception of media towards environment stories, cost implication when covering the environment related issues, Lack of journalist capacity to tell an environment story, and complicated language that is used by the environment conservation specialists.
In her presentation, Ms. Kellen Aganyira explained that social and environmental safeguards (SES) are a mandatory requirement for REDD+. In particular, full and effective participation of forest dependent communities is a critical safeguard that creates opportunities and reduces risks of REDD+. Accordingly, she conducted research to determine factors that influence local peoples' participation in SES projects in Uganda. She found out that the youth are less likely to participate in SES projects implemented on private land. This finding is critical for Uganda, where 78% of its population is below 35 years. Hence the need to plan REDD+ incentive packages that are attractive to this age group.
The REDD+ EA team at Makerere University consists of the following members:  Prof. John Tabuti, Dr. Vincent Muwanika, Dr. Dorothy Nampazira and Dr. Josephine Esaete.
Please see Downloads for the detailed presentations.
Article by: Proscovia Nabatte
Edited by: Ritah Namisango
Sasakawa Africa Association President Dr. Makoto Kitanaka visits Mak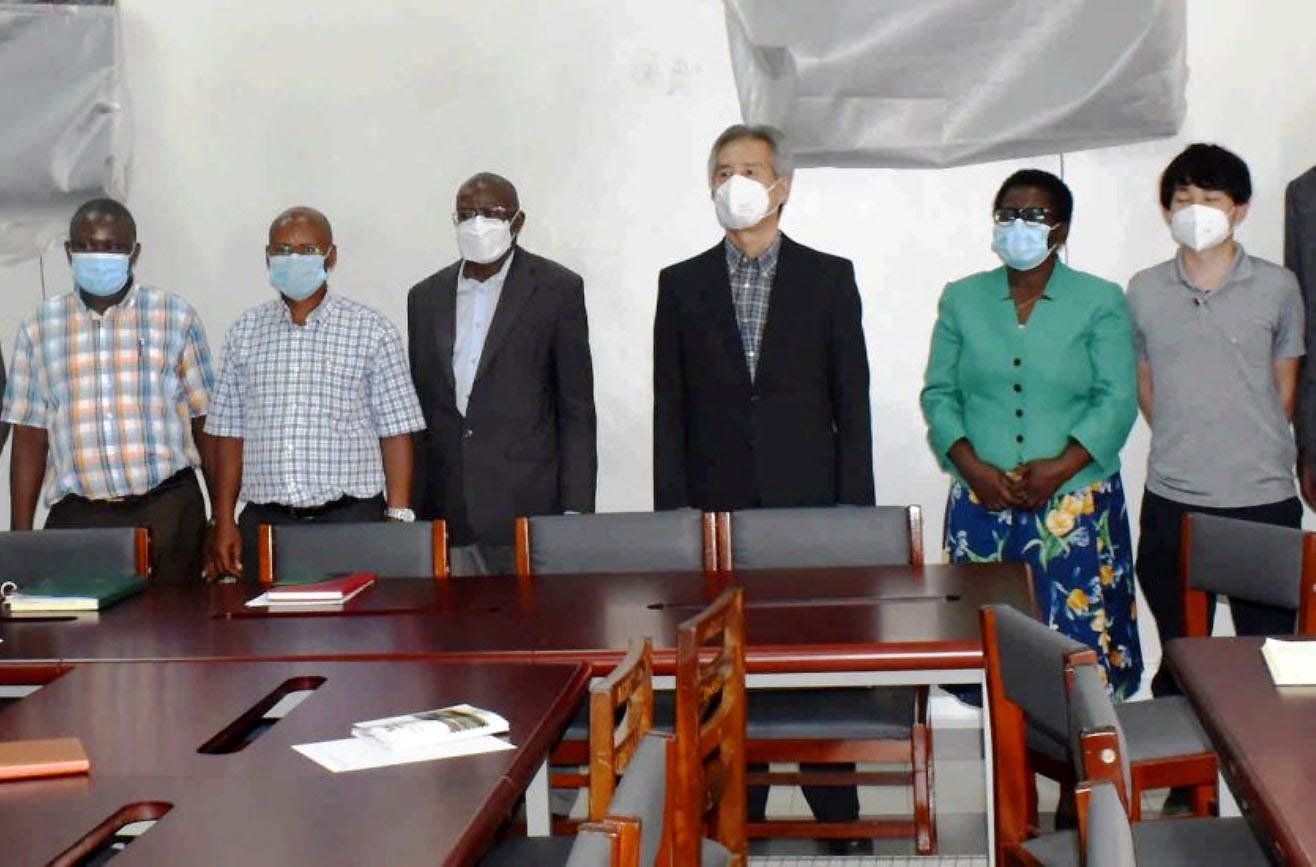 By Jane Anyango
Sasakawa Africa Association (SAA) President Dr. Makoto Kitanaka and several of his entourage from Tokyo, Japan on 4th June 2021  visited Makerere University's College of Agricultural and Environmental Sciences (CAES)  for a partnership meeting with the Department of Extension and Innovation Studies (DEIS). The meeting  was aimed at discussing modalities of enhancing the universities capacity  to engage with the community and also help women and youth to productively engage in Agriculture as a business.
The team also shared what SAA has in store for Makerere and their strategic direction. They emphasized the need to promote sustainable, resilient and regenerative agriculture looking at integrated soil fertility management, Nutrition sensitive agriculture promoting nutrient dense crops and skilling university and rural youth to engage in market-oriented agriculture and agribusiness.
The meeting held in the Conference Room, School of Agricultural Sciences was also graced by the Director SAA Regional Office in Addis Ababa, Ethiopia, Dr. Mel Oluoch,  SAA Country Director Uganda Dr. Roselline Nyamutale and her team.
Also present was the representative of the Principal, Bukalasa Agricultural College. The university runs a program with Bukalasa to reach out to and certify farmers and agribusiness personnel. The outreach program gives farmers credentials recognizing what they are doing in terms of business and good farming practices.
The  team was received by the Principal CAES, Prof. Bernard Bashaasha, the Dean, School of Agricultural Sciences Prof. Johnny Mugisha and the Head DEIS, Prof. Nelson Turyahabwe. Also present were the Head Department of Agricultural Production (DAP), represented by Dr. Mildred Ochwo and DEIS staff led by Drs. Richard Miiro, Sarah Akello, Losira Nasirumbi, Boniface Orum, Prossy Isubikalu and Assoc. Prof. Paul Kibwika.   
Mak GREAT & IRRI Train 30 Scientists from Asia on Gender Responsive Plant Breeding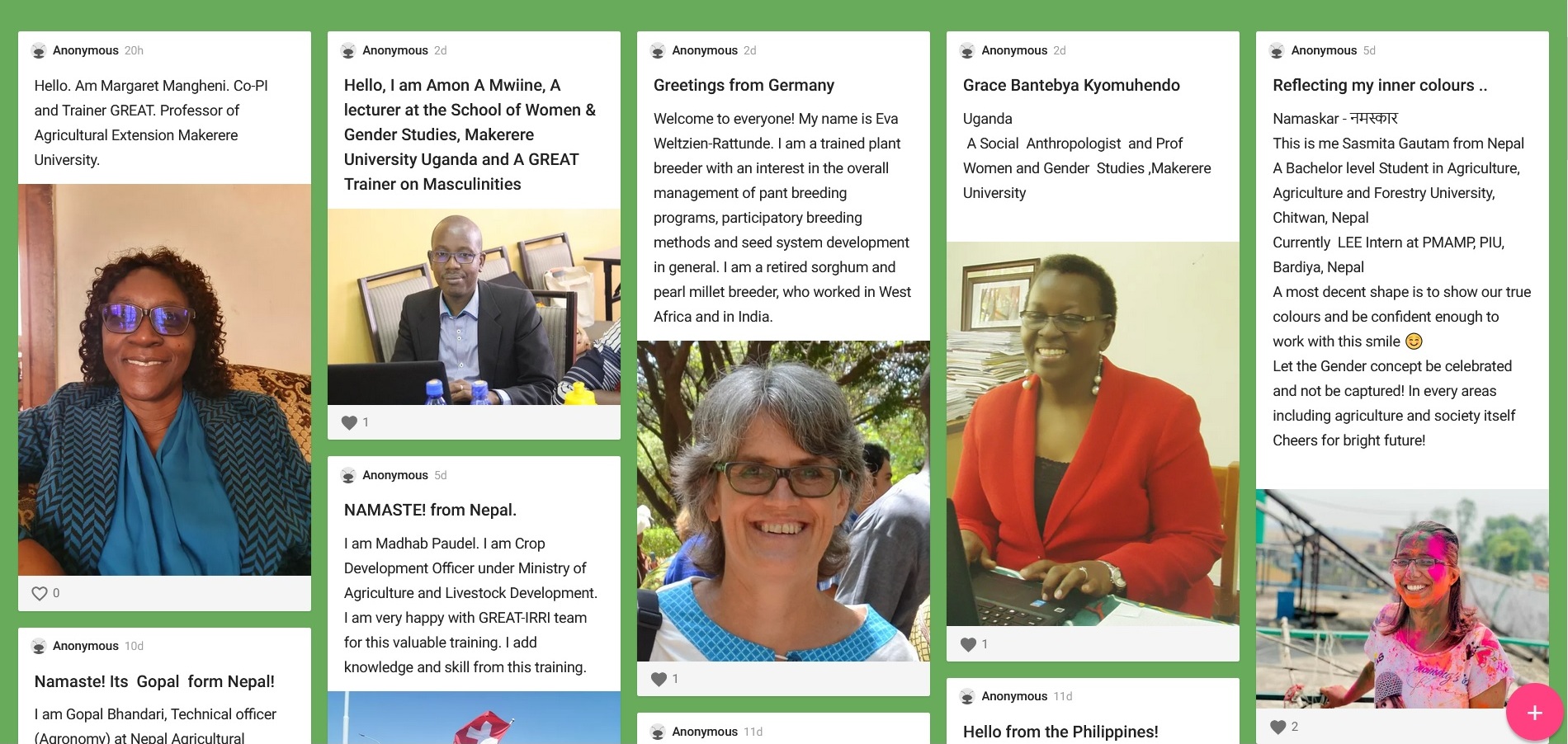 By Jane Anyango
Makerere University's Gender-responsive Researchers Equipped for Agricultural Transformation (GREAT) project in collaboration with International Rice Research Institute (IRRI) has trained 30 plant breeders and social scientists from South Asia and South-East Asia on gender responsive rice breeding. The two weeks training was conducted via zoom from 17th-20th & 24th-27 May 2021
The purpose was to enhance the capacity of partners to develop gender responsive rice breeding strategies and products and understanding of gender responsive preference analysis to ensure the products address needs of men, women and the youth.
At the end of the training, participants virtually received certificates of participation from Makerere and Cornell University signed by the Vice Chancellor Makerere University Prof. Barnabas Nawangwe and the Director of International Programmes at the College of Agriculture and Life Sciences, Cornell University Prof. Ronnie Coffman.
The training dubbed, "GREAT-IRRI" adopted a blended approach of Self-study materials on Google classroom platform comprised of exercises, handouts and discussion activities, Online interaction among trainers and participants through forums and discussion boards and Live delivery/ Synchronous by Trainers through Zoom (3 hours a day).
The  course which  attracted   participants from the biophysical and social  Sciences (28 participants from South Asia and two  from South East  Asia) was  conducted  by  experts in gender and agriculture from Makerere University College of Agricultural and Environmental Sciences (CAES), the School of Women and Gender Studies (SWGS), Cornell University and international experts.
The trainees were drawn from various disciplines including breeders, soil scientists. horticulturalists. plant pathologists, agronomist, seed system experts, agricultural economists, Social scientists , agricultural extensionists and project managers and evaluators among others.
Majority (50%) were from Nepal (15), Bangladesh (10) India (3) and  Philippines(2) representing different institutions including the International Rice Research Institute(CG) Nepal Agricultural Research Council (NARs), Bangladesh Institute of Nuclear Agriculture. Other institutions represented were Indira Gandhi Krishi Vishwavidyalaya, Ministry of Agriculture and Development Nepal and from the Prime Ministers Agriculture Modernization project, Nepal.
Mak Launches Native Chicken Program & Incubator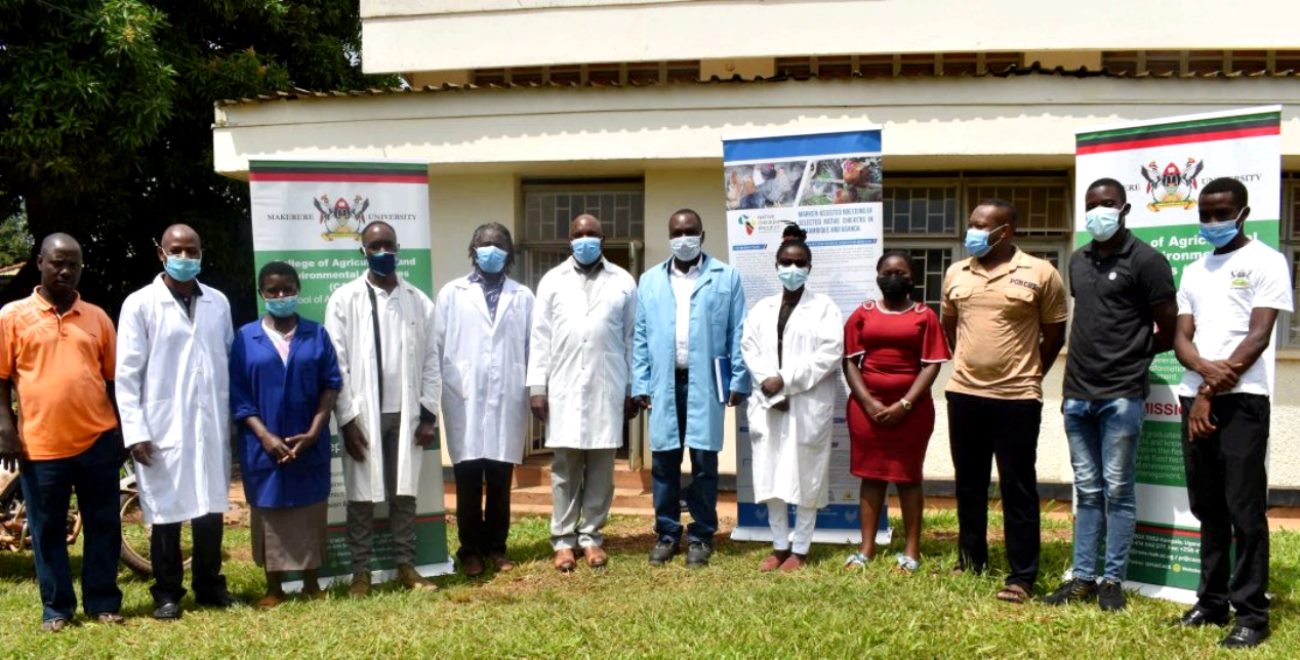 By Jane Anyango
Makerere University College of Agricultural and Environmental Sciences (CAES) has launched a locally manufactured incubator with a capacity of 1000 eggs at the University Agricultural Research Institute Kabanyolo (MUARIK ) for purposes of training, research and farmers capacity building.
The UGX 4.5 million incubator is made in Uganda by Butenga Farmers, a company based in Kiira. An imported incubator of the same capacity costs UGX 10 million. The incubator is to serve the university for teaching courses on poultry production, hatchery management and for people who want to conduct experiments.
The incubator was procured under the Native Chicken Project funded by the African Union (2019-2021). It is a collaboration between institutions from two countries Mozambique and Uganda with the project lead at Eduardo Mondlane University Mozambique.
At Makerere University, the project is spearheaded by Dr. Donald Rugira Kugonza from the Department of Agricultural Production, CAES.
The project objectives are to increase the number of eggs and meat produced by local chickens and to evaluate the effective models or processes of disseminating improved chicken technologies in Uganda and Mozambique.
One of the main challenges of producing native chicken is that a hen lays 10-15 eggs and takes a period of three weeks to incubate and hatch them. The hen takes an additional six weeks brooding the chicks, which translates into 10 weeks lost in terms of egg production. The same hen repeating the cycle three times a year implies that it has limited time laying eggs as it spends more time brooding.
The project researchers carried out surveys in 60 districts of Uganda, collected 2,000 eggs from 40 districts incubated, hatched and evaluated them for growth rate and egg production.
The project aims to breed native chicken that can produce 100 eggs per hen per year as opposed to the current production of 30-45 eggs. The project also aims to reduce the maturity period from the current six to three months.