Mak Donates 90 Lifebuoys to Uganda Police Marine Unit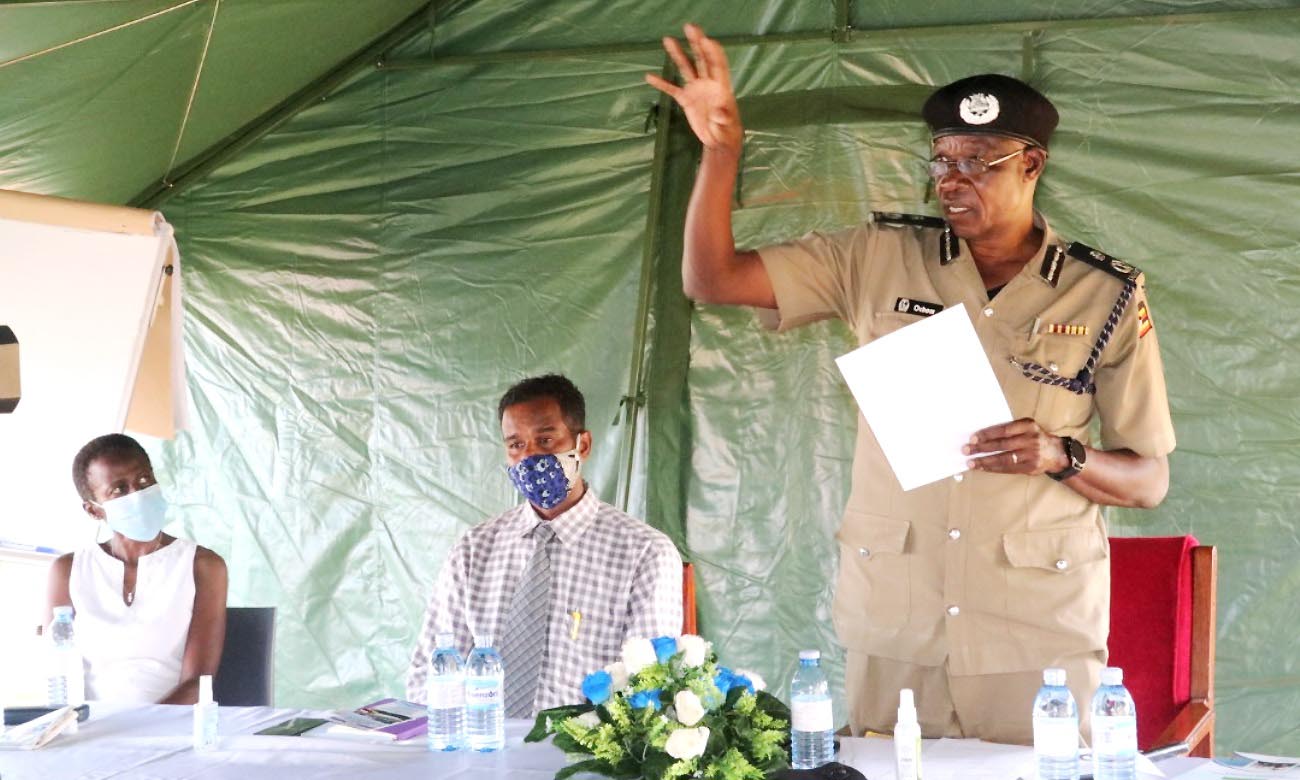 The Makerere University School of Public Health (MakSPH) has donated 90 lifebuoys to the Uganda Police Force (UPF) Marine Unit, to aid the specialised unit in rescuing the drowning victims.
Assistant Inspector General of Police Edward Ochom, the UPF Director in charge of Operations hailed MakSPH for the strong partnership it has forged over time with UPF Marine Unit that bore fruits.
According to Ochom, UPF has for long been financially constrained making it difficult for the officers operate without adequate equipment. He hailed the partnership that has seen research output and now, a big boost of equipment.
He hailed the School for supporting the Marine Unit with 90 lifebuoys citing that they "will go a long way to support life when one drowns." He was officiating at the handover ceremony of the items on Thursday October 8, 2020 at the Marine Base in Kigo, Wakiso District where he represented Inspector General of Police.
"I am privileged to be informed that this concern has not started now but the School used to offer life jackets to landing sites. Hence the love to preserve human life is well grounded in the School's ideological mandate," he said.
AIGP Ongom added that; "…we are really privileged that that we are being given 90 life rings. Our cardinal mandate in the Constitution is to protect life and property. And therefore, we are really concerned especially when people lose their lives on road, in water etc. We are really concerned and it is our duty to ensure that people don't lose their lives like that."
A recent study by the School showed that safe boating regulations are flouted, yet police was ill-equipped to ensure safety on the lake even as most drownings are preventable through policies and regulations that reduce risk exposure.
Mr. Abdullah Ali Halage, a lecturer at MakSPH said the intervention arose out of research conducted across the country around drowning, that stressed the limited resources and equipment by the law enforcers. He represented the Dean MakSPH-Prof. Rhoda Wanyenze at the donation of lifebuoys that were supported by the Bloomberg Philanthropies.
Globally, over 90% of the estimated 322,000 people who die in accidents related to drowning are in Low and Middle-Income Countries, making it the third leading cause of unintentional injury death; accounting for 7% of all injuries.
"We have conducted research and actually shared with you some of the reports that show that actually 95% of people using boats do not wear life jackets. Our reports also show that out of those who need to be rescued, very few get that support," Mr. Halage said.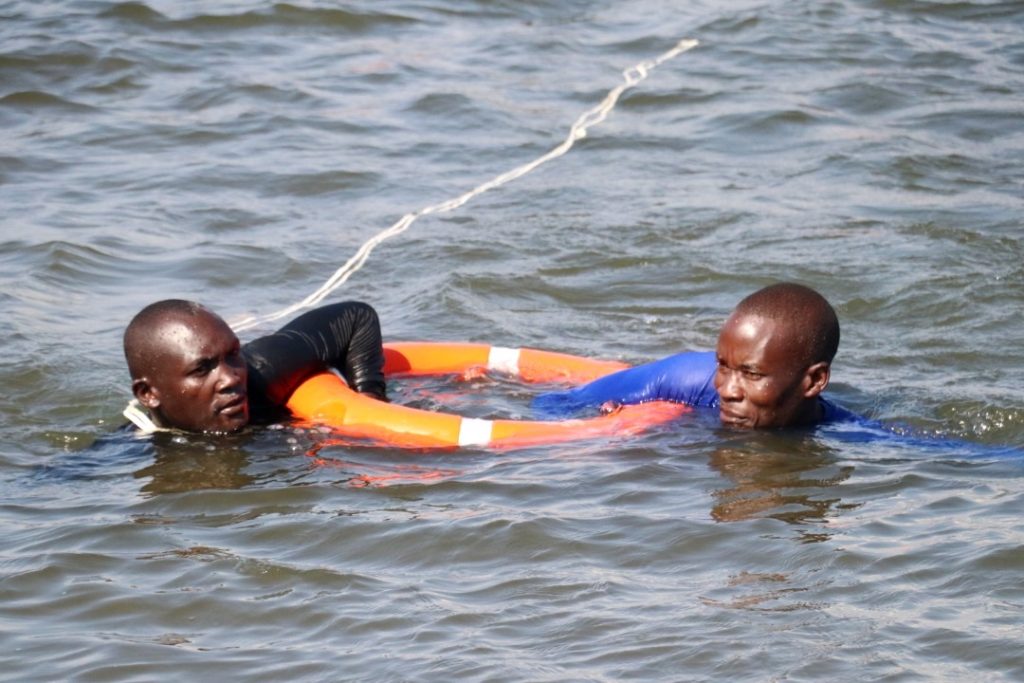 The results also show that many people drown without benefiting from any rescue attempts, because those who witness the drowning lack either rescue skills or rescue equipment.
According to Frederick Oporia, a Project Coordinator and Injury Epidemiologist at the Injury Epidemiology (Trauma, Injuries and Disability (TRIAD) unit of the School, majority people who drown lack survival swimming skills." The TRIAD project is housed under the Department of Disease Control and Environmental Health.
The results also show drowning as a major cause of premature death in Uganda especially among young adults whose livelihoods depend on water activities. But Halage says most incidents of drowning are preventable through policies and regulations that reduce exposure to drowning risk and institutional interventions to ensure safety around water.
According to AIGP Ochom, the equipment used in such rescue missions is very expensive and that they can hardly be availed during the budgets. He observes that as police, they are mandated to protect lives irrespective of whether they have the means or not.
"We are really happy when we get institutions that also get their budgets from government and donate part of their meagre budgets that they get to another institution because I think they have seen during the research that we really need to be assisted. They are not doing it for themselves, they are doing it for the good of the nation. The Inspector General of Police is therefore highly indebted to Makerere University School of Public Health for the support they continue to give this specialised unit," he noted.
The Marine Specialised Unit of Uganda Police Force is responsible for ensuring enforcement of law and order on water, Monitoring and Handling search and rescue.
The unit has 26 establishments/ detachments spread across the four major lakes in Uganda. A total of 17 marine establishments are on Lake Victoria, four (4) on Lake Kyoga, four (4) on Lake Albert, one (1) establishment on Lake George.
Engineer James Apora, the Uganda Police Marine Unit commandant also hailed the School for the big boost and the partnership citing that the equipment will ease their work.
"Our establishments are very few and very far apart. When you talk about emergency response, your response time becomes an issue when you are very far apart. The equipment you are using becomes an issue to take you there fast. The manpower also becomes an issue because you need very many numbers to expand," says Eng. Apora.
"But the beauty is we have the will from police management to expand the unit. We have submitted our policing strategic plan for the next five years to establish additional 24 detaches that would make us to have at least 50 detaches spread all over the lakes. And we are also now venturing into the in-land lakes. Of recent lake Bunyonyi has become an issue and that is one of the areas we intend to open our detaches," he hastened to add.
According to Eng. Apora, lifebuoys save about 4 persons at ago. "You can hang about four persons on it who can then be pulled to a safer area. I feel this is the greatest thing a stakeholder can do. The rest we can always talk but when you do it in practice, I think it speaks more."
Dr. Olive Kobusingye, a Research Fellow and the Principal Investigator says despite the lack of incapacity to ensure safety on the lake, Police Officers have done tremendously well in ensuring they save lives and restore hope to Ugandans.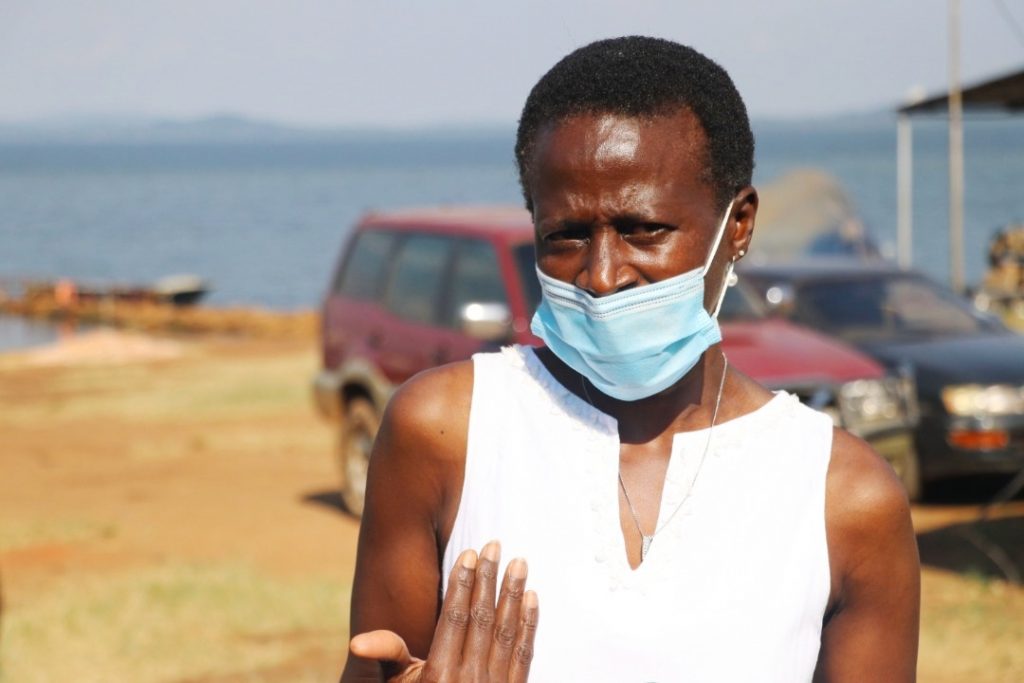 "We took about a year talking to a lot of people like yourselves [marine officers], we went to all Marine Police detaches and many other places and talked to people that have retrieved bodies, that have saved people from drowning, that have worked with families of those that have drowned and they all tell these stories but their stories go unacknowledged and a lot of work goes unacknowledged and I really would like to say thank you so very much indeed," Dr. Kobusingye said at the handover ceremony.
About the Study
The report, issued on Thursday, presents findings of a two-phased study that was conducted in 60 districts of Uganda for a period of 2.5 years from a period of January 2016 to June 2018.
In the first phase of the study, records concerning 1,435 drowning cases were found in the 60 districts. Other than stating that the individual had drowned, there was very little information that could potentially guide prevention efforts.
The second phase was limited to only 14 of the 60 districts. In these 14 districts, a total of 2,066 drowning cases were identified by community health workers and confirmed through individual interviews with witnesses, family members, friends and survivors of drowning.
The report on understanding and preventing drowning in Uganda released on Thursday revealed high rates of drowning in both lakeside and non-lakeside districts.
Statistics analysed from the National Population and Housing Census Main Report of 2014, show that a total of 872 drowning deaths and 533 drowning survivors were recorded from the lakeside districts of Mayuge, Rakai, Serere, Hoima, Nakasongola, Masaka, Soroti and Rubirizi.
UBOS data also shows that a total of 402 drowning deaths and 146 drowning survivors were recorded in the reporting period for non-lakeside districts of Mbarara, Arua, Kitgum, Kabale and Mubende. In Kampala alone, the reporting period had a total of 58 drowning deaths recorded and 55 drowning survivors.
During the two-and-a-half-year study period, 1,435 drowning cases were recorded in the district police offices, marine police detachments, fire/rescue brigade detachments, and the largest mortuary in the 60 study districts.
"This is not the number of drowning cases that occurred during that time, but rather the number of drowning cases that were recorded. We learned from this study that many more cases of drowning happen that are never reported or recorded in administrative sources," says Dr. Kobusingye.
According to the report, majority of the recorded cases were deaths (about 90%).
AIGP Ongom said the research will inform the Uganda Police Force's top management on the causes of death on water, mitigating factors and strategies that can be put in place to minimise them.
He urged the marine unit to vigorously engage in strategies that can prevent people from drowning.
"For some of those cases that I have known, and also having a background of marine of course, we used to retrieve bodies and conduct investigations. There situations where you would really find it difficult even for the people to save themselves. I would sincerely request that we don't end at research. We need to do a lot of preventive policing on our water bodies," AIGP Ongom said.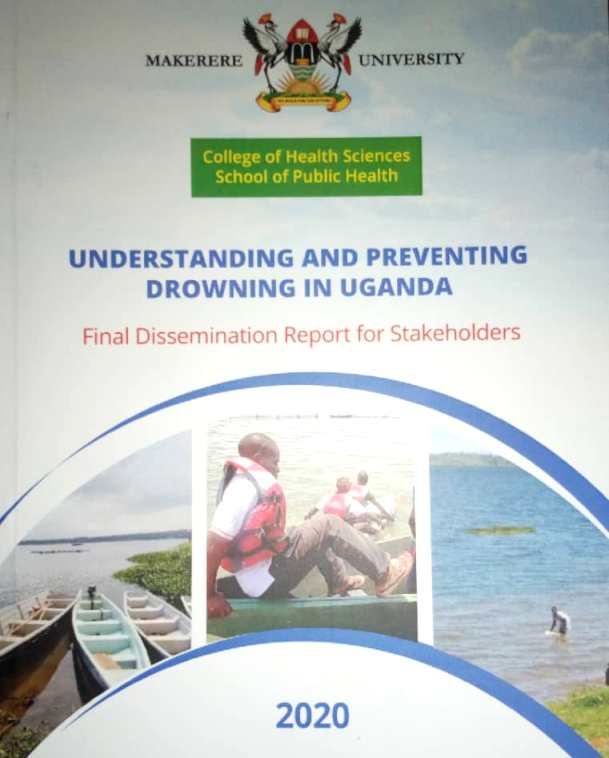 Article by Makerere University School of Public Health
UniCare App: 24/7 Access to Counselling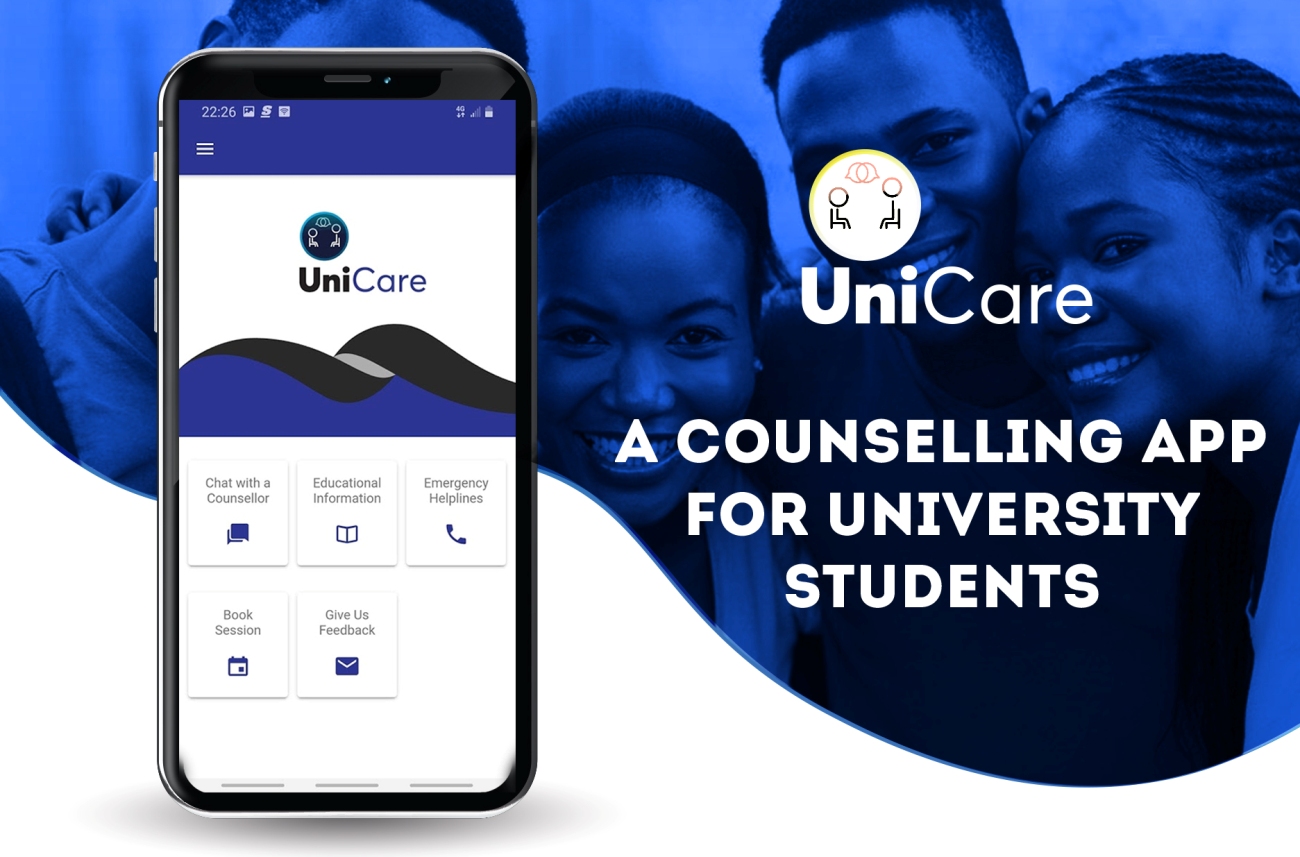 The Counselling and Guidance Centre (CGC) has developed UniCare, a counselling App for the Makerere University community members (Staff and Students).
Do you have personal concerns that need addressing?
Do you need to improve your life skills?
Are you struggling with something and need to talk to someone professional in confidence?
Then download UniCare from the Play Store and use it at any time of your convenience.
You can access counselling services through instant messaging, phone calls and other forms.
Enquiries:
Tel: +256-751-700897
Email: rbaguma[at]cit.ac.ug, henry.nsubuga[at]mak.ac.ug
Call for Applications: PhD Fellowships in Bioethics (4th Cohort)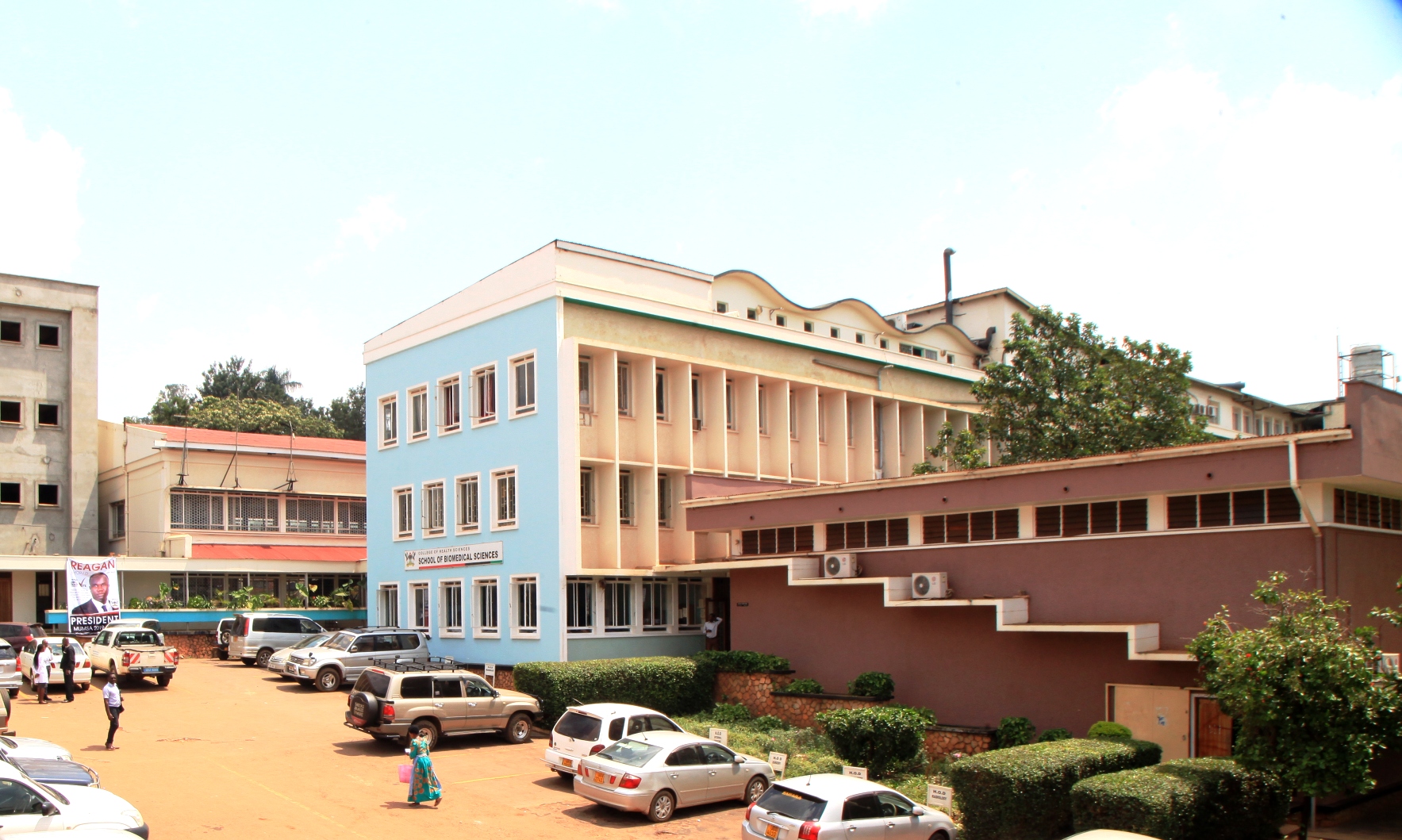 Applications are invited for PhD fellowships in bioethics from Makerere University College of Health Sciences (CHS) faculty and individuals who participate in the academic activities of the college who are interested and COMMITTED to becoming bioethics scholars.
Successful applicants should be willing to become bioethics scholars as they work within the structured and mentored training programme with a focus on any aspect of international research bioethics related to Health Sciences. Funding will be available to support 2 successful doctoral candidates up to 3 years of accelerated training leading to the award of the Makerere University doctoral degree.
Eligibility
This training is open to faculty including people who contribute to teaching and research at Makerere University or one of its partner institutions in Uganda, who meet any of the following criteria:
a. Able to articulate a clear research bioethics problem of interest to them.
b. Demonstrate prior participation in bioethics, beyond having submitted research proposals to an IRB.
c. Demonstrate a basic understanding of bioethics in order to know that this is an appropriate next step for the applicant.
d. Demonstrate past active participation in bioethics in health service delivery or at the interface of health related ethical-legal issues
e. Provide evidence of experience in research in bioethics and or authorship in this field
f. Prior master's level or fellowship level training in bioethics or related fields.
Criteria for Selection
Demonstrated interest in doctoral research training and conducting research with a focus on
research bioethics.
Potential to handle rigorous academic requirements of the doctoral program.
Having a plan for career development
Capacity towards attaining research leadership and international recognition in bioethics.
Female candidates and medical doctors are especially encouraged to apply
Application Process
Applications must be submitted to makbioethics[at]gmail.com and should consist of a cover letter (1 page only), a resume (not more than 3 pages), a personal statement (Maximum 1 page), a Makerere University formatted PhD research concept (Maximum 10 pages) and two letters of recommendation (sent separately by the referees to makbioethics[at]gmail.com). The personal statement should include your contribution to the academic and research life of a department at Makerere University College of Health Sciences, your aspirations for career progression in the next 5-7 years, research interests and any information you consider relevant.
Closing date for the receipt of applications is 8th October 2021.
Enquiries can be forwarded to the PI, of the PhD bioethics research training Program on makbioethics[at]gmail.com
Timelines:
Application deadline: October 8, 2021
Interviews: October 15, 2021
Notification date: October 22, 2021
Proposed start date: November 1, 2021
Part of this training will take place at Johns Hopkins University Berman Institute of Bioethics in the USA in Year 1 for a total of 2-3 months. Successful candidates will receive a monthly stipend based on USA National Institutes of Health regulations, tuition, research funds and travel to the USA. Applicants should demonstrate excellent communications skills and will be expected to work as part of a highly motivated, result oriented bioethics group.
IDI Supports Wakiso's Point of Care Electronic Medical Records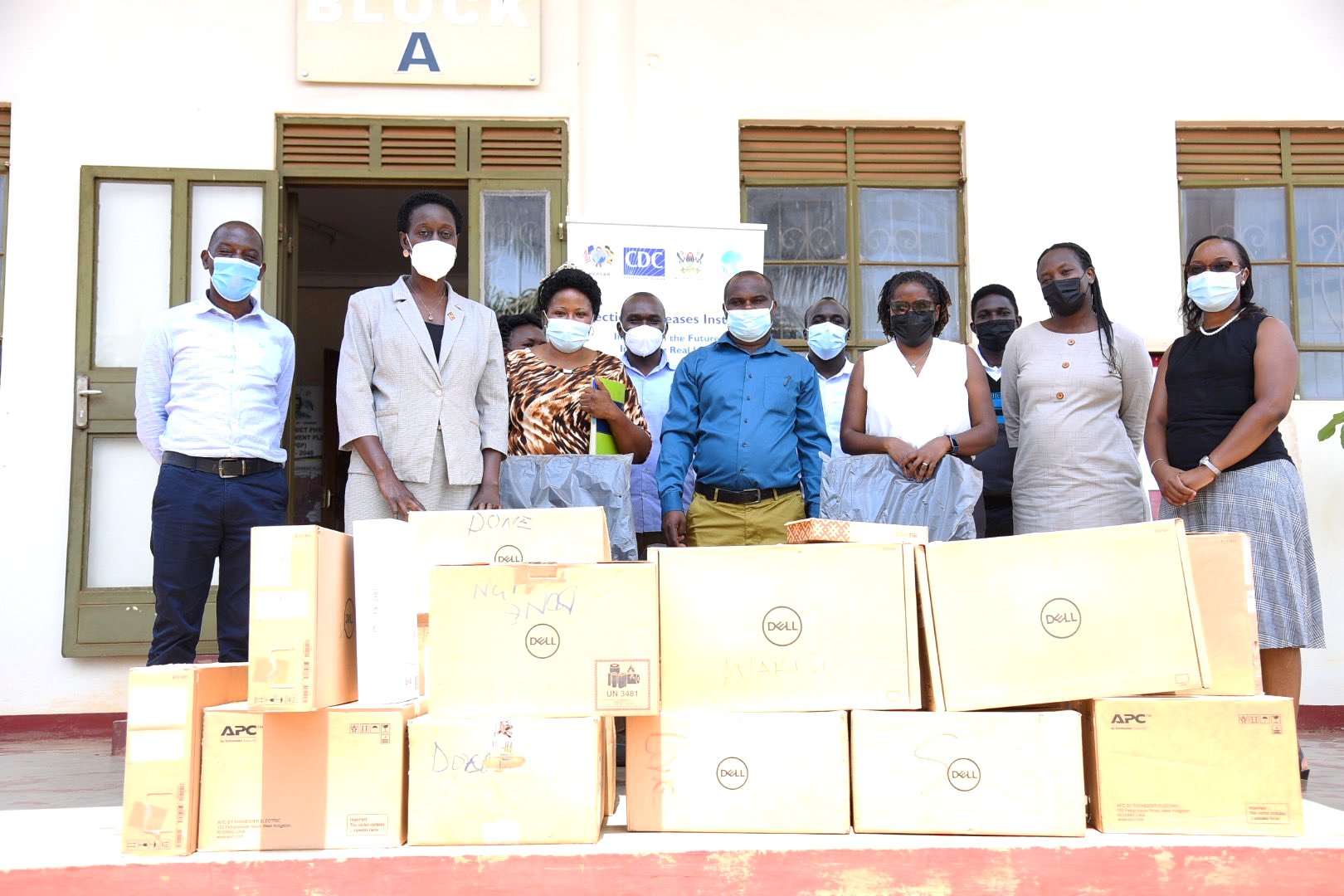 The Makerere University Infectious Diseases Institute (IDI) Kampala Region HIV Project handed over equipment worth UGX 460,000,000 to the Wakiso District Leadership to support Point of Care Electronic Medical Records (EMR-POC). This was made possible with support from the U.S. President's Emergency Plan for AIDS Relief (PEPFAR) through the
Centers for Disease Control and Prevention (CDC).
The equipment includes Computers, furniture, biometric scanners and networking equipment for a wireless mesh. In attendance was the Wakiso District Leadership led by the Principal assistant secretary, Ms. Babirye Olivia, as well as representatives from IDI and Mildmay Uganda.