Mak Donates 90 Lifebuoys to Uganda Police Marine Unit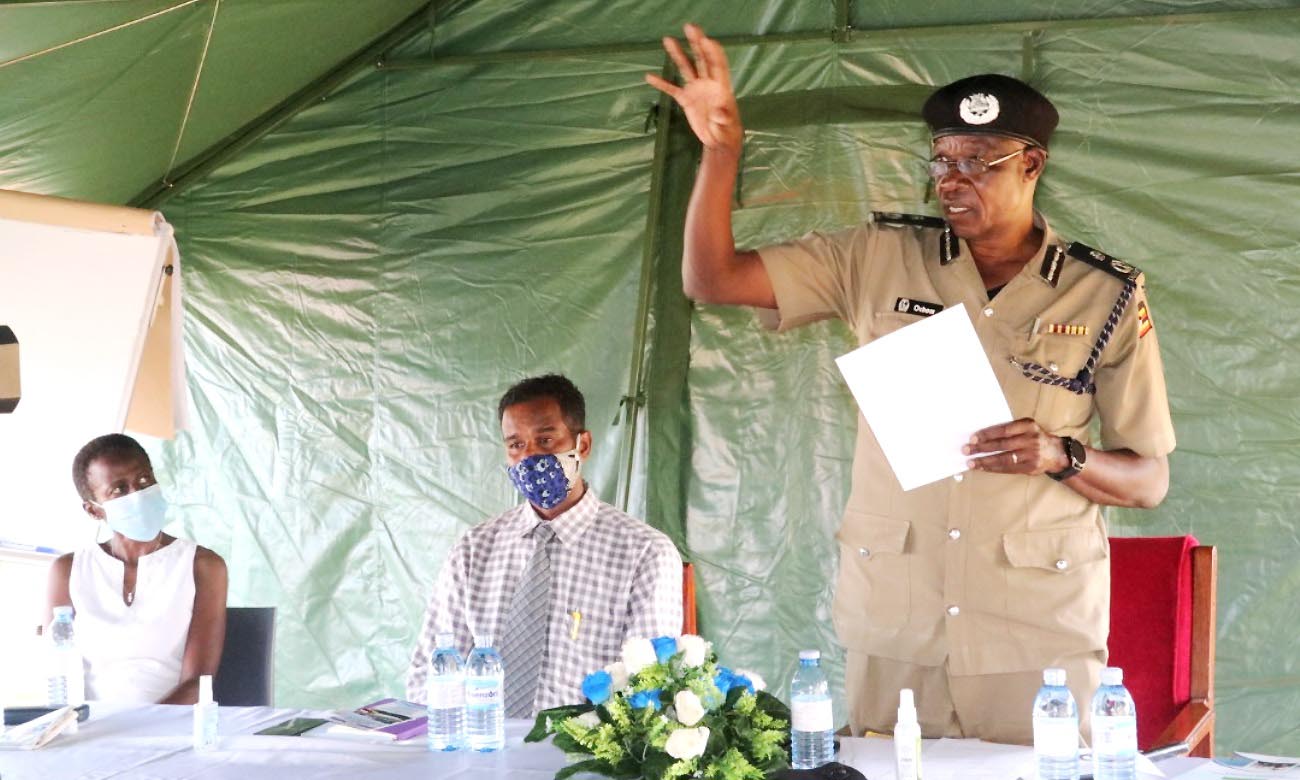 The Makerere University School of Public Health (MakSPH) has donated 90 lifebuoys to the Uganda Police Force (UPF) Marine Unit, to aid the specialised unit in rescuing the drowning victims.
Assistant Inspector General of Police Edward Ochom, the UPF Director in charge of Operations hailed MakSPH for the strong partnership it has forged over time with UPF Marine Unit that bore fruits.
According to Ochom, UPF has for long been financially constrained making it difficult for the officers operate without adequate equipment. He hailed the partnership that has seen research output and now, a big boost of equipment.
He hailed the School for supporting the Marine Unit with 90 lifebuoys citing that they "will go a long way to support life when one drowns." He was officiating at the handover ceremony of the items on Thursday October 8, 2020 at the Marine Base in Kigo, Wakiso District where he represented Inspector General of Police.
"I am privileged to be informed that this concern has not started now but the School used to offer life jackets to landing sites. Hence the love to preserve human life is well grounded in the School's ideological mandate," he said.
AIGP Ongom added that; "…we are really privileged that that we are being given 90 life rings. Our cardinal mandate in the Constitution is to protect life and property. And therefore, we are really concerned especially when people lose their lives on road, in water etc. We are really concerned and it is our duty to ensure that people don't lose their lives like that."
A recent study by the School showed that safe boating regulations are flouted, yet police was ill-equipped to ensure safety on the lake even as most drownings are preventable through policies and regulations that reduce risk exposure.
Mr. Abdullah Ali Halage, a lecturer at MakSPH said the intervention arose out of research conducted across the country around drowning, that stressed the limited resources and equipment by the law enforcers. He represented the Dean MakSPH-Prof. Rhoda Wanyenze at the donation of lifebuoys that were supported by the Bloomberg Philanthropies.
Globally, over 90% of the estimated 322,000 people who die in accidents related to drowning are in Low and Middle-Income Countries, making it the third leading cause of unintentional injury death; accounting for 7% of all injuries.
"We have conducted research and actually shared with you some of the reports that show that actually 95% of people using boats do not wear life jackets. Our reports also show that out of those who need to be rescued, very few get that support," Mr. Halage said.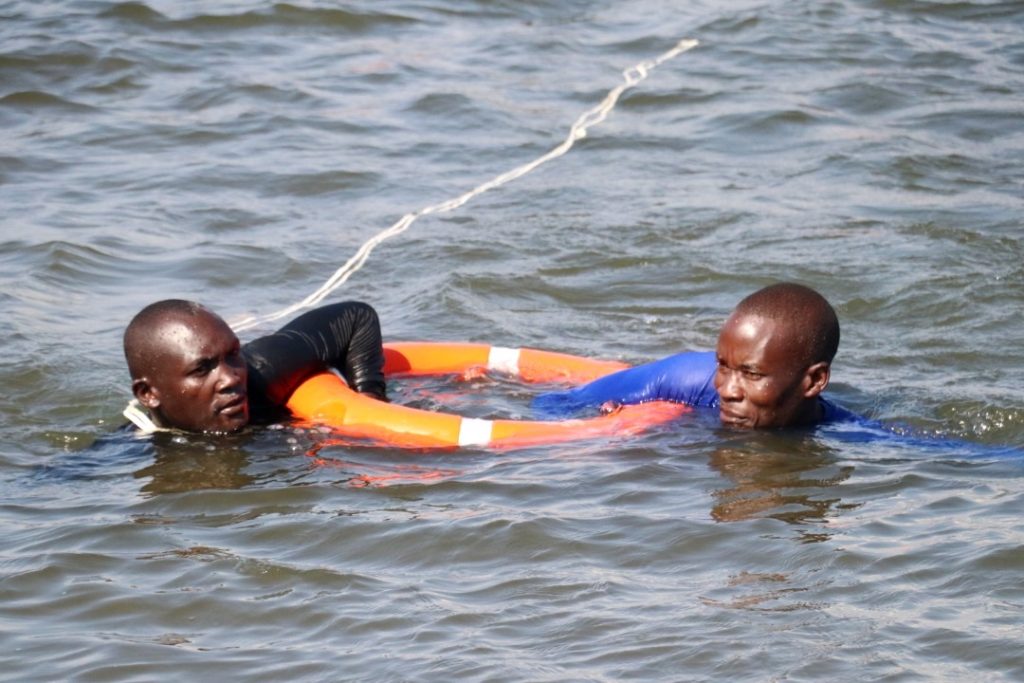 The results also show that many people drown without benefiting from any rescue attempts, because those who witness the drowning lack either rescue skills or rescue equipment.
According to Frederick Oporia, a Project Coordinator and Injury Epidemiologist at the Injury Epidemiology (Trauma, Injuries and Disability (TRIAD) unit of the School, majority people who drown lack survival swimming skills." The TRIAD project is housed under the Department of Disease Control and Environmental Health.
The results also show drowning as a major cause of premature death in Uganda especially among young adults whose livelihoods depend on water activities. But Halage says most incidents of drowning are preventable through policies and regulations that reduce exposure to drowning risk and institutional interventions to ensure safety around water.
According to AIGP Ochom, the equipment used in such rescue missions is very expensive and that they can hardly be availed during the budgets. He observes that as police, they are mandated to protect lives irrespective of whether they have the means or not.
"We are really happy when we get institutions that also get their budgets from government and donate part of their meagre budgets that they get to another institution because I think they have seen during the research that we really need to be assisted. They are not doing it for themselves, they are doing it for the good of the nation. The Inspector General of Police is therefore highly indebted to Makerere University School of Public Health for the support they continue to give this specialised unit," he noted.
The Marine Specialised Unit of Uganda Police Force is responsible for ensuring enforcement of law and order on water, Monitoring and Handling search and rescue.
The unit has 26 establishments/ detachments spread across the four major lakes in Uganda. A total of 17 marine establishments are on Lake Victoria, four (4) on Lake Kyoga, four (4) on Lake Albert, one (1) establishment on Lake George.
Engineer James Apora, the Uganda Police Marine Unit commandant also hailed the School for the big boost and the partnership citing that the equipment will ease their work.
"Our establishments are very few and very far apart. When you talk about emergency response, your response time becomes an issue when you are very far apart. The equipment you are using becomes an issue to take you there fast. The manpower also becomes an issue because you need very many numbers to expand," says Eng. Apora.
"But the beauty is we have the will from police management to expand the unit. We have submitted our policing strategic plan for the next five years to establish additional 24 detaches that would make us to have at least 50 detaches spread all over the lakes. And we are also now venturing into the in-land lakes. Of recent lake Bunyonyi has become an issue and that is one of the areas we intend to open our detaches," he hastened to add.
According to Eng. Apora, lifebuoys save about 4 persons at ago. "You can hang about four persons on it who can then be pulled to a safer area. I feel this is the greatest thing a stakeholder can do. The rest we can always talk but when you do it in practice, I think it speaks more."
Dr. Olive Kobusingye, a Research Fellow and the Principal Investigator says despite the lack of incapacity to ensure safety on the lake, Police Officers have done tremendously well in ensuring they save lives and restore hope to Ugandans.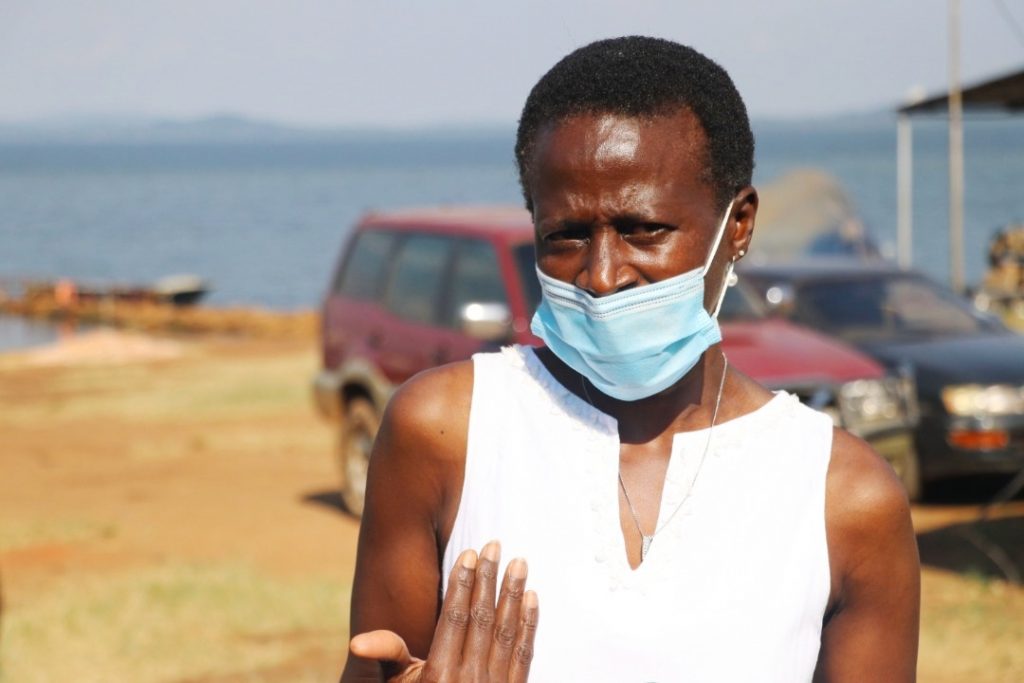 "We took about a year talking to a lot of people like yourselves [marine officers], we went to all Marine Police detaches and many other places and talked to people that have retrieved bodies, that have saved people from drowning, that have worked with families of those that have drowned and they all tell these stories but their stories go unacknowledged and a lot of work goes unacknowledged and I really would like to say thank you so very much indeed," Dr. Kobusingye said at the handover ceremony.
About the Study
The report, issued on Thursday, presents findings of a two-phased study that was conducted in 60 districts of Uganda for a period of 2.5 years from a period of January 2016 to June 2018.
In the first phase of the study, records concerning 1,435 drowning cases were found in the 60 districts. Other than stating that the individual had drowned, there was very little information that could potentially guide prevention efforts.
The second phase was limited to only 14 of the 60 districts. In these 14 districts, a total of 2,066 drowning cases were identified by community health workers and confirmed through individual interviews with witnesses, family members, friends and survivors of drowning.
The report on understanding and preventing drowning in Uganda released on Thursday revealed high rates of drowning in both lakeside and non-lakeside districts.
Statistics analysed from the National Population and Housing Census Main Report of 2014, show that a total of 872 drowning deaths and 533 drowning survivors were recorded from the lakeside districts of Mayuge, Rakai, Serere, Hoima, Nakasongola, Masaka, Soroti and Rubirizi.
UBOS data also shows that a total of 402 drowning deaths and 146 drowning survivors were recorded in the reporting period for non-lakeside districts of Mbarara, Arua, Kitgum, Kabale and Mubende. In Kampala alone, the reporting period had a total of 58 drowning deaths recorded and 55 drowning survivors.
During the two-and-a-half-year study period, 1,435 drowning cases were recorded in the district police offices, marine police detachments, fire/rescue brigade detachments, and the largest mortuary in the 60 study districts.
"This is not the number of drowning cases that occurred during that time, but rather the number of drowning cases that were recorded. We learned from this study that many more cases of drowning happen that are never reported or recorded in administrative sources," says Dr. Kobusingye.
According to the report, majority of the recorded cases were deaths (about 90%).
AIGP Ongom said the research will inform the Uganda Police Force's top management on the causes of death on water, mitigating factors and strategies that can be put in place to minimise them.
He urged the marine unit to vigorously engage in strategies that can prevent people from drowning.
"For some of those cases that I have known, and also having a background of marine of course, we used to retrieve bodies and conduct investigations. There situations where you would really find it difficult even for the people to save themselves. I would sincerely request that we don't end at research. We need to do a lot of preventive policing on our water bodies," AIGP Ongom said.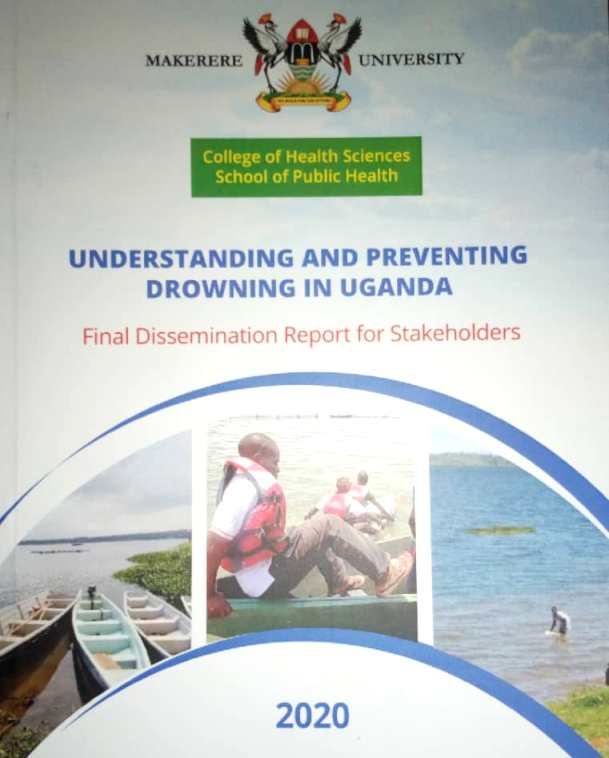 Article by Makerere University School of Public Health
Listening to Population Sentiments is Fundamental for New Vaccines Acceptability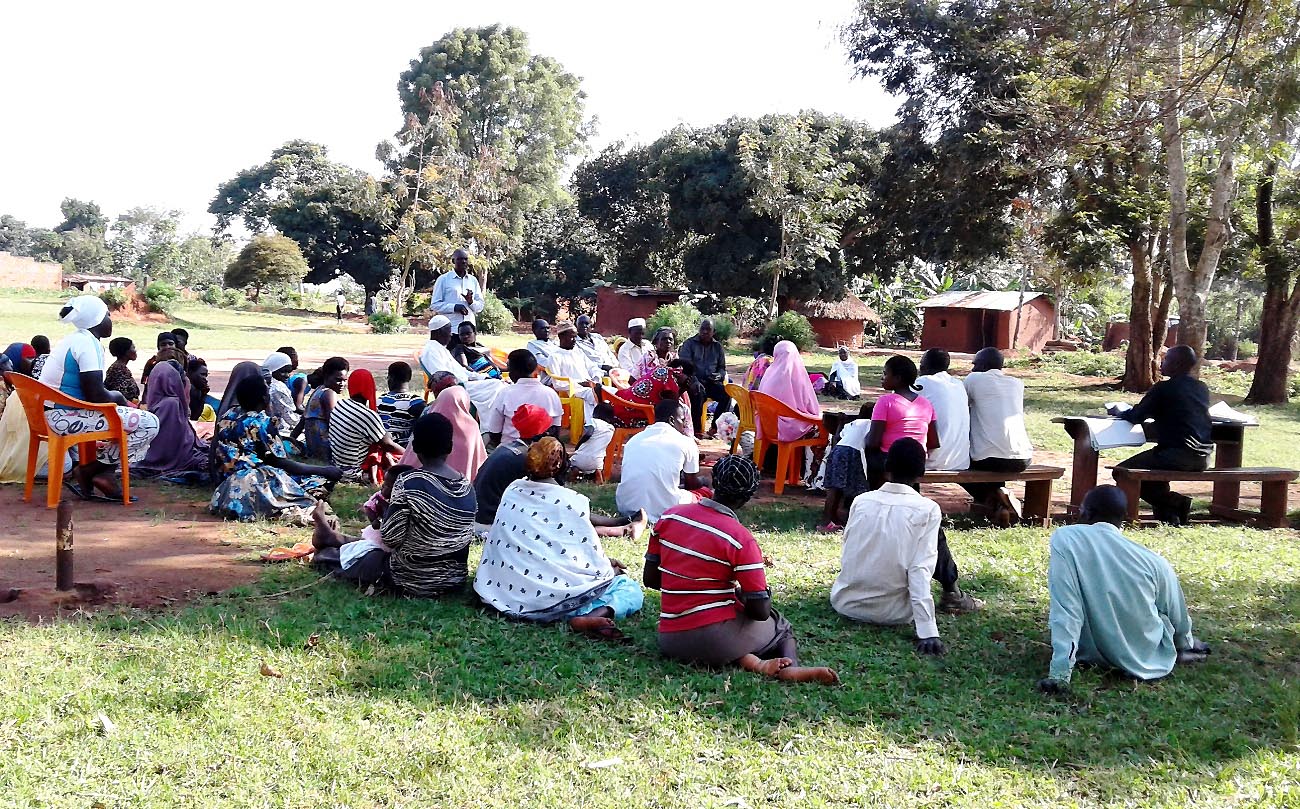 Public health is concerned with protecting and improving the health of people and their communities by promoting healthy lifestyles, researching disease and injury prevention, detecting, preventing and responding to infectious diseases.
Immunisation as a public health intervention offers a critical opportunity to elevate mother and newborn health on the broader health and development agenda and catalyze progress towards sustainable development. It protects mothers, the developing fetus, and young infants during vulnerable time in their lives.Maternal immunisation not only boosts the mother's immunity against dangerous pathogens, but a mother's antibodies can be passed to her unborn baby in-utero through the placenta or through breast milk thereby protecting her and the baby from life-threatening illnesses. For new-born babies, these maternal antibodies provide essential protection during a "window of vulnerability" when infants are too young to get their own immunizations.
There is progress in development and accessibility to life saving vaccines. However, some communities in developed and developing countries still harbour suspicions about such interventions. This mistrust affects proper and timely uptake of new vaccines. Low-and-middle-income countries (LMICs) face challenges of misinformation and negative narratives around safety of vaccines and new medicines. Narratives like Africans are 'guinea pigs' for the western world have led to avoidance of life saving interventions. 
Community engagements improve health literacy through collaborative processes between stakeholders and communities to identify the needs and pursue corrective strategies. They facilitate equal participation where everyone shares information, perspectives, clarification of viewpoints and developing solutions. Communities are empowered to develop local solutions to achieve common goals and to overcome barriers.
Researchers at Makerere University Centre for Health and Population research (MUCHAP) conducted such engagements in Eastern Uganda to discuss issues around immunization programs, vaccine safety and introduction of new vaccines for pregnant women. Emphasis was on joint problem identification and analysis to craft a preferred state. Sessions were participatory and empowering for members, deepened understanding through listening, and common goals and action points were developed. Participants understood vaccine preventable illnesses as both infectious and non-communicable diseases with some not having any known vaccine.
Some of their sentiments on maternal and neonatal immunization, and introduction of new vaccines were legitimate while others were inaccurate: 'new vaccines should be brought to market when it has no side effects';'it is important to save lives of pregnant women if the older vaccines have weakened, new vaccines are good for pregnant women because many get affected with several medical problems, new vaccines will fight against the increasing diseases which are harmful to the health of pregnant women like candida'; 'it may reduce the number of pregnant women who undergo caesarean section during times of delivery'. Such views point to vaccine acceptability.
Negative opinions related to immunization of pregnant women included: 'during the introduction of Hepatitis B vaccine, some people were told that the vaccine may prevent them from giving birth';'new vaccines may lead to delivery of deformed babies', and 'they want to deter young potential mothers from producing children to control population size and their children will not be pregnant in future through the introduction of new vaccines'.
The two major causes of infant deaths that disproportionately impact those living in LMICs are Group B streptococcus (GBS) and respiratory syncytial disease (RSV). No licensed vaccines currently exist against GBS, but work is underway to develop a vaccine that can begiven to pregnant women so that newborns are protected even before birth. On the other hand, the treatments available for RSV are limited but several vaccines are in development.
As we wait for the vaccines in pipeline, it is important to listen to communities through engagements. This will (a) correct the misinformation and negative narratives, (b) mitigate the spread of negative stories by some groups out of ignorance (c) improve health literacy, and (e) access organic information from those impacted by such interventions. If the negative narratives are not explained to clear false impressions, we risk avoidable vaccine preventable morbidities and mortalities now and in future.
By Dan Kajungu Msc. PhD
Lead Research Scientist and Director, MUCHAP
Vaccines and Medicines safety Researcher
NTU awarded €850,000 to create opportunities with universities in Uganda and Kenya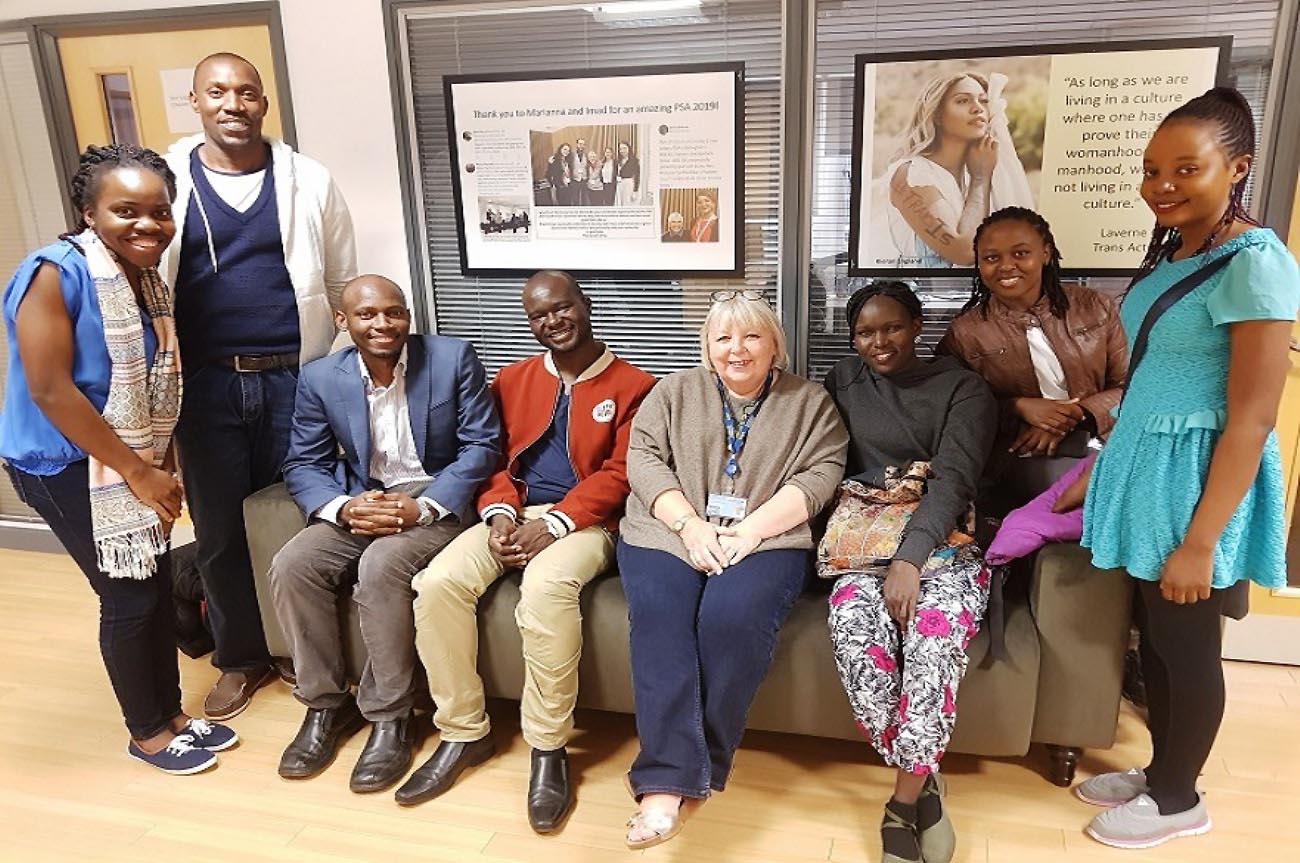 Nottingham Trent University (NTU) will receive more than €850,000 of funding that will support three years of projects with partners in Uganda and Kenya.
Two successful bids for the Erasmus+ International Credit Mobility (ICM) funding were put together by a team of staff from NTU's Global, Social Sciences, Science and Technology and Animal, Rural and Environmental Sciences teams. Erasmus+ enables UK higher education students and staff to study, gain work experience, teach or train abroad.
The project in Uganda is in partnership with Makerere University and will involve more than 150 staff and student exchange participants. The key focus will be to build and enhance multidisciplinary skills and technical knowledge within Nursing, Microbiology, Pharmacy, Animal and Agricultural Studies and Environmental Sciences in addition to Public Health. These new subject areas have emerged from work as part of NTU's ongoing partnership with the School of Public Health at Makerere University and align with research plans for the future.
Over the next three years the project in Uganda will seek to build the academic, research and employability capacity of students, provide opportunities for knowledge sharing amongst staff and encourage researchers to tackle future global health challenges.
Where Does True Happiness Come From?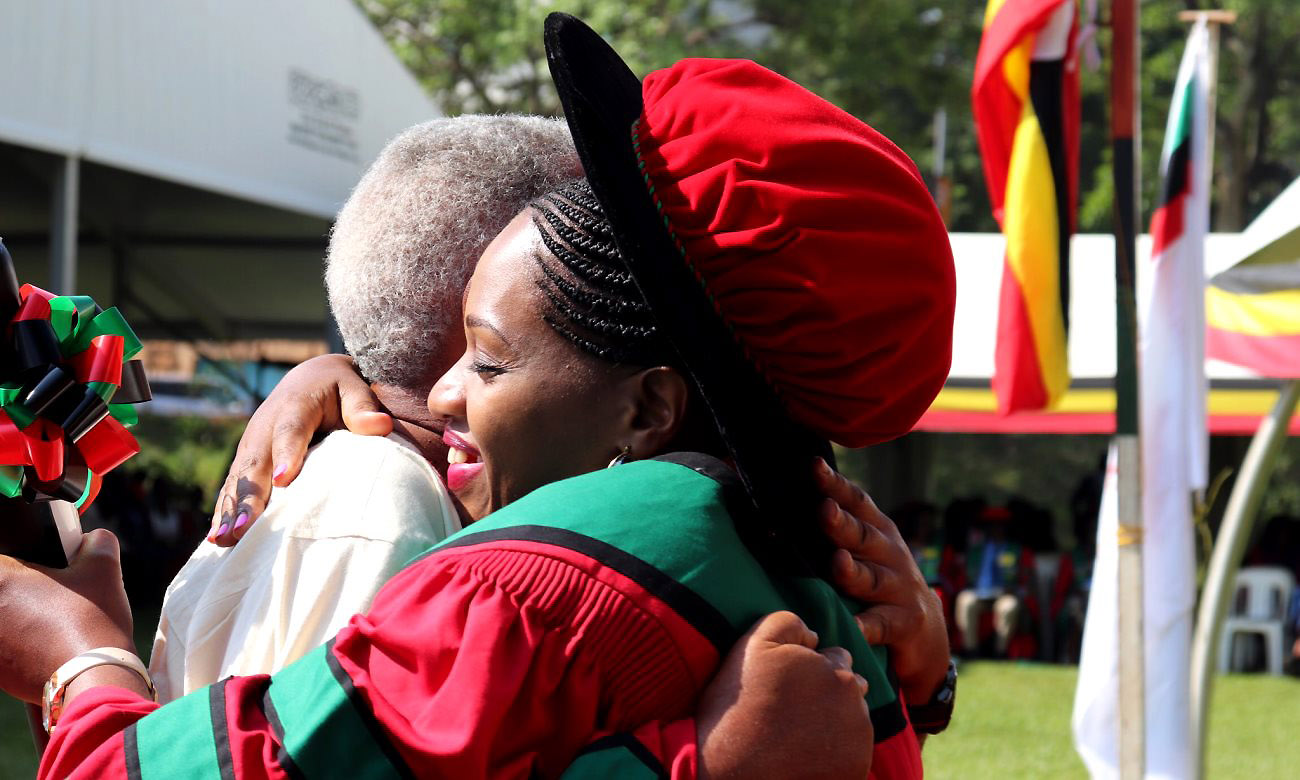 Last weekend I drove home to see my mother and other relatives. I decided to just be present to them without touching my phone and getting involved in other things except them. I realised that I came back happier than the past many times when I am home. I am sure they were happy too. Most times when I go home, I am involved in many things and spending little time to be physically and emotionally present to my mother and relatives. Most nations, communities and people are obsessed with money, religion, education, good health, peace and security, thinking that those things will give them happiness. At the end of the day, most are shocked to find that this is farther from the truth. Several studies have shown that true happiness arises from only these two things:
A STRONG SENSE OF COMMUNITY AND
REGULAR, ENTHUSIASTIC COMMUNITY CELEBRATION.
Societal relationships promote positive feelings. People are happy when they trust each other and can celebrate as a community. Most of us yearn for comfort. These studies tell us that, believe it or not, a better standard of living does not translate into happiness. Take the example of the1950s. One gets a feeling that people were not happy. They were happier then despite having less.
Being the richest, smartest, cutest, in themselves do not guarantee happiness, and neither should the absence of these make one feel unfulfilled. What is important is to cultivate loving relationships. Don't make TV and radio adverts make you feel less of yourself. You are great even without the best house and car. These should not validate and define you.
The hallmark of psychological health is happiness. We should endeavor to create a strong sense of community everywhere we are like at work, the community where we live, where we pray from, etc. and take part in a community celebration. Growing up in the village, I remember how the whole community would converge when there was a cry for help in one home upon hearing the drumbeat, Ggwanga mujje–"you should all convene to help tackle this problem". Our homes had no fences but we felt secure. The workplaces were communal and so were the churches.
Friends, I wish to implore you to read the recent encyclical letter that has been written by Pope Francis entitled Fratelli Tutti which translates "On the fraternity and social friendship." One doesn't have to be catholic to read it. This document summarizes what religion, different studies and disciplines have discovered about happiness. Religion, psychology, sociology, medicine, economics, environmental science and other disciplines agree on what makes people happy. If you go religious you can summarise happiness research as love of self and love of neighbour, not in words but in action. May we all be happy.
Happy Independence Day.
Henry Nsubuga
Manager, Counselling and Guidance Centre,
Plot 106, Mary Stuart Road (Opposite Mary Stuart Hall),
Makerere University
Email: hnsubuga[at]cgc.mak.ac.ug
Tel: +256-772-558022
Click here for more information about the Counselling and Guidance Centre