Listening to Population Sentiments is Fundamental for New Vaccines Acceptability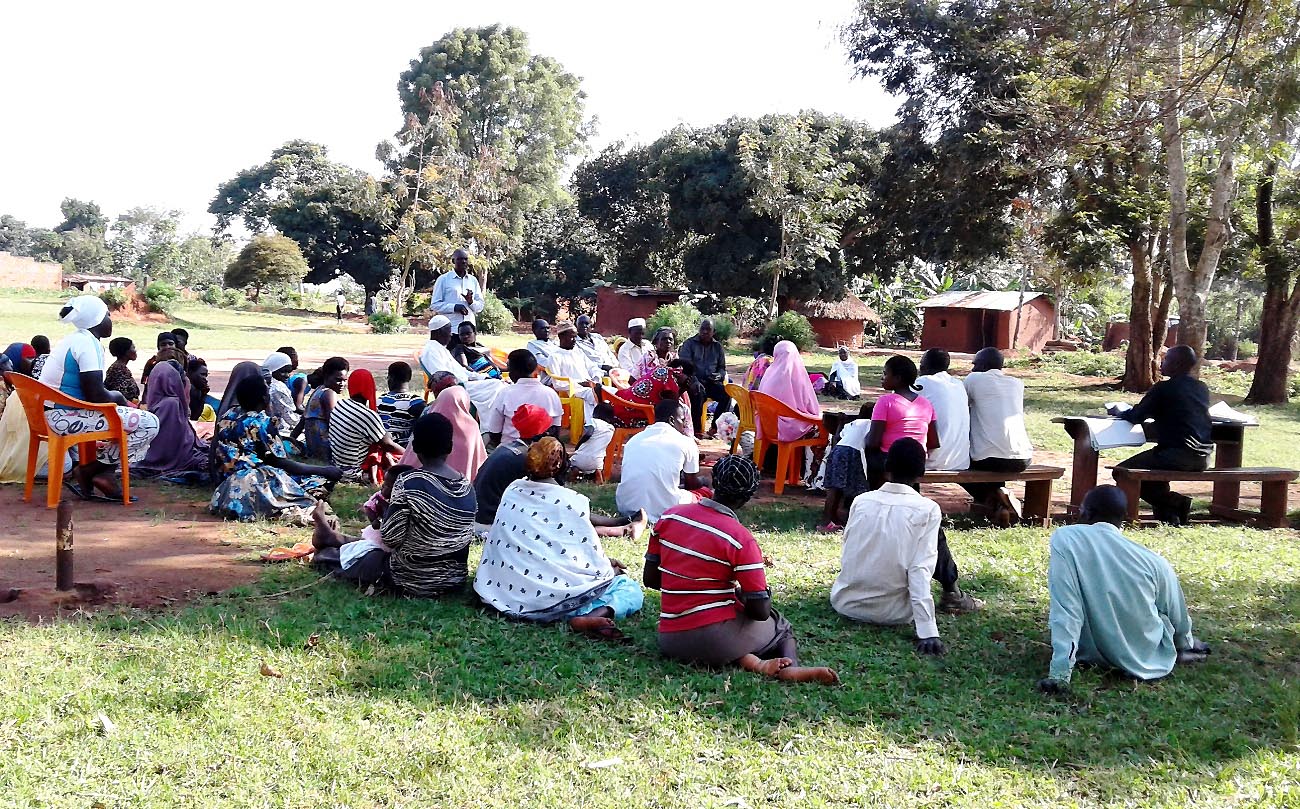 Public health is concerned with protecting and improving the health of people and their communities by promoting healthy lifestyles, researching disease and injury prevention, detecting, preventing and responding to infectious diseases.
Immunisation as a public health intervention offers a critical opportunity to elevate mother and newborn health on the broader health and development agenda and catalyze progress towards sustainable development. It protects mothers, the developing fetus, and young infants during vulnerable time in their lives.Maternal immunisation not only boosts the mother's immunity against dangerous pathogens, but a mother's antibodies can be passed to her unborn baby in-utero through the placenta or through breast milk thereby protecting her and the baby from life-threatening illnesses. For new-born babies, these maternal antibodies provide essential protection during a "window of vulnerability" when infants are too young to get their own immunizations.
There is progress in development and accessibility to life saving vaccines. However, some communities in developed and developing countries still harbour suspicions about such interventions. This mistrust affects proper and timely uptake of new vaccines. Low-and-middle-income countries (LMICs) face challenges of misinformation and negative narratives around safety of vaccines and new medicines. Narratives like Africans are 'guinea pigs' for the western world have led to avoidance of life saving interventions. 
Community engagements improve health literacy through collaborative processes between stakeholders and communities to identify the needs and pursue corrective strategies. They facilitate equal participation where everyone shares information, perspectives, clarification of viewpoints and developing solutions. Communities are empowered to develop local solutions to achieve common goals and to overcome barriers.
Researchers at Makerere University Centre for Health and Population research (MUCHAP) conducted such engagements in Eastern Uganda to discuss issues around immunization programs, vaccine safety and introduction of new vaccines for pregnant women. Emphasis was on joint problem identification and analysis to craft a preferred state. Sessions were participatory and empowering for members, deepened understanding through listening, and common goals and action points were developed. Participants understood vaccine preventable illnesses as both infectious and non-communicable diseases with some not having any known vaccine.
Some of their sentiments on maternal and neonatal immunization, and introduction of new vaccines were legitimate while others were inaccurate: 'new vaccines should be brought to market when it has no side effects';'it is important to save lives of pregnant women if the older vaccines have weakened, new vaccines are good for pregnant women because many get affected with several medical problems, new vaccines will fight against the increasing diseases which are harmful to the health of pregnant women like candida'; 'it may reduce the number of pregnant women who undergo caesarean section during times of delivery'. Such views point to vaccine acceptability.
Negative opinions related to immunization of pregnant women included: 'during the introduction of Hepatitis B vaccine, some people were told that the vaccine may prevent them from giving birth';'new vaccines may lead to delivery of deformed babies', and 'they want to deter young potential mothers from producing children to control population size and their children will not be pregnant in future through the introduction of new vaccines'.
The two major causes of infant deaths that disproportionately impact those living in LMICs are Group B streptococcus (GBS) and respiratory syncytial disease (RSV). No licensed vaccines currently exist against GBS, but work is underway to develop a vaccine that can begiven to pregnant women so that newborns are protected even before birth. On the other hand, the treatments available for RSV are limited but several vaccines are in development.
As we wait for the vaccines in pipeline, it is important to listen to communities through engagements. This will (a) correct the misinformation and negative narratives, (b) mitigate the spread of negative stories by some groups out of ignorance (c) improve health literacy, and (e) access organic information from those impacted by such interventions. If the negative narratives are not explained to clear false impressions, we risk avoidable vaccine preventable morbidities and mortalities now and in future.
By Dan Kajungu Msc. PhD
Lead Research Scientist and Director, MUCHAP
Vaccines and Medicines safety Researcher
IDI Virtual Science Fair Poster Exhibition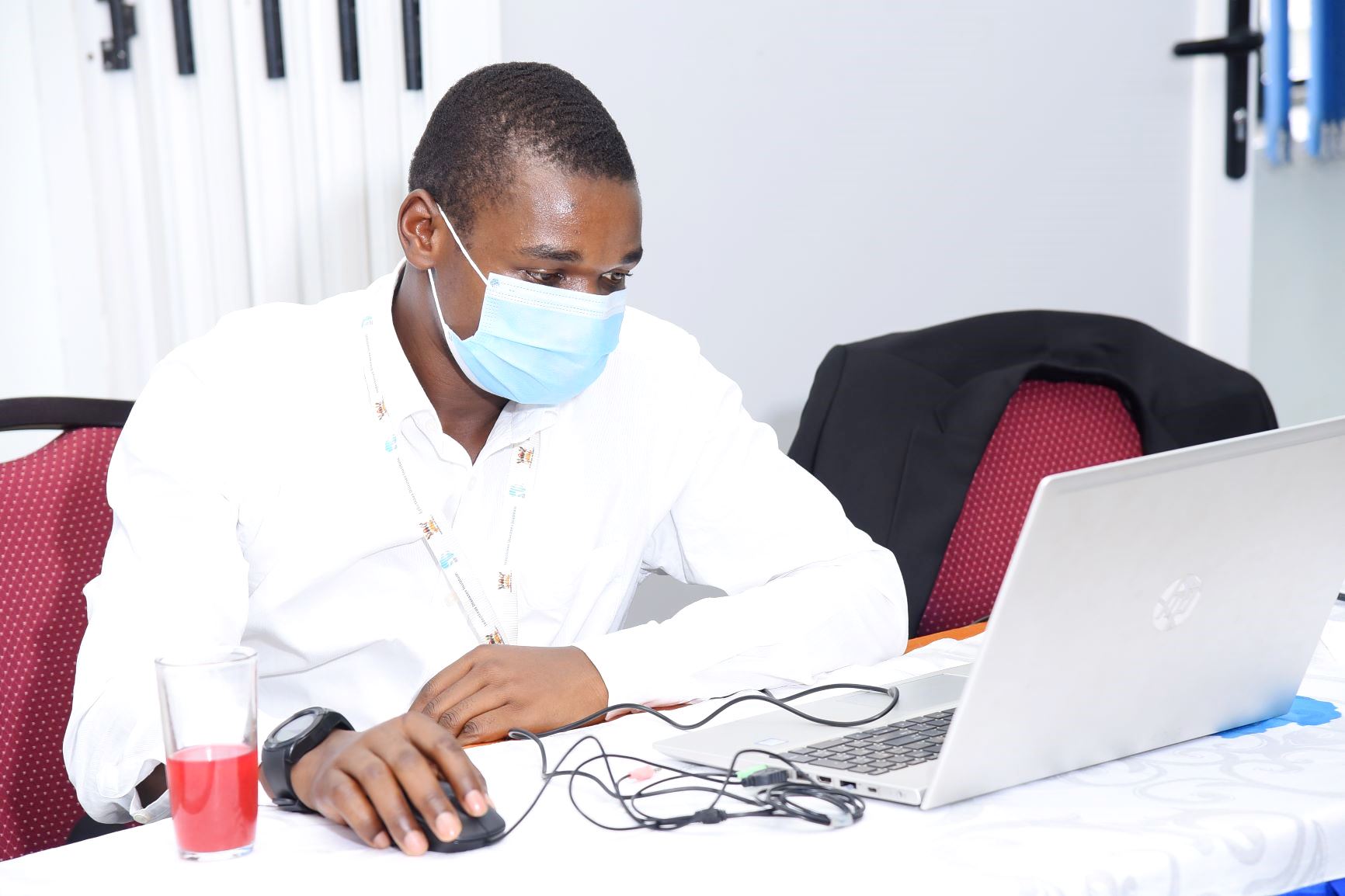 The Infectious Diseases Institute (IDI) Science Fair that was held online from 24th to 25th February 2021 provided a platform for disseminating results and updates on the progress of IDI research projects in order to facilitate research to policy discussions.
Based on the theme "Through Research to Implementation; The Role of IDI", the Fair brought together research scientists, policy makers, implementing partners, leaders in academia, collaborators and early career scientists.
The Poster Exhibition held as part of the event featured the following topics;
Maternal Blood and Breast milk Pharmacokinectics of Tenofovir using Dried Blood and Breast Milk Spots in HIV Infected Postpartum Women in Uganda by Letisha Najjemba
Feasibility of a Theory-Informed Intervention to Improve Treatment Initiation Among Patients Diagnosed with TB using Xpert MTB/RIF Testing in Uganda by Stella Zawedde
Dolutegravir Population PK in Plasma, Cord and Breastmilk: Results from DolPHIN-1 by Laura Dickinson
Evaluation of Radio Effectiveness as a Demand Creation Strategy for Voluntary Medical Male Circumcision (VMMC) in Urban Areas by Boneventure Brian Kawere
Circulating Levels of Angiogenic Factors and their Association with Preeclampsia among Pregnant Women at Mulago National Referral Hospital in Uganda by Sheila Nabweyambo
Why Are They Diagnosed So Late? Understanding the Circumstances Preceding Diagnosis Amongst Patients with Kaposi Sarcoma Identified by Rapid Case Ascertainment in East Africa by Miriam Laker-Oketta
Impact of IPC Mentorship in Bunyoro Region Supported by GHS-IDI by Maureen Kesande
Improving Access to Alcohol Based Hand Rub Using a District-Led by Fred Tusabe
Public Engagement to Improve Knowledge of Warfarin Therapy by Geraldine Kisa
"I Swore to myself that men should never see my private parts unless I am giving birth": Women's Experiences with Self-sampling During Community-based Cervical Cancer Screening in Rural Uganda by Miriam Nakalembe
Thoracic Point Of Care UltraSound (POCUS) Training by Telemedicine during COVID-19 Restrictions by Peter Waitt
Involvement of Village Health Teams to Develop Tools and Resources to Communicate about Antiretroviral use in Pregnancy and Breastfeeding at Community Level in Uganda: A Public Involvement Project by Elizabeth Tindyebwa
Affected or Infected: A Mobile Exhibition Showcasing the History of HIV in Uganda by Ruth Nalunga
Click here to view Posters
MakSPH METS Program HISTAC Positions: Software Developers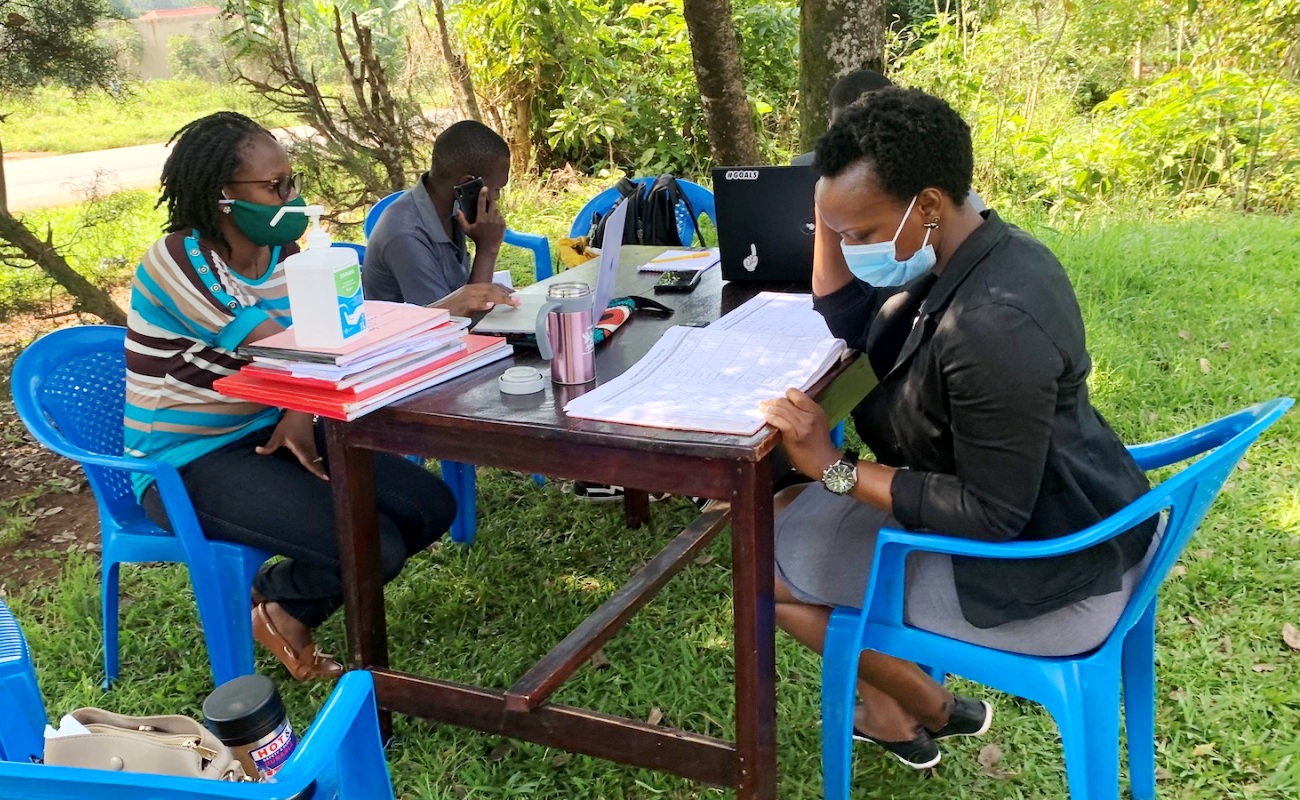 The Makerere University School of Public Health (MakSPH)-Monitoring and Evaluation Technical Support (METS) Program is a five-year (2020-2025) CDC funded Cooperative Agreement. The overall purpose of the program is to establish coordinated and effective national and district systems for management of strategic information for a robust HIV Program.
MakSPH-METS is also working as a Sub-Awardee to the University of California San Francisco (UCSF) on a multi country program entitled HQ Support of Improved Interoperable HIS towards HIV/AIDS and TB Control through Improved HIS Policy, Governance, Workforce Capacity and systems under PEPFAR (HISTAC). The program will provide technical assistance in areas of data base management, software development, case-based surveillance, HIS design and implementation.
POSITION SUMMARIES
MakSPH METS is therefore seeking to hire qualified individuals for the following position under
the HISTAC project:
Software Developer (3)
The Software Developer shall be responsible for designing, developing, implementing, maintaining, auditing and improving new and existing health information systems and project software. He/she shall be responsible to customize national health information systems and integrate biometric and other technology for patients tracking, monitoring and referral across service sites.
Qualifications and Experience
A bachelor's degree in computer science and software engineering and Information systems. A minimum of five years' experience in software development or working with health information systems.
Soft copies of the applications should be submitted as one PDF file to the following email address mets[at]musph.ac.ug by 5:00 pm on March 3, 2021.
KI, Mak Enter New Phase of Collaboration with Centre for Sustainable Health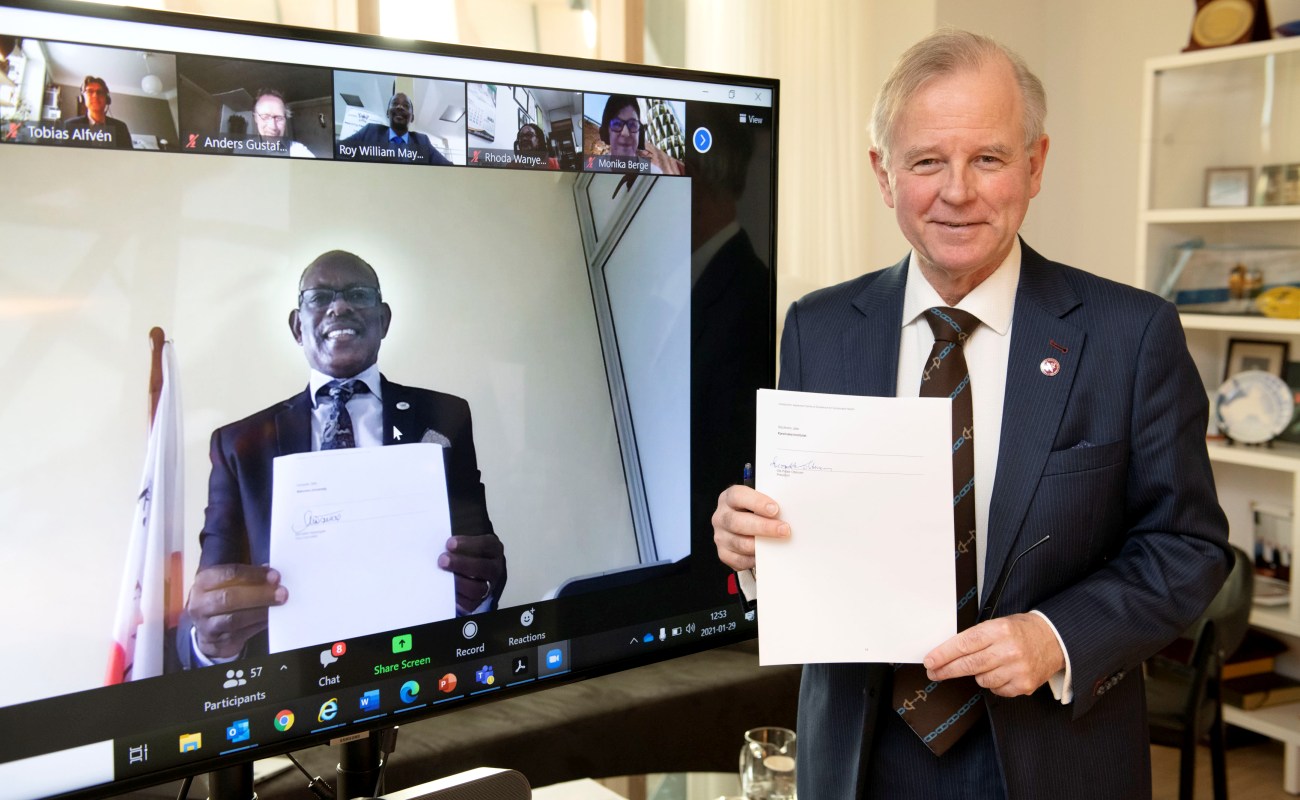 By Davidson Ndyabahika. Additional Reporting by Michelle Azorbo
Representatives from Karolinska Institutet and Makerere University on Friday (January 29) signed an agreement, furthering an alliance between the two research-led universities.
The collaboration agreement was establishing the Centre of Excellence for Sustainable Health – CESH. This Centre seeks to promote partnerships, develop capacity, resources and tools to drive the agenda for sustainable health.
Professor Barnabas Nawangwe, Vice Chancellor Makerere University, and Prof. Ole Petter Ottersen, President Karolinska Institutet, signed the agreement in a virtual ceremony.
The agreement is a step in the deepening of the collaboration between the institutions and a major leap towards driving the agenda for sustainable health.
"Fueled by our experiences in COVID-19, we see an urgent need to build universal preparedness for health and I am convinced that the new Centre will contribute significantly to this. My vision is that the Centre of Excellence for Sustainable Health will help transform how research and policies are formulated and conducted in the area of sustainable health", explained KI's President Ole Petter Ottersen.
Professor Nawangwe said that the signing ceremony marks a milestone of deepening the successful cooperation between Makerere University and Karolinska Institutet.
"This is an important next step in the long-standing collaboration between Makerere University and Karolinska Institutet. Deepening our partnership will be a significant contribution to increase action to achieve the Sustainable Development Goals of the United Nations' 2030 Agenda", said Professor Nawangwe.
In a dialogue preceding the signing session, the two heads of KI and Mak shared warm experiences and visions for the partnership. They also congratulated each other on the roles the institutions are doing to support efforts to curb the global pandemic.
Professor Nawangwe highlighted the pivotal role Makerere University as a key research institution in Uganda is doing to support national and global efforts in the fight against the coronavirus pandemic.
He says while the pandemic has brought problems, it has shown some realities of what the world is.
"The effects of the pandemic on the African continent have been a blessing in disguise. It has been what I could call 'a rude awakening of Africa' because Africa was for the first time completely isolated in many ways. That forced us to begin thinking what do we do? We must find solutions to our problems including health problems. And that is why you see a lot of efforts by our researchers to find solutions for COVID-19," Professor Nawangwe.
KI's President Ole Petter Ottersen said many projects that have been set up in the name of global health have largely been short term and sort of 'hit and run projects'.
He contends that there is a need to put into context collaboration the elements of long-term perspective and with ambitions to end up in policy changes and implementation of new knowledge in order to have a permanent change for the better when it comes to health policies.
According to Ottersen, this global pandemic has put the world at crossroads that requires more attention to be paid to the global challenges whose targets were set for 2030. He also highlighted the need to use this pandemic as an opportunity to bolster efforts to the goals of agenda 2030.