Press Release: Resumption of Teaching and Learning for Semester II 2020/21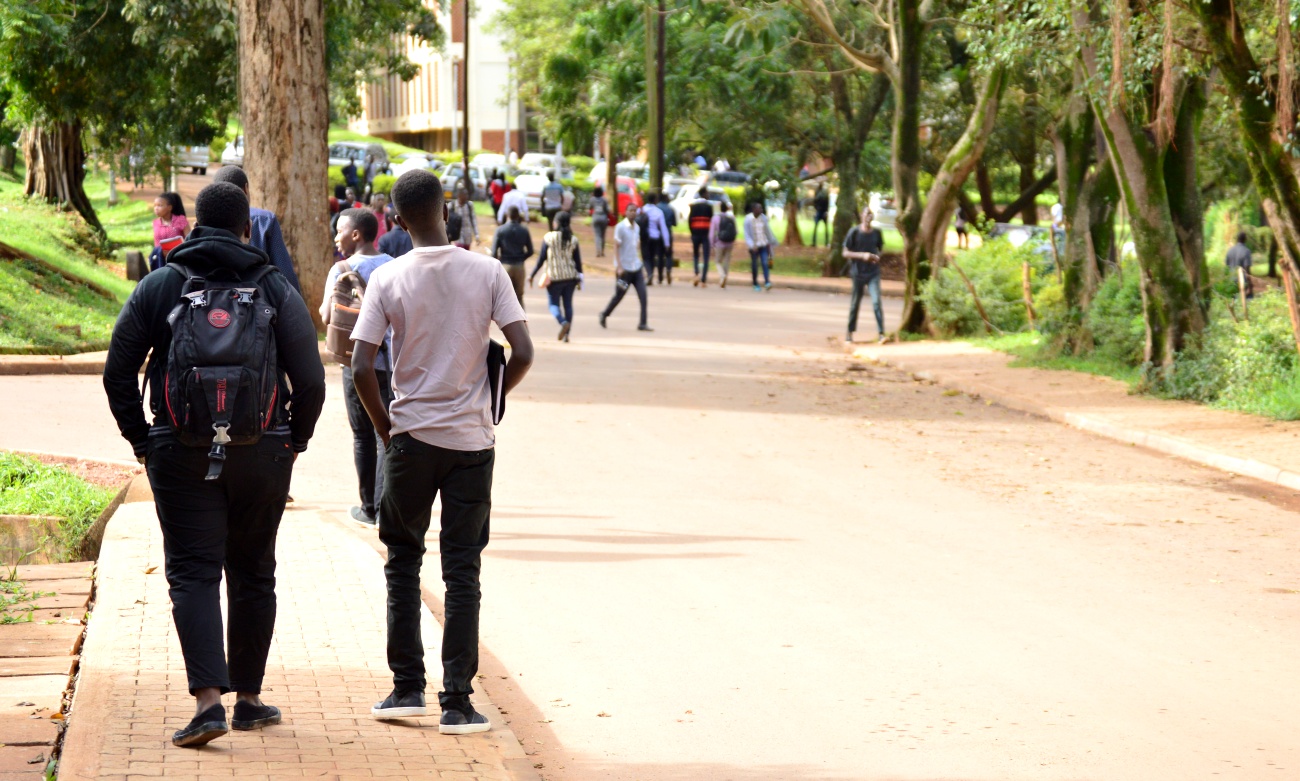 Resumption of Teaching and Learning Activities for Students of Makerere University Semester Two 2020/2021 Academic Year
This is to inform all final year students of the College of Health Sciences that teaching and learning activities will resume on Saturday 3rd October 2020.
Teaching and Learning activities for final year students in other remaining Colleges/Schools will resume on 17th October 2020.
Final year students in the above two categories should report to their respective Colleges for detailed academic schedules and health-related information.
Teaching and learning activities for continuing students (non finalists) will resume on 5th October 2020 under the Open Distance and e-Learning (ODeL) mode following approval by the National Council for Higher Education. The Principals/Deans will provide detailed schedules of teaching and learning for each College/School. Students under this category are not required to report to the University.
Please further note that the schedule of the remaining Semester Two shall from October 2020 to December 2020.
All students and staff must strictly adhere to the Standard Operating Procedures put in place by the Ministry of Health to combat the spread of COVID-19 which include among others
Mandatory wearing of a clean mask covering the mouth and nose
Social distancing
Washing of hands with soap and/or sanitizing hands.
Alfred Masikye Namoah
ACADEMIC REGISTRAR
22nd September 2020
Guidelines for printing provisional admission letters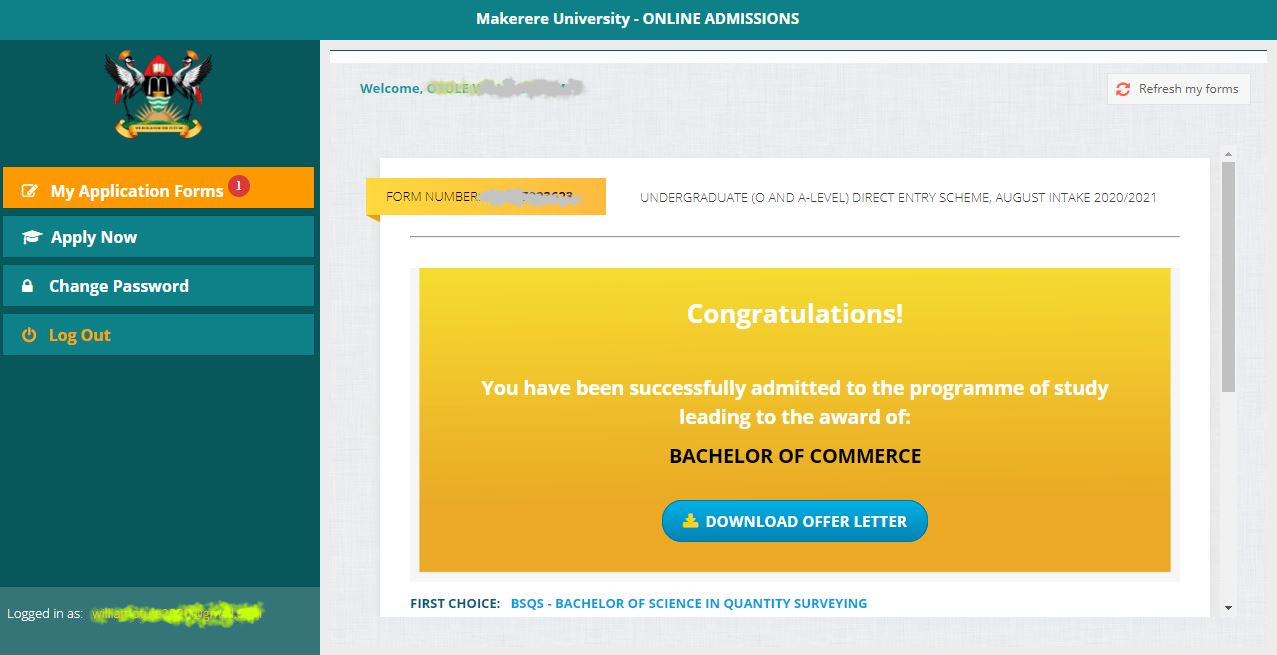 The Office of the Academic Registrar informs undergraduate applicants admitted under the Private Sponsorship Scheme for the 2020/2021 Academic Year that provisional admission letters can be printed from the Admissions Portal following the guidelines below:
Log into the application portal at (https://admissions.mak.ac.ug ) using the same e-mail address and password  you used for application.
This will lead you to a page where you will see a congratulatory message for admission to Makerere University as shown in the screenshot as shown above.
Applicants admitted under the Government Sponsorship Scheme should pick admission letters from their respective Colleges.
Prof. Nawangwe Appointed Director, Worldwide Universities Network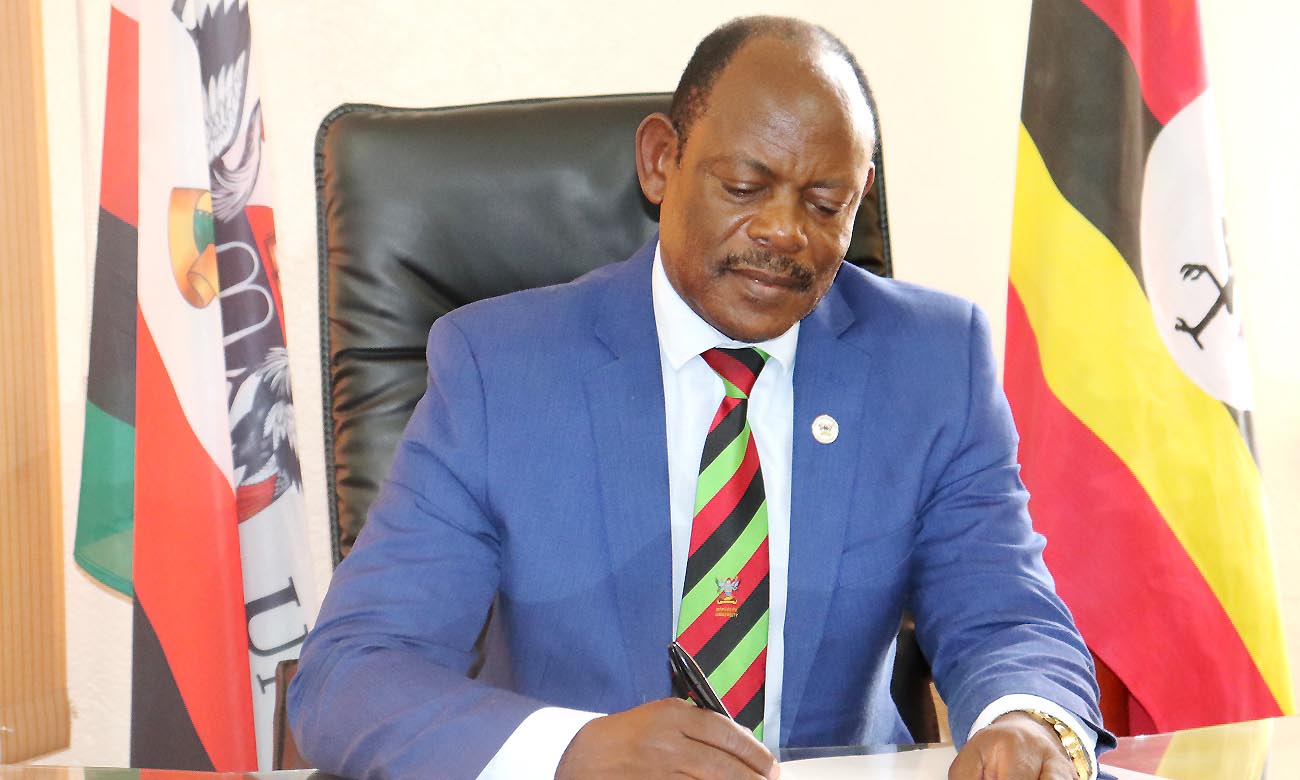 The Vice Chancellor, Prof. Barnabas Nawangwe has effective 19th October 2020 been appointed Director of the UK-based Worldwide Universities Network (WUN). WUN is a not-for-profit association of universities, whose principal activity is the creation of new multilateral opportunities for international collaboration in research and graduate education.
The association is made up of 23 universities, spanning 15 countries on six continents. Makerere University was welcomed into this leading global higher education and research network on 20th September 2020. Other members of the network in alphabetical order are; University of Alberta (Canada), The University of Auckland (New Zealand), University of Bergen (Norway), University of Bristol (UK), University of Cape Town (South Africa), The Chinese University of Hong Kong and University College Dublin (Ireland).
University of Ghana, University of Lausanne (Switzerland), University of Leeds (UK), Maastricht University (Netherlands), University of Massachusetts Amherst (US), National Cheng Kung University (Chinese Taipei), Renmin University of China, University of Rochester (US), The University of Sheffield (UK), University of Southampton (UK), Tecnológico de Monterrey (Mexico), Universidade Federal de Minas Gerais (Brazil), The University of Western Australia, University of York (UK) and Zhejiang University (China) complete the list.
Through its Research Development Fund WUN provides support to establish collaborative research that falls within four globally significant themes:
    Responding to Climate Change
    Public Health
    Global Higher Education and Research
    Understanding Cultures
Commenting on this appointment, the Vice Chancellor said: "This is an important recognition of Makerere University as one of the top research universities in the world and I believe that it will spur innovations."

We congratulate Prof. Nawangwe upon his appointment and wish him a fruitful tenure.
Uganda Military Academy -Kabamba students trained in library resources and information access

On 16th October 2020, Makerere University Main Library conducted a training in library resources
and information access. The orientation was attended by 65 freshers from Uganda Military Academy
Kabamba; enrolled for the Bachelor of Arts in Defense Studies of Makerere University.
In 2017, The Government of Uganda commissioned Kabamba Military Academy into an East African
Military University offering a three years' degree leading to a Bachelor of Arts in Defense Studies.
Affiliated to Makerere University, the institution works hand in hand with the School of Social
Sciences to ensure that the course is well administered.
The Bachelors of Arts in Defense Studies -degree program is run concurrently with a one-year
military program at Kabamba Military Academy. Attended by cadets from the East African countries,
the programme aims at professionalizing the Army through combating both military and academic
skills to tackle the ever growing societal and security challenges in the region.
According to the Dean, School of Social Sciences, College of Humanities and Social Sciences who is
also a member of the committee that oversees the Degree programme Dr. State Andrew Ellias, two
intakes have been so far undertaken. The pioneer class was enrolled in 2019 with 60 cadets drawn
from East Africa and the second intake is expected to start 19 th October 2020 with 65 cadets.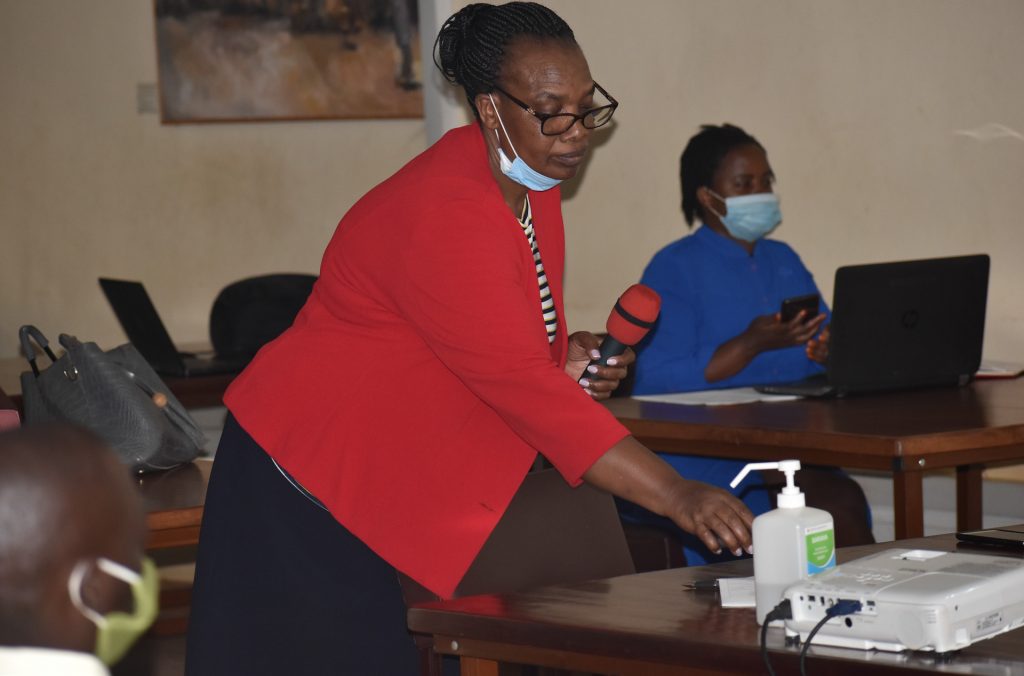 "As the University responsible for the course, we have ensured that the institution receives all the
necessary equipment and services including lecturers, internal and external examiners, tools and
resources to enable the students successfully complete their degree," he said.
Every academic year, enrolled students at Kabamba Military Academy visit Makerere University on
an orientation program that enables them to acquaint themselves with the critical areas and
procedures of the University. Among these include; the Academic Registrar's office, the College of
Humanities and Social Sciences where the degree is administered and the University Library.
On 16 th October 2020, cadets visited the Makerere University to understand the operations of the
library and how they can access both physical and online resources.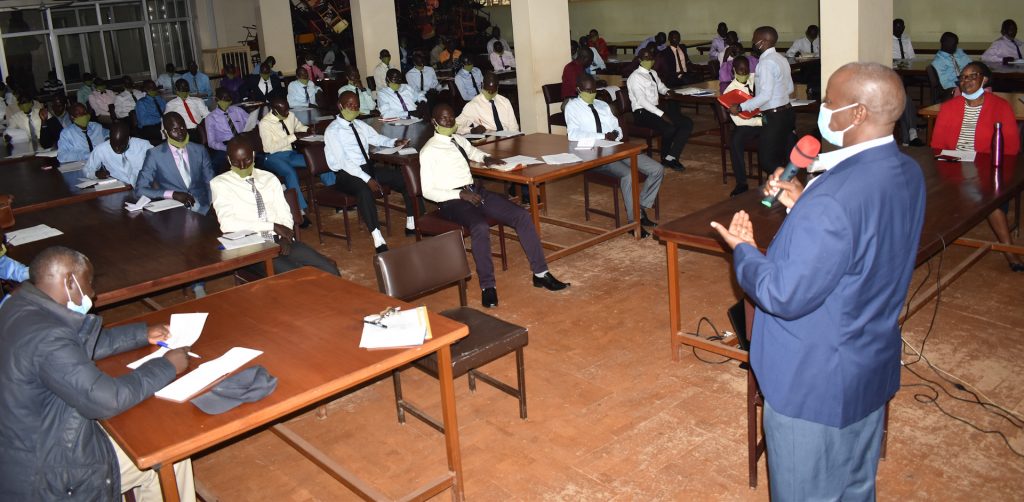 Speaking to cadets, Dr. Helen Byamugisha the University Library urged them to utilize the library
resources for their academic and research development. "We have ensured that you access the
library remotely at your institution. I therefore urge you to fully utilize the resources. The library is
one of the major instruments that help students to a achieve their academic goals, therefore it
should be a place you visit regularly," she emphasized.
During the training, cadets were orientated on;
Searching strategies and searching the library catalogue by Mr. Patick Sekikome
Search library databases (JSTOR, ebooks) and remote access to the library by Ms. Rachael Nabbosa
Using Grammarly and Academic Phrasebank by Ms. Martha Lyaka
Article by: Nabatte Proscovia