NCHE Commends Mak's Readiness to Implement Emergency ODeL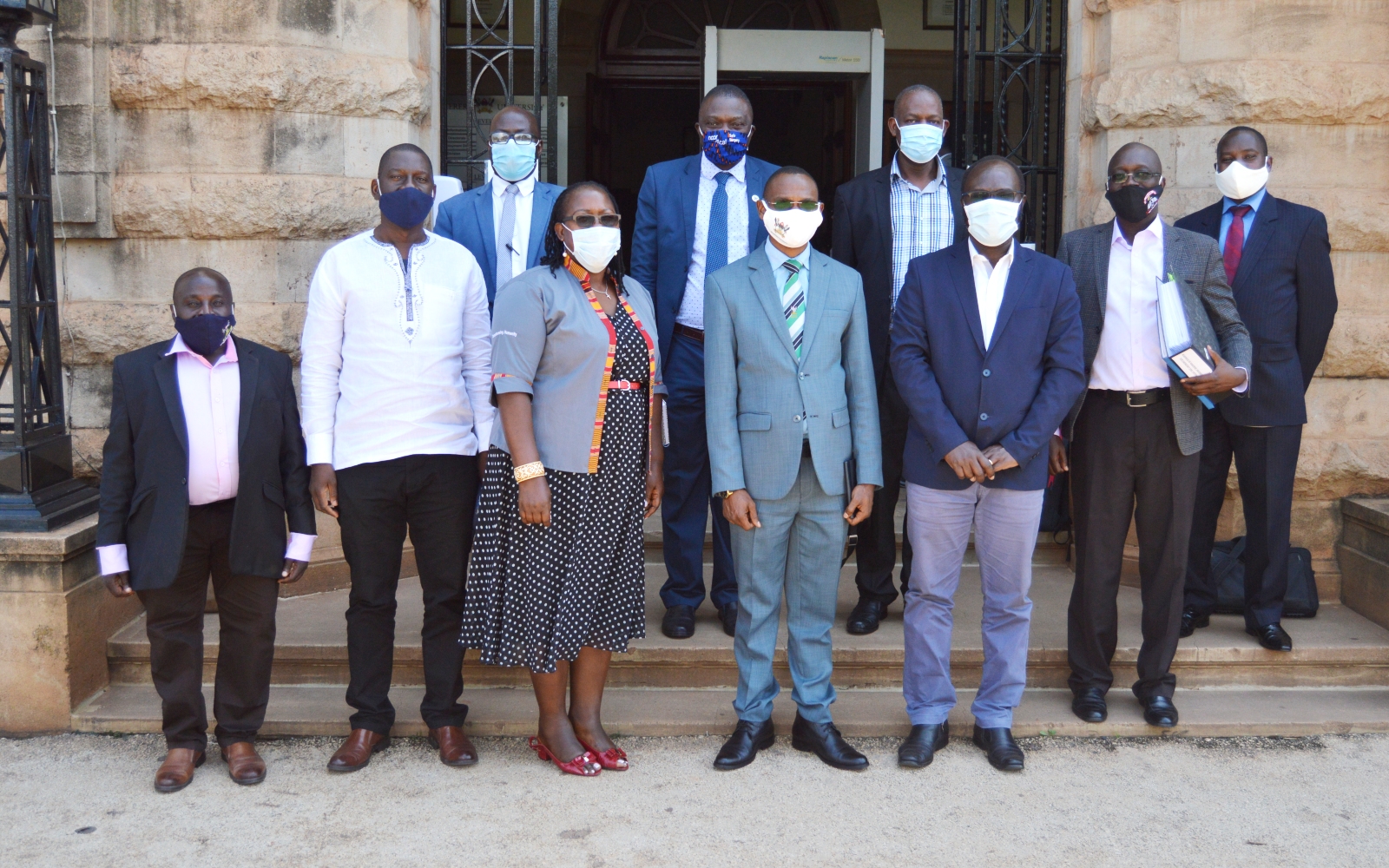 A team from the National Council for Higher Education (NCHE) on Wednesday 2nd September 2020 visited Makerere University to ascertain the institution's readiness to undertake emergency Open, Distance and e-Learning (ODeL). The inspection followed guidelines for adoption of emergency ODeL during the COVID-19 lockdown issued by NCHE to Higher Education Institutions (HEI) on 3rd July 2020.
Makerere in response appointed an E-Learning Fast Tracking Taskforce led by Assoc. Prof. Paul Birevu Muyinda, which prepared and submitted a proposal to NCHE on 25th August 2020. Other members of the taskforce are; Prof. Jessica Aguti-Director Institute of Open, Distance and e-Learning (IODeL), Prof. Fred Masagazi Masaazi-Principal College of Education and External Studies (CEES), Assoc. Prof. Gilbert Maiga, Assoc. Prof. Engineer Bainomugisha and Dr. Evelyn Kahiigi from the College of Computing and Information Sciences (CoCIS), Mr. Samuel Mugabi-Director Directorate for ICT Support (DICTS) as well as Mr. Richard Kajumbula and Mr. Godfrey Mayende from IODeL.
The NCHE Team led by Dr. Andogah Geoffrey, Dean Faculty of Technoscience Muni University also had Dr. Robert Ayine, NCHE's Senior Higher Education Officer Quality Assurance as the other member.
Welcoming the inspection team, Members of Management, staff in the Main Hall as well as participants on ZOOM, the Vice Chancellor Prof. Barnabas Nawangwe expressed Makerere University's eagerness to implement emergency ODeL, given its over 20-year experience with Distance Learning. The first phase of the African Virtual University (AVU) was launched at Makerere University in 1997. AVU was a distance education project funded by the World Bank to deliver university education in the sub-Saharan Africa countries of Ethiopia, Ghana, Kenya, Namibia, Tanzania, Uganda, and Zimbabwe.
"Our strategic plan 2020-2030 puts emphasis on ODeL because we know that for one, there is going to be an increased demand for higher education in the region which cannot be met by the conventional teaching methods and secondly it prioritises learner-centred pedagogy where the student takes lead and the instructor simply facilitates the learning process" remarked the Vice Chancellor.
Prof. Nawangwe shared with the inspection team that Makerere University has the best ICT infrastructure outside South Africa. This was reiterated in the Director DICTS' presentation wherein he showed that; Makerere has 32km of fibre optic cable network linking every building to the Network Operations Centre (NOC), 2,200Mbps of bandwidth at a subsidized cost from the Research and Education Network for Uganda (RENU), an Incident Response System where the student and staff community can log tickets for ICT-related issues among other amenities.
With reference to Library resources available to support ODeL, the Vice Chancellor said "With approximately 12million electronic journal titles available to our users, we have the largest consumption in Africa." This was expounded upon by the University Librarian, Assoc. Prof. Helen Byamugisha and her team's presentation to NCHE when the inspectors made a brief stopover at the Main Library.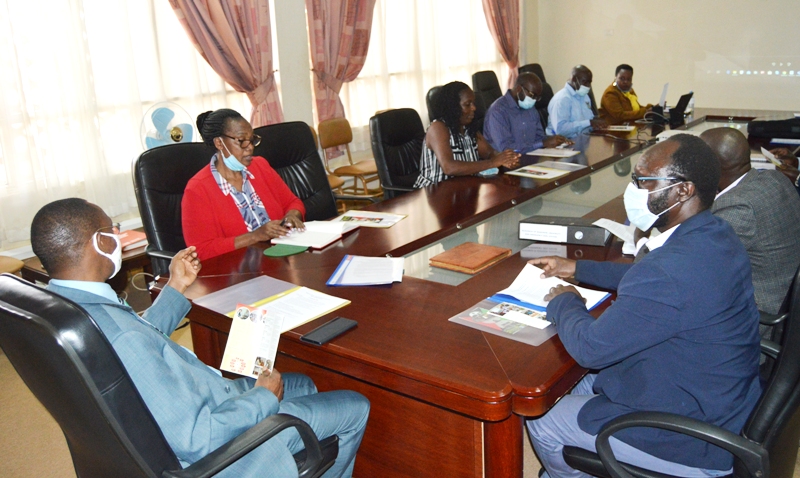 The team consisting of Deputy University Librarian-Assoc. Prof. Ruth Nalumaga, E-Resources National Coordinator-Ms. Caroline Kobusingye and Systems Administrator-Mr. Timothy Sentamu shared that the Library has; 49 subject/discipline-specific databases, over 240,000 e-Book titles and 7,792 digitized materials accessible. Furthermore, that the Library's Online Public Catalogue print collection has; 258,900 books, 16,402 archives, 11,698 serials and 4,980 e-Books available to users. The Library relies on EzProxy; a remote access tool, to enable off-campus users access electronic resources, especially during the COVID-19 lockdown. These resources and more are accessible to staff, students and members of the public provided that they are registered with the University Library.
To further emphasize Mak's readiness, Prof. Nawangwe shared that the University is a leading partner of international ODeL consortia such as EPICA. "Most recently, we partnered with UNESCO-ICHEI to inaugurate the International Institute of Online Education so as to train our staff in e-Learning technologies and I am happy to report that several members of staff have benefited.
Additionally, Prof. Jessica Aguti, our Director Institute of Open, Distance and e-Learning spent three years (April 2014 to April 2017) as an Education Specialist at the Commonwealth of Learning in Vancouver, Canada and brings vast experience to our efforts to continue implementing ODeL at Makerere."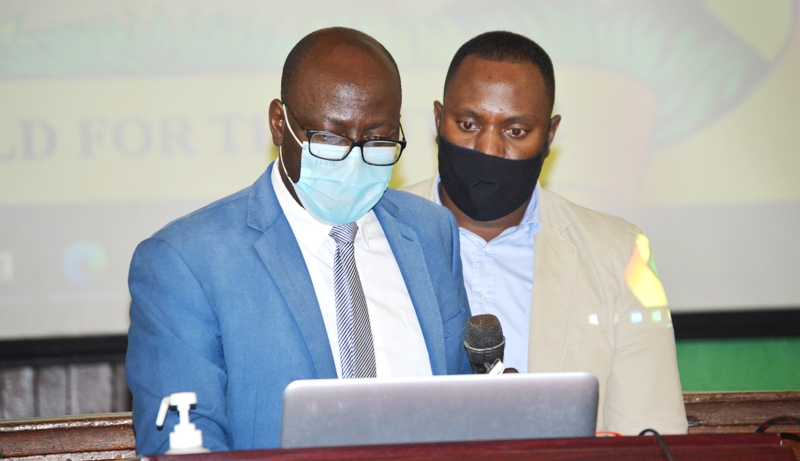 The Vice Chancellor concluded his remarks by reassuring NCHE that the institution has put in place several measures to ensure that no student is left behind in the implementation of emergency ODeL. He reported that Makerere University had during the lockdown managed to secure zero-rate access to its e-Learning and other platforms from Africell, Airtel and MTN and would continue to negotiate for similar enablers of ODeL from the telecommunication companies.
In his presentation of Mak's Readiness for the ODeL System, the Deputy Vice Chancellor in charge of Academic Affairs (DVCAA), Assoc. Prof. Umar Kakumba guaranteed the inspectors that the university would in addition to existing resources on MUELE utilize tools such as social media and facilities such as the upcountry learning centres to ensure that the emergency ODeL roll-out is comprehensive. In terms of staff readiness, he shared that over 500 staff had been trained by IODeL in developing and setting up course material on the Makerere University E-Learning Environment (MUELE).
The staff training also covered maximizing the benefits of working with ZOOM to conduct synchronous/live classes. As part of the presentations, the inspectors in a live demonstration joined an ongoing IODeL training session for teams at the College of Business and Management Sciences (CoBAMS). Trainees were then asked to take part in an exercise that gauges active participation and understanding of the concepts being taught. The inspectors and audience in the Main Hall were then able to watch in real-time using another tool called MENTEE as feedback from the class came forth and formed a word cloud with the most frequent responses dominating in size. This feedback, said the IODeL team, can then be used by the instructor to analyse the level of participation by learners and gauge which concepts need further explanation.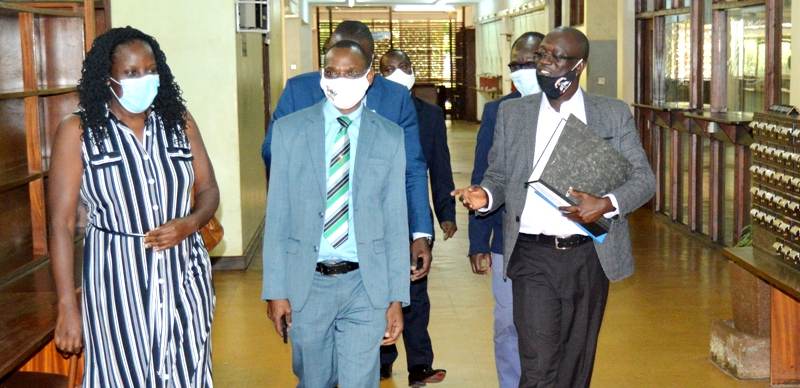 The DVCAA in his presentation equally noted that whereas learning materials and facilities required to implement emergency ODeL were in place, work still needs to be done to improve the attitude and motivation of students to access existing electronic resources. One of the July 2020 NCHE guidelines required Mak to undertake a survey to determine students' willingness to participate in emergency ODeL. Presenting results from that survey, the Director Quality Assurance-Dr. Vincent Ssembatya demonstrated that the majority (64.11%) of the students who took part in the survey were willing to continue under emergency ODeL.
"What surprised us about these results was that at 71.84%, the first year students demonstrated the highest willingness to continue studying under emergency ODeL, compared to their colleagues in final year" remarked Dr. Ssembatya.
An analysis of the reasons for students' unwillingness to continue under emergency ODeL revealed mobile data as the most dominant. Further investigation of the mobile data reason using NVivo – a qualitative data analysis tool –revealed expensive data bundles as the foremost challenge. Other reasons cited by students for their unwillingness included the practical nature of particular courses and the short period left to the conclusion of their academic programmes.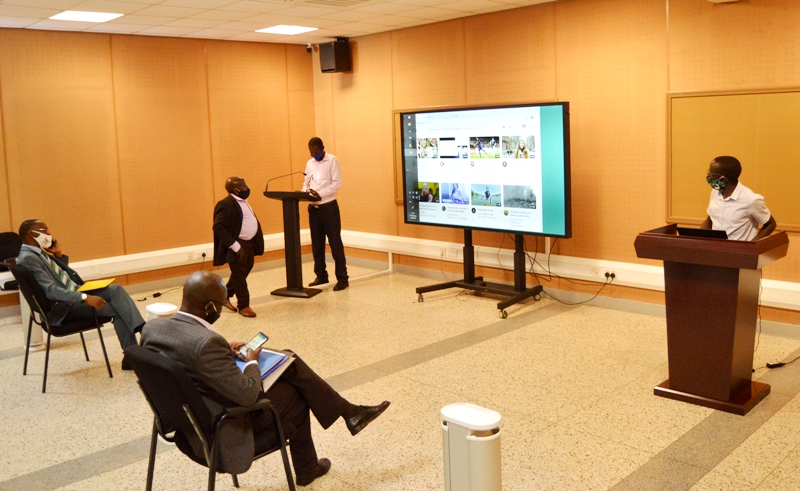 Outlining the six-week roadmap for completion of the academic year in the event of re-opening under emergency ODeL, the DVCAA said "the immediate strategy is to complete the theoretical part of the syllabus and for the practical sessions, units will group students into cohorts of 15-20 per session so as to fit within the COVID-19 Standard Operating Procedures (SOPs) for social distancing. Exams will then be conducted in the last two or three weeks of the period."
In addition to the Main Library, the inspection team was taken on a tour of the new multimedia studio on Level 4 of the Central Teaching Facility 1 (CTF1) where instructors can record teaching material using state-of-the-art aids in a soundproof environment. They thereafter visited CoCIS where the Principal, Prof. Tonny Oyana took them on a guided tour of the e-Learning Centre as well as the Smart Classroom – the first installation in Uganda. Upon completion, the 50-seater Smart Classroom will make use of a combination of Artificial Intelligence (AI) and Natural Language Processing (NLP) in particular to analyse students' learning patterns and abilities and come up with new models of instruction unique to each learner.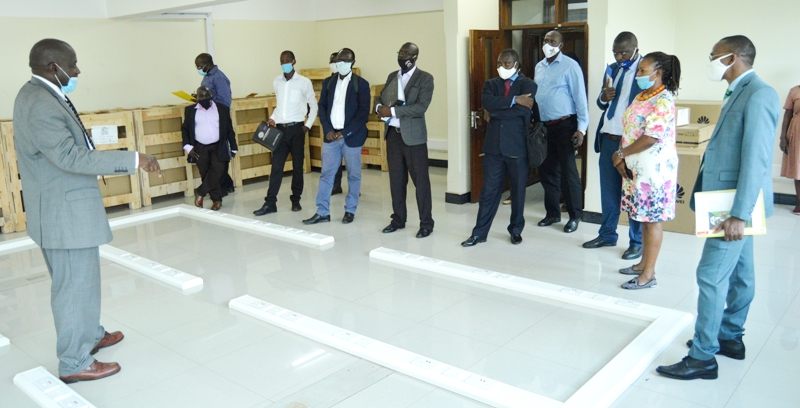 The team concluded its inspection of facilities with a visit to the DICTS NOC for a guided tour of the core ICT infrastructure that hosts the e-Learning as well as other university services. A debrief session was held at the Guest House, where inspectors expressed satisfaction with Makerere University's demonstration of readiness to resume teaching and learning under emergency ODeL.
"I thank Makerere University for taking leadership in this exciting new phase of implementing emergency ODeL. You have demonstrated your readiness and I think all other Higher Education Institutions will emulate you" remarked Dr. Andogah the inspection Team Leader.
He added that it was the simple but equally impressive installations like the Touchless Handwashing Kit (TW-20) at the entrance to the Main Building that demonstrated Makerere University's ability to innovate and cater to the wellbeing of members of its community.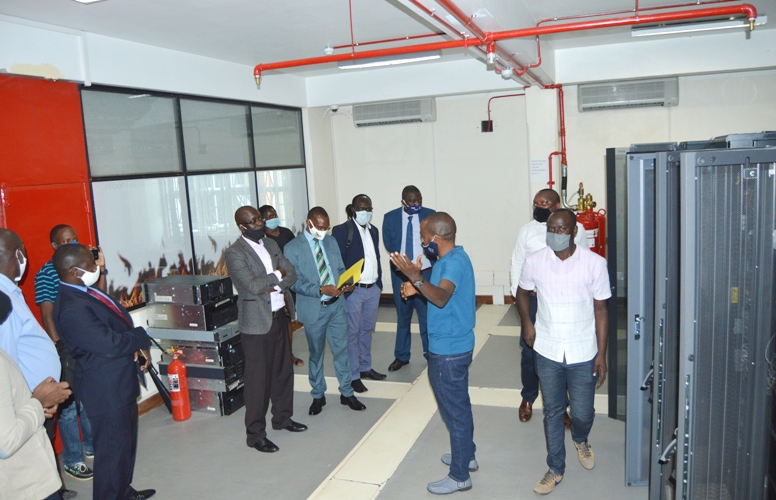 Dr. Ayine on his part applauded Makerere University as the leading institution for taking the initiative to promote Distance Education and ODeL even before the advent of COVID-19. He shared that the average national tertiary gross enrolment stands at less than 10% and one of the roles of Makerere University is to increase access to higher education.
He concluded by asking the leadership to ensure that in addition to maintaining infrastructure, instructors and facilitators are supported to monitor the participation and progression of learners on MUELE. To help achieve this, IODeL has developed a training schedule for systems administrators and ICT staff at college level to ensure that they will be able to support the different user needs.
Please see the links below for the day's presentations
Article by Public Relations Office
Innovations using low cost locally available materials for point of use water treatment system unveiled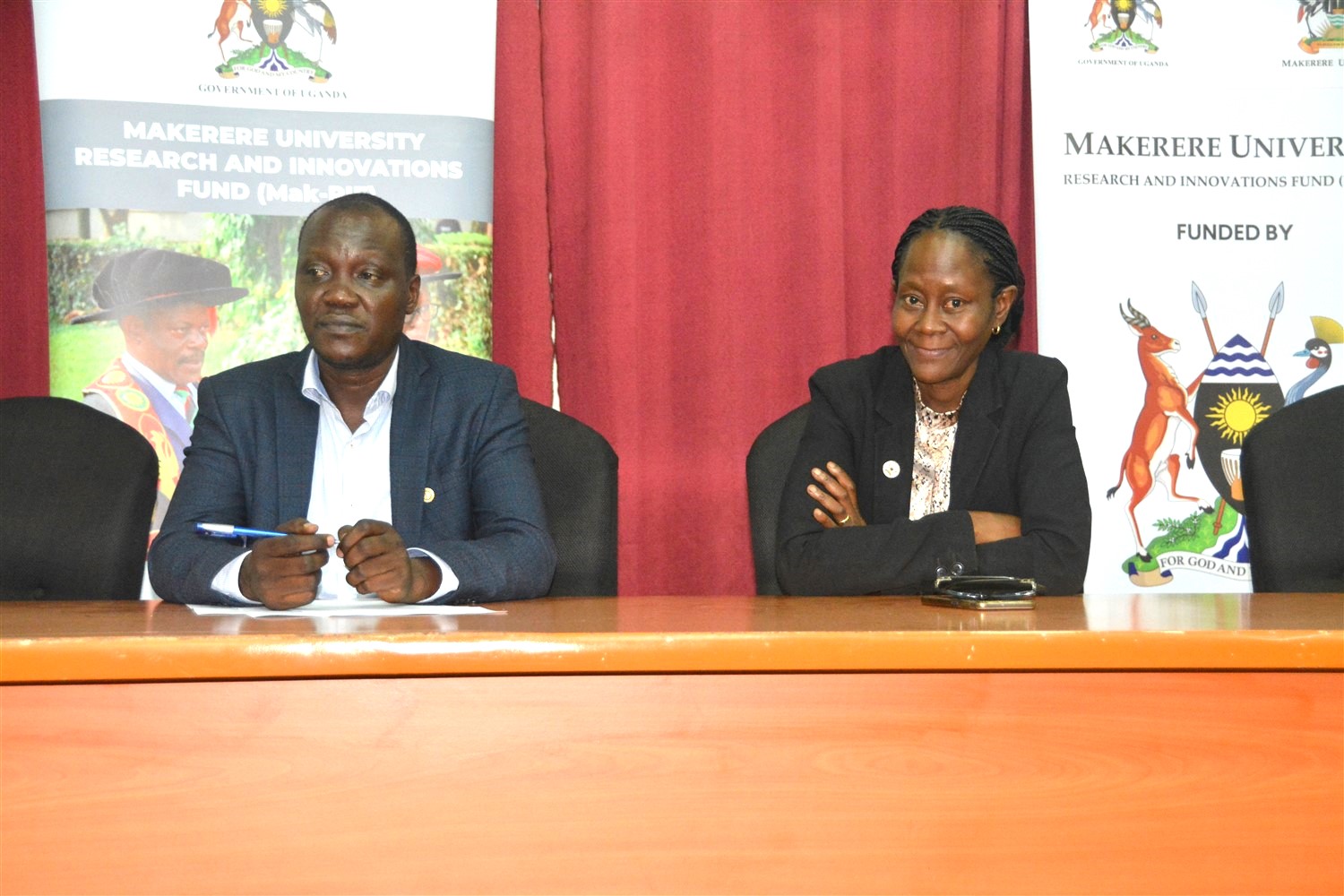 The College of Engineering, Design, Art and Technology (CEDAT) conducted a Research Dissemination of two studies aimed at the Development of Materials for point of use water treatment systems.
The investigations were conducted by a team of researchers comprised of P. W. Olupot, H. M. Kalibbala, E. Menya, G.M. Wangi, J. Jjagwe, J. Wakatuntu, M. Turyasingura, R. Walozi, C. Kanyesigye and R. N. Kulabako.
The dissemination event held on Wednesday 29th November 2023 follows the successful completion of two MakRIF supported Research projects namely; Development of rice husk based granular activated carbon for point-of-use water treatment systems and Development of zeolite-based nanocomposite filters for drinking water treatment.
Apac District gains from CEDAT's Research on Piloting a Rural Broadband Connectivity Model and Efficacious patient management system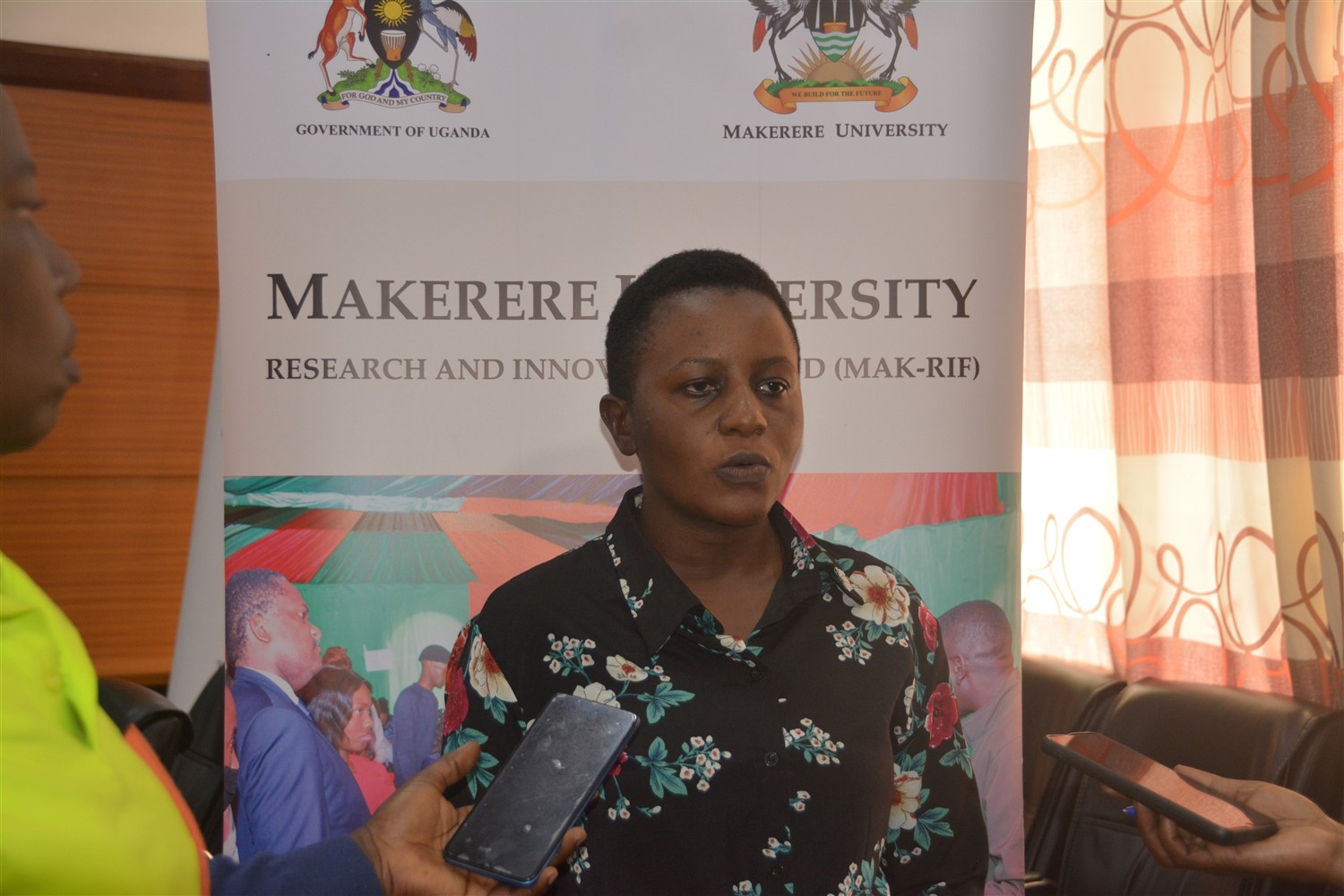 The School of Engineering at the College of Engineering, Design, Art and Technology (CEDAT) shared findings of research that was conducted in Apac Districts through two projects namely Piloting a Rural Broadband Connectivity Model (RCBM) and Efficacious patient management system (EPMS).
The findings of the research sponsored by the Government of Uganda through the Makerere University research and Innovation Fund(MakRIF) were disseminated during a dissemination seminar held in the College on Friday 24th November 2023, where it was revealed that  Apac the host District greatly benefited from the services that not only led to the increased uptake of internet services but also gained through other socio economic areas.
Application Forms for Admission to Public Universities 2024/2025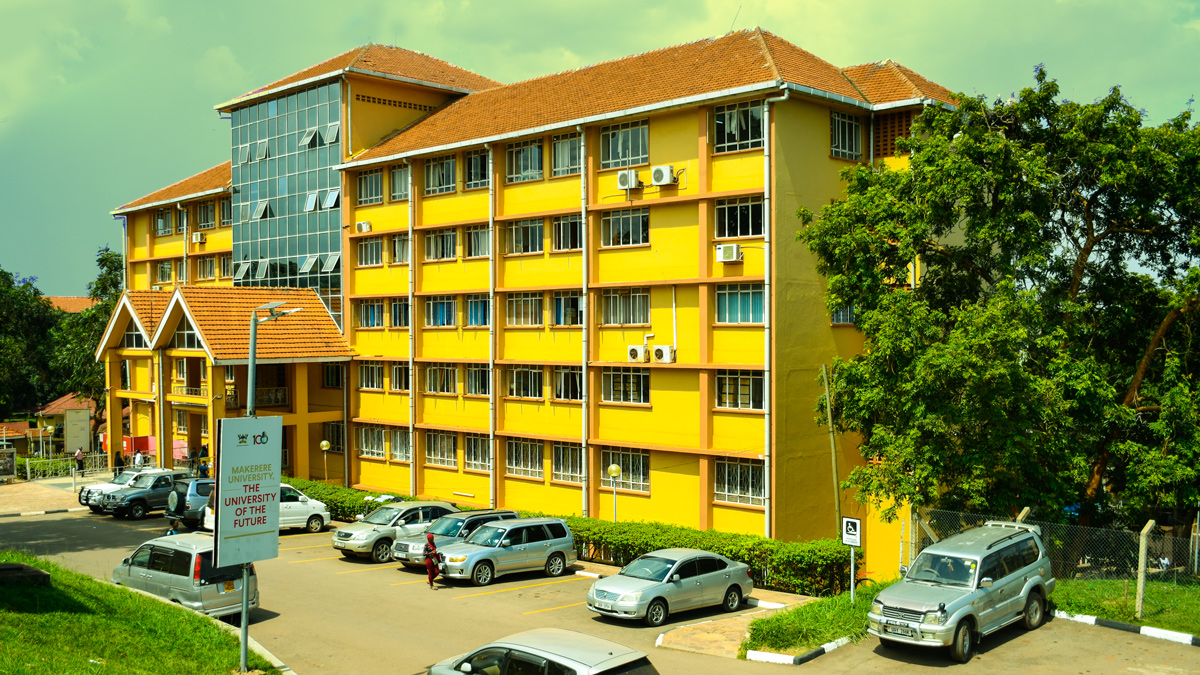 The Academic Registrar, Makerere University informs all Head Teachers of A 'Level schools that application forms for admission to public universities for senior six candidates (UACE 2023) for the 2024/2025 academic year will be ready for collection from the university from Monday 4th December, 2023.
The application forms should be collected from the Office of the Academic Registrar, Senate Building, Level 3, Makerere University.
Issuing of the application forms will start on Monday, 4th December 2023 on payment of a non-refundable application fee of Uganda Shs. 52,000/=(fifty two thousand Uganda shillings only) per application form.
You are advised to get a pay reference number (PRN) using the ACMIS system (http://pay.mak.ac.ug) to enable you pay the application fees in any bank used by Uganda Revenue Authority (URA).
The forms are for Ugandans only.
Please note that only Head Teachers or their authorized representatives will be served.
The closing date for submitting the completed application forms will be Wednesday 31st January, 2024.
Prof. Buyinza Mukadasi
ACADEMIC REGISTRAR