African Journal of Rural Development Vol 4 Issue 4, 2019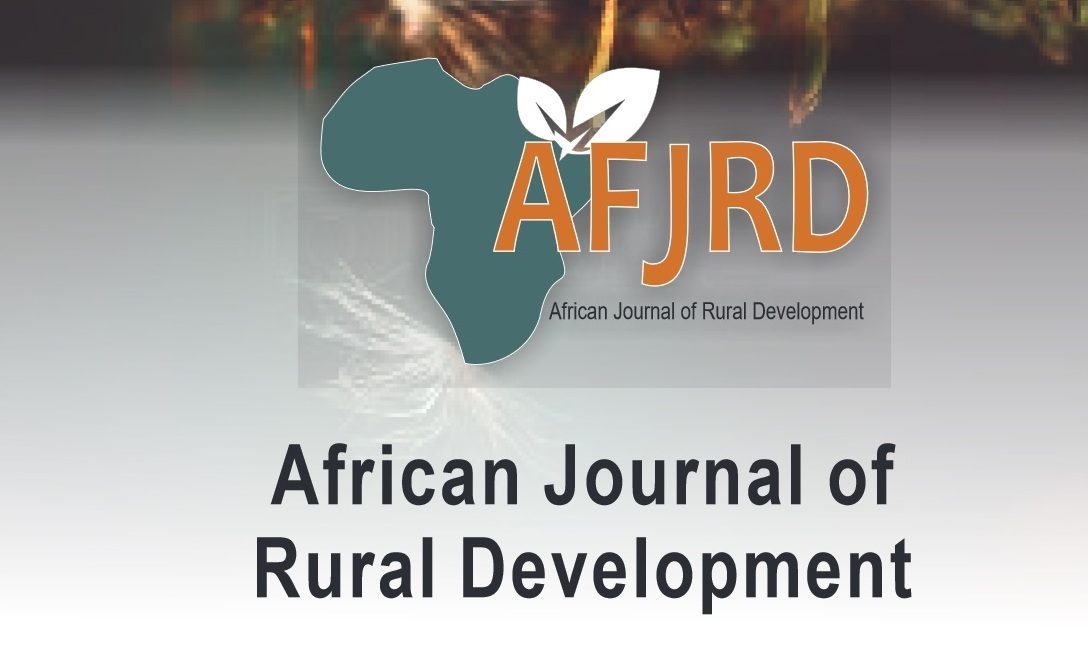 Agriculture is a vital activity that sustain millions of people livelihoods and build local, national and regional economies. Progress in agricultural development is expected to translate in living standards in rural areas, commodities value chains and commercialization. However, in Sub-Saharan Africa, rural development faces a number of challenges such as poor soil restauration and agronomic practices leading to low agricultural productivity. Adding to this is the daunting task of securing food and enhancing food nutrition for the continent. This editorial of the African Journal of Rural Development introduces eight peer-reviewed journal papers that reflect on three key gaps areas deemed important for Africa in realizing the aspirations of the Agenda 2063. These include education, food nutrition and agriculture, including soil/agronomic practices, livestock and forestry. The information presented in these papers provides interesting insights on (i) soil fertility and soil water management through use of biochar produced from locally available sources as well as the need for monitoring of nitrate loading even at small scale; (ii) factors affecting citrus production and sawmill profitability and sustainability of wood resource utilization; (iii) production practices and quality defects of hides and skins, and gastrointestinal parasites in Angora goats; (iv) food nutrition and dietary intake patterns among agricultural households; and (v) capacity building the field of higher education, particularly the experiences on the implementation of the Intra Africa training initiative established by RUFORUM. It is our hope that the readers will find these information relevant for their own use and application in their respective fields.
Key words: soil water management; citrus; livestock; food nutrition; higher education
The African Journal of Rural Development (AFJRD) Editorial Secretariat is housed at the Makerere University Main Campus, Kampala Uganda.
Press Release: The O.R. Tambo Africa Research Chairs Initiative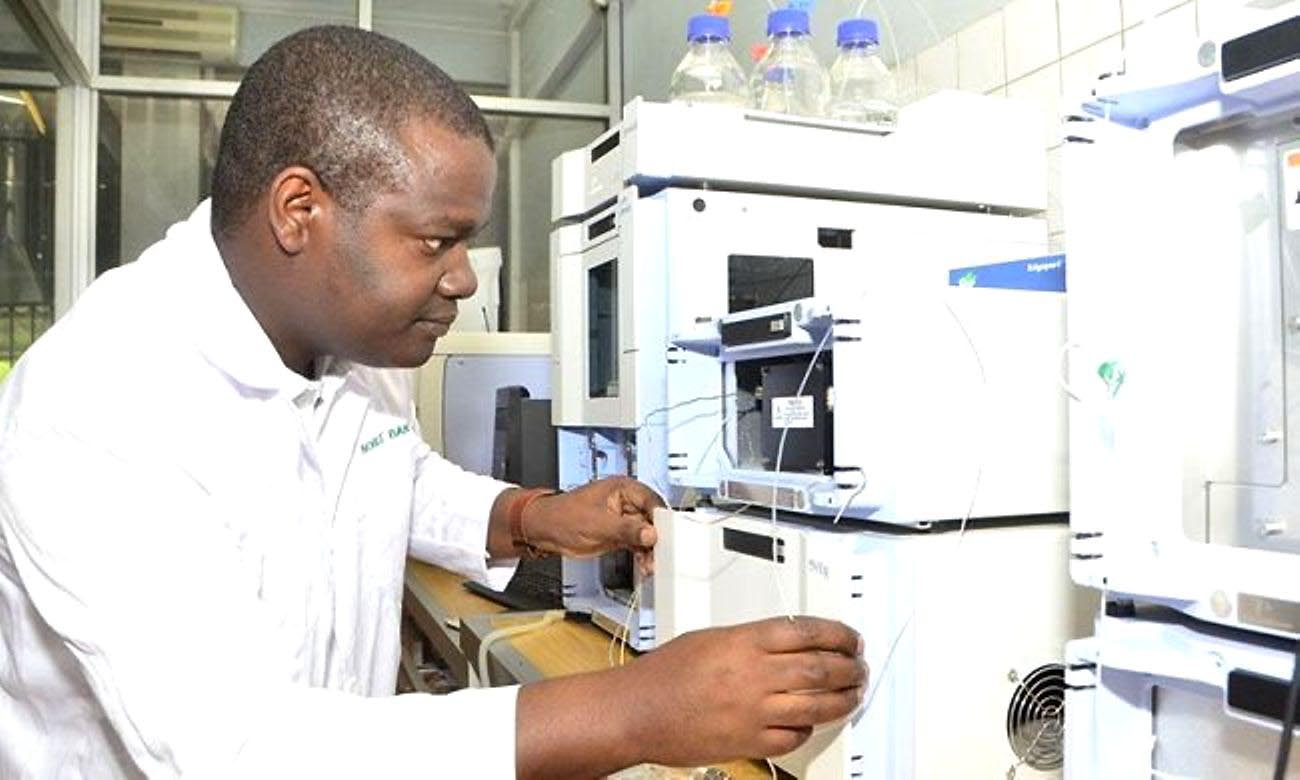 Monday 12 October 2020, 12:00 GMT
The O.R. Tambo Africa Research Chairs Initiative: Meet the team aiming to contribute to transforming the African research landscape
Pretoria, South Africa: The O.R. Tambo Africa Research Chairs Initiative (ORTARChI) is pleased to announce that it has selected the Initiative's first ten host institutions and individual research Chairholders. ORTARChI is an initiative of South Africa's National Research Foundation (NRF) and the Department of Science and Innovation (DSI), in partnership with the Oliver & Adelaide Tambo Foundation (OATF), Canada's International Development Research Centre (IDRC), and seven councils of the Science Granting Councils Initiative in Sub-Saharan Africa (SGCI).
"For the next five years, the Chairs at these public universities in seven countries across the African continent will conduct research and support high-end skills development on a diverse range of topics including climate, public health, entrepreneurship and youth employment. Aligned to the global concept of research Chairs, these world-class researchers will not only lead multidisciplinary research teams, but also train the next generation of researchers,"said Dr. Molapo Qhobela, Chief Executive Officer, NRF.
ORTARChI provides five years of funding amounting to approximately US$15million, granted after a rigorous review process and in recognition of institutional excellence and capacity in identified disciplines; commitment to supporting high-quality research leadership; and talent; as well as to individual, internationally-recognised researchers.
In addition to the support provided through the grant for postgraduate students and postdoctoral fellows, funds will be provided by the NRF and the OATF for 55 African female doctoral students studying under the supervision of the respective Chairholders."Through international and regional strategic partnerships, the Chairs will contribute to the development of long-term, mutually beneficial, research collaboration on the African Continent," said Dr Jean Lebel, President, IDRC.
The Initiative
This initiative builds on the work of Oliver Tambo, a prominent South African and pan-Africanist with a science education background, who believed in creating change through education and in cooperation and solidarity among African nations.
"This is an important new chapter in the ORTARChI story. The initiative was first announced in 2017 to commemorate the 100th anniversary of the birth of one of the most important leaders of South Africa's liberation struggle, O.R. Tambo, who led the African National Congress during the years of exile. Tambo was not only a committed pan-Africanist but also an advocate of science and technology," said Zengeziwe Msimang, Chief Executive Officer, OATF.
The ORTARChI is an opportunity to promote the values for which O.R. Tambo stood. These values include integrity, courage of conviction, diplomacy and humility. The initiative also recognises African excellence in the fields of study about which he was so passionate. Tambo not only believed in Africa as a centre for excellence, but also that it was and would continue to be the home of innovation and brilliance.
"Building on this legacy of O.R Tambo, ORTARChI will enhance the higher education system, promoting research and development in Africa. Of significance is the Initiative's contribution to the development of mutually beneficial medium and long term partnerships between and amongst countries within and beyond Africa. As a collective, the Research Chairs will also leverage partnerships with the civil society, private sector, and government, a highly commendable approach to implementing excellent research," added Prof VitóriaLanga de Jesus, Executive Director of Mozambique's National Research Fund (FNI).
Media Invitation
Members of the media and the public are invited to the official launch of the Chairs on 27 October, as part of the 2020 Tambo Month Celebrations. The virtual eventwill be a panel discussion led by South Africa's Minister of Science and Innovation, Dr Blade Nzimande and willbe held on what would have been O.R. Tambo's 103rd birthday.
Details of the O.R. Tambo Africa Research Chairs Initiative Launch:
Date: Tuesday, 27 October 2020
Time: 14:30 – 16:30 SAST (12:30 – 14:30 GMT)
To register for the event, please go to: http://nrf.ac.za/or_tambo_africa_research_chairs_initiative_launch
The Research Chairs
Below is the full list of the 10 research Chairholders and host institutions:
| | | | |
| --- | --- | --- | --- |
| Research Chairholder | Institution and Country | Thematic Area | Research Focus of Chair |
| Prof Gizaw Mengistu Tsidu | Botswana International University of Science & Technology, Botswana | Climate Change | Climate change and adaptation in water, vegetation and livestock resources |
| Prof Almeida Sitoe | Eduardo Mondlane University, Mozambique | Climate Change | Ecosystems for arid and semi-arid zones |
| Prof Olga Lompo and Dr Samiratou Ouedraogo | Université Joseph KI- ZERBO, Burkina Faso | Health Sciences | Cancer and public health |
| Prof Kwesi Firibu Saalia | University of Ghana | Food Security | Food safety and quality |
| Prof Nathaniel Boso | Kwame Nkrumah University of Science and Technology, Ghana | Humanities and Social Sciences | Entrepreneurship and youth employment |
| Prof Gerald Misinzo | Sokoine University of Agriculture, Tanzania | Food Security | Livestock health |
| Prof Noble Banadda | Makerere University, Uganda | Food Security | Sustainable agriculture |
| Prof Stephen Syampungani | Copperbelt University, Zambia | Environment and Development | Environmental management |
| Prof Imasiku Nyambe | University of Zambia | Water Research | Water quality and catchment protection |
| Prof Hulda Swai | Nelson Mandela African Institution of Science and Technology, Tanzania | Nanotechnology | Anti-malarial drug delivery |
Please see below for the full Media Release
NTU awarded €850,000 to create opportunities with universities in Uganda and Kenya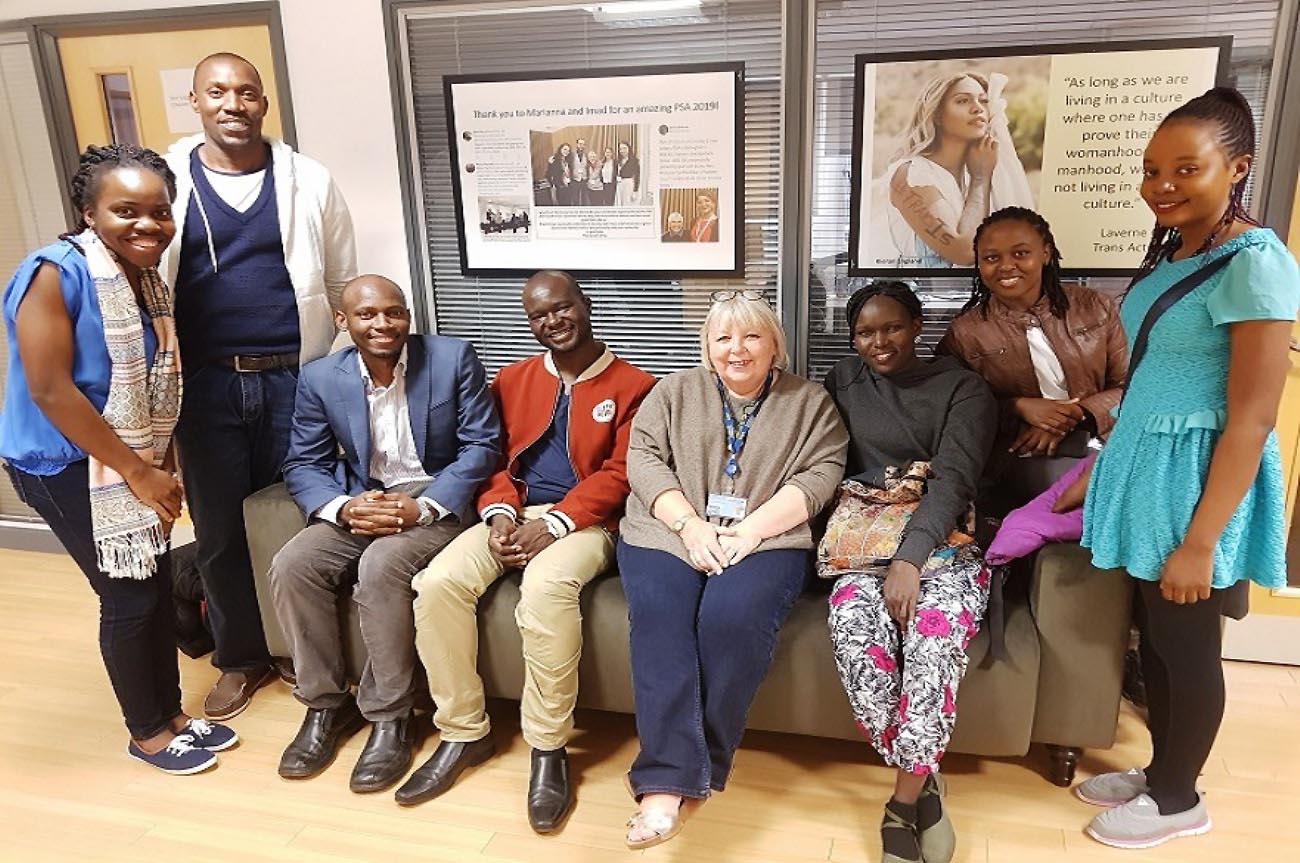 Nottingham Trent University (NTU) will receive more than €850,000 of funding that will support three years of projects with partners in Uganda and Kenya.
Two successful bids for the Erasmus+ International Credit Mobility (ICM) funding were put together by a team of staff from NTU's Global, Social Sciences, Science and Technology and Animal, Rural and Environmental Sciences teams. Erasmus+ enables UK higher education students and staff to study, gain work experience, teach or train abroad.
The project in Uganda is in partnership with Makerere University and will involve more than 150 staff and student exchange participants. The key focus will be to build and enhance multidisciplinary skills and technical knowledge within Nursing, Microbiology, Pharmacy, Animal and Agricultural Studies and Environmental Sciences in addition to Public Health. These new subject areas have emerged from work as part of NTU's ongoing partnership with the School of Public Health at Makerere University and align with research plans for the future.
Over the next three years the project in Uganda will seek to build the academic, research and employability capacity of students, provide opportunities for knowledge sharing amongst staff and encourage researchers to tackle future global health challenges.
Neurodevelopmental outcomes of preterm babies during infancy in Eastern Uganda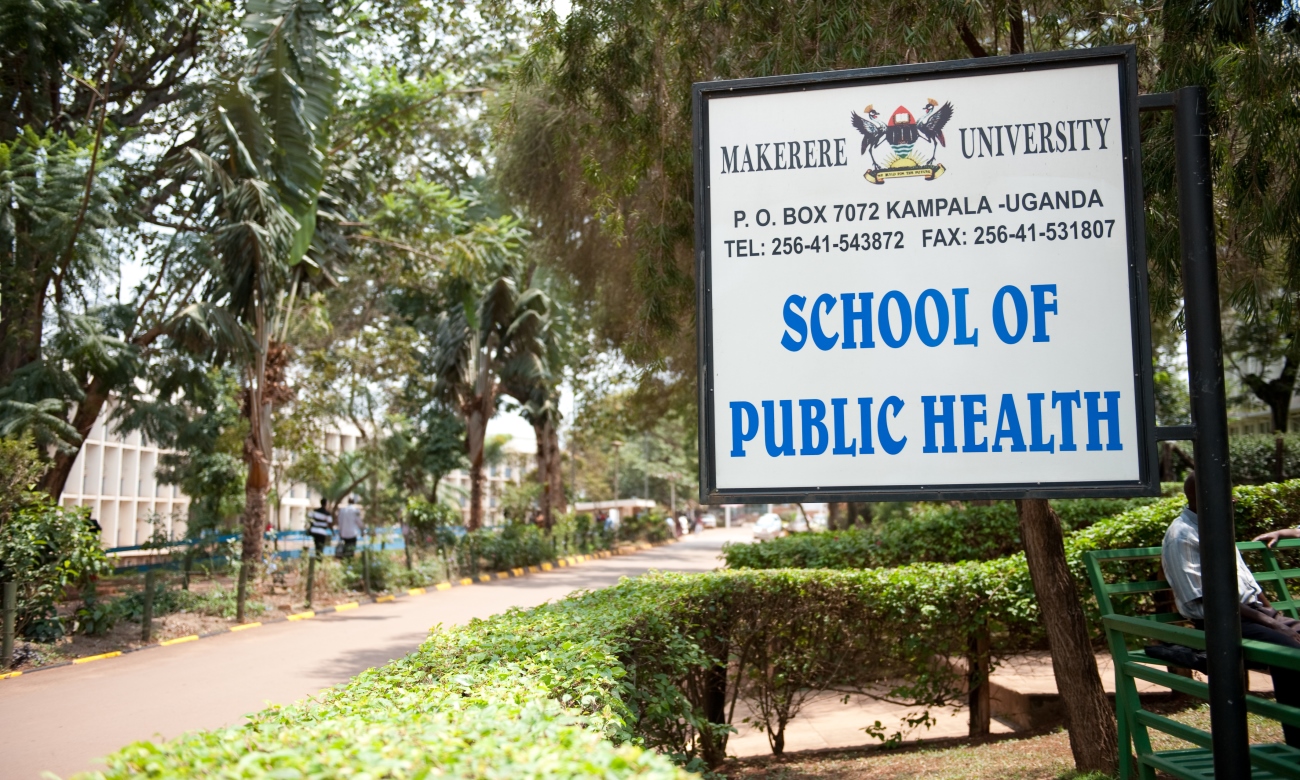 A recent study by the Makerere University Centre of Excellence for Maternal Newborn and Child Health (MNCH), School of Public Health (MakSPH) has shown that preterm infants at 6.6 months of corrected age are at a high risk of developing neurodevelopmental disability of 20.4%, and severe disability of 3.3%, especially those with malnutrition.
Researchers recommend improvement in health system readiness to be able to provide follow-up care with emphasis on improving nutrition and continuity of Kangaroo Mother Care at home. Study conducted among 454 babies in a cohort study at birth.
In Uganda, 14% of 1.6 million live births annually are estimated to be preterm. This is according to data obtained from Uganda Bureau of Statistics (UBOS) demographic and health survey 2016 and the 2012 World Health Organisation (WHO) report titled; "Born too soon; The global action report on preterm birth."