Mak Adds Thermal Imaging, 3D Printing to Fight Against COVID-19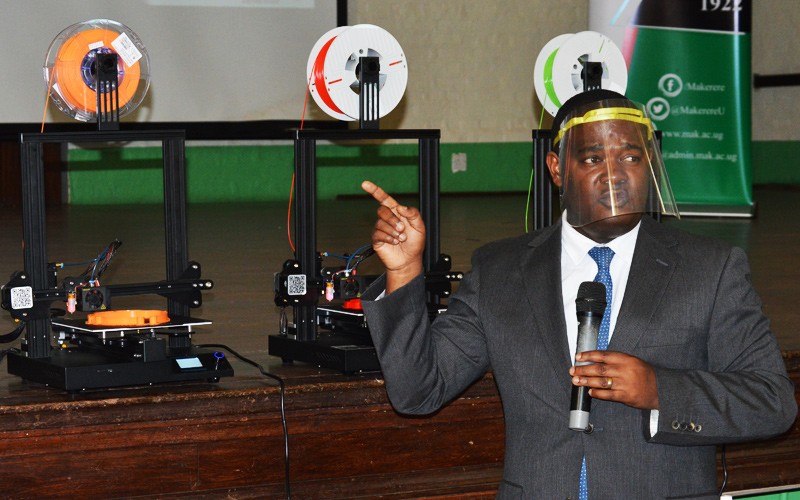 Makerere University under the Department of Agricultural and Bio-Systems Engineering (DABE), College of Agricultural and Environmental Sciences (CAES) on Friday 28th August 2020 unveiled three new additions to help control the spread of COVID-19 in public spaces. The Thermal Imaging for detection of COVID-19 as well as Three-Dimensional (3D) printing of biodegradable face shields and components for the Bulamu Ventilator are all aimed at boosting the contribution of local content to the fight against the pandemic.
The Principal Investigator of the project and Chair, DABE Prof. Noble Banadda while welcoming participants to the unveiling acknowledged the support of Makerere University Health Services led by Prof. Josaphat Byamugisha and the University of Liverpool in helping to develop the Thermal Imaging component.
"Although the hardware already exists in the public domain, our academic contribution has been the use of Artificial Intelligence (AI) and Machine Language (ML) to develop an algorithm that can; unlike the temperature gun, take readings from four places – the throat, mouth, nose and forehead and come up an average temperature" he remarked.
Prof. Banadda shared that over 7,000 images obtained with the help of the University Hospital were used to train the algorithm which can enable the Thermal Imaging to detect people with flu-like symptoms unlike the temperature gun. He noted that researchers at the Massachusetts Institute of Technology (MIT) and partners had trained an algorithm that can identify COVID-19 from a cough and this would be integrated into the Thermal Imaging setup in the future.
He thereafter unveiled the 3D printing aspect with which the project had produced biodegradable face shields and components for the Bulamu Ventilator. "The shield component is made of acetate; a biodegradable polymer of wood and cotton, while the clasp was designed in consultation with a professor of medicine to ensure that it doesn't form mist and is comfortable to wear."
The reusable face shield also has antimicrobial properties, is easy to clean and is expected to retail for approximately UGX 5,000. The 3D Printer, said the PI can also be used to print three dimensional organs for disciplines of medicine, building models for architecture and any other programmes that rely on objects for teaching.
The Director of Quality Assurance Dr. Vincent Ssembatya and initiator of the Bulamu Ventilator innovation also made a brief presentation on how 3D printing has greatly aided the project. "Using the 3D printer, we are now able to print eleven components of the pneumatic system."
In his remarks the Vice Chancellor, Prof. Barnabas Nawangwe thanked Prof. Banadda, Dr. Ssembatya and their respective teams for the efforts invested in contributing to the fight against COVID-19. "3D printing gives very accurate dimensions and has brought about a huge revolution in technology."
The Vice Chancellor recognized the presence of the Chairperson Petroleum Authority of Uganda (PAU) Board of Directors Dr. Jane Mulemwa and Representative of Operation Wealth Creation (OWC) Lt. Gen. Charles Angina and thanked all partners for sparing time to attend the unveiling. "We are operationalizing the Intellectual Property (IP) office and are expecting to build a Science and Technology park where all our disciplines will work together to develop even more innovations."
Introducing the Special Guest Lt. Gen. Angina, the Deputy Vice Chancellor (Academic Affairs), Dr. Umar Kakumba paid tribute to Gen. Caleb Akandwanaho and OWC for supporting the College of Business and Management Sciences (CoBAMS) Annual Entrepreneurship Expo. "The expo has over the years nurtured a lot of innovations into small businesses where our young people have been gainfully employed as part of small scale industries and contributed to the country's development."
In his remarks Lt. Gen. Angina commended the University leadership for the continued innovations that prove that Makerere can be the number one Higher Education Institution on the continent. "By coming up with such innovations, you have been patriotic and contributed to the global call for the fight against COVID-19."
Lt. Gen. Angina remarked that the Kiira Motors Corporation (KMC) and other outstanding innovations have paved the way for new ones to follow in their footsteps. "With the manufacture of Electric Vehicles (EVs) in Uganda we will be able to have a double score on cars that can be powered by petroleum products and electricity."
The Deputy Chief Coordinator OWC tasked the Bulamu Ventilator innovators to quickly secure approval for the essential device and produce as many as possible so as to meet the demand not only in Uganda, but the rest of the Africa. He equally tasked the Thermal Imaging team to expand their scope to night vision devices so as to enhance the nocturnal operations of security agencies.
He concluded his remarks by appreciating the President and Commander in Chief of the Uganda Peoples' Defence Forces, H.E. Gen. Yoweri Kaguta Museveni for his leadership that recognizes the contribution of the academia, research and innovations to national development.

Article by Public Relations Office
Assoc. Prof. Meya Recognised Among Top 1% Global Experts in Cryptococcosis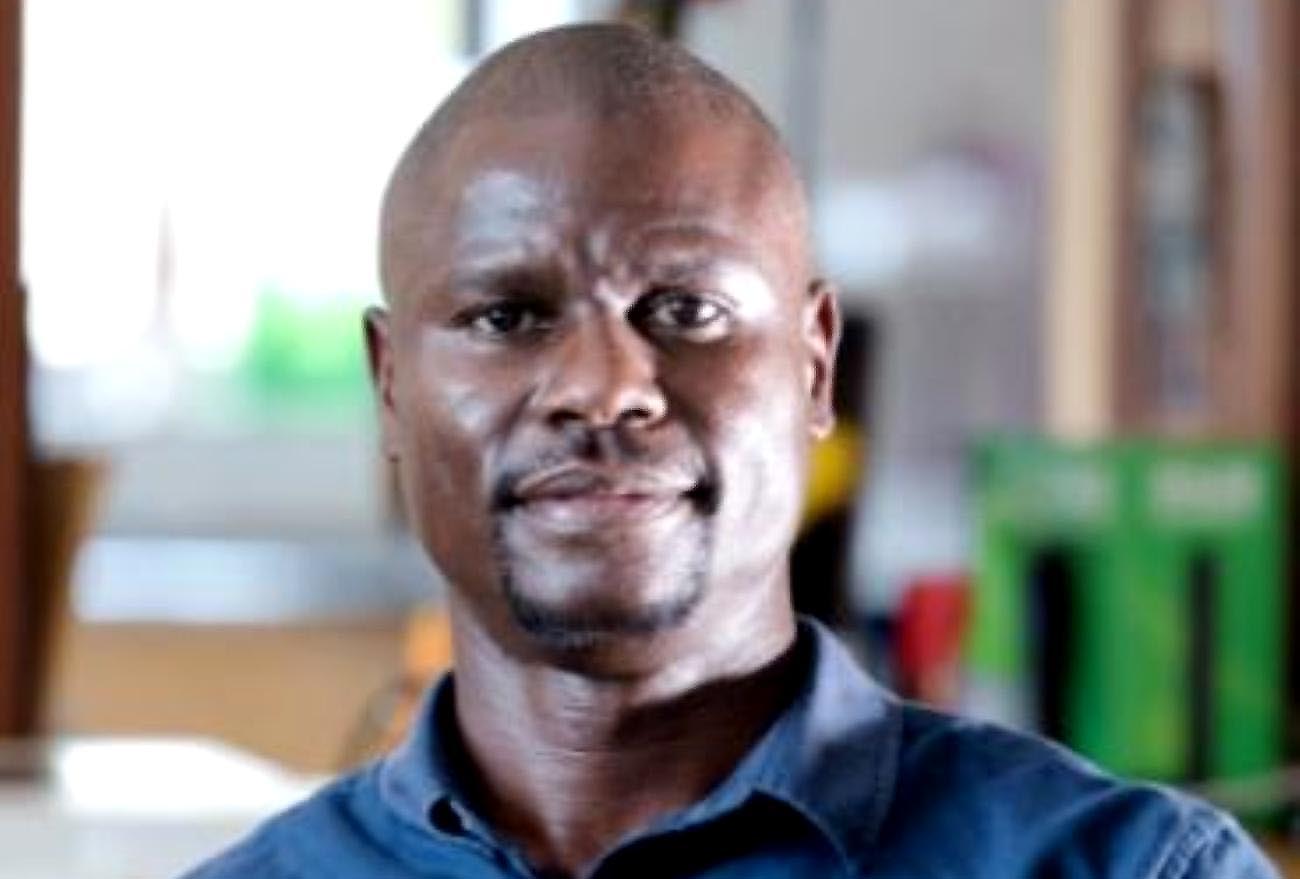 Featured image: Assoc. Prof. David Meya, College of Health Sciences, Makerere University, rated among the top 0.077% Global Experts in Cryptococcosis, September 2020. Photo credit: UMN Global Health Center
As we mark the Fungal Disease Awareness Week, 21st to 25th September, 2020, the Infectious Diseases Institute (IDI), Makerere University brings to light the recognition of its former post-doctorate fellow and researcher, Assoc. Prof. David Meya among the top 0.077% of 11,741 published authors worldwide on Cryptococcosis. The ranking by Expertscape is based on his contribution to 61 articles on the topic published between 2010 and 2020.
Dr. Meya is an Infectious Diseases physician and an Associate Professor in the Department of Medicine at the College of Health Sciences (CHS). He has has been involved in clinical research of central nervous system infections and complications, with a focus on HIV Immune Reconstitution Inflammatory Syndrome (IRIS) and has led epidemiological and translational research studies as well as randomized clinical trials In prevention and treatment of Cryptococcus meningitis.
He is an Adjunct Associate Professor in the Division of Infectious Diseases and International Medicine at the University of Minnesota (UMN), where was in May 2017 awarded the Honored International Academician award from the UMN Global Programs and Strategy (GPS) Alliance.
We congratulate Dr. Meya upon his meritorious recognition.
Related article
Mak's Assoc. Prof. Waiswa Rated Among Top 1% Global Experts in Infant Mortality
Mak's Assoc. Prof. Waiswa Rated Among Top 1% Global Experts in Infant Mortality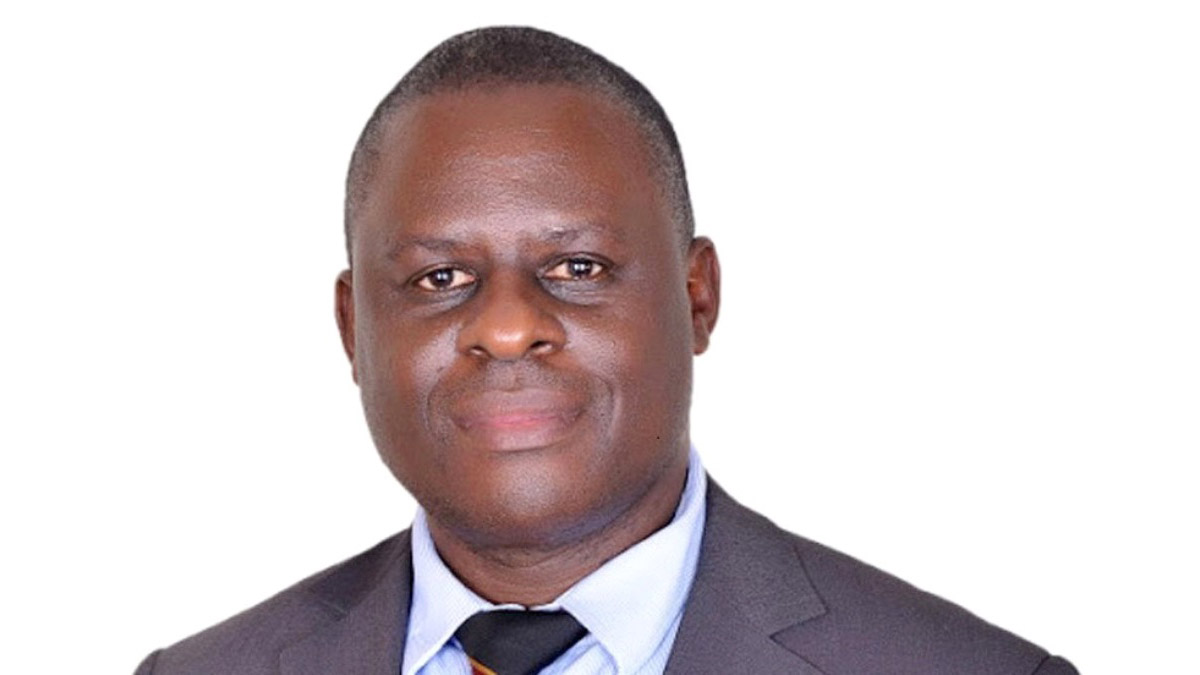 Assoc. Prof. Peter Waiswa, Team Leader of the Makerere University Centre of Excellence for Maternal Newborn and Child Health at the School of Public Health has been rated as one of the leading experts in Infant Mortality globally by Expertscape. According to the website, he ranks among the top 0.22% of 24,586 published authors worldwide on Infant Mortality. Dr. Waiswa's ranking was based on 31 articles published between 2010 and 2020.
Expertscape is a platform that searches PubMed's database and ranks experts according to publications on medical topics in the past ten years. PubMed is a free search engine maintained by the US National Library of Medicine at the National Institutes of Health.
The platform that considers itself 100% objective further states, "experts listed by Expertscape have demonstrated their expertise by putting their knowledge on paper and getting it through the rigorous review process that characterizes scientific publication."
We congratulate Assoc. Prof. Peter Waiswa upon his valuable contribution and recognition.
Related articles
Congratulations Prof. Waiswa upon WHO Advisory Board Appointment
Assoc. Prof. Peter Waiswa Discusses Ugandan State of Maternal & Neonatal Health on NBS TV
CDC Director MAT Centre Pre-launch Visit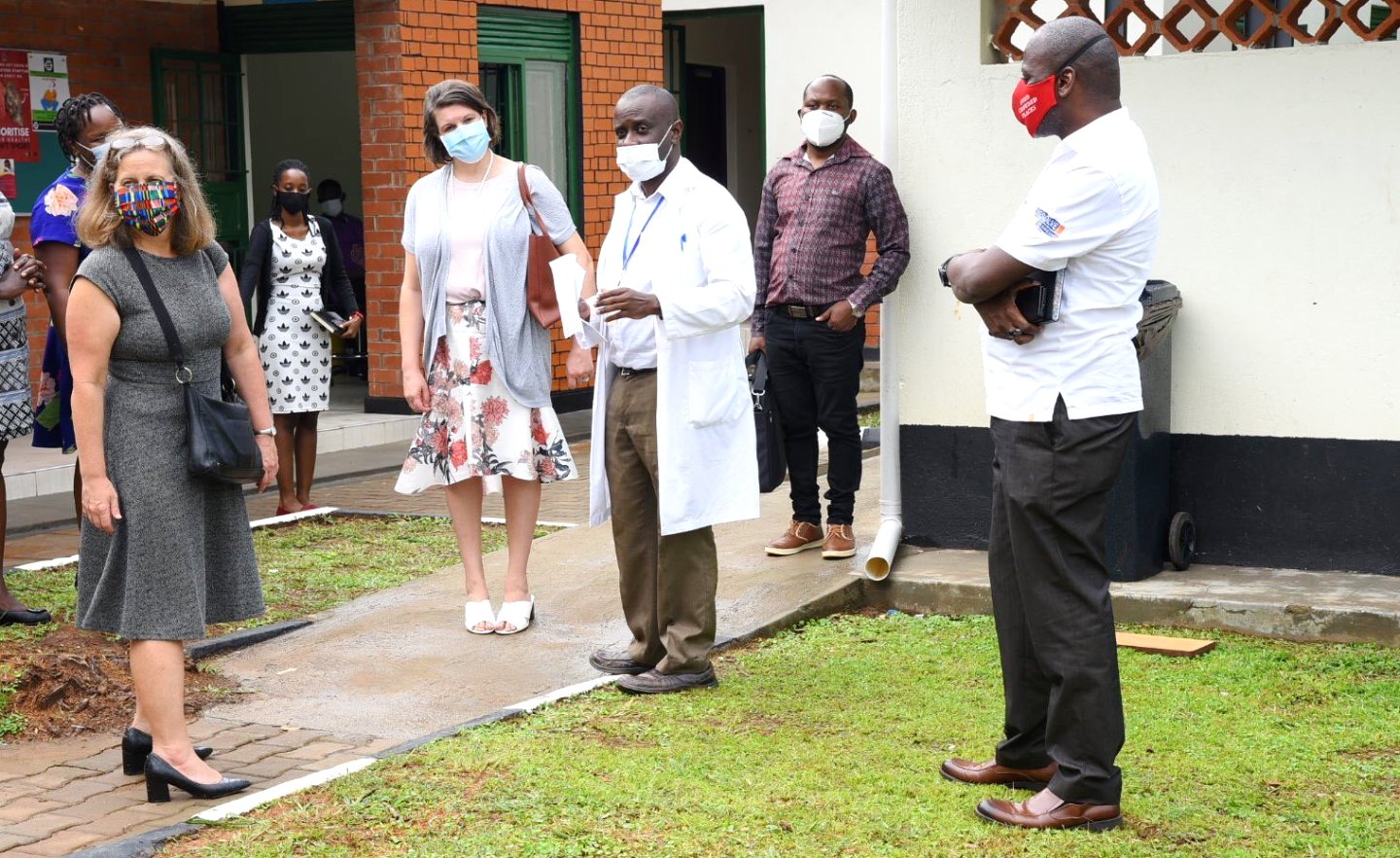 CDC Uganda Country Director, Dr. Lisa Nelson made a pre-launch visit to the newly established Medically Assisted Therapy (MAT) centre for personnel who administer drugs by injection at Butabika National Referral Mental Hospital. The centre was established with support from PEPFAR through CDC.
The Executive Director Dr. Andrew Kambugu, Dr. Joanita Kigozi and Dr. Martin Ssuuna represented the team from Infectious Diseases Institute (IDI).
Related articles
IDI Supports MAT Centre Operations