IDI supports Rakai COVID-19 Taskforce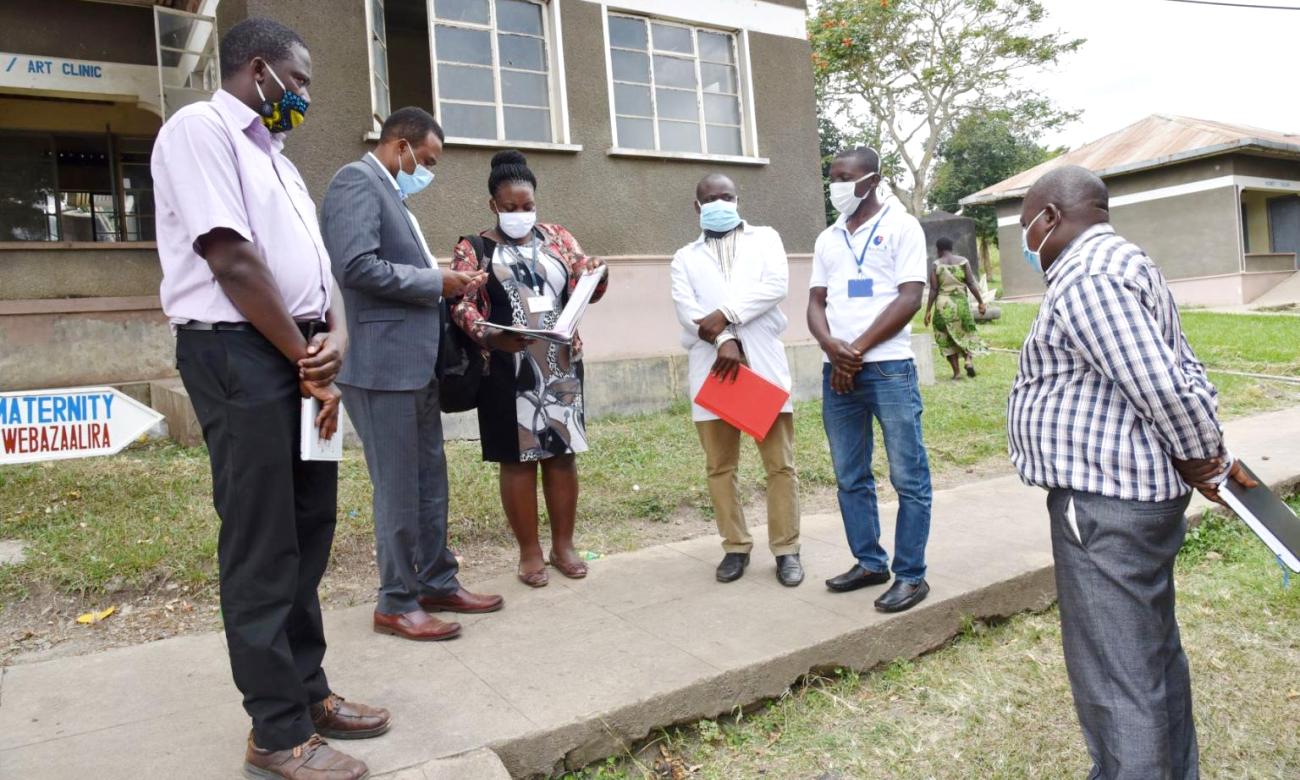 Dr. Mohammed Lamorde, the head of the Global Health Security Programme at the Makerere University Infectious Diseases Institute (IDI) accompanied Dr. Allan Muruta the Commissioner Integrated Epidemiology, Surveillance and Public Health Emergencies, Ministry of Health (MOH) on a two-day support supervision visit to Rakai district last week. IDI recently joined Rakai Health Services Program (RHSP), another Centres for Disease Control and Prevention (CDC)-supported implementing partner to work in the region on COVID-19 surveillance. IDI has since mentored 651 VHTs in COVID-19 surveillance for Rakai and Kyotera districts.
Fourteen Task Force members in Kyotera district were also trained and an alert management system established.
Christine Zawedde, the Kyotera cluster coordinator from RHSP, said three out of four districts in her cluster have reported local transmission.
The district leadership was advised that all the measures by partners are aimed at keeping the pandemic at bay until a vaccine has been discovered and rolled out. Rakai's borders with Tanzania are porous and community transmission remains an imminent threat to the work done so far by the COVID-19 task force.
The district task force was lauded for promptness in diagnosis, which was said to be the reason Uganda has continued to present good reports in comparison to her neighbours. The team was encouraged to continue strengthening the COVID-19 surveillance and create a buffer of the region.
Dr. Lamorde encouraged the task force to engage the Call for Life Interactive Voice Response (IVR) programme run by the Academy for Health Innovation within IDI for patients who have been released from quarantine.
"The system helps with triage as only the clients who are in the most danger or present a risk to the community will be followed up by health workers. This will help solve the issue of transportation to monitor clients after release," he said.
As part of the national response in the fight against COVID-19 in Uganda, the Academy for Health Innovation is working tirelessly through a partnership between IDI and MOH. Through this agreement, a team of software engineers and medical professionals have developed a pilot project that will facilitate the management of the large numbers of COVID-19 patients. This pilot project is an adaptation of the Call forLife (C4Life) project that has successfully facilitated the management of Tuberculosis and HIV/AIDS patients. It uses basic mobile phones (Katorch) through a voice automated call system known as IVR; a computer assisted patient management system. It is accessible, easy to use and has the potential to be widely applicable. lt is an intelligent technological health innovation that supports front line workers to track all COVID-19 patients; these include recovered patients, those that have left quarantine and contacts of the patients.
MOH is already tracking over 240 people who have completed their mandatory quarantine using this system. These individuals have begun receiving these voice automated calls to monitor their conditions such that they can self-evaluate and report any symptoms.
By Tracy Ahumuza, Corporate Communications Specialist, IDI
MU-JHU Position: Training & Development Coordinator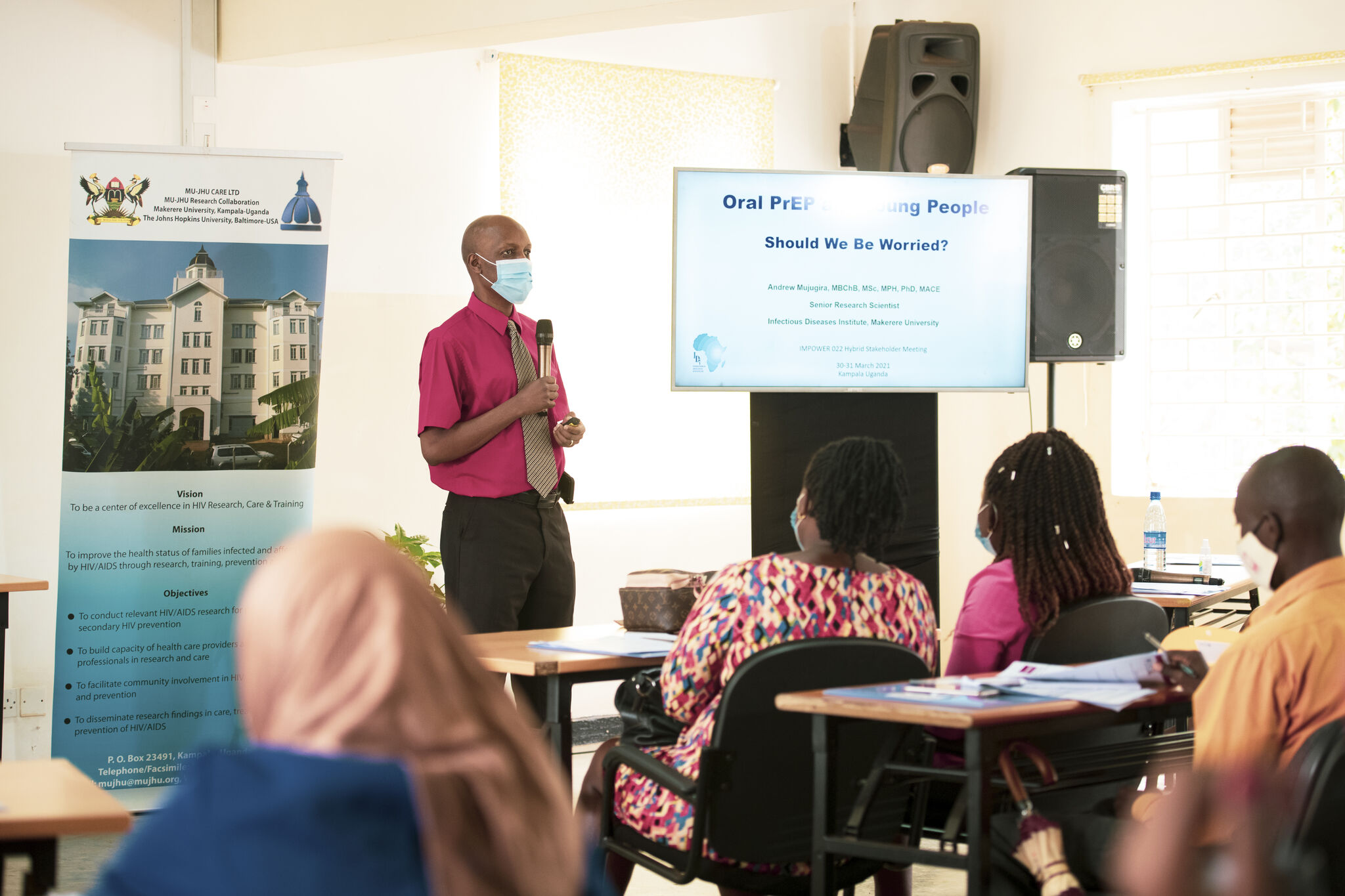 The Makerere University-Johns Hopkins (MU-JHU) Research Collaboration – MU-JHU CARE LTD, a Kampala – based equal opportunities Clinical Research and Service Delivery Organisation with more than 350 employees is seeking interested, committed and reliable professionals with the described qualifications to apply for the position of Training & Development Coordinator.
Training & Development Coordinator – 1 position Description and purpose:
The successful candidate has overall responsibility to plan and administer programs to ensure that employees have the skills and knowledge to compete effectively and meet the organization's business objectives including direct training as well as support to content specialist trainers. The successful candidate will be responsible to liaise with middle management to identify training needs and support talent retention and development strategies with senior management.
Required qualifications and profile:
The successful candidate will be an experienced professional with hands on experience coordinating training and development programs in a large corporate setting, preferably in a similar health and/or research environment. The ideal candidate must possess a minimum of Bachelor's degree in Education, Training, with a post graduate degree in HRM or a Bachelor's degree in Human Resources Management. A relevant Masters level degree is desirable. The candidate should have proven ability to complete the full training cycle (assess needs, plan, develop, coordinate, monitor and evaluate) and experience with e-learning platforms and direct adult training and train the trainer methods, including on-the-job coaching and mentorship programs. The ideal candidate must have a minimum of 3 years' experience working as a HR practitioner. Experience working in a health related research organization will be an advantage. The candidate should be MS Office proficient in MS Office packages. The ideal candidate should possess advanced organizational skills with the ability to handle multiple assignments and strong written and oral communication skills as well as emotional intelligence.
The holder of this position will work under the supervision of the Human Resources Manager and will be responsible for the following duties:
1. Develop a robust training policy and related procedures for the organization
Conduct organization-wide training needs assessment and identify skills or knowledge gaps that need to be addressed
Mapping out training plans and schedules, designing and developing training programs (outsourced or in-house)
Source for training opportunities to enhance staff performance including advanced training for individuals and participation in grant writing for training/capacity development grants
Assess training effectiveness and determine the impact of training on employee skills and KPIs Maintain an updated training database
Ensure planning, monitoring, and appraisal of employee work results by training managers to coach employees.
2. Support the HR team carry out HR operational requirements.
Applications with complete C.Vs, including 3 referees and their full addresses or contact Tel No.'s, copies of academic certificates and testimonials, should be hand delivered to: The Human Resources Manager, through reception Room 10, located in MUJHU 1 Building or sent by email (application should not exceed 15MBs) to hroffice@mujhu.org – not later than 30th April, 2021 by 5:30p.m. Only short listed applicants will be contacted.
World Health Day 2021 – Op-Ed by H.E. Veestraeten & Prof. Wanyenze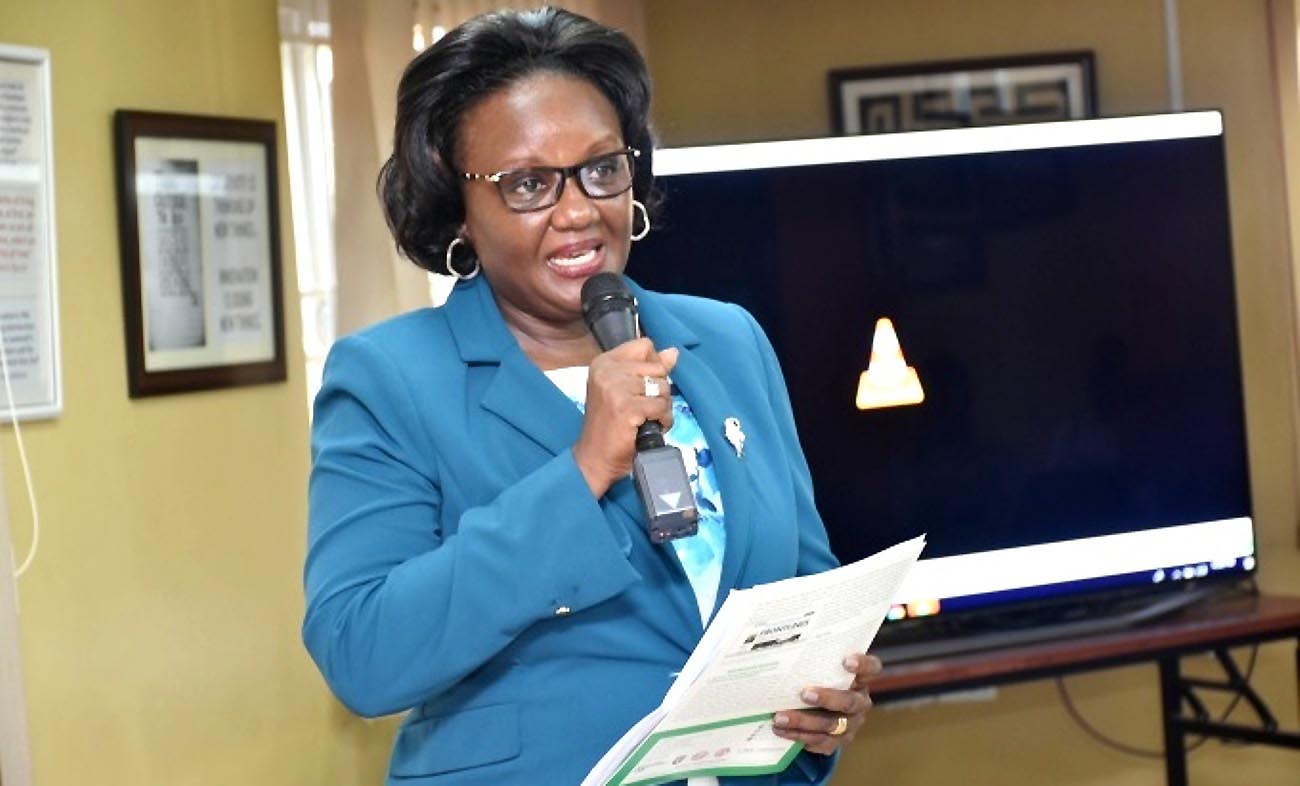 As we mark World Health Day 2021, the Ambassador of Belgium to Uganda, H.E. Rudi Veestraeten and the Dean, School of Public Health, Prof. Rhoda Wanyenze co-authored an Op-Ed in line with the theme; Health Equity, a fairer and healthier world.
"Health is critical and especially now, with COVID-19 so World Health Day should receive more attention" remarked Prof. Wanyenze.
Please click the link below to access the full Op-Ed
https://uganda.diplomatie.belgium.be/sites/default/files/content/download/files/world_health_day_2021_op-ed.pdf
The same has been published on Page 18 of the New Vision, Wednesday, April 7, 2021 under the Comments & Letters Section
Mak Unveils C-19: COVID-19 Mobile Contact Tracing App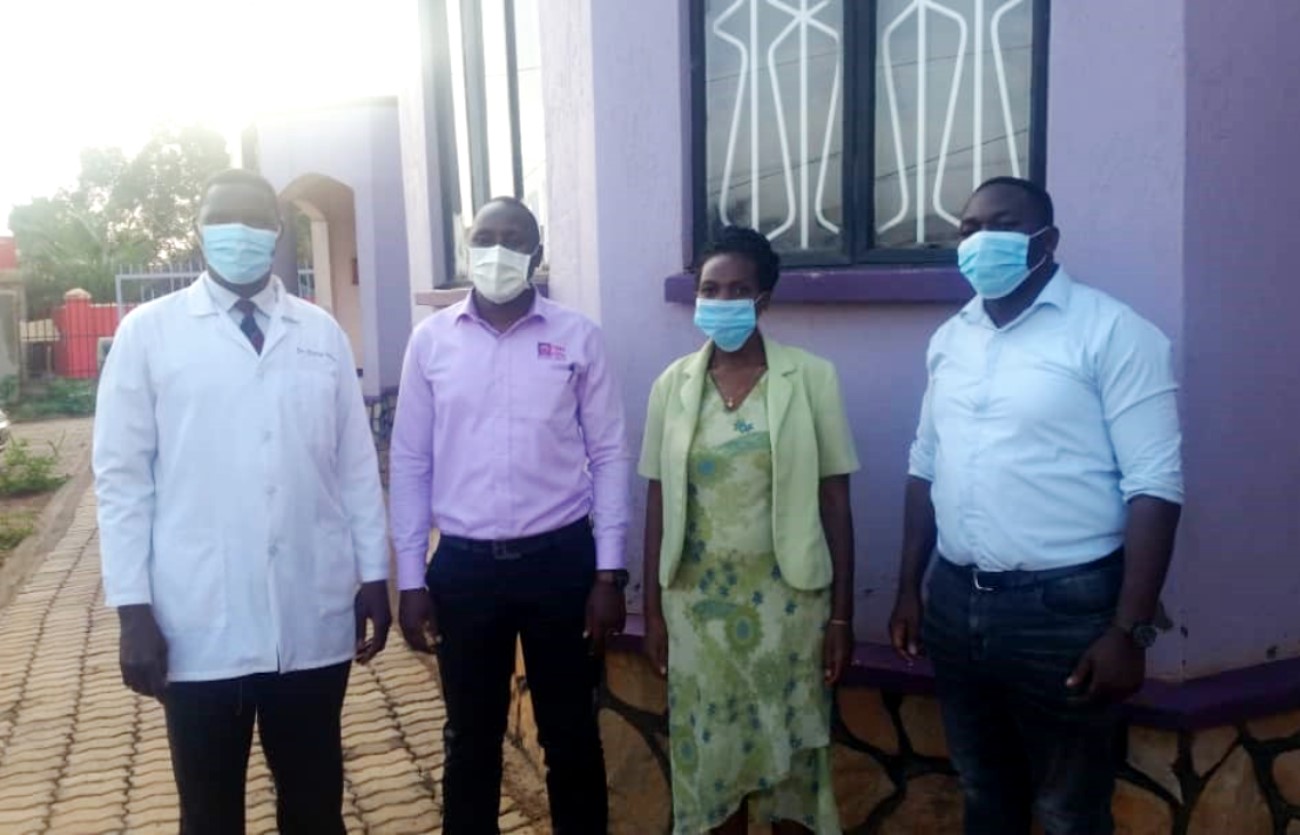 By Joseph Odoi
As government strives to reduce community spread of the novel coronavirus, Makerere University researchers have developed a mobile application that digitizes the investigation, case, and contact tracing for COVID-19 in communities.
With Funding from Makerere University Research and Innovations Fund (MakRIF) and Partnership from Child and Family Foundation Uganda and Ministry of Health, the application is designed to investigate case and contact tracing for COVID-19, timely reporting and decision making to improve the efficiency of COVID-19 response and capture community feedback.
While launching the application under project titled ''C-19'', Dr. Harriet Babikako the Project lead said her team was inspired by the need to address the existing challenges of trekking long distances for hours to ascertain information in regards to suspected or even confirmed cases of COVID-19, delayed communication and responses, loss of contact lists and transcription errors .
"Currently, Community surveillance teams have to trek distances for hours to go and find information from suspected or even confirmed cases. Therefore, challenges such as incomplete identification of contacts, delays in communication, and response, loss of contact lists, inadequate data collection, and transcription errors exist, making the system slow, and inefficient. Thus information exchange between involved parties is too slow and expensive because, by the time a response is generated, the disease is spreading. This means the spreading of COVID-19 is not solved efficiently" she explained in a zoom session on Tuesday 30th March 2021.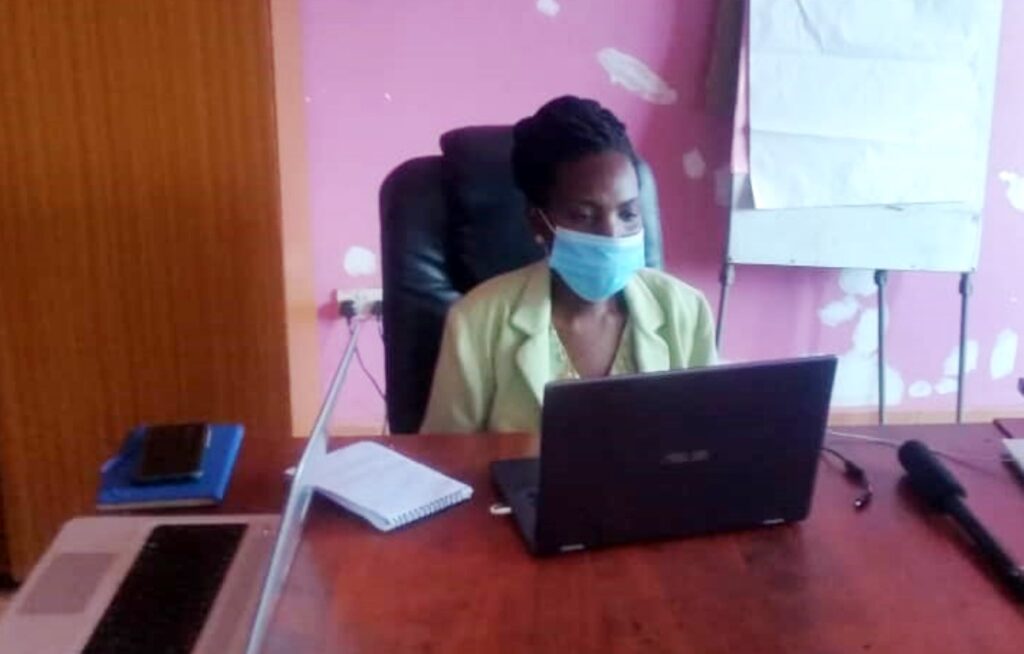 As part of the features, the application has various COVID-19 self-assessment components on its Epi -COVID Tracer Dashboard. This enables the app user to undergo self-screening or screen others using different prompts.
The application also boasts of support services that include COVID-19 Laboratories and hospitals all authorized by Ministry of Health. One can consult Private Doctors and Counsellors on the App through WhatsApp or other call options.
In terms of reservation, the application system enables one to book for a COVID-19 test from the nearest authorized laboratories .This is done by filling a lab booking form which locates the test center near you. Additionally, it also enables different user's right from Community, VHTs District Task Force DTF and National Task Force NFT by filling the contact tracing form.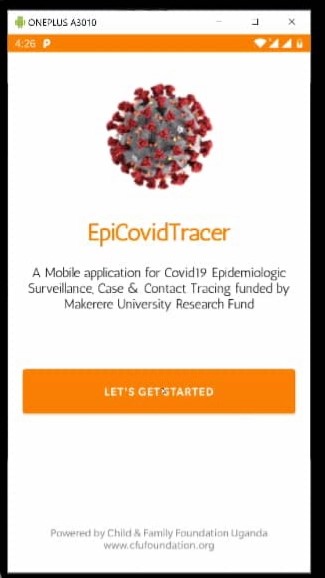 On the relevance of the app to School going students, Haron Gichuhi a health informant and Co-Investigator of the project; said this mobile application empowers health workers within schools to appropriately screen students and allows them to manage/refer probable cases of COVID-19.
"Now that schools are open, School nurses can use the application to carry out tests and refer students to nearest laboratories with in their proximity.
"The application also gives the students their COVID-19 status and advises them on preventive methods like self-isolation" noted Dr. Gichuhi of the ambitious innovation which took 6 months to create
On cost effectiveness, the researchers say the app addresses the concept of high costs to government. This is because the application is available to communities like market vendors, schools, individuals.
On uniqueness of the mobile innovation, the researchers cited decision making, quick scanning of information, case management and peer checking for other colleagues as special qualities ingrained in the application.
With this app, one can  book a COVID-19 test with MOH authorized Laboratories and hospitals on the application and also  consult a private doctor or a private counsellor. This can be done within any citizen's comfort with just a click on their phone.
Mr. Ezekiel Musasizi from Department of Pediatrics and Child Health, Makerere University, (Co-investigator) says the team is in the process of translating the app to different languages to cater for all classes of society
In her final remarks, Dr. Harriet Babikako thanked Ministry of Health, Partnership from Child and Family Foundation Uganda and the Government of Uganda efforts towards supporting research and innovation through Makerere University Research and Innovations Fund (MakRIF). The launch attracted virtual participants from academia, non-government organizations, students, development partners, the media and Ministry of Health.
MORE ABOUT PROJECT TEAM
The C-19 Project was implemented by researchers and innovators from Makerere University with funding from Makerere University Research and Innovations Fund (MakRIF).
The Project /innovation team includes; Dr. Harriet Babikako from Makerere University School of Public Health (Principal Investigator), Dr. Vincent Michael Kiberu (Co-Pi) and Dr. Ezekiel Mupere (Co-Pi) from Department of Pediatrics and Child Health and Mr. Haron Gichuhi (Co-PI and Health Informant).