Mak's Findings: Index Patients Diagnosed and Treated for COVID-19 in Uganda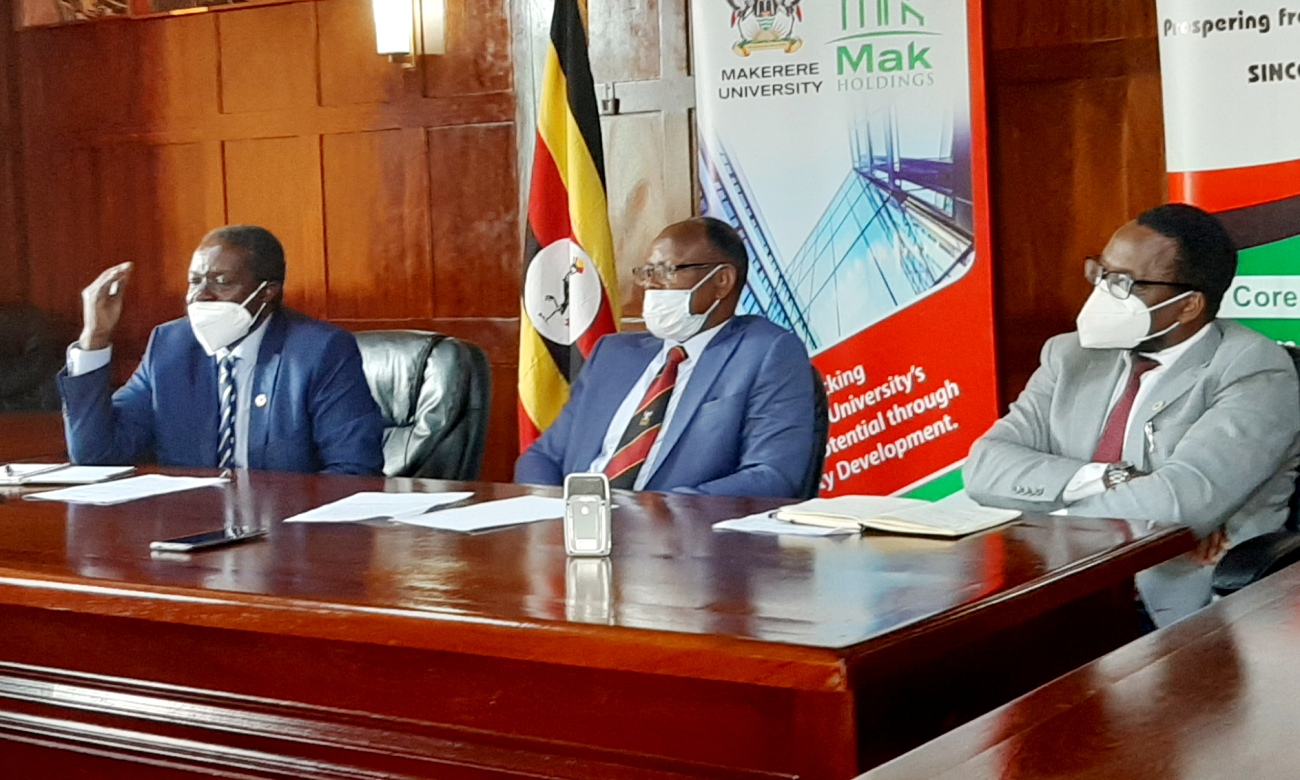 On Tuesday May 26, 2020, Makerere University (Mak) Management converged to share findings from the study whose aim of was "to detail characteristics and treatment outcomes of the Coronavirus (COVID 19) pandemic patients in Uganda". Coronavirus being a novel and rapidly changing pandemic, it was essential that early lessons are obtained and synthesised. These lessons directly feed into the clinical care guidelines and eventually contribute to the country's interventions. With funding from the Government of Uganda through the Makerere University Research and Innovations Fund (Mak-RIF), this study was successfully executed.The multidisciplinary research team was coordinated through the Makerere University Lung Institute (MLI) http://mli.mak.ac.ug/. This study was led by Dr. Bruce Kirenga, Director MLI, and Prof. William Bazeyo, Acting Deputy Vice Chancellor (Finance and Administration)-Mak as Principal Investigators. Other investigators were from Entebbe Regional Referral Hospital, Johns Hopkins University, Baltimore, USA, Uganda Peoples Defence Forces, The AIDS Support Organisation (TASO), Mulago National Referral Hospital, the College of health Sciences and Ministry of Health, Uganda.
This study was conducted on the first group of COVID-19 patients (56) at Mulago National Referral hospital and Entebbe Regional Referral hospitals. Patient enrolment has continued but below we exultantly share preliminary findings.
· Age: the average age of the patients in Uganda was 33 years which is far lower than has is reported elsewhere. In Wuhan China, for example, the average age is 59 while in the New York USA it is as higher (63 years). Older the patient have higher risk of severe forms of disease and ultimately the poorer treatment outcomes.
· Patient Presentation: Among symptomatic COVID-19 patients, the most common symptoms were fever (21.4%), cough (19.6%), runny nose (16.1%), headache (12.5%), muscle aches (7.1%) and fatigue (7.1%). However, more than half of the patients did not have any of these symptoms at diagnosis. These patients were largely travellers returning from abroad or contacts of the confirmed/symptomatic patients above. Unlike our patients, 80% of hospitalised patients in the western world were symptomatic.
· Laboratory and imaging tests: Coronavirus has been reported to affect almost all body tissues. To understand the extent of damage, our research team performed a wide range of tests including complete blood count, kidney function tests, troponin, lactate dehydrogenase which identifies for signs of damage to a wide range of body tissues, and C reactive protein-CRP. We found that 10.6% of the patients had low white blood cells, 26.3% had low platelets, and 12.8% had evidence of liver damage, while the kidneys had no evidence of damage. 12.2% had evidence of systemic inflammation and 43% had evidence of nonspecific tissue damage. The electrical heart activity was also checked with the electrocardiograph (ECG). All patients had normal ECG with the exception of one who had a very slow heart (bradycardia). We checked lung damage with Chest X-rays (CXR) and computed Tomography scans (CT). Three patients had significant lung damage on CT and CXR; while one of them had low oxygen saturation.
· Comorbidity: About 25% of the initial patients (56) reported having other medical conditions in addition to COVID-19. Most of the conditions reported were the non-communicable diseases such as hypertension and diabetes which accounted for 11%. High blood pressure (higher than 140/90mmHg) was the most common comorbid disease recorded in up to 28% of the patients.
· Disease severity: At admission, only 2 patients met the classification of severe disease (patients with severe respiratory symptoms requiring oxygen therapy) while the rest had mild disease. Temperature and oxygen saturation were monitored three times a day. All the patients recovered without the need for admission to Intensive care unit (ICU) or ventilation. This is contrary to what has been observed elsewhere, where 5% of COVD-19 patients required ICU care.
· Treatment: To-date, there is no known cure for COVID-19. The current treatments are meant to alleviate symptoms while waiting for the body to mount an immune response to fight off the infection. The patients were able to recover on supportive care through managing the symptoms, treatment with antibiotics for those who had evidence of bacterial infection, hydroxychloroquine and vitamin C. In instances where the patients had comorbid conditions, proper management of these conditions was part of the treatment.
Conclusion: The initial group of COVID-19 patients diagnosed in the country presented with mild disease and exhibited a clinical course of disease that is quite different from what has been observed elsewhere. Imaging and laboratory tests are critical in management of this disease. Prompt identification of patients and initiation of treatment could help to prevent the development of severe forms of the disease. Frequent monitoring of the oxygen saturation is also critical for rapid patient identification and treatment. In light of the increasing number of cases in the country, these findings help in informing the national preparedness plan for COVID-19 (capacity building of health workers in clinical care for COVID-19, the required logistics, continuous research).
Recommendations
1. Expand testing for COVID-19 in view of the finding that almost half of those confirmed did not have the classical symptoms for COVID 19. Add rhinorrhoea to symptoms for case screening.
2. Efforts should be taken to make clinical, laboratory and imaging tests available at all COVID-19 treatment centres to support proper grading of disease severity. At a minimum, pulse oximetry should be routine in management of COVID patients.
3. Capacity to diagnose and treat non communicable comorbid conditions should be built across the country as part of COVID 19 response. Equipment for proper diagnosis of these diseases should be secured, installed and effectively used.
4. Strengthen monitoring, evaluation and learning as part COVID-19 care. This will allow continued learning of COVID-19 in general and the effectiveness of the different treatments of the disease.
5. Research should be supported including biomedical sciences research. This will allow growth of locally generated evidence to support the country's COVID 19 response.
Acknowledgement
· The Government of the Republic of Uganda, Makerere University Research and Innovations Fund (Mak-RIF), Ministry of Health, Uganda, Uganda Virus Research Institute, Mulago National Referral Hospital, Entebbe Regional Referral Hospital.
· The study participants, all health workers engaged and Makerere University leadership.
Alliance for Global Health and Science 2021 Virtual Institute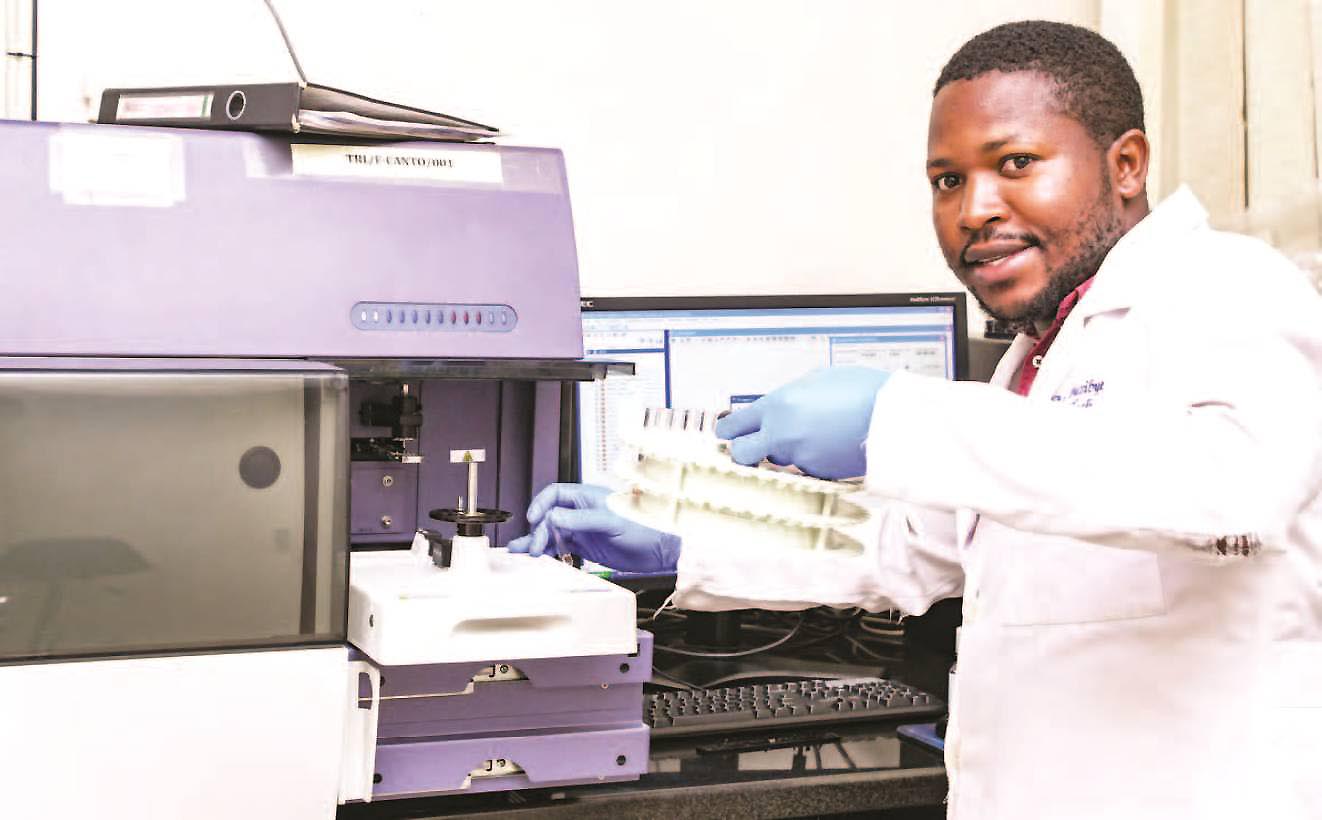 The Alliance for Global Health and Science (the Alliance) is a partnership between the University of California, Berkeley and Makerere University. The Alliance seeks to make a tangible, enduring impact by focusing on locally identified health research needs and strengthening collaborations between faculty at UC Berkeley and Makerere University.
The Alliance Summer Institute is an opportunity for Makerere University students to learn cutting edge, vital skillsets for bioscience researchers from world class scientists from the University of California system, the Chan Zuckerberg Biohub, SciDIP Global, and Makerere University. This year, the Institute will be held completely virtually, keeping in mind the public health crisis of COVID-19.
If you are interested in participating in the Summer Institute, please fill out this application form which can be found at: https://forms.gle/d1WZVBin3sbfyZdF6
All applications require 1) a letter of interest outlining which course(s) you are interested in participating in, how you will benefit from this coursework, and how you intend on using it to advance your scientific career, and 2) an up-to-date resume listing relevant prerequisites, experience, and coursework with references.
Applications are due by June 30th, 2021 at the latest. The courses being offered this year are as
follows:
Introduction to Next Generation Sequencing and Genomic Epidemiology (July 19 – 30)
Bioentrepreneurship: Small Molecule Therapeutic and Diagnostic Development (July 19 – 23)
Bioinformatics: Covid19 Pandemic Genome Sequence Analysis and Phylogenomics (August 2 – 13)
Scientific Diplomacy (August 2 – 13)
Concepts and techniques in modern vaccine design for global infectious disease (July 26 – August 6)
Scientific Grantwriting & Presentation (August 9 – 13)
Please see Downloads for details.
Call for Applications: MakNCD Non-Degree Research Support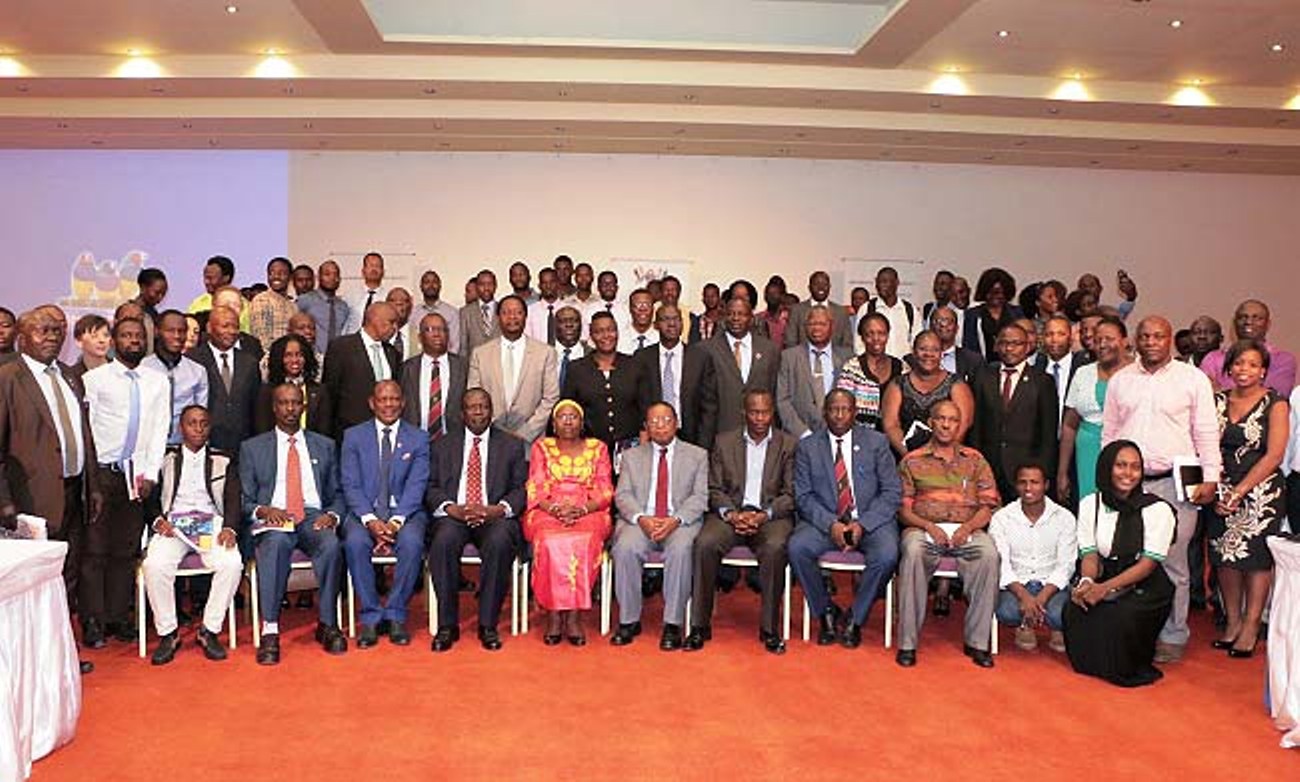 The Makerere University Non-Communicable Disease (MAK-NCD) Research Training Program, funded by the United States National Institute of Health-Fogarty international centre is a collaboration between Makerere University College of Health Sciences and Johns Hopkins University. The overall goal of this training program is to develop a comprehensive mentored research-training program in Uganda that will build local capacity to address the challenges of NCD control and management and promote the use of research findings to inform decision-making and policy.
This call for applications is targeting mainly junior researchers and Graduates at Makerere University with interest in building an independent research career in NCD.
A stipend and mentorship support for up to 12 months will be available to the selected candidates
Criteria for selection:
Must have a concept or a research idea proposal in one of the following NCD areas; Chronic Respiratory Diseases (CRD), Diabetes Mellitus (DM), Chronic Kidney Disease (CKD), Cardiovascular Diseases (CVD) & Hypertension.
Demonstrated interest in NCD research studies focusing on biomedical sciences, Clinical Research, Epidemiology, Implementation Science research and Policy.
Commitment to develop and maintain a productive career devoted to NCD
Must have two (2) mentors in the proposed area of research.
Must commit 40% of their time (2 working days) to the fellowship. A letter of support from an immediate supervisor stating that you can commit this time is required
The following are the broad NCD Research priority areas (themes). Applicants are encouraged to develop concepts from these themes.
(a)   Chronic Respiratory Diseases
(b)  Cardiovascular Diseases
(c)   Diabetes
(d)  Renal diseases
Benefits:
Mentorship
A monthly stipend will be provided upon development of a full proposal and clearance of the proposed study with appropriate IRB
Short courses in Bioethics, Good clinical Practice, Good laboratory Practice, Grant writing, Data Analysis and Manuscript writing.
Support to submit at least 1 paper in an indexed peer-reviewed journal as first author for publication
Fellows that achieve set targets will be supported to apply for additional grant funding to conduct primary research
Platform to develop into an independent Researcher in the NCD field
Application Process:
Email Makncd.chs@mak.ac.ug to request for the application form and CV template
Submit completed application, detailed CV, 2 letters of recommendation, letter of support from immediate supervisor stating that you can commit 40% of your time to the fellowship to Makncd.chs@mak.ac.ug, cc to Program Manager. Dr. Charles Batte dr.cbatte@gmail.com
Deadline for submission of applications: 9th July,2021.
"Only shortlisted candidates will be contacted"
MU-JHU Positions: Locum Midwives/Nurses – WOMANPOWER Study June 2021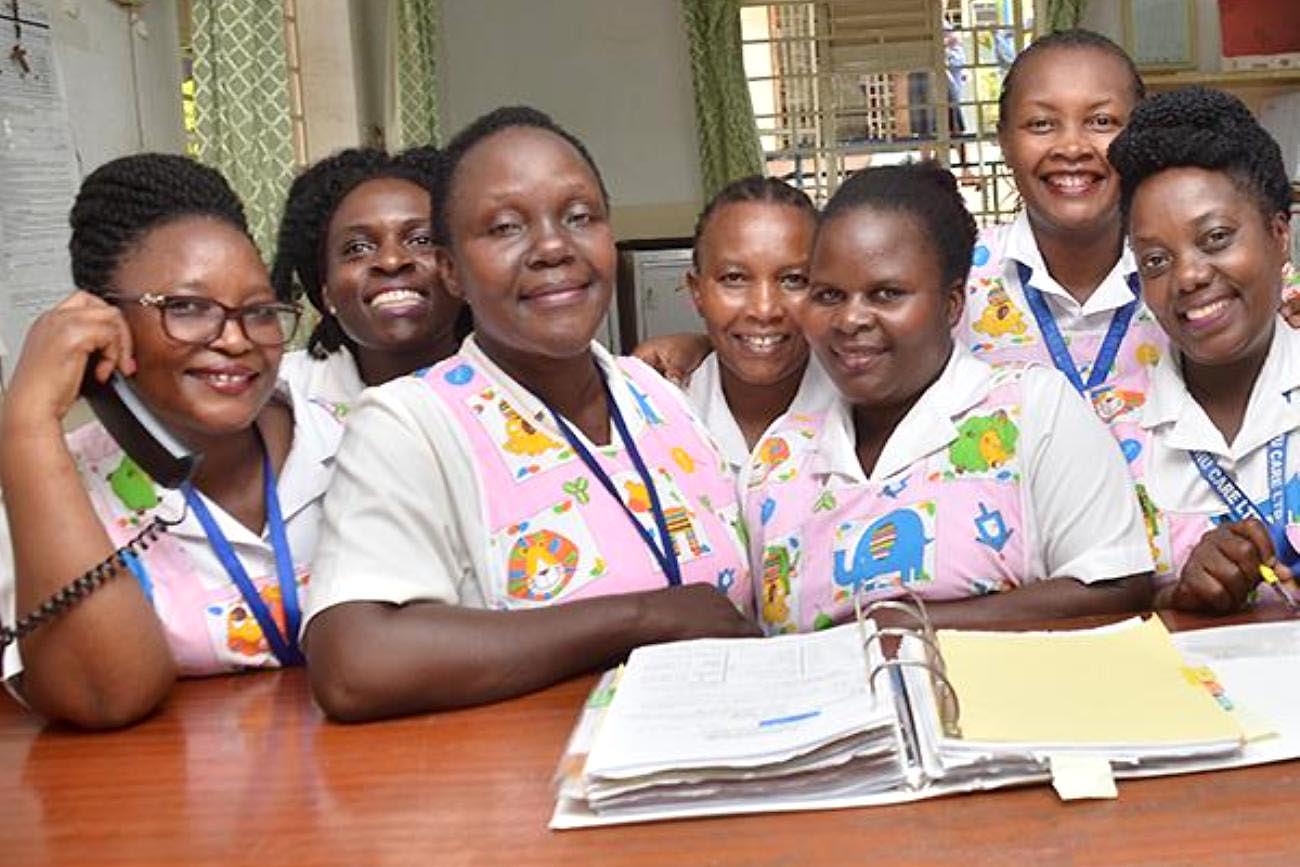 The Makerere University-Johns Hopkins (MU-JHU) Research Collaboration – MU-JHU CARE LTD, a Kampala – based equal opportunities Clinical Research and Service Delivery Organisation with more than 350 employees is seeking interested, committed and reliable professionals with the described qualifications to apply for the Locum positions listed below in support of the EDCTP funded studies. The positions are Locum positions on short term contract for 6 months.
1. Locum Midwife/Nurse: multiple positions
Reports To: Nurse Coordinator
Duty station: MUJHU, Kisenyi HCIV and Kawempe National Referral Hospital
Required qualifications and profile:
A Diploma in Midwifery/Nursing, with current registration for practice from the Uganda Nurses and Midwives councils (UNMC) with interest in working in a busy labour ward with minimum supervision. The candidates are required to have worked for at least three (3) years in a busy health centre/institution. Previous work experience in a clinical research environment and/or with HIV, TB and/or MCH clinical care would be a strong advantage. Computer literacy is required. The successful candidates should be willing and able to work extended duty shifts i.e. 12 hour day, and 12 hour night shifts, including public holidays and weekends.
The holder of this position will work under the direct supervision of the Nurse Coordinator with guidance from the Head of Nursing Section, and will be responsible for the following duties:
Working closely with other health professionals/research staff to obtain consents.
Provide midwifery/nursing care to study participants as well as do phlebotomy, cord blood sampling and other sample collection as required.
Collect data using tablets and laptops.
Participate in study data quality assurance and control.
Any other duties reasonably assigned by the relevant authorities.
Maintain professional GCP/HSP accreditation and complete study specific training as required.
Applications with complete C.Vs, including 3 referees and their full addresses or contact Telephone numbers, copies of academic certificates and testimonials, should be hand delivered to: MU-JHU Human Resource Manager, through the reception on first floor, MUJHU 1 Building – not later than 25th June, 2021 by 5.30pm.
Only short-listed applicants will be contacted. Successful candidates will be expected to start work immediately.