Public Dialogue on the Coronavirus Disease (COVID-19)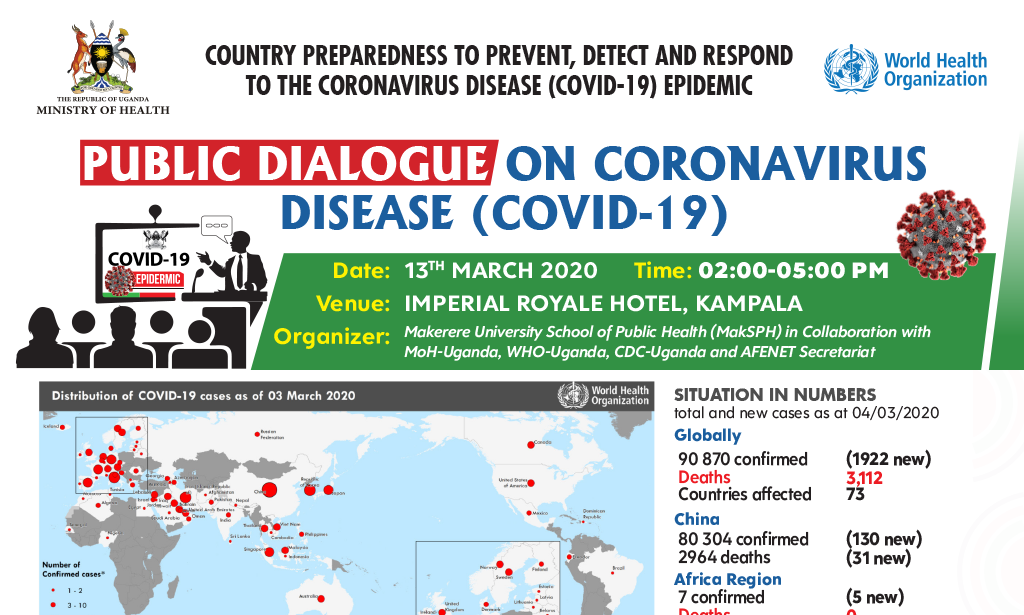 The Makerere University School of Public Health (MakSPH) in collaboration with the Ministry of Health (MoH)-Uganda, World Health Organisation (WHO)-Uganda, Centers for Disease Control and Prevention (CDC)-Uganda and the African Field Epidemiology Network (AFENET) has organized a Public Dialogue on the Coronavirus Disease (COVID-19) scheduled to take place on Friday 13th March, 2020 at the Imperial Royale Hotel, Kampala from 2:00 to 5:00pm.
Theme: COUNTRY PREPAREDNESS TO PREVENT, DETECT AND RESPOND TO THE CORONAVIRUS DISEASE (COVID-19) EPIDEMIC
Objective of the Public Lecture of the Public Lecture:
To contribute to COVID-19 Preparedness in Uganda through;
Providing a platform to educate the general public on the strategies the country is implementing to prevent, quickly detect and expediently respond to the COVID-19 global epidemic in Uganda
Providing a platform to educate the general public on what they should do and what they should not do to prevent themselves and others from getting infected with the COVID-19 virus
Generating potential insights and garnering support from academia and the general public and other key stakeholders to strengthen national preparedness to the COVID-19 global epidemic in Uganda
Speakers will include:
Minister of Health, Uganda
World Health Organization Representative to Uganda
Dean, Makerere University School of Public Health
Basic protective measures against the coronavirus:
Wash your hands frequently with soap and water or use an alcohol based hand rub.
Avoid touching your eyes, nose and mouth. In addition, cover your mouth and nose with tissue when coughing and sneezing.
Maintain a safe distance between yourself and someone who is, sneezing and or coughing (at least 1 meter).
If you have a fever, cough and difficulty in breathing, seek medical care immediately.
Clean and disinfect frequently touched surfaces such as doorknobs/handles, car doors, elevator buttons etc. daily with regular household disinfectant or soap.
All people coming from countries affected by corona virus disease should follow the guidance given by health workers at the airport and other border entry points.
Contact Information:
Doreen Tuhebwe, MakSPH, Email: dtuhebwe[at]musph.ac.ug
Elizabeth Ekirapa, MakSPH, Email: ekky[at]musph.ac.ug
Mr. Atek Kagirita, MoH, Tel: +256-782-909153
Dr. Allan Muruta, MoH, Tel: +256-772-460297
Please see Downloads for fliers
Prof. Bazeyo Named 2021 Tufts University Honorary Degree Recipient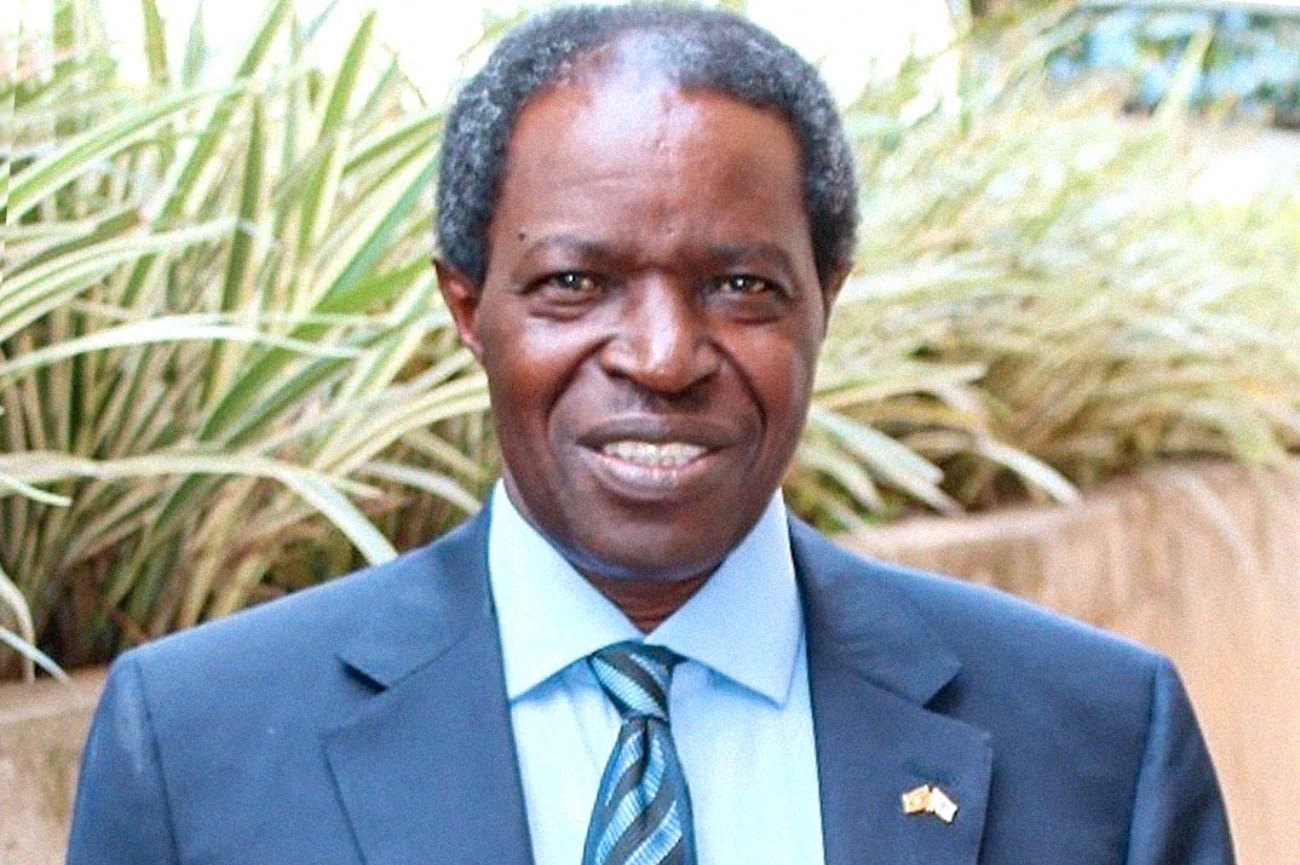 Professor William Bazeyo, a Professor of occupational medicine in the Makerere University School of Public Health (MakSPH) and former Deputy Vice Chancellor (Finance and Administration) has been named as one of six Tufts University honorary degree recipients for the Class of 2021. The announcement published 20th April 2021 on the Tufts University one-stop site for news mentions that Prof. Bazeyo will receive an honorary Doctor of Science degree.
The award is in recognition of Prof. Bazeyo's leadership in research focusing on One Health Innovation and Control of Tobacco use among others. The award also takes note of his service as former Dean MakSPH as well as chair of several boards including Uganda's National Research and Innovation Fund under the Ministry of Science, Technology, and Innovation.
The other recipients named alongside Prof. Bazeyo include; Maria B. Barrett-honorary Doctor of Public Service, Stacey B. Gabriel-honorary Doctor of Science, Hamdi Ulukaya-honorary Doctor of Humane Letters, Ofelia Zepeda-honorary Doctor of Letters, and Bryan Stevenson-honorary Doctor of Laws. The latter will also deliver the commencement address to the Tufts Class of 2021 in a virtual ceremony due to be held on 23rd May.
Makerere University congratulates Professor William Bazeyo upon his meritorious achievement.
Click here for the full announcement.
Embassy of Japan Donates Books to Mak Library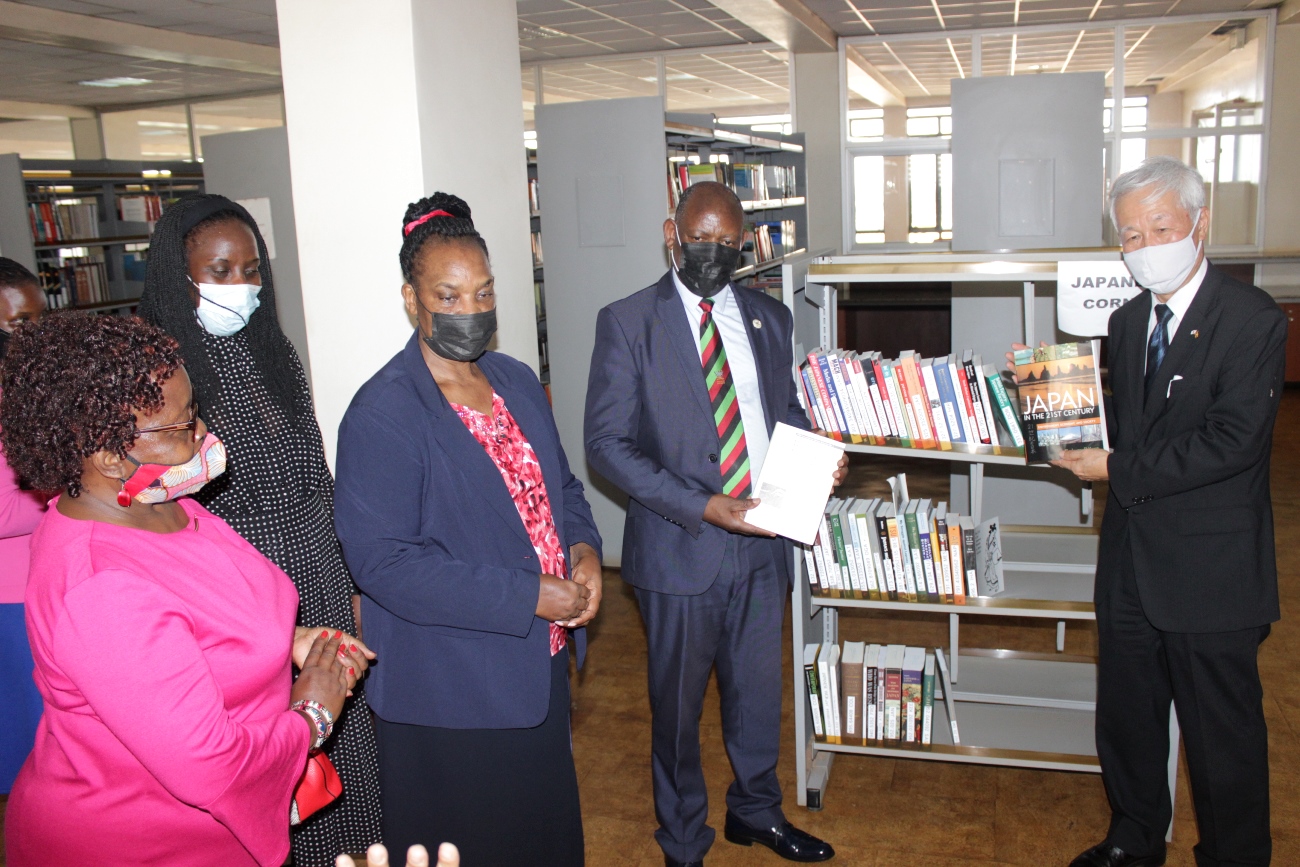 The Ambassador of Japan to Uganda H.E. Fukuzawa Hidemoto during his first official visit to Makerere University on 20th April 2020 handed over a donation 52 books and launched the Japanese Corner in the Main University Library. The donation of books on contemporary Japan was made possible by the Nippon Foundation through the "READ JAPAN PROJECT".
Welcoming the Ambassador, the University Librarian Dr. Helen Byamugisha shared that at over 12,000 square metres and seating capacity of over 2,800, the Library was one of the biggest in Africa. She added that the Library has special access and facilities for persons with disabilities (PWDs) and offers the Document Delivery Service for any materials that library users both on and off campus may require, among other services.
Turning to the benefits of digitization, the Librarian shared that though physically closed, the University Library continued serving users during the COVID-19 orchestrated lockdown thanks to its vast array of over 27,000 electronic journals and other digital resources. She therefore thanked the Ambassador for the book donation, which would enhance the library's ability to serve the needs of its diverse users.
"The book donation has already been processed by our staff and can be accessed through the electronic catalog on the Library's website from anywhere in the world" added Dr. Byamugisha.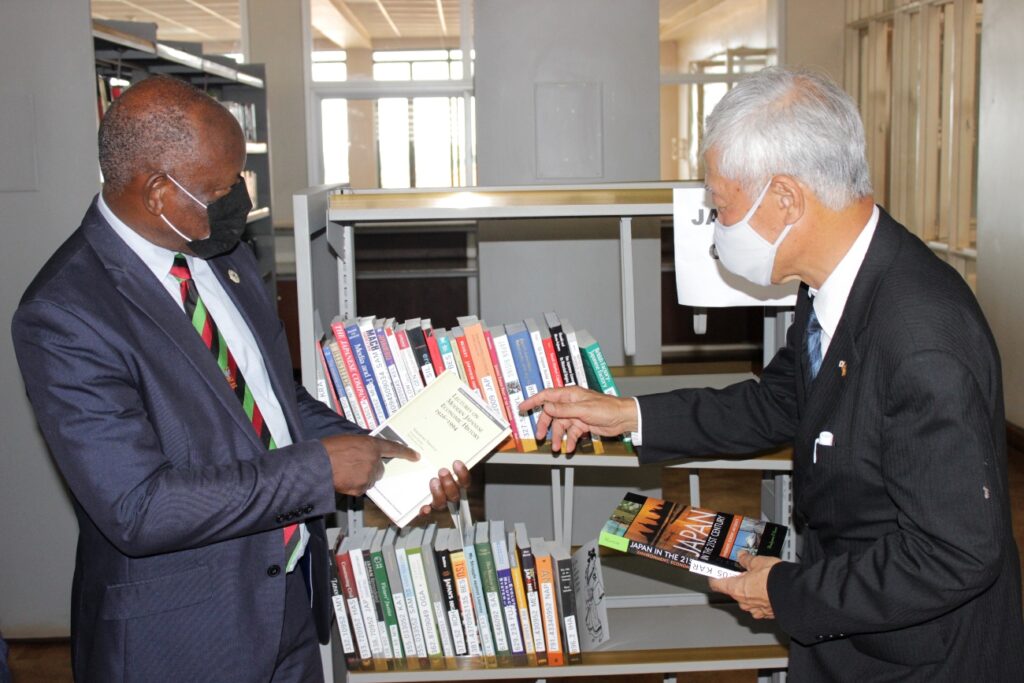 In his remarks, the Vice Chancellor, Prof. Barnabas Nawangwe said that Makerere University has enjoyed a good relationship with the Government and people of Japan, which resulted in the construction of the JICA (Japan International Cooperation Agency) building, home to the College of Natural Sciences (CoNAS). The building was officially handed over on 23rd January 1992.
He informed the Ambassador that the University, which will celebrate 100 years of existence in 2022, conducts a lot of research and is world-renowned for the large number of publications in clinical research as well as tropical medicine. The Vice Chancellor added that Makerere enjoys an excellent relationship with Japanese Universities through which staff and student exchanges are conducted.
"Japanese institutions have trained a lot of our staff and students particularly in geology and seismology and we sincerely thank you Ambassador and the people of Japan for this generous support" said Prof. Nawangwe.
The Vice Chancellor concluded by emphasizing that Makerere values her relationship with the Government and people of Japan and sincerely thanked the Ambassador for the book donation that will enhance knowledge about Japanese culture and economic success. "Makerere is an international university and we are always happy to bring more cultures and languages on board so as to further enhance the diversity of our community."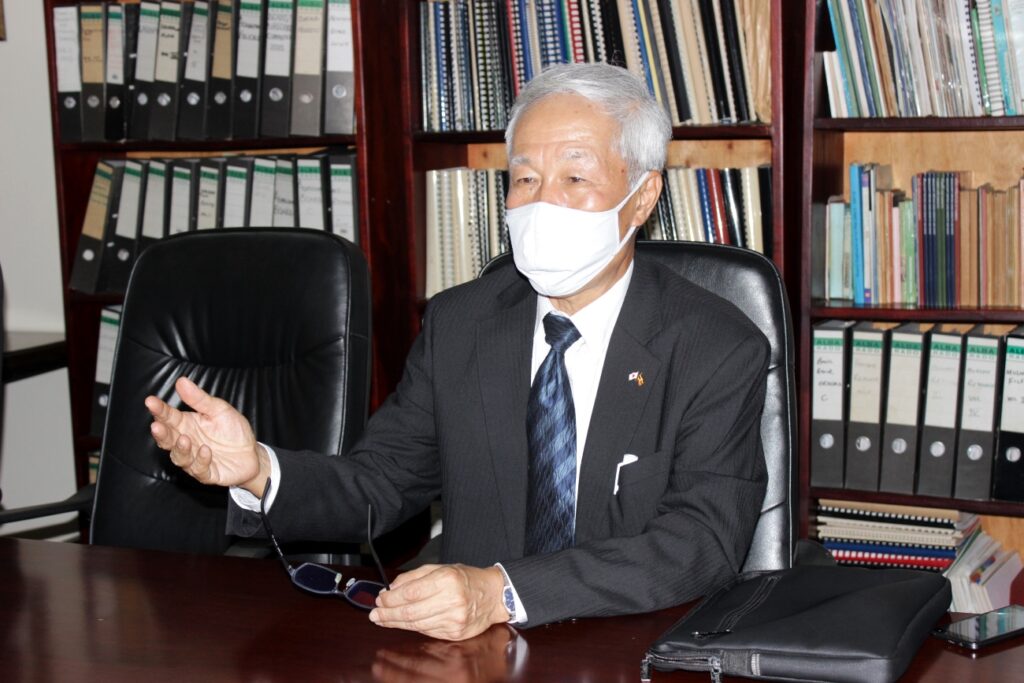 In his remarks, H.E. Fukuzawa thanked the Vice Chancellor, University Librarian and staff for the warm reception and noted that the donation was aimed at promoting the understanding of Japan among the people of Uganda, and especially students at Makerere.
"In particular, it (the donation) aims to reach out to young researchers who are interested in Japan, as well as opinion leaders and intellectuals specializing in areas other than Japanese studies" explained the Ambassador.
He reiterated that Japan has close ties with the University, by observing that eleven out of the twelve Japanese Universities that have partnerships in Uganda each have one with Makerere. "We have been sending Japanese government sponsored scholarship students to Uganda every year and many of them are graduates of this University."
H.E. Fukuzawa expressed happiness that the COVID-19 pandemic had not halted the enhancement of academic relations between Japan and Uganda and looked forward to continued collaboration with Makerere University.
The Ambassador was accompanied by his First Secretary-Ms. Tomoko Ohyama and Public Affairs Officer-Ms. Martha Nankasa. In attendance at the handover were the Deputy University Libarian-Dr. Ruth Nalumaga, Ms. Ferrie Nalusse-Head Technical Services, Ms. Maria Nankya Mwebe-Head Book Bank and Ms. Clementine Namusisi-Head Law Section. Also present was Dr. Edith Natukunda-Togboa, the Head, Department of European and Oriental Languages, College of Humanities and Social Sciences (CHUSS).
Mak Electoral Commission 2020/21 Position: Commissioner for Finance
Monday, 19 April 2021
All Students
ADVERT FOR THE POSITION OF COMMISSIONER FOR FINANCE FOR ELECTORAL COMMISSION 2020/2021
This is to inform you that the position of Commissioner for Finance of the Makerere University Electoral Commission 2020/21 has fallen vacant following the resignation of Mr. Lule Huzaifa (former Commissioner for Finance) on 19th April, 2021.
In accordance with article 50, 68 (2) and 68(4) of the Makerere University Students Guild Constitution as Amended 2016 and Makerere University Students Guild Constitution (Elections) Regulations No.1 of 2018, sections 5(b), 5b(2) and 5b(3) this is to therefore call upon persons who are interested in this position to apply to the Dean of Students.
The deadline for submission of applications is Thursday, 22nd April, 2021 at 5:00pm. Please attach a copy of University Identity Card, Admission letter and proof of registration as a student.
Yours sincerely,
Winifred Kabumbuli
Ag. DEAN OF STUDENTS