Hon. Elioda Tumwesigye acknowledges the role of media in bridging the gap between scientists and communities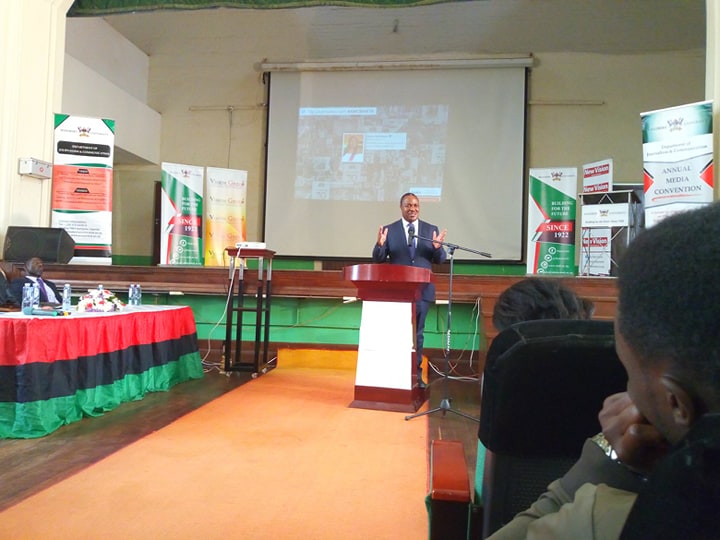 The Minister of Science, Technology, and Innovations Hon. EliodaTumwesigye, has acknowledged the tremendous role played by media in bridging the communication gap that has long existed between researchers/ scientists and communities.
Speaking to journalists, communication specialists, scholars, and scientific researchers at Makerere University Annual Media Convention on 25th April 2019, the Minister said that through media and other communication channels, useful research findings and Scientific information has reached communities in a simple and understandable manner.
"The media is key to creating this link between science and society as science not communicated is science lost. Publishing findings in journals is good but the information therein never reaches the public. By reporting about scientific developments, the media contribute to public understanding of and engagement with science and technology," he said.
According to Hon. Tumwesigye, there is need to develop strong partnerships between scientists who generate the knowledge and the media who take it to society. Similarly, scientists also need to get out of their laboratories and communicate science and scientific information in a format easy for the public to understand if they are to remain relevant to society.
He commended social media as a handy tool through which information on scientific discoveries, innovations and other breakthroughs can be communicated. He also mentioned that through social media, scientific misconceptions have been corrected and consensus on controversial science subjects have been generated.
The Minister noted that currently, Science, Technology and Innovation and more specifically Information and Communication Technology (ICT) is a central driver of all aspects of human endeavor. The World's most revolutionary innovations are driven by ICTs which constitute the 3rd Industrial revolution and are at the Centre of the 4th Industrial Revolution (4IR).
"Recently, while launching the National Task Force for the 4th Industrial Revolution (4IR), H.E. President Yoweri Museveni stated that: "The primer of all social change in society is the advancement in science and technology but in order to use it well you must integrate it holistically. You should not just come in at the periphery and you think that you are going to benefit."
The Minister was excited to learn that Makerere University had become the champion in pioneering Science Communication as part of journalism and media training. He was also grateful to know that the University had strategically recognized social media as an additional tool for advancing science communication and public engagement.
The Makerere University Annual Media Convention (AMC) 2019 was organized by the Department of Journalism and Communication, College of Humanities and Social Sciences in partnership with SciDev. Net. The event brought together journalists and media practitioners, public communication experts, policy makers and government officials, academicians, civil society and development partners, as well as journalism students across the region to discuss and propose solutions on how to improve and advance journalism and communication with a critical focus on the role traditional and social media platforms play in disseminating scientific information in society. The event was organized under the theme: Communicating Science in the Social Media Age: Sharing Technical Information from Researchers to the Media".
According to the Head, Department of Journalism and Communication Dr. William Teyebwa, the AMC 2019 provided a platform to the leading minds in the area of communication and journalism together with scientists and researchers to deeply analyze the concept Science communication, draw frameworks on the relationship between media and research and develop strategies on how journalists can work harmoniously with scientists to help communities.
"This year, we are paying much attention to how technical information from research institutions is reported to the general public, the challenges faced and how such information is discussed in society, in an attempt to improve science communication in Uganda," said Dr. Tayebwa.
Representing the Vice Chancellor, Dr. Umar Kakumba, the Deputy Vice Chancellor for Academic Affairs said the world is driven by science and technology. "The dichotomy of the world along two economic poles, of developed and developing is mostly linked to the level of science and technology sophistication. This implies that science and technology play pivotal roles in the developing nations," he said.
He however noted that Universities within the African Continent are producing large volumes of scientific research that has failed to serve its intended purpose of improving productivity and contributing to development due ineffective dissemination procedures.
"It is therefore important that we focus on having scientific research well disseminated using various forms of communication. The media is one of the most effective avenues for disseminating information as well as popularizing and moderating debate on issues that directly or indirectly impact the wellbeing of humanity. In this era, social media is one of the fastest and most cost-effective modes of communication that we should explore in promoting scientific research," he remarked.
He thanked the Department of Journalism and Communication for the well thought-out theme, and called upon institutions of higher learning to pave way for the improvement of science communication and consequently contribute to scientific and technological advancement on the African Continent.
He appreciated the media for the support they have accorded Makerere University over the years. Dr. Kakumba said the media has been very instrumental in promoting Makerere University's activities and this has greatly contributed to the visibility of University at the national and international levels.
He commended the Government of Uganda for supporting and promoting scientific research. "I thank the President for his support through the Presidential Initiative on Science and Technology that has resulted into a number of innovations that are transforming our country. I wish to let you know that the Government of Uganda in the next financial year (2018/2019), has committed UGX30 billion for research at Makerere University. With this money, Makerere University will continue to advance its research agenda as it contributes to transformation of lives."
Addressing participants at the closing ceremony, the Deputy Vice Chancellor in charge of Finance and Administration, Prof. William Bazeyo described Science and Journalism as two important disciplines that make a lot of sense. "You cannot be a successful researcher if you cannot get someone to interpret your work and give it to community. Journalists have helped the people we serve to understand what we think. You are the only link between government, policy makers, and community," he said.
The day's theme was expounded by two keynote addresses from Prof. Emmanuel S. Dandaura- the Executive Director, Institute of Strategic and Development Communication, Nasarawa State University in Keffi Nigeria and Dr. Abraham KipropMulwo, Senior Lecturer, Department of Communication Studies at Moi University, Kenya.
Dr. Abraham KipropMulwo explained that the impact of scientific work is dependent on how effectively it is communicated. In his presentation titled, "Status and Future of Science Communication -Global and Regional Perspective", Dr. KipropMulwo noted that public engagement with science depends on how the scientists and the public cooperate and allow people from the diverse background and varying scientific knowledge to voice their opinions in regard to scientific conversations.
"Much of Scientific research is funded through private and public resources, with the expectation that scientific work will contribute to resolving societal challenges. It is therefore important that the outcome of scientific research is effectively communicated," he said.
Quoting Prof. Lewenstein, Dr. KipropMulwo said communicating science requires scientists to close the gap separating knowledge and belief in interacting with the public. He also mentioned that with the emergency of new media technologies, Data Centres and Research Digital Libraries (RDLs) are emerging as the pillars that support contemporary scientific communication.
"There are technologies and administrative personnel that help researchers to store, discover and share both data and publications. Furthermore, modern technological inventions such as telescopes, satellites and sensor networks help sci-tests to generate large amounts of data," he stated.
He also noted that social media is rapidly transforming ways in which science is communicated. Previously, communicating science was a challenge to both the scientists and Science communicators. Science communication, when executed, was one way. With the inherently interactive nature of social media, communication has been made a two-way engagement process whereby scientists can receive criticism and questions from users of social media.
Dr. KipropMulwo however noted that in spite the emerging issues in development, the mainstream media and journalists in particular, remain underutilized as means of bridging the communication gap between scientists and societies within which they operate.
"The major challenge is science communication through mainstream media lacks a clear understanding of the science of science communication. It is relatively easy for scientists to communicate to their colleagues since they are aware of the information they need. The problem is when scientific information needs to be communicated to ordinary citizens. Scientists lack clear understanding of what the public wants and how to make complex scientific information simple. Moreover, the communication is mediated by journalists who still have their own interests on what to communicate," said Dr. KipropMulwo.
In his keynote address on the "Nexus between Science, Media and Communication for Development", Prof. Emmanuel S. Dandaura called upon media practitioners to put science into use by helping the public understand research results and make informed choices and decisions.
"Communication is what makes development happen, if people are not properly informed about scientific innovations and research, the findings will have little or no impact on society," said Prof. Dandaura.
He noted that most of the Science Communication activities in Africa are driven by foreign based public relations firms. Prof. Dandaura also revealed to participants that most of the African Tertiary Institutions run omnibus journalism or mass communication programmes that hardly prepare the would be science journalists. He therefore made recommendations among which included;
• Regular trainings of media professionals, educators, scientists, on different aspects of sciences communication
• Integrate science communication into the undergraduates and post graduate curriculum
• Create opportunities for scientists and journalists to interact
• Understand the African agenda on science communication
• Advance science communication as a discipline within communication
• Encourage policy engaged research in the institution of higher learning
• Leverage on the new media technologies
The two keynote addresses were further enriched by two panel discussions and an interactive session. The sessions were chaired by Mr. Adolf Mbaine, DR. Charles WendoLwanga, Dr. Ivan Lukanda, Mrs Marjorie Nyitegeka, and Mr. John Baptist Imokola.
Panelists included;
• Ms. Barbara Zawedde, National Agricultural Research Organization
• Prof. Goretti Nasanga, Department of Journalism and Communication, Makerere University
• Dr. Samuel G. Oketch, College of Veterinary Medicine and Animal Bio-security, Makerere University
• Ms. GlorriaSebikari, Petroleum Authority of Uganda
• Mr. Hillary Bainemigisha, Columnist, New Vision
• Mr. Gerald Tenywa, Senior Reporter, New Vision
• Mr. Daniel Kalinaki, Convergence Editor, Monitor Publications
• Ms. Esther Nakazzi, Science and Technology Journalist
Among the day's proceedings was the awarding of certificates to over 30 students of Journalism and Communication who successfully completed a one-year online short course in Science Communication. The certificates were handed over to the students by the Minister of Science, Technology, and Innovations Hon. EliodaTumwesigye together with DR. Charles WendoLwanga, the Director of Script Project, ScieDev.Net.
At the same function, Daily Monitor awarded Ms. Lyn Tukei with the Tebere-Mudin Award for the overall best performing student of Journalism and Communication. Ms Lyn Tukei graduated in January 2019 with CGPA of 4.29.
Ms. Betty Musasizi won the CranimerMugerwa Award for the best performing student in photojournalism. The award is sponsored by New Vision in honour of their treasured fallen photojournalist Cranimer Mugerwa.
The Deputy Vice Chancellor in charge of Finance and Administration, Prof. William Bazeyo pledged to support the best Journalism and Communication student with a token of UGX 2milion starting next academic year 2019/2020.
Representing Dr. Josephine Ahikire, the Acting Principal of College of Humanities and Social Sciences, Dr. Julius Kikoma applauded the Department of Journalism for consistently organizing the Annual Media Convention for the last 20 years. He thanked the 2019 conveners Mrs. Marjorie Nyitegeka and Dr. Ivan Lukanda for the wonderful and successful event.
Dr. Merit Kabugo who represented the Dean, School of Languages, Literature and Communication commended the leadership of Journalism and Communication on the tremendous developments.
"The Department has also been very instrumental in training many media specialists that we are proud of today. The good job you are doing should be maintained or even taken a notch higher," he said.
Article by Nabatte Proscovia, Mak Public Relations Office.
Ambassador of Sweden to Uganda calls for full involvement of men and boys in achieving Gender Equality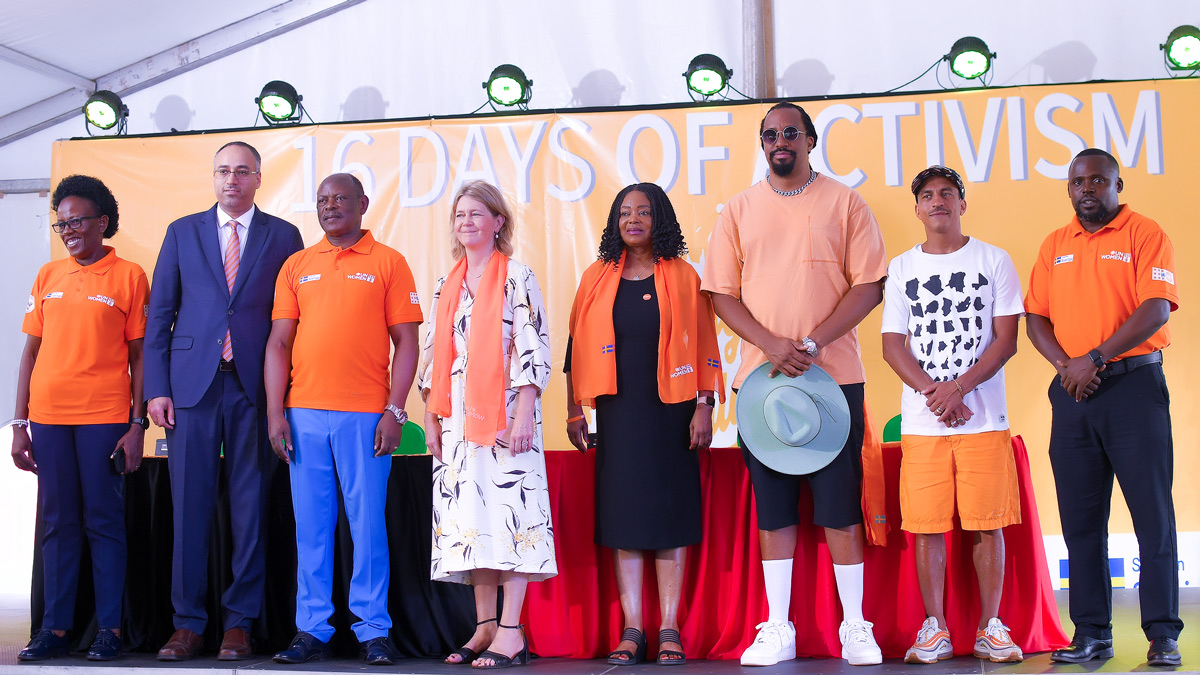 The Ambassador of Sweden to Uganda Her Excellence Maria Håkansson has emphasized the need to fully engage men and boys in all the initiatives geared towards achieving Gender Equality in Uganda and other parts of the world. She said this on 28th November 2023 at a press conference organized by the Embassy of Sweden in close collaboration with Makerere University Gender Mainstreaming Directorate, UN Women and United Nations Population Fund (UNFPA) to unveil the National Orange Pledge campaign and officially launch the 16 Days of Activism against Gender-Based Violence.
The press conference was headlined by a Ugandan rapper and record producer Daniel Lubwama Kigozi, popularly known by his stage name Navio and his fellow from Sweden Jason Michael Bosak Diakité popularly known as Timbuktu. Over 200 students both male and female from Makerere University and other institutions of higher learning attended the press conference at Makerere University Rugby Grounds.
According to Her Excellence Maria Håkansson, Gender Equality cannot be achieved without involving men and boys to take their responsibilities and be the drivers of change. "For real change to happen, we need to change attitudes and norms that might cause Gender Based Violence, one of the social ills in Uganda and an extreme of gender inequality that occurs at all levels of society," she said.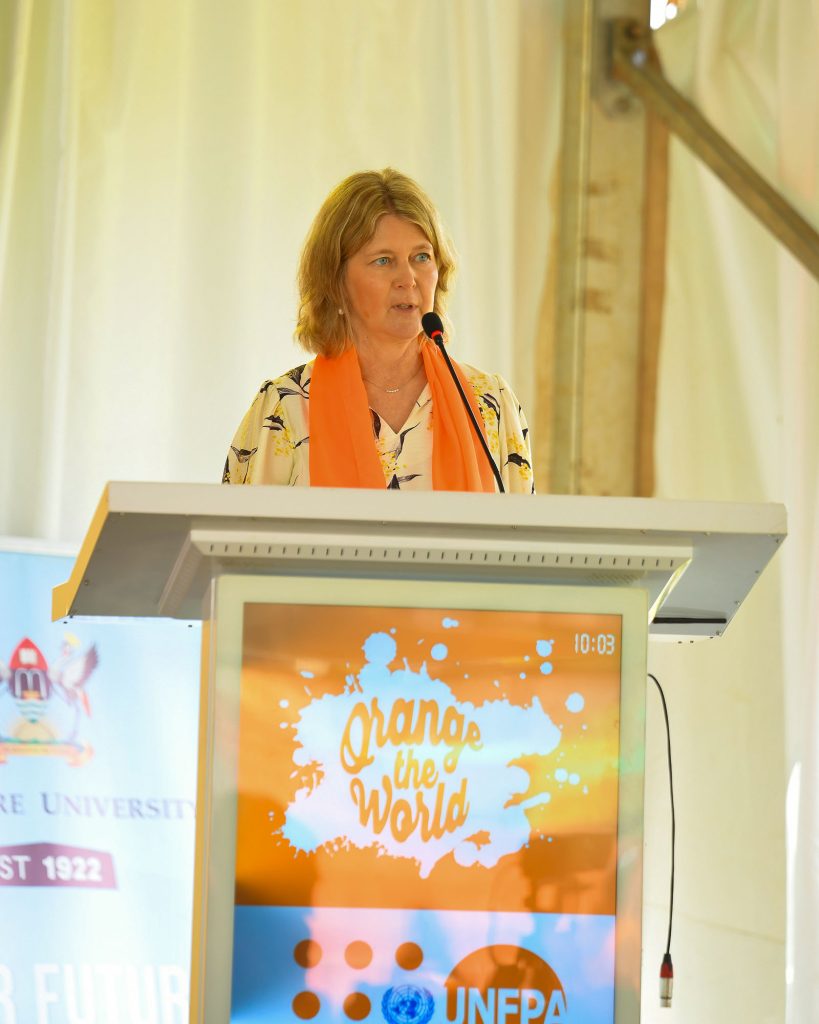 Referring to the national survey conducted in 2020, the Ambassador was concerned about the escalating burden of gender based violence in Uganda when she said, "the Survey highlighted that 95% of women and girls experience physical or sexual violence since the age of 15."
She therefore emphasized the Global 16 Days of Activism as key international movement to increase awareness and advocate for an end to Gender Based Violence. The Ambassador also mentioned that preventing and responding to Gender Based Violence is a cornerstone for Sweden's commitment to promote democracy, human rights and gender equality and this is done as an investment in a society that upholds the principles of equality, dignity and justice.
She acknowledged the full participation of university students in all campaigns and activities geared towards achieving gender equality as well as ending Gender Based Violence when she said, "You are the leaders of tomorrow and you have an opportunity to build a future where everyone can thrive. So please use today to take an active stand against Gender Based Violence."
Every year Uganda joins the rest of the world to enhance the global campaigns on 16 Days of Activism against Gender-Based Violence and also add a voice to the call for an end to violence against women and girls.   These campaigns run from 25th November (the International Day for the Elimination of Violence against Women) until 10th December of the Human Rights Day.
The United Nations Secretary-General's UNiTE by 2030 initiative calls for global action to increase awareness, galvanize advocacy efforts and share knowledge and innovations to help end all types of violence against women and girls.  This year 2023, the UNiTE campaign theme is; Invest to Prevent Violence against Women & Girls.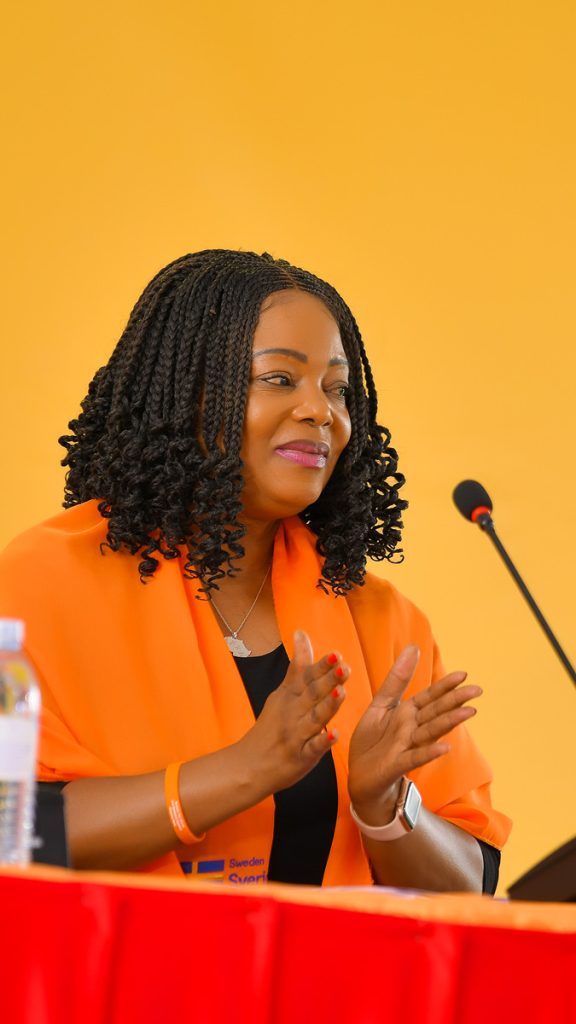 Over the years, Makerere University through its Gender Mainstreaming Directorate and School of Women and Gender in partnership with UN Women and many other partners have been at the fore front to support the campaign on 16 Days of Activism against Gender Based Violence in Uganda. This has been done through debates, theatre forums, student dialogues, thematic artistic presentations, media exposures, drama and music skits presentation, and student peer led discussions and quarterly competitions.
This year 2023, the University in partnership with the Embassy of Sweden, UN Women and United Nations Population Fund (UNFPA) unveiled the Orange Pledge. According to Eric Tumwesigye the Senior Gender Specialist at Makerere University Gender Mainstreaming Directorate, this campaign calls upon government, policymakers, activists, civil societies, academicians, students and all members of community from all parts of the country to make their heartfelt pledges towards ending Gender Based Violence in Uganda and the rest of the world.
The UN Women Country Representative Paulina Chiwangu recognized the investment Makerere University, the Embassy of Sweden and UNFPA have made to end violence against women and girls. "Thanks to our collective efforts, the silence that used to shroud violence against women has now been broken" said.
In the same spirit, she acknowledged the progress Makerere University has made in establishing and implementation of the University's Policy and Regulations against Sexual Harassment to protect students and staff from potential abuses of power and conflict of interest. She also applauded the increased support and training for students and the strengthened mechanisms for investigations that allow students and staff to anonymously report sexual misconduct.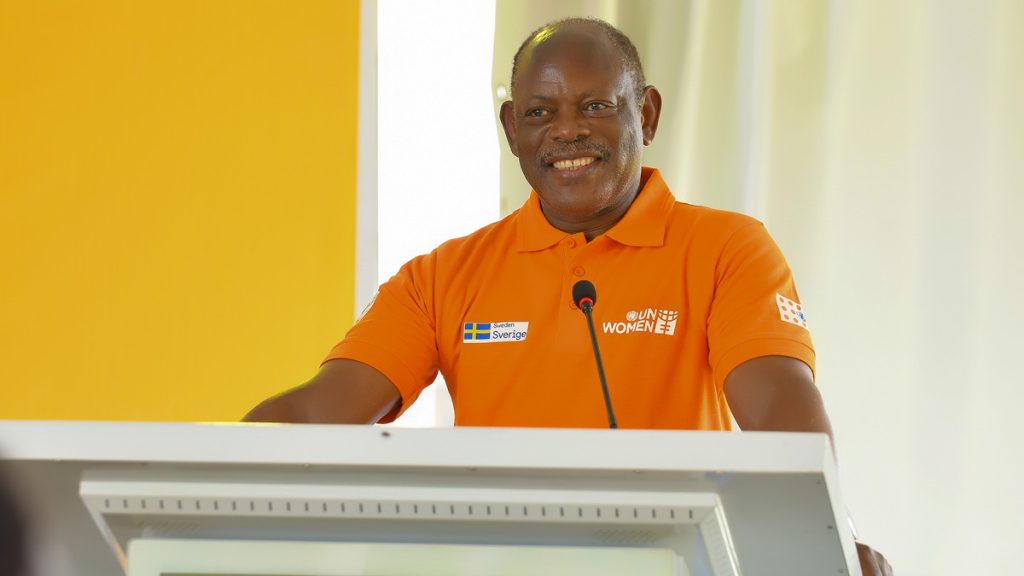 "We are however, aware that despite this, sexual harassment is still happening in the university and that not many students report to the authorities when they experience it. It is therefore, our humble appeal to the university leadership to continue monitoring the implementation of the Policy and Regulations Against Sexual Harassment, take all allegations of sexual harassment and violence seriously, ensure that all personnel have information on available support services and take action to ensure that perpetrators are held accountable."
Reaffirming the University's position in fighting GBV and particularly sexual harassment, the Vice Chancellor of Makerere University Prof. Barnabas Nawangwe was highlighted the various measures Makerere University has put in place to prevent and respond to Gender Based Violence. To him, the Policy and Regulations against Sexual Harassment; the appointment and capacity building for the Vice Chancellor's Roster of 100 eminent people from the various colleges and administrative units; recruitment and training of the Gender Mainstreaming Programme Student Peer Trainers and setting up Sexual Harassment Investigation Committees are bigger milestones to celebrate.
He appreciated the move by the Gender Mainstreaming Directorate and all the partners to embrace entertainment and artistry as a critical advocacy and awareness tool to reach several communities especially the youth.
"We firmly believe in the transformative power of music and the arts in promoting social change. Music and art does serve as a powerful medium to advocate for the world free from violence especially violence against women," said to Mr. Dainel Alemu, the UNFPA Deputy Country Representative.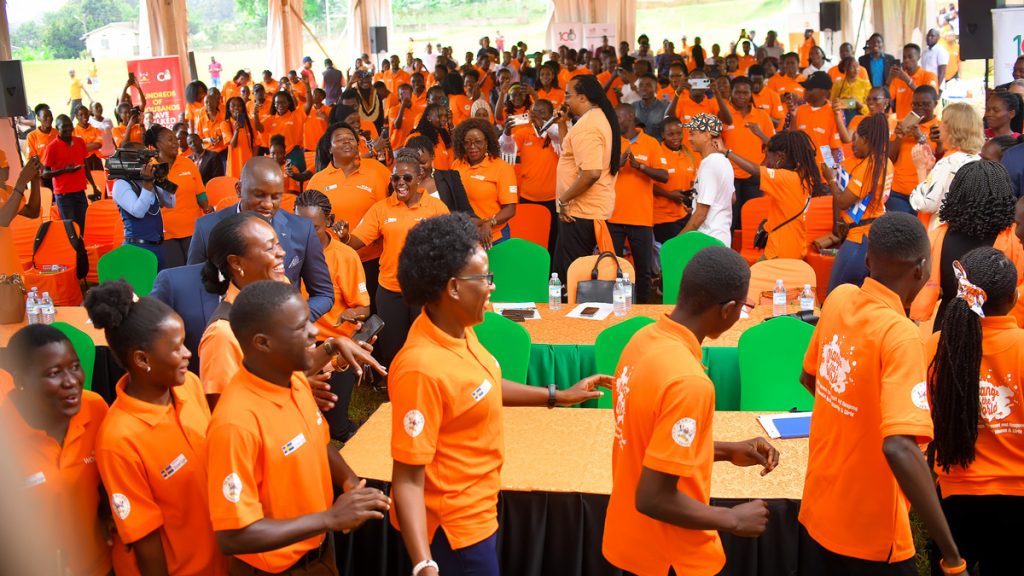 "It is heartening to see artists like Navio taking a stand and using their influence to challenge harmful norms. As we revel in the beats and melodies, let us not forget he underlying message that everyone , regardless of gender, has a role to play in fostering a world where everyone is free from shackles of gender based violence," he added.
Speaking at the Press Conference at Makerere University Rugby Grounds, Navio said that for the 20 years he has been an activist of Gender Based Violence, he has faced the reality of many young girls and women in Uganda being victims of sex and physical abuse. He therefore sent a huge condemnation to men especially artists that who are perpetrators of Gender Based Violence and called for serious government action and clear policies and laws against such injustices.
Navio applauded the women and men who have stood tall over the years to fight against Gender Based Violence in Uganda when he said, " As we launch the 16 days activism in Uganda and through these pledges we are making, let us be accountable for our actions. For long in our cultures, men have considered force and violence as power and protection. They have been tough to their children hence instilling fear to the extent that the children cannot freely interact with them on serious matters such as abuse and torture."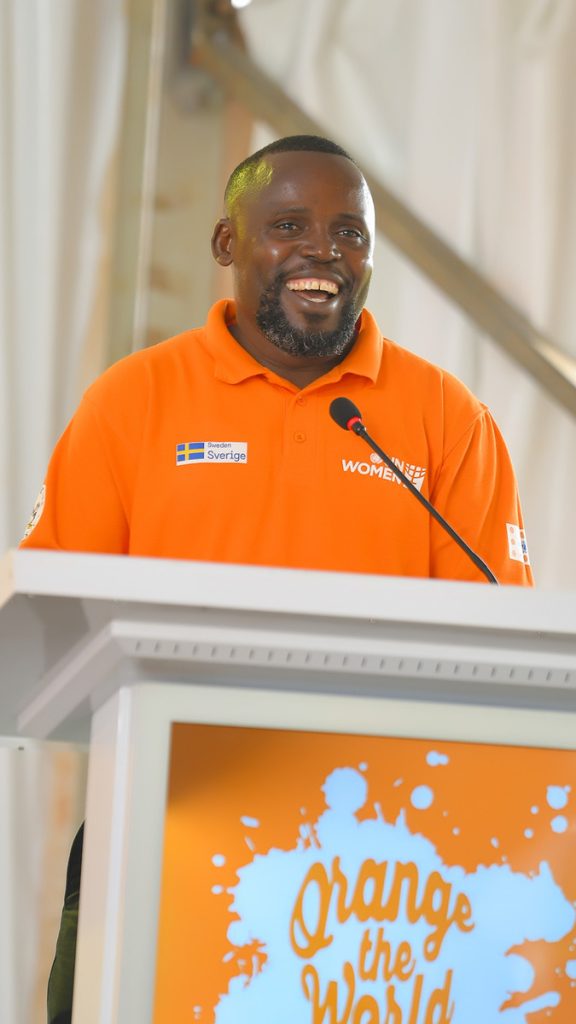 He applauded all families that have adopted the new parenting model of free conversations and interaction hence encouraging children to freely open up whenever they have challenges. Navio also acknowledged the role of his mother Mrs Maggie Kigozi as a human rights activist and a champion in fighting against Gender Based Violence in Uganda.
Jason Michael Bosak Diakité popularly known as Timbuktu from Sweden appreciated the wider platform provided by the music industry globally for artists to act as role models and champion of change. The rapper highlighted the need to respect women for their roles and support towards community development.
"I am a son and it is extremely important for me to respect my mother and all women. Also being a father to a beautiful daughter, I am always eager and looking forward to seeing the best future for her. I want daught to grow up in the world where she is able to feel safe and be allowed to freely associate without being discriminated or threatened because of her gender," he said.
Scholars & Alumni of Mastercard Foundation light up Achukudu Community, Napak District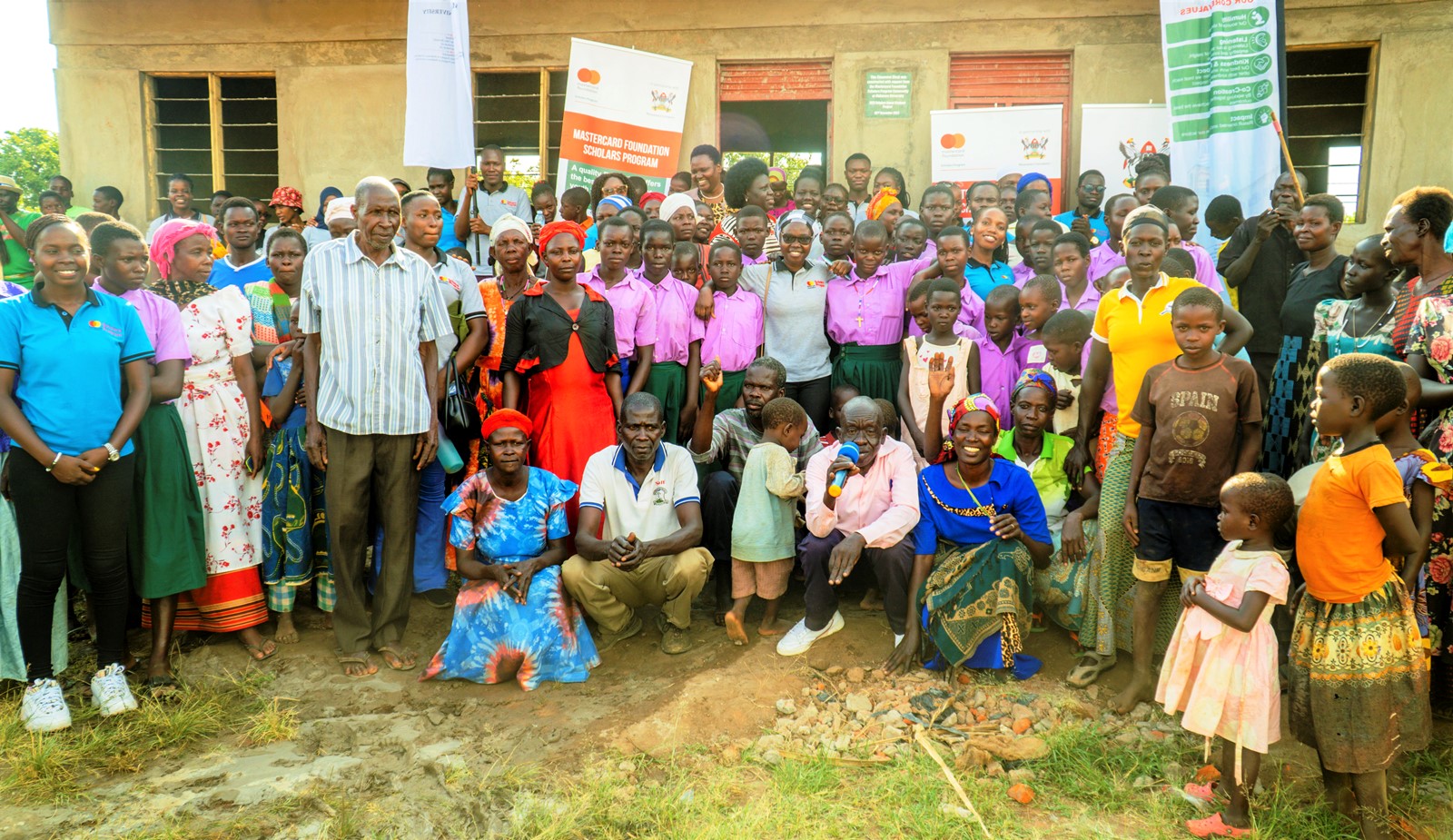 By Bernard Buteera
On Saturday 2nd December 2023, all roads led to Achukudu Community Primary School in Napak District, Karamoja sub-region, as the Scholars and Alumni of Mastercard Foundation at Makerere University commemorated their Scholars' Annual Day of Community Service (Giveback). The 2023 Scholars Annual Day of Community Service was held at Achukudu Community Primary School, Napak District in the Karamoja sub-region. Established in 2013, Achukudu Community School serves two ethnic communities—The Iteso and Karamojong.
With a total population of 1,097 pupils only three government-paid teachers, and nine community-paid teachers, the School faces a plethora of challenges. Key among the challenges is the lack of Classrooms, decent Ventilated Pit Latrines, and Desks. Therefore when the Scholars identified the School as one that deserved to be given a gift of a classroom block, it was a befitting choice!
The Scholars with support from the alumni, the Program Team, Members of the Steering Committee, and partners of the Scholars Program at Makerere University intervened by constructing a two-classroom block, which was supervised by one of the alumni who is an Engineer. Alongside the classroom block, the Scholars also provided 40 desks, helping the school meet UNEB Center eligibility criteria.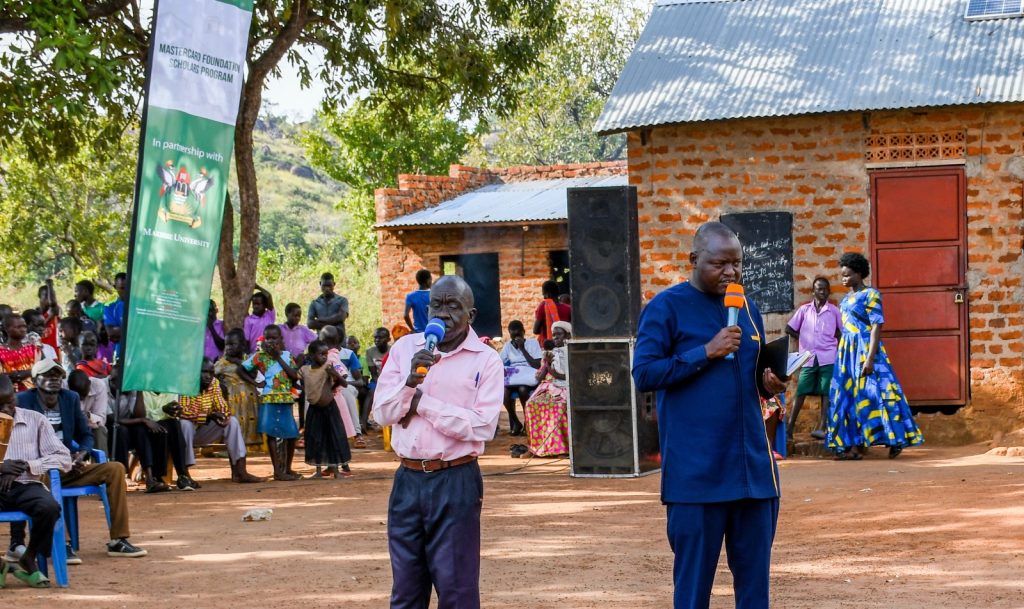 While presiding over the event, the area member of Parliament, Hon. John Bosco Ngoya, thanked the Scholars and alumni community at Makerere University for supporting the young pupils of Achukudu Primary School and the entire community by gifting them with a two-classroom block.
"Thank you Scholars and alumni of Mastercard Foundation at Makerere University for the Christmas gift of a classroom block to the young people and the entire community of Achukudu. This classroom block will go a long way in improving the learning environment of the young children of Achukudu primary school." Hon. Ngoya pointed out.
Hon. Ngoya called upon other people to emulate the Scholars and alumni of the Mastercard Foundation in embracing the spirit of giving back to the vulnerable people in the community. On his part, he donated One Million Five hundred shillings (1,500,000/=) to help the School purchase more desks, and he had earlier contributed One million shillings (1,000,000/=) towards the construction of the classroom block.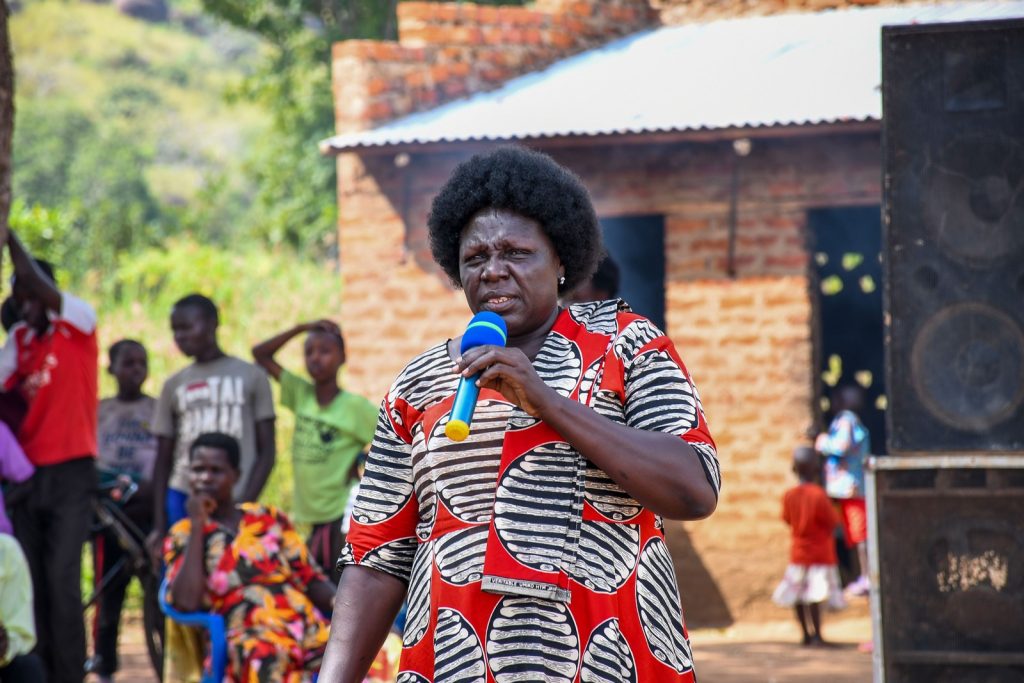 The District Education Officer (DEO) for Napak District, Ms. Joyce Nakoya, praised the Scholars Community for embracing and practicing the spirit of giving back to other people at an early age.
"Thank you Scholars and alumni of the Mastercard Foundation at Makerere for embracing the spirit of giving back to other people at such an early age. If all people gave back to the less privileged in our communities, we would have a better world for everyone." Ms. Nakoya pointed out.
Ms. Nakoya further pointed out every child deserves to study in a decent environment, therefore it was a befitting cause for the Scholars to construct a classroom block for the young pupils of Achukudu community primary school, who were studying in open grass thatched classrooms.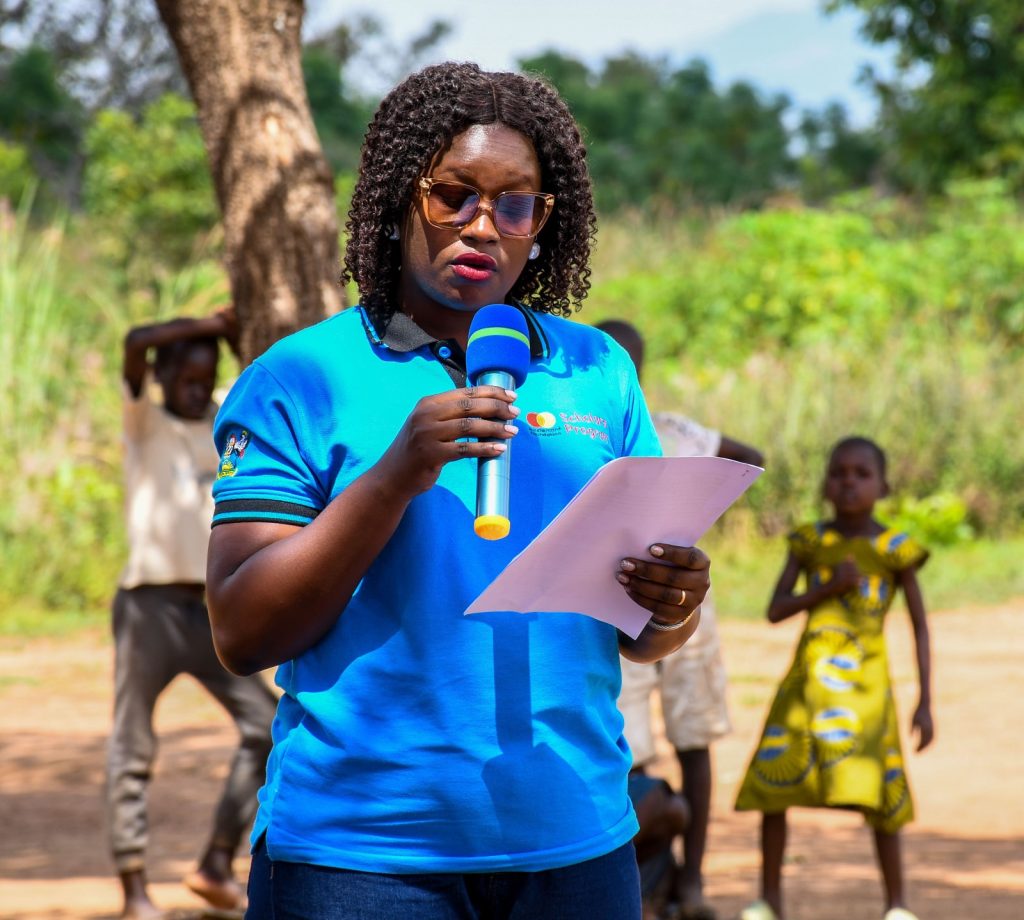 The Program Manager of the Mastercard Foundation Scholars Program at Makerere University, Ms. Jolly Okumu who led the team of Scholars, alumni, and staff to Karamoja thanked the community of Achukudu for supporting the Scholars to deliver the class block by contributing to the construction sand.
"We come here today to join with you as a community driven by a shared commitment to education, empowerment, and ethos of giving back. Today is a historic occasion as we celebrate the completion and commissioning of the classroom block, which is a remarkable testament to the transformative power of education and our unwavering spirit of community service." Ms. Jolly remarked.
The President of the Scholars Association, Mr. Godfrey Okello, thanked all the Scholars and alumni, and all stakeholders who contributed to the construction of the classroom block, which was a dream that became a reality.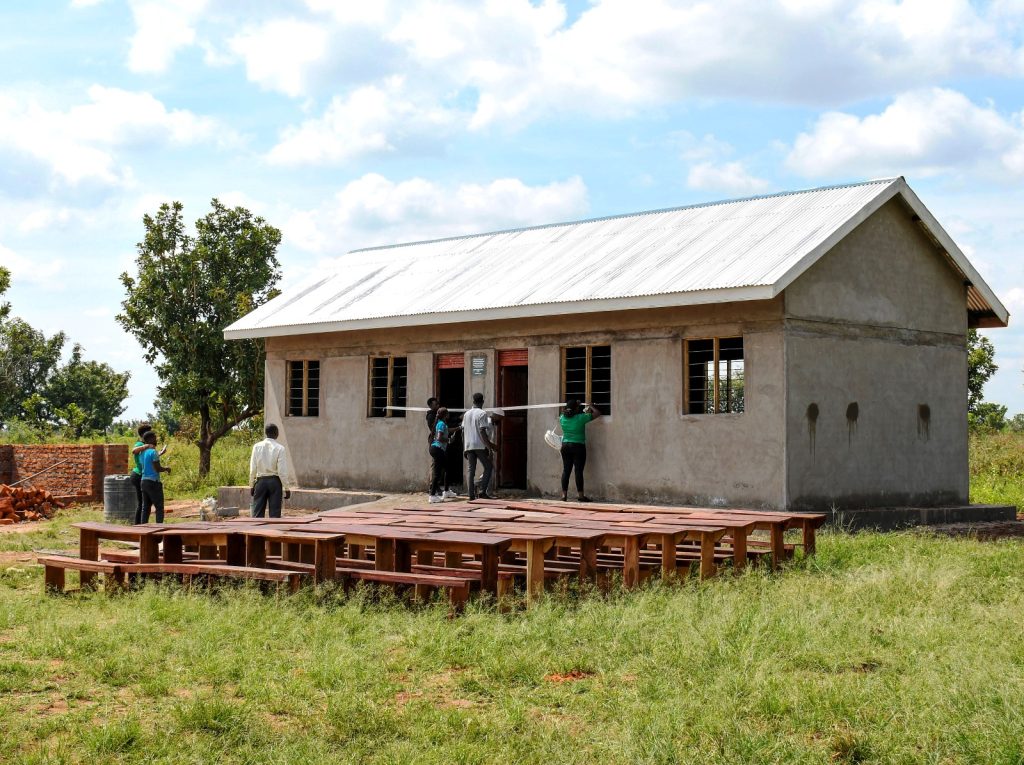 "I would like to thank my colleagues and people of goodwill who supported us to realize our dream of constructing this classroom for our young brothers and sisters of Achukudu Primary School. Together we can make a difference in the lives of our fellow young people in Uganda and Africa as a whole." Mr. Okello remarked.
The Headteacher of the School, Mr. Eryebu Raymond, who was visibly very excited was full of praises for Scholars and alumni of the Mastercard Foundation, for what he termed as an iconic classroom block they had gifted to his School.
"This day is very special to us, we will not see this day again. We are delighted to receive the Scholars and alumni of Mastercard Foundation from Makerere University, thank you for considering supporting our School" Mr. Eryebu excitedly remarked.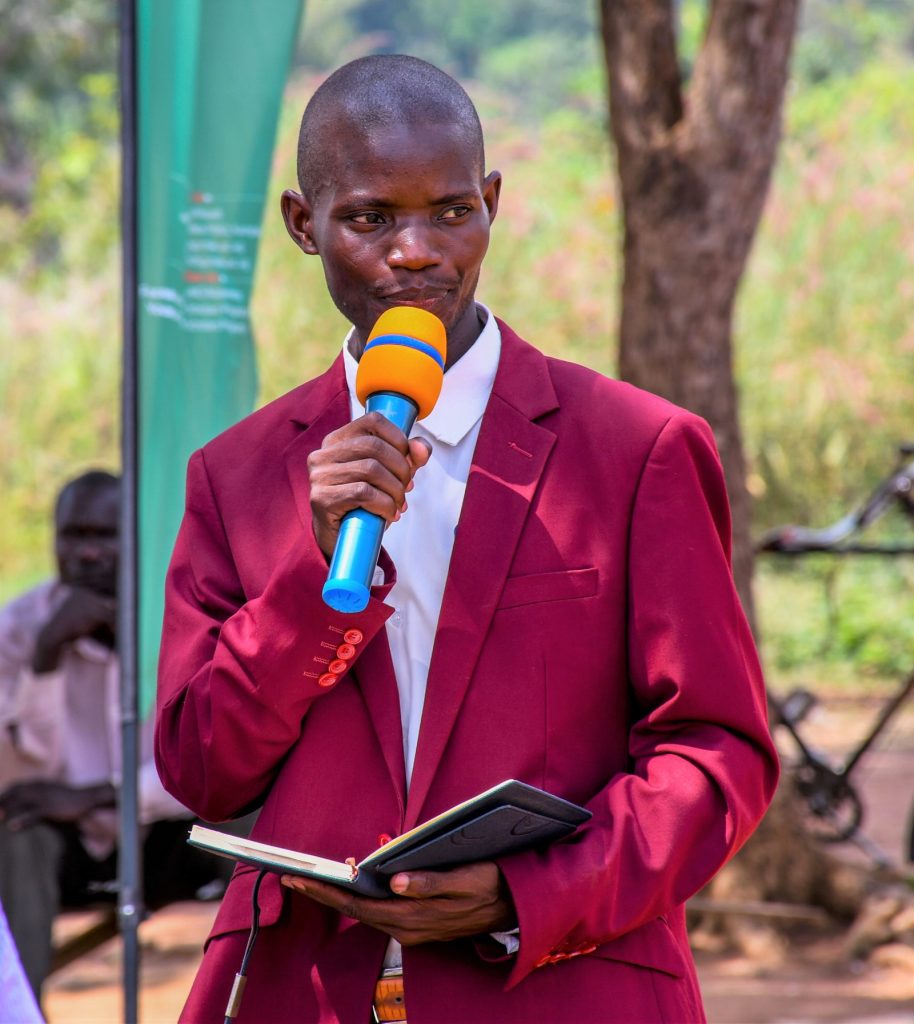 The Headteacher revealed that one of the major challenges the school was facing was an acute shortage of classrooms for his 1,097 pupils. He was therefore grateful to Mastercard Foundation Scholars for choosing to construct a two-class block for the School.
"This donation of a classroom block and Desks is a testament to your commitment to education and empowering the lives of the vulnerable people in the community. This classroom block and desks will go a long way in improving the quality of teaching and learning at our school." Mr. Eryebu further remarked.
The 2023 Scholars Annual Day of Community Service (Giveback) was punctuated with a lot of joy, pomp, and fanfare, as the pupils and the entire community of Achukudu danced and ululated at the commissioning of the classroom block. The construction of the classroom block and purchase of desks for Achukudu Community Primary School was made possible by generous contributions by the Scholars, alumni, the Program Team, and members of the Steering Committee.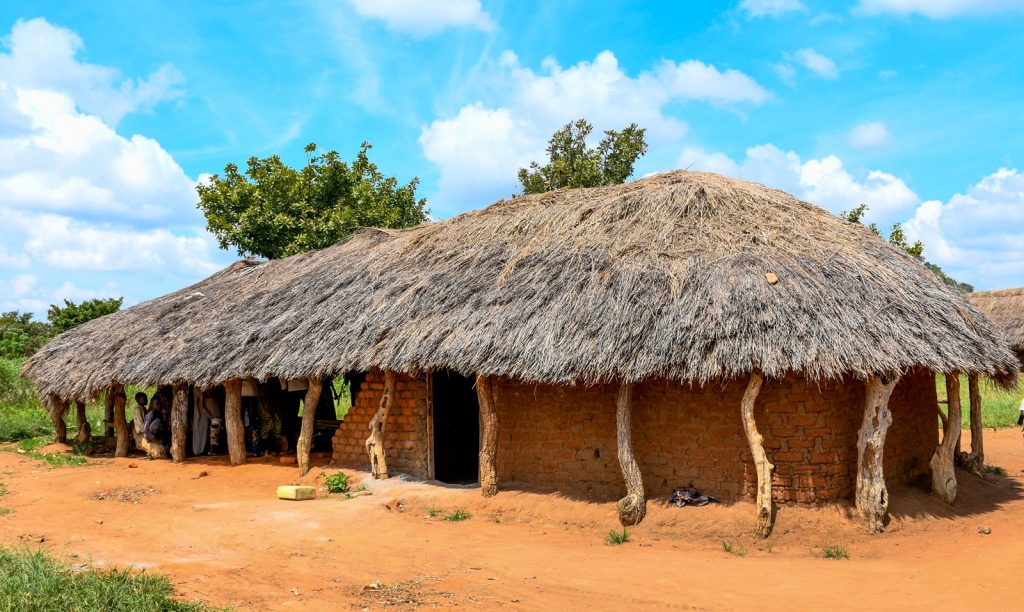 Among the Partners who made financial contributions towards the class block construction included; DFCU Bank, Post Bank, URA, Katumba Estates, Footsteps Furniture Ltd, and Sion Travels Ltd.
The Scholars and Alumni Day of Community Service (Give back) is an annual event, where Scholars and alumni of the Mastercard Foundation go out into the community to give back by providing solutions to challenges that a particular community is facing. Over the years Scholars have given back to the communities in numerous ways that range from offering professional services and erecting major projects like classroom blocks.
Bernard Buteera is the Communications and Public Relations Officer of the Mastercard Foundation Scholars Program at Makerere University.
Innovations using low cost locally available materials for point of use water treatment system unveiled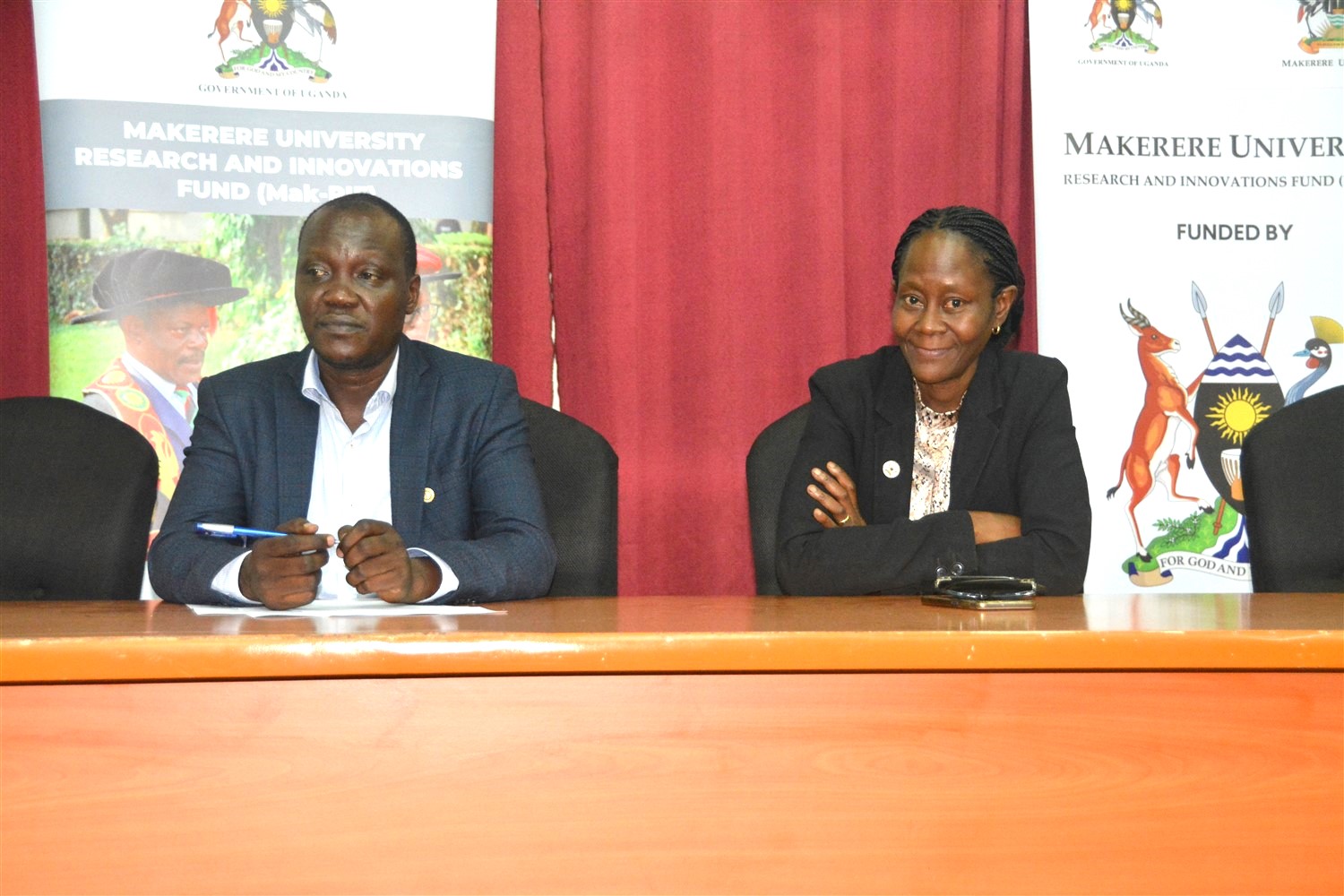 The College of Engineering, Design, Art and Technology (CEDAT) conducted a Research Dissemination of two studies aimed at the Development of Materials for point of use water treatment systems.
The investigations were conducted by a team of researchers comprised of P. W. Olupot, H. M. Kalibbala, E. Menya, G.M. Wangi, J. Jjagwe, J. Wakatuntu, M. Turyasingura, R. Walozi, C. Kanyesigye and R. N. Kulabako.
The dissemination event held on Wednesday 29th November 2023 follows the successful completion of two MakRIF supported Research projects namely; Development of rice husk based granular activated carbon for point-of-use water treatment systems and Development of zeolite-based nanocomposite filters for drinking water treatment.