Hon. Elioda Tumwesigye acknowledges the role of media in bridging the gap between scientists and communities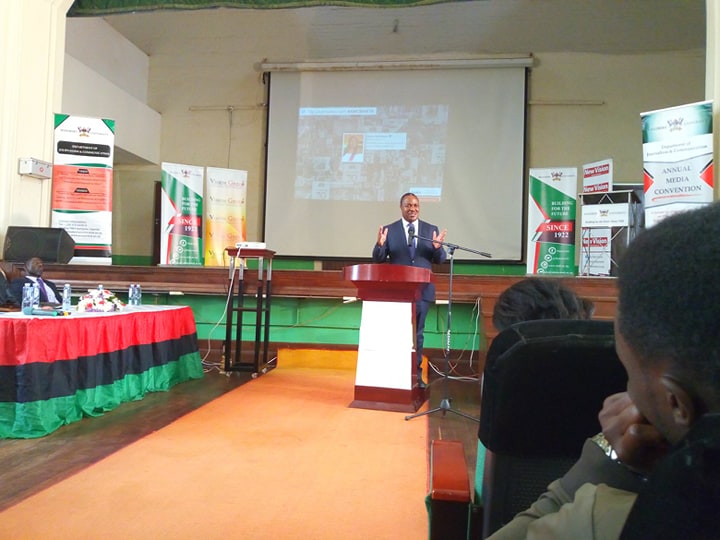 The Minister of Science, Technology, and Innovations Hon. EliodaTumwesigye, has acknowledged the tremendous role played by media in bridging the communication gap that has long existed between researchers/ scientists and communities.
Speaking to journalists, communication specialists, scholars, and scientific researchers at Makerere University Annual Media Convention on 25th April 2019, the Minister said that through media and other communication channels, useful research findings and Scientific information has reached communities in a simple and understandable manner.
"The media is key to creating this link between science and society as science not communicated is science lost. Publishing findings in journals is good but the information therein never reaches the public. By reporting about scientific developments, the media contribute to public understanding of and engagement with science and technology," he said.
According to Hon. Tumwesigye, there is need to develop strong partnerships between scientists who generate the knowledge and the media who take it to society. Similarly, scientists also need to get out of their laboratories and communicate science and scientific information in a format easy for the public to understand if they are to remain relevant to society.
He commended social media as a handy tool through which information on scientific discoveries, innovations and other breakthroughs can be communicated. He also mentioned that through social media, scientific misconceptions have been corrected and consensus on controversial science subjects have been generated.
The Minister noted that currently, Science, Technology and Innovation and more specifically Information and Communication Technology (ICT) is a central driver of all aspects of human endeavor. The World's most revolutionary innovations are driven by ICTs which constitute the 3rd Industrial revolution and are at the Centre of the 4th Industrial Revolution (4IR).
"Recently, while launching the National Task Force for the 4th Industrial Revolution (4IR), H.E. President Yoweri Museveni stated that: "The primer of all social change in society is the advancement in science and technology but in order to use it well you must integrate it holistically. You should not just come in at the periphery and you think that you are going to benefit."
The Minister was excited to learn that Makerere University had become the champion in pioneering Science Communication as part of journalism and media training. He was also grateful to know that the University had strategically recognized social media as an additional tool for advancing science communication and public engagement.
The Makerere University Annual Media Convention (AMC) 2019 was organized by the Department of Journalism and Communication, College of Humanities and Social Sciences in partnership with SciDev. Net. The event brought together journalists and media practitioners, public communication experts, policy makers and government officials, academicians, civil society and development partners, as well as journalism students across the region to discuss and propose solutions on how to improve and advance journalism and communication with a critical focus on the role traditional and social media platforms play in disseminating scientific information in society. The event was organized under the theme: Communicating Science in the Social Media Age: Sharing Technical Information from Researchers to the Media".
According to the Head, Department of Journalism and Communication Dr. William Teyebwa, the AMC 2019 provided a platform to the leading minds in the area of communication and journalism together with scientists and researchers to deeply analyze the concept Science communication, draw frameworks on the relationship between media and research and develop strategies on how journalists can work harmoniously with scientists to help communities.
"This year, we are paying much attention to how technical information from research institutions is reported to the general public, the challenges faced and how such information is discussed in society, in an attempt to improve science communication in Uganda," said Dr. Tayebwa.
Representing the Vice Chancellor, Dr. Umar Kakumba, the Deputy Vice Chancellor for Academic Affairs said the world is driven by science and technology. "The dichotomy of the world along two economic poles, of developed and developing is mostly linked to the level of science and technology sophistication. This implies that science and technology play pivotal roles in the developing nations," he said.
He however noted that Universities within the African Continent are producing large volumes of scientific research that has failed to serve its intended purpose of improving productivity and contributing to development due ineffective dissemination procedures.
"It is therefore important that we focus on having scientific research well disseminated using various forms of communication. The media is one of the most effective avenues for disseminating information as well as popularizing and moderating debate on issues that directly or indirectly impact the wellbeing of humanity. In this era, social media is one of the fastest and most cost-effective modes of communication that we should explore in promoting scientific research," he remarked.
He thanked the Department of Journalism and Communication for the well thought-out theme, and called upon institutions of higher learning to pave way for the improvement of science communication and consequently contribute to scientific and technological advancement on the African Continent.
He appreciated the media for the support they have accorded Makerere University over the years. Dr. Kakumba said the media has been very instrumental in promoting Makerere University's activities and this has greatly contributed to the visibility of University at the national and international levels.
He commended the Government of Uganda for supporting and promoting scientific research. "I thank the President for his support through the Presidential Initiative on Science and Technology that has resulted into a number of innovations that are transforming our country. I wish to let you know that the Government of Uganda in the next financial year (2018/2019), has committed UGX30 billion for research at Makerere University. With this money, Makerere University will continue to advance its research agenda as it contributes to transformation of lives."
Addressing participants at the closing ceremony, the Deputy Vice Chancellor in charge of Finance and Administration, Prof. William Bazeyo described Science and Journalism as two important disciplines that make a lot of sense. "You cannot be a successful researcher if you cannot get someone to interpret your work and give it to community. Journalists have helped the people we serve to understand what we think. You are the only link between government, policy makers, and community," he said.
The day's theme was expounded by two keynote addresses from Prof. Emmanuel S. Dandaura- the Executive Director, Institute of Strategic and Development Communication, Nasarawa State University in Keffi Nigeria and Dr. Abraham KipropMulwo, Senior Lecturer, Department of Communication Studies at Moi University, Kenya.
Dr. Abraham KipropMulwo explained that the impact of scientific work is dependent on how effectively it is communicated. In his presentation titled, "Status and Future of Science Communication -Global and Regional Perspective", Dr. KipropMulwo noted that public engagement with science depends on how the scientists and the public cooperate and allow people from the diverse background and varying scientific knowledge to voice their opinions in regard to scientific conversations.
"Much of Scientific research is funded through private and public resources, with the expectation that scientific work will contribute to resolving societal challenges. It is therefore important that the outcome of scientific research is effectively communicated," he said.
Quoting Prof. Lewenstein, Dr. KipropMulwo said communicating science requires scientists to close the gap separating knowledge and belief in interacting with the public. He also mentioned that with the emergency of new media technologies, Data Centres and Research Digital Libraries (RDLs) are emerging as the pillars that support contemporary scientific communication.
"There are technologies and administrative personnel that help researchers to store, discover and share both data and publications. Furthermore, modern technological inventions such as telescopes, satellites and sensor networks help sci-tests to generate large amounts of data," he stated.
He also noted that social media is rapidly transforming ways in which science is communicated. Previously, communicating science was a challenge to both the scientists and Science communicators. Science communication, when executed, was one way. With the inherently interactive nature of social media, communication has been made a two-way engagement process whereby scientists can receive criticism and questions from users of social media.
Dr. KipropMulwo however noted that in spite the emerging issues in development, the mainstream media and journalists in particular, remain underutilized as means of bridging the communication gap between scientists and societies within which they operate.
"The major challenge is science communication through mainstream media lacks a clear understanding of the science of science communication. It is relatively easy for scientists to communicate to their colleagues since they are aware of the information they need. The problem is when scientific information needs to be communicated to ordinary citizens. Scientists lack clear understanding of what the public wants and how to make complex scientific information simple. Moreover, the communication is mediated by journalists who still have their own interests on what to communicate," said Dr. KipropMulwo.
In his keynote address on the "Nexus between Science, Media and Communication for Development", Prof. Emmanuel S. Dandaura called upon media practitioners to put science into use by helping the public understand research results and make informed choices and decisions.
"Communication is what makes development happen, if people are not properly informed about scientific innovations and research, the findings will have little or no impact on society," said Prof. Dandaura.
He noted that most of the Science Communication activities in Africa are driven by foreign based public relations firms. Prof. Dandaura also revealed to participants that most of the African Tertiary Institutions run omnibus journalism or mass communication programmes that hardly prepare the would be science journalists. He therefore made recommendations among which included;
• Regular trainings of media professionals, educators, scientists, on different aspects of sciences communication
• Integrate science communication into the undergraduates and post graduate curriculum
• Create opportunities for scientists and journalists to interact
• Understand the African agenda on science communication
• Advance science communication as a discipline within communication
• Encourage policy engaged research in the institution of higher learning
• Leverage on the new media technologies
The two keynote addresses were further enriched by two panel discussions and an interactive session. The sessions were chaired by Mr. Adolf Mbaine, DR. Charles WendoLwanga, Dr. Ivan Lukanda, Mrs Marjorie Nyitegeka, and Mr. John Baptist Imokola.
Panelists included;
• Ms. Barbara Zawedde, National Agricultural Research Organization
• Prof. Goretti Nasanga, Department of Journalism and Communication, Makerere University
• Dr. Samuel G. Oketch, College of Veterinary Medicine and Animal Bio-security, Makerere University
• Ms. GlorriaSebikari, Petroleum Authority of Uganda
• Mr. Hillary Bainemigisha, Columnist, New Vision
• Mr. Gerald Tenywa, Senior Reporter, New Vision
• Mr. Daniel Kalinaki, Convergence Editor, Monitor Publications
• Ms. Esther Nakazzi, Science and Technology Journalist
Among the day's proceedings was the awarding of certificates to over 30 students of Journalism and Communication who successfully completed a one-year online short course in Science Communication. The certificates were handed over to the students by the Minister of Science, Technology, and Innovations Hon. EliodaTumwesigye together with DR. Charles WendoLwanga, the Director of Script Project, ScieDev.Net.
At the same function, Daily Monitor awarded Ms. Lyn Tukei with the Tebere-Mudin Award for the overall best performing student of Journalism and Communication. Ms Lyn Tukei graduated in January 2019 with CGPA of 4.29.
Ms. Betty Musasizi won the CranimerMugerwa Award for the best performing student in photojournalism. The award is sponsored by New Vision in honour of their treasured fallen photojournalist Cranimer Mugerwa.
The Deputy Vice Chancellor in charge of Finance and Administration, Prof. William Bazeyo pledged to support the best Journalism and Communication student with a token of UGX 2milion starting next academic year 2019/2020.
Representing Dr. Josephine Ahikire, the Acting Principal of College of Humanities and Social Sciences, Dr. Julius Kikoma applauded the Department of Journalism for consistently organizing the Annual Media Convention for the last 20 years. He thanked the 2019 conveners Mrs. Marjorie Nyitegeka and Dr. Ivan Lukanda for the wonderful and successful event.
Dr. Merit Kabugo who represented the Dean, School of Languages, Literature and Communication commended the leadership of Journalism and Communication on the tremendous developments.
"The Department has also been very instrumental in training many media specialists that we are proud of today. The good job you are doing should be maintained or even taken a notch higher," he said.
Article by Nabatte Proscovia, Mak Public Relations Office.
Mak Commissions CoVAB@50 Celebrations, Awards Certificates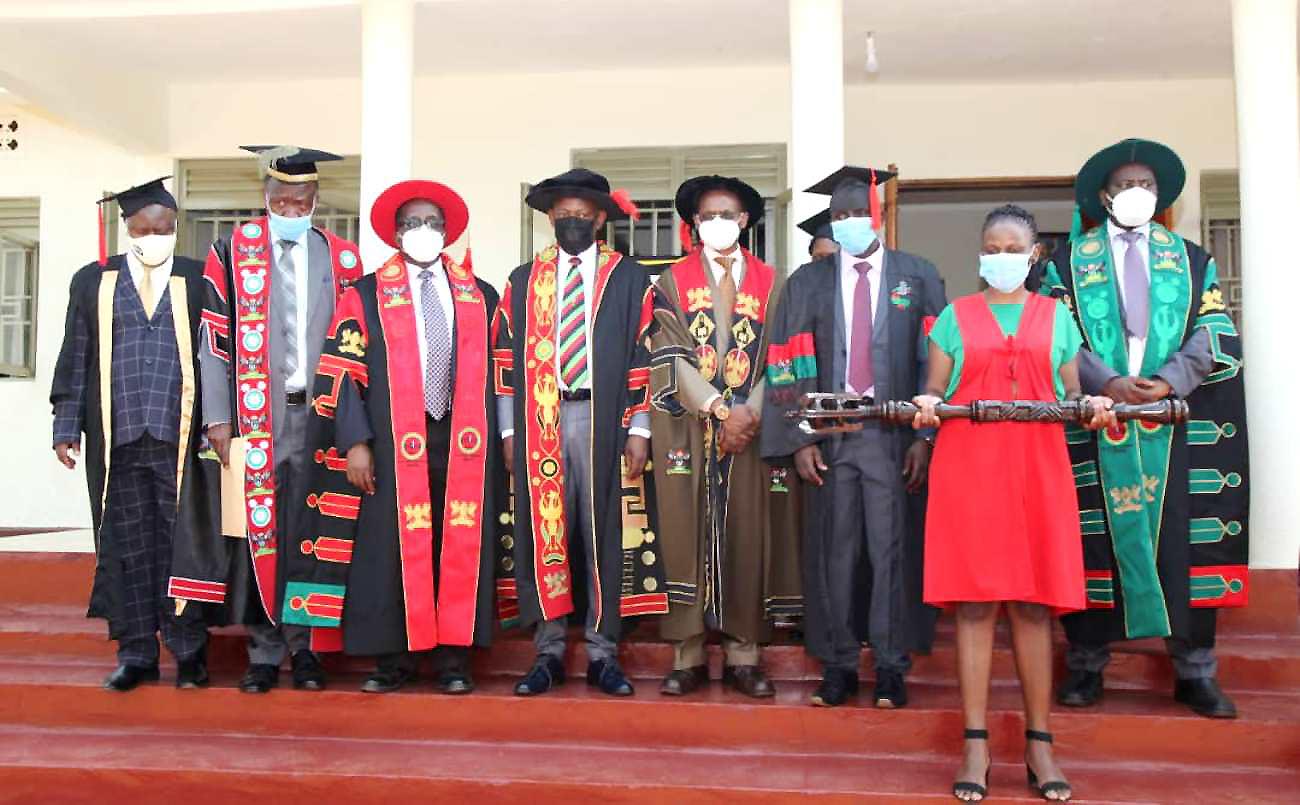 The College of Veterinary Medicine, Animal Resources and Biosecurity (CoVAB) on Thursday 17th June, 2021 commenced celebrations to mark 50 Years of Veterinary Higher Education, Science, Technology, Innovation and Services (HESTIS) in Uganda. The blended event held at the Industrial Livestock Research, Incubation and Skilling (ILRIS) Center at Nakyesasa, Namulonge as well as online was presided over by the Chancellor, Prof. Ezra Suruma and First Lady and Minister of Education and Sports (MoES), Hon. Janet Museveni both represented by the Vice Chancellor, Prof. Barnabas Nawangwe.
The event, held as part of Makerere University Centenary Celebrations (1922-2022) was a moment of celebration for 1,930 skilled livestock agribusiness entrepreneurs who were awarded certificates in recognition of completion of their respective courses. Owing to the strict Standard Operating Procedures (SOPs) instituted by the Ministry of Health (MoH) to curb the spread of COVID-19, the students from Incubation Hubs in Atiak, Butaleja, Mubende, Nakyesasa, Sheema and Wakiso were awarded their certificates virtually.
In her remarks read by Prof. Barnabas Nawangwe, Hon. Janet Museveni thanked Makerere University for supporting grassroots level development through groundbreaking innovations under the Africa Institute for Strategic Services and Development-Skills for Production Enterprise Development and Accreditation (AFRISA-SPEDA) model.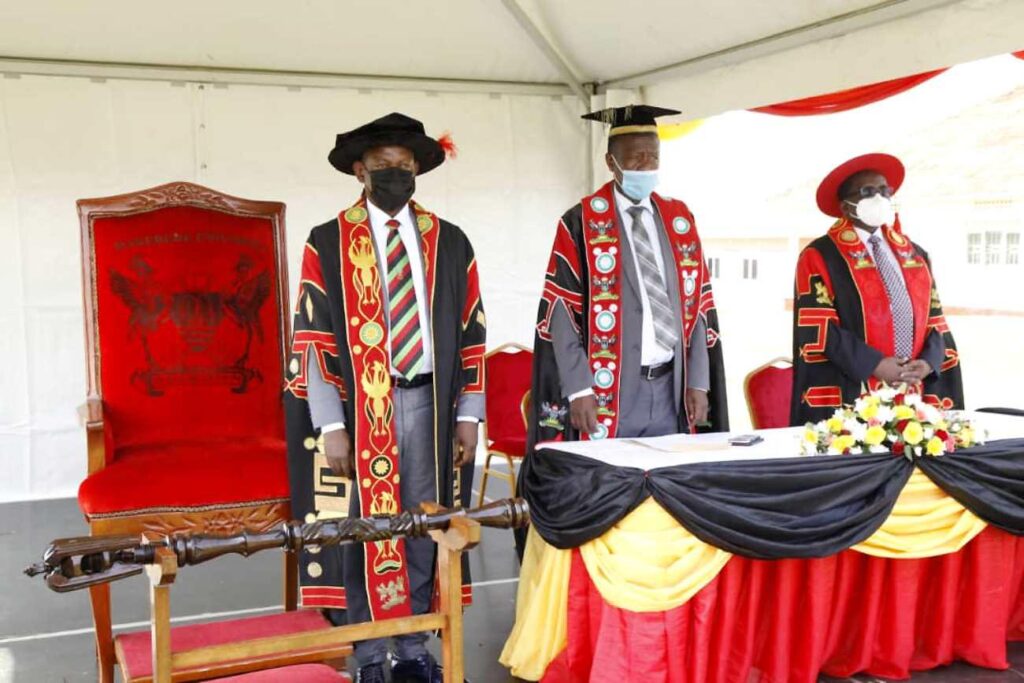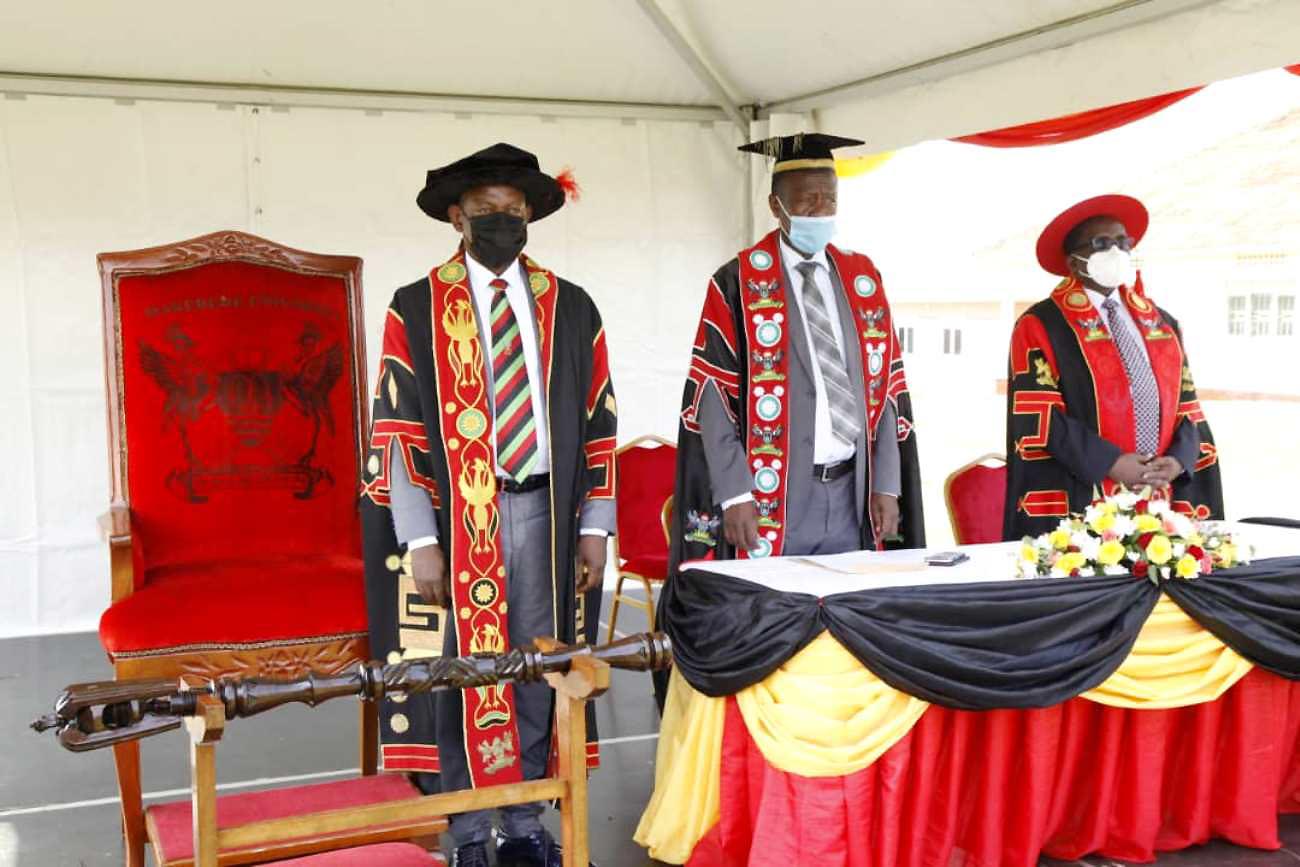 "I am extremely pleased that Makerere University, through those innovative approaches, has developed and launched the alternative approach to building human capital and transferring knowledge to enterprises in communities.
"I would like to encourage all those involved in skills development to adopt methodologies that transform those trainees that go through these programs in ways that enable them also transform the societies they live in" read the Minister's remarks.
She further noted that commissioning of the CoVAB@50 celebrations was both timely and rewarding. "The commissioning of the college innovations indeed has made meaning. This is a true path to growth of an Academic and Development College of the University, and we congratulate you again."
Addressing the congregation as Chancellor, Prof. Barnabas Nawangwe congratulated CoVAB alumna and incoming Minister of Science, Technology and Innovation (MoSTI) under the Office of the President, Dr. Monica Musenero upon her recent appointment. "We thank His Excellency the President for identifying you. Science is in good hands."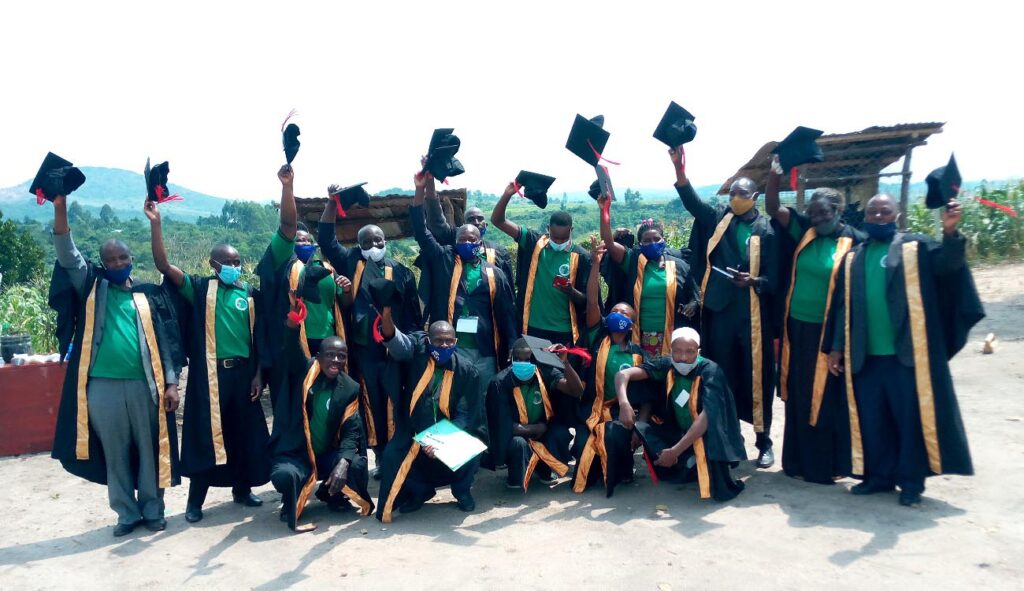 Prof. Nawangwe urged Dr. Musenero to address the structures of managing research and innovation in Uganda, "including the role of the Uganda National Council for Science and Technology and the apparent need to establish a Research Council for Uganda."
In the same breath he thanked the outgoing and pioneer Minister of Science, Technology and Innovation, Hon. Dr. Elioda Tumuwesigye, for his role in ensuring that the ministry is empowered to carry out its mandate.
The Chancellor congratulated CoVAB upon training the bulk of Veterinary Doctors in Uganda over the last 50 years and more recently, Laboratory Technologists at the highest level. He recognised Makerere University's obligation to contribute to the economic self-determination of Uganda and thanked CoVAB for conducting research that addresses hindrances to national development, especially in the livestock industry.
"The anti-tick vaccine is one of such innovations which will solve the huge problem of tick-borne diseases that have caused enormous losses to our farmers. There are many other problems on which the college is researching and we thank you for the enthusiasm" he added.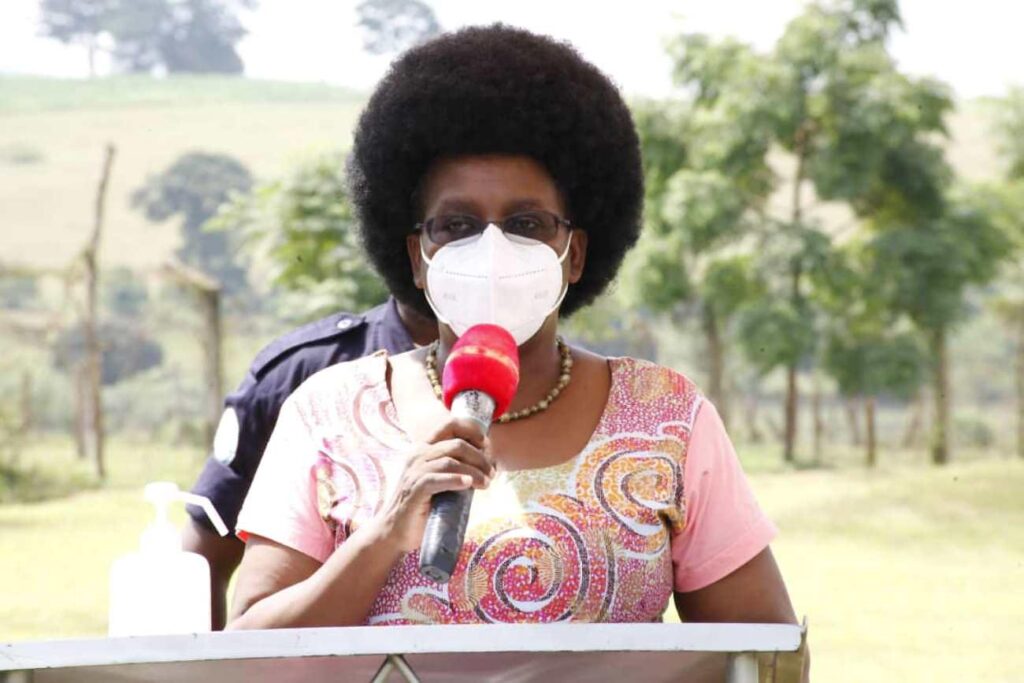 The Chancellor commended CoVAB for being the vanguard of transformation of the grassroots communities through the SPEDA model. "I urge Government to fund this important initiative so that it can more meaningfully contribute to solving the big problem of youth unemployment."
In her remarks, Dr. Monica Musenero commended the Principal, CoVAB, Prof. John David Kabasa for fulfilling the College's dream of enabling the masses who drop out of the education value chain as well as those who complete education but have no skills for livelihood, to attain certification in agribusiness entrepreneurship.
"Many people attain academic success and write papers, publish and they become professors but without demonstrable impact on their nation. You have shown by the thousands that you have touched nationwide that indeed you are a professor of national transformation. Congratulations," remarked Dr. Musenero.
She therefore congratulated the teams at CoVAB and AFRISA upon successfully conceiving and executing a model that is non-traditional, informal, not easily understood and not documented in any textbooks.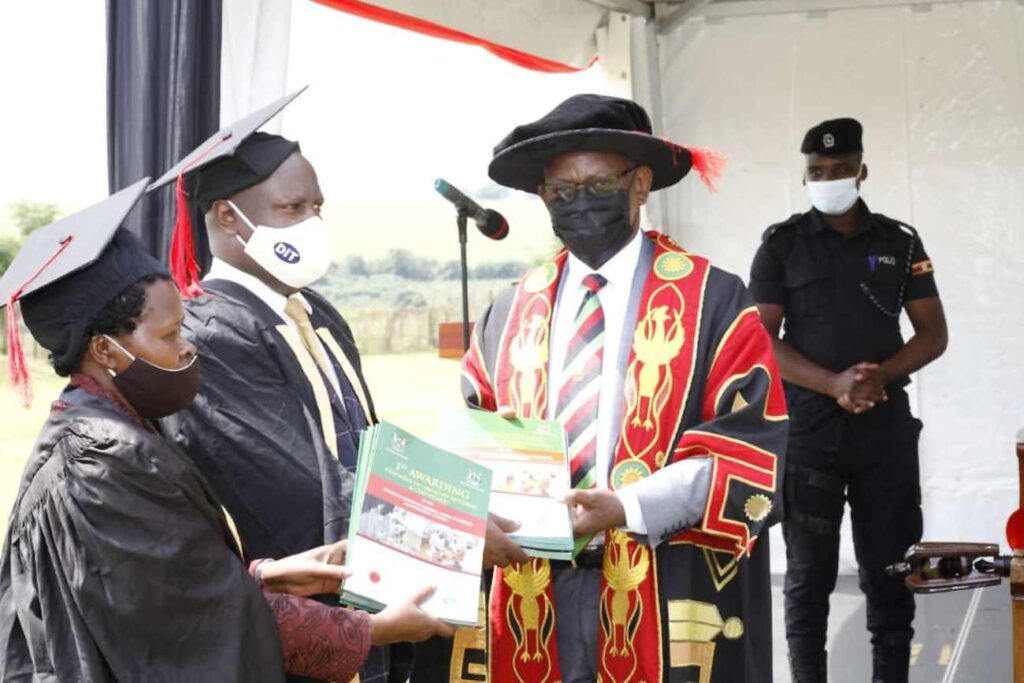 As Minister, Dr. Musenero noted that witnessing thousands of individuals from across the country whose skills had been honed through a university programme receiving certificates gave her a lot of hope and material to embark on her tenure with. "I will be looking forward to harnessing these resources as we initiate work on the next leg of Science, Technology and Innovation in the country under the President's Office."
The invitation to the Principal, CoVAB to present students for the award of the ordinary diplomas, ordinary certificates and artisan certificates was given by the Deputy Vice Chancellor (Academic Affairs), Dr. Umar Kakumba. He congratulated the awardees upon successfully completing their respective courses and graduating with evidence on an enterprise.
Prof. Kabasa clarified that the approach used to train the day's awardees was not simply a vocational skilling. "The combination of action research with knowledge transfer, skilling, plus assessment and accreditation processes done by organs like the DIT (Directorate of Industrial Training, MoES) has given us this result, for the University to provide true leadership and transformation of the community."
Present at the celebrations were the Director, DIT, MoES-Mr. Byakatonda Patrick and the Deputy Commissioner Social Services Development, MoES Madam Elizabeth Bateme who have worked through the Academic-Community-Public-Private-Partnership model to ensure that students graduate as entrepreneurs with micro enterprises.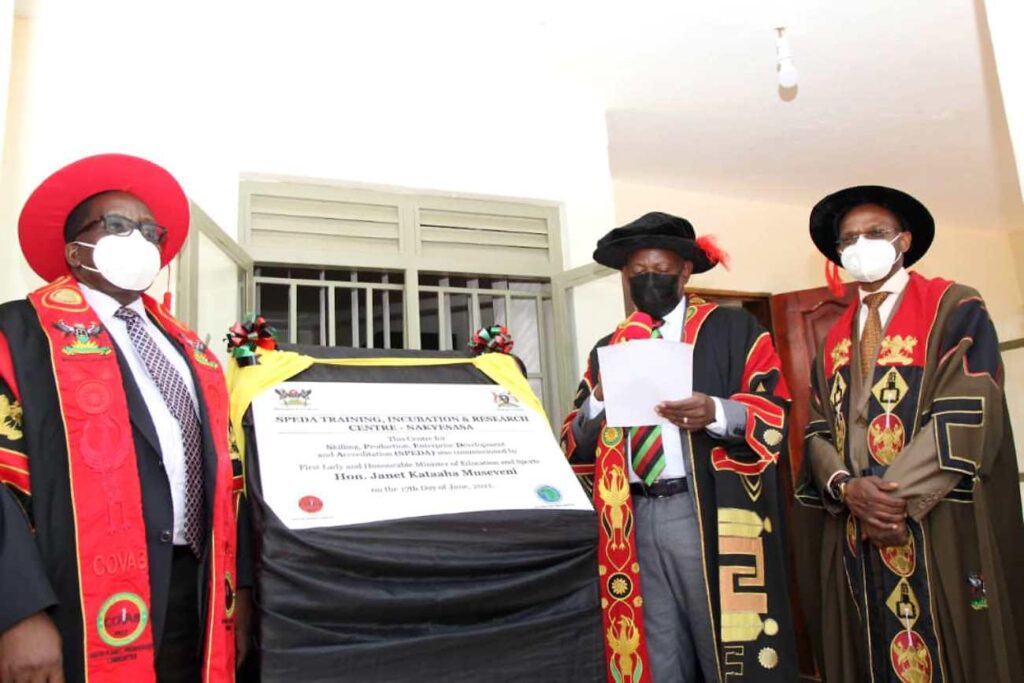 Prior to presiding over the ceremony, Prof. Barnabas Nawangwe, on behalf of the First Lady and Minister of Education and Sports officially commissioned the SPEDA Training, Incubation and Research Centre – Nakyesasa.
UNMA Advisory on Agriculture and Food Security Jun-Aug 2021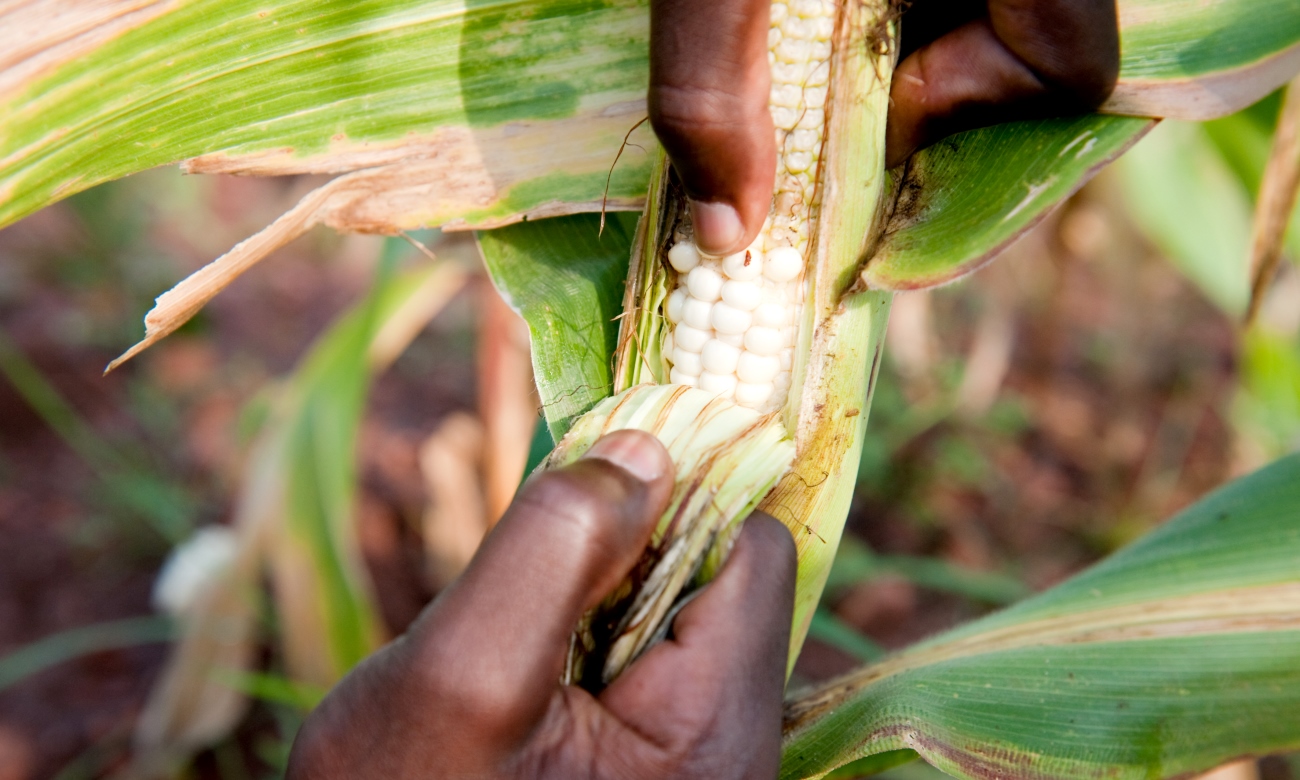 The Uganda National Meteorological Authority (UNMA) on 7th June 2021 released the seasonal rainfall outlook for the June-July-August (JJA) 2021 period. Contained in the outlook were advisories to various strategic sectors of the economy.
Particularly, the advisory to the Agriculture and Food Security sector was;
JJA season is often part of the normal dry season in the areas of South-western, western, parts of the eastern, and central Uganda. The farming communities in these areas are therefore advised to be vigilant during post-harvest handling by considering proper drying of the harvest on clean surfaces, use of tarpaulins and drying on racks;
Preparation of good storage facilities of produce to avoid compromising on quality and safety;
Channeling of the run-off water into the gardens in order to maximize on the soil moisture conservation;
For those areas where near normal to above normal rainfall is expected (most parts of northern and eastern Uganda), farmers are encouraged to continue with regular weeding, pest and disease surveillance and control;
Due to the expected enhanced rainfall in those areas, water logging and proliferation of fungal and bacterial crop diseases are likely to occur.
Open drainage channels around household and gardens to reduce risks from stagnant water causing damage to root tuber crops;
Flash floods and waterlogging are highly anticipated to occur in low lying areas expected to receive enhanced rainfall such as Katakwi and Kapelebyong. Therefore, communities are encouraged to keep watch over their crops, animals and property;
In Karamoja sub-region, where wetter conditions are expected, the pastoral communities are advised to diversify into boosting the production of cereals (sorghum, millet, and maize), beans, and ground nuts and sustain pasture availability for livestock.
Please see Downloads for the detailed outlook.
4th Call For Applications: MURBS Departmental Ambassadors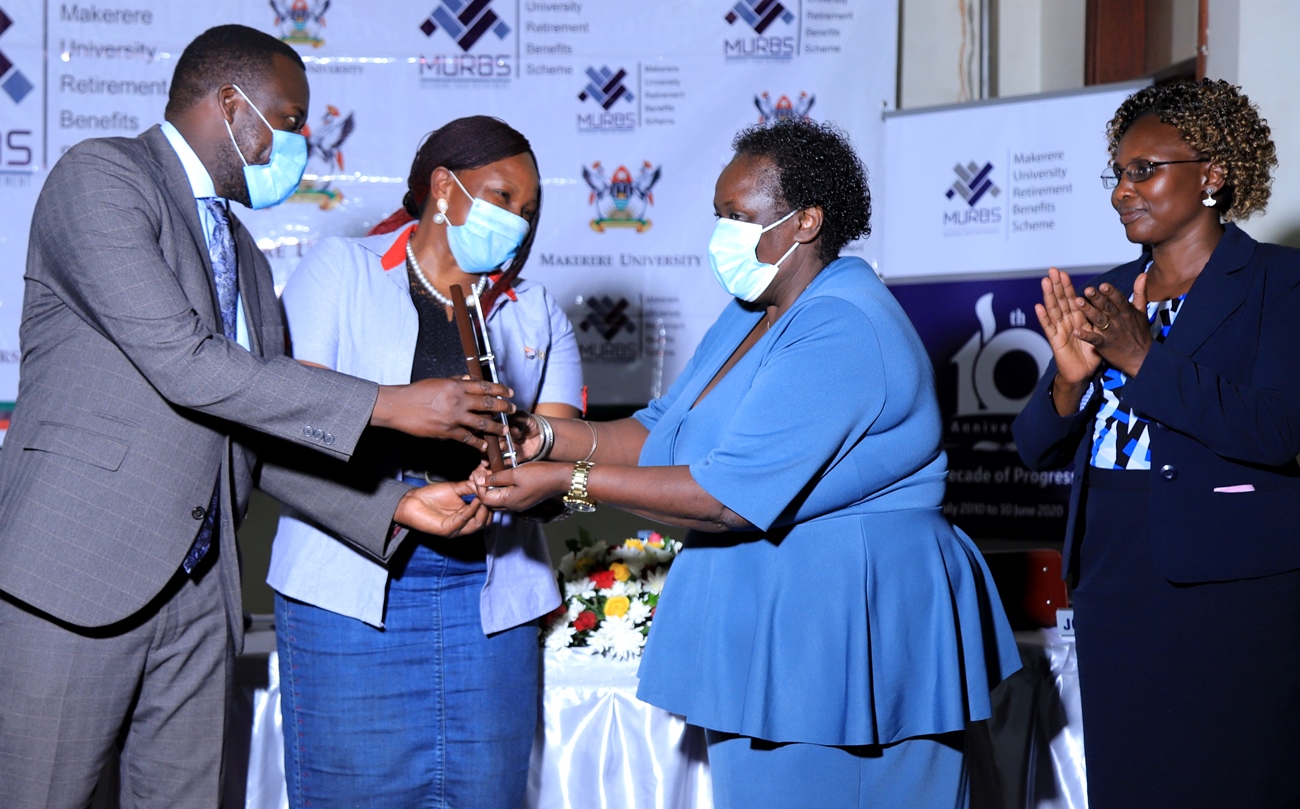 In February 2018, the Makerere University Retirement Benefits Scheme (MURBS) launched the Departmental Ambassadors Programme. MURBS hopes to use this Ambassadors Programme to engage more directly with its membership and enhance member education. MURBS further perceives this Programme as a means to mitigate succession planning risks.
MURBS Fund Value continues to grow, and as at 31st March 2021, it stood at Ushs 235.5bn as compared to Ushs 209.6bn as at 30th June 2020. Given this growth, there is increased need for prospective Trustees, who are well equipped with relevant knowledge and skills, and with practical exposure to the management and governance of MURBS.
Eligibility
Must be employed by the University on permanent terms
Must be an Active Member of the Scheme (currently contributing to the Scheme) and appear on the Official Register of the MURBS Active Membership as at 30th April 2021.
Must be willing to commit time to trainings and other ambassadorial activities organised by the Scheme.
Mode of training for 4th Cohort of Ambassadors
Training for this (4th) Cohort of Ambassadors is envisaged to be conducted over the zoom online platform only, due to Covid-19 restrictions. The Scheme does not envisage any face-to-face interactions.
Tenure of Office & Termination or Withdrawal
There is no tenure of office for the Departmental Ambassador. As long as a member is willing to continue serving as an Ambassador, and the Ambassador continues to satisfy the eligibility criteria above, she or he will remain a MURBS Ambassador.
How to Apply
Interested members should complete the MURBS Departmental Ambassador Application Form 01-0218. The completed Form together with the requested attachments should be sent to info[at]murbs.mak.ac.ug and copy to wilber.naigambi[at]mak.ac.ug no later than 5:00 p.m. on Monday, 14th June 2021. We discourage hand delivery of applications.
Confirmation/Approval Process
MURBS shall acknowledge receipt of each application received within 12 hours and will respond to the applicants to confirm the status of their application in writing (by e-mail). Upon approval of the application, the name of the approved Ambassador together with the Department and School/Unit will be updated on the list of the MURBS Departmental Ambassadors in the Group 4 category and published on the MURBS website.
NOTE: There is no limit as to the number of ambassadors that MURBS can have in a department.
Please see Downloads for the detailed call and application form.