DAAD In-Country In-Region Competitive Masters & PhD Scholarships 2019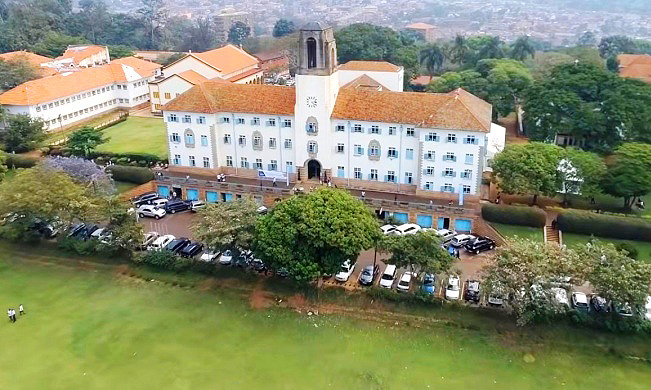 The German Academic Exchange Service (DAAD) in collaboration with Makerere University is once again in a position to offer up to 6 PhD scholarships in Plant Breeding and up to 8 Masters scholarships in Environment and Natural Resources for the 2019 intake:
Host Institution(s):
Makerere University, College of Agricultural and Environmental Sciences.
Application requirements:
In addition to the specific application requirements of the study programme/course you are applying for, please note the following DAAD application requirements:
• Citizenship of a country in Sub-Saharan Africa
• Bachelor's and / or Master's degree qualification with at least above average results
• Proof of admission to Makerere University to the desired degree programme or official letter assuring admission
• For PhD applicants: Evidence of being a staff of a public or private university (or candidate considered for teaching or research staff recruitment).
Duration and commencement:
The awards are available for up to a maximum of two years (Master) and three years (Ph.D.). The scholarship is initially granted for one year and may be extended upon individual request and receipt of a complete application by using a form to be availed at the appropriate time in the DAAD Portal. The application for renewal has to be submitted at least one month before the scholarship period expires. Please note that this is not a full scholarship, as DAAD will only provide funding as stated in the scholarship information sheet. The value of the scholarship is in the information sheet.
Eligible programmes and specific requirements:
Master of Science in Environment and Natural Resources
Applicants are required to fulfil the general minimum entrance requirements of Makerere University. Applicants must possess a good honours degree in relevant disciplines such as natural sciences, environmental sciences, biological sciences, social sciences, agricultural sciences, engineering, law and humanities from a recognized University/Institution.
PhD in Plant Breeding
Holds a Master's degree from a University recognized by Makerere University, in Plant breeding or related fields (Examples: Crop Sciences, Genetics, Plant Sciences).
For both MSc and PhD, in addition, applicant should also possess a Ugandan Certificate of Education with at least five passes (or its equivalent) and a Uganda Advanced Certificate of Education (UACE) with at least two principal passes and one subsidiary pass obtained at the same sitting (or its equivalent).
Equal opportunities:
Female candidates and candidates from less privileged regions or groups as well as candidates with disabilities are encouraged to apply.
Application instructions:
This is the first stage of application. Written applications should be addressed to the Director DRGT, Makerere University and accompanied with certified copies of bachelor/masters degree transcripts and certificates, at least a provisional admission letter or evidence of application for admission, evidence of teaching employment in a University (PhD applicants), and two referees letters. Applications should be submitted in soft (scanned, PDF) or hard copies to Ms. Grace Akol, Directorate of Research and Graduate Training, Research and Publications Office, Lincoln Flat B5, Makerere University, not later than 5.00 pm on Friday 15th February, 2019. Soft copies should be E-mailed to: conference@rgt.mak.ac.ug. Late and/or incomplete applications will not be considered.
In the second stage of application, the shortlisted candidates will be guided by DRGT to log onto a DAAD web portal (https://portal.daad.de/irj/portal) to register and submit an application and appropriate documents to DAAD Nairobi (see information sheet for scholars, 2019/20; Section 2. DAAD Application documents). DAAD reserves the right of final selection.
Selection of candidates:
A panel constituted by DRGT will screen, rank, pre-select and short-list double the number of candidates as the offer (i.e. 12 and 16 candidates for PhDs and masters, respectively). Shortlist will be based on the quality of the applications, gender balance and the rule that one third of the applicants shall be from another institution and/or country.
Dissolution of the 2020/2021 GRC and Guild Executive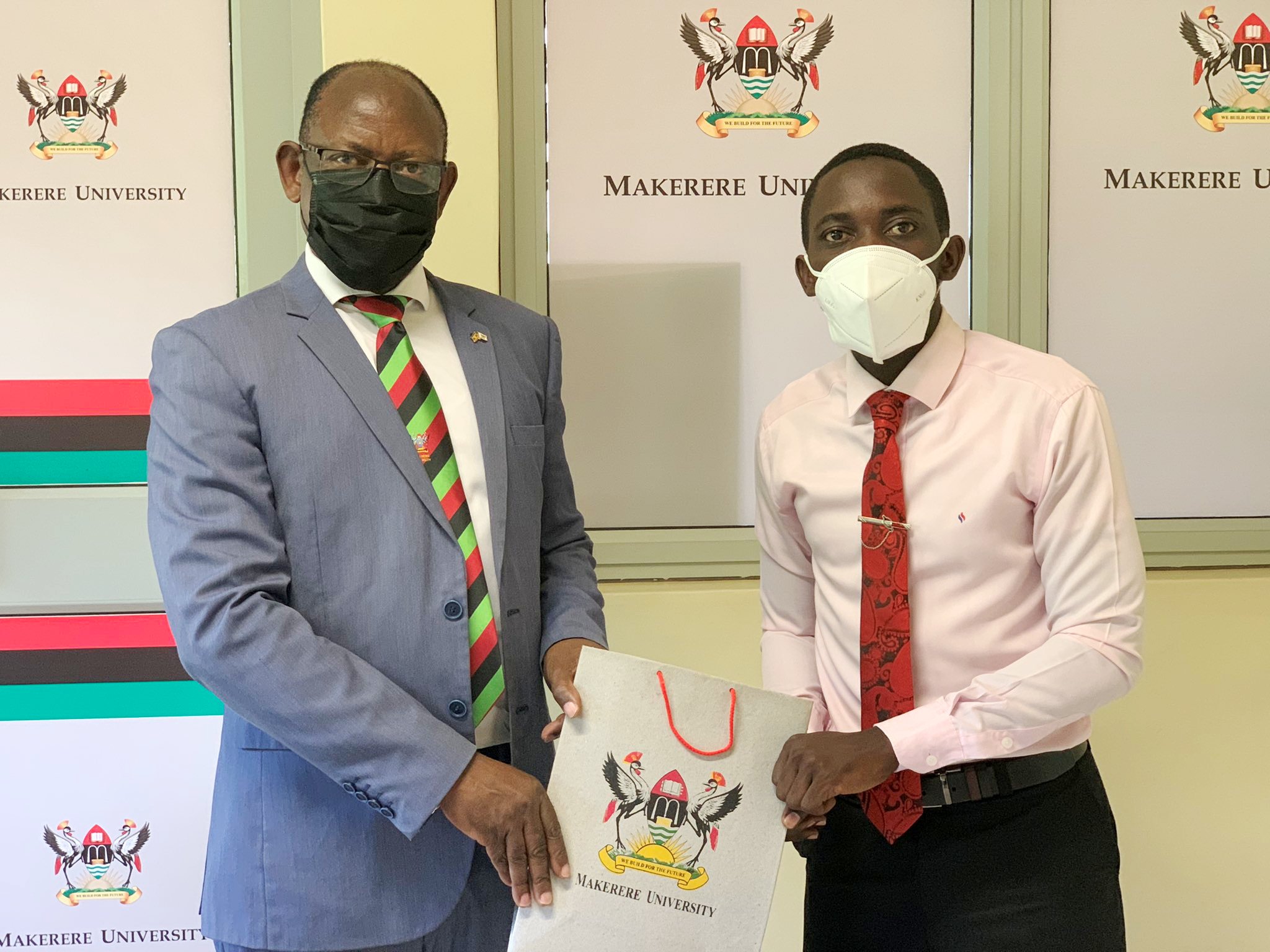 To All Students
Communication from Dean of Students
This is to inform you that the Guild Representative Council and Guild Executive were dissolved on 08th October, 2021 by the Rt. Hon. Guild Speaker in accordance with Article 17(4) (e) to pave way for the Guild Presidential and Guild Representative Council elections for 2021/2022.2. The Electoral Commission was elected and begun its work.
Following the dissolution,- the guild matters are under the Care TakerGovernment provided for by Article 50 of the Guild Constitution.
The composition of the Care Taker Government is:
a) Dean of Students
b) Guild Speaker
c) Guild Advisor
d) Deputy Guild Speaker
e) Guild Legal Advisor
Winfred Kabumbuli
DEAN OF STUDENTS
Call for Applications: PhD Thesis Completion Grants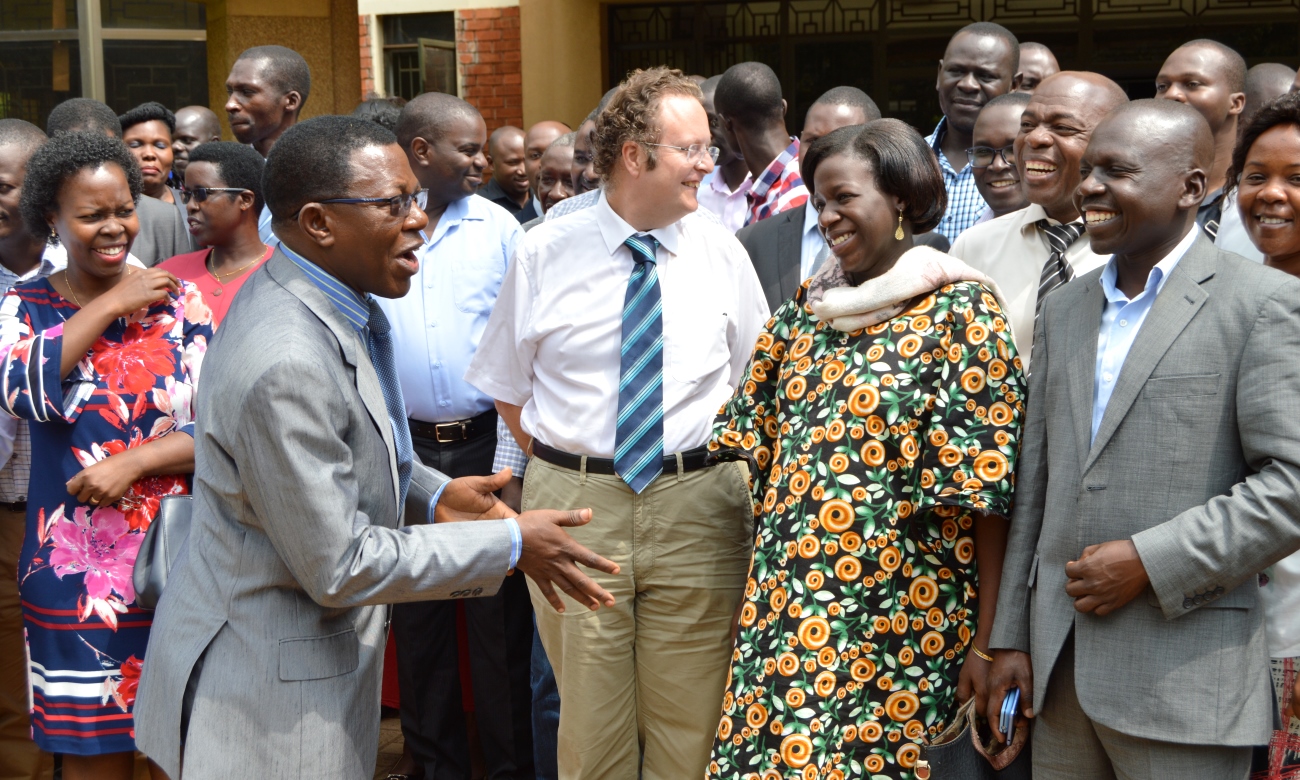 From the University's annual budget allocation FY 2021/22, the Directorate of Research and Graduate Training (DRGT) established the PhD Thesis Completion Grants Program to support outstanding doctoral candidates on the verge of finalizing their thesis/dissertation, who have no other source of funding for the requested period.
The scheme is intended to help candidates make significant progress toward the completion of their thesis/dissertation and/or substantial improvement in the quality of their dissertation. The scheme is designed to enable candidates to focus full time on the writing of their theses, improving the quality of the dissertation and shortening the time required to complete the doctoral degree.
In effect, the grant is intended to decrease time to degree and to support higher quality outcomes among students nearing graduation where relatively modest resources will make a large difference.
Applications from PhD candidates who demonstrate a clear ability to impact mainstream academia and whose projects reflect, and contribute to, the aims of the DRGT are welcomed to apply.
Applicants should review the eligibility criteria specified below as those not meeting these criteria will not be considered.
No grant will be awarded for a Thesis/dissertation which has already been submitted for preliminary examination.
Awards:
A total of 10 grants will be awarded during the period of July 1 to December 31, 2021 to Fully Admitted and Registered students.
The total budget support will depend on the strength of the application but in any case not exceeding Shillings Ten million (UGX 10,000,000/=), which will be disbursed upon submission of a realistic activity-based budget.
Application Procedure
Electronic submission of application with supporting documents saved under one file using the following format: last name_PhDgrant2021.doc
Submit to the Director, Directorate of Research and Graduate Training, Makerere University; Email: conference[at]rgt.mak.ac.ug Copy to: director[at]rgt.mak.ac.ug
Three (3) Hard copies should be addressed to:
The Director, Directorate of Research and Graduate Training,
Senate Building Level 4, Room 410, Makerere University; P.O.BOX 7062, Kampala.
Application Deadline: FRIDAY NOVEMBER 5TH, 2021; 5.00PM East African Time
NB: Only Successful applicants will be contacted.
Applications submitted to any other Email address other than the one above will not be accepted.
Inquiries:
For further information, please contact Mr. Nestor Mugabe, Research Grants Officer, DRGT Makerere University, via e-mail: nestor.mugabe[at]mak.ac.ug; Cell: +256-782-770032
Please Download below for the eligibility criteria and other details
Mak Leadership Commends MURBS Fund Value Growth ahead of 11th AGM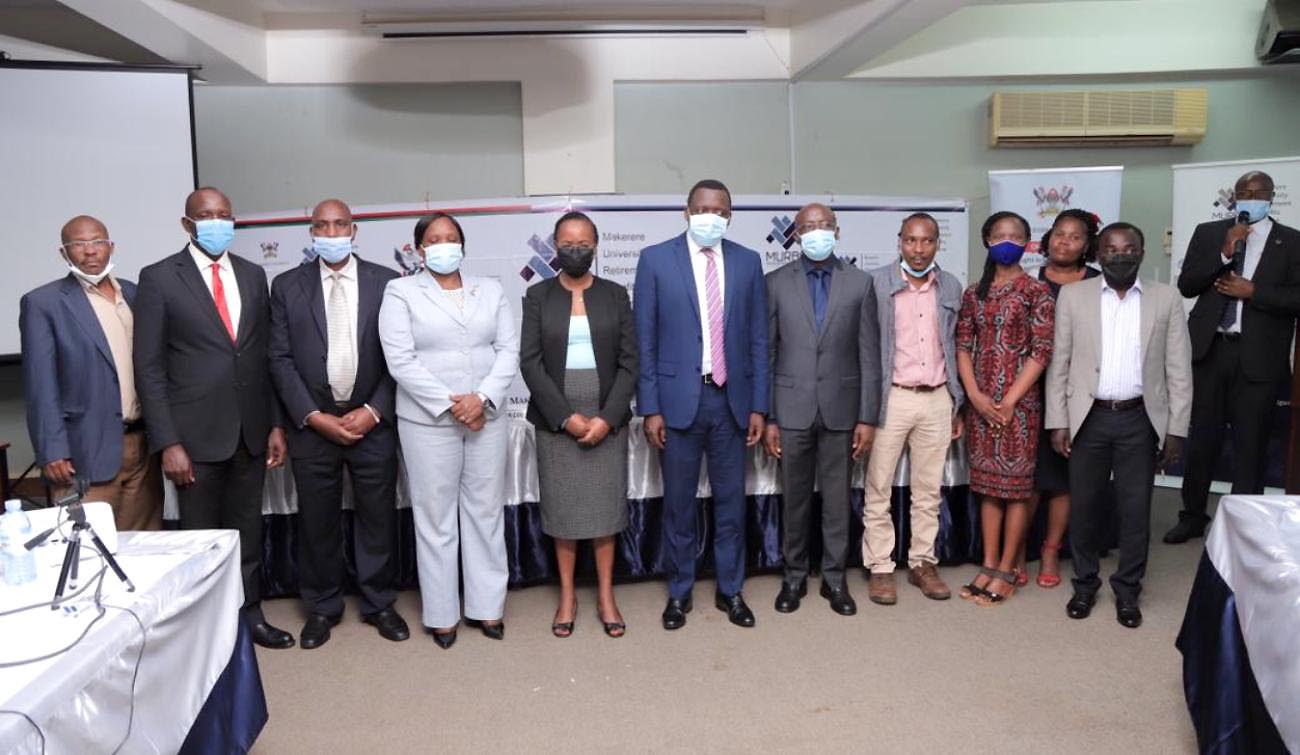 The University Council and Management have commended the Makerere University Retirement Benefits Scheme (MURBS) Board of Trustees (BoT), Service Providers and Secretariat on the Scheme's fund value growth from UGX 209 Billion to UGX 255 Billion during the Financial Year 2020/21. The commendations were delivered on Tuesday 19th October 2021 in the Telepresence Centre, Senate Building at the presentation of MURBS' performance for the aforementioned period ahead of the 11th Annual General Meeting (AGM) scheduled to take place on Thursday 21st October 2021.
"The Chairperson of MURBS has told us that the Scheme now has assets worth UGX 255 Billion and has shown a rising trend of members' benefits over the last few years. It is quite remarkable that 200 University employees have crossed into the group having over UGX 200 million in a space of one year!" exclaimed the Vice Chancellor, Prof. Barnabas Nawangwe in his remarks.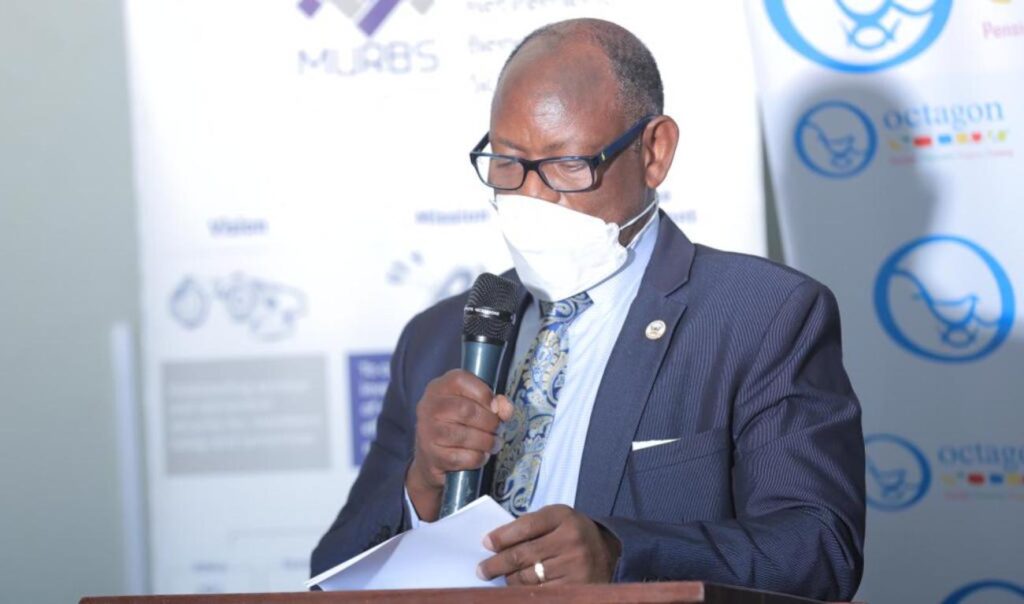 Earlier, Dr. Godwin Kakuba the Chairperson MURBS BoT had in his communication shared that the Scheme recorded two (2) members whose benefits crossed into the UGX 350-400 Million range, while four (4) members' benefits crossed into the UGX 300-350 Million range within the period 30th June 2021 to 30th June 2021. Furthermore, within the same period, members with benefits in the UGX 250-300 Million range grew from six (6) to seventy eight (78), while those in the UGX 200-250 Million range grew from seventy three (73) to two hundred seventy three (273).
"These are good performance indicators and I am sure members of MURBS are pleased about them. We too welcome these results and hope that they will result into something positive for the University" said Prof. Nawangwe.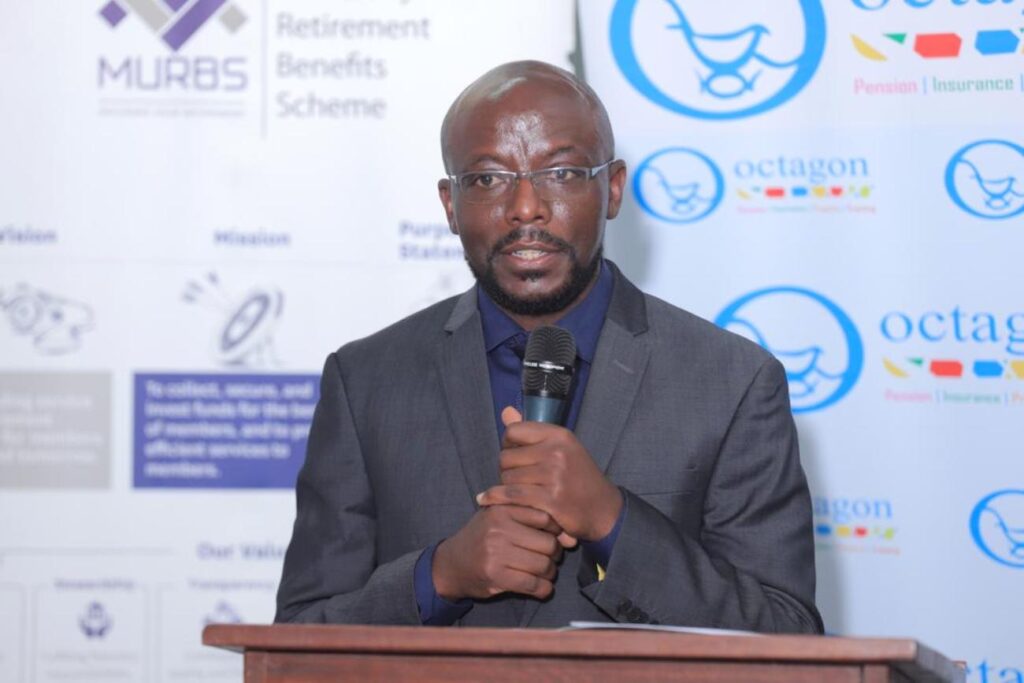 On this note, the Vice Chancellor urged members of MURBS to serve the University with dedication and contribute generously towards the reconstruction of the Main Building. He equally appealed to staff to actively participate in celebrations to mark 100 years of Makerere University's existence. The year-long celebrations were launched by the President H.E. Yoweri Kaguta Museveni on 9th October 2021 during the 59th Independence Day commemorations at Kololo Ceremonial Grounds.
The Chairperson, Makerere University Council, Mrs. Lorna Magara who was represented by Council Member and Dean School of Women and Gender Studies, Assoc. Prof. Sarah Ssali in her remarks thanked God for MURBS' notable achievement despite a Financial Year characterized by lockdowns and COVID-19 infection waves.
"These (performance indicators) are well above the objectives of the scheme and have added real growth to every individual member's funds. I also congratulate the Trustees on this achievement" lauded Mrs. Magara.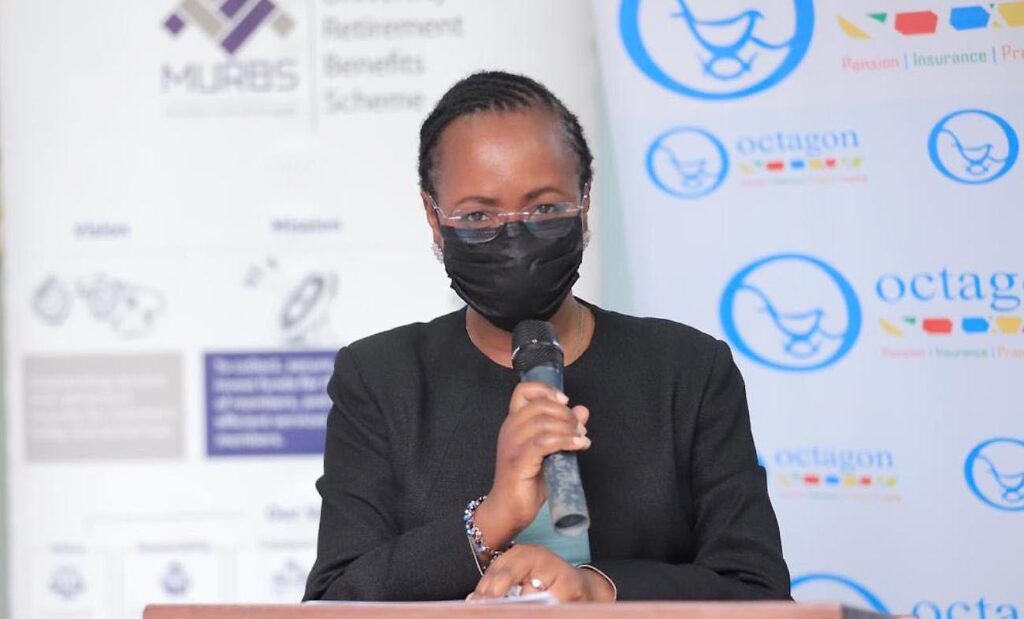 At 77.79%, Treasury Bonds form the largest Asset Class in MURBS' investment portfolio. This is followed by Investment property at 7.96%, Quoted shares (East Africa Equities) at 5.58%, Guaranteed Fund at 4.45%, Fixed Deposits at 2.15%, Treasury Bills at 2.01% and Corporate bonds at 0.07%.
The Chairperson congratulated MURBS upon winning an additional two accolades at the Financial Reporting (FiRe) Awards in November 2020. Earlier, the Chairperson Board of Trustees reported that MURBS had emerged winner in the retirement benefits category of the FiRe Awards for four consecutive years.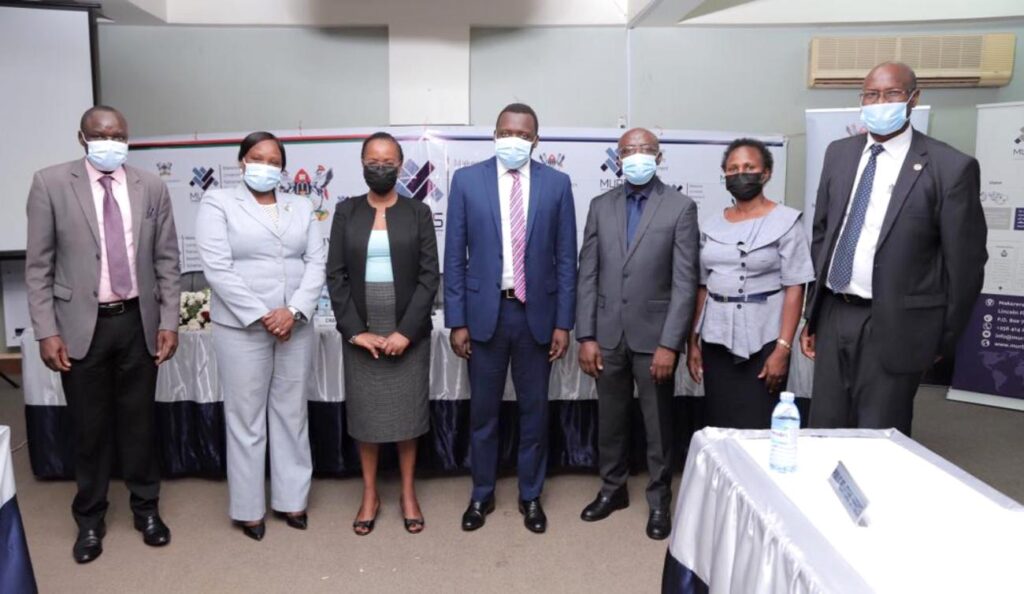 "That is something that brings me, and Makerere University Council as a whole, lots of joy. I am confident that those awards testify about the strength of the Scheme and the level of transparency that you put into this work. Please keep it up" complimented the Chairperson.
Mrs. Magara thanked the Government of Uganda for creating an investment climate that is conducive to good performance of retirement benefits schemes, as well as continuing to pay the salaries of Makerere University Staff from which the scheme receives monthly contributions to invest. She equally thanked the University administration for supporting MURBS by paying most of the staff benefits on time.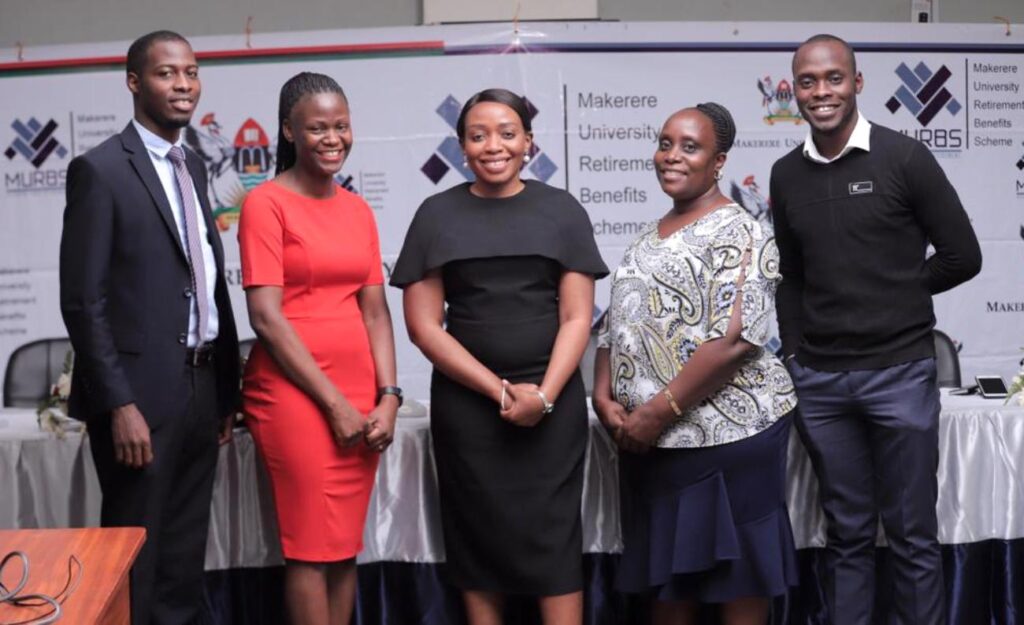 The Chairperson concluded by reiterating Council's support to MURBS as a model scheme in the country and commitment to ensuring that the balance of the In-house debt is cleared.
"I am satisfied that the University Council is achieving the objectives of setting up MURBS. I would like to again advise the Trustees to continue exercising due diligence in all matters of the Scheme" she summed up.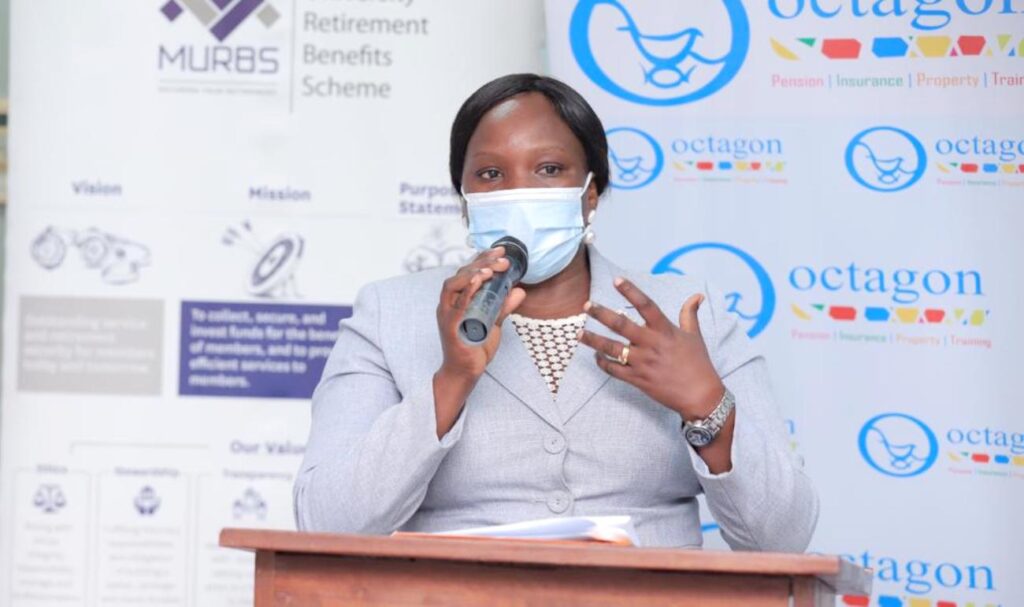 Representing the CEO Uganda Retirement Benefits Regulatory Authority (URBRA) Mr. Martin Nsubuga, the Director Legal-Mrs. Ritah Nansasi Wasswa commended the Board of Trustees on the timely submission of financial statements, application for Trustee licences, quick responses to queries raised by the regulator and general adherence to the legal framework that governs the sector.
"URBRA is working tirelessly to support all licensed schemes in the promotion of good governance and overall management of the schemes'" added Mrs. Wasswa.
The URBRA representative thanked MURBS Trustees for working with the regulator to facilitate the development the Trustee Training and Certification Programme. Launched by URBRA in 2021, the programme is aimed at improving and enhancing professionalism of trustees.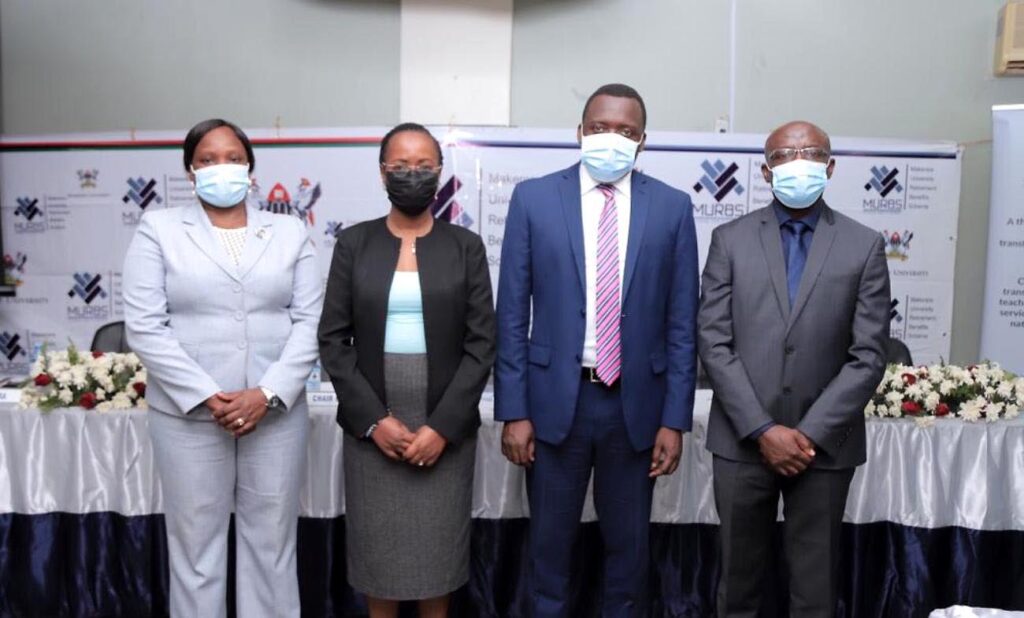 She commended MURBS on its new status as the mandatory retirement benefits scheme of Makerere University. "Given the new status of the scheme, we implore the Trustees to ensure strict compliance with the law, scheme trustee deed and the rules."
The Chairperson Board of Trustees (BoT), Dr. Godwin Kakuba while presenting the Scheme's performance reiterated MURBS' commitment to ensuring that all practices of good governance are adhered to.
"For the Financial Year 2020/21, and in accordance with the Board Charter, the BoT engaged Profiles International Uganda Limited to evaluate its performance. This is the fourth time such an evaluation is being done and the results show that on the whole, the Board was rated very highly with an overall performance rating of 'Excellent'.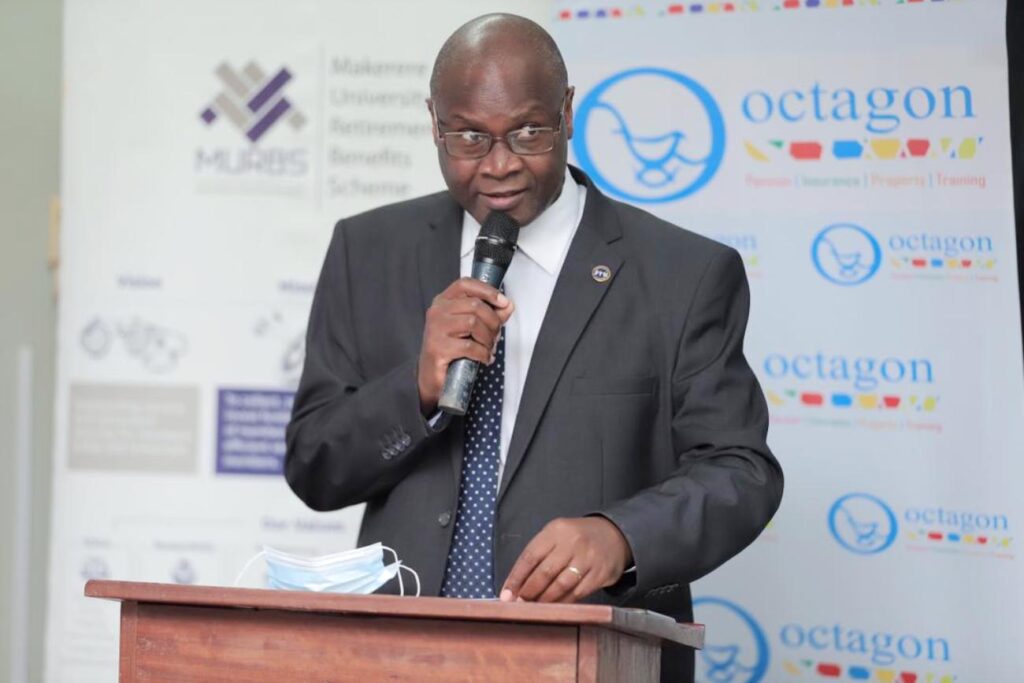 "The Trustees will continue to work towards the realization of MURBS' medium to long-term targets, such as, individual member holding reaching the UGX 500 Million band by 2024 and achieving 100% income replacement ratio by 2027" remarked Dr. Kakuba.
The Chairperson concluded by thanking the Chairperson and members of the University Council as well as the Vice Chancellor and members of Management for supporting MURBS to become a fully-fledged Employer Mandatory Scheme.
The presentation was moderated by Mr. Wilber Grace Naigambi MURBS Secretary BoT and Principal Public Relations Officer Ms. Ritah Namisango.