Freedom of Speech is the essence of democracy, says Ambassador Stéphanie Rivoal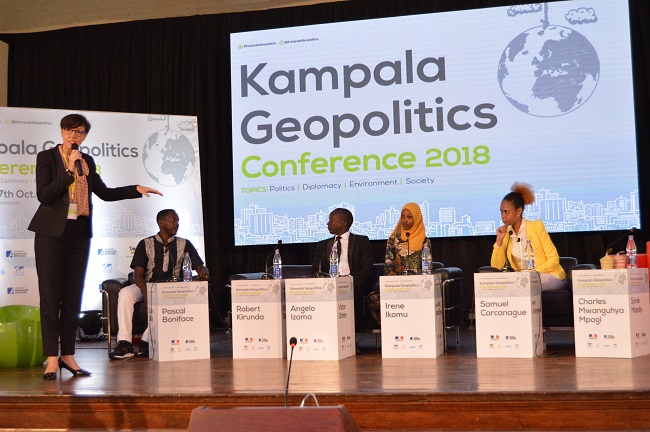 The Ambassador of France to Uganda H.E Stéphanie Rivoal has emphasized the importance of freedom of speech and rights to participate in open discussions. Describing freedom of speech as the essence of democracy, H.E Stéphanie Rivoal said that people should have liberty to debate openly on any topic.
"Where you can debate, you can have freedom. Where you can have freedom, you can have peace, where you can have it all, you live in democracy," remarked the Ambassador during the Opening Ceremony of the Kampala Geopolitics Conference held on Friday 26th October 2018 at Makerere University.
The Kampala Geopolitics conference was organized by the Embassy of France in Uganda in partnership with Makerere University, Konrad Adenauer-Stiftung (KAS), Alliance Française de Kampala (AFK), UN Women and the Institute for International and Strategic Affairs (iRiS).
The two days' conference (26th-27th October 2018) brings together professors, researchers, politicians, diplomats, journalists, activists and key leaders from various countries around world to engage in an interactive debate on the contemporary local and international issues.
Addressing dignitaries, international delegates and participants in the Makerere University Main Hall, the Ambassador called for an intensive discussion to find solutions to the challenges that affect the world at large.
"Geopolitics is all about understanding the world. Ignoring it, is short-sided because soon enough it will catch up with you. You may want to close your eyes to climate change, but it is coming. You may want to ignore terrorism, but it is happening. You may choose to brush aside social inequalities, but they are growing," she explained.
Using one of the famous quotes of Nelson Mandela; 'a good leader can engage in a debate frankly and thoroughly, knowing that at the end he and the other side must be closer, and thus emerge stronger'; the Ambassador said that only a coward or a liar will run away from a debate, fearing that the mistruth will be uncovered.
"Debate between genuine leaders will bring them closer by providing the opportunity to clear misunderstandings, build bridges between cultures, personal views and ideologies," she said.
The Vice Chancellor, Prof. Barnabas Nawangwe welcomed dignitaries, participants and international delegates to Makerere University; the vanguard of nurturing world-class political leaders and the alma mater of revolutionary, transformative and influential alumni.
Prof. Nawangwe revealed that the shifting geopolitics of the region has significantly affected the higher education sector. Thus some of the ideas raised during the conference would inform the ongoing process of formulating the next ten-year 2020-2030 Makerere University Strategic Plan.
The Country Representative of Konrad Adenauer-Stiftung, Mr. Mathias Kamp commended the panellists and moderators for accepting to guide the debate. He also called for a peaceful and constructive engagement.
Participants were thrilled by an interactive session involving Uganda's best comedians Daniel Omara and Pablo. Other members included Aisha Ali, the Founder of I Profile Foundation and Deedan. The vibrant team improvised a blitz lecture on a number of issues namely: Are refugees' beggars? Money, money, money; Minorities cost too much to society; and why black panther movie a hit; providing a platform for respective professors and experts to critically analyse the topics.
With the captivating engagement, the participants were ushered into panel discussions on the following topics:
USA: Not the "Policeman of the World" anymore? Implications of the Trump Presidency on the global power relations
Leave No One Behind: What is the economic cost of excluding minorities?
Black Panther Phenomenon: Rethinking Africa through Fiction and Arts
Social Media, Fake News and Online Manipulation: Are Beliefs winning over reason?
Opening Doors or Building walls? Managing migration in US, Europe and Africa
Make the planet great again: Is there still hope to fight climate change?
Youth is the future: What are we doing to give hope to the young generation?
Long live diplomacy: Multilateralism in the 21st Century
Are Religions Peacemakers or troublemakers: The role of religion in volatile societies
On Saturday 27th October 2018, the following topics will be discussed;
Old masters, new players: Is the African economy in the hands of foreigners?
Democracy in danger? The basis of democracy and the global trends that undermine it
Sports, not just for fun anymore? Distraction, industry, soft power?
Alpha Males, newcomers, populists: What leaders are we craving for?
Avenues for peace and stability: Peacebuilding, regional diplomacy and military intervention in Africa
The power of food: Shall agriculture fill our stomach or your purse?
Powerful women: Challenging male dominance
The future of East Africa: Is the European Union a model or deterrent?
What is going to kill us first? Global threats to human health
Countering the expansion of islamist terrorism: from Middle East, Maghreb, Horn of Africa to western Countries
Is money ruling the world? Side effects of unbridled capitalism
One planet too many people? Are we too many for the resources of our planet?
Other activities lined up included: art performances, market place of art and ideas, live studio by Media challenge Initiative, exhibitions by artists, innovators and start-ups, students and youth-led initiatives and a democracy expo by Konrad Adenauer-Stiftung, Alliance Française De Kampala and Campus France.
Article by Nabatte Proscovia, Mak Public Relations Office
A Successful Ph.D. Defense by Vianney Andrew Yiga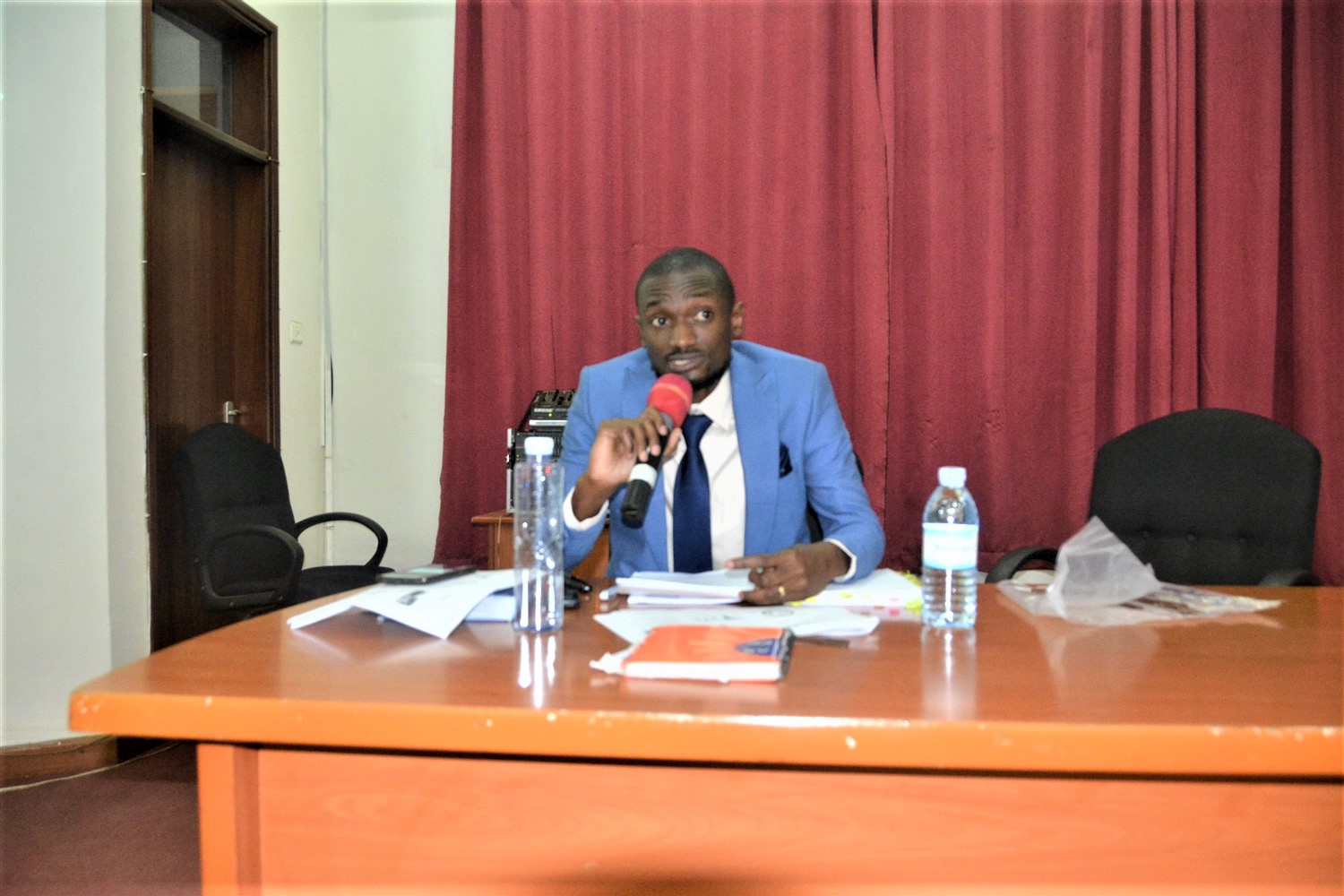 The CEDAT community is proud to share our congratulations to Vianney Andrew Yiga following his successful Ph.D. defense that happened yesterday Monday 3rd October 2022 at the College of Engineering, Design, Art, and Technology (CEDAT).
His Thesis was titled; Thermal Stability of Fiber- Reinforced Polylactic Acid Composites for Flameretarded Applications.
The candidate was supervised by Eng. Dr. Michael Lubwama and Eng. Dr. Peter W. Olupot both from the Department of Mechanical Engineering, at CEDAT.
Dr. John Wasswa, Department of Chemistry, College of Natural Sciences (CONAS), Makerere University was the opponent that interrogated the candidate to enable a clear understanding of the study.
Makerere University Launches National Parenting Draft Manual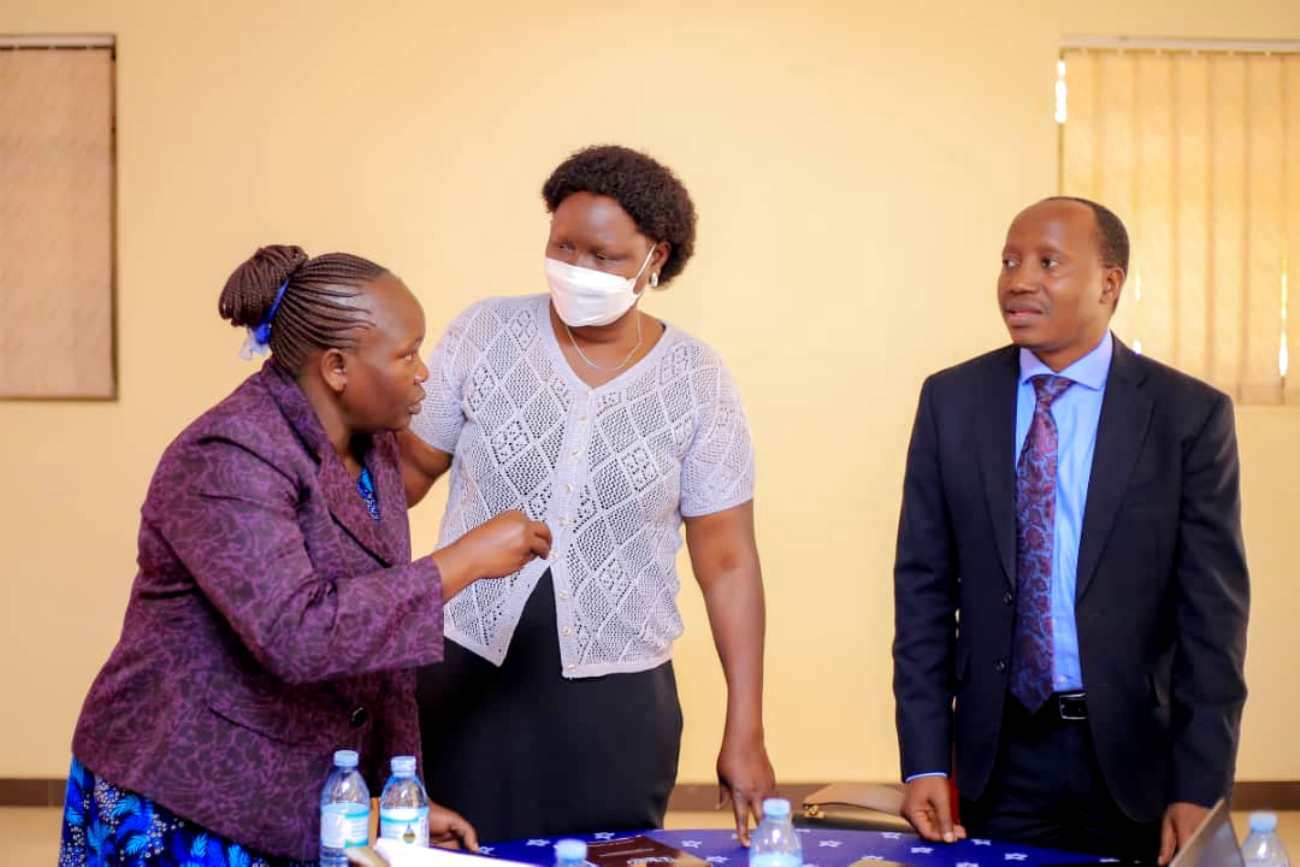 By Agnes Namaganda
On July 22nd 2022, Makerere University–Child Health and Development Centre (Mak–CHDC) launched a draft manual for the National Parenting Standards. The Centre has been working together with the Ministry of Gender, Labour and Social Development (MGLSD) with funding from UNICEF (United Nations Children's Emergency Fund), to develop standards that are agreeable to all organisations in the country that are involved in parenting work. The draft manual was being presented to members of a consortium that brings together all these organisations together, called the Parenting Agenda Consortium.
"We produce many documents and they are shelved," Irene Ayot Chono, who was speaking on behalf of UNICEF said. "We hope that this document will not be one of them," she emphasized.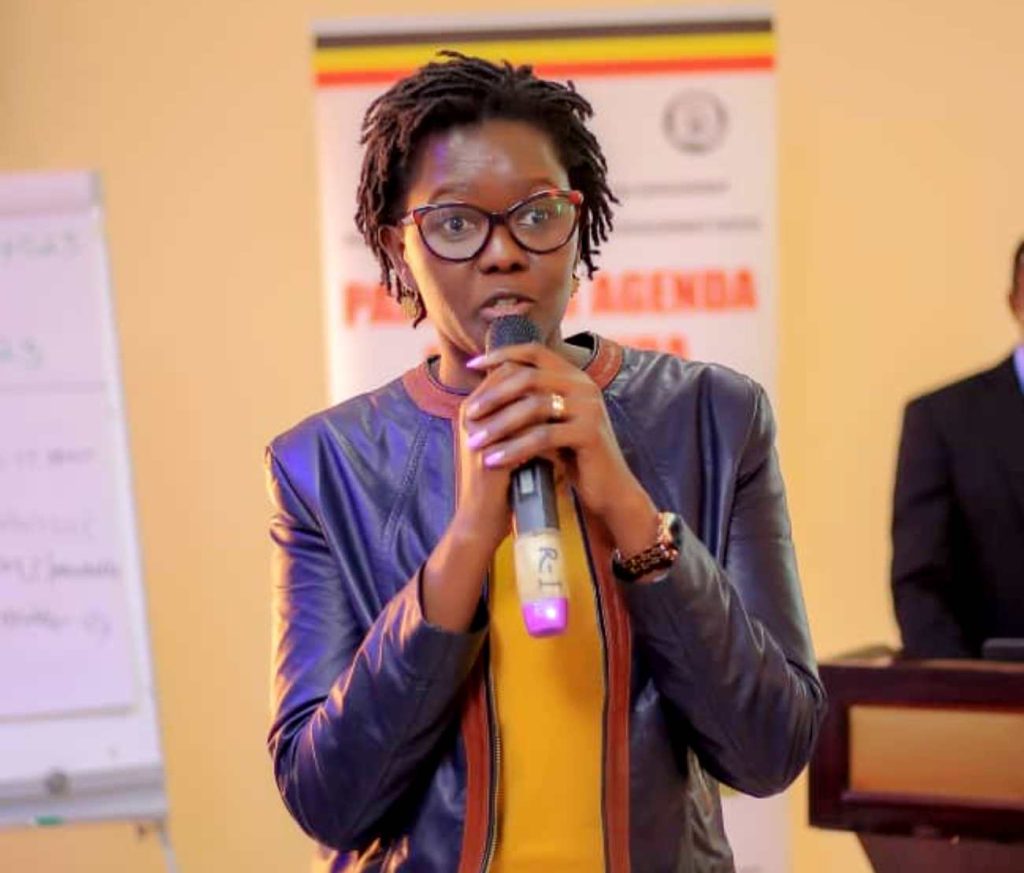 Dr. Godfrey Siu, the Principal Investigator from Mak-CHDC who presented the draft manual to participants, emphasized that if any organization is doing parenting work, there should be a minimum package that they should offer.
Draft Manual Content
The manual which will have several modules. These modules will be delivered face-to-face in 1.5 hour sessions. Some of these include; Module 6 which will focus on "understanding responsible masculinity and fatherhood" and on "understanding the concept of head of family."The draft manual also proposed that Module 11 focuses on Parenting in the 21st Century. Some of the sessions in this module will include Children and Technology, Contemporary Influence on Children and Modernity, Culture and Morality.Module 9 will focus on Parenting for Adolescents and some of the suggested sessions within this module are Needs for Adolescents and The Art of Communicating with Adolescents. Module 5 will focus on Preventing Violent Parenting and Promoting Alternative Discipline Strategies while Module 10 will be about Parenting to Address the Mental Health for Children and Adults.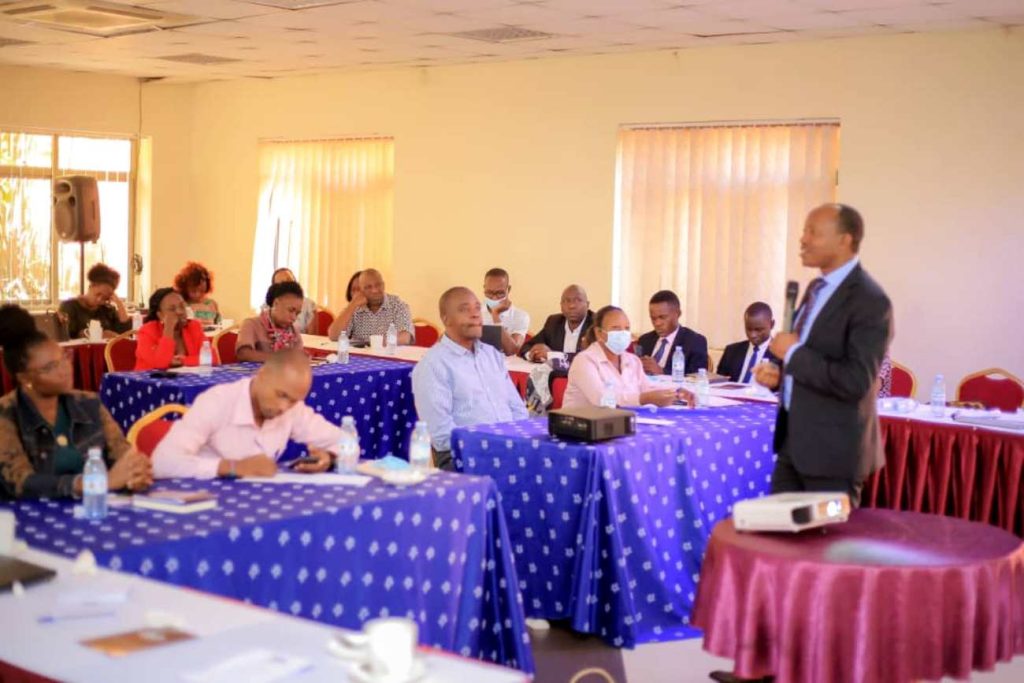 Participants' suggestions
After the presentation, participants raised several suggestions for discussion and consideration. These included whether there should be a module on spirituality since Uganda is a strongly religious nation. There was also the concern of how children in remand homes should be parented. Another concern raised by a participant was as to whether teachers who make an undeniable contribution to parenting, should be taken through the parenting manual.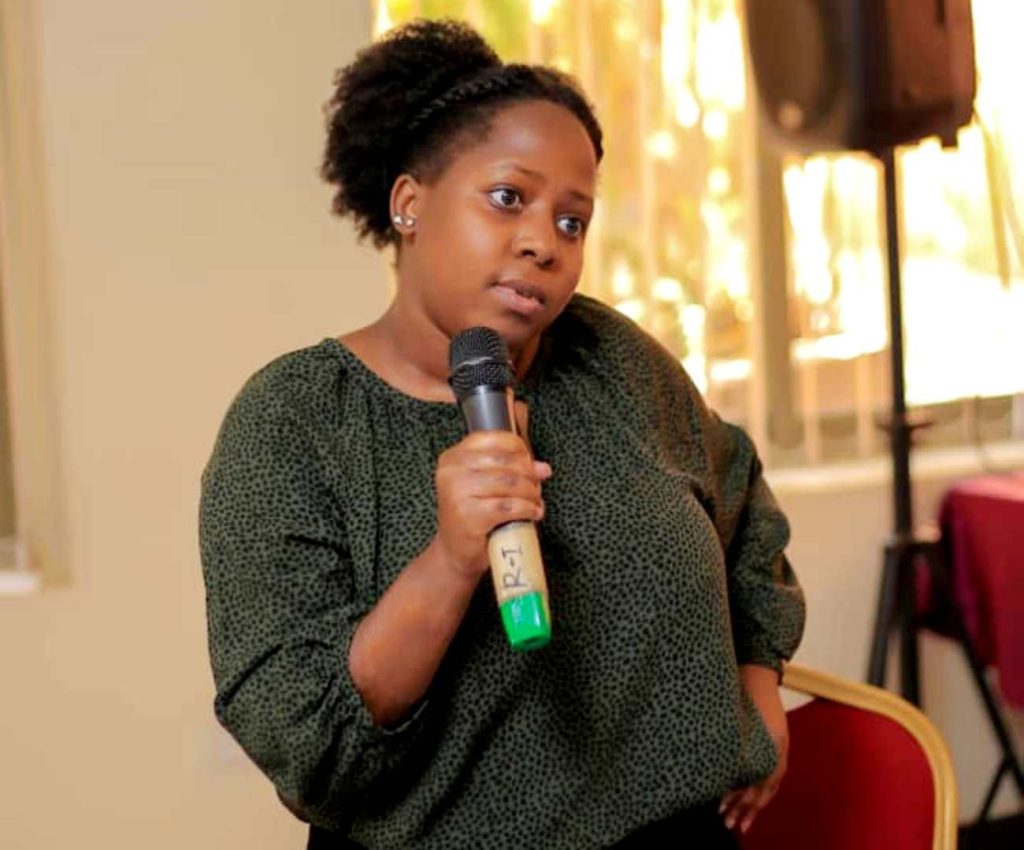 In her closing remarks, Ms. Juliana Naumo Akoryo, the Director of Cultural Affairs at the Ministry of Gender, Labour and Social Development (MGLSD) said that the manual is for the parenting organisations to utilize and not for MGLSD.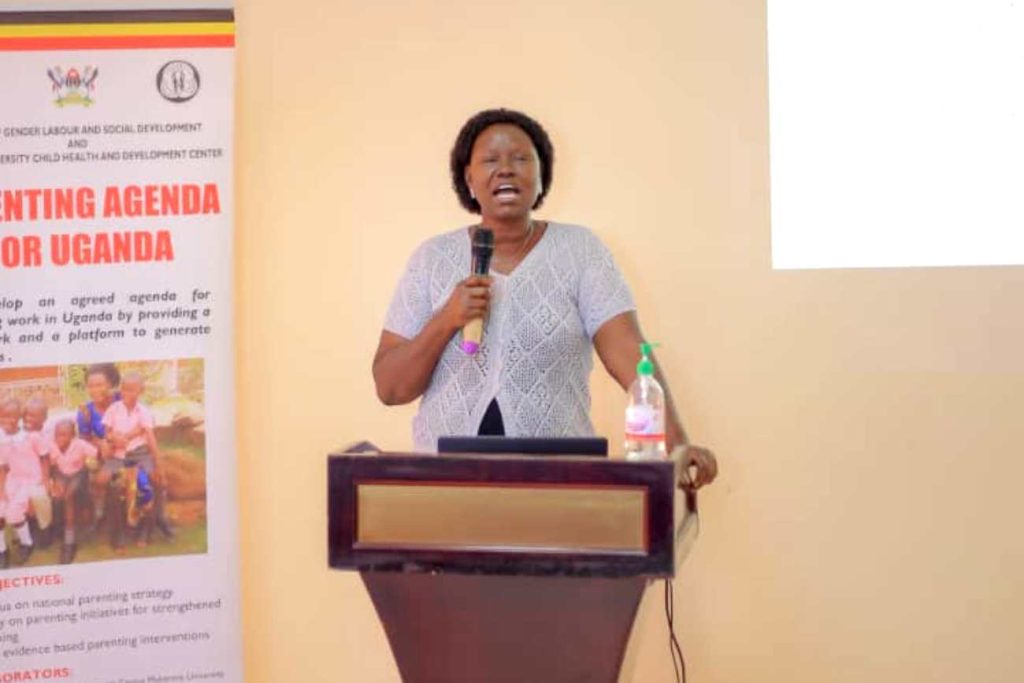 Ms. Chono also adjured the team behind the manual to use picture illustrations in the manual that can be relatable by the Ugandan parents.
Contact: Agnes Namaganda – agnesvioletnamaganda@gmail.com
Launch of Mak-RIF Round 4 Awards & PhD Call for Proposals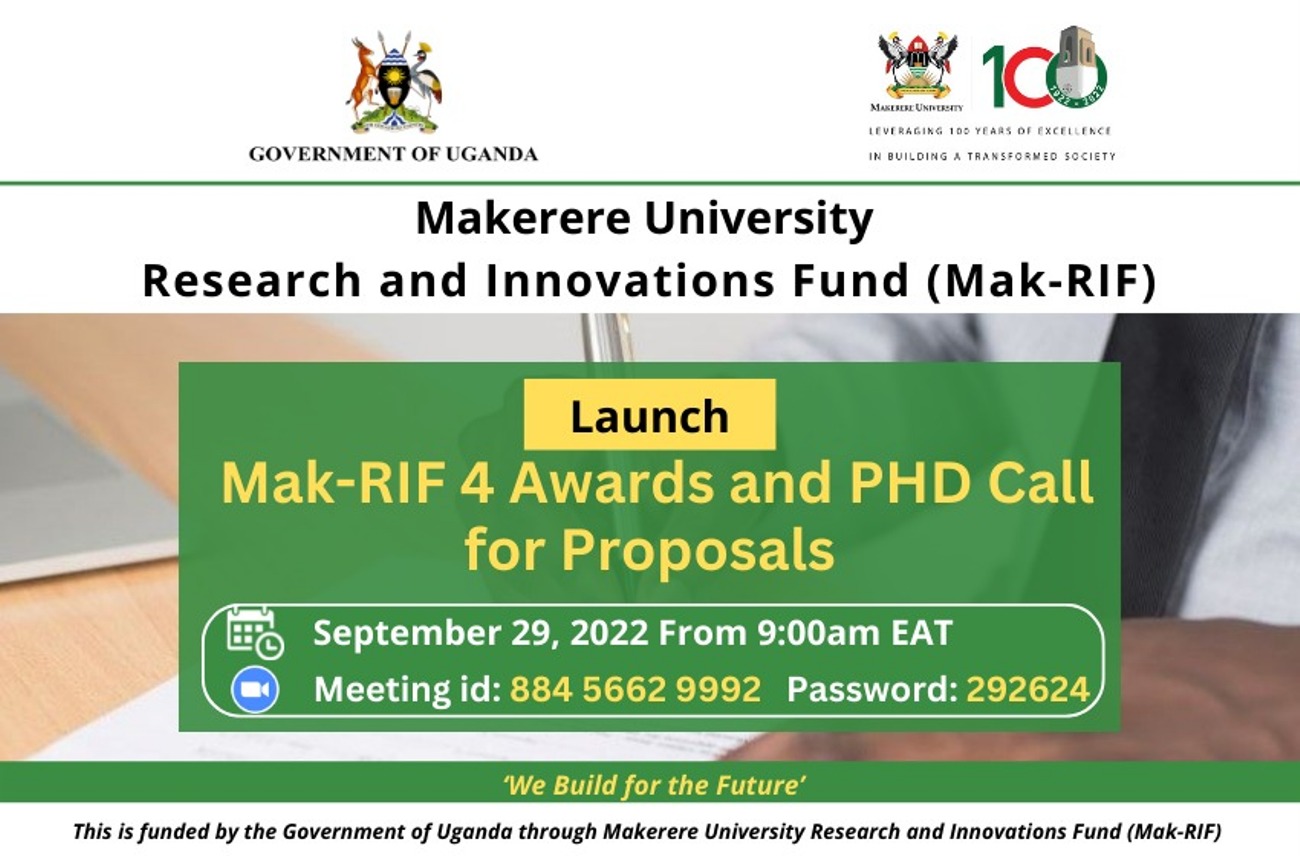 Makerere University received funding from the Government of the Republic of Uganda, earmarked to support high impact Research and Innovations. This unique initiative arose after engagements between the top University Management and the Government of Uganda. This fund illustrates the increasing importance that the Government attaches to Research and Innovation as a driver of development and transformation. The objective of the fund is to increase the local generation of translatable research and scalable innovations that address key gaps required to drive Uganda's development agenda. 
In the Financial years 2019/2020, 2020/2021 and 2021/2022 the Government of the Republic of Uganda through Mak-RIF has funded implementation of over 750 multidisciplinary research and innovations within the various Colleges, while engaging multiple stakeholders within and outside Makerere University. The Grants Management Committee (GMC) has finalized the award process for the Mak-RIF round 4 call for funding for this Financial Year 2022/2023.
The Grants Management Committee (GMC) hereby invites you to the Launch of the Mak-RIF Round 4 awards and PhD Call for Proposals scheduled to take place tomorrow Thursday 29th September 2022 from 9:00 to 10:00 a.m. EAT. 
Please use the following details to join the launch.
Register in advance for this meeting:
https://us06web.zoom.us/meeting/register/tZwpcu-urDIjE9ZgxdsbEmA2IkNMMiJVECt_ 
Meeting ID: 884 5662 9992
Password: 292624